22 juin 2023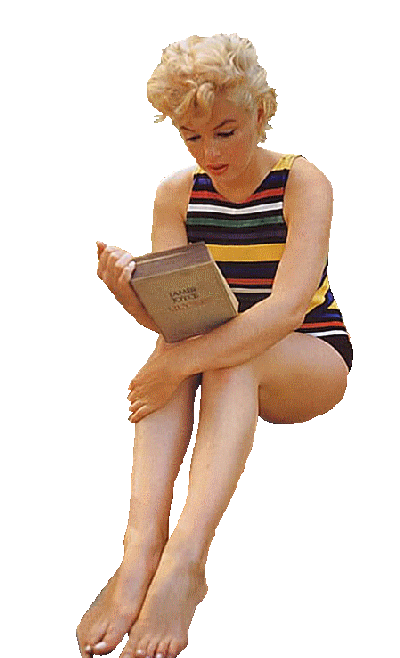 ---
© All images are copyright and protected by their respective owners, assignees or others.
30 septembre 2022
Les reines du music-hall
Scène 07 - Captures
---
Le portier M. Craig (Paul E Burns) apporte un paquet cadeau à Peggy Martin (Marilyn Monroe): il s'agit encore d'une orchidée. Peggy lit la carte qui l'accompagne où il y est inscrit ""A une charmante jeune femme".
The doorman Mr. Craig (Paul E Burns) brings a gift package to Peggy Martin (Marilyn Monroe): it is another orchid. Peggy reads the card that accompanies it, where it is inscribed "To a charming young lady".
---
© All images are copyright and protected by their respective owners, assignees or others.
copyright text by GinieLand.
Les reines du music-hall
Scène 08 - Photos
---
Marilyn Monroe (Peggy Martin)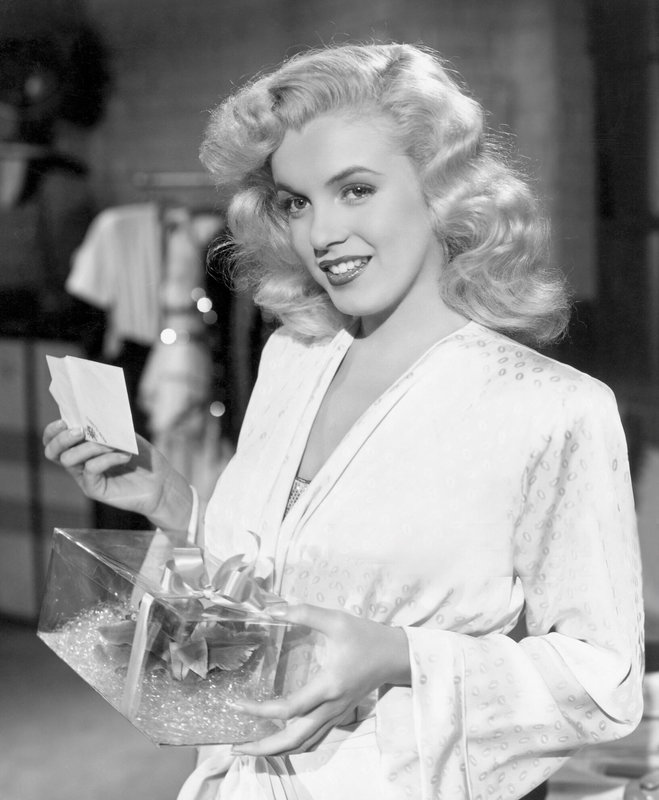 ---
© All images are copyright and protected by their respective owners, assignees or others.
copyright text by GinieLand.
Les reines du music-hall
Scène 09 - Captures
---
Mae Martin (Adele Jergens) entre dans la loge de sa fille Peggy pour lui apporter une énième orchidée emballée dans un paquet cadeau transparent. Peggy étant occupée, Mae lui pose le paquet sur la table.
Quand Peggy Martin (Marilyn Monroe) découvre le paquet, Mae arrive en lui demandant s'il n'y a toujours pas de nom signé, mais Peggy lui répond que non, et qu'elle aimerait savoir qui est cet admirateur secret. Mae sort en lui disant qu'elle va faire du shopping. Seule, Peggy fait défiler l'ensemble des cartes reçues avec les orchidées: "A une charmante jeune femme", "A une très belle femme", "J'adorerais vous rencontrer", "Merci, pour l'agréable soirée", et l'enveloppe portant l'adresse de "Miss Peggy Martin, Rome Theatre" comporte le cachet de la boutique de la fleuriste "Mimi".
Mae Martin (Adele Jergens) enters her daughter Peggy's dressing room to bring her yet another orchid wrapped in a transparent gift box. Peggy being busy, Mae puts the package on the table for her.
When Peggy Martin (Marilyn Monroe) discovers the package, Mae arrives asking her if there is still no signed name, but Peggy replies no, but she would like to know who this secret admirer is. Mae walks out telling her she's going shopping. Alone, Peggy scrolls through all the cards received with the orchids: "To a charming young lady", "To a very beautiful lady", "Would love to meet you", "Thanks, for a lovely evening", and the envelope bearing the address of "Miss Peggy Martin, Rome Theatre" with the stamp of the florist's shop "Mimi".
---
© All images are copyright and protected by their respective owners, assignees or others.
copyright text by GinieLand.
27 août 2022
The Australian Women's Weekly

country: Australia
date: 1955, January, 26
content: 3 pages article on Marilyn Monroe
part 3 of a series of articles in 4 parts - "This is my story"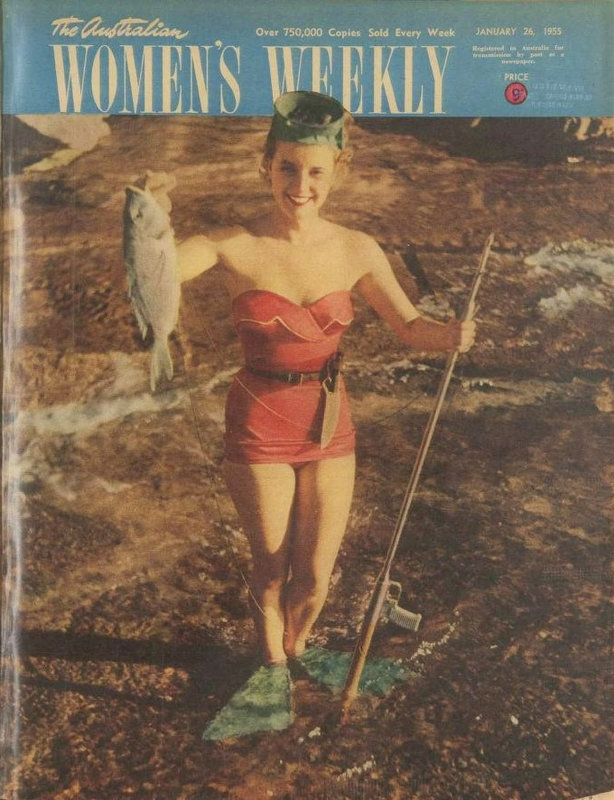 pays: USA
date: 26 janvier 1955
contenu: article de 3 pages sur Marilyn Monroe
partie 3 sur une série d'articles en 4 parties - "This is my story"
---
Article: "This is my story - by Marilyn Monroe"
Third absorbing instalment
SYNOSPIS - After an unhappy orphan childhood and an unsucessful marriage which ends in divorce when she is 19, MARILYN MONROE (born NORMA JEAN MORTENSON) tries to break into movies. A period of bitter hardship, during which she poses nude for a calendar to earn a much-needed 50 dollars, is following by a small success when she gets a part as a bit player. Then, without warning, she is sacked. She has no money, and practically no friends, and is in a state of utter despair whan suddendly, and for the first time in her life, she falls in love.

WHEN I lay on this ocean bottom of despair, love hit me, hoisted me into the air and stood me on my feet looking at the world as if I'd just been born.

HE'S married now to a movie star and it might embarrass him if I used his real name, and her, too. I read in the paper that their marriage, only a year old, is heading for the Hollywood reefs where most of the movieland marriages come apart. A few years ago I might have felt like giving it a push, just for old times' sake.
But now I've known happiness and I wish him well and I wish anybody he loves well.
I was coming out of the casting department at M.G.M. with the usual results - no job and no prospects - when a girl I knew introduced me to an ordinary-looking man. All I could tell about him was that he wasn't an actor.
Actors are often wonderful and charming people, but for a woman to love an actor is something like incest. It's like loving a brother with the same face and manner as your own.
We went to a cafe and sat down and talked. Or, rather, he talked. I stared and half-listened. I was sick inside with failure and there was no hope in me. His voice was like a medicine. He told me he was a musician and how he liked to play the piano and why some music was better than other music. I didn't think of him as a man or a musician. All I though was: "He's alive and strong."
He called me up and I always hurried to join him. The first thing I saw when I entered any place to meet him, no matter how crowded it was, was his face. It would jump out at me.
After a few weeks he knew I loved him. I hadn't said so, but I didn't have to. I stumbled when I went to sit down, my mouth hung open, my heart ached so much I wanted to cry all the time. If his hand touched mine by accident my knees buckled.
He smiled at me through all this as if I were half a joke. When he laughed at things I hadn't meant to be funny I felt flattered. He talked a lot about women and the emptiness of their love. He had just been divorced and was very cynical. He had a six-year-old son whose custody had been granted him by the court.
One evening after he had put his son to bed he sat and played the piano for me. He played a long time. The he did something that made my heart beat crazily. In order to see the music better he put on a pair of glasses. I had never seen him with glasses on.
I don't know why, but I had always been attracted to men who wore glasses. Now, when he put them on, I felt suddenly overwhelmed.
When I looked back on all the years I could remember I shuddered. I knew now how cold and empty they had been. I had always thought of myself as someone unloved. Now I knew there had been something worse than that in my life. It had been my own unloving heart. I had loved myself a little, and Aunt Grace and Anna. How little it seemed now !
I tried to figure out what was so different about my life. It was the same - no hopes, no prospects, all doors closed. The troubles were still there - every one of them - but they were like dust swept into a corner.
There was only one cloud in my paradise, and it kept growing. At first nothing had mattered to me except my own love. After a few months I began to look at his love. I looked, listened, and looked, and I couldn't tell myself more than he told me. I couldn't tell if he really loved me.
He grinned a lot when we were together and kidded me a lot. I knew he liked me and was happy to be with me. But his love didn't seem anything like mine. Most of his talk to me was a form of criticism. He criticised my mind. He kept pointing out how little I knew and how unaware of life I was. It was a sort of true. I tried to know more by reading books.

I had a new friend, Natasha Lytess. She was an acting coach and a woman of deep culture. She told me what to read. I read Tolstoy and Turgenev. They excited me and I couldn't lay a book down till I's finished it. And I would go around dreaming of all the characters I'd read and hearing then talk to each other. But I didn't feel that my mind was improving.
I never complained about his criticism, but it hurt me. Alone, I would like awake repeating all he'd said. I'd think, "He can't love me or he wouldn't be so conscious of my faults. How can he love me if I'm such a goof to him ?"
Then finally I realised the truth. He didn't love me. A man can't love a woman on whom he looks down, and he showed clearly in his criticism that that was how he felt about me. So I knew what I had to do.
When I saw him again the next day I said goodbye.
ALL this time I had forgotten about my film "career." But I went on looking for work because I was broke. I was living on money I could borrow.
Someone I met at a lunch counter, told me they were making retakes on a movie called "Love Happy" and needed a girl for a bit part. Harpo and Groucho Marx were in the movie.
I went on the set and found the producer, Lester Cowan, in charge. He introduced me to Groucho and Harpo. It was like meeting familiar characters out of "Mother Goose." There they were with the same happy, crazy look I had seen on the screen. They both smiled at me as if I were a piece of French pastry.
"This is the young lady for the office scene," said Mr. Gowan.
Groucho stared thoughtfully at me.
"Can you walk ?" he demanded.
I nodded.
"This role," said Groucho, "calls for a young lady who can walk by me in such a manner as to arouse my elderly libido and cause smoke to issue from my ears."
Harpo honked a horn at the end of his cane and grinned at me.
I walked the way Groucho wanted.
"Exceedingly well done," he beamed.
Harpo honked three times and blew a piercing whistle.
"It's Mae West, Theda Bara, and Bo-Peep rolled into one," said Groucho. "We shoot the scene tomorrow morning. Be early."
"And don't do any walking in any unpoliced areas," said Harpo.
I played the next day. Groucho directed me. It was hardly more than a walk-on, but Mr. Cowan, the producer, said I had the makings of a star and that he was going to do something about it.
When you're broke and a nobody and a man tells you that, he becomes a genius in your eyes. But nothing happened for a week.
Then one morning I found my name in the headline of a Hollywood movie-gossip column. I was so excited I fell out of bed. The headline said Lester Cowan had put me under contract to star in a forthcoming movie.
I dressed and made up quicker than a fireman and squandered my last two dollars on a taxi.
Mr. Cowan was in his office.
I told him I'd read about getting a contract. I even suggested I get a hundred dollars a week.
"We'll see," Mr. Cowan replied. "Just go home and wait till you hear from me. I'll send for you."
He kept his word and sent for me. He wasn't ready to use me as a star. But he would like to engage me to exploit the movie "Love Happy."
"But I don't know how to exploit a picture," I said.
"You don't have to know," Mr. Cowan replied. "All you have to do is to be Marilyn Monroe."
He explained that I would travel from city to city, put up at the finest hotels, meet the Press, give out interviews, and pose for photographers. Mr. Cowan agreed to pay my travelling expenses and give me a salary of a hundred dollars a week.
The day before I left for New York to start the tour of the USA I realised I had almost no wardrobe.
"I won't be much of an advertisement in one old suit," I told Mr. Cowan.
He gave me 75 dollars to outfit myself for the tour. I bought three woollen suits for 25 dollars apiece.
I bought woollen suits because I remembered that New York and Chicago were in the North. I had seen them in the movies blanketed with snow. I forgot it was summertime there as well as in Los Angeles.
When the train stopped in New York I could hardly breathe, it was so hot. It was hotter than I had ever known it to be in Hollywood. The woollen suit made me feel as if I were wearing an oven.
The Press agent who was supervising my trip had me pose on the train steps with perspiration running down my face and icecream cone in each hand. The caption for the pictures read: "Marilyn Monroe, the hottest thing in pictures, cooling off."
That "cooling off" idea became sort of the basis for my exploitation work.
Half an hour after arriving in New York I was led into an elegant suite in the Sherry-Netherland Hotel and told to put on a bathing suit. More photographers arrived and took pictures of me "cooling off."
I spent several days in New York looking at the walls of my elegant suite and the little figures of people 15 stories below.
All sorts of people came to interview me. I asked questions about the Statue of Liberty, and what were the best shows to see and the most glamorous cafes to go to. But I saw nothing and went nowhere.
Finally I got tired of sitting around perspiring in one of my three woollen suits.
"I ought to have something more attractive to wear in the evenings," I told the studio representatives.
They bought me a cotton dress at a wholesale shop. It had a lowcut neck and blue polka dots.
Next step was Detroit, then Cleveland, Chicago, Milwaulkee, and Rockford. It was the same story at each. I was taken to a hotel, rushed into a bathing suit, given a fan, and photographers arrived to take more "cheesecake" pictures of me. The hottest thing in pictures was cooling off again.
In Rockford I decided that I had seen enough of the world. Also, due to my moving around continually I had not received any salary. As a result I didn't have fifty cents to spend on myself during my grand tour.
I told the Press agent that I would like to return to Hollywood.

SOME days later, in the office of a film agency, I met John Hyde, one of the most important talent scouts in Hollywood.
Everyone called him Johnny, because of the friendly look he had.
"You're going to be a great movie star," Johnny said to me. "I know. Many years ago I discovered a girl like you and took her to Metro - Lana Turner. You'll go farther. You've got more."
"Then why can't I get a job ?" I asked. "Just to make enough money to eat on ?"
"It's hard for a star to get and eating job," said Johnny. "A star is only good as a star. You don't fit into anything less."
"I used to feel confident of myself once," I said. "When I first started. But I haven't felt it for some time. I've been too busy having troubles."
"Love trouble ?" he asked.
I said "Yes".
"Come around tomorrow and we'll talk again," said Johnny Hyde.
I had made another friend, a woman who was head of the MGM talent-scout department. Her name was Lucille Ryman. Miss Ryman had not only been kind to me, but had also assured me I was going to be a star.
One day Miss Ryman called me up.
"There's a part in John Huston's picture, "The Asphalt Jungle" that's perfect for you," she said. "It's not a big part, but you'll be bound to make a hit in it. Tell your agent to get in touch with Mr. Huston. I've already discussed you with him."
Johnny Hyde took me to Mr. Huston's office. Arthur Hornblow, the producer of the picture, was also present.
Mr. Huston was an exciting-looking man. He was tall, long-faced, and his hair was mussed. He was a genius - the first I had ever met.
Mr. Huston gave me a copy of the script. I took it home and my friend Natasha Lytess agreed to coach me.
"Do you think you can do it ?" Johnny Hyde asked me. "You have to break up in it, and cry and sob."
At first I felt Johnny had lost faith in me. Then I realised he was just being "too close" to me, and that he was worrying with my nerves and tears.
I studied the part for several days, then returned to Mr. Huston's office to read for him. Several other men were present, including Mr. Hornblow.
They were all friendly and make jokes. But I couldn't smile. I felt I would never be able to recite a line. A pulse was pounding in my stomach.
I couldn't have been more frightened if I were about to step in front of a locomotive to get run over.
"Well," said Mr. Huston, "do you like the part ?"
I nodded. My mouth was too dry to try talking.
"Do you think you can do it ?"
I nodded again.
I felt sick. I had told myself a million times I was an actress. I had practised acting for years. Here, finally, was my first chance at a real acting part, with a great director to direct me. And all I could do was stand with quivering knees and a quivering stomach and nod my head like a wooden toy.
But I could feel Mr. Huston was watching me and waiting.
I felt desperate. What was the use of reading in a shaking voice like a terrified amateur ?
"We're waiting, Miss Monroe," said Mr. Huston.
"I don't think I'm going to be any good," I answered.
Everybody stopped talking and looked at me.
"Would you mind if I read the part lying on the floor ?" I blurted out.
"Why, not at all," Mr. Huston replied gallantly. "Bill, here, will cue you."
I stretched myself out on the floor and Bill crouched down beside me. I felt much better. I had rehearsed the part lying on a couch as the directions indicated. There wasn't any couch in the office.
I went through the part with a crouching Bill reading the male actor's lines. When I finished I said: "Let me do it again."
"If you want to," said Mr. Huston, "but there's no need."
I did it again.
When I stood up Mr. Huston said: "You were in after the first reading. Go fit yourself up with the wardrobe department."
I knew this part wouldn't be cut out of the picture because it was vital to the plot. I was the reason one of the stars, Louis Calhern, committed suicide in the story. My characterisation was Mae West, Theda Bara, and Bo Peep - in tight silk lounging pyjamas.

IN a movie you can act a little bits and pieces. You say two lines and they "cut." They set up the camera in another place - and you act two more lines. You walk five feet and they "cut." The minute you get going good in your characterisation they "cut."
But it doesn't matter. There's no audience watching you. There's nobody to act for except yourself.
It's like the games you play when you're child and pretend to be somebody else. Usually, it's even almost the same sort of story you used to make up as a child - about meeting somebody who fell in love with you because, despite everything he'd heard against you, you were a good girl with a heart of gold.
But it wasn't this way while we were making "Asphalt Jungle", because it was an adult script. There was also an audience watching me act - an audience of one, the director. A director like Mr. Huston makes your work exciting. Some directors seem more interested in photographing the scenery than the actors.
The keep moving the camera around, saying, "Here's a wonderful shot." Or, "This is a superb set-up. We'll be able to get the fireplace and the Oriental mask in the frame." Or they say, "That'll cut beautifully. It'll give us a fast tempo."
You feel they're more interested in their directing than they are in your acting. They want the Front Office to praise them when the rushes are shown. Mr. Huston wasn't like that. He was interested in the acting I did. He not only watched it; he was part of it. And even though my part was a minor one, I felt as if I were the most important performer in the picture when I was before the camera.
This was because everything I did was important to the director - just as important as everything the stars of the picture did.

Johnny Hyde was so excited as I was during the shooting. He kept telling me: "This is it, honey. You're in. Everybody is crazy about your work."
When the picture was previewed all the studio heads went to see it. It was a fine picture. I was thrilled by it. The biggest thrill, though, was myself. The audience whistled at me. They made "wolf noises." They laughed happily when I spoke. They liked me very much.
It's a nice sensation to please an audience. I sat in the theatre with Johnny Hyde. He held my hand. We didn't say anything on the way home. He sat in my room beaming at me. It was as if he had made good on the creen, not me. It was not only because I was his client and his "discovery". His heart was happy for me.
I could feel his unselfishness and his deep kindness. No man had ever looked on me with such kindness. He not only knew me; he knew Norma Jean, too. He knew all the pain and all the desperate things in me. When he put his arms around me and said he loved me, I knew it was true. Nobody had ever loved me like that. I wished with all my heart that I could love him back.
I told him about my love affair that had just ended and about all the pain I had felt. The affaire was over in every way but one. It made it hard to love again. Johnny was even kind about this. He didn't scream and carry on. He understood. He didn't blame or criticise. Life was full of mix-ups and wrong starts, he said. He would wait for my heart to get strong again and wait for me to love him, if I could.
Kindness is the strangest thing to find in a sweetheart - or in anybody. Johnny's kindness made him seem the most wonderful human being I'd ever met.
"The first thing to do," he said to me the next day, "is get you a contract with Metro."
"Do you think you can ?" I asked.
"They've got a new star on their hands," said Johnny, "and they know it. Everybody is raving about your work. Most of all, you saw and heard that audience. They bought you as I've never seen any small part player bought in a picture before."
A week later Johnny said to me, "I don't want you to feel depressed, honey. We've had a temporary setback."
"Metro doesn't want me," I said.
"You guessed it," Johnny smiled at me. "It's fantastic. I've been talking to Dore Schary all week. He likes your work. He thinks you've done a wonderful job, in fact. But he said you're not star material. He sayd you're not photogenic, that you haven't got the sort of looks that make a movie star."
"Maybe he's right," I said. "Mr. Zanuck said the same when Twentieth dropped me."
"He's wrong," said Johnny. "And so was Zanuck. I have to laugh when I think how wrong they are and how they'll both eat their words some day - and some day soon."
Johnny laughed, but I didn't. It was frightening - to be up so high in your hopes and then take another tumble back to no work, no prospects, no money, and nowhere. But I didn't quite take the full tumble this time. I wasn't alone. I had Johnny with me. I wasn't merely Johnny's client or even his sweetie. I was a Cause he had.

My heart ached with gratitude and I would have cut my head off for him. But the love he hoped for wasn't in me. You might as well try to make yourself fly as to make yourself love. But I felt everything else towards Johnny Hyde, and I was always happy to be with him. It was like being with a whole family and belonging to a full set of relatives.
It's hard to hope with somebody else's heart and be happy with somebody else's daydreams. But Johnny made me happy and kept me believing in myself. I didn't run around the studios job-hunting anymore. Johnny did that. I stayed home and took dramatic lessons and read books.
One of them excited me more than any other I had read. It was the Autobiography of Lincoln Steffens. It was the first book I'd read that seemed to tell the truth about people and life.
It was bitter, but strong. It didn't just echo tha half lies I's always heard. I loved his book. Reading it I forgot all about not having a job and not being "photogenic". But Johnny didn't forget.
"We've landed a good one," he reported one evening. "I didn't want to talk about it till I was sure. I'm sure now. It's the new Joseph Mankiewicz picture called 'All About Eve.' It's not a big part, but it will establish you at Twentieth."
"But they don't like me there," I said.
"They will," said Johnny.
Mr. Mankiewicz was a different sort of director from Mr. Huston. He wasn't as exciting and he was more talkative. But he was intelligent and sensitive. I felt happy on the set, and, with Johnny Hyde's help, I was able to daydream again.
The studio was always cooking up little publicity stories for the different people under its roof. I was eager for publicity, but there was one kind I refused to accept. This was the publicity you get as a result of being seen in a cafe at night with a fellow actor. The columnists would then hint that you and the young actor were setting out on a romance.
I didn't like going to fancy cafes and sitting around with some ambitious profile. I didn't like people thinking of me as being romantic about somebody I didn't know. And I knew Johnny wouldn't like it. So I stayed out of the cafes and the movie columns as a romance dizzy starlet.

I have had a talent for ittitating women since I was 14. Wives have a tendency to go off like burglar alarms when they see their husbands talking to me. Even young and pretty Hollywood "maidens" greet me with more sneer than smile.
This sort of sex fear that women often feel when I walk into their barnyard has different effects on me. I find it flattering and upsetting. I find it also mysterious. Women don't resent me because I'm prettier or better shaped than they are - or show more of myself to male eyes.
I've seen women at parties who had only enough clothes on to keep from being arrested, and I've heard such party-nudists buzzing about how vulgar I was. They were showing more leg, more bosom, and more spinal column than I was, and I was the "vulgar" one !
Women also don't like the way I talk - even when I'm not talking to thei husbands or lovers. One angry woman said my voice was "too premeditated". I found out she meant I was putting on a sort of bedroom drawl. This isn't true.
The chief difference between my voice and the voices of most women I've seen is that I use mine less.
I can't chatter if I wanted to. I can't pretend to laugh and be full of some sort of foolish good spirits when I'm in company. Standing around at a party looking serious attracts unfavorable feminine comment. They think I'm plotting something, and usually the same thing - how to steal their gentlemen friends from under their noses.
I don't mine their thinking that. I would rather a thousand women were jealous of me than I was jealous of one of them. I've been jealous, and it's no fun.

Sometimes I've been to a party where no one spoke to me a whole evening. The men, frightened by their wives or sweeties, would give me a wide berth. And the ladies would gang up in a corner to discuss my dangerous character.
Being given the social cold shoulder like that never made me too unhappy. I've done most of my thinking at such parties, standing in a corner with a cocktail glass in hand and nobody to talk to.
I've thought about women. Their jealousy had little to do with me. It cornes out of their realising their own shortcomings. Men have told me a lot about women - how lame their love-making often is; how they mistake hysteria for passion and nagging for devotion.
Looking at me, women think I'm different from them in such matters, and this makes them angry.
When I see women frowning in my direction and cutting me up among themselves, I really feel sorry - not for them, but for their menfolk. I have a feeling that such women are poor lovers. The only thing they are able to give a man is a guilt complex. It they are able to make them fell that he is a bad husband or an unappreciative lover then they consider themselves "successful."

Johnny Hyde's kindness changed the outside world for me, but it didn't touch my inner world. I tried hard to love him. He was not only kind, but loyal, and wise, and devoted.
Johnny was never jealous because of anything I had done. It was always because of what I might do. Most men have been jealous for the same reason. I've liked their jealousy. Often it was the only sincere thing about their love. Most men judge your importance in their lives by how much you can hurt them, not by how happy you can make them.
But there was one kind of jealousy I never liked. It was the jealousy that kept a man asking questions about other men, and never letting up, and wanting to know more and more details. I felt then that my jealous friend was more interested in those men than in me.
I did all I could to lessen Johnny Hyde's fears. I never went out with other men. I was a faithful to him as he was kind to me.
Johnny Hyde gave me more than his kindness and love. He was the first man I had ever known who understood me. Most men (and women) thought I was scheming and two-faced. No matter how thruthfully I spoke to them, or how honestly I behaved, they always believed I was trying to fool them.

When I talk I have the habit of not finishing sentences, and this gives the impression I'm telling lies. I'm not. I'm just not finishing sentences. Johnny knew that I didn't tell lies, and that I wasn't planning to fool him.
The thruth is I've never fooled anyone. I've let men sometimes fool themselves. Men sometimes didn't bother to find out who and what I was. Instead they would invent a character for me. I wouldn't argue with them. They were obviously loving somebody I wasn't. When they found this out they would blame me for disillusioning them - and fooling them.
I have even tried to be straightforward with women. This is more difficult than being straightforward with men. Men are often pleased when you tell them the truth about how you feel. But very few women want to hear any truth - if it's going to be in any way annoying.
As far as I can make out women's friendships with each other are based on a gush of lies and pretty speeches that mean nothing.

One evening in his house Johnny started up the stairs to get me a book. I saw him stop on the landing and lean against the balustrade. I had seen my Aunt Ana do that a few months before she died of her heart attack.
I ran up tp Johnny and put my arms around him and said: "Oh, Johnny, I'm sorry. I'm sorry you feel bad."
"I'll be all right," he said. But that was only Johnny's courage talking. It wasn't his heart. Johnny's heart had been ill for years.
A few week later he died. His family wouldn't let me sit among them at the funeral. I sat in the back of the church among Johnny's acquaintances. When I passed by his coffin I felt such a sadness that I forgot myself. I threw myself on the coffin and sobbed. I wished I was dead with him.
My great friend was buried. I was without his importance to fight for me, and without his love to guide me. I cried for nights at a time. I never stopped regretting him - the kindest man in the world.

Now for the story of what is called a Hollywood "feud".
I met Joan Crawford at Joe Schenck's house. She was an impressive woman. I admired her during dinner. I hoped that when I was her age I would keep my looks as well as she had.
Some movies stars don't seem like stars when you meet them, and some seem more like stars off the screen than on. I don't know which is better, but Miss Crawford was definitely the latter type.
She was as much the movie star at Mr. Schenck's dinner table as she could have been electrifying a courtroom in a movie drama - even a little more.
After dinner Miss Crawford said to me: "I think I could help you if you would let me. For instance, that white knitted dress you're wearing is utterly incorrect for a dinner of this kind."
It was the only good dress I owned. I wore it evenings as well as daytimes when I was going any place important, and I cleaned it myself every day.
I looked at Miss Crawford's beautiful evening gown as she went on: "Taste is every bit as important as looks and figure. Will you let me help you, my dear ?"
I said I was flattered. We made a date to meet Sunday morning after church. It turned out that Miss Crawford and I went to the same church.
Afterwards Miss Crawford said: "I'm so glad to see you. But tou mustn't come to church in flat heels and a grey suit with black trimming. If you wear grey, you must wear different grey tones, but never black."
It was my only suit, but there was no sense defending it on that ground.
She invited me to her lovely home. I thought she might be going to give me some of her old gowns. Instead she said: "I must show you the things I've been knitting."
She showed me a number of knitted fronts in different shades of brown and explained that they were to be worn under different shades of brown suits.
"The main thing about dressing well," Miss Crawford explained, "is to see that everything you wear is just right - that your shoes, stockings, gloves, and bag all fit the suit you're wearing."
"Now what I would like to do is to make a list of all the clothes in your wardrobe and I'll make a list of the things you need to buy and see that you buy the right things."
I didn't say anything. I usually didn't mind telling people I was broke and even trying to borrow a few dollars from them to tide me over.
But for some reasons I couldn't tell Miss Crawford that she had seen my wardrobe in full - the incorrect white knitted dress and the wrong grey suit.
"It's so easy not to look vulgar," Miss Crawford assured me when I was ready to leave. "Do let me guide you a bit, You'll be surprised at the results. And so will everyone else."

The next time I heard from Miss Crawford was in the newspapers. This was a year later. I'd gone to work at 20th Century-Fox again, and the Marilyn Monroe boom had started. I was all over the magazines and movie columns, and the fan mail at the studio was arriving in trucks.
Among the honors that were now showering on me was the privilege of presenting one of the Oscars to one of the Award winners at the Motion Picture Academy's annual affair.
I was frozen with fear the night of the ceremonies. But I thought I did well - until I read Joan Crawford's remarks in the morning papers.
I haven't saved the clippings but I have sort of remembered what she said. She said that Marilyn Monroe's vulgar performance at the Academy affair was a disgrace to all of Hollywood.
The vulgarity, she said, consisited of my wearing a dress too tight for me and wriggling my rear when I walked up holding one of the Oscars in my hand.
I was so suprised I could hardly believe what I was reading. I called up some friends who had seen me at the ceremony and asked them if it were true. They laughed. It wasn't true, they said.
I have written out this accurate account of one of my "feuds" because it is typical. The feuds are all started by someone whom I have mysteriously offended - always a woman.
The truth is my tight dress and my wriggling were in Miss Crawford's mind. She obviously had been reading too much about me.
Or maybe she was just annoying because I had never brought her a list of my wardrobe.
I kept my eyes wide with interest, althought I couldn't understand anything they were saying.
To begin with I didn't know who Botticelli or Da Vinci were.
"We're boring Marilyn," said the director. "I can always tell when she's bored to tears. She opens her eyes wide and parts her lips slightly with bogus eagerness."
"Let's talk about something closer to her than the Renaissance," said the writer. "How about sex ?"
"At least I'll know which side you're on," I said.
But I didn't. The discussion about sex sounded completely unfamiliar. It had to do with Freud and Jung and a few other characters who seemed to me pretty mixed up.
Something occurred to me, however, as I sat listening to my two witty friends.
I realised that about two-thirds of the time I hadn't the faintest idea of what people (even women) were talking about.
There was no hiding from it - I was terribly dumb.
When I arrived home I sat in bed and asked myself if there was anything I did know. I couldn't think of anything - except acting. I knew acting. It was a way to live in dreams for a few minutes at a time.
I decided to go to school. The next day I enrolled in the University of Southern California.
I went to school every afternoon - and often in the evening. The teacher was a woman. I was depressed by this at first because I didn't think a woman could teach me anything. But in a few days I knew differently.
She was one of the most exciting human beings I had ever met. She talk about the Renaissance, and made it sound ten times more important than the studio's biggest epic.
I drank in everything she said. I met Michelangelo and Raphael and Tintoretto.
At night I lay in bed wishing I could have lived in the Renaissance. Of course, I would be dead now. But it seemed almost worth it.
After a few weeks I branched out as a student. I started buying books by Freud, and some of its modern disciples. I read them till I got dizzy.
But I didn't have enough time. There were acting lessons and singing lessons, publicity interviews, sessions with photographers - and rehearsals of a movie.
Finally I decided to postpone my intelligence, but I made a promise to myself I woudn't forget.

To be continued next week

---
Traduction
"C'est mon histoire - par Marilyn Monroe"
Troisième tome captivant
SYNOSPIS - Après une enfance d'orpheline malheureuse et un mariage raté qui se solde par un divorce à 19 ans, MARILYN MONROE (née NORMA JEAN MORTENSON) tente de percer dans le cinéma. Une période de difficultés amères, au cours de laquelle elle pose nue pour un calendrier afin de gagner les 50 dollars dont elle a tant besoin, et suivie d'un petit succès lorsqu'elle obtient un petit rôle. Puis, sans avertissement, elle est renvoyée. Elle n'a pas d'argent, et pratiquement pas d'amis, et se retrouve dans un état de désespoir total quand soudain, et pour la première fois de sa vie, elle tombe amoureuse.

QUAND je me suis allongée dans ce fond océanique de désespoir, l'amour m'a frappé, m'a soulevé dans les airs et m'a tenu debout en regardant le monde comme si je venais de naître.
IL est maintenant marié à une star de cinéma et si j'utilisais son vrai nom, cela pourrait l'embarrasser autant lui que elle. J'ai lu dans le journal que leur mariage, il y a à peine un an, se dirige vers les récifs d'Hollywood où la plupart des mariages font naufrages au pays du cinéma. Il y a quelques années, j'aurais peut-être eu envie de lui donner un coup de pouce, juste en souvenir du bon vieux temps.
Mais maintenant je suis heureuse, je lui souhaite bonne chance et je souhaite bonne chance à tous ceux et celles qu'il aime.
Je sortais du département casting de la M.G.M. avec les résultats habituels - pas de travail et pas de perspectives - lorsqu'une fille que je connaissais m'a présenté à un homme d'apparence ordinaire. Tout ce que je pouvais dire de lui, c'est qu'il n'était pas acteur.
Les acteurs sont souvent des gens merveilleux et charmants, mais pour une femme, aimer un acteur s'apparente à de l'inceste. C'est comme aimer un frère avec le même visage et les mêmes manières que les vôtres.
Nous sommes allés dans un café où nous nous sommes assis et avons parlé. Ou plutôt, il a parlé. Je le regardais en écoutant à moitié. J'étais désemparée par mes échecs et il n'y avait aucun espoir en moi. Sa voix agissait comme un médicament. Il m'a dit qu'il était musicien et qu'il aimait jouer du piano et pourquoi certaines musiques étaient meilleures que d'autres. Je ne le considérais pas comme un homme ou un musicien. Tout ce que je pensais, c'était : "Il est vivant et fort."
Quand il m'appelait, je me suis toujours dépêchée pour le rejoindre. La première chose que je voyais quand j'entrais dans un endroit pour le rencontrer, aussi bondé soit-il, c'était son visage. Comme s'il se jetait sur moi.
Après quelques semaines, il savait que je l'aimais. Je ne l'avais pas dit, mais ce n'était pas nécessaire. Je trébuchais en allant m'asseoir, ma bouche restait grande ouverte, mon cœur me faisait tellement mal que j'avais envie de pleurer tout le temps. Si sa main effleurait la mienne par accident, mes genoux flageolaient.
Il me sourait au milieu de ces travers comme s'il s'agissait d'un petit jeu. Quand il riait de choses que je n'avais pas voulu être drôle, je me sentais flattée. Il a beaucoup parlé des femmes et du vide de leur amour. Il venait de divorcer et était très cynique. Il avait un fils de six ans dont la garde lui avait été accordée par le tribunal.
Un soir, après avoir mis son fils au lit, il s'est assis et a joué du piano pour moi. Il a joué longtemps. Il a fait quelque chose qui a fait battre mon cœur follement. Pour mieux voir la musique, il a mis une paire de lunettes. Je ne l'avais jamais vu avec des lunettes.
Je ne sais pas pourquoi, mais j'ai toujours été attirée par les hommes qui portaient des lunettes. Alors quand il les a mises, je me suis sentie soudainement submergée.
Quand je repensais à toutes les années dont je me souvenais, j'en frissonnais. Je savais maintenant à quel point elles avaient été froides et vides. Je m'étais toujours considérée comme quelqu'un de mal-aimée. Maintenant, je savais qu'il y avait eu quelque chose de pire que cela dans ma vie. Cela avait été mon propre cœur sans amour. Je m'étais un peu aimée moi-même, ainsi que tante Grace et Anna. Comme cela paraissait peu désormais !
J'ai essayé de comprendre ce qui était si différent dans ma vie. C'était toujours pareil - pas d'espoirs, pas de perspectives, toutes les portes fermées. Les problèmes étaient toujours là - chacun d'entre eux - mais ils étaient comme de la poussière balayée dans un coin.
Il n'y avait qu'un seul nuage dans mon paradis, et il n'arrêtait pas de grandir. Au début, rien n'avait compté pour moi, sauf mon amour. Après quelques mois, j'ai commencé à observer le sien. Je regardais, écoutais et regardais encore, et je ne pouvais pas me dire plus que ce qu'il me disait. Je ne pouvais pas dire s'il m'aimait vraiment.
Il souriait beaucoup quand nous étions ensemble et se moquait beaucoup de moi. Je savais qu'il m'aimait bien et qu'il était heureux d'être avec moi. Mais son amour ne ressemblait en rien au mien. La plupart de ses conversations avec moi étaient une forme de critique. Il critiquait mon état d'esprit. Il n'arrêtait pas de souligner à quel point je savais peu de choses, à quel point j'ignorais la vie. C'était en quelque sorte vrai. J'ai essayé d'en savoir plus en lisant des livres.

J'avais une nouvelle amie, Natasha Lytess. Elle était professeure de théâtre et très cultivée. Elle me conseillait pour mes lectures. J'ai lu Tolstoï et Tourgueniev. Ils m'exhaltaient et je ne pouvais pas poser un livre avant de l'avoir terminé. Et je me promenais en rêvant de tous les personnages que je lisais en les entendant se parler entre eux. Mais je n'avais pas l'impression que mon intelligence s'améliorait.
Je ne me suis jamais plainte de ses critiques, mais ça me faisait mal. Seule, je restais éveillée dans mon lit en me répétant tout ce qu'il me disait. Je pensais : "Il ne peut pas m'aimer ou sinon il ne serait pas si conscient de mes défauts. Comment peut-il m'aimer si je suis si gourde ?"
Puis finalement, j'ai réalisé la vérité. Il ne m'aimait pas. Un homme ne peut pas aimer une femme qu'il méprise, et il a clairement montré dans sa critique que c'était ce qu'il ressentait pour moi. Alors je savais ce que j'avais à faire.
Quand je l'ai revu le lendemain, je lui ai dit au revoir.

Pendant tout ce temps, j'avais oublié ma "carrière" cinématographique. Mais j'ai continué à chercher du travail parce que j'étais fauchée. Je vivais avec de l'argent que je pouvais emprunter.
Quelqu'un que j'ai rencontré à un comptoir d'un snack m'a dit qu'on faisait de nouvelles prises de vues d'un film intitulé "Love Happy" et qu'on avait besoin d'une fille pour un petit rôle. Harpo et Groucho Marx étaient dans le film.
Sur le plateau, je suis allée trouver le producteur aux commandes, Lester Cowan. Il m'a présenté Groucho et Harpo. C'était comme rencontrer les personnages si familiers de "Mother Goose". Ils étaient là avec le même regard joyeux et fou que j'avais vu à l'écran. Ils m'ont tous les deux souri comme si j'étais une pâtisserie française.
"C'est la jeune femme pour la scène du bureau", a déclaré M. Gowan.
Groucho me regarda d'un air pensif.
"Pouvez-vous marcher ?" m'a-t-il demandé.
J'ai hoché la tête.
"Ce rôle", a déclaré Groucho, "exige qu'une jeune femme qui, en marchant à côté de moi, puisse éveiller ma libido âgée et à faire sortir de la fumée de mes oreilles."
Harpo klaxonna du bout de sa canne et me sourit.
J'ai marché comme Groucho le voulait.
"Extrêmement bien fait", commenta-t-il, épanoui.
Harpo a klaxonné trois fois et a donné un coup de sifflet perçant.
"C'est Mae West, Theda Bara et Bo-Peep réunies", a déclaré Groucho. "Nous tournons la scène demain matin. Venez tôt."
"Et ne marchez pas dans les quartiers non surveillés par la police", a déclaré Harpo.
Je jouais le lendemain. Groucho me dirigeait. Ce n'était guère plus que de la figuration, mais M. Cowan, le producteur, a dit que j'avais l'étoffe d'une star et qu'il allait faire quelque chose à ce sujet.
Quand on est fauchée et inconnue et qu'un homme vous dit cela, il devient un génie à vos yeux. Mais il ne s'est rien passé pendant une semaine.
Puis un matin, j'ai trouvé mon nom dans le titre d'une colonne de potins sur les films d'Hollywood. J'étais tellement excitée que j'en suis tombée du lit. Le titre disait que Lester Cowan m'avait mise sous contrat pour jouer dans un prochain film.
Je me suis préparée -habillée et maquillée- plus vite qu'un pompier et j'ai gaspillé mes deux derniers dollars dans un taxi.
M. Cowan était dans son bureau.
Je lui ai dit que j'avais lu pour le contrat. J'ai même suggéré que je reçoive cent dollars par semaine.
"Nous verrons," répondit M. Cowan. "Rentrez chez vous et attendez d'avoir de mes nouvelles. Je vous contacterai."
Il a tenu parole et m'a contacté. Il ne pouvait pas encore m'utiliser comme une star. Mais il aimerait m'engager pour exploiter le film "Love Happy".
"Mais je ne sais pas comment exploiter un film," lui dis-je.
"Vous n'avez pas besoin de savoir", a répondu M. Cowan. "Tout ce que vous aurez à faire, c'est d'être Marilyn Monroe."
Il m'a expliqué que je voyagerai de villes en villes, que je logerai dans les meilleurs hôtels, que je rencontrerai la presse, que je donnerai des interviews et que je poserai pour les photographes. M. Cowan a accepté de payer mes frais de déplacement et de me donner un salaire de cent dollars par semaine.
La veille de mon départ pour New York, afin de commencer ma tournée des États-Unis, j'ai réalisé que je n'avais presque pas de garde-robe.
"Je ne ferai pas vraiment une bonne publicité vêtue de vieux vêtements", ai-je dit à M. Cowan.
Il m'a donné 75 dollars pour que je puisse m'habiller pour la tournée. J'ai acheté trois tailleurs en laine pour 25 dollars chacun.
J'ai acheté des vêtements en laine parce que je me souvenais que New York et Chicago étaient dans le Nord. Et j'avais vu dans les films que ces villes étaient recouvertes de neige. J'avais oublié que c'était aussi l'été là-bas, comme à Los Angeles.
Quand le train s'est arrêté à New York, je pouvais à peine respirer, il faisait si chaud. Il faisait encore plus chaud que la chaleur que je connaissais à Hollywood. Mon tailleur de laine me donnait l'impression d'être dans un four.
L'attaché de presse qui supervisait mon voyage m'a fait poser sur les marches du train, la sueur dégoulinant sur mon visage et un cornet de glace dans chaque main. La légende des photos était la suivante : "Marilyn Monroe, la chose la plus sexy au cinéma, se rafraîchit."
Cette idée de "rafraîchissement" est devenue en quelque sorte la base de mon travail d'exploitation.
Une demi-heure après mon arrivée à New York, on m'a conduit dans une suite élégante du Sherry-Netherland Hotel et on m'a dit de mettre un maillot de bain. D'autres photographes sont arrivés et ont pris des photos de moi "en train de me rafraîchir".
J'ai passé plusieurs jours à New York à regarder les murs de mon élégante suite et les petites silhouettes des gens 15 étages plus bas.
Toutes sortes de personnes sont venues m'interviewer. J'ai posé des questions sur la Statue de la Liberté, quels étaient les meilleurs spectacles à voir et les cafés les plus huppés où sortir. Mais je n'ai rien vu et je ne suis allée nulle part.
Finalement, j'en ai eu assez de rester assise à transpirer dans l'un de mes trois tailleurs en laine.
"Je devrais avoir quelque chose de plus attrayant à porter le soir", ai-je dit aux représentants du studio.
Ils m'ont acheté une robe en coton chez un grossiste. Elle avait un col décolleté et des pois bleus.
La prochaine étape était Detroit, puis Cleveland, Chicago, Milwaulkee et Rockford. C'était la même histoire à chaque fois. J'ai été emmenée dans un hôtel, mise d'urgence dans un maillot de bain, on m'a donné un ventilateur, et des photographes sont arrivés pour prendre plus de photos "pin-up" de moi. La chose la plus sexy du cinéma se rafraîchissait à nouveau.
À Rockford, j'ai décidé que j'en avais assez vu du monde. En plus, en raison de mes déplacements continuels, je n'avais reçu aucun salaire. En conséquence, je n'avais pas cinquante centimes à dépenser pour moi pendant ma grande tournée.
J'ai dit à l'attaché de presse que j'aimerais retourner à Hollywood.

QUELQUES jours plus tard, dans le bureau d'une agence de cinéma, j'ai rencontré John Hyde, l'un des découvreurs de talents les plus importants d'Hollywood.
Tout le monde l'appelait Johnny, à cause de son air amical.
"Tu vas devenir une grande star de cinéma", m'a dit Johnny. "Je sais. Il y a de nombreuses années, j'ai découvert une fille comme toi et je l'ai emmenée à la Metro - Lana Turner. Tu iras plus loin. Tu en as plus."
"Alors pourquoi est-ce que je ne peux pas trouver de travail ?" lui ai-je demandé. "Au moins pour gagner assez d'argent pour manger ?"
"Il est difficile pour une star d'obtenir un emploi alimentaire", a déclaré Johnny. "Une star n'est bonne qu'en tant que star. Tu ne peux pas prétendre moins que ça."
"J'avais l'habitude d'avoir confiance en moi autrefois", lui ai-je dit. "Quand j'ai commencé. Mais je ne l'ai pas ressenti depuis un certain temps. J'ai été trop occupée à avoir des problèmes."
"Chagrin d'amour ?" m'a-t-il demandé.
Je lui ai répondu "oui".
"Reviens demain et nous en reparlerons", a déclaré Johnny Hyde.
Je m'étais faite une autre amie, une femme qui dirigeait le département de recherche de talents de la MGM. Elle s'appelait Lucille Ryman. Miss Ryman avait non seulement été gentille avec moi, mais elle m'avait aussi assuré que j'allais devenir une star.
Un jour, Miss Ryman m'appela.
"Il y a un rôle dans le film de John Huston, "Quand la ville dort", qui est parfait pour vous", a-t-elle déclaré. "Ce n'est pas un grand rôle, mais vous y ferez forcément un tabac. Dites à votre agent de contacter M. Huston. J'ai déjà discuté de vous avec lui."
Johnny Hyde m'a amené au bureau de M. Huston. Arthur Hornblow, le producteur du film, était également présent.
M. Huston était un homme fascinant. Il était grand, au visage long et ses cheveux étaient ébouriffés. C'était un génie - le premier que j'aie jamais rencontré.
M. Huston m'a donné une copie du scénario. Je l'ai ramené à la maison et mon amie Natasha Lytess a accepté de me coacher.
"Penses-tu pouvoir le faire ?" me demandait Johnny Hyde. "Pour ce rôle, tu dois être effondrée, pleurer et sangloter."
Au début, j'ai senti que Johnny avait perdu confiance en moi. Puis j'ai réalisé qu'il était juste "trop ​​proche" de moi, et qu'il s'inquiétait de ma nervosité et de mes larmes.
J'ai étudié le rôle pendant plusieurs jours, puis je suis retournée au bureau de M. Huston pour en faire une lecture. Plusieurs autres hommes étaient présents, dont M. Hornblow.
Ils étaient tous sympathiques et faisaient des blagues. Mais je ne pouvais pas sourire. Je sentais que je ne serais jamais capable de réciter une ligne. Mon pouls battait dans mon ventre.
Je n'aurais pas pu avoir plus peur que si je devais courir pour ne pas me faire écraser face à une locomotive en marche.
"Eh bien," dit M. Huston, "aimez-vous le rôle ?"
J'ai hoché la tête. Ma bouche était bien trop sèche pour prononcer un seul mot.
"Pensez-vous pouvoir le faire ?"
J'ai de nouveau hoché la tête.
Je me sentais malade. Je m'étais dit un million de fois que j'étais une actrice. J'avais pratiqué le théâtre pendant des années. Voilà, enfin, ma première chance d'avoir un vrai rôle d'actrice, avec un grand réalisateur pour me diriger. Et tout ce que je pouvais faire, c'était de me tenir debout, les genoux tremblant et l'estomac serré, et de hocher la tête comme un jouet en bois.
Mais je sentais bien que M. Huston me regardait et attendait.
Je me sentais désespérée. A quoi bon lire d'une voix tremblante comme un simple amateur terrifié ?
"Nous attendons, Mlle Monroe", a dit M. Huston.
"Je ne pense pas que je serai bonne," répondis-je.
Tout le monde s'est arrêté de parler et m'a regardé.
"Est-ce que ça vous dérangerait si je lisais en m'allongeant par terre ?" ai-je lâché.
"Pourquoi pas, après tout," répondit galamment M. Huston. "Bill, ici, va vous donner le signal."
Je m'allongeai sur le sol et Bill s'accroupit à côté de moi. Je me sentais beaucoup mieux. J'avais répété mon rôle allongée sur un canapé comme les instructions l'indiquaient. Il n'y avait pas de canapé dans le bureau.
J'ai fais ma lecture avec un Bill accroupi lisant les répliques de l'acteur masculin. Quand j'ai fini, j'ai dit : "Laissez-moi recommencer."
"Si vous voulez," dit M. Huston, "mais ce n'est pas nécessaire."
Je l'ai fait encore une fois.
Quand je me suis levée, M. Huston m'a dit : "Vous étiez prise dès la première lecture. Allez au département costume."
Je savais que ce rôle ne serait pas coupé au montage final car il était essentiel pour l'intrigue. J'étais la raison pour laquelle l'une des stars, Louis Calhern, se suicide dans l'histoire. Mon inspiration s'appuyait sur Mae West, Theda Bara et Bo Peep - en pyjama moulant en soie.

DANS un film, vous jouer un peu par petits morceaux. Vous dites deux lignes et on "coupe". Ils installent la caméra à un autre endroit - et vous jouez deux autres répliques. Vous faites cinq pas et on "coupe". À la minute où vous êtes bien lancé dans votre personnage, on "coupe".
Mais cela n'a pas d'importance. Il n'y a pas de public qui vous regarde. Il n'y a personne pour qui jouer à part vous-même.
C'est comme les jeux auxquels on joue quand on est enfant et qu'on prétend être quelqu'un d'autre. Habituellement, c'est même presque le même genre d'histoire que vous inventiez quand vous étiez enfant - de la rencontre avec quelqu'un qui est tombé amoureux de vous parce que, malgré tout ce qu'il avait entendu sur vous, vous étiez une bonne fille avec un cœur d'or.
Mais ce n'était pas comme ça pendant que nous faisions "Quand la ville dort", parce que c'était un scénario pour adultes. Il y avait aussi un public qui me regardait jouer - un public composé d'un seul, le réalisateur. Un réalisateur comme M. Huston rend votre travail passionnant. Certains réalisateurs semblent plus intéressés à photographier les décors que les acteurs.
Ils n'arrêtent pas de déplacer la caméra en disant : "Voici une superbe image." Ou, "C'est un superbe montage. On va pouvoir mettre la cheminée et le masque oriental dans le cadre." Ou ils disent : "Ça fera un plan de coupe formidable. Ça donnera un tempo rapide."
Vous sentez qu'ils sont plus intéressés par leur mise en scène que par votre jeu. Ils veulent que la direction les félicite lorsque les rushes sont diffusés. M. Huston n'était pas comme ça. Il était intéressé par le jeu que je faisais. Il ne s'est pas contenté de le regarder; il en faisait partie. Et même si mon rôle était mineur, je me sentais comme si j'étais l'interprète la plus importante du film quand j'étais devant la caméra.
C'était parce que tout ce que je faisais était important pour le réalisateur - tout aussi important que tout ce que faisaient les stars du film.

Johnny Hyde était aussi excité que moi pendant le tournage. Il n'arrêtait pas de me dire : "Ça y est, chérie. Tu es lancée. Tout le monde est fou de ton travail."
Lorsque le film a été visionné, tous les directeurs du studio sont allés le voir. C'était un beau film. J'en étais ravie. Le plus grand frisson, cependant, a été moi-même. Le public me sifflait à l'écran. Ils faisaient des "bruits de loup". Ils riaient si joyeusement dès que je parlais. Ils m'aimaient beaucoup.
C'est une belle sensation de plaire à un public. J'étais assise dans la salle avec Johnny Hyde. Il me tenait la main. Nous n'avons rien dit sur le chemin du retour. Il s'est assis dans ma chambre et me contempla, l'air rayonnant. Comme si c'était lui sur lécran, et pas moi. Ce n'était pas seulement parce que j'étais sa cliente et sa "découverte". Son cœur était heureux pour moi.
Je pouvais sentir son altruisme et sa profonde gentillesse. Aucun homme ne m'avait jamais regardé avec autant de bonté. Non seulement il me connaissait; mais il connaissait Norma Jean aussi. Il connaissait toute la douleur et toutes les choses désespérées en moi. Quand il a mis ses bras autour de moi et a dit qu'il m'aimait, j'ai su que c'était vrai. Personne ne m'avait jamais aimé comme ça. Je souhaitais de tout mon cœur pouvoir l'aimer en retour.
Je lui ai parlé de mon histoire d'amour qui venait de se terminer et de toute la douleur que j'avais ressentie. L'histoire était terminée à tous les égards sauf un. Il était difficile d'aimer à nouveau. Johnny était même compréhensif sur ce point. Il n'a pas crié et n'a pas fait de scène. Il a compris. Il n'a ni blâmé, ni critiqué. La vie était pleine de confusions et de mauvais départs, disait-il. Il attendrait que mon cœur redevienne fort et attendrait que je l'aime, si je le pouvais.
La gentillesse est la chose la plus étrange à trouver chez un amoureux - ou chez n'importe qui, d'ailleurs. La gentillesse de Johnny faisait de lui l'être humain le plus merveilleux que j'aie jamais rencontré.
"La première chose à faire, me dit-il le lendemain, c'est de te trouver un contrat avec la Metro".
"Penses-tu que tu peux ?" lui ai-je demandé.
"Ils ont une nouvelle star entre les mains", a déclaré Johnny, "et ils le savent. Tout le monde est ravi de ce que tu as fait. Surtout, tu as bien vu et entendu ce public. Ils t'ont adopté comme je n'ai jamais vu un aussi petit rôle dans un film l'a fait avant."
Une semaine plus tard, Johnny m'a dit : "Je ne veux pas que tu te sentes déprimée, chérie. Nous avons un revers temporaire."
"La Metro ne veut pas de moi," lui dis-je.
"Tu l'as deviné," Johnny me sourit. "C'est fantastique. J'ai parlé à Dore Schary toute la semaine. Il aime ce que tu fais. Il pense que tu as fait un travail formidable, en fait. Mais il a dit que tu n'as pas l'étoffe d'une vedette. Il a dit que tu n'étais pas photogénique, que tu n'as pas le physique d'une star de cinéma."
"Peut-être qu'il a raison," dis-je. "M. Zanuck a dit la même chose quand la Fox m'a laissé tomber."
"Il a tort", a déclaré Johnny. "Et Zanuck aussi. Ca me fait bien rire quand je pense à quel point ils se trompent et comment ils vont tous les deux ravaler leurs mots un jour – et ce jour est bientôt."
Johnny riait, pas moi. C'était effrayant - d'avoir ses espoirs placés tout en haut puis de retomber ensuite si bas sans travail, sans perspectives, sans argent et d'être nul part. Mais je n'ai pas tout à fait complètement sombré dans ma chute cette fois. Je n'étais pas seule. J'avais Johnny avec moi. Je n'étais pas simplement la cliente de Johnny ou même sa chérie. J'étais une cause qu'il avait à défendre.

J'avais le coeur serré de gratitude et j'aurais coupé ma tête pour lui. Mais je ne ressentais pas cet amour qu'il espérait avoir en retour. C'est autant essayer de voler dans les airs que de se faire aimer. Mais je ressentais tout le reste envers Johnny Hyde et j'étais toujours heureuse d'être avec lui. C'était comme être et appartenir à une famille entière.
C'est difficile de fonder ses espoirs avec le cœur de quelqu'un d'autre et d'être heureux avec ses rêves éveillés à lui. Mais Johnny m'a rendu heureuse et m'a permis de croire en moi. Je n'ai plus couru dans les studios à la recherche d'un emploi. Johnny l'a fait pour moi. Je restais à la maison, prenais des cours de théâtre et lisait des livres.
L'un surtout m'a emballé plus que tout les autres que j'avais lu: L'autobiographie de Lincoln Steffens. C'était le premier livre que je lisais qui semblait dire la vérité sur les gens et la vie.
C'était amer, mais fort. Cela ne faisait pas seulement écho aux demi-mensonges que j'ai toujours entendus. J'ai adoré son livre. En le lisant, j'oubliais que je n'avais pas de travail et que je n'étais pas "photogénique". Mais Johnny, lui, n'oublait pas.
"On a tiré le gros lot", rapporte-t-il un soir. "Je ne voulais pas t'en parler avant d'en être certain. Je suis sûr maintenant. C'est le nouveau film de Joseph Mankiewicz qui s'appelle "Eve". Ce n'est pas un grand rôle, mais cela te permettra de te faire une place à la Fox."
"Mais ils ne m'aiment pas là-bas," lui dis-je.
"Ils t'aimeront", a déclaré Johnny.
M. Mankiewicz était un genre de réalisateur différent de M. Huston. Il n'était pas aussi exalté et il était plus bavard. Mais il était intelligent et sensible. Je me sentais heureuse sur le plateau et, avec l'aide de Johnny Hyde, j'ai pu à nouveau rêvasser.
Le studio préparait toujours de petites histoires publicitaires pour les différentes personnes sous leur coupe. J'étais avide de publicité, mais il y en avait une que je refusais d'accepter. C'était cette publicité qu'on reçoit après avoir été vue dans un night-club le soir avec un autre acteur. Les chroniqueurs laissaient alors entendre que vous et le jeune acteur étiez lancés dans une idylle.
Je n'aimais pas aller dans des boîtes chics pour m'y m'asseoir avec un profil ambitieux. Je n'aimais pas que les gens puisse penser que je sois romantique avec quelqu'un que je ne connaissais pas. Et je savais que Johnny n'aimerait pas ça non plus. Je suis donc restée en dehors des clubs et des potins des rubriques de cinéma qui parlaient de starlette romantique étourdie.

Depuis mes 14 ans, j'ai le don d'irriter les femmes. Les femmes ont tendance à se déclencher comme des alarmes antivol lorsqu'elles me voient parler à leur mari. Même les jeunes et jolies "jeunes filles" d'Hollywood m'accueillent avec plus de ricanements aigres que de sourires aimables.
Ce genre de peur du sexe que les femmes ressentent souvent lorsque j'entre dans leur basse-cour a des effets différents sur moi. Je trouve ça flatteur et bouleversant. Je trouve ça aussi mystérieux. Les femmes ne m'en veulent pas parce que je suis plus jolie ou que j'ai plus de formes qu'elles - ou que je me montre davantage aux yeux des hommes.
J'ai vu des femmes dans des soirées qui portaient juste assez de vêtements pour ne pas être arrêtées, et j'ai entendu ces nudistes bourdonner sur ma vulgarité. Elles montraient plus de jambes, plus de poitrine et plus de colonne vertébrale que moi, et c'était moi qui étais "vulgaire" !
Les femmes n'aiment pas non plus ma façon de parler - même quand je ne parle pas à leur mari ou à leur amant. Une femme en colère m'a dit que ma voix était "trop ​​préméditée". J'ai découvert qu'elle voulait dire que je parlais d'une sorte de voix traînante de chambre. Ce n'est pas vrai.
La principale différence entre ma voix et les voix de la plupart des femmes que j'ai vues, est que j'utilise moins la mienne.
Je ne bavarde pas à volonté. Je ne peux pas faire semblant de rire et d'être dans une folle plénitude quand je suis en société. Rester debout à une fête avec un air sérieux attire aussi des commentaires féminins défavorables. Elles pensent que je mijote un truc, en général toujours la même chose - comment voler leurs amis messieurs sous leur nez.
Je me fiche qu'elles puissent penser ça. Je préférerais qu'un millier de femmes soient jalouses de moi que moi d'être jalouse d'une seule d'entre elles. J'ai été jalouse, et ce n'est pas amusant.

Il m'est arrivé parfois d'être à une fête où personne ne m'adresse la parole de toute la soirée. Les hommes, effrayés par leurs femmes ou leurs chéries, me laissaient à l'écart. Et les dames se regroupaient dans un coin pour discuter de mon caractère dangereux.
Etre snobée de la sorte ne m'a jamais vraiment affectée. J'ai beaucoup réfléchi dans ces soirées où je restais debout dans un coin avec un verre à cocktail à la main et personne à qui parler.
J'ai pensé aux femmes. Leur jalousie n'avait pas grand chose à voir avec moi. Cela vient du fait qu'elles réalisent leurs propres manques. Les hommes m'ont beaucoup parlé des femmes - à quel point leurs relations amoureuses sont souvent boiteuses; comment elles confondent l'hystérie avec la passion et le harcèlement avec la dévotion.
Quand elles me regardent, les femmes pensent que je suis différente d'elles dans ces domaines, et cela les met en colère.
Quand je vois des femmes froncer des sourcils en me regardant et de me faire saquer dans leurs conversations, je me sens vraiment navrée - pas pour elles, mais pour leurs hommes. J'ai l'impression que ces femmes sont de médiocres amantes. La seule chose qu'elles sont capables de donner à un homme est un complexe de culpabilité. Si elles parviennent à lui faire croire qu'il soit un mauvais mari ou un amant peu attentif, alors elles pensent avoir "gagné".

La gentillesse de Johnny Hyde a changé le monde extérieur pour moi, mais elle n'a pas touché mon monde intérieur. J'ai essayé de l'aimer. Il était non seulement gentil, mais aussi loyal, sage et dévoué.
Johnny n'a jamais été jaloux de tout ce que je faisais. C'était toujours à cause de ce que j'aurai pu faire. La plupart des hommes ont été jaloux pour la même raison. J'ai aimé leur jalousie. C'était souvent la seule chose sincère dans leur amour. La plupart des hommes jugent votre importance dans leur vie en fonction de la façon dont vous pouvez les blesser, et non en fonction de la façon dont vous pouvez les rendre heureux.
Mais il y avait une sorte de jalousie que je n'ai jamais aimée. C'était la jalousie qui poussait un homme à poser des questions sur d'autres hommes, à ne jamais lâcher prise et à vouloir en savoir de plus en plus sur les détails. Je sentais alors que mon ami jaloux s'intéressait plus à ces hommes qu'à moi-même.
J'ai fait tout ce que j'ai pu pour apaiser les craintes de Johnny Hyde. Je ne suis jamais sortie avec d'autres hommes. Je lui étais aussi fidèle comme il était aussi gentil avec moi.
Johnny Hyde m'a donné plus que sa gentillesse et son amour. Il a été le premier homme qui m'a comprise. La plupart des hommes (et des femmes) pensaient que j'étais calculatrice et hypocrite. Peu importe la sincérité avec laquelle je leur parlais ou l'honnêteté avec laquelle je me suis comportée, ils croyaient toujours que j'essayais de les tromper.

Quand je parle, j'ai l'habitude de ne pas finir mes phrases, ce qui donne l'impression que je raconte des mensonges. Ce n'est pas le cas. Je ne termine simplement pas mes phrases. Johnny savait que je ne mentais pas et que je n'avais pas l'intention de le duper.
La vérité est que je n'ai jamais trompé personne. J'ai laissé parfois des hommes se duper eux-mêmes. Parfois, les hommes ne se souciaient pas de savoir qui j'étais et ce que j'étais. Au lieu de cela, ils m'inventaient de toute pièce une personnalité. Je n'aurais pas discuté avec eux. Ils aimaient manifestement une personne que je n'étais pas. Quand ils s'en apercevaient, ils me reprochaient de les avoir désillusionnés - et de les avoir trompés.
J'ai même essayé d'être franche avec les femmes. C'est plus difficile que d'être direct avec les hommes. Les hommes sont souvent ravis lorsque vous leur dites la vérité sur ce que vous ressentez. Mais très peu de femmes veulent entendre la vérité - si cela doit être en quelque sorte dérangeant.
Autant que je sache, l'amitié entre femmes repose sur un flot de mensonges et de jolis discours qui ne veulent rien dire.

Un soir, dans sa maison, Johnny montait les escaliers pour aller me chercher un livre. Je le vis s'arrêter sur le palier et s'appuyer contre la balustrade. J'avais vu ma tante Ana faire la même chose quelques mois avant de mourir d'une crise cardiaque.
Je me suis précipitée vers Johnny et en l'enlacant de mes bras autour de lui, je lui ai dit : "Oh, Johnny, je suis désolée. Je suis désolée que tu te sentes mal."
"Je vais bien," me dit-il. Mais ce n'était que le courage de Johnny qui parlait. Ce n'était pas son cœur. Le cœur de Johnny était malade depuis des années.
Quelques semaines plus tard, il mourut. Sa famille ne m'a pas laissé m'asseoir parmi eux à l'enterrement. Je me suis assise au fond de l'église parmi les connaissances de Johnny. Quand je suis passée devant son cercueil, j'ai éprouvé une telle tristesse que je m'oubliais totalement. Je me suis jetée sur le cercueil et j'ai sangloté. J'aurais aimé mourir avec lui.
Mon grand ami était enterré. Je ne l'avais plus, lui qui se battait pour moi, et sans son amour pour me guider. J'ai pleuré des nuits entières. Je n'ai jamais cessé de le regretter - l'homme le plus gentil du monde.
Passons maintenant à l'histoire de ce qu'on appelle une « querelle » hollywoodienne.
J'ai rencontré Joan Crawford chez Joe Schenck. C'était une femme impressionnante. Je l'ai admirée pendant le dîner. J'espérais qu'à son âge, je conserverais mon apparence aussi bien qu'elle.
Certaines stars de cinéma ne ressemblent pas à des stars quand vous les rencontrez, et certaines ressemblent plus à des stars dans la vie qu'à l'écran. Je ne sais pas ce qui est le mieux, mais Miss Crawford était définitivement de la seconde catégorie.
Elle était autant, si ce n'est même plus, la star de cinéma à la table du dîner de M. Schenck qu'elle aurait pu électrifier une salle d'audience d'un procès d'assise dans un film dramatique.
Après le dîner, Miss Crawford m'a dit : "Je pense que je pourrais vous aider si vous me le permettez. Par exemple, cette robe en tricot blanc que vous portez est tout à fait incorrecte pour un dîner de ce genre."
C'était la seule belle robe que je possédais. Je la portais aussi bien le soir que la journée quand je me rendais dans un endroit important, et je la lavais moi-même tous les jours.
Je regardai la magnifique robe de soirée de Miss Crawford tandis qu'elle poursuivait : "Le goût est tout aussi important que l'apparence et la silhouette. Voulez-vous que je vous aide, ma chère ?"
Je lui ai dit que j'étais flattée. Nous avons pris rendez-vous le dimanche matin après l'église. Il s'est avéré que Miss Crawford fréquentait la même église que moi.
Après la messe, Mlle Crawford a déclaré : "Je suis si heureuse de vous voir. Mais vous ne devez pas venir à l'église avec des talons plats et un costume gris avec des accessoires de couleur noir. Si vous portez du gris, vous devez porter des tons de gris différents, mais jamais du noir. "
C'était mon unique tailleur, mais je n'allais pas me justifier pour une aussi mauvaise raison.
Elle m'a invité dans sa jolie maison. J'ai pensé qu'elle allait peut-être me donner quelques-unes de ses vieilles robes. Au lieu de cela, elle m'a dit: "Je dois vous montrer les choses que j'ai tricotées."
Elle m'a montré un certain nombre de petits hauts tricotés dans différentes nuances de marron et m'a expliqué qu'ils devaient être portés sous différentes nuances de tailleurs marrons.
"L'essentiel pour bien s'habiller", a expliqué Mlle Crawford, "est de s'assurer que tout ce que vous portez est parfait - que vos chaussures, vos bas, vos gants et votre sac s'harmonisent tous au tailleur que vous portez."
"Maintenant, ce que j'aimerais faire, c'est une liste de tous les vêtements de votre garde-robe et j'établirai une liste des choses que vous devez acheter et je veillerai à ce que vous achetiez les bonnes choses."
Je n'ai rien dit. Cela ne me dérangeait généralement pas de dire aux gens que j'étais fauchée et même d'essayer de leur emprunter quelques dollars pour me dépanner.
Mais pour certaines raisons, je ne pouvais pas dire à Miss Crawford qu'elle avait vu l'intégralité de ma garde-robe - la mauvaise robe en tricot blanc et le mauvais tailleur gris.
"C'est si facile de ne pas avoir l'air vulgaire", m'a assuré Miss Crawford quand j'étais sur le départ. "Laissez-moi vous conseiler un peu, vous serez surprise des résultats. Et tout le monde le sera aussi."

La fois d'après où j'ai entendu parler de Miss Crawford, c'était dans les journaux. C'était un an plus tard. J'étais retournée travailler à la 20th Century-Fox, et le boom de Marilyn Monroe avait démarré. J'étais partout dans les magazines et les rubriques de cinéma, et le courrier des fans arrivait par camions au studio.
Parmi les honneurs qui pleuvaient maintenant sur moi, il y avait le privilège de présenter l'un des Oscars à l'un des lauréats lors de la cérémonie annuelle.
Le soir de la cérémonie, j'étais pétrifiée. Mais je pensais que j'avais bien fait - jusqu'à ce que je lise les remarques de Joan Crawford dans les journaux du matin.
Je n'ai pas conservé les coupures de presse, mais je me souviens de ce qu'elle a dit. Elle a dit que la performance vulgaire de Marilyn Monroe à la cérémonie des Oscars était une honte pour le tout Hollywood.
La vulgarité, a-t-elle dit, consistait à porter une robe trop serrée pour moi et à me tortiller les fesses quand j'arrivais sur la scène en tenant l'un des Oscars à la main.
J'étais tellement surprise que je pouvais à peine croire ce que je lisais. J'ai appelé des amis qui m'avaient vu à la cérémonie et leur ai demandé si c'était vrai. Ils ont rigolé. Ce n'était pas vrai, disaient-ils.
J'ai écrit ce récit précis d'une de mes « querelles » parce qu'il est typique. Ce genre de querelles ont toutes été provoquées par quelqu'un que j'aurai mystérieusement offensé - et toujours une femme.
La vérité est que ma robe moulante et mes frétillements étaient dans l'esprit de Miss Crawford. De toute évidence, elle avait lu trop de bobards à mon sujet.
Ou peut-être m'en voulait-elle parce que je ne lui avais jamais rapporté la liste de ma garde-robe.

UN soir, j'écoutais deux amis discuter bon train. Nous dînions dans un petit restaurant italien. L'un était écrivain. L'autre était réalisateur. Le sujet était de savoir si Botticelli était un meilleur peintre que Léonard de Vinci.
J'écarquillai les yeux avec intérêt, même si je ne comprenais rien à ce qu'ils disaient.
Au début, je ne savais pas qui étaient Botticelli ou De Vinci.
"Nous ennuyons Marilyn", a déclaré le réalisateur. "Je peux toujours dire quand elle s'ennuie aux larmes. Elle écarquille les yeux en grand et entrouve légèrement sa bouche en prenant des airs de faux désir."
"Parlons de quelque chose qu'elle connait mieux que la Renaissance", a déclaré l'écrivain. "Et si on parlait de sexe ?"
"Au moins, je saurai de quel bord tu es", lui dis-je.
Mais ce ne fut pas le cas. Leur discussion sur le sexe m'était totalement étrangère. Cela parlait de Freud et Jung et quelques autres personnages qui me plongeaient dans une totale confusion.
Quelque chose m'est cependant venue à l'esprit, pendant que j'étais assise là à écouter mes deux amis pleins d'esprit.
J'ai réalisé que les deux tiers du temps environ, je ne savais absolument pas de quoi les gens (même les femmes) parlaient.
Il n'y avait pas le moyen de le cacher - j'étais terriblement stupide.
Quand je suis rentrée chez moi, je me suis assise sur mon lit et je me suis demandée si je connaissais des choses. Je ne pouvais penser à rien - à part jouer. Je savais jouer. C'était une façon de vivre dans des rêves pendant quelques minutes.
J'ai décidé d'aller à l'école. Le lendemain, je me suis inscrite à l'Université de Californie du Sud.
J'allais à l'école tous les après-midi - et souvent le soir. Le professeur était une femme. Cela me déprimait au début parce que je ne pensais pas qu'une femme pouvait m'apprendre quoi que ce soit. Mais après quelques jours, j'ai changé d'avis.
Elle était l'un des êtres humains les plus passionnants que j'aie jamais rencontrés. Elle parlait de la Renaissance et c'était dix fois plus captivant que la plus grande épopée du studio.
Je buvais toutes ses paroles. Je rencontrais Michel-Ange et Raphaël et le Tintoret.
La nuit, je restais dans mon lit en souhaitant vivre pendant la Renaissance. Bien sûr, je serais morte aujourd'hui. Mais cela en aurait presque valu la peine.
Après quelques semaines, je me suis diversifiée en tant qu'étudiante. J'ai commencé à acheter des livres de Freud et de certains de ses disciples modernes. Je les lisais jusqu'à en avoir le vertige.
Mais je manquais de temps. Il y avait les cours de théâtre et de chant, les interviews publicitaires, les séances avec les photographes - et les répétitions d'un film.
J'ai finalement décidé de remettre mon éducation à plus tard, et je me suis faite la promesse de ne pas l'oublier.

A suivre la semaine prochaine
---
pour info
Il s'agit ici de la publication dans la presse (et du vivant de Marilyn) de ce qui restera considéré comme son "autobiographie" débutée mais jamais achevée, le fruit d'une collaboration émaillée d'entretiens avec le journaliste Ben Hecht au début de l'année 1954 et publiée dans un livre intitulé (comme cet article) "My Story" en 1974 et publié en France en 2011 sous le titre de "Confession inachevée".
This is here the publication in the press (and during Marilyn's lifetime) of what will remain considered as her "autobiography" started but never completed, the result of a collaboration punctuated by several interviews with the journalist Ben Hecht at the early of the year 1954 and published in a book entitled (like this article) "My Story" in 1974 and published in France in 2011 under the title of "Confession inachevée".
---
- Blog: 12/01/1955, The Australian Women's Weekly: "This is my story" (part 1) -
- Blog: 19/01/1955, The Australian Women's Weekly: "This is my story" (part 2) -
---
© All images are copyright and protected by their respective owners, assignees or others.
copyright text by GinieLand.

29 août 2021
Le 14 juin 1951, Marilyn Monroe et Robert Wagner jouent une scène en essai pour le film "Chérie, divorçons" dans les studios de la 20th Century Fox. Si les deux acteurs jouent tous les deux dans le film, ils ne partagent aucune scène ensemble dans le montage final.
Robert Wagner racontera dans son livre autobiographique "Pieces of my heart" publié en 2009: "Au début de ma carrière, à la Fox, j'étais impatient d'expirer et je suis devenu connu comme le "gars des essais". C'est-à-dire que je jouerais le rôle principal masculin face à n'importe quelle actrice testée pour un contrat potentiel. J'ai fait des essais avec Marilyn deux fois : une fois, lorsqu'elle a obtenu son premier contrat avec la Fox, et une autre fois en 1951, lorsque nous avons partagé la vedette dans Let's Make it Legal. Marilyn et moi n'avions pas de scènes réelles ensemble dans le film final, mais pendant notre test, elle semblait légèrement nerveuse."
L'une des photographies est publiées dans le magazine Look du 23 octobre 1951, sous le crédit du photographe Earl Theisen.

On June 14, 1951, Marilyn Monroe and Robert Wagner play a test screen scene for the film "Let's Make It Legal" in the 20th Century Fox Studios. While the two actors both star in the film, they do not share any scenes together in the final cut.
Robert Wagner will tell in his autobiographical book "Pieces of my heart" published in 2009: "Early in my time, at Fox I was eager for expire and became known as the "test boy". That is, I would play the male lead opposite any actress being screen-tested for a potential contract. I tested with Marilyn twice: once, when she first got her contract at Fox, and another time in 1951, when we co-starred in Let's Make it Legal. Marilyn and I had no actual scenes together in the final film, but durong our test, she seemed slightly nervous."
One of the photographs is published in Look magazine in October 23, 1951, with the credit of photographer Earl Theisen.
---
---
- Dans la presse -
1 - photographie de Look, 23/10/1951 - USA
- magazine Look 23/10/1951 -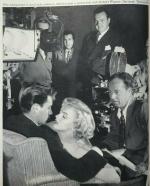 2 -photographie de Filmland, 04/1952 - USA
- magazine Filmland 04/1952 -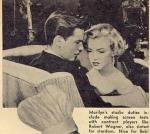 ---
Marilyn reçoit des 100aines de lettres de fans.
Marilyn receives circa 100 fans mails.
- - - - Dans la presse - - - -

1 - photographie de Look, 23/10/1951 - USA
2 -photographie de Filmland, 04/1952 - USA
---
© All images are copyright and protected by their respective owners, assignees or others.
copyright text by GinieLand.
14 août 2021
C'est pour un reportage photographique commandé par la presse que le photographe Mel Traxel va suivre Marilyn Monroe pour décrire à quoi ressemble son quotidien. Il semblerait que les prises de vues datent du 12 février 1952 (c'est la date qui figure tamponnée au dos des photographies).
Les photos servent aussi de support promotionnel pour l'université d'UCLA (Université de Californie à Los Angeles), que Marilyn fréquente en suivant des cours de littérature et d'histoire de l'art.
On la découvre aussi dans son appartement au Beverly Carlton Hotel.
Le reportage paraît dans les magazines américains Movies (en août 1952) et Movie Stars Parade (de mai 1953).

This is for a photographic report commissioned by the press that the photographer Mel Traxel follow Marilyn Monroe to describe what her daily life looks like. It seems that the shots date from February 12, 1952 (this is the date stamped on the back of the photographs).
The photos are also used as promotional support for the University of UCLA (University of California at Los Angeles), that Marilyn attends by following courses in literature and art history.
We also discover her in her apartment at the Beverly Carlton Hotel.
The report appears in the American magazines Movies (in August 1952) and Movie Stars Parade (in May 1953).
---
Beverly Carlton Hotel
---
- Séance de Gym -
Gym Sitting
C'est en général le matin que Marilyn Monroe s'adonne à quelques exercices physiques; pendant 15 minutes, elle soulève des haltères et des rouleaux. Son appartement est aménagé avec l'équipement nécessaire: table pour s'allonger, différents poids pour ajuster les haltères à soulever.
This is usually in the morning that Marilyn Monroe makes some physical exercises; for 15 minutes, she lifts dumbbells and rollers. Her apartment is equipped with the necessary equipment: table to lie down, different weights to adjust the dumbbells to be lifted.
- informations au dos des photographies -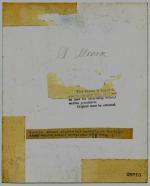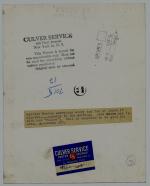 ---
- Séance de mise en beauté -
Beauty Sitting
Elle se met du vernis à ongles (une teinte rose claire) sur les ongles de mains et de pieds; elle utilise la marque Revlon.
Elle se met aussi des rouleaux dans les cheveux et fait fixer les boucles sous la chaleur d'un casque.
She puts nail polish (a light pink shade) on her fingernails and toenails; she uses the Revlon brand.
She also puts rollers in her hair and sets the curls in the heat of a helmet.

- information au dos des photographies -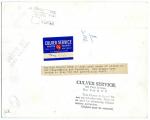 ---
- La vie quotidienne -
The Daily Life

Ranger ses vêtements, téléphoner, lire son courrier... simplement la vie quotidienne de n'importe quelle personne.
Tidying up clothes, making phone calls, reading mails ... just the everyday life of any person.

Elle pose fièrement avec la statuette Henrietta, qu'elle a reçu le 26 janvier 1952 , pour la catégorie de la "Meilleure jeune personnalité du box office 1951".
She is proudly to pose with her Henrietta Award received in January, 26, 1952, for the "The Best Young Box Office Personality in 1951".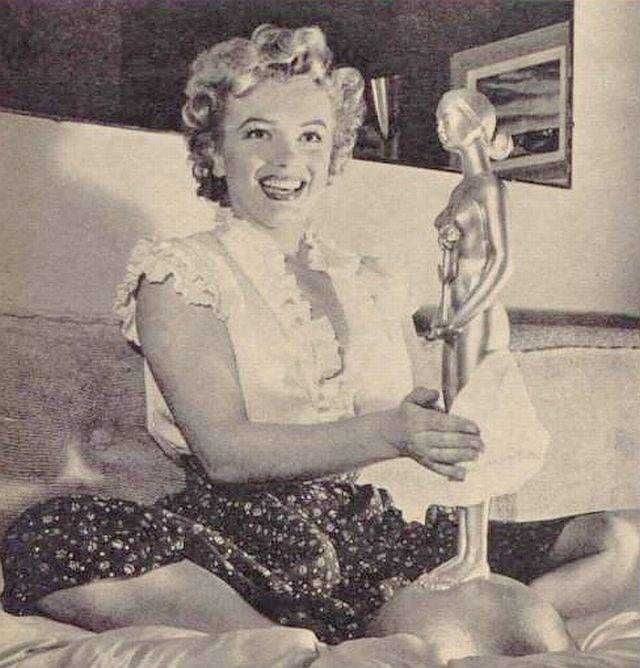 ---
L'heure de se lever ou de se coucher ? Marilyn règle l'heure sur son petit réveil.
Car Marilyn a un emploi du temps bien rempli: en plus de son travail au studio, elle prend des cours sur l'interprétation de la danse deux soirs par semaine, prend des cours de théâtre un soir par semaine et se rend à l'université d'UCLA tous les jeudis soirs.
Time to get up or go to bed ? Marilyn sets the time on her little alarm clock. Because Marilyn has a busy schedule: in addition to her work at the studio, she studies interpretative dancing two evenings a week and, attends acting class one evening a week and goes to UCLA university every Thursday evening.
- information au dos des photographies -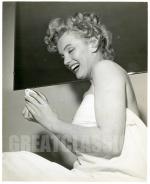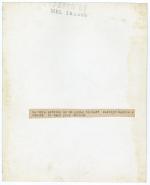 ---
UCLA
---
Tous les jeudis soirs, Marilyn prend des cours de littérature d'une durée de deux heures, dans le bâtiment annexe pour les formations en littérature à l'université d'UCLA de Los Angeles. Puis elle passe des heures à la bibliothèque de l'université pour faire de plus amples recherches sur ses sujets d'études.
Every Thursday evening, Marilyn takes literature classes for two hours session, in the extension building for backgrounds in literature at UCLA University in Los Angeles. Then she goes for hours to the university library to do further research on her subjects of study.
- A la boutique de l'université, Marilyn fait des achats
Elle écoute les conseils de l'étudiante vendeuse Vera Roush -
To the UCLA's bookstore, Marilyn is shopping
She listens the advices of student-salesgirl Vera Roush -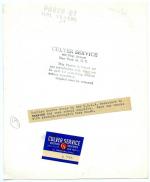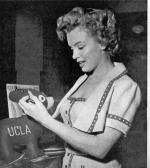 - En cours de littérature -
At the the literature course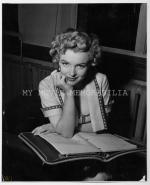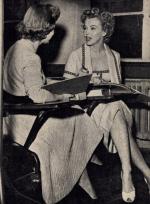 - Etude à la bibliothèque de l'UCLA -
Studying at the UCLA library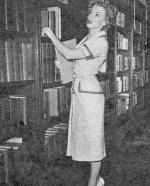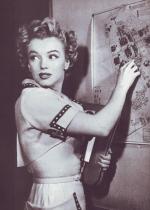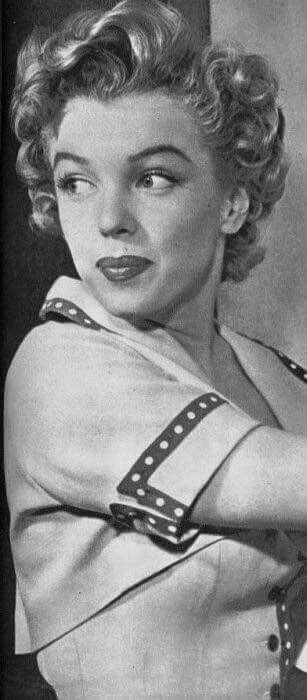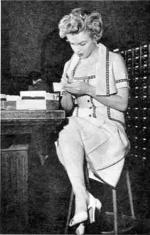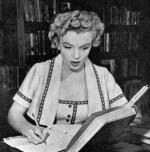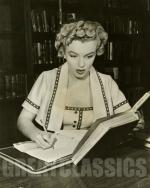 - A la cafétéria du Kerckhoff Hall de l'université d'UCLA
Elle discute avec l'équipe de basketball de la fac:
At the UCLA commissary of Kerckhoff Hall
She talks to the basketball team of the University:
Ronnie Livingston, Mark Costello, Don Bragg & Don Johnson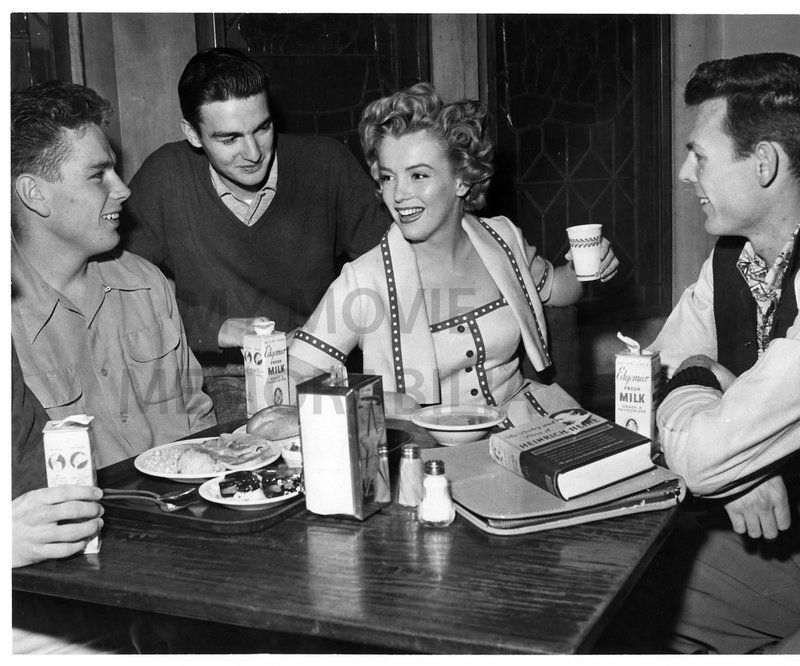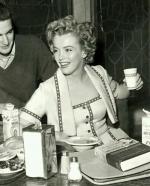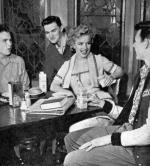 ---
Chez le dentiste Louis Armann
To the dentist's Louis Armann
---
Wil Wright's

---
Elle adore déguster des sundae chauds chez Wil Wright, qui était une chaîne de brasserie spécialisée dans les glaces aux Etats-Unis jusque dans les années 1970s.
Ils avaient plusieurs établissements, dont un à Beverly Hills (au croisement de Beverly Drive et Charleville) et aussi un dans le quartier de Westwood à Los Angeles.
She loves to eat hot sundae at Wil Wright, which was a chaine of ice cream parlor in the United States until the 1970s. They had several establishments, including one in Beverly Hills (at the corner of Beverly Drive and Charleville) and also one in the Westwood district of Los Angeles.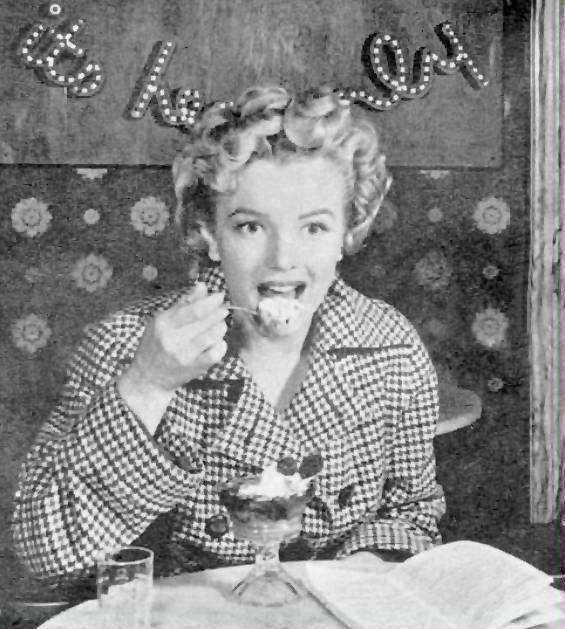 > Informations Wil Wright: Old Los Angeles Restaurants

---
- Dans la presse -
MOVIE STAR PARADE, 05/1953 - USA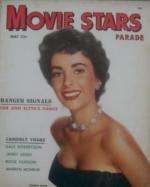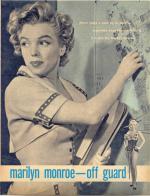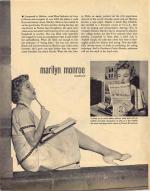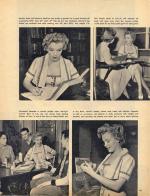 ---
© All images are copyright and protected by their respective owners, assignees or others.
copyright text by GinieLand.
14 février 2020
Books loved by Hollywood's golden era stars, from Marilyn Monroe to Audrey Hepburn
02/09/2019 | en ligne sur Evening Standard
The great American novel is a girl's best friend
Way back before the advent of the Internet and social media, movie stars had to find ways to entertain themselves on set without getting into highly public Twitter spats.
Many celebrities from Hollywood's golden age were avid bookworms, with the likes of Marilyn Monroe tearing through American classics and Grace Kelly curating a private library in Monaco. Old Hollywood's reading habits have now been documented in new book, The Hollywood Book Club: Reading with the Stars.
While we might be more used to seeing Audrey Hepburn or Marlon Brando bringing literary adaptations to life onscreen, the book by Steven Rea, published thismonth, is a collection of black and white pictures showing stars enjoying some reading time of their own.
From shots of Gregory Peck researching his Oscar-winning role by reading Harper Lee's To Kill a Mockingbird to Monroe's reading nook filled with Hemingway, Steinbeck and Tolstoy, the full collection comprises of 55 candid shots of Hollywood stars reading.
Described as a "bibliophile-meets-cinephile celebration of the convergence points between these two very different media", it's a fascinating insight into what a golden era shelfie may have looked like.
We've compiled a list of books that celebrities including Monroe, Kelly, Hepburn, James Dean and more were into to add to your reading list.
---
Marilyn Monroe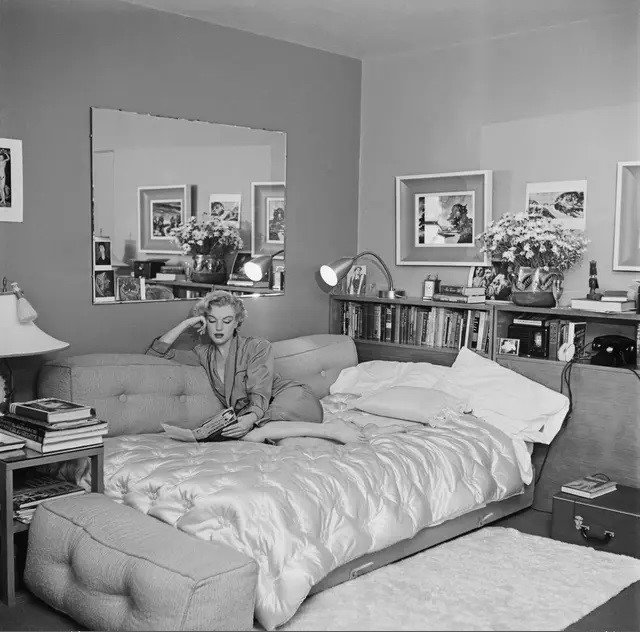 Marilyn Monroe reading in her personal library in 1951 / Getty Images
Endless books have been written about Monroe and her quotes have been immortalised in low-res Instagram posts, however, she found her inspiration from her vast personal collection of books. In fact, Monroe loved poetry so much that evidence of her own poems surfaced in 2010 when a collection of her personal documents was released. The poems were later released in the book Fragments: Poems, Intimate Notes, Letters by Marilyn Monroe.
Monroe had a huge book collection, with many of her novels put up for auction in 1999 in New York. Monroe was a major fan of landmark American novels, as well as poems, hulking great Euronovels and plays. There were a couple of surprising choices, like the occasional children's book or pop culture novel.
Marilyn Monroe's favourite books and authors
The Sun Also Rises by Ernest Hemingway
The Great Gatsby by F Scott Fitzgerald
On the Road by Jack Kerouac
Ulysses by James Joyce
Crime and Punishment by Fyodor Dostoevsky
Long Day's Journey tInto Night by Eugene O'Neill
From Russia With Love by Ian Fleming
The Little Engine that Could by Watty Piper
Selected Plays of George Bernard Shaw
The Portable Blake by William Blake
---
the rest of the article to read on Evening Standard
---
> sur le blog: Le livre The Hollywood Book Club
---
© All images are copyright and protected by their respective owners, assignees or others.
12 février 2020
The Hollywood Book Club
- Reading with the Stars -
Auteur: Steven Rea

Prix éditeur : 15 Euros
Date de sortie : 10 septembre 2019
120 pages - taille 20,96 x 20,96 cm
Langue : anglais
Éditeur : Chronicle Books
ISBN 10: 1452176892
ISBN 13 : 978-1452176895
Ou le trouver ? en commande sur amazon
Description - par l'éditeur: Audrey Hepburn, Humphrey Bogart, Gregory Peck, Rita Hayworth, Marilyn Monroe—the brightest stars of the silver screen couldn't resist curling up with a good book. This unique collection of rare photographs celebrates the joy of reading in classic film style. The Hollywood Book Club captures screen luminaries on set, in films, in playful promotional photos, or in their own homes and libraries with books from literary classics to thrillers, from biographies to children's books, reading with their kids, and more. Featuring nearly 60 enchanting images, lively captions about the stars and what they're reading by Hollywood photo archivist Steven Rea, and a glamorous stamped case design, here's a real page-turner for booklovers and cinephiles.
---
55 célébrités photographiées en train de lire; chaque photographie est accompagnée d'un texte expliquant le rapport de la célébrité à la lecture.

- pages avec Marilyn -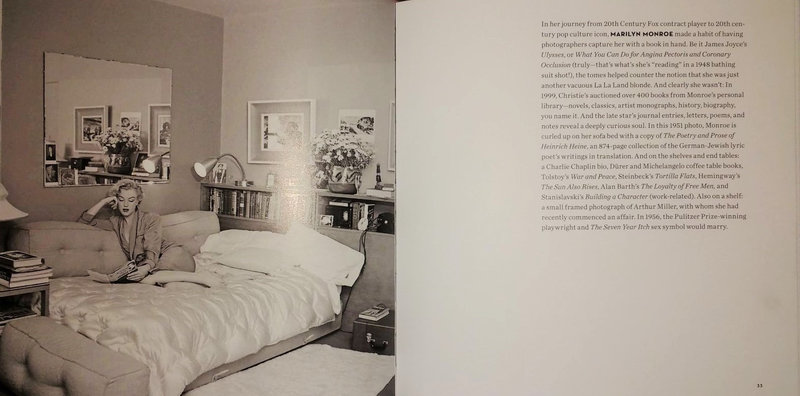 ---
Vous avez le livre ? Do you have the book ?
Apportez votre critique, votre avis ou votre note
Give your opinion, and a note (/10)
24 octobre 2018
Le Milliardaire
Sur le tournage
---
Pendant la scène
During the shooting scene
---
- photographies: John Bryson -
Yves Montand, Marilyn Monroe, George Cukor
---
Sur le plateau
On the set
Marilyn Monroe & George Cukor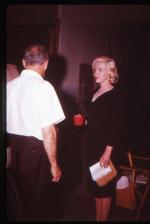 Marilyn Monroe & Arthur Miller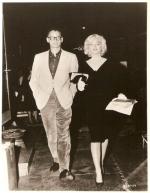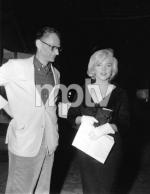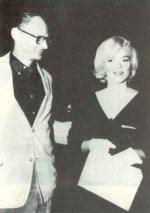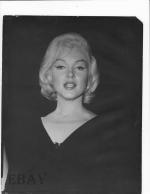 Marilyn Monroe et le journaliste Donald Zec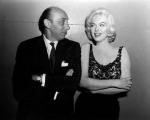 ---
> 12/05/1960 - anniversaire de Wilfrid Hyde-White
1960, May, 12 - Birthday of Wilfrid Hyde-White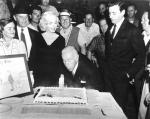 > 15/05/1960 - jour de tournage de Gene Kelly
1960, May, 15 - Day of shooting of Gene Kelly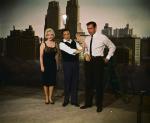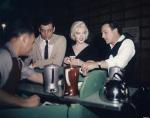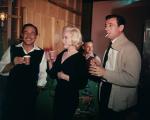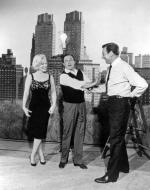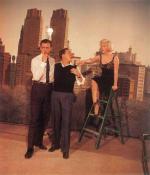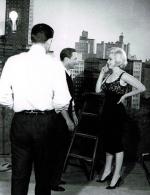 ---
© All images are copyright and protected by their respective owners, assignees or others.
copyright text by GinieLand.