14 août 2021
C'est pour un reportage photographique commandé par la presse que le photographe Mel Traxel va suivre Marilyn Monroe pour décrire à quoi ressemble son quotidien. Il semblerait que les prises de vues datent du 12 février 1952 (c'est la date qui figure tamponnée au dos des photographies).
Les photos servent aussi de support promotionnel pour l'université d'UCLA (Université de Californie à Los Angeles), que Marilyn fréquente en suivant des cours de littérature et d'histoire de l'art.
On la découvre aussi dans son appartement au Beverly Carlton Hotel.
Le reportage paraît dans les magazines américains Movies (en août 1952) et Movie Stars Parade (de mai 1953).

This is for a photographic report commissioned by the press that the photographer Mel Traxel follow Marilyn Monroe to describe what her daily life looks like. It seems that the shots date from February 12, 1952 (this is the date stamped on the back of the photographs).
The photos are also used as promotional support for the University of UCLA (University of California at Los Angeles), that Marilyn attends by following courses in literature and art history.
We also discover her in her apartment at the Beverly Carlton Hotel.
The report appears in the American magazines Movies (in August 1952) and Movie Stars Parade (in May 1953).
---
Beverly Carlton Hotel
---
- Séance de Gym -
Gym Sitting
C'est en général le matin que Marilyn Monroe s'adonne à quelques exercices physiques; pendant 15 minutes, elle soulève des haltères et des rouleaux. Son appartement est aménagé avec l'équipement nécessaire: table pour s'allonger, différents poids pour ajuster les haltères à soulever.
This is usually in the morning that Marilyn Monroe makes some physical exercises; for 15 minutes, she lifts dumbbells and rollers. Her apartment is equipped with the necessary equipment: table to lie down, different weights to adjust the dumbbells to be lifted.
- informations au dos des photographies -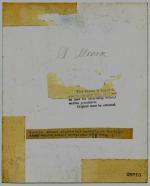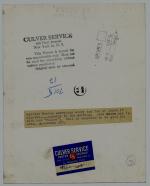 ---
- Séance de mise en beauté -
Beauty Sitting
Elle se met du vernis à ongles (une teinte rose claire) sur les ongles de mains et de pieds; elle utilise la marque Revlon.
Elle se met aussi des rouleaux dans les cheveux et fait fixer les boucles sous la chaleur d'un casque.
She puts nail polish (a light pink shade) on her fingernails and toenails; she uses the Revlon brand.
She also puts rollers in her hair and sets the curls in the heat of a helmet.

- information au dos des photographies -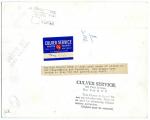 ---
- La vie quotidienne -
The Daily Life

Ranger ses vêtements, téléphoner, lire son courrier... simplement la vie quotidienne de n'importe quelle personne.
Tidying up clothes, making phone calls, reading mails ... just the everyday life of any person.

Elle pose fièrement avec la statuette Henrietta, qu'elle a reçu le 26 janvier 1952 , pour la catégorie de la "Meilleure jeune personnalité du box office 1951".
She is proudly to pose with her Henrietta Award received in January, 26, 1952, for the "The Best Young Box Office Personality in 1951".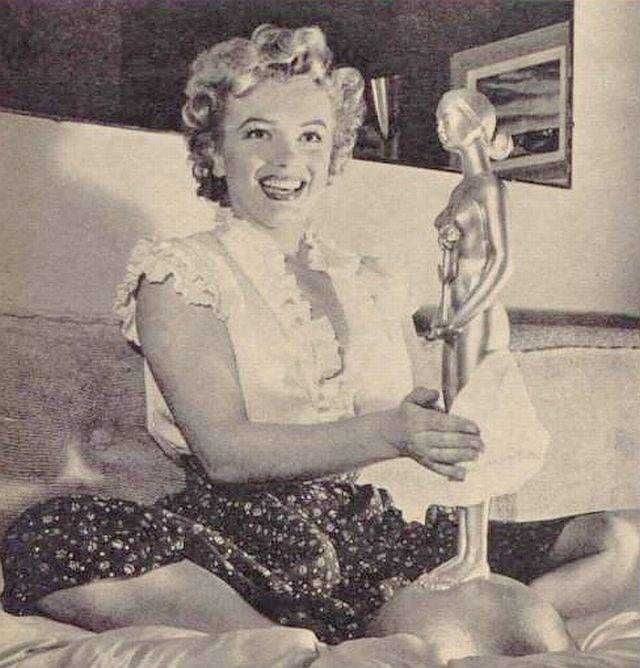 ---
L'heure de se lever ou de se coucher ? Marilyn règle l'heure sur son petit réveil.
Car Marilyn a un emploi du temps bien rempli: en plus de son travail au studio, elle prend des cours sur l'interprétation de la danse deux soirs par semaine, prend des cours de théâtre un soir par semaine et se rend à l'université d'UCLA tous les jeudis soirs.
Time to get up or go to bed ? Marilyn sets the time on her little alarm clock. Because Marilyn has a busy schedule: in addition to her work at the studio, she studies interpretative dancing two evenings a week and, attends acting class one evening a week and goes to UCLA university every Thursday evening.
- information au dos des photographies -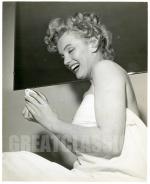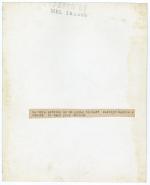 ---
UCLA
---
Tous les jeudis soirs, Marilyn prend des cours de littérature d'une durée de deux heures, dans le bâtiment annexe pour les formations en littérature à l'université d'UCLA de Los Angeles. Puis elle passe des heures à la bibliothèque de l'université pour faire de plus amples recherches sur ses sujets d'études.
Every Thursday evening, Marilyn takes literature classes for two hours session, in the extension building for backgrounds in literature at UCLA University in Los Angeles. Then she goes for hours to the university library to do further research on her subjects of study.
- A la boutique de l'université, Marilyn fait des achats
Elle écoute les conseils de l'étudiante vendeuse Vera Roush -
To the UCLA's bookstore, Marilyn is shopping
She listens the advices of student-salesgirl Vera Roush -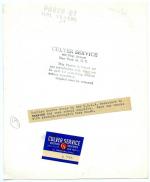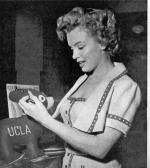 - En cours de littérature -
At the the literature course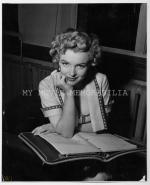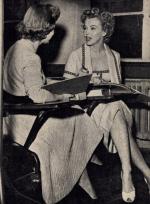 - Etude à la bibliothèque de l'UCLA -
Studying at the UCLA library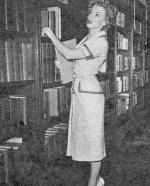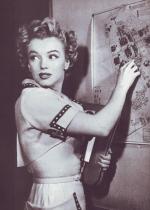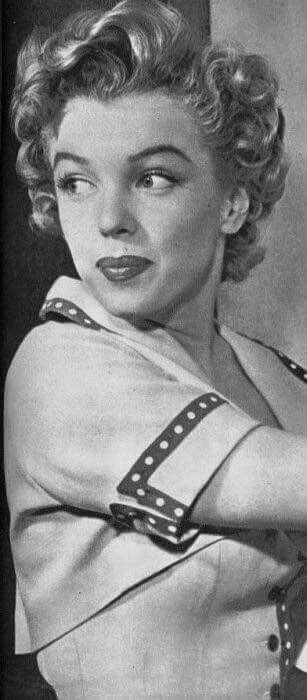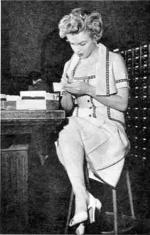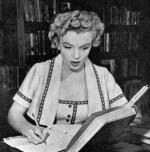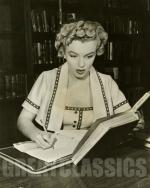 - A la cafétéria du Kerckhoff Hall de l'université d'UCLA
Elle discute avec l'équipe de basketball de la fac:
At the UCLA commissary of Kerckhoff Hall
She talks to the basketball team of the University:
Ronnie Livingston, Mark Costello, Don Bragg & Don Johnson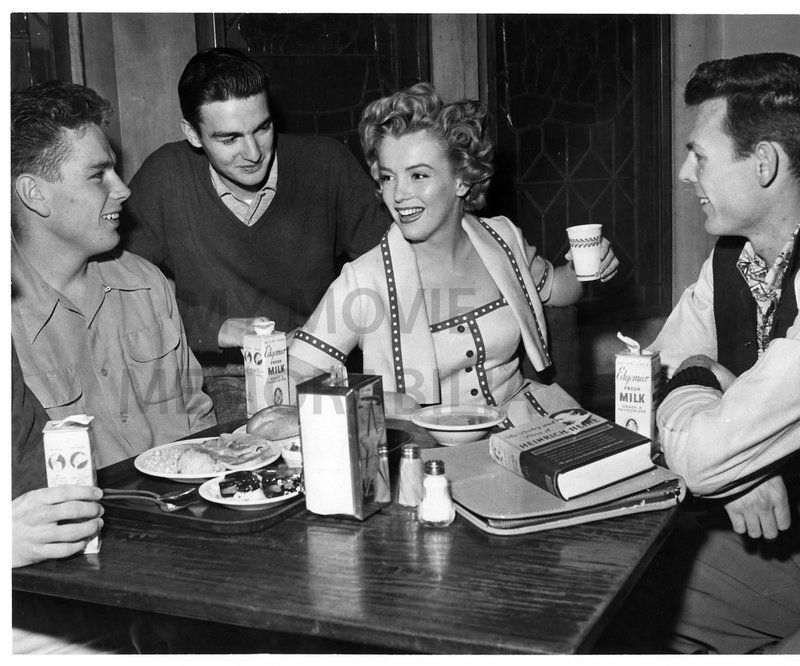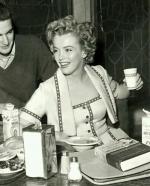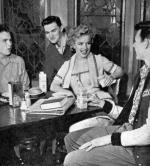 ---
Chez le dentiste Louis Armann
To the dentist's Louis Armann
---
Wil Wright's

---
Elle adore déguster des sundae chauds chez Wil Wright, qui était une chaîne de brasserie spécialisée dans les glaces aux Etats-Unis jusque dans les années 1970s.
Ils avaient plusieurs établissements, dont un à Beverly Hills (au croisement de Beverly Drive et Charleville) et aussi un dans le quartier de Westwood à Los Angeles.
She loves to eat hot sundae at Wil Wright, which was a chaine of ice cream parlor in the United States until the 1970s. They had several establishments, including one in Beverly Hills (at the corner of Beverly Drive and Charleville) and also one in the Westwood district of Los Angeles.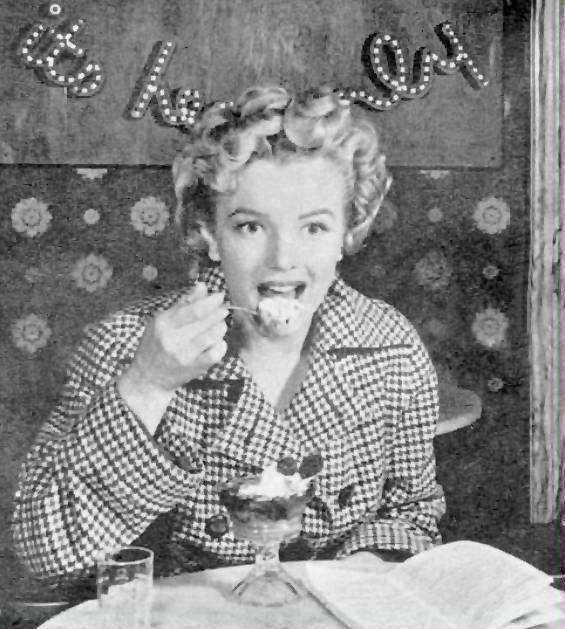 > Informations Wil Wright: Old Los Angeles Restaurants

---
- Dans la presse -
MOVIE STAR PARADE, 05/1953 - USA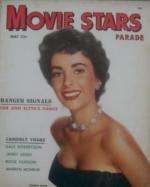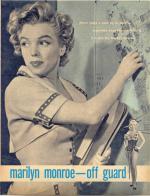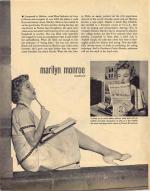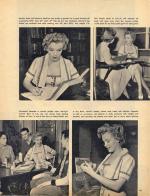 ---
© All images are copyright and protected by their respective owners, assignees or others.
copyright text by GinieLand.
13 août 2021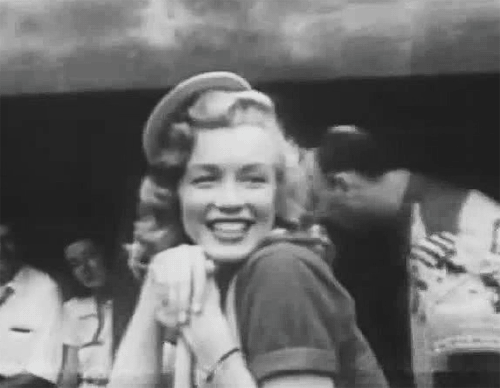 ---
> source: blog tumblr mostlymarilynmonroe
---
> sur le blog 09/07/1949, Chicago - Tournée Promo "Love Happy"
---
© All images are copyright and protected by their respective owners, assignees or others.
21 juillet 2021
I'm fighting gravity.
If you don't fight gravity, you sag.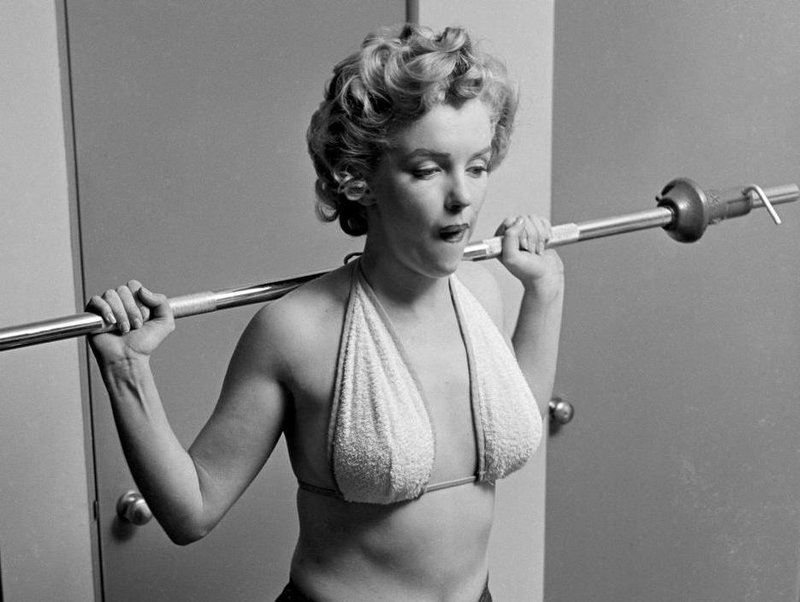 Je combats la gravité.
Si tu ne combats pas la gravité, tu t'affaisses.
---
source: citation extraite de l'article de Life 7 avril 1952

---
© All images are copyright and protected by their respective owners, assignees or others.
18 juillet 2020
Dédicace d'une photographie de Marilyn Monroe
Marilyn Monroe dedication of a photography

" To Maggie,
Joe is one of the
greatest performers
of our time.
I think
he is the most
attractive male
I have ever met,
Marilyn Monroe "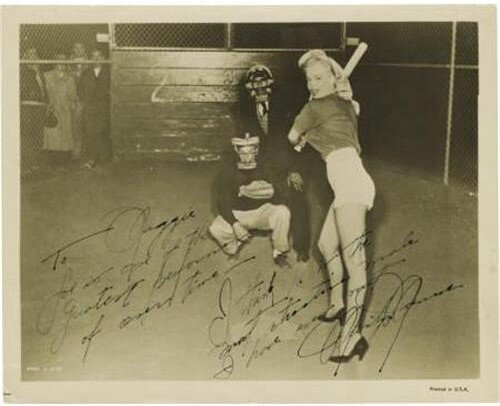 (photographie de Marilyn avec l'équipe de BaseBall de ChicagoWhite Sox en mars 1951 )
- provenance: enchères du collectionneur Barry Halper en 1999 -
(source: site icollector.com )
---
© All images are copyright and protected by their respective owners, assignees or others.
copyright text by GinieLand.

30 novembre 2019
Séance photos de Norma Jeane Dougherty en 1946, par le photographe Paul Parry dans ses studios sur Sunset Boulevard, Los Angeles. Marilyn a signé son contrat le 25 avril 1946 ; elle est rémunérée 15 Dollars pour cette séance.
Photos session of Norma Jeane Dougherty in 1946, by photographer Paul Parry in his studios on Sunset Boulevard, Los Angeles. Marilyn signed her contract on April 25, 1946; she is paid 15 Dollars for this session.
---
Série de photos destinées à la campagne publicitaire
des jus d'orange "Mission orange drink"
Series of photos for the advertising campaign
of orange juice "Mission orange drink"
---
Dans la séance en studio, Marilyn tient un verre de bière (contenant de la bière au vu de la mousse); Le verre d'alcool sera remplacé par une bouteille de jus d'orange dans la publicité.
In the studio session, Marilyn holds a glass of beer (containing beer in the sight of the beer mousse); The glass of alcohol will be replaced by a bottle of orange juice in advertising.
- publicité / advertising "Mission Orange Drink"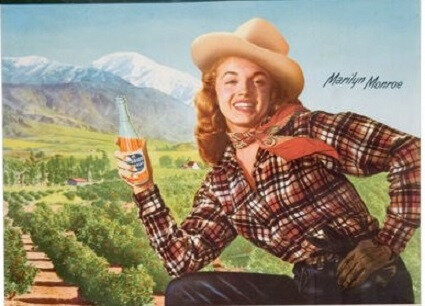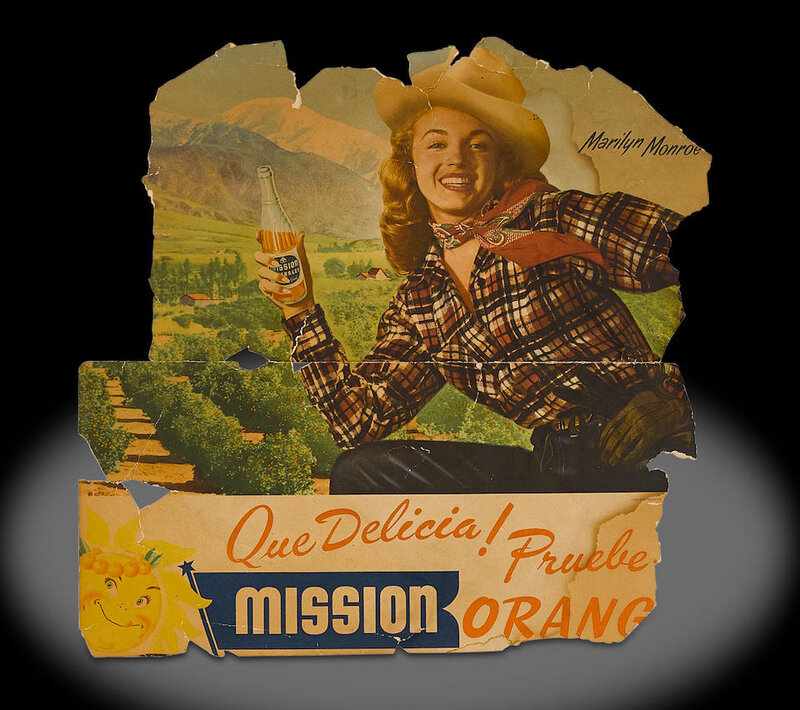 - publication calendrier 1953, page décembre 1952 -
- publication calendar 1953, page December 1952 -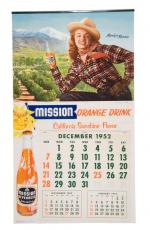 ---
Série de photos tee shirt rayé
Serie of photos with striped shirt
---
© All images are copyright and protected by their respective owners, assignees or others.
copyright text by GinieLand.
26 février 2017
> photos de William Edward Cronenweth - 1948
19 mai 2014

Les drôles de secrets beauté de Marilyn Monroe révélés
Article en ligne
sur aufeminin.com
Elle est considérée par tous comme un modèle de féminité. Mais que faisait la divine Marilyn pour être si exquise ? Bonnes idées ou méthodes douteuses ? Découvrez notre analyse...
En 1952, alors que sa carrière décollait et qu'elle était déjà une star aimée et admirée, Marilyn Monroe se confiait dans les pages du magazine Pageant. L'actrice y prodiguait ses astuces fitness et nutrition, tout à fait personnelles. « Honnêtement, je n'ai jamais considéré ma silhouette comme exceptionnelle, jusqu'à récemment, je n'y pensais que très rarement », confie-t-elle au journaliste. « Ma seule vraie inquiétude avait toujours été de ne pas avoir assez à manger. Maintenant, je dois m'inquiéter de ne pas trop manger. Je n'ai jamais eu l'habitude de m'embêter avec des exercices », s'amuse la jeune femme.

Le soleil ? Non merci
Marilyn Monroe avait beau vivre à Los Angeles, on ne peut pas dire qu'elle était fan des bains de soleil. « Je ne pense pas qu'une peau bronzée soit plus attractive qu'une peau blanche, ou qu'elle soit en meilleure santé (…) Moi, j'aime me sentir blonde de partout », renchérit l'actrice.
Notre avis : Marilyn aurait été une parfaite ambassadrice pour les campagnes de lutte contre le cancer de la peau. En revanche, nous avons besoin d'une dose suffisante de lumière par jour pour ne pas désynchroniser notre horloge interne. Se protéger du soleil, bien sûr, mais le fuir, certainement pas.

La slow attitude
La divine le répète, elle « déteste être pressée », et ne supporte pas « les atmosphères tendues ». « C'est impossible pour moi de sortir du lit le matin », poursuit Marilyn Monroe, qui n'avait effectivement pas pour réputation d'être très à cheval sur l'heure. Pour autant, son temps de sommeil variait beaucoup : entre 5 et 10 heures par nuit. Autre petite précision : la belle ne supportait pas les pyjamas, et dormait hiver comme été avec une grosse couette.
Notre avis : Marilyn avait la "zen attitude". C'est très bien car le stress joue un rôle majeur dans l'oxydation, et donc le vieillissement de la peau. En revanche, on préférera un temps de sommeil fixe, entre 7 à 8 heures, pour permettre à notre organisme de se régénérer, sans le déstabiliser.

Du sport... oui mais pas trop
Marilyn Monroe explique passer 10 minutes chaque matin à travailler avec des petits poids de 2,25 kg, pour garder certains muscles « fermes ».. Les bras tendus, elle faisait de petites rotations ou les remontaient jusqu'au dessus de la tête. « Chaque matin, après m'être lavé les dents, avoir nettoyé mon visage (…) je m'étends sur le sol à côté de mon lit, et je commence mes exercices (…) Je ne compte pas comme les sportifs qu'on entend à la radio. Je ne pourrai pas supporter l'exercice si je me sentais régentée », poursuit-elle.
Notre avis : Le sport est le parfait loisir pour rester ferme, mais aussi combattre le stress oxydatif. Bien vu Marilyn ! Mais attention, le sport à haute dose booste notre production de radicaux libres, ces cellules qui font vieillir notre peau. Un bien pour un mal, que l'on peut facilement pallier en consommant des antioxydants.

De drôles d'habitudes alimentaires
« On m'a dit que mes habitudes alimentaires étaient bizarres, mais je ne le crois pas », estime-t-elle. Mais force est de reconnaître que son régime hyper-protéiné est peu ragoûtant et équilibré... Marilyn Monroe commençait sa journée avec une tasse de lait mixée avec deux œufs crus et une pilule multi-vitaminée. Le soir : un morceau d'agneau ou du foie au four, 4 ou 5 carottes crues, et le tour était joué. « Je dois être un peu un lapin car je ne me lasse pas des carottes », plaisante-t-elle. Elle confesse aussi son petit péché mignon : un sundae sur le chemin du retour en fin de journée. « Si je ne mangeais pas autant de protéines, je ne pourrais pas me permettre cet écart », conclut-elle.
Notre avis : Pas sûr que les diététiciens soient très convaincus par la chose. On va rester sur nos trois repas par jour, équilibrés, et nos 5 fruits et légumes... variés.
27 octobre 2013
Marilyn Monroe sur le vif, en 1950, en promotion pour "Eve".
Candid shot of Marilyn Monroe, in 1950, promoting "All About Eve".
> photographies de Phil Burchman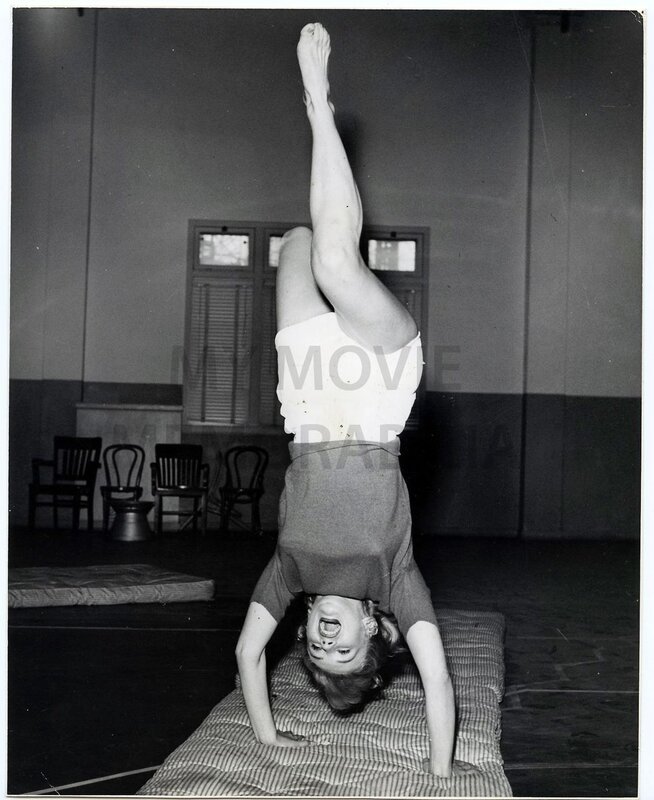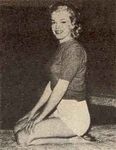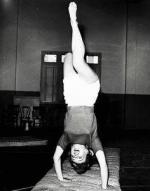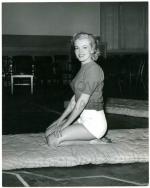 ---
© All images are copyright and protected by their respective owners, assignees or others.
copyright text by GinieLand.
19 juillet 2012
Le 13 août 1956, Marilyn Monroe et Arthur Miller sont aperçus en train de se promener à vélo dans le Windsor Park. Marilyn essaie ainsi le vélo qui lui a été offert par les anglais lors de sa conférence de presse un mois auparavant (le 15 juillet).
Photographies de Harold Clements (du 'Daily Express')
---
On August 13, 1956, Marilyn Monroe and Arthur Miller are seen riding a bicycle in the Windsor Park. Marilyn has the bike that English offered her during the Press Conference a month earlier.
19 juin 2012
Marilyn Monroe joue au golf; avec Joe DiMaggio, vers 1952, à Palm Springs, où le couple passait souvent des week-ends chez des amis.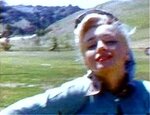 > video