26 février 2017
> photos de William Edward Cronenweth
19 mai 2014

Les drôles de secrets beauté de Marilyn Monroe révélés
Article en ligne
sur aufeminin.com
Elle est considérée par tous comme un modèle de féminité. Mais que faisait la divine Marilyn pour être si exquise ? Bonnes idées ou méthodes douteuses ? Découvrez notre analyse...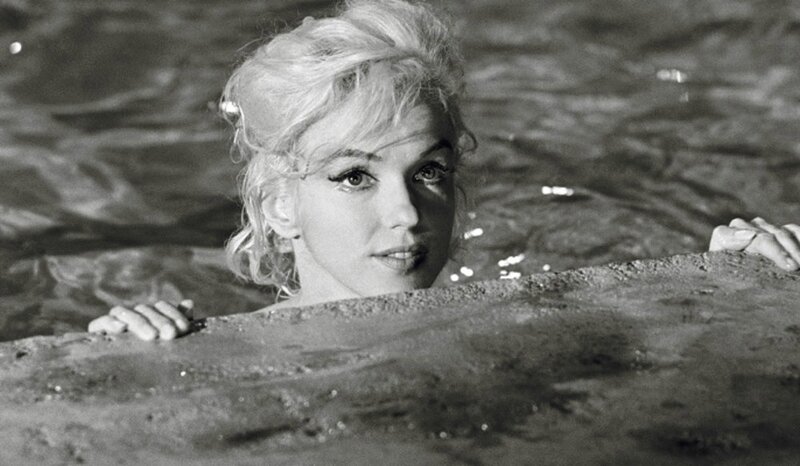 En 1952, alors que sa carrière décollait et qu'elle était déjà une star aimée et admirée, Marilyn Monroe se confiait dans les pages du magazine Pageant. L'actrice y prodiguait ses astuces fitness et nutrition, tout à fait personnelles. « Honnêtement, je n'ai jamais considéré ma silhouette comme exceptionnelle, jusqu'à récemment, je n'y pensais que très rarement », confie-t-elle au journaliste. « Ma seule vraie inquiétude avait toujours été de ne pas avoir assez à manger. Maintenant, je dois m'inquiéter de ne pas trop manger. Je n'ai jamais eu l'habitude de m'embêter avec des exercices », s'amuse la jeune femme.

Le soleil ? Non merci
Marilyn Monroe avait beau vivre à Los Angeles, on ne peut pas dire qu'elle était fan des bains de soleil. « Je ne pense pas qu'une peau bronzée soit plus attractive qu'une peau blanche, ou qu'elle soit en meilleure santé (…) Moi, j'aime me sentir blonde de partout », renchérit l'actrice.
Notre avis : Marilyn aurait été une parfaite ambassadrice pour les campagnes de lutte contre le cancer de la peau. En revanche, nous avons besoin d'une dose suffisante de lumière par jour pour ne pas désynchroniser notre horloge interne. Se protéger du soleil, bien sûr, mais le fuir, certainement pas.

La slow attitude
La divine le répète, elle « déteste être pressée », et ne supporte pas « les atmosphères tendues ». « C'est impossible pour moi de sortir du lit le matin », poursuit Marilyn Monroe, qui n'avait effectivement pas pour réputation d'être très à cheval sur l'heure. Pour autant, son temps de sommeil variait beaucoup : entre 5 et 10 heures par nuit. Autre petite précision : la belle ne supportait pas les pyjamas, et dormait hiver comme été avec une grosse couette.
Notre avis : Marilyn avait la "zen attitude". C'est très bien car le stress joue un rôle majeur dans l'oxydation, et donc le vieillissement de la peau. En revanche, on préférera un temps de sommeil fixe, entre 7 à 8 heures, pour permettre à notre organisme de se régénérer, sans le déstabiliser.

Du sport... oui mais pas trop
Marilyn Monroe explique passer 10 minutes chaque matin à travailler avec des petits poids de 2,25 kg, pour garder certains muscles « fermes ».. Les bras tendus, elle faisait de petites rotations ou les remontaient jusqu'au dessus de la tête. « Chaque matin, après m'être lavé les dents, avoir nettoyé mon visage (…) je m'étends sur le sol à côté de mon lit, et je commence mes exercices (…) Je ne compte pas comme les sportifs qu'on entend à la radio. Je ne pourrai pas supporter l'exercice si je me sentais régentée », poursuit-elle.
Notre avis : Le sport est le parfait loisir pour rester ferme, mais aussi combattre le stress oxydatif. Bien vu Marilyn ! Mais attention, le sport à haute dose booste notre production de radicaux libres, ces cellules qui font vieillir notre peau. Un bien pour un mal, que l'on peut facilement pallier en consommant des antioxydants.

De drôles d'habitudes alimentaires
« On m'a dit que mes habitudes alimentaires étaient bizarres, mais je ne le crois pas », estime-t-elle. Mais force est de reconnaître que son régime hyper-protéiné est peu ragoûtant et équilibré... Marilyn Monroe commençait sa journée avec une tasse de lait mixée avec deux œufs crus et une pilule multi-vitaminée. Le soir : un morceau d'agneau ou du foie au four, 4 ou 5 carottes crues, et le tour était joué. « Je dois être un peu un lapin car je ne me lasse pas des carottes », plaisante-t-elle. Elle confesse aussi son petit péché mignon : un sundae sur le chemin du retour en fin de journée. « Si je ne mangeais pas autant de protéines, je ne pourrais pas me permettre cet écart », conclut-elle.
Notre avis : Pas sûr que les diététiciens soient très convaincus par la chose. On va rester sur nos trois repas par jour, équilibrés, et nos 5 fruits et légumes... variés.
27 octobre 2013
Marilyn Monroe sur le vif, en 1950, en promotion pour "Eve".
Candid shot of Marilyn Monroe, in 1950, promoting "All About Eve".
> photographies de Phil Burchman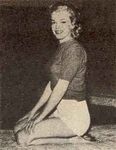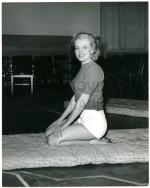 ---
© All images are copyright and protected by their respective owners, assignees or others.
copyright text by GinieLand.
19 juillet 2012
Le 13 août 1956, Marilyn Monroe et Arthur Miller sont aperçus en train de se promener à vélo dans le Windsor Park. Marilyn essaie ainsi le vélo qui lui a été offert par les anglais lors de sa conférence de presse un mois auparavant (le 15 juillet).
Photographies de Harold Clements (du 'Daily Express')
---
On August 13, 1956, Marilyn Monroe and Arthur Miller are seen riding a bicycle in the Windsor Park. Marilyn has the bike that English offered her during the Press Conference a month earlier.
19 juin 2012
Marilyn Monroe joue au golf; avec Joe DiMaggio, vers 1952, à Palm Springs, où le couple passait souvent des week-ends chez des amis.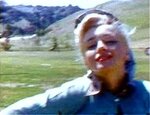 > video

09 mars 2012
Norma Jeane sur une plage au Nord de Malibu, Californie, en 1945
photographiée par André De Dienes.
> Séance en pull vert et salopette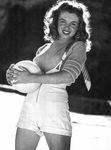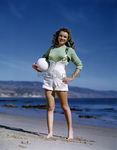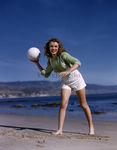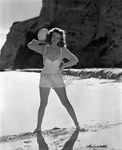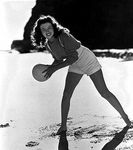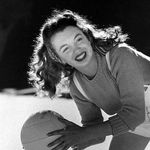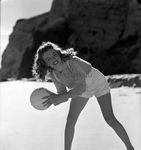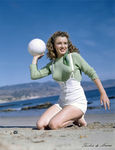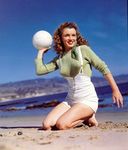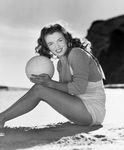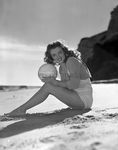 06 janvier 2012
Le 9 juillet 1949, Marilyn Monroe se rend à Chicago: elle participe au lancement d'un match de base-ball au stade Wrigley en compagnie de stars d'Hollywood comme Roddy McDowall, Jean Peters, Claudette Colbert et Virginia O'Brien. Est-ce à cette occasion qu'elle rencontra son futur mari Joe DiMaggio ?
In 1949, July, 9, Marilyn Monroe goes to Chicago: she attended a Chicago Pro-Celeb Baseball Match in the Wrigley Field with Roddy McDowall, Jean Peters, Claudette Colbert, Virginia O'Brien and other Hollywood stars in the making. Did it on this occasion that she met future husband, Joe DiMaggio ?
> Presse : 'Boston Evening American'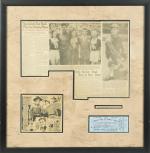 ---
Le soir, elle se rend au Rickett's NightClub avec Roddy McDowall.
The evening, she goes to the Rickett's NightClub with Roddy McDowall.

>> sources:
Photos à vendre sur marilynmonroe-photos.com
---
> dans la presse / in the press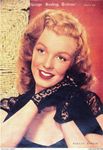 ---
© All images are copyright and protected by their respective owners, assignees or others.
copyright text by GinieLand.
Enregistrer
21 novembre 2011
MARILYN MONROE PHOTOGRAPH BY JOSEPH JASGUR
Color and black and white photographs of Marilyn Monroe
taken by Joseph Jasgur in 1946.
> Estimate each: $400 - $600
for lots 601, 606, 611,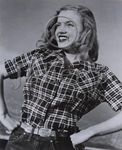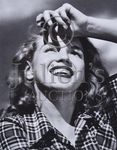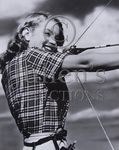 612, 629

> Estimate each: $500 - $700
for lots 605, 608, 613,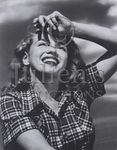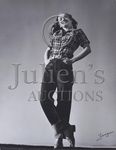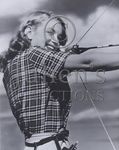 > Estimate each: $600 - $800
for lots 594, 595,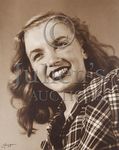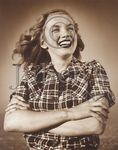 lot 607 (2 photos),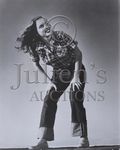 lot 617 (2 photos)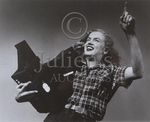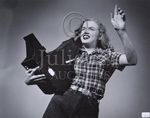 lot 620, 621, 625,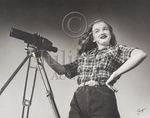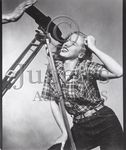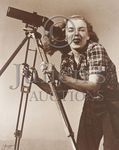 > Estimate each: $800 - $1 200
for lot 596 (4 photos)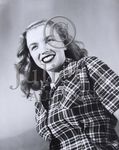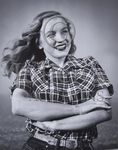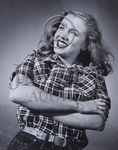 lot 619 (4 photos)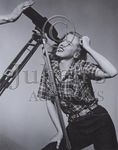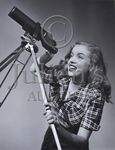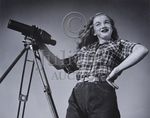 ---
MARILYN MONROE JOSEPH JASGUR NEGATIVES & COPYRIGHT
Joseph Jasgur color and black and white negatives of Marilyn Monroe taken in 1946.
> Estimate each: $1 500 - $2 500
for lot 597, 599, 600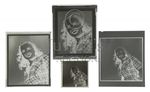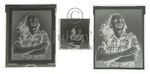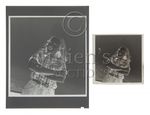 lot 604, 614, 615,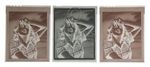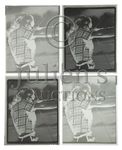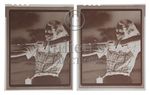 lot 618, 626,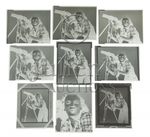 lot 627, 628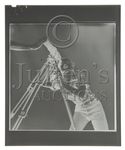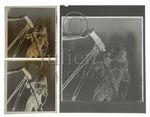 > Estimate each: $2 000 - $3 000
for lot 598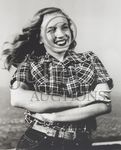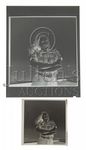 lot 602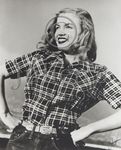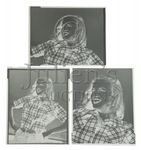 lot 603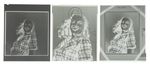 lot 609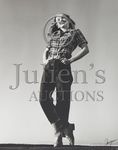 lot 610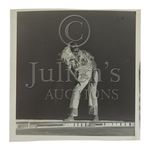 lot 616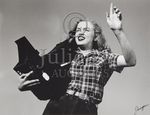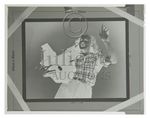 lot 622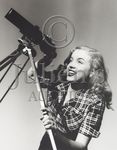 lot 623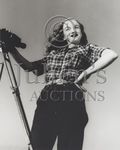 lot 624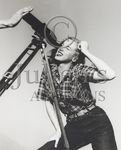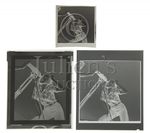 24 octobre 2011
Norma Jeane tire à l'arc
date inconnue
02 mai 2011
La rivière sans retour
Sur le tournage
Marilyn Monroe joue au golf avec son pied plâtré,
dans le grand parc national de Banff, à Devil's Cauddron,
à Alberta, au Canada; avec Malcom Tapp.
Marilyn Monroe playing golf at the Devil's Cauddron,
with Malcom Tapp, August 1953.

>> Photographie de John Vachon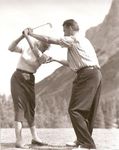 ---
© All images are copyright and protected by their respective owners, assignees or others.
copyright text by GinieLand.