21 janvier 2015
Le prince et la danseuse
Sur le tournage - scène 1
> Photographies de Milton Greene
Photographs of Milton Greene
- Marilyn Monroe entre les prises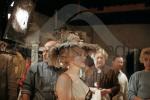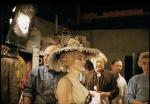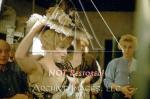 - Marilyn Monroe et Gladys Henson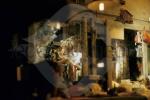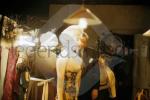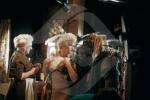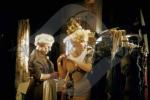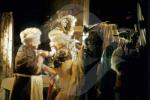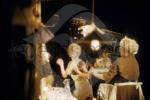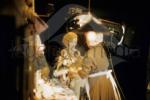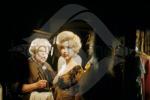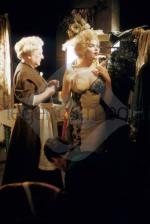 - Marilyn Monroe avec Laurence Olivier et Jack Cardiff

---
© All images are copyright and protected by their respective owners, assignees or others.
copyright text by GinieLand.
14 décembre 2014
Le 11 février 1952, Marilyn Monroe participe à la soirée de remise de prix organisée par le magazine Photoplay à l'Ambassador Hotel de Los Angeles; Marilyn y aurait reçu un prix spécial "Special Award".
In February 11, 1952, Marilyn Monroe participates to the Awards Party organized by Photoplay magazine at the Ambassador Hotel in Los Angeles; Marilyn would have received a "Special Award".
> Marilyn avec Richard Widmark
(son partenaire de 'Don't Bother to Knock')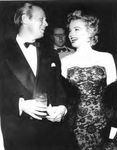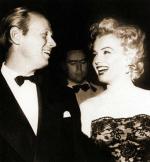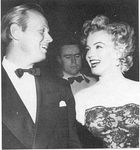 > Marilyn avec David Wayne
(son partenaire de 'We're not married')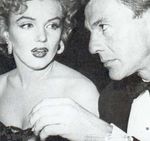 ---
> Photographie de Nate Cutler
Marilyn avec David Wayne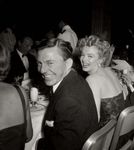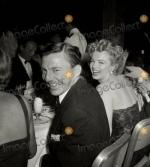 ---
Sheilah Graham racontera que Marilyn passera une bonne partie de la soirée à poser dans une salle de l'Ambassador pour les photographes.
Sheilah Graham wrote that Marilyn spent a part of the evening posing on the far side of the Ambassador room for the press.
> photographie de Phil Burchman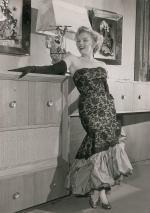 ---
---
(> source: Photoplay Awards sur imdb ) -
(> ne pas confondre avec la Première de Don't Bother to Knock ) -
© All images are copyright and protected by their respective owners, assignees or others.
copyright text by GinieLand.

05 mai 2014
Au matin du 25 février 1956, une limousine vient chercher Marilyn Monroe à son appartement new-yorkais au 2 Sutton Place South pour l'amener à l'aéroport. Elle est attendue à Hollywood dans deux jours pour commencer la pré-production de son premier film pour la Fox signé de son nouveau contrat: "Arrêt d'Autobus", l'adaptation cinématographique d'une pièce à succès. Les Marilyn Monroe Productions et la Fox venaient d'arriver à un compromis, et Marilyn rentre triomphante, après un long exil d'une année à New York.
Les reporters de la presse et de la télévision guettent son avion au terminal d'American Airlines à Los Angeles. Un accueil tumultueux l'attend: des centaines de journalistes se sont rués sur le tarmac, et il y a une telle foule autour de l'aéroport que Marilyn est la dernière passagère à descendre, elle ne peut sortir qu'au bout de deux heures.
On the morning of February 25, 1956 , a limousine takes Marilyn Monroe at her New York apartment at 2 Sutton Place South to bring her to the airport. She is expected in Hollywood in two days to begin the pre-production of her first film for Fox signed with her new contract: "Bus Stop", the cinematographic adaptation of a successful play. The 'Marilyn Monroe Productions' and Fox has just arrived at a compromise and Marilyn returns triumphant after a long exile of one year in New York.
Reporters of the press and television await her plane at the American Airlines terminal in Los Angeles. A tumultuous welcome awaits her: hundreds of journalists rush to the tarmac, and there is such a crowd around the airport that Marilyn is the last passenger to alight, she can get out only after two hours.
> photographie de Leigh Wiener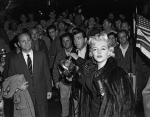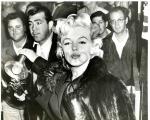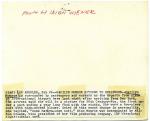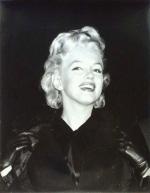 ---
Marilyn embrasse Roy Craft, du département publicitaire des studios, et rejoint la salle d'attente de l'aéroport pour la conférence de presse. Milton Greene l'accompagne.
Elle répond aux questions: "Oui", elle est un peu fatiguée; "Non", elle n'est pas amoureuse pour le moment "mais je n'y ai pas renoncé"; "Non" Milton Greene ne prend pas toutes les décisions la concernant, Marilyn est la présidente des MM Prod. et Greene le vice-président.
Marilyn ne souhaite pas être tournée en ridicule: elle a passé de longs mois à New York pour se perfectionner en tant qu'actrice, fréquentant les cours de l'Actors Studio; de plus, son partenariat avec Greene est moqué dans la pièce de Broadway "Will Success Spoil Rock hunter ?" (qui deviendra un film en 1957 avec Jayne Mansfield: "La Blonde Explosive"). Pour son retour à Hollywood, beaucoup pensent retrouver une "nouvelle Marilyn", qui apparaît en tailleur et cravate noirs et s'exprime d'une manière plus posée:
Déclarations:
"Je suis heureuse d'être de retour".
"J'éspère avoir grandi un peu, et je sais que je suis bien plus heureuse que lorsque je suis partie".
A la question "Etes-vous une nouvelle Marilyn ?" elle répond "Je suis la même. C'est juste l'habillement qui est différent !".
"Je préfère dire que j'ai l'approbation de mon réalisateur, car c'est vrai. C'est très important pour moi."
Marilyn hugs Roy Craft, from advertising department of studios, and joins the waiting room of the airport for the press conference. Milton Greene is with her.
She answers to the questions: "Yes", she is a little tired; "No", she is not in love for the moment, "but I don"t give up"; "No" Milton Greene doesn't take all decisions concerning her, Marilyn is the president of MM Prod . and Greene the vice president.
Marilyn doesn't want to be ridiculed: she spends several months in New York to perfect her as an actress, going to the Actors' Studio; Moreover, its partnership with Greene is laughed at the broadway play "Will Success Spoil Rock Hunter ?" (which will become a movie in 1957 with Jayne Mansfield). For hers return to Hollywood, many think finding a "new Marilyn ", who appears in a black suit and tie and speaks in a more sedate manner :
Statements:
"I'm happy to be back".
"I like to think I've grown up a little, and I know I'm much happier than when I left".
To the question "Is this a new Marilyn ?" she answers "I'm the same person. It's just a different suit !".
"I'd rather to say that I have the approval from my director, because it's true. It is very important to me."
> photographies de Leigh Wiener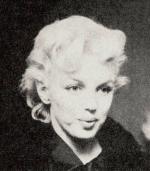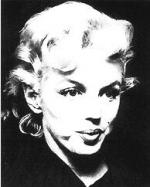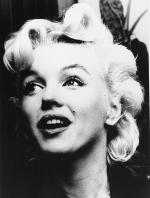 > Conférence de presse - avec la journaliste Kendis Rochlen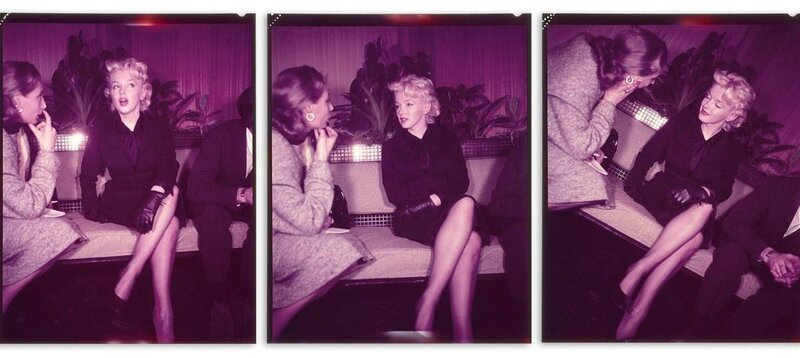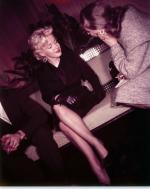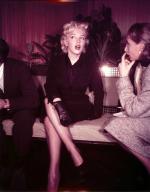 ---
> Conférence de presse - avec Milton Greene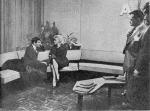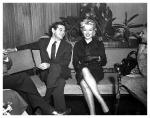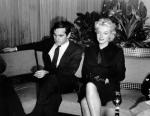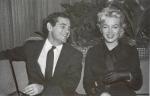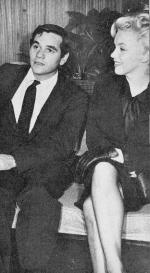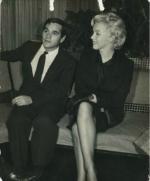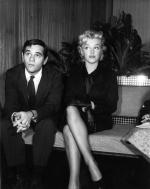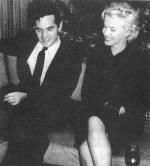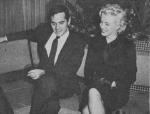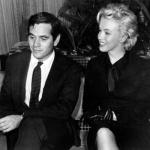 ---
---
> video (couleur - au bas de l'avion) sur gettyimages
> video 1 (couleur - au bas de l'avion)

> video 2 -Fox Movietone (descente de l'avion, entrée aéroport)


> video 3 -Fox Movietone (muette - conférence de presse)


> video 4 -Fox Movietone (avec son - conférence de presse)


> video 5 - (avec son - extrait de la conférence de presse)


> video 6 - Informations USA (avec son - extrait interview)


---
>> sources:
Marilyn Monroe, Les inédits, de Marie Clayton.
Les vies secrètes de Marilyn Monroe, d'Anthony Summers
Marilyn Monroe, de Barbara Leaming

---
© All images are copyright and protected by their respective owners, assignees or others.
copyright text by GinieLand.
03 mai 2014
Le 25 février 1956, retour à Los Angeles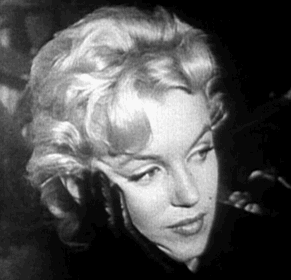 28 avril 2014
Le matin du 9 février 1956, une conférence de presse se tient au Plaza Hotel de New York, où Marilyn Monroe et Laurence Olivier annoncent leur intention de tourner une version cinématographique de la pièce de Terence Rattigan "The Sleeping Prince". Le film se tournera en Angleterre, où Olivier avait obtenu un succès avec la pièce originale, dans laquelle il jouait avec sa femme Vivien Leigh. Marilyn a acheté les droits du film 125 000 Dollars et paie Rattigan pour qu'il en écrive le scénario. C'est le premier projet concret de sa société Marilyn Monroe Productions: Greene en est le producteur exécutif, Olivier le réalisateur et producteur, et la Warner Bros en est le distributeur.
Environ 150 journalistes sont présents: photographes et reporters de la presse écrite et de la télévision. Comme à son habitude, Marilyn est en retard et tout le monde l'attend.
At the morning in February 9, 1956, a press conference is held at the Plaza Hotel in New York, where Marilyn Monroe and Laurence Olivier announce their intention to shoot a film version of Terence Rattigan's play "The Sleeping Prince". The film will be turn in England, where Olivier had achieved success with the original play, in which he played with his wife Vivien Leigh. Marilyn has bought the film rights 125,000 dollars and pays Rattigan for he writes the screenplay. This is the first project of its company Marilyn Monroe Productions: Greene is the executive producer, Olivier the director and producer, and Warner Bros. is the distributor.
About 150 journalists are present: photographers and reporters from print and television. As usually, Marilyn is late and everyone is waiting for her. Finally, she appears, on the balcony, with Laurence Olivier, Terence Rattigan and Milton Greene.

> photographies de Milton Greene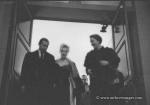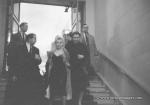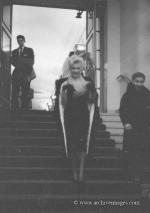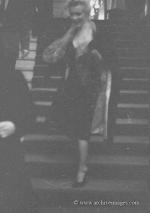 ---
Elle apparaît enfin, au balcon, avec Laurence Olivier, Terence Rattigan et Milton Greene. Puis, Marilyn et Olivier restent un moment au balcon, laissant les photographes les prendre en photos, avant de descendre les escaliers.
Then, Marilyn and Olivier stay a while to the balcony, letting photographers taking pictures, before going down the stairs.
> photographies de Milton Greene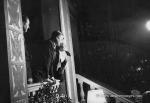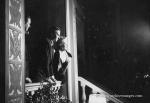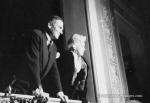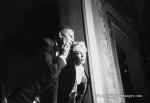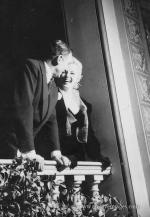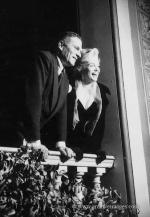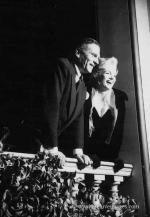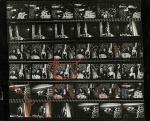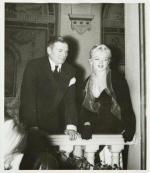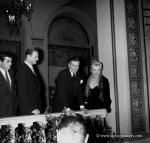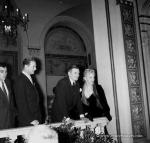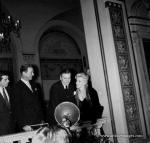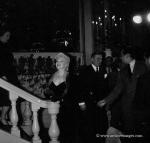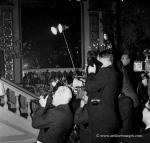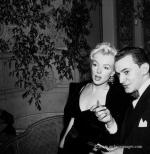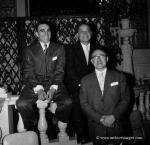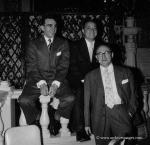 ---
Marilyn et Olivier rejoignent la table de conférence de presse.
Déclarations:
M.M.: "J'aimerais continuer à grandir de toutes les façons possibles."
L.O.: "Marilyn est une brillante comédienne et, par conséquent, une très bonne actrice."
Marilyn and Olivier joined the table press conference.
Statements:
M.M.: "I would continue to grow in all possible ways."
L.O.: "Marilyn is a brilliant actress and, therefore, a very good actress."
> photographies de Milton Greene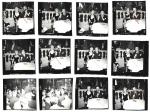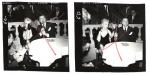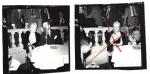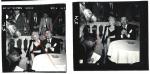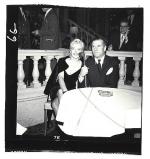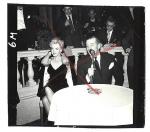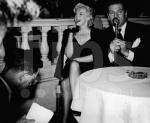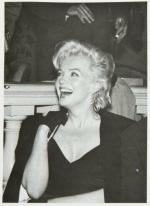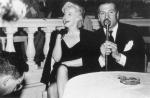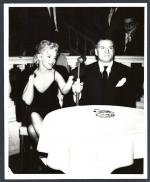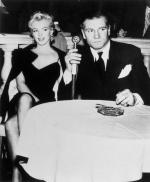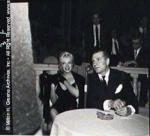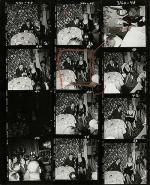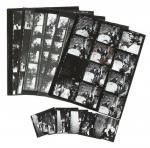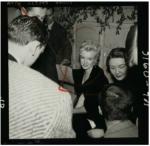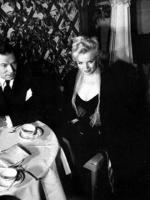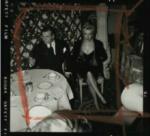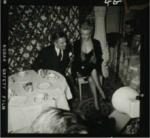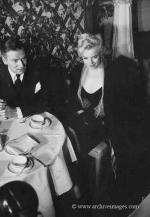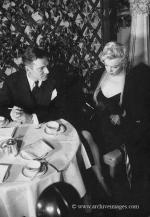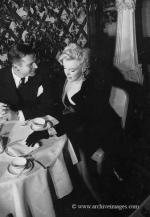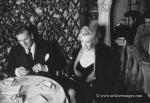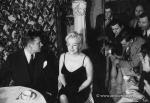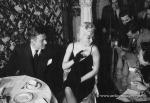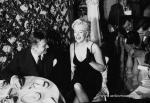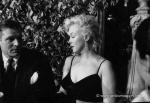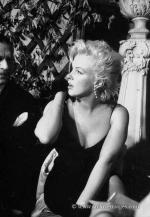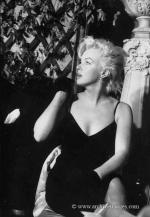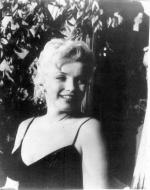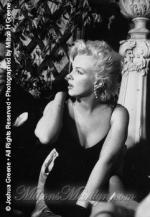 > photographies de Leo Friedman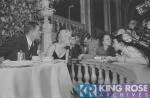 ---
> photographies de Milton Greene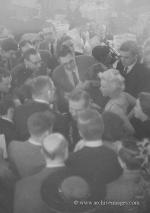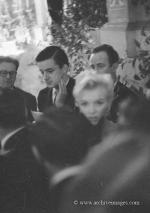 ---
Un événement, sans doute orchestrée par Marilyn, va se produire: la bretelle de sa robe noire John Moore va craquer. Olivier restera d'ailleurs convaincue qu'elle le fit exprès pour monopoliser l'attention. Lorsque la bretelle a cédé, la journaliste Judith Crist du 'New York Herald Tribune' est aux premières loges: "J'étais juste derrière elle, poussée contre elle par la cohue largement masculine de journalistes. Il y a les toilettes des dames à droite, j'ai une épingle de secours". La bretelle va être raccomodée rapidement, mais elle cédera à nouveau lors du shooting photos de Marilyn en haut des escaliers. L'incident va s'étaler dans tous les journaux et constituera une excellente publicité.
Olivier, qui, en public, ne tarit pas d'éloges sur Marilyn, est inquiet dans l'intimité. Après la conférence, il dit au producteur Saul Colin dans la limousine qui les ramène: "Saul, je me demande si je n'ai pas fait une erreur."
An event, probably prepared by Marilyn, will happen: the strap of her black John Moore dress will break. Olivier remains convinced that the purpose of Marilyn was to monopolize attention. When the dress strap has broken, the journalist Judith Crist of the 'New York Herald Tribune' is next to Marilyn: "I was directly behind her, pushed against her by the largely male crush of reporters. There's a ladies' room to the right. I have a safety pin." The strap is repaired quickly, but it will break again during the photo shoot of Marilyn upstairs. The incident will be spread in all the newspapers and provide an excellent advertising.
Olivier, who, in public, not raves about Marilyn, is worried in private. After the conference, he saiys to the producer Saul Colin, in the limo that brings them back: "Saul, I wonder if I have not made a mistake."
> photographies de Milton Greene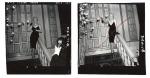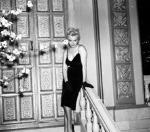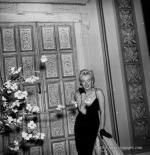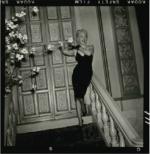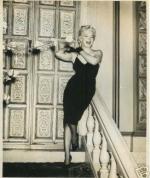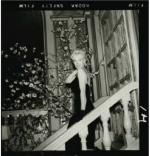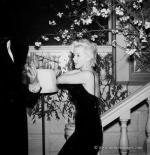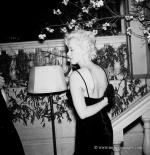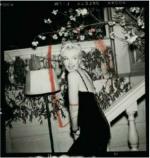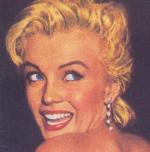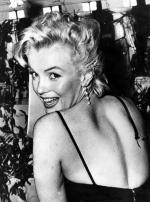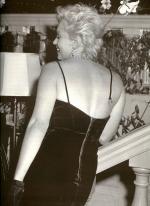 ---
> photographies de Milton Greene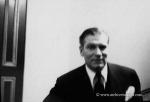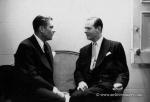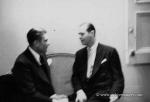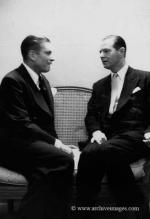 Souvenir de la photographe Eve Arnold: "Son attaché de presse de la côte Est, Lois Smith, me téléphona pour m'inviter à assister à une conférence de presse organisée au Waldorf, au cours de laquelle Laurence Olivier -devenu Sir Laurence Olivier- et Miss Monroe allaient parler du nouveau film qu'ils se préparaient à tourner en Angleterre. J'arrivai un peu en avance de manière à rendre visite à Marilyn dans sa loge avant le début de la conférence. Marilyn avait toujours eu du mal à amorcer les choses. (...) Consciente qu'elle aurait à galvaniser les journalistes, à rendre l'instant magique, à frapper leur imagination, elle hésitait à entrer en scène. Les minutes passaient, on l'attendait et on s'impatientait. Le temps jouait en sa défaveur, mais elle semblait paralysée et incapable d'y remédier, alors que son souhait le plus cher était de ne décevoir personne. (...) Il était onze heures du matin et elle portait une robe de velours noir aux bretelles à peine plus large qu'un spaghetti. Elle était éblouissante, le noir de sa robe faisait ressortir sa peau blanche et sa chevelure blonde. Lorsque je le lui dis, elle me fit un clin d'oeil dans le miroir et me répondit simplement: "Regarde bien". Je n'étais restée qu'une minute dans sa loge, le temps de lui dire bonjour. Elle était déjà en retard. A l'extérieur s'impatientaient Laurence Olivier et le scénriste du film Terence Rattigan, qui me fusillèrent du regard. (...) Marilyn apparut à un balcon en compagnie de Laurence Olivier, Terence Rattigan et Milton Greene. Lentement, Marilyn et Olivier descendirent l'escalier et furent engloutis par une foule de professionnels bien intentionnés; il leur fut difficile de se frayer un chemin. Ils atteignirent enfin la table de conférence et les questions commencèrent. Au début, Laurence Olivier répondait avec beaucoup de sérieux. Puis Marilyn se mit à son aise. Elle retira son manteau mais, en se penchant en avant, elle fit craquer une des fines bretelles de sa robe. L'atmosphère changea d'un coup: elle l'avait détendue en faisant rire son public; on lui proposa une épingle de sûreté. (...) Elle avait réussi à transformer cette réunion pesante, monotone et sans surprise en un véritable événement. Les centaines de journalistes étaient sous le charme. Ils appréciaient la classe avec laquelle l'actrice avait réagi lorsque sa bretelle s'était rompue. En temps normal, jamais je ne serais allée photographier une conférence de presse (...) mais depuis notre voyage dans l'Illinois, j'étais accro à Marilyn."
---
> video 1


> video 2


> video 3

---
---
>> sources:
Marilyn Monroe, Les inédits, de Marie Clayton.
Marilyn Monroe et les caméras, Georges Belmont
Les vies secrètes de Marilyn Monroe, d'Anthony Summers
Marilyn Monroe, de Eve Arnold
article "The Prince, the Showgirl, and the Stray Strap" sur nytimes.com
---
© All images are copyright and protected by their respective owners, assignees or others.
copyright text by GinieLand.

24 mars 2014
Durant la semaine précédente (du 24 au 29 juin 1956) passée à Roxbury dans la propriété de Arthur Miller, Marilyn Monroe a demandé à Augusta Miller, la mère d'Arthur, de lui apprendre des recettes de plats typiquement juifs.
Par ailleurs, Marilyn insiste pour que les Miller téléphonent à un rabbin de la branche réformée du judaïsme, Robert Goldburg, qui accepte de lui donner une brève instruction religieuse et de célébrer la cérémonie nuptiale.
During the previous week (24 to 29 June 1956) into Roxbury, at the home of Arthur Miller, Marilyn Monroe asked to Augusta Miller, Arthur's mother, to teach her recipes from typical Jewish meals.
Furthermore, Marilyn insists for that Miller phone to a rabbi of the reformed branch of Judaism, Robert Goldburg, who agrees to give her a brief religious instruction and to celebrate the wedding ceremony.
Le dimanche 1er juillet 1956, soit deux jours après la cérémonie civile du mariage, est célébré le mariage juif de Marilyn Monroe et Arthur Miller. C'est Marilyn qui avait insisté pour obtenir cette cérémonie religieuse. La cérémonie du mariage est gardée secrète jusqu'au dernier moment.
On Sunday 1st of July 1956, two days after the civil marriage ceremony, is celebrated the Jewish Wedding Ceremony of Marilyn Monroe and Arthur Miller. This is Marilyn who has insisted to obtain that religious ceremony. The wedding ceremony is kept secret until the last moment.

---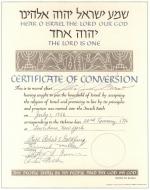 Plus tôt dans la journée, Marilyn Monroe se convertie au judaïsme -pour ce mariage- dans la ville de Lewisboro, dans l'Etat de New York: elle promet au rabbin Robert Goldburg, que tous ses enfants seraient élevés dans la foi judaïque et prête serment: "Je déclare, en la présence de Dieu et des témoins assemblés ici, rechercher le compagnonnage d'Israël".
Parmi les témoins se trouvent Arthur Miller, Kermit Miller le frère d'Arthur, et Milton H. Greene. Le rabbin lui remet un certificat de conversion (cf document ci-contre).
Earlier that day, Marilyn Monroe is converted to Judaism -for this marriage- in the town of Lewisboro in the State of New York: she promises to Rabbi Robert Goldburg, that all her children would be raised in the Jewish faith and oath "I declare, in the presence of God and witnesses assembled here, to seek companionship of Israel."
Among the witnesses are Arthur Miller, Kermit Miller the Arthur's brother, and Milton H. Greene. The rabbi gives her a certificate of conversion (see document).
---
Arthur Miller et Marilyn Monroe vont signer le Ketubah, un accord prénuptial traditionnellement juif, définissant les droits et les responsabilités de l'époux envers la mariée. Ce document (cf ci-contre), richement coloré, est imprimé sur deux oblongues de feuilles et on peut y lire: "Je suis à mon bien-aimé, et mon bien-aimé est à moi. Aucun homme sans femme, aucune femme sans homme, et ni sans Dieu". Ce certificat témoigne que Arthur Miller et Marilyn Monroe ont été unis dans le mariage dans la ville de Lewisboro, à Westchester, le 1er Juillet 1956, 22 Tamouz 5716, conformément au rite d'Israël et en conformité avec les lois de l'État de New York. Signé par le Rabbin Robert E. Goldburg et par les témoins: le frère d'Arthur, Kermit Miller, ainsi que du professeur d'art dramatique de Marilyn, Lee Strasberg.
Arthur Miller and Marilyn Monroe's ketubah, traditionally a special Jewish prenuptial agreement, outlining the rights and responsibilities of the groom in relation to the bride. This beautiful, richly colored document (see above) is printed on two oblong 8 ½ in. x 11 in. leaves and reads, "I am my beloved's, and my beloved is mine. No man without woman; no woman without man; and neither without God". This Testimonial witnesses that Arthur Miller and Marilyn Monroe were united in marriage in the city of Lewisboro, Westchester on July 1, 1956, 22nd of Tammuz 5716, In accordance with the rite of Israel and in compliance with the laws of the State of New York. Signed by Rabbi Robert E. Goldburg and witnessed by Arthur's brother, Kermit Miller, as well as Marilyn's acting coach, Lee Strasberg.
---
L'après-midi, les invités (amis et famille) attendent sur la terrasse en dalles de la propriété de l'agent littéraire de Miller, Kay Brown, une ancienne ferme, située à Waccabuc, près de Katonah, dans le Comté de Westchester, dans l'Etat de New York, pendant que les futurs mariés arrivent de Roxbury, où se trouve la propriété de Miller. Les invités sont au nombre de 25 (ou 30 selon les sources) et ne sont composés que d'amis très proches et de la famille de Miller: les enfants (Jane et Robert) et parents (Isadore et Augusta Miller) d'Arthur, son frère Kermit Miller, sa soeur Joan Copeland, son cousin Morty Miller et leurs conjoints respectifs, les Strasberg (Lee et Paula), les Greene (Milton et Amy, ainsi que Cecilia, la mère de Milton et Kitty Owen, la cuisinière des Greene), les Rosten (Norman et Hedda), mais aussi Jay Kanter (l'agent de Marilyn), le scénariste George Axelrod et le couturier John Moore. Il fait très chaud ce jour là, les hommes retirent leurs vestes et les femmes portent des petites robes d'été. De longues tables recouvertes de nappes blanches et des chaises pliantes sont installées dans le jardin, près de la baie vitrée de la maison. Comme à son habitude, Marilyn est en retard.
In the afternoon, the guests (friends and family) waiting on the flagstone terrace of the white home of literary agent of Miller, Kay Brown, a former farmhouse, located in Waccabuc, near Katonah, in Westchester County in the State of New York, while the bride and groom come from Roxbury, where there is the Miller's home. Guests are 25 (or 30 depending on the sources) and are composed of only close friends and Miller's family: children (Jane and Robert) and parents (Isadore and Augusta Miller) of Arthur, his brother Kermit Miller, his sister Joan Copeland, his cousin Morty Miller and their respective spouses, the Strasbergs (Lee and Paula) , the Greenes (Milton and Amy, and Cecilia, Milton's mother, and Kitty owen, cooker of the Greene), the Rostens (Norman and Hedda) and also Jay Kanter (Marilyn's publicist), the scriptwriter George Axelrod and the fashion designer John Moore. It is a heat day, so men remove their jackets and women wear little summer dresses. Long tables covered with white tablecloths and folding chairs are set in a large bay window. As usual, Marilyn is late.
> Milton Greene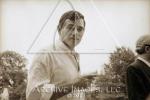 > Milton Greene avec Cecilia (sa mère) et Kitty Owen (sa cuisinière)

---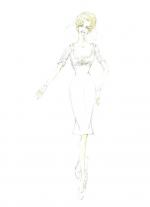 Puis Marilyn et Arthur arrivent: elle est vêtue d'un simple blue jean et se précipite dans une chambre à l'étage où la dame d'honneur, Hedda Rosten, l'aide à se changer avec la robe de mariée beige en mousseline de soie, signée des créateurs John Moore et Norman Norell, avec des fronces sur les manches et le corsage et une ceinture de satin sous le buste. Amy Greene a prêté son voile qu'elle a fait tremper dans du café une semaine auparavant, afin de renforcer l'aspect de douceur d'ombres beige du voile en auréole. (cf illustration de Michelle Shin ci-contre). Le costume qu'Arthur porte a été acheté par Milton et fourni par Jack Walker, un ami proche de Greene, qui a couru au magasin de mercerie pour hommes Mannie Walker. Miller le porte avec une cravate et a mis une fleur à sa boutonnière. Les autres dames d'honneur sont Judy Kantor et Amy Greene, qui a aidé Marilyn à se coiffer et se maquiller.

Then Marilyn and Arthur arrive: she is wearing a simple blue jeans and rushes into a room upstairs where matron of honor, Hedda Rosten, help her to change with the wedding chiffon beige dress, by the designers John Moore and Norman Norell, with ruching on the sleeves and bodice and a satin sash under the bust. Amy Greene has loaned her veil that she had soaked veil in coffee a week before, to enhance the appearance of smooth beige shadows of halo veil (see illustration below against Michelle Shin). The suit Arthur wears is actually purchased by Milton and provides by Jack Walker, dear friend of the Greene's, who runs the Mannie Walker men's haberdashery store. Miller wears a tie and put a flower in his buttonhole.
The other matrons of honor are Judy Kantor and Amy Greene, who helped Marilyn to make hair and makeup.
Cependant, Marilyn semble perturbée depuis deux jours (en fait, depuis le mariage civil du vendredi): elle est nerveuse, anxieuse et se renferme sur elle-même, comme l'ont constaté Milton et Amy Greene. Milton avait d'ailleurs téléphoné à Irving Stein, l'avocat de Marilyn pour lui demander de "se tenir prêt en cas de difficulté de dernière minute". Pendant que Marilyn se prépare dans la chambre, Milton en profite pour discuter avec elle: "Je ne t'ai pas vu sourire de toute la journée. Tu es bien sûre de ce que tu fais ? (...) Tu veux vraiment de ce mariage ? Tu n'y es pas obligée, tu sais. Si tu veux tout arrêter, ce n'est pas compliqué", lui dit Milton. Des larmes commencent à couler sur le visage de Marilyn et Amy la réconforte en lui précisant: "On peut te mettre dans une voiture pour sortir doucement par la porte de derrière. Nous, on se débrouillera avec les invités. Le mariage civil pourrait certainement être annulé avant que le rituel religieux ne vint apporter sa solennité à l'union". Et Marilyn de répondre calmement: "Non, je crois que je ne veux pas me marier".
Milton sort de la chambre et s'apprête à renvoyer tout le monde, mais Marilyn le rappele: "Non, Milton ! On a invité tous ces gens, on ne peut pas faire ça, on ne peut pas les décevoir !"
D'après Amy, Marilyn avait vu un mauvais présage dans la mort accidentelle de la journaliste Maria Scherbatoff (le 29 juin, lors de la conférence de presse donnée avec Miller à Roxbury): "Mais elle savait aussi, présage ou pas, qu'elle commettait une terrible erreur en acceptant ce mariage". D'ailleurs, un autre ami de Marilyn confie: "Elle n'était pas sûre de l'aimer, mais elle n'était pas sûre non plus de ne pas l'aimer. Au cœur de sa confusion, cependant, était son sentiment qu'elle était dépassée avec cet homme. Son insécurité allait crescendo à cette époque. Elle ne pouvait pas s'empêcher de se demander ce que cet intellectuel voulait d'elle, et cela la rendait folle. Cherchait-il juste une femme trophée, comme Joe ? C'est ce qui se passait vraiment ici."
However, Marilyn seems disturbed for two days (in fact, since the civil marriage on Friday ): she is nervous, anxious and contains about herself, as noted by Milton and Amy Greene. Milton has also phoned to Irving Stein, Marilyn's lawyer, asking him to "be ready in case of trouble of last minute." While Marilyn prepares herself in the bedroom, Milton tooks the opportunity to discuss with her: "I have not seen you smile all the day. You're very sure of what you do ? ( ... ) Do you really want to this marriage ? You are not required on it, you know. If you want to stop everything, it's not complicated, " says Milton. Tears begin to flow on the face of Marilyn and Amy comforts her by saying "We can put you in a car to go out softly by the door behind the house. We will attend the guests. Civil marriage certainly could be canceled before the religious ritual come to bring solemnity to the union." And Marilyn answers calmly, "No, I think I don't want to marry." Milton leaves the room and is about to oust everyone but Marilyn recalls him: "No, Milton ! We have invited all these people, we can't do that, we can't let down them !"
According to Amy, Marilyn saw a bad omen in the car accidental of journalist Maria Scherbatoff whi diead (on June 29, just before the press conference with Miller in Roxbury): "But she also knew, omen or not, that she was making a terrible mistake by accepting this marriage." Moreover, another friend of Marilyn says: "She wasn't sure that she loved him, but she wasn't sure she didn't. At the core of her confusion, though, was her sense that she was in over her head with this man. Her insecurity were running wild by this time. She couldn't help but Wonder what this intellectual wanted with her, and it was driving her crazy. Was he just looking for a trophy wife, as Joe had ? What was really going on here".
---
Pendant ce temps, le Rabbin Robert Goldberg et les invités patientent dans le living-room. Milton Greene accompagne Marilyn à la sortie de la chambre pour la mener au bras de Lee Strasberg, qui joue ainsi le rôle du père de substitution de la mariée en la menant à l'autel. La cérémonie, qui a lieu devant la cheminée de marbre du living-room, ne dure qu'à peine 10 minutes et se célèbre selon le rituel juif. Les époux boivent le vin rouge: Marilyn soulève son voile pour déposer ses lèvres sur la coupe. Elle prononce un "je le veux" d'une voix douce et tremblante. Ils s'échangent les alliances: au cours des deux jours précédents, Miller avait acheté un anneau d'or chez Cartier qui portait l'inscription: "A. à M., juin 1956. Maintenant Pour Toujours." Puis, Miller casse son verre en l'écrasant de ses pieds, en souvenir de la destruction de Jérusalem, et la foule s'écrie: "Mazel Tov!"
Meanwhile, Rabbi Robert Goldberg and guests wait in the living room. Milton Greene accompanies Marilyn from the bedroom and lead her to the arm of Lee Strasberg, who plays the role of a surrogate father to the bride, leading her to the altar. The ceremony, which takes place in front of the marble fireplace in the living-room, lasts just 10 minutes and is celebrated according to the Jewish ritual. The couple drink red wine: Marilyn raised her veil to submit her lips on the cup. She delivers an "I do " in a soft, tremulous voice. They shall exchange alliances: in the previous two days, Miller has bought a gold ring from Cartier's which bore the inscription: "A. to M., June 1956, Now For Ever." Then Miller crushes his glass under his feet, in remembrance of the destruction of Jerusalem, and the crowd cried "Mazel Tov!"

--- En attendant la mariée / Waiting for the bride ---
> Kermit Miller, Arthur Miller et Lee Strasberg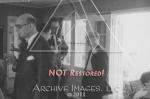 > Kitty Owen et Cecilia Greene

> Hedda Rosten, le Rabbin Goldberg et Arthur Miller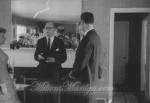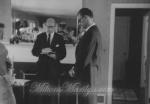 --- La cérémonie / The ceremony ---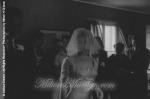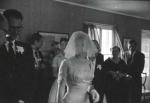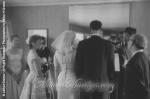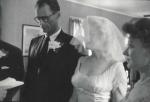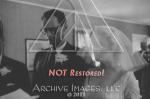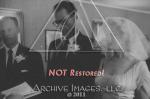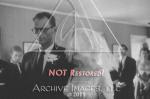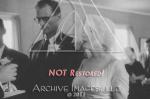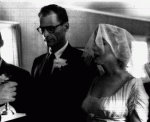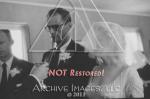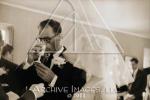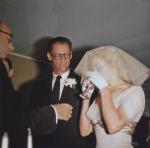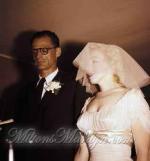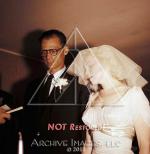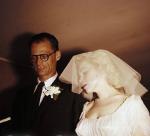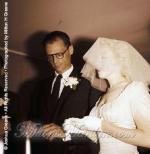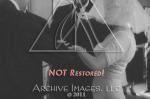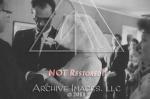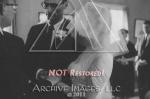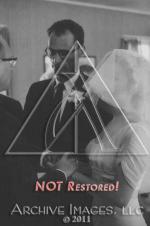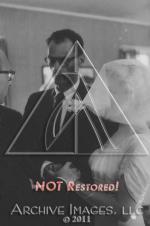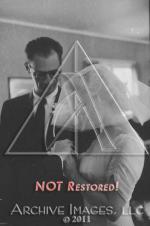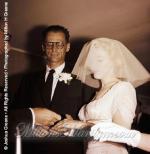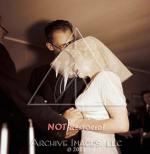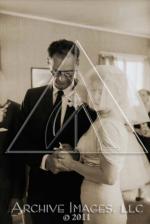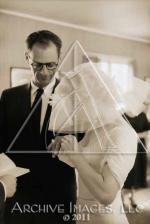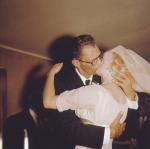 ---
Ensuite, le repas du mariage prend des airs bucoliques, avec l'organisation d'un lunch en plein air dans le jardin.
Au menu: homard, dinde et champagne, ainsi que la pièce montée (les Miller s'étaient adressés à huit pâtissiers avant d'en trouver un qui accepte de la confectionner en quelques heures). Marilyn et Arthur coupent ensemble les tranches, et s'embrassent sans retenue. Arthur Miller, habituellement stoïque, se montre très attentionnée et enchanté de sa nouvelle épouse; et Marilyn semble très heureuse. Depuis plusieurs mois, les proches de Miller ont observé une aisance physique qui l'avait complètement transformé. Norman Rosten dira: "Le conte de fées était devenu réalité. Le Prince était apparu, la Princesse était sauve." Marilyn écrira au dos d'une photographie du mariage: "Espoir, Espoir, Espoir."
Then, the wedding meal takes bucolic aspect, with the organization of a lunch outside, in the garden.
On the menu: lobster, turkey and champagne and the wedding cake (Millers had approached eight pastry before finding one who agrees to make it in a few hours). Marilyn and Arthur cut the slices together, and kiss each other without restraint. Arthur Miller, usually stoic, is very caring and delighted with his new wife, and Marilyn seems very happy. For several months, Miller's closest friends have observed a physical ease that has completely transformed him. Norman Rosten will say that "The fairy tale came true. The Prince appeared, the Princess was safe." Marilyn wrote on the back of the wedding photography "Hope, Hope, Hope."
--- Dans la maison / In the house ---
> Kitty Owen (cuisinière des Greene) et Marilyn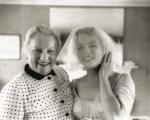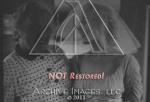 --- Sur la terrasse / On the terrace ---
> Marilyn, Arthur et Joan Copeland (soeur d'Arthur)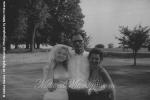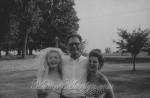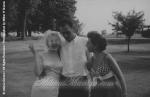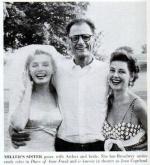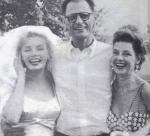 > Arthur, Marilyn et Kermit Miller (frère d'Arthur)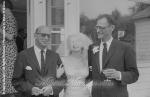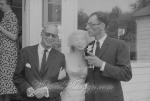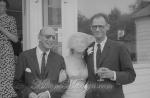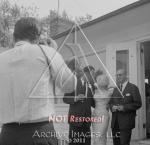 > Arthur, Marilyn et Cecilia (mère de Milton Greene)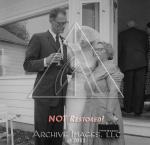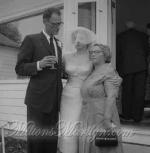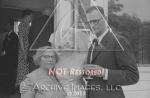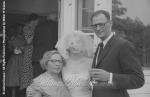 > Paula et Lee Strasberg, Marilyn et Arthur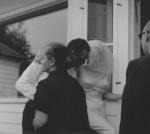 --- Le repas / The Lunch ---
---
> captures

> videos film footage


---
---
.photographies de Milton H. Greene
.sources:
Marilyn Monroe, biographie de Barbara Leaming
Les vies secrètes de Marilyn Monroe, d'Anthony Summers
Marilyn Monroe, encyclopédie d'Adam Victor
Les trésors de Marilyn Monroe, de Jenna Glatzer
Marilyn Monroe et les caméras, Georges Belmont
Life Remembering Marilyn
Marilyn in Fashion de Nickens and Zeno

---
© All images are copyright and protected by their respective owners, assignees or others.
copyright text by GinieLand.
Enregistrer
05 janvier 2014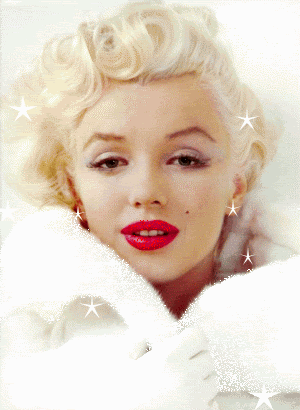 29 août 2013
Le mardi 8 juillet 1958, une conférence de presse est organisée par la Fox au Beverly Hills Hotel pour présenter le tournage du film Some Like It Hot, avec les acteurs (Marilyn Monroe, Tony Curtis et George Raft), le réalisateur Billy Wilder, le producteur Harold Mirisch; ainsi que de nombreux journalistes comme Louella Parsons, Army Archerd et de nombreux photographes comme Earl Leaf.
Marilyn informa les journalistes que son mari Arthur Miller, resté à New York, la rejoindra à Los Angeles le week-end prochain.
Elle déclara: "C'est tout simplement merveilleux d'être de retour !"

On Tuesday, July 8, 1958, a press conference was organized by Fox at the Beverly Hills Hotel to present the filming of "Some Like It Hot", with the actors (Marilyn Monroe, Tony Curtis and George Raft), director Billy Wilder, producer Harold Mirisch, as well as many journalists as Louella Parsons, Army Archerd and many photographers like Earl Leaf.
Marilyn told the reporters that her husband Arthur Miller, stayed in New York, would join her in Los Angeles the next weekend.
She said that "it's simply wonderful to be back !"
---
> Marilyn avec les journalistes
(Louella Parsons / Army Arched)

---
>> L'équipe assis sur des fauteuils
> Photographies de Earl Leaf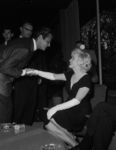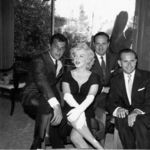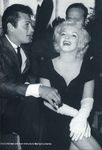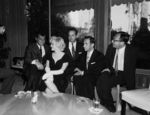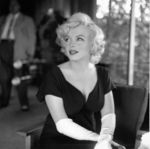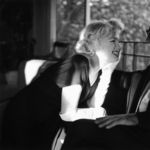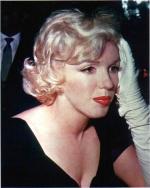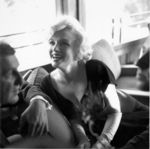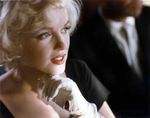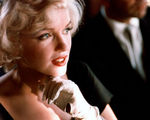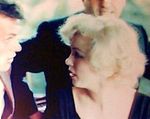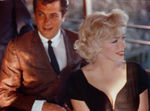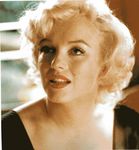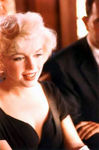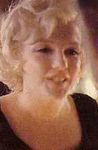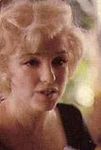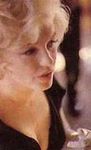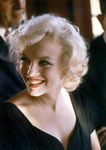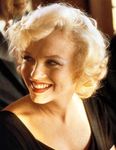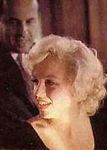 ---
---
> Marilyn avec Earl Leaf (à droite)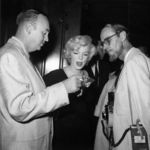 ---
>> Banquet
> Photographies de Earl Leaf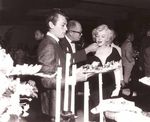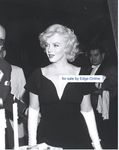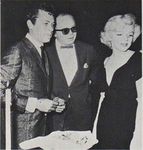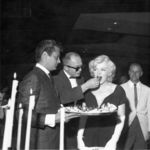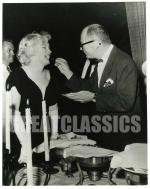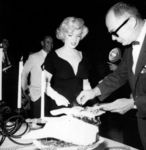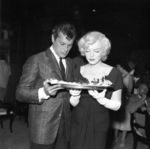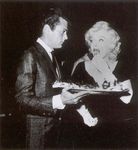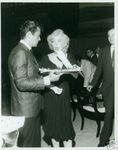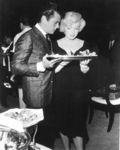 ---
---
> video
sur Budget Films
---
---
© All images are copyright and protected by their respective owners, assignees or others.
copyright text by GinieLand.

Enregistrer
24 août 2013
Sept ans de réflexion
Photos Publicitaires
> Portraits de Marilyn Monroe et Tom Ewell
> Photographies de Sam Shaw
Photographs of Sam Shaw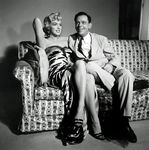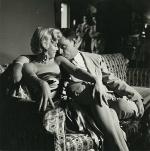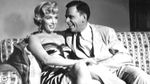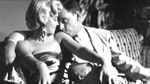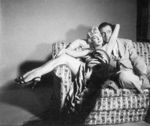 ---
> Photographies de Frank Powolny
Photographs of Frank Powolny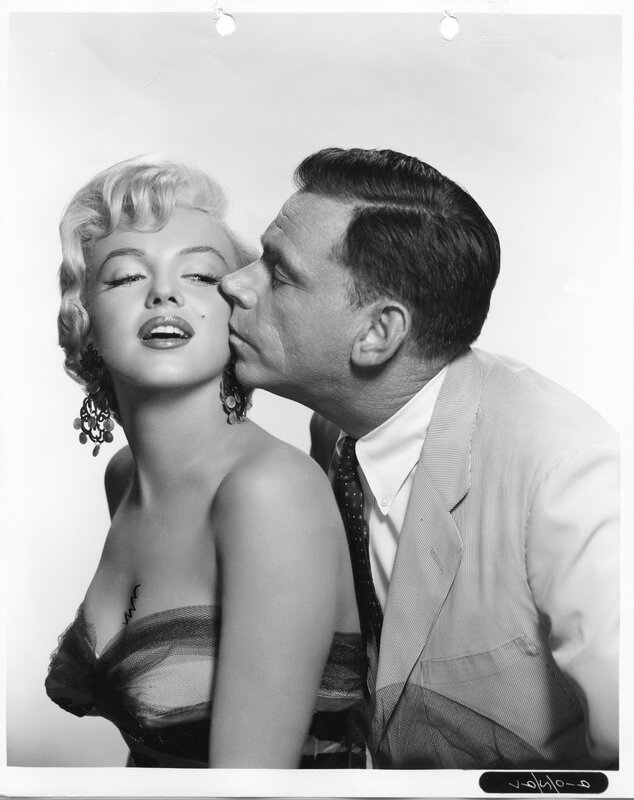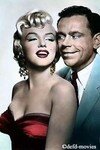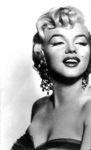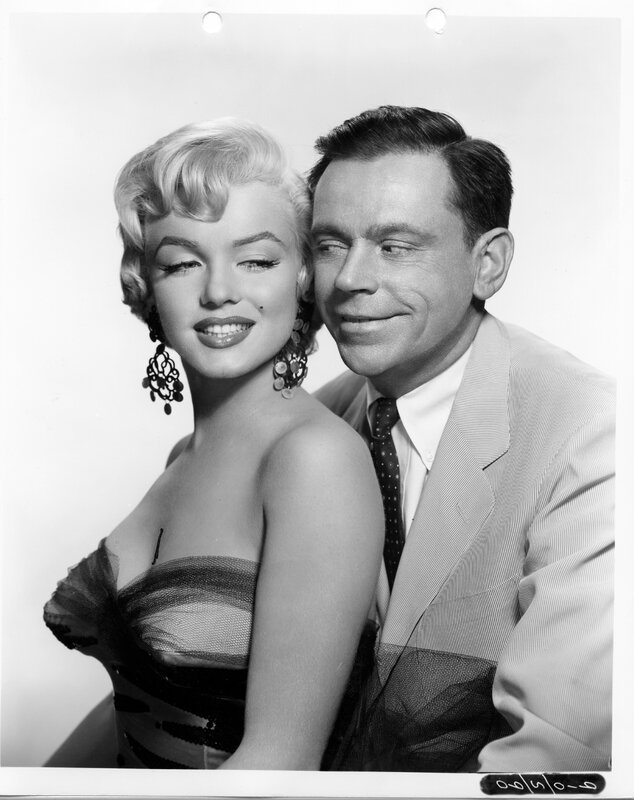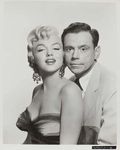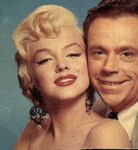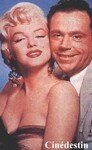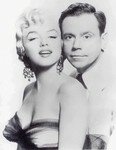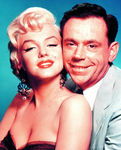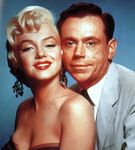 ---
> Marilyn en backstage, avec sa coiffeuse Gladys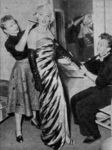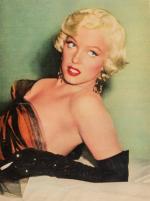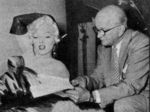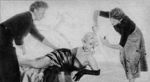 ---
---
© All images are copyright and protected by their respective owners, assignees or others.
copyright text by GinieLand.

Enregistrer
21 juin 2013
> du site artwallpapers