30 juin 2023
Pour le tournage des scènes en extérieur, l'équipe du film de la 20th Century Fox "Le petit train du Far-West" ("A Ticket To Tomahawk", le titre original) se rend dans la ville de Durango, dans le Colorado, du 15 août jusqu'au 20 septembre 1949, où l'équipe reprend ensuite le tournage dans les studios de Westwood à Hollywood.
Après avoir passé les essais costumes pour son personnage de Clara le 05 août 1949 , Marilyn Monroe prend l'avion pour Durango le 27 août 1949 pour tourner l'ensemble des scènes dans la vallée (tournage à Durango et Silvertone).

For the filming of the exterior scenes, the crew of the 20th Century Fox film "A Ticket To Tomahawk" goes to the town of Durango, Colorado , from August 15, 1949 until September 20, when the team then resumed filming at Westwood Studios in Hollywood.
After passing the costume tests for her character Clara on August 5, 1949, Marilyn Monroe flew to Durango on August 27, 1949 to shoot all the scenes in the valley (filming in Durango and Silvertone).
- Carte d'employée de la Fox avec la date de départ -
- Employment card from Fox with date of departure -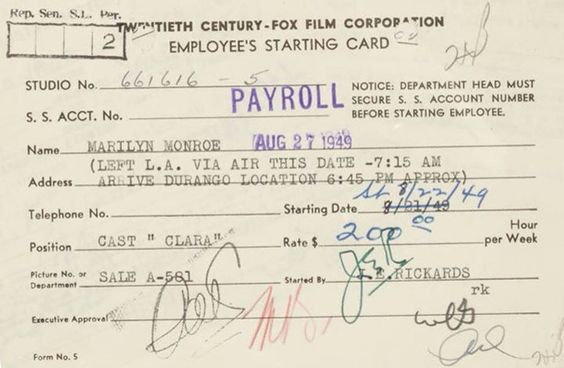 ---
A Durango, le climat est continental et humide, et les étés sont chauds. La ville et ses alentours de plaines se trouvent en altitude (à près de 1988 m). Plusieurs presses locales vont rapporter - à travers un bref communiqué - l'état de santé de l'équipe et en particulier de Marilyn: depuis son arrivée, il semble qu'elle ne parvienne pas à s'acclimater à l'environnement car elle est malade.
Le communiqué rapporte que pour Marilyn, "« Ticket to Tomahawk » devrait s'intituler « La Fille au visage vert »: allergique aux hautes altitudes, elle a été malade comme la plupart de la troupe arrivée dans le Colorado pour leur travail sur place".
In Durango, the climate is continental and humid, and the summers are hot. The city and its surrounding plains are located at altitude (nearly 1 988 m). Several local press are going to report - through a brief press release - the state of health of the team and in particular of Marilyn: since her arrival, it seems that she hasn't been able to acclimatize to the environment because she is sick.
The press release reports that for Marilyn, ""Ticket to Tomahawk" should be entitled "The Girl with Green Face": allergic to high altitudes, she's been on the sick like most of the troupe arrived in Colorado for location work."
- article de presse -

Liste des journaux qui ont publié l'article:
List of newspapers that published the article:
Pasadena Independent, CA, 22/09/1949
Sioux City Journal, Iowa, 22/09/1949
The Monroe News-Star, Louisiana, 22/09/1949
The Durham Sun, North Carolina, 22/09/1949
Lancaster New Ear, Pennsylvania, 22/09/1949
Quad-City Times, Iowa, 23/09/1949
Ledger-Enquirer, Georgia, 23/09/1949
---
Une petite fille de 9 ans se rend sur le tournage du film à Silverton (Colorado) avec sa mère. Elle racontera avoir vu une "jeune femme blonde habillée en showgirl assise à une table en train de jouer au solitaire". La petite fille est impressionnée et trouve cette blonde superbe. Encouragée par sa mère, elle lui demande un autographe. Quand elle revient avec le papier signé, sa mère lui dit: "Marilyn Monroe ? Je n'ai jamais entendu parler d'elle."
A nine year-old girl goes to visit the location the film in Silverton (Colorado) with her mother.
She will say she saw a "young blonde woman dressed as a showgirl sitting at a table playing solitaire."
The little girl is impressed and finds this blonde quite stunning.
Encouraged by her mother, she asks for an autograph.
When she returns with the signed paper, her mother tells her, "Marilyn Monroe? Never heard of her."
---
Quand
Marilyn Monroe
ne tourne pas, elle étudie d'arrache-pied, ce qui forcera l'admiration de ses collègues acteurs confirmés
Dan Dailey
et
Anne Baxter
. Sous contrat avec l'agence de William Morris pendant qu'elle tourne le film, son attitude studieuse sera rapportée à l'agence.
When Marilyn Monroe is not filming, she is studying hard, which will force the admiration of her fellow actors confirmed Dan Dailey and Anne Baxter.
Under contract with the William Morris Agency while making the film, her studious attitude will be reported to the agency.
---
Pendant le tournage du film, un match de softball à but caritatif est organisé par l'équipe du film. Ce match va rapporter la somme de 744 Dollars pour les fonds de l'hôpital Mercy de la ville de Durango.
During the filming, a charity softball game is organized by the film crew. This game will raise the sum of 744 Dollars for the Mercy Hospital Fund at Durango.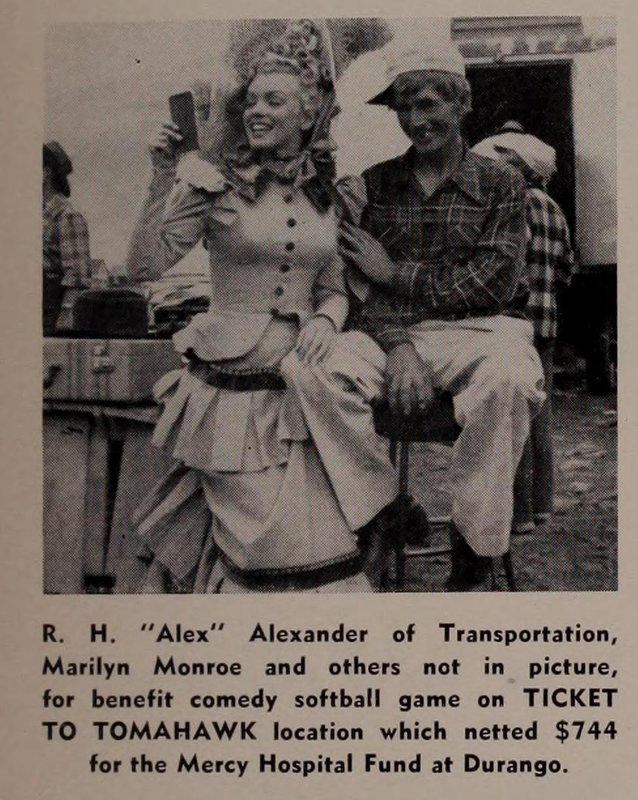 - publication: Action - 11 /1949 -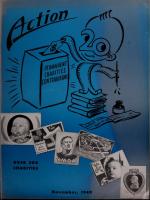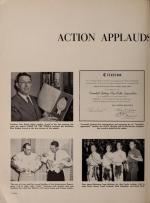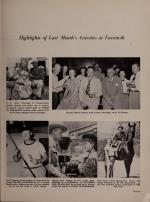 ---
Toujours pendant la période de tournage du film, un match de base-ball est organisé avec l'équipe du film et les habitants de Durango. Anne Baxter joue dans la deuxième base et Marilyn Monroe est placée dans la troisième base (le "hot corner"). L'accessoiriste de l'équipe du film a placé des effets spéciaux, notamment des feux d'artifice insérés dans les battes: un lanceur de Durango a explosé l'extrémité de sa batte en la frappant, permettant ainsi de lancer un feu d'artifice. Parmi les anecdotes marquantes de ce match: Marilyn Monroe aurait perdu sa jupe pendant qu'elle se précipitait entre la première base et la deuxième base !
L'événement sera relaté dans la presse locale début octobre 1949. Comme le tournage à Durango s'est terminé pour le 20 septembre, il est possible que ce match ait été organisé pour célébrer la fin du tournage.
Again during the period of filming, a baseball game is organized with the film crew and the inhabitants of Durango. Anne Baxter plays in second base and Marilyn Monroe is placed in the "hot corner". The film crew's prop man placed special effects, including fireworks inserted into the bats: a Durango batsman blew the end of his bat off by hitting it, allowing fire to be thrown artifice. Among the striking anecdotes of this game: Marilyn Monroe would have lost her skirt while she was rushing between first base and second base!
The event will be reported in the local press at the beginning of October 1949. As the shooting in Durango ended for September 20, it is possible that this match was organized to celebrate the end of the shooting.
Liste des journaux qui ont publié l'article:
List of newspapers that published the article:
The Monroe News Star, Louisiana, 06/10/1949
The Evening Press and Santa Rosa Republican, California, 07/10/1949
---
Pendant le mois de septembre 1949, une partie de l'équipe du film est en représentation dans le cinéma "Kiva Theatre". Sans doute ils présentent un film des studios de la Fox au public.
During the month of September 1949, part of the film crew is present at the "Kiva Theater" cinema. No doubt they are presenting a film from Fox studios to the public.
- Sur la photographie, figurent notamment:
Charles Kemper, Chief Yowlachie, Rory Calhoun et sa femme Lita Baron,
Joyce MacKenzie, Jack Kramer (manager du Kiva Theatre),
Barbara Smith, Marilyn Monroe, Victor Sen Yung
- On the photograph, appear in particular:
Charles Kemper, Chief Yowlachie, Rory Calhoun and his wife Lita Baron,
Joyce MacKenzie, Jack Kramer (Kiva Theater manager),
Barbara Smith, Marilyn Monroe, Victor Sen Yung
---
Il semble que l'équipe du film aurait logé au "Trimble Hot Springs", qui est une station thermale (toujours en activité) avec un établissement "Hermosa House" spécialisé dans les soins d'eau géothermale, qui propose des bains publics et contient un salon, un bar, une salle de billard et une salle de danse. Un ranch où des rodéos sont organisés se trouve aussi à proximité.
En 1949, Bill et Lily Duncan rachètent la propriété et la gérance est confiée à leur fille Alta. Ils développent des festivités le week-end en organisant des rodéos et en faisant venir des groupes.
- Vue du "Trimble Hot Springs" -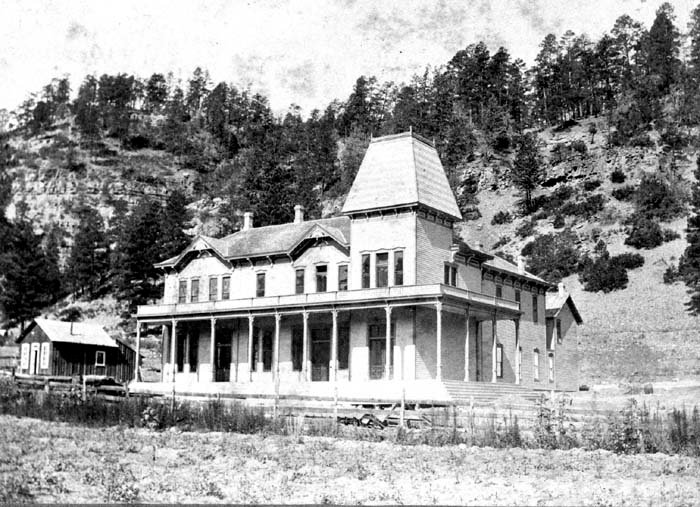 It seems that the movie crew would have stayed at "Trimble Hot Springs", which is a spa (still in activities) with a "Hermosa House" establishment specializing in geothermal water treatments, which offers public baths and contains a lounge, a bar, a billiard room and a dance hall. A ranch where rodeos are held is also nearby.
In 1949, Bill and Lily Duncan bought the property which is managed by their daughter Alta. They develop entertainements the weekend with rodeos and bands.

- Barbara Smith, Marilyn Monroe & Joyce MacKenzie -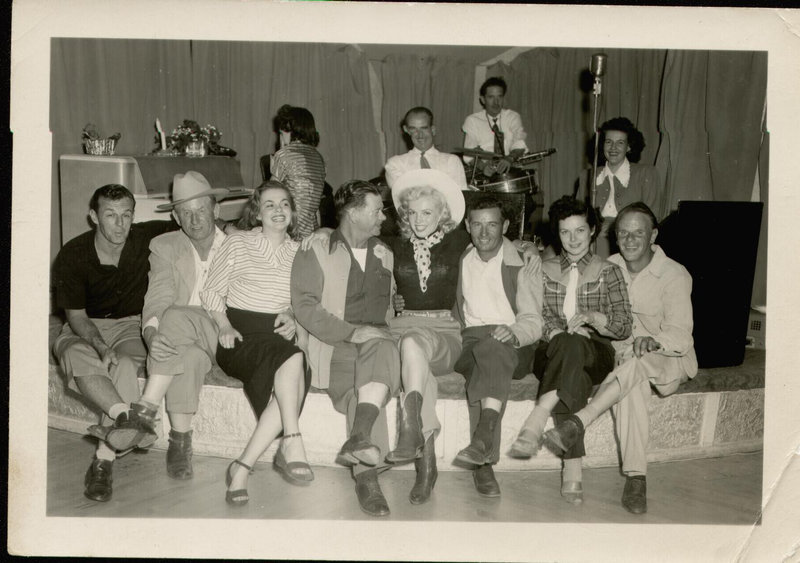 - Barbara Smith, Marilyn Monroe, Alta Shafer (la blonde, manager de l'hôtel)
Marie Lilie Duncan (mère d'Alta - la brune à lunettes - propriétaire de l'hôtel) -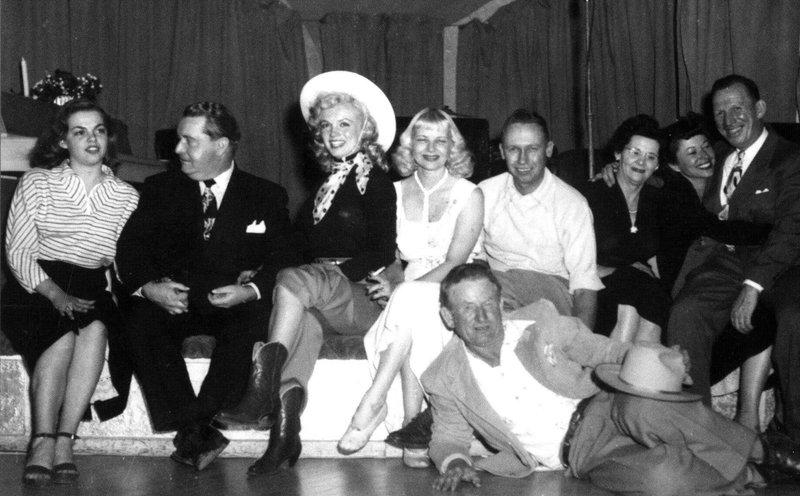 - Marilyn Monroe & Edward Clark -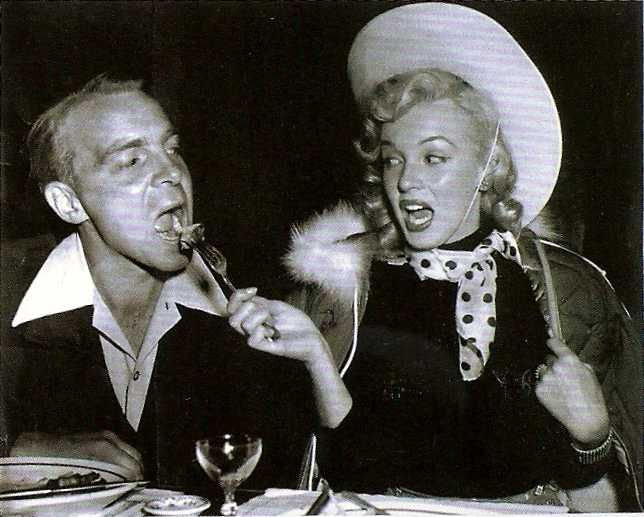 ---
Sources:
-dates de tournage indiquées dans le magazine ACTION de la 20th Century Fox: 08/1949 et 09/1949
-"Marilyn Monroe employment records from 20th Century-Fox Studios" en vente en 2014 par Julien's Auction
-Autographe de Marilyn vendu aux enchères en 2014 par Heritage Auction
-Le "Trimble Hot Springs" sur The Animas Museum et sur Durango Hot Springs
-article du magazine Photoplay, 09/1950
-articles de presse sur newspapers.com
-article "Durango ties to Hollywood go back nearly a century" de The Durango Herald du 10/03/2004

---
© All images are copyright and protected by their respective owners, assignees or others.
copyright text by GinieLand.
09 avril 2023
Quand Marilyn Monroe fêtait Pâques
When Marilyn Monroe celebrated Easter

Marilyn Monroe, 1951
Essayage de chapeaux au thème Pâques
Trying on Easter-themed hats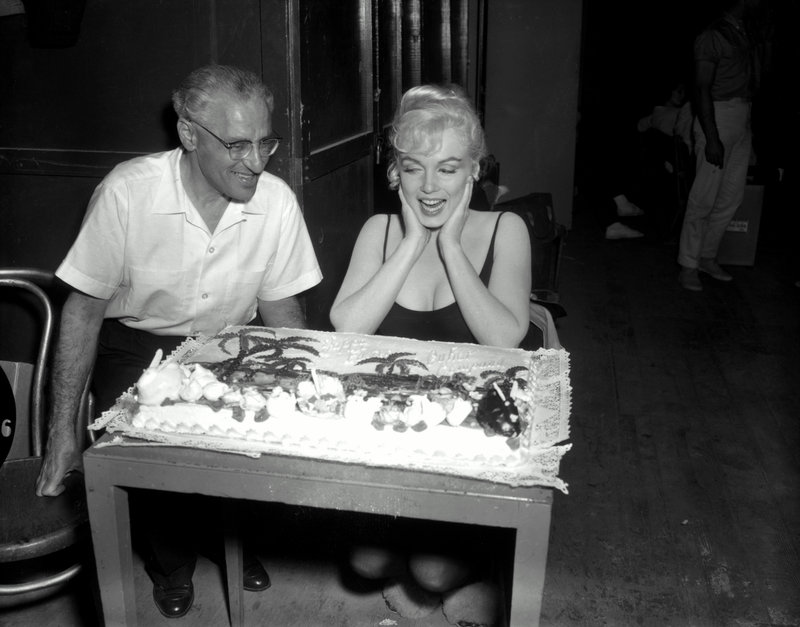 George Cukor & Marilyn Monroe - 17/04/1960
Sur le tournage du "Milliardaire"
L'équipe du film fête Pâques
On the set of "Let's Make Love"
The film crew celebrates Easter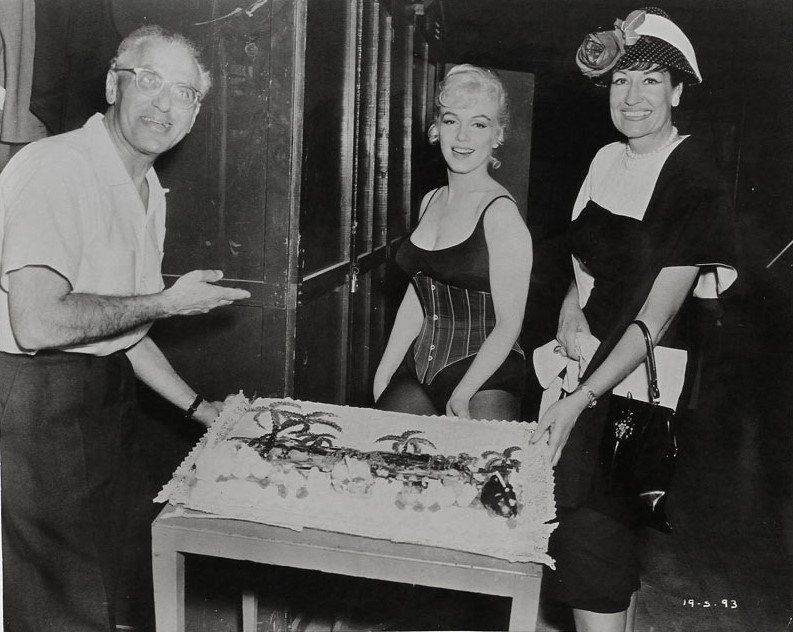 ---
© All images are copyright and protected by their respective owners, assignees or others.
copyright text by GinieLand.
08 septembre 2022

Marilyn Monroe en huit anecdotes
28 août 2022 - Par Sébastien Cauchon sur vanityfair.fr
On pensait tout connaître de la vie de Marilyn ? Sébastien Cauchon, l'un de ses plus fins biographes, nous prouve le contraire en huit anecdotes.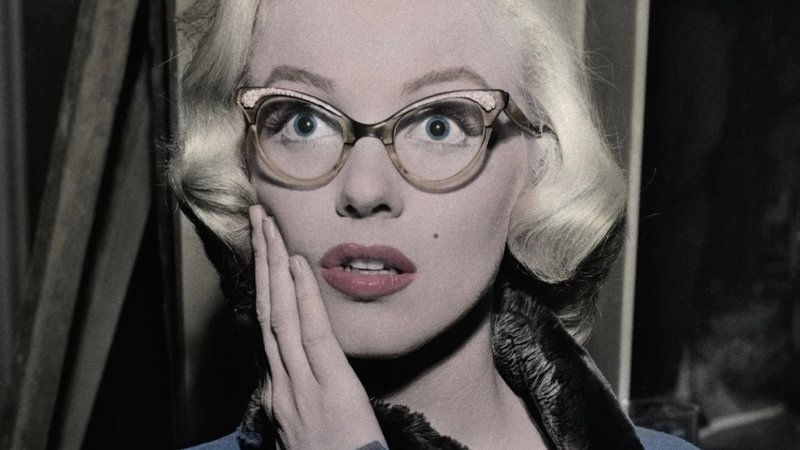 1. La liste de ses envies
Si Marilyn Monroe n'a jamais tourné pour Hitchcock, c'est bien malgré elle. Fin 1955, la star avait envoyé à la Fox une liste de ses 16 réalisateurs préférés : George Cukor, John Huston, Billy Wilder, qui l'ont portée à l'écran. Mais aussi le maître du polar donc, Elia Kazan, Vittorio de Sica, John Ford, avec qui cela ne se fera jamais. Dommage…
2. Sans domicile fixe
Meublés puis hôtels de luxe : Marilyn Monroe a compté pas moins de 38 adresses en seize ans de carrière. L'un de ses premiers pied-à-terre à Los Angeles? Le Studio Club. Une pension accueillant des actrices précaires et harcelées par des producteurs libidineux. En 1946, elle y louait la chambre 307 pour 12 dollars la semaine. Parmi les autres pensionnaires célèbres de l'établisse- ment : Kim Novak, Dorothy Malone ou Rita Moreno.

3. Flexitarienne
Hyperactive (30 films en seize ans!) elle suivait un régime protéiné avant l'heure. Au petit-déjeuner: œufs battus et lait tiède, pamplemousse et café. Pour les déjeuners et les dîners, des steaks (souvent crus), des côtelettes d'agneau ou du foie de veau grillé. Entre deux films, elle pouvait commettre quelques écarts, avec des sandwichs au fromage, des crèmes glacées, ou parfois une cuillère de caviar – mais arrosée de champagne.

4. Groupie
Avant Marilyn, il y eut Jean Harlow, l'autre blonde platine à l'aura dévorante. La star de Certains l'aiment chaud s'en est inspirée, mais son idole ultime restait la tragédienne italienne Eleonora Duse. Une actrice de théâtre légendaire, réputée pour sa pâleur et son introversion, dont elle gardait précieusement le portrait dans chacune de ses résidences.
5. Infidèle
On connaît sa passion pour le parfum Chanel n°5, mais l'actrice faisait parfois des infidélités à la célèbre fragrance, au bénéfice de Joy de Jean Patou. Et lorsqu'elle était en Angleterre, elle ne portait « rien d'autre au lit que l'eau de lavande de Yardley », révélait-elle en 1956 à un reporter curieux. Joli coup de publicité pour la marque, déjà plébiscitée par la reine Elizabeth II elle-même.

6. Main verte
Que faisait la plus grande star de Hollywood à ses heures perdues ? Du jardinage. En lectrice assidue de Horticulture Magazine, elle voulait tout savoir de la botanique. Son dernier achat? Un lot de plantes et de fleurs pour décorer son hacienda de Brentwood.
7. Addict à la mode
Tout le monde connaît la tenue portée par Marilyn Monroe à l'anniversaire de JFK en 1962. Mais sa garde-robe était plutôt constituée de basiques chics et confortables. Jusqu'à ce qu'elle découvre les imprimés colorés d'Emilio Pucci. C'est d'ailleurs dans une éclatante robe verte qu'elle sera enterrée, en souvenir d'un séjour à Mexico six mois avant sa disparition, où elle semblait plus radieuse que jamais.

8. Prémonitoire
Une inscription en latin sur quatre dalles de terre cuite : « Cursum Perficio », soit « Ici s'achève mon chemin ». Ce message s'affichait sur le perron de la villa d'inspiration mexicaine achetée par Marilyn Monroe en mars 1962. Coïncidence macabre, elle y sera retrouvée sans vie un an plus tard.
---
article paru dans le numéro 103 de Vanity Fair, en kiosque le 27 juillet 2022
---
© All images are copyright and protected by their respective owners, assignees or others.
copyright text Vanity Fair.
16 avril 2022
Marilyn Monroe dégustant du chocolat
Marilyn Monroe tasting chocolate

---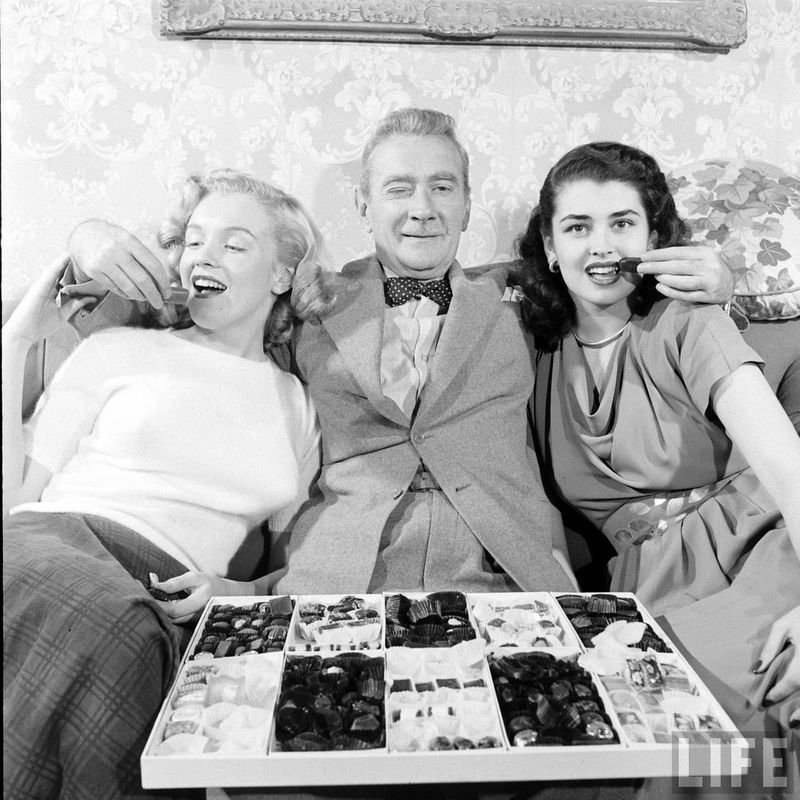 Janvier 1948, sur le tournage de "Sitting Pretty"
January 1948, on the set of "Sitting Pretty"
---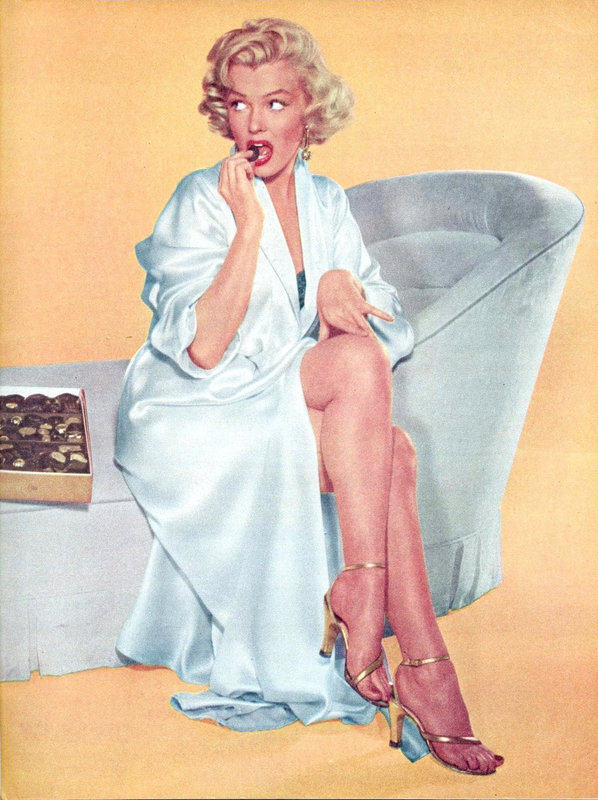 Printemps 1953, photographie de John Florea
Spring 1953, photograph by John Florea
---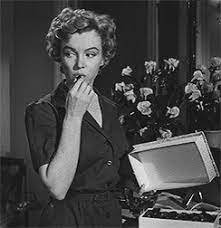 1952, scène de "Troublez-moi ce soir"
1952, scene from "Don't Bother to Knock"

---
© All images are copyright and protected by their respective owners, assignees or others.
copyright text by GinieLand.
30 janvier 2022
Marilyn Monroe dans un restaurant - vers 1947/1948
lieu et l'homme photographié inconnus
Marilyn Monroe in a restaurant - circa 1947/1948
place and man photographed unknown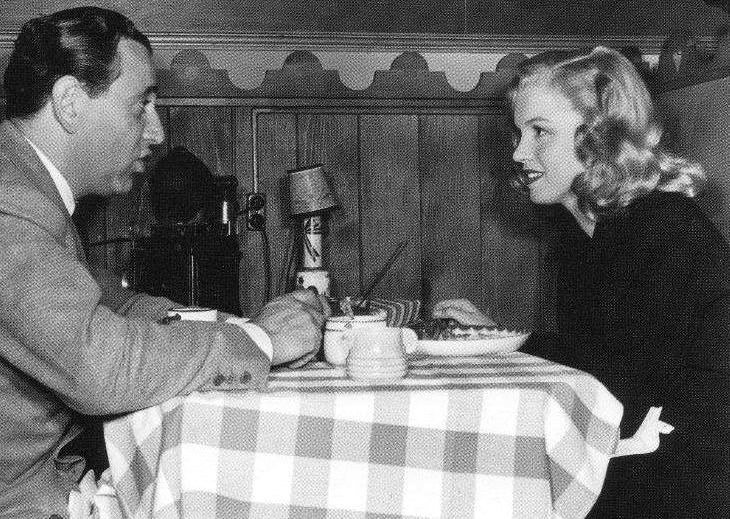 ---
© All images are copyright and protected by their respective owners, assignees or others.
copyright text by GinieLand.
23 novembre 2021
Une photographie rare et inédite de Marilyn Monroe qui déguste une glace milkshake ?
A rare and unseen photograph of Marilyn Monroe enjoying a milkshake ice cream ?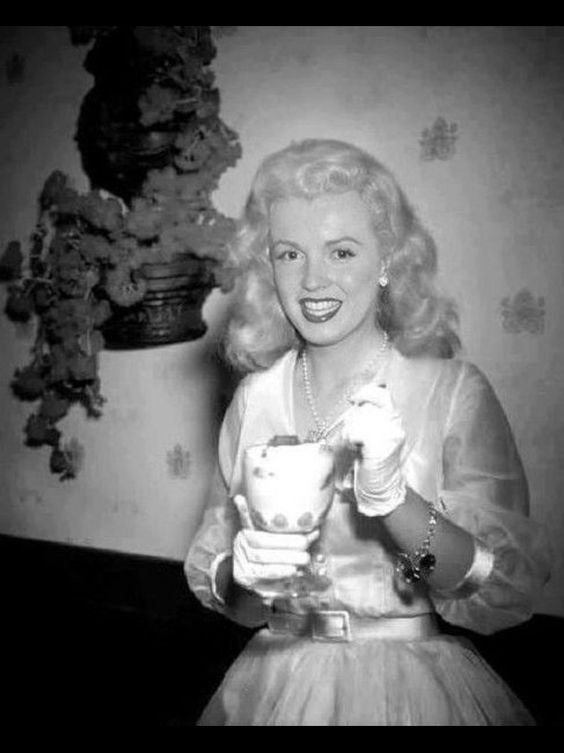 ---
C'est un montage:
Le corps de l'actrice Tuesday Weld (photo de 1965)
avec la tête de Marilyn en 1949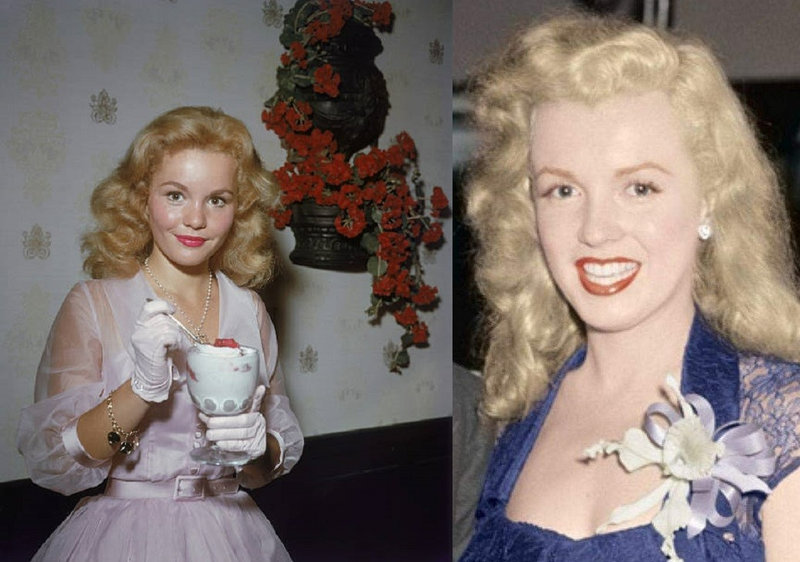 It's a fake:
The body of actress Tuesday Weld (photo in 1965)
with the head of Marilyn Monroe in 1949
- Marilyn en 1949 - Blog: 09/07/1949, Chicago - Tournée Promo "Love Happy"
---
© All images are copyright and protected by their respective owners, assignees or others.
copyright text by GinieLand.
17 septembre 2021
L'actrice Jean Peters et Marilyn Monroe en 1947 à la cantine de la 20th Century Fox, surnommée le "Café de Paris", à Los Angeles.

Actress Jean Peters and Marilyn Monroe in 1947 at the 20th Century Fox commissary, named the "Café de Paris", in Los Angeles.
---
Tel qu'on le remarque par son habillement, Jean Peters est en plein tournage du film "Capitaine de Castille", qui est d'ailleurs son premier rôle au cinéma et dans lequel elle partage la tête d'affiche avec Tyrone Power. Le tournage du film dure du 25 novembre 1946 au 4 avril 1947.

As we notice it by its clothing, Jean Peters is in filming of "Captain from Castile", which is besides her first role in the cinema and in which she shares the headliner with Tyrone Power. The filming of the film lasts from November 25, 1946 to April 4, 1947.
---
De son côté, Marilyn Monroe tourne en cette année 1947 son premier film pour la Fox qui se résume par deux scènes dans "Scudda Hoo! Scudda Hay!" et dont le tournage se déroule de février à juillet 1947. D'ailleurs, Jean Peters a même passé un casting pour "Scudda Hoo! Scudda Hay!" mais n'a pas été retenue, obtenant bien mieux puisqu'elle tient le premier rôle féminin dans "Capitaine de Castille".
Il est possible que la présence de Marilyn à la cantine soit liée au tournage d'un autre film (elle n'obtient que de la figuration lors de ses premiers tournages à la Fox en 1947: "The Shocking Miss Pilgrim", "You Were Meant For Me", "Green Grass of Wyoming", et dont les brèves apparitions restent impossible à identifier dans les versions finales de ces films, se retrouvant dans des scènes parmi des foules).
Ou encore sa présence n'est que fortuite, Marilyn se rendant presque quotidiennement aux studios de la Fox, en attente de pouvoir décrocher un rôle.
For her part, Marilyn Monroe is filming in that year 1947 her first film for the Fox which is summed up by two brief scenes in "Scudda Hoo! Scudda Hay!" and whose filming takes place from February to July 1947. Moreover, Jean Peters was even tested for "Scudda Hoo! Scudda Hay!" but was not retained, getting much better as she stars with the female role in "Captain from Castile."
It is possible that Marilyn's presence at the canteen is linked to the shooting of another film (she only obtains extras during her first filmings at Fox in 1947: "The Shocking Miss Pilgrim", "You Were Meant For Me", "Green Grass of Wyoming", and whose brief appearances remain unidentifiable in the final versions of these films, being in scenes among crowds).
Or again her presence is only fortuitous, Marilyn going almost daily to the Fox studios, waiting to be able to obtain a role.
---
© All images are copyright and protected by their respective owners, assignees or others.
copyright text by GinieLand.
17 août 2021
Marilyn Monroe déguste un cornet de glace de chez Wil Wright de Beverly Hills - vers 1950
Marilyn Monroe enjoys an ice cream cone from Wil Wright's in Beverly Hills - circa 1950
- information au dos de la photographie -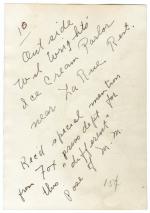 ---
© All images are copyright and protected by their respective owners, assignees or others.
copyright text by GinieLand.
14 août 2021
C'est pour un reportage photographique commandé par la presse que le photographe Mel Traxel va suivre Marilyn Monroe pour décrire à quoi ressemble son quotidien. Il semblerait que les prises de vues datent du 12 février 1952 (c'est la date qui figure tamponnée au dos des photographies).
Les photos servent aussi de support promotionnel pour l'université d'UCLA (Université de Californie à Los Angeles), que Marilyn fréquente en suivant des cours de littérature et d'histoire de l'art.
On la découvre aussi dans son appartement au Beverly Carlton Hotel.
Le reportage paraît dans les magazines américains Movies (en août 1952) et Movie Stars Parade (de mai 1953).

This is for a photographic report commissioned by the press that the photographer Mel Traxel follow Marilyn Monroe to describe what her daily life looks like. It seems that the shots date from February 12, 1952 (this is the date stamped on the back of the photographs).
The photos are also used as promotional support for the University of UCLA (University of California at Los Angeles), that Marilyn attends by following courses in literature and art history.
We also discover her in her apartment at the Beverly Carlton Hotel.
The report appears in the American magazines Movies (in August 1952) and Movie Stars Parade (in May 1953).
---
Beverly Carlton Hotel
---
- Séance de Gym -
Gym Sitting
C'est en général le matin que Marilyn Monroe s'adonne à quelques exercices physiques; pendant 15 minutes, elle soulève des haltères et des rouleaux. Son appartement est aménagé avec l'équipement nécessaire: table pour s'allonger, différents poids pour ajuster les haltères à soulever.
This is usually in the morning that Marilyn Monroe makes some physical exercises; for 15 minutes, she lifts dumbbells and rollers. Her apartment is equipped with the necessary equipment: table to lie down, different weights to adjust the dumbbells to be lifted.
- informations au dos des photographies -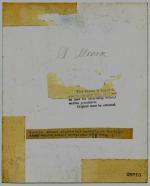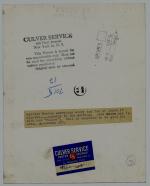 ---
- Séance de mise en beauté -
Beauty Sitting
Elle se met du vernis à ongles (une teinte rose claire) sur les ongles de mains et de pieds; elle utilise la marque Revlon.
Elle se met aussi des rouleaux dans les cheveux et fait fixer les boucles sous la chaleur d'un casque.
She puts nail polish (a light pink shade) on her fingernails and toenails; she uses the Revlon brand.
She also puts rollers in her hair and sets the curls in the heat of a helmet.

- information au dos des photographies -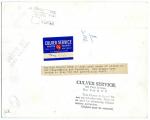 ---
- La vie quotidienne -
The Daily Life

Ranger ses vêtements, téléphoner, lire son courrier... simplement la vie quotidienne de n'importe quelle personne.
Tidying up clothes, making phone calls, reading mails ... just the everyday life of any person.

Elle pose fièrement avec la statuette Henrietta, qu'elle a reçu le 26 janvier 1952 , pour la catégorie de la "Meilleure jeune personnalité du box office 1951".
She is proudly to pose with her Henrietta Award received in January, 26, 1952, for the "The Best Young Box Office Personality in 1951".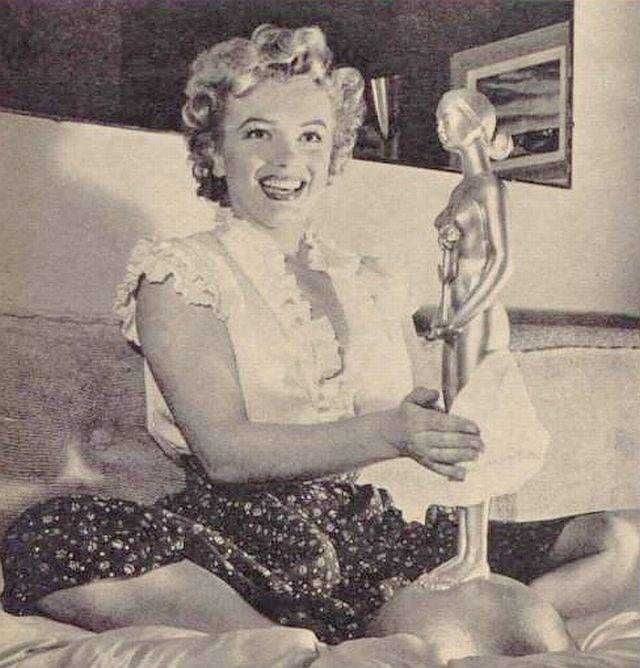 ---
L'heure de se lever ou de se coucher ? Marilyn règle l'heure sur son petit réveil.
Car Marilyn a un emploi du temps bien rempli: en plus de son travail au studio, elle prend des cours sur l'interprétation de la danse deux soirs par semaine, prend des cours de théâtre un soir par semaine et se rend à l'université d'UCLA tous les jeudis soirs.
Time to get up or go to bed ? Marilyn sets the time on her little alarm clock. Because Marilyn has a busy schedule: in addition to her work at the studio, she studies interpretative dancing two evenings a week and, attends acting class one evening a week and goes to UCLA university every Thursday evening.
- information au dos des photographies -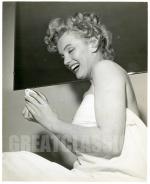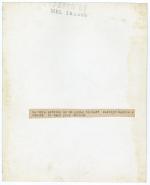 ---
UCLA
---
Tous les jeudis soirs, Marilyn prend des cours de littérature d'une durée de deux heures, dans le bâtiment annexe pour les formations en littérature à l'université d'UCLA de Los Angeles. Puis elle passe des heures à la bibliothèque de l'université pour faire de plus amples recherches sur ses sujets d'études.
Every Thursday evening, Marilyn takes literature classes for two hours session, in the extension building for backgrounds in literature at UCLA University in Los Angeles. Then she goes for hours to the university library to do further research on her subjects of study.
- A la boutique de l'université, Marilyn fait des achats
Elle écoute les conseils de l'étudiante vendeuse Vera Roush -
To the UCLA's bookstore, Marilyn is shopping
She listens the advices of student-salesgirl Vera Roush -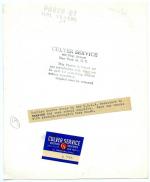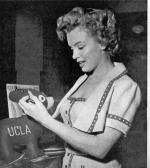 - En cours de littérature -
At the the literature course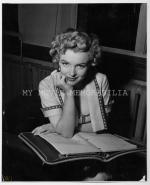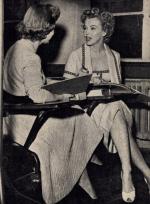 - Etude à la bibliothèque de l'UCLA -
Studying at the UCLA library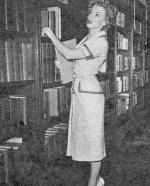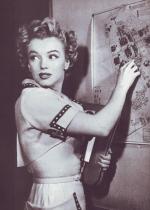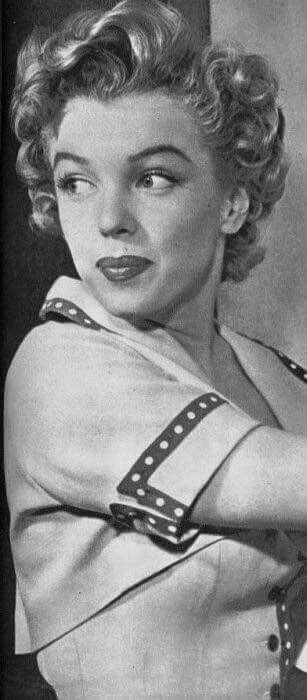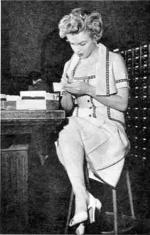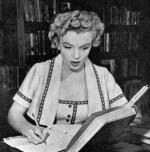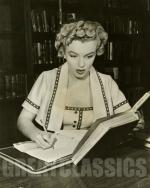 - A la cafétéria du Kerckhoff Hall de l'université d'UCLA
Elle discute avec l'équipe de basketball de la fac:
At the UCLA commissary of Kerckhoff Hall
She talks to the basketball team of the University:
Ronnie Livingston, Mark Costello, Don Bragg & Don Johnson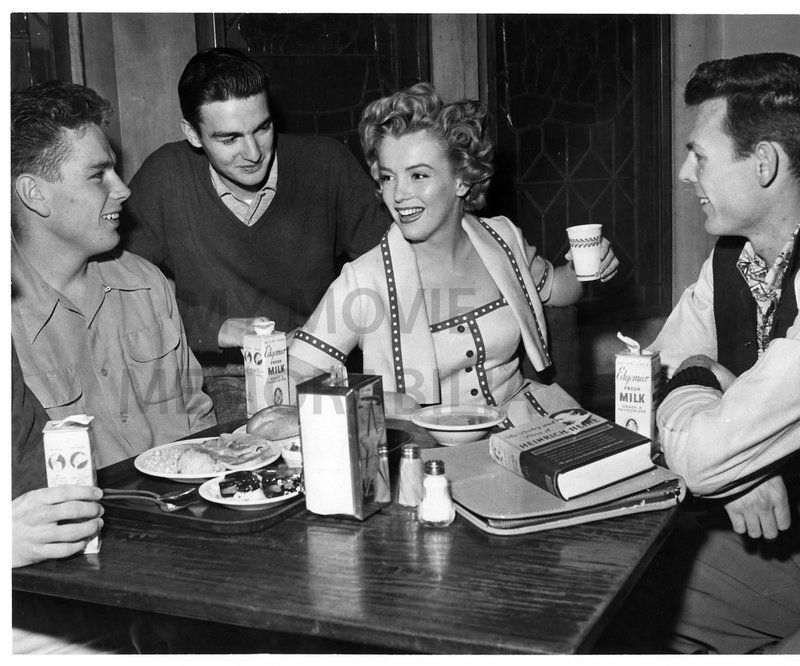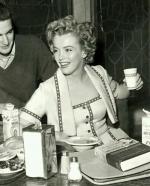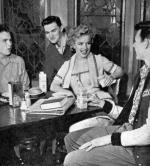 ---
Chez le dentiste Louis Armann
To the dentist's Louis Armann
---
Wil Wright's

---
Elle adore déguster des sundae chauds chez Wil Wright, qui était une chaîne de brasserie spécialisée dans les glaces aux Etats-Unis jusque dans les années 1970s.
Ils avaient plusieurs établissements, dont un à Beverly Hills (au croisement de Beverly Drive et Charleville) et aussi un dans le quartier de Westwood à Los Angeles.
She loves to eat hot sundae at Wil Wright, which was a chaine of ice cream parlor in the United States until the 1970s. They had several establishments, including one in Beverly Hills (at the corner of Beverly Drive and Charleville) and also one in the Westwood district of Los Angeles.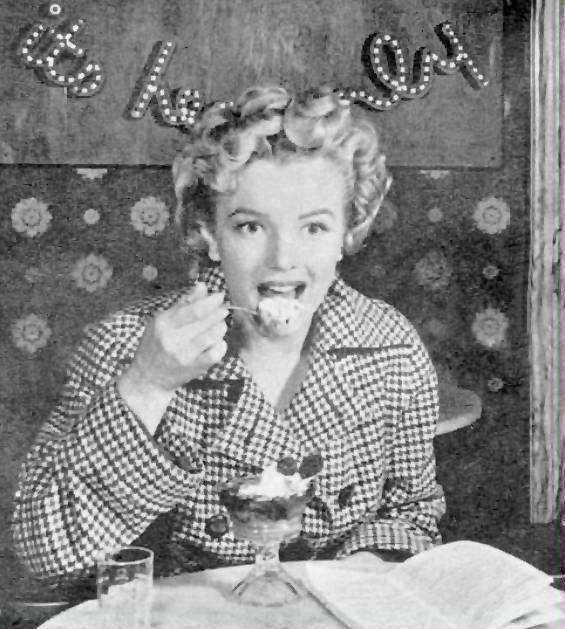 > Informations Wil Wright: Old Los Angeles Restaurants

---
- Dans la presse -
MOVIE STAR PARADE, 05/1953 - USA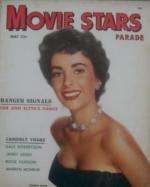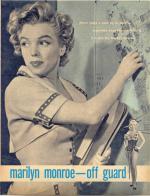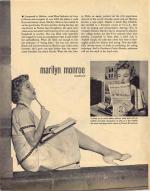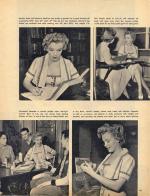 ---
© All images are copyright and protected by their respective owners, assignees or others.
copyright text by GinieLand.
25 novembre 2020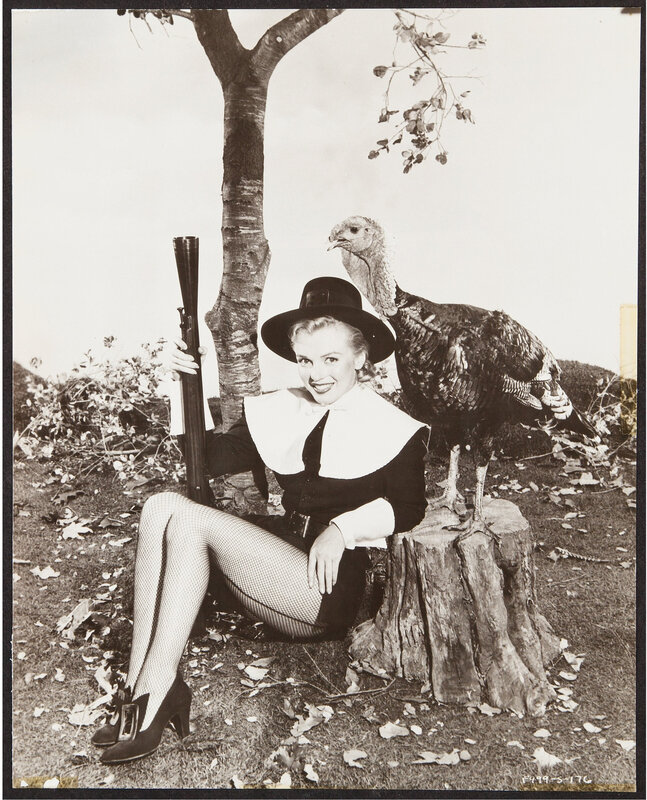 Marilyn chasse la dinde en 1950
Marilyn hunts turkey in 1950
---
Chaque dernier jeudi du mois de novembre, Thanksgiving se fête cette année ce jeudi 26 novembre 2020, célébrant l'indépendance des Etats-Unis. C'est un jour férié et une fête nationale aux USA.
C'est surtout une fête religieuse et culturelle, rendant hommage aux Amérindiens qui ont appris aux pères fondateurs leurs techniques de culture, de chasse et de pêche. En retour, les pères fondateurs ont organisé un banquet pour les remercier et rendre grâce à Dieu: au menu, la dinde, qui est restée la tradition du repas. Le menu traditionnel se compose d'une dinde copieuse farcie et rôtie au four, accompagnée de purée de pomme de terre ou de patates douces et d'une sauce à la canneberge. Ainsi que la citrouille (salée en accompagnant du plat principal ou sucrée en tarte pour le dessert).
Le lendemain (vendredi) a lieu le "Black Friday", jour de soldes.
Every last Thursday of November, Thanksgiving is celebrated this year this Thursday, November 26, 2020, celebrating the independence of the United States. It is a bank holiday and a national holiday in the USA.
It is above all a religious and cultural celebration, paying homage to the Amerindians who taught the Founding Fathers their cultivation, hunting and fishing techniques. In return, the Founding Fathers organized a banquet to thank them and give thanks to God: on the menu, turkey, which has remained the tradition of the meal. The traditional menu consists of a hearty, stuffed, oven-roasted turkey, accompanied by mashed potatoes or sweet potatoes and a cranberry sauce. As well as the pumpkin (salty as an accompaniment to the meal or sweet as a pie for dessert).
The next day is "Black Friday", day of sales.
---
Pour ce Thanksgiving 2020,
retour sur quelques moments
où Marilyn Monroe est en cuisine
a look back at some moments
where Marilyn Monroe is in the kitchen

1950 - Marilyn avec une cuisinière
Marilyn with a cooker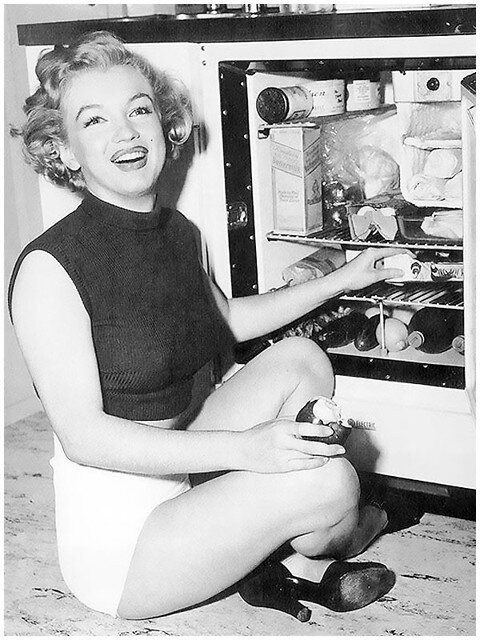 1952 - Devant son frigo
In front of her fridge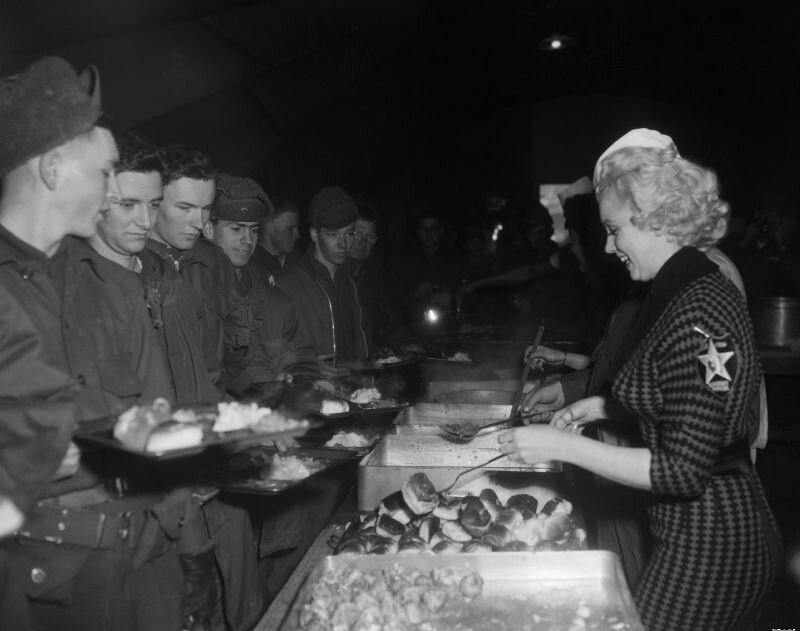 18 février 1954 - En Corée, elle sert les soldats
1954, February, 18 - She serves a meal to the soldiers

Janvier 1960 - Au Beverly Hills Hotel, en cuisine avec Simone Signoret
January 1960 - At the Beverly Hills Hotel, in the kitchen with Simone Signoret
---
En ligne / Online:
la recette de la dinde farcie de Marilyn Monroe
---
© All images are copyright and protected by their respective owners, assignees or others.
copyright text by GinieLand.