25 novembre 2020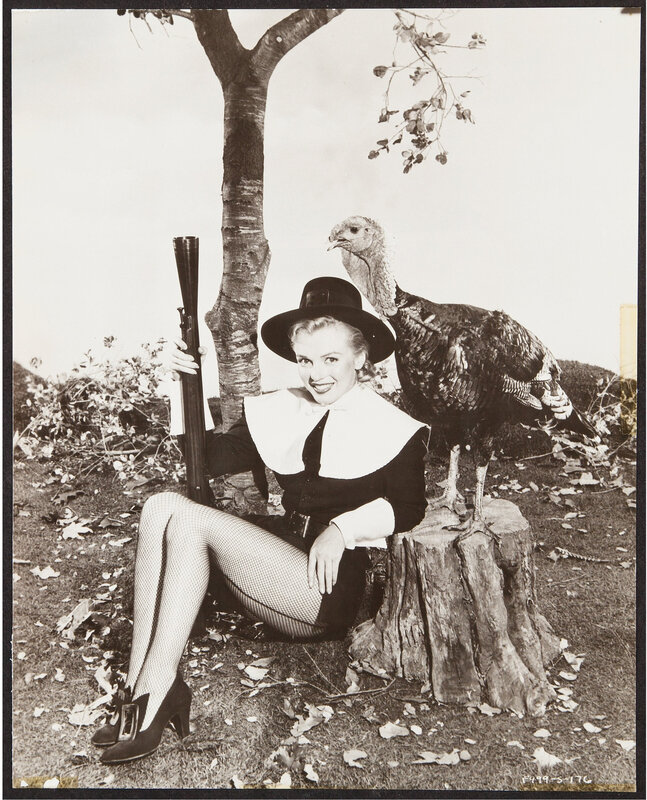 Marilyn chasse la dinde en 1950
Marilyn hunts turkey in 1950
---
Chaque dernier jeudi du mois de novembre, Thanksgiving se fête cette année ce jeudi 26 novembre 2020, célébrant l'indépendance des Etats-Unis. C'est un jour férié et une fête nationale aux USA.
C'est surtout une fête religieuse et culturelle, rendant hommage aux Amérindiens qui ont appris aux pères fondateurs leurs techniques de culture, de chasse et de pêche. En retour, les pères fondateurs ont organisé un banquet pour les remercier et rendre grâce à Dieu: au menu, la dinde, qui est restée la tradition du repas. Le menu traditionnel se compose d'une dinde copieuse farcie et rôtie au four, accompagnée de purée de pomme de terre ou de patates douces et d'une sauce à la canneberge. Ainsi que la citrouille (salée en accompagnant du plat principal ou sucrée en tarte pour le dessert).
Le lendemain (vendredi) a lieu le "Black Friday", jour de soldes.
Every last Thursday of November, Thanksgiving is celebrated this year this Thursday, November 26, 2020, celebrating the independence of the United States. It is a bank holiday and a national holiday in the USA.
It is above all a religious and cultural celebration, paying homage to the Amerindians who taught the Founding Fathers their cultivation, hunting and fishing techniques. In return, the Founding Fathers organized a banquet to thank them and give thanks to God: on the menu, turkey, which has remained the tradition of the meal. The traditional menu consists of a hearty, stuffed, oven-roasted turkey, accompanied by mashed potatoes or sweet potatoes and a cranberry sauce. As well as the pumpkin (salty as an accompaniment to the meal or sweet as a pie for dessert).
The next day is "Black Friday", day of sales.
---
Pour ce Thanksgiving 2020,
retour sur quelques moments
où Marilyn Monroe est en cuisine
a look back at some moments
where Marilyn Monroe is in the kitchen

1950 - Marilyn avec une cuisinière
Marilyn with a cooker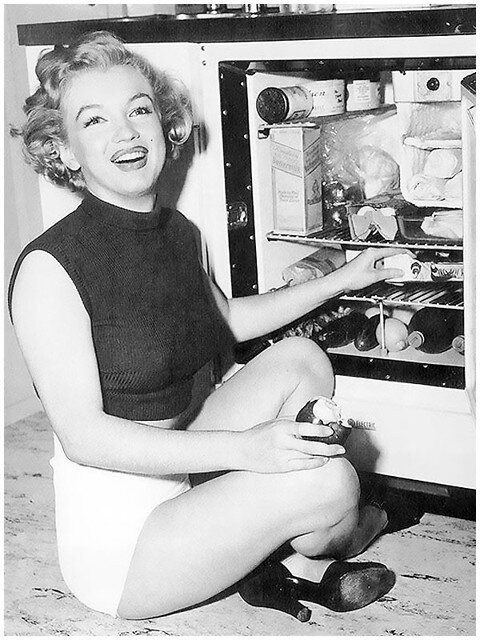 1952 - Devant son frigo
In front of her fridge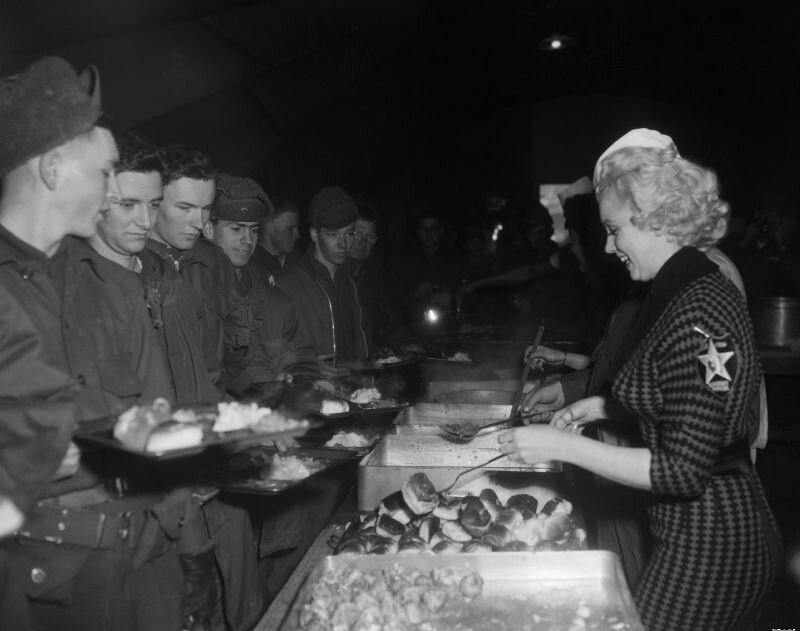 18 février 1954 - En Corée, elle sert les soldats
1954, February, 18 - She serves a meal to the soldiers

Janvier 1960 - Au Beverly Hills Hotel, en cuisine avec Simone Signoret
January 1960 - At the Beverly Hills Hotel, in the kitchen with Simone Signoret
---
En ligne / Online:
la recette de la dinde farcie de Marilyn Monroe
---
© All images are copyright and protected by their respective owners, assignees or others.
copyright text by GinieLand.
Recette de dinde et sa farce écrite par Marilyn Monroe non datée - vers 1956, au temps où elle vivait avec Arthur Miller.
Recipe for turkey and its stuffing written by Marilyn Monroe undated - circa 1956, when she was living with Arthur Miller.
---
Pour la farce
Pas d'ail
Levain
Pain français - tremper dans de l'eau froide, essorer, puis déchiqueter
Pour les abats de poulet - faire bouillir dans l'eau 5 à 10 minutes
Foie - cœur puis hacher
1 entier ou ½ oignon, hacher et persil / 4 branches de céleri, hacher ensemble en suivant les épices - mettre le romarin
Thym, laurier, origan, assaisonnement pour volaille, sel, poivre,
Fromage parmesan râpé, 1 poignée
1 / 2lb - 1 / 4lb moulu rond - mettre dans une poêle - brun (sans huile) puis mélanger les raisins secs 1 ½ tasse ou plus
1 tasse de hacher les noix (noix, châtaignes, arachides)
1 ou 2 œufs durs - mélanger ensemble
Préparer l'oiseau
Sel et poivre à l'intérieur du poulet ou de la dinde - à l'extérieur et beurre
Refermer les oiseaux avec des pinces mettre le poulet ou la dinde dans le four 350
Poulet rôti - 3 ou 4 lb ou plus
Cuit 30 min à 1 lb
Faire revenir le poulet ou le faisan (vinaigre, huile, oignon, épices) - laisser cuire dans son jus
Ajoutez un peu d'eau au fur et à mesure
½ verre de vinaigre - mis à moitié cuit
Cuit 2 heures
Mettre les pommes de terre
Champignon - bouton en conserve
Pois - frais
---
For the Stuffing
No garlic
Sourdough
French bread – soak in cold water, wring out, then shred
For chicken giblets – boil in water 5-10 mins
Liver – heart then chop
1 whole or ½ onion, chop & parsley / four stalk celery, chop together following spices – put in rosemary
Thyme, bay leaf, oregano, poultry seasoning, salt, pepper,
Grated Parmesan cheese, 1 handful
1/2lb – 1/4lb ground round – put in frying pan – brown (no oil) then mix raisin 1 ½ cups or more
1 cup chop nuts (walnuts, chestnuts, peanuts)
1 or 2 hard boiled eggs – chopped mix together
To Prep the Bird
Salt & pepper inside chicken or turkey – outside same and butter
Sew up clamp birds put chicken or turkey in 350 oven
Roasting chicken – 3or 4lbs or larger
Cooks 30 min to 1lbs
Brown chicken or pheasant (vinegar, oil, onion, spices) – let cook in own juice
Add little water as you go
½ glass vinegar – put in when half done
Cooks 2 hours
Put potatoes
Mushroom – button canned
Peas – fresh
---
> source: livre "Fragments, Poème, Ecrits intimes, Lettres", 2010, Ed Seuil

---
© All images are copyright and protected by their respective owners, assignees or others.
copyright text by GinieLand.

23 décembre 2018
Le Milliardaire
Sur le tournage
---
Pendant la scène
During the shooting scene
Marilyn Monroe & Jack Cole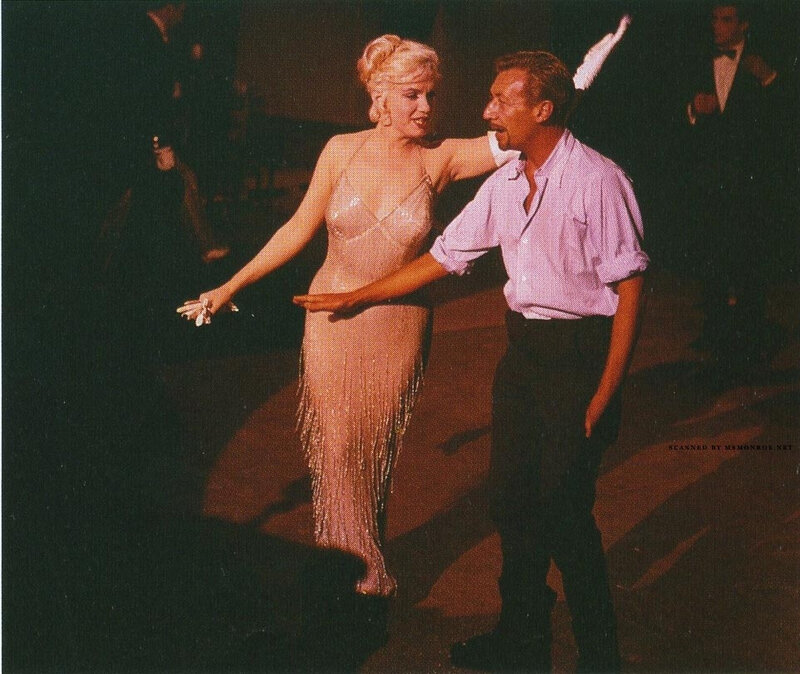 ---
Sur le plateau
On the set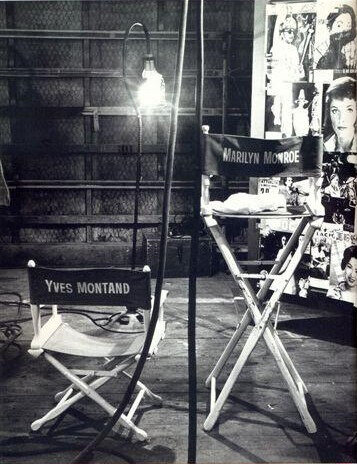 Marilyn Monroe et l'acteur Dick Dale
qui interprète Elvis Presley
Marilyn Monroe and the actor Dick Dale
who plays Elvis Presley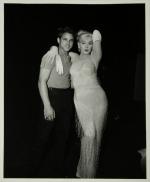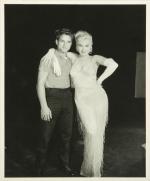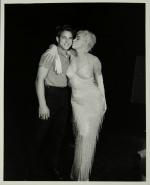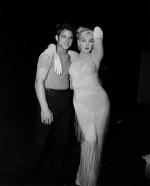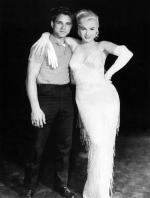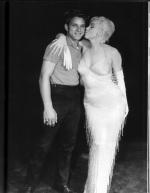 ---
> 01/06/1960 - fête d'anniversaire pour les 34 ans de Marilyn Monroe
1960, June, 01 - Birthday party for the 34 years of Marilyn Monroe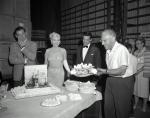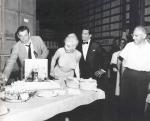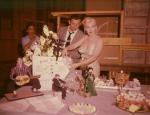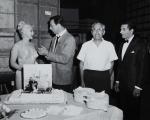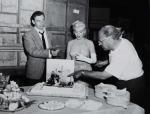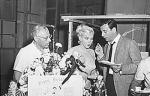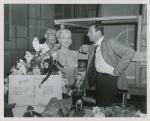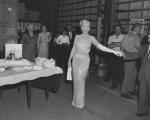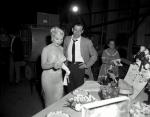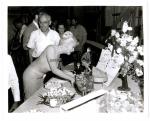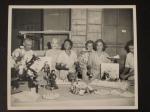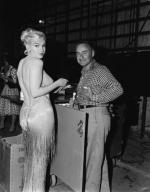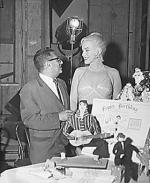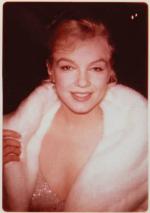 ---
© All images are copyright and protected by their respective owners, assignees or others.
copyright text by GinieLand.
01 décembre 2018
Le 1er juin 1960, une fête d'anniversaire est organisée pour les 34 ans de Marilyn Monroe sur le plateau de tournage du film "Le Milliardaire". Le réalisateur George Cukor découpe les parts du gâteau apporté et sur lequel est disposé deux figurines représentant Yves Montand et Marilyn Monroe. La petite réception est décoré à l'image du film: plusieurs petites figurines sont disposées sur la table, représentant un pianiste jouant au piano, une chanteuse, une danseuse et Elvis Presley.
On June, 1st, 1960, a birthday's party is held to celebrate the 34 years of Marilyn Monroe on the set of the movie "Let's Make Love". The director George Cukor cuts out the cake on which there are two figurines representing Yves Montand and Marilyn Monroe. on the honor of the 57 years of the actor Wilfrid Hyde-White on the set of "Let's Make Love". The small reception is decorated in the image of the film: several small figures are placed on the table, representing a pianist playing piano, a singer, a dancer and Elvis Presley.

---
Yves Montand, Marilyn Monroe, Frankie Vaughan, George Cukor
Un collier de perles de rocaille est offert à Marilyn
de la part de toute l'équipe du film
A seed-pearl necklace is offered to Marilyn
from all the cast and crew of the film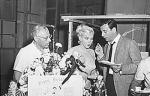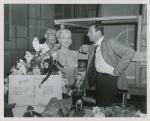 ---
Marilyn Monroe et Gil, l'homme à tout faire de l'équipe
Marilyn and Gil, the handyman of the crew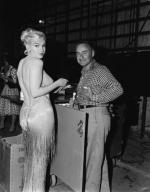 Marilyn Monroe, Sidney Skolsky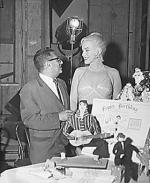 ---
- Des petites figurines à l'effigie de Marilyn sont distribuées
Small figurines representing are offered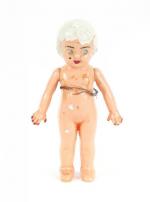 - carte d'anniversaire signée par toute l'équipe
- Birthday card signed by the crew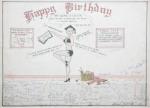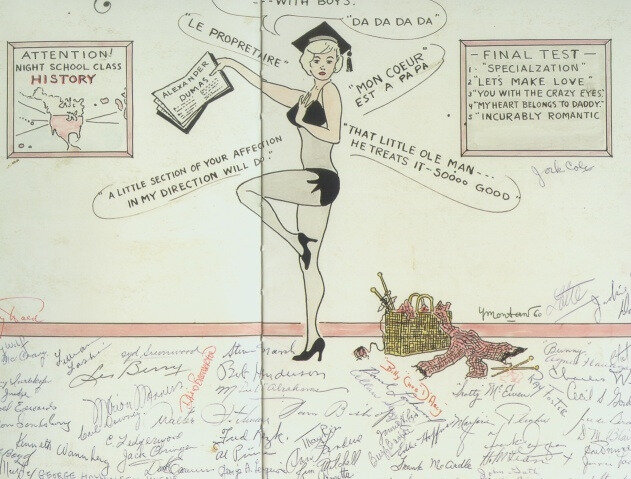 ---
La soirée continue chez l'attaché de presse de Marilyn, Rupert Allan, qui vit à Beverly Hills.
The party continues the evening at Marilyn's press secretary, Rupert Allan, who lives in Beverly Hills.
- de la collection de James Haspiel et Frieda Hull, des fans
-from the personal collection of James Haspiel and Frieda Hull, fans
---
© All images are copyright and protected by their respective owners, assignees or others.
copyright text by GinieLand.
24 novembre 2018
Le Milliardaire
Sur le tournage
---
Pendant la scène
During the shooting scene
Marilyn Monroe

Marilyn Monroe & Agnes Flanagan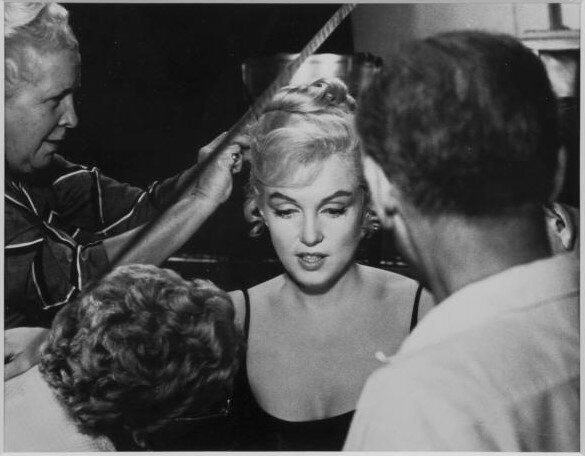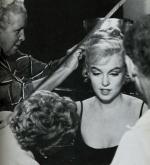 Marilyn Monroe & Hazel Washington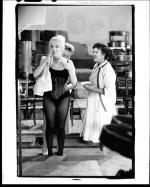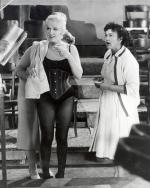 Marilyn Monroe & Jack Cole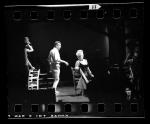 George Cukor, Marilyn Monroe & Yves Montand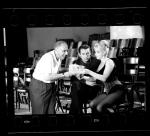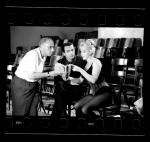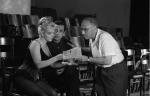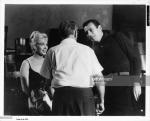 Marilyn Monroe & Yves Montand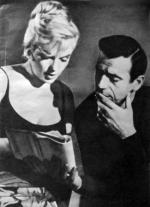 ---
- photographies: Richard C Miller -
> Le 14/04/1960

---
Sur le plateau
On the set
Marilyn Monroe et Gil, l'homme à tout faire de l'équipe:
il apporte tasse de café et encas ; il dirige le service artisanal
et devient ami avec Marilyn.
Elle lui signe une dédicace:
"A Gil, il n'y a rien comme ton café, Marilyn Monroe"
Marilyn and Gil, the handyman of the crew:
he brings cup of coffee and snacks; he is head of craft services
and becomes a friend of Marilyn.
She writes to him on a photo:
"To Gil, there is nothing like your coffee, Marilyn Monroe".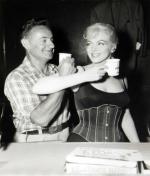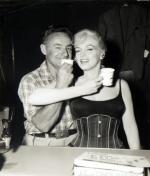 > 17/04/1960 - fête de Pâques avec George Cukor
1960, April, 17 - Easter celebration with George Cukor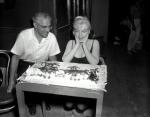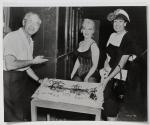 ---
---
- photographies: Laszlo J Willinger -
- crédit: John Bryson / Zinn Arthur -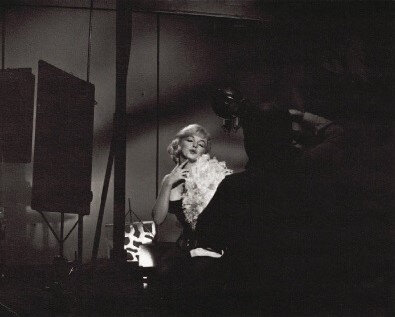 ---
© All images are copyright and protected by their respective owners, assignees or others.
copyright text by GinieLand.
Le 17 avril 1960, l'équipe du film fêtent Pâques: un grand gâteau est apporté, où on peut y lire "Joyeuses Pâques, Cukor Company".
On April, 17, 1960, the cast of the movie celebrate Easter: a big cake is brought, where it is inscribed: "Happy Easter, Cukor Company".

Marilyn Monroe, George Cukor

---
© All images are copyright and protected by their respective owners, assignees or others.
copyright text by GinieLand.
12 octobre 2018
Le 8 juin 1953, Marilyn Monroe pose pour des 'tests' costumes pour le film La Rivière Sans Retour. Le costumier est William Travilla.
On June, 8, Marilyn Monroe poses for wardrobe 'tests' for the movie River of No Return. The designer is William Travilla.
---
- maquillage et coiffure / make up and hairdress -

---
© All images are copyright and protected by their respective owners, assignees or others.
copyright text by GinieLand.
27 septembre 2018
Marilyn Monroe et sa coach Paula Strasberg prennent leur repas au Beverly Hills Hotel à l'époque du tournage de "Let's Make Love" ("Le Milliardaire") fin 1959 / début 1960. Photographies de John Bryson.
Marilyn Monroe and her drama coach Paula Strasberg take their lunch at the Beverly Hills Hotel at the time on the shooting of "Let's Make Love" at the end of 1959 / beginning 1960. Photographs by John Bryson.
---
© All images are copyright and protected by their respective owners, assignees or others.
copyright text by GinieLand.
18 mars 2018
Movieland

pays magazine: USA
paru en juillet 1952
article: "I Dress for Men says Marilyn Monroe"
Editor's note: the girl with built in wolf whistle is obviously qualified to talk on this subject. We hear that lunch time - when Marilyn Monroe is around - is like "MALE call" - Her table is the busiest one in the Twentieth Century-Fox commissary, the Cafe de la Paix. Women know you can't resist a magnet, too. During the making of "We're Not Married" Marilyn was lined up with a bevy of other bathing beauties. One of the girls had won 15 beauty contests, and a studio man asked her, "How would you feel about competing with Marilyn Monroe?" Said the girl, "I'd quit!"
I wonder why most women dress for women ? I think that's a mistake; for myself it would be, anyway. I happen to like men, so I usually like the same things they like. Therefore it's a matter of simple logic that, of course, I dress for men !
Also, I am aware, that I am a woman, and I enjoy being a woman. I don't think I could dress like the illustrations in the high - fashion magazines. For that you require what is thought as a Vogueish figure, and is, I believe, a boyish type figure and I don't have a boyish figure.
To begin with, I believe your body should make your clothes look good - instead of using clothes to make the body conform to what is considered fashionable at the moment, distorted or not. That's why I don't care for " unorganic" clothes- clothes that have no relation to the body. Clothes, it seems to me, should have a relationship to the body, not be something distinct from it.
I don't feel that ruffles mean femininity. You can't put on womanliness; you have to be womanly. Part of being a woman is the desire to please a man, a very important part. That's nature, and you can't get away from it.
In the 20th Century-Fox picture I am doing with Cary Grant , "Monkey business", I wear only two dresses. They're daytime dresses, somewhat on the tailored side. But they prove you don't have to be obvious to be feminine. Billy Travilla has designed them first, to follow natural body lines, and second, without any attempt to disguise the fact that there is a body underneath.
I have been criticized for wearing as little lingerie as possible. Yet, I have also been accused of appearing in the Twentieth Century-Fox commissary in lingerie. It happened while I was making "We're Not Married" - in which I wear a one piece black bathing suit. One day I went directly to lunch in that suit, with a robe worn over it. The shooting schedule called for me to wear the bathing suit all day, so I kept it on. The robe must have done a pretty good job of covering me, because the next day a column carried the report that I had lunched in bra and panties !
The only people who have criticized my clothes so far are women. It all started when a columnist disliked a dress I wore to a cocktail party and said I would have looked better in hopsacking. The studio then released a picture of me as "the girl who looks good even in hopsacking". Later, still carrying the ball, a columnist criticized another cocktail party dress I wore, saying I should have worn a gunnysack.
But I wore the very same dress for 10,000 Marines at Camp Pendleton, and they seemed to like it. At least, I heard no complains! This was a strapless beige lace dress that dipped, not too much in front and had a fishtail effect in back. How wrong can you go with simple beige lace ?
Men like simplicity in clothes, and so do I. There's nothing so startling about that. Many famous women have followed the basic rules of selecting suitable, timeless clothes that they can wear for years. And in basic colors like black, white, grey and red. Red gets response ! Busy prints or busy lines in a dress get tiring.
Of course, it's natural for women to respond to the freshness of fashion edicts; like this is a purple season, or the bouffant silhouette is it. There's something feminine in that, too. Personally, I get the same satisfaction out of changing my hair. Since before "The Asphalt Jungle", when it was longer, I have kept it shorter, but I try to do different things with it.
So far as clothes are concerned, I'll pass up the blandishments of writers, and stick to what's suitable for me. In that I go from one extreme to the other. I like blue-jeans, slacks and suits or "everything" in dressing up. But you can be feminine even in jeans, but even my jeans fit! I buy boys' jeans, because they are long waisted like me; and boys' shirts to go with them.
I have two favorite suits. One is black Christian Dior; but instead of wearing a blouse or gilet, I wear fresh red roses at the plunged neckline. I like to wear flowers; I even have some artificial ones for times when fresh ones aren't handy.
The other suit is a brown very fine-checked, with which I wear yellow roses at the neckline. This one is scooped out, so sometimes I substitute a white pique collar. Or I like to wind scarfs around and let one end fly over the shoulder; that leaves half scarf, half flesh in the neckline.
My love for dressy clothes might have a psychological implication. When I went to school, I had exactly two navy skirts and two white blouses. I washed one and wore the other. But because they looked so much alike, my school mates made fun of me because I had only one outfit.
But I am afraid I buy such things as cocktail and dinner dresses because they're beautiful and feminine, rather than because I need many of them, in my present way of life. I have yet to go to my first premiere. Someday I might, but not yet. I don't care for nightclubs. I go out with a man because I want to see him, not be seen because it's the thing to do. I don't go out with anyone unless I like him, and if you like a man, there are many more things to do than go to a nightclub.
So in the meantime, I would just as soon stay home with Tolstoi or Thomas Wolfe - or even go for a walk alone. Three evenings a week my jeans-suit-and-slack wardrobe is much more suitable, anyway. One night I spend in a literature class at U.C.L.A., and two more studying with Lottie Goslar, the European pantomimist.
To get back to why I dress for men, I think the big difference in the outlook of the sexes on fashion is that a woman will think of a dress for itself, but a man will think of it in relationship to the woman who is wearing it. So do I.
That's why I like to feel that I am right for my clothes, too. I don't want to be bone thin, and I make it a point to stay the way I want to be. A breakfast of hot milk with two raw eggs means energy without fat. I like rare steaks and green salads and vegetables, too. Rather than wonder, should I eat dessert ? I just go on an ice cream binge once a week (chocolate, please !). And, of course, if you don't like girdles, you're going to exercise. Working out with light weight dumbbells, and a slow, relaxed dog trot around the block are very good for toning muscles. You have to be friends with your clothes if you're going to dress for men – no too tight zippers or unnecessary doodads to make you uncomfortable ! Sometimes their acceptance is just in their response, but the response tells me I am right. Dressing for men is natural for a woman. After all, you can't get away from basic fundamentals! – who wants to ?
---
Traduction
Note de la rédaction: la fille avec un sifflet de loup est évidemment qualifiée pour parler de ce sujet. Nous entendons que l'heure du déjeuner - quand Marilyn Monroe est dans le coin - est comme "un appel aux HOMMES" - Sa table est la plus occupée du restaurant de la Twentieth Century-Fox, le Café de la Paix. Les femmes savent que vous ne pouvez pas résister à un aimant, aussi. Pendant le tournage de "We're Not Married", Marilyn était alignée avec une foule d'autres beautés en maillot de bain. Une des filles avait gagné 15 concours de beauté, et un homme de studio lui a demandé: «Comment te sentirais-tu en compétition avec Marilyn Monroe ?" et la fille de répondre, "Je démissionnerais !"
Je me demande pourquoi la plupart des femmes s'habillent pour les femmes ? Je pense que c'est une erreur; pour moi, cela le serait, de toute façon. Il m'arrive d'aimer les hommes, alors j'aime habituellement les mêmes choses qu'ils aiment. Par conséquent, c'est une question de logique simple que, bien sûr, je m'habille pour les hommes !
Aussi, je suis consciente, que je suis une femme, et j'aime être une femme. Je ne pense pas que je pourrais m'habiller comme les illustrations dans les magazines de haute couture. Pour cela, vous avez besoin de ce qui est considéré comme une figure de Vogue, et je crois que c'est une figure de type masculine et je n'ai pas cette ligne masculine.
Pour commencer, je crois que votre corps devrait faire en sorte que vos vêtements soient beaux - au lieu d'utiliser des vêtements pour que le corps se conforme à ce qui est considéré à la mode en ce moment, déformé ou non. C'est pourquoi je ne me soucie pas des vêtements «inorganiques», qui n'ont aucun rapport avec le corps. Les vêtements, me semble-t-il, devraient avoir une relation avec le corps, ne pas être quelque chose de distinct.
Je ne pense pas que les volants signifient la féminité. Vous ne pouvez pas mettre de la féminité; tu dois être femme. Une partie d'être une femme est le désir de plaire à un homme, une partie très importante. C'est la nature, et vous ne pouvez pas vous en éloigner.
Dans le film de la 20th Century-Fox que je fais avec Cary Grant, "Monkey business", je ne porte que deux robes. Ce sont des robes de jour, un peu côté tailleur. Mais elles prouvent que vous n'avez pas besoin d'être évident pour être féminin. Billy Travilla les a conçus en premier, pour suivre les lignes naturelles du corps, et en second lieu, sans aucune tentative de déguiser le fait qu'il y a un corps en dessous.
On m'a reproché de porter le moins de lingerie possible. Pourtant, on m'a aussi accusé d'être apparue dans le restaurant de la Twentieth Century-Fox en lingerie. C'est arrivé pendant que je faisais "We're Not Married" - dans lequel je porte un maillot de bain noir d'une seule pièce. Un jour, je suis allée directement déjeuner dans ce costume, avec une robe portée par dessus. les horaires de tournage m'ont amené à porter le maillot de bain toute la journée, alors je l'ai gardé. La robe doit avoir fait un assez bon travail de me couvrir, car le lendemain une colonne portait le rapport que j'avais déjeuné en soutien-gorge et en culotte !
Les seules personnes qui ont critiqué mes vêtements jusqu'à présent sont les femmes. Tout a commencé quand un chroniqueur n'aimait pas une robe que je portais à un cocktail et a dit que j'aurais eu l'air mieux vêtue dans un sac à houblon. Le studio a ensuite publié une photo de moi comme "la fille qui a l'air bien même en houblon". Plus tard, portant toujours à un bal, un chroniqueur a critiqué une autre robe de cocktail que je portais, disant que j'aurais dû porter une sacoche.
Mais je portais exactement la même robe pour 10 000 Marines au Camp Pendleton, et ils semblaient l'aimer. Au moins, je n'ai entendu aucune plainte ! C'était une robe bustier en dentelle beige plongeante, pas trop en avant, et avait un effet queue de poisson à l'arrière. À quel point pouvez-vous aller avec de la dentelle beige simple ?
Les hommes aiment la simplicité dans les vêtements, et moi aussi. Il n'y a rien de si surprenant à ce sujet. Beaucoup de femmes célèbres ont suivi les règles de base de la sélection de vêtements appropriés et intemporels qu'elles peuvent porter pendant des années. Et dans les couleurs de base comme le noir, blanc, gris et rouge. Le rouge obtient une réponse ! Les impressions occupées ou les lignes occupées dans une robe deviennent fatigantes.
Bien sûr, il est naturel pour les femmes de réagir à la fraîcheur des dictats de la mode; comme ceci est une saison pourpre, ou cela la silhouette bouffante. Il y a quelque chose de féminin là-dedans aussi. Personnellement, j'ai la même satisfaction de changer de coiffures. Avant "The Asphalt Jungle", quand ils étaient plus long, je l'ai ai fait plus court, mais j'essaie de faire différentes choses avec.
En ce qui concerne les vêtements, je vais laisser passer les flatteries des écrivains et m'en tenir à ce qui me convient. En cela, je vais d'un extrême à l'autre. J'aime les blue-jeans, les pantalons et les costumes ou «tout» pour m'habiller. Mais vous pouvez être féminine, même en jeans, mais même mon jean me sied ! J'achète des jeans pour garçons, car ils sont longs comme moi; et des chemises des garçons pour aller avec.
J'ai deux tenues préférées. L'une est une tenue noire de Christian Dior; mais au lieu de porter un chemisier ou un gilet, je porte des roses rouges fraîches à la plongée de l'encolure. J'aime porter des fleurs; J'en ai même des artificiels pour les moments où les fraîches ne sont pas pratiques.
L'autre tenue est d'un brun très fin, avec laquelle je porte des roses jaunes à l'encolure. Celle-ci est creusée, donc parfois je substitue un collier de pique blanc. Ou j'aime enrouler des écharpes autour et en laisser une fine voler sur l'épaule; cela laisse moitié écharpe, moitié chair dans l'encolure.
Mon amour pour les vêtements habillés pourrait avoir une implication psychologique. Quand j'allais à l'école, j'avais deux jupes exactement de la marine et deux blouses blanches. J'en lavais une et portait l'autre. Mais parce qu'elles se ressemblaient tellement, mes camarades d'école se moquaient de moi parce que je n'avais qu'une seule tenue.
Mais j'ai peur, j'achète tellement de choses comme des robes de cocktail et de dîner parce qu'elles sont belles et féminines, plutôt que, parce que j'en ai besoin de beaucoup, dans mon mode de vie actuel. Je dois encore aller à ma toute première de film. Un jour je pourrais, mais pas encore. Je ne me soucie pas des boîtes de nuit. Je sors avec un homme parce que je veux le voir, ne pas être vu parce que c'est la chose à faire. Je ne sors avec personne seulement si je l'aime bien, et si vous aimez bien un homme, il y a beaucoup plus de choses à faire que d'aller dans une boîte de nuit.
Alors, entre-temps, je resterais simplement chez moi avec Tolstoi ou Thomas Wolfe, ou je me promènerais seul. Trois soirs par semaine, ma garde-robe de jeans et tenues de relâche est beaucoup plus appropriée, de toute façon. Une nuit, je suis allée à un cours de littérature à U.C.L.A., et deux autres à étudier avec Lottie Goslar, la pantomimiste européenne.
Pour en revenir à la raison pour laquelle je m'habille pour les hommes, je pense que la grande différence dans la perspective des sexes sur la mode est qu'une femme va penser à une robe pour elle-même, mais un homme y pensera par rapport à la femme qui la porte. Donc, moi aussi.
C'est pourquoi j'aime sentir que je suis bien dans mes vêtements aussi. Je ne veux pas être maigre, et je me fais un devoir de rester comme je veux être. Un petit déjeuner de lait chaud avec deux œufs crus signifie de l'énergie sans graisse. J'aime les steaks saignants et les salades vertes et les légumes, aussi. Plutôt que de me demander, devrais-je manger un dessert ? Je m'accorde une crème glacée une fois par semaine (au chocolat, s'il vous plaît !). Et, bien sûr, si vous n'aimez pas être gainée, vous allez faire de l'exercice. Travailler avec des haltères légeres, et doucement, trottinant comme un chien autour du quartier sont très bons pour la tonicité des muscles. Vous devez être amis avec vos vêtements si vous vous habillez pour les hommes - pas de fermetures éclaires trop serrées ou des ornements inutiles pour vous mettre mal à l'aise ! Parfois, leur acceptation est juste dans leur réponse, mais la réponse me dit que j'ai raison. S'habiller pour les hommes est naturel pour une femme. Après tout, vous ne pouvez pas échapper aux fondamentaux de base ! - qui le veut ?
09 mai 2016
> du site fanpop.com