25 juillet 2010
Sylvia Barnhart
(date ? - 2010)
coiffeuse américaine

Sylvia Barnhart et Marilyn Monroe, début 1946

Sylvia Barnhart était la coiffeuse du début de la carrière de Marilyn Monroe: elle lui décolora progressivement les cheveux en blonds pendant 8 mois, entre 1945 et 1946.
C'est au salon de coiffure Frank & Joseph que Norma Jeane, qui n'était pas encore Marilyn, rencontra Sylvia Barnhart en décembre 1945. Sylvia a décrit les cheveux de Marilyn comme étant "marrons et frisés" lorsqu'elle la rencontra, et prit en charge une décoloration progressive, passant du châtain clair au roux clair. Enthousiamée par le résultat, bien que Sylvia raconta le contraire (Marilyn n'aurait pas aimée devenir blonde et aurait resisté aux suggestions proposées par les coiffeurs), c'est Marilyn qui demanda d'éclaircir jusqu'au blond: en passant par le blond foncé, au blond vénitien, ses cheveux sont devenus ensuite blonds platinés au bout de 6 mois. De plus, un lissage progressif fut administré. D'après Marilyn, la blondeur de ses cheveux permettaient d'accentuer son regard: d'ailleurs Sylvia Barnhart caractérisa ses yeux comme étant "beaux et lumineux".
Sylvia Barnhart et Norma Jeane Dougherty étaient devenues de proches amies durant cette période et la coiffeuse s'occupa des cheveux de la star encore pendant plus de six ans.
Après le décès de Marilyn, Sylvia Barnhart fit de nombreux témoignages sur la star, mais ses propos étaient loin d'être élogieux, comme l'atteste cet article paru dans un Ciné Revue des années 1970 (ci-dessous), qui d'ailleurs, n'hésite pas à dénoncer l'attitude lamentable de l'ancienne coiffeuse en manque d'argent. En effet, elle vendait alors toutes les photos que Marilyn lui avait dédicacée (photo ci-contre) et pour en faire la promotion, enchaînait les interviews dans lesquelles ses révélations consistaient à calomnier Marilyn; d'après Sylvia, "Marilyn était une arriviste, prête à tout, cruelle avec ses soupirants les séduisant et les rejetant ensuite...", et lorsqu'elle la vit pour la première fois, elle remarqua que "son visage était quelconque -joues rondes, mâchoires lourdes et gros nez tout rond- et ses cheveux ternes d'un marron indéfinissable (...) je n'aimerais pas l'avoir comme cliente régulière." En continuant de plus belle sur la radinerie de la star, ses retards incessants, son manque d'hygiène corporelle et sa saleté vestimentaire !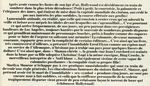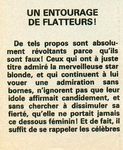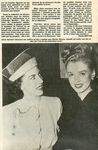 Par la suite, Sylvia Barnhart changea de comportement et donna des interviews pour des documentaires sur Marilyn; elle avait même rejoint le fan club américain "Marilyn Remembered" en participant régulièrement à des cérémonies commémoratives. Elle est décédée en février 2010.
---
>> Voir les articles et photos de Norma Jeane et Sylvia Barnhart
---
>> sources web:
article Modelling Marilyn sur entertainment.howstuffworks.com

23 juin 2010
En décembre 1945, on propose à Norma Jeane, mannequin à l'agence Blue Book, d'être modèle pour une publicité pour un shampoing. Elle rencontre le photographe Raphael Wolff, en charge de la campagne publicitaire, qui n'accepte qu'à la seule condition qu'elle se fasse décolorer les cheveux en blonds dorés. Norma Jeane n'est pas emballée par l'idée de se décolorer mais Emmeline Snively, directrice de l'agence Blue Book, lui explique qu'en tant que mannequin, elle aura plus de succès si elle devient blonde.

In December 1945, Norma Jeane, model at the Blue Book agency, was asked to be a model for an advertisement for a shampoo. She meets the photographer Raphael Wolff, in charge of the advertising campaign, who accepts only on the sole condition that her hair is bleached in golden blond. Norma Jeane is not thrilled by the idea of bleaching her hair but Emmeline Snively, director of the Blue Book Model agency, explains to her that as a model, she will be more successful if she becomes blonde.

Snively envoie Norma Jeane chez Frank et Joseph, un salon de coiffure et de beauté sur Wilshire Boulevard à Los Angeles, situé sur le trottoir d'en face de l'hôtel Ambassador où se trouve l'agence Blue Book; le salon est fréquenté par les plus grandes actrices (Rita Hayworth et Ingrid Berman sont des clientes régulières). Le lissage et la décoloration de ses cheveux sont supervisés par la coiffeuse et visagiste Sylvia Barnhart, qui décrit les cheveux de Norma Jeane comme "bruns et crépus". La décoloration totale en blonde cendrée sera progressive pendant l'année 1946 et se fera sur plus de huit mois par Sylvia Barnhart.
Snively sends Norma Jeane to Frank and Joseph's, a hair and beauty salon on Wilshire Boulevard in Los Angeles, located on the sidewalk opposite the model agency and the Ambassador Hotel where is located the Blue Book Model agency; the salon is frequented by the greatest actresses (Rita Hayworth and Ingrid Berman are regular customers). The straightening and bleaching of her hair is overseen by hairstylist and beautician Sylvia Barnhart, who describes Norma Jeane's hair as "brown and frizzy." The complete bleaching in ash blonde will be gradual during the year 1946 and will be done over more than eight months by Sylvia Barnhart.
---
Marilyn au salon Frank & Joseph
- avec Frank et une coiffeuse (peut être Sylvia Barnhart) -
Marilyn at Frank & Joseph's salon
- with Frank and a haridresser (maybe Sylvia Barnhart) -

---
Studio H.Maier
Publicité pour le shampoing Franck & Joseph
Advertising for Franck & Joseph shampoo
---
Publicité pour un shampoing
Advertising for a shampoo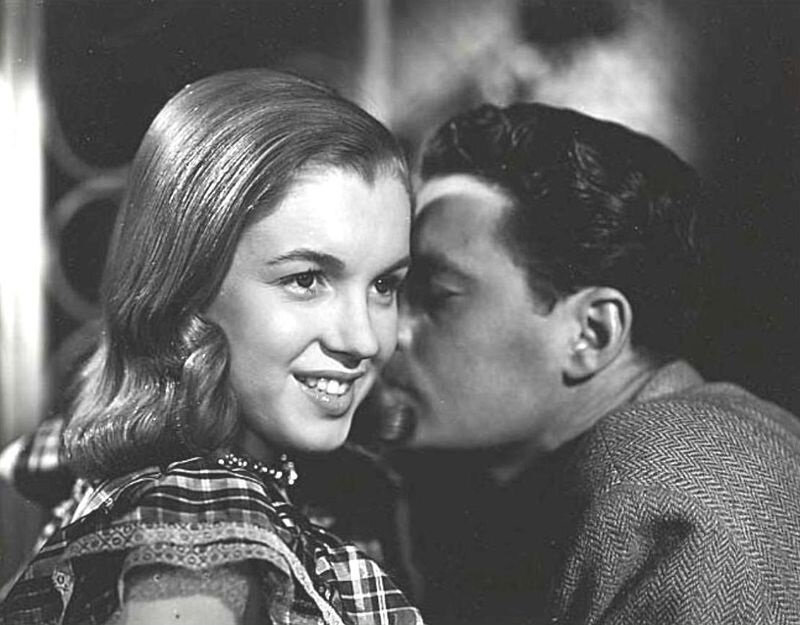 photographie créditée Joseph Jasgur
photo credit Joseph Jasgur
---
Concours de coiffures et défilé pour Frank & Joseph
avec une coiffeuse qui travaille aux studios de la Fox

Hairstyle contest and Hair show for Frank & Joseph
with a hairdresser (the blond woman) who works at Fox studios

Dédicace de Frank pour Marilyn:
"To Marilyn, good luck in your career"
("A Marilyn, bonne chance dans ta carrière")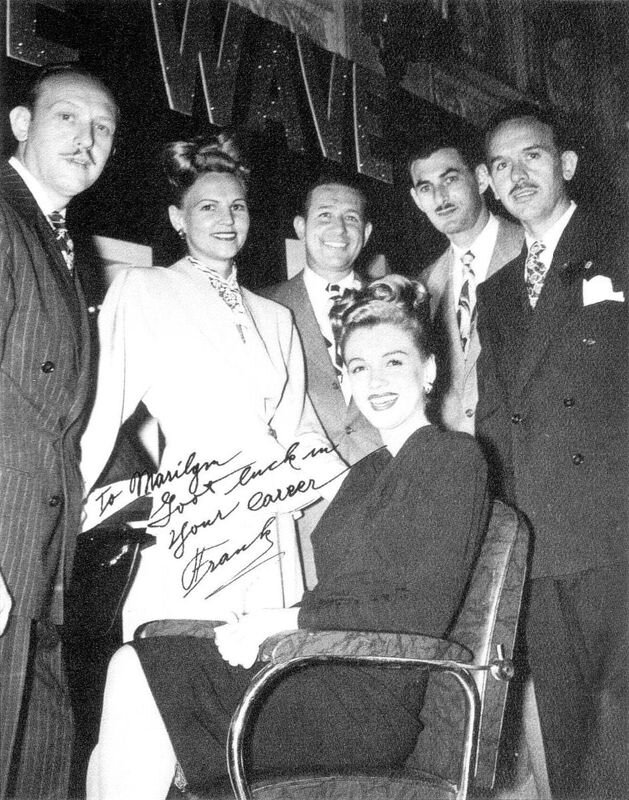 - Marilyn et Sylvia Barnhart -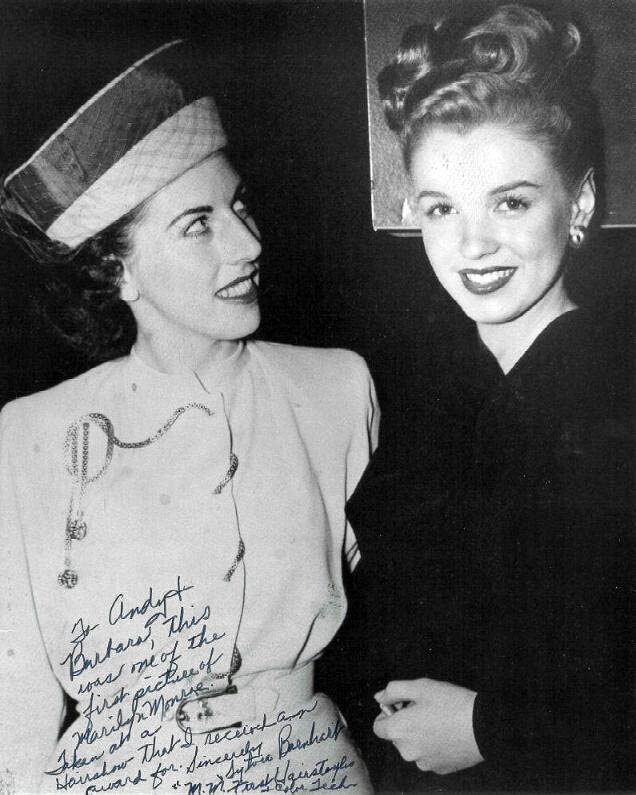 ---
Portraits en studio
de la coiffure de Sylvia Barnhart qui a remporté le prix au concours
Studio portraits
Sylvia Barnhart's hairstyle who won the contest
- Publicité magazine Estampa - 12/1947 -

---
Coiffures pobablement de Frank & Joseph - Portraits où Norma Jeane présente des chapeaux peut être déstinés au catalogue de vente par correspondance "Montgomery Ward Catalogue".

Hairstyles probably from Frank & Joseph - Portraits where Norma Jeane presents hats, maybe photos taken for the "Montgomery Ward Catalog" mail order catalog.

---
© All images are copyright and protected by their respective owners, assignees or others.
copyright text by GinieLand.
23 février 2010
Sylvia Barnhart est décédèe jeudi dernier (18 février 2010). Elle était la coiffeuse au début de la carrière de Marilyn Monroe; c'est Sylvia qui décolora les cheveux de Marilyn en blond.