04 mars 2017
En 1960, à New York, Marilyn Monroe quitte l'Actors Studio.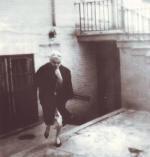 ---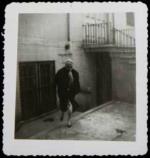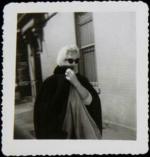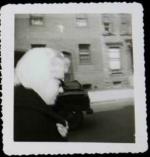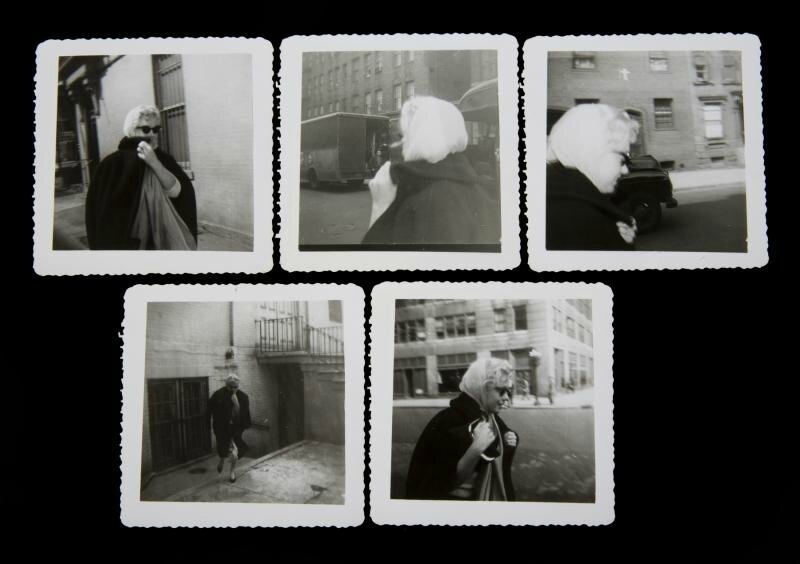 - de la collection de Frieda Hull, une fan des Monroe Six
-from the personal collection of Frieda Hull, one of the 'Monroe Six'
---
© All images are copyright and protected by their respective owners, assignees or others.
copyright text by GinieLand.

23 février 2017
Saturday Evening Post
- The New Marilyn Monroe - Part 3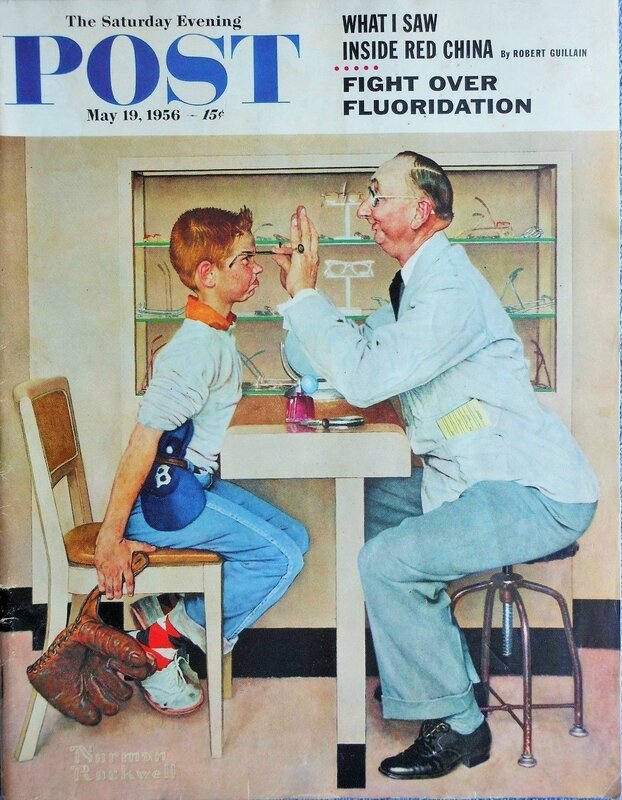 pays magazine: USA
paru le 19 mai 1956
article: 3ème partie "The New Marilyn Monroe"
en ligne sur saturdayeveningpost.com
---
Blonde, Incorporated
By Pete Martin
Originally published on May 19, 1956
The story of Marilyn's brief marriage to Joe DiMaggio, her battle with Hollywood, and her surprising new career.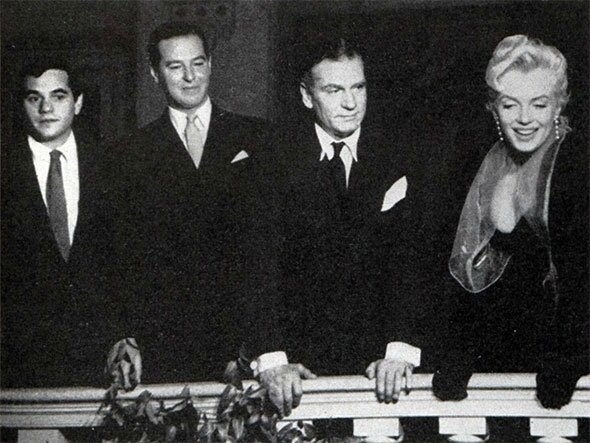 Milton Greene, vice-president of Marilyn Monroe Productions, playwright Terence
Rattigan, Sir Lawrence Olivier and Marilyn in New York. The occasion: To announce
plans for a movie version cf a Rattigan play, costarring Olivier and Monroe. (Hans Knopf, © SEPS)
I put this question to my friend and confidant, whom I call Flack Jones: "How did Joe DiMaggio happen to come into Marilyn's life?" Jones is one of my principal sources of Marilyn Monroe information. As a skilled and articulate employee of the publicity department of the 20th Century-Fox motion-picture studio, he had worked closely with Marilyn for several years before her highly publicized departure from Hollywood to live in New York and "learn to be an actress."
"Marilyn met him in a café one night on a blind double date," Jones said. "DiMaggio had heard about her and wanted to meet her. They met through friends and had dinner. Everything went just fine and dandy, until ultimately their friendship ripened into a romance which led to their marriage.
"But to complicate things, late in 1952 she decided to mix her first holdout with her romance," Flack Jones said. Then he corrected himself, "It must have been '53, for she had made River of No Return and How to Marry a Millionaire. Anyhow, she decided — or else her confidential advisers had persuaded her — that she was worth more money. But instead of stalking into Darryl Zanuck's office, slapping her next script down and saying, 'I won't do it!' she simply hid out. She sneaked down alleys, didn't answer her phone and couldn't be reached by anybody.
"This was before she ran off and married Joe DiMaggio, and the studio was taking a firm tone with her — a very firm tone. But when the romance reached full flower, the studio had to do a fast switch," Jones said. "Here we were, issuing communiqués about this 'silly and stubborn girl who was ill-advised enough not to come back and take this important part' in whatever the picture was — Pink Tights, I think — when all of a sudden she ups and marries Joe, the All-American Boy. After that, if we kept on beefing about her absence, the studio would be the big bully in the plot so far as the public was concerned.
"Then, to add to the studio's confusion, the pair went off to Korea to entertain the troops. How are you going to snap a blacksnake whip at a girl's calves for doing a thing like that? Snow White has married Prince Charming and they've gone off to Korea together to entertain the servicemen. So the studio started talking sweet in a hurry.
"However, the sharp-eyed and cynical could tell that that marriage was in danger as early as their arrival in the Orient," Flack Jones went on. "The press interviewed Marilyn in Tokyo, and a story was radioed back which said that Marilyn had talked about this and about that, and — oh yes — there was a man in the far corner of the room whose name was Joe DiMaggio. It didn't take much of a genius to figure that situation was the beginning of the end. Then, after an interval, the lovebirds flew back to Beverly Hills."
"Did the studio start having its troubles making her report for work before she married DiMaggio or after she married him?" I asked.
"We were having trouble before," Flack Jones told me.
"When was the first fly in the Monroe-Fox ointment?" I asked.
"I don't know the exact time," he said. "But it was not peculiar to Monroe alone. It's peculiar to life in Hollywood. It almost invariably happens when money and success make an impact on a male or female ego. We expect it to set in when the fan mail of the party in question zooms up to over two thousand a week. It's almost as much of a sure thing as the thermostat in your house turning on the heat. Two thousand fan letters a week is when we begin to say. 'We'll be having troubles with this doll."
"What form does it usually take?" I asked. "'I want more dough,' or 'I don't like my contract.' or 'My script stinks'?"
"A better way to answer your question is to say that when they realize they've got weight to throw around, they start throwing it," Flack Jones said. "They don't do those things you mentioned right away; they do less serious things first. They complain about wardrobe, or, if it's a musical, they complain about the songs or the dances, or, if it's a plain comedy or a straight drama, they gripe about how a certain scene is being directed. Whatever's handy, that's what they complain about. It makes no sense, but it's a means of saying that they have some weight now, and they want you to know it."
"What's the next move?" I asked.
Flack Jones rubbed his fingers over his scalp thoughtfully and said, "Ordinarily it's a preliminary test of strength, like bracing the front office for more dough for your dramatic coach.
"When she found out that she had that much weight, she decided to go out for herself, and she did. Some people think that she has always been a naive, flibbertigibbet girl moving through life. This is utter nonsense. She wasn't that way when she first was under contract; she was a grown person then. She kept her dates, she was always on time."
From now on," Jones said, "what I say is merely my own opinion, but I think that it was then that she discovered that there are people in Hollywood who respect other people who kick their teeth in. That's not just Hollywood for you. Most people do."
"Let's cut to the split-up between Joe and Marilyn," I said. "As I recall it, first there were rumors of strife, then things reached an impasse."
"Joe and Marilyn had a rented house on Palm Drive, in Beverly Hills," Jones said. "We had a unique situation there with the embattled ex-lovebirds both cooped in the same cage. Marilyn was living on the second floor and Joe was camping on the first floor. Then a famous attorney, Jerry Giesler, was brought into the act for Marilyn, although why they had to employ such a great lawyer to handle a simple divorce case I don't know. The public was all worked up, the press was, too, and they're circling the house like Indians loping around a wagon tram, waiting for somebody to poke a head out. The next move was Giesler's announcement that came Wednesday, at eleven o'clock, Marilyn would hold a press conference in his office.
"In the Fox publicity department," Jones said, "we concluded that if you call a press conference in a lawyer's office, it presupposes an obligation to say something, and what could Snow White say when she was breaking up with Prince Charming, or Cinderella say when she was splitting from the All-American Boy? Any press conference would only bring more characters out to chase Marilyn from her house to Giesler's office. And once they got there, if anybody issued one of those 'They're just a young couple who couldn't make a go of it' statements, it would only irritate everybody.
"So the studio issued a statement of its own in advance. We said that Marilyn wasn't going to hold any press conference, but she'd be leaving for work at ten o'clock from her house, to fulfill her commitment on Seven Year Itch, based on the Broadway play of the same name and costarring Tom Ewell, in Cinemascope. Once we'd got in that plug, we said that while we didn't promise an interview, the boys would get some pictures. So forty or fifty of the press congregated. In addition, there were several hundred volunteer reporters and photographers in the trees and trampling the lawn.
"Then an unbelievable thing happened," Flack Jones said. He grinned when he thought of it. "They were all there to get a picture of Marilyn going to work, because it would be the first picture since her announcement that she wanted a divorce, and all at once, in front of the house a great, big, beautiful automobile pulled up. In it was a friend of Joe's from San Francisco. As I've said, Joe's been in that house for three days on the first floor, with Marilyn on the second. There was a back alley, and a rejected husband could have snuck out of that back alley and disappeared if he'd wanted to. But Joe faced up to his responsibilities and took them like a man. So what do the press and newsreels get? A bonus! Out of the front door comes Joe, grim-lipped, walking the last long mile, with his pal carrying his suitcase.
"The press stopped him on the lawn, but Joe had no comment to make. They got pictures of him as he climbed into the car slowly, and one guy asked, 'Where you going, Joe?'
"'I'm going home,' Joe said.
"'We thought this was your home, Joe,' chirped the press like a Greek chorus.
"San Francisco has always been my home,' Joe said. He stood there waving farewell, then he drove away."
Looking at Flack Jones, I could see that he was still marveling at a scene which no press agent would have thought of inventing in his wildest dreams. He said, "I've always admired Joe for that. A lot of guys would have sneaked out the back way and gone to San Francisco, avoiding that encounter in the front yard. Not old Joe.
"About ten minutes later, Marilyn came down the stairs, sobbing, on Giesler's arm. She was all broken up. Everybody was shoving and pushing. A lady columnist kicked the crime reporter for the Los Angeles Mirror in the shins. He turned on her and asked, 'Who do you think you're kicking?' and she said, 'I'll kick you in the pants if you don't get out of my way.' All in all, there was quite a hubbub. The newsreel guys were grinding away, and somebody asked, 'How about Joe, Marilyn?' and Marilyn said, between sobs, '1 can't talk! I can't!' And she got in a car and drove off."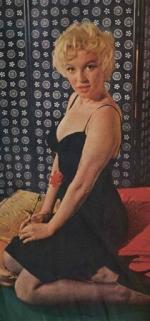 Later, when I talked to Marilyn in New York, I guided our conversation around to a story written by Aline Mosby, of the United Press. The story was about how Marilyn had told her that she had bought Joe a king-size, eight-foot bed because she didn't approve of separate bedrooms. "People say it's chic to have separate bedrooms," Marilyn told me. "That way a man can have a place for his fishing equipment and guns as well as sleeping, and a woman can have a fluffy, ruffly place with rows and rows of perfume bottles. The way I feel, they ought to share the same bedroom. With a separate-bedroom deal, if you happen to think of something you want to say, it means you have to go traipsing down the hall, and you may be tired. For that matter, you may forget what you started out to say. Besides, separate bedrooms are lonely. I think that people need human warmth even when they're asleep and unconscious."
There were other things I wanted to ask her. "I've heard that in Asphalt Jungle you displayed a highly individual way of walking that called attention to you and made you stand out. I've heard a lot of people try to describe the way you walk, and some of those descriptions are pretty lurid. How do you describe it?"
She leaned forward, placed her elbows on a table and cupped her chin in her palms. She was very effective that way. "I've never deliberately done anything about the way I walk," she said. "People say I walk all wiggly and wobbly, but I don't know what they mean. I just walk. I've never wiggled deliberately in my life, but all my life I've had trouble with people who say I do. In high school the other girls asked me, 'Why do you walk down the hall that way?' I guess the boys must have been watching me and it made the other girls jealous or something, but I said, 'I learned to walk when I was ten months old, and I've been walking this way ever since.'"
In California I had asked Flack Jones, "What would you say Marilyn does best? Is her walk her greatest asset?" Jones regarded the feathery top of a slender, swaying palm tree, as if searching for an answer. "She does two things beautifully," he said. "She walks and she stands. Also, as I've already told you she has wit enough to buy her clothes one or two sizes too small, and with a chassis like hers, this infuriates women and intrigues guys. From a woman's standpoint, there is no subtlety in such gowns. I remember when Marilyn came to a party. In a number which fitted her like a thin banana peel and the other women there thought it outrageous. Comments were made about that gown in a gossip column."
"How did Marilyn react to that?" I asked.
"Marilyn asked me, 'What should I have done?"' Jones said. "I said, 'Look, honey, the men loved it. Pay no attention to what the gossip-column cat said. You're a man's woman, so dress for men, not for other women. Any time you quit dressing for men you're out of business.'"
I told Jones that I'd been trying to find a phrase which would describe her walk, but that I hadn't been able to. "I can't help you there," Jones said. "I've heard the words 'quivering' and 'trembling' used in connection with her walk, but I don't know a description that really does the job. But when she walks across a screen a couple or three times, she attracts attention — a whole lot. That much I know.
"The public laughed at her walk in Niagara," Jones told me, "but Marilyn was only doing what the director wanted her to. It wasn't up to her to cut the picture or to tell the director not to point the camera at her during a long walk across cobblestones. I challenge any girl to walkdown a cobblestoned street in high heels without wiggling at least once."
After his analysis of Marilyn as a pedestrian, Flack Jones picked up our conversational threads where we'd broken them off with her parting from Joe DiMaggio, and tied them together again. "After that she came back and finished Seven Year Itch at Fox," he said. "Her agent, Charlie Feldman, flung a snazzy party for her at Romanoff's, and she went to New York. The next thing anybody knew, she announced that, with a New York photographer named Milton Greene, she had formed Marilyn Monroe, Inc. She's the president of the corporation; Greene's vice-president. But I have reason to think that she'd done that before she left Hollywood, for a hairdresser at the studio told me that one day when he had Marilyn in front of his mirror, she had said, 'Gee, I feel good. I'm incorporated.'"
I put it to Jones, "When she left the studio that last time, was it a clean, sharp break or did her relations with the studio gradually become fuzzy and vague?"
"After Itch," Flack Jones said, "she simply didn't show up again. I don't know whether you'd call that sharp or vague."
I said, when I finally met Marilyn, "The way I get it, you invented a whole new system of holding out; you just disappeared."
"I disappeared because if people won't listen to you, there's no point in talking to people," Marilyn told me. "You're just banging your head against a wall. If you can't do what they want you to do, the thing is to leave. I never got a chance to learn anything in Hollywood. They worked me too fast. They rushed me from one picture into another.
"I know who started all of those stories which were sent out about me after I left Hollywood the last time," she added. One paper had an editorial about me. It said: 'Marilyn Monroe is a very stupid girl to give up all the wonderful things the movie industry has done for her and go to New York to learn how to act.' Those weren't the exact words, but that was the idea. That editorial was supposed to scare me, but it didn't, and when I read it and I realized that it wasn't frightening me, I felt strong. That's why I know I'm stronger than I was."
She thought for a while; then she said, "I'm for the individual as opposed to the corporation. The way it is, the individual is the underdog, and with all the things a corporation has going for them an individual comes out banged on her head. The artist is nothing. It's tragic."
Going back to a straight question-and-answer routine, I said, "You're habitually late for appointments. What are the psychological reasons for your lateness?'
"I don't know," she said. "I've never come to any conclusion. If I knew, I'd get over it."
I said that I'd heard she was so nervous before appointments that she was sometimes became nauseated. I asked if this was caused by a feeling of pressure — of people pushing and hauling and pulling at her.
"You'd throw up, too, in some situations," she told me. "I flew into New York at eight o'clock one morning and there were photographers waiting to take pictures of me at the airport, and all that morning I had a series of interviews with newspaper people. Those interviews came twenty minutes or a half hour apart. Then I was rushed to a luncheon with a group of magazine people, and right after luncheon I tore over to the Daily News Building. I don't think anybody can take that routine very long. Another complication is that I have a certain stupid sincerity. I don't want to tell everybody who interviews me the same thing. I want them all to have something new, different, exclusive. When I worry about that, I start to get sick at my stomach."
I asked her if writers had ever prepared material for her to use in an "interview" or in a "by-line story."
"I refuse to let articles appear in movie magazines signed 'By Marilyn Monroe," she said. "I might never see that article and it might be O.K.'d by somebody in the studio. This is wrong, because when I was a little girl I read signed stories in fan magazines and I believed every word of them. Then I tried to model my life after the lives of the stars I read about. If I'm going to have that kind of influence, I want to be sure it's because of something I've actually said or written."
"I've been told that you devote hours to selecting and editing pinup pictures of yourself," I said.
"I haven't so far," she told me. "But maybe it's time I did. At least I'd like to have my pictures not look any worse than I do. I'd like them to resemble me a little bit. With some photographers, all they ask is that a picture doesn't look blurred, as if you've moved while they were taking it. If it's not blurry they print it."
"Somewhere," I said, "I've read that at least half of the photographs taken of you are killed because they are too revealing."
"That's the Johnston Office for you," she sighed. "They're very small about stuff like that, and what the Johnston Office passes, the studio ruins with retouching. After one sitting of thirty poses, twenty-eight of those poses were killed. The Johnston Office spends a lot of time worrying about whether a girl has cleavage or not. They ought to worry if she doesn't have any. That really would make people emotionally disturbed. I don't know what their reasoning is," she went on with a puzzled air. "They certainly can't expect girls to look like boys."
"I've read that your measurements are 37-23-34," I told her.
"If you're talking about my lower hips, they're thirty-seven inches," she said. "If you're talking about my upper hips, they're thirty-four." Eying her, I tried to decide where "upper" hip left off and "lower" began. I gave up.
"Nowadays," she said, "there's a vogue for women with twenty-twenty-twenty figures. Models in the high-style magazines stick out their hipbones and nothing else. But I'm a woman, and the longer I am one the more I enjoy it. And since I have to be a woman, I'm glad I'm me. I've been asked, 'Do you mind living in a man's world?' I answer, 'Not as long as I can be a woman in it.'"
"There's another thing I want to ask you," I said. "It's about something you said to a man in the Fox Studio legal department. You said, 'I don't care about money. I just want to be wonderful.' He didn't know what you meant by that."
"I meant that I want to be a real actress instead of a superficial one," Marilyn herself told me. "For the first time I'm learning to use myself fully as an actress. I want to add something to what I had before. I want to be in the kind of pictures where I can develop, not just wear tights. Some people thought that they were getting their money's worth when they saw me in The Seven Year Itch, but in future I want people to get even more for their money when they see me. Only today a taxi driver said to me, 'Why did they ever put you in that little stinker, River of No Return?'
"I thought it was a good question," Marilyn told me. "I'm with that taxi driver. He's my boy. Knowing what I know now, I wouldn't accept River of No Return today. I think that I deserve a better deal than a Z cowboy movie, in which the acting finishes third to the scenery and CinemaScope. The studio was CinemaScope-conscious then, and that meant that it pushed the scenery instead of actors and actresses." Without missing a beat, she switched gears into another subject. "One of the things about leaving Hollywood and coming to New York and attending the Actors' Studio was that I felt that I could be more myself," she said. "After all, if I can't be myself, who can I be?" I shook my head. She had me puzzled too.
Nunnally Johnson had directed How to Marry a Millionaire, costarring Betty Grable, Lauren Bacall and Marilyn. "Do her pictures make a lot of money?" I asked him in Hollywood.
"Millionaire earned a tremendous amount," Nunnally told me.
"What about The Seven Year Itch?" I asked.
"Variety reports it as the top Fox grosser for 1955," he said. "But speaking for myself, I can't say that I saw the 'new Marilyn Monroe' in The Seven Year Itch that some others did. I thought that essentially it was the same performance, just longer. Still, this could scarcely be a cause for worry for her; God had given her that equipment and it was still magnificent. She was still a phenomenon."
"Maybe she'll grow into a young Mae West and make people laugh at sex," I suggested.
Johnson agreed that it might be a good thing if she could do that. "I believe that the first time anybody genuinely liked Marilyn for herself, in a picture, was in How to Marry a Millionaire," he said. "She herself diagnosed the reason for that very shrewdly, I think. She said that this was the only picture she'd been in in which she had a measure of modesty. Not physical modesty, but modesty about her own attractiveness. In Millionaire she was nearsighted; she didn't think men would look at her twice, because she wore glasses; she blundered into walls and stumbled into things and she was most disarming. In the course of the plot she married an astigmatic; so there they were, a couple of astigmatic lovers. In her other pictures they've cast her as a somewhat arrogant sex trap, but when Millionaire was released, I heard people say, 'Why, I really liked her!' in surprised tones."
These comments of Johnson's were made before Marilyn was enlightened by exposure to the Actors' Studio. Upon her return from New York to work at Fox in Bus Stop, Johnson did see a "new Marilyn Monroe."
"In contrast to the old Marilyn, in her present incarnation she is a liberated soul, happy, co-operative, friendly, relaxed," he wrote me. "Actually, it is as if she had undergone a psychoanalysis so successful that the analyst himself was flabbergasted. Now she's different; her behavior and her manner as a member of the social order are O.K. As for her acting, that remains to be seen."
I told Marilyn that I had read an Associated Press story which estimated that her newest contract — scheduled to run for seven years — would bring her more than $8,000,000. When I mentioned this, she said, "Eight million dollars is a lot. However, no matter what they tell you, it's not for money alone that I'm going back to Hollywood. I am free to make as many pictures for my own company as I do for Fox, and I can do TV and stage shows."
Among others I'd talked to about Marilyn, before discussing her with herself, was Milton H. Greene, the New York photographer who'd become vice president of Marilyn Monroe Productions.
"I don't know where they got that figure eight million, either," Greene had told me. "Not from me or Marilyn." He went on, "I don't ask you what you make, do I? Everybody wants an exclusive release or an exclusive interview with Marilyn on the subject, and I want everybody to be happy, but things like that are confidential."
Like Marilyn, Greene asked me not to use a tape-recording machine when interviewing him. "Makes me stutter," he said. So, carefully, laboriously, and word for word, I wrote down everything he said to me. While doing it, I noticed no signs of stuttering. Evidently a notebook and pencils didn't bother him. Greene had also asked me to put the initial "H" in his name, making it Milton H. Greene. "Would you mind very much?" he said. "There're other Milton Greenes who are also in the photography business."
He had met Marilyn when he had gone to California to do a series of photographs of Grace Kelly, Elizabeth Taylor, Jean Simmons and Marilyn Monroe. It hadn't been his idea to do anything too sexy. "After all," he said, "in a national magazine you can only expose so much of a girl, even if the girl is willing. Marilyn turned out to be different from what I thought she'd be. More sensitive."
Greene had gone to California on a second assignment, and had begun to think of doing a book of photographs of Marilyn. "The book isn't out yet," he said, "but I'll show you a few of the pictures I made for it. It will be Marilyn in different moods and settings, as if she were playing different parts." He went to a shelf and brought back a box of aluminum squares. Each square contained a color transparency. "Here's one where she looks as if she's in England," he said. "As you can see, she's wearing an Edwardian hat. Here's one where she looks like Bernadette in The Song of Bernadette." I looked at that one for a long time. It was, I thought, a novel idea.
Milton H. Greene watched me write down what he'd said in my notebook; then he went off on a slight tangent. "One day I plan to do a cookbook for dogs," he said. "It would contain dog-dish recipes. I think it would be amusing." I brought him back from his dog cookbook project to his association with Marilyn. "In Hollywood," he said, "we got to talking. This was after she'd made Seven Year Itch and after her divorce from Joe, and I told her that I hoped to go into television and theatrical production. I found that all Marilyn wants is to make just enough money to be able to afford to make good pictures. That's the way I feel about it, too, so Marilyn Monroe Productions hopes to buy a good story property; then approach the right studio about making and distributing the picture."
He stood up, walked around his office and came back to his chair. "If Marilyn had been only interested in making money," he said, "she wouldn't have been interested in me."
When I asked Marilyn to tell me about her association with the Actors' Studio, she said that she not only attended classes there, but had also had private lessons from Lee Strasberg and his wife, who are the mainsprings of the project.
Greene told me, "Marlon Brando, Jimmy Dean, Kim Stanley, Julie Harris and Montgomery Clift all studied under the Strasbergs. Marilyn observes, studies and watches. She listens to lectures. Occasionally she is allowed to take part."
The Actors' Studio lets interested people like Marilyn sit in on an informal, guest basis. She is not an officially enrolled student member of the Actors' Studio, because you are not admitted there on that basis unless you have contributed something notable on the stage in a performance or have passed a series of exacting auditions. Just wanting to be in isn't enough. This is very smart of the Strasbergs, because it eliminates all those who are without talent; otherwise the studio would be full of women all seven feet tall and all trying to be actresses.
I said to Marilyn that I'd heard she'd spent some time with Terence Rattigan, the British playwright, discussing the screenplay he was adapting for her from his London stage success, The Sleeping Prince, a vehicle in which Sir Laurence Olivier had played the prince. Sir Laurence had also agreed to play the same role opposite Marilyn and also to direct the film. "I had a bad cold the evening I spent with Mr. Rattigan, and he said I sounded like Tallulah Bankhead," Marilyn told me proudly. Then she added thoughtfully, "Mr. Rattigan is young, but not too young."
I asked her what she meant. She smiled and said, "I guess you want me to say over twelve and not quite ninety. I don't know how old Mr. Rattigan is. I'd say he's kind of ageless."
I asked her to give me a hint of the story line followed by The Sleeping Prince. "I'm an American chorus girl in London, in it," she said, "and the regent of a foreign country notices me and asks me to a reception at his country's legation. I wriggle into my only formal and go, only it turns out it's not a large gathering at all. In fact, it's the same stale bit that's been tried out on girls for the last three thousand years: dinner for two, candles, wine and soft music, when she's expecting other guests. The next thing I know, I've had too much champagne and I've passed out. I won't tell you any more. You ought to be willing to spend money to find out what happens next.
"The truth is," she said, "the plot is about a man who's been asleep — at least his emotional something or other has been asleep — but little by little a relationship builds up between him and this American chorus girl, and he begins to stir in his sleep, as you might say. He's a married man, but that doesn't complicate things because he's sophisticated about the whole deal. Terence Rattigan describes it as 'an occasional fairy tale or a comedy with serious overtones.'"
Weeks before, when I'd talked to Billy Wilder about Marilyn, I'd said to him, "I should think it would take a great deal of mature mental and moral strength to cope with becoming an enormous success overnight. It must be unsettling to suddenly become a sex symbol known all over the world."
Wilder replied, "It's my opinion that she's basically a good girl, but what's happened to her is enough to drive almost anybody slightly daffy, even someone who is armored with poise and calmness by his background and bringing up. You take a girl like Marilyn, who's never really had a chance to learn, who's never really had a chance to live, and suddenly confront her with a Frankenstein's monster of herself built of fame and publicity and notoriety, and naturally she's a little mixed up and made giddy by it all. However, I'd like to go on record with this: I worked with her in Seven Year Itch and I had a good time with her. She was seldom on time, but it wasn't because she overslept. It was because she had to force herself to come to the studio. She's emotionally upset all the time; she's scared and unsure of herself — so much so that when I worked with her I found myself wishing that I were a psychoanalyst and she were my patient. It might be that I couldn't have helped her, but she would have looked lovely on a couch."
"You mean you didn't get annoyed when she was late?" I asked.
"I understood the reasons for it," Wilder told me. "There was no use getting annoyed. Even at the beginning, when I discovered that I had let myself in for a certain amount of trouble, I found myself liking her. At no time did I find her malicious, mean, capricious or anything but conscientious. There are certain urges and drives in her which make her different, but, as a director, I think it worth combating those things and living with them in order to work with her."
I found myself hoping that Josh Logan, who will direct her in her next picture, the filmed version of Bus Stop, and Buddy Adler, the producer who bought that play for Fox, would feel the same way about her Wilder feels. That's what she does to you. In spite of her spells of procrastination carried to fantastic lengths, in spite of her verbal convolutions, you wind up liking her.
By "her" I mean, of course, all of the various Marilyn Monroes — and there are several of them. There is the sexpot Marilyn Monroe; she's the one who tries so hard to live up to the legend of her sexiness that even her own stomach sometimes can't take it. Then there's the frightened Marilyn Monroe, product of a broken home and a battered childhood — a girl named Mortenson who still can't believe that she's that girl on the screen they're making all the fuss about. And last of all there is "The New Marilyn Monroe" — the one who is supposed to have emerged from the Actors' Studio as a composed and studied performer, "having achieved growth" and "developed more."
Somehow, as I neared the end of my interview, I found myself wondering if people would accept her as the new and different Marilyn Monroe she thinks she is. I had heard one man say, "Even if you hung Ethel Barrymore's and Helen Hayes' talent on Marilyn's beautiful body, people wouldn't take her acting seriously."
To my surprise, I realized that I was dreading the possibility that when she turned on her new brand of acting, audiences might laugh at her, as they laughed at Zasu Pitts when she went in for "heavy drahma" after a lifetime as a comedienne.
"It doesn't scare me," Marilyn told me bravely, when I mentioned my fears. "If I have the same things I had before I started to go to the Actors' Studio and I've added more — well, how can I lose?"
Whether she has really "added more" or not, I don't know. But, as she herself points out, she does — emphatically — still have the same things she had before. My guess is that they're still negotiable at the box office.
---
© All images are copyright and protected by their respective owners, assignees or others.
copyright text by Saturday Evening Post.
Enregistrer
Enregistrer
Enregistrer
Enregistrer
Enregistrer
01 novembre 2016
---
Documents papiers - MM Prod.
Papers documents - MM Prod.

---
Lot 312: MARILYN MONROE SIGNED CHECK TO THE IRS
A check signed by Monroe in blue ink, with bank stamp dated November 16, 1959, paid to the "District Director of Internal Revenue" in the amount of $10,947.60. The check is drawn on her Marilyn Monroe Productions, Inc. account with Colonial Trust Company. Calculating for inflation, this amount would be in excess of $90,000 in 2016.
3 by 8 1/2 inches
Estimate: $3,000 - $5,000

---
Lot 416: MARILYN MONROE 1958 SIGNED CHECK WITH CORRESPONDING INVOICES
A Marilyn Monroe Productions canceled bank check dated August 22, 1958, in the amount of $42.88, written to Dave Bernstein, signed by Monroe, together with a statement from Dave Bernstein Catering and 10 receipts for food Monroe ordered ranging in date from August 19 through September 4, 1958. Monroe started filming Some Like It Hot on August 4, 1958. This lot is significant in that Monroe and then husband Arthur Miller discovered she was pregnant in October. These receipts possibly detail Monroe's diet at the onset of what would be her final pregnancy. Sadly, she miscarried on December 16.
Estimate: $2,000 - $3,000

---
Lot 474: MARILYN MONROE 1960 SIGNED CHECK WITH CORRESPONDING INVOICES
A Marilyn Monroe Productions canceled bank check dated May 14, 1960, in the amount of $6.20, written to Century Messenger Service, signed by Monroe, together with two carbon copy invoices and an original month-end statement from Century Messenger Service. Both invoices are addressed to Marilyn Monroe Productions, 444 E. 57th Street, #13E, one of which is signed by May Reis, Monroe's secretary.
Estimate: $1,500 - $2,500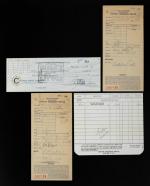 ---
Lot 537: MARILYN MONROE FAN MAIL EXPENSES
An expense report for Marilyn Monroe Productions prepared by Hedda Rosten, with itemized listing of fan mail expenses for June 1962 totaling $66.46. The expenses show that they were reimbursed July 26, 1962.
9 by 6 inches
Estimate: $200 - $300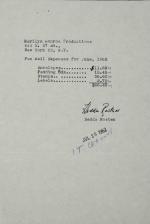 ---
Lot 897: MARILYN MONROE PRODUCTIONS CHECKS AND RECEIPTS
Two checks from Marilyn Monroe Productions Inc. to A.J. Bauer & Co Apothecaries for $8.15 and $17.25, both signed by Milton Greene and dated June 22, 1955, and June 20, 1955; and two related receipts from A.J. Bauer & Co Apothecaries showing the breakdown and balance due.
Checks, 3 by 8 1/2 inches
Estimate: $800 - $1,200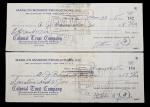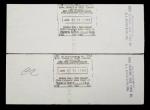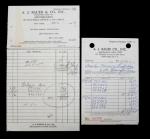 ---
Lot 898: MARILYN MONROE PRODUCTIONS BANK STATEMENT
A Colonial Trust Company bank statement for Marilyn Monroe Productions Inc. for January 1957, showing a series of withdrawals throughout the month with a balance of $47,768.62 on January 1 and $27,671.40 on January 31. There are handwritten calculations are in pencil on verso in an unknown hand. Together with a credit receipt from the same bank dated February 1, 1957, that states that $54.64 was credited back to the account.
10 by 7 inches
Estimate: $600 - $800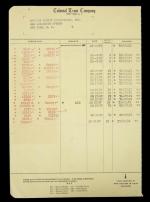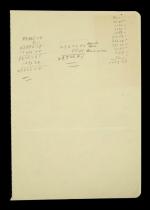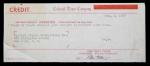 ---
Lot 899: MARILYN MONROE PRODUCTIONS INVOICE
An invoice from Luria's Wine & Spirits in New York City billed to Marilyn Monroe Productions and sent to "Mr and Mrs Paula Lee Strasberg [sic]." The invoice is for 12 bottles of Piper-Heidsieck champagnes totaling $73.08. Together with a statement from Luria's showing $3.55 credit for Marilyn Monroe Productions. Dates unknown.
Larger, 9 by 5 3/4 inches
Estimate: $400 - $600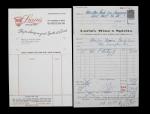 ---
Lot 974: MARILYN MONROE BANK STATEMENT, MARCH 1961
A Marilyn Monroe Productions Inc. bank statement from Bankers Trust Company of New York showing credits and debits for the month of March 1961.
11 by 9 inches
Estimate: $400 - $600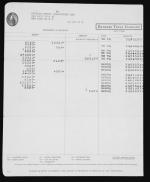 ---
Lot 975: ENVELOPE ADDRESSED TO MARILYN MONROE
An envelope addressed to Marilyn Monroe Productions Inc. The envelope is postmarked January 5, 1961, and is from Magnum Photos Inc. Two "Fragile Handle with Care" stickers are affixed to the envelope. Many of Monroe's most famous photographs were taken by Magnum photographers, including Eve Arnold, Philippe Halsman, and Inge Morath. This item came from the estate of May Reis, Monroe's assistant and private secretary from 1958 to 1961.
12 by 15 1/2 inches
PROVENANCE Partial Lot 120, "Julien's Autumn Sale," Julien's, Las Vegas, October 29, 2005
Estimate: $50 - $100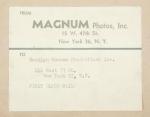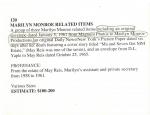 ---
Documents papiers - Carrière
Papers documents - Career

---
Lot 70: MARILYN MONROE PROGRAM FROM PRESIDENT KENNEDY'S 1962 BIRTHDAY CELEBRATION
A program from the fundraising gala titled "Happy Birthday Mr. President" that took place at Madison Square Garden in New York City on May 19, 1962. The event featured Marilyn Monroe's now legendary performance of the song "Happy Birthday" to the president in her form-fitting Jean Louis gown. The program lists the other performers that night and is being sold together with Frieda Hull's ticket from the performance. The ticket cost $10, is numbered 827, and is listed as General Admission and additionally stamped "Standing Room" with right side of ticket torn off.
Program, 10 1/2 by 8 1/4 inches
PROVENANCE From the Estate of Frieda Hull
Estimate: $1,000 - $2,000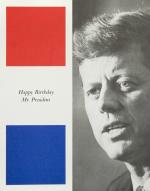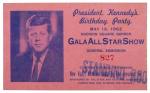 ---
Lot 74: MARILYN MONROE CORRESPONDENCE WITH LESTER MARKEL
A series of letters including five unsigned file copies of Marilyn Monroe's letters to Pulitzer Prize-winning journalist Lester Markel of the New York Times together with five typed, signed letters from Markel on New York Times letterhead. The two had a friendship and an interesting series of communications dated between August 6, 1959, and June 30, 1960, including the now famous letter in which Monroe demonstrates her humor and comprehensive understanding of the politics of their time. On the subject of Fidel Castro, Monroe writes, "Now, Lester, on Castro. You see, Lester, I was brought up to believe in democracy, and when the Cubans finally threw out Battista [sic] with so much bloodshed, the United States doesn't stand behind them and give them help or support even to develop democracy." She also discusses possible presidential candidates and offers slogans for their campaigns in the post script: "Nix on Nixon" and "Back to Boston by Xmas - Kennedy." Two of the five pages of Monroe's file copies contain three drafts of the same letter that is left unfinished.
8 1/2 by 11 inches
PROVENANCE From the Estate of Lee Strasberg
Estimate: $600 - $800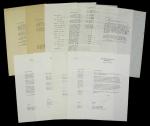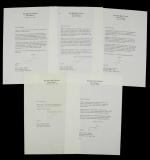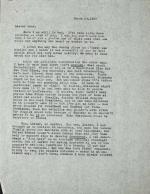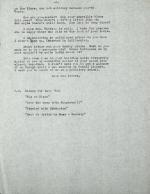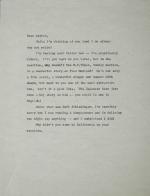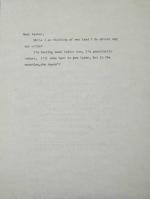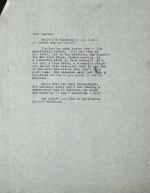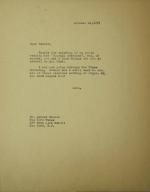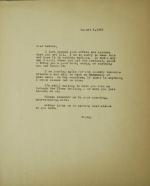 ---
Lot 75: MARILYN MONROE SIGNED TILE FROM PRESIDENT KENNEDY'S 1962 BIRTHDAY CELEBRATION
A pair of celebrity signed ceramic tile displays with inscriptions to event producer Clive David. Each framed display consists of 16 tiles. The top six decorative tiles of each frame combine to read "1962." The remaining 10 tiles of each display are covered with signatures and inscriptions to David, including an inscription from Marilyn Monroe. Monroe's inscription reads "To Clive Love & Kisses Marilyn Monroe" and was obtained by David at the Madison Square Garden birthday celebration of John F. Kennedy held on May 19, 1962. Other performers who signed the tiles at this event include Maria Callas, Jack Benny, Jimmy Durante, Henry Fonda, Bobby Darin, Ella Fitzgerald, Shirley MacLaine, Sally Ann Howes and Dick Adler. Other celebrity signatures include Gloria Swanson; Paulette Goddard; Ray Bolger; Tab Hunter; Hedda Hopper; Una Merkel; Audrey Meadows; Earl Wilson; Ginger Rogers; Olivia de Havilland; Anita Loos; Lucille Ball; Carol Bruce; and Tallulah Bankhead; among others.
Each, 39 by 14 1/2 inches, framed
Estimate: $8,000 - $10,000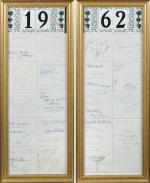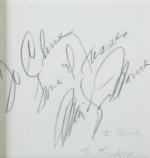 ---
Lot 83: MARILYN MONROE JOHN F. KENNEDY 1962 BIRTHDAY GALA TICKET
A ticket to the May 19, 1962 Birthday Party Gala held for President John F. Kennedy at Madison Square Garden. The ticket is marked for section 112, with a suggested contribution of $25.
3 3/4 by 8 inches
Estimate: $3,000 - $5,000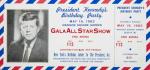 ---
Lot 96: MARILYN MONROE DOUBLE SIGNED 1947 DOCUMENT
A single-page mimeographed letter dated June 11, 1947. The letter was drafted by Twentieth Century Fox Film Corporation for Monroe to sign and reads in part, "Whereas, I did heretofore enter into a personal services contract with you, dated August 24, 1946, and, whereas at that time I was a minor, and whereas I did, on June 1, 1947, become twenty-one (21) years of age, please be advised that I do hereby ratify and confirm all of the terms." The letter is then signed by Monroe in blue ink, both "Marilyn Monroe" and "Norma Jeane Dougherty." Together with a plain associated envelope.
8 1/2 by 11 inches
Estimate: $5,000 - $7,000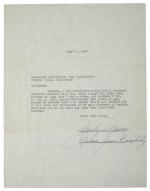 ---
Lot 132: MARILYN MONROE SIGNED 1949 CONTRACT
A standard contract dated March 2, 1949, with the William Morris Agency Inc. for a period of six years with 10% terms. The contract is signed on verso in green ink "Marilyn Monroe." Accompanied by original letter from the agency that accompanied the contract dated March 10, 1949, addressed to Monroe at 1215 Lodi Place in Hollywood, California, reading "Dear Marilyn:/ Enclosed please find executed copies of your authorization with our office. Best regards" and signed Norman Brokaw.
8 1/2 by 11 inches
Estimate: $3,000 - $5,000


---
Lot 156: MARILYN MONROE NOTES WRITTEN ON BACK OF 1952 MENUS
Two menus dated March 26, 1952, featuring notes on verso in blue ink in Monroe's hand that appear to have been taken during a meeting with someone advising her about her career. The menus are dated just 10 days after Monroe's nude modeling shots were made public by the media. Monroe had recently appeared in a number of films in small parts and had received positive mentions from critics. Monroe had just started dating Joe DiMaggio, and she was to appear on the cover of LIFE magazine the following month. This was clearly an important and pivotal period in her career, and it appears as though she was meeting with someone in the industry who gave her counsel. One of the warnings appears to come from Johnny Arnez; Monroe put's his warning in quotations: "you'll have to protect yourself or your throat will be cut/ watch out for Jerry Webb." It continues, "you'll prepare the test & Webb shoots it and if something is wrong it will [be] your fault." A great deal of the notes reference Webb and things he has said behind her back. Berniece Miracle mentions seeing Webb, the test director, in the Fox commissary in the late 1940s when she snuck onto the lot with Monroe to spend the day with her half-sister. The notes also contain thoughts from Monroe reading in part, "I need a great deal of work - and will always/ its the right kind of work/ -the more I will be able to stand on my feet." and "think with your body/ let go physically to ick up emotionally" and "you want me to be a star/ and I can be one of your greatest stars/ when I'm doing the right/ work and know I'm doing." Just over two months after these notes were written, Monroe learned that she had gotten the part of Lorelei Lee in Gentlemen Prefer Blondes.
10 1/2 by 5 inches
Estimate: $4,000 - $6,000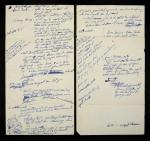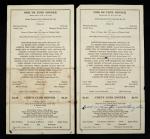 ---
Lot 173: MARILYN MONROE HANDWRITTEN ACTORS STUDIO CLASS NOTES
A single sheet of hotel stationery from the Waldorf Astoria, New York, where Monroe stayed between April and September 1955, with the opening salutation and start of a letter "Dear Art" that has been scratched out. The page is covered on recto and verso with notes, recounting the goings-on in one of Monroe's acting classes with Lee Strasberg. The notes begin with Monroe quoting something said by Strasberg: "I want you all to know that this exercise went on for/ 1/2 hour and her concentration did not/ give way or slip once-and Marilyn there/ will be very few times ever on the/ stage where it will be/ necessary to keep/ such a concentration/ for one half hour/ straight." Monroe then asks herself, "Why did it/ mean so much to me." On the back she continues to ruminate about class, writing, "Strasberg/ it makes me (him he said) feel badly (and sadly) for you that you do/ things out of fear/ You must start to do things out of strength-/ (my question: where do I get the strength)-he said-by not looking for strength/ but only looking & seeking tecnical [sic] ways and means." This presents a fascinating demonstration of how seriously Monroe took her formal acting training in New York.
LITERATURE Monroe, Marilyn, and Bernard Comment. Fragments: Poems, Intimate Notes, Letters. Pages 78-81. New York: Farrar, Straus and Giroux, 2010. 1-237. Print.
10 1/2 by 7 1/4 inches
Estimate: $10,000 - $15,000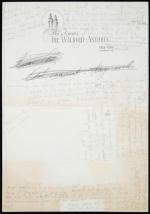 ---
Lot 174: MARILYN MONROE HANDWRITTEN SONG LIST
A single sheet of hotel stationery from the Waldorf Astoria, New York, where Monroe stayed between April and September 1955. The verso of page contains a long list of song titles in pencil with some numeric references to a song standard book. It is presumed these were possibly songs that Monroe wanted to perform.
LITERATURE Monroe, Marilyn, and Bernard Comment. Fragments: Poems, Intimate Notes, Letters. Pages 82-83. New York: Farrar, Straus and Giroux, 2010. 1-237. Print.
10 1/2 by 7 1/4 inches
Estimate: $3,000 - $5,000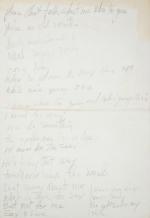 ---
Lot 192: MARILYN MONROE HANDWRITTEN NOTE
A single sheet of unlined paper with serrated left edge and faint coffee mug stain. The page contains pencil notations, including the numbers "262" and "263," which are believed to be references to a collection of song standards, [see Lot 256] and would correspond to "While We're Young" and "Wonderful Guy." The body of the text reads "Dec 11/ See in older journal-/ always admired men who had many women./ It must be that to a child of a dissatisfied woman/ the idea of monogamy is hollow."
LITERATURE Monroe, Marilyn, and Bernard Comment. Fragments: Poems, Intimate Notes, Letters. Pages 164-165. New York: Farrar, Straus and Giroux, 2010. 1-237. Print.
8 by 4 7/8 inches
Estimate: $4,000 - $6,000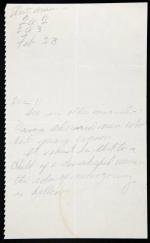 ---
Lot 193: MARILYN MONROE HANDWRITTEN NOTE
A single page torn from a lined spiral-bound notebook, stained in red ink. Presumably torn from the same notebook as the similarly stained pages also included in this sale that also date to 1956. The page contains dialogue from Monroe's film, Bus Stop as she portrays Cherie, who asks Elma for help: "Pardon me I'm sorry to wake you/ But I wonder if you could help/ me/ I'm being abducted/ you know-kidnapped-by-him/ I thought maybe as soon as/ we got some place I'd ask the/ driver to stop and let me off/ But we been driving for hours/ and we still don't seem to be/ nowhere at all-not only that/ but I'm freezing to death-I/ ain't got much on under/ my coat."
LITERATURE Monroe, Marilyn, and Bernard Comment. Fragments: Poems, Intimate Notes, Letters. Pages 166-167. New York: Farrar, Straus and Giroux, 2010. 1-237. Print.
8 1/2 by 11 inches
Estimate: $6,000 - $8,000

---
Lot 194: MARILYN MONROE NOTEBOOK PAGES
Two pages torn from a lined spiral-bound notebook, both stained in red ink. The first page was published in the book Fragments and contains references to "The Sleeping Prince," an early production title for Monroe's film The Prince and the Showgirl, dating these writings to 1956. The notes show Monroe becoming her own task master, reminding herself "don't stop myself," "learn - lines logically," "I can't do more than/ one thing at a time/ make map tonight," and "take my time to think." She instructs herself to make a list of tasks and work on exercises, which perhaps explains the cryptic writings on the second page that did not appear in Fragments, reading in full, "From Ridding partly/ T Nautiousness [sic]/ Place/ personalization (A)/ weariness/ (J)/ (Ar).""
LITERATURE Monroe, Marilyn, and Bernard Comment. Fragments: Poems, Intimate Notes, Letters. Pages 168-169. New York: Farrar, Straus and Giroux, 2010. 1-237. Print.
8 1/2 by 11 inches
Estimate: $3,000 - $5,000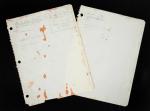 ---
Lot 195: MARILYN MONROE HANDWRITTEN NOTE
A single lined page torn from a Steno notebook with ragged spiral tab top edge. The note in pencil appears to be Monroe jotting down notes regarding the reasons Elia Kazan did not want to cast her In the title role of his 1956 film Baby Doll, written by Tennessee Williams. One of the notes reads "He said that I've become so deified as a sex symbol that public never except [sic] me as a virgin and as a nineteen/twenty year old."
LITERATURE Monroe, Marilyn, and Bernard Comment. Fragments: Poems, Intimate Notes, Letters. Pages 170-171. New York: Farrar, Straus and Giroux, 2010. 1-237. Print.
8 3/4 by 6 inches
Estimate: $3,000 - $5,000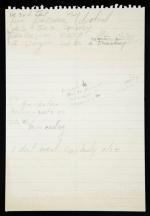 ---
Lot 196: MARILYN MONROE 1960 NOTE FROM THE SET OF THE MISFITS
A single-page letter written in pencil outlining Monroe's thoughts regarding how the film should be shot to convey the presence of Clark Gable's character in the film The Misfits Gay Langland. The note reads in part, "I feel the camera has got/ to look through Gay's/ eyes whenever he is in a/ scene and even when he is/ not there still has to be a sense of/ him/ He is the center and the/ rest move around him."
LITERATURE Monroe, Marilyn, and Bernard Comment. Fragments: Poems, Intimate Notes, Letters. Pages 172-173. New York: Farrar, Straus and Giroux, 2010. 1-237. Print.
8 by 5 inches
Estimate: $4,000 - $6,000

---
Lot 200: MARILYN MONROE HANDWRITTEN NOTE TO LEE STRASBERG
A single page of lined paper from a Steno notebook with doodles of faces in pencil below a quick note about punctuality references Monroe's role as the routinely tardy Miss Lois Laurel in her 1952 film Monkey Business. Below this note is a note in Lee Strasberg's hand reading "Don't be nervous Marilyn/ you are doing swell &/ you look wonderful."
LITERATURE Monroe, Marilyn, and Bernard Comment. Fragments: Poems, Intimate Notes, Letters. Pages 186-187. New York: Farrar, Straus and Giroux, 2010. 1-237. Print.
8 3/4 by 6 inches
Estimate: $4,000 - $6,000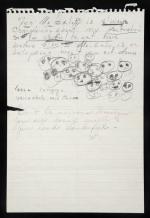 ---
Lot 201: MARILYN MONROE HANDWRITTEN NOTE TO LEE STRASBERG
An undated handwritten note by Monroe to mentor Lee Strasberg, on a single sheet of lined notebook paper torn from a spiral-bound Steno book, reading "Dear Lee/ One of the most personally helpful things I've heard so far in my life was what you said in class Friday afternoon – it was helpful in that I feel as though I'm a little bit freer – also more – I can't think of any I mean by that more relaxed 2 and 2 don't necessarily make 4."
LITERATURE Monroe, Marilyn, and Bernard Comment. Fragments: Poems, Intimate Notes, Letters. Pages 188-189. New York: Farrar, Straus and Giroux, 2010. 1-237. Print.
9 by 6 inches
Estimate: $10,000 - $20,000

---
Lot 203: MARILYN MONROE LETTER TO LEE STRASBERG
A two-page typed letter, signed, to mentor Lee Strasberg, dated December 19, 1961, with original transmittal envelope addressed to Strasberg's Central Park West address, postmarked Beverly Hills Calif. December 21, 1961. The letter, addressed "Dear Lee," asks Strasberg's wife Paula and children Susan and Johnny to consider relocating to California to be part of a new production company Monroe was developing in partnership with fellow Actors Studio alumnus Marlon Brando. The letter is signed in blue ink in Monroe's hand simply "Marilyn."
LITERATURE Monroe, Marilyn, and Bernard Comment. Fragments: Poems, Intimate Notes, Letters. Pages 196-197. New York: Farrar, Straus and Giroux, 2010. 1-237. Print.
Estimate: $7,000 - $9,000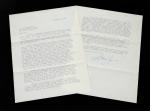 ---
Lot 211: MARILYN MONROE NOTE FROM ROBERT MITCHUM
A typed, signed letter from Darryl F. Zanuck dated December 10, 1953, addressed "Dear Bob:" for Robert Mitchum. The letter thanks Mitchum for his cooperation in connection with shooting retakes for the film River of No Return and in turn apologizes: "I am also very sorry about the delay with Marilyn. We could not possibly anticipate such action." Mitchum has written in quite large letters in blue ink "Dig!!!" above the note, and on verso he has written "Marilyn/ Your girl is my/ girl and my girl is/ you - Ever Bob." The note documents Mitchum's loyalty to Monroe, having first met her when she was married to Jim Dougherty, revealing Zanuck's speaking ill of her.
10 1/2 by 7 1/4 inches
Estimate: $500 - $700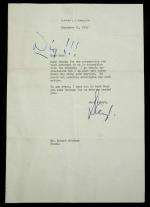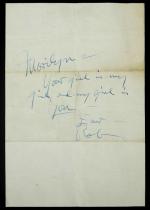 ---
Lot 249: MARILYN MONROE PHOTOGRAPHS AND LETTER FROM REPORTER
A typed letter signed by St . Petersburg Times photographer George Sweers dated March 23, 1961. The letter thanks Monroe for allowing him to ask a few questions and take a few pictures the previous day and goes on to reminisce about spending time with her when she entertained the troops in Korea. He writes, "This, as you probably remember, was the shot we had made on the Eastern Front after the last show." He included two copies of the photograph, requesting that Monroe sign one and send it back to him. Together with both copies of the photos that accompanied the letter.
8 1/2 by 11 inches
Estimate: $400 - $600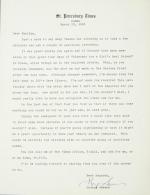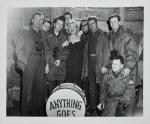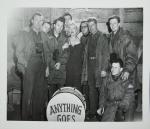 ---
Lot 250: MARILYN MONROE CARD FROM ELLA FITZGERALD
A vintage Hallmark Christmas card, undated, wishing a "Merry Christmas To Someone Nice," signed in blue ink "Ella Fitzgerald." While it is often reported that Monroe helped to get Fitzgerald a booking at the Mocambo club in Hollywood, due in large part to Fitzgerald's own recollections, documentary evidence supports the fact that Monroe actually attended Fitzgerald's performances at The Tiffany Club in 1954.
7 by 6 inches
Estimate: $500 - $700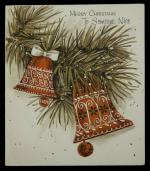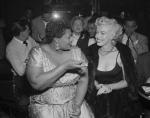 ---
Lot 251: MARILYN MONROE SECRETARIAL MEMO REGARDING ELLA FITZGERALD
A typed memo dated February 15, 1955, on the letterhead of business manager Inez Melson, titled "Memo of conversation with Jo Brooks." Brooks was the husband of Julies Fox, who handled publicity for Ella Fitzgerald, and the memo says that, "A few months back, Miss Monroe visited the Tiffany Club on West 8th Street where Ella Fitzgerald was playing. Miss Fitzgerald talked of a possible future date at the Mocambo and Miss Monroe said when this happened, she would like to give a party for Miss Fitzgerald./ Miss Fitzgerald will open at the Mocambo on March 15 and Miss Brooks wanted to know if Miss Monroe was serious about giving a party." This memo further explains the sequence of events and the fact that Monroe did not in fact play a part in getting Fitzgerald booked at the Mocambo as she stated to the press at one time.
6 1/4 by 7 1/4 inches
Estimate: $100 - $150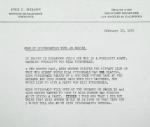 ---
Lot 252: MARILYN MONROE NOTE TO LEE STRASBERG
A small note in pencil in Monroe's hand on the back of a piece of paper taken from a visitor's log. The note appears to be a draft written to accompany a book Monroe was giving to Lee Strasberg as a gift, reading in part, "For Lee/ I wanted to give you something for your library - you are giving me a way in which to work and the hope to be human -/ Love Marilyn." Multiple additions and strikethroughs with changing of wording.
6 by 3 1/4 inches
Estimate: $1,500 - $2,000

---
Lot 253: MARILYN MONROE GIFT NOTE TO PAULA STRASBERG
A small piece of plain white paper folded into a card reading "Dear Paula,/ I'm glad you were born because you are needed./ Your warmth is both astonishing and welcomed./ Love & Happy Birthday/ Marilyn."
6 by 4 inches
Estimate: $3,000 - $4,000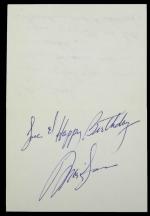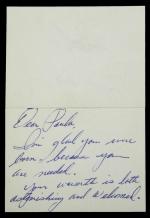 ---
Lot 254: MARILYN MONROE ACTORS STUDIO NOTES
Two sheets of paper from a small spiral-bound planner dated April 3 and 4 as well as a sheet dated April 7 and 8. The pages contain notes in pencil in Monroe's hand reading, for April 3, "Remember - the actors concentration is the only thing between him and suiside [sic]/ try not to come to the scene too late - (exploration - sensory process Home work - after on stage - carry it on (on stage)"; April 4, "Everybody want to be happy (to be good actors) to make money (in my case) and look how miserable we make one another"; April 7, "Nothing can get through tension - what ever you might want to do/ the effort is the only thing the human being (the actor) has between himself and God knows what!"; and April 8, "Just do tecnical [sic] exercises as fully as I can."
3 1/2 by 2 1/2 inches
Estimate: $4,000 - $6,000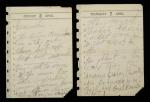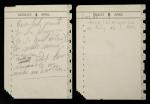 ---
Lot 255: MARILYN MONROE NOTEBOOK WITH NOTES FROM ACTING CLASS
A black board notebook with red spine containing lined notebook paper with notes in Monroe's hand. A very large letter "M" is drawn inside the front and back covers. There are multiple notes written in another hand on the first page of the book, but the next page contains notes in Monroe's hand in pencil with ideas for a "Street Car Scene" reading in part, "begin with ? (1st grade happening Mexican boy accuses me of hurting him - having to stay after school it was nite [sic] outside - have place - concern because of Stan K. accusations plus - getting dress for Mitch trying to look nice especially since what Stan K. has said." The note also suggests she hum "Whispering while you hover near me," which is a song standard found in her notebook of standards in the following lot, only the lyric is "Whispering while you cuddle near me." The front and back of the last page of the book contain notes from acting class, including "during exercise - lee said let the body hang"; "2 exercises at one time/ cold & Touch/ one might not be enough for what's needed"; and "sense of oneself/ first thing a child (human being) is aware of (making a circle) touching ones foot knowing himself is separate from the rest of the world," among others.
8 by 6 1/4 inches
Estimate: $4,000 - $6,000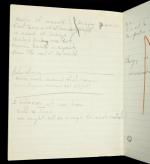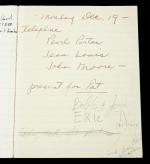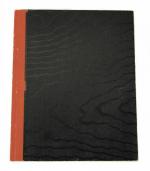 ---
Lot 256: MARILYN MONROE SONGBOOK
A three-ring binder, in black laminated board, both front and back covers detached but present. The binder contains more than 369 indexed pages of song standards with front table of contents page dividing them into broad categories: "Standard Foxtrots and Show Tunes," "Latin American Tunes" and "Foreign Songs." One page has a pencil notation beneath the song "You Do Something To Me" by Cole Porter; the writing is quite small and difficult to identify the hand. It is from this book that certain three-digit numbers mentioned in some of Monroe's notebooks were thought to have originated, like the numbers 262 and 263 in Lot 192.
11 1/4 by 10 inches
Estimate: $400 - $600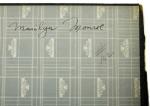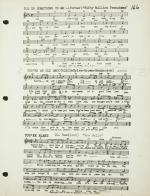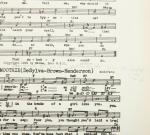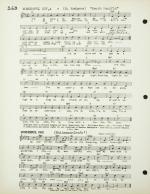 ---
Lot 258: MARILYN MONROE LETTER FROM EDWARD R. MURROW
A single-page typed, signed letter dated November 7, 1955, on Edward R. Murrow's personal stationery addressed to Marilyn Monroe in care of Mr. Green in Weston, Connecticut. The letter was sent in advance of Monroe receiving a complimentary copy of Columbia Records album compilation excerpts from some of Sir Winston Churchill's speeches. The letter is signed "As ever yours, Ed/ Hope you like it!" Together with original transmittal envelope with CBS Radio stamp, postmarked November 7, 1955.
10 1/2 by 7 1/4 inches
Estimate: $300 - $500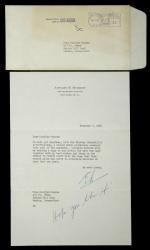 ---
Lot 260: MARILYN MONROE HANDWRITTEN LINES FROM A SCENE
Two lined notebook pages with block letter "MMM" printed to left margin. The pages contain most of the dialogue from Act I, Scene 4, delivered by the character Lorna in Clifford Odets' 1937 play Golden Boy. The second page contains the same lines written out twice and traced over multiple times, likely part of Monroe's process of trying to memorize the lines for a scene performed in one of her Actors Studio classes.
12 3/8 by 8 inches
Estimate: $2,000 - $3,000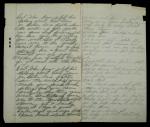 ---
Lot 263: MARILYN MONROE BUS STOP SIDES AND NOTES
A group of 16 pages containing some of Monroe's lines from the film Bus Stop. Five of these pages have the lead in to Monroe's lines added in red ink in another hand, likely Paula Strasberg. Together with a single half page entirely filled with notes in Monroe's hand in pencil and red ink. The notes read in part, "Waking up - scene/ Headache/ tiredness - headache / go to sleep/ I don't want to be here" and "first scene with Vera/ I tell it as a/ told as a fairy tale/ Once upon a time."
5 1/2 by 8 1/2 inches
Estimate: $10,000 - $20,000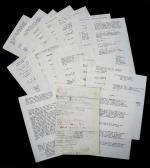 ---
Lot 264: MARILYN MONROE ANNOTATED BUS STOP SCRIPT SIDES
A small bound group of 31 mimeographed half pages containing Monroe's dialogue for the film Bus Stop. Ten of the pages contain notes in Monroe's hand in pencil. Additional notes in the hand of Paula Strasberg and an administrative hand. A note in Monroe's hand on the first page next to lines about her character Cherie wanting to be respected and tired of being "pawed at and pinched at" reads "Fight with manager/ A.M. H. Cohn middle of dinner party" clearly references incidents Monroe wished to draw upon from her life in the scene. Another note in Monroe's hand written beneath the line "Oh - it's you!" reads "(Good God it's you)."
5 1/2 by 9 1/2 inches
Estimate: $10,000 - $20,000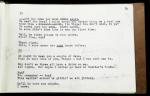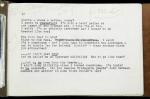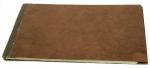 ---
Lot 265: MARILYN MONROE ANNOTATED BUS STOP SCRIPT SIDES
A group of seven half sheets of paper, held together with a straight pin, containing some of Monroe's lines from the film Bus Stop. Six of the seven pages contain notes in Monroe's hand. This is the first film Monroe made after beginning to study at the Actors Studio in New York City with Lee Strasberg, and the notations in these script sides demonstrate her method. Some of the notes are sense memories, like the following notation written after the line "I can't look": "Effective memory (use Lester - hurt on lawn)," most likely referencing Monroe's childhood playmate Lester Bolender, who was in the same foster home with Monroe. Another note adds "(almost to myself)" before a line to inform her delivery or "Scarfe [sic] around my arms) Embarrassed."
5 1/2 by 8 1/2 inches
Estimate: $10,000 - $20,000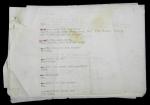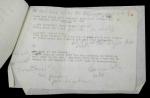 ---
Lot 300: MARILYN MONROE LIST OF APPROVED DIRECTORS
A single piece of hotel stationery paper from The Towers of the Waldorf Astoria in New York City containing a list of directors' names titled "OK List" in another hand with pencil notations in Monroe's hand throughout. Monroe's comments are simple, in some cases listing other works by the director, like "(Bus Stop)" next to Josh Logan's name and "(Musical)" next to "Vincent Minnelli." Jean Renoir is crossed out with a bubble reading "subject to material." A note at the bottom of the page reads "submit other names/ open for suggestions other than these."
10 1/2 by 7 1/4 inches
Estimate: $3,000 - $5,000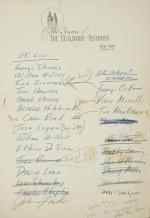 ---
Lot 301: MARILYN MONROE SAG CARD AND RECEIPT
A Screen Actors Guild membership card for the period beginning May 1, 1959, and ending November 1, 1959. "Marilyn Monroe" is typed onto front of card as well as her membership number. Together with Monroe's carbon copy receipt for payment of $80 on May 11, 1959, listing her home address as 444 East 57th Street, New York City.
Card, 2 1/2 by 3 1/2 inches
Estimate: $3,000 - $5,000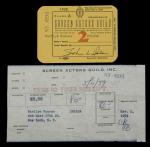 ---
Lot 302: MARILYN MONROE AFTRA CARD AND RECEIPT
An American Federation of Television and Radio Artists membership card for the period ending November 1, 1958, with typed "Marilyn Monroe" on front, unsigned on back. Together with the receipt dated May 23, 1958, for payment of the dues for period ending November 1, 1958, in the amount of $38, which included overdue payment and penalty. Monroe's address is listed as 444 East 57th St. New York on the receipt for payment.
Card, 2 1/2 by 3 1/2 inches
Estimate: $2,500 - $3,500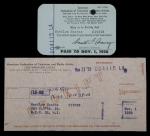 ---
Lot 308: MARILYN MONROE NOTES ON ACTING
A single sheet of lined yellow paper with notes in blue ink, in Monroe's hand, reading in part, "keeping all of the changes of pantomime & grimaces etc inside, then it forces the eyes - it all comes through the eyes" and "Constantly practicing that letting go/ in which you don't do in life which isn't necessary or something/ feeling how it feels and practicing that/ your spirit speaks."
12 1/2 by 8 inches
Estimate: $3,000 - $5,000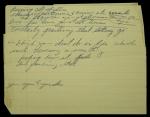 ---
Lot 313: MARILYN MONROE MOTION PICTURE ACADEMY CARD AND CORRESPONDENCE
A series of letters, the first on Academy of Motion Picture Arts and Sciences (AMPAS) letterhead signed by then president George Stevens, dated October 28, 1958, inviting Monroe to become a member of the Academy. The second letter is an unsigned file copy of Monroe's response dated January 12, 1959, reading in part, "I have been indisposed and away and did not see your letter until now." She asks for further details regarding the by-laws. The next letter on AMPAS letterhead is signed by then executive director Margaret Herrick, dated January 19, 1959, accompanied a copy of the Academy by-laws. The last letter, on AMPAS letterhead, signed by Stevens, dated March 5, 1959, welcomes Monroe to the Academy and is accompanied by Monroe's Academy membership card for the year 1959 on the original card, still in the holder in which it was sent.
Largest, 8 1/2 by 11 inches
Estimate: $8,000 - $12,000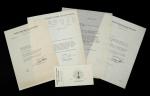 ---
Lot 368: LAURENCE OLIVIER LETTER TO MARILYN MONROE
A seven-page autograph letter on four leaves of paper in the hand of Sir Laurence Olivier on blue stationery with Olivier's Lowndes Cottage address and original envelope addressed "For Miss Marilyn Monroe from L.O." in Olivier's hand. There are numbered notations throughout the letter in red wax pencil, underlining words that were difficult to make out. The letter is together with a three-page typed transcription of the letter with corresponding numbered blanks for each of the difficult words, which have been filled in by hand. The letter is dated simply June 9, and it accompanied the latest version of the script for The Prince and the Showgirl. Olivier discusses Monroe's dialogue and that he has "written some extra dialogue and a direction or two." He reports on where they are in the script writing process and that they have cut the script down from "well over 3 hours" to 2 1/2, to 2 hours 10 minutes. He continues about the scenes that were and were not cut, including "The Duke of Strelitz is, I think essential, as otherwise they will be saying 'what's the matter with them - why the heck can't they get married' particularly in view of Grace Kelly and all that, and our only answer to that question must be 'Yes but Look at the poor Windsors' do you see?"
On an amusing note, Olivier mentions, "By the way Lady Maidenhead has degenerated to Lady Swingdale because I am assured the Hayes Office will not believe there is also a place in England of that name." He closes "I just called up Vivien at the theatre ... and she said to be sure to give you her love. So here it is and mine too. Longing to welcome you here. Ever, Larry."
Largest, 8 1/2 by 11 inches
Estimate: $1,800 - $2,200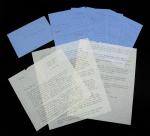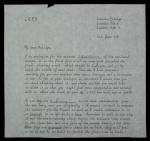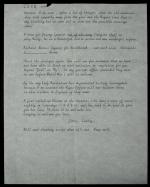 ---
Lot 369: ARTHUR MILLER LETTER TO MARILYN MONROE
A single piece of lined yellow paper, torn in half, with an autograph letter in Miller's hand addressed "Dear Poke." The letter outlines Miller's thoughts about the script for The Prince and the Showgirl as well as his feelings about Monroe taking on the project, reading in part, "Some of your dialogue is stiff. Also some expressions are too British. If you want me to, I can go through the script and make the changes - - in New York./ I think the part - on one reading, is really the Best one ... especially with you playing it. You are the one who makes everything change, you are the driving force ... The basic problem is to define for yourself the degree of the girl's naivete. (It could become too cute, or simply too designing.) It seems to me, at least, that they have not balanced things in Olivier's favor. ... It ought to be fun to do after Bus Stop. From your - (and my) - viewpoint, it will help in a small but important way to establish your ability to play characters of intelligence and cultivation. ... Your loving Papa - (who has to rush now to make the plane - see you soon! - free!) - Art." The back of the page has the name Sydney Guilaroff, famed MGM hairdresser, and his phone number written large in red wax pencil.
8 1/2 by 11 inches
Estimate: $2,000 - $3,000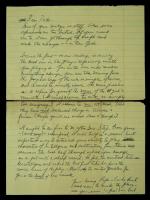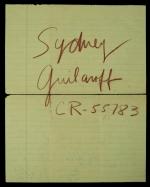 ---
Lot 370: LAURENCE OLIVIER LETTER TO MARILYN MONROE
A single-page autograph letter on personal stationery, undated, from Laurence Olivier to Monroe reading in part, "Dear Marilyn/ It was so sweet of you to send the enchanting wires. … I am extremely excited at our prospects - You were so angelic in New York. Thank you for all your sweetness/ I think with great joy of our future meeting./ Ever, Larry."
6 7/8 by 5 1/8 inches
Estimate: $800 - $1,200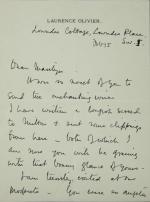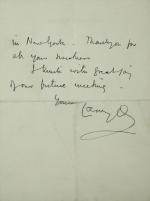 ---
Lot 371: LAURENCE OLIVIER FLORAL ARRANGEMENT CARD TO MARILYN MONROE
A simple plain white card with autograph message to Monroe in the hand of Sir Laurence Olivier reading "Marilyn, It has been so lovely meeting you, knowing you and now knowing that such exciting things and such fun are ahead. Love and Thank You, Larry."
2 1/4 by 3 1/4 inches
Estimate: $300 - $500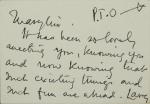 ---
Lot 378: MARILYN MONROE ROYAL FILM PERFORMANCE LETTERS
A group of documents regarding Monroe's attendance to the Royal Film Performance at the Empire Theatre held October 29, 1956. This is where Monroe was formally presented to Her Majesty, Queen Elizabeth II. The first document, two pages, is dated October 2, 1956, and contains general information about the proceedings and rehearsals for the evening with time schedules. The second document is addressed to Monroe at Parkside House in Surrey, England, and advises Monroe that she is to be included in the presentation to Her Majesty, The Queen. This single-page letter has a small slip of paper stapled to the upper left reading "Dress/ Full Evening Dress/ No decorations/ No gloves for Gentlemen/ White gloves for Ladies." Together with Monroe's presentation card.
Largest, 8 1/2 by 11 inches
Estimate: $400 - $600
---
Lot 381: MINUTES FROM A MEETING WITH MARILYN MONROE
Two small unlined pages from a six-ring binder, with typed notes from a meeting held April 3, 1958, at 2:30 pm at Monroe's 444 East 57th Street apartment. The notes list attendees as Lew Wasserman, Mort Viner, Marilyn Monroe and Arthur Miller. Among the topics discussed were how to handle Monroe's stalling of Billy Wilder regarding accepting the assignment for Some Like It Hot, one note reading "MCA on the Coast has told Wilder that there are 'legal technicalities holding up her decision' so as not to offend Wilder. Actually, she is waiting for Sinatra to enter the picture. She still doesn't like Curtis but Wasserman doesn't know anybody else."
6 by 3 1/2 inches
Estimate: $300 - $500

---
Lot 412: MARILYN MONROE ANNOTATED SOME LIKE IT HOT SCRIPT SIDES
Two half sheets of paper with green and black typed text containing some of Monroe's lines from the film with notations in Monroe's hand. One notation above the line mentioning the most wonderful dream reads "100 Cary Grants." Above the line of dialogue reading "He was the first nice guy I ever met in my life and the only one who ever gave me anything," Monroe has written simply "Jake."
5 1/2 by 8 1/2 inches
Estimate: $3,500 - $4,500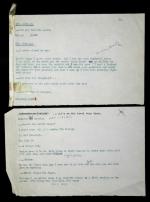 ---
Lot 413: MARILYN MONROE SOME LIKE IT HOT SCRIPT PAGES
A red paperbound folio containing seven typed pages for Monroe's scene with Tony Curtis in Some Like It Hot on the yacht. The pages are clean with the exception of two pencil lines drawn next to two of Monroe's lines.
9 by 11 1/2 inches
Estimate: $2,000 - $3,000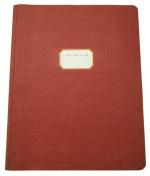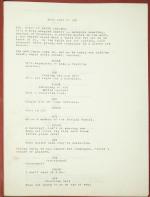 ---
Lot 414: MARILYN MONROE SOME LIKE IT HOT PRODUCTION PAPERS
A group of production documents including a call sheet for the film Some like It Hot dated November 7, 1958, with additional "Last Day" written in red pencil indicating that it was the last day of shooting. Together with a two-page yellow staff sheet for the film and a three-page cast sheet listing contact information for the entire cast, including Marilyn Monroe's secretary May Reis.
8 1/2 by 11 inches
Estimate: $400 - $600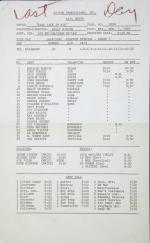 ---
Lot 415: MARILYN MONROE SOME LIKE IT HOT MEAL RECEIPTS
A large group of 32 meal receipts from the MGM Studios cafe dated between September 5 November 10, 1958, with itemized listings of the food and beverages Monroe ordered while filming Some Like It Hot at the studio. Some receipts have delivery notations "to Stage 3" and "to dressing room." On one receipt dated September 25, 1958, the order includes two hamburger steaks, "1 well done/ 1 rare/ 2 cottage and fruit salads/ 1 ice coffee/ 1 milk/ well done lunch send on stage 3/ rare lunch send to dressing room." Some of the receipts indicate that meals were for others, including "Lunch for Miss Reis - Lunch for Maid." All but one receipt is dated, and frequently ordered items include ice cream, double sirloin, ham and cheese, pot of coffee, lox and cream cheese, donuts, pie a la mode, meatloaf, pastrami, Danish, and many other items.
Largest, 7 3/4 by 4 1/4 inches
Estimate: $500 - $700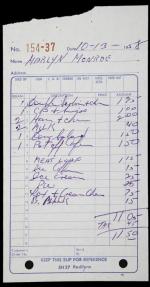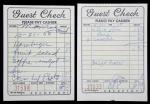 ---
Lot 417: MARILYN MONROE SOME LIKE IT HOT PRESS RELEASES
A group of three press releases, five pages total, from United Artists Corp. dated March 24, April 6, and June 16, 1959, announcing record box office numbers as well as an extended run in theaters. Together with a five-page cast list and synopsis with cover page sent out for press purposes.
8 1/2 by 11 inches
Estimate: $200 - $300

---
Lot 418: MARILYN MONROE RESPONSE TO TONY CURTIS QUOTATION
A small piece of paper with note in pencil in Monroe's hand reading "There is only one way he could comment on my sexuality, and I'm afraid he has never had the opportunity!" This comment has been reported to be in response to the now famous glib remark made by Tony Curtis in a screening room during production of Some Like It Hot , where he famously said that kissing Monroe was "like kissing Hitler." Curtis said this in a private setting to crew and other people present during production, including Paula Strasberg. Despite the fact that he denied the comment when it got back to Monroe, later in his life he did reportedly admit to saying it.
5 by 8 inches
Estimate: $2,000 - $3,000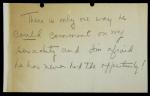 ---
Lot 426: MARILYN MONROE TRADE ADS
Two pages torn from the March 9, 1960, issues of The Hollywood Reporter and Variety featuring an appreciative "Love and Kisses/ Marilyn Monroe" message from Monroe in appreciation of winning the Best Actress in a Comedy or Musical Golden Globe award.
12 1/4 by 9 1/4 inches
Estimate: $200 - $300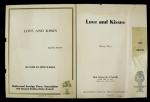 ---
Lot 432: MARILYN MONROE AFTRA CARD AND RECEIPTS
An American Federation of Television and Radio Artists membership card for the period ending November 1, 1959, still attached to the larger receipt for payment card. The card is unsigned, and Monroe's address is listed as 444 East 57th St. New York. The receipt portion of the card is for a payment in the amount of $23 dated June 15, 1959. Together with a receipt dated December 1, 1958, for payment of dues in the amount of $16.
Largest, 4 by 9 inches
Estimate: $3,000 - $5,000

---
Lot 435: MARILYN MONROE RECEIPT FOR CECIL BEATON PHOTOGRAPH
A shop receipt from Peter A. July & Son photographers of fine arts in New York City in the amount of $165.44. The receipt is dated January 19, 1960, and is written in the name of Mrs. Marilyn Monroe of The Beverly Hills Hotel for 24 matte copies of "Beaton Photos" plus United Parcel Air Service delivery. It has been widely reported that Cecil Beaton's portrait of Monroe was her favorite portrait of herself and that she kept copies on hand to sign for people.
8 1/2 by 5 3/4 inches
Estimate: $200 - $300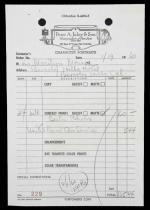 ---
Lot 436: MARILYN MONROE INVOICE FROM CECIL BEATON
A "Copy Invoice" in the amount of 37.16 British pounds dated August 2, 1957, on a single sheet of Cecil Beaton's stationery. The receipt is written in the name of Marilyn Monroe Productions Inc. and is billing work that occurred in November 1956 listed as, "Photographs supplied for Miss Marilyn Monroe:- 12 prints No. 109 8" X 10" mounted." It has been widely reported that Beaton's portrait of Monroe was her favorite portrait of herself and that she kept copies on hand to give to people.
8 by 6 inches
Estimate: $300 - $500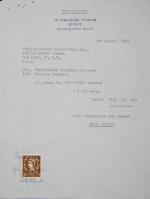 ---
Lot 437: MARILYN MONROE LETTERS FROM FAMOUS PHOTOGRAPHERS
Two letters and two telegrams from photographers with whom Monroe had famous collaborations: a single-page autograph letter on personalized stationery dated October 28, 1959, from Philippe Halsman commenting on the famous LIFE magazine cover, saying "It could have been printed better, you could have been better centered - but nevertheless it is the most charming and unusual cover LIFE has had in years. Everybody loves it."; a two-page typed, signed letter from Cecil Beaton dated May 9, 1956 regarding a shoot and other catching up; a telegram from Richard Avedon dated July 9, 1958, regarding the photos from one of their recent shoots needing to be re-shot; and a telegram from Avedon dated simply July 10 regarding working on a television show.
Largest, 10 by 8 inches
Estimate: $400 - $600

---
Lot 439: MARILYN MONROE CORRESPONDENCE WITH PORTRAIT ARTIST
Two typed and signed letters from artist Jon Whitcomb to Monroe regarding his original painting of Monroe used for the March of 1959, cover of Cosmopolitan magazine, the first dated June 22, 1959, reading in part, " Cosmopolitan has returned the painting of your cover which was on the March issue. I haven't forgotten that I promised it to you; so if you still want it, how do I make delivery?" The second dated October 6, 1959, proposes a plan to drop off the painting at Monroe's building. Together with a typed, unsigned file copy of a response from Monroe dated September 24, 1959, reading in part, "Please forgive the long delay in answering, but I have been up to my derriere in preparations for two movies for the near future; public-relations, home-relations -- please understand./ I would love to have the picture from you and I repeat 'at last to be a Whitcomb girl!"
8 1/2 by 11 inches
Estimate: $300 - $500

---
Lot 440: MARILYN MONROE ACTING EXERCISE AND NOTES
A single sheet of lined yellow paper with dialogue written out in pencil in Monroe's hand: "Where did he go? He told you I know he did/ If you'd only have given me a little longer - He was in love with me - we'd have been married you didn't want me to have him from the beginning/ you wouldn't let me wear those pretty things/ Even when I told you about the doll - you/ sent those people around/ He died! But he said/ he came back - Tell/ Me - tell me -." The front and back of the page is then covered with small performance notes, including "The thought focus on partner not on word then let go of word"; "don't do with words & voice"; "Let go everything elastic keep the pick up lay on the horse"; and "to be as relaxed let go of mouth speech thought," among many others.
12 1/2 by 8 inches
Estimate: $6,000 - $8,000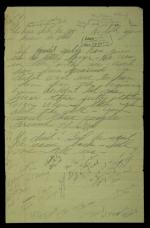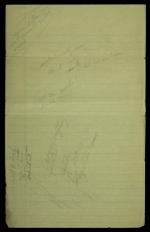 ---
Lot 441: MARILYN MONROE BREAKFAST AT TIFFANY'S SCRIPT AND REPORT
A clean copy of the screenplay for Breakfast at Tiffany's written by George Axelrod and dated July 9, 1959. Monroe was considering the part, and she sought the opinions of her professional team including the Strasbergs, her husband, and management team. The script is accompanied by a single-page, typed "report" dated September 23, 1959, which also has the name "Parone" typed to the left of the date. Literary luminary Edward Parone was at the time running Monroe's production company and most likely is the one who wrote this single-page, scathing review of the script, leading with the simple sentence, "I think not." It goes on to criticize the screenplay, determining, "I can see Marilyn playing a part like Holly and even giving this present one all the elan it badly needs, but I don't feel she should play it: it lacks insight and warmth and reality and importance." It has been long reported that Monroe declined the part upon the advice of Lee Strasberg, but this document provides further evidence that other people in her inner circle advised her not to take the role. Together with a four-page shooting schedule for November 4, 1960, for the film.
Largest, 14 by 8 1/2 inches
Estimate: $1,500 - $2,500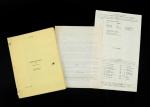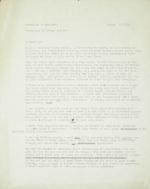 ---
Lot 442: MARILYN MONROE ACTORS STUDIO NOTEBOOK
A small six-ring binder containing lined notebook pages in a black and red vinyl case by National. The small notebook contains 10 pages of notes in Monroe's hand, in pencil, on eight leaves of paper. The notes were taken during a class with Lee Strasberg and record bits and pieces of things that "Lee said," as is repeated on many pages, which include "For yourself not for us - or one doesn't use own sensitivity/ girl crying continuously Lee said - There should be a certain pleasure in This, in acting - we don't stop these things - she stoped [sic] crying only at those times"; "problems-all the more to be solved got to keep swimming/ criticism can be taken - to incite the will not self criticism"; "the actor has to do what the character has to do - let the author worry about his words"; "Life of - reality of champagne (you don't open every bottle the same) actor in scene took for granted (girl is going to be good (New). Boy - said lines no effort - like crossing street - Lee said he wants - Behavior - When someone is trying to make someone (love etc.) how does one go about it/ Lee said - girl simplicity good honesty, to begin (New) with - but..." The last notes are taken on two sides of one leaf of paper and read "My heart Belongs To Daddy Number/ Remember always left -" and "While tearing off/ caddy-move head a little/ Daddy R. shoulder up/ call dog in closer"; clearly, these notes are for Monroe's musical number in Let's Make Love (20th Century Fox, 1960). The notes correlate with the lyrics of the song, and indeed Monroe does move her head a little during the first verse that mentions the caddy, and she does raise her right shoulder up the first time she says "Daddy" in the chorus.
5 1/4 by 4 inches
Estimate: $20,000 - $30,000

---
Lot 445: MARILYN MONROE RECEIPTS FOR 34TH BIRTHDAY CELEBRATION
A receipt from Gill's Old Fashioned Ice Cream, dated June 1, 1960, for 100 ice cream treats, together with a receipt from Paper Unlimited, Inc. for forks, spoons, napkins, plates and a tablecloth, dated May 24, 1960. Both receipts are addressed to Hazel Washington, Monroe's studio maid at Twentieth Century Fox. Monroe celebrated her 34th birthday on the set during filming of Let's Make Love .
Estimate: $400 - $600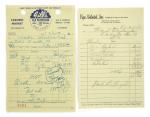 ---
Lot 446: MARILYN MONROE TAXI RECEIPT
A receipt from the Yellow Cab Company dated February 4, 1960, in the amount of $1.50. The cab lists a trip from simply "904" to "20th Century," presumably 20th Century Fox, where Monroe had already begun filming the 1960 release Let's Make Love .
Estimate: $150 - $250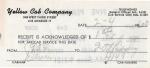 ---
Lot 447: MARILYN MONROE PAYMENT MEMOS
A group of five pages of documents concerning the deduction of money from one of Monroe's payments from Fox Studios for her work on Let's Make Love . The first letter, dated February 16, 1960, from Mort Viner at MCA is addressed to Monroe's secretary, May Reis, explaining that Sydney Guilaroff wanted more money than Fox was willing to pay him for his services in styling Monroe's hair in Let's Make Love and that "Marilyn had asked me to have Fox pay it by deducting it from her checks as she didn't want Sidney [sic] to know. " Accompanied by a two-page letter from Monroe's law firm concerning the deduction, a check stub, and an invoice explaining the payment and deductions.
Largest, 8 1/2 by 11 inches
Estimate: $200 - $300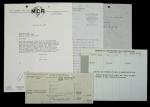 ---
Lot 451: MARILYN MONROE ACTING NOTES ON ENVELOPE
An unpostmarked envelope addressed to Monroe at 2 Sutton Place South in New York City from the Radio and Television Executives Society Inc. The back of the envelope has a linear thought written in Monroe's hand in pencil reading "I somehow am seeing with my body also and when I am truly listening/ What is the matter with my voice - Maybe just let the voice come out of my body however it does under certain circumstances." The thought continues on the front of the envelope "… and in - what ever the given situation." The remainder of the notes are more frenetic, reading in part, "Strassberg [sic] says we remember with our senses - Not brain or mind (remember with Body" and "Tell Hohenberg about the period during when I stopped secreatly [sic] play acting so fully/ it was the time I got my first job acting at 20." The notes covering the envelope, overlapping and intertwining, were likely taken during an acting class and demonstrate the unbridled energy Monroe felt toward her study of acting.
4 by 9 1/2 inches
Estimate: $4,000 - $6,000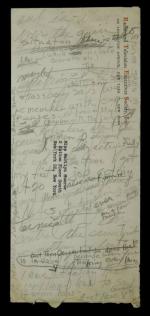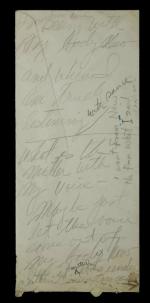 ---
Lot 483: MARILYN MONROE RECEIVED LETTERS FROM DESIGNERS
Two unsolicited letters from designers who wished to work with Monroe. The first, dated February 26, 1958, from Tony Savini, gives his background and qualifications and explains that he has completed a number of original gowns and dresses expressly for Monroe and would like to offer them to her free of charge. The letter is accompanied by an original watercolor and ink on paper design sketch. Together with a letter dated February 4, 1962, from Paul Zastupnevich, a designer who had credits to his name with Fox Studios. He expresses his interest in designing for Monroe and includes a clipping of Rhonda Fleming wearing one of his gowns.
Largest, 8 1/2 by 11 inches
Estimate: $100 - $150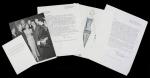 ---
Lot 508: MARILYN MONROE ANNOTATED THE MISFITS SCRIPT SIDES
Two half sheets of paper containing some of Monroe's lines from the film The Misfits with notations in pencil, in Monroe's hand. One of the half pages is dated October 6, 1960, and it has lines from the climax of the film when Rosalyn, played by Monroe, pleads with Gay, played by Clark Gable, not to kill the horses. The notes include "almost in wonder to myself/ you liar all of you liars/ to perce/ Christ/ whisper" in reference to parts of her line reading "You're only living when you can watch something die Kill everything that's all you want why don't you just kill yourselves and be happy (to Gay) you with your God's country freedom." Another notation has the word "shiver" inserted before the line "I pity you all." Another emotional line written in the script as "How much do you want for them I'll pay you I'll give you two hundred dollars Is that enough" has a number of alternatives written in Monroe's hand, including "I'll give you money" or I'll give "you anything anything" or "you want my blood I don't need it anymore take my blood." The pages are accompanied by eight additional full script pages featuring the dialogue that leads up to Rosalyn's pleading with Gay not to kill the horses, beginning with the close shot of the mare stepping into the noose with her forefeet. These notes are a window into Monroe's process in creating one of the most emotionally painful and poignant scenes of her career.
Half sheets, 5 1/2 by 8 1/2 inches
Estimate: $6,000 - $8,000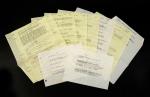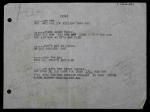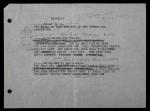 ---
Lot 511: MARILYN MONROE NOTES ON HER MISFITS CHARACTER
A piece of plain paper with holes punched along left edge with notes in red ink in Paula Strasberg's hand reading "searching and yearning/ standing alone/ mood - I'm free - but freedom leaves emptiness./ Rosylin [sic] - flower opens bees buzz around/ R is quiet - the others buzz around." This provides an insightful look at how Strasberg helped Monroe to build her character in The Misfits.
9 1/2 by 6 inches
Estimate: $200 - $300

---
Lot 512: MARILYN MONROE RECEIVED LETTER FROM DOROTHY JEAKINS
A typed letter signed by costume designer Dorothy Jeakins dated May 3, 1960, and addressed, "Dear Marilyn," and reading in part, "Although I really feel I should be replaced--I will continue with your clothes for "The Misfits" because they are under way and nearly ready to fit./ If you like them, I will see them through to completion. If you are disappointed, someone else can then take over./ I am sorry I have displeased you. I feel quite defeated--like a misfit, in fact. But I must, above everything, continue to work (and live) in terms of my own honesty, pride and good taste." The letter is accompanied by an unsigned file copy of a letter from Jeakins to Mr. C.O. Erickson stating, " ... [C]ircumstances make it clear to me that I am unsuitable for this assignment and perhaps should be replaced. ... [U]nder these circumstances, I intend to accept no remuneration for my work and prefer to be omitted from the credits also. ... "
8 1/2 by 11 inches
Estimate: $500 - $700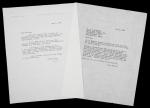 ---
Lot 517: MARILYN MONROE FAMOUS ARTISTS SCHOOL CORRESPONDENCE
A group of documents regarding Monroe's enrollment in the Famous Artists School of Westport, Connecticut, a distance learning program designed to further students' fine art skills. The first letter, dated October 24, 1958, from the school's director, acknowledges Monroe's communication with "Jon Whitcomb who tells me you are quite interested in painting. He also tells me that you would like too [sic] take the Famous Artists Painting Course. At Jon's request we are making you a scholarship student but I am at a loss as to where to forward the textbooks since, as I understand it, you will be in Hollywood for sometime before returning to New York City." The next letter is an unsigned file copy of Monroe's response requesting the books be sent to 444 East 57th Street. Also included are a series of follow-up letters, six pages total, welcoming Monroe to the program, explaining the logistics of how the program works with critiques conducted via mail, and a full list of instructors. Also included are a blank Student Information Record and "Rate Yourself Progress Chart" forms with accompanying letters and a postage-paid envelope. The documents clearly demonstrate Monroe's interest in painting and the fact that she sought formal instruction.
Largest, 8 1/2 by 11 inches
Estimate: $600 - $800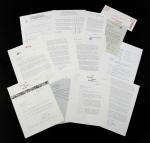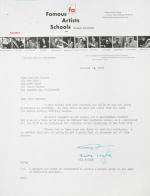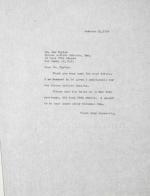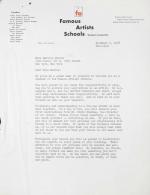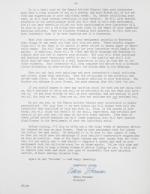 ---
Lot 575: MARILYN MONROE AFTRA CARD
An American Federation of Television and Radio Artists membership card for the period ending November 1, 1962, with handwritten "Marilyn Monroe" on front, unsigned on back. Because the membership to AFTRA was renewed bi-annually this is Monroe's last membership card for the organization.
2 1/2 by 3 1/2 inches
Estimate: $4,000 - $6,000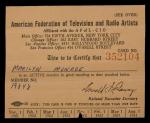 ---
Lot 576: MARILYN MONROE'S LAST SAG CARD AND RECEIPT
A Screen Actors Guild membership card for the period beginning May 1, 1962, and ending November 1, 1962. "Marilyn Monroe" is typed onto front of card as well as her membership number. Together with Monroe's carbon copy receipt for payment of $125 on May 22, 1962, listing her address as "P.O. Box 64721, Los Angeles 64, Calif."
Card, 2 1/2 by 3 1/2 inches
Estimate: $4,000 - $6,000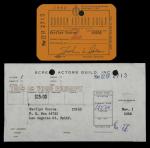 ---
Lot 577: MARILYN MONROE NOTATIONS ON TELEGRAM
A Western Union telegram from Nunnally Johnson dated April 16, 1962, a week before production was to begin on Something's Got To Give. Johnson was one of the screenwriters on that film and sent the telegram care of producer Henry Weinstein, misspelled "Wernstein." The telegram from Johnson reads "In Revised script you are child of nature so you can misbehave as much as you please love - Nunnally." Monroe has quickly written a note in pencil for reply reading "Where is that script - is the child of nature due on the set - Hurry Love & Kisses M.M." "Love and Kisses" is repeated, and additional illegible notations have been crossed out. The lighthearted response foreshadowed what was to come with Monroe frequently not reporting to the set as she was scheduled to appear, leading Fox Studios to fire her from the production.
5 1/2 by 8 inches
Estimate: $1,500 - $2,500

---
Lot 578: MARILYN MONROE SOMETHING'S GOT TO GIVE SCRIPT AND PAGES USED ON SET
20th Century Fox, 1962, mimeographed screenplay by Nunnally Johnson, 149 pages, blue cover dated March 29, 1962 reading "Final Confidential For Planning Purposes Only." The script contains two paper-clipped inserts, memos from the production addressed "To All Secretaries," the first dated April 23 and the second dated April 27, 1962, each accompanying blue revised pages 91 and 92 for the script. The script, marked final, also dated March 29, 1962, contains notations in Monroe's hand throughout in pencil and green ink on 18 pages. Some of the notations are from Monroe's work with a Swedish dialect coach.
In addition to these notations, two typed pages of Monroe's dialogue are bound between pages 107 and 108 of the mimeographed script. These two pages contain Monroe's dialogue from one of the few scenes captured on film, with her extensive pencil notations. Raw footage of Monroe performing with Tippy the cocker spaniel and the children in this scene exists, and Monroe's notations are evident in the footage. The top of the page reads "Real Thought/ Mental Relaxation/ substitute children - B & J if necessary/ feeling - place the pain where it is not in the brow." B & J likely refers to Arthur Miller's children Bobby and Jane. Another notation next to one of Monroe's lines of dialogue reads simply "Mona Lisa," which does in fact mirror the expression she uses when delivering this line. Even the exaggerated "Ahhhhh---" that Monroe does at the beginning of each take in the raw footage is written on the page in her hand, reading in full, "Ahhh--Look for the light."
The notations throughout the script also include notes in an unidentified hand criticizing certain points of the story, including "Too Harsh," "Naggy," "Dull" and many other comments. Overall, the notations in both the script and on the dialogue pages used by Monroe to film the scene with the children and Tippy the dog tell the story of a tedious script writing and editing process. Her dialogue notations are a revealing window into her process in performing some of the last scenes she ever recorded on film.
Estimate: $15,000 - $20,000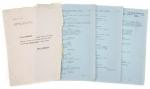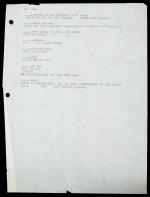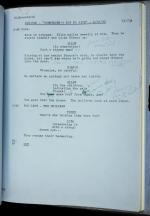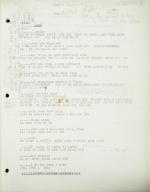 ---
Lot 580: MARILYN MONROE NOTES ON SOMETHING'S GOT TO GIVE SCRIPT
A Millers Falls EZERASE pad of typewriter paper with prepunched three-ring binder holes. The cover is detached but present, and the pad contains four pages of notes, two now detached, in Monroe's hand in pencil outlining her issues with the script for the film. The notes and criticisms include "logical drama but doesn't move on the screen/ leads him on than [sic] said not until"; "instead using the talents/ he's stuck/ imagine being married to MM and she comes back and he is stuck/ he'd dying to go Bed with her but can't because"; "more entertaining/ keep it on an edge/ if it isn't that kind of picture it won't go -/ only if script is acceptable." Then come Monroe's suggestions for a scene with check marks next to the ideas: "When Dean first see's Ellen -me- in nurses uniform - (as nurse) he could say - upon arrival - slouching 'I don't feel so good nurse (weakening in the knees how could she do this to me/ I am telling her/ Beanka kind of stiffening up to hold him & the situation (the nite [sic] before) together he then pulls up but Dean will do this superbly/ He sings little song when drunk & frustrated." She also lists specific passages: "Page 73 (yes? - No? you understand Dean!)/ Page 76 children scene (in comparison to rewrite)." A small note on the last page of notes reads "Funny line writers Herb Gardner / Mel Brook [sic]."
These notes present a very astute Monroe who clearly had serious concerns with the quality of the script, demonstrating that her refusal to appear on set was grounded in these concerns and not simply the actions of a petulant star.
8 1/2 by 11 inches
Estimate: $5,000 - $7,000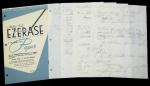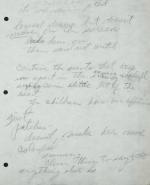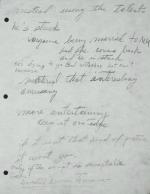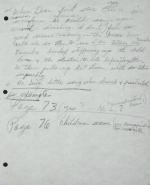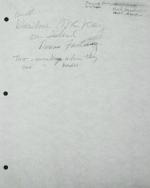 ---
Lot 581: MARILYN MONROE WORKING SCRIPT FOR SOMETHING'S GOT TO GIVE
A 149-page screenplay for Something's Got To Give by Nunnally Johnson dated March 29, 1962, in blue paper wrappers, marked final. There are notations in Monroe's hand in pencil on approximately 42 pages in the script, some simple dialogue corrections and other more in-depth sense memory notes for her to remember when doing the scene to evoke the right emotional frame of mind. A simple note on the back of the last page of the script reads "Joke writers/ Mel Brooks/ Herb Gardner/ Need spice/ raisins/ Need some funny lines." In a notation next to the stage direction for her character's anticipation and excitement about calling home after she has been rescued, she writes of Arthur Miller's children, "Bobby M./ and early Janie/ except their [sic] mine." In the scene where she is kissing her husband again and excuses herself to "get fixed up a little," she writes, "[L]et me get into something more comfortable/ leading him on -" and "[I]n other room throwing out piece of clothing" and below she writes "[L]ike F.S. when ingaged [sic]." Over an entire passage of dialogue she makes a stage direction note to herself that reads "Ellen looking speculative champain [sic] glass/ finger going around rim." In another scene she writes, "Have the Mask - face relaxed" and "shaking head when he leaves room sly smile/ fat on the fire/ he's on the grittle [sic]." She continues with the fat sizzling on the griddle metaphor, later writing next to a line that jabs at Nick, "Nicely/ He frys on grittle [sic]/ butter melting/ then it sputter/ him."
Notes on the last page of the screenplay read "Act only in beginning/ Then tempting him/ then act when nurse/ on balcony at hotel/ speculative looks/ always tempting him/ always saying yes/ but N/ I've only been away 5 min./ her point of view." Together with a small card with call times and scenes to be shot and a small scrap of paper with quickly written note in Monroe's hand wondering why they are jumping to shoot indoors when they could shoot in sequence as well as notes about using Miss vs. Mrs.
11 1/2 by 9 1/2 inches
Estimate: $15,000 - $20,000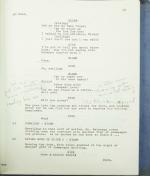 ---
Lot 820: MARILYN MONROE TWENTIETH CENTURY EMPLOYEE STARTING CARD
A Marilyn Monroe Twentieth Century Fox Employee starting card dated May 11, 1950. The card rate line lists Monroe's weekly salary as $500 a week but notes that she was laid off after working 40 out of 52 weeks. This marked the end of Monroe's work on the film All About Eve (20th Century, 1950) and her return to stock pool for the studio.
4 by 6 inches
Estimate: $600 - $800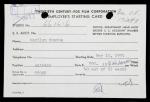 ---
Lot 823: MARILYN MONROE SIGNED ADVERTISING RELEASE
A Marilyn Monroe signed advertising release with Twentieth Century Fox and The House of Westmore for cosmetic advertising. The contract is dated July 3, 1952. Monroe was featured in a number of Westmore ads in the mid-1950s that also advertised her Twentieth Century Fox films.
13 1/2 by 8 1/2 inches
Estimate: $4,000 - $6,000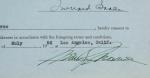 ---
Lot 875: MARILYN MONROE MISCELLANEOUS PAPER ARCHIVE ITEMS
A collection of Marilyn Monroe envelopes, messages and notes, including a florist's enclosure card with envelope addressed to Monroe and a message that reads "To make up for the ones you didn't recall receiving at the hospital. Please stay well so we won't go through this again" and signed by Arthur O'Connell - Virgil Blessing." Virgil Blessing is the name of O'Connell's character in the film Bus Stop (20th Century, 1956). Also included are five handwritten notes in an unknown hand that reference Clifton Webb, Lew Wasserman and "Paula"; two hotel phone messages for "Monroe"; four envelopes, two addressed to Monroe; and one blank Colonial Trust Company check.
Sizes vary
PROVENANCE Partial Lots 748, 794 and 968, "Icons & Idols: Hollywood," Julien's, Beverly Hills, December 6, 2014
From the lost archive of Marilyn Monroe
Estimate: $400 - $600

---
Lot 836: MARILYN MONROE ANNOTATED GENTLEMEN PREFER BLONDES SCRIPT
A script for Gentlemen Prefer Blondes (20th Century, 1953) used and annotated by Marilyn Monroe. The incomplete script totals 68 pages and has notations from Monroe on approximately 22 pages. The first page, dated November 26, 1952, reads "Gentlemen Prefer Blondes"/ (Revised Final Script……13 Nov. 1952)/ To all Secretaries:/ Please place these/ Additional Pages at the back of your script of the above date./ This Is Important!" Film production began on November 17, 1952. Monroe's notations include revisions to the text, in pencil, "Oh he wasn't barking that was Swahili," and direction, in blue ink, "sense the feeling with the body." The name of Monroe's character, Lorelei, has been circled in pencil on a number of the pages. The script is contained in a black plastic folder.
9 1/2 by 11 1/2 inches
PROVENANCE Lot 160, "Film and Entertainment," Christie's New York, Sale number 1681, June 22, 2006
Estimate: $50,000 - $60,000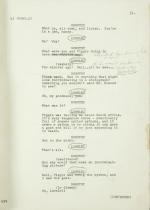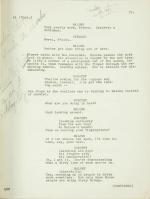 ---
Lot 915: MARILYN MONROE LETTER FROM PERSON TO PERSON
A typed, signed letter written to Marilyn Monroe by Jesse Zousmer of the television program Person to Person (CBS, 1953-1961). The letter, dated June 25, 1959, is written on Person to Person stationery. In the letter, Zousmer thanks Monroe for her appearance on the television program and announces his departure from the show. A check mark has been written across the letter in an unknown hand. The letter is accompanied by a page from Variety. The headline of the page reads "Thank You from 'Person to Person' " with a list of the program's guests from 1953 to 1959.
10 1/2 by 7 1/2 inches
Estimate: $300 - $500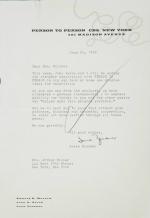 ---
Lot 918: MARILYN MONROE INTERVIEW TRANSCRIPT
A 32-page transcript of an interview with Marilyn Monroe by Georges Belmont. Accompanied by nine pages of thoughts about Marilyn Monroe written by Arthur Miller. The information was sent to Jack Hamilton at LOOK magazine by Lois Weber, with cover letter from Weber and an undated memo response from Hamilton returning the information to Weber. Accompanied by two newspaper clippings, one from 1956 and one from after Monroe's death in 1962.
11 by 8 1/2 inches
PROVENANCE From the Estate of Lois Weber
Estimate: $800 - $1,200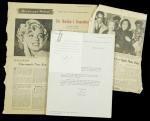 ---
Lot 858: MARILYN MONROE THERE'S NO BUSINESS LIKE SHOW BUSINESS PROP PROGRAM
A prop program from There's No Business Like Show Business (20th Century, 1954). The front of the blue, white and red program reads "Actors Benefit Fund/ Greatest Stars of Stage & Screen/ Hippodrome/ Sixth Avenue 43rd – 44th" in gold metallic ink. An extra holds the program in a scene backstage just before Ethel Merman and Marilyn Monroe have a heart to heart in their dressing room. The program contains repeating nonsense ads in black and white.
11 by 8 1/2 inches
Estimate: $2,000 - $3,000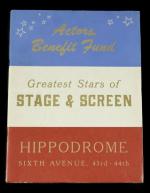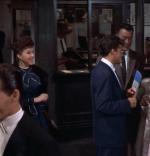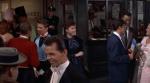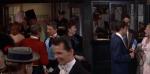 ---
Lot 970: MARILYN MONROE SIGNED GIFT TO WILFRID HYDE-WHITE
An original artwork given to Wilfrid Hyde-White on the set of Let's Make Love (20th Century, 1960) and signed by the film's cast and crew including Marilyn Monroe, Yves Montand, Arthur Miller, George Cukor, Tony Randall, Allan "Whitey" Snyder, Marjorie Plecher, Paula Strasberg, David Bretherton, David Burns, and Ray Foster, among many others. The ink on paper artwork was created by the art department for the film and given to Hyde-White as a going-away present. The image shows Hyde-White waiting at a cab stand. A billboard in the background reads "Let's Make Love/ Cukor Co." and titled at the top "Happy Show/ From the Kids." Housed in a frame; not examined outside of frame.
15 by 15 inches, framed
PROVENANCE From the Collection of Alex Hyde-White
Estimate: $20,000 - $30,000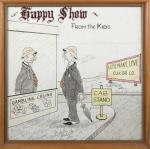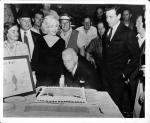 ---
Lot 979: MARILYN MONROE LETTER FROM HENRY WEINSTEIN
A typed, signed letter from producer Henry Weinstein on Twentieth Century Fox Film Corporation letterhead, addressed to Marilyn Monroe and dated February 5, 1962. The letter discusses preparations before the shooting of Something's Gotta Give, a film that was never finished due to Monroe's illnesses and untimely death.
10 1/2 by 7 1/4 inches
Estimate: $600 - $800

---
Documents papiers - Autographes / Fans
Papers documents - Autographs / Fans

---
Lot 212: MARILYN MONROE JACK DEMPSEY LETTER REQUESTING MARILYN MONROE'S AUTOGRAPH
A single-page autograph letter on recto and verso dated October 14, 1954, addressed "Dear Jerry," possibly Joe DiMaggio's Yankee teammate Jerry Coleman. The letter reads in part, "Have been reading a lot about Marilyn, Joe and yourself, here in the east. Best of luck to you and your family, and send Marilyn's autograph along." Signed "Sincerely Jack Dempsey."
8 by 6 inches
Estimate: $150 - $200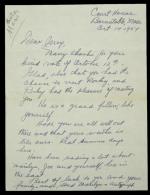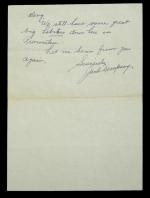 ---
Lot 259: MARILYN MONROE LETTER FROM JOHN STEINBECK
A secretarial typed and signed letter dated April 28, 1955, addressed to Monroe at the Waldorf Towers in New York. The letter is a charming and bashful request for an autograph, reading in part, "In my whole experience I have never known anyone to ask for an autograph for himself. It is always for a child or an ancient aunt, which gets very tiresome as you know better than I. It is therefore, with a certain nausea that I tell you that I have a nephew-in-law ... he has a foot in the door of puberty, but that is only one of his problems. You are the other. ... I know that you are not made of ether, but he doesn't. ... Would you send him, in my care, a picture of yourself, perhaps in pensive, girlish mood, inscribed to him by name and indicating that you are aware of his existence. He is already your slave. This would make him mine. If you will do this, I will send you a guest key to the ladies' entrance of Fort Knox."
8 1/2 by 11 inches
Estimate: $300 - $500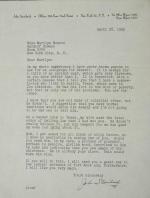 ---
Lot 708: MARILYN MONROE AND ARTHUR MILLER SIGNED MENU
A menu from the Gladstone Hotel where Marilyn Monroe lived briefly during the 1950s. The menu is signed on the cover in pencil "Marilyn Monroe" and "Arthur Miller." The inside back cover of the menu also contains a fashion design sketch of a woman in a form-fitting gown with vermicelli beading, in pencil in an unknown hand.
13 by 10 inches
PROVENANCE From the Estate of Frieda Hull
Estimate: $2,000 - $3,000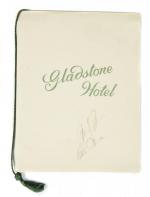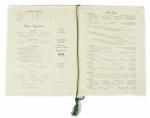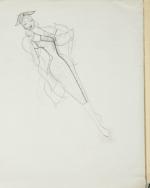 ---
Lot 775: SECRETARIAL LETTER ON MARILYN MONROE STATIONERY
A typed letter signed by one of Marilyn Monroe's secretaries dated July 1, 1959, with original transmittal envelope. Both letter and envelope are Monroe's custom stationery. Transmittal envelope is addressed to Miss Edith Pitts of Richmond Hill, New York, and is postmarked July 2, 1959. The letter thanks Pitts and Frieda Hull for their card and good wishes during Monroe's illness.
Letter, 9 by 6 inches
PROVENANCE From the Estate of Frieda Hull
Estimate: $200 - $300

---
Lot 816: MARILYN MONROE SIGNED INDEX CARD
A Marilyn Monroe signed and inscribed index card that reads "To Emily/ Best Wishes/ Marilyn Monroe." The message was written in green ballpoint ink, and a small magazine image of Monroe has been affixed to the index card. Housed in a frame with a black and white image of Monroe.
19 1/2 by 13 inches, framed
Estimate: $2,000 - $3,000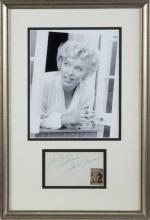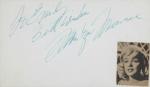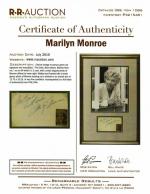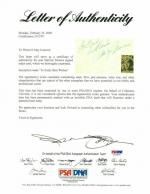 ---
Lot 829: MARILYN MONROE AND OTHERS FAN MAIL ENVELOPES
A group of five envelopes, addressed to Marilyn Monroe, Jane Simmons, Cornel Wilde, Edmond O'Brien, and Jeffrey Hunter. Mailed to each actor, at their respective studio by fans in Africa, Argentina and the Philippines. The legible postmarks date from 1954.
Largest, 5 by 6 inches
Estimate: $200 - $400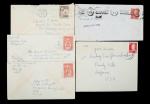 ---
Lot 830: MARILYN MONROE AND OTHERS FAN MAIL ENVELOPES
A group of four envelopes, addressed to Marilyn Monroe, Audrey Hepburn, Donna Reed, and Pat Crowley. Mailed to each actress at her respective studio by fans in Argentina and the Philippines. The legible postmarks date from 1954.
Largest, 3 1/2 by 6 1/2 inches
Estimate: $200 - $400

---
Lot 854: MARILYN MONROE, FRANK SINATRA AND OTHERS SIGNED ALBUM
An autograph album signed by Marilyn Monroe; Frank Sinatra; Bing Crosby; Ray Bolger; Maurice Chevalier; Hedda Hopper; Louella Parsons Herbert Hoover; Harry Truman; and Edward, Duke of Windsor, among others. The bound brown leather album belonged to Henry Tekkel, a maître d' at the Waldorf Astoria New York. Monroe, who lived at the hotel in the mid-1950s, has inscribed the book "Warmest Regards, Marilyn Monroe."
5 by 6 1/2 inches
Estimate: $1,000 - $2,000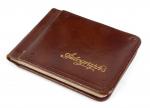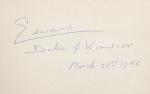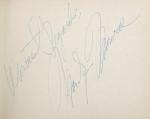 ---
Lot 864: MARILYN MONROE SIGNED BOOK
A copy of the Bement Centennial souvenir book titled "The Bement Story" and signed on the cover by Marilyn Monroe. Monroe visited Bement, Illinois, in August 1955 to celebrate the city's centennial.
11 by 8 1/2 inches
Estimate: $2,000 - $3,000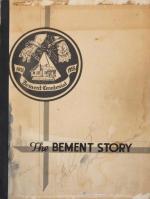 ---
Lot 906: MARILYN MONROE SIGNED METROPOLITAN OPERA PLAYBILL
A Marilyn Monroe signed Metropolitan Opera playbill from the 1958-1959 season. The 44-page playbill is signed on the cover in blue ink and is accompanied by a black and white image of Monroe signing a playbill. This is believed to have been signed on February 10, 1959, when Monroe and her husband Arthur Miller attended a performance of Macbeth.
6 1/2 by 9 inches
Estimate: $4,000 - $6,000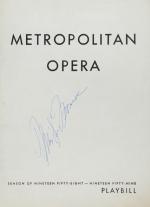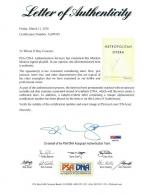 Enregistrer
Enregistrer
Enregistrer
Enregistrer
Enregistrer
19 octobre 2013
Marilyn Monroe, incognito, à l'Actors Studio, en mars 1956
Marilyn Monroe, incognito, at the Actors Studio in March 1956
(from 'Colliers' Magazine, 1956-March-16)

---
© All images are copyright and protected by their respective owners, assignees or others.
copyright text by GinieLand.
07 octobre 2013
Marilyn Monroe, probablement à l'Actors Studio, vers 1955
Marilyn Monroe, probably at the Actors Studio, circa 1955
---
© All images are copyright and protected by their respective owners, assignees or others.
copyright text by GinieLand.
25 avril 2013
C'est par l'intermédiaire de Ruppert Allan, chargé de la promotion de Marilyn, qu'eut lieu en 1960 la grande interview entre Marilyn Monroe et Georges Belmont. Ce dernier était alors rédacteur en chef de la revue Marie-Claire, qui publiera l'interview dans le numéro 72 d'octobre 1960. L'interview se déroula pendant le tournage du film Let's Make Love (Le milliardaire) qui connut un succès particulier en France en raison de l'interprétation d'Yves Montand.
Georges Belmont réussit bientôt à gagner la confiance de Marilyn. Il faut dire qu'il lui avait promis de mettre à sa disposition une transcription de l'interview et en outre de s'en tenir rigoureusement dans le texte écrit à la formulation orale de ses propos. La base était donc bonne. Tous ceux qui, par la suite, prirent connaissance de cet entretien, durent reconnaître avec étonnement qu'ils n'avaient jamais entendu Marilyn parler d'elle-même avec tant de naturel.
Voilà comment Georges Belmont dépeint l'ambiance : "Je la laissais parler. La seule pression dont j'usais était le silence. Quand elle s'arrêtait de parler, je ne disais rien et, au bout du silence, quand elle n'en pouvait plus, ce qui venait alors était souvent capital et terriblement émouvant presque toujours."

Marilyn Monroe: J'aimerais mieux répondre à des questions. Je ne sais pas raconter, c'est terrible... par ou commencer? Comment? Il y a tant de ramifications...
Georges Belmont: Tout de même, il y a eu un commencement : votre enfance.

Marilyn Monroe: Même cela, personne n'en saurait rien, sans un pur hasard.
Longtemps, mon passé, ma vie sont restés totalement inconnus. Jamais je n'en parlais. Sans raison particulière. Simplement, je trouvais que c'etait mon affaire et pas celle des autres. Puis un jour, un M. Lester Cowan a voulu me mettre dans un film avec Groucho Marx, 'Love Happy'. J'avais déjà été sous contrat avec la Fox et la Columbia, à l'époque, mais saquée... C'était un petit rôle qu'il m'offrait, ce M. Cowan, mais il tenait à m'avoir sous contrat. Donc, il téléphone. J'etais encore très jeune et il me dit qu'il voulait parler à mon père et à ma mère. Je lui dis : "Impossible." - "Pourquoi?" insiste-t-il. Je lui ai expliqué alors brièvement la chose : "Je n'ai jamais vécu avec eux." C'était la vérité et je ne vois toujours pas ce que cela avait de sensationnel. Mais il téléphona à la chroniqueuse Louella Parsons et lui raconta toute l'histoire. Cela parut dans la "colonne" de Louella. C'est comme ça que tout a commencé. Depuis, on a débité tant de choses fausses que, mon Dieu, oui, pourquoi ne pas dire la vérité maintenant?

Georges Belmont: Quelles sont les premières images de vous, enfant, que vous gardiez?

Marilyn Monroe (long silence) : Mon premier souvenir?... C'est un souvenir de lutte pour la vie. J'etais toute petite... un bébé dans un petit lit, oui, et je luttais pour ma vie. Mais j'aimerais mieux ne pas en parler, si cela vous est égal : c'est une chose cruelle qui ne regarde que moi et personne d'autre, comme je disais. Ensuite, aussi loin que je remonte, je me revois dans une poussette, en longue robe blanche, sur le trottoir de la maison ou je vivais dans une famille qui n'était pas la mienne. C'est un fait que je suis une enfant naturelle. Mais tout ce que l'on a dit de mon père, ou de mes pères, est faux. Le premier mari de ma mère s'appellait Baker. Le second, Mortenson. Mais elle avait depuis longtemps divorcé d'avec les deux quand je suis née. On a raconté que mon père était norvégien, sans doute à cause du nom Mortenson, et qu'il était mort dans un accident de moto, peu après ma naissance. J'ignore si c'est vrai de Mortenson, n'ayant jamais eu de lien de parenté avec lui. Quant à l'indentité de mon vrai père, là encore, si vous le voulez bien, je vous prierai de ne pas m'interroger ; cela n'intéresse que moi. Cependant, il y a deux faits qui peuvent expliquer certaines... confusions. D'abord, on m'a toujours dit dans ma petite enfance que mon père s'était tué dans un accident d'automobile à New York, avant ma naissance. Ensuite, curieusement, mon bulletin de naissance porte, en réponse à une mention "Profession", le mot Baker, qui était le nom du premier mari de ma mère, mais qui veut dire aussi "boulanger". Quand je suis née, enfant naturelle ainsi que je l'ai dit, ma mère devait me donner un nom. Mon sentiment est que, forcée de penser vite, elle donna : "Baker". Pure coincidence, puis confusion de la part de l'officier d'état civil... C'est du moins ce que je pense.
Georges Belmont: Votre mère... J'ai lu quelque part que, pour vous, elle n'était que "la femme aux cheveux roux"?

Marilyn Monroe: Je n'ai jamais vécu avec ma mère. On a dit le contraire, mais cela seul est vrai. Aussi loin que je remonte dans mes souvenirs, j'ai toujours vécu en pension chez des gens. Ma mère avait des... troubles mentaux. Elle est morte maintenant. Mes grands-parents maternels sont morts tous les deux fous, enfermés. Ma mère, aussi, il fallut l'interner. Elle sortait parfois, et puis elle... rechutait. Alors, vous savez comme c'est... toute petite, je disais en montrant la première femme venue : "Oh! une maman!", et le premier homme : "Oh! un papa!". Mais un matin, je devais avoir trois ans, pas plus, on me baignait et je dis "maman" à la femme qui s'occupait de moi à l'époque. Elle me répondit : "Je ne suis pas ta maman. Appelle-moi 'tante'." - "Mais lui est mon papa?" dis-je ne montrant son mari. - "Non", me dit-elle. "Nous ne sommes pas tes parents. Celle qui vient te voir de temps en temps, la femme aux cheveux roux, celle-là est ta maman." Ce fut un choc d'apprendre cela, mais comme elle venait très rarement, c'est vrai que, pour moi, elle resta surtout "la femme aux cheveux roux". Tout de même, j'essayais qu'elle existait. Seulement, plus tard, quand on me mit dans un orphelinat, j'ai eu un autre choc. Je savais lire, alors. Quand j'ai lu "orphelinat" en lettres d'or sur fond noir, il a fallu me traîner, je hurlais : "Je ne suis pas une orpheline! J'ai une maman!" Mais par la suite, j'ai fini par penser : "Il faut croire qu'elle est morte..." Et, plus tard encore, des gens me disaient : "Ta mère, mieux vaut que tu l'oublies." - "Mais ou est-elle?" demandais-je. - "N'y pense plus, elle est morte." Après quoi, tout à coup, j'avais de ses nouvelles... Et il en fut ainsi pendant des annèes. Je la croyais morte et je le disais. Et elle vivait. Ce qui fait qu'on a prétendu que j'avais inventé qu'elle était morte, parce que je ne voulais pas avouer où elle était. Idiot!
En tout cas, j'ai eu... attendez que je compte... dix, non onze "familles". La première vivait dans une petite ville du comté de Los Angeles ; je suis née à Los Angeles. Il y avait avec moi un petit garçon que ces gens adoptèrent ensuite. Je suis restée avec eux jusqu'à l'âge de sept ans environ. Ils étaient affreusement sévères. Sans méchanceté. C'était leur religion. Ils m'élevèrent à leur manière, durement, en me corrigeant souvent comme on ne devrait jamais le faire, à mon avis: à coup de ceinturon de cuir. Finalement, cela se sut ; on me retira pour me confier à un couple anglais, à Hollywood. Ceux-là étaient des acteurs, des figurants plutôt, avec une fille de vingt et un ans qui était la doublure de Madeleine Carroll. Chez eux, c'était la vie sans souci, et assez tumultueuse. Cela me changeait de la première famille ou on ne pouvait même pas parler de cinéma ou d'acteurs, ni de danser ou de chanter, sauf des psaumes. Mes "nouveaux parents" travaillaient dur, quand ils travaillaient et jouissaient de la vie le reste du temps. Ils aimaient danser, chanter, boire, jouer aux cartes et avoir beaucoup d'amis. Avec l'éducation religieuse que j'avais reçue, j'étais terrifiée : je les voyais tous en enfer! Je passais des heures à prier pour eux. Je me rappelle une chose... au bout de quelques mois, je crois, ma mère acheta une petite maison où tout le monde alla vivre. Pas pour longtemps ; trois mois au plus. Cette fois encore, ma mère dut être... emmenée. Et même pendant ces trois mois, je la vis à peine. Bref, ce fut un grand changement. Après son départ, nous regagnâmes Hollywood. Ces anglais me gardèrent tant qu'il y eut de l'argent... l'argent de ma mère, de ses biens et d'une assurance qu'elle avait souscrite. C'est avec eux que j'ai fait la connaissance du cinéma. Je n'avais pas huit ans. Ils me déposaient devant une des grandes salles d'Hollywood, L'Egyptien ou le Grauman's Chinese tôt le matin. Toute seule, je regardais les singes en cage devant l'Egyptien, ou j'essayais de placer mes pieds dans les moulages de ceux des stars, à l'entrèe du Grauman's: mais je n'y arrivais jamais, j'avais de trop grands souliers... C'est drôle de penser que mes empreintes y sont, et que maintenant, d'autres petites filles font peut-être comme moi autrefois.
Ils me conduisaient donc là chaque samedi et dimanche. C'était repos pour eux et j'imagine qu'ils ne voulaient pas s'encombrer d'un enfant à la maison. D'ailleurs, cela valait probablement mieux pour moi.
J'attendais l'ouverture, je donnais mes dix cents et m'installais au premier rang. J'ai vu toutes sortes de films comme cela. Je me souviens de 'Cléôpatre', avec Claudette Colbert.
Je restais là, tard, séance après séance. J'étais censée rentrer avant la nuit. Mais comment pouvais-je savoir quand c'était la nuit?! Et puis, on était bien; et même si je ne pouvais rien acheter quand j'avais faim, je savais qu'on me garderait de quoi manger. Alors, je restais. J'avais mes stars préférées. Jean Harlow!... Mes cheveux étaient platines ;on m'appelait "Tête d'étoupe". Je détestais ça, je rêvais de cheveux blond doré... jusqu'à ce que je l'ai vue : si belle, et platine, comme moi!... Et Clark Gable! J'éspère qu'il ne m'en voudra pas si je dis que je voyais en lui mon père, je n'étais qu'une gamine, et, d'après Freud, il n'y a pas mal à cela, au contraire! Je rêvais que mon père lui ressemblait, ou même qu'il était mon père... ce qui me rappelle que c'est curieux, mais je n'ai jamais rêvé que personne fût ma mère... Ou en étais-je?!

Georges Belmont: Le couple anglais. Quand il n'y a plus eu d'argent...

Marilyn Monroe: Oui. On m'a mise à l'orphelinat. Oh! mais, attendez! Oh!... non! Quand ces anglais n'ont plus pu me garder, je suis allée vivre chez des gens à Hollywood. Des gens de la Nouvelle-Orléans. Je m'en souviens parce qu'ils prononçaient "New Orlinns".
Mais je n'y suis pas restée longtemps. Trois, quatre mois. Je me rappelle seulement que le mari était opérateur de cinéma et que, tout à coup, on m'a conduite à l'orphelinat. Je sais, certains prétendent que ce n'était pas un endroit si affreux. Mais je sais aussi que la maison a beaucoup changé ; peut-être est-ce moins sinistre à présent... bien que l'orphelinat le plus moderne du monde demeure un orphelinat, si l'on voit ce que je veux dire.
La nuit, quand les autres dormaient, je restais à la fenêtre du dortoir et je pleurais parce que, loin et haut par-dessus les toits, je voyais briller les lettres des studios R.K.O. et que ma mère y avait travaillé come monteuse. Des annèes après, en 1951, quand je tournais 'Clash by night' pour R.K.O., je suis montée là-haut pour essayer de voir l'orphelinat; mais il y avait de trop grands buildings. J'ai lu, je ne sais où, que nous n'étions pas plus que trois ou quatre par chambre dans cet orphelinat. C'est faux. J'étais dans un dortoir de vingt-cinq lits, dont on pouvait faire le tour si on le méritait, en remontant du lit n°1 au lit n°27, qu'on appelait le "lit d'honneur". Et du 27, si l'on était très sage, on pouvait espérer passer dans un autre dortoir avec moins de lits. J'y ai réussi une fois. Mais un matin, où j'étais en retard, je pense, et où je laçais mes chaussures, la surveillante me dit : "Descendez!" Je tentai de lui expliquer: "Mais il faut que j'attache mes souliers!" Elle me foudroya : "retour au lit n°27!".
Le lever était à 6 heures et nous devions faire certaines corvées avant d'aller à l'école. Nous avions chacune un lit, une chaise et une armoire. Tout cela devait être très propre, astiqué, à cause des inspections à l'improviste. J'ai nettoyé le dortoir pendant un temps. Tous les jours, bouger les lits, balayer, épousseter. Les salles de bain, c'était plus facile: moins de poussière, à cause du sol en ciment. J'ai travaillé également aux cuisines. Je lavais la vaisselle. Nous étions cent: je lavais donc cent assiettes et autant de cuillères et de fourchettes... pas de couteaux ni de verres; nous buvions dans les quarts. Seulement, à la cuisine, on gagnait des sous: cinq cents par mois et à cela, après qu'on vous retenait un cent pour l'école du dimanche. Bref, on se retrouvait avec un cent au bout du mois, s'il n'y avait que quatre dimanches; de quoi acheter peut-être un petit cadeau pour sa meilleure amie, à Noël, en économisant. Je ne peux pas dire que j'étais très heureuse. Je n'étais pas bien avec les surveillantes. Mais la directrice était très gentille. Je me souviens, qu'un jour, elle me fait appeller dans son bureau et me dit: "Vous avez une très jolie peau, mais un peu luisante. Nous allons y mettre un soupçon de poudre, pour voir." Je me sentais honorée d'être là. Elle avait un petit pékinois qu'on empêchait d'aller avec les enfants parce qu'il les mordrait, mais qui me fit des tas d'amitiés. Comme j'adorais déjà les chiens, imaginez!... J'étais si honorée, vraiment, que je marchais dans les airs.
Un peu plus tard, j'ai voulu m'évader avec d'autres camarades. Pour aller où ? Nous n'en avions pas la moindre idée. Le temps de traverser une grande pelouse, nous étions déjà rattrapées. Quand on me ramena, je suppliais: "Ne le dites pas à la directrice!" - parce que je la voyais encore me sourire en me tapotant le nez avec sa houpette, et parce qu'elle m'avait laissé caresser son petit chien.
Même maintenant, cela revient parfois, quand je suis trop nerveuse ou surexcitée. Une fois, j'avais un petit rôle, avec une scène où je devais gravir un escalier; j'ai oublié ce qui arriva, mais le metteur en scéne assistant se précipita vers moi en me criant des mots et j'en fus si bouleversée que, au moment de la reprise, impossible de dire la réplique! Rien qu'un affreux bafouillis. Sur quoi, le metteur en scène, furieux, se précipite à son tour et crie : "Tout de même, vous ne bégayez pas?" - "V-v-vous croyez ça?" lui ai-je dit. C'était horrible! Et ça l'est encore, quand je parle trop vite ou quand je dois faire un discours. Pénible!...
(Silence) Je voudrais qu'on en ait fini avec cette partie de ma vie...
(Silence) Je suis restée environ un an et demi dans cet orphelinat. Nous allions à l'école. C'est très mauvais pour les enfants d'une institution comme celle là, d'aller à l'école publique. Les autres nous montraient du doigt et serinaient : "Oh, v'là les orphelins!" Nous avions honte.
A l'école, j'aimais bien le chant et l'anglais. Je détestais le calcul ; je n'avais pas l'esprit à ça ; pendant les leçons, mes rêves s'envolaient par la fenêtre. Mais j'étais bonne en gymnastique et en sport. J'étais très grande. A l'orphelinat, le premier jour, on n'a pas voulu me croire quand j'ai dit mon âge: neuf ans. On m'en donnait quatorze. Je mesurais presque ma taille actuelle: 1m63. Mais j'étais très maigre jusqu'à onze ans, où les choses ont changé. Je n'étais plus à l'orphelinat, à cet âge. Je m'étais tellement plainte à ma tutrice qu'elle me sortit de là. C'était une vieille amie de ma mère. Grace McKee. Elle est morte il y a onze ans. A l'époque où elle était devenue ma tutrice, elle était chef monteuse chez Columbia. Puis on la renvoya et elle a épousé alors un homme de dix ans plus jeune qu'elle et père de trois enfants. Ils étaient très pauvres et, pour cela, ne pouvaient s'occuper de moi. En outre, je pense qu'elle estimait que son premier devoir allait à son mari et aux enfants de celui-ci, ce qui est normal. Néanmoins, elle était merveilleuse pour moi, à bien des égards. Sans elle, j'aurais pu me retrouver Dieu sait où, à l'Assistance Publique jusqu'à 18 ans.
A mon orphelinat, qui était privé, elle venait me voir et me sortait. Pas souvent, mais tout de même... cela me donnait du courage. Je n'avais que neuf ou dix ans, et elle me laissait jouer avec son rouge à lèvres ou me menait chez le coiffeur pour une ondulation... chose inouïe, d'abord parce que c'était interdit, et puis parce que j'avais les cheveux raides: alors vous imaginez ce que cela représentait! De plus, c'est elle qui me retira de l'orphelinat, après mes plaintes, ainsi que je l'ai dit. Naturellement, cela signifia d'autres "familles". Je me souviens d'une où je restais trois ou quatre semaines. Je m'en souviens à cause de la femme qui allait livrer des choses que son mari fabriquait. Elle m'emmenait avec elle, et oh! la voiture me rendait si malade!...
J'ignore si on les payait pour me garder. Je sais seulement que, après eux, j'ai tout le temps changé de maison. Certaines familles me prenaient à la fin d'un trimestre scolaire et en avaient assez, après les vacances; ou peut-être étais-ce l'arrangement. Par la suite, le comté de Los Angeles m'a prise en charge. C'était pire: je détestais ça. Même à l'orphelinat, quand j'allais à l'école, j'essayais toujours de ne pas avoir l'air d'une orpheline. Mais maintenant, une femme arrivait et disait: "Voyons, voyons... lève les pieds" et elle marquait: "Paire de chaussures". Puis: "A-t-elle un chandail ?" Ou encore: "Je crois que la pauvre fille aurait bien besoin de deux robes, une pour l'école, une pour le dimanche." Et les chandails étaient en coton et laids, les robes semblaient taillées dans de la toile de sac... Terrible! Et les chaussures! Je disais: "Je n'en veux pas!" Je m'arrangeais toujours pour me faire donner des robes, des robes de grandes personnes, qu'on recoupait à ma taille. Et la plupart du temps, j'avais des souliers de tennis: on en trouvait pour moins d'un dollar. Je devais être une drôle de fille, à cette époque. Très grande, comme je l'ai dit. Pas grimacière pour la nourriture. Mangeant de tout. Je le sais parce que, dans presque toute les familles, on disait que jamais on avait vu une enfant aussi peu difficile. Je sais aussi que j'étais très tranquille, avec les grandes personnes en tout cas. On m'appelait "la souris". Je parlais peu, sauf quand j'étais avec d'autres gosses. Alors je n'étais plus la même. Ils aimaient jouer avec moi. J'avais de l'invention; je disais: "On joue au divorce, au crime!" et eux me regardaient: "Mais où vas-tu prendre ça?".
J'étais probablement très différente des autres. Alors que les enfants refusent en général d'aller se coucher, jamais je ne rechignais. Au contraire, de moi-même je disais: "Je crois que je vais aller me coucher." J'aimais la solitude de ma chambre, et mon lit. J'aimais surtout me jouer le dernier film que j'avais vu. Debout sur mon lit, plus grande que jamais, je jouais tous les rôles, y compris ceux des hommes, et j'ajoutais des inventions de mon cru. J'adorais cela, tout comme jouer la comédie dans les fêtes scolaires.
Là, toujours à cause de ma taille, j'ai joué le roi une fois, et une autre fois le prince. J'ai eu une période heureuse, dans cette partie de ma jeunesse: celle où j'ai vécu chez "tante" Anna. C'était une vielle femme de soixante ou soixante-cinq ans, parente de Grace McKee. Elle m'aimait beaucoup et j'y étais très sensible. Elle me comprenait. Elle n'oubliait jamais qu'elle avait été jeune et ses merveilleuses histoires, tristes ou gaies, de ce temps passé, me fascinaient. Le soir, quand je faisais la vaisselle, j'étais si heureuse que je chantais ou sifflais par la fenêtre de la cuisine, et qu'elle disait: "Quel pinson! Je n'ai jamais rien entendu de pareil!". C'est vers la fin de cette période qu'on m'a mariée. Il y a peu de choses à dire de ce mariage. Grace McKee et son mari devaient partir pour la Virginie. A Los Angeles, ils touchaient vingt dollars du comté pour moi; si je partais avec eux, nous perdions cet argent. Comme ils n'étaient pas assez riches pour me faire vivre mais qu'ils m'aimaient bien, il fallait trouver un moyen de me "caser". En Californie, une jeune fille peut se marier à seize ans. On m'a donc donné le choix: ou entrer dans un Orphelinat d'Etat jusqu'à dix-huit ans ou me marier. J'avais presque seize ans; j'ai choisi le mariage.
Il s'appelait Dougherty, il avait vingt et un ans et travaillait dans une usine. Peu de temps après, ce fut la guerre. D'abord mobilisé comme moniteur d'éducation physique, il fut versé ensuite dans l'armée active, mais échoua finalement dans la marine marchande. Peu avant la fin de la guerre, j'allais à Las Vegas et obtins le divorce. J'avais vingt ans. Aujourd'hui, il est agent de police. J'ai travaillé en usine pendant la guerre. J'ai commencé par vérifier des parachutes, pour avions-cibles, pas pour hommes. Puis, je suis passée au "collage", comme on appelait ça... un enduit qu'on étalait sur ce qui servait à fabriquer les avions-cibles. C'était fastidieux et il y avait une mauvaise ambiance humaine. Les femmes parlaient surtout de l'emploi de leurs soirées et du prochain week-end. Je travaillais tout près de l'atelier de peinture au pistolet... rien que des hommes. Ils m'écrivaient des mots et s'arrêtaient de peindre, etc.
C'était si monotone que je travaillais vite, pour me débarrasser. Le résultat fut inattendu. On a dû trouver que j'abattais un travail formidable. Il y a eu une assemblée générale du personnel et le directeur m'a citée pour "bonne volonté exemplaire" et m'a remis une insigne en or et un bon du Trésor de vingt-cinq dollars. Les autres filles ont été folles de jalousie et m'ont mené la vie dure, après cela. Elles ricanaient et faisaient exprès de me bousculer quand j'allais remplir mon pot d'enduit; pour le renverser sur moi. Oh, j'ai souffert! Et puis, un jour, l'Armée de l'Air a voulu des photos de notre usine. Je revenais d'un congé, on m'appelle au bureau: "Où vous cachiez-vous?" Morte de peur, je réponds: "J'étais en permission régulière!"- ce qui était vrai. On me dit: "Là n'est pas la question. Voulez-vous poser pour des photos?" Bref, les photographes arrivèrent et prirent des photos. Ils en réclamèrent d'autres, hors de l'atelier. Moi, j'avais peur de m'attirer des ennuis si je quittais mon travail. J'ai refusé, j'ai dit: "Demandez la permission." Ils l'ont obtenue et j'ai passée plusieurs journées à poser ici, là, et à tenir des trucs, pousser des trucs, tirer des trucs...
Les photos étaient développées dans les laboratoires Eastman-Kodak. Et là, les gens ont demandé qui était le modèle et en ont parlé aux photographes; si bien que l'un d'eux - David Conover - est revenu me dire: "Vous devriez faire le modèle. Vous gagneriez facilement cinq dollars de l'heure." Cinq dollars de l'heure, alors que j'en gagnais vingt par semaine, pour dix heures de travail par jour, les pieds sur le ciment! Il y avait de quoi tenter la moins folle des filles.
Je m'y suis mise peu à peu. C'était la fin de la guerre. J'ai quitté l'usine. Je me suis présentée à une agence. J'ai eu du travail. Photos publicitaires. Calendriers... Pas celui qui a fait tant de bruit; nous y viendrons. D'autres, où j'étais brune, rousse, blonde. Et je gagnais vraiment cinq dollars de l'heure! De temps à autres, je pouvais réaliser un de mes rêves: me payer des leçons d'art dramatique... quand j'avais assez d'argent, car ça coûtait cher, dix dollars de l'heure! Je faisais la connaissance de gens très différents de ce que j'avais connus jusqu'alors. Des bons et des mauvais. Souvent, quand j'attendais un bus à un coin de rue, une voiture s'arrêtait et l'homme au volant me débitait une histoire: "Qu'est-ce que vous fabriquez là? Vous devriez être dans les films." Ensuite, il proposait de me ramener. Moi, je répondais toujours: "Non merci. J'aime mieux le bus." Mais tout de même, l'idée du cinéma cheminait dans ma tête. Une fois, je me souviens, j'ai accepté un rendez-vous dans un studio avec un homme rencontré de cette façon. Il devait être très persuasif. J'y suis allée. C'était un samedi et il n'y avait pas un chat dans ces studios. J'aurais dû me méfier, mais j'étais naïve à bien des points de vue. Bref, je trouve mon homme qui me conduit dans un bureau. Nous étions seuls. Il me tend un scénario en disant que je devrais faire l'affaire pour un rôle, mais qu'il faut voir. Sur quoi, il me demande de lire le rôle, tout en insistant pour que je relève ma robe et que je la garde comme ça. C'était en été et j'avais un maillot de bain sous ma robe. Mais comme il répétait: "Plus haut!" j'ai pris peur et, toute rouge, je me suis entêtée de mon côté: "Seulement si je garde mon chapeau!" C'était idiot, mais j'avais vraiment peur et j'étais déséspérée. Je devais être ridicule, assise là et cramponnée à mon chapeau. A la fin, il s'est mis en fureur, ce qui a achevé de me terrifier, je me suis sauvée et j'ai signalé l'affaire à l'agence. On a téléphoné aux studios, et ailleurs, pour essayer de le retrouver. Impossible. Il devait avoir un ami dans la place qui lui avait permis d'utiliser son bureau. L'incident me bouleversa à tel point que, pendant assez longtemps, je résolus de ne jamais être actrice. C'est une dure époque de ma vie. Je déménageais tout le temps, d'un meublé à l'autre. L'hôtel était trop cher.
Et puis le hasard a fait qu'on m'a vue sur la couverture de cinq magasines différents le même mois et la Fox a téléphoné. Je me suis retrouvée sur un banc de bois avec des gens de tout âge et de toutes dimensions qui attendaient comme moi. On a attendu lontemps avant que Ben Lyon, qui dirigeait le recrutement, sorte de son bureau. A peine sorti, il a dit en me montrant du doigt : "Qui est-ce?" Je portais une petite robe blanche en piqué que "Tante" Anna - j'étais revenue vivre chez elle quelque temps - avait lavée et repassée à toute vitesse; tout cela était arrivé si rapidement que je n'aurais jamais pu préparer la robe et me préparer en même temps; "Tante" Anna m'avait dit: "Je m'occupe de la robe. Occupe-toi de tes cheveux et de ton maquillage."
Je me sentais plutôt défaite aprés cette longue attente. Mais Lyon fut très gentil. Il me dit qu'il me trouvait si fraîche, si jeune, etc... Il dit même : "vous êtes la première que je découvre depuis Jean Harlow." Jean Harlow, entre nous, est ma préférée d'autrefois!
Le lendemain, bien qu'il eût fallu normalement le consentement du Président directeur général ou de je ne sais qui, Lyon me glissa dans une série de bouts d'essais en technicolor et, presque aussitôt, la Fox me signa un contrat. Un contrat de star, pour un an!
En pure perte d'ailleurs. Je n'ai jamais su pourquoi, jamais compris. Ils engageaient des tas de filles et de garçons et les laissaient tomber sans leur accorder une seule chance. Ce fut mon cas. Mise à la porte, j'essayai de voir M. Zanuck. Impossible. Chaque fois, on me répondait qu'il était à Sun Valley. Semaine après semaine je revins à l'assaut : "Navré", me disait-on. "Il est occupé, il est à Sun Valley." J'imagine, il y est encore... bien que je l'ai revu, quand la Fox me reprit sous contrat, après 'Asphalt Jungle'. Il me dit: "Vous avez déjà été ici apparemment ?" - "C'est vrai." - "Que voulez vous, la roue tourne!" et il enchaîna en déclarant que j'avais "quelque-chose", une qualité à trois dimensions qui lui rappelait Jean Harlow; ce qui fut très intéressant puisque ça avait été l'avis de Ben Lyon. Je dois beaucoup à Ben Lyon, il fut le premier à me donner confiance. Je lui doit aussi mon nom actuel. Un jour où nous cherchions pour moi un nom de cinéma, car je ne voulais pas garder celui d'un homme qui n'était pas mon père, j'insistai pour prendre celui du nom de jeune fille de ma mère: Monroe. Je tenais à conserver du moins une forme de lien avec mes parents. Il accepta Monroe, mais ce fut lui qui trouva Marilyn, parce que, dit-il, après Jean Harlow, l'actrice à laquelle je ressemblais le plus était Marilyn Miller, la fameuse vedette des comédies musicales de Broadway. Etrange, quand on y pense que me voilà devenue Marilyn Miller pour l'état civil!
Mais enfin, pour en revenir à notre histoire, j'étais donc sans rien. Saquée par la Fox, saquée par la Columbia un peu plus tard, quoique différemment. La Columbia m'avait du moins donné un rôle dans 'Ladies of the Chorus'. Un film affreux! Je jouais une danseuse de burlesque dont un type de Boston tombe amoureux. Horrible! Mais ce n'était pas la raison de mon départ. Le vrai motif tient à des circonstances plutôt étranges et, mettons, déplaisantes. Je n'en dirai pas plus, si ce n'est que... la vie est pleine de leçons. Je ne voyais pas d'issue. J'étais revenue aux jours les plus durs. J'habitais au Hollywood Studio Club. J'y étais très malheureuse: cela me rappelait l'orphelinat. J'avais des dettes et j'étais très en retard pour mon loyer. Au Club, on vous accorde une semaine de retard et, après, vous recevez un petit mot: "Vous êtes la seule à ne pas apporter votre soutien à notre merveilleuse institution.", etc. Et vous comprenez! Tant que vous vivez là, vous mangez deux fois par jour, petit déjeuner et dîner. Ce n'est pas toujours très bon, mais cela nourrit. Et vous avez un toit et un lit. Sans cela, où aller? Pas de famille. Rien. Personne. Et j'avais faim. Je sais, des gens me disaient: "Pourquoi ne pas chercher un job de vendeuse, quelque part ?" Oui, pourquoi pas ? Une fois j'ai essayé, dans un drugstore: on n'a pas voulu de moi parce que je n'avais pas terminé mes etudes de lycée. Et puis, comment dire ?... ce n'était pas la même chose. J'avais été modèle et surtout je voulais devenir une actrice et il me semblait que, si je retombais, ce serait sans retour. On a raconté beaucoup de fables à propos du fameux calendrier. A l'époque où l'on a découvert la chose, j'avais déjà fait 'Asphalt Jungle' et j'étais de nouveau sous contrat avec la Fox, pour sept ans cette fois. J'entends encore la voix de celui qui m'appela au téléphone, des bureaux de la Publicité: "C'est vrai que vous avez posé pour un calendrier?" - "Bien sûr", dis-je. "Cela vous ennuie?" puis j'ai compris à quel point ils étaient bouleversés, car la voix reprit : "Eh bien, même si c'est vrai, dites que non." - "Mais j'ai signé l'autorisation de vente! Comment voulez-vous que je mente?" Et, si contrariés qu'ils fussent, je dis la vérité. Mais quand les journalistes me demandèrent pourquoi et que je repondi: "J'avais faim", on crut à un bon mot.
Ceux qui me connaissent bien savent que j'ai beaucoup de mal à mentir. Cela m'a coûté assez cher dans la vie. Il m'arrive de passer délibérement des choses sous silence, pour me protéger ou protéger les autres - qui n'a pas envie ou besoin de se protéger? - mais je ne mens jamais. J'avais faim et j'avais quatre semaines de loyer en retard; je cherchais déséspérémment de l'argent. Telle est la vérité. Je me suis rappelée que j'avais posé pour les publicités de bière avec le photographe Tom Kelley, et que sa femme, Nathalie, avait suggéré que je devrais poser sans vêtements, en ajoutant qu'il n'y avait rien de mal à cela et que c'était bien payé: cinquante dollars, la somme dont j'avais besoin. Alors, comme ils avaient toujours été très gentils pour moi, j'ai téléphoné. J'ai commencé par dire à Tom: "Etes-vous sûr qu'on ne me reconnaîtra pas ?" Il l'a promis. Puis j'ai demandé si Nathalie serait là. "Oui." - Mais ça devra être de nuit", ai-je insisté. "Après que vos assistants seront partis. Vous devrez vous debrouillez tout seul avec Nathalie pour les éclairages." Il a dit oui. Je suis venue. Ils se montrèrent d'une compréhension extrêmes; ils me sentaient suffisamment bouleversée. Ils ont étalé un velour rouge. Ce fut vite fait, très simple, et plein de courants d'air. Mais je pus payer le loyer et manger.
Les gens sont drôles. Ils vous posent de ces questions ! Et si vous êtes franches, ils sont choqués ! On me demande: "Qu'est-ce que vous mettez pour vous coucher ? Un haut de pijama ? Le bas ? Une chemise de nuit ?" Je reponds: "Une goutte de Chanel n°5", et l'on croit que c'est encore un bon mot, alors que j'essaie de répondre avec tact à une question grossière et indiscrète. Et puis, c'est vrai ! Mais on ne le croit pas !
Il fut un moment où je commençais à être... reconnue, disons, et où les gens n'arrivaient pas à imaginer ce que je faisais quand je n'étais pas sur le plateau, parce qu'on ne me voyait à aucune première, aucune représentation de presse, aucune réception. C'est simple: j'allais à l'école ! Je n'avais jamais pu finir mes études, alors j'allais à l'Université de Los Angeles. Le soir. Dans la journée, je gagnais ma vie avec des petits rôles dans les films. Je suivais des cours d'histoire de littérature et d'histoire de ce pays; je lisais beaucoup, de grands écrivains. C'était dur d'être à l'heure pour les cours. Je devais me dépêcher. Je quittais le studio à 6h30 et j'avais dû me lever très tôt pour être sur le plateau, prête, à 9 heures du matin. Souvent j'étais morte de fatigue; il m'arrivait même de m'endormir en classe. Mais je me forçais à rester droite et à écouter. J'avais pour voisin un jeune noir, studieux et brillant: il me donnait l'exemple et cela m'aidait à rester éveillée. Entre parenthéses, c'était un humble postier à l'époque; il est aujourd'hui directeur des postes à Los Angeles. Le professeur, Mme Seay, ne savait pas qui j'étais, bien qu'elle trouvât bizzare que des garçons des autres classes passaient parfois la tête à la porte, pendant les cours, pour me regarder en chuchotant. Un jour, elle se décida à interroger mes camarades, qui dirent: "Elle joue dans les films". Surprise, elle déclara: "Et moi qui la prenais pour une jeune fille fraîche émoulue du couvent!" C'est l'un des plus grands compliments qu'on m'ait jamais faits.
Mais les gens dont je parlais tout à l'heure, eux, préféraient voir en moi une starlette frivole, "sexy" et stupide. C'est comme ma réputation d'être toujours en retard. D'abord, tout le temps, non ! On se rappele seulement quand je le suis. Cela dit, je crois en effet que je ne peux pas aller aussi vite que les autres. Ils sautent en voiture, se rentrent dedans, sans répit... Je ne crois pas que nous soyons faits pour vivre comme des machines. D'ailleurs, c'est tellement inutile ! On travaille tellement mieux avec un peu plus de bon sens et de loisirs ! Au studio, si je dois me presser pour répéter ou pour me faire coiffer, maquiller, habiller, j'arrive épuisée sur le plateau. Pendant que nous tournions 'Let's make love', George Cukor, le metteur en scéne, a trouvé plus intelligent de me laisser un peu en retard mais plus fraîche. En tout ce que je fais, j'aime prendre mon temps. On se bouscule trop, de nos jours. C'est pourquoi les gens sont si nerveux et si malheureux en face de la vie et d'eux-mêmes. Comment peut-on faire parfaitement quoi que ce soit, dans ces conditions ? La perfection demande du temps.
J'aimerais devenir une grande actrice, une vraie, et être heureuse aussi parfaitement que possible. Mais qui est heureux ? Le bonheur ! Vouloir devenir une vraie actrice, tout cela demande beaucoup d'effort et de temps.

Georges Belmont: J'imagine que ce portrait de la Duse, au mur, n'est pas ici pour rien ?

Marilyn Monroe: Non. J'ai une grande tendresse pour elle. A cause de sa vie, comme femme et comme actrice. Comment dire ?... Elle n'a jamais fait de concession, dans un cas comme dans l'autre.
Personnellement, quand il m'arrive de réussir quelque chose dans mon métier, j'ai le sentiment de toucher à ce qu'on appelle le sommet du bonheur. Mais ce ne sont que des moments ! Je ne suis pas heureuse, comme ça, en général. Si je suis quelque chose, en général, ce serait plutôt misérable comme un chien ! Mes deux vies, professionelle et privée, me sont si personnelles, sont si étroitement liées, que je ne peux les séparer: l'une réagit constamment sur l'autre.
L'ennui dans mon cas, je pense, c'est que je voudrais tant être merveilleuse ! Je sais que cela fera rire certains, mais c'est vrai. Une fois, à New York, mon avocat me parlait d'histoires d'argent, en déployant une patience d'ange pour m'expliquer ça. A la fin je lui ai dit: "Je n'y comprend rien et je m'en moque. Je sais seulement que je voudrais être merveilleuse!". Dites cela à un homme de loi, il vous croira folle.
Il y a un livre du poète Rainer Maria Rilke qui m'a beaucoup aidée: 'Lettres à un jeune poète'. Sans lui, peut-être croirais-je par moments que je suis folle. Quand un artiste... je m'excuse, mais je considère que je suis presque une artiste, et là encore, on rira sans doute; c'est pourquoi je m'excuse... quand un artiste recherche à tout prix la vérité, il a parfois la sensation de frôler la folie. Mais ce n'est pas vraiment la folie. C'est seulement qu'on s'efforce de faire sortir ce qu'on a de plus vrai en soi-même; et croyez-moi, c'est dur. Il y a des jours où l'on se dit: "Sois vraie, c'est tout !", et ça ne sort pas. Et d'autres jours, c'est si simple !
J'ai toujours eu le sentiment secret de ne pas être absolument sincère. Tout le monde sent cela, de temps à autre, je suppose. Mais dans mon cas, cela va loin parfois... jusqu'à penser que, foncièrement, je ne suis qu'un monstre de fabrication. Lee Strasberg, le directeur de l'Actors Studio me répète souvent: "...Pourquoi es-tu si mécontente de toi-même ?" Et il ajoute: "Après tout, tu es un être humain !" Et moi je lui réponds: "Oui, mais j'ai l'impression que je dois être plus que cela." - "Non!" me dit-il alors. "C'est cela que tu essaies de faire en ce moment ?" - "Il faut bien que j'entre dans la peau du personnage, non ?!" Et il répète encore : "Non ! Tu es un être humain. Pars de toi-même !" La première fois qu'il m'a sorti cela, j'ai crié : "De MOI?" Et il a répondu : "Oui! De TOI !!".
Après Arthur, Lee est probablement celui qui a le plus changé ma vie. C'est pourquoi j'aime tant aller à l'Actors Studio. A New York, j'y vais régulièrement. Je n'ai qu'une envie: faire de mon mieux, toujours, à tout instant. Sur le plateau, dès que la caméra se déclenche, je veux être parfaite, aussi parfaite que possible, jusqu'au bout. Quand j'étais à l'usine, le samedi soir, j'allais au cinéma. C'était le seul moment où je pouvais me distraire, rire, être moi-même. Alors, si le film était mauvais, quelle déception ! Toute la semaine, j'avais attendu et travaillé dur pour me payer cela. Si les acteurs me paraissaient jouer par-dessous la jambe, je sortais déçue comme si l'on m'avait trahie. Que me resterait-il pendant toute une semaine ? C'est pourquoi, aujourd'hui, quand je travaille, je songe toujours à ceux qui travaillent aussi pour pouvoir aligner leur argent au guichet dans l'espoir de s'amuser. Ce que pensent les producteurs et le metteur en scéne, cela m'est assez égal: mais pas ce que penseront les gens en voyant le film. Un jour, j'ai essayé d'expliquer ça à M. Zanuck...
L'amour et le travail sont les seules choses vraies qui nous arrivent dans la vie. Ils font la paire; sinon, c'est boiteux. D'ailleurs, le travail même est une forme d'amour. A l'usine j'ai dit que je me dépêchais d'expédier mon travail parce que c'était fastidieux; mais je me rappelle que, malgré tout, je mettais un point d'honneur à le faire exactement, aussi parfaitement que possible. Et si je rêvais de l'amour, c'était aussi comme d'une chose qui doit être la plus parfaite possible. Quand j'ai épousé Joe DiMaggio, en 1954, il ne jouait déjà plus au base-ball, mais c'était un merveilleux athlète et un être d'une grande sensiblité. Fils d'immigrants italiens, il avait eu une jeunesse difficile. Nous nous comprenions donc assez bien. Ce fut la base de notre mariage. Mais je dis assez bien. Et pour cela ce fut un échec. C'était fini au bout de neuf mois, malheureusement. Je mets le même point d'honneur à mes sentiments qu'à mon travail. Peut-être est-ce pourquoi je suis impétueuse et exclusive. J'aime bien les gens. Et quand j'aime, je pousse l'exclusivité jusqu'à ne plus avoir qu'une seule idée en tête ! Surtout, j'ai envi d'être traitée humainement.
La première fois que j'ai vu Arthur Miller, c'était sur un plateau et je pleurais. Je jouais dans un film 'As young as you feel', et il passait dans les studios avec Elia Kazan. Je pleurais à cause d'une amie dont je venais d'apprendre la mort. On nous présenta. Je voyais tout dans un brouillard. C'était en 1951. Je restai quatre ans sans le revoir, après cela. Nous nous écrivions et il m'envoya une liste de livres à lire. Mais je me rappelle que, constamment, je songeais qu'il me verrait peut-être dans un film... on passerait deux films, ce soir là, et peut-être serais-je dans un et me verrait-il. Alors, quand je travaillais, je faisais encore plus de mon mieux... Je ne sais comment décrire cela. Je l'aimais, depuis le premier jour. Voilà, c'est tout. Jamais je n'oublierai qu'il dit, ce jour là, qu'à son avis, je devrais faire du théâtre et que les gens autour de nous, sur le plateau, rirent en l'entendant. Mais il répéta: "Non, non, c'est très sérieux." Et le ton, son attitude, les circonstances, firent que je sentis en lui un être profondément humain et sensible, et qui m'avait traitée comme une personne humaine et sensible, moi aussi. C'est le mieux que je puisse dire. Mais c'est le plus important. Depuis notre mariage, quand je ne tourne pas, nous menons une vie tranquille et heureuse à New York, et plus encore dans notre maison du Connecticut pendant les week-ends. Mon mari aime travailler tôt le matin. Il se lève en général à 6 heures. Il se repose ensuite dans la journée en faisant la sieste. Comme l'appartement n'est pas grand, j'ai fait insonoriser son bureau. Il a besoin de solitude totale quand il travaille. Moi, je me lève à 8h30 et quelques. Nous avons une excellente cuisinière. Parfois, en attendant mon petit-déjeuner, je vais promener mon chien Hugo. mais quand la cuisinière est de sortie, je me lève plus tôt et je prépare le petit déjeuner pour mon mari; car je trouve qu'un homme ne doit pas s'occuper de ses repas. Je suis très vieux jeu à bien des égards. Je trouve aussi qu'un homme ne doit jamais porter à la main ce qui appartient en propre à la femme, souliers à hauts talons, sac, etc. Il m'arrive de cacher un peigne dans la poche de mon mari, mais c'est tout.
Après le petit déjeuner, je prends un bain, pour changer des jours de travail où je me lève si tôt, parfois à 6h ou 5h du matin, que je dois prendre deux douches, une chaude et une froide pour me secouer. A New York, j'aime à me tremper dans mon bain en lisant les journaux et écoutant des disques. Après, j'enfile une jupe, une blouse, des souliers plats et une veste de polo et, le mardi et le vendredi, je vais à l'Actors Studios, à 11h, ou les autres jours aux cours privés de Lee Strasberg. Je rentre pour le déjeuner, que nous prenons d'habitude ensemble, comme le dîner. Nous écoutons des disques en mangeant. Mon mari aime comme moi la musique classique. Ou le jazz s'il est excellent, bien que nous réservions plutôt cela aux soirées où nous avons des amis qui aiment danser. Souvent, Arthur se remet au travail après sa sieste. Je trouve toujours à m'occuper pendant ce temps. Il a deux enfants de son premier mariage et je m'efforce d'être une bonne belle-mère. Et il y a à faire dans l'appartement. J'aime faire la cuisine, pas tellement à la ville où l'on est trop bousculé, mais à la campagne pour le week-end. Je fais du très bon pain, et les nouilles aussi très bien. Rouler, sécher, la cuisson et la sauce. Ce sont mes deux spécialités. Mais j'aime également inventer... J'adore les assaisonnements ! L'ail ! Souvent, j'en mets de trop pour le goût des autres.
Il arrive que les acteurs avec qui j'étudie une scène pour les cours de Strasberg viennent à la maison, le matin ou l'après-midi et je leur prépare un petit-déjeuner ou le thé... Bref, les journées sont assez remplies. Mais toujours, j'ai soin d'être libre avant le dîner, pour mon mari. Aprés le dîner, parfois nous allons au théâtre ou au cinéma, ou des amis viennent, ou nous allons chez des amis. Mais très souvent, nous restons tout simplement à la maison, tous les deux, à écouter de la musique, parler ou lire. Ou encore, nous marchons dans les rues ou dans Central Park. Nous adorons marcher. Il n'y a pas de routine fixe dans notre vie. Il y a bien des moments où j'aimerai être plus organisée, faire certaines choses à certaines heures etc. Mais mon mari dit que comme ça, au moins, on ne s'ennuie pas ! Alors, tout va bien. Et puis, personellement, les choses ne m'ennuient jamais. Ce qui m'ennuient, ce sont les gens qui s'ennuient. J'aime beaucoup les gens; pourtant, parfois, je me demande si je suis vraiment sociable. La solitude ne me pèse pas. Cela m'est égal d'être seule. Même, j'aime cela. C'est un repos. Cela permet de prendre plus possession de soi-même, de se rafraîchir. Je crois qu'il y a deux aspects dans tout être humain; du moins, c'est ce que je sens dans mon cas. On a envie d'être seul, et en même temps, envie d'être ensemble. C'est un vrai conflit. J'y suis sensible à un point suraigu. C'est pourquoi, j'aime tant mon travail. Quand j'en suis contente, naturellement je me sens plus gaie, plus sociable. Quand ça ne va pas, j'ai envie d'être seule. Et c'est la même chose dans ma vie...

Georges Belmont: En sorte que, pour résumer, si je vous demande quelle impression cela fait d'être Marilyn Monroe, à ce stade de votre vie, que direz-vous?

Marilyn Monroe: Quelle impression cela vous fait-il d'être vous?

Georges Belmont: Parfois je suis content du monde et de moi-même. Parfois, non.

Marilyn Monroe: Et vous êtes heureux comme ça?

Georges Belmont: Ma foi, oui.

Marilyn Monroe: Eh bien, moi aussi. Et comme j'ai trente quatre ans et encore quelques années devant moi, j'éspère, cela me laisse le temps de travailler à devenir meilleure et plus heureuse dans mon métier comme dans ma vie privée. C'est ma seule ambition. Peut-être y mettrais-je le temps, car je suis lente; et je ne veux pas dire par là que ce soit le plus sûr moyen. Mais c'est le seul que je connaisse et qui me donne le sentiment que la vie, après tout, n'est pas sans espoir.
10 février 2012
En juillet 1959, Marilyn Monroe et Arthur Miller sont surpris quittant l'Actors Studio de New York.
On July 1959, Marilyn Monroe and Arthur Miller leaves the Actors Studio in New York City.
19 novembre 2011
lot n°764: MARILYN MONROE PIN-UP IMAGE
A color poster showing an almost life-sized full-length image of Marilyn Monroe, taken in the 1940s, posing playfully in a red striped bikini. Reads "Marilyn Monroe" in bottom left corner and "Printed in USA" at bottom right. 71 by 31 inches, framed
Estimate: $1 000 - $1 200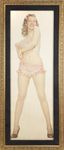 ---
lot n°764: MARILYN MONROE PHOTOGRAPH
A black and white print of a photograph of Marilyn Monroe fishing. Stamped on verso "Silver Screen." 14 by 11 inches
Estimate: $300 - $500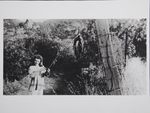 ---
lot n°766: MARILYN MONROE HAROLD LLOYD PHOTOGRAPH PRINT
A limited edition poster print (25/250) featuring a color image of Marilyn Monroe(circa 1952) in lingerie, seated cross-legged before a bookcase, holding a book. The photo was taken by silent screen star turned photographer Harold Lloyd during a photo shoot at Monroe's Los Angeles apartment by PhilippeHalsman. Later in 1952, a photograph from Halsman's session appeared on thecover of LIFE magazine. Printed on crystal archive paper from the original 35mm Kodachrome negative in 2005. 20 by 40 inches PROVENANCE Lot 208, "Property from the Estate of Marilyn Monroe and other Collections," Julien's, Los Angeles, June 4, 2005
Estimate: $1 000 - $ 2 000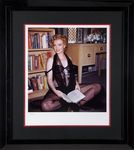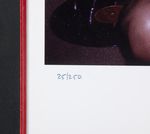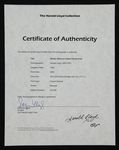 ---
lot n°768: MARILYN MONROE MILTON GREENE SILKSCREEN PRINT
A silkscreen print of a Milton Greene photograph of Marilyn Monroe taken in 1953 from The Black Sitting. Numbered 224/300. 46 by 35 inches
Estimate: $300 - $500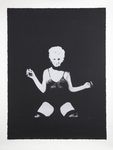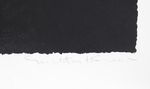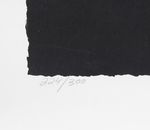 ---
lot n°769: MARILYN MONROE PHOTOGRAPH
A black and white print of a Marilyn Monroe photograph taken in 1954 while in Japan with Joe DiMaggio for their honeymoon. Marked "silver screen" on verso. 14 by 11 inches
Estimate: $300 - $500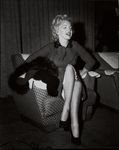 ---
lot n°770: MARILYN MONROE IMAGES
A group of three Marilyn Monroe images from various stages of her career, including a poster print signed by photographer George Barris in gold ink at bottom right, a laser print by Jack Cardiff from The Prince and the Showgirl , and a laser print by Bert Stern from the well noted "last sitting" session. Largest, 20 by 24 inches PROVENANCE Lot 133, "Julien's Summer Sale," Julien's Auctions, Planet Hollywood Times Square, New York, June 17, 2006
Estimate: $150 - $300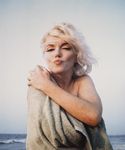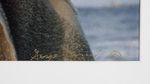 ---
lot n°773: MARILYN MONROE THEDA BARRA POSTER
A poster of Marilyn Monroe as Theda Barra as photographed by Richard Avedon in the 1958 sitting of Monroe portraying legendary actresses for a pictorial in LIFE magazine. 23 by 28 inches
Estimate: $200 - $400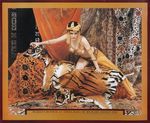 ---
lot n°778: MARILYN MONROE PHOTOGRAPH BY SAM SHAW
A black and white print of a Marilyn Monroe photograph taken by Sam Shaw. Stamped "Silver Screen" on verso. 14 by 11 inches
Estimate: $300 - $500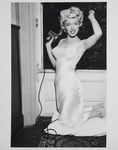 ---
lot n°779: MARILYN MONROE PHOTOGRAPH BY ROY SCHATT
A black and white photograph of Marilyn Monroe at The Actors Studio taken by Roy Schatt. Signed by Schatt in the lower right corner. Photographer's stamp on verso. 20 by 16 inches
Estimate: $800 - $1 200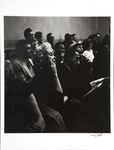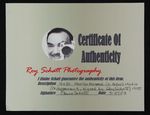 ---
lot n°782: MARILYN MONROE PHOTOGRAPH ON STAGE FOR LET'S MAKE
A black and white photograph of Marilyn Monroe dancing on the set of Let's Make Love (20th Century Fox, 1960). Monroe made this film to help complete her 1955–56 contract with 20th Century Fox to complete four films in a seven-year period. By 1960, she had completed only Bus Stop (20th Century Fox, 1956), so she agreed to star in Let's Make Love . Stamped on verso "John Bryson, Box 616, Beverly Hills, California." 13 5/16 by 10 inches
Estimate: $200 - $400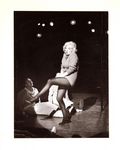 ---
lot n°785: MARILYN MONROE PHOTOGRAPH BY BERT STERN
A Marilyn Monroe photograph print of an image taken by Bert Stern as part of the last sitting. Marked on verso "Silver Screen." The image shows Monroe wrapped in fur. 14 by 11 inches
Estimate: $300 - $500

14 octobre 2011
Marilyn Monroe et Marlon Brando photographiés par Milton H Greene
décembre 1955 - New York-
Le but de cette séance est de promouvoir la première du film The Rose Tattoo qui se tiendra à New York le 12 décembre 1955 : Marilyn s'y rendra aux bras de Brando. Les deux comédiens posent pour le compte de l'Actors Studio où Marilyn porte l'écharpe "Actors Studio Benefit Usher" puis ils tiennent le ticket d'entrée -géant- de la première.
> Photos de la session "MB": "Marlon Brando"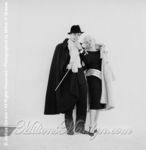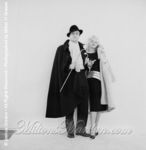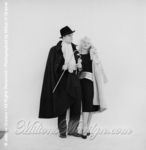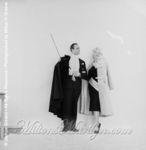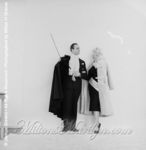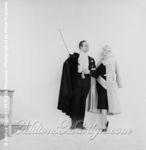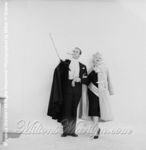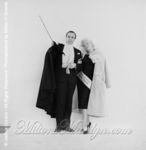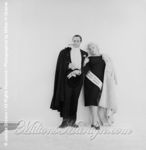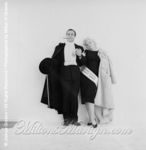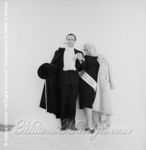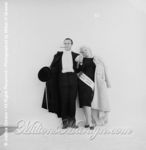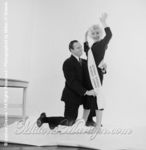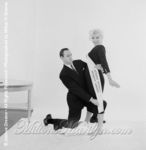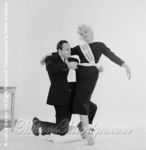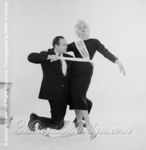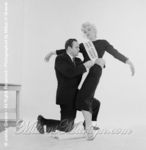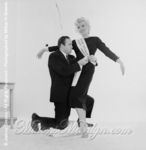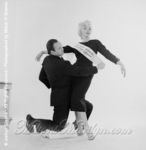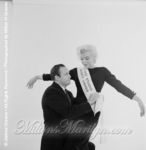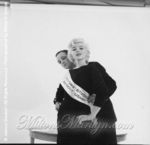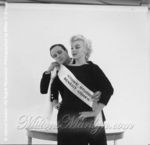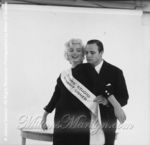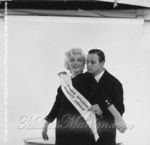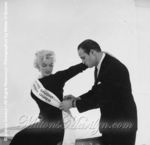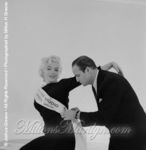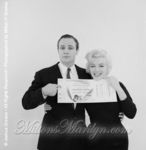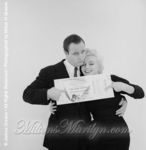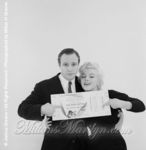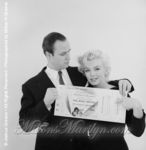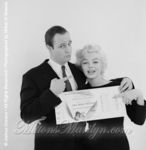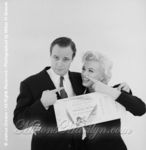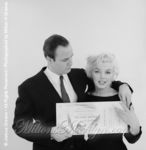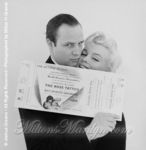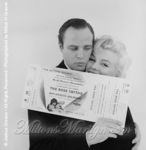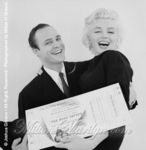 > Photos de la session "Marlon Brando"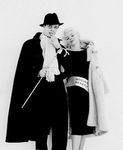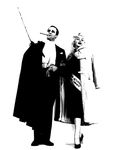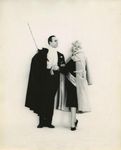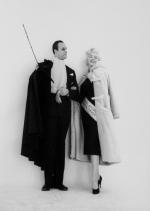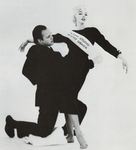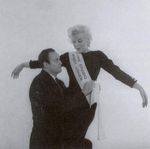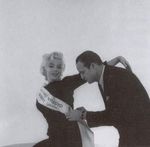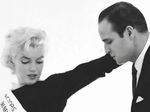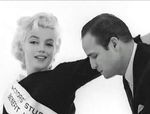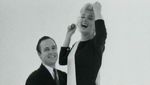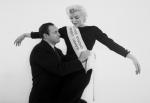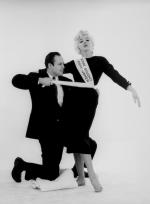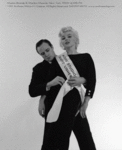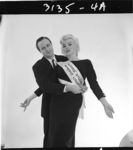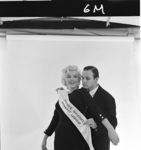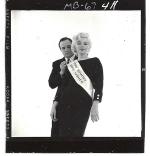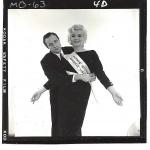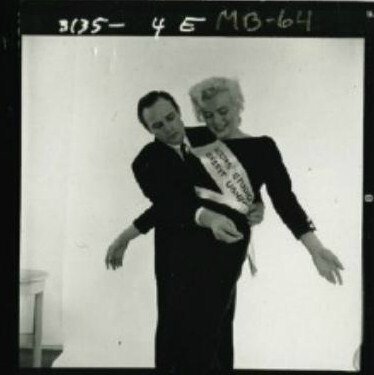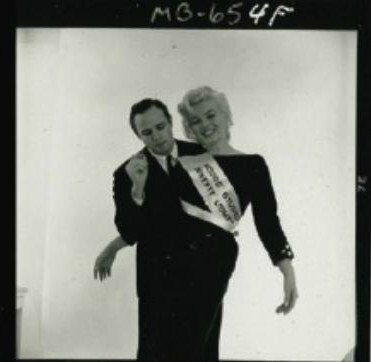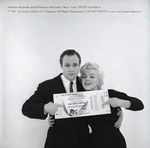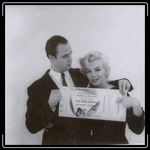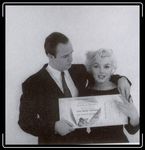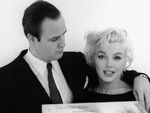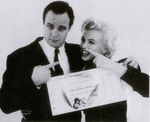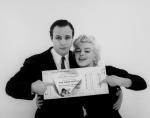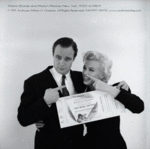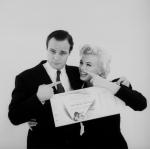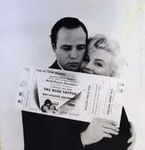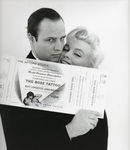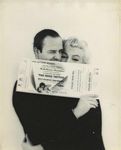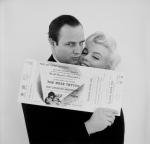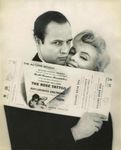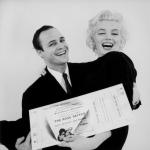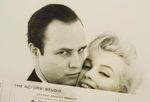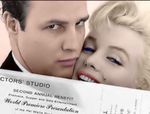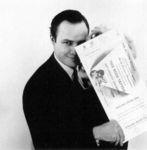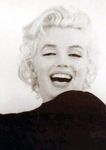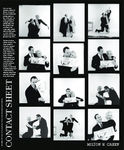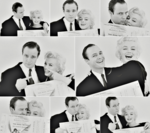 > tirages photos affiches
en vente sur le site Archive Store de Milton H Greene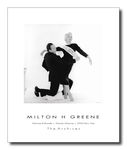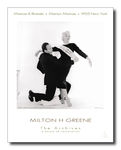 ---
All photos are copyright and protected by their respective owners.
copyright text by GinieLand.
27 mai 2011
Le 9 mars 1955, au Astor Theater de New York, Marilyn Monroe participe comme ouvreuse à une séance de bienfaisance, la première du film East of Eden (A l'est d'Eden) qu' Elia Kazan avait tourné pour la Warner Bros. Marilyn s'était portée volontaire pour servir d'ouvreuse, surnommée "Usherette", portant une écharpe telle une Miss. Les bénéfices de cette représentation reviennent à l'Actors Studio; Marilyn pose avec beaucoup de dévotion devant l'attroupement des photographes. Elle est aussi submergée par l'émotion, devant l'amour que lui porte le public: les gens se sont attroupés en criant son nom et réclament des autographes.
Photographies de Franck Maestro, Michale Rougier, Eve Arnold, Tom Caffrey et bon nombre de fans, admirateurs de Marilyn, comme James Haspiel, et qui attendaient Marilyn à son hôtel, sont parvenus à prendre des photos.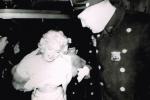 >> L'entrée de Marilyn dans le hall du théâtre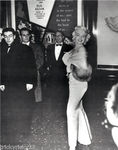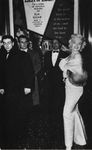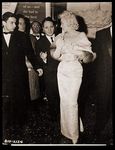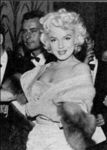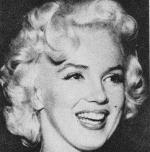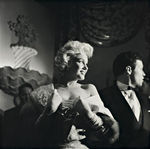 >>Marilyn répond aux interviews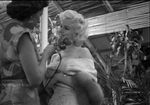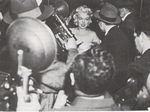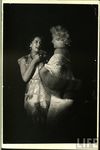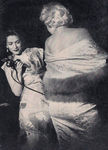 Accompagnée de Milton Greene et escortée de son agent new-yorkais Jay Kanter; Marilyn discute avec Sammy Davis Jr., le journaliste Earl Wilson, la femme de Milton Amy Greene, le photographe Sam Shaw, le comédien et animateur de show Milton Berle et l'acteur Richard Davalos (qui joue le rôle du frère de James Dean dans A l'est d'Eden). L'actrice Julia Harris, qui joue aussi dans le film, était présente. Le grand absent de la soirée reste James Dean, qui aurait préféré rester loin de l'agitation médiatique pour passer la soirée dans un bar de Manhattan. Certains prétendent que Marilyn aurait vraiment souhaité le rencontrer personnellement et qu'une rencontre aurait eu lieu plus tard. James Dean va mourir tragiquement six mois à peine après cette soirée, le 30 septembre 1955.
>> Marilyn discute avec Richard Davalos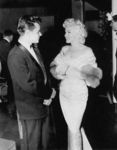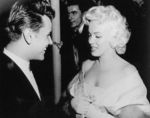 >> Marilyn monte les marches avec Jay Kanter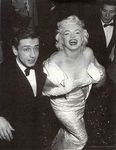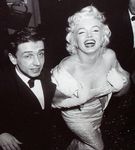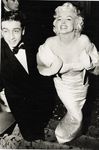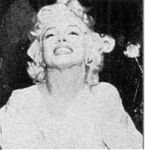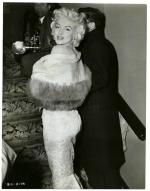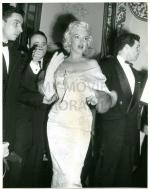 >> Marilyn avec Jay Kanter et Earl Wilson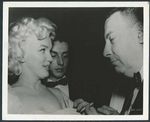 >> Marilyn avec Sammy Davis Jr.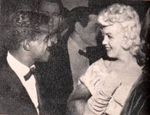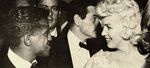 >> Marilyn dans l'ascenceur et dans les couloirs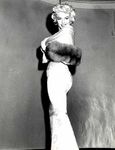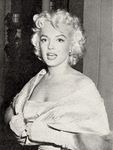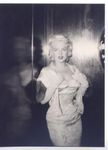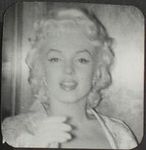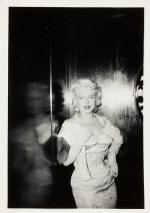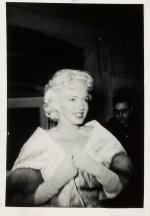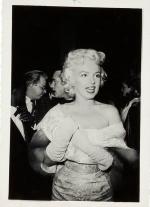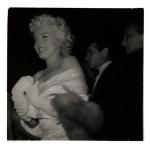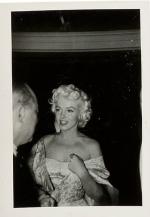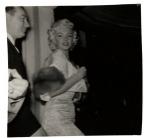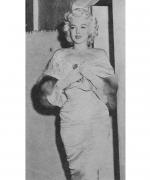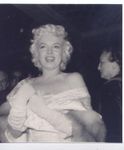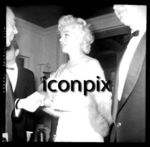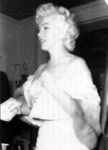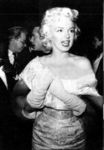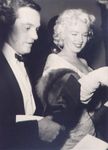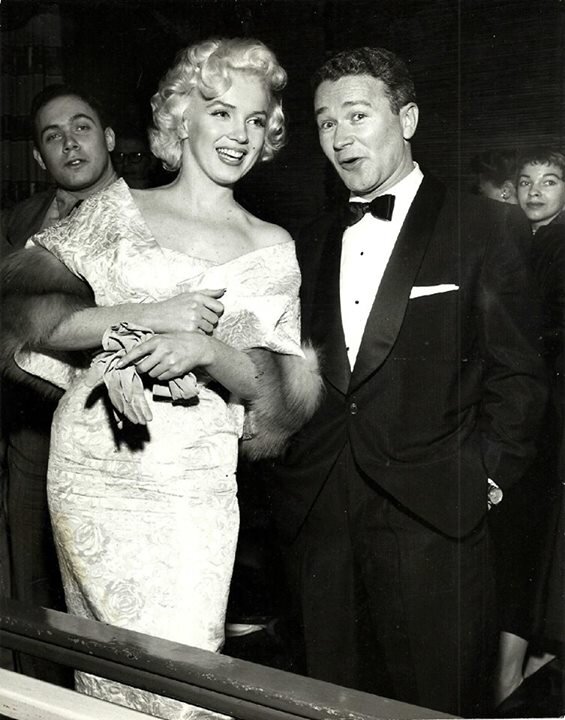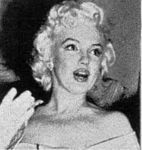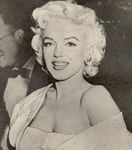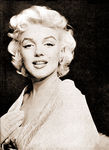 >> Marilyn avec Amy Greene (femme de Milton) et Sam Shaw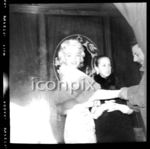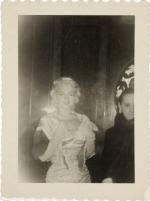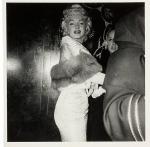 >> Marilyn Miss Usherette, ouvreuse de cinéma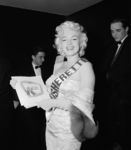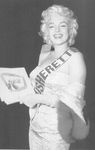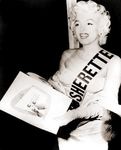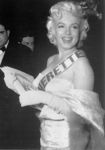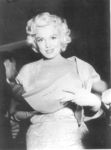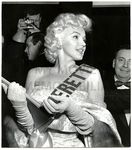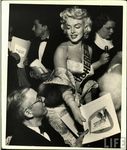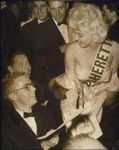 >> Marilyn assise: place à la séance!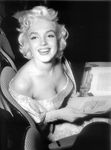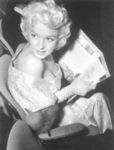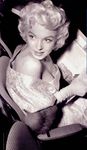 ---
> photographie de Max Peter Haas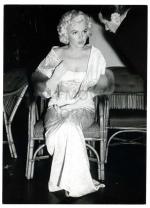 > photographie de David Workman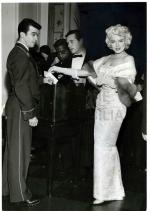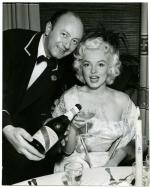 ---
> Autographe pour James Collins, un fan des 'Monroe Six'
"Love & / Kisses / Marilyn Monroe"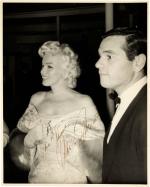 > snapshots de la collection de James Collins, un fan des 'Monroe Six'
snapshots from the collection of James Collins, one fan from the 'Monroe Six'

> snapshots de la collection de Frieda Hull, une fan des 'Monroe Six'
snapshots from the collection of Frieda Hull, one fan from the 'Monroe Six'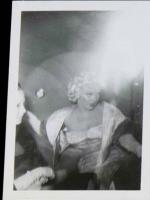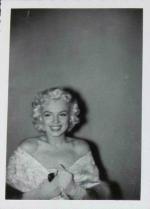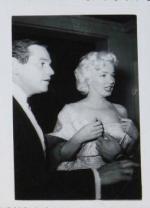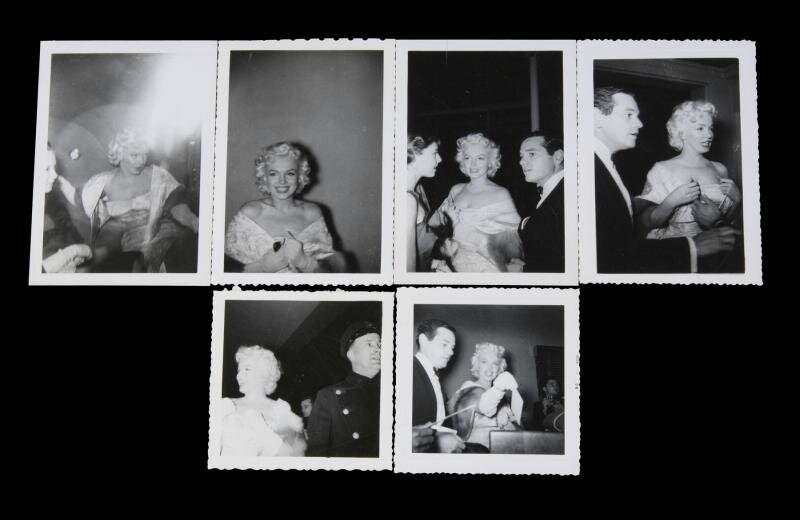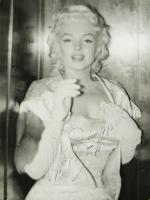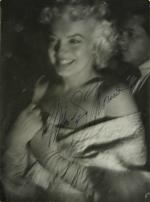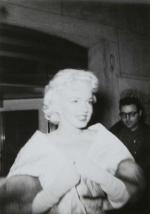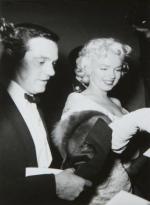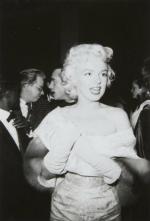 ---
---
>> video (arrivée de Marilyn à 10min)

>> video


---
Après la projection, une réception fut organisée. Marilyn y arrive à minuit et y rencontre Arthur Miller, accompagnée de sa soeur Joan Copeland. Miller l'aborde et ils discutent. Quinze jours après, il contactera Paula Strasberg pour lui demander le numéro de téléphone de Marilyn. Leur liaison commencera au printemps.
---
> dans la presse
-article Picture Week du 2/04/1955 -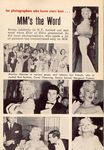 ---
© All images are copyright and protected by their respective owners, assignees or others.
copyright text by GinieLand.
Enregistrer
Enregistrer
Enregistrer