07 juin 2009
Le 13 mars 1961, à New York, Marilyn Monroe participe au gala de charité The Roseland Dance Hall organisé par les Strasberg. Parmi les invités: Lee Strasberg et sa femme Paula Strasberg, l'actrice Vivien Leigh et le réalisateur du film "Arrêt D'autobus", Joshua Logan. Marilyn est arrivée accompagnée de John Springer.
Marilyn légua un manteau de fourrure en vison qui fut vendu aux enchères dont les profits allèrent à l' Actor's Studio Benefit.
---
La journaliste Danièle Georget et le photographe Caude Azoulay, qui travaillent pour Paris Match, étaient présents. Il se souviennent:
Claude Azoulay: "Il y avait une soirée à New York, pour le bal de l'Actors Studio. Elle était là, à cette soirée de gala, elle n'était pas très gaie. elle était nostalgique. Et à un moment, on appelle Marilyn au micro pour aller sur scène. Elle avait cette robe moulée magnifique. Alors, je la suis, elle quitte sa table, elle va et monte sur l'estrade, il y avait trois marches à monter. Et en montant les marches, 'crack', la robe se déchire juste derrière. Elle n'avait rien en-dessous! Bon, elle monte et là, panique ou réflexe de Marilyn Monroe, devant toute la salle, alors qu'elle est sur scène, elle se retourne et fait "Ouuuhhh" comme dans "Certains l'aiment chaud"; avec un grand sourire. On lui a amené son vison qu'elle a mis autour de sa taille. Et puis elle a fait son petit speech, c'était magnifique comme scène !"
Danièle Georget: "A la fin de la soirée, elle appuyait sa tête sur sa main. On voit qu'elle a trop picolé et qu'elle est d'une tristesse. Et là, c'est le contraire de la photo de star."
---
---
>> sources web:
* commentaires d'Azoulay et Georget dans le docu tv Match, l'album des français 2
20 octobre 2007
Marilyn Monroe en compagnie de Lee Strasberg (qui dirige l'Actors Studio) et des amis de l'Actors Studio, dans un café à Broadway, New York, en 1955 juste après avoir assisté à la représentation de la pièce A Hatful of Rain.
Marilyn Monroe with Lee Strasberg (director of the Actors Studio) and friends from the Actors Studio, in a Broadway cafe in 1955 just after they attend the play A Hatful of Rain.
> de gauche à droite / from left to right:
Frank Corsaro, Michael Gazzo, Marilyn Monroe et Lee Strasberg.

---
© All images are copyright and protected by their respective owners, assignees or others.
copyright text by GinieLand.
Enregistrer
Enregistrer
Enregistrer
23 août 2007
Marilyn Monroe aux cours de théâtre à l'Actors Studio
1955, New York
Marilyn Monroe at the Actors Studio Class

Photographies de Roy Schatt
---
> Concentrée, pendant un cours
Concentrated, during a class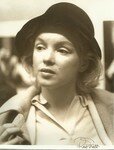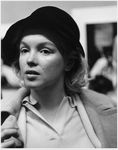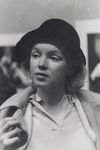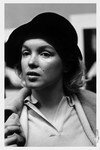 ---
> Avec Susan Strasberg, pendant un cours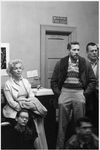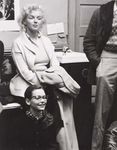 ---
© All images are copyright and protected by their respective owners, assignees or others.
copyright text by GinieLand.
Enregistrer
Enregistrer