18 mai 2012
Le 29 octobre 1956, a lieu une grande soirée à Londres: d'abord, la 'Royal Command Performance' pour le film "The Battle of the River Plate" ("La Bataille du Rio de la Plata") à l'Empire Theater, à Leicester Square. Comme à son habitude, Marilyn Monroe arriva en retard aux bras de son mari Arthur Miller et en retrait, Milton H. Greene. Ils parviennent à se glisser dans le théâtre, juste avant la fermeture des portes.
On October 29, 1956, Marilyn Monroe, Arthur Miller and Milton H Greene are in late to assist at the "The Battle of the River Plate", a movie projected by the Royal Command Performance at The Empire Theatre in leicester Square, London.
---
Ensuite, vingt vedettes de cinéma devaient être présentées à la Reine Elisabeth II, dont Joan Crawford, Victor Mature, Dana Andrews, Brigitte Bardot, Anita Ekberg et bien sûr Marilyn Monroe.
La reine félicita Marilyn pour sa révérence et lui demande:
-"Vous plaisez-vous à Windsor ?"
-"Pardon ?... Je croyais que nous vivions à Englefield Green", répondit Marilyn, pleine de trac.
La reine lui expliqua alors gentiment qu'elles étaient voisines, car les deux propriétés de Egham (où logeaient Marilyn et son mari à Parkside House) et celle du château de Windsor se touchent.
Sa majesté l'ayant aussi complimentée sur ses bonnes manières, Marilyn répondit qu'elle les avaient apprises pour son nouveau film en tournage (The Prince and the Showgirl) et qu'elle ne les trouvait désormais plus difficiles.
After the projection, twenty movie stars are presented to the Queen Elizabeth II: Joan Crawford, Victor Mature, Dana Andrews, Brigitte Bardot, Anita Ekberg and Marilyn Monroe.
---
Marilyn portait une robe couleur or, et des chaussures compensées à la semelle intérieure or, de marque Anello & Davide, fabriquées à Londres et vendues à la grande vente aux enchères organisées par Christies en 1999.
---
> videos


> vidéo sur le site criticalpast.com

---
---
> Joan Crawford et Anita Ekberg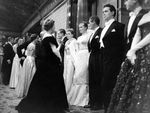 ---
Brigitte Bardot et Marilyn Monroe se sont rencontrées furtivement dans les toilettes pour dames où chacunes des deux femmes se refaisaient une beauté devant le miroir. Brigitte fut subjuguée par la beauté de Marilyn. Elles se sont données chacune un sourire mais n'échangèrent aucun mot. Malheureusement, aucun photographe n'eut l'idée d'immortaliser leur rencontre dans le salon du théâtre où toutes les stars étaient réunies avant de rencontrer la reine.
Souvenir raconté par Brigitte Bardot dans son autobiographie Initiales BB Mémoires:
"C'est là que je l'ai vue et n'ai vu qu'elle: Marilyn. Ravissante, blonde dans une robe dorée , décollettée jusqu'aux chevilles, elle ne s'embarassait pas du protocole, on avait envie de l'embrasser tant ses joues étaient roses et fraîches. Ses mèches rebelles coulaient sur son cou et autour de ses oreilles, elle avait l'air de sortir de son lit, heureuse et naturelle !
Je me retrouvai aux "Ladies" avec elle, moi pour tirer sur mes mèches et les décoiffer, et découdre en hâte le tulle qui cachait mes seins, elle pour se voir dans la glace, se sourire à gauche, puis à droite, elle sentait le Numéro 5 de Chanel. Je l'adorais, la regardais, fascinée, oubliant mes cheveux. J'aurais voulu être "Elle", avoir sa personnalité et son caractère.
C'était la première et la dernière fois de ma vie que je la voyais, mais elle m'a séduite en trente secondes. Il émanait d'elle une fragilité gracieuse, une douceur espiègle, je ne l'oublierai jamais et lorsque j'appris sa mort quelques années plus tard, j'eus un pibcement douloureux au coeur comme si un être très cher venait de me quitter.
(...) Anita Ekberg avait une paire de seins si énormes qu'on avait l'impression qu'elle avait rembourré son soutien-gorge avec deux obus. J'étais hypnotisée par ces deux bombes. J'attendais qu'elles fassent éclater sa robe, mais rien ne s'est passé."
Souvenir de Brigitte Bardot dans L'indomptable, de Alain Wodrascka et François Bagnaud:
"J'étais terrorisée devant ce protocole terrible. Marilyn Monroe était présente aussi ce jour là. Je la buvais des yeux. Je la trouvais sublime. Marilyn a toujours représenté pour moi tout ce qu'une femme doit rêver d'être: beauté et fragilité en même temps."
> vidéo B.B. parle de M.M.

---
> Sources:
Marilyn Monroe, l'Encyclopédie d'Adam Victor
Marilyn, une vie d'Hollywood, de Ann Lloyd.
10 mai 2010
Marilyn par David Preston

On ne connait que trois séances de Marilyn avec David Preston en 1952.
We only know two sessions of Marilyn with David Preston in 1952.
---
.1952: Séance en studio: Bikini Jaune & Lingerie Rouge - Marilyn en maillot de bain deux pièces jaune dans un studio fond noir et en négligé rouge lingerie en studio fond blanc.
.1952: Sitting in Studio: Yellow Bikini & Red Lingerie - Marilyn in a yellow two-piece swimsuit in a black background studio and in a neglected red lingerie in a white background studio.
(> blog 1952 - Séance en studio par Dave Preston )
---

.1952: Lingerie Noire - Marilyn en longue nuisette transparente noire (une tenue non retenue pour le film "Niagara").
- /!/ pas de crédit photographique pour cette séance: selon les sources: Bruno Bernard, Slim Aarons, Dave Preston.
.1952: Black Lingerie - Marilyn wearing a long black transparente nightie, (outfit not chosen for the movie "Niagara")
/!/ No photographic credit for this session: according to various sources: names of Bruno Bernard, Slim Aarons, Dave Preston.
(> blog 1952 - Marilyn en lingerie noire )
---
> Voir les posts Marilyn par David Preston

---
David Preston
(dates ?)
photographe américain

Difficile de trouver des informations sur ce photographe, surnommé "Dave" Preston.
Je n'ai trouvé que cette photographie de l'actrice Anita Ekberg prise par Preston:
---
© All images are copyright and protected by their respective owners, assignees or others.
copyright text by GinieLand.