30 mars 2014
Le matin du vendredi 29 juin 1956, Arthur Miller et Marilyn Monroe se rendent à South Salem (un hameau à Lewisboro, dans le comté de Westchester, Etat de New York) pour régler les documents administratifs de la licence de mariage.
A leur retour à Roxbury, ils découvrent à l'angle des rues Old Tophet et Gold Mine, un nombre considérable de voitures, devant la maison de Miller, qui bloquent les rues. Les reporters ont anticipé l'annonce faite par Miller la veille, de tenir une conférence de presse avec Marilyn. Le cousin de Miller, Morty, et sa femme Florence, invitent Arthur, Marilyn et leurs parents (Augusta et Isadore Miller) à prendre le déjeuner chez eux. Pendant leur absence, d'autres journalistes arrivent chez Miller: jusqu'à 400 journalistes se réunissent devant la maison de Miller, piétinant l'herbe et grimpant aux arbres dans l'espoir d'apercevoir le couple. Mais comme ni Marilyn, ni Arthur, ne se trouvent sur les lieux, certains journalistes mènent l'enquête pour savoir où le couple se trouve. Parmi eux, la journaliste Mara Sherbatoff, chef du bureau new-yorkais du magazine français Paris Match, accompagnée du photographe Paul Slade, et du frère de celui-ci Ira Slade, 18 ans, qui leur sert de chauffeur. Mara et Ira partent chez Morty Miller, qui habite à environ 2 km de chez Arthur alors que Paul Slade reste devant la maison d'Arthur et finit de préparer son matériel photographique. Il fait très chaud, le soleil tape beaucoup. Mara et Ira se garent devant la maison de Morty et attendent.
On the morning of Friday, June 29, 1956, Arthur Miller and Marilyn Monroe go to South Salem (in Lewisboro, a hamlet in Westchester County, New York) to set the administrative documents of the marriage license.
On their return to Roxbury, they discover at the corner of Old Tophet and Gold Mine, a large number of cars in front of the Miller House, which block the streets. Reporters anticipated the announcement made by Miller the day before, to hold a press conference with Marilyn. Miller's cousin, Morty and his wife Florence, invite Arthur, Marilyn and their parents (Isadore and Augusta Miller) to have lunch at home. During their absence, other journalists arrive at Miller's home: 400 journalists gather at the home of Miller, trampling the grass and climbing trees in the hope of seeing the couple. But as neither Marilyn nor Arthur, are not here, some journalists investigate to find where the couple is. Among them, the journalist Mara Sherbatoff, head of the New York office of the French magazine 'Paris Match', accompanied by the photographer Paul Slade, and his brother Ira​, 18 years old, who serves as their driver. Mara and Ira go to Morty Miller's house, who lives about one mile and a half from Arthur's home, while Paul Slade remains outside the home of Arthur and finish to prepare his photographic equipment. It is a very hot day, the sun is a lot. Mara and Ira are parked outside the home of Morty and wait.
---
Peu avant 13 heures, Marilyn, Arthur et Morty Miller partent dans un break. Morty conduit très vite car il connait parfaitement la petite route de campagne sinueuse et cahoteuse. Ira Slade et Mara Sherbatoff suivent le break. Peu avant l'arrivée, Ira rate un virage et s'encastre dans un chêne. Le choc est si violent que même les reporters qui attendent dans l'herbe devant la maison de Arthur, entendent le bruit. Morty arrête à son tour sa voiture et avec Arthur et Marilyn, ils courent en direction de la voiture accidentée: Ira, le conducteur, est effondré derrière le volant et Mara, assise du côté passager, a été projetée contre le pare-brise, son visage, couvert de sang, est ouvert des lèvres au front, des dents sont tombées, sa poitrine est écrasée, ses jambes sont cassées et du sang coule dans sa gorge. Elle gémit doucement. Marilyn va aider à déloger Mara et va la poser au sol, à côté de la voiture. Arthur extrait le jeune homme dont les blessures sont beaucoup moins importantes. Paul Slade se précipite sur les lieux en courant, et fait pression sur l'artère de Mara afin de stopper les écoulements de sang.
Shortly before 1 p.m, Marilyn, Arthur and Morty go in a station wagon. Morty drives very quickly because he knows perfectly the small winding and bumpy road. Ira and Mara take off after them. Shortly before the arrival, Ira misses a turn and fits into an oak. The shock was so violent that even the reporters waiting in the grass in front of the house of Arthur, hear the noise. Morty stops his car and with Arthur and Marilyn, they run towards the crashed car: Ira, the driver, is crumpled behind the steering wheel and Mara, sat on the passenger side, has been hurled partway through the windshield, her face is covered by blood, cut from the lips to the forehead, teeth are felt, his chest is crushed, her legs are broken and blood flows in her throat. She moaned softly. Marilyn help to dislodge Mara and lies down her on the ground beside the car. Arthur extract the young man whose injuries are much less important. Paul Slade rushed to the scene, and puts pressure on the artery of Mara to stop the flow of blood.
---
Marilyn, Arthur et Morty reprennent leur break et accélèrent chez Arthur. Arthur est le premier sorti de la voiture, en se précipitant dans sa maison pour prévenir les secours. Puis, Marilyn et Morty suivent; avec ses lunettes de soleil et son chemisier blanc taché de sang, Marilyn est traumatisée: "Il vient d'y avoir un méchant accident un peu plus haut. Une fille a été terriblement blessée. C'est terrible".
L'hôpital le plus proche est à New Milford. Miller apprend que l'ambulance ne sera pas là avant deux bonnes heures; c'est alors qu'il précise à l'opérateur que la fille sur la route est Marilyn Monroe et que l'histoire fera les gros titres dans la presse le lendemain, ce qui va permettre d'accélérer les choses.
Marilyn, Arthur and Morty go back in their station wagon and accelerate at Arthur's home. Arthur is the first out of the car, rushing into his house to phone at the hospital. Then, Marilyn and Morty follow; with her sunglasses and white shirt stained with blood, Marilyn is traumatized: "There's been a very bad accident up there. A girl has-been terribly hurt. It's awful."
The nearest hospital is at New Milford. Miller learns that the ambulance will not be there before two hours, then he says to the operator that the girl on the road is Marilyn Monroe and the story will make headlines in the press the next day; this will speed things up.
> photographie de Samuel Goldstein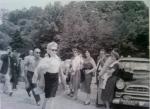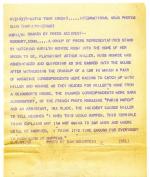 ---
Marilyn monte à l'étage pour se changer et se préparer à la conférence de presse; elle met une chemise de couleur vert moutarde et une jupe noire en lin et malgré la chaleur, Arthur enfile un pull noir en col V par-dessus sa chemise blanche. Personne ne semble vouloir annuler. L'humeur de Marilyn varie entre le bouleversement provoqué par l'accident, et la colère contre son attaché de presse qui a laissé venir la télévision, un média qu'elle déteste. Une trentaine de minutes plus tard, Marilyn est prête et sourit aux journalistes. Mais l'atmosphère qui règne est étrange et dérangeante: pendant que Marilyn, Arthur et ses parents -Isadore et Augusta Miller- posent pour les photographes, l'ambulance arrive.
Marilyn goes upstairs to change clothes and prepare for the press conference, she puts a mustard green shirt and a black linen skirt and despite the heat, Arthur puts a black V-neck sweater over his white shirt. Nobody seems to want to cancel. The Marilyn's mood varies from the trouble caused by the accident, and the anger against his press secretary who left coming television, a media she hates. Thirty minutes later, Marilyn is ready and smiles at reporters. But the atmosphere is strange and disturbing: while Marilyn, Arthur and his parents -Isadore and Augusta Miller- pose for photographers, the ambulance arrives.
---
Puis, Milton Greene, venu de Weston, gère les dernières dispositions techniques, donne des instructions aux journalistes et présente le couple aux médias, en leur précisant qu'ils n'auront que 20 minutes pour obtenir ce qu'ils veulent.
Then, Milton Greene, came from Weston, manages the latest technical provisions, gives instructions to journalists and introduce the couple to the media, stating that they will only have 20 minutes to get what they want.
---
Arthur Miller et Marilyn Monroe prennent place sous un grand érable. Marilyn va se montrer plutôt anxieuse, reportant son angoisse par des marques d'affection envers Arthur: elle caresse son épaule, l'étreint en le serrant par la taille, et elle se montre peu locace, laissant les déclarations à Miller qui lui, semble préoccupé, en embrassant le front de Marilyn, faisant de nombreux petits gestes de nervosité et fumant beaucoup. C'est la première fois, depuis sa comparution devant la commission, que les reporters l'interviewent. Le couple ne donne aucun détail sur leur mariage à la presse.
Arthur and Marilyn take place under a large maple tree. Marilyn will be rather anxious, transposing her anguish by some affection to Arthur: she caresses his shoulder, hugs him, hugging by his waist, and she shows little talkative, leaving statements to Miller who seems worried, kissing the forehead of Marilyn, making many small gestures of nervousness and smoking a lot. This is the first time since his appearance before the Committee, that the reporters interview him. The couple doesn't give any details about their marriage to the press.
> photographies de Milton Greene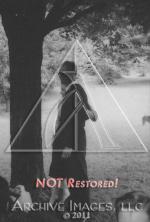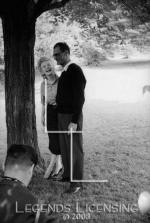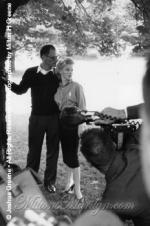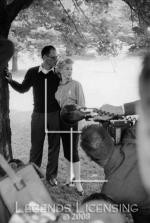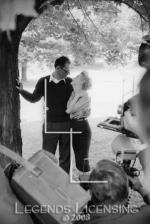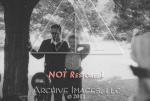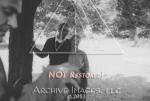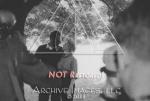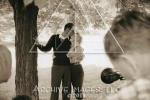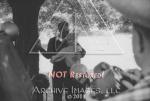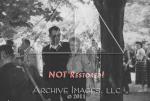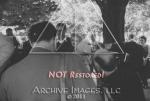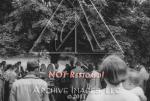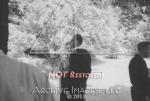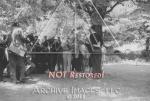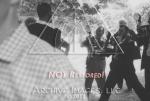 ---
Quelques déclarations:
> Arthur Miller, déclare, suite à l'accident: "Je savais que ça arriverait. Cette chose terrible explique pourquoi je ne vais pas dire où ni quand nous nous marierons. Je pense qu'il y a assez de temps pour tout le monde de savoir quand cela arrive. Si la presse ne me laisse pas seul, nous partirons d'ici pour une destination inconnue."
> Journaliste: - Mademoiselle Monroe, quel genre de mariage allez-vous avoir ?
Marilyn: - Très tranquille, j'éspère.
> Journaliste: -Un petit garçon a trois voeux: faire de l'argent en premier, devenir un ingénieur en deuxième, et en troisième, il dit "quand je serai grand, j'aimerai avoir une blonde, avec des yeux bleus, elle sera comme Marilyn Monroe".
Marilyn: -Je suis flattée !

Few Statements:
> Arthur Miller, said, refering to the accident: "I knew this would happen. This terrible thing explains why I'm not going to say when and where we'll be married. I think it's time enough for everybody to know when it happens. If the press do not leave me alone, we will leave here for parts unknown."
> Journalist: - Miss Monroe, what kind of wedding will you have ?
Marilyn: - Very Quiet, I Hope.
> Journalist: -A little boy has three wishes: make money in first, to be an engineer in second, and third, he said "when i grow up, i'd like to have a blond, she had to have blue eyes, she has to be like Marilyn Monroe".
-Marilyn: -I'm flattered !
> photographies de Milton Greene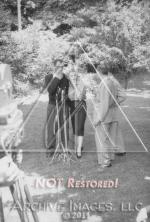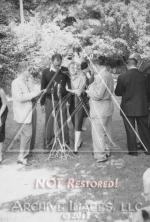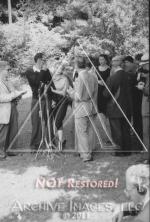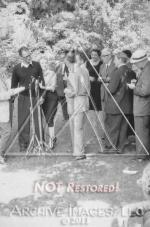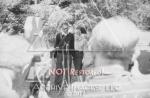 ---
Après le départ des reporters, on apprend le décès de Mara Sherbatoff sur la table d'opération de l'hôpital de New Milford. Marilyn est affolée. Paula Strasberg, qui se trouve à New York, va déclarer que l'accident est un mauvais présage, ce que va soutenir aussi Marilyn. Arthur Miller, furieux de tout ce tapage, décide alors de se marier immédiatement, s'arrangeant pour que la cérémonie se tienne au Westchester County House de White Plains.
After the reporters leave, the death of Mara Sherbatoff on the operation table at the hospital in New Milford is learned. Marilyn is distraught. Paula Strasberg, who is in New York, will report that the accident is a bad omen, wich will also the idea of Marilyn. Arthur Miller, furious of all these disturbances, then decides to marry immediately, arranging that the ceremony held at the Westchester House in White Plains.
> sur le blog: article Le Mariage Civil d'Arthur et Marilyn
---
> videos
- attente des reporters et l'accident

- accident et arrivée de Marilyn


- début de l'interview


- extrait de l'interview


- extrait de l'interview


> News TV:
USA: Arthur and Marilyn to marry
Angleterre: British Pathe People In the News

---
---
.sources:
Marilyn Monroe, biographie de Barbara Leaming
Les vies secrètes de Marilyn Monroe, d'Anthony Summers
Marilyn Monroe, encyclopédie d'Adam Victor

---
© All images are copyright and protected by their respective owners, assignees or others.
copyright text by GinieLand.
24 mars 2014
Durant la semaine précédente (du 24 au 29 juin 1956) passée à Roxbury dans la propriété de Arthur Miller, Marilyn Monroe a demandé à Augusta Miller, la mère d'Arthur, de lui apprendre des recettes de plats typiquement juifs.
Par ailleurs, Marilyn insiste pour que les Miller téléphonent à un rabbin de la branche réformée du judaïsme, Robert Goldburg, qui accepte de lui donner une brève instruction religieuse et de célébrer la cérémonie nuptiale.
During the previous week (24 to 29 June 1956) into Roxbury, at the home of Arthur Miller, Marilyn Monroe asked to Augusta Miller, Arthur's mother, to teach her recipes from typical Jewish meals.
Furthermore, Marilyn insists for that Miller phone to a rabbi of the reformed branch of Judaism, Robert Goldburg, who agrees to give her a brief religious instruction and to celebrate the wedding ceremony.
Le dimanche 1er juillet 1956, soit deux jours après la cérémonie civile du mariage, est célébré le mariage juif de Marilyn Monroe et Arthur Miller. C'est Marilyn qui avait insisté pour obtenir cette cérémonie religieuse. La cérémonie du mariage est gardée secrète jusqu'au dernier moment.
On Sunday 1st of July 1956, two days after the civil marriage ceremony, is celebrated the Jewish Wedding Ceremony of Marilyn Monroe and Arthur Miller. This is Marilyn who has insisted to obtain that religious ceremony. The wedding ceremony is kept secret until the last moment.

---
Plus tôt dans la journée, Marilyn Monroe se convertie au judaïsme -pour ce mariage- dans la ville de Lewisboro, dans l'Etat de New York: elle promet au rabbin Robert Goldburg, que tous ses enfants seraient élevés dans la foi judaïque et prête serment: "Je déclare, en la présence de Dieu et des témoins assemblés ici, rechercher le compagnonnage d'Israël".
Parmi les témoins se trouvent Arthur Miller, Kermit Miller le frère d'Arthur, et Milton H. Greene. Le rabbin lui remet un certificat de conversion (cf document ci-contre).
Earlier that day, Marilyn Monroe is converted to Judaism -for this marriage- in the town of Lewisboro in the State of New York: she promises to Rabbi Robert Goldburg, that all her children would be raised in the Jewish faith and oath "I declare, in the presence of God and witnesses assembled here, to seek companionship of Israel."
Among the witnesses are Arthur Miller, Kermit Miller the Arthur's brother, and Milton H. Greene. The rabbi gives her a certificate of conversion (see document).
---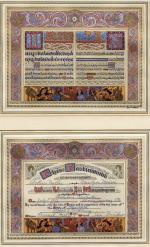 Arthur Miller et Marilyn Monroe vont signer le Ketubah, un accord prénuptial traditionnellement juif, définissant les droits et les responsabilités de l'époux envers la mariée. Ce document (cf ci-contre), richement coloré, est imprimé sur deux oblongues de feuilles et on peut y lire: "Je suis à mon bien-aimé, et mon bien-aimé est à moi. Aucun homme sans femme, aucune femme sans homme, et ni sans Dieu". Ce certificat témoigne que Arthur Miller et Marilyn Monroe ont été unis dans le mariage dans la ville de Lewisboro, à Westchester, le 1er Juillet 1956, 22 Tamouz 5716, conformément au rite d'Israël et en conformité avec les lois de l'État de New York. Signé par le Rabbin Robert E. Goldburg et par les témoins: le frère d'Arthur, Kermit Miller, ainsi que du professeur d'art dramatique de Marilyn, Lee Strasberg.
Arthur Miller and Marilyn Monroe's ketubah, traditionally a special Jewish prenuptial agreement, outlining the rights and responsibilities of the groom in relation to the bride. This beautiful, richly colored document (see above) is printed on two oblong 8 ½ in. x 11 in. leaves and reads, "I am my beloved's, and my beloved is mine. No man without woman; no woman without man; and neither without God". This Testimonial witnesses that Arthur Miller and Marilyn Monroe were united in marriage in the city of Lewisboro, Westchester on July 1, 1956, 22nd of Tammuz 5716, In accordance with the rite of Israel and in compliance with the laws of the State of New York. Signed by Rabbi Robert E. Goldburg and witnessed by Arthur's brother, Kermit Miller, as well as Marilyn's acting coach, Lee Strasberg.
---
L'après-midi, les invités (amis et famille) attendent sur la terrasse en dalles de la propriété de l'agent littéraire de Miller, Kay Brown, une ancienne ferme, située à Waccabuc, près de Katonah, dans le Comté de Westchester, dans l'Etat de New York, pendant que les futurs mariés arrivent de Roxbury, où se trouve la propriété de Miller. Les invités sont au nombre de 25 (ou 30 selon les sources) et ne sont composés que d'amis très proches et de la famille de Miller: les enfants (Jane et Robert) et parents (Isadore et Augusta Miller) d'Arthur, son frère Kermit Miller, sa soeur Joan Copeland, son cousin Morty Miller et leurs conjoints respectifs, les Strasberg (Lee et Paula), les Greene (Milton et Amy, ainsi que Cecilia, la mère de Milton et Kitty Owen, la cuisinière des Greene), les Rosten (Norman et Hedda), mais aussi Jay Kanter (l'agent de Marilyn), le scénariste George Axelrod et le couturier John Moore. Il fait très chaud ce jour là, les hommes retirent leurs vestes et les femmes portent des petites robes d'été. De longues tables recouvertes de nappes blanches et des chaises pliantes sont installées dans le jardin, près de la baie vitrée de la maison. Comme à son habitude, Marilyn est en retard.
In the afternoon, the guests (friends and family) waiting on the flagstone terrace of the white home of literary agent of Miller, Kay Brown, a former farmhouse, located in Waccabuc, near Katonah, in Westchester County in the State of New York, while the bride and groom come from Roxbury, where there is the Miller's home. Guests are 25 (or 30 depending on the sources) and are composed of only close friends and Miller's family: children (Jane and Robert) and parents (Isadore and Augusta Miller) of Arthur, his brother Kermit Miller, his sister Joan Copeland, his cousin Morty Miller and their respective spouses, the Strasbergs (Lee and Paula) , the Greenes (Milton and Amy, and Cecilia, Milton's mother, and Kitty owen, cooker of the Greene), the Rostens (Norman and Hedda) and also Jay Kanter (Marilyn's publicist), the scriptwriter George Axelrod and the fashion designer John Moore. It is a heat day, so men remove their jackets and women wear little summer dresses. Long tables covered with white tablecloths and folding chairs are set in a large bay window. As usual, Marilyn is late.
> Milton Greene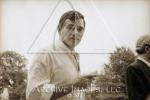 > Milton Greene avec Cecilia (sa mère) et Kitty Owen (sa cuisinière)

---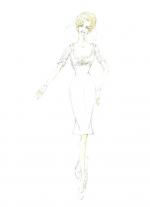 Puis Marilyn et Arthur arrivent: elle est vêtue d'un simple blue jean et se précipite dans une chambre à l'étage où la dame d'honneur, Hedda Rosten, l'aide à se changer avec la robe de mariée beige en mousseline de soie, signée des créateurs John Moore et Norman Norell, avec des fronces sur les manches et le corsage et une ceinture de satin sous le buste. Amy Greene a prêté son voile qu'elle a fait tremper dans du café une semaine auparavant, afin de renforcer l'aspect de douceur d'ombres beige du voile en auréole. (cf illustration de Michelle Shin ci-contre). Le costume qu'Arthur porte a été acheté par Milton et fourni par Jack Walker, un ami proche de Greene, qui a couru au magasin de mercerie pour hommes Mannie Walker. Miller le porte avec une cravate et a mis une fleur à sa boutonnière. Les autres dames d'honneur sont Judy Kantor et Amy Greene, qui a aidé Marilyn à se coiffer et se maquiller.

Then Marilyn and Arthur arrive: she is wearing a simple blue jeans and rushes into a room upstairs where matron of honor, Hedda Rosten, help her to change with the wedding chiffon beige dress, by the designers John Moore and Norman Norell, with ruching on the sleeves and bodice and a satin sash under the bust. Amy Greene has loaned her veil that she had soaked veil in coffee a week before, to enhance the appearance of smooth beige shadows of halo veil (see illustration below against Michelle Shin). The suit Arthur wears is actually purchased by Milton and provides by Jack Walker, dear friend of the Greene's, who runs the Mannie Walker men's haberdashery store. Miller wears a tie and put a flower in his buttonhole.
The other matrons of honor are Judy Kantor and Amy Greene, who helped Marilyn to make hair and makeup.
Cependant, Marilyn semble perturbée depuis deux jours (en fait, depuis le mariage civil du vendredi): elle est nerveuse, anxieuse et se renferme sur elle-même, comme l'ont constaté Milton et Amy Greene. Milton avait d'ailleurs téléphoné à Irving Stein, l'avocat de Marilyn pour lui demander de "se tenir prêt en cas de difficulté de dernière minute". Pendant que Marilyn se prépare dans la chambre, Milton en profite pour discuter avec elle: "Je ne t'ai pas vu sourire de toute la journée. Tu es bien sûre de ce que tu fais ? (...) Tu veux vraiment de ce mariage ? Tu n'y es pas obligée, tu sais. Si tu veux tout arrêter, ce n'est pas compliqué", lui dit Milton. Des larmes commencent à couler sur le visage de Marilyn et Amy la réconforte en lui précisant: "On peut te mettre dans une voiture pour sortir doucement par la porte de derrière. Nous, on se débrouillera avec les invités. Le mariage civil pourrait certainement être annulé avant que le rituel religieux ne vint apporter sa solennité à l'union". Et Marilyn de répondre calmement: "Non, je crois que je ne veux pas me marier".
Milton sort de la chambre et s'apprête à renvoyer tout le monde, mais Marilyn le rappele: "Non, Milton ! On a invité tous ces gens, on ne peut pas faire ça, on ne peut pas les décevoir !"
D'après Amy, Marilyn avait vu un mauvais présage dans la mort accidentelle de la journaliste Maria Scherbatoff (le 29 juin, lors de la conférence de presse donnée avec Miller à Roxbury): "Mais elle savait aussi, présage ou pas, qu'elle commettait une terrible erreur en acceptant ce mariage". D'ailleurs, un autre ami de Marilyn confie: "Elle n'était pas sûre de l'aimer, mais elle n'était pas sûre non plus de ne pas l'aimer. Au cœur de sa confusion, cependant, était son sentiment qu'elle était dépassée avec cet homme. Son insécurité allait crescendo à cette époque. Elle ne pouvait pas s'empêcher de se demander ce que cet intellectuel voulait d'elle, et cela la rendait folle. Cherchait-il juste une femme trophée, comme Joe ? C'est ce qui se passait vraiment ici."
However, Marilyn seems disturbed for two days (in fact, since the civil marriage on Friday ): she is nervous, anxious and contains about herself, as noted by Milton and Amy Greene. Milton has also phoned to Irving Stein, Marilyn's lawyer, asking him to "be ready in case of trouble of last minute." While Marilyn prepares herself in the bedroom, Milton tooks the opportunity to discuss with her: "I have not seen you smile all the day. You're very sure of what you do ? ( ... ) Do you really want to this marriage ? You are not required on it, you know. If you want to stop everything, it's not complicated, " says Milton. Tears begin to flow on the face of Marilyn and Amy comforts her by saying "We can put you in a car to go out softly by the door behind the house. We will attend the guests. Civil marriage certainly could be canceled before the religious ritual come to bring solemnity to the union." And Marilyn answers calmly, "No, I think I don't want to marry." Milton leaves the room and is about to oust everyone but Marilyn recalls him: "No, Milton ! We have invited all these people, we can't do that, we can't let down them !"
According to Amy, Marilyn saw a bad omen in the car accidental of journalist Maria Scherbatoff whi diead (on June 29, just before the press conference with Miller in Roxbury): "But she also knew, omen or not, that she was making a terrible mistake by accepting this marriage." Moreover, another friend of Marilyn says: "She wasn't sure that she loved him, but she wasn't sure she didn't. At the core of her confusion, though, was her sense that she was in over her head with this man. Her insecurity were running wild by this time. She couldn't help but Wonder what this intellectual wanted with her, and it was driving her crazy. Was he just looking for a trophy wife, as Joe had ? What was really going on here".
---
Pendant ce temps, le Rabbin Robert Goldberg et les invités patientent dans le living-room. Milton Greene accompagne Marilyn à la sortie de la chambre pour la mener au bras de Lee Strasberg, qui joue ainsi le rôle du père de substitution de la mariée en la menant à l'autel. La cérémonie, qui a lieu devant la cheminée de marbre du living-room, ne dure qu'à peine 10 minutes et se célèbre selon le rituel juif. Les époux boivent le vin rouge: Marilyn soulève son voile pour déposer ses lèvres sur la coupe. Elle prononce un "je le veux" d'une voix douce et tremblante. Ils s'échangent les alliances: au cours des deux jours précédents, Miller avait acheté un anneau d'or chez Cartier qui portait l'inscription: "A. à M., juin 1956. Maintenant Pour Toujours." Puis, Miller casse son verre en l'écrasant de ses pieds, en souvenir de la destruction de Jérusalem, et la foule s'écrie: "Mazel Tov!"
Meanwhile, Rabbi Robert Goldberg and guests wait in the living room. Milton Greene accompanies Marilyn from the bedroom and lead her to the arm of Lee Strasberg, who plays the role of a surrogate father to the bride, leading her to the altar. The ceremony, which takes place in front of the marble fireplace in the living-room, lasts just 10 minutes and is celebrated according to the Jewish ritual. The couple drink red wine: Marilyn raised her veil to submit her lips on the cup. She delivers an "I do " in a soft, tremulous voice. They shall exchange alliances: in the previous two days, Miller has bought a gold ring from Cartier's which bore the inscription: "A. to M., June 1956, Now For Ever." Then Miller crushes his glass under his feet, in remembrance of the destruction of Jerusalem, and the crowd cried "Mazel Tov!"

--- En attendant la mariée / Waiting for the bride ---
> Kermit Miller, Arthur Miller et Lee Strasberg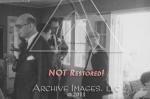 > Kitty Owen et Cecilia Greene

> Hedda Rosten, le Rabbin Goldberg et Arthur Miller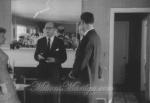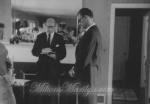 --- La cérémonie / The ceremony ---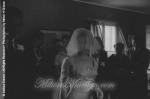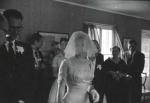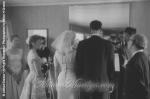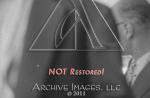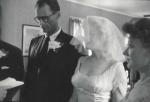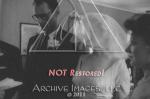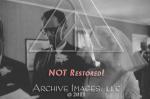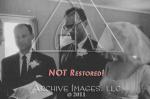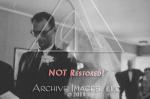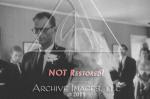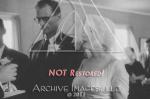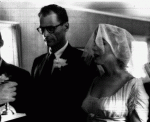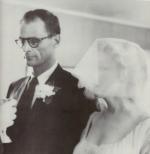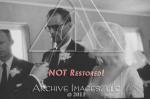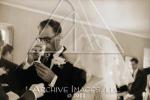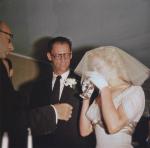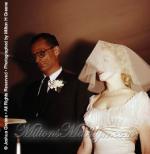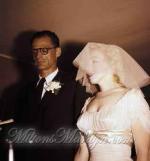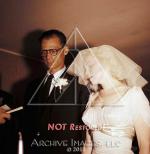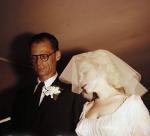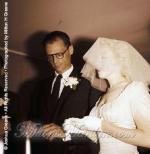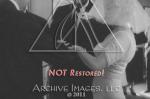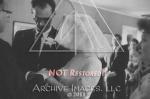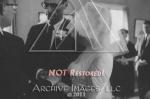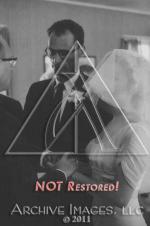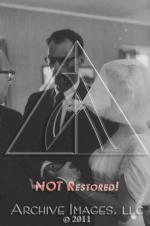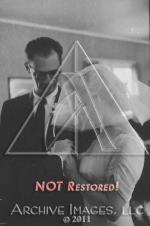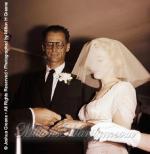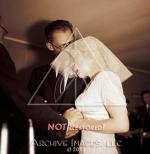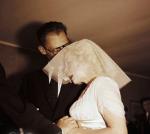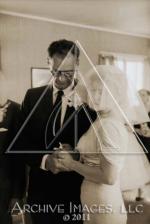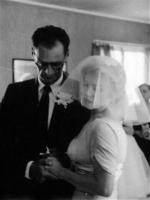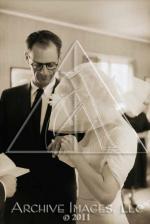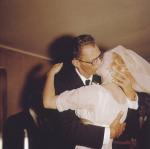 ---
Ensuite, le repas du mariage prend des airs bucoliques, avec l'organisation d'un lunch en plein air dans le jardin.
Au menu: homard, dinde et champagne, ainsi que la pièce montée (les Miller s'étaient adressés à huit pâtissiers avant d'en trouver un qui accepte de la confectionner en quelques heures). Marilyn et Arthur coupent ensemble les tranches, et s'embrassent sans retenue. Arthur Miller, habituellement stoïque, se montre très attentionnée et enchanté de sa nouvelle épouse; et Marilyn semble très heureuse. Depuis plusieurs mois, les proches de Miller ont observé une aisance physique qui l'avait complètement transformé. Norman Rosten dira: "Le conte de fées était devenu réalité. Le Prince était apparu, la Princesse était sauve." Marilyn écrira au dos d'une photographie du mariage: "Espoir, Espoir, Espoir."
Then, the wedding meal takes bucolic aspect, with the organization of a lunch outside, in the garden.
On the menu: lobster, turkey and champagne and the wedding cake (Millers had approached eight pastry before finding one who agrees to make it in a few hours). Marilyn and Arthur cut the slices together, and kiss each other without restraint. Arthur Miller, usually stoic, is very caring and delighted with his new wife, and Marilyn seems very happy. For several months, Miller's closest friends have observed a physical ease that has completely transformed him. Norman Rosten will say that "The fairy tale came true. The Prince appeared, the Princess was safe." Marilyn wrote on the back of the wedding photography "Hope, Hope, Hope."
--- Dans la maison / In the house ---
> Kitty Owen (cuisinière des Greene) et Marilyn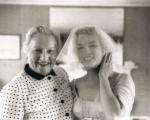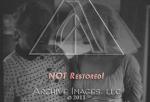 --- Sur la terrasse / On the terrace ---
> Marilyn, Arthur et Joan Copeland (soeur d'Arthur)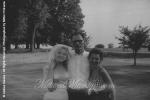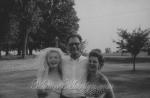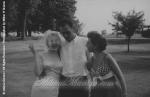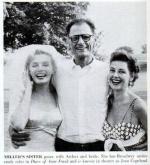 > Arthur, Marilyn et Kermit Miller (frère d'Arthur)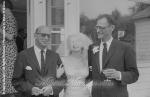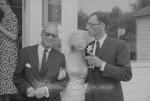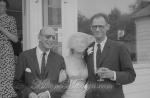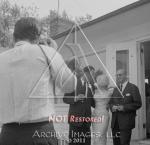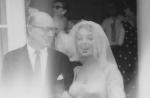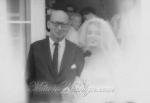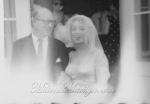 > Arthur, Marilyn et Cecilia (mère de Milton Greene)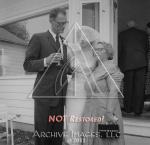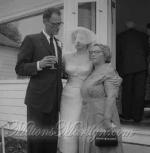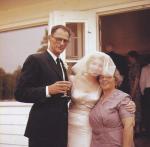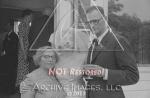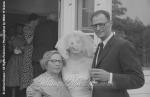 > Paula et Lee Strasberg, Marilyn et Arthur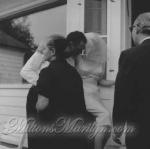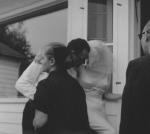 --- Le repas / The Lunch ---
---
> captures

> videos film footage


---
---
.photographies de Milton H. Greene
.sources:
Marilyn Monroe, biographie de Barbara Leaming
Les vies secrètes de Marilyn Monroe, d'Anthony Summers
Marilyn Monroe, encyclopédie d'Adam Victor
Les trésors de Marilyn Monroe, de Jenna Glatzer
Marilyn Monroe et les caméras, Georges Belmont
Life Remembering Marilyn
Marilyn in Fashion de Nickens and Zeno

---
© All images are copyright and protected by their respective owners, assignees or others.
copyright text by GinieLand.
Enregistrer
28 février 2014
Le 24 juin 1956, Marilyn Monroe quitte son appartement de Sutton Place, à New York, en taxi, afin d'éviter les reporters. Arthur Miller l'attend à trois blocks de là, dans son break où sont assis, sur les sièges arrières, la mère de Miller (Augusta Miller), ses deux enfants (Jane et Robert) et le chien Hugo; et Marilyn monte dans la voiture, pour se rendre à Roxbury, dans la propriété de Miller.
In 1956, June, 24 Marilyn Monroe leaves from her apartment in Sutton Place, New York, takes a taxi to avoid reporters. Arthur Miller waits her three blocks away, in his station wagon where wait the Miller's mother (Augusta), his children (Jane and Robert), and his basset dog Hugo; Marilyn gets into the station wagon and they all go to Roxbury, in the Miller's home.
> Marilyn Monroe et Arthur Miller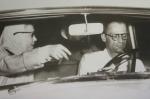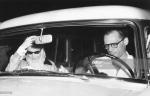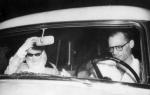 ---
extrait de "Marilyn- The Ultimate Look At The Legend" de James Haspiel:
Le 24 juin 1956 , s'est avéré être une soirée incroyable. La presse traquait Monroe et Arthur Miller, car maintenant le mot était qu'il y allait y avoir un mariage. Cette nuit là Miller essayait de faire sortir Monroe de la ville pour la quiétude de la campagne du Connecticut. Miller était au volant d'un break , maintenant garé devant le 2 Sutton Place South; chargé des bagages de Monroe, et la presse de regarder avec vivacité le break tels des faucons. Soudain, Miller est sorti du bâtiment seul, monta dans le véhicule et pris rapidement la fuite. Les journalistes et les photographes n'étaient pas vraiment intéressé par lui tout seul, ils étaient intéressés par elle, par eux ! Ainsi, le break disparu au-dessus de la zone de l'avenue York et la 61e rue , à rester là à attendre Monroe . Un taxi a été appelé à l'alcôve de stationnement du 2 Sutton Place South, la portière du passager maintenant ouverte et en attendant son prochain tarif. Un peu dans le flou, Marilyn est soudainement apparue à travers la porte d'entrée et a boulonné dans le taxi avec les flashs d'éclairage sur son chemin, et le taxi a démarré.

Le groupe des Monroe Six n'étaient pas là ce soir, et je traînais avec Nathan Puckett , qui était venu à New York du Michigan pour voir Marily , et a été le président de l'un des nombreux clubs de fans de Monroe. Nate a proposer de payer un taxi pour suivre celui de Marilyn, nous en avons donc pris un après elle, et l'un des photographes de presse a également suivi. Je me souviens très bien que le taxi de Marilyn remontait sur le côté ouest de l'avenue York, à la 61e rue; le break était garé sur le côté Est de l'avenue, et l'avenue était alors (et probablement encore) pavée. Elle sortit du taxi, et elle courait à travers les pavés dans ses très hauts talons, courant à travers le trafic dense venant en sens inverse pour atteindre le break, avec le photographe de presse solitaire à sa poursuite, et Nate et moi assis en émoi dans notre taxi, à une cinquantaine de mètres. Monroe a couru vers le côté passager de la voiture familiale, Miller avait déjà mis le moteur en route, et comme elle a atteint la porte, le photographe parvint jusqu'à elle, posa sa main sur son épaule et, avec tous ses muscle , se balançait autour de Monroe et la jeta durement contre le côté du break ! Elle est presque tombée par terre alors qu'il soulevait son appareil photo pour prendre une photo d'elle. Miller est sorti de la voiture et, sans faire attention que ce soit un photographe de presse, il aida simplement Marilyn à monter dans le break, se tenant lui-même derrière la roue, et ils ont démarré, accélérant sur l'avenue York . Et nous avons redémarré aussi.

Nous avons grillé cinq feux rouges pour suivre le véhicule de Miller, et enfin, à un certain point de uptown, je pense aux alentours de la 110ème rue, la voiture est entrée dans la East River Drive, pour aller dans le Connecticut! Notre taxi s'est rangé près du trottoir et (rappelez-vous , c'était encore en 1956) le compteur affichait 95 cents. Rappelez-vous, aussi, que ce chauffeur avait traversé cinq feux rouges pour nous, et maintenant, le jeune garçon du Michigan, sans le bon sens du citadin, lui a remis un billet unique d'un dollar, accordant: "Vous pouvez garder la monnaie !" Un pourboire nickel ! Si je me souviens bien, je sors du taxi et paris vite à toute hâte.

June 24th 1956, turned out to be an incredible evening. The press was hounding Monroe and Arthur Miller, because by now the word was out that there was going to be a marriage. That night Miller was trying to get Monroe out of the city and up to the quietude of the Connecticut countryside. Miller was driving a station wagon, now parked in front of 2 Sutton Place South; it was packed with Monroe's luggage, and the Press were keenly watching the station wagon like hawks. Suddenly, Miller came out of the building alone, got into the vehicle and quickly sped away. The reporters and photographers really weren't interested in him solo, they were interested in her, in them! So, the station wagon disappeared over to the area at York Avenue and 61st Street, to sit there and wait for Monroe. A taxicab was summoned to the parking alcove at 2 Sutton Place South, the passenger door now open and awaiting its next fare. Not unlike a blur, Marilyn suddenly appeared through the front door and bolted into the taxicab with flashbulbs lighting her way, and the cab took off.

The Monroe Six were not around that evening, and I was hanging out with Nathan Puckett, who had come to New York City from Michigan to see Marilyn, and was the president of one of Monroe's many fan clubs. Nate offered to pay for a taxicab to follow Marilyn's cab, so we took off after her, and one of the press photographers also followed. I vividly recall that Marilyn's taxicab pulled up to the west side of York Avenue at 61st Street; the station wagon was parked on the east side of the avenue, and the avenue was then (and probably still is) paved with cobblestones. She got out of the cab, and she was running across the cobblestones in her very high heels, running through the oncoming traffic to reach the station wagon, with the lone press photographer in hot pursuit, and Nate and I sitting agog in our taxicab, some fifty feet away. Monroe raced around to the passenger side of the station wagon, Miller already gunning the motor, and as she reached for the door, the photographer got right up to her, put his hand on her shoulder and, with all his muscle, swung Monroe around and threw her hard up against the side of the station wagon! She almost fell to the ground as he raised his camera to take a picture of her. Miller got out of the car and, paying no attention whatsoever to the press photographer, he simply assisted Marilyn into the station wagon, got himself back behind the wheel, and they took off, speeding up York Avenue. And we took off too.

We drove through five red lights following the Miller vehicle, and finally at some point uptown, I think around 110th Street, the car entered into the East River Drive, to go on up to Connecticut! Our cab pulled over the curb and (remember, it was still 1956) the meter read 95 cents. Remember, too, that this driver had gone through five red lights for us, and now the young lad from Michigan, with no sign of city-savvy, handed him a single dollar bill, allowing, 'You can keep the change!' A nickel tip! As I recall, I hustled myself out and away from the taxicab in a hurry.
---
source:
forum everlasting-star
---
© All images are copyright and protected by their respective owners, assignees or others.
copyright text by GinieLand.
15 octobre 2012
Le 13 juillet 1956, Marilyn Monroe et Arthur Miller partent de New York pour se rendre en Angleterre où Marilyn doit tourner "The Prince and the Showgirl" (Le prince et la danseuse). Une foule de personnes s'est regroupée à l'aéroport new-yorkais pour apercevoir le couple qui prend l'avion, accompagné par les parents d'Arthur. De nombreux journalistes de la presse écrite et aussi des caméras, sont sur les lieux. La presse va rapporter que le couple voyage avec 27 valises.
> de la collection de James Collins, un fan des Monroe Six
-from the personal collection of James Collins, one of the 'Monroe Six'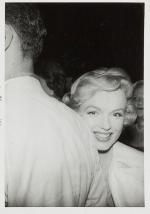 ---
Le couple arrive à Londres le 14 juillet. La nouvelle de l'arrivée de Marilyn avait fait la Une des journaux, allant jusqu'à éclipser un très important discours du Premier Ministre Anthony Eden sur la catastrophe économique en Angleterre. Marilyn et Arthur sont assaillis dès leur descente d'avion à Idlewild Airport: près de 70 policiers sont présents pour assurer la sécurité car plus de 200 journalistes et photographes sont agglutinés sur le tarmac et dans l'aéroport.
---
Dans le hall de l'aéroport, c'est la cohue entre journalistes et photographes. Laurence Olivier et sa femme Vivien Leigh viennent à la rencontre de Marilyn et Arthur.
---
Une conférence de presse est organisée dans le petit salon de l'aéroport et au bar du petit hôtel. Les journalistes posent des questions idiotes à Marilyn, la considérant comme une petite blonde stupide; ils lui demandent notamment ses habitudes de sommeil, ce à quoi elle réplique:
-"Maintenant que je suis en Angleterre, disons que avant de dormir, j'aime me parfumer avec de la lavande de Yardley's".
Les journalistes -quasiment tous masculins- vont être finalement totalement séduits par la star et sont surpris par ses réparties délicieuses. Le journal 'The London Evening News' va écrire dans ses colonnes: "Elle marche. Elle parle. Elle est aussi savoureuse que des fraises à la crème."
---
> photographies de Milton H Greene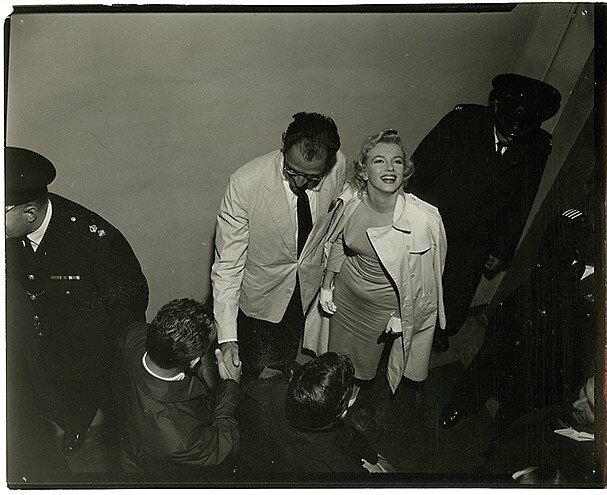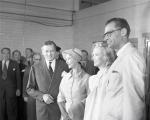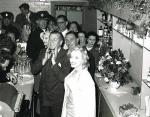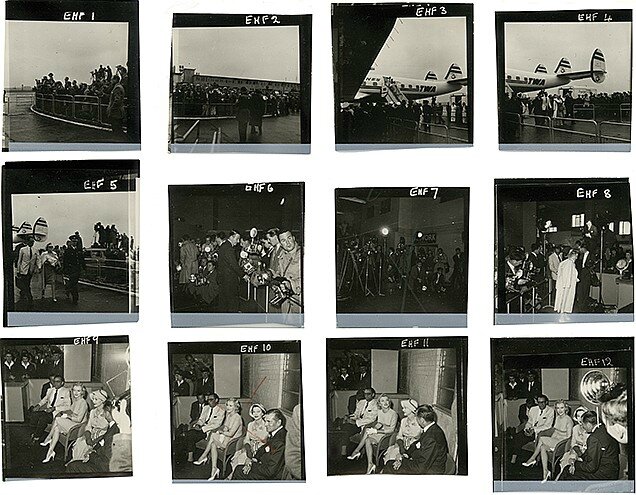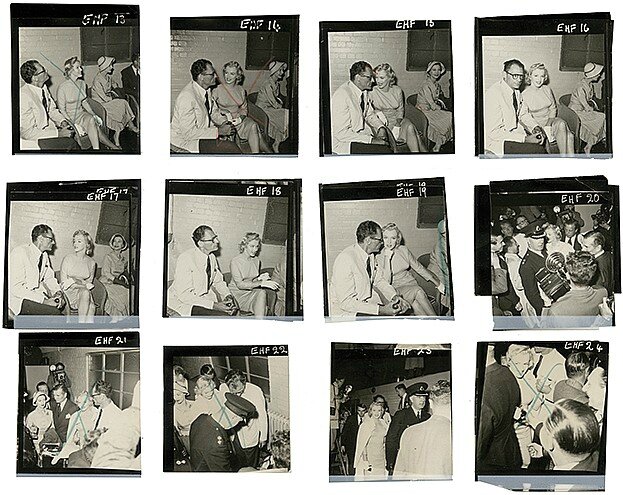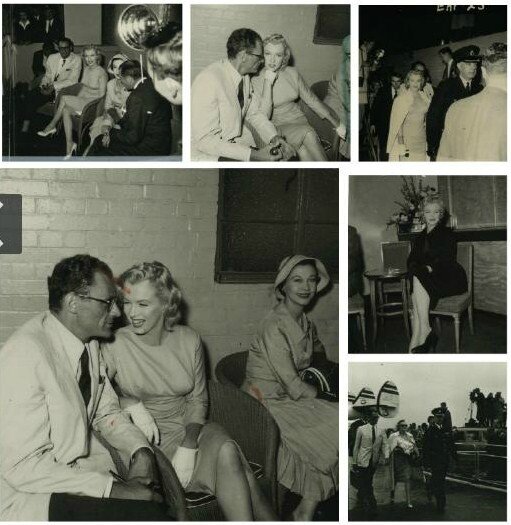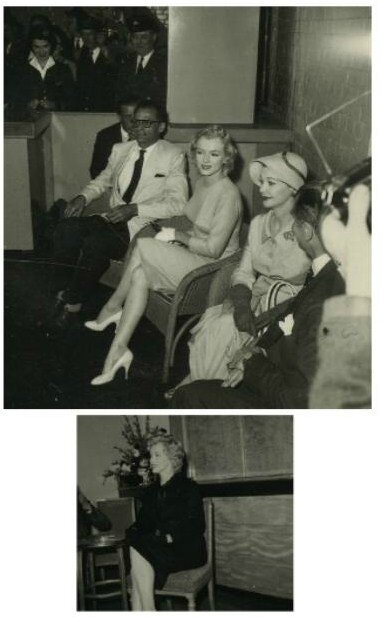 ---
Marilyn et Arthur sont escortés jusqu'à une limousine (une Austin Princess) qui les amènent à Parkside House, une propriété située à Englefield Green à Egham, à moins d'une heure en voiture de Londres. Le photographe Milton Greene et l'attaché de presse de Marilyn, Arthur Jacobs, s'y rendent aussi; ils sont escortés par quatre policiers en motos. Le couple Olivier les suivent dans une Bentley.

---
Puis Marilyn, Arthur, Laurence Olivier et Vivien Leigh se retrouvent à Parkside House, où Marilyn et Arthur vont loger. Ils la louent à Lord Moore, directeur du Financial Times, et à sa femme, la pianiste Joan Moore. Donald Zec, journaliste au 'Mirror' est présent pour accueillir le couple. D'ailleurs Marilyn permit aux photographes d'accéder à la propriété pour prendre des photos.
---
> video 1


> video 2


> video 3


> video 4


> video "Marilyn and Miller go to England" sur youtube

> video "MM arrives in England" sur youtube

> video 'British Movietone News'


---
---
On July 13, 1956, Marilyn Monroe and Arthur Miller leave New York, going to London where Marilyn should shoot 'The Prince and the Showgirl'. They travel with 27 pieces of luggage.
They arrive in London the July 14 where they meet Laurence Olivier and Vivien Leigh. More than 200 journalists and photographs are here and 70 policemen make the security service. A press conference is organised in the airport's hall.
They go after to Parkside House.

---
sources:
> Les vies secrètes de Marilyn Monroe, d'Anthony Summers.
> Marilyn Monroe et les caméras.
> Marilyn Monroe, de Barbara Leaming.
> Marilyn Monroe Les inédits, de Marie Clayton.

16 juin 2009
Le 8 mars 1961, c'est accompagnée de sa secrétaire May Reis que Marilyn Monroe se rend à l'enterrement d'Augusta Miller, mère d'Arthur Miller, dont Marilyn vient de se se séparer. Elle va devenir de plus en plus proche de son ex beau père, Isadore Miller (le père d'Arthur).