21 février 2016
Les 10 artistes morts les plus rentables
publié le 06/02/2015
en ligne sur vanityfair.fr
Même outre-tombe, ces personnalités continuent de faire tourner une machine de plusieurs millions de dollars. Découvrez le classement Forbes des célébrités mortes les plus rentables de l'année 2014.

01/ Michael Jackson avec 140 millions de Dollars
02/ Elvis Presley avec 55 millions de Dollars
03/ Charles Schulz, avec 40 millions de dollars
04/ Elizabeth Taylor, avec 25 millions de dollars
05/ Bob Marley, avec 20 millions de dollars
06/ Marilyn Monroe, avec 17 millions de dollars
< Marilyn Monroe chez elle, dans sa maison en Californie, en 1953.
Photo Alfred Eisenstaedt/Pix Inc./The LIFE Picture Collection/Getty Images

Marilyn est morte dans d'étranges circonstances le 5 août 1962, ne laissant à 36 ans que peu de choses derrière elle. Pourtant, depuis, Authentic Brand Group (qui possède aussi les droits de Elvis Presley et Mohamed Ali, pour n'en citer que deux), a racheté les droits de Monroe et la décline en marque déposée bien juteuse ; dernièrement, on a pu voir apparaître une ligne de lingerie Marilyn Monroe, en plus de sa ligne de vêtements pour ados qui se vend comme des petits pains chez Macy's.
07/ John Lennon, avec 12 millions de dollars
08/ Albert Einstein, avec 11 millions de dollars
09 a/ Theodor Geisel, avec 9 millions de dollars
09 b/ Bruce Lee, avec 9 millions de dollars
09 c/ Steve McQueen, avec 9 millions de dollars
09 d/ Bettie Page, avec 9 millions de dollars
10/ James Dean, avec 7 millions de dollars
31 mars 2008
Marilyn par Harold Lloyd

Harold Lloyd a pris Marilyn Monroe en photographie en 1952 et en 1953: en coulisses, il la photographie en plein travail; d'abord pendant une séance de photo avec Philippe Halsman, puis lors d'un tournage d'une publicité.
Harold possédait à Beverly Hills une immense villa baptisée "GreenAcres" composée de quarante-quatre pièces, dont vingt-six salles de bain, ainsi que douze fontaines et autant de jardins (inscrite au National Register of Historic Places), et c'est dans ce cadre paradisaque qu'a eu lieu l'une les séances photos de la publicité tournée avec Marilyn.
Harold Lloyd took Marilyn Monroe in photography in 1952 and in 1953: behind the scenes, he photographs her at work; first during a photo session with Philippe Halsman, then during a shoot of an advertisement.
Harold owned a huge villa in Beverly Hills called "GreenAcres", composed of forty-four rooms, including twenty-six bathrooms, as well as twelve fountains and gardens (listed in the National Register of Historic Places) and this is in that heavenly setting that took place one the photo shoots of the advertising shot with Marilyn.

---

.1952: Séance en robe blanche pour le magazine "Life" - en coulisses de la séance du photographe Philippe Halsman, chez Marilyn, au Beverly Carlton Hotel.
.1952: Sitting in White Dress for "Life" magazine - in backstage of the sitting by photographer Philippe Halsman, at marilyn's studio in Beverly Carlton Hotel.
(> blog 1952, Beverly Carlton Hotel - Session "Life" en robe blanche )

---

.1952: Séance en déshabillé - en coulisses de la séance du photographe Philippe Halsman, chez Marilyn, au Beverly Carlton Hotel en déshabillé noir et rose.
.1952: Sitting in lingerie - in backstage of the sitting by photographer Philippe Halsman, at marilyn's studio in Beverly Carlton Hotel, in a black and pink lingerie.
(> blog 1952, Beverly Carlton Hotel - en déshabillé )

---
.1953: Devant GreenAcres - la villa de Lloyd, le jour du tournage de la publicité pour Coca-Cola.
.1953: In front of GreenAcres - the Lloyd's villa, the day of the filming of the publicity for Coca Cola.
(> blog 1953 Marilyn à GreenAcres par Harold Lloyd )

---

.1953: Coulisses du tournage à GreenAcres - au bord de la piscine, pour la publicité Coca-Cola.
.1953: Backstage of Filming in GreenAcres - on the edge of the pool, for the Coca Cola's publicity.
(> blog 1953, Marilyn en tournage à GreenAcres )
---
> blog post tags Harold Lloyd
---
Harold Lloyd
(1893 - 1971)
photographe américain

Vous connaissez forcément cette image de l'univers cinématographique, qui est l'une des plus connues: c'est Harold Lloyd, suspendu à une horloge en haut d'un building, dans le film Safety Last ! (Monte là-dessus). Cette tentative d'arrêter le temps fut maintes fois reprises au cinéma (citons 'Retour vers le futur') ou dans des clips vidéo (comme celui de la chanteuse Jenifer).
Harold Clayton Lloyd est un acteur de cinéma burlesque américain, très populaire aux États-Unis. Sa performance la plus marquante remonte à 1923, dans le classique du cinéma burlesque muet Monte là-dessus ! (Safety Last!) réalisé par Fred C. Newmeyer et Sam Taylor; film dans lequel figure une scène mémorable: celle où il reste dangereusement suspendu aux aiguilles d'une horloge en escaladant la façade d'un gratte-ciel de Los Angeles.
Cependant, Harold Lloyd reste aujourd'hui le moins connu du trio de stars comiques du cinéma muet qu'il formait avec Charles Chaplin et Buster Keaton. Lui qui connaissait, pourtant, une célébrité au moins aussi importante que celle de ses collègues à l'époque. A la différence de ses confrères, son personnage comique est un jeune homme plutôt équilibré, intégré, romantique et bosseur. Et dans la vie, il était sans doute le plus discret et réservé des trois.
Né à la fin du XIXe siècle (plus exactement le 20 avril 1893) dans le Nebraska, il étudie l'art dramatique à San Diego et débute sur scène à l'âge de douze ans et parvient au cinéma à vingt ans, en 1913, dans un rôle d'indien pour un court métrage de J. Searle Dawley. Mais c'est sous la direction d'Hal Roach qu'il se fait connaître en interprétant un personnage, souvent anonyme ("The Boy" = "le garçon" en français), assez proche de Charlot. Il finit par trouver son identité à l'écran, celle d'un maladroit entraîné malgré lui à exécuter des acrobaties insensées. Les cascades étaient réalisées par Lloyd lui-même.
Il tourna une série de succès dans les années 1920 parmi lesquels le fameux Safety Last!, Why Worry? et The Freshman. On sait moins qu'il était simple figurant dans la seconde version cinématographique de Ben-Hur de 1925. Occasionnellement producteur, il a participé, sans en être systématiquement crédité, à l'écriture de Grandma's Boy et à la réalisation de six de ses films. Il était aussi co-fondateur de l'Academy of Motion Picture Arts and Sciences (AMPAS).
En 1920, il perdit un pouce et un index dans l'explosion d'une bombe, ce qui le contraint à porter une prothèse et un gant à partir de cette date. Le personnage à lunettes joué à l'écran par Harold Lloyd a, en partie, inspiré celui de Clark Kent, alias Superman, créé en 1934 par Joe Shuster et Jerry Siegel. Comme Lloyd, qui cachait son identité simplement en retirant cet accessoire, le super-héros les endossait pour redevenir le simple journaliste.
Sa dernière apparition à l'écran remonte à 1947 dans The Sin of Harold Diddlebock de Preston Sturges où il tenait le rôle titre et pour lequel il fut nommé pour les Golden Globes de 1951 (récompense finalement attribuée à Fred Astaire). Les Academy Awards lui décernèrent en 1953, un "Oscar d'honneur" pour l'ensemble de sa carrière et le fameux "Boulevard des célébrités" conserve, depuis le 21 novembre 1927, l'empreinte de ses mains, pieds... et lunettes ! On rapporte qu'il était l'unique acteur propriétaire de l'intégralité de ses plus de six cents films. Il eut, avec l'actrice Mildred Davis, un fils également acteur, Harold Lloyd Jr., mais dont la carrière fut bien plus courte que celle de son père puisqu'il disparut quelques mois à peine après le décès de celui-ci (Harold Lloyd est décédé le 8 mars 1971).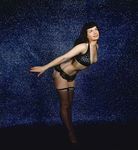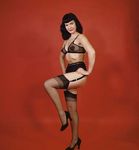 Bettie Page et Jayne Mansfield
photographiées par Harol Lloyd
HAROLD LLOYD PHOTOGRAPHE
L'acteur comique était un grand amateur de photographies, en particulier celles de femmes nues en 3D. Durant vingt ans, il collectionna à travers le monde plusieurs centaines de milliers de clichés, qu'il prit lui-même ou acheta au gré de ses voyages. Parmi les stars les plus célèbres qui posèrent sous son objectif, figurent Marilyn Monroe, Jayne Mansfield, ou encore la pin-up brune Bettie Page.
---
>> Sites officiels :
-- Cliquez sur les bannières --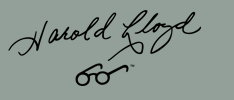 >> sources web :
biographie -en français- sur DVDtoile
brève bio et filmographie sur wikipedia français
site dédié à l'artiste -en anglais- sur HaroldLloyd.us
---
© All images are copyright and protected by their respective owners, assignees or others.
copyright text by GinieLand.
Enregistrer
Enregistrer
Enregistrer
Enregistrer
Enregistrer