14 mai 2015
- Série Betty Grable
---
- Série JFK
---
source site officiel timbres postes République Centrafriquaine: car.post-stamps
11 octobre 2013
---
Vêtements
---
lot 1263: MARILYN MONROE BROWN BLOUSE
A Marilyn Monroe brown button-down blouse from her personal wardrobe. The long-sleeved blouse has a "designed by Jax" label.
PROVENANCE Partial Lot 103, "The Personal Property of Marilyn Monroe," Christie's, New York, Sale number 9216, October 27-28, 1999
Estimate: $2 000 - 4 000
---
lot 1259: MARILYN MONROE COTTON NIGHTGOWN
A cotton nightgown owned by Marilyn Monroe, embroidered at the collar "Marilyn." Short sleeved, two-button closure, pocket at left breast. No label or size.
PROVENANCE Lot 300, "The Personal Property of Marilyn Monroe," Christie's, New York, Sale number 9216, October 27-28, 1999
Estimate: $15 000 - 20 000

---
lot 1171: BETTY GRABLE HOW TO MARRY A MILLIONAIRE HAT
A violet silk faille hat worn by Betty Grable in How to Marry a Millionaire (20th Century, 1953). The hat has a bow to back, piping and artificial horsehair to interior. A bias label reads "1-39-1-4694 Betty Grable A703-47." Costume design by Travilla. Travilla received an Oscar nomination for outstanding achievement in Color Costume Design for his work on this film. Accompanied by a copy of the film.
Estimate: $300 - 500

---
Maquillage
---
lot 1261: MARILYN MONROE MASCARA
A gold-toned metal tube of Helena Rubinstein mascara.
4 1/2 inches
PROVENANCE Partial Lot 264, "Property from the Estate of Marilyn Monroe," Julien's Auctions, Los Angeles, June 4, 2005
Estimate: $300 - 500

---
Divers Objets
---
lot 1258: MARILYN MONROE REDBOOK AWARD
A 1952 Redbook Award presented to Marilyn Monroe. Inscribed "1952/Best Young Box Office Personality/ Marilyn Monroe" and on reverse "Redbook Magazine/ Award For Distinguished Contribution/ To The/ Art Of The Motion Picture." The double-handled bell-shaped loving cup trophy is stamped on the bottom "Sterling 9553 6 IN Black Starr & Gorham." Accompanied by original Christie's receipt.
Height, 4 inches
PROVENANCE Lot 353, "The Personal Property of Marilyn Monroe," Christie's, New York, October 27-28, 1999
Estimate: $20 000 - 40 000

---
lot 1262: MARILYN MONROE SNUFF BOTTLE
A snuff bottle of jade and coral owned by Marilyn Monroe. The bottle face is carved with an image of a bird in relief; the reverse is carved with four Chinese characters that read "fortune and longevity fill your doors." Affixed to a wooden stand.
3 by 1 3/4 inches
PROVENANCE Lot 370, "The Personal Property of Marilyn Monroe," Christie's, New York, Sale number 9216, October 27-28, 1999
Estimate: $1 000 - 2 000

12 septembre 2013
Lot 403: Marilyn Monroe Gentlemen Prefer Blondes Inspired Gown
A Travilla white satin sunburst pleated halter gown inspired by the iconic gown Travilla designed for Marilyn Monroe in Gentlemen Prefer Blondes (20th Century, 1953). The gown has rhinestone, bead, and artificial pearl embellishment to the plunging neckline. A label reads "Travilla." Size 6.
PROVENANCE From the Estate of William Travilla
Estimate: $400 - 600

---
Lot 404: Marilyn Monroe Inspired Travilla Gown
A shimmering ivory Travilla pleated gown circa 1980s inspired by the iconic gowns he designed for Marilyn Monroe. The gown has a square halter neckline and piping to the waistline with a rosette embellished with white rhinestones. There are a Travilla label and a hang tag. Size 6.
PROVENANCE From the Estate of William Travilla
Estimate: $400 - 600

---
Lot 405: Marilyn Monroe Inspired Pleated and Beaded Gown
A white pleated silk chiffon Travilla gown inspired by the gowns he designed for Marilyn Monroe. The halter neck gown has a set-in waist embellished with bands of silver beads and flower-shaped crystals.
Estimate: $400 - 600

---
Lot 410:Marilyn Monroe Gentlemen Prefer Blondes Inspired Gown
A burnt orange satin sunburst pleated halter gown circa 1970s inspired by the iconic gown Travilla designed for Marilyn Monroe in Gentlemen Prefer Blondes (20th Century, 1953). The gown has a bow embellishment to the plunging halter neckline, mesh lining to the bodice, and some hand finished work. No label or size present. Possibly used as an unidentified costume.
Estimate: $500 - 700

---
Lot 411:Marilyn Monroe Gentlemen Prefer Blondes Inspired Gown
A crystal pleated gold lamé Travilla gown inspired by creations he designed for Marilyn Monroe. The gown has a crisscross bodice with spaghetti straps and slender-fitting skirt. There is a Travilla label. Size 6.
Estimate: $400 - 600

---
Lot 412: Marilyn Monroe Inspired Travilla Blue Gown
A baby blue Travilla gown circa 1980s inspired by the iconic gowns he designed for Marilyn Monroe. The sunburst pleated halter gown has a circular ring at the raised waistline with a teardrop rhinestone set in metal dangling in the center. There is a Travilla label. Size 6. Accompanied by a matching stole.
Estimate: $400 - 600

---
Lot 413: Marilyn Monroe Gentlemen Prefer Blondes Inspired Travilla Gown
A Travilla vermilion chiffon fitted gown circa 1980s inspired by a gown Travilla designed for Marilyn Monroe in Gentlemen Prefer Blondes (20th Century, 1953). The ruched gown has a petal-like ruffle front, spaghetti halter straps, center front slit, center front zip, and three tiers of petal-like ruffles to the hem. There is a Travilla label. Size 8. Throughout his fashion career, Travilla would reference past costume designs he created for Monroe and many other Hollywood starlets. Accompanied by a copy of the film.
Estimate: $600 - 800

---
Lot 414: Marilyn Monroe Gentlemen Prefer Blondes Inspired Gown
A Travilla kelly green chiffon fitted gown circa 1980s inspired by a gown Travilla designed for Marilyn Monroe in Gentlemen Prefer Blondes (20th Century, 1953). The ruched gown has a petal-like ruffle front, spaghetti halter straps, center front slit, center front zip, and three tiers of petal-like ruffles to the hem. There is a Travilla label. Size 6. Throughout his fashion career, Travilla would reference past costume designs he created for Monroe and many other Hollywood starlets.
Estimate: $600 - 800

---
Lot 423: Marilyn Monroe Gentlemen Prefer Blondes Inspired Gown
A Travilla gold lamé sunburst pleated halter gown inspired by the iconic gown Travilla designed for Marilyn Monroe in Gentlemen Prefer Blondes (20th Century, 1953). The gown has a bow embellishment to the plunging neckline, under wiring near the bust to hold the dress in place, sheer black lining and a back zipper. The halter neck has added fabric with a Velcro closure. A label reads "Travilla." The size label has been removed. Photo credit: Getty Images
Estimate: $2 000 - 4 000

---
Lot 426: Marilyn Monroe Gentlemen Prefer Blondes Travilla Reproduction Gown
A scarlet red embellished crepe gown designed by Travilla and inspired by the iconic gowns Travilla designed for Marilyn Monroe and Jane Russell in Gentlemen Prefer Blondes (20th Century, 1953). The figure-hugging gown has a plunging V neckline with a center front nude illusion panel, small clear red paillettes in a vermicelli pattern throughout, a high slit to the left leg, a rhinestone necklace sewn to the neckline, a large rhinestone brooch to the slit, and breast pads. The gown has a label that reads "Travilla." Size 6. "CT" is inscribed on the back of the "professional dry clean only" label. Photo credit: Getty images
Estimate: $8 000 - 10 000

---
Lot 431: Marilyn Monroe Gentlemen Prefer Blondes Inspired Gown
A Travilla salmon pink chiffon fitted gown inspired by a gown Travilla designed for Marilyn Monroe in Gentlemen Prefer Blondes (20th Century, 1953). The ruched gown has a petal-like ruffle front, spaghetti halter straps, center front slit, center front zip, and three tiers of petal-like ruffles to the hem. Label and size removed. Throughout his fashion career, Travilla would reference past costume designs he created for Monroe and many other Hollywood starlets. Accompanied by a matching chiffon stole.
Estimate: $600 - 800

---
Lot 432: Marilyn Monroe Inspired Travilla Gown and Fox Stole
A white satin gown and fox fur stole designed by Travilla and inspired by a gown he originally designed for Marilyn Monroe's personal appearances. Monroe wore the original gown to gossip columnist Walter Winchell's birthday party at Ciro's on May 13, 1953. The strapless gown has boning to the bodice, a separate belt, a slender-fitting trained skirt with a half bow to the right side. No labels or size present. Accompanied by a fox fur trimmed stole with a silk satin lining, hook and eye closure, and a Travilla label. Photo credit; Getty Images
Estimate: $10 00 - 20 000

---
Lot 433: Marilyn Monroe "Diamonds are the girl's best friend" Inspired Gown
A carnation pink satin gown designed by Travilla and inspired by the iconic gown Marilyn Monroe wore while performing "Diamonds Are a Girl's Best Friend" in Gentlemen Prefer Blondes (20th Century, 1953). The strapless figure-hugging gown is belted at the waist and has a large bow to the back. Accompanied by a copy of the film.
Estimate: $10 000 - 20 000

---
Lot 434: Marilyn Monroe / Andy Warhol Lavender Tribute Dress
A lavender Travilla tribute dress honoring Marilyn Monroe and Andy Warhol. The sheer crepe sunburst pleated halter dress was inspired by the white dress Monroe made famous in The Seven Year Itch (20th Century, 1955) and attributed by the Travilla estate as being re-created for an Andy Warhol memorial service at The Beverly Hilton in the colors of his iconic "Marilyn" silkscreen images. A label reads "Travilla." No size present.
Estimate: $4 000 - 6 000

---
Lot 435: Marilyn Monroe / Andy Warhol Green Tribute Dress
A pale green Travilla tribute dress honoring Marilyn Monroe and Andy Warhol. The sheer crepe sunburst pleated halter dress was inspired by the white dress Monroe made famous in The Seven Year Itch (20th Century, 1955) and attributed by the Travilla estate as being re-created for an Andy Warhol memorial service at The Beverly Hilton in the colors of his iconic "Marilyn" silkscreen images. A label reads "Travilla." Size 6.
Estimate: $4 000 - 6 000

---
Lot 436: Marilyn Monroe / Andy Warhol Pink Tribute Dress
A petal pink Travilla tribute dress honoring Marilyn Monroe and Andy Warhol. The sheer crepe sunburst pleated halter dress was inspired by the white dress Monroe made famous in The Seven Year Itch (20th Century, 1955) and attributed by the Travilla estate as being re-created for an Andy Warhol memorial service at The Beverly Hilton in the colors of his iconic "Marilyn" silkscreen images. A label reads "Travilla." Size 6. "TA" is written on the back of the "professional dry clean only" label.
Estimate: $4 000 - 6 000

---
Lot 437: Marilyn Monroe / Andy Warhol Blue Tribute Dress
A powder blue Travilla tribute dress honoring Marilyn Monroe and Andy Warhol. The sheer crepe sunburst pleated halter dress was inspired by the white dress Monroe made famous in The Seven Year Itch (20th Century, 1955) and attributed by the Travilla estate as being re-created for an Andy Warhol memorial service at The Beverly Hilton in the colors of his iconic "Marilyn" silkscreen images. No label or size present.
Estimate: $4 000 - 6 000

---
Lot 438: Betty Grable How to marry a millionaire Dress
A chocolate silk dress worn by Betty Grable as Loco Dempsey in How to Marry a Millionaire (20th Century, 1953). Grable appeared with Marilyn Monroe and Lauren Bacall in this film about three New York models trying to land rich husbands. The bodice is fitted with three-quarter sleeves and a floating back yoke. The full skirt is pleated. The dress has hand finished work to the interior, hidden zip and snap closure to the front, and a bias label that reads "1-27-1-7958-A705-23 Betty Grable." William Travilla received an Oscar nomination for outstanding achievement in Color Costume Design for his work on this film. Accompanied by a copy of the film.
Estimate: $1 000 - 2 000

---
Lot 439: Marilyn Monroe How to marry a millionaire Inspired Gown
A magenta satin gown designed by Travilla and inspired by the iconic gown he originally designed for Marilyn Monroe in How to Marry a Millionaire (20th Century, 1953). The figure-hugging gown has a boned bodice with an asymmetrical strap and waistband embellished with sequins and a straight skirt with a draped panel to the left side. A label reads "Travilla." No size present. Travilla received an Oscar nomination for outstanding achievement in Color Costume Design for his work on this film. Accompanied by a copy of the film. Photo credit: Getty Images
Estimate: $10 000 - 20 000

---
Lot 440: Marilyn Monroe The Seven Year Itch Inspired Travilla Gown
An ivory ankle-length sunburst pleated crepe halter gown designed by Travilla and inspired by the iconic dress Travilla designed for Marilyn Monroe for the famous subway scene in The Seven Year Itch (20th Century, 1955). The gown is labeled "Travilla." The size label has been removed. Accompanied by a black and white wardrobe test shot of Monroe in the original dress and a copy of the film.
Estimate: $20 000 - 30 000

---
Lot 422: Marilyn Monroe Gentlemen Prefer Blondes Fashion Pattern
A Travilla fashion pattern with a cutters must form inspired by the iconic gold lamé gown designed for Marilyn Monroe in Gentlemen Prefer Blondes (20th Century, 1953). Travilla often used Monroe inspired gowns for the grand finale in his fashion shows.
Estimate: $1 000 - 2 000

---
Lot 427: Marilyn Monroe Gentlemen Prefer Blondes Inspired Fashion Pattern
A Travilla fashion pattern with a cutters must form inspired by the scarlet red embellished crepe gowns designed for Marilyn Monroe and Jane Russell in Gentlemen Prefer Blondes (20th Century, 1953). Travilla often used Monroe inspired gowns for the grand finale in his fashion shows.
Estimate: $800 - 1 000

---
Lot 428: Marilyn Monroe How to Marry a Millionaire Inspired Fashion Pattern
A Travilla fashion pattern with a cutters must form inspired by the magenta satin gown designed for Marilyn Monroe in How to Marry a Millionaire (20th Century, 1953). Travilla often used Monroe inspired gowns for the grand finale in his fashion shows.
Estimate: $800 - 1 000

---
Lot 429: Marilyn Monroe "Diamonds are the girl's best friend"
Inspired Fashion Pattern
A Travilla fashion pattern with a cutters must form inspired by the carnation pink satin gown designed for Marilyn Monroe for the performance of "Diamonds Are a Girl's Best Friend" in Gentlemen Prefer Blondes (20th Century, 1953). Travilla often used Monroe inspired gowns for the grand finale in his fashion shows.
Estimate: $800 - 1 000

---
Lot 430: Marilyn Monroe Gentlemen Prefer Blondes Inspired Fashion Pattern
A Travilla fashion pattern with a cutters must form inspired by a gown designed for Marilyn Monroe in Gentlemen Prefer Blondes (20th Century, 1953). Travilla often used Monroe inspired gowns for the grand finale in his fashion shows.
Estimate: $800 - 1 000

---
Lot 442: Marilyn Monroe The Seven Year Itch Inspired Fashion Pattern
A Travilla fashion pattern with a cutters must form inspired by the iconic halter dress designed for Marilyn Monroe for the famous subway scene in The Seven Year Itch (20th Century, 1955). Travilla often used Monroe inspired gowns for the grand finale in his fashion shows.
Estimate: $1 000 - 2 000

28 mars 2013
lot n°46001: Marilyn Monroe Early Signed Black and White Photograph,
Circa 1946.
An original print with a matte finish, depicting a young headshot of the twenty year-old before she looked like "Marilyn," signed in blue fountain pen ink on the lower right side "To Roy, / My favorite guard. / Always / Marilyn Monroe;" "Roy" being Roy Volker, a security guard at Twentieth Century Fox Studios throughout the 1940s-1950s; the inscription on this particular photograph is noteworthy because it appears to have been signed just as MM was changing her name -- it shows the childhood writing style of Norma Jeane Baker but is signed with her adult stage name of Marilyn Monroe. (Please note the inscription, especially the part reading "Marilyn Monroe," is now faded due to age and the photograph is somewhat yellowed and spotted.) 10" x 8
PROVENANCE: This piece was consigned directly to Heritage Auctions by Roy Volker's grandson.
Estimate: $8,000 - up.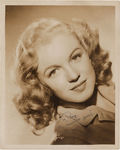 ---
lot n°46002: A Marilyn Monroe Signed Black and White Snapshot, 1953.... (Total: 2 Items)
A Marilyn Monroe Signed Black and White Snapshot, 1953. An original print with a glossy finish, depicting the star likely on the set of "Niagara," signed in blue ballpoint ink on the verso "Marilyn Monroe;" together with another black and white snapshot depicting MM and Betty Grable (at Walter Winchell's birthday party which took place at Ciro's, the famous Sunset Strip nightclub, on May 13, 1953), signed in red ballpoint ink on the verso "Betty Grable." (Please note both snapshots have evident surface scratches.)
3 ¼" x 2 ¼"
Estimate: $600 - up.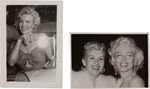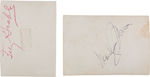 ---
lot n°46003: A Marilyn Monroe Group of Likely Never-Before-Seen Black and White Photographs, 1956.
Twenty-one total, all small as they were cut from contact sheets, all original prints with a matte finish, each depicting the star sitting in a restaurant called The Ram in Sun Valley, Idaho, during the filming of "Bus Stop" as actor Arthur O'Connell [her co-star who portrayed "Virgil Blessing"] is next to her in some shots (as are others), 13 images have a red handwritten check mark on them; from the files of Bob Beerman who took a number of photographs of MM throughout the years.
2 1/2" x 2 1/2"
Estimate: $4,000 - up.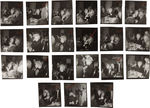 ---
lot n°46004: A Marilyn Monroe Group of Likely Never-Before-Seen Black and White Photographs, Circa 1951.
Ten total, all original prints with a glossy finish, each depicting the star in a black cocktail dress as she poses with different groups of men at a party (though one image does show MM with another woman and a man), all are numbered on the lower margins; MM was evidently the main attraction at this event which is believed to be the 1951 Hollywood Foreign Correspondents Association luncheon at Mocambo, the famous Sunset Strip nightclub.
4 1/2" x 4"
Estimate: $1 000 - up.

---
lot n°46005: A Marilyn Monroe Rare Headshot, Circa 1951.
An original print with a glossy finish, depicting a stunning image of the actress wearing elaborate rhinestone earrings and a necklace, with her black top "painted on" (on the negative before it was printed, likely to cover up cleavage), verso has handwritten annotations reading "Marilyn Monroe / 1951 / silhouette," an illegible credit stamp, and a credit sticker. (Please note this photograph is just in marginal condition with many creases and indent marks.) 9" x 7 1/2"
Estimate: $500 - up.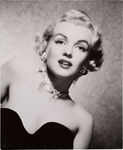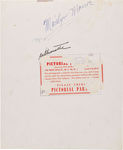 ---
lot n°46006: A Marilyn Monroe Rare Black and White Cheesecake Photograph, Circa 1949.
An original print with a glossy finish, depicting the then starlet wearing a sweater, shorts, and high heels as she kneels on a miniature chair; verso has two FPG [Free Lance Photographers Guild, Inc.] stamps, a photographer's credit stamp reading "Rothschild / Photo / Los Angeles / DU. 7-2284," and some other penciled annotations; believed to have been taken at the Pacific Coast Antiques Show on May 25, 1949. (Please note there were slight specs on the negative when the photograph was developed and there are slight indent marks on the surface.)
9 1/2" x 7 1/2"
Estimate: $500 - up.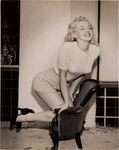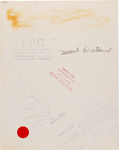 ---
lot n°46007: A Marilyn Monroe Set of Rare Black and White Cheesecake Photographs, Circa 1948.
Both original prints with a glossy finish, both depicting the then starlet wearing a white two-piece bathing suit, both with numbers on the lower margins. (Please note there is a very small dent on one but the image is not affected.) 5" x 4"
Estimate: $500 - up.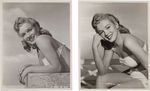 ---
lot n°46008: A Marilyn Monroe Rare Black and White Photograph, 1952.
An original print with a glossy finish, depicting a sweet image of the then newcomer wearing a formal dress as she smiles at Sidney Skolsky, the Hollywood gossip columnist who became her lifelong friend and protector; verso has an affixed typed snipe noting the two were "at the Look awards party at the Beverly Hills Hotel," the photographer's credit stamp reading "Hyman Fink," and a Photoplay Magazine Library stamp dated "Mar 6 1952." (Please note there are crease and indent marks on surface but overall image is not affected.) 9 1/2" x 7 3/4"
Estimate: $500 - up.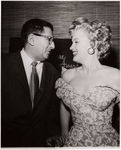 ---
lot n°46009: A Marilyn Monroe Set of Rare Black and White Publicity Photographs, 1953.
Both original prints with a glossy finish, both depict the star in her room at the Beverly Carlton Hotel [still on Olympic Boulevard in Beverly Hills but now called The Avalon Hotel] doing household chores; the versos of both have the photographer's credit stamp of "Fink Smith," Photoplay Magazine stamps, Phil Burchman Agency stamps, and brief penciled annotations about the star. (Please note MM's face has been touched up in one image and there are very slight dent marks on both.) 9 1/2" x 7 1/2"
Estimate: $500 - up.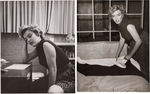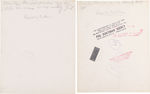 ---
lot n°46010: A Marilyn Monroe Classic Black and White Headshot, 1952.
An original print with a glossy finish, depicting one of the most famous headshots of the star as she wears a low-cut black and white dress (the same one she wore when she served as Grand Marshall of the 1952 Miss America beauty pageant in Atlantic City, New Jersey where it caused a scandal), bottom right corner displays filing numbers, verso has stamps reading "Marilyn Monroe / 20th Century-Fox Player" and "George Zeno / Collection" (a well-known MM photograph collector) plus another illegible one. (Please note there are some crease marks evident. 9 1/2" x 7 1/2"
Estimate: $500 - up.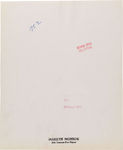 ---
lot n°46011: A Marilyn Monroe Rare Black and White Cheesecake Photograph, 1952.
An original print with a glossy finish, depicting the then starlet in an elaborate bathing suit and platform sandals as she stands next to an oversized heart form; verso has stamps reading "Return to / Time Inc. / Feb. 11 1952 / File" and "MM File," an affixed typed snipe reading in part "Actress Marilyn Monroe, pin-up queen of the / armed forces, says 'Be My Valentine'...," and some brief penned annotations. (Please note there are some very minor surface dents.) 9" x 7"
Estimate: $500 - up.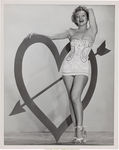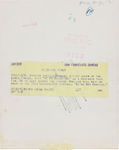 ---
lot n°46012: A Marilyn Monroe Chest X-Ray, 1954.
Appearing to be a vintage 1954-era copy of the original that was likely made for another doctor's use; image depicts the star's sternum, ribcage, and outline of her breasts as she rests her hands on her hips, a somewhat blurred notation in the upper left corner reads "Cedars of Lebanon Hospital / Drs. E. Freedman and S. Finck / DiMaggio Marilyn / 11-10-54." 17" x 14"
Interestingly, Julien's Auctions offered a different copy of this same X-ray in June 2010 and its hammer price was $25,000.
Estimate: $1 000 - up.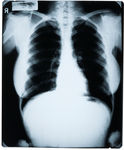 ---
lot n°46013: A Marilyn Monroe-Received Group of Professional Letters, 1957-1958.
Three total, all sent to the actress from colleagues in the industry including:
> 1) a two-page note typed on yellow paper, dated "July 30, 1957," sent to MM in "Amagansett, Long Island, New York," from Ray Stark [Hollywood producer], reading in part "It was good seeing you, if even so briefly, at / the East Hampton airport. /...We would love to do a project with you and also with / Arthur / ...such as doing 'Casablanca' / as a musical" (thankfully, MM didn't take him up on that offer);
> 2) a one-page note (the first page now missing) typed on white paper, dated "May 7, 1958," from Joe Wolhandler [MM's NYC press agent], reading in part "...the fittings, costuming, etc., we will try to do / without you;"
> and 3) a one-page note typed on white paper, no date, from Lionel Newman [Musical Director/Composer], reading in part "...I would like very much for / you and Arthur to have dinner with Beverly and me;"
> also included is a rare 1959 pamphlet titled 'Times Talk' with an article on page 3 noting how on September 29th "Marilyn Monroe paraded through the building inhaling culture, the guest of Sunday Editor Lester Markel." 11" x 8 1/2"
Estimate: $1 000 - up.

---
lot n°46150: A Warner Bros. 'Key to the Studio,' Circa 1950s.
In the form of an oversized key, made of brass, designed with the famous 'WB' shield logo while one side reads "Welcome to Warner Bros. Studios" and the other "The Greatest in the World;" given to actors and other VIPs when they had an important association with the studio. (Please note this particular key is NOT Marilyn Monroe's key, though a similar one was given to her in 1956.) 10" x 4"
Estimate: $1 000 - up.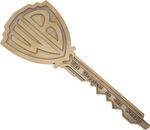 21 juin 2012
Les Dates de sorties dans le monde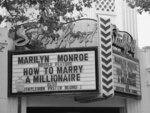 USA (Première Los Angeles): 4 novembre 1953
USA (sortie nationale): 5 novembre 1953
USA (New York): 10 novembre 1953
Suède: 22 février 1954
Japon: 17 mars 1954
Mexique: 26 mars 1954
Allemagne: 2 avril 1954
Argentine: 22 avril 1954
France: 30 avril 1954
Portugal: 17 mai 1954
Finlande: 21 mai 1954
Autriche: septembre 1954
Espagne: 27 septembre 1954
Danemark: 15 août 1955
Turquie: décembre 1955

Le Titre du film dans le monde
USA: How to Marry a Millionaire
France: Comment épouser un millionnaire
Belgique (flammand): Hoe men een millionnair huwt
Allemagne: Wie angelt man sich einen Millionär
Italie: Come sposare un milionario
Espagne: Cómo casarse con un millonario
Portugal: Como Se Conquista Um Milionário
Argentine: Cómo pescar a un millonario
Mexique: Cómo pescar un millonario
Brésil: Como Agarrar um Milionário
Norvège: Gift deg med en millionær
Hongrie: Hogyan fogjunk milliomost?
Suède: Hur man får en miljonär
Pologne: Jak poslubic milionera
Yougoslavie: Kako se udati za milionera
Finlande: Kuinka miljonääri naidaan
Turquie: Milyoner avcilari
Grèce: Pos na pantrefthite enan ekatymmyriouho
Danemark: Tre piger søger en millionær
Fiche technique
Réalisateur: Jean Negulesco
Scénaristes: Nunnally Johnson
Basé sur la pièce de Zoe Akins, Dale Eunson et Katherine Albert
Assistants réalisateur: F.E. 'Johnny' Johnston et Paul Helmick
Producteur: Nunnally Johnson
Production: 20th Century Fox
Musique originale: Cyril J. Mockridge
Directeur musical: Alfred Newman
Image: Joseph MacDonald
Montage: Louis R. Loeffler
Direction artistique: Leland Fuller, Lyle R. Wheeler
Décorateur plateau: Stuart A. Reiss, Walter M. Scott
Costumes: Travilla - département Charles Le Maire
Costumière: Ann Landers pour Melle Monroe
Maquillage: Ben Nye; Allan Snyder pour Melle Monroe
Coiffures: Kay Reed et Marie Brasselle
Effets spéciaux: Ray Kellogg
Genre: Comédie
Durée: 95 min
Technicolor, en couleur
Distribution (créditée)
Betty Grable: Loco Dempsey (Toctoc en VF)
Marilyn Monroe: Pola Debevoise
Lauren Bacall: Schatze Page (Charlotte en VF)
David Wayne: Freddie Denmark
Rory Calhoun: Eben
Cameron Mitchell: Tom Brookman
Alexander D'Arcy: J. Stewart Merrill)
Fred Clark: Waldo Brewster
William Powell: J.D. Hanley

Synopsis

Schatze Page (Charlotte en VF), une jolie jeune femme, loue un bel appartement à New York, qu'elle partage avec deux amies, Pola Debevoise et Loco Dempsey (Toctoc en VF). Monsieur Denmark, le propriétaire de l'appartement, a des problèmes avec le fisc et il s'est donc volatilisé dans la nature. Ce logement est un instrument dans leur stratégie dont l'objectif est de trouver un mari très riche, un millionnaire. Les trois jolies jeunes femmes, mannequins, n'ont pas d'argent et doivent alors vendre le mobilier de leur appartement.
Le premier homme qu'elles rencontrent, Tom Brookman, est pompiste; ce qui n'entre pas du tout dans leurs critères (en réalité, il est un homme d'affaires richissime mais elles ne le sauront que bien plus tard). Il sera à plusieurs reprises remballé au téléphone par Schatze.
Trois mois plus tard, grâce à Loco, elles sont invitées à une soirée prometteuse fréquentée par des millionnaires: Schatze rencontre un texan riche et veuf, J.D. Hanley ; Pola un beau borgne à l'apparence d'aventurier fortuné, J. Stewart Merrill ; et Loco un homme d'affaires qui se présente lui-même comme étant " l'homme le plus marié des USA ", Waldo Brewster.
Tom Brookman, qui a des vues sur Schatze, demande à ce que la maison de mode où travaillent les trois amies organise pour lui un défilé. Ce qui ne l'aide pas à la conquérir.
Loco part incognito en week-end dans le Maine avec son riche et marié Waldo ; elle y rencontrera Eben qu'elle croira un moment être un aisé propriétaire terrien. J.D. révèle son béguin à Schatze mais y renonce en raison de leur trop grande différence d'âge. Pola, alors qu'elle devait rejoindre son aventurier, rencontre dans l'avion Freddie Denmark qui lui révèle combien elle est belle avec ses lunettes. Une liaison débute tout de même entre Schatze et son Tom qu'elle croit toujours pompiste.
Finalement, un mariage est organisé entre Schatze et J.D. qui a changé d'avis. On apprend à cette occasion que Pola s'est mariée avec Freddie et Loca avec Eben. Schatze change aussi d'avis et épouse Tom malgré tout et surtout malgré sa modestie financière.
Une dernière scène dans un fast-food se termine par terre pour les trois amies: Tom révèle à tout le monde qu'il est très riche en sortant des liasses de billets. Il offre des hamburgers avec un billet de 1000 dollars: "Keep the change!" dit-il (Gardez la monnaie).

>> Sur le web:
- tout sur le film sur imdb (en anglais)
- infos sur le film sur wikipedia français
29 avril 2012
Comment épouser un millionnaire

Secrets de tournage ...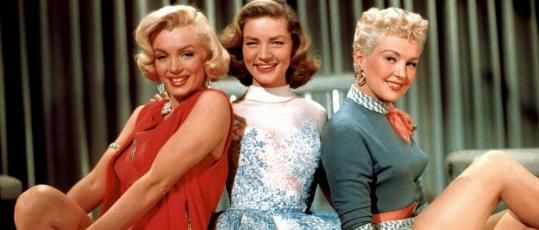 ... et anecdotes
Le Cinémascope

La Twentieth Century Fox lance en 1953 une grande innovation technique depuis l'apparition de la couleur au cinéma: le Cinémascope, un nouveau format d'image panoramique. How to marry a millionaire (Comment épouser un millionnaire) est souvent présenté à tort comme le premier film en Cinémascope; alors qu'il soit sorti après The Robe (La Tunique), un péplum à sujet religieux avec Richard Burton et Jean Simmons. Pour Darryl Zanuck, le grand patron de la Fox, il s'agit alors d'un moyen de sauver les salles de cinéma face à la concurrence de la télévision, qui gagne les foyers américains. Pour convaincre les exploitants de s'équiper de nouveaux projecteurs, Zanuck affirme que tous les prochains films de la Fox seront tournés en "scope". Si ce format d'image convient parfaitement aux films à grand spectacle, il reste à prouver son utilité pour les autres films, comme les comédies et cette tâche échoue au réalisateur Jean Negulesco avec How to marry a millionnaire. Zanuck lui confie un scénario écrit par Nunnally Johnson, d'après une pièce de théâtre à succès de Broadway. Sur le plan de la mise en scène, les paysages majestueux sont remplacés par trois jeunes femmes, qui doivent être trois stars. Il s'agit néanmoins du premier film enregistré en son stéréo.
Trois actrices, trois rôles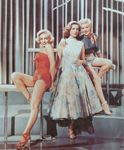 La 20th Century Fox sort son brelan d'as: Betty Grable, Lauren Bacall et Marilyn Monroe, pour un film contant l'histoire de trois aventurières en chasse d'un mari riche. Le scénariste Nunnally Johnson précisa qu'il avait créé les personnages en les adaptant à la personnalité des trois actrices.
Au départ, Marilyn hésite à accepter en revendiquant le rôle de Loco, attribué à Betty Grable, car elle n'aimait pas son propre personnage Pola, une femme stupide affublée de lunettes. Son hésitation provient surtout des motivations de sa coach Natasha Lytess, qui cherche des rôles plus intellectuels pour Marilyn. Le réalisateur Jean Negulesco persuade Marilyn d'accepter, lui faisant valoir que c'était le meilleur rôle. Et il avait raison: la drôlerie engendrée par la myopie valut à Marilyn des critiques positives sur ses talents comiques. Pourtant Marilyn ne considérait pas son interprétation comme l'une des meilleures. Lorsqu'elle demanda au réalisateur de lui exposer les motivations de son personnage et l'interprétation du caractère, il lui répondit: "Marilyn, n'essaye pas de vendre ce sexe là. Tu es le sexe, l'institution du sexe. Et la seule motivation dont tu as besoin pour ce rôle est le fait que dans le film, tu es myope comme une taupe sans lunettes. Voilà tes motivations." Jean Negulesco expliqua que "ce qui la préoccupait, c'était la façon dont son rôle transmettait l'image du sexe, car c'était cela -croyait elle- qu'elle devait incarner."
Une coach détestée face à une actrice inquiète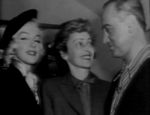 Pendant le tournage, la coach personnelle de Marilyn, Natasha Lytess, parvient à se faire détester de l'équipe, comme à son habitude, en poussant son élève à réclamer sans cesse des prises supplémentaires. Exaspéré, le réalisateur Jean Negulesco perd patience et finit par renvoyer la coach, lui interdisant l'accès au plateau de tournage. Le lendemain, Marilyn décide donc de ne pas venir au studio, prétextant une bronchite. Charles Feldman, l'agent de Marilyn, annonce qu'elle ne peut pas tourner sans sa coach; Natasha Lytess est donc non seulement réintégrée mais obtient une augmentation de salaire. Malgré les frictions avec sa répétitrice, Jean Negulesco s'entend fort bien avec Marilyn: "A la fin du tournage, je l'adorais; parce que c'était une pure enfant , parce qu'elle avait donné ce je ne sais quoi que Dieu lui avait donné, et que nous sommes encore incapables de définir ou de comprendre. Or, c'est cela qui a fait d'elle une star. Jusqu'à la fin, jusqu'au montage, nous ne savions pas si elle avait joué bien ou mal. Mais alors, il s'est avéré qu'il y avait une personne sur cet écran qui était une grande actrice: elle."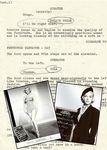 Marilyn se déconcentrait souvent pendant une scène. "Le metteur en scène devait interrompre les prises trop longues, car elle ne tenait pas la durée", raconte le monteur Orven Schanzer. La présence de sa coach la rassurait car Marilyn apparaissait comme une femme inquiète et l'équipe la considérait comme une actrice difficile. "Marilyn dégageait un charme magique, et en dépit des problèmes qu'elle provoquait, je n'ai jamais entendu personne la dénigrer, raconte le monteur Orven Schanzer. Je pense que c'est parce que les relations de Marilyn avec les gens sur le plateau, du premier au dernier échelon, étaient simples et affectueuses."
Peu après le début du tournage, le scénariste Nunnally Johnson écrivit à un ami que "Monroe est un peu comme un zombie. On a l'impression de parler à quelqu'un qui est sous l'eau." Des années plus tard, il n'oubliera pas cette image de l'actrice ajoutant: "On n'arrive pas à se faire entendre d'elle. Elle me fait penser à un de ces animaux qu'on appelle les paresseux. Vous lui piquez le ventre avec une aiguille, il fait 'Aïe' huit jours après."
Pendant une scène où elle reçoit un coup de fil en prenant son petit-déjeuner, Jean Negulesco se souvient qu' "elle s'embrouillait complètement, répondant au téléphone avant qu'il se mette à sonner, portant la tasse de café à ses lèvres avant de l'avoir remplie."
Le réalisateur Jean Negulesco racontera d'ailleurs dans ses mémoires, que Marilyn avait une peur maladive de la caméra mais "une fois devant, une histoire d'amour extraordinaire se déroulait en secret entre elle et l'objectif. Une histoire d'amour dont personne autour d'elle n'avait conscience - réalisateur, caméraman, preneur de son. C'était un langage de regards, une intimité secrète. Il fallait attendre le montage du film pour que cette histoire d'amour nous soit révélée. L'objectif était le public."

Clins d'oeil
Le film multiplie les allusions à la carrière mais aussi à la vie privée des trois stars: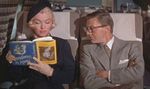 > Lors de la scène du défilé, Pola (Marilyn Monroe) présente un maillot de bain et un gilet sans manche sertis de diamants, dont la vendeuse rappelle qu'ils sont "les meilleurs amis d'une femme" ("Diamonds are the girl's best friends") en référence à la célèbre chanson de Les hommes préfèrent les blondes (Gentlemen prefer blondes).
> Dans la scène de l'avion, Pola (Marilyn) lit un roman intitulé "Murder by Strangulation" ("Meurtre par strangulation") qui renvoie à la mort de son personnage dans Niagara (1953, Henry Hathaway).

> Schatze (Lauren Bacall) affirme aimer les hommes mûrs, comme "ce vieil acteur dans L' Odyssée de l'African Queen" qui n'était autre qu' Humphrey Bogart, son mari à la ville. Lauren Bacall n'a par ailleurs eu aucun mal à se mettre dans la peau de la mannequin Schatze car avant de devenir actrice, Lauren travaillait en tant que mannequin, défilant dans des tenues devant des clientes potentielles.

> Dans la scène du chalet, Loco (Betty Grable) ne reconnaît pas un titre qui passe à la radio de son époux à la ville, le musicien Harry James.
De fausses rivalités
La presse à scandales se fait un délice de l'affiche du film, constituée de trois stars rivalisant de beauté, voulant à tout prix faire l'écho d'un crêpage de chignon entre les trois actrices. Cependant, les trois femmes s'entendent à merveilles.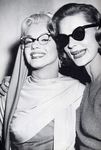 > Même l'exigente Lauren Bacall fait preuve d'indulgence face aux caprices et retards de Marilyn. Dans son autobiographie Be Myself and Then Some, Lauren Bacall raconte comment se passait le travail sur le plateau avec Marilyn qui était terrifiée et pleine de doutes: "Elle était effrayée, anxieuse, ne se fiait qu'à Natasha Lytess, et était toujours en retard. Pendant nos scènes, elle regardait mon front au lieu de mes yeux; à la fin d'une prise, elle ne regardait que son coach qui se tenait à côté de Jean Negulesco, pour avoir son approbation... Il fallait souvent faire une quinzaine de prises, voir davantage, ce qui veut dire qu'il fallait être bonne dans chacune d'entre elles, car on ne savait jamais laquelle serait conservée. Ce n'était pas facile et souvent énervant ! Elle était pénible et agaçante! Et pourtant, je n'arrivais pas à ne pas aimer Marilyn. Il n'y avait pas une once de méchanceté en elle, aucune malice. Elle devait simplement se concentrer sur elle et sur les gens qui n'étaient là que pour elle. Il y avait en elle quelque chose de triste -une sorte d'appel- un manque de confiance dans les autres, un malaise. Elle ne faisait aucun effort pour être agréable et pourtant, elle l'était. ."
Lauren Bacall sentait une sorte de tristesse chez Marilyn, une difficulté à se lier avec les autres. Elle et Betty Grable s'efforcèrent de l'aider à leur faire confiance, même si Marilyn parlaient rarement avec elles en dehors du plateau. "Un jour, elle vint dans ma loge, se souvient Lauren. Elle me confia qu'elle aurait vraiment voulu être à San Francisco, à une fête avec Joe DiMaggio, et manger des spaghettis. Ils n'étaient pas encore mariés. Elle voulait que je lui parle de mes enfants, de mon foyer; elle me demanda si j'étais heureuse. A son air un peu triste, elle semblait beaucoup envier cet aspect de ma vie, et espérait que cela lui arriverait un jour."
> Mais les échotiers surveillent particulièrement les relations entre Marilyn et Betty Grable. Cette dernière avait en effet vu le rôle des Hommes préfèrent les blondes lui échapper au profit de Marilyn (> lire l' anecdote), qui revenait ainsi moins chère à la production lui attribuant un cachet bien inférieur à ce qu'aurait pu toucher Miss Grable. Et même malgré les efforts des studios pour "vendre" à la presse une guerre entre Marilyn et Betty Grable, les deux actrices s'entendirent fort bien et Betty se montra gentille avec Marilyn. Betty avait été l'idole de la nation pendant près de dix ans et passait gentiment le flambeau, déclarant à Marilyn: "Ma chérie, j'ai eu mon temps. A toi maintenant. C'est ton tour." A la fin du tournage, Betty Grable rompt brutalement avec trois ans d'avance son contrat de cinq ans avec la Fox, déclarant à Darryl F. Zanuck qu'elle ne tournerait plus de films pour la Fox. Le 3 juin 1953, le studio annonce officiellement la rupture de contrat. Son bungalow est alors attribué à Marilyn, qui refusera de s'y rendre. A la sortie du film, le nom de Betty Grable disparaît même de la tête d'affiche à titre de représailles.
La scène marquante du film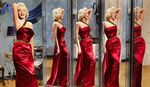 La séquence la plus réjouissante du film est celle de la "powder room", expression qui renvoie à la salle de poudrière, où les dames se refont une beauté. Les pitreries de Marilyn, dans le rôle de la myope Pola, rendent cette séquence délicieusement inoubliable, où l'actrice révèle un véritable talent comique qu'elle doit sans doute aux cours qu'elle suivait au printemps de 1953, avec Lotte Goslar, une célèbre mime allemande qui incitait ses élèves à exploiter toutes leurs potentialités d'expressions corporelles. Une méthode de travail pourtant opposée à celles très cérébrales de Natasha Lytess, mais qui ont aidé Marilyn à se livrer à une prestation à la limite du burlesque. Dès son entrée au restaurant luxueux où elle retrouve ses copines, elle exécute un hilarant numéro digne de Charlie Chaplin ou de Buster Keaton, en suivant un serveur qu'elle prend pour son cavalier, en heurtant le maître d'hôtel et se cognant le nez contre le mur, juste après s'être admirée dans un miroir où son image est démultipliée. Le contraste entre cette image d'une déesse de l'amour et d'une jeune femme naïve à souhait, montre assurément à Marilyn qu'elle avait beaucoup d'humour pour tourner ainsi en dérision son statut d'idole de l'écran.
Le fameux plan où l'on découvre une Marilyn démultipliée par ses reflets dans les grands miroirs a sans doute été inspiré d'une part, par Jean Harlow, que Marilyn admirait beaucoup, mais aussi et surtout un clin d'oeil à "La Dame de Shangai" -1947- avec une Rita Hayworth aux cheveux courts et blond platine, face à de grands miroirs qui la reflètent:
La musique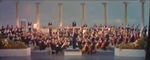 La scène d'ouverture du film, où l'on voit et entend un orchestre jouer, est une musique composée par Alfred Newman qui provient du film Street Scene (Scène de la rue) en 1931. Le morceau a aussi été utilisé dans le film I Wake Up Screaming (Qui a tué Vicky Lynn?) en 1941, avec déjà Betty Grable et produit par la Fox; mais aussi dans le film Gentleman's Agreement (Le mur invisible) en 1947.
Le succès du film et la starification de Marilyn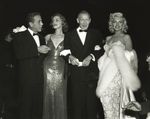 Ce n'est qu'au soir de la première, le 4 novembre 1953 , que Marilyn Monroe put prendre la mesure de la qualité de son interprétation. Le styliste William Travilla, le maquilleur Alan Snyder et la coiffeuse Gladys Rasmussen avaient mis plus de 6 heures à la préparer pour son entrée en scène. Elle avait emprunté au vestiaire de la Fox une robe, du couturier Travilla, en crêpe de Chine couleur chair couverte de paillettes que l'on avait cousue sur elle, de longs gants blancs et une étole en renard blanc. Au cocktail précédant la première, Marilyn, tendue, avait bu plusieurs bourbon soda et était visiblement éméchée quand elle traversa la foule hurlante pour entrer dans le Fox Wilshire Theatre. On entendit Nunnally Johnson dire: "Les femmes portant des robes moulantes ne devraient jamais boire de trop". Mais pour Marilyn, la soirée fut un triomphe, "la plus belle nuit de ma vie" dira-t-elle. Le Hollywood Reporter écrivit: "Nous n'avons rien vu de tel depuis Gloria Swanson au faîte de sa gloire." Jean Negulesco approuva. Il déclara qu'elle avait "prouvé à tout le monde et à elle-même qu'elle pouvait affronter toutes les concurrences."
Quand à Nunnally Johnson, producteur et scénariste du film, il déclara que "la première fois que tout le monde aima sincèrement Marilyn, pour elle-même, dans un film, ce fut dans How to Marry a Millionaire. Elle-même fournissait une explication très perspicace de ce fait. Elle dit que de tous les films qu'elle avait tourné, c'était le seul où elle avait une certaine pudeur -pudeur non pas physique, mais par rapport à elle-même."
Au bout de quelques mois, le film avait fait une recette brute 5 fois supérieure à son budget faramineux de 2,5 millions de dollars. La longue robe d'intérieur en laine crème utilisée pour les affiches publicitaires fut vendue aux enchères en juin 1997 pour 57 000 dollars, un record pour un costume de cinéma.
Remake
Entre 1957 et 1959, la télévision américaine diffusa une série sitcom How to marry a millionaire, avec les actrices Barbara Eden (dans le rôle de Loco Jones), Merry Anders (dans le rôle de Michelle "Mike" Page) et Lori Nelson (dans le rôle de Greta Lindquist); puis l'actrice Lisa Gaye (dans le rôle de Gwen Kirby) qui remplaca Lori Nelson.
>> photos de la série How to marry a millionaire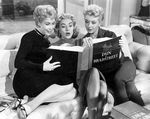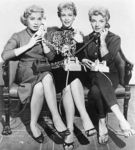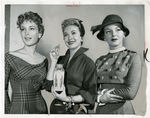 >> un épisode (partie 1) de la série How to marry a millionaire

Plus récement, Nicole Kidman a acheté les droits du film How to Marry a Millionaire (Comment épouser un millionnaire) afin de le produire et probablement s'y attribuer un rôle.
> sources:
Livre Marilyn Monroe, d'Adam Victor
Livre Les vies secrètes de Marilyn Monroe, d'Anthony Summers
Livre Les Trésors de Marilyn Monroe
Revue : Les légendes d'Hollywood, Comment épouser un millionnaire.
Article et photos sur thesymmetricswan
Les anecdotes sur allocine
La fiche du film et des anecdotes sur imdb
Le film sur wikipedia

28 avril 2012
Comment épouser un millionnaire
Les Affiches

Les Affiches Ciné dans le monde
21 avril 2012
Comment épouser un millionnaire
Photos d'exploitation cinéma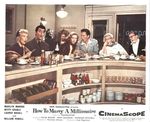 ---
- lobby cartes Italie -
---
- lobby cartes Allemagne -
18 avril 2012
Comment épouser un millionnaire

Bande Annonce américaine

>> Video


24 mars 2012
Comment épouser un millionnaire

Bande Annonce américaine

>> Video