05 septembre 2008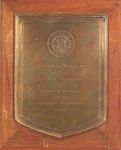 Le 9 février 1953, Marilyn Monroe reçoit le prix "The New Star Award" ("Le prix de la nouvelle star") du magazine Photoplay de "Rapid Rise to Stardom in 1952" ("L'accès le plus rapide à la célébrité pour l'année 1952"). La remise de prix eut lieu dans une salle du Beverly Hills Hotel. C'est Fred Sammis qui lui remet le prix.
In February 9, 1953, Marilyn Monroe is awarded the "The New Star Award" by 'Photoplay' magazine of the "Rapid Rise to Stardom in 1952". The award ceremony tooks place in a room at the Beverly Hills Hotel. This is Fred Sammis who gives her the price.
Son fiancé Joe DiMaggio ayant horreur des galas hollywoodiens, Marilyn était ainsi accompagnée de son ami journaliste Sidney Skolsky.
Her fiance Joe DiMaggio hates Hollywood Party, so Marilyn was accompanied by friend and journalist Sidney Skolsky.
> Marilyn entourée de Dean Martin et Jerry Lewis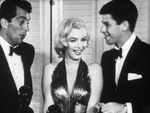 Pour cette réception, Marilyn portait la désormais célèbre robe en lamé doré, cousue sur elle, et conçue par Billy Travilla, le costumier styliste des studios de la Fox. Une robe créée pour le film Les Hommes préfèrent les Blondes, et dont la majorité de la scène sera finalement coupée au montage, et on pense en deviner la raison: lors de cette soirée de la remise du prix Photoplay, Marilyn va déclencher à nouveau un scandale dont l'origine n'est autre que sa tenue, jugée -encore une fois- vulgaire ! Le lancement de cette campagne anti-Marilyn fut menée par l'actrice Joan Crawford qui était présente à cette soirée. Marilyn lui ayant volée la vedette, Crawford s'attaqua à Marilyn par jalousie. D'ailleurs le lendemain, un article paru dans le Los Angeles Mirror rapportera qu' "à côté de Marilyn, toutes les autres (actrices) paraissaient bien ternes".
For the reception party, Marilyn wears the now famous gold lamé dress, sewn on her, and designed by Billy Travilla, the costume designer of Fox studios. A dress created for the film Gentlemen Prefer Blondes, and from it the majority of the scene will be eventually edited out, and we think guess why: during the evening of the award Photoplay, Marilyn will trigger a new scandal whose origin is none other than her outfit, judged -again- vulgar! The launch of the anti-Marilyn campaign was led by actress Joan Crawford who was present at this event. Marilyn has stolen the limelight, Crawford attacked Marilyn by jealousy. And the next day, an article in the 'Los Angeles Mirror' will say that "next to Marilyn, all other (actresses) seemed very dull."
---
>> Photo de Phil Stern >>
Marilyn avec Bill Goetz

---
>> captures 1 (remise du prix)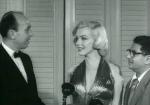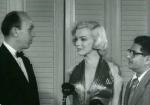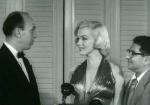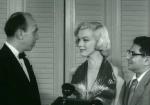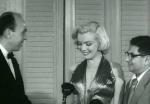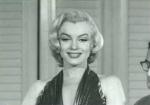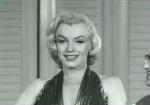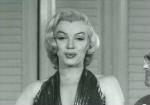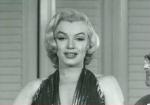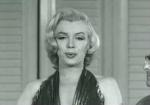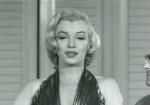 >> captures 3 (présentation du prix)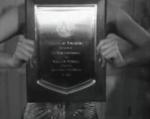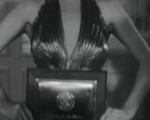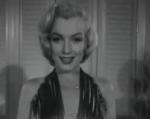 ---
>> Vidéo 1: remise du prix


>> Vidéo 2: reception du prix et tournage des remerciements

---
> dans la presse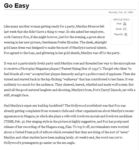 Article 1/ TIME Magazine article of February 23, 1953
Article 2/ Fitchburg Sentinel Massachusetts of March 2, 1953
---
© All images are copyright and protected by their respective owners, assignees or others.
copyright text by GinieLand.

Enregistrer