24 janvier 2011
Lors de la sortie américaine du film Baby Doll le 18 décembre 1956, Marilyn Monroe se rend à l'Actors Studio de New York pour promouvoir le film. Baby Doll est une adaptation cinématographique de la pièce de théâtre portant le même nom. La version cinéma a été réalisé par Elia Kazan, le co-fondateur de l'Actors Studio, et met scène notamment l'acteur Eli Wallach, qui fréquenta les cours de théâtre. Marilyn aurait aimé jouer dans le film, mais le rôle féminin de "Baby Doll Meighan" était celui d'une jeune fille mineure, qui écopa à Carroll Baker qui était aussi une "élève" de l'Actors Studio. Marilyn fait donc ici office d'ouvreuse ("usherette") devant le théâtre; arrivant et repartant en taxi, elle pose avec l'affiche publicitaire du film.
For the American release of the movie Baby Doll in December, 18, 1956, Marilyn Monroe goes to the Actors Studio in New York to promote the movie. Baby Doll is a cinematographic adaptation of the play of the same name. The movie version was directed by Elia Kazan, the co-founder of the Actors Studio, and directed the actor Eli Wallach, who attended drama classes from Actor's Studio. Marilyn would have loved to play in the film, but the role of "Baby Doll Meighan" was a minor girl, who was played by Carroll Baker, who was also a student of the Actors Studio. Here, Marilyn is an opener ("usherette") in front of the theater, arriving and leaving by taxi, she poses with the advertising poster of the movie.
---
---
> photographies de Bill Kobrin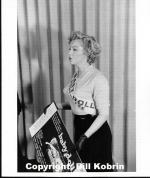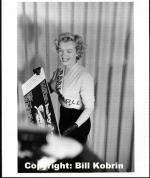 ---
© All images are copyright and protected by their respective owners, assignees or others.
copyright text by GinieLand.