05 mai 2014
Will acting spoil Marilyn Monroe ?
Author: Pete Martin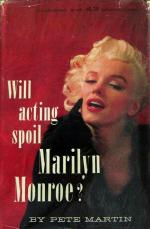 Date de sortie: 1956
Relié 128 pages
Langue: anglais
Éditeur: Doubleday
Prix éditeur: ?
ASIN: B0007DRHN8
Ou le commander ? sur amazon.com
Description -sur stuffnobodycaresabout.com - The first significant biography of Marilyn Monroe.
Martin was a veteran Hollywood journalist and interviewed Monroe and others for what end up being a three part serialization in 'The Saturday Evening Post' in May of 1956. Those articles comprise this book which came out October 4, 1956. The title refers to Marilyn's desire to be taken as a serious actress and that she had begun attending The Actor's Studio in New York City to improve her craft.
---
Autres Editions en Anglais / Other English Editions:
> USA : Pocket Books Inc., 1956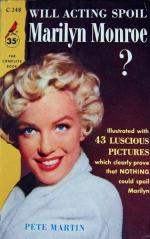 ---
Infos: pas d'édition en français pour ce livre; l'une des premières biographies sur Marilyn, écrite de son vivant.
Pete Martin a interviewé Marilyn au printemps 1956 pour le magazine "Saturday Evening Post".
---
Vous avez le livre ? Do you have the book ?
Apportez votre critique, votre avis ou votre note (/10)
Marilyn Monroe
Author: Pete Martin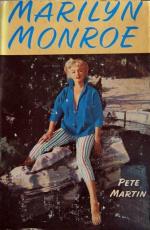 Date de sortie: 1956
Relié 109 pages
Langue: anglais
Éditeur: F.Muller
Prix éditeur: ?
ASIN: B0007JDL8M
Ou le commander ? sur amazon.com
Description -sur ukbookworld - First edition hardbound book in dustwrapper; probably one of the first biographies of Monroe. Illustrated with b/w photos spread throughout the book, including the inevitable Seven Year Itch skirt. This is a difficult book to find.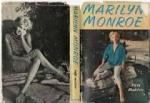 Infos: pas d'édition en français pour ce livre; l'une des premières biographies sur Marilyn, écrite de son vivant.
Pete Martin a interviewé Marilyn au printemps 1956 pour le magazine "Saturday Evening Post".
---
Vous avez le livre ? Do you have the book ?
Apportez votre critique, votre avis ou votre note (/10)
05 février 2014
Biographie de Marilyn Monroe, communiqué aux journalistes par Harry Brand, le directeur de la publicité des studios de la 20th Century-Fox et agent de Marilyn, en 1953.
Biography of Marilyn Monroe, communicated to journalists by Harry Brand, the director of advertising studios 20th Century-Fox and Marilyn's agent in 1953.
---
© All images are copyright and protected by their respective owners, assignees or others.
copyright text by GinieLand.

20 octobre 2011
Les préférences de Marilyn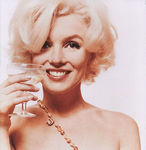 Boissons
Vodka, le champagne Dom Perignon 1953.
"J'adore le champagne! Donnez-moi juste du champagne et de la bonne nourriture et je suis au paradis!"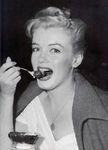 Nourriture
Hamburger, Hot Dog, Sorbet aux fruits, Caviar; la cuisine italienne.
Au petit déjeuner, elle aimait manger... des steaks !

Parfum
Chanel n°5
"Ce que je porte la nuit? Chanel n°5!"
Arpège de Lanvin,
Joy de Jean Patou.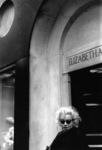 Produit de beauté
Elizabeth Arden, Nivea moisturizer.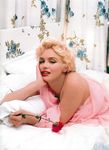 Fleurs
Roses, Oeillets.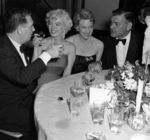 Restaurant et Club
Romanoff's et Ciro's (à Hollywood), Sardi's et El Morocco (New York).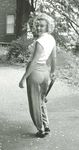 Boutiques et Mode
Bloomingadale's, Saks.
Jax, Pucci.
Pantalons rayés, vestes et pulls colorés (de Pucci en 1962).
Cinéma
Acteurs

: Clark Gable, Charlie Chaplin, Charles Laughton, Will Rogers, Cary Grant, John Barrymore, Tyrone Power, Richard Widmark et Gérard Philippe. Marlon Brando était son préféré parmi tous.

Actrices

: Eleonora Duse, Jean Harlow, Ginger Rogers, Marie Dressler et Olivia DeHavilland. Greta Garbo était son actrice favorite.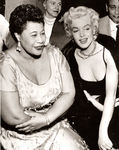 Musique
Chanteuse

: Ella Fitzgerald.


Chanteur

: Frank Sinatra.


Musiciens

: Louis Armstrong, Earl Bostick, Ludwig Van Beethoven et Wolfgang Amadeus Mozart.
Art
Goya, Picasso, El Greco, Michelangelo, Botticelli et Degas.
En observant les peintures noires de Goya, Marilyn se projette: «Je fais les mêmes cauchemars depuis que je suis enfant».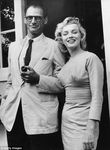 Théâtre
Pièce de théâtre

: A Streetcar Named Desire (Un tramway nommé désir) et Death of a Salesman.


Dramaturges

: Arthur Miller et Tennessee Williams.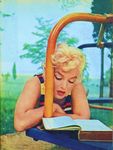 Littérature
Livre

: How Stanislavsky Directs par Michael Gorchakov.


Ecrivains

: Fyodor Dostoyevsky, J.D. Salinger, George Bernard Shaw, James Joyce, Thomas Wolfe, Carson McCullers, Blixen, Nabokov, Beckett, Pavese, Kerouac, Dostoïevski, Kafka, Rilke.

Poètes

: John Keats et Walt Whitman.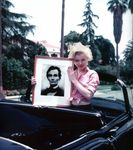 Héros
Albert Schweizer, Albert Einstein, Abraham Lincoln.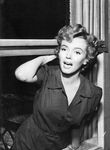 Ses meilleures performances
The Asphalt Jungle (Quand la ville dort) en 1950 et Don't Bother to Knock (Troublez-moi ce soir) en 1952.

Photographie 1
La séance de photos de Cecil Beaton le 22 février 1956 où elle porte une robe blanche et tient un oeillet contre son coeur.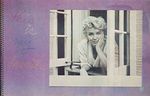 Photographie 2
Dans son agenda personnel, Marilyn avait inclus une photographie d'elle en peignoir, se tenant à la fenêtre pendant le tournage de "The Seven Years Itch", à New York, prise

par Sam Shaw. Elle y avait incrit à côté "this is my favorite", écrit en plusieurs couleurs.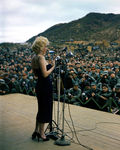 Souvenir personnel
La Corée où elle se produisit sur scène en février 1954, chantant et dansant devant plus de 13 000 soldats américains en quatre jours:

«

Le sommet de ma vie fut de chanter là-bas pour les soldats.

»
18 novembre 2007
Lorsque la date est écrite en couleur et souligné, il vous suffit de cliquer dessus pour avoir plus d'informations et des photos sur l'événement
Janvier 1952 - Marilyn embauche Inez Melson pour être son manager et porte parole.
Février 1952 - Marilyn rencontre Joe DiMaggio.
Durant cette période, elle est invitée au camp d'entrainement Pendleton pour y divertir les troupes, elle chantera "Do It Again".
20 février 1952 - Elle se rend à la première du film The African Queen.
26 février 1952 - Début du tournage de "Monkey Business".
5 mars 1952 - Marilyn est traitée par rayon-x à l'hôpital Cedars de Los Angeles, après avoir ressenti des douleurs à l'appendice. Les docteurs lui conseillent de se faire opérer, mais l'opération sera reportée une fois le tournage de "Monkey Business" fini.
13 mars 1952 - Les photos où elle posa nue en 1949 sont révélées à la presse, sous le nom de Marilyn Monroe.
17 mars 1952 - Elle participe pour la première fois à un match de base-ball, dans lequel joue Joe DiMaggio.
7 avril 1952 - Marilyn apparaît pour la première fois en couverture du célèbre magazine Life.
3 mai 1952 - La presse révèle l'existence de la mère de Marilyn, qui travaille comme bénévole dans une clinique. Jusqu'à ce jour, Marilyn affirmait qu'elle était orpheline car elle voulait protéger sa mère des médias.
Mai 1952 - Marilyn est opérée de l'appendicite à un hôpital à Hollywood.
1er juin 1952 - Elle apprend qu'elle a été retenue pour le film "Gentlemen Prefer Blondes", et passe sa soirée d'anniversaire au téléphone avec Joe.
5 juin 1952 - Elle arrive au Canada pour tourner "Niagara".
12 juin 1952 - Elle est poursuivie devant les tribunaux par la compagnie "Pacific Telephone and Telegraph", pour ne pas avoir régler une note de téléphone de 168 $.
18 juin 1952 - Le tournage de "Clash By Night" s'achève.
26 juin 1952 - Elle est appelée à témoigner dans un procés contre l'utilisation abusive de photos nues, qui ont été utilisées dans une publicité sans son consentement.
Eté 1952 - Pour une oeuvre de charité, elle rend visite à des enfants malades dans un hôpital.
Eté 1952 - Une fête est organisé à Hollywood pour promouvoir une chanson composée et arrangée par le musicien Ray Anthony intitulée Marilyn. Marilyn Monroe s'y rend en hélicoptère et s'essaiera même à la batterie.
21 août 1952 - Marilyn et Wendell Niles enregistrent une émission de radio "Statement in full" pour la station NBC "Hollywood Star Playhouse".
26 août 1952 - Elle prend l'avion à l'aéroport du Queens pour se rendre à Atlantic City.
31 août 1952- Transmission de l'émission de radio NBC sur les ondes.
1 septembre 1952 - A Atlantic City, elle rencontre les femmes de l'armée U.S.
2 septembre 1952 - Elle participe à la parade de Miss America à Atlantic City, dans le New Jersey, où elle officie en tant que Grand Marshall.
3 septembre 1952 - Elle prend l'avion et rentre à Los Angeles.
5 septembre 1952 - Sortie du film Monkey Business sur les écrans américains. Marilyn participe à la grande première de la projection du film.
4 octobre 1952 - Selon Robert Slatzer, un journaliste originaire de l'Ohio, celui-ci aurait épousé Marilyn à Tijuana, au Mexique. Mais toujours selon Slatzer, la 20th Century Fox aurait fait annulé le mariage trois jours après.
9 novembre 1952 - Elle participe à l'émission de radio populaire "Edgar bergen - Charlie Mc Carthy radio show", avec la marionette célèbre aux USA.
Décembre 1952 - Elle fait promettre à Allan Snyder, son maquilleur, qu'il s'occupera de son maquillage quoiqu'il arrive, ce qu'il fera, lors du service funéraire en 1962.
Fin décembre 1952 - Début du tournage de Gentlemen Prefer Blondes.