01 novembre 2016
---
Documents papiers - Vie Privée
Papers documents - Private Life

---
Lot 1: MARILYN MONROE HANDWRITTEN POSTCARD
A Beverly Hills Hotel postcard in Marilyn Monroe's handwriting, sent to Ralph Roberts in May 1961. Monroe wrote, "Dear Raffe, See I did write! I have a surprise for you and I'm not pregnant either. XOXO Love, M." Accompanied by a copy of a letter from Roberts.
3½ by 5½ inches
PROVENANCE: Partial Lot 334, "Film and Television Memorabilia," Christie's East, New York, Sale number 7821, December 18, 1995
Estimate: $1,000 - $2,000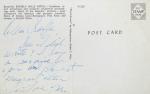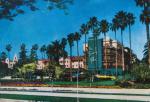 ---
Lot 17: MARILYN MONROE ARTHUR MILLER SIGNED MOCK-UP TITLE PAGE
A mock-up title page from Arthur Miller's collected plays, The Viking Press, New York, 1957, with printed dedication reading "For Marilyn" and signed by Arthur Miller.
8 1/2 by 11 1/2 inches
PROVENANCE: Lot 358, "Film and Entertainment," Christie's, South Kensington, Sale number 6343, December 17, 1993
Estimate: $250 - $350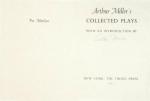 ---
Lot 33: MARILYN MONROE LEE STRASBERG EULOGY, FUNERAL GUEST LIST, AND REMBERENCE CARD
Five typescript pages bound by a staple relating to the funeral service of Marilyn Monroe. The first page is titled "Service for Marilyn Monroe Wednesday, August 8, 1962, 1PM." The second and third pages detail Lee Strasberg's eulogy for Monroe. The fourth page is a list titled "Those invited to Attend." The last page has a paragraph with a statement to Monroe's uninvited friends explaining the desire to keep the service private, credited to Berniece Miracle, Inez Melson and Joe DiMaggio. Together with an In Memory of Marilyn Monroe remembrance card from her funeral service at Westwood Memorial Park, dated "August 8th, 1962," and containing the 23rd Psalm and service details.
Largest, 11 by 8 1/2 inches
PROVENANCE Lot 69, "Popular Culture: Film and Entertainment," Christie's, London, South Kensington, Sale Number 5579, November 25, 2010
Estimate: $1,000 - $2,000

---
Lot 78: MARILYN MONROE LETTER TO BOBBY MILLER MENTIONING ROBERT KENNEDY
A typed, unsigned file copy of a four-page letter on two leaves, letter dated "Noon February 2" (1961), addressed to Arthur Miller's son, "Dear Bobbybones." She writes in response to Bobby's letter, "That pool table you told me about in that Danish hotel sounds great. Did I ever tell you that I can really play pool. I learned when I was about sixteen and it is something that you never forget." She also comments, "I am going to get that book you recommended; is it "Lord of the Flies" or "The Fleas"? I would love to read something really terrifying."
Most poignantly, Monroe tells Bobby about her new home, "Bobby, I have the best news: I have just completely bought my new house. ...It is an authentic little Mexican house, but it's got a gigantic swimming pool, and it looks just like Mexico. You would just love it. I have two guest rooms plus a large playroom, plus lots of patios, and a big Mexican wall goes all around the place with big high Mexican gates (that's to keep intruders out, in case anybody gets intrusive.) ...Anyway, I would love - for whichever vacation it can be arranged - if you and Janie wanted to - at least for part of vacation, even if it is just for a few days, or a week - you are welcome to stay as long as you wanted to. I will take care of your plane tickets and meet you at the airport. ..."
Monroe is also excited to share other news, "Oh, Bobby, guess what: I had dinner last night with the Attorney-General of the United States, Robert Kennedy, and I asked him what his department was going to do about Civil Rights and some other issues. He's very intelligent, and besides all that, he's got a terrific sense of humor. I think you would like him. Anyway, I had to go to this dinner last night as he was the guest of honor and when they asked him who he wanted to meet, he wanted to meet me. So, I went to the dinner and I sat next to him, and he isn't a bad dancer either." She continues telling Bobby about her conversation and pressing Kennedy to find out what he planned to do about civil rights and that he answered her questions and told her he would send her a letter with all of his plans. He asked her if she had been attending "some kind of meetings" she writes to Bobby, "I laughed and said 'no, but these are the kind of questions that the youth of America want answers to and want things done about.' Not that I'm so youthful, but I feel youthful. But he's an old 36 himself which astounded me because I'm 35. It was a pleasant evening, all in all."
She begins to close, "I haven't heard from her [Janie] since Christmas. I guess we are all a little sloppy about writing. However, I think we all know what we mean to each other, don't we. At least I know I love you kids and I want to be your friend and stay in touch. ...I love you and miss you, and, give my love to Janie."
8 1/2 by 11 inches
PROVENANCE From the Estate of Lee Strasberg
Estimate: $1,500 - $2,000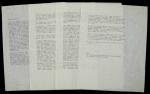 ---
Lot 79: MARILYN MONROE RECEIVED LETTER FROM JEAN KENNEDY SMITH
A single sheet of stationery listing an address in Palm Beach, Florida, with autograph notation in blue ink on recto and version reading in full, "Dear Marilyn - Mother asked me to write and thank you for your sweet note to Daddy - He really enjoyed it and you were very cute to send it. / Understand that you and Bobby are the new item! We all think you should come with him when he comes back east! Again thanks for the note. / Love, Jean Smith." Jean Smith is one of nine children to Rose and Joseph Kennedy and sister to John F. Kennedy, Robert F. Kennedy, Ted Kennedy, Eunice Kennedy Shriver and four other siblings.
7 3/4 by 5 3/4 inches
PROVENANCE From the Estate of Lee Strasberg
Estimate: $3,000 - $5,000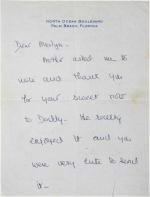 ---
Lot 90: MARILYN MONROE RECEIVED LETTER FROM ANA LOWER
A single-page letter written by Ana Lower to Monroe on recto and verso, dated October 10, 1944. Lower, "Aunt Ana," as Monroe called her, was actually Grace Goddard's aunt but was a mother figure for Monroe and by all accounts one of the most important figures in her life until Lower's death in 1948. This early letter reads in part, "My precious Girl, You are outward bound on a happy journey. May each moment of its joyous expectations be filled to the brim./ New places, faces and experiences await you. You will meet them all with your usual sweetness and loving courtesy./ When you see your sister you will truly both receive a blessing." The letter was written by Lower as a send-off to Monroe as she left Los Angeles, headed to Detroit to meet her half-sister, Berniece Miracle, for the first time face-to-face in 1944.
7 1/4 by 6 inches
Estimate: $1,000 - $1,500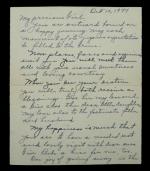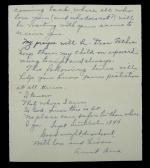 ---
Lot 91: MARILYN MONROE STAMP COLLECTION BOOK
A three-hole stamp collection book with vinyl covers from Grimes-Stassforth Stationery Company in Los Angeles, consisting of 30 pages, 10 of which have stamps glued to them. Interestingly, many of the stamps in the book are used, accompanied by new and unused identical stamps. Stamps in the book range in years from 1935 to 1936, suggesting that Marilyn Monroe collected the stamps when she was between 9 and 10 years old. The final stamp entry in the booklet contains a handwritten annotation, "#1319 AP8," presumably in Monroe's hand.
11 1/4 by 9 inches
Estimate: $1,000 - $1,500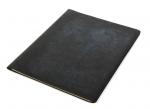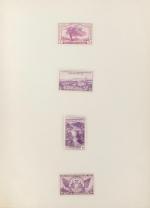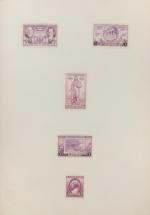 ---
Lot 93: MARILYN MONROE RECEIVED LETTER FROM ANA LOWER
A four-page letter on two leaves, written by Ana Lower to Monroe, dated "Monday 6:45 pm Oct 23, 1944." This early letter was written to Monroe while she was on her trip to Detroit to meet her half-sister for the first time in person. The letter reads in part, "How nice for you to have found such a lovely sister and family. I hope they will be out here too later on./ Love arranged this trip for you dear, and Love will bring Jimmie home at the right time. Now stop this nonesense [sic] about car sickness. God does not cease to be because you board a train, nor do you cease to be his perfect child because you take a car ride or a ship ride. You just forget to put your armour [sic] on."
6 3/4 by 5 1/2 inches
Estimate: $1,000 - $1,500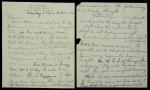 ---
Lot 97: MARILYN MONROE GRACE GODDARD NOTES ON BEHAVIOR OF MARILYN MONROE'S MOTHER
An undated single page of stationery from B & H Waterproofing Mfg. Co. letterhead containing notes in pencil, in Grace Goddard's hand. A parenthetical note at the bottom of the first page reads "(I wrote these things down as Gladys said them while she was staying with me) Grace Goddard." The notes were then presumably sent to Monroe as they were among her belongings at the time of her death. The list, numbered from 1 to 15, is essentially a portrait of someone suffering mental illness, including paranoid delusions: "2. She thinks she was sent to State Hospital because years ago she voted on a Socialist ballot at Hawthorne and was being punished for doing so."; "6. She is being punished because years ago she took a drink of liquor (during prohibition) and should have been sent to jail."; "7. Sleeps with her head at the foot of bed so as not to look at Marilyn's picture - they disturb her."; "10. After listening to a political speech, said she was needed in Russia to help them."; "11. Wishes she never had had a sexual experience so she could be more Christ like."; "15. Misplaces or losing her glasses, watch, gloves, or other possessions and either accuses someone of stealing them, or are to blame for her losing them." She also expresses sudden aversion to meat and fish, fear of Catholics, belief that she was a nurse working for the government while at "Agnew" mental hospital, and belief that nobody should listen to the radio because the people are drunk when they go on the air, among many other observances. This is a fascinating firsthand account of Monroe's mother directly from someone witnessing and documenting her behavior.
8 1/2 by 11 inches
Estimate: $2,000 - $3,000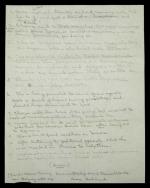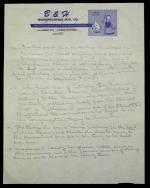 ---
Lot 98: MARILYN MONROE CARD FROM HER MOTHER
A small greeting card featuring a charming representation of a lady wearing a feather hat and veil, constructed using a button. The autograph note in pencil reads in full, "Dear One; I am very grateful for all the kindness you've shown me and as a Loving Christian Scientist (my pencil broke) I hope our God will let me return some goodness to you with out doing myself any harm. For I know good is reflected in goodness, the same as Love is reflected in Love./ As a Christian Scientist I remain very truly your Mother." The undated note is in an unpostmarked envelope addressed to "Miss Norma Jeane Dougherty 6707 Odessa Ave., Van Nuy's Cal." with return address for her mother listed as "From - G. P. Eley 2713 Honolulu Ave. Verdugo City, Cal."
5 by 4 inches
Estimate: $3,000 - $5,000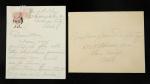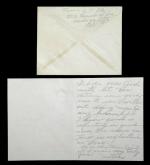 ---
Lot 103: MARILYN MONROE RECEIVED LETTER ABOUT SECRETLY CARING FOR HER MOTHER
A four-page autograph letter with postscript continuing onto the verso of first page, in pencil, in the hand of Grace Goddard, Monroe's one-time legal guardian. The letter dated August 25, 1953, reads in part, "I have been having a wild time over that bill for G - I phoned the secretary as you said ... I could tell by her answers that you had not confided in her about G - She said she didn't have $600 left to pay that amount and wouldn't anyway without specific instructions from you. I had to let the whole matter drop as I didn't want to say anything. I just hoped and prayed you would get home. Sunday morning Miss O'Brien phoned and I was too sick to talk to her … I phoned her today ... and she said if they didn't receive $600 within the next week they would be forced to turn G - over to the county, which would mean I would have to appear again and this time we couldn't keep it from becoming public. Another $300 is due by or before the 11th of Sept. I'm so sorry you didn't send me a check before you left and Doc could have handled it as we did before. The only reason I asked you to have some one else handle that account was because I expected to be in Texas for several months and Doc might be out of town. Now that I don't need that operation and expect to be here I think it is best not to confide in any more people than you have to. I wish you would send me a check for $600 quick like and I'll tend to it immediately. Such a burden for a delicate little girl like you to hear. If we had anywhere near that amount in the bank Doc would have sent the check anyway..."
The letter is accompanied by the original transmittal envelope and a pink carbon receipt for a $600 money transfer through the Canadian Pacific Railway Company addressed to Mrs. E.S. Goddard anddated August 27, 1953, with facsimile signature of Marilyn Monroe and a note in her hand saying "sorry difficulty hope you feel better." The form states Monroe's "Place" as the Banff Springs Hotel, where she and Joe DiMaggio stayed while she was filming River of No Return (20th Century Fox 1953) in Canada. The letter clearly shows that even Monroe's secretary was not told about Monroe's mother Gladys being re-admitted to a psychiatric care facility at this time and demonstrates that Monroe was able to keep it a secret with the help of close contacts like the Goddards. Grace Goddard passed away on September 28, 1953, just over a month after this letter was written.
8 by 5 inches
Estimate: $1,500 - $2,500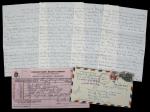 ---
Lot 105: MARILYN MONROE ROCKHAVEN SANITARIUM RECEIPTS FOR THE CARE OF MARILYN MONROE'S MOTHER
A grouping of 42 receipts, ranging in date from October 1962 through April 1966, addressed to Inez C. Melson, for the care of Monroe's mother, Gladys P. Eley, while she was staying at Rockhaven Sanitarium in Verdugo City, California. Included with the Rockhaven Sanitarium receipts are other invoices for products and services provided to Eley, including prescription medications, toothbrushes and toothpaste, repairs to her dentures, cash advances, and package deliveries sent to Gainsborough, Florida, for Eley's other daughter, Berniece Miracle. The April 27, 1966, invoice indicates that Eley's account at Rockhaven was $7,355.90 in arrears.
Estimate: $5,000 - $7,000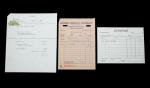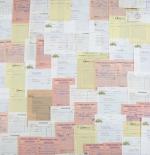 ---
Lot 159: MARILYN MONROE TYPED 1943 NOTES
Six pages of typed thoughts and feelings from a very young Norma Jeane Dougherty expressing her thoughts on her marriage to James Dougherty as she confronts her fear that her husband has been unfaithful with his former girlfriend, Doris Ingram. She writes the letter after a night apart from Dougherty and examines her feelings with great depth of understanding and maturity, "[I]n the beginning I would/ never have stayed with him but for his love of classical/ music his intellect which made a pretense at being more/ then [sic] it was." She continues, "I was greatly/ attracted to him as one of the few young men I had no sexual repulsion for." She comments that despite steady modeling, "... to an outsider it might/ not be conceivable that I had taken my small insecurities/ and built them up into a nervous tension which although it/ had outlets was always present." After discovering that Dougherty "had spent the evening & most of the morning hours with the other woman ..." she says she "... now would/ like a chance at a third act - the unsuspecting male and/ the vengful [sic] female, but now I'm only fooling my-/ self if I do get my last act I will portray the heroine/ who bravely suffers tucking it all away to use as barage [sic]/ some now unknown man." Pages have been stored folded together and are brittle with some separation along crease lines of first page.
LITERATURE Monroe, Marilyn, and Bernard Comment. Fragments: Poems, Intimate Notes, Letters. Pages 5-11. New York: Farrar, Straus and Giroux, 2010. 1-237. Print.
10 1/4 by 7 1/4
Estimate: $8,000 - $10,000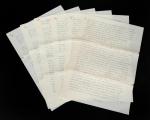 ---
Lot 160: MARILYN MONROE HANDWRITTEN POEM
A single sheet of unlined paper with handwritten poem in pencil reading "Life -/ I am both of your directions/ Somehow remaining hanging downward/ the most/ but strong as a cobweb in the/ wind-I exist more with the cold glistening frost./ But my beaded rays have the colors I've/ seen in a painting-ah life they/ have cheated you."
LITERATURE Monroe, Marilyn, and Bernard Comment. Fragments: Poems, Intimate Notes, Letters. Pages 16-17. New York: Farrar, Straus and Giroux, 2010. 1-237. Print.
7 1/4 by 10 1/2 inches
Estimate: $10,000 - $15,000

---
Lot 161: MARILYN MONROE HANDWRITTEN NOTE
A single page of lined paper from a Steno notebook with writing, in pencil, and with a fatalistic tone, reading in full, "Oh damn I wish that I were/ dead-absolutely nonexistent-/ gone away from here-from/ everywhere but how would I/ There is always bridges-the Brooklyn/ bridge/ But I love that bridge (everything is beautiful from there/ and the air is so clean) walking it seems/ peaceful even with all those/ cars going crazy underneath. So/ it would have to be some other bridge/ an ugly one and with no view-except/ I like in particular all bridges-there's some-/ thing about them and besides I've / never seen an ugly bridge."
LITERATURE Monroe, Marilyn, and Bernard Comment. Fragments: Poems, Intimate Notes, Letters. Pages 18-19. New York: Farrar, Straus and Giroux, 2010. 1-237. Print.
8 3/4 by 6 inches
Estimate: $10,000 - $15,000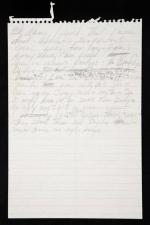 ---
Lot 162: MARILYN MONROE HANDWRITTEN POEM
A single sheet of lined paper, folded at center. The page contains a verse in pencil reading "Stones on the walk/ every color there is/ I stare down at you/ like a horizon-/ the space-air is between us beckoning/ and I am many stories up/ my feet frightened/ as I grasp towards you."
LITERATURE Monroe, Marilyn, and Bernard Comment. Fragments: Poems, Intimate Notes, Letters. Pages 20-21. New York: Farrar, Straus and Giroux, 2010. 1-237. Print.
12 3/8 by 8 inches
Estimate: $8,000 - $12,000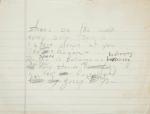 ---
Lot 163: MARILYN MONROE HANDWRITTEN POEM
A single sheet of lined paper with unevenly torn top edge and minor paper loss along bottom edge. The recto of page contains a poem written in pencil reading "Only parts of us will ever/ touch parts of others-/ one's own truth is just/ that really-one's own truth./ We can only share the/ part that is within another's knowing acceptable/ so one/ is for most part alone./ As it is meant to be in/ evidently in nature-at best perhaps it could make/ our understanding seek/ another's loneliness out."
LITERATURE Monroe, Marilyn, and Bernard Comment. Fragments: Poems, Intimate Notes, Letters. Pages 22-23. New York: Farrar, Straus and Giroux, 2010. 1-237. Print.
8 3/4 by 6 inches
Estimate: $6,000 - $8,000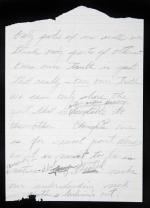 ---
Lot 164: MARILYN MONROE HANDWRITTEN NOTE
A single piece of lined notebook paper with notation in pencil showing Monroe's frustration with what must have been a relentless demand for her time and attention, reading in full, "I can't really stand Human/ Beings sometimes-I know/ they all have their problems/ as I have mine-but I'm really/ too tired for it. Trying to understand,/ making allowances, seeing certain things/ that just weary me."
LITERATURE Monroe, Marilyn, and Bernard Comment. Fragments: Poems, Intimate Notes, Letters. Pages 24-25. New York: Farrar, Straus and Giroux, 2010. 1-237. Print.
12 3/8 by 8 inches
Estimate: $6,000 - $8,000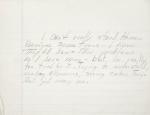 ---
Lot 165: MARILYN MONROE HANDWRITTEN POEM
An envelope with rhyming poem written by Monroe in pencil on back making light of the fact that hospital gowns do not cover her "derriere." The envelope also contains a list of composers and musicians: "Beethoven/ Last 6-quartets/ Ravel-the Waltz/ Bartok-quartets of his."
LITERATURE Monroe, Marilyn, and Bernard Comment. Fragments: Poems, Intimate Notes, Letters. Pages 26-27. New York: Farrar, Straus and Giroux, 2010. 1-237. Print.
4 1/8 by 9 1/2 inches
Estimate: $4,000 - $6,000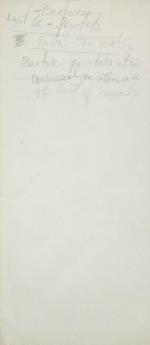 ---
Lot 166: MARILYN MONROE NOTE ON BEVERLY HILLS HOTEL STATIONERY
A single page of hotel stationery note paper, folded down the center of the page. There are multiple marginal notes, but the main body of text reads like a poem and appears to be a mantra-like acting relaxation exercise reading in part, "Keep the balloon, and/ Dare not to worry/ Dare to/ let go - so loose/ They you pick up/ Stretch into your tone" and "Let go of my/ eyes -/ so relaxed/ only let/ my thought/ come through/ them without/ doing any/ thing to/ them."
LITERATURE Monroe, Marilyn, and Bernard Comment. Fragments: Poems, Intimate Notes, Letters. Pages 28-29. New York: Farrar, Straus and Giroux, 2010. 1-237. Print.
5 1/2 by 4 inches
Estimate: $8,000 - $12,000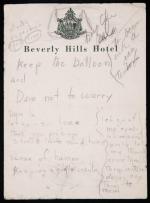 ---
Lot 169: MARILYN MONROE EARLY CAREER PERSONAL JOURNAL
A black "Record" book with 150 numbered and lined pages, dating to the late 1940s to early 1950s, with approximately 12 pages containing entries in Monroe's hand, including notes about Monroe's 1948 trip to Salinas and Castroville in northern California and also a line referencing her 1951 film Love Nest. Monroe wrote on the first pages of the book, "Alone!!!!! I am alone – I am always alone no matter what." The writings include class notes as well as deeply personal writings of her deepest insecurities, reading in part, "Fear of giving me the lines new, maybe won't be able to learn them, maybe I'll make mistakes, people will either think I'm no good, or laugh or belittle me or think I can't act."
LITERATURE Monroe, Marilyn, and Bernard Comment. Fragments: Poems, Intimate Notes, Letters. Pages 32-47. New York: Farrar, Straus and Giroux, 2010. 1-237. Print.
7 3/4 by 5 inches
Estimate: $10,000 - $20,000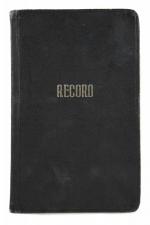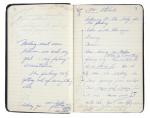 ---
Lot 170: MARILYN MONROE PERSONAL JOURNAL
A black "Record" book with 150 numbered and lined pages, the first page dated "Feb 18, 1953" with approximately 14 pages containing entries in Monroe's hand. The notes are very personal with Monroe ruminating about her life and experiences in her past that continue to affect her life, including these notes about the childhood influence of Ida Bolender that lingers into her adult life, reading in part, "Ida - I have still been obeying her - it's not only harmful for me to do so but unrealality [sic] because in my work - I don't want to obey her any longer."
LITERATURE Monroe, Marilyn, and Bernard Comment. Fragments: Poems, Intimate Notes, Letters. Pages 50-65. New York: Farrar, Straus and Giroux, 2010. 1-237. Print.
7 1/4 by 4 3/4 inches
Estimate: $12,000 - $18,000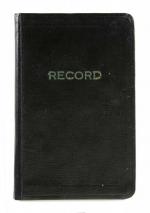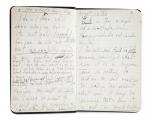 ---
Lot 171: MARILYN MONROE HANDWRITTEN PROSE
A single sheet of hotel stationery from the Waldorf Astoria, New York, where Monroe stayed between April and September 1955, with multiple verses in pencil and ink on front and back of page. The primary verse on recto was written as Monroe observed Manhattan from her suite at the hotel, reading in part, "Sooooo many lights in the darkness/ making skeletons of buildings/ and life in the streets." A poem about trees that appears to begin in the upper left margin of recto and continues onto the lower right of verso reads in full, "Sad, sweet trees-/ I wish for you-rest/ but you must be wakeful/ You must suffer-/ to loose [sic] your dark golden/ when your covering of/ even dead leaves leave you/ strong and naked/ you must be-/ alive-when looking dead/ straight though bend/ with wind/ And bear the pain & the joy/ of newness on your limbs."
LITERATURE Monroe, Marilyn, and Bernard Comment. Fragments: Poems, Intimate Notes, Letters. Pages 70-73. New York: Farrar, Straus and Giroux, 2010. 1-237. Print.
10 1/2 by 7 1/4 inches
Estimate: $10,000 - $15,000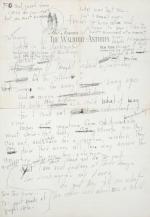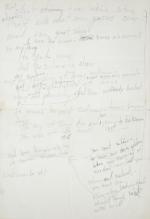 ---
Lot 172: MARILYN MONROE HANDWRITTEN DREAM NARRATIVE
Two sheets of hotel stationery from the Waldorf Astoria, New York, where Monroe stayed between April and September 1955. The pages contain notes in pencil recounting a dream in which Lee Strasberg acts as surgeon and her analyst, Dr. Hohenberg, administers anesthesia, but they are disappointed when they "cut her open" to find nothing there. She concludes, "Strasberg's dreams & hopes for theater are fallen./ Dr. H's dreams and hopes for a permant phicatrcic [sic] cure/ is given up-Arthur is disappointed-let down +." Another note in the margin mentions a dream about a "horrible repulsive man" in an elevator that she wants to discuss with Dr. Hohenberg.
LITERATURE Monroe, Marilyn, and Bernard Comment. Fragments: Poems, Intimate Notes, Letters. Pages 74-77. New York: Farrar, Straus and Giroux, 2010. 1-237. Print.
10 1/2 by 7 1/4 inches
Estimate: $10,000 - $15,000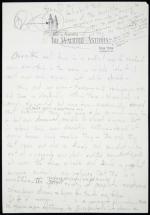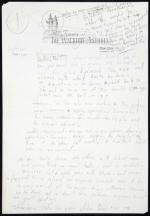 ---
Lot 175: MARILYN MONROE HANDWRITTEN LETTER TO NORMAN ROSTEN
A single sheet of hotel stationery from the Waldorf Astoria, New York, where Monroe stayed between April and September 1955. The page contains a letter written in multiple passes, first in pencil with added thoughts in ink, addressed to the Rostens' Brooklyn address. The cryptic letter contains a multitude of inside references and is quite difficult to follow but also sends her regards to Norman Rosten's wife Hedda, their daughter Patty and their pets Bam-Moo and Candy. Monroe also muses about the "Mr. Johnson Club," a reference to Rosten's play Mister Johnson.
LITERATURE Monroe, Marilyn, and Bernard Comment. Fragments: Poems, Intimate Notes, Letters. Pages 84-85. New York: Farrar, Straus and Giroux, 2010. 1-237. Print.
10 1/2 by 7 1/4 inches
Estimate: $4,000 - $6,000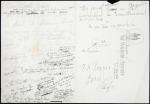 ---
Lot 177: MARILYN MONROE HANDWRITTEN POEM
A single sheet of stationery from Parkside House, the English manor where Monroe and Arthur Miller stayed in Surrey while she filmed The Prince and the Showgirl in London in 1956. The page contains a poem in pencil on front of sheet, likely written about Miller while staying at Parkside, reading in part, "my love sleeps beside me-/ in the faint light-I see his manly jaw/ give way-and the mouth of his/ boyhood returns." The back of the sheet contains two mournful verses reading, "the pain of his longing when he looks/ at another=/ like an unfulfillment of the day/ he was born" as well as the line "And I in merciless pain/ and with his pain of Longing-/ when he looks at and loves another/ like an unfulfillment of the day/ he was born-/ we must endure/ I more sadly because I can feel no joy."
LITERATURE Monroe, Marilyn, and Bernard Comment. Fragments: Poems, Intimate Notes, Letters. Pages 106-109. New York: Farrar, Straus and Giroux, 2010. 1-237. Print.
7 by 5 1/4 inches
Estimate: $15,000 - $20,000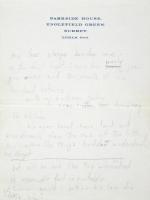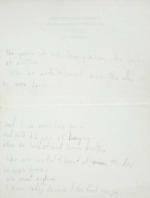 ---
Lot 178: MARILYN MONROE HANDWRITTEN POEM
A single sheet of stationery from Parkside House, the English manor where Monroe and Arthur Miller stayed in Surrey while she filmed The Prince and the Showgirl in London in 1956. The page contains a poem in pencil on front of sheet with multiple strikethroughs and edits, reading in part, "oh silence/ you stillness hurt my head -and / piece ears/ jars my head with the stillness/ of sounds unbearable -durable/ on the screen of pitch blackness."
LITERATURE Monroe, Marilyn, and Bernard Comment. Fragments: Poems, Intimate Notes, Letters. Pages 110-111. New York: Farrar, Straus and Giroux, 2010. 1-237. Print.
7 by 5 1/4 inches
Estimate: $10,000 - $15,000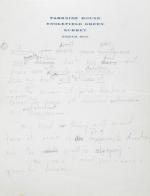 ---
Lot 179: MARILYN MONROE HANDWRITTEN POEM
A single sheet of stationery from Parkside House, the English manor where Monroe and Arthur Miller stayed in Surrey while she filmed The Prince and the Showgirl in London in 1956. The page contains a poem in red and blue ink on front of sheet reading "To have your heart is/ the only completely happy proud thing (that ever belonged/ to me) I've ever possessed so" with alternate language suggestion in blue ink reading "thing that ever completely happen to me."
LITERATURE Monroe, Marilyn, and Bernard Comment. Fragments: Poems, Intimate Notes, Letters. Pages 112-113. New York: Farrar, Straus and Giroux, 2010. 1-237. Print.
7 by 5 1/4 inches
Estimate: $6,000 - $8,000

---
Lot 180: MARILYN MONROE HANDWRITTEN NOTE
A single sheet of stationery from Parkside House, the English manor where Monroe and Arthur Miller stayed in Surrey while she filmed The Prince and The Showgirl in London in 1956. The note reads "I guess I have always been deeply terrified to really be someone's wife since I know from life one cannot love another, ever, really." Monroe had just entered her third marriage and was on location with her new husband, Arthur Miller.
LITERATURE Monroe, Marilyn, and Bernard Comment. Fragments: Poems, Intimate Notes, Letters. Pages 114-115. New York: Farrar, Straus and Giroux, 2010. 1-237. Print.
7 by 5 1/4 inches
Estimate: $10,000 - $20,000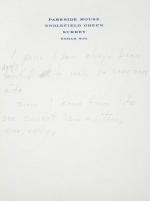 ---
Lot 181: MARILYN MONROE HANDWRITTEN POEM
A single sheet of stationery from Parkside House, the English manor where Monroe and Arthur Miller stayed in Surrey while she filmed The Prince and the Showgirl in London in 1956. The page contains a poem in pencil on front of sheet with multiple strikethroughs and edits, reading in part, "It is not to be for granted/ the old woman hides-/ from her glass-the one she polishes so it won't be dusty-/ daring sometimes/ to see her toothless gasp and if she perhaps very gently smiles/ she remembers-/ her pain."
LITERATURE Monroe, Marilyn, and Bernard Comment. Fragments: Poems, Intimate Notes, Letters. Pages 116-117. New York: Farrar, Straus and Giroux, 2010. 1-237. Print.
7 by 5 1/4 inches
Estimate: $10,000 - $15,000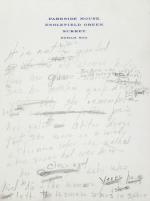 ---
Lot 182: MARILYN MONROE HANDWRITTEN POEM
A single sheet of stationery from Parkside House, the English manor where Monroe and Arthur Miller stayed in Surrey while she filmed The Prince and the Showgirl in London in 1956. The page contains a mournful poem in pencil on front of sheet with multiple strikethroughs and edits, reading in full, "where his eyes rest with pleasure-I/ want to still be-but time has changed/ the hold of that glance./ Alas how will I cope when I am/ even less youthful-/ I seek joy but it is clothed/ with pain-/ take heart as in my youth/ sleep and rest my heavy head/ on his breast for still my love/ sleeps beside me."
LITERATURE Monroe, Marilyn, and Bernard Comment. Fragments: Poems, Intimate Notes, Letters. Pages 118-119. New York: Farrar, Straus and Giroux, 2010. 1-237. Print.
7 by 5 1/4 inches
Estimate: $12,000 - $15,000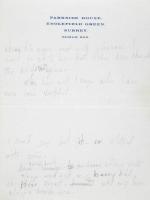 ---
Lot 184: MARILYN MONROE HANDWRITTEN "ROXBURY NOTES"
Three sheets of lined notebook paper torn from a spiral-bound book, each containing thoughts in pencil on recto. The notes portray a tired Monroe who has endured more than she could bear. Monroe was living in Roxbury, Connecticut, with husband Arthur Miller and was clearly disenchanted with domestic life in the country. She writes, "I've tried to imagine spring all winter-it's/ here and I still feel hopeless. I think I hate it here because there is no love here/ anymore. I regret the effort I desperately made here." She poetically writes of the mature trees on the property and then turns to self-deprecation, examining her appearance: "I see myself in the mirror now, brow furrowed-/ If I lean close I'll see-what I don't want to know-tension, sadness, disappointment, my eyes dulled, cheeks flushed with capillaries that look/ like rivers on a map -hair lying like snakes. The mouth makes me the saddes [sic]."
LITERATURE Monroe, Marilyn, and Bernard Comment. Fragments: Poems, Intimate Notes, Letters. Pages 125-131. New York: Farrar, Straus and Giroux, 2010. 1-237. Print.
12 1/4 by 7 1/2 inches
Estimate: $15,000 - $20,000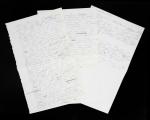 ---
Lot 185: MARILYN MONROE 1958 NOTEBOOK
A red Livewire wide-ruled spiral-bound notebook, most likely dating to 1958. The notebook contains five meaningful pages of writing in both pen and pencil, all of which were published in the book Fragments . One additional page not shown in the book contains pencil notations of calorie counts for foods like "Wheat germ 1/2 c" and 1 cup of orange juice, eggs and skim milk. Two of the pages written in ink reference lines from Some Like It Hot while other pages reveal deeply personal thoughts and poems, including this page that reads in part, "Help Help/ Help/ I feel life coming closer/ when all I want/ is to die."
LITERATURE Monroe, Marilyn, and Bernard Comment. Fragments: Poems, Intimate Notes, Letters. Pages 134-145. New York: Farrar, Straus and Giroux, 2010. 1-237. Print.
11 1/8 by 8 1/2 inches
Estimate: $12,000 - $15,000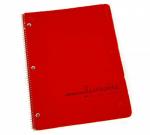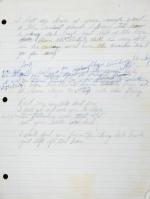 ---
Lot 186: MARILYN MONROE NOTES OF FRUSTRATION
Two pages of lined note paper torn from a notebook containing agonizing notes written by Monroe on the set of a film, likely in the privacy of her dressing room, dated simply "Aug 27." The two small pages reveal the tortured nature of Monroe's process and the enormous amount of pressure she felt, reading in part, "I almost threw up my whole lunch. I'm tired. I'm searching for a way to play this part I am depressed with my whole life since I first remember - How can I be such a gay young hopeful girl ... my concentration wavers most of the time ... I must try to work and work on my concentration."
LITERATURE Monroe, Marilyn, and Bernard Comment. Fragments: Poems, Intimate Notes, Letters. Pages 150-151. New York: Farrar, Straus and Giroux, 2010. 1-237. Print.
8 by 4 3/4 inches
Estimate: $15,000 - $20,000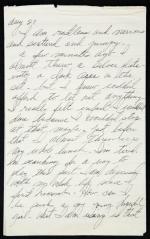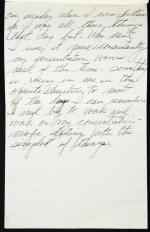 ---
Lot 187: MARILYN MONROE 1955 GUCCI ADDRESS BOOK
A personalized brown leather, six-ring Gucci address book with custom stamped "M.M." on the front cover, belonging to Monroe circa 1955, with handwritten entries, many in Monroe's hand. Contacts include Marlon Brando, "Mother Miller," Lee Strasberg, Maurine Stapleton, and Harold Clurman, among others. The book includes various handwritten entries and notes throughout. Of particular note is Monroe's handwritten list of very personal things she must make an effort to do, including "as often as possible to observe Strassberg's [sic.] other private classes"; "never miss my actors studio sessions"; "must make strong effort to work on current problems and phobias that out of my past has arisen," among other entries.
LITERATURE Monroe, Marilyn, and Bernard Comment. Fragments: Poems, Intimate Notes, Letters. Pages 152-153. New York: Farrar, Straus and Giroux, 2010. 1-237. Print.
7 1/2 by 6 inches
Estimate: $40,000 - $60,000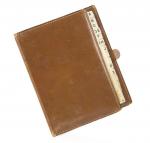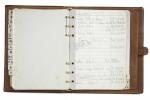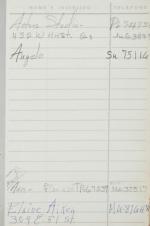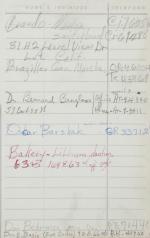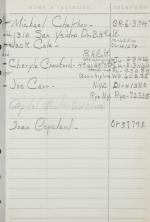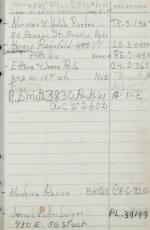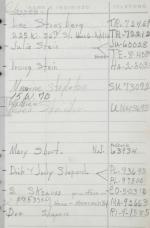 ---
Lot 190: MARILYN MONROE HANDWRITTEN NOTE
An undated note on a single sheet of unlined paper, entirely in Monroe's hand, reading "For life/ It is rather a determination not to be overwhelmed./ For work/ The truth can only be recalled, never invented."
LITERATURE Monroe, Marilyn, and Bernard Comment. Fragments: Poems, Intimate Notes, Letters. Pages 158-159. New York: Farrar, Straus and Giroux, 2010. 1-237. Print.
8 by 5 inches
Estimate: $10,000 - $20,000

---
Lot 191: MARILYN MONROE HANDWRITTEN NOTES
Two sheets of lined notebook paper with drafts of a birthday message, likely the same message referenced by Norman Rosten in his book Marilyn Among Friends . In the book, Rosten explains that Monroe often gave herself nicknames, and "One day, she signed a note with Noodle, Sam, Max, Clump, Sugar Finny, Pussy, and so on." Both pages contain a nearly verbatim list of names reading "Happy birthday and love (we all love you)/ Noodle/ Sam/ Max/ Clump/ Sugar Finny/ Pussy/ and all the rest of us-" The draft note also reads in part "[F]orgive me for being sentimental/ I'm so glad you were born/ and that I'm living at the/ same time as you."
LITERATURE Monroe, Marilyn, and Bernard Comment. Fragments: Poems, Intimate Notes, Letters. Pages 160-163. New York: Farrar, Straus and Giroux, 2010. 1-237. Print.
8 3/4 by 6 inches
Estimate: $6,000 - $8,000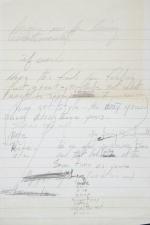 ---
Lot 202: MARILYN MONROE DEEPLY PERSONAL LETTER TO PAULA STRASBERG
A single page of lined yellow notebook paper, folded multiple times and addressed on the exterior of the folded page "To Paula/ Personal MM." The letter reads "Paula Dear,/ You asked me yesterday why-/ I felt somehow (I'm only conceiving of it this morning) that if I didn't have the control or the will to make myself do anything simple & do it right I would never be able to act or do anything - I know it sounds crazy - maybe it was even superstitious - I don't know - I don't know anything./ Something has happened I think to make me lose my confidence. I don't know what it is. All I know is I want to work./ Oh Paula I wish I knew why I am so anguished. I think maybe I'm crazy like all the other members of my family were, when I was sick I was sure I was. I'm so glad you are with me here!"
LITERATURE Monroe, Marilyn, and Bernard Comment. Fragments: Poems, Intimate Notes, Letters. Photocopy of this original letter on Page 190-191. New York: Farrar, Straus and Giroux, 2010. 1-237. Print.
12 1/4 by 8 inches
Estimate: $6,000 - $8,000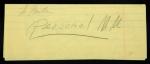 ---
Lot 261: MARILYN MONROE NOTES IN STENO BOOK
A spiral-bound stenographer notebook by Chase Press Stationers & Printers, who supplied Monroe with her custom stationery, containing four pages with notes in Monroe's hand. The first page reads "Tonight/ be there at 7:15 - Strassbergs [sic]" then "Later - Norman & Hedda - drums?" and "Tomorrow be ready at 12:30 (for lunch) John Houston [sic]/ 4:00 Norman's play reading." The second page has a list of phone calls to make. The other two pages contain single words: "Ruby" and "My."
9 1/4 by 6 inches
Estimate: $2,000 - $3,000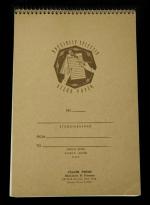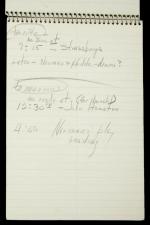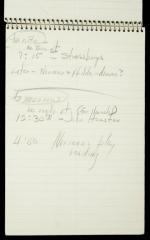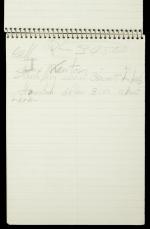 ---
Lot 266: ARTHUR MILLER HANDWRITTEN NOTE TO MARILYN MONROE
A single piece of lined paper torn from a spiral-bound notebook, heavily stained, containing a note in Miller's hand for Monroe. The note reads "I am sitting here, Dearheart, and my heart is bursting with love. I try to figure when is the best date for a wedding, who should be there, where it should be. I want us to marry on my 41st birthday - October 17, 1956." The note was written early in their relationship before Monroe knew she would be in London for the filming of The Prince and the Showgirl, and before Miller knew he would be in London for the premiere of A View from the Bridge in October 1956. Despite Miller's wish to be married on his birthday, he would marry Monroe June 29, 1956, very soon after his Reno divorce from his first wife was finalized. Miller announced his intentions to marry Monroe during his testimony before The House Un-American Activities Committee, June 21, 1956, and they perhaps moved the date forward in an effort to help Miller obtain his passport to accompany his new wife to London.
8 1/2 by 11 inches
Estimate: $1,500 - $2,500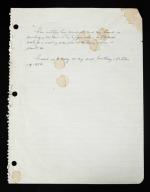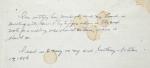 ---
Lot 314: MARILYN MONROE LETTER TO ROBERT MILLER AS HUGO THE DOG WITH PHOTOGRAPHS
An unsigned file copy of a letter written by Monroe to "Bobby" Miller dated August 22, 1957. Monroe writes the letter entirely in the voice of Hugo, their pet Basset Hound. The letter opens, "It sure is lonesome around here! But first of all I will tell you I made a mistake and I am sorry, but I chewed up one of your baseballs. I didn't mean to. I thought it was a tennis ball and that it wouldn't make any difference but Daddy and Marilyn said that they would get you another one." It continues "Oh, I did something else that I should tell you about. I jumped up very high and knocked down the badminton set. Then I proceeded to chew up the net but I didn't wreck the rackets or the birds. I am sorry I did this Bob, but what is a dog going to do?" The letter is accompanied by three small black and white snapshots of Bobby with Hugo the dog.
Photos, 2 1/2 by 2 1/2 inches
Estimate: $500 - $700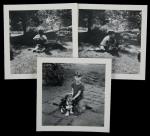 ---
Lot 316: MARILYN MONROE LETTER TO JANE MILLER AS HUGO THE DOG WITH PHOTOGRAPHS
An unsigned file copy of a letter written by Monroe to "Janie" Miller dated August 22, 1957. Monroe writes the letter entirely in the voice of Hugo, their pet Basset Hound. The letter opens, "How is my Mommie? Boy, was I glad to get your letter written only to me! Of course Daddy and Marilyn have been telling me things from your other letters and Bob's too, about what you have been doing at Camp and how much you are enjoying it and I don't want you to feel badly, but I have to tell you that I have missed you something awful." The letter continues with a confession: "I have been sleeping on your bed. It's because it is your bed. So far I don't think Daddy or Marilyn knows about it but every night after they close their door and they go to sleep I wait a little while and then I tiptoe upstairs and I sleep right on your bed. I think they are getting suspicious though because I heard Berniece (that's the new maid and you will like her) say, 'I found the strangest footprints up on this bedspread.' Of course, between you and me, they were mine." This charming letter is accompanied by two small black and white snapshots of Jane and Robert Miller with Hugo the dog.
Photos, 2 1/2 by 2 1/2 inches
Estimate: $600 - $800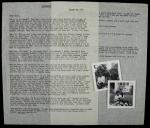 ---
Lot 318: MARILYN MONROE LETTER TO HER STEPCHILDREN FROM THE CAT
An unsigned file copy of a letter composed by Monroe in the voice of the family cat Sugar Finney, clumsily typed with misspellings reading in part, "I'm having fun driving old Rocky and that old grumpy maid of yours nuts. …Thers never a dull moment in this shack. ... Love, Sugar Feeny."
7 3/4 by 5 3/4 inches
Estimate: $200 - $300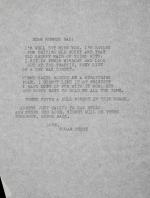 ---
Lot 319: MARILYN MONROE PHOTOGRAPH OF HUGO WITH INVOICES
A group of four invoices from the Southdown Kennel in Roxbury, Connecticut addressed to Mr. Arthur Miller at 444 East 57th Street for boarding and care of Hugo the Basset Hound. Together with a small black and white snapshot of the dog.
Photo, 2 1/2 by 2 1/2 inches
Estimate: $200 - $300

---
Lot 320: MARILYN MONROE LETTERS TO BOBBY MILLER AT SUMMER CAMP
Two single-page typed, unsigned file copies of letters dated July 16, 1958, and August 9, 1957, relating a number of amusing stories. The 1958 letter is typed on the back of a piece of stationery from the Hotel Bel-Air. In the first letter, Monroe tells Bobby Miller about Hugo the dog's escapades, taking things from the neighbors, and asks him to help her figure out what his sister Janie would like for her birthday. The 1958 letter tells him, "I haven't seen Jack Lemmon yet because he is still working on another picture. He has a very funny part in this picture. Also, he plays a friend of mine. I started to take ukulele lessons because I'm supposed to know how in the picture. I've got an idea: Maybe we can learn something together--you on the guitar and me on the ukulele--you know, charge people admission to hear us."
Monroe also tells him about her brief ownership of a Cocker Spaniel: "About two days ago someone gave me a Cocker Spaniel puppy 10 months old, completely house-broken. So I was going to call your Dad and ask him if it was okay to keep him--then I found out quite by accident that he bites--he didn't bite me but he bit a woman on the throat the day before, so I said 'thanks a lot but no thanks.' His name was 'Walter' and he was a golden-haired spaniel and just beautiful but he seemed just too 'schizo' --short for schizophrenic --you remember you explained what that meant."
Largest, 8 1/2 by 11 inches
Estimate: $800 - $1,200

---
Lot 321: MARILYN MONROE LETTERS TO JANE MILLER
Two single-page typed, unsigned file copies of letters dated July 16, 1958, and August 9, 1957, relating a number of amusing stories. The 1958 letter is typed on the back of a piece of stationery from the Hotel Bel-Air and is addressed, "Dear Janie-bean." The letter, written as Monroe is preparing for Some Like It Hot , reads in part, "... [T]hanks for helping me into my white skirt. I almost didn't make it --but now that I'm busier I'll start losing weight -- you know where./ Along with ukulele lessons I have to take I'm learning three songs from the 1920 period. ... I don't know how my costumes in the picture will be yet. I'll let you know."
The second letter is written to Janie at summer camp and recounts a number of amusing stories about Hugo the Bassett Hound reading in part, "He got kicked by that donkey. Remember him? His nose swelled up with a big lump on top and it really wrecked his profile. I put an ice pack on it and it took several days for it to go down but the last time I saw him it was pretty well healed. Bernice is taking care of him and the house while I am at the hospital./ We are going home tomorrow and then I will write you by hand./ Listen, I had better stop now because I want to get off a note to Bobby today. Don't worry about me in the hospital. I am feeling much better now and I have the funniest Scotch nurse."
8 1/2 by 11 inches
Estimate: $600 - $800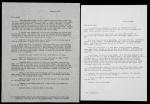 ---
Lot 322: MARILYN MONROE FORD THUNDERBIRD DOCUMENTS
A Declaration of Ownership of Motor Vehicle card listing Marilyn Monroe Productions, Inc., address 444 East 57th Street, New York City, as the owner of a 1956 black Ford Thunderbird, engine #P6FH151382. The vehicle was purchased from Westport Motor Co. Inc. of Westport, Connecticut, on December 20, 1955. Together with a blank "Seller's Report of Sale of Unregistered Motor Vehicle" card and a letter dated January 7, 1960, regarding renewal of insurance for the vehicle with secretarial note regarding deadlines and the amount of payment.
Cards, 3 1/2 by 6 inches
Estimate: $300 - $500


---
Lot 323: MARILYN MONROE RECEIVED LETTER RELATED TO HER 1956 FORD THUNDERBIRD
A letter from the City of New York Department of Finance, dated October 1, 1959, to Marilyn Monroe Productions, Inc., indicating the following: "[I]t appears that the 3% New York City Sales or Compensating Use Tax was due and payable on 6/20/57. If the tax due on this transaction has been paid by you, please submit evidence thereof. If it has not been paid, kindly remit the tax plus interest of 14%, with the enclosed form on or before 10/8/59." Monroe, husband Arthur Miller, and business partner and friend Milton Greene were photographed riding in this Thunderbird on July 2, 1956, driving from New York City to Roxbury, Connecticut.
Estimate: $500 - $700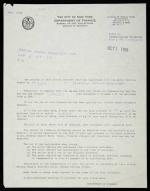 ---
Lot 324: MARILYN MONROE DRIVER'S MANUAL
An official Driver's Manual booklet from the State of Connecticut Department of Motor Vehicles with interior date of August 1955, although it may have been issued anytime after this date until an updated manual was released. Together with a blank postcard addressed to the department meant to be filled out by applicant to request an appointment for a Connecticut driver test.
Booklet, 6 by 4 1/2 inches
Estimate: $200 - $300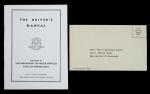 ---
Lot 325: MARILYN MONROE SIGNED DRIVER'S LICENSE
A State of Connecticut Motor Vehicles Operator's License dated October 24, 1957, and expiring June 30, 1958, listing "MM Miller of Tophet Road, Roxbury Connecticut, operator number 181034533. The license also lists Monroe's height as five feet and five inches with a date of birth of June 1, 1926, and is signed in blue pen "Marilyn Monroe Miller."
3 1/4 by 2 1/2 inches
Estimate: $10,000 - $15,000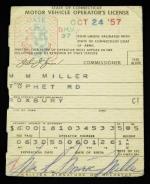 ---
Lot 326: MARILYN MONROE SIGNED DRIVER'S LICENSE
A State of Connecticut Motor Vehicles Operator's License dated July 8, 1958, and expiring June 30, 1960, listing "MM Miller of Tophet Road, Roxbury Connecticut, operator number 181034533. The license also lists Monroe's height as five feet and five inches with a date of birth of June 1, 1926, and is signed in blue pen "Marilyn Monroe Miller."
3 1/4 by 2 1/2 inches
Estimate: $10,000 - $15,000

---
Lot 373: MARILYN MONROE TO-DO LIST
A small piece of lined notebook paper with notes in Monroe's hand, reading in part, "Call - Lee on Monday/ about private class" and "Monday - Luchon [sic.] interview 12:00 / Sleeping prince/ Elsa Maxwell" as well as a phone number for Dr. Kris. Lee is clearly a reference to acting coach Lee Strasberg.
3 1/2 by 5 inches
Estimate: $2,000 - $3,000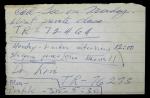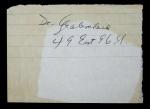 ---
Lot 380: MARILYN MONROE GLADSTONE HOTEL STATEMENT
A statement in the name of Mr. and Mrs. A Miller, dated January 13, 1958, from Gladstone Hotel on East 52nd Street at Park Avenue with charges for a room January 13-17, 1958, as well as restaurant charges. Notations on the bill read "[F]or meeting held at suite with De Laurentis and MCA officials from time to time."
9 by 6 1/2 inches
Estimate: $200 - $300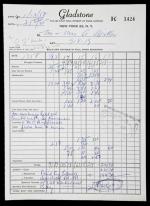 ---
Lot 411: MARILYN MONROE PERSONAL JOURNAL
A black "Record" book with 150 numbered and lined pages, the first page dated "Feb 18, 1953" with approximately 14 pages containing entries in Monroe's hand. The notes are very personal with Monroe ruminating about her life and experiences in her past that continue to affect her life, including these notes about the childhood influence of Ida Bolender that lingers into her adult life, reading in part, "Ida - I have still been obeying her - it's not only harmful for me to do so but unrealality [sic] because in my work - I don't want to obey her any longer."
LITERATURE Monroe, Marilyn, and Bernard Comment. Fragments : Poems , Intimate Notes , Letters . Pages 50-65. New York: Farrar, Straus and Giroux, 2010. 1-237. Print.
7 1/4 by 4 3/4 inches
Estimate: $12,000 - $18,000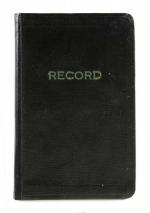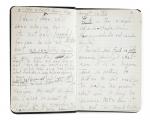 ---
Lot 431: MARILYN MONROE INSCRIBED RECORD FROM TRUMAN CAPOTE
A copy of the LP Truman Capote Reading his A Christmas Memory from Breakfast at Tiffany's. "The United Artists album (1959), is inscribed in black ink on the cover in fine print "for Marilyn, with love from Truman, 1959."
12 1/4 by 12 1/4 inches
Estimate: $2,000 - $3,000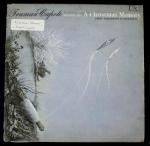 ---
Lot 433: LEE STRASBERG ADDRESS BOOK
A cream leather six-ring binder of alphabetically indexed lined notebook pages containing hundreds of names, addresses and telephone numbers written in multiple hands. The book contains strikethroughs and check marks throughout, as the information was likely being transferred and updated into a new book by a secretary. The book dates to circa 1960 and contains the names of celebrities such as Shelley Winters, Marlon Brando, Eli Wallach, and Maureen Stapleton, among others. Of note is a page listing multiple numbers for "MM" as well as Marilyn Monroe's New York City address. The book also has more administrative contacts.
9 1/8 by 8 1/4 inches
Estimate: $2,000 - $3,000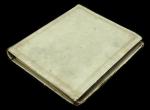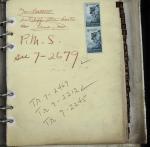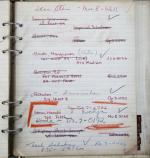 ---
Lot 478: MARILYN MONROE NOTEBOOKS
A small six-ring binder containing blank lined notebook pages in black covers by Vernon. Together with an Italian daily planner with a quantity of blank pages intact. Both books were used by Monroe, and some of the pages included in the book Fragments were removed from these notebooks.
Largest, 7 by 4 3/4 inches
Estimate: $300 - $500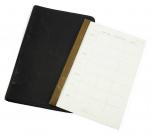 ---
Lot 484: DON FELD DRAWING FOR MARILYN MONROE
A piece of heavy brown card stock with ink and acrylic picture of a girl holding flowers with greeting reading "The World's Happiest Birthday to you from Don Feld." Together with a small note that reads "M-/ I hope this finds you well and happy - My thoughts are with you now - love, Feld."
Largest, 8 1/2 by 6 1/4 inches
Estimate: $300 - $500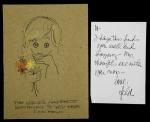 ---
Lot 497: MARILYN MONROE AKC FORMS FOR MAF
A single-page typed letter on Marilyn Monroe Productions Inc. letterhead from Pearl Moskowitz to Monroe with original postmarked transmittal envelope addressed to Monroe at The Beverly Hills Hotel. The letter accompanied forms for Monroe's dog Maf to be registered under Monroe's name with the American Kennel Club signed on verso with a secretarial signature. Together with a postcard to have the dog licensed with the ASPCA in New York City. The AKC forms list Maf's breeder as Maria S. Gurdin of Van Nuys, California a whelping date of Jan. 16, 1961; and the Sire and Dam of the dog.
Largest, 10 1/2 by 7 1/4 inches
Estimate: $400 - $600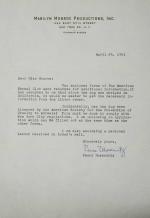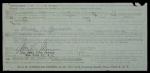 ---
Lot 499: MARILYN MONROE INVOICE FOR BOARDING MAF
A single-page invoice from the Southdown Kennel in Roxbury, Connecticut, dated December 18, 1961, for "Miss M. Munroe" [sic] for boarding and housebreaking of Maf, Monroe's poodle. The charges include boarding between August 3 and December 14, 1961, at a rate of $75 per month for a total of $330, as well as brushings, shampoos, wormings, and transportation to airport for a total of $43 in additional charges.
7 1/2 by 7 1/4 inches
Estimate: $200 - $300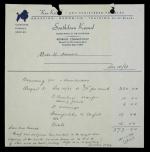 ---
Lot 507: MARILYN MONROE HOTEL NOTEPADS
Three notepads, one with a note in Monroe's hand from the Continental Hilton in Mexico with a phone number for Wally Cox and the Bel Air Sands. Together with a blank notepad from The Beverly Hills Hotel and the Beverly Wilshire Hotel.
Largest, 5 1/2 by 4 inches
Estimate: $1,000 - $1,500

---
Lot 534: MARILYN MONROE CORRESPONDENCE WITH GERMAN DIPLOMAT
A single-page typed, unsigned file copy of a letter dated February 12, 1962, addressed to Mr. Volkmar von Fuehlsdorff in response to a gift card that accompanied Champagne. The note card reads "Dear Miss Monroe: It was such a pleasure to have you at the party the other day - since you liked the German Champagne, May I send you this with my kind personal regards/ Sincerely V. von F." Monroe's response reads "Dear Mr. von Fuehlsdorff: Thank you for your champagne. It arrived, I drank it, and I was gayer./ Thanks again./ My best,/ Marilyn Monroe."
Largest, 8 1/2 by 11 inches
Estimate: $300 - $500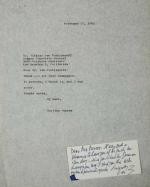 ---
Lot 535: MARILYN MONROE LETTER FROM MAY REIS
An autograph two-page letter on stationery from the Shelbourne Hotel, Dublin, dated April 22, 1961. The letter is accompanied by the original transmittal envelope postmarked April 22, 1961. The letter, written in red ink by Monroe's one- time secretary and assistant, May Reis, is a light travel note updating Monroe on her travels and stop in Dublin before heading to Paris.
8 by 5 inches
Estimate: $300 - $500

---
Lot 538: EXTRAORDINARILY AMUSING LETTER FROM ERNIE KOVACS TO MARILYN MONROE
A single sheet of paper with blind embossed address at bottom of page containing typed, signed letter from Ernie Kovacs, undated in original transmittal envelope postmarked May 29, 1961. The envelope is addressed to Monroe at her Beverly Hills Hotel bungalow. The letter, addressed to "Marilyneleh," invites Monroe to a get together at his home on June 15, giving the dress code as "... slacks or if you want to be chic, just spray yourself with aluminum paint or something." He continues, "I'll try to find someone more mature than Carl Sandburg for you. ... if Frank is in town, will be asking him. ... don't be a miserable shit and say you can't come. ... Look as ugly as possible cause the neighbors talk if attractive women come into my study." He signs the letter in black pen "Ernie" and adds a note at the bottom: "If you don't have any aluminum paint, you could back into a mud pack and come as an adobe hut. ... we'll make it a costume party. … Kovacs." The letter is a perfect portrait of the iconic, quick-thinking, zany comedian who died tragically in an auto accident in January 1962.
8 1/2 by 7 1/2 inches
Estimate: $400 - $600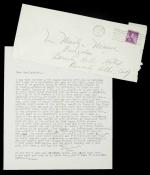 ---
Lot 573: MARILYN MONROE PERSONAL NOTES
Three pieces of paper torn from a telephone message pad with deeply personal musing in Monroe's hand in pencil reading in part, "In a way I feel better when I feel terrible because at leaast I'm feeling something" and "[D]epression - it starts to depress me when I feel that I have exposed my truest feelings to people - I am afraid that they see through me - my faults and the fact that I am really a phoney who needs and wants admiration and love (I do not want to be like this - to depend on this need - its almost" the thought continues onto another page "a form of being an ego maniack [sic] - I don't really like my self [sic]. ..." One of the pages has "Oct. 15" written, but no year is indicated.
5 1/4 by 4 inches
Estimate: $3,000 - $5,000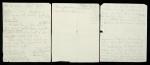 ---
Lot 574: MARILYN MONROE 1962 ADDRESS BOOK
A red cardboard covered six-ring address book, front and back covers detached but present, belonging to Monroe circa 1962, with typed entries, including photographer Richard Avedon, Actors Studio, Henry Weinstein-the producer of Monroe's final film Something's Got To Give), Rupert Allan (Monroe's publicist), Montgomery Clift, Henry Fonda, and Frank Sinatra, among many others. The book includes numerous entries and notes in Monroe's hand throughout.
6 1/2 by 6 inches
Estimate: $30,000 - $50,000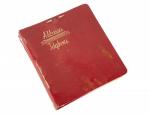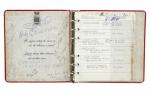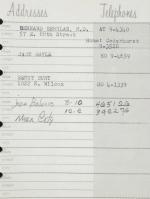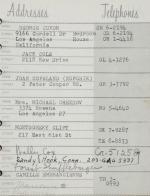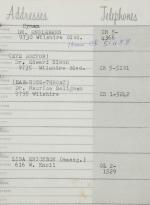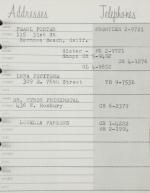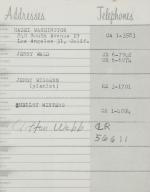 ---
Lot 600: MARILYN MONROE TYPED LETTER TO LEE AND PAULA STRASBERG
A typed file copy letter dated June 1, 1962, beneath "5th Helena" addressed "Dear Lee and Paula:" and reading in part, "The most important thing in my life is my work, my work with you. The Actors Studio is my home. … I wonder if you realize what the work has meant to me. ... The studio is for the theatre and for life. Marlon and I are having talks and we hope to persuade you to come to California for awhile to do work with us. Thank you Lee for being my friend and my teacher. Thank you Paula, for being with me and really truly directing the good and right moments on film. ... When I think of home it is New York and the Actors Studio. That is where I can exist in the human race. Love, Marilyn."
8 1/2 by 11 inches
Estimate: $500 - $700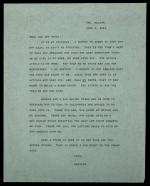 ---
Lot 602: MARILYN MONROE PERSONAL PROPERTY APPRAISAL
A formal written appraisal of the contents of Monroe's home at 12305 Fifth Helena in Brentwood, California, prepared for Monroe's executor by John J. Donahue & Associates of Los Angeles. The 14-page typed report includes 12 pages of itemized listings in a room-by-room format assigning value to Monroe's personal property in the home totaling $3,176. The report gives a listing of the contents of the Living Room, Hall, Front Bedroom, Middle Bedroom, Study, Dining Room, Sun Room, Kitchen, Playroom, Exterior and Garage, and Clothing in addition to miscellaneous items.
8 1/2 by 11 inches
Estimate: $800 - $1,200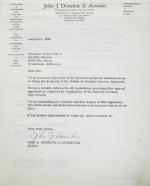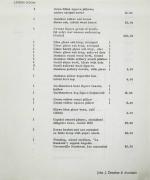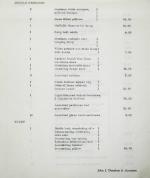 ---
Lot 603: MARILYN MONROE DOCUMENTS RELATED TO THE 1963 PURCHASE OF HER BRENTWOOD HOME
A group of documents related to the 1963 purchase of Monroe's Brentwood, California, home, located at 12305 Fifth Helena Drive. Included are the original "Bid for Purchase of Real and Personal Property as a Unit" signed by Gilbert M. Nunez and Betty J. Nunez, dated March 14, 1963, specifying a sale price of $87,500.00 and a deposit of $8,750.00, the original deposit receipt, and a typed memo to Mrs. Inez Melson, Monroe's business manager, from Lavon Fitzgerald, who represented the Nunez family in the transaction, with a business card for Fitzgerald stapled to the memo.
Estimate: $1,000 - $1,500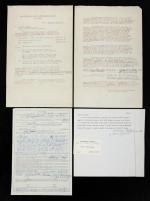 ---
Lot 604: MARILYN MONROE 1963 NOTICE OF PROPERTY SALE FOR BRENTWOOD HOME
A group of documents related to the 1963 sale of Monroe's Brentwood, California, home, located at 12305 Fifth Helena Drive, including a letter to Inez Melson, Monroe's business manager, stating that the petition for confirmation of the sale of Monroe's home was set for 9:15 a.m. on May 7, 1963, together with the actual court documents and the actual notice of sale of real and personal property as a unit at private sale, likely used to publicize the sale in newspapers. The legal documents specified that Monroe's Hotpoint freezer-refrigerator, built-in dinette set, and all tacked-down carpeting and drapes presently on premises would be included in the transaction.
Estimate: $1,000 - $1,500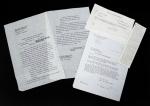 ---
Lot 789: MARILYN MONROE JUNIOR HIGH SCHOOL DIPLOMA
A diploma issued to Norma Jean Baker from Ralph Waldo Emerson Junior High in Los Angeles, California, on June 27, 1941. The future Marilyn Monroe turned 15 in June 1941. The following June, Monroe married her first husband, Jim Dougherty.
6 by 8 inches
PROVENANCE Lot 324, "Books Auction," Sotheby Parke Bernet, Sale number 94, October 21, 1973
Estimate: $40,000 - $60,000

---
Documents papiers - Mode & Beauté
Papers documents - Mode & Beauty

---
Lot 149 : MARILYN MONROE HAT RECEIPTS
Two invoices from Rex Inc. of Beverly Hills, the first dated January 5, 1960, lists a Black Velour Cloche and a White Velour Cloche each priced at $55. The second invoice is dated January 20, 1960, and lists a White Feather Toque priced at $85. Both invoices indicate that Miss Dorothy Blass purchased the hats in person and charged them to "Mrs. A. Miller" of The Beverly Hills Hotel.
7 by 8 1/2 inches
Estimate: $150 - $250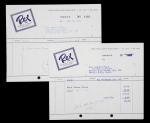 ---
Lot 154: MARILYN MONROE DIET PLAN
A two-page, typed plan titled "Calorie Restricted Diet/ 1000 Calories/ 100 Grams Protein" prepared for Monroe by Dr. Leon Krohn. The pages are undated, but some of the approved foods and meal plans are in line with the notations found in Monroe's hand in the back of Lot 185, one of Monroe's notebooks from 1958. The diet put forth presents sound health advice even by today's standards, recommending the restriction of sugar, fats and carbohydrates to whole wheat and "one small white potato boiled baked or riced" as a substitution for one slice of bread.
8 1/2 by 11 inches
Estimate: $400 - $600

---
Lot 219: MARILYN MONROE FUR STORAGE AND SERVICE RECEIPT AND AGREEMENT
A storage and service receipt and agreement from Maximilian Fur Company, Inc., addressed to Mrs. A. Miller, 444 East 57th Street, New York City, Apt. 13E, dated July 3, 1958, listing a ranch mink coat, a white ermine coat, and a black fox stole trimmed with silk, together with a typed note to Mrs. A. Miller on Maximilian letterhead recommending a clean and glaze for the ranch mink coat and a glaze for the black fox stole. Original business reply envelope from Maximilian Fur Company included. The ranch mink coat referenced is very likely the coat Joe DiMaggio gave to Monroe.
Estimate: $500 - $700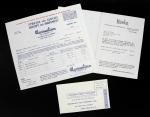 ---
Lot 220: MARILYN MONROE FUR APPRAISAL
An appraisal document dated February 4, 1954, signed by Al Teitelbaum of Teitelbaum Furs for "Marilyn Monroe DiMaggio" listing a black mist mink coat valued at $10,000. This is the well-known mink coat gifted to Monroe by DiMaggio.
7 1/4 by 7 inches
Estimate: $300 - $500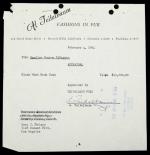 ---
Lot 225: MARILYN MONROE FUR STORAGE RECEIPTS
Four pages of storage receipts from Maximilian Furs of New York City dated July 19, 1960, itemizing 17 items in storage, together with two corresponding "Temporary fur storage record" tickets and a letter detailing work to be done to repair two of the furs on the storage receipts.
Largest, 8 1/2 by 9 1/2 inches
Estimate: $400 - $600

---
Lot 226: MARILYN MONROE TEITELBAUM FUR DOCUMENTS
A carbon copy of an invoice from Teitelbaum Furs for an oyster white beaver coat of Canadian origin, dated November 22, 1958, sold for $1,375 with facsimile customer signature of Arthur Miller. Together with an invitation to fashion show and letter from Al Teitelbaum to Mrs. Arthur Miller dated January 5, 1959.
Largest, 8 1/2 by 11 inches
Estimate: $200 - $300

---
Lot 271: MARILYN MONROE ARTHUR MILLER SAKS FIFTH AVENUE RECEIPTS
A group of five receipts from Saks Fifth Avenue in New York City, addressed to Arthur Miller, together with a corresponding Saks Fifth Avenue invoice. All receipts are dated March 23, 1960, and specify Miller purchased trousers and an overcoat among other items. The invoice is dated April 17, 1960.
Estimate: $150 - $250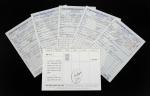 ---
Lot 297: MARILYN MONROE HANDWRITTEN AND SIGNED CHECK
A blank counter check written entirely in Monroe's hand, in black ink, dated August 14, 1954, paid to Jax in the amount of $800. Monroe has listed her address as "508 N. Palm Dr." and her phone number as "CR62211."
3 3/8 by 8 1/4 inches
Estimate: $2,000 - $3,000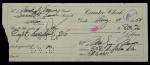 ---
Lot 298: MARILYN MONROE JAX STORE RECEIPT
A four-page itemized carbon copy receipt for $1,858.30 worth of clothing from Jax boutique with facsimile signature of Monroe. The receipt is dated simply "8-5" with no year given. Monroe's address is listed as "444 E. 57th St. NYC," but there are instructions on the last page to mail the items to "Mrs. Arthur Miller" at her Roxbury, Connecticut, residence.
6 by 4 inches
Estimate: $300 - $500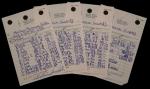 ---
Lot 305: MARILYN MONROE EVENING GLOVE ORDER
A group of documents dated February 19, 1958, regarding the purchase of evening gloves from the John E. Fuchs Corporation in New York City. The documents include a typed signed letter from Kay Fuchs addressed to Mrs. Miller reading in part, "Kenneth Lane of Delman's asked us to send you the enclosed gloves. ... Enclosed find also a sample pair with our compliments of white satin glove." Together with a packing slip for the order listing a pair of 20-button white kid gloves for $165 and a pair of 10-button white kid gloves for $105, an invoice for the gloves, and a statement of account.
Largest, 8 1/2 by 5 1/2 inches
Estimate: $200 - $300

---
Lot 328: MARILYN MONROE SIGNED CHECK WITH CORRESPONDING INVOICE
A check signed by Monroe in blue ink, dated February 14, 1958, Valentine's Day, paid to the Profile Symmetry Salon in New York City in the amount of $58.50. The check is drawn on Monroe's Colonial Trust Company account. Together with the original invoice from the salon sent to Monroe at her 444 East 57th Street residence in New York City dated February 3rd for "9 Treatments (Jan. 7th - Jan. 30th, inc.)" in the amount of $58.50.
Invoice, 7 1/4 by 7 1/4 inches
Estimate: $3,500 - $4,500

---
Lot 332: MARILYN MONROE STATEMENT AND INVOICES FROM ERNO LASZLO
A statement, dated July 8, 1958, addressed to Monroe's secretary "Miss Mary [sic] Reis" presenting the total amount due for goods and services provided between June 1and July, 1958, $1,211.22. Together with 18 corresponding invoices detailing the products and services provided between these dates. The statement has a secretarial notation indicating that these charges were paid with check number 206 on July 31, 1958.
Largest, 8 1/2 by 11 inches
Estimate: $400 - $600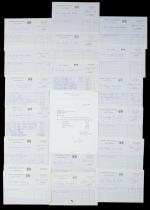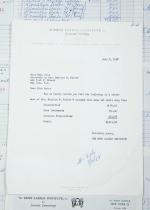 ---
Lot 334: MARILYN MONROE SKINCARE REGIME
Five sets of instructions, eight pages, from the Erno Laszlo Institute written out for Marilyn Monroe Miller, dated June 5, 6, 11, and 12, 1958, and July 3, 1958, outlining her constantly changing skincare regime in great detail. The instructions not only divide skincare into "Morning," "Evening 'if' dressing," and "Evening before retiring," but also there are instructions on what not to eat: "Not one piece of any kind of nuts, olives, chocolate, clams and oysters." There are also separate instructions for California and "Instructions for Makeup While Making Films."
8 1/2 by 11 inches
Estimate: $600 - $800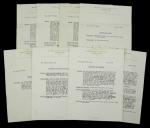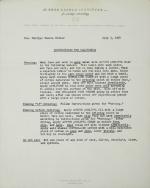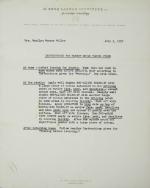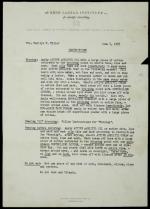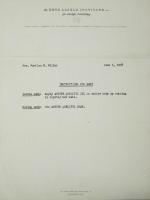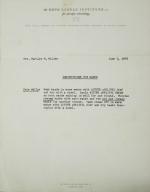 ---
Lot 337: MARILYN MONROE CHANEL No. 5 PERFUME RECEIPT
A receipt from I. Magnin & Co. of Beverly Hills for a bottle of Chanel No. 5 perfume totaling $73.15 including tax and delivery through "Red Arrow Spec. Delivery" service. The perfume was billed to Marilyn Monroe Miller and signed for by "(D. Blass)" to be sent to Agnes Flannigan [sic], likely a Christmas present as the receipt is dated December 24, 1959. Flanagan was one of Monroe's hairdressers for many years, including for Bus Stop in 1956 and The Misfits in 1961, among many other occasions.
6 1/4 by 4 1/4 inches
Estimate: $400 - $600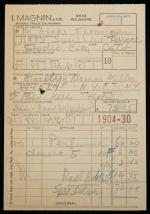 ---
Lot 338: MARILYN MONROE BEVERLY HILTON SALON RECEIPT
A single piece of stationery from the Beverly Hilton Hotel in Beverly Hills with handwritten receipt for five hair treatments signed by "Miss Porter - Beauty Salon/ Beverly Hilton Salon."
10 1/2 by 7 1/4 inches
Estimate: $100 - $150

---
Lot 339: MARILYN MONROE INVOICE FOR SPECIAL EVENT MAKEUP
A single page of stationery from Marie Irvine of Long Island dated September 29, 1959, addressed to Marilyn Monroe at 444 East 57th Street for "Special make-up for photography" on September 22 and 27, 1958, for a total of $100. Monroe attended the premiere of An Evening with Ives Montand at the Henry Miller's Theatre in New York with Montgomery Clift on September 22, and she attended an American Friends of the Hebrew University award ceremony with her husband on September 27.
7 by 6 inches
Estimate: $100 - $150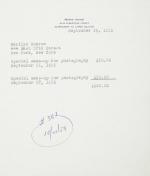 ---
Lot 340: MARILYN MONROE ELIZABETH ARDEN RECEIPT
A receipt dated July 1958 from the Arden Salon for eight pairs of black false lashes signed for by "Irvine," likely makeup artist Marie Irvine, for a total of $20.60.
8 by 5 1/2 inches
Estimate: $200 - $300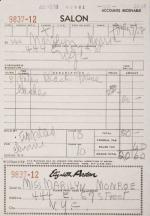 ---
Lot 374: DESIGN SKETCH FOR MARILYN MONROE GOWN
An unsigned pencil on paper sketch of a form-fitting mermaid gown. The sketch perfectly matches the silhouette and seam construction of the gown worn by Marilyn Monroe to the June 13, 1957, premier of The Prince and the Showgirl at Radio City Music Hall in New York City. The gown was made for Monroe by John Moore, who presented Monroe with options for the color of the dress including burgundy and Kelly Green, but Monroe chose beige silk satin.
14 by 11 inches
Estimate: $2,000 - $3,000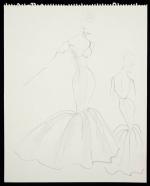 ---
Lot 375: DESIGN SKETCH FOR MARILYN MONROE GOWN
An unsigned pencil on paper sketch of a form-fitting mermaid gown. The sketch perfectly matches the silhouette of the gown worn by Monroe to the June 13, 1957, premier of The Prince and the Showgirl at Radio City Music Hall in New York City. This sketch, most likely by designer John Moore, however introduces a much more elaborate set of swirled seam lines around the body. This is likely a variation presented to Monroe, who opted for the more simple and streamlined design that she wore to the premiere.
14 by 11 inches
Estimate: $1,000 - $1,500

---
Lot 379: MARILYN MONROE ROYAL COMMAND PERFORMANCE GLOVE DOCUMENTS
A typed letter, dated July 14, 1957, signed by Kenneth C. Rouse of London and reading in part, "I am enclosing herewith a statement … for your information, regarding the making of a pair of gloves in gold lame for Miss Marilyn Monroe, to match her dress for the Royal Command show late last year." The letter elucidates the color and fabric of this dress captured almost exclusively on black and white film. Together with three account statements and four additional administrative letters regarding settlement of the account.
Largest, 8 1/2 by 11 inches
Estimate: $200 - $300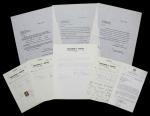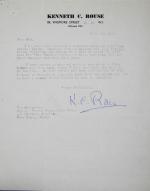 ---
Lot 383: MARILYN MONROE BERGDORF GOODMAN RECEIPT
A receipt from Bergdorf Goodman dated June 28, 1960, addressed to Mrs. Arthur Miller, 444 E. 57th Street, New York. Items purchased were signed for by May Reis, Monroe's secretary.
Estimate: $500 - $700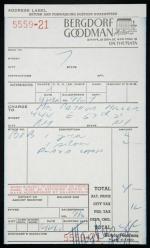 ---
Lot 384: MARILYN MONROE FASHION INVOICE
Two invoice pages from Polly's at 480 Park Avenue in New York City listing a "Black wool dinner dress" for $290 and a "Natural baby lama [sic] wool coat" for $350. The salesperson has written extensive notes for "Mrs. Arthur Miller" reading in part, "This Christian Dior coat ought to be very good for you both here and in California" and "the shirred bottom can be cut off at a later period and you can have a regular hem put in and have a charming free flowing dress."
6 3/4 by 8 3/4 inches
Estimate: $100 - $150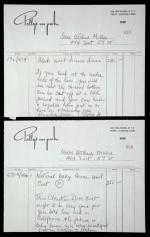 ---
Lot 385: MARILYN MONROE COMMUNICATIONS FROM CHRISTIAN DIOR
A series of messages from Simone Noir of Christian Dior in Paris to "Mrs. Miller," the first a letter dated March 7, 1958, reading in part, "I am very pleased to know that you will come to Paris in a few days. I certainly hope that we will have the pleasure of your visit at Christian Dior's, in spite of the heavy schedule. ... Naturally, we can show you models at your hotel. ..." The second is a telegram dated March 8, 1958, from Simone Noir saying that they are sending sketches and wish Monroe a pleasant stay in Paris. The third is a price list of the latest Dior designs, and the last is a telegram dated April 2, 1959, stating that they are happy Monroe is coming to Festival Cannes and they could make dresses for her arrival.
Largest, 8 1/2 by 11 inches
Estimate: $200 - $300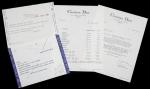 ---
Lot 386: MARILYN MONROE HANDWRITTEN AND SIGNED CHECK
A check written entirely in Marilyn Monroe's hand, in black ink, dated July 14, 1952, and paid to Saks & Company, in the amount of $257.51. The check is drawn on Monroe's Bank of America account. Monroe lists her address as "Bel Air Hotel."
3 1/2 by 8 1/4 inches
Estimate: $2,000 - $3,000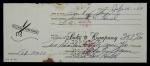 ---
Lot 387: CORRESPONDENCE REGARDING LOST MARILYN MONROE GARMENTS
A letter from fashion designer John Moore to May Reis dated February 3, 1960, saying he will find out what happened to two "beige and black broadcloth shirtwaist sheaths" that were according to Moore "made by two of my best girls here in my workroom. … " Moore promised to trace the shipment to find the outcome of where they went. Subsequent documents, including claim to insurance company, reveal that the garments were in fact destroyed when TWA flight 595, a cargo flight, crashed after takeoff from Chicago Midway Airport on November 24, 1959, killing three people on board and eight people on the ground. The documents valued the lost garments at $750.
8 1/2 by 11 inches
Estimate: $200 - $300

---
Lot 389: MARILYN MONROE FERRAGAMO RECEIPT
A handwritten receipt from the Ferragamo Shoe Salon at 424 Park Avenue in New York City dated July 3, 1958. The receipt lists Marilyn Monroe Miller at 444 East 57th Street with note that the shoes were sold "c/o Miss Reis," Monroe's secretary. Additional note at top of the page reads "Address where to send red shoes." The receipt lists six pairs of shoes, including the Felitia in white, black, beige, and red calf leather, as well as shoe trees, polish, and a pair of hose.
6 by 4 1/4 inches
Estimate: $300 - $500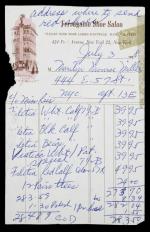 ---
Lot 392: MARILYN MONROE FERRAGAMO STATEMENT
A handwritten balance statement on a page torn from a Beverly Hills Ferragamo Shoe Salon invoice pad dated April 1, 1960. The statement is in the name of Mrs. Arthur Miller at The Beverly Hills Hotel and has secretarial notation that the balance was paid on April 29, 1960.
6 by 4 1/4 inches
Estimate: $200 - $300

---
Lot 394: MARILYN MONROE FERRAGAMO CLIPPING AND LETTER
A clipping from a 1959 issue of the New York Herald Tribune featuring an article titled, "Shoes by Ferragamo Designed for Comfort." Monroe, already a fan of the shoes, is not mentioned specifically in the article, although it does note that Ferragamo makes shoes for "innumerable top movie stars." Together with a letter from J. Hoffner of the Park Avenue Ferragamo Shoe Salon in New York City addressed "Dear Miss Monroe," dated September 3, 1958. The letter reads in part, "Since I know you like our spike heel opera pump very much; and since we have a great many more pair here than in our Beverly Hills store, I am writing to tell you the colors and materials I have in your size at the present time."
Largest, 8 1/2 by 11 inches
Estimate: $300 - $500

---
Lot 401: MARILYN MONROE ALIATA STATEMENT OF ACCOUNT
A typed statement dated December 1, 1959, listing outstanding charges for purchases made on October 24 and November 25, 1959, including a pair of purple suede shoes, silver kid shoes, and a pair of beige calf shoes totaling $151.74. The statement has a secretarial notation indicating that the charges were paid with check number 209 on December 8, 1959.
5 1/2 by 8 1/2 inches
Estimate: $200 - $300

---
Lot 402: MARILYN MONROE ALIATA SHOE RECEIPT
A typed receipt, undated, listing a pair of "Multicolor Shoes" sold to Miss Marilyn Monroe at the Bel Air Hotel for a total of $51.50. Secretarial notation on the invoice indicates that the charges were paid with check number 306 on September 5, 1958.
5 1/2 by 8 1/2 inches
Estimate: $200 - $300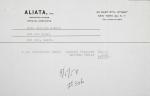 ---
Lot 403: MARILYN MONROE ALIATA SHOE RECEIPT
A handwritten receipt from Aliata Inc. imported shoes in 43 East 57th Street New York dated January 22, 1959, sold to Mrs. Marilyn Monroe of 444 East 57th Street in New York. The receipt lists 10 pairs of designer shoes by the Italian maker, including beige calf shoes, red suede, black suede, ivory - multicolor among others for a total of $392.43 including tax. Additional note at bottom of receipt lists "Bag - Helena Arpels" for an additional $64.59.
10 1/2 by 7 1/4 inches
Estimate: $400 - $600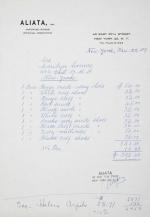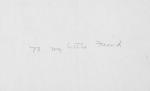 ---
Lot 409: MARILYN MONROE DELMAN DOCUMENTS
A typed letter, signed and dated June 23, 1959, from Rube Adler of Delman Inc. an exclusive New York boutique that carried Christian Dior shoes. The letter apologizes for charging Monroe for a pair of black calf pumps that were sent at the request of Kenneth Lane. Together with corresponding credit memo to correct the error, a credit invoice dated June 18, 1958, for a pair of shoes listed as "Debonair" for $18.75, and a statement dated March 25, 1958, for outstanding balance of $106.
Largest, 10 1/2 by 7 1/4 inches
Estimate: $300 - $500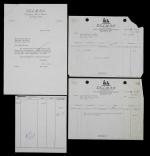 ---
Lot 443: MARILYN MONROE DANCE SHOES RECEIPT
A receipt dated November 16, 1959, from Capezio shoes in Los Angeles listing four pairs of "#32 Black Medium" at a cost of $5 per pair, sold to "20 Century Fox" with additional notations and secretarial Marilyn Monroe signature. The receipt is for the shoes worn by Monroe as she began dance rehearsals for her film Let's Make Love that began filming in January 1960.
5 1/2 by 8 inches
Estimate: $300 - $500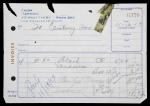 ---
Lot 455: MARILYN MONROE HANDBAG RECEIPT
A store receipt from I. Magnin & Co. of Beverly Hills. The receipt is dated June 24, 1956, and is in the name of Mrs. Arthur Miller and Marilyn Monroe of 444 East 57th Street and signed by assistant Hazel Washington. The receipt lists two items bags on sale for $30 and $46.
6 1/4 by 4 1/4 inches
Estimate: $200 - $300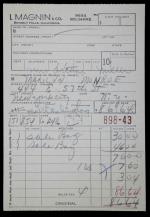 ---
Lot 464: MARILYN MONROE JEWELRY INVOICE
An invoice dated February 19, 1958, from Talmack, New York sold to Mrs. Arthur Miller. The invoice lists one pair of rhinestone earrings, $14.00.
8 1/2 by 8 1/4 inches
Estimate: $200 - $300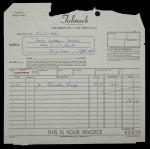 ---
Lot 472: MARILYN MONROE JEWELRY INVOICE
An invoice dated June 15, 1960, from Porflex Co. of Beverly Hills listing Monroe's housekeeper, Hazel Washington. The invoice is for a pair of 14k white gold earrings with diamonds, 14k bracelet, and 14k charm totaling $406.98.
6 1/2 by 8 1/4 inches
Estimate: $200 - $300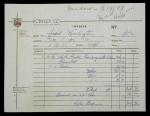 ---
Lot 481: MARILYN MONROE I. MAGNIN & CO. STATEMENTS
One complete and one partial original statement from I. Magnin & Company addressed to Mrs. Arthur Miller, 444 E. 57th Street, New York City. The partial statement indicates a payment of $28.97 was paid on May 2, 1960. The complete statement documents receipt of the May 2 payment, and indicates a total balance still due of $10.40.
Estimate: $500 - $700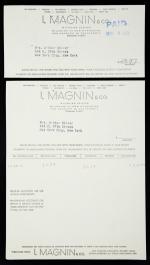 ---
Lot 482: MARILYN MONROE CEIL CHAPMAN INVOICE
A two-page invoice, in triplicate, listing 11 items purchased from Ceil Chapman February 10, 1958, totaling $817.75 plus $3.00 for messenger charges.
8 1/2 by 8 1/2 inches
Estimate: $200 - $300

---
Lot 485: MARILYN MONROE CUSTOM BRA RELATED DOCUMENTS
A handwritten note dated September 23, 1960, from Augusta Bouvier of Hollywood, California, addressed "Dear Miss Monroe:" and reading "I completed these bras on my own time, it took me four days to alter them, so I am giving you a special price of seventy five dollars." Together with an unsigned file copy of a letter dated October 31, 1957, to Fifth Avenue Fashions, reading in part, "Will you kindly send me three bras the same make as I got from you before - I believe it was Carnival - size 38-C."
Largest, 8 1/2 by 11 inches
Estimate: $300 - $500

---
Lot 495: MARILYN MONROE FERRAGAMO RECEIPTS
A handwritten note and invoice on the back of a page and partial page torn from a Ferragamo Shoe Salon invoice pad, undated. The note reads "Dear Miss Reis, I have all 5 pairs and am sending them to you Air Mail. Enclosed is your bill. Thank you./ Sincerely yours, J. Hoffner/ P.S. We have shoe trees priced at $2.00 a pair such as I sold Miss Monroe previously. Would she like to have some?" The note is accompanied by an informally written invoice listing five pairs of Felitia shoes in beige and black calf, size 7 1/2 B, for a total of $199.75, and a more formal invoice for the same shoes dated February 3, 1960, with additional postage and packaging charges added for a new total of $203.50 billed to Monroe at The Beverly Hills Hotel.
Largest, 6 by 4 1/4 inches
Estimate: $300 - $500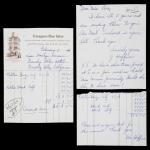 ---
Lot 556: MARILYN MONROE PERFUME RECEIPT
An invoice from Floris of Jermyn Street in London dated December 14, 1959, listing Marilyn Monroe Miller of The Beverly Hills Hotel as the purchaser of six bottles of rose geranium toilet water for a total of $28.25.
8 by 8 1/2 inches
Estimate: $100 - $150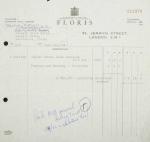 ---
Lot 960: MARILYN MONROE SIGNED RECEIPT
A Marilyn Monroe signed Elizabeth Arden receipt. Monroe has signed the receipt in blue ballpoint ink over the salon's handwritten itemization of services.
8 by 5 1/2 inches
Estimate: $2,000 - $3,000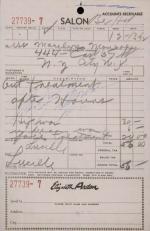 ---
Lot 964: MARILYN MONROE SAKS FIFTH AVENUE RECEIPT
A handwritten Saks Fifth Avenue receipt for Marilyn Monroe for six articles of clothing totaling $215.23. The receipt is dated "3-20."
6 1/4 by 4 1/2 inches
Estimate: $600 - $800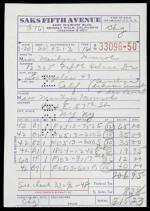 ---
Lot 989: MARILYN MONROE SAKS FIFTH AVENUE RECEIPTS
Two handwritten Saks Fifth Avenue receipts charged to Marilyn Monroe: the first is for two lashes totaling $8.32, signed by makeup artist and hairstylist George Masters; the second is for four pieces of clothing totaling $159.12 with a carbon copy of the receipt. Together with a payment stub from February 15, 1962, showing a balance due of $1,140.88.
Largest, 7 1/2 by 6 1/2 inches
Estimate: $600 - $800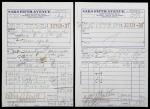 Enregistrer
Enregistrer
Enregistrer
Enregistrer
Enregistrer
Enregistrer
Enregistrer
Enregistrer
Enregistrer
Enregistrer
Enregistrer
Enregistrer
Enregistrer
Enregistrer
Enregistrer
07 mai 2016
---
Objets Divers
---
Lot 89001 - A Marilyn Monroe Star-Shaped Light Fixture, 1962.
Triangular-shaped panels made of opaque white glass, solidified within a metal frame, one portion opens to reveal the socket for a light bulb, electrical cord still attached but is cut so piece is not in working condition; evidently one of the many items Monroe famously purchased down in Mexico to furnish her new Spanish-style home in Brentwood; light fixture was later purchased by the current owner in 1964 directly from Dr. Gilbert Nunez who bought Monroe's house after her death; included with a letter from the current owner stating in part that the Nunez family told her that "Marilyn had this piece hanging in the corner of one of the rooms." (Please note this fixture needs re-wiring and its metal frame is rusted due to age.)
12" x 12" x 12"
The grainy color snapshot showing this light fixture in Monroe's home is believed to have been taken by Eunice Murray [Monroe's weird housekeeper] who was helping the star with purchases for the home and with interior decoration.
---
Lot 89002 - A Marilyn Monroe Decorative Rustic Chest, 1962.
Smallish in size (to set atop a table), made of wood with a metal overlay, adorned on entire surface with rows of blue, green, and red marbles inspersed with brass studs, brass ring on top front lid, four small pegs on bottom; evidently one of the many items Monroe famously purchased down in Mexico to furnish her new Spanish-style home in Brentwood; chest was later purchased by the current owner in 1964 directly from Dr. Gilbert Nunez who bought Monroe's house after her death; included with a letter from the current owner stating in part that the Nunez family told her this piece was "found in Marilyn's bedroom and she kept her jewelry in it." (Please note this piece is somewhat rusted due to age.)
6" x 18" x 9" x 10"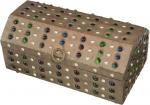 ---
Lot 89003 -A Marilyn Monroe-Related Rustic Standing Candlestick, 1962.
Made of wood, hand-carved, in two parts that affix together at the center, one metal spike in top center for candle placement; purchased by the Nunez family after they bought Marilyn's house and on display in Marilyn's house (albeit after her death) until they sold this piece to the current owner sometime in the mid-1960s. To be clear, Marilyn Monroe never owned this piece, but it does have the distinction of "living" in her house for a few years in the 1960s! (Please note there are numerous natural cracks in the wood and there is candle wax on all sides.)
44" x 8" x 7"
---
Lot 89004 - A Marilyn Monroe Terracotta Planter / Vase, 1962.
Oversized, with two handles on either side, hand-painted in colorful shades in a Spanish-style design; evidently one of the many items Monroe famously purchased down in Mexico to furnish her new Spanish-style home in Brentwood; vase was later purchased by the current owner in 1964 directly from Dr. Gilbert Nunez who bought Monroe's house after her death; included with a letter from the current owner stating in part that the Nunez family told her this piece was "left in the backyard near the swimming pool." (Please note there are a number of minor paint chips around the bottom of the vase due to age and wear.)
16" x 12 1/2"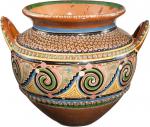 ---
Lot 89005 - A Marilyn Monroe Owned Wood Engraving, Circa 1930.
By Edward Gordon-Craig, untitled, from a scene in "Hamlet," on wove paper, initialed in pencil in the lower right "EGC," placard mounted below work reads in part "From the estate of / Marilyn Monroe;" also included is a 'People' magazine from November 15, 1999 quoting the woman who bought this lot in the below-referenced auction.
Matted and Framed: 22" x 22"; Work Only: 6" x 9"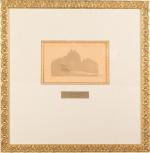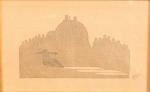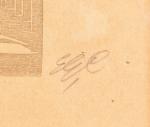 ---
Documents papiers
---
Lot 89006 - A Marilyn Monroe Funny Signature, 1955.
On a small page of notebook paper with a six-hole punch left margin, written in blue ballpoint ink in the upper right corner "Alan / After two blocks - / Love & Kisses / Marilyn Monroe," further annotated in red ballpoint ink (in another hand) in the upper left corner "May 3, 1955;" consigned directly by 'Alan' and included with a handwritten letter from him outlining in part how he followed the star for a number of blocks in midtown Manhattan, jumped into an elevator with her, and asked for this autograph. (Please note the paper is now yellowed due to age.)
5" x 3"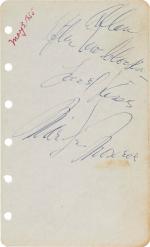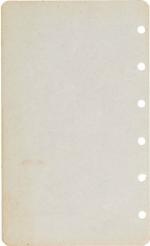 ---
Lot 89007 - A Marilyn Monroe Early Signature in an Autograph Book with Many Others, 1949.
On a mint green page, bound within an album with a navy blue leather cover, signed in turquoise fountain pen ink "To Bobby / Best Wishes / Marilyn Monroe;" (other side signed by Alan Curtis), an unusual early inscription by the then-starlet before she started using her more well-known sign-off of "Love & Kisses;" obtained in person in NYC by 'Bobby' when MM was there to promote the 1949 United Artists film she had a bit part in, "Love Happy;" the rest of the album is filled with other great movie star autographs (with inscriptions on both sides of the pages) though most (or none, even) of these actors would have known who Marilyn Monroe was in 1949; interestingly, years later, she would have an association with many of them who appear in this album like Frank Sinatra, Montgomery Clift, Charles Laughton, Jack Benny, Harold Lloyd, and Roddy McDowall; other autographs include those of Pearl Bailey, Fay Bainter, Ann Blyth, Ward Bond, Harry Carey, Jr., Donald Crisp, Robert Cummings, Dan Duryea, Dale Evans, Geraldine Fitzgerald, Joan Fontaine, Betty Garrett, Kathryn Grayson, Louis Hayward, Jean Hersholt, Ruth Hussey, Van Johnson, Buster Keaton, Peggy Lee, Oscar Levant, Ida Lupino, Virginia Mayo, Constance Moore, Dennis Morgan, Ozzie Nelson, Roy Rogers (who added "Trigger"), Alexis Smith, and Sonny Tufts, among a few others. Book cover shows minimal wear.
5" x 6"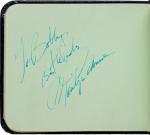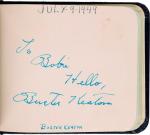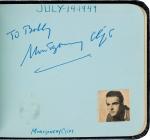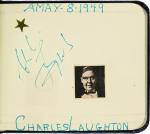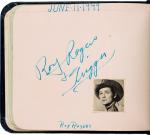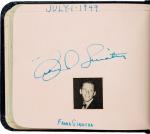 ---
Lot 89008 - A Marilyn Monroe Signed Check, 1959.
Dated "July 10, 1959," made out to "Hedda Rosten" (Monroe's friend and occasional business manager), in the amount of "65.13," signed in blue ballpoint ink "Marilyn Monroe," with normal stamps and cancellation marks.
3" x 8 1/4"



25 février 2014
Observez bien cette photographie prise le 5 août 1962, soit le lendemain de la mort de Marilyn Monroe, par le photographe Gene Anthony qui va photographier pratiquement toutes les pièces de la maison de Marilyn au Fifth Helena Drive, dans le quartier de Brentwood de Los Angeles, où Marilyn trouva la mort dans son lit.
Observe this photograph taken on August 5, 1962, the day after the death of Marilyn Monroe, by the photographer Gene Anthony who will photograph every room of the house of Marilyn at Fifth Helena Drive, at Brentwood, in Los Angeles, where Marilyn died in her bed.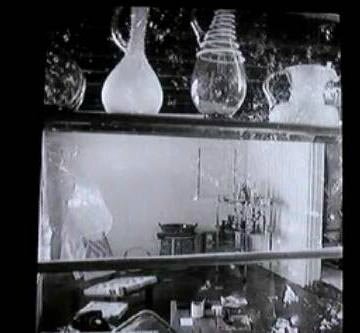 Il s'agit ici de la pièce appelée le "solarium" qui est en fait une pièce donnant sur le jardin, avec une grande baie vitrée laissant passer les rayons du soleil. Il est étrange de constater à gauche de la photo, une forme, peut être formée par les ombres, mais qui laisse fortement penser à Marilyn, qui se tiendrait debout, contre le mur. S'agit-il d'une photograhie truquée, obtenue d'un habile montage de superposition avec une photo de Marilyn, mais dans ce cas, quelle photographie de Marilyn a été utilisée ? Ou serait-ce le fantôme de Marilyn ?
This is the room called the "Sun Room" which is a room overlooking on the garden, with a large window letting the sun's rays. It is strange to see on the the left of the photo, a form, could be shaped by shadows, but strongly suggests Marilyn, who would stand against the wall. Is it a fake photograhy obtained with a clever montage overlay with a picture of Marilyn, but in this case, what Marilyn's photography was used ? Or is it the ghost of Marilyn?

Et vous, que voyez-vous ? Qu'en pensez-vous ?
Your opinion: What do you see ? What do you think ?
21 février 2014
Journée du dimanche 5 août 1962, au lendemain du décès de Marilyn Monroe.
Day of Sunday, August, 5, 1962, the day after the death of Marilyn Monroe.
---
> à 4h25: Le Dr Hyman Engelberg (docteur généraliste de Marilyn) téléphone à la police (the West Los Angeles Police Station) pour dire que "Marilyn Monroe est morte. Elle s'est suicidée. Je suis chez elle."
at 4.25 am: Dr. Hyman Engelberg (Marilyn's doctor) calls the police (the West Los Angeles Police Station) to say "Marilyn Monroe died. She committed suicide. I'm at her home."
---
> à 4h30: les employés de l'agence de publicité d'Arthur Jacobs sont prévenus de la mort de Marilyn et décident de se retrouver à sa maison au Fifth Helena Drive. Michael Selsman se souvient: "C'était la panique, bien sûr. Les événements étaient déjà hors de contrôle, et là, elle était morte, la presse n'était pas contrainte de cacher ce qu'ils savaient, sauf, bien sûr, pour les choses sur Kennedy, qui sont apparues plus tard. Je repoussais les médias en disant que nous ne savions pas quelle était la cause de la mort, parce que nous ne le savions pas."
at 4.30 am: the employees of the advertising agency of Arthur Jacobs are notified of the death of Marilyn and decided to go to her home at Fifith Helena Drive. Michael Selsman remembers: "It was panic of course. Events were already out of control, and now she was dead the press didn't fell constrained to hide what they knew -except, of course, for the Kennedy stuff, which came later. I fended off the media by saying we didn't know what the cause of death was, because we didn't."
---
> à 4h40: Le sergent Jack Clemmons est le premier policier à arriver au domicile de Marilyn; il découvre Eunice Murray (la gouvernante) en train de faire le ménage, nettoyant la maison et mettant une lessive dans la machine à laver, avec d'autres linges propres pliés à côté, et les Dr Greenson et Engelberg dans la chambre avec le corps de Marilyn gisant dans son lit à plat ventre sous les draps: "Son corps avait été bougé. Marilyn était allongée sur le ventre dans ce que j'appelle la 'position du soldat'. Son visage était appuyé contre un oreiller, ses bras étaient sur les côtés, le bras droit légèrement plié, et ses jambes étaient parfaitement alignées, comme si elle prenait la pose pour des photos. J'avais l'impression d'arriver sur une scène de crime. J'étais déjà intervenu sur des scènes de suicides par barbituriques, et avant de mourir, les victimes font des convulsions, vomissent et leurs corps sont en distorsions. (...) Les boîtes de pillules posés sur la tablette avaient été clairement disposées en bon ordre et le corps délibérément repositionné. Tout semblait trop rangé."
at 4.40 am: Sergeant Jack Clemmons was the first police officer to arrive at the Marilyn' home, he discovers Eunice Murray (the housekeeper) doing housework, cleaning the house and putting a laundry in the washing machine, with other clean cloths folded side, and Dr. Greenson and Engelberg in the bedroom with Marilyn's body lying in bed face down under the sheets, "Her body seemed to have been moved. Marilyn was lying face down in what I call the soldier's position. Her face was in a pillow, her arms were by her side, her right arm was slightly bent, and her legs were stretched out perfectly straight, as if she were posing for pictures. It was the most obviously staged death scene I have ever seen. I had already seen scenes of suicides by barbiturates, and before dying, victims suffer convulsions and vomiting in a somewhat contorted position.. (...) The pill bottles on her bedside table had been arranged in neat order and the body deliberately positioned. It all looked too tidy".
> Chambre de Marilyn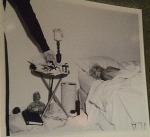 photographies de Dan Tompkins >>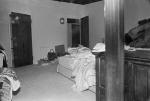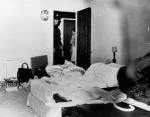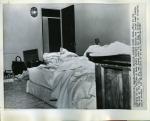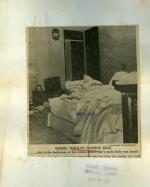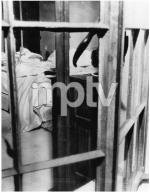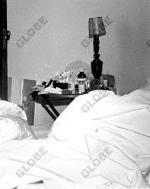 > Les boîtes de pillules sur la table de nuit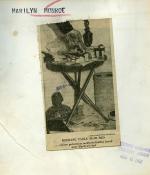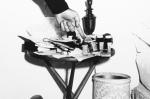 - photographies de Barry Feinstein >>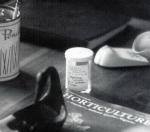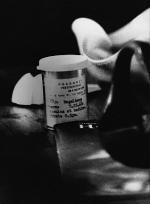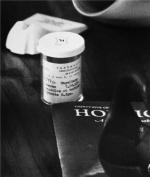 > Le fil du téléphone passant sour la porte de la chambre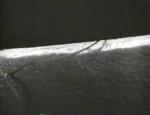 ---
Arrivée de l'inspecteur Robert E. Byron, qui recueille les déclarations du Dr Greenson, du Dr Engelberg et de Eunice Murray. Il consigne dans son rapport officiel: "L'opinion de l'officier de police est que Mrs Murray était aussi vague et évasive que possible dans ses réponses aux questions concernant les activités de Miss Monroe avant sa mort."
Arrival of Inspector Robert E. Byron, whoh collects reports of Dr. Greenson, Dr. Engelberg and Eunice Murray. He writes in his official report: "The opinion of the police officer is that Mrs. Murray was vague and evasive as possible in her answers to questions about the activities of Miss Monroe before her death."
---
> Vers 5 h, le journaliste Joe Ramirez (qui travaillait pour la petite agence "City News") reçoit un appel lui annoncant le décès de Marilyn; mais l'information arrive trop tard pour paraître dans les journaux du jour.
> William "Bill" Woodfield (photographe) et Joe Hyams (correspondant au "New York Herald Tribune") se rendent ensemble chez Marilyn sitôt qu'ils apprennent la nouvelle.
Tout comme James Bacon (chroniqueur d'"Associated Press") qui racontera: "Je recourus à une vieille ruse; je me suis présenté devant un flic en prétendant que le bureau du coroner m'avait dépêché sur place. Je suis entré dans la maison mais ne suis pas resté longtemps, juste le temps pour la voir gisant sur son lit. Je remarquai que ses ongles étaient négligés."
Around 5 am, the journalist Joe Ramirez (who worked for the small agency "City News") receives a call announcing the death of Marilyn, but the information comes too late to appear in daily newspapers.
> William "Bill" Woodfield (photographer) and Joe Hyams (corresponding to the "New York Herald Tribune") go together at Marilyns soon as they hear the news.
Just as James Bacon (columnist of "Associated Press") that will tells: "I resorted to an old trick, I introduced myself to a cop claiming that the coroner's office had sent me there. I went into the home but did not stay long, just long enough to see lying her on bed. I noticed that his nails were overlooked."
Au Fifth Helena Drive, chez Marilyn, une foule de personnes se constitue peu à peu, s'agglutinant aux abords de la maison: des journalistes reporters de la télévision, de la radio, de la presse, des paparazzis, des camions et voitures obstruent la rue.
De nombreuses photographies sont prises autour de la maison: devant le patio, la chambre à travers la fenêtre, mais aussi le jardin, où l'on y voit deux animaux en peluche dans l'herbe devant la piscine; Marilyn avait reçu la veille (le 4 août), par colis, un tigre en peluche, dont on ne connait pas le destinataire.
At Fifth Helena Drive, at Marilyn's home, a crowd of people is gradually agglutinating near the house: journalists, reporters from television, radio, press, paparazzi, trucks and cars clog the street.
Many photographs are taken around the house: front patio, the bedroom through the window, but also the garden, where we see two stuffed animals in the grass in front of the pool; Marilyn had received the day before (August 4) per package, a stuffed tiger, which we don't know the recipient.
> Devant le portail de la maison de Marilyn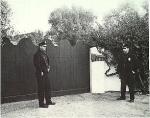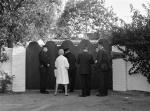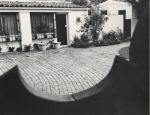 > Devant la maison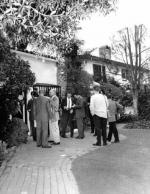 - photographies de Lawrence Schiller >>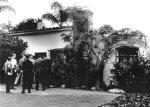 > Dans le jardin, la piscine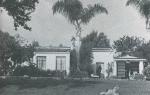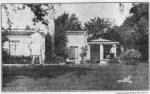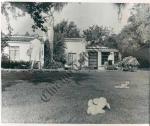 - photographie de Dan Tompkins >>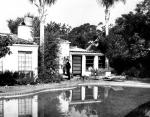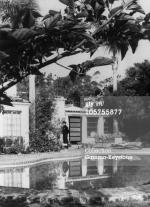 - photographie de Barry Feinstein >>

> La fenêtre de la chambre de Marilyn
dont le carreau a été cassé par le Dr. Engelberg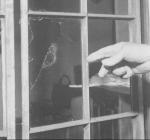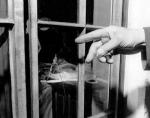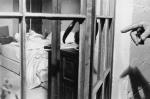 - photographies de Gene Anthony >>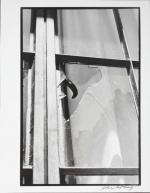 ---
> Vers 5h10: Jack Clemmons est remplacé par un officier de police d'un grade supérieur (le chef de la police William Parker) pour mener l'enquête et ainsi, soumettre au silence Clemmons qui avait relevé plusieurs faits incohérents (Murray lui avait informé qu'elle avait découvert le corps à minuit, alors qu'elle affirmera par la suite avoir découvert le corps à 3h; d'après Clemmons, le décès devait remontait à environ 8 heures). Clemmons va ensuite appeler son collègue Jim Dougherty, le premier mari de Marilyn, pour l'informer du décès de celle-ci.
Around 5.10 am: Jack Clemmons is replaced by a police officer of higher rank (the Chief policer William Parker) to investigate and thus submit to silence Clemmons who had identified several inconsistent facts (Murray had informed him she had discovered the body at midnight, while she will affirm after to have discovered the body at 3 am; for Clemmons, the death had occurred some 8 hours before). Clemmons will then call his colleague Jim Dougherty, the first husband of Marilyn, informing him of the Marilyn's death.
Arrivée de l'officier Don Marshall qui fouille la maison à la recherche d'un message attestant le suicide. Il interroge les plus proches voisins de Marilyn, Mr et Mrs Abe Landeau, qui déclarèrent n'avoir rien entendu de suspect pendant la nuit.
Arrival of the officer Don Marshall who search in the house a message stating suicide. He asks the nearest neighbors of Marilyn, Mr. and Mrs. Abe Landeau, who declared to have heard nothing suspicious during the night.
---
> L'envoyé du coroner, Guy Hockett constate que le décès "remonte à plusieurs heures. Elle était raide et il fallut près de 5 minutes pour la redresser. (...) Elle gisait, assez droite, dans une position semi-foetale. Ses cheveux, desséchés, étaient en très mauvais état à cause de tous ces traitements. Elle n'était pas très belle à voir, au point qu'on avait du mal à croire que c'était bien elle. On aurait dit une pauvre femme ordinaire qui venait de mourir. Pas de maquillage, les cheveux négligés sans mise en plis, un corps fatigué. Nous eûmes tous la même impression, à des degrés divers."
The representative of the coroner Guy Hocknett notes that the death "goes back several hours. She was stiff and it tooks about 5 minutes to recover her. (...) She lays quite right in a semi-fetal position. Her hair, dried, were in very poor condition because of all these treatments. She was not very nice to see, to the point that it was hard to believe it was really her. She seemed as a poor ordinary woman who had just died. No makeup, hair styling neglected, a tired body. We had all the same impression, to varying degrees."
---
> Vers 5h30: Patricia Newcomb arrive à la maison de Marilyn (elle racontera avoir été prévenue par téléphone à 4 h par Milton Rudin, l'avocat de Marilyn), provoquant une scène, en hurlant aux photographes: "Allez-y, mitraillez, vautours ! ... Espèces de buveurs de sang ! Vampires ! Ne pouvez-vous même pas la laisser mourir en paix ?"; Eunice Murray raconte que lorsque Pat Newcomb est arrivée, "il y avait tant de gens que personne ne l'a remarquée." Pat Newcomb se souvient que "il y avait plus de cinq personnes dans la maison" quand elle y est entrée; elle dit aussi ne pas avoir vu le corps de Marilyn. Elle restera quasiment tout le temps au téléphone, traitant des appels téléphoniques des médias du monde entier; elle racontera: "J'ai parlé à plus de 600 journalistes ce dimanche là. C'était mon travail de faire ce que je pouvais pour Marilyn."
Pat Newcomb était "hystérique" comme le dira Eunice Murray: "Même après que la police décida de fermer la maison, elle refusait toujours de partir. Il a fallu qu'on la fasse sortir."
Around 5.30 am: Patricia Newcomb arrives at Marilyn's home (she will tell to have been prevented by phone at 4 am by Milton Rudin, the Marilyn's lawyer), screaming to photographers: "Go ahead, shoot pictures, vultures ! ... Bloodthirsty Vampires ! Can't you even let her die in peace ?" Eunice Murray says that when Pat Newcomb arrived, "there were so many people that nobody noticed her." Pat Newcomb remembers that "there was more than five people in the house" when she comes in, she also says to don't have seen the Marilyn's body. She will stays almost the time on the phone, dealing with telephone calls from media around the world; she will tell later: "I spoke to over 600 journalists that Sunday. It was my job to do what I could for Marilyn."
Pat Newcomb was "hysterical" as Eunice Murray will tell: "Even after the police decided to close the house, she still refused to go. We had to make exit her. "
---
> Quand Allan Whitey Snyder, le maquilleur de Marilyn qui, dès qu'il apprend la triste nouvelle, se précipite chez Marilyn, il se fait renvoyer par un policier qui lui refuse l'accès à la maison. Il racontera "qu'il fallait que je voie de mes yeux ce qui était vraiment arrivé." Quand il remonte dans sa voiture et entend à la radio que "Marilyn est morte d'une overdose de barbituriques qu'elle s'est administrée", Snyder ne parvient pas à croire au suicide.
When Allan Whitey Snyder, Marilyn's makeup artist, who, when he learns the sad news, rushed to Marilyn's home, he gets fired by a policeman who refuses him the access to the house. He will tell "that I had set my eyes what really happened." When he goes back to his car and heard on the radio that "Marilyn died of an overdose of barbiturates that she administered herself" Snyder can not believe in suicide.
> Joe DiMaggio, qui est à San Francisco, apprend la nouvelle très tôt le matin. Il se rend immédiatement à Los Angeles, contacte son fils Joe Jr. qui se trouve au camp Pendleton, et se réfugie avec deux de ses amis dans la suite 1035 du Miramar Hotel. Il refuse de faire la moindre déclaration à la presse et reste enfermé dans sa chambre d'hôtel. Son ami Harry Hall racontera que Joe pleurait sans consulter les nombreux télégrammes reçus: "Il considérait Bobby Kennedy comme responsable de sa mort."
Personne ne réclame le corps de Marilyn et le coroner ne peut délivrer le corps qu'avec l'autorisation d'un membre de la famille: sa mère en est incapable, et sa demie-soeur Berniece, contactée par télégramme, donne sa permission à Joe DiMaggio de s'occuper des funérailles.
Joe DiMaggio, who is in San Francisco, heards the news early in the morning. He immediately goes to Los Angeles, contacts his son Joe Jr. who is at Camp Pendleton, and stays with two of his friends in the suite 1035 of the Miramar Hotel. He refuses to make any statement to the press and remains locked in his hotel room. His friend Harry Hall tells that Joe was crying without consulting the many telegrams he received: "He considered Bobby Kennedy as responsible for her death."
Nobody claims the body of Marilyn and the coroner may not issue a body with the authority of a member of the family: her mother is unable to act, and her half-sister Berniece, contacted by telegram, gives permission to Joe DiMaggio to arrange the funeral.
> Peter Lawford est chez lui à L.A. Il est en état de choc, hagard, en larmes, terrassé, répétant sans cesse qu'il était la dernière personne à avoir parlé à Marilyn (au téléphone). Sa mère, Lady May, surnommée "Lady L." le contacte par téléphone quand elle apprend la nouvelle, et elle reproche à son fils de ne pas être allé chez Marilyn, quand cette dernière appela Peter. Puis quand Rupert Allan téléphone à Lawford, il a au bout du fil un homme hors de lui, furieux, aux propos incompréhensibles, entrecoupés de sanglots.
Peter Lawford is at his home L.A. He is in shock, distraught, in tears, overwhelmed, constantly repeating that he was the last person to have spoken to Marilyn (on the phone). His mother, Lady May, named "Lady L." calls him when she heards the news, and she blames her son to don't have gone to Marilyn's home, when she called Peter. Then, when Rupert Allan phone Lawford, he has on the phone a man out of him, furious, with incomprehensible words, interspersed with sobs.

> Dans la propriété des Kennedy sur la côte Est où la famille est réunie autour de la piscine, la nouvelle de la mort de Marilyn passe à la radio: ce fut le silence total. Pat Kennedy Lawford s'effondre en larmes.
In the property of the Kennedys on the East Coast where the family gathered around the pool, the news of the death of Marilyn is broadcoast on the radio: it was a full silence. Pat Kennedy Lawford collapses in tears.

> A peine à 6 km de chez Marilyn, Jayne Mansfield apprend la nouvelle chez elle dans sa maison du Pink Palace; elle devient hystérique et pleure beaucoup, serrant son assistant Ray Strait: "Je suis peut être la prochaine sur la liste." (Jayne était aussi la maîtresse des frères Kennedy).
At Just 6 km from Marilyn's home, Jayne Mansfield heards the news at her Pink Palace home; she becomes hysterical and crying a lot, shaking his assistant Ray Strait: "I may be next on the list." (Jayne was also the mistress of the Kennedy brothers).
---
> à 7h30: Les hommes du coroner, accompagnés de Guy Hockett (propriétaire du Westwood Memorial Park Cemetery), emportent le corps de Marilyn, dissimulé sous une couverture bleue ordinaire, sur un chariot, et le chargent à bord d'un vieux break, qu'ils conduisent au dépôt mortuaire de Westwood Village, où sa dépouille reste quelques heures dans un réduit encombré de brosses et de bocaux où le photographe Bud Gray du "Herald Examiner" fait un cliché de sa dépouille enveloppée.
At 7.30 am: Coroner's men, accompanied by Guy Hockett (owner of Westwood Memorial Park Cemetery) outweigh Marilyn's body, hidden under an ordinary blue blanket on a cart, and charge her on an old break that they drive to the mortuary Westwood Village, where she remains few hours in a small room crowded by brushes and jars.
> Départ du corps de Marilyn de sa maison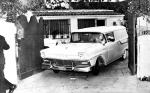 > Arrivée du corps de Marilyn à Westwood Village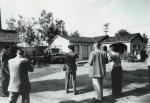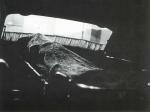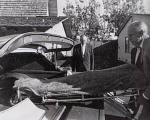 - photographies de Lawrence Schiller >>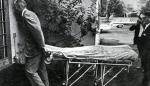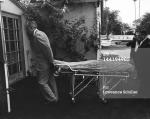 > Au cimetière de Westwood, tombe de Grace Goddard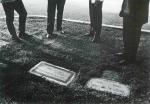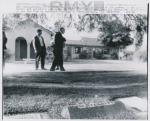 ---
> Marilyn est ensuite transportée dans la case 33 de la County Morgue, au palais de justice de Los Angeles. Son numéro de dossier du coroner est le 81128.
Un photographe parvient à s'introduire dans la morgue: Leigh Wiener, qui enverra ses photographies au magazine Life, parvient à prendre de nombreux clichés en échange de bouteilles de whisky offertes aux employés: un employé ouvre la porte en acier inoxydable et tire l'étagère coulissante où repose la dépouille de Marilyn. Wiener la mitraille, couverte et découverte (il aurait pris 6 clichés de Marilyn morte).
Marilyn is then transported in box 33 of the County Morgue of Los Angeles. Her coroner file number is 81128.
Two photographers manage to get into the mortuary: Bud Gray of "Herald Examiner" takes a snapshot of his body wrapped; and Leigh Wiener, who will send his photographs to "Life" magazine, manages to take many pictures in exchange for whiskey bottles offered to employees: an employee opens the stainless steel door and pulls the sliding shelf where the body of Marilyn remains. Wiener shoots pictures of Marilyn with covered and uncovered (he would take 6 shots of Marilyn dead).
> Départ du corps de Marilyn de Westwood Village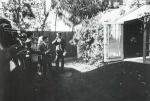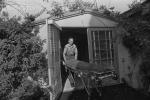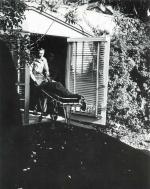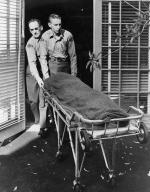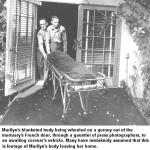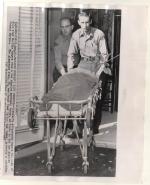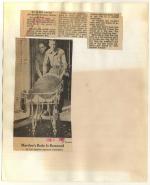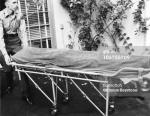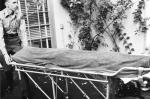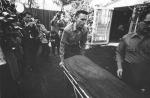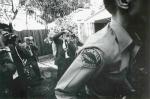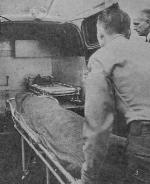 > County Morgue de L.A., le casier 33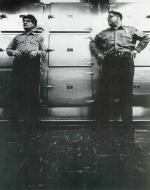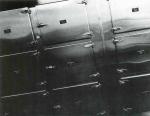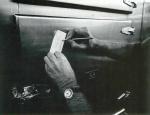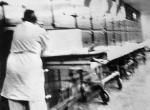 - photographies de Leigh Wiener >>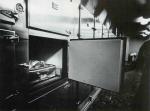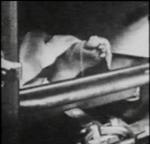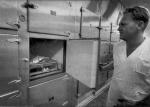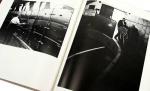 ---
> à 10h30: Début de l'autopsie, dans une salle sans fenêtres des sous-sols du palais de justice de L.A., sur la table 1, équipée d'un système d'arrivée d'eau et d'évacuation, et d'une balance. Le médecin légiste est Thomas Noguchi, assisté de Eddy Day, en présence de John Miner, observateur du District Attorney.
At 10.30 am: Beginning of the autopsy, in a windowless room of the County Morgue of L.A., on the table 1, equipped with a water inlet and exhausted system, and a balance. The medical examiner is Thomas Noguchi, assisted by Eddy Day, in the presence of John Miner, observer of District Attorney.
(> Lire le rapport d'autopsie < read the autopsy report)
> Avant l'autopsie: Photo post-mortem 1
(Avertissement: image choquante de Marilyn morte)
La photographie post-mortem du dossier de police montre Marilyn avec un visage flasque, enflé, les cheveux plats et raides mais précisons que les muscles de son visage ont été sectionnés pendant l'ablation du cerveau et qu'après l'autopsie, sa dépouille a été lavée à grandes eaux.
The post-mortem photograph of the police report shows Marilyn with a flange face, swollen, flat and straight hair but let's specify that the muscles of her face were severed during removal of the brain and after the autopsy, her body was washed with plenty of water.
> Après l'autopsie: Photo post-mortem 2
(Avertissement: image choquante de Marilyn morte)
> Retour du corps à Westwood Village après l'autopsie

- photographies de Bud Gray >>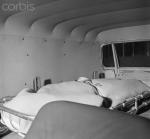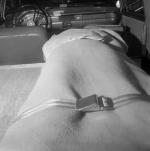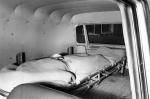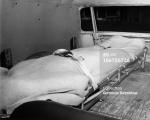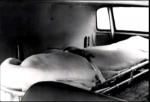 - Guy Hockett conduit la voiture >>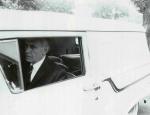 ---
> Vers 11h: premier rapport de police établi (complété ensuite le lendemain).
Around 11 am: the first police report is established (then completed the next day).
(> Lire le rapport de police < read the police report)
---
> à 11h, Ralph Greenson et Milton Rudin font monter Pat Newcomb dans la voiture d'Eunice Murray; les reporters se précipitent devant la voiture dans la petite impasse et un journaliste de NBC News demande à Pat comment elle se sent, ce à quoi, elle lui répond, en larmes: "Si votre meilleur ami venait de se tuer, qu'éprouveriez-vous ? que feriez-vous ?".
A ce moment là, la maison était remplie de monde: les policiers, Arthur Jacobs, trois gardes du service de sécurité de la Fox envoyés par Peter Levathes, le technicien du General Telephone (qui coupera les lignes le jour même), les journalistes James Bacon et James A. Hudson de United Press International, mais aussi quatre hommes en noir (dont certains pensent qu'il pourrait s'agir d'agents du FBI ou de la CIA).
At 11 am, Ralph Greenson and Milton Rudin drive up Pat Newcomb in Eunice Murray's car; reporters rushed to the car and an NBC News reporter asks to Pat how she feels, and she replied in tears: "If your best friend just came to kill, how would you feel ? What would you do ?".
At that time, the house was full of people: policemen, Arthur Jacobs, three guards of the security service of the Fox sent by Peter Levathes, the General Telephone technician (who cut the lines the same day), journalists as James Bacon and James A. Hudson of United Press International, but also four men in black (some people think it might be men from FBI or CIA).
> On emmène Maf, le chien de Marilyn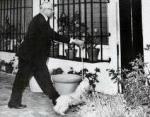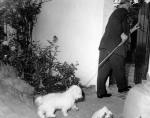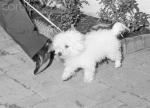 - photographie de Dan Tompkins >>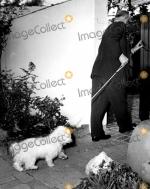 - Milton Rudin (à gauche) >>

> Eunice Murray et son gendre Norman Jefferies
- photographies de Dan Tompkins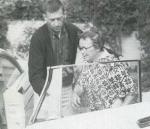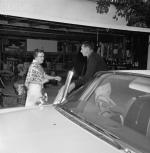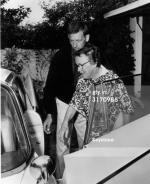 > Départ de Patricia Newcomb
- photographies de Dan Tompkins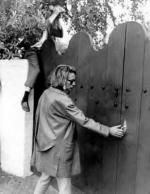 - Pat avec Norman Jefferies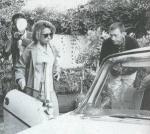 - Un journaliste interpelle Pat

---
> peu avant 12h00: Hazel Washington (femme de chambre de Marilyn) et son mari Rocky (policier de Los Angeles) arrivent à la maison pour récupérer des tables et chaises prêtées à Marilyn en février, car la maison serait ensuite fermée. Mrs Washington va remarquer un des hommes en noir brûler des documents dans la cheminée: des blocs-notes de Marilyn, des papiers de la Fox, des pages d'agenda, des bandes de magnétophones. Les serrures de classeur avait été forcées et les tiroirs vidés.
Avant de partir, Mrs Washington remarque que les gardes du studio de la Fox avaient investi toute la maison et de voir Frank Neill et trois autres attachés à la publicité de s'emparer de tous les documents relatifs à la Fox (notamment le nouveau contrat de négociation et de réintégration de Marilyn à la Fox avec la reprise du tournage de Something's got to give ont disparu).
Les hommes en noir ont même vérifié le contenu de la voiture de Hazel et Rocky avant leur départ.
Cependant, ces allégations affirmant que des papiers ont été détruits ont été formellement démenties par les officiers de police présents sur les lieux toute la journée. Néanmoins, il est indiscutable que des personnes sont parvenues à emporter des documents, tel que le confirme l'auteur Donald Spoto qui consultera des papiers acquis lors de la succession d'Inez Melson.
shortly before 12.00 am: Hazel Washington (Marilyn's maid) and husband Rocky (Los Angeles' policeman) arrive at Marilyn's home to retrieve tables and chairs lent to Marilyn in February, as the house would then be closed. Mrs. Washington notices one of the men in black burn papers in the fireplace: Marilyn's notebooks, Twentieth Century Fox 'papers, calendar pages, strips of tapes. The locks of workbooks had been forced and the drawers were emptied.
Before leaving, Mrs. Washington notes that guards from Fox Studios had invested the house and she sees Frank Neill and three others guy from publicity department to take all documents relating to the Fox (including the new contract with negotiation and reintegration of Marilyn to the Fox Studios with the resumption of filming 'Something's got to Give' which have disappeared ) .
Men in black have even checked the content of the car of Hazel and Rocky before they leave.
However, these allegations stating that the papers were destroyed, have been formally denied by the police officers who were present all the day. Nevertheless, it is indisputable that some people were able to take documents, as confirmed by the author Donald Spoto who will consult papers acquired in succession of Inez Melson.
---
> La police met la maison de Fifth Helena Drive sous scellés.
Police put the house of Fifth Helena Drive sealed.
> La police pose les scellés sur la porte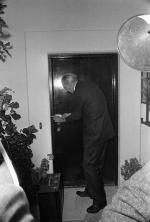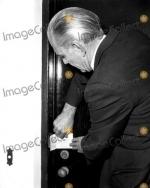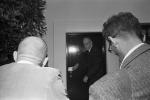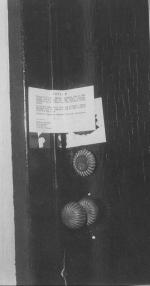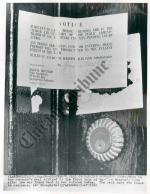 - photographie de Dan Tompkins >>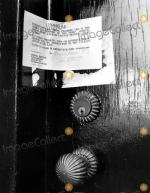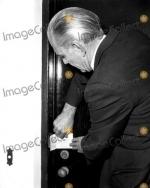 ---
Des gens se réunissent devant le Grauman's Chinese Theatre de Los Angeles et déposent des fleurs devant la plaque où Marilyn Monroe avait laissé ses empreintes (le 26 juin 1953).
People meet in front of the Grauman's Chinese Theatre in Los Angeles and lay flowers in front of the foot and hans prints left by Marilyn Monroe (in June, 26, 1953).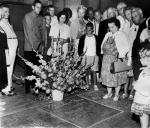 - photographie de Gene Anthony >>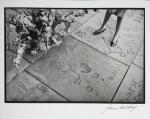 ---
L'information de la mort de Marilyn Monroe défile sur les panneaux lumineux du New York Times sur Times Square à Manhattan, New York.
The news of the Marilyn Monroe's death scrolls on the light panels on the New York Times building in Times Square in Manhattan, New York City.
---
VIDEOS
> News USA

> Divers extraits

> Eunice Murray, Norman Jefferies, Pat Newcomb et Maf

---
> Original du certificat de décès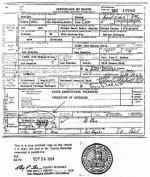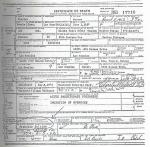 ---
Les réactions des proches de Marilyn recueillies par les journalistes:
James Dougherty

: "Je suis atterré". Quand son collègue Jack Clemmons lui apprend la nouvelle, Dougherty se tourne vers sa femme et lui dit: "Fais une prière pour Norma Jeane. Elle est morte."

Arthur Miller

, à Paris avec sa nouvelle femme Inge Morath, refuse de s'exprimer publiquement, sans doute étant trop bouleversé. A l'un de ses proches, il aurait dit: "Il fallait bien que ça arrive. Je ne savais ni quand, ni comment, mais c'était inévitable."
Isadore Miller (père d'Arthur): "Elle était comme ma propre fille. Elle était une fille gentille et bonne. Je suis tellement désolé, je n'étais pas là pour être avec elle. Elle a du se sentir vraiment seule et effrayée."

Billy Wilder

, interviewé à sa descente d'avion par des journalistes qui ne le tiennent pas au courant, ne dit que des banalités sur Marilyn. Il apprendra la nouvelle dans le taxi qui l'amenait à l'hôtel.

Joshua Logan

: "Marilyn était l'une des personnes les plus sous-estimées de la terre !"
Paula Strasberg: "Marilyn était une actrice comme il n'en existe aucune autre."

Milton et Amy Greene

sont à Paris et apprennent la nouvelle par téléphone à leur hôtel. Ils sont bouleversés (avant leur départ, après un mauvais pressentiment, Amy avait incité Milton à contacter Marilyn, qui semblait heureuse et leur avait assurer que tout allait bien).
Frank Sinatra se dit "profondément affligé

(...)

Elle va beaucoup me manquer."

George Jacobs

, son domestique, racontera que "Il demeura dans une sorte d'état de choc pendant des semaines après la mort de Marilyn, profondément angoissé."
Kay Gable (veuve de Clark Gable) apprend la nouvelle au flash d'information à 7 heures: "Je suis allée à la messe, j'ai prié pour elle."
La famille

Greenson

se dit "accablée de chagrin". Le Dr. Greenson rencontre DiMaggio et les deux hommes se serrent dans les bras, se consolant l'un et l'autre.

Peter Lawford

: "Pat et moi l'aimions profondément. C'est probablement l'un des êtres humains les plus merveilleux et les plus chaleureux que j'ai connus. Tout ce que je pourrais dire d'autre serait superflu."
L'Osservatore Romano du Vatican: "Elle a été la victime d'une mentalité et d'un mode de vie dont on l'a forcée à être le symbole. Sa mort transcende les limites d'une tragédie personnelle pour atteindre un retentissement universel."
---
sources:
Marilyn Monroe, encyclopédie d'Adam Victor
Les vies secrètes de Marilyn Monroe, d'Anthony Summers
Marilyn Monroe, biographie de Barbara Leaming
Marilyn Monroe, Private and Undisclosed, de Michelle Morgan
Marilyn, Histoire d'un assassinat, de Brown et Barham
---
© All images are copyright and protected by their respective owners, assignees or others.
copyright text by GinieLand.
Enregistrer
21 septembre 2013
Ce catalogue de 150 pages "Marilyn Monroe's Nachlass, Die Privatsammlung Stampfer" en vente sur marilynmonroe-sammlung.de au prix de 20 Euros, présente la collection personnelle du collectionneur allemand Ted Stampfer, un fan de Marilyn Monroe qui est parvenu à acquérir, au fil des années, plus de 700 pièces. Il a organisé plusieurs expositions de ses pièces en Allemagne (en Bavière en mars 2011, au Rock 'n' Popmuseum en 2013).

---
> La collection de Ted Stampfer:
- vêtements

- Des objets de sa maison de Brentwood,
des photographies de presse.

---
13 septembre 2013
Anna Nicole Smith
(1967 - 2007)
strip-teaseuse, mannequin, actrice et chanteuse américaine
La Marilyn "trash" des années 1990s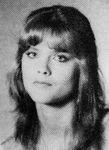 Anna Nicole Smith naît le 28 novembre 1967 sous le nom de Vickie Lynn Hogan à Harris County (au Texas). Ses parents (Donald Eugene Hogan (conducteur de grue, 1947-2009) et Virgie Mae (vendeuse, née Tabers le 12 juillet 1951)) se sont mariés le 22 février 1967 et divorcent le 4 novembre 1969. Anna a cinq frères et soeurs et leur père les abandonne alors qu'Anna Nicole est encore bébé; ils sont alors élevés par leur mère et leur tante, jusqu'à ce que leur mère se remarrie en 1971 avec Donald R. Hart et Anna Nicole change alors son nom pour Nikki Hart. Elle fait ses études à l'école "Durkee Elementary School" et au lycée "Aldine Senior High School" à Houston. Mais le beau-père d'Anna la frappe. Elle part pour emmènager avec sa jeune soeur Kay Beall chez sa tante, dans une petite bourgade du Texas, à Mexia, et étudie au lycée "Mexia High School" (voir photo ci-contre). Anna Nicole échoue sa première année et abandonne l'école lors de sa deuxième année et à 17 ans, elle travaille comme serveuse dans un snack de poulet à Mexia. C'est alors qu'elle rencontre Billy Wayne Smith, 16 ans, qui était cuisinier dans le snack. Ils se marient le 4 avril 1985 et ont un fils, Daniel Wayne Smith, né le 22 janvier 1986. Mais le couple se sépare rapidement l'année suivante, et Anna part vivre avec son fils à Houston pendant un an. Le divorce est prononcé le 3 février 1993. Elle décroche un emploi de serveuse, puis devient strip-teaseuse topless dans une boîte de nuit sous les pseudonymes de Nikki et Robin. Elle ne rencontre guère de succès en tant que strip-teaseuse car elle a une petite poitrine. Elle économise alors de l'argent pour se faire poser des implants mamaires et devient alors une strip-teaseuse très populaire.
> Anna Nicole et Billy Wayne Smith, son premier mari
et une photo de police d'Anna Nicole prise en 1989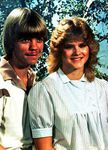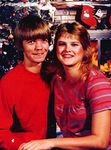 > Anna Nicole, Billy Wayne et leur fils Daniel en 1986
Anna Nicole et Daniel au début des années 1990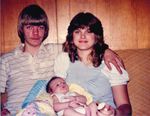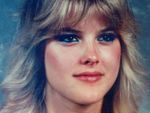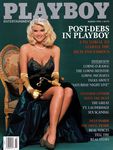 En 1991, elle commence à prendre des cours de chant et de mannequinat; c'est alors qu'en octobre de la même année, elle découvre une petite annonce du magazine Playboy. Elle se rend à une audition de séances photos du magazine, mais les photographes lui déconseillent à la vue de sa large stature et la difficulté à la cadrer. Néanmoins, les photos parviennent aux mains de Hugh Hefner, le grand patron de Playboy, qui insiste pour qu'Anna Nicole fasse la couverture de mars 1992 du magazine (voir photo ci-contre): la séance est photographiée par Stephen Wayda et elle prend officiellement le nom d'Anna Nicole Smith, bien qu'à l'origine elle avait suscité un intérêt d'avoir un nom à la mémoire de Marilyn Monroe.
> Les années Playboy d'Anna Nicole: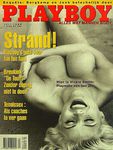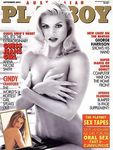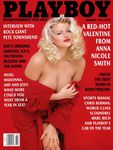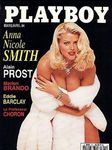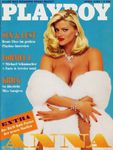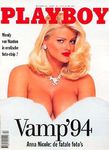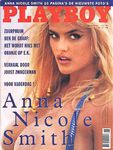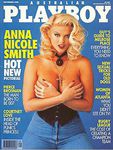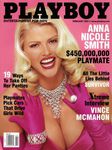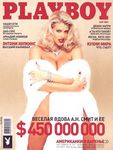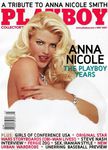 Avec Playboy, Anna Nicole fait sensation, déclarant vouloir devenir "la prochaine Marilyn Monroe".
D'ailleurs, elle admire Marilyn Monroe depuis son enfance et s'habillait comme elle pour lui ressembler. Elle a même pris un peu de poids et s'est entraînée à retrousser la lèvre supérieure, afin d'augmenter sa ressemblance avec Marilyn.
Elle est choisie comme playmate de Playboy (« Miss mai 1992 » puis Playmate de l'année 1993) et comme prévu, elle est comparée à Marilyn Monroe pour sa plastique pulpeuse et sa blondeur peroxydée.

En 1992, elle obtient un contrat pour la campagne de publicité Guess (jeans et parfums) et succède ainsi au top model Claudia Schiffer. Les photographes de Guess la comparent rapidement à Jayne Mansfield et la photographie dans des situations similaires à la star des années 1950s:
Pour noël 1993, elle apparaît sur des grands panneaux publicitaires en Suède et en Norvège pour la marque H&M: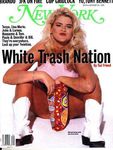 Elle apparaît en couverture du magazine New York du 22 Août 1994 (voir photo ci-contre), intitulé "White Trash Nation". Anna Nicole prend un avocat et attaque le magazine pour utilisation non autorisée de sa photographie, et que l'article entâche sa réputation. La photo utilisée a été prise lors d'une pause juste pour le fun.
En octobre 1991, pendant qu'elle se produisait au club de strip-tease Gigi de Houston (rebaptisé aujourd'hui "Pleasures") Anna Nicole rencontre le vieux milliardaire magnat du pétrole J. Howard Marshall, et ils entament une relation. Durant leur relation de deux ans, il fit de nombreux cadeaux à Anna Nicole (maisons, bijoux...) et la demanda en mariage à plusieurs reprises. Elle attend alors que son divorce d'avec son premier mari soit prononcé (le 3 février 1993) pour se marier avec Marshall le 27 juin 1994 à Houston: Anna Nicole a 26 ans et Marshall en a 89. De nombreux ragots commencent alors à circuler, notamment sur le fait qu'Anna Nicole s'est mariée pour l'argent. Elle racontera plus tard qu'elle n'a jamais vécu auprès de Marshall, et qu'elle ne lui a jamais fait l'amour; c'est à peine qu'ils se sont embrassés sur la bouche une dizaine de fois. Toutefois, elle a toujours maintenu qu'elle aimait son mari et que l'âge n'avait pas d'importance. Treize mois après le mariage, Marshall meurt le 4 août 1995 à Houston. Anna Nicole est alors impliquée dans une bataille juridique contre le fils de son défunt mari, E. Pierce Marshall, au sujet de sa part d'héritage qui s'élevait à 1,6 milliard de dollars. Après de nombreuses procédues, elle finit par obtenir en mars 2002, 88 millions de dollars de la succession de son mari, mais cette décision est annulée par la Cour d'appel de San Francisco. Et le 1er mai 2006, elle fut autorisée par la Cour suprême à poursuivre son action en justice. Mais le décès du fils de J. Howard Marshall, Pierce Marshall, le 24 juin 2006, modifie la donne. Mais la fille d'Anna Nicole pourra à son tour poursuivre les procédures en droit de succession. Les avocats poursuivent les procédures qui sont toujours en cours.
> Anna Nicole et J. Howard Marshall: du mariage à l'enterrement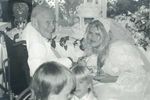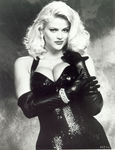 Malgré son succès en tant que mannequin, Anna Nicole Smith n'a jamais trouvé la même reconnaissance ou le succès en tant qu'actrice. A 26 ans, elle fait ses débuts à l'écran dans la comédie "The Hudsucker Proxy" (1994, avec Tim Robbins). Elle obtient ensuite un rôle plus important dans "Naked Gun 33⅓: The Final Insult" (1994, voir photo ci-contre), qui rencontre un joli succès au box-office et pour lequel elle reçoit des critiques faborables. Mais Anna Nicole Smith souhaitait être prise au sérieux en tant qu'actrice, et les studios d'Hollywood se sont toujours montrés réticents; au contraire, ils n'ont mis en avant que sa plastique et sa personnalité d'une blonde écervelée dans les rôles qu'ils lui ont confié au cinéma. Voulant être respectée dans le métier, elle accepte un rôle majeur dans "To the Limit" (1995), et malgré la médiatisation et le budget conséquent alloué au film, les critiques se montrent négative quand au jeu d'actrice d'Anna Nicole. En 1995, elle joue son propre rôle dans l'épisode pilote de "The Naked Truth" et tente à nouveau une percé au cinéma avec le film à petit budget "Skyscraper" (1996) qui fait un bide. C'est alors qu'elle se tourne vers des rôles à la télévision, dans les séries "Sin City Spectacular" (1998), la série de Playboy "Anna Nicole Smith: Exposed" (1998), "Veronica's Closet" et "Ally McBeal" (1999).
Au début des années 2000, sa carrière stagne et elle devient plus connue pour ses frasques dans les tabloïds que pour ses rôles. Elle signe alors sa propre émission de télé réalité "The Anna Nicole Show" (voir photo ci-contre), diffusé sur la chaîne E! dès le 4 août 2002 (par coïncidence, sept ans jour pour jour après la mort de Marshall, mais aussi 40 ans après la mort de Marilyn Monroe). Le public découvre alors la vie privée d'Anna Nicole: son petit ami, l'avocat Howard K. Stern, son fils Daniel, son assistante Kimmy, son caniche miniature Sugar Pie, son décorateur d'intérieur Bobby Trendy, son cousin Shelly Cloud, et d'autres petits amis de passage. Après deux saisons et 27 épisodes, l'émission est stoppée en raison des chutes d'audience, même si elle cartonne auprès des ados. Le dernier épisode est diffusé le 1er juin 2003 (là encore, par coïncidence, le jour d'anniversaire de Marilyn Monroe).
Elle revient au cinéma dans "Wasabi Tuna" (2003), et décroche un petit rôle dans "Be Cool" (en 2005, avec John Travolta), puis dans le petit film indépendant parodique "Illegal Aliens" (2006, qui sort directement en vidéo l'année suivante). C'est durant cette période (2002-2005) qu'Anna Nicole sombre dans la dépendance des médicaments: le public la découvre totalement droguée, tenant des propos incompréhensibles dans son show de télé-réalité, mais aussi lors de ses apparitions sur scène, comme aux American Music Awards. Suivie par une psychiatre en 2006, celle-ci révèlera qu'Anna Nicole souffrait d'un trouble de la personnalité borderline. De plus, elle avait pris beaucoup de poids au début des années 2000; qu'elle va ensuite perdre en suivant un régime drastique et devenir plus mince que jamais.
En 2004, elle représente la fondation de défense animale PETA, et parodie la chanson "Diamond's are a girl's best friend" de Marilyn Monroe pour une publicité de la PETA, transformée en "Gentlemen prefer fur-free blondes" ("Les hommes préfèrent les blondes sans fourrure"). Elle se montre très engagée, militant contre la chasse aux phoques au Canada, et contre la cruauté présumée envers les animaux envers des entreprises américaines.

> Campagnes publicitaires pour PETA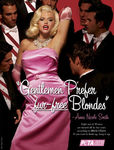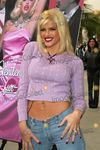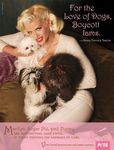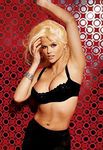 Le 7 septembre 2006, Anna Nicole donne naissance à sa fille, Dannielynn Hope Marshall Stern, aux Bahamas. Sur le certificat de naissance, figure le nom de Howard K. Stern comme étant le père, qui était l'avocat d'Anna Nicole.
C'est lors de son séjour à la maternité qu'un drame va se produire: le fils aîné d'Anna Nicole, Daniel Smith, 20 ans, va mourir dans la chambre d'hôpital de sa mère lors d'une de ses visites, le 10 septembre 2006. Réclamant une autopsie qui va conclure que Daniel est mort d'une combinaison mortelle de Zoloft, Lexapro et de méthadone, son corps ne sera enterré que six semaines après sa mort aux Bahamas. Selon Howard K. Stern, Anna Nicole a été totalement dévastée de chagrin après le décès brutal de son fils: "Anna et Daniel étaient inséparables. Daniel était incontestablement la personne la plus importante de sa vie". Lors de l'enterrement, elle a même tenté de rentrer dans le cercueil de son fils afin d'être enterrée avec lui.
Le 28 septembre, Anna Nicole et Howard K. Stern organise une petite cérémonie où ils s'échangent des anneaux et des voeux. Mais ce "mariage" reste informel. Ils ont néanmoins négocié la vente des photos au magazine "People" pour près d' 1 000 000 de Dollars.

> Anna Nicole, Dannielynn et Daniel,avant le drame
Anna Nicole et Howard Stern à leur cérémonie de mariage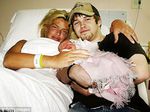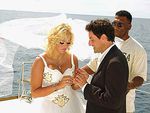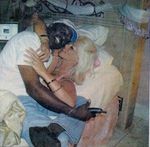 Anna Nicole et Howard Stern s'installent aux Bahamas, pour éviter que des tests de paternité de sa fille soient procédés aux Etats-Unis. A la fin de l'année 2006, elle obtient le statut de résident permanent aux Bahamas. Le 11 Février 2007, des journaux publient une photographie (voir ci-contre) d'Anna Nicole habillée et allongée dans son lit dans les bras de Gibson, un ministre. Suite à ce scandale, le ministre va démissionner et revendiquer que les photos, prises par Stern, sont innocentes. Anna Nicole possédait une maison (un manoir) de 900 000 Dollars aux Bahamas, qui, d'après ses dires, lui avait été donnée par un ancien petit ami, G. Ben Thompson, un promoteur immobilier. Mais Thompson a affirmé qu'il avait simplement prêté le financement à Anna Nicole pour acheter la propriété, mais qu'elle ne lui avait jamais remboursé le prêt. Il engage alors des poursuites contre elle et Anna Nicole reçoit un avis d'expulsion qu'elle ignore. Lorsque la famille de Thompson récupère le manoir, ils y trouvent de la méthadone dans un réfrigérateur.
Fin 2006, Anna Nicole est hospitalisée suite à une pneumonie. Début février 2007, elle loge dans l'hôtel Seminole Hard Rock Hotel & Casino de Hollywood. Elle est souffrante, avec plus de 40,5 ° de fièvre. De plus, elle reste toujours autant déprimée car elle ne s'est jamais remise de la mort de son fils Daniel; elle avait d'ailleurs fait une tentative de suicide. Le 8 février 2007, Anna Nicole Smith tombe dans le coma et une infirmière qui s'occupe d'elle appelle les secours, qui tentent de la réanimer. Mais il est trop tard: Anna Nicole meurt, âgée de 39 ans. Trois hypothèses sont alors évoquées: une cause naturelle, une cause liée à l'ingestion de drogues ou produits chimiques ou un mélange des deux. Finalement, la police annonce le 27 mars qu'Anna Nicole a succombé à une overdose accidentelle. Le 13 mars 2009, Howard Stern et les médecins Sandeep Kapoor et Khristine Eroshevich sont inculpés pour conspiration et prescriptions de médicaments frauduleuses pour avoir donné des milliers de médicaments pendant des années à Anna Nicole, la menant à une overdose fatale en 2007.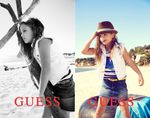 Après le décès d'Anna Nicole, un photographe, Larry Birkhead, va soutenir qu'il est le père de Dannielynn; Va s'ensuivre une longue bataille juridique, avec de nombreux rebondissements: d'abord, Donna Hogan, une demie-soeur d'Anna-Nicole, va déclarer que cette dernière avait congelé du sperme de son second mari, Marshall, prétendant ainsi que Dannielynn serait en fait la fille de Marshall. Ensuite, c'est le mari de Zsa Zsa Gabor, Frédéric Prinz von Anhalt, qui va déclarer avoir eu une relation de dix ans avec Anna Nicole et pourrait donc être aussi le père de l'enfant. Puis, c'est au tour de son ancien garde du corps, Alexander Denk, de déclamer être lui aussi le père de la fillette. Enfin, même la propre mère d'Anna Nicole, Virgie Arthur, va réclamer la garde de la petite et fera appel contre les décisions de justice. Si tous se rèclament la paternité de l'enfant et en veulent la garde, c'est que les enjeux financiers sont importants car Anna Nicole laisse derrière elle un héritage conséquent. En 2007, des tests ADN vont confirmer que c'est le photographe Larry Birkhead qui est le père de Dannielynn: il en obtient la garde et fait modifier le nom du père sur le certificat de naissance. La petite Dannielynn est aujourd'hui très suivie par les médias et paparazzis, et va même poser en 2012 pour une campagne publicitaire pour GUESS (voir photo ci-contre), comme sa mère dans les années 1990s.

---
---
Grande admiratrice de Marilyn Monroe, Anna Nicole s'est inspirée de la star durant toute sa vie.
Leur point commun: une enfance pas très heureuse, un mariage précoce, la prise de médicaments et d'alcool au cours de leur vie, et la même mort tragique. Anna Nicole collectionnait des photographies et posters de Marilyn, ainsi que de nombreux objets à son effigie (sacs, chapeaux, vêtements, coussins, pendules, tasses, figurines, tableaux, commodes etc...) tel qu'on a pu le découvrir lors de la vente aux enchères organisée par Julien's Auction en 2010.
> Voici un petit florilège photographique d'Anna Nicole imitant Marilyn Monroe et les attitudes des pin ups des années 1950:
> En 1997, elle reprend la chanson "My Heart Belongs to Daddy", interprétée par Marilyn Monroe dans le film "Let's make love":
> A la fin des années 1990s, Anna Nicole vit dans la maison de Marilyn au 5th Helena Drive, Brentwood, Los Angeles, dormant ainsi dans la chambre dans laquelle Marilyn est morte. Elle avait même décoré les pièces en y accrochant des cadres de Marilyn aux murs (photographies de la maison prises par Anna Nicole):
> En 2004, pour la campagne publicitaire PETA, Anna Nicole se met dans la peau de Marilyn:
> Anna Nicole chante "Happy Birthday" à Brad Will (un journaliste activiste américain, décédé en 2006) dans une émission de télévision américaine :
---
> Sources:
>> articles et photos (scans) personnels
>> photographies collectées sur le web via googleimages
>> biographie sur wikipedia in english
>> biographie sur wikipedia en français
>> video documentaire biographique sur youtube

05 juillet 2012
Du 1er juin 2012 au 2 septembre 2012, une exposition "Marilyn Monroe: The Exhibit - An Intimate Look at the Legend" se tient au Hollywood Museum, à Hollywood, en Californie, aux USA.
Pour marquer les 50 ans de sa disparition, une grande exposition autour de Marilyn Monroe est organisée à Hollywood, en collaboration avec le photographe Georges Barris qui présente des photographies jusqu'ici encore jamais vues.
Contenu de l'expo:
Des vêtements:
> Marilyn Monroe's million-dollar honeymoon dress, worn on her honeymoon for her marriage to Joe DiMaggio. This was Marilyn's favorite gown designed by Ceil Chapman, hand beaded in Marilyn's signature style. Marilyn wore this gown on numerous occasions including a USO tour to entertain 10,000 troops in Korea in 1954.
> Marilyn's famous cream colored, beaded costume worn in the 1957 film The Prince and the Show Girl.
> Personal wardrobe items including the lime green Pucci blouse Marilyn Monroe wore in the last ever photos of her taken alive, together with Marilyn's favorite furs and accessories.
> The evening cape worn by Marilyn to the 1955 world premiere of the James Dean classic East of Eden.
Des photographies:
> Never before seen photographs of Marilyn Monroe taken by her close personal friend George Barris.
> The famous "Red Velvet" photographs by photographer Tom Kelly. Shot in 1949, Marilyn was still a struggling actress, delinquent in her monthly car rental payments and on the brink of having her car repossessed. To earn quick money, Marilyn agreed to pose at a typical "day rate" for what would become this legendary photo shoot.
> Rare family photographs of Marilyn Monroe.
Objets divers:
> Furniture and artwork from Marilyn's Brentwood home, including the solid wood dresser that was next to Marilyn's bed in her bedroom the night she died.
> NBC's critically acclaimed "Smash" will have a special costume display featuring their Marilyn Monroe dresses.
> Original works of art by famed artist Robert A. Delgadillo and LUDVIC.
> Max Factor 's "Marilyn Monroe" makeup room where he created the famous "Marilyn Monroe blonde" hair including Marilyn's makeup case and other personal items on display.
> A prescription pill bottle and the Decodron vial found next to her bed at the time of her death.
> A vast photograph collection of many never-before-seen photos of Marilyn's childhood, family and early modeling career, including an array of photographs showing how Monroe lived, worked and played in Los Angeles.
> Original Magazine and newspaper articles conveying Monroe's popularity and the kinds of coverage accorded both her career and personal life.
> Marilyn Monroe's annotated film scripts, personal letters, invoices, receipts and financial accounting documents, showcasing in great detail the personal and very private life of the greatest film star of all time.
> An original Ralph Emerson Jr. High School photo showing a young Norma Jeane.
> Marilyn's personal Kodak Brownie camera from her childhood.
Et bien d'autres choses encore...
>> Sur le web:
site officiel The Hollywood Museum
site du photographe Georges Barris
site de Scott Fortner sur marilynmonroecollection
photos sur paperblog
18 novembre 2011
lot n°787: MARILYN MONROE BATHROOM TILE
A glazed terracotta tile with brown and yellow flower design purchased to be used in the bathroom of Marilyn Monroe's home, at 12305 5th Helena Drive in Brentwood, California. Accompanied by a letter of authenticity from Betty Nunez and a photograph of the bath. 5 1/2 by 1 1/2 inches
Estimate: $400 - $600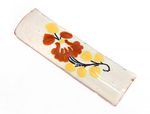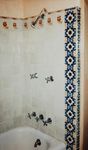 ---
lot n°788: MARILYN MONROE CANDELABRA
A pair of Marilyn Monroe owned candle candelabra, each marked "Baccarat France." Each has a rectangular base and square candle sockets. 3 by 6 inches PROVENANCE Lot 368, "The Personal Property of Marilyn Monroe," Christie's, New York, Sale number 9216, October 27 & 28, 1999
Estimate: $4000 - $6000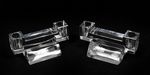 ---
lot n°806: MARILYN MONROE OWNED BOOK
A copy of Commonwealth Vs . Sacco and Vanzetti by Robert P. Weeks (New Jersey: Prentice Hall Inc., 1958) from the personal collection of Marilyn Monroe. With Christie's auction bookplate on end paper. The book explores the trials, conviction, and execution of anarchists Ferdinando Sacco and Barolomeo Vanzetti. 8 1/2 by 5 3/4 inches PROVENANCE Partial Lot 555, "The Personal Collection of Marilyn Monroe," Christie's, New York, Sale number 9216, October 27 & 28, 1999
Estimate: $800 - $1200

---
lot n°808: MARILYN MONROE OWNED LETTER OPENER
An etched and engraved sterling silver letter opener, having an engraved description reading "LEE - PAULA/ I Love You." No handle present. Length, 6 inches PROVENANCE Lot 223, "Property from the Estate of Marilyn Monroe and other Collections," Julien's, Los Angeles, June 4, 2005
Estimate: $1000 - $2000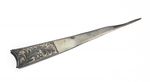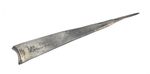 22 avril 2011
lot n°579: MARILYN MONROE OWNED BOOK
A copy of The Use of Self by F. Matthias Alexander owned by Marilyn Monroe. Black hardcover copy of the book with gold stamp lettering, stamped on interior that the item came from Foyles booksellers of London. A small slip of paper, possibly in Monroe's handwriting, placed in the book reads "Maybe its true." Alexander developed the Alexander Technique, popular with many actors. The book was sold at the landmark Christie's Marilyn Monroe auction in 1999.
Estimate: $1,000 - $2,000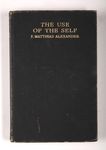 ---
lot n°580: MARILYN MONROE OWNED BOOK
A Marilyn Monroe owned copy of the book The Woman Who Was Poor by Leon Bloy. Published by Sheed & Ward, 1947. 8 by 5 1/2 inches
PROVENANCE Partial Lot 545, "The Personal Property of Marilyn Monroe," Christie's, New York, Sale number 9216, October 27 & 28, 1999
Estimate: $400 - $600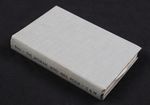 ---
lot n°581: MARILYN MONROE OWNED BOOK
A copy of Lidice by Eleanor Wheeler from the personal collection of Marilyn Monroe. Included with book is a card that reads, "With the compliments of the Czechoslovak Embassy." 8 1/4 by 5 1/2 inches
PROVENANCE Partial Lot 555, "The Personal Property of Marilyn Monroe," Christie's, New York, Sale number 9216, October 27 & 28, 1999
Estimate: $600 - $800

---
lot n°582: MARILYN MONROE OWNED BOOK
A copy of the book Miss America by Daniel Stern, published by Random House, New York, 1959. 8 1/4 by 5 1/4 inches
PROVENANCE Partial Lot 547, "The Personal Property of Marilyn Monroe," Christie's, New York, Sale number 9216, October 27 & 28, 1999
Estimate: $400 - $600

---
lot n°583: MARILYN MONROE DOCUMENTS REGARDING HER BRENTWOOD HOME
Documents from Monroe's attorney and bank regarding her interest and purchase of 12305 5th Helena Drive in Brentwood California. 11 by 8 1/2 inches
Estimate: $400 - $600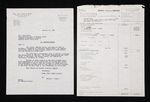 ---
lot n°584: MARILYN MONROE'S DINING ROOM TABLE
Custom made wooden table from Marilyn Monroe's Brentwood home, with round top and octagonal leg structure; brand of artist burned into bottom of table. Accompanied by a copy of a photograph of the table in Monroe's home. Diameter, 54 1/2 inches; height, 26 inches
PROVENANCE Acquired from Betty Nunez, the owner of Monroe's home after her death, .
Estimate: $5,000 - $10,000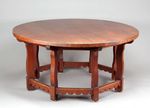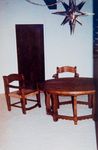 lot n°585: MARILYN MONROE MELON BALLER
A melon baller owned by Marilyn Monroe, with metal scoops on either end and wooden handle, stamped "Made In Germany." Also present is Christie's sale tag.
PROVENANCE Partial Lot 118, "Fine Manuscripts," Christie's, Los Angeles, Sale number 9814, September 20, 2001.
Estimate: $600 - $800

---
lot n°586: MARILYN MONROE CUP AND SAUCER
A Capo Di Monte coffee cup with ornated foliate design and molded cherub figures together with matching swirling saucer. Cup height, 2 1/5 inches
PROVENANCE partial Lot 463, "Personal Property of Marilyn Monroe," Christies, New York, Sale number 9216, October 27 & 28, 1999.
Estimate: $250 - $500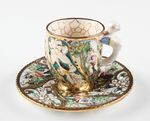 ---
lot n°587: MARILYN MONROE CREAM JUG
A small ceramic jug marked "France" on base with handpainted foliate design. Height, 4 1/2 inches
PROVENANCE partial Lot 463, "The Personal Property of Marilyn Monroe," Christies, New York, Sale number 9216, October 27 & 28, 1999.
Estimate: $200 - $400

---
lot n°588: MARILYN MONROE TRAY
A Staffordshire tray featuring a transfer printed image of a train set against a rural background bearing the mark "Made In England." Length 8 1/4 inches
PROVENANCE partial Lot 463, "The Personal Property of Marilyn Monroe," Christies, New York, Sale number 9216, October 27 & 28, 1999.
Estimate: $200 - $400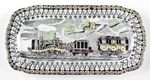 ---
lot n°589: MARILYN MONROE BEDSHEET
A white king-size flat bed sheet owned by Marilyn Monroe from her home in Roxbury, Connecticut. Accompanied by Christie's receipt.
PROVENANCE Partial Lot 341, "Film and Television Memorabilia," Christie's, New York, Sale number 7821, December 18, 1995
Estimate: $1,000 - $1,200

---
lot n°590: MARILYN MONROE TILE FROM HER BRENTWOOD HOME
A glazed terracotta tile with brown and yellow flower design purchased to be used in the bathroom of Monroe's home, at 12305 5th Helena Drive in Brentwood, California. Accompanied by a letter of authenticity from Betty Nunez. 5 1/2 by 3 inches
Estimate: $100 - $200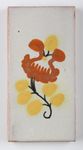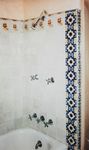 ---
lot n°591: MARILYN MONROE PRESCRIPTION PILL BOTTLE
A Marilyn Monroe prescription pill bottle from Schwab's Pharmacy in Hollywood, RX number 447184, for Phenergan, a medication used to treat allergies, prescribed to Marilyn Monroe by Dr. Kennamer and dated June 1, 1961. 2 1/4 by 1 inches
Estimate: $600 - $800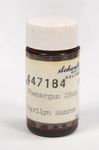 ---
lot n°592: MARILYN MONROE PRESCRIPTION PILL BOTTLES
A pair of Marilyn Monroe pill bottles. The first from Pollack-Bailey Pharmacy in New York City, dated April 11, 1960 prescribed to Mrs. M. Miller by Dr. Singer, RX number 260319, no medicine indicated, with directions to take as directed. The second, a prescription pill bottle from Canfield Corner Pharmacy of North Woodbury, Connecticut, no name on handwritten label, medicine name begins "Phenob..."; the remainder of the word is illegible, a 1/2 gram is prescribed, undated. Monroe owned a home in nearby Roxbury, Connecticut, from 1956-1960. Largest bottle, 3 by 1 1/2 inches
Estimate: $600 - $800