05 avril 2014
Quelque chose doit craquer
Captures

11ème et dernière partie des captures du film

>> source captures sur forever-marilyn.com
02 avril 2014
Après avoir annoncé leur projet de mariage, Marilyn Monroe et Arthur Miller comprennent que la presse ne leur laisserait pas de répit. C'est pourquoi ils ont décidé de quitter New York le 24 juin pour s'installer dans la propriété de Miller à Roxbury, dans le Connecticut. Mais les journalistes retrouvent leurs traces et des photographes les traquent. Quand Marilyn se réveille le matin du lundi 25 juin 1956, elle entend la clameur des journalistes du monde entier provenant de l'extérieur, cachés derrière la grande haie et même un hélicopter survole la propriété.
Ce matin là, Arthur se prépare pour se rendre à Manhattan, New York, afin de s'entretenir avec son avocat Lloyd Garrison. Mais avant de partir, pour satisfaire les médias, Marilyn et Arthur leur accordent une séance photos dans le jardin de la propriété. Ils apparaissent dans des tenues décontractées, souriants, avec Hugo, le chien de Miller. Ils affirment que le mariage n'aura pas lieu avant plusieurs jours, Miller de préciser "il n'y aura pas de mariage cette semaine" sans communiquer le lieu, puis Miller demandera aux photographes et journalistes de se retirer pour permettre à Marilyn de se reposer. Il promet une nouvelle annonce dans les jours suivants.
Puis Marilyn retourne dans la chambre à l'étage se reposer. Pendant que les enfants d'Arthur jouent dehors, Augusta Miller -la mère d'Arthur- annonce que Marilyn est épuisée et qu'elle a besoin de repos. Les journalistes vont alors en ville, dans le centre de Roxbury, pour peaufiner leur travail avec l'envoi de courrier, et pour prendre leur repas. Les résidents ne leur font pas un bon accueil, et ressentent leur présence comme une invasion.
After announcing their wedding plans, Marilyn Monroe and Arthur Miller understand that the press would not let them rest. That is the reason why they decide to leave New York on June 24 to move into the property of Miller in Roxbury, Connecticut. But reporters found their tracks and photographers stalk them. When Marilyn awakes on the morning of Monday, June 25, 1956, she hears the clamor of reporters of the worldwide outside, hidden beside the big hedge and even a helicopter flies over the property.
This morning, Arthur has to go in Manhattan to confer with his lawyer Lloyd Garrison. But before to leave, to satisfy the reporters, Marilyn and Arthur accept a photo shoot in the garden of the property. They appear in casual wear, smiling, with Hugo, the Miller's dog. They argue that the marriage will not take place for several days, Miller specify "there will be no wedding this week," without specifying the location, and then, Miller asks photographers and journalists to retire to allow Marilyn to rest. He promises a new statement in the following days.
Then, Marilyn goes back to the upstairs bedroom. While the Arthur's children play outside, Augusta Miller -Arthur's mother- announce that Marilyn is badly run down and needs rest. So reporters go in town, in Roxbury's center, to finish their works, send mails, and take their lunch. The residents don't get them a warm welcome and feel their presence as an invasion.
Photographies de Charles Carson et de Seymour Wally (pour 'NY Daily News').
---
> video

---
L'après-midi, Arthur Miller se rend au bureau de ses avocats Lloyd Garrison et Joseph L. Rauh sur Madison Avenue à Manhattan. Rauh, qui était à Washington, a préparé durant le week end des documents à faire signer à Miller, dont une déclaration sous serment contenant des extraits de ses oeuvres littéraires et des entretiens prouvant sa croyance à la démocratie. Garrison a quand à lui écrit une lettre au Président de la commission Walter demandant un délai de 10 jours pour préparer une note sur les précédents pour ne pas citer Miller pour outrage. Ses avocats voulaient que Walter reçoive la lettre avant que la commission HUAC ne se réunisse le mercredi matin.
On the afternoon, Arthur Miller goes to his lawyer's office Lloyd Garrison and Joseph L. rauh on Madison Avenue, Manhattan, NY. Rauh, who was in Washington, has prepared on the week end several documents to make draft at Miller, as an affidavit consisting of passages from his literary work and interviews that indicated a belief in democracy. And Garrison writes a letter to Chairman Walter requesting ten days to prepare amemorandum on precedents for not citing Miller for contempt. His lawyers wanted tat Walter receive the letter before HUAC meet on Wednesday morning.
---
Le soir, Arthur Miller et Marilyn Monroe posent brièvement pour les photographes avant d'aller dîner chez Morty Miller, le cousin d'Arthur, qui vit à 2 km de chez eux.
On the evening, Arthur Miller and Marilyn Monroe pose briefly for photographers before to go dinner at Morty Miller's, the Arthur's cousin, who lives at a mile and half away.

---
>> sources:
Marilyn Monroe, biographie de Barbara Leaming
Marilyn Monroe, Les inédits, de Marie Clayton.
Site corbisimages
Site de vidéos itnsource
---
© All images are copyright and protected by their respective owners, assignees or others.
copyright text by GinieLand.

30 mars 2014
Le matin du vendredi 29 juin 1956, Arthur Miller et Marilyn Monroe se rendent à South Salem (un hameau à Lewisboro, dans le comté de Westchester, Etat de New York) pour régler les documents administratifs de la licence de mariage.
A leur retour à Roxbury, ils découvrent à l'angle des rues Old Tophet et Gold Mine, un nombre considérable de voitures, devant la maison de Miller, qui bloquent les rues. Les reporters ont anticipé l'annonce faite par Miller la veille, de tenir une conférence de presse avec Marilyn. Le cousin de Miller, Morty, et sa femme Florence, invitent Arthur, Marilyn et leurs parents (Augusta et Isadore Miller) à prendre le déjeuner chez eux. Pendant leur absence, d'autres journalistes arrivent chez Miller: jusqu'à 400 journalistes se réunissent devant la maison de Miller, piétinant l'herbe et grimpant aux arbres dans l'espoir d'apercevoir le couple. Mais comme ni Marilyn, ni Arthur, ne se trouvent sur les lieux, certains journalistes mènent l'enquête pour savoir où le couple se trouve. Parmi eux, la journaliste Mara Sherbatoff, chef du bureau new-yorkais du magazine français Paris Match, accompagnée du photographe Paul Slade, et du frère de celui-ci Ira Slade, 18 ans, qui leur sert de chauffeur. Mara et Ira partent chez Morty Miller, qui habite à environ 2 km de chez Arthur alors que Paul Slade reste devant la maison d'Arthur et finit de préparer son matériel photographique. Il fait très chaud, le soleil tape beaucoup. Mara et Ira se garent devant la maison de Morty et attendent.
On the morning of Friday, June 29, 1956, Arthur Miller and Marilyn Monroe go to South Salem (in Lewisboro, a hamlet in Westchester County, New York) to set the administrative documents of the marriage license.
On their return to Roxbury, they discover at the corner of Old Tophet and Gold Mine, a large number of cars in front of the Miller House, which block the streets. Reporters anticipated the announcement made by Miller the day before, to hold a press conference with Marilyn. Miller's cousin, Morty and his wife Florence, invite Arthur, Marilyn and their parents (Isadore and Augusta Miller) to have lunch at home. During their absence, other journalists arrive at Miller's home: 400 journalists gather at the home of Miller, trampling the grass and climbing trees in the hope of seeing the couple. But as neither Marilyn nor Arthur, are not here, some journalists investigate to find where the couple is. Among them, the journalist Mara Sherbatoff, head of the New York office of the French magazine 'Paris Match', accompanied by the photographer Paul Slade, and his brother Ira​, 18 years old, who serves as their driver. Mara and Ira go to Morty Miller's house, who lives about one mile and a half from Arthur's home, while Paul Slade remains outside the home of Arthur and finish to prepare his photographic equipment. It is a very hot day, the sun is a lot. Mara and Ira are parked outside the home of Morty and wait.
---
Peu avant 13 heures, Marilyn, Arthur et Morty Miller partent dans un break. Morty conduit très vite car il connait parfaitement la petite route de campagne sinueuse et cahoteuse. Ira Slade et Mara Sherbatoff suivent le break. Peu avant l'arrivée, Ira rate un virage et s'encastre dans un chêne. Le choc est si violent que même les reporters qui attendent dans l'herbe devant la maison de Arthur, entendent le bruit. Morty arrête à son tour sa voiture et avec Arthur et Marilyn, ils courent en direction de la voiture accidentée: Ira, le conducteur, est effondré derrière le volant et Mara, assise du côté passager, a été projetée contre le pare-brise, son visage, couvert de sang, est ouvert des lèvres au front, des dents sont tombées, sa poitrine est écrasée, ses jambes sont cassées et du sang coule dans sa gorge. Elle gémit doucement. Marilyn va aider à déloger Mara et va la poser au sol, à côté de la voiture. Arthur extrait le jeune homme dont les blessures sont beaucoup moins importantes. Paul Slade se précipite sur les lieux en courant, et fait pression sur l'artère de Mara afin de stopper les écoulements de sang.
Shortly before 1 p.m, Marilyn, Arthur and Morty go in a station wagon. Morty drives very quickly because he knows perfectly the small winding and bumpy road. Ira and Mara take off after them. Shortly before the arrival, Ira misses a turn and fits into an oak. The shock was so violent that even the reporters waiting in the grass in front of the house of Arthur, hear the noise. Morty stops his car and with Arthur and Marilyn, they run towards the crashed car: Ira, the driver, is crumpled behind the steering wheel and Mara, sat on the passenger side, has been hurled partway through the windshield, her face is covered by blood, cut from the lips to the forehead, teeth are felt, his chest is crushed, her legs are broken and blood flows in her throat. She moaned softly. Marilyn help to dislodge Mara and lies down her on the ground beside the car. Arthur extract the young man whose injuries are much less important. Paul Slade rushed to the scene, and puts pressure on the artery of Mara to stop the flow of blood.
---
Marilyn, Arthur et Morty reprennent leur break et accélèrent chez Arthur. Arthur est le premier sorti de la voiture, en se précipitant dans sa maison pour prévenir les secours. Puis, Marilyn et Morty suivent; avec ses lunettes de soleil et son chemisier blanc taché de sang, Marilyn est traumatisée: "Il vient d'y avoir un méchant accident un peu plus haut. Une fille a été terriblement blessée. C'est terrible".
L'hôpital le plus proche est à New Milford. Miller apprend que l'ambulance ne sera pas là avant deux bonnes heures; c'est alors qu'il précise à l'opérateur que la fille sur la route est Marilyn Monroe et que l'histoire fera les gros titres dans la presse le lendemain, ce qui va permettre d'accélérer les choses.
Marilyn, Arthur and Morty go back in their station wagon and accelerate at Arthur's home. Arthur is the first out of the car, rushing into his house to phone at the hospital. Then, Marilyn and Morty follow; with her sunglasses and white shirt stained with blood, Marilyn is traumatized: "There's been a very bad accident up there. A girl has-been terribly hurt. It's awful."
The nearest hospital is at New Milford. Miller learns that the ambulance will not be there before two hours, then he says to the operator that the girl on the road is Marilyn Monroe and the story will make headlines in the press the next day; this will speed things up.
> photographie de Samuel Goldstein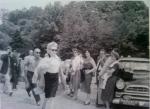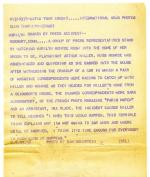 ---
Marilyn monte à l'étage pour se changer et se préparer à la conférence de presse; elle met une chemise de couleur vert moutarde et une jupe noire en lin et malgré la chaleur, Arthur enfile un pull noir en col V par-dessus sa chemise blanche. Personne ne semble vouloir annuler. L'humeur de Marilyn varie entre le bouleversement provoqué par l'accident, et la colère contre son attaché de presse qui a laissé venir la télévision, un média qu'elle déteste. Une trentaine de minutes plus tard, Marilyn est prête et sourit aux journalistes. Mais l'atmosphère qui règne est étrange et dérangeante: pendant que Marilyn, Arthur et ses parents -Isadore et Augusta Miller- posent pour les photographes, l'ambulance arrive.
Marilyn goes upstairs to change clothes and prepare for the press conference, she puts a mustard green shirt and a black linen skirt and despite the heat, Arthur puts a black V-neck sweater over his white shirt. Nobody seems to want to cancel. The Marilyn's mood varies from the trouble caused by the accident, and the anger against his press secretary who left coming television, a media she hates. Thirty minutes later, Marilyn is ready and smiles at reporters. But the atmosphere is strange and disturbing: while Marilyn, Arthur and his parents -Isadore and Augusta Miller- pose for photographers, the ambulance arrives.
---
Puis, Milton Greene, venu de Weston, gère les dernières dispositions techniques, donne des instructions aux journalistes et présente le couple aux médias, en leur précisant qu'ils n'auront que 20 minutes pour obtenir ce qu'ils veulent.
Then, Milton Greene, came from Weston, manages the latest technical provisions, gives instructions to journalists and introduce the couple to the media, stating that they will only have 20 minutes to get what they want.
---
Arthur Miller et Marilyn Monroe prennent place sous un grand érable. Marilyn va se montrer plutôt anxieuse, reportant son angoisse par des marques d'affection envers Arthur: elle caresse son épaule, l'étreint en le serrant par la taille, et elle se montre peu locace, laissant les déclarations à Miller qui lui, semble préoccupé, en embrassant le front de Marilyn, faisant de nombreux petits gestes de nervosité et fumant beaucoup. C'est la première fois, depuis sa comparution devant la commission, que les reporters l'interviewent. Le couple ne donne aucun détail sur leur mariage à la presse.
Arthur and Marilyn take place under a large maple tree. Marilyn will be rather anxious, transposing her anguish by some affection to Arthur: she caresses his shoulder, hugs him, hugging by his waist, and she shows little talkative, leaving statements to Miller who seems worried, kissing the forehead of Marilyn, making many small gestures of nervousness and smoking a lot. This is the first time since his appearance before the Committee, that the reporters interview him. The couple doesn't give any details about their marriage to the press.
> photographies de Milton Greene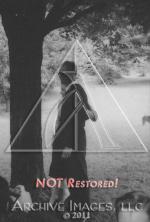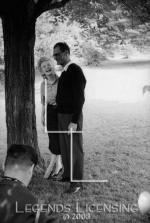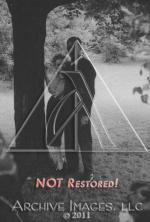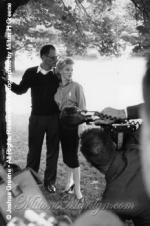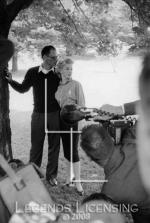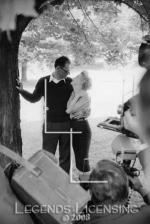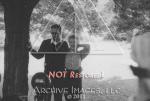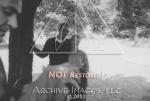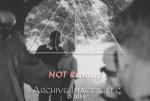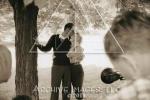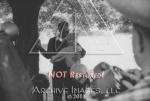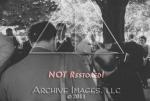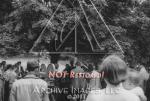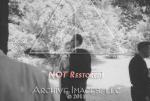 ---
Quelques déclarations:
> Arthur Miller, déclare, suite à l'accident: "Je savais que ça arriverait. Cette chose terrible explique pourquoi je ne vais pas dire où ni quand nous nous marierons. Je pense qu'il y a assez de temps pour tout le monde de savoir quand cela arrive. Si la presse ne me laisse pas seul, nous partirons d'ici pour une destination inconnue."
> Journaliste: - Mademoiselle Monroe, quel genre de mariage allez-vous avoir ?
Marilyn: - Très tranquille, j'éspère.
> Journaliste: -Un petit garçon a trois voeux: faire de l'argent en premier, devenir un ingénieur en deuxième, et en troisième, il dit "quand je serai grand, j'aimerai avoir une blonde, avec des yeux bleus, elle sera comme Marilyn Monroe".
Marilyn: -Je suis flattée !

Few Statements:
> Arthur Miller, said, refering to the accident: "I knew this would happen. This terrible thing explains why I'm not going to say when and where we'll be married. I think it's time enough for everybody to know when it happens. If the press do not leave me alone, we will leave here for parts unknown."
> Journalist: - Miss Monroe, what kind of wedding will you have ?
Marilyn: - Very Quiet, I Hope.
> Journalist: -A little boy has three wishes: make money in first, to be an engineer in second, and third, he said "when i grow up, i'd like to have a blond, she had to have blue eyes, she has to be like Marilyn Monroe".
-Marilyn: -I'm flattered !
> photographies de Milton Greene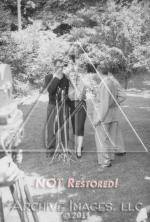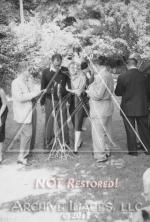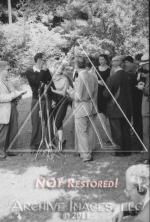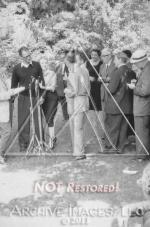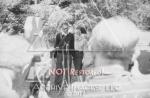 ---
Après le départ des reporters, on apprend le décès de Mara Sherbatoff sur la table d'opération de l'hôpital de New Milford. Marilyn est affolée. Paula Strasberg, qui se trouve à New York, va déclarer que l'accident est un mauvais présage, ce que va soutenir aussi Marilyn. Arthur Miller, furieux de tout ce tapage, décide alors de se marier immédiatement, s'arrangeant pour que la cérémonie se tienne au Westchester County House de White Plains.
After the reporters leave, the death of Mara Sherbatoff on the operation table at the hospital in New Milford is learned. Marilyn is distraught. Paula Strasberg, who is in New York, will report that the accident is a bad omen, wich will also the idea of Marilyn. Arthur Miller, furious of all these disturbances, then decides to marry immediately, arranging that the ceremony held at the Westchester House in White Plains.
> sur le blog: article Le Mariage Civil d'Arthur et Marilyn
---
> videos
- attente des reporters et l'accident

- accident et arrivée de Marilyn


- début de l'interview


- extrait de l'interview


- extrait de l'interview


> News TV:
USA: Arthur and Marilyn to marry
Angleterre: British Pathe People In the News

---
---
.sources:
Marilyn Monroe, biographie de Barbara Leaming
Les vies secrètes de Marilyn Monroe, d'Anthony Summers
Marilyn Monroe, encyclopédie d'Adam Victor

---
© All images are copyright and protected by their respective owners, assignees or others.
copyright text by GinieLand.
24 mars 2014
Durant la semaine précédente (du 24 au 29 juin 1956) passée à Roxbury dans la propriété de Arthur Miller, Marilyn Monroe a demandé à Augusta Miller, la mère d'Arthur, de lui apprendre des recettes de plats typiquement juifs.
Par ailleurs, Marilyn insiste pour que les Miller téléphonent à un rabbin de la branche réformée du judaïsme, Robert Goldburg, qui accepte de lui donner une brève instruction religieuse et de célébrer la cérémonie nuptiale.
During the previous week (24 to 29 June 1956) into Roxbury, at the home of Arthur Miller, Marilyn Monroe asked to Augusta Miller, Arthur's mother, to teach her recipes from typical Jewish meals.
Furthermore, Marilyn insists for that Miller phone to a rabbi of the reformed branch of Judaism, Robert Goldburg, who agrees to give her a brief religious instruction and to celebrate the wedding ceremony.
Le dimanche 1er juillet 1956, soit deux jours après la cérémonie civile du mariage, est célébré le mariage juif de Marilyn Monroe et Arthur Miller. C'est Marilyn qui avait insisté pour obtenir cette cérémonie religieuse. La cérémonie du mariage est gardée secrète jusqu'au dernier moment.
On Sunday 1st of July 1956, two days after the civil marriage ceremony, is celebrated the Jewish Wedding Ceremony of Marilyn Monroe and Arthur Miller. This is Marilyn who has insisted to obtain that religious ceremony. The wedding ceremony is kept secret until the last moment.

---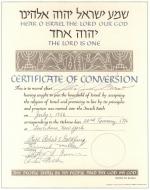 Plus tôt dans la journée, Marilyn Monroe se convertie au judaïsme -pour ce mariage- dans la ville de Lewisboro, dans l'Etat de New York: elle promet au rabbin Robert Goldburg, que tous ses enfants seraient élevés dans la foi judaïque et prête serment: "Je déclare, en la présence de Dieu et des témoins assemblés ici, rechercher le compagnonnage d'Israël".
Parmi les témoins se trouvent Arthur Miller, Kermit Miller le frère d'Arthur, et Milton H. Greene. Le rabbin lui remet un certificat de conversion (cf document ci-contre).
Earlier that day, Marilyn Monroe is converted to Judaism -for this marriage- in the town of Lewisboro in the State of New York: she promises to Rabbi Robert Goldburg, that all her children would be raised in the Jewish faith and oath "I declare, in the presence of God and witnesses assembled here, to seek companionship of Israel."
Among the witnesses are Arthur Miller, Kermit Miller the Arthur's brother, and Milton H. Greene. The rabbi gives her a certificate of conversion (see document).
---
Arthur Miller et Marilyn Monroe vont signer le Ketubah, un accord prénuptial traditionnellement juif, définissant les droits et les responsabilités de l'époux envers la mariée. Ce document (cf ci-contre), richement coloré, est imprimé sur deux oblongues de feuilles et on peut y lire: "Je suis à mon bien-aimé, et mon bien-aimé est à moi. Aucun homme sans femme, aucune femme sans homme, et ni sans Dieu". Ce certificat témoigne que Arthur Miller et Marilyn Monroe ont été unis dans le mariage dans la ville de Lewisboro, à Westchester, le 1er Juillet 1956, 22 Tamouz 5716, conformément au rite d'Israël et en conformité avec les lois de l'État de New York. Signé par le Rabbin Robert E. Goldburg et par les témoins: le frère d'Arthur, Kermit Miller, ainsi que du professeur d'art dramatique de Marilyn, Lee Strasberg.
Arthur Miller and Marilyn Monroe's ketubah, traditionally a special Jewish prenuptial agreement, outlining the rights and responsibilities of the groom in relation to the bride. This beautiful, richly colored document (see above) is printed on two oblong 8 ½ in. x 11 in. leaves and reads, "I am my beloved's, and my beloved is mine. No man without woman; no woman without man; and neither without God". This Testimonial witnesses that Arthur Miller and Marilyn Monroe were united in marriage in the city of Lewisboro, Westchester on July 1, 1956, 22nd of Tammuz 5716, In accordance with the rite of Israel and in compliance with the laws of the State of New York. Signed by Rabbi Robert E. Goldburg and witnessed by Arthur's brother, Kermit Miller, as well as Marilyn's acting coach, Lee Strasberg.
---
L'après-midi, les invités (amis et famille) attendent sur la terrasse en dalles de la propriété de l'agent littéraire de Miller, Kay Brown, une ancienne ferme, située à Waccabuc, près de Katonah, dans le Comté de Westchester, dans l'Etat de New York, pendant que les futurs mariés arrivent de Roxbury, où se trouve la propriété de Miller. Les invités sont au nombre de 25 (ou 30 selon les sources) et ne sont composés que d'amis très proches et de la famille de Miller: les enfants (Jane et Robert) et parents (Isadore et Augusta Miller) d'Arthur, son frère Kermit Miller, sa soeur Joan Copeland, son cousin Morty Miller et leurs conjoints respectifs, les Strasberg (Lee et Paula), les Greene (Milton et Amy, ainsi que Cecilia, la mère de Milton et Kitty Owen, la cuisinière des Greene), les Rosten (Norman et Hedda), mais aussi Jay Kanter (l'agent de Marilyn), le scénariste George Axelrod et le couturier John Moore. Il fait très chaud ce jour là, les hommes retirent leurs vestes et les femmes portent des petites robes d'été. De longues tables recouvertes de nappes blanches et des chaises pliantes sont installées dans le jardin, près de la baie vitrée de la maison. Comme à son habitude, Marilyn est en retard.
In the afternoon, the guests (friends and family) waiting on the flagstone terrace of the white home of literary agent of Miller, Kay Brown, a former farmhouse, located in Waccabuc, near Katonah, in Westchester County in the State of New York, while the bride and groom come from Roxbury, where there is the Miller's home. Guests are 25 (or 30 depending on the sources) and are composed of only close friends and Miller's family: children (Jane and Robert) and parents (Isadore and Augusta Miller) of Arthur, his brother Kermit Miller, his sister Joan Copeland, his cousin Morty Miller and their respective spouses, the Strasbergs (Lee and Paula) , the Greenes (Milton and Amy, and Cecilia, Milton's mother, and Kitty owen, cooker of the Greene), the Rostens (Norman and Hedda) and also Jay Kanter (Marilyn's publicist), the scriptwriter George Axelrod and the fashion designer John Moore. It is a heat day, so men remove their jackets and women wear little summer dresses. Long tables covered with white tablecloths and folding chairs are set in a large bay window. As usual, Marilyn is late.
> Milton Greene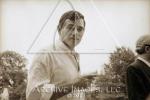 > Milton Greene avec Cecilia (sa mère) et Kitty Owen (sa cuisinière)

---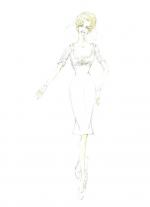 Puis Marilyn et Arthur arrivent: elle est vêtue d'un simple blue jean et se précipite dans une chambre à l'étage où la dame d'honneur, Hedda Rosten, l'aide à se changer avec la robe de mariée beige en mousseline de soie, signée des créateurs John Moore et Norman Norell, avec des fronces sur les manches et le corsage et une ceinture de satin sous le buste. Amy Greene a prêté son voile qu'elle a fait tremper dans du café une semaine auparavant, afin de renforcer l'aspect de douceur d'ombres beige du voile en auréole. (cf illustration de Michelle Shin ci-contre). Le costume qu'Arthur porte a été acheté par Milton et fourni par Jack Walker, un ami proche de Greene, qui a couru au magasin de mercerie pour hommes Mannie Walker. Miller le porte avec une cravate et a mis une fleur à sa boutonnière. Les autres dames d'honneur sont Judy Kantor et Amy Greene, qui a aidé Marilyn à se coiffer et se maquiller.

Then Marilyn and Arthur arrive: she is wearing a simple blue jeans and rushes into a room upstairs where matron of honor, Hedda Rosten, help her to change with the wedding chiffon beige dress, by the designers John Moore and Norman Norell, with ruching on the sleeves and bodice and a satin sash under the bust. Amy Greene has loaned her veil that she had soaked veil in coffee a week before, to enhance the appearance of smooth beige shadows of halo veil (see illustration below against Michelle Shin). The suit Arthur wears is actually purchased by Milton and provides by Jack Walker, dear friend of the Greene's, who runs the Mannie Walker men's haberdashery store. Miller wears a tie and put a flower in his buttonhole.
The other matrons of honor are Judy Kantor and Amy Greene, who helped Marilyn to make hair and makeup.
Cependant, Marilyn semble perturbée depuis deux jours (en fait, depuis le mariage civil du vendredi): elle est nerveuse, anxieuse et se renferme sur elle-même, comme l'ont constaté Milton et Amy Greene. Milton avait d'ailleurs téléphoné à Irving Stein, l'avocat de Marilyn pour lui demander de "se tenir prêt en cas de difficulté de dernière minute". Pendant que Marilyn se prépare dans la chambre, Milton en profite pour discuter avec elle: "Je ne t'ai pas vu sourire de toute la journée. Tu es bien sûre de ce que tu fais ? (...) Tu veux vraiment de ce mariage ? Tu n'y es pas obligée, tu sais. Si tu veux tout arrêter, ce n'est pas compliqué", lui dit Milton. Des larmes commencent à couler sur le visage de Marilyn et Amy la réconforte en lui précisant: "On peut te mettre dans une voiture pour sortir doucement par la porte de derrière. Nous, on se débrouillera avec les invités. Le mariage civil pourrait certainement être annulé avant que le rituel religieux ne vint apporter sa solennité à l'union". Et Marilyn de répondre calmement: "Non, je crois que je ne veux pas me marier".
Milton sort de la chambre et s'apprête à renvoyer tout le monde, mais Marilyn le rappele: "Non, Milton ! On a invité tous ces gens, on ne peut pas faire ça, on ne peut pas les décevoir !"
D'après Amy, Marilyn avait vu un mauvais présage dans la mort accidentelle de la journaliste Maria Scherbatoff (le 29 juin, lors de la conférence de presse donnée avec Miller à Roxbury): "Mais elle savait aussi, présage ou pas, qu'elle commettait une terrible erreur en acceptant ce mariage". D'ailleurs, un autre ami de Marilyn confie: "Elle n'était pas sûre de l'aimer, mais elle n'était pas sûre non plus de ne pas l'aimer. Au cœur de sa confusion, cependant, était son sentiment qu'elle était dépassée avec cet homme. Son insécurité allait crescendo à cette époque. Elle ne pouvait pas s'empêcher de se demander ce que cet intellectuel voulait d'elle, et cela la rendait folle. Cherchait-il juste une femme trophée, comme Joe ? C'est ce qui se passait vraiment ici."
However, Marilyn seems disturbed for two days (in fact, since the civil marriage on Friday ): she is nervous, anxious and contains about herself, as noted by Milton and Amy Greene. Milton has also phoned to Irving Stein, Marilyn's lawyer, asking him to "be ready in case of trouble of last minute." While Marilyn prepares herself in the bedroom, Milton tooks the opportunity to discuss with her: "I have not seen you smile all the day. You're very sure of what you do ? ( ... ) Do you really want to this marriage ? You are not required on it, you know. If you want to stop everything, it's not complicated, " says Milton. Tears begin to flow on the face of Marilyn and Amy comforts her by saying "We can put you in a car to go out softly by the door behind the house. We will attend the guests. Civil marriage certainly could be canceled before the religious ritual come to bring solemnity to the union." And Marilyn answers calmly, "No, I think I don't want to marry." Milton leaves the room and is about to oust everyone but Marilyn recalls him: "No, Milton ! We have invited all these people, we can't do that, we can't let down them !"
According to Amy, Marilyn saw a bad omen in the car accidental of journalist Maria Scherbatoff whi diead (on June 29, just before the press conference with Miller in Roxbury): "But she also knew, omen or not, that she was making a terrible mistake by accepting this marriage." Moreover, another friend of Marilyn says: "She wasn't sure that she loved him, but she wasn't sure she didn't. At the core of her confusion, though, was her sense that she was in over her head with this man. Her insecurity were running wild by this time. She couldn't help but Wonder what this intellectual wanted with her, and it was driving her crazy. Was he just looking for a trophy wife, as Joe had ? What was really going on here".
---
Pendant ce temps, le Rabbin Robert Goldberg et les invités patientent dans le living-room. Milton Greene accompagne Marilyn à la sortie de la chambre pour la mener au bras de Lee Strasberg, qui joue ainsi le rôle du père de substitution de la mariée en la menant à l'autel. La cérémonie, qui a lieu devant la cheminée de marbre du living-room, ne dure qu'à peine 10 minutes et se célèbre selon le rituel juif. Les époux boivent le vin rouge: Marilyn soulève son voile pour déposer ses lèvres sur la coupe. Elle prononce un "je le veux" d'une voix douce et tremblante. Ils s'échangent les alliances: au cours des deux jours précédents, Miller avait acheté un anneau d'or chez Cartier qui portait l'inscription: "A. à M., juin 1956. Maintenant Pour Toujours." Puis, Miller casse son verre en l'écrasant de ses pieds, en souvenir de la destruction de Jérusalem, et la foule s'écrie: "Mazel Tov!"
Meanwhile, Rabbi Robert Goldberg and guests wait in the living room. Milton Greene accompanies Marilyn from the bedroom and lead her to the arm of Lee Strasberg, who plays the role of a surrogate father to the bride, leading her to the altar. The ceremony, which takes place in front of the marble fireplace in the living-room, lasts just 10 minutes and is celebrated according to the Jewish ritual. The couple drink red wine: Marilyn raised her veil to submit her lips on the cup. She delivers an "I do " in a soft, tremulous voice. They shall exchange alliances: in the previous two days, Miller has bought a gold ring from Cartier's which bore the inscription: "A. to M., June 1956, Now For Ever." Then Miller crushes his glass under his feet, in remembrance of the destruction of Jerusalem, and the crowd cried "Mazel Tov!"

--- En attendant la mariée / Waiting for the bride ---
> Kermit Miller, Arthur Miller et Lee Strasberg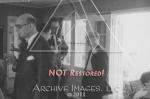 > Kitty Owen et Cecilia Greene

> Hedda Rosten, le Rabbin Goldberg et Arthur Miller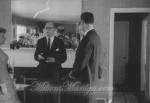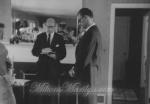 --- La cérémonie / The ceremony ---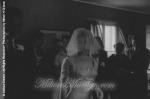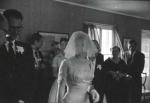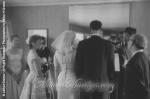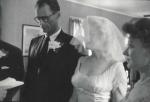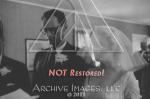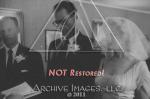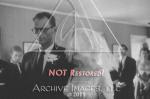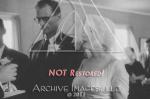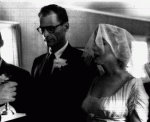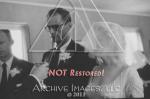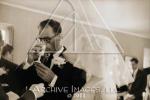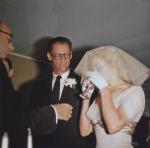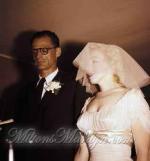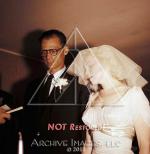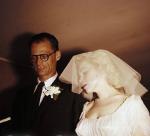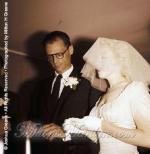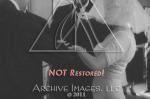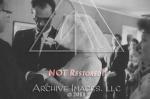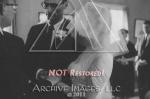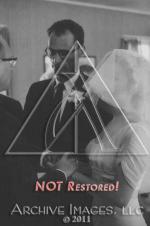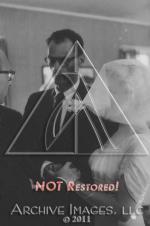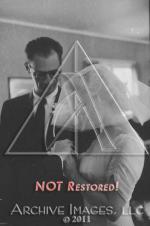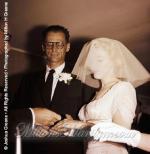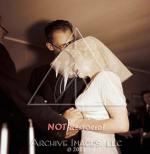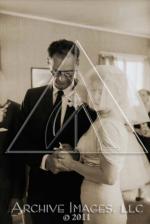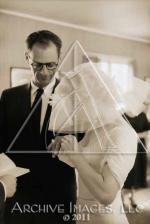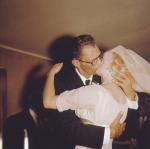 ---
Ensuite, le repas du mariage prend des airs bucoliques, avec l'organisation d'un lunch en plein air dans le jardin.
Au menu: homard, dinde et champagne, ainsi que la pièce montée (les Miller s'étaient adressés à huit pâtissiers avant d'en trouver un qui accepte de la confectionner en quelques heures). Marilyn et Arthur coupent ensemble les tranches, et s'embrassent sans retenue. Arthur Miller, habituellement stoïque, se montre très attentionnée et enchanté de sa nouvelle épouse; et Marilyn semble très heureuse. Depuis plusieurs mois, les proches de Miller ont observé une aisance physique qui l'avait complètement transformé. Norman Rosten dira: "Le conte de fées était devenu réalité. Le Prince était apparu, la Princesse était sauve." Marilyn écrira au dos d'une photographie du mariage: "Espoir, Espoir, Espoir."
Then, the wedding meal takes bucolic aspect, with the organization of a lunch outside, in the garden.
On the menu: lobster, turkey and champagne and the wedding cake (Millers had approached eight pastry before finding one who agrees to make it in a few hours). Marilyn and Arthur cut the slices together, and kiss each other without restraint. Arthur Miller, usually stoic, is very caring and delighted with his new wife, and Marilyn seems very happy. For several months, Miller's closest friends have observed a physical ease that has completely transformed him. Norman Rosten will say that "The fairy tale came true. The Prince appeared, the Princess was safe." Marilyn wrote on the back of the wedding photography "Hope, Hope, Hope."
--- Dans la maison / In the house ---
> Kitty Owen (cuisinière des Greene) et Marilyn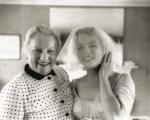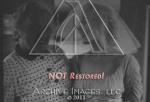 --- Sur la terrasse / On the terrace ---
> Marilyn, Arthur et Joan Copeland (soeur d'Arthur)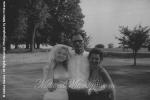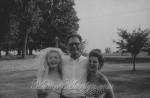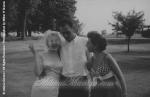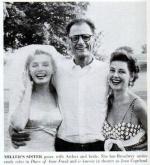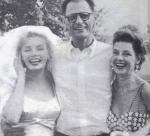 > Arthur, Marilyn et Kermit Miller (frère d'Arthur)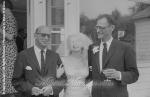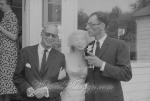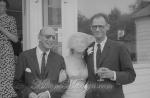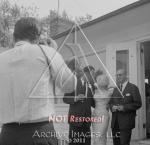 > Arthur, Marilyn et Cecilia (mère de Milton Greene)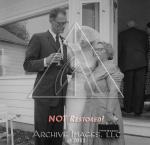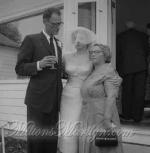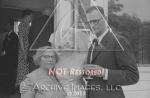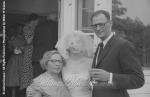 > Paula et Lee Strasberg, Marilyn et Arthur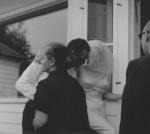 --- Le repas / The Lunch ---
---
> captures

> videos film footage


---
---
.photographies de Milton H. Greene
.sources:
Marilyn Monroe, biographie de Barbara Leaming
Les vies secrètes de Marilyn Monroe, d'Anthony Summers
Marilyn Monroe, encyclopédie d'Adam Victor
Les trésors de Marilyn Monroe, de Jenna Glatzer
Marilyn Monroe et les caméras, Georges Belmont
Life Remembering Marilyn
Marilyn in Fashion de Nickens and Zeno

---
© All images are copyright and protected by their respective owners, assignees or others.
copyright text by GinieLand.
Enregistrer
12 mars 2014
Le milliardaire
Captures

1ère partie des captures du film
08 mars 2014
Khrouchtchev
à la conquête de l'Amérique
Année: 2013
Réalisation: Tim B. Toidze
Pays: France
Durée: 59 min
En 1959, le premier secrétaire du parti communiste d'URSS Nikita Khrouchtchev effectue un voyage de dix jours aux États-Unis à l'invitation du président Eisenhower. Entre dégustations de hot-dogs et péripéties hollywoodiennes, la guerre froide en mode ludique !
Résumé: Septembre 1959. Un Tupolev 114 avec à son bord le premier secrétaire du parti communiste d'URSS atterrit à Washington. Une première pour un dirigeant soviétique. Accueilli par le président Eisenhower, Nikita Khrouchtchev – surnommé "Mister K" par la presse américaine – va traverser les États-Unis d'est en ouest pendant deux semaines. Accompagné de sa famille et entouré d'officiels, il visite Washington, New York, Los Angeles, San Francisco, Pittsburgh… À Camp David, les deux chefs d'État entament des négociations pour tenter de mettre fin à la course aux armements…
"Mister K"- Dès le début du voyage, les médias suivent chaque pas, reprennent chaque mot, commentent chaque meeting du leader soviétique sur le sol américain. Si, avant son arrivée, le bouillonnant "Mister K" inspirait plus de peur que d'amusement, ce périple de dix jours mené tambour battant va lui permettre de retourner en sa faveur la presse et le grand-public américains. Ce n'est pas faute, pourtant, de s'être mis en colère – pour avoir été empêché, par exemple, de visiter Disneyland pour des raisons de sécurité – ni d'avoir eu des escarmouches, notamment, avec le maire de Los Angeles ! Mais il a aussi raconté des blagues, et donné sa montre à un ouvrier d'une usine de l'Iowa… Bref, ce one-man show a amplement fourni les rédactions en hot news et les journalistes américains l'ont adoré ! Ce film montre comment cette "conquête de l'Amérique" aurait pu être un tournant dans l'histoire de la guerre froide…
>> Diffusé en France sur arte le mardi 4 mars 2014
>> à revoir en replay jusque lundi 10/03/14
Après avoir passé deux jours à New York, Nikita Khrouchtchev se rend à Hollywood, où la Fox a organisé un grand banquet avec de nombreuses stars, dont Marilyn Monroe, qui va d'ailleurs être interviewée après le discours de Mister K.
Retranscription du passage de K à Hollywood:
(à 22min) Bien qu'avant que Khrouchtchev n'arrive dans l'usine à rêve (à Hollywood), tout le gratin d'Hollywood s'est retrouvé au Café de Paris où se tient le déjeuner avec le dirigeant communiste. Même Marilyn Monroe, pourtant connue pour son retard légendaire, arrive en avance.
Après un rapide repas, le président de la Fox, Spyros Skouras, prend la parole. Son discours commence de manière inattendue (il boit un verre et serre la main à Kroutchev, sous les rires de l'assemblée): "Monsieur le secrétaire, ceci ne faisait pas partie de mon discours. Mais, votre pays est la plus grande entreprise capitaliste, le plus grand monopole du monde entier ! Un bon monopole ! Très bon ! En toute modestie, je vous demande de me regarder. Mes deux frères et moi avons grandi dans un minuscule village grec. Nous venons d'une famille très pauvre. En 1910, nous sommes venus vivre ici. Je suis devenu commis serveur. Grâce au système américain d'égalité des chances, j'ai aujourd'hui le bonheur d'être le président de la 20th Century Fox."
Au tour de Khrouchtchev de livrer son discours: "Vous me faîtes une excellente impression et je tiens à vous exprimer tout mon respect. Mais cela ne m'épate tant que cela. Vous voulez savoir qui je suis ? J'ai commencé à travailler dès que j'ai su marcher. Avant mes 15 ans, j'avais déjà eu une longue liste de métiers. J'ai gardé les veaux, moutons et vaches des capitalistes. Puis j'ai travaillé à l'usine et à la mine. Et regardez-moi ! Aujourd'hui je suis le premier ministre de l'U.R.S.S ! L'Amérique est un beau pays. Les Américains sont formidables. Je suis l'invité de votre Président et de votre merveilleux pays. Mes camarades et moi sommes enchantés de notre séjour. Avant mon arrivée ici, on m'avait donné le programme de ce que j'allais voir. Mais avant mon discours, on m'a dit: 'Non, vous ne pourrez pas visiter cette ville là'. -Comment s'appelle-t-elle ? -Disneyland. J'ai demandé pourquoi et on m'a répondu 'C'est impossible'. Ecoutez bien ! Ecoutez bien ce qu'on m'a dit: 'C'est impossible parce que nous, les autorités américaines, ne pouvons pas y garantir votre sécurité.' Pourquoi ? Y a-t-il une épidémie de peste ou de choléra ? Est-ce que je risque de tomber malade ? Des gangsters ont-ils envahi Disneyland ? Veulent-ils me tuer ? J'avais très envie de voir cet endroit mais je ne peux pas. Voici la situation dans laquelle moi, votre invité, je me trouve. Cela me dépasse. Moi qui croyais que ce pays était bien organisé ! Je ne pensais pas que ma sécurité impliquerait d'être enfermé dans une voiture blindée, sous un soleil de plomb, pendant des heures, jusqu'à ce que je sois complétement desséché ! Je croyais pouvoir me balader librement, parmi les citoyens de cette démocratie, mais non, c'est impossible. C'est grand dommage. Je suis très déçu et très mécontent. Merci de votre attention."
Beaucoup dans l'assistance peinent à y croire: viennent-ils d'assister à une colère du dirigeant de la seconde puissance mondiale parce que sa visite à Disneyland a été annulée ? La réponse est Oui!
Marilyn Monroe est interviewée:
"-Qu'avez-vous pensé du spectacle aujourd'hui ?
-C'était très intéressant.
-Qu'avez-vous trouvé intéressant ?
-Presque tout.
-Et les improvisations ?
-Intéressantes, très intéressantes.
-Vous vous attendiez à ça ? A quoi vous attendiez-vous ?
-A du rosbif ! (crie quelqu'un de loin)
-A que ce soit intéressant."
D'une super production à une autre, sur le plateau 8, la comédie musicale de Cole Porter "Can-Can" est en cours de tournage (avec Shirley MacLaine, Frank Sinatra et Louis Jourdan). Commentaire de Khrouchtchev: "Notre visite à coincider au tournage d'une scène où des jeunes femmes en costumes s'apprêtaient à danser le french cancan. Pendant la danse, elles ont relevé leurs jupons et montré leur derrière, enfin, pas tout à fait, elles ont tout de mêm gardé leurs culottes. Mais quand même ! D'après ce que j'ai vu, c'était un film très Olé Olé. Nous, les soviétiques, nous n'avons pas l'habitude de voir ça. C'était un film pour adultes."
Parmi les invités, d'autres se posent la même question: Mais pourquoi donc avoir choisi ce film précis pour mettre Hollywood en avant ? Une fois la scène de french cancan terinée, K n'a l'air ni choqué, ni offensé. Commentaires de K: "A ce moment là, les photographes ont commencé à me mitrailler, entouré de toutes ces jeunes femmes. J'en entendais un, dire à l'une d'elle qui se trouvait juste à côté de toi: Soulève ton jupon, plus haut, plus haut, plus haut ! Apparemment, il voulait prendre une photo coquine de moi. C'était un geste délibérément anti-soviétique. Je pense qu'il voulait me discréditer en prenant une photo pareille. Je l'imagine dire: 'Regardez, Khrouchtchev est allé à Hollywood et a posé avec des jeunes filles légèrement vêtues'."

(générique de fin): quelques images de Marilyn en couleur.
Enregistrer
27 février 2014
La déposition de Arthur Miller devant la commission des activités antiaméricaines a lieu le 21 juin 1956 à Washington et débute peu avant 10 heures. Miller s'y présente, vêtu d'un costume bleu marine, avec son avocat Joseph L. Rauh et fait face aux questions de Richard Arens, le représentant de l'HUAC (House Un-American Committee) et à Francis Walter, le Président de la cour; Miller affirme s'être inscrit à un cours de formation marxiste en 1939 mais dit ignorer avoir présenté une demande d'inscription au parti communiste. Il déclare alors qu'il n'avait jamais été communiste, mais il reconnaît avoir été associé par le passé avec un certain nombre de groupes communistes. Il déclare avoir été présent à cinq ou six réunions d'auteurs communistes à New York en 1947.
Mais il a toujours refusé de nommer les personnes qu'il avait rencontrées à des réunions communistes et déclare devant les parlementaires: "Je ne protège pas des communistes ni le parti communiste, j'essaie juste de me protéger moi-même (...) Je ne saurais attirer des ennuis à d'autres personnes en les nommant. C'étaient des écrivains, des poètes, autant que je sache; et la vie d'écrivain, malgré ce qu'il semble parfois, n'est pas facile. Je vous demande de ne pas me poser cette question. Je vous dirai tout ce que vous voulez sur moi. Je vais prendre la responsabilité pour tout ce que j'ai fait, mais je ne peux pas prendre la responsabilité pour un autre être humain. (...) Je pense que cela serait une catastrophe et une calamité si le parti communiste dirigeait notre pays."
Il déclare aussi qu'il avait dénoncé la Commission quand elle enquêtait sur les « Dix d'Hollywood » (les scénaristes mis sur la liste noire à cause de leurs opinions politiques considérées dangereuses) ; qu'il s'était opposé à la loi Smith, laquelle considérait hors la loi quiconque prônait le renversement du gouvernement car pour Miller "la littérature ne peut exister: un homme doit pouvoir écrire une pièce ou un poème sur quelque sujet que ce soit."
Ses déclarations sont reproduites dans la presse et, pour le plus grand plaisir de Marilyn, il devient une sorte de modèle de lutte contre la censure et la répression.
Immédiatement, Francis Walter menace de citation à comparaître, mais il propose en alternative à Joseph Rauh d'abandonner les charges si Marilyn Monroe acceptait d'être photographiée en serrant la main à Walter; Miller rejete l'offre et dénonce une telle proposition.
Arthur Miller's testimony before the Committee on Un-American Activities helds on June 21, 1956 in Washington and begins shortly before 10:00 am. Miller presents, wearing a navy blue suit, with his attorney Joseph L. Rauh, and faced the questions from Richard Arens, the HUAC counsel (House Un-American Committee) and Francis Walter, the chairman; Miller says he enrolled in a course of training Marxist in 1939 but says to ignore have submitted an application for registration of the Communist Party. He testifies then that he had never been a Communist, but he acknowledges that he had been associated in the past with a number of Communist-front groups. He testifies he was present at five or six meetings of Communist authors in New York in 1947.
But Miller always refused to name the people he met at Communist's meetings and declare before parliamentarians: "(...) I am not protecting the Communists or the Communist Party, I am trying to and I will protect my sense of myself. (...) I could not use the name of another person and bring trouble on him. There were writers, poets, as far as I could see, and the life of a writer, despite what is sometimes seems, is pretty tough. I wouldn't make it any tougher for anybody. I ask not to ask me that question. I will tell you anything about myself, as I have. I will take the responsability for everything I have ever done, but I cannot take responsability for another human being. (...) I think it would be a disaster and a calamity if the Communist Party ever took over this country".
He also says that he has denounced the Commission when they investigated against the "Hollywood Ten" (the writers put on the blacklist because of their political views considered dangerous), and that he was opposed against the Smith Act, which considered outlaws anyone advocating the overthrow of the government as to Miller "literature can not exist: a man must be able to write a play or a poem on any subject whatsoever"
His statements are reproduced in the press and, to the delight of Marilyn, he becomes a kind of model of struggle against censorship and repression.
Immediately, Francis Walter threats of subpoena, but he offers an alternative to Joseph Rauh to drop the charges if Marilyn Monroe agreed to be photographed shaking hands with Walter; Miller rejects the offer and denounces such a proposal.
> Arthur et son avocat Joseph L. Rauh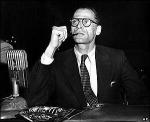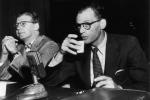 A 12h30, pendant une pause, Arthur Miller, fumant une cigarette, répond aux questions des journalistes. Ils lui demandent pourquoi il désirait un passeport (qui lui avait été retiré) pour se rendre en Angleterre: "Mon objectif est double. D'abord, pour la mise en scène en Angleterre de ma pièce 'Vue du pont'; je veux participer aux discussions; puis cela me permettra d'être là-bas avec la femme qui sera alors mon épouse." Face à l'insistance des reporters, il finit par avouer vouloir épouser "sous peu" Marilyn Monroe, et que la cérémonie aura lieu soit à New York, soit dans le Connecticut où "j'ai mon refuge".
Arthur sera de retour à New York tard dans la soirée.
Un mois après cette audience, la Chambre des représentants accuse Miller de mépris envers le Congrès (risquant une condamnation d'un an de prison). Miller fait appel et sera acquitté deux ans plus tard.
At 12:30 pm, outside the caucus room, Arthur Miller, smoking a cigarette, answers to journalists who ask him why he wanted a passport (which was taken back to him) to go in England: "The objective is double. I have a production which is in the talking stage in England of 'A View from the Bridge', and I will be there with the woman who will then be my wife". At the insistence of reporters, he finally admitted wanting to marry Marilyn Monroe within a couple of days, and that the ceremony will occur either in New York or Connecticut where "I have a hideaway cabin".
Arthur returns to New York later in that evening.
One month after the audience, the House of Representatives accuses Miller of contempt for Congress (possibly to be condamned for one year in prison). Miller appeales and will be acquitted two years later.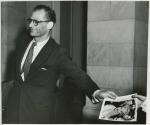 > video


---
Marilyn Monroe souhaitait accompagner Miller à Washington, mais il lui a demandé de rester plutôt à New York; Marilyn l'attend alors dans son appartement de Sutton Place.
Les reporters vont assiéger l'immeuble de Marilyn dès le matin.
Marilyn Monroe wanted to accompany Miller to Washington, but he asked her to stay rather in New York; Marilyn then waits in her apartment in Sutton Place.
Reporters will besiege the building of Marilyn in the morning.
Quand les reporters croisent Marilyn, ils lui demandent de commenter la déposition d'Arthur Miller devant le Congrès mais elle préfère échapper à la question en répondant: "Je ne connais pas grand chose à la politique. Il va falloir que je lui (Miller) parle mais je pense qu'il est très fatigué." Deux ans plus tard, quand Miller sera acquitté, elle dira n'avoir jamais douté du résultat car "j'ai étudié Thomas Jefferson pendant des années et que, selon Thomas Jefferson, cette affaire devait se résoudre ainsi..."
Marilyn préfère jouer les ignorantes et les ingénues face à la presse, mais elle a toujours soutenu Miller et s'est initiée à la politique. Il semble que le fait que Marilyn ait soutenu Miller ait joué en la faveur de ce dernier. La presse le présente alors comme "l'amant persécuté du sex-symbol national". On dit même qu'elle l'aurait aidé dans les frais onéreux de dépenses pour sa défense.
Elle dira à l'écrivain anglais W.J. Weatherby en 1960: "Certains de ces salopards d'Hollywood voulaient que je laisse tomber Arthur, ils disaient que cette histoire allait ruiner ma carrière. Ce sont des trouillards, ils veulent que vous soyez comme eux."
When reporters meet Marilyn, they ask her to comment on the testimony of Arthur Miller before the Congress but she prefers to avoid the question, answering: "I do not know much about politics. I'm going to have him (Miller) talk but I think he is very tired." Two years later, when Miller will be discharged, she will say she never doubted about the results because " I studied Thomas Jefferson for years and, according to Thomas Jefferson, this case should be resolved as well ..."
Marilyn prefers to play an ignorant and naive person to the press , but she has always supported Miller and was learned politics. It seems that the fact Marilyn has supported Miller has played in his favor. The press then appears him as "the persecuted lover of the national sex symbol." It is even said that she would have helped him in the expensive costs of expenses for his defense.
She will tell to the English writer W.J. Weatherby in 1960 : "Some of those Hollywood bastards wanted me to drop Arthur, they said that this story would ruin my career. They are cowards, they want you to be like them. "
---
Quand à l'annonce de Miller d'un mariage imminent avec Marilyn, il existe différentes versions:
> Arthur Miller affirme dans son autobiographie que le mariage était prévu depuis longtemps avant sa comparution devant la commission. D'ailleurs, la veille, le 20 juin, le New York Post révélait le mariage imminent.
> L'autre version, qui est celle la plus reprise dans les biographies, est que Marilyn ignorait les projets de mariage et aurait appris la nouvelle en regardant la télévision. Elle aurait ainsi appelé, en étant quasiment affolée, Norman et Hedda Rosten qui vivent à Brooklyn: "Tu as appris ça ? Il a dit à tout le monde qu'il se mariait avec Marilyn Monroe. Avec moi ! C'est incroyable, il ne me l'a jamais vraiment demandé ! Il faut que tu viennes tout de suite. J'ai besoin d'être soutenue moralement. Je devrais même dire: au secours ! Je suis assiégée, bloquée dans mon appartement. Il y a des journalistes qui essaient de rentrer. Il y en a partout dans l'immeuble."
Les Rosten se sont demandés si Miller n'utilisait pas Marilyn pour se faire valoir, mais ils ne préfèrent pas révéler leur pensée à Marilyn, de peur de la peiner. D'ailleurs, même Rupert Allan, son attaché de presse, affirme que "Marilyn admira Miller à partir de ce jour, bien que sa façon d'annoncer le mariage l'ait perturbée... Je crois qu'il l'a utilisée."
Un ouvrier serait venu réparer la climatisation dans l'appartement de Marilyn et il semblerait qu'en bavardant avec lui, elle lui aurait confirmé qu'elle se marierait avec Miller. Il le répéta vite aux journalistes.
Miller va appeler Marilyn pour lui dire qu'il lui parlerait de tout ça de visu. Ensuite, c'est Hedda Hopper, une fervente anti-communiste et vipère d'Hollywood, qui l'appele de Los Angeles et Marilyn lui confirme la nouvelle: "Je suis très heureuse de mon imminent mariage. Je vais me marier entre maintenant et le 13 juillet. Je ne sais pas encore où ni la date exacte." Elle lui dit aussi avoir reçu un appel de Spyros Skouras, ce qui était faux, afin de faire croire que son union avec Miller était soutenue par les studios de la Fox.
Une conférence de presse est organisée l'après-midi dans le hall de l'immeuble et Marilyn répond ainsi aux questions des nombreux journalistes présents. Certaines réponses de Marilyn font rire l'assistance: une journaliste lui demande "Quand allez-vous avoir des enfants ?" et Marilyn de répondre: "Mais je ne suis pas encore mariée ma chère !"
About the announcement of Miller of an imminent marriage with Marilyn, there are different versions:
> First, Arthur Miller says in his autobiography that the wedding was planned long before his appearance before the commission. In fact, the day before, on June 20 , the New York Post has revealed the upcoming marriage.
> The other version, which is the most repeated in biographies, is that Marilyn -in tight beige toreador pants- didn't know the wedding plans and would heard the news in watching TV. She latter calls, being almost hysterical, Norman and Hedda Rosten in Brooklyn Heights: "Do you learn that ? He announced it before the whole world ! He told the whole world he was marrying Marilyn Monroe. Me ! Can you believe it ? That's unbelievable, he has never really asked me ! You have to come down right away, both of you. I need moral support. I mean, help ! I'm surrounded here, locked in my apartment. There are newspapermen trying to get in, crawling all over the place, in the foyer, in the halls. I told the elevator men to let you through."
The Rosten wondered if Miller did not use Marilyn to make him better before the commission, but they prefer to don't reveal their thoughts to Marilyn, for fear of pain her. Moreover, even Rupert Allan, the press secretary, says that "Marilyn admired Miller from this day, although his way of announcing the marriage was disturbed her... I think he used her. "
An air-conditioner repairman, who was working in Marilyn's eight-floor apartment, repeats to reporters that by chatting with Marilyn, she confirms that she would marry Miller.
Miller later calls to Marilyn to tell her that he would speak of that when he will come back. Then, that's Hedda Hopper, a fervent anti-communist and an Hollywood viper, who calls from Los Angeles and Marilyn to confirm the news: "I'm very happy about my forthcoming marriage. I'm marrying between now and July 13. I don't know where and I don't know the exact date."; she tells also to Hedda that she has received a call from Spyros Skouras, that was in fact wrong, in order to make believe that the union with Miller was supported by Fox studios.
A press conference is organised in the afternoon in the lobby of the building and Marilyn answers to the questions from the many reporters. Some Marilyn's answers make fun the reporters: when a female journalist ask her "When are you going to have some children ?", Marilyn answers: "Well, I'm not married yet dear !"

> Conférence de presse improvisée dans le hall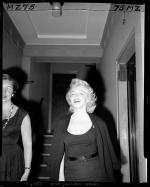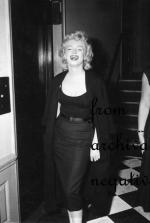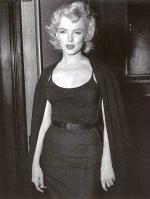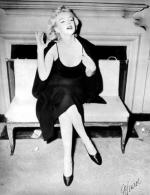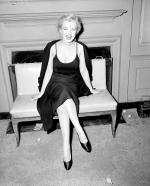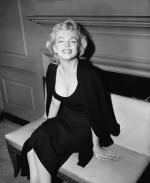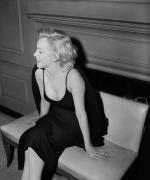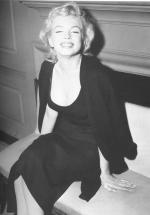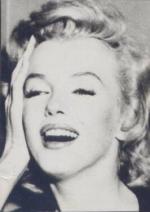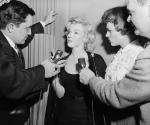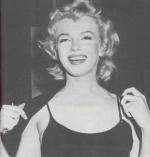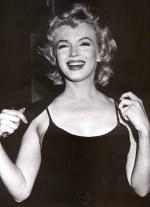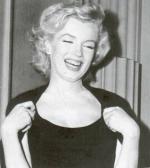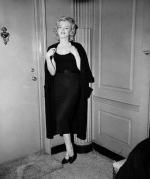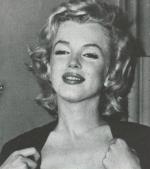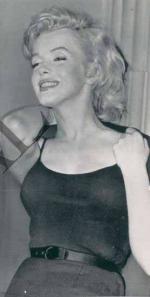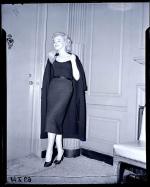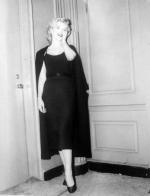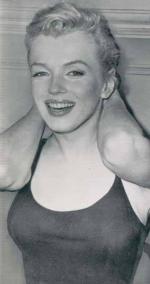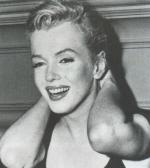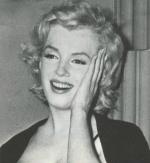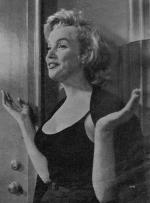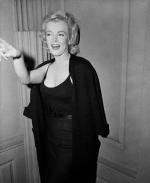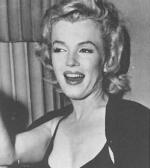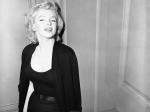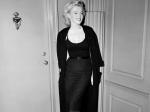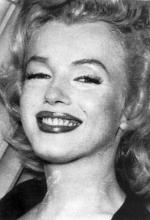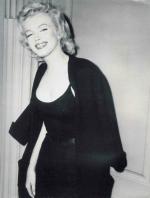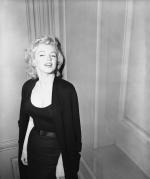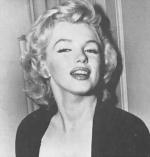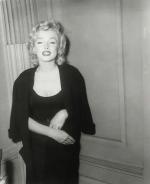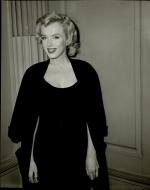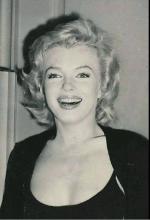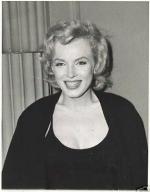 ---
---
> video 1


> video 2


> video 3

---
sources:
Marilyn Monroe, biographie de Barbara Leaming
Les vies secrètes de Marilyn Monroe, d'Anthony Summers
Marilyn Monroe, encyclopédie d'Adam Victor
Les trésors de Marilyn Monroe, de Jenna Glatzer
Marilyn Monroe et les caméras, Georges Belmont
article du nytimes.com
---
© All images are copyright and protected by their respective owners, assignees or others.
copyright text by GinieLand.
26 février 2014
Le milliardaire
Captures

2ème partie des captures du film
21 février 2014
Journée du dimanche 5 août 1962, au lendemain du décès de Marilyn Monroe.
Day of Sunday, August, 5, 1962, the day after the death of Marilyn Monroe.
---
> à 4h25: Le Dr Hyman Engelberg (docteur généraliste de Marilyn) téléphone à la police (the West Los Angeles Police Station) pour dire que "Marilyn Monroe est morte. Elle s'est suicidée. Je suis chez elle."
at 4.25 am: Dr. Hyman Engelberg (Marilyn's doctor) calls the police (the West Los Angeles Police Station) to say "Marilyn Monroe died. She committed suicide. I'm at her home."
---
> à 4h30: les employés de l'agence de publicité d'Arthur Jacobs sont prévenus de la mort de Marilyn et décident de se retrouver à sa maison au Fifth Helena Drive. Michael Selsman se souvient: "C'était la panique, bien sûr. Les événements étaient déjà hors de contrôle, et là, elle était morte, la presse n'était pas contrainte de cacher ce qu'ils savaient, sauf, bien sûr, pour les choses sur Kennedy, qui sont apparues plus tard. Je repoussais les médias en disant que nous ne savions pas quelle était la cause de la mort, parce que nous ne le savions pas."
at 4.30 am: the employees of the advertising agency of Arthur Jacobs are notified of the death of Marilyn and decided to go to her home at Fifith Helena Drive. Michael Selsman remembers: "It was panic of course. Events were already out of control, and now she was dead the press didn't fell constrained to hide what they knew -except, of course, for the Kennedy stuff, which came later. I fended off the media by saying we didn't know what the cause of death was, because we didn't."
---
> à 4h40: Le sergent Jack Clemmons est le premier policier à arriver au domicile de Marilyn; il découvre Eunice Murray (la gouvernante) en train de faire le ménage, nettoyant la maison et mettant une lessive dans la machine à laver, avec d'autres linges propres pliés à côté, et les Dr Greenson et Engelberg dans la chambre avec le corps de Marilyn gisant dans son lit à plat ventre sous les draps: "Son corps avait été bougé. Marilyn était allongée sur le ventre dans ce que j'appelle la 'position du soldat'. Son visage était appuyé contre un oreiller, ses bras étaient sur les côtés, le bras droit légèrement plié, et ses jambes étaient parfaitement alignées, comme si elle prenait la pose pour des photos. J'avais l'impression d'arriver sur une scène de crime. J'étais déjà intervenu sur des scènes de suicides par barbituriques, et avant de mourir, les victimes font des convulsions, vomissent et leurs corps sont en distorsions. (...) Les boîtes de pillules posés sur la tablette avaient été clairement disposées en bon ordre et le corps délibérément repositionné. Tout semblait trop rangé."
at 4.40 am: Sergeant Jack Clemmons was the first police officer to arrive at the Marilyn' home, he discovers Eunice Murray (the housekeeper) doing housework, cleaning the house and putting a laundry in the washing machine, with other clean cloths folded side, and Dr. Greenson and Engelberg in the bedroom with Marilyn's body lying in bed face down under the sheets, "Her body seemed to have been moved. Marilyn was lying face down in what I call the soldier's position. Her face was in a pillow, her arms were by her side, her right arm was slightly bent, and her legs were stretched out perfectly straight, as if she were posing for pictures. It was the most obviously staged death scene I have ever seen. I had already seen scenes of suicides by barbiturates, and before dying, victims suffer convulsions and vomiting in a somewhat contorted position.. (...) The pill bottles on her bedside table had been arranged in neat order and the body deliberately positioned. It all looked too tidy".
> Chambre de Marilyn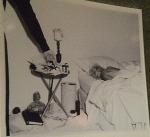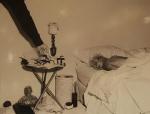 photographies de Dan Tompkins >>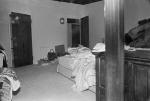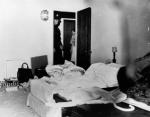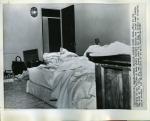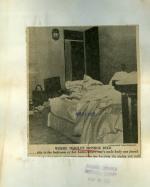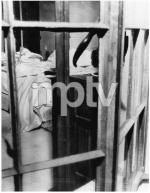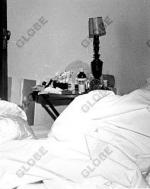 > Les boîtes de pillules sur la table de nuit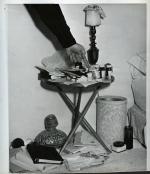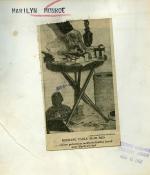 - photographies de Barry Feinstein >>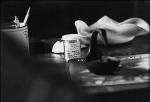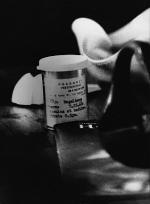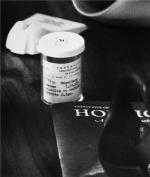 > Le fil du téléphone passant sour la porte de la chambre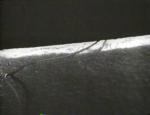 ---
Arrivée de l'inspecteur Robert E. Byron, qui recueille les déclarations du Dr Greenson, du Dr Engelberg et de Eunice Murray. Il consigne dans son rapport officiel: "L'opinion de l'officier de police est que Mrs Murray était aussi vague et évasive que possible dans ses réponses aux questions concernant les activités de Miss Monroe avant sa mort."
Arrival of Inspector Robert E. Byron, whoh collects reports of Dr. Greenson, Dr. Engelberg and Eunice Murray. He writes in his official report: "The opinion of the police officer is that Mrs. Murray was vague and evasive as possible in her answers to questions about the activities of Miss Monroe before her death."
---
> Vers 5 h, le journaliste Joe Ramirez (qui travaillait pour la petite agence "City News") reçoit un appel lui annoncant le décès de Marilyn; mais l'information arrive trop tard pour paraître dans les journaux du jour.
> William "Bill" Woodfield (photographe) et Joe Hyams (correspondant au "New York Herald Tribune") se rendent ensemble chez Marilyn sitôt qu'ils apprennent la nouvelle.
Tout comme James Bacon (chroniqueur d'"Associated Press") qui racontera: "Je recourus à une vieille ruse; je me suis présenté devant un flic en prétendant que le bureau du coroner m'avait dépêché sur place. Je suis entré dans la maison mais ne suis pas resté longtemps, juste le temps pour la voir gisant sur son lit. Je remarquai que ses ongles étaient négligés."
Around 5 am, the journalist Joe Ramirez (who worked for the small agency "City News") receives a call announcing the death of Marilyn, but the information comes too late to appear in daily newspapers.
> William "Bill" Woodfield (photographer) and Joe Hyams (corresponding to the "New York Herald Tribune") go together at Marilyns soon as they hear the news.
Just as James Bacon (columnist of "Associated Press") that will tells: "I resorted to an old trick, I introduced myself to a cop claiming that the coroner's office had sent me there. I went into the home but did not stay long, just long enough to see lying her on bed. I noticed that his nails were overlooked."
Au Fifth Helena Drive, chez Marilyn, une foule de personnes se constitue peu à peu, s'agglutinant aux abords de la maison: des journalistes reporters de la télévision, de la radio, de la presse, des paparazzis, des camions et voitures obstruent la rue.
De nombreuses photographies sont prises autour de la maison: devant le patio, la chambre à travers la fenêtre, mais aussi le jardin, où l'on y voit deux animaux en peluche dans l'herbe devant la piscine; Marilyn avait reçu la veille (le 4 août), par colis, un tigre en peluche, dont on ne connait pas le destinataire.
At Fifth Helena Drive, at Marilyn's home, a crowd of people is gradually agglutinating near the house: journalists, reporters from television, radio, press, paparazzi, trucks and cars clog the street.
Many photographs are taken around the house: front patio, the bedroom through the window, but also the garden, where we see two stuffed animals in the grass in front of the pool; Marilyn had received the day before (August 4) per package, a stuffed tiger, which we don't know the recipient.
> Devant le portail de la maison de Marilyn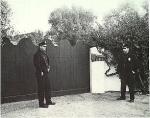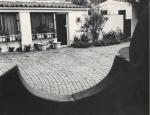 > Devant la maison


- photographies de Lawrence Schiller >>

> Dans le jardin, la piscine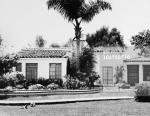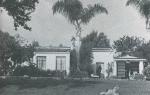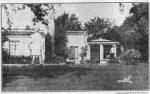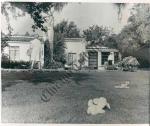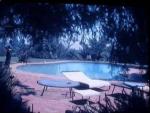 - photographie de Dan Tompkins >>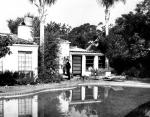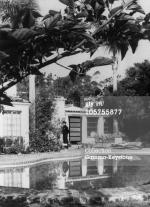 - photographie de Barry Feinstein >>

> La fenêtre de la chambre de Marilyn
dont le carreau a été cassé par le Dr. Engelberg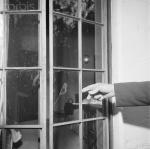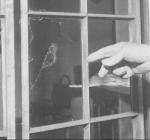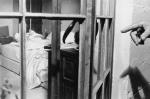 - photographies de Gene Anthony >>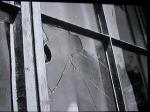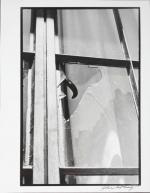 ---
> Vers 5h10: Jack Clemmons est remplacé par un officier de police d'un grade supérieur (le chef de la police William Parker) pour mener l'enquête et ainsi, soumettre au silence Clemmons qui avait relevé plusieurs faits incohérents (Murray lui avait informé qu'elle avait découvert le corps à minuit, alors qu'elle affirmera par la suite avoir découvert le corps à 3h; d'après Clemmons, le décès devait remontait à environ 8 heures). Clemmons va ensuite appeler son collègue Jim Dougherty, le premier mari de Marilyn, pour l'informer du décès de celle-ci.
Around 5.10 am: Jack Clemmons is replaced by a police officer of higher rank (the Chief policer William Parker) to investigate and thus submit to silence Clemmons who had identified several inconsistent facts (Murray had informed him she had discovered the body at midnight, while she will affirm after to have discovered the body at 3 am; for Clemmons, the death had occurred some 8 hours before). Clemmons will then call his colleague Jim Dougherty, the first husband of Marilyn, informing him of the Marilyn's death.
Arrivée de l'officier Don Marshall qui fouille la maison à la recherche d'un message attestant le suicide. Il interroge les plus proches voisins de Marilyn, Mr et Mrs Abe Landeau, qui déclarèrent n'avoir rien entendu de suspect pendant la nuit.
Arrival of the officer Don Marshall who search in the house a message stating suicide. He asks the nearest neighbors of Marilyn, Mr. and Mrs. Abe Landeau, who declared to have heard nothing suspicious during the night.
---
> L'envoyé du coroner, Guy Hockett constate que le décès "remonte à plusieurs heures. Elle était raide et il fallut près de 5 minutes pour la redresser. (...) Elle gisait, assez droite, dans une position semi-foetale. Ses cheveux, desséchés, étaient en très mauvais état à cause de tous ces traitements. Elle n'était pas très belle à voir, au point qu'on avait du mal à croire que c'était bien elle. On aurait dit une pauvre femme ordinaire qui venait de mourir. Pas de maquillage, les cheveux négligés sans mise en plis, un corps fatigué. Nous eûmes tous la même impression, à des degrés divers."
The representative of the coroner Guy Hocknett notes that the death "goes back several hours. She was stiff and it tooks about 5 minutes to recover her. (...) She lays quite right in a semi-fetal position. Her hair, dried, were in very poor condition because of all these treatments. She was not very nice to see, to the point that it was hard to believe it was really her. She seemed as a poor ordinary woman who had just died. No makeup, hair styling neglected, a tired body. We had all the same impression, to varying degrees."
---
> Vers 5h30: Patricia Newcomb arrive à la maison de Marilyn (elle racontera avoir été prévenue par téléphone à 4 h par Milton Rudin, l'avocat de Marilyn), provoquant une scène, en hurlant aux photographes: "Allez-y, mitraillez, vautours ! ... Espèces de buveurs de sang ! Vampires ! Ne pouvez-vous même pas la laisser mourir en paix ?"; Eunice Murray raconte que lorsque Pat Newcomb est arrivée, "il y avait tant de gens que personne ne l'a remarquée." Pat Newcomb se souvient que "il y avait plus de cinq personnes dans la maison" quand elle y est entrée; elle dit aussi ne pas avoir vu le corps de Marilyn. Elle restera quasiment tout le temps au téléphone, traitant des appels téléphoniques des médias du monde entier; elle racontera: "J'ai parlé à plus de 600 journalistes ce dimanche là. C'était mon travail de faire ce que je pouvais pour Marilyn."
Pat Newcomb était "hystérique" comme le dira Eunice Murray: "Même après que la police décida de fermer la maison, elle refusait toujours de partir. Il a fallu qu'on la fasse sortir."
Around 5.30 am: Patricia Newcomb arrives at Marilyn's home (she will tell to have been prevented by phone at 4 am by Milton Rudin, the Marilyn's lawyer), screaming to photographers: "Go ahead, shoot pictures, vultures ! ... Bloodthirsty Vampires ! Can't you even let her die in peace ?" Eunice Murray says that when Pat Newcomb arrived, "there were so many people that nobody noticed her." Pat Newcomb remembers that "there was more than five people in the house" when she comes in, she also says to don't have seen the Marilyn's body. She will stays almost the time on the phone, dealing with telephone calls from media around the world; she will tell later: "I spoke to over 600 journalists that Sunday. It was my job to do what I could for Marilyn."
Pat Newcomb was "hysterical" as Eunice Murray will tell: "Even after the police decided to close the house, she still refused to go. We had to make exit her. "
---
> Quand Allan Whitey Snyder, le maquilleur de Marilyn qui, dès qu'il apprend la triste nouvelle, se précipite chez Marilyn, il se fait renvoyer par un policier qui lui refuse l'accès à la maison. Il racontera "qu'il fallait que je voie de mes yeux ce qui était vraiment arrivé." Quand il remonte dans sa voiture et entend à la radio que "Marilyn est morte d'une overdose de barbituriques qu'elle s'est administrée", Snyder ne parvient pas à croire au suicide.
When Allan Whitey Snyder, Marilyn's makeup artist, who, when he learns the sad news, rushed to Marilyn's home, he gets fired by a policeman who refuses him the access to the house. He will tell "that I had set my eyes what really happened." When he goes back to his car and heard on the radio that "Marilyn died of an overdose of barbiturates that she administered herself" Snyder can not believe in suicide.
> Joe DiMaggio, qui est à San Francisco, apprend la nouvelle très tôt le matin. Il se rend immédiatement à Los Angeles, contacte son fils Joe Jr. qui se trouve au camp Pendleton, et se réfugie avec deux de ses amis dans la suite 1035 du Miramar Hotel. Il refuse de faire la moindre déclaration à la presse et reste enfermé dans sa chambre d'hôtel. Son ami Harry Hall racontera que Joe pleurait sans consulter les nombreux télégrammes reçus: "Il considérait Bobby Kennedy comme responsable de sa mort."
Personne ne réclame le corps de Marilyn et le coroner ne peut délivrer le corps qu'avec l'autorisation d'un membre de la famille: sa mère en est incapable, et sa demie-soeur Berniece, contactée par télégramme, donne sa permission à Joe DiMaggio de s'occuper des funérailles.
Joe DiMaggio, who is in San Francisco, heards the news early in the morning. He immediately goes to Los Angeles, contacts his son Joe Jr. who is at Camp Pendleton, and stays with two of his friends in the suite 1035 of the Miramar Hotel. He refuses to make any statement to the press and remains locked in his hotel room. His friend Harry Hall tells that Joe was crying without consulting the many telegrams he received: "He considered Bobby Kennedy as responsible for her death."
Nobody claims the body of Marilyn and the coroner may not issue a body with the authority of a member of the family: her mother is unable to act, and her half-sister Berniece, contacted by telegram, gives permission to Joe DiMaggio to arrange the funeral.
> Peter Lawford est chez lui à L.A. Il est en état de choc, hagard, en larmes, terrassé, répétant sans cesse qu'il était la dernière personne à avoir parlé à Marilyn (au téléphone). Sa mère, Lady May, surnommée "Lady L." le contacte par téléphone quand elle apprend la nouvelle, et elle reproche à son fils de ne pas être allé chez Marilyn, quand cette dernière appela Peter. Puis quand Rupert Allan téléphone à Lawford, il a au bout du fil un homme hors de lui, furieux, aux propos incompréhensibles, entrecoupés de sanglots.
Peter Lawford is at his home L.A. He is in shock, distraught, in tears, overwhelmed, constantly repeating that he was the last person to have spoken to Marilyn (on the phone). His mother, Lady May, named "Lady L." calls him when she heards the news, and she blames her son to don't have gone to Marilyn's home, when she called Peter. Then, when Rupert Allan phone Lawford, he has on the phone a man out of him, furious, with incomprehensible words, interspersed with sobs.

> Dans la propriété des Kennedy sur la côte Est où la famille est réunie autour de la piscine, la nouvelle de la mort de Marilyn passe à la radio: ce fut le silence total. Pat Kennedy Lawford s'effondre en larmes.
In the property of the Kennedys on the East Coast where the family gathered around the pool, the news of the death of Marilyn is broadcoast on the radio: it was a full silence. Pat Kennedy Lawford collapses in tears.

> A peine à 6 km de chez Marilyn, Jayne Mansfield apprend la nouvelle chez elle dans sa maison du Pink Palace; elle devient hystérique et pleure beaucoup, serrant son assistant Ray Strait: "Je suis peut être la prochaine sur la liste." (Jayne était aussi la maîtresse des frères Kennedy).
At Just 6 km from Marilyn's home, Jayne Mansfield heards the news at her Pink Palace home; she becomes hysterical and crying a lot, shaking his assistant Ray Strait: "I may be next on the list." (Jayne was also the mistress of the Kennedy brothers).
---
> à 7h30: Les hommes du coroner, accompagnés de Guy Hockett (propriétaire du Westwood Memorial Park Cemetery), emportent le corps de Marilyn, dissimulé sous une couverture bleue ordinaire, sur un chariot, et le chargent à bord d'un vieux break, qu'ils conduisent au dépôt mortuaire de Westwood Village, où sa dépouille reste quelques heures dans un réduit encombré de brosses et de bocaux où le photographe Bud Gray du "Herald Examiner" fait un cliché de sa dépouille enveloppée.
At 7.30 am: Coroner's men, accompanied by Guy Hockett (owner of Westwood Memorial Park Cemetery) outweigh Marilyn's body, hidden under an ordinary blue blanket on a cart, and charge her on an old break that they drive to the mortuary Westwood Village, where she remains few hours in a small room crowded by brushes and jars.
> Départ du corps de Marilyn de sa maison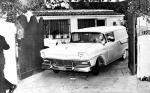 > Arrivée du corps de Marilyn à Westwood Village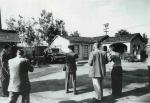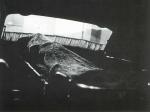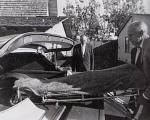 - photographies de Lawrence Schiller >>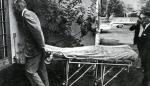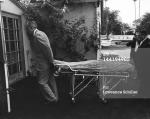 > Au cimetière de Westwood, tombe de Grace Goddard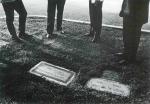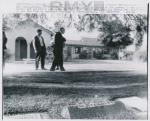 ---
> Marilyn est ensuite transportée dans la case 33 de la County Morgue, au palais de justice de Los Angeles. Son numéro de dossier du coroner est le 81128.
Un photographe parvient à s'introduire dans la morgue: Leigh Wiener, qui enverra ses photographies au magazine Life, parvient à prendre de nombreux clichés en échange de bouteilles de whisky offertes aux employés: un employé ouvre la porte en acier inoxydable et tire l'étagère coulissante où repose la dépouille de Marilyn. Wiener la mitraille, couverte et découverte (il aurait pris 6 clichés de Marilyn morte).
Marilyn is then transported in box 33 of the County Morgue of Los Angeles. Her coroner file number is 81128.
Two photographers manage to get into the mortuary: Bud Gray of "Herald Examiner" takes a snapshot of his body wrapped; and Leigh Wiener, who will send his photographs to "Life" magazine, manages to take many pictures in exchange for whiskey bottles offered to employees: an employee opens the stainless steel door and pulls the sliding shelf where the body of Marilyn remains. Wiener shoots pictures of Marilyn with covered and uncovered (he would take 6 shots of Marilyn dead).
> Départ du corps de Marilyn de Westwood Village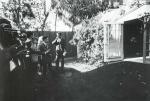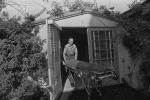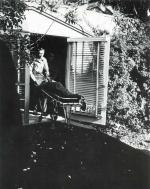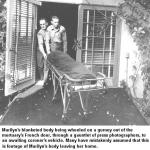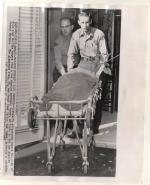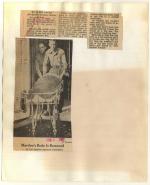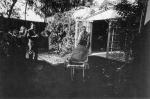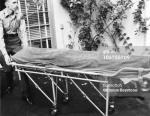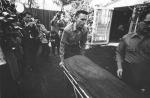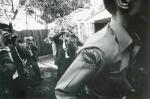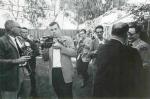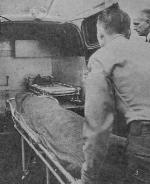 > County Morgue de L.A., le casier 33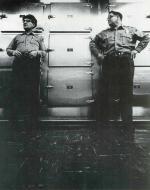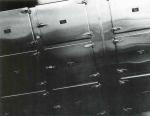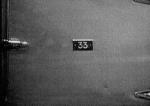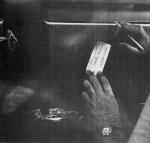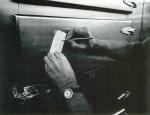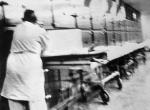 - photographies de Leigh Wiener >>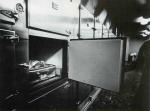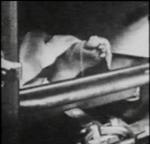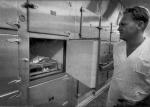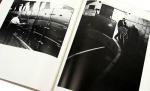 ---
> à 10h30: Début de l'autopsie, dans une salle sans fenêtres des sous-sols du palais de justice de L.A., sur la table 1, équipée d'un système d'arrivée d'eau et d'évacuation, et d'une balance. Le médecin légiste est Thomas Noguchi, assisté de Eddy Day, en présence de John Miner, observateur du District Attorney.
At 10.30 am: Beginning of the autopsy, in a windowless room of the County Morgue of L.A., on the table 1, equipped with a water inlet and exhausted system, and a balance. The medical examiner is Thomas Noguchi, assisted by Eddy Day, in the presence of John Miner, observer of District Attorney.
(> Lire le rapport d'autopsie < read the autopsy report)
> Avant l'autopsie: Photo post-mortem 1
(Avertissement: image choquante de Marilyn morte)
La photographie post-mortem du dossier de police montre Marilyn avec un visage flasque, enflé, les cheveux plats et raides mais précisons que les muscles de son visage ont été sectionnés pendant l'ablation du cerveau et qu'après l'autopsie, sa dépouille a été lavée à grandes eaux.
The post-mortem photograph of the police report shows Marilyn with a flange face, swollen, flat and straight hair but let's specify that the muscles of her face were severed during removal of the brain and after the autopsy, her body was washed with plenty of water.
> Après l'autopsie: Photo post-mortem 2
(Avertissement: image choquante de Marilyn morte)
> Retour du corps à Westwood Village après l'autopsie

- photographies de Bud Gray >>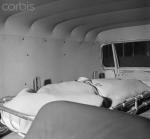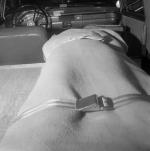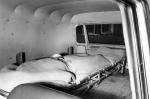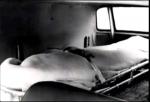 - Guy Hockett conduit la voiture >>

---
> Vers 11h: premier rapport de police établi (complété ensuite le lendemain).
Around 11 am: the first police report is established (then completed the next day).
(> Lire le rapport de police < read the police report)
---
> à 11h, Ralph Greenson et Milton Rudin font monter Pat Newcomb dans la voiture d'Eunice Murray; les reporters se précipitent devant la voiture dans la petite impasse et un journaliste de NBC News demande à Pat comment elle se sent, ce à quoi, elle lui répond, en larmes: "Si votre meilleur ami venait de se tuer, qu'éprouveriez-vous ? que feriez-vous ?".
A ce moment là, la maison était remplie de monde: les policiers, Arthur Jacobs, trois gardes du service de sécurité de la Fox envoyés par Peter Levathes, le technicien du General Telephone (qui coupera les lignes le jour même), les journalistes James Bacon et James A. Hudson de United Press International, mais aussi quatre hommes en noir (dont certains pensent qu'il pourrait s'agir d'agents du FBI ou de la CIA).
At 11 am, Ralph Greenson and Milton Rudin drive up Pat Newcomb in Eunice Murray's car; reporters rushed to the car and an NBC News reporter asks to Pat how she feels, and she replied in tears: "If your best friend just came to kill, how would you feel ? What would you do ?".
At that time, the house was full of people: policemen, Arthur Jacobs, three guards of the security service of the Fox sent by Peter Levathes, the General Telephone technician (who cut the lines the same day), journalists as James Bacon and James A. Hudson of United Press International, but also four men in black (some people think it might be men from FBI or CIA).
> On emmène Maf, le chien de Marilyn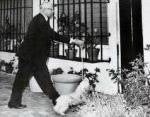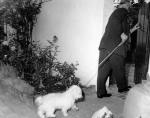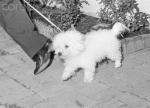 - photographie de Dan Tompkins >>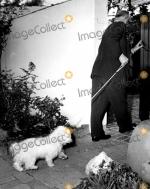 - Milton Rudin (à gauche) >>

> Eunice Murray et son gendre Norman Jefferies
- photographies de Dan Tompkins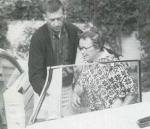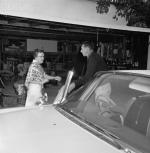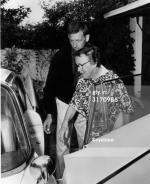 > Départ de Patricia Newcomb
- photographies de Dan Tompkins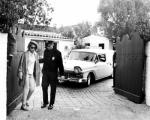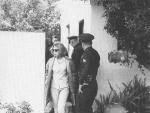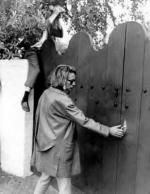 - Pat avec Norman Jefferies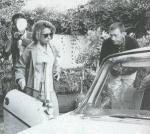 - Un journaliste interpelle Pat

---
> peu avant 12h00: Hazel Washington (femme de chambre de Marilyn) et son mari Rocky (policier de Los Angeles) arrivent à la maison pour récupérer des tables et chaises prêtées à Marilyn en février, car la maison serait ensuite fermée. Mrs Washington va remarquer un des hommes en noir brûler des documents dans la cheminée: des blocs-notes de Marilyn, des papiers de la Fox, des pages d'agenda, des bandes de magnétophones. Les serrures de classeur avait été forcées et les tiroirs vidés.
Avant de partir, Mrs Washington remarque que les gardes du studio de la Fox avaient investi toute la maison et de voir Frank Neill et trois autres attachés à la publicité de s'emparer de tous les documents relatifs à la Fox (notamment le nouveau contrat de négociation et de réintégration de Marilyn à la Fox avec la reprise du tournage de Something's got to give ont disparu).
Les hommes en noir ont même vérifié le contenu de la voiture de Hazel et Rocky avant leur départ.
Cependant, ces allégations affirmant que des papiers ont été détruits ont été formellement démenties par les officiers de police présents sur les lieux toute la journée. Néanmoins, il est indiscutable que des personnes sont parvenues à emporter des documents, tel que le confirme l'auteur Donald Spoto qui consultera des papiers acquis lors de la succession d'Inez Melson.
shortly before 12.00 am: Hazel Washington (Marilyn's maid) and husband Rocky (Los Angeles' policeman) arrive at Marilyn's home to retrieve tables and chairs lent to Marilyn in February, as the house would then be closed. Mrs. Washington notices one of the men in black burn papers in the fireplace: Marilyn's notebooks, Twentieth Century Fox 'papers, calendar pages, strips of tapes. The locks of workbooks had been forced and the drawers were emptied.
Before leaving, Mrs. Washington notes that guards from Fox Studios had invested the house and she sees Frank Neill and three others guy from publicity department to take all documents relating to the Fox (including the new contract with negotiation and reintegration of Marilyn to the Fox Studios with the resumption of filming 'Something's got to Give' which have disappeared ) .
Men in black have even checked the content of the car of Hazel and Rocky before they leave.
However, these allegations stating that the papers were destroyed, have been formally denied by the police officers who were present all the day. Nevertheless, it is indisputable that some people were able to take documents, as confirmed by the author Donald Spoto who will consult papers acquired in succession of Inez Melson.
---
> La police met la maison de Fifth Helena Drive sous scellés.
Police put the house of Fifth Helena Drive sealed.
> La police pose les scellés sur la porte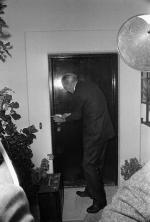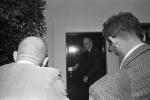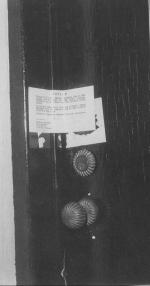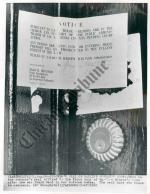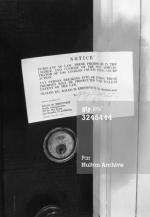 - photographie de Dan Tompkins >>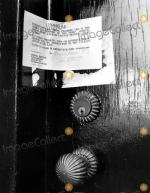 ---
Des gens se réunissent devant le Grauman's Chinese Theatre de Los Angeles et déposent des fleurs devant la plaque où Marilyn Monroe avait laissé ses empreintes (le 26 juin 1953).
People meet in front of the Grauman's Chinese Theatre in Los Angeles and lay flowers in front of the foot and hans prints left by Marilyn Monroe (in June, 26, 1953).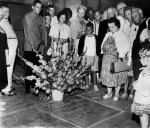 - photographie de Gene Anthony >>

---
L'information de la mort de Marilyn Monroe défile sur les panneaux lumineux du New York Times sur Times Square à Manhattan, New York.
The news of the Marilyn Monroe's death scrolls on the light panels on the New York Times building in Times Square in Manhattan, New York City.
---
VIDEOS
> News USA

> Divers extraits

> Eunice Murray, Norman Jefferies, Pat Newcomb et Maf

---
> Original du certificat de décès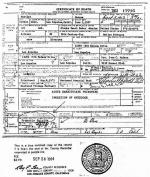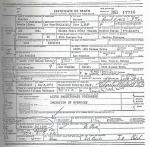 ---
Les réactions des proches de Marilyn recueillies par les journalistes:
James Dougherty

: "Je suis atterré". Quand son collègue Jack Clemmons lui apprend la nouvelle, Dougherty se tourne vers sa femme et lui dit: "Fais une prière pour Norma Jeane. Elle est morte."

Arthur Miller

, à Paris avec sa nouvelle femme Inge Morath, refuse de s'exprimer publiquement, sans doute étant trop bouleversé. A l'un de ses proches, il aurait dit: "Il fallait bien que ça arrive. Je ne savais ni quand, ni comment, mais c'était inévitable."
Isadore Miller (père d'Arthur): "Elle était comme ma propre fille. Elle était une fille gentille et bonne. Je suis tellement désolé, je n'étais pas là pour être avec elle. Elle a du se sentir vraiment seule et effrayée."

Billy Wilder

, interviewé à sa descente d'avion par des journalistes qui ne le tiennent pas au courant, ne dit que des banalités sur Marilyn. Il apprendra la nouvelle dans le taxi qui l'amenait à l'hôtel.

Joshua Logan

: "Marilyn était l'une des personnes les plus sous-estimées de la terre !"
Paula Strasberg: "Marilyn était une actrice comme il n'en existe aucune autre."

Milton et Amy Greene

sont à Paris et apprennent la nouvelle par téléphone à leur hôtel. Ils sont bouleversés (avant leur départ, après un mauvais pressentiment, Amy avait incité Milton à contacter Marilyn, qui semblait heureuse et leur avait assurer que tout allait bien).
Frank Sinatra se dit "profondément affligé

(...)

Elle va beaucoup me manquer."

George Jacobs

, son domestique, racontera que "Il demeura dans une sorte d'état de choc pendant des semaines après la mort de Marilyn, profondément angoissé."
Kay Gable (veuve de Clark Gable) apprend la nouvelle au flash d'information à 7 heures: "Je suis allée à la messe, j'ai prié pour elle."
La famille

Greenson

se dit "accablée de chagrin". Le Dr. Greenson rencontre DiMaggio et les deux hommes se serrent dans les bras, se consolant l'un et l'autre.

Peter Lawford

: "Pat et moi l'aimions profondément. C'est probablement l'un des êtres humains les plus merveilleux et les plus chaleureux que j'ai connus. Tout ce que je pourrais dire d'autre serait superflu."
L'Osservatore Romano du Vatican: "Elle a été la victime d'une mentalité et d'un mode de vie dont on l'a forcée à être le symbole. Sa mort transcende les limites d'une tragédie personnelle pour atteindre un retentissement universel."
---
sources:
Marilyn Monroe, encyclopédie d'Adam Victor
Les vies secrètes de Marilyn Monroe, d'Anthony Summers
Marilyn Monroe, biographie de Barbara Leaming
Marilyn Monroe, Private and Undisclosed, de Michelle Morgan
Marilyn, Histoire d'un assassinat, de Brown et Barham
---
© All images are copyright and protected by their respective owners, assignees or others.
copyright text by GinieLand.
Enregistrer
19 février 2014
Le milliardaire
Captures

3ème partie des captures du film