31 décembre 2015
President Kennedy Chats With Marilyn Monroe and Other Attractive People (Mostly Women)
Published on 27/12/2015
by Fritz Holznagel - online who2.com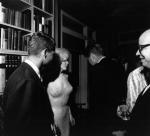 White House photo by Cecil Stoughton
This photo of President John F. Kennedy with actress Marilyn Monroe may be the most famous shot of JFK chatting up an actress. The photo was taken at a private house party after the famous "Happy birthday, Mister President" moment at a 1962 fundraiser in Madison Square Garden. That's Attorney General Bobby Kennedy at left, and historian Arthur Schlesinger Jr. having the absolute time of his life at right.

But thanks to the sur JFK Library and its excellent website, we now have many photos of President Kennedy chatting with handsome entertainers of all kinds. Let's take a look.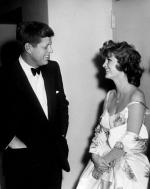 White House photo by Abbie Rowe
Here's the president meeting Julie London (later star of TV's Emergency!) at the White House Correspondents' Dinner. Nothing inappropriate here, of course, but Kennedy's reputation for womanizing offers an interesting subtext for these photos. Perhaps he's just doing his presidential duty, after all.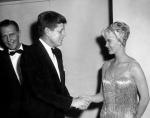 White House photo by Abby Rowe
Actress Dorothy Provine takes her turn with the Prez. (Provine is dressed as Pinky Pinkham, her character from the TV show The Roaring 20s.) Kennedy's good — always eye-to-eye contact. Unlike some politicians we could name.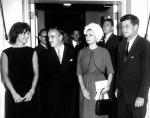 White House photo by Abbie Rowe
Here's JFK with an even more famous blonde, Grace Kelly. But this is an official state visit with spouses present: Jacqueline Kennedy and Prince Rainier of Monaco, respectively. They aren't even shaking hands. Of course, possibly Kennedy was put off by Kelly's insane hat.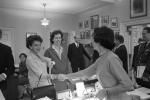 White House photo by Cecil Stoughton
President Kennedy wasn't the only one shaking hands. Here's his loyal secretary, Evelyn Lincoln, shaking hands with superstar Judy Garland as comedian Carol Burnett looks on. What I like about these celebs-at-the-White House photos is that everybody is happy to see everybody. The glamour goes both ways. "You were in 'The Wizard of Oz?' That's amazing. We're leading the free world here."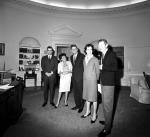 White House photo by Cecil Stoughton
Of course, Garland met the President as well. Judy Garland was only 4'11" tall, it turns out; John Kennedy was 6'0″ tall, and Carol Burnett has him matched in her heels here in the Oval Office. Hard to believe from looking at them here, but Garland was also five years younger than JFK. She was born in 1922, he in 1917. (Yes, that's Danny Kaye at right.)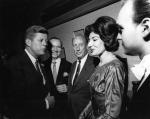 White House photo by Cecil Stoughton
Here's President Kennedy with opera royalty, Maria Callas. This is at that same crazy party with Marilyn Monroe, from May 19, 1962. UN Ambassador Adlai Stevenson is at center in the background. I like the glow of celebrity in this photo, with everyone bearing in on Callas. She's got the aura.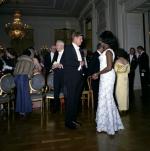 White House photo by Robert Knudson
Speaking of opera singers, here's President Kennedy chatting up mezzo-soprano Grace Bumbry in the East Room of the White House after she sang at a dinner in honor of Vice-President Lyndon Johnson in 1962. The who's who of figures in back include Speaker of the House John W. McCormack, Supreme Court Chief Justice Earl Warren (turning away at center) and Secretary of Health, Education and Welfare Abraham Ribicoff. It was quite a party, but all these people are now dead. Except for Bumbry, who was 25 at the time. She received Kennedy Center Honors in 2009.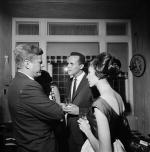 White House photo by Cecil Stoughton
Let's end on this shot of JFK chatting with Julie Belafonte, wife of singer Harry Belafonte (who's right behind them). This is that same cocktail party after "Happy birthday Mister President"! The event was at the apartment of Democratic bigwig Arthur Krim.

What an era that was, when the president would just go to someone's apartment and mingle after an event. No wonder John Kennedy met so many attractive people.
02 mars 2008
2/ Fête d'anniversaire de JFK
Marilyn Monroe à la fête privée d'anniversaire du Président John Fitzgerald Kennedy le 19 mai 1962, qui s'est tenue dans l'East Side à New York, au domicile d'Arthur Krimm et sa femme Mathilde. La chanteuse Diahann Carroll donne de la voix devant l'assemblée d'invités.

Marilyn Monroe at the private birthday party of President John Fitzgerald Kennedy in May 19, 1962, which was held in the East Side of New York, at the home of Arthur and his wife Mathilde Krimm. The singer Diahann Carroll sings in front of the assembly of guests.
> L'unique cliché montrant Marilyn aux côtés des frères Kennedy (John et Robert),
photographiés par Cecil Stoughton.
> The single shot showing Marilyn with the Kennedy brothers (John and Robert),
photographed by Cecil Stoughton.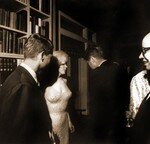 > Marilyn Monroe pose avec Earl Blackwell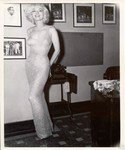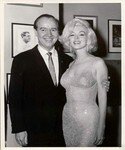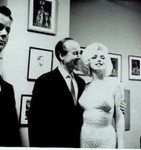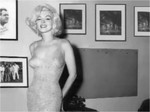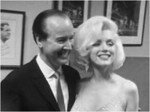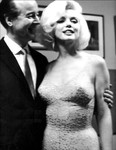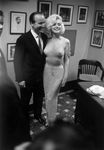 > Marilyn Monroe discute gaiement avec Maria Callas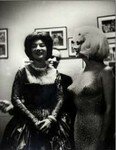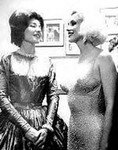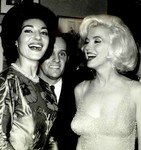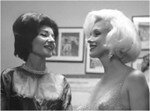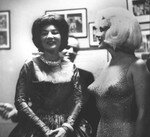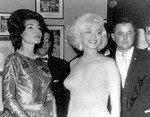 > Shirley MacLaine et JFK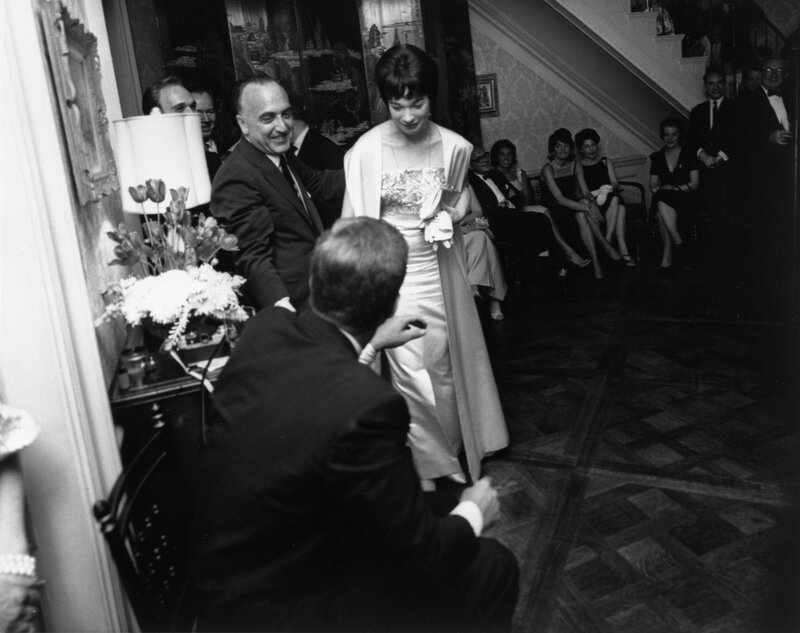 > JFK avec Harry Belafonte et sa femme Julie Robinson
photo de Cecil Stoughton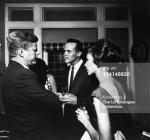 ---
© All images are copyright and protected by their respective owners, assignees or others.
copyright text by GinieLand.