07 mars 2023
Le couple Masi
The Masi Couple
Victor & Marguerite Masi

amis avec Marilyn de 1952 à 1954
friends with Marilyn from 1952 to 1954

---
Victor (surnommé 'Chic') Masi est né le 23 novembre 1915; d'origine italienne, il grandit à San Francisco et il est l'un des amis d'enfance de Joe DiMaggio (né le 25 novembre 1914). Leur amitié se transformera même en un partenariat commercial à Los Angeles.
Victor (nicknamed 'Chic') Masi was born on November 23, 1915; of Italian origin, he grew up in San Francisco and was a childhood friend of Joe DiMaggio (born November 25, 1914). Their friendship even will turn into a business partnership in Los Angeles.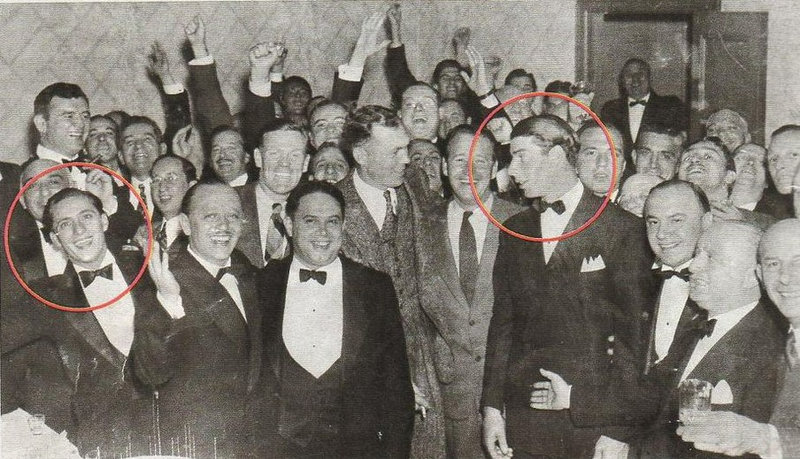 1952 - tournage de "Who's on first ?" série comique
1ère photo: Bud Abbott, Victor Masi, sans doute Dorothy Arnold, 1ère épouse de Joe;
2ème photo: Joe DiMaggio, Lou Costello, Bud Abbott
3ème photo: Lou Costello, Victor Masi, Joe DiMaggio, Bud Abbott
---
Adulte, Victor Masi est un touche-à-tout à Hollywood: parfois acteur (surtout de la figuration), il exerce particulièrement la fonction de cuisinier de la cantine des studios; il possédait d'ailleurs son propre restaurant et il a aussi été le chef cuisinier pendant un an du restaurant italien "Puccini" qui appartenait à Frank Sinatra et Peter Lawford (qui a existé de 1959 à 1962) et situé au 224 South Beverly Drive à Beverly Hills (un lieu fréquenté non seulement par la bande du Rat Pack de Sinatra, mais qui sera aussi un soir de novembre 1959 la rencontre entre John F Kennedy et ses conquêtes Angie Dickinson et Judith Campbell).
As an adult, Victor Masi is a jack-of-all-trades in Hollywood: sometimes an actor (especially in extras), he particularly performs the function of cook in the canteen of the studios; he also owned his own restaurant and he was also the chef for a year of the Italian restaurant "Puccini" which belonged to Frank Sinatra and Peter Lawford (which existed from 1959 to 1962) and located at 224 South Beverly Drive in Beverly Hills (a place frequented not only by Sinatra's Rat Pack band, but which will also be one evening in November 1959 the meeting between John F Kennedy and his conquests Angie Dickinson and Judith Campbell).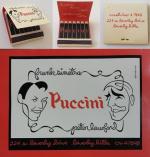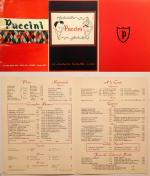 boîte d'allumettes et cartes de menu du restaurant Puccini
Sinatra dans son restaurant Puccini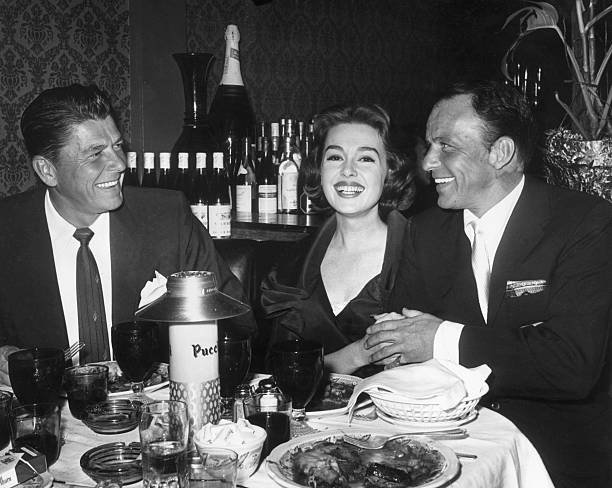 Ronald Reagan, Barbara Rush, Frank Sinatra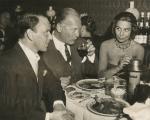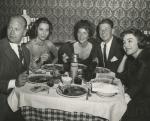 Frank Sinatra, le couple Jurgens (Curd & Simone), le couple Reagan (Ronald & Nancy)
---
Victor est marié à Marguerite Masi (née le 12 octobre 1913). De par ses origines italiennes et de par son métier, Victor Masi fréquente bon nombre de personnalités italiennes à Hollywood.
Le couple Masi connait d'ailleurs bien aussi Bob Hope et sa femme Dolores, car quand leur fille naît le 12 octobre 1945, ils la prénomment Dolores et choisissent Dolores Hope comme marraine pour leur fille. Une fois adulte, leur fille Dolores Masi se fera appeler Dolores Hope Masi, ayant ainsi ajouté le nom de sa marraine.

Victor is married to Marguerite Masi (born October 12, 1913). Due to his Italian origins and his profession, Victor Masi frequents many Italian personalities in Hollywood.
The Masi couple also know well Bob Hope and his wife Dolores, because when their daughter was born on October 12, 1945, they named her Dolores and chose Dolores Hope as godmother for their daughter. As an adult, their daughter Dolores Masi will call herself Dolores Hope Masi, having thus added the name of her godmother.
---
C'est en travaillant aux studios de la 20th Century Fox que Victor Masi rencontre Marilyn Monroe au printemps 1952 sur le tournage de "Chérie, je me sens rajeunir" (mais peut être l'avait-il déjà rencontré bien avant à la cantine des studios). Faisant office de figurant pendant la scène de rollers, il enseigne même en coulisses le patin à roulettes à Marilyn pour les besoins de la scène.

It was while working at 20th Century Fox studios that Victor Masi met Marilyn Monroe at the spring of 1952 on the set of "Monkey Business" (but perhaps he had already met her long before in the studio canteen). Acting as an extra during the roller-skating scene, he even teaches roller-skating to Marilyn behind the scenes for the needs of the scene.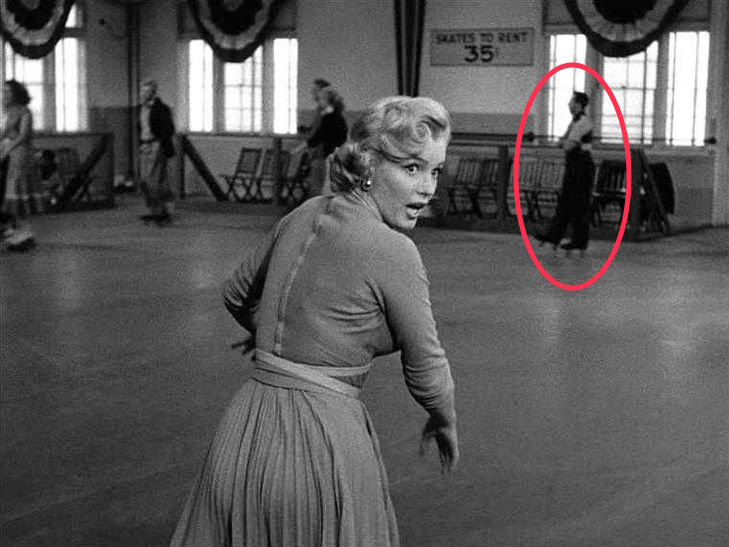 1952 - "Monkey Business" - Marilyn Monroe & Victor 'Chic' Masi
C'est en découvrant une photographie de Marilyn Monroe qui posait avec les joueurs de base-ball de l'équipe des Chicago White Sox (photographie coup publicitaire prise en mars 1951 ) que Joe DiMaggio aurait craqué sur Marilyn et aurait ainsi demandé à l'homme d'affaires Joe March, qui connaissait Marilyn, d'organiser une rencontre qui aura lieu en mars 1952 au restaurant italien Villa Nova de Los Angeles, telle est la version officielle de leur rencontre.
D'après Dolores Masi, la fille du couple, la rencontre entre Joe DiMaggio et Marilyn aurait été en quelque sorte initiée par son père, Victor. Cette hypothèse peut être crédible, car Victor Masi fait office de lien entre les deux protagonistes et travaillait sur le tournage de "Chérie, je me sens rajeunir"; d'ailleurs Joe DiMaggio rendra visite à Marilyn sur le plateau. Sans doute Marilyn s'est renseignée sur Joe auprès de Victor qui était l'un de ses amis, et à son tour Joe a du parler de Marilyn à Victor qui la côtoyait à la Fox.
Toujours selon Dolores Masi, lorsque Joe commence à fréquenter de manière plus assidue l'actrice, il aurait demandé l'avis à son père Victor qui lui aurait conseillé de l'épouser mettant en avant le fait qu'elle est "la plus belle femme du monde."
It was when he discovered a photograph of Marilyn Monroe who was posing with the baseball players of the Chicago White Sox team (publicity stunt photograph taken in March 1951) that Joe DiMaggio would have had a crush on Marilyn and would thus have asked the businessman Joe March, who knew Marilyn, to organize a meeting which will take place in March 1952 at the Italian restaurant Villa Nova in Los Angeles, such is the official version of their meeting.
According to Dolores Masi, the couple's daughter, the meeting between Joe DiMaggio and Marilyn was in a way initiated by her father, Victor. This hypothesis can be credible, because Victor Masi acts as a link between the two protagonists and was working on the filming of "Monkey Business"; moreover Joe DiMaggio will visit Marilyn on the set. No doubt Marilyn found out about Joe from Victor who was one of her friends, and in turn Joe had to talk about Marilyn to Victor who was with her at Fox.
Still according to Dolores Masi, when Joe began to see the actress more regularly, he would have asked his father Victor's advice, who would have advised him to marry her, highlighting the fact that she is "the most beautiful woman of the world."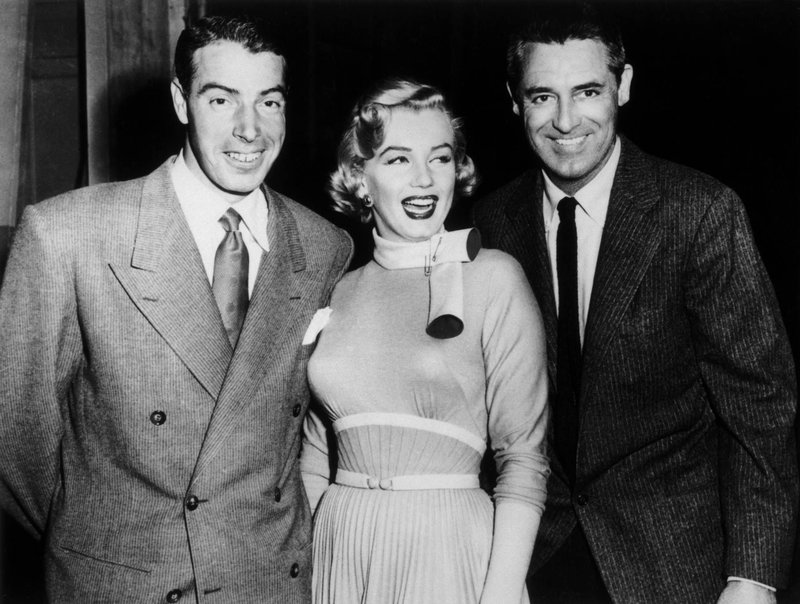 1952 - tournage de "Monkey Business" - Joe DiMaggio, Marilyn Monroe, Gary Grant
---
La femme de Victor, Marguerite Masi, se rend aussi sur les plateaux de tournage de la Fox pour soutenir Marilyn, notamment quand elle tourne la scène (qui deviendra iconique) de la chanson « Diamonds Are a Girl's Best Friend » du film "Les hommes préfèrent les blondes" tournée en décembre 1952.
Victor's wife, Marguerite Masi, also goes to Fox film sets to support Marilyn, especially when she shoots the scene (which will become iconic) of the song "Diamonds Are a Girl's Best Friend" from the movie "Gentlemen Prefer Blondes" filmed in December 1952.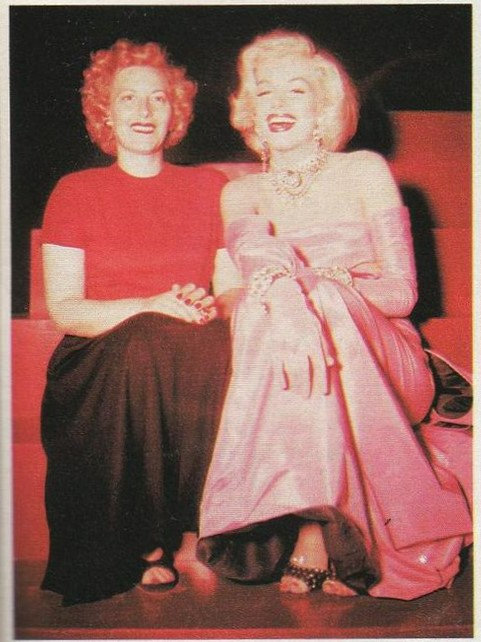 1952 - "Gentlemen Prefer Blondes" - Marguerite Masi & Marilyn Monroe
---
La version officielle des mois suivants le mariage de Joe DiMaggio et Marilyn Monroe, qui a eu lieu le 14 janvier 1954 à San Francisco, est que les jeunes mariés auraient passé du temps à San Francisco avant d'emménager dans une maison au 508 North Palm Drive à Beverly Hills. Mais Dolores Masi racontera une autre version: le couple serait venu s'installer plusieurs semaines chez les Masi qui vivaient avenue Saloma à Sherman Oaks, dans la banlieue de San Fernando Valley, avant et après leur mariage car d'après Dolores, "Joe ne voulait pas rester seule avec elle", se sentant sans doute soutenu et protégé par ses amis.
La période où le couple est resté vivre quelques temps chez les Masi se situe après leur retour de Corée, sans doute par intermittence au printemps et l'été 1954 (de mars à août, quand Marilyn tournait le film "La Joyeuse Parade") .
La maison des Masi avait trois chambres: celle des parents, celle de Dolores (qui avait 9 ans), et une chambre d'amis où étaient reçus Joe et Marilyn et qui donnait sur le devant de la maison; et une seule salle de bain. "Ils voulaient fuir les médias et nous avions couverts les fenêtres de draps bleus pour que rien ne soit visible de l'extérieur. Mais les médias ont fini par savoir et essayaient de prendre des photos et de forcer la porte mais sans succés car mon père était intraitable avec eux."
The official version from the months following Joe DiMaggioe's wedding to Marilyn Monroe, which took place on January 14, 1954 in San Francisco, is that the newlyweds spent time in San Francisco before moving into a house at 508 North Palm Drive in Beverly Hills. But Dolores Masi will tell another version: the couple would have come to settle for several weeks with the Masis who lived on Saloma Avenue in Sherman Oaks, in the suburbs of San Fernando Valley, before and after their marriage because according to Dolores, "Joe didn't want to be alone with her", no doubt feeling supported and protected by her friends.
The period when the couple stayed with the Masi for a while was after their return from Korea, probably intermittently in the spring and summer of 1954 (from March to August, when Marilyn was shooting the movie "There's no business like show business") .
The Masi's house had three bedrooms: the parents' one, that of Dolores (who was 9 years old), and a guest bedroom where Joe and Marilyn were received and which overlooked the front of the house; and a single bathroom. "They wanted to run away from the media and we had covered the windows with blue sheets so that nothing was visible from the outside. But the media eventually found out and tried to take pictures and force the door but without success because my father was intratable with them."
---
Joe et Marilyn menaient ainsi une vie simple dans une atmosphère sereine et familiale, loin des turpitudes d'Hollywood afin d'échapper à la traque des reporters.
Marilyn aidait aux tâches quotidiennes comme le ménage, faisant la vaisselle avec Marguerite. Ils prenaient tous ensemble le petit déjeuner en famille, préparé par Marguerite Masi ou par Marilyn selon celle qui se levait en premier. Cette photographie de Marilyn Monroe, prise au saut du lit, naturelle et sans maquillage, vêtue d'un kimono qu'elle avait eu lors de son voyage au Japon (début février 1954) a été prise chez les Masi; Dolores Masi commentera la photographie en ces termes: "C'était juste une matinée typique: Marilyn lisant le journal ou un script (...) Même sans maquillage et sans être coiffée, elle était toujours magnifique."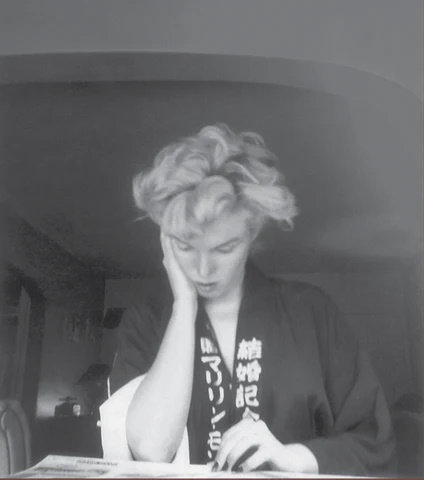 Printemps 1954 - Marilyn Monroe chez les Masi
Joe and Marilyn thus led a simple life in a serene and family atmosphere, far from the turpitudes of Hollywood in order to escape the reporters' hunt.
Marilyn helped with daily chores like cleaning, doing the dishes with Marguerite. They had breakfast all together as a family, prepared by Marguerite Masi or by Marilyn depending on who got up first. This photograph of Marilyn Monroe, taken jumping out of bed, natural and without makeup, dressed in a kimono that she had had during her trip to Japan (early February 1954) was taken at the Masi's; Dolores Masi will comment on the photograph in these terms: "It was just a typical morning: Marilyn reading the newspaper or a script (...) Even without make-up and without her hair done, she was still magnificent."
---
La journée, Marilyn se rendait sur les plateaux de tournage et Joe s'occupait de ses affaires, puis le soir ils dînaient tous ensemble, le repas étant préparé par Victor Masi, qui était cuisinier et dont les spécialités étaient le poulet parmesan et le poulet cacciatore.
Marilyn appréciait les choses simples de la vie, comme de se brosser les cheveux pendant la populaire émission télévisée des années 1950 "Hopalong Cassidy", tel le racontera Dolores Masi: "Elle entrait et se laissait tomber sur le canapé en disant: 'C'est l'heure de Hopalong?'; c'était l'époque où elle était détendue. Et elle me disait toujours : 'Un jour, j'aurai une petite fille comme toi.'"
Il arrivait aussi à Joe Jr, âgé alors de 12 ans, le fils du premier mariage de Joe DiMaggio d'avec Dorothy Arnold, de venir passer quelques jours chez eux.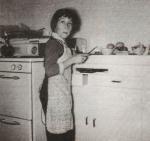 Ayant été toujours proche des enfants, Marilyn se montrait très attentionnée envers la petite Dolores, qui avait 9 ans, la surnommant "Bébé" ou "Chérie". "Elle était pleine d'amour pour tout le monde, mais j'étais le centre de son attention et elle me traitait comme une adulte." Pour Dolores, Marilyn représentait pour elle "d'abord une amie, puis une sœur aînée, puis une deuxième mère". Elle se souviendra de la douceur de Marilyn: "Une nuit, un criquet est entré dans ma chambre et je criais. Elle m'a rassurée en me disant que c'était une créature de Dieu et qu'il ne fallait pas lui faire de mal. Elle l'a pris et l'a mis en dehors. Elle a toujours pensé que toute vie était précieuse, mais elle était aussi souvent triste." Lors de phases de désespoir, il arrivait à Marilyn de rester au lit.
During the day, Marilyn went to the film sets and Joe took care of his business, then in the evening they all dined together, the meal being prepared by Victor Masi, who was a cook and whose specialties were chicken parmesan and chicken cacciatore.
Marilyn enjoyed the simple things in life, like brushing her hair during the popular 1950s TV show "Hopalong Cassidy", as Dolores Masi would recount: "She would come in and plop down on the couch and say, 'Is it Hopalong time?'; It was time when she would chill out. And she would always say to me, 'Someday I will have a little girl just like you.'"
It also happened to Joe Jr, then 12 years old, the son of Joe DiMaggio's first marriage to Dorothy Arnold, to come and spend a few days with them.
Having always been close to the children, Marilyn showed herself to be very attentive towards little Dolores, who was 9 years old, nicknaming her "Baby" or "Honey". "She was full of love for everyone, but I was the center of her attention and she treated me like an adult." For Dolores, Marilyn represented for her "first a friend, then an older sister, then a second mother". She will remember Marilyn's sweetness: "One night, a cricket came into my room and I was screaming. She reassured me by telling me that it was a creature of God and that I shouldn't hurt it. She took it and kicked it out. She always thought all life was precious, but she was also often sad." During phases of despair, Marilyn happened to stay in bed.
---
Les couples DiMaggio et Masi faisaient aussi plusieurs sorties familiales ensemble:
. Des sorties à la plage, notamment à Malibu où un jour, Marilyn et la petite Dolores ont même été emportées par le courant, sauvées par Victor; Dolores se souvient que Marilyn l'a regardé et lui a dit: "C'était moins une !". Pour Dolores, Marilyn avait un côté très enfantin, aimant beaucoup jouer avec elle.

. Un soir que les deux couples dinent dans un restaurant club à Toluca Lake (dans la vallée de San Fernando à Los Angeles), l'ex-femme de Joe DiMaggio, Dorothy Arnold (actrice et chanteuse), se produit sur scène. Dorothy va saluer Joe et prendre un verre à la table des deux couples.
. Les Masi ont même accompagné Marilyn et Joe lors de leur court séjour au Mexique en juillet 1953 ; une photographie du couple à San Francisco (lors de leur départ ou retour) a été prise par Victor. (voir article Semaine du 20/07/1953, Mexique - Marilyn et Joe en vacances ).
. Une vidéo amateur tournée en super huit et en couleur a été révélée aux médias par Dolores Masi en 2006 où on y voit Marilyn et Joe jouer au golf avec le couple Masi. (voir article 1954s, L.A. - Golf avec Joe (Film Footage) )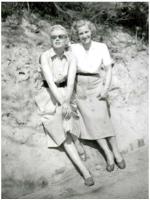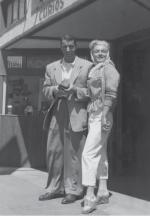 1- Marilyn Monroe & Marguerite Masi à la plage
2- Joe & Marilyn à San Francisco en juillet 1953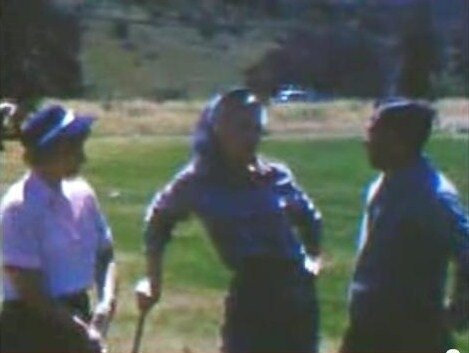 Marguerite Masi, Marilyn, Victor 'Chic' Masi
The DiMaggio and Masi couples also went on several family outings together:

. Outings to the beach, notably in Malibu where one day, Marilyn and little Dolores were even swept away by the riptide, saved by Victor; Dolores remembers that Marilyn looked at her and said: "That was a close one". For Dolores, Marilyn had a very childish side, loving to play with her a lot.
. One evening when the two couples dine in a dinner club in Toluca Lake (in the San Fernando Valley in Los Angeles), Joe DiMaggio's ex-wife, Dorothy Arnold (actress and singer), performs on stage. Dorothy goes to greet Joe and have a drink at the two couples' table.
. The Masis couple even accompanied Marilyn and Joe during their short stay in Mexico in July 1953; a photograph of the couple in San Francisco (when departing or returning) was taken by Victor.
. An amateur video shot in super eight and in color was revealed to the media by Dolores Masi in 2006 where Marilyn and Joe are seen playing golf with the Masi couple.
---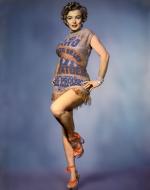 Les deux couples devenant ainsi des amis proches, Victor aurait même prodigué des conseils à Marilyn, comme une sorte de manager officieux. "Des gens autour de Marilyn cherchaient à profiter d'elle. Elle se confiait à mon père qui a commencé à l'aider, vérifiant par exemple le contenu de ses contrats", racontera Dolores Masi en 2003.
Victor Masi aurait aussi conforté l'idée à Marilyn de poser en sac de pommes de terre pour rebooster l'industrie de la pomme de terre qui était en difficulté (voir article 02/1952, Los Angeles - Marilyn en Sac à Patates "Idaho" par Theisen ).
Vic Masi a-t-il travaillé pour Marilyn ? Peut être lui a-t-il rendu des services - d'un point de vue professionnel ou personnel - tel le ferait un secrétaire. Marilyn l'a payé 50 Dollars par un chèque daté du 02 juillet 1952.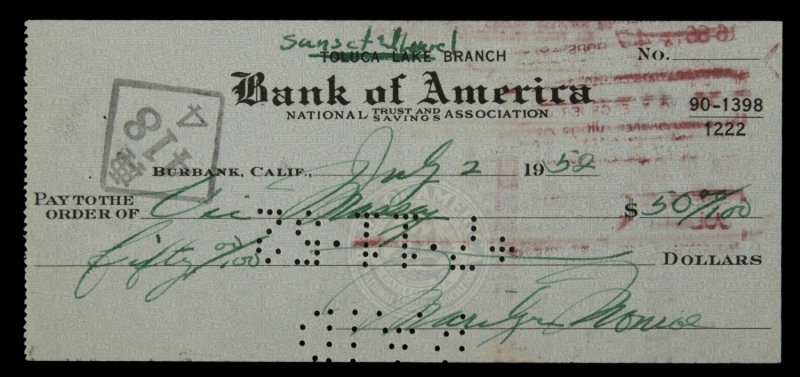 Chèque de 50 $ écrit par Marilyn à l'ordre de "Vic Massy" daté du 02 juillet 1952
Check of $50 written by Marilyn to the order of "Vic Massy" dated July 02, 1952
Lot 213 de la vente aux enchères Julien's Property From The Estate of Lee Strasberg 2016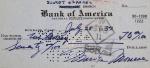 Chèque annulé de 70 $ écrit par Marilyn à l'ordre de "Vic Massy" daté du 25 juillet 1952
Canceled check for $70 written by Marilyn to the order of "Vic Massy" dated July 25, 1952
Lot 29 de la vente aux enchères Julien's Hollywood: Legends and Explorers 2020
The two couples thus becoming close friends, Victor would even have given advice to Marilyn, like a sort of unofficial manager. "People around Marilyn were trying to take advantage of her. She confided in my father who started to help her, checking for example the content of her contracts", Dolores Masi will tell in 2003.
Victor Masi would also have confirmed Marilyn's idea of posing in a potato sack to reboost the potato industry which was in difficulty.
Did Vic Masi work for Marilyn? Perhaps he has done her a favor - from a professional or personal point of view - as a secretary would. Marilyn paid him 50 Dollars by a check dated July 02, 1952.

---
Comme elle le fera toujours avec ses amis proches, Marilyn a donné plusieurs effets personnels aux Masi - Dolores Masi affirmant qu'elle avait donné 30 à 40 bijoux et six vêtements, dont certains sont des "costumes" ou bijoux portés dans des films :
- des boucles d'oreilles portées dans "Troublez-moi ce soir" et d'autres de "Sept ans de réflexion",
- un bracelet et des boucles d'oreilles de "Les hommes préfèrent les blondes",
- le chemisier en mousseline noire de "Quand la ville dort",
- un costume Dior,
- un boléro serti de perles qui lui avait été offert par le gouvernement japonais lors de son voyage au Japon en février 1954,
- divers cadeaux apportés de leur lune de miel au Japon.
As she always will with her close friends, Marilyn gave several personal belongings to the Masi - Dolores Masi claiming that she gave them 30 to 40 jewels and six items of clothing, some of which are "costumes" or jewels worn in films:
- earrings worn in "Don't Bother to Knock" and others from "The Seven Year Itch",
- a bracelet and earrings from "Gentlemen Prefer Blondes",
- the black chiffon blouse from "Asphalt Jungle",
- a Dior suit,
- a beaded bolero given to her by the Japanese government during her trip to Japan in February 1954,
- various gifts brought from their honeymoon in Japan.
---
Après la séparation et le divorce de Joe et Marilyn, on ne sait pour quelle(s) raison(s) les Masi cessent de voir Joe, ce dernier restera toute sa vie fâché contre eux. Pourtant de son côté, Marilyn reste en contact avec eux jusqu'en 1956, l'année de son mariage avec Arthur Miller. Dolores Masi expliquera que "quand il est entré dans sa vie, elle a coupé les ponts; il ne voulait pas qu'elle voit ses anciens amis." Après son divorce d'avec Arthur Miller (annoncé dès le 11 novembre 1960), il semble que Marilyn renoue les liens avec les Masi, de par plusieurs échanges par lettres ou par téléphone durant l'année 1961. Le dernier contact que Marilyn a eu avec eux, c'est un coup de fil pour l'anniversaire de Dolores qui fêtait ses 16 ans -soit le 12 octobre 1961- où Marilyn déclare à la jeune fille: "tu es une jeune femme maintenant".
Quand les Masi apprennent la mort de Marilyn le 05 août 1962, ils accusent le coup. Ils souhaitent assister aux funérailles mais font face au refus catégorique de Joe DiMaggio qui a organisé et filtrer la cérémonie.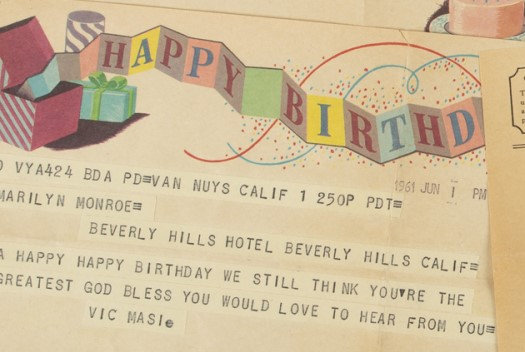 Télégramme envoyé par Vic Masi pour l'anniversaire de Marilyn le 01er juin 1961
Telegram sent by Vic Masi for Marilyn's birthday on June 01, 1961
Lot 397 de la vente aux enchères Julien's Hollywood Legends & Luminaries 2021

Message laissé par téléphone par Mme Masi à Marilyn Monroe
au Beverly Hills Hotel datée du 08 juin 1961
Message left by phone by Mrs Masi for Marilyn Monroe
at the Beverly Hills Hotel dated June 08, 1961
Lot 597 de la vente aux enchères Julien's Hollywood Legends 2018
After Joe and Marilyn's separation and divorce, we don't know for what reason(s) the Masis stop seeing Joe, the latter will remain angry with them all his life. Yet for her part, Marilyn remains in contact with them until 1956, the year of her marriage to Arthur Miller. Dolores Masi will explain that "when he came into her life, she cut ties; he didn't want her to see her old friends." After her divorce from Arthur Miller (announced on November 11, 1960), it seems that Marilyn reconnects with the Masi, through several exchanges by letters or by telephone during the year 1961. The last contact Marilyn has with them is a phone call for Dolores' birthday, which was celebrating her 16th birthday - on October 12, 1961 - where Marilyn declares to the young girl: "You are a young lady now".
When the Masi learn the Marilyn's death on August 05, 1962, they blame it. They wish to attend the funeral but face the categorical refusal of Joe DiMaggio who organized and filtered the ceremony.
---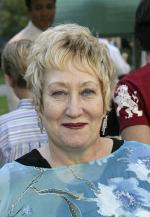 Dolores Hope Masi n'a révélé cette intimité que ses parents entretenaient avec le couple DiMaggio qu'en 2003, soit 4 ans après la mort de Joe DiMaggio (décédé en 1999), désirant respecter la volonté de ce dernier qui s'est toujours montré silencieux face aux médias et biographes sur sa vie partagée avec Marilyn, tel qu'elle le racontera à la presse: "Mes parents n'ont jamais rien dit à propos de Marilyn. Je pense maintenant que c'est important d'en parler parce que, la seule fois où elle a mené une vie normale et saine, c'est lorsqu'elle était chez nous."
C'est en se concertant avec son fils William que Dolores a décidé de dévoiler au grand public les effets personnels qu'elle possède de Marilyn. Elle dit en 2006: "Je ne vendrais jamais ces articles. J'ai eu des gens qui m'ont offert des montants ridicules – une personne m'a offert 22 millions pour les bijoux. C'était beaucoup d'argent, mais ça n'a jamais été une question d'argent pour moi."
Elle présente sa collection - intitulée "The Dolores Hope Masi Marilyn Collection" - aux médias en tenant un gala showcase le 11 octobre 2006 à Las Vegas.
Outre les divers effets personnels, Dolores Hope Masi a aussi quelques photographies privées et publiques de Marilyn dans sa collection. Des tirages numérotés de reproduction de certaines de ces photographies sont proposés à la vente (des tirages signées par Dolores Masi avant son décès, sont aujourd'hui revendus sur certains sites aux enchères comme ebay ou etsy).
En 2007, Dolores Masi négociait des contrats pour vendre des reproductions des bijoux (autant du bas de gamme accessible à tous que du haut de gamme, en diamant de platine ou 18 carats) et des copies des vêtements qu'elle possédait de Marilyn; et elle était en négociation pour l'écriture d'un livre, qui ne verra jamais le jour car elle décède prématurément.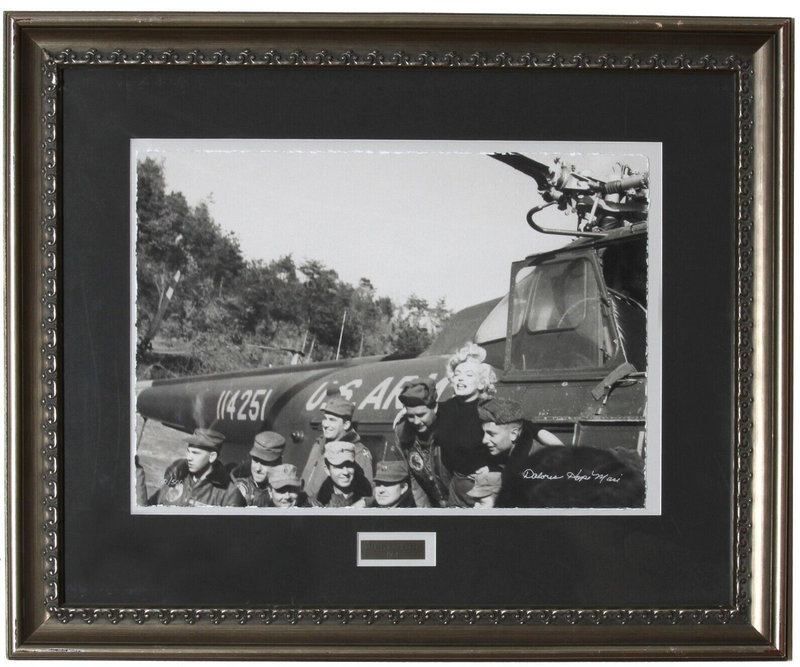 Quelques reproductions de photographies signées par Dolores Hope Masi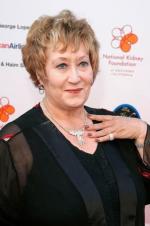 Dolores Hope Masi only revealed this intimacy that her parents maintained with the DiMaggio couple in 2003, that is to say 4 years after the death of Joe DiMaggio (who died in 1999), wishing to respect the will of the latter who always showed himself silent in the face of the media and biographers on her shared life with Marilyn, as she would tell the press: "My parents never said anything about Marilyn. I now think it's important to talk about it because that the only time she lived a normal, healthy life was when she was with us."
It was in consultation with her son William that Dolores decided to reveal to the public the personal effects that she possesses of Marilyn. She said in 2006: "I would never sell the items. I've had people offer me ridiculous amounts -- one person offered me 22 million for the jewelry. That was a lot of money, but it's never been about the money for me."
She presents her collection - titled "The Dolores Hope Masi Marilyn Collection" - to the media by holding a showcase on 2006, October 11 in Las Vegas.
Besides the various personal effects, Dolores Hope Masi also has some private and public photographs of Marilyn in her collection. Numbered reproduction prints of some of these photographs are offered for sale (prints signed by Dolores Masi before her death are now resold on certain auction sites such as ebay or etsy).
In 2007, Dolores Masi was negotiating contracts to sell reproductions of jewelry (both low-end accessible to everyone and high-end, in platinum or 18-carat diamonds) and copies of Marilyn's clothes that she owned; and she was in negotiations for the writing of a book, which will never done because she dies prematurely.

- émission américaine ABC Morning Show en 2006 - extrait video

---
Victor 'Chic' Masi décède à l'âge de 64 ans, le 22 juillet 1980; sa femme Marguerite Masi meurt à l'âge de 76 ans le 15 mars 1990.
Après avoir vécu sa jeunesse en Californie, Dolores Hope Masi s'installe à Las Vegas, où elle travaille dans l'industrie hôtelière pendant les années 1970s et 1980s. Puis elle travaille dans le domaine juridique en tant que chef de bureau et parajuriste. Mariée avec John James Laverty, elle a un fils William M Masi. Elle décède à Las Vegas à l'âge de 61 ans, le 05 septembre 2007.
La famille Masi (Victor, Marguerite et Dolores) sont enterrés dans le même cimetière de Las Vegas au Palm Memorial Park.
Victor 'Chic' Masi died at the age of 64 on July 22, 1980; his wife Marguerite Masi died at the age of 76 on March 15, 1990.
After growing up in California, Dolores Hope Masi moved to Las Vegas, where she worked in the hotel industry during the 1970s and 1980s. Then she worked in the legal community as an office manager and paralegal. Married to John James Laverty, she has one son William M Masi. She died in Las Vegas at the age of 61 on September 5, 2007.
The Masi family (Victor, Marguerite and Dolores) are buried in the same Las Vegas cemetery at Palm Memorial Park.
---
- Portfolio de la collection -
En ligne sur DMND Limited
- Bijoux: boucles d'oreilles, colliers, bracelets, parures, broches -
- Jewelry: earrings, necklaces, bracelets, sets, brooches -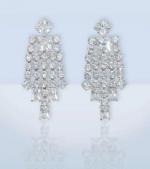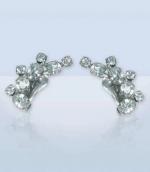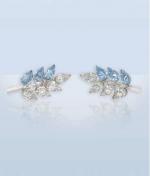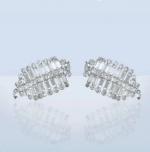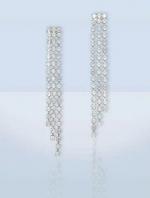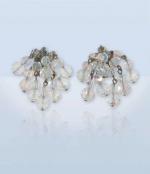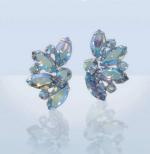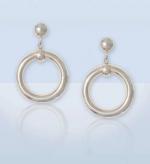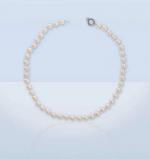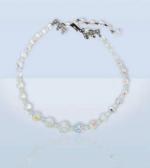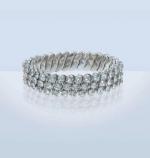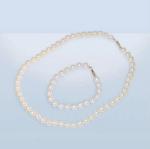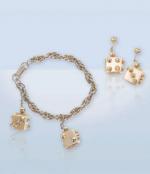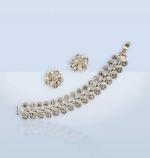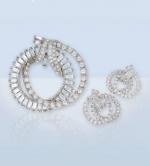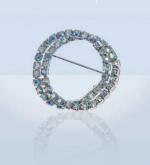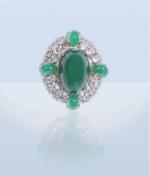 - Accessoires: cols, poudre, parfum et briquets -
- Accessories: collars, powder and perfume -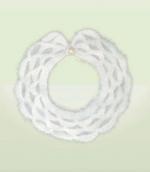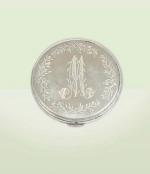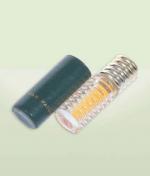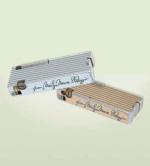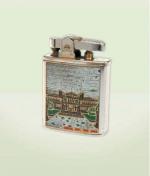 - Vaisselle: coupe, bol, théière, argenterie -
- Tableware: cup, bowl, teapot, silverware -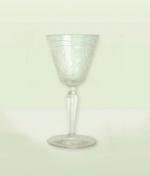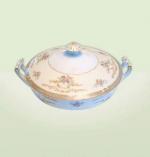 ---
>> sources:
- article "Les dessous tragiques du mariage de Marilyn et Joe DiMaggio" dans le magazine français OH LA ! 05/08/2003 n°254 / version anglaise du magazine Hello ! 5 August 2003, issue 776, UK.
- Livre "Joe and Marilyn: Legends in Love" de C David Heymann, p135 / Livre "Icon: The Life, Times and Films of Marilyn Monroe Volume 1" de Gary Vitacco-Robles.
- article du 17/06/2006 "Marilyn, quel giorno a Burbank con Di Maggio su un campo da golf" sur Republica
- article du 17/06/2006 "Old Friend Releases Marilyn Monroe Keepsakes" de abcNews
- article du 08/10/2006 "Immortal Mayhem" sur LA Weekly
- article du 10/01/2007 "Dolores Hope Masi Marilyn Collection" sur PRweb
- discussions et informations sur le restaurant Puccini sur le forum Home Theatre Forum
- avis de décès de Dolores Hope Masi du Las Vegas Review Journal
- Les sépultures sur findagrave de Victor C Masi , de Marguerite Masi et de Dolores Hope Masi

---
© All images are copyright and protected by their respective owners, assignees or others.
copyright text by GinieLand.
08 septembre 2013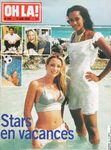 Le magazine OH LA ! n°254, du 5 août 2003, consacrait un article de 4 pages intitulé "Les dessous tragiques du mariage de Marilyn Monroe et Joe DiMaggio", avec le témoignage de Dolores Hope Masi.
26 janvier 2013
Joe DiMaggio et Marilyn Monroe passent des vacances au Mexique (soit la semaine du 11 au 20 juillet 1953 - soit juste le week-end du 20 au 23 juillet 1953) avec le couple Masi (Victor 'Chic' Masi -un ami de Joe- et sa femme Marguerite Masi).
Ils font une escale à Puerto Peñasco (surnommé 'Rocky Point' en anglais, c'est une ville mexicaine au Nord-Ouest de Sonora, un petit Etat situé dans le Golfe de la Californie, à une centaine de km de l'Arizona, qui était le berceau du baseball au Mexique).
Ils ont décollé de San Francisco pour ce voyage, en traversant la frontière pour se rendre à Puerto Peñasco, qui était alors un village de pêcheurs très discret et romantique, qui leur offrait l'intimité et la vie de plage qu'ils recherchaient. Parmi les hypothèses, ce séjour ferait suite à une invitation du joueur de baseball mexicain Carlos Alberto González, originaire d'Hermosillo.
Ils logent au luxueux hôtel Riviera à Ensenada, en bord de plage, en basse-californie, près de la frontière (hôtel devenu aujourd'hui le centre social, civique et culturel de la ville).

Joe DiMaggio and Marilyn Monroe spend vacations vacationing in Mexico (either the week of July 11 to 20, 1953 - either just the weekend of July 20-23, 1953) with the Masi couple (Victor 'Chic' Masi -a friend of Joe's- and his wife Marguerite Masi).
They stop to make an escape to Puerto Peñasco (called 'Rocky Point' in english, this is a mexican city in the northwest of Sonora, a little State located in the Gulf of California, about 100 km from the Arizona border, who was the birthplace of baseball in Mexico).
They took off from San Francisco for this trip, crossing the border and made their way to Puerto Peñasco, then a very discrete and romantic fishing village, which provided them with the privacy and beach life they sought. Among the hypotheses, this vacation would follow an invitation of the Mexican baseball player Carlos Alberto González, native of Hermosillo.
They stay at the luxurious Riviera Hotel in Ensenada, by the beach, in Baja California, near the border (now the social, civic and cultural center of the city).

---
- Désert de Sonora -
En bateau: Marilyn photographiée par Joe
By boat: Marilyn photographed by Joe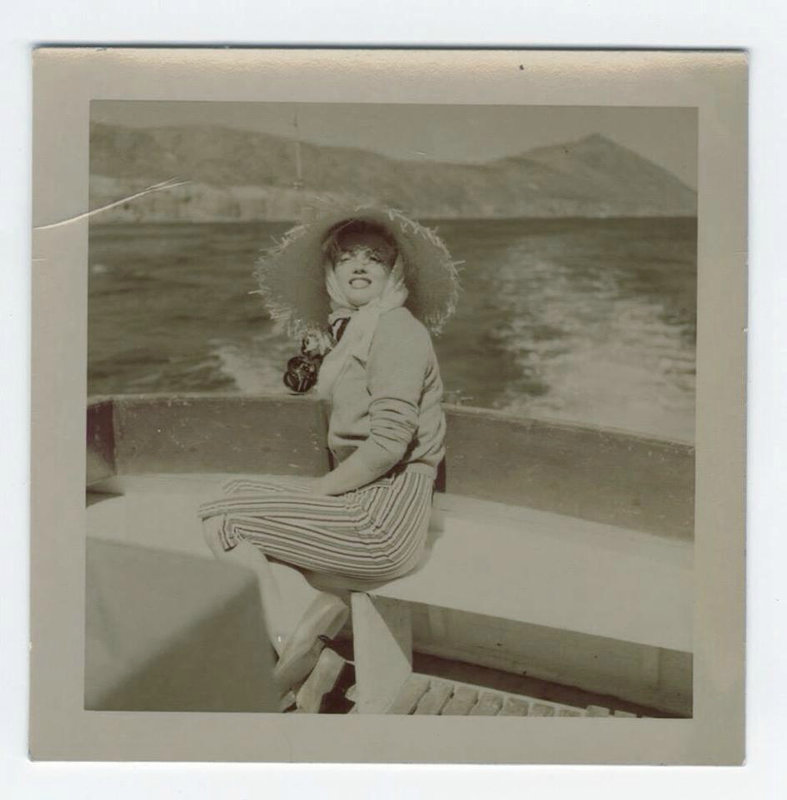 Joe photographié par Marilyn
Joe photographed by Marilyn
---
- Puerto Peñasco / Rocky Point -
Sur le quai: Marilyn et Joe avec Carlos Alberto González (à côté de Joe)
qui sera chef des arbitres des matchs de base-ball mexicains en 1966
On the dock: Marilyn and Joe with Carlos Alberto González (next to Joe)
who will be chief of all the umpires of baseball in Mexico in 1966
---
Le grand chapeau de paille mexicain de Marilyn
Marilyn's Big Mexican Straw Hat
vendu aux enchères en 1999 par Christies lot 450 - blog: Lots Partie 5
(re)vendu aux enchères en 2011 par Bonhams lot 2199
(re)vendu aux enchères en 2015 par Julien's lot 1012 - blog: Lots Divers
---
- Ensenada, Riviera Hotel -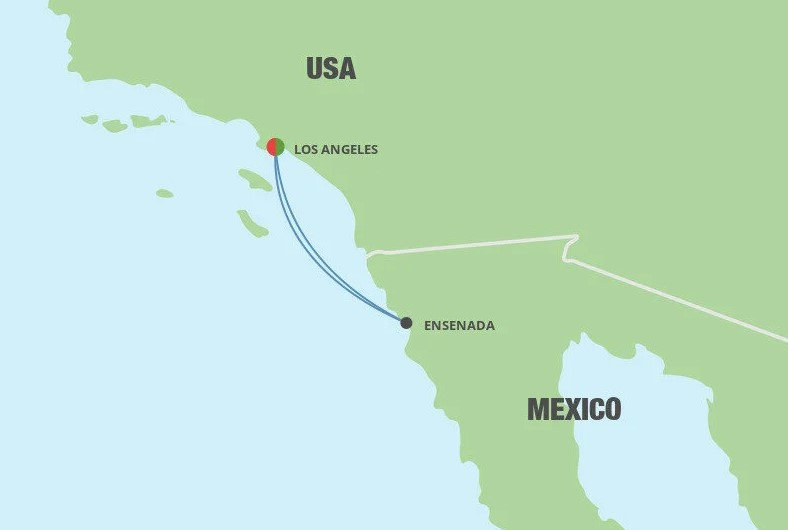 A l'hôtel: Marilyn photographiée par Joe
At the hotel: Marilyn photographed by Joe
Joe photographié par Marilyn
Joe photographed by Marilyn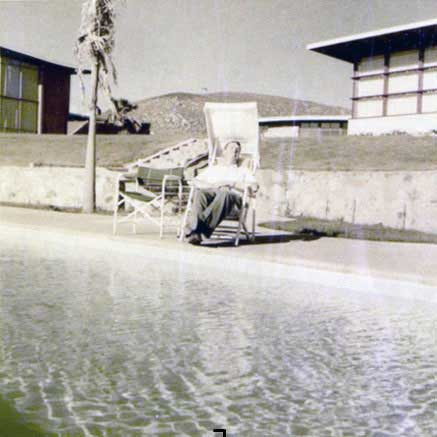 Vue de l'hôtel Riviera dans les années 1950s
View of the Riviera Hotel in the 1950s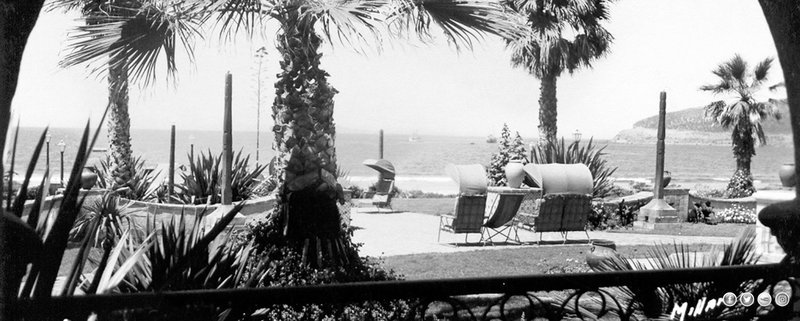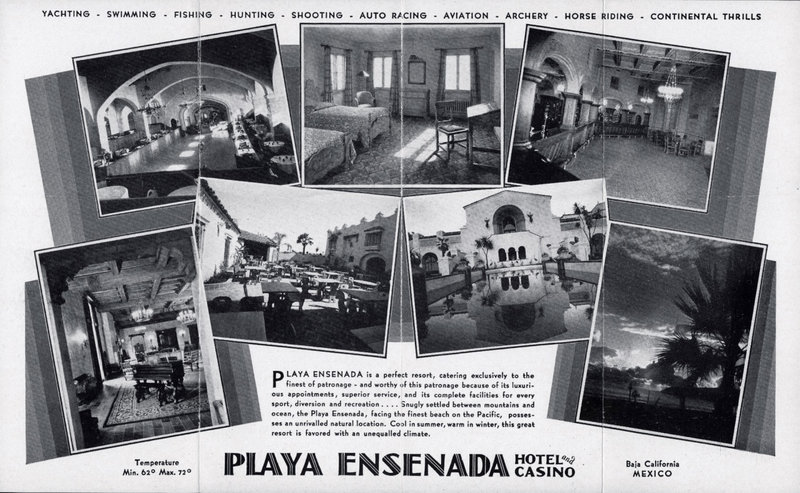 ---
Escale à San Francisco: Marilyn et Joe photographiés par Victor "Chic" Masi, un ami de Joe. Joe tient dans ses mains son appareil photo. Ils sont devant une boutique de développement de pellicules photos, Kodak. C'est d'ailleurs bien par Kodak que les photos prises pendant leur séjour ont été développées. La date du développement est du 20 juillet 1953; il peut donc s'agir de leur retour de voyage.
Stopover in San Francisco: Marilyn and Joe photographed by Victor "Chic" Masi, a Joe's friend. Joe holds his camera in his hands. They are in front of a photo film developing shop, Kodak. It is indeed by Kodak that the photos taken during their stay were developed. The development date is July 20, 1953; it may therefore be the day of their return trip.
- information au dos de l'une des photos -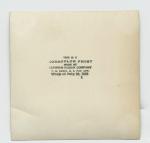 ---
source web:
articles sur Come to Rocky point - sur El Sol De Hermosillo
vente aux enchères en 2015 par Julien's Hollywood Auction 65 Profiles in History
---
© All images are copyright and protected by their respective owners, assignees or others.
copyright text by GinieLand.

19 juin 2012
Film amateur en couleur de Marilyn Monroe qui joue au golf, filmée par Joe DiMaggio, vers 1954, peut être à Sherman Oaks (dans la vallée de San Fernando) , un quartier de Los Angeles, où le couple passait souvent des week-ends chez le couple Masi (Marguerite et son mari Victor "Chic Masi, un ami d'enfance de Joe, qui a joué parfois le rôle de manager non officiel de Marilyn).
C'est Dolores Hope Masi, la fille de Chic Masi, qui a connu Marilyn alors qu'elle était encore qu'une enfant, qui a retrouvé cette pellicule en 2003, telle qu'elle l'a raconté à l'émission de télévision américaine "Good Morning America" en 2006: "J'ai trouvé ce vieil appareil photo dans un coffre il y a environ trois ans. Je savais que la caméra était là, mais je ne savais pas qu'il y avait un film à l'intérieur. Et je l'ai fait développer. D'abord, c'était mon père qui filmait Joe et Marilyn près de la voiture. Et puis quand ils jouaient au golf, il a tendu la caméra à Joe, et c'est mon père qui apprend le golf à Marilyn et à ma mère."
Home movie in color of Marilyn Monroe playing golf, filmed by Joe DiMaggio, circa 1952, possibly in Sherman Oaks (in the San Fernando Valley), a neighborhood in Los Angeles, where the couple often spent weekends at the Masi's home (Marguerite and Victor 'Chic' Masi, a childhood friend of Joe, who sometimes played the role of Marilyn's unofficial manager).
It was Dolores Hope Masi, Chic Masi's daughter, who knew Marilyn when she was still a child, who found this film in 2003, as she told the american television show "Good Morning America" in 2006: "I found this old camera in a chest about three years ago. I knew the camera was there but I had no idea there was film inside. And I had it developed. First, it was my dad shooting Joe and Marilyn by the car. And then when they were playing golf, he handed Joe the camera, and it's my dad teaching Marilyn and my mom to golf."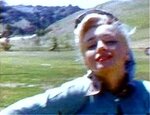 > video

---
source article "Old Friend Releases Marilyn Monroe Keepsakes" abcNews
---
© All images are copyright and protected by their respective owners, assignees or others.
copyright text by GinieLand.
17 février 2010
Chérie, je me sens rajeunir
Sur le tournage - partie 1
Marilyn Monroe, portant la robe à volant plissée qu'elle détestait, sur le tournage de Monkey Business en 1952, avec Cary Grant et Ginger Rogers.
>> Séance coiffure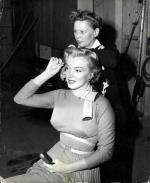 >> Marilyn and the Monkey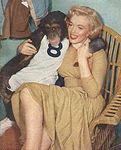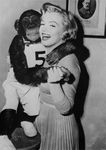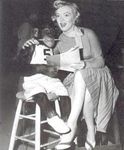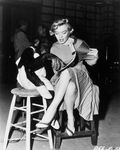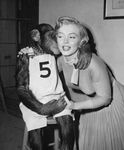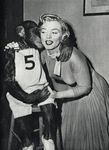 >> Roller skate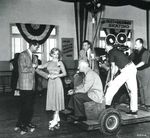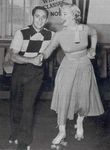 - avec l'assistant du réalisateur Paul Helmick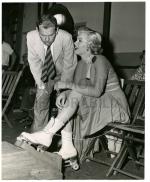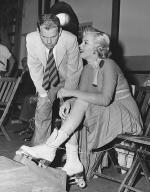 >> Marilyn...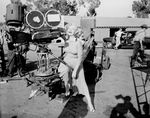 >> Marilyn et Cary Grant en voiture, écoutant Howard Hawks