24 mars 2012
Une semaine avec Marilyn
auteur: Colin Clark
traduction: Jean-Noël Liaut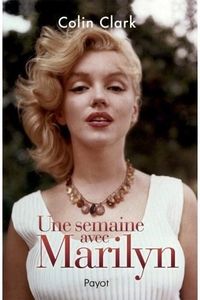 Prix éditeur: 17 Euros
Date de sortie: avril 2006
Broché: 199 pages
Editeur : Payot
Langue : français
ISBN-10: 2228900850
ISBN-13: 978-2228900850
Ou le trouver ? sur amazon.fr
Présentation de l'éditeur: En 1956 à Londres, Colin Clark, âgé de vingt-trois ans et tout frais émoulu d'Eton, devient le troisième assistant de Laurence Olivier. Celui-ci doit tourner Le Prince et la Danseuse, dont il partagera la vedette avec Marilyn Monroe. Il a embauché le jeune homme par amitié pour son père, Kenneth Clark, éminent historien d'art. Le tournage est un enfer scandé par les querelles entre le génial comédien shakespearien et l'immense star d'Hollywood. Marilyn, qui aspire au rang d'authentique actrice, est traitée comme une blonde écervelée par Olivier et comme une enfant difficile par Arthur Miller, son tout nouveau mari, tandis que son associé Milton Greene la laisse avaler trop de calmants pour mieux la manipuler. Prisonnière de ces fortes personnalités masculines, prisonnière surtout de sa vertigineuse ascension, le sex-symbol du grand écran qui a conquis le monde entier tente alors de noyer son mal-être en séduisant un jeune inconnu. Entre " Mlle Monroe " et Colin se noue une étrange idylle, du 11 au 19 septembre 1956. Longues conversations, visite de la bibliothèque de Windsor, baignade à Eton... Mais que se passera-t-il lorsque le garçon se retrouvera assis au bord du lit de Norma Jean ? Devenu un grand producteur de télévision, Colin Clark (1932-2002) n'a livré son secret que deux ans avant sa mort. En racontant une seule semaine de la vie de Marilyn Monroe dans un petit livre aussi drôle que touchant, il a accompli l'exploit de nous en apprendre plus sur un personnage trop célèbre que les biographies les plus complètes.
A savoir: Ce livre a été mis en images au cinéma, par le film Une semaine avec Marilyn (2012) avec Michelle Williams (dans le rôle de Marilyn) et Eddie Redmayne (dans celui de Colin Clark).
---
> Le livre a été republié: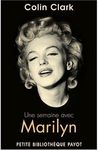 1/ Ed. Payot, Petite Bibliothèque, (poche), en 2008, à 7 euros
2/ Ed. Payot, Petite Bibliothèque, (poche), en 2012, à 7 euros
---
Sur le web: Le livre version originale, en anglais,
sur le site myweekwithmarilynbook
---
Vous avez le livre ?
Apportez votre critique, votre avis ou votre note (/10)

The Prince, the Showgirl, and Me:
Six Months on the Set With Marilyn and Oliver
auteur: Colin Clark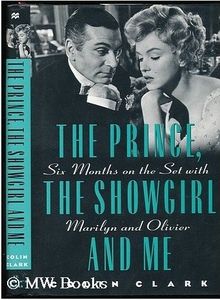 Prix éditeur: ? Euros
Date de sortie: 1996
Relié: 218 pages
Editeur : St Martin Pr
Langue : anglais
ISBN-10: 0312143958
ISBN-13: 978-0312143954
Ou le trouver ? sur amazon.fr
Description: Colin Clark, troisième assistant réalisateur sur le tournage du Prince et la Danseuse, raconte à travers un journal intime qu'il écrivait la nuit, les dessous de ce tournage chaotique.
A savoir: Le livre donnera naissance à un documentaire télévisé "The Prince, The Showgirl and Me", produit en Angleterre en 2004 (durée: 1 heure) et diffusé sur la BBC.
---
---
Vous avez le livre ?
Apportez votre critique, votre avis ou votre note (/10)
02 novembre 2011
Le magazine You du 30 octobre 2011, consacre un article de quatre pages intitulé "My week with the ultimate Marilyn" sur le film My week with Marilyn, inspiré du livre de Colin Clark.