21 juillet 2018
Le 31ème régiment des "Ours Polaires" en Corée ont élu Marilyn Monroe "La fille avec qui nous aimerions le plus faire un câlin d'ours", devancant Corinne Calvet et Mitzi Gaynor.
The 31st "Polar Bear" Regiment in Korea elected Marilyn Monroe "girl we should most like to get a bear hug from", ahead of Corinne Calvet and Mitzi Gaynor.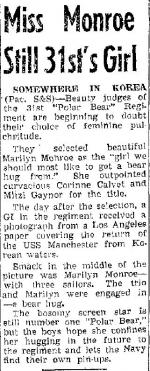 Presse: article du "The Pacific Stars And Stripes" du 30 juin 1951
Miss Monroe Still 31st Girl
SOMEWHERE IN KOREA
(Pac. S&S)—-Beauty judges of the 31st "Polar Bear" Regiment are beginning to doubt their choice of feminine pulchritude.
They selected beautiful Marilyn Monroe as the "girl we should most like to get a bear hug from." She outpointed curvacious Corinne Calvet and Mitzi Gaynor for the title.
The day after the selection, a GI in the regiment received a photograph from a Los Angeles paper covering the return of the USS Manchester from Korean waters. Smack in the middle of the picture was Marilyn Monroe—with three sailors. The trio and Marilyn were engaged in —a bear hug. The bosomy screen star is still number one "Polar Bear," but the boys hope she confines her hugging in the future to the regiment and lets the Navy find their own pin-ups.

> source presse: forum everlasting star
---
© All images are copyright and protected by their respective owners, assignees or others.
copyright text by GinieLand.
23 février 2013
Floral Corset
corset à fleurs

Ce corset aux motifs de petites fleurs, serti de dentelles rouges a été porté par Marilyn Monroe dans le film River of no return (La rivière sans retour) tourné en 1953. Sans doute est-ce William Travilla qui en est le styliste / créateur, étant donné qu'il a créé certains costumes pour le film.
Marilyn le porte sur des collants bas résille noir, assortis de bijoux (de grosses boucles d'oreilles pendantes et des bracelets au poignée). Dans le film, elle apparaît vêtue de ce costume que dans une seule et courte scène : celle où son personnage Kay se déshabille et enfile un peignoir dans une sorte de remise qui fait office de coin loge dans le saloon où elle chante. Ce corset, elle le porte donc sous la longue robe verte en velours, dont le créateur est Travilla.
Il existe une série de photographies de Marilyn prises sur le tournage où elle pose vêtue de ce corset, en pleine préparation de coiffure, maquillage et d'habillage, se faisant serrer le corset par son habilleuse Ann Landers; ainsi qu'une série de portraits publicitaires pour le film, photographiée par Bruno Bernard et Earl Leaf.
Le corset fut sans doute emprunté au département costume de la Fox, puisqu'il apparaît la même année porté par une autre actrice, Corinne Calvet, dans le film western Powder River (La rivière de la poudre), avec d'ailleurs au casting, la présence de l'acteur Rory Calhoun dans le rôle principal, lui-même partenaire de Marilyn dans River of no return.
Corinne Calvet fut la première à porter ce corset, c'est à dire avant Marilyn, puisque le film Powder River est sorti sur les écrans américains le 8 juin 1953, alors que River of no return était encore en tournage à la même période.
Tandis que le corset porté par Marilyn était brodé de dentelles rouges, tel que nous pouvons le constater sur les quelques clichés en couleur, celui porté par Corinne Calvet est quand à lui brodé de dentelles de couleur noires.
---
All photos are copyright and protected by their respective owners.
Copyright text by GinieLand.
Enregistrer