02 mars 2013

Dale Robertson est mort à l'âge de 89 ans
article publié sur teleobs.nouvelobs.com
le 28 février 2013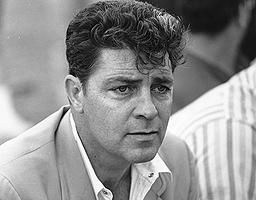 Vu dans Dallas, il a tourné avec Ronald Reagan et dans de nombreux westerns télé.

L'acteur, star de western à la télé dans les années 1950-1960, Dale Robertson, est mort mercredi à l'âge de 89 ans, dans un hôpital de San Diego. Il soufrait depuis longtemps d'un cancer des poumons et a été emporté par une pneumonie.

Les films de cowboy étaient sa grande passion. Il a joué dans « Sitting Bull » ou encore « La flèche sanglante ». Côté séries, il a été la star éphémère de « J.J Starbuck » (le temps d'une saison), a joué dans « Tales of Wells Fargo » entre 1957 et 1962 et côtoyé un certain Ronald Reagan dans « Les aventuriers du Far-West ». En 1982 il a incarné Frank Crutcher dans plusieurs épisodes de « Dallas ».

Née en 1923, il sert très jeune pendant la seconde guerre mondiale, en revient vivant mais est blessé deux fois. Il devient boxeur professionnel avant de se faire repérer par un producteur et de devenir acteur en 1948.

Son amour pour le grand Ouest et les cowboys l'ont poussé à investir la quasi-totalité de son argent dans un élevage de chevaux de l'Oklahoma. Il aurait eu, avant de le vendre il y a quelques années, plus de 235 bêtes.


---
>> Marilyn et Dale Robertson <<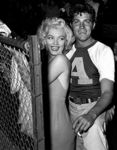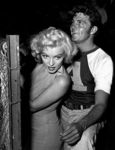 Dale Robertson figure au casting de O'Henry's Full House en 1952, mais pas dans le même sketch que Marilyn; néanmoins, il la rencontre le 15 septembre 1952, lors du Charity Base-Ball Game.
>> Sur le blog: voir les photos de Marilyn et Dale Robertson
28 juillet 2010
Le 15 septembre 1952, Marilyn Monroe donne le coup d'envoi à un match de base-ball à but caritatif, le sixième organisé annuellement: "Out of this world series charity base-ball game", au stade Gilmore Field de Los Angeles. Parmi les participants: le boxeur Art Aragon, et les acteurs Mickey Rooney et Dale Robertson. Marilyn porte la robe rose avec laquelle elle a fait la promotion du film Niagara. Photographies de Murray Garrett.
On September 15, 1952, Marilyn Monroe kickes off a charity baseball game, the sixth annual "Out of this world series charity baseball game" at Gilmore Field in Los Angeles. Among the participants: boxer Art Aragon, and actors Mickey Rooney and Dale Robertson. Marilyn wears the pink dress with which she has promoted the movie Niagara. Photographs by Murray Garrett.
> Marilyn et Ralph Edwards (animateur radio et télé)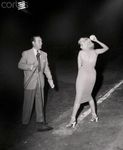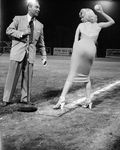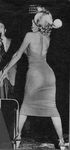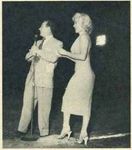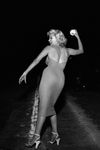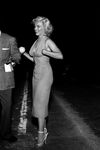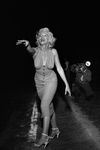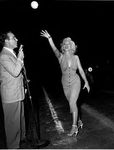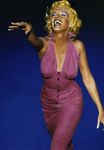 >> Marilyn avec Art Aragon, Mickey Rooney et Dale Robertson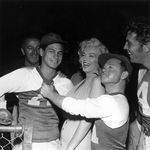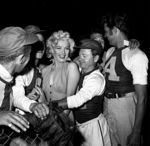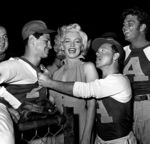 >> Marilyn avec Dale Robertson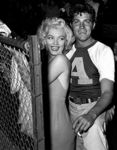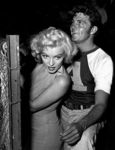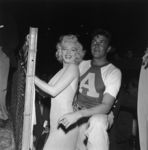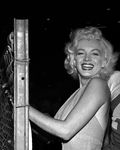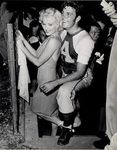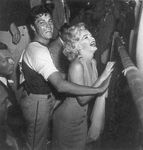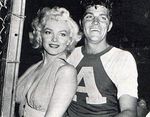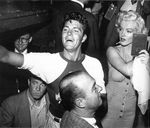 >> Marilyn avec Mickey Rooney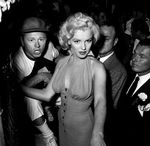 >> Marilyn avec d'autres participants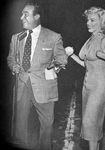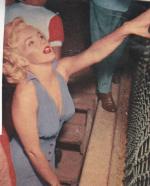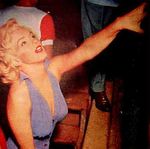 ---
© All images are copyright and protected by their respective owners, assignees or others.
copyright text by GinieLand.
Enregistrer
18 avril 2008
O Henry's full house
La sarabande des pantins


Dates de sorties dans le monde
Première USA: 19 Septembre 1952
USA sortie nationale: 16 Octobre 1952
Suède: 21 Novembre 1952
Allemagne: 22 Avril 1953
Autriche: Mai 1953
France: 29 Mai 1953
Finlanda: 7 Août 1953
Danemark: 13 Avril 1955

Le titre du film à travers le monde
USA: O. Henry's Full House
USA (titre du script): Baghdad on the Subway
Angleterre: Full House
France/ Belgique: La Sarabande des pantins
Autriche / Allemagne: Vier Perlen
Allemagne: Fünf Perlen
Danemark: Fire perler
Espagne: Cuatro páginas de la vida
Italie: La Giostra umana
Suède: Livets glada karusell
Finlande: Neljä helmeä
Turquie: Son yaprak

Fiche technique
Production: André Hakim
Distribution: 20th Century Fox pour le cinéma et
NBC (National Broadcasting Company) pour la télévision
Musique: Alfred Newman, Ken Darby (voix)
et Edward B. Powell (orchestration)
Costumes: Edward Stevenson, Sam Benson
et Charles Le Maire
Pays: États-Unis
Durée: 117 min
Format: Noir et blanc

O. Henry's Full House est un film composé de cinq petites histoires (nommées "sketches"), chacunes réalisées par un réalisateur différent. Ce sont des mises en scène de nouvelles de l'écrivain américain du XIXème siècle, O Henry. Chacune des histoires est introduite à l'écran par John Steinbeck qui joue ainsi le rôle du Narrateur.
sketch 1
The Cop and the Anthem
Titre Français:
Le policier et le chant
Fiche technique
Réalisateur: Henry Koster
Scénariste: Lamar Trotti
d'après O. Henry
Image: Lloyd Ahern
Montage: Nick DeMaggio
Distribution (créditée)
Charles Laughton : Soapy


Marilyn Monroe : une prostituée


David Wayne : Horace
Synopsis
A New York, le clochard Soapy va tout tenter
pour se faire emprisonner afin de se mettre à l'abri
du froid hivernal. Il commet des infractions (vol de
parapluie, grivèlerie, bris de vitrine,
importune une passante en espérant qu'elle appellera
la police mais il s'agit d'une prostituée) mais ses tentatives
restent sans résultat. Après une halte dans une église, il décide
alors de changer de vie et de chercher du travail.
On l'arrête alors pour vagabondage.
sketch 2
The Clarion Call
sketch 3
The Last Leaf

Titre Français:
L'appel du Clairon

Titre Français:
La dernière feuille

Fiche technique
Réalisateur: Henry Hathaway
Scénariste: Richard L. Breen
d'après O. Henry
Image : Lucien Ballard
Montage : Nick DeMaggio

Fiche technique
Réalisateur: Jean Negulesco
Scénaristes: Ivan Goff et
Ben Roberts d'après O. Henry
Image : Joseph MacDonald
Montage : Nick DeMaggio

Distribution
Dale Robertson: Barney Woods
Richard Widmark: Johnny Kernan
Distribution
Anne Baxter: Joanna
Jean Peters: Susan
Gregory Ratoff: Behrman

Synopsis
Le policier Barney retrouve le
dangereux gangster Johnny,
qui fut autrefois son ami
et à qui il doit de l'argent.
Il se retrouve plus
qu'embarrassé pour dénoncer
un crime commis par celui-ci.
Il n'ose l'arrêter dans ces conditions
mais révèle sa planque à un journal
pour toucher la récompense
offerte et ainsi rembourser le truand,
qui sera finalement
arrêté par d'autres.

Synopsis
À New York, Joanna tombe
malade en raison du froid
et sa sœur Susan prend
soin d'elle. La jeune fille pense
qu'elle mourra quand tombera
la dernière feuille du lierre
qu'elle voit sur un mur. Mais
la feuille ne tombe pas et la
malade reprend espoir puis
guérit. Sa sœur comprend que
c'est leur voisin Behrman, un
vieux peintre, qui a peint une
feuille la nuit et dans le froid,
et qu'il en est mort.

sketch 4
The Ransom of Red Chief
sketch 5
The Gift of the Magi

Titre Français:
La rançon du chef rouge

Titre Français:
Le cadeau des rois mages

Fiche technique
Réalisateur: Howard Hawks
Scénaristes: Ben Hecht
non crédités: Nunnally Johnson
et Charles Lederer
d'après O. Henry
Image : Milton Krasner
Montage : William B. Murphy
Fiche technique
Réalisateur: Henry King
Scénariste: Walter Bullock
d'après O. Henry
Image: Joe MacDonald
Montage: Barbara McLean
Distribution
Fred Allen: Sam
Oscar Levant: Bill
Distribution
Jeanne Crain: Della
Farley Granger: Jim
Synopsis


Les deux escrocs Sam et Bill




enlèvent un gamin qui se




révèle être bien plus malin qu'eux,




en leur menant la vie dure.




Comme la rançon n'est pas




payée, les ravisseurs s

upplient
les parents de reprendre le petit
monstre et vont même leur donner
un peu d'argent !

Synopsis
Della et Jim sont de jeunes
mariés très amoureux
mais vivent sans un sous.
Néanmoins, pour prouver leur
amour, ils sont prêts à
tous les sacrifices.
A l'approche de Noël, elle sacrifie
sa superbe chevelure chez un
perruquier et achète une
chaîne pour la montre
de son mari. Lui, de son côté,
vend sa montre pour acheter
le peigne dont elle rêvait.
Ils s'offrent leurs cadeaux
inutiles et préfèrent en rire.
>> Sur le web:
- tout sur le film sur imdb (en anglais)
- infos sur le film sur wikipedia français
- résumé et infos sur joeyy.free.fr (en français)
- critique du dvd (+ captures) sur dvdbeaver (en anglais)
- le dvd + critiques + lobby cards sur amazon américain