20 juin 2010
Tournée promo pour "La Pêche au Trésor"
"Love Happy" Tour Promo
Dans le cadre de la tournée promotionnelle du film La pêche au trésor, Marilyn Monroe est à Détroit (dans le Michigan) début juillet 1949; elle loge à l'hôtel Book Cadillac.

As part of the promotional tour for the movie Love Happy, Marilyn Monroe is in Detroit (in Michigan) in early July 1949; she is staying at the Book Cadillac Hotel.
---
- A l'aéroport -
At the aiport
- Dans la presse -
Detroit Free Press, 08/07/1949 - USA
"MARILYN MONROE, in Detroit for premiere of movie "Love Happy" later this month,
tries out new air taxi service from City Airport to Willow Run"
"Marilyn Monroe, à Détroit pour la première du film "Love Happy" plus tard ce mois-ci,
essaie un nouveau service de taxi aérien de l'aéroport de la ville à Willow Run"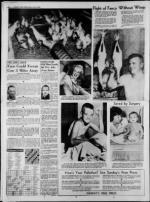 Detroit Free Press, 28/05/1967 - USA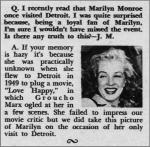 ---
- A l'hotel Book Cadillac -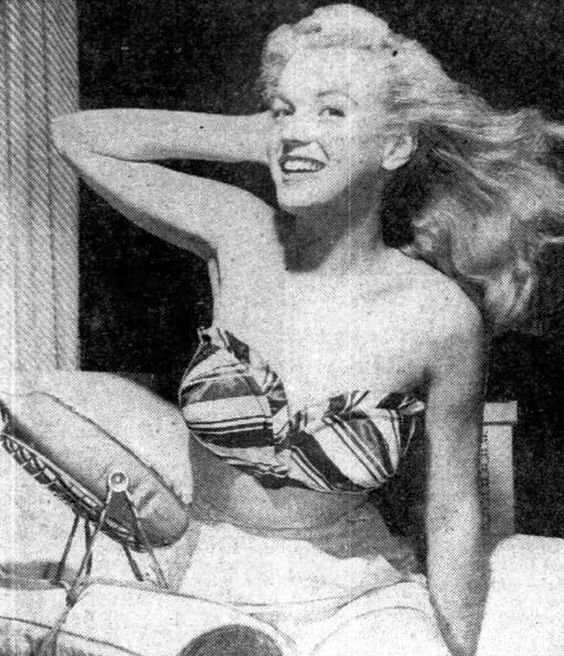 Le maillot de bain est de / The swimsuit is by
Rose Marie Reid

- Dans la presse -
Detroit Free Press, 02/07/1949 - USA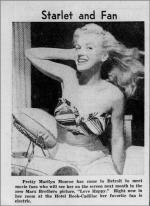 ---
- Publicité pour "E & B Premium Beer", une bière locale -
Publicity for "E & B Premium Beer", a local beer -
- Dans la presse -
Detroit Free Press, 06/08/1949 - USA

---
Lettre écrite par Joseph Schenck (patron de la Fox), datée du 11 juillet 1949 et envoyée à Marilyn Monroe à l'adresse du Book Cadillac Hotel de Détroit.
Letter written by Joseph Schenck (boss of Fox), dated July 11, 1949 and sent to Marilyn Monroe at the address of the Book Cadillac Hotel in Detroit.
Dear Marilyn,
I am sorry that you did not get a chance
to stay in New York any length of time.
I hope you have the opportunity to get
back there and see some of the good shows.
Everything is fine here and I shall be
pleased to see you when you come back.
I am addressing the letter to the
Book-Cadillac Hotel as you gave me no
other adresses, and according to your
letter, you expect to be back there
on the 21st.
Sincerely,
Joseph Schenck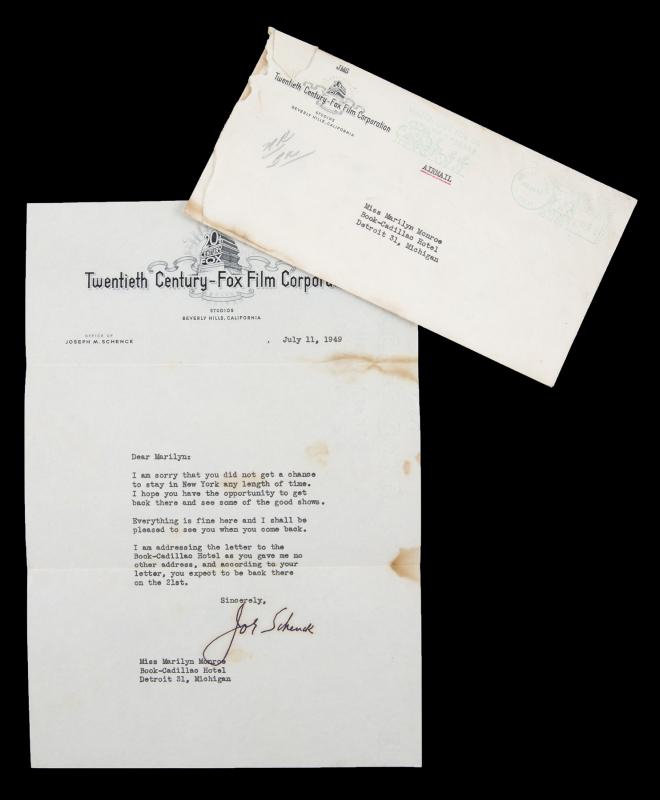 Chère Marilyn,
Je suis navré que vous n'ayez pas eu l'occasion
de rester à New York pour une durée indéterminée.
J'espère que vous aurez l'opportunité d'y retourner
et de voir quelques bons spectacles.
Tout va bien ici et j'aurai le plaisir
de vous voir à votre retour.
J'adresse la lettre
à l'hôtel Book-Cadillac car vous ne m'avez pas donné
d'autres adresses, et d'après votre lettre,
vous comptez y être de retour pour le 21.
Sincèrement,
Joseph Schenck
> Lettre vendue par Julien's en 2019: The Personal Property Of Goodman Basil Espy III
---
Le 21 juillet 1949 a lieu la première de "La pêche au trésor" à Détroit. On ne connait aucune photographie prise de cet événement, mais Marilyn souhaitait y aller et sa venue avait été annoncée dans la presse locale.
Marilyn a passé quelques jours à Détroit au tout début du mois de juillet, mais elle est ensuite à Chicago et à Milwaukee (environ entre le 08 et le 15 juillet). Est-elle revenue participer à la première du film à Détroit ? Il semblerait qu'elle soit plutôt repartie à New York pour y passer la dernière semaine de juillet (posant pour les photographes Weegee et André De Dienes).
On July 21, 1949, the premiere of "Love Happy" takes place in Detroit. We don't know any photograph taken of this event, but Marilyn wished to go there and her coming has been announced in the local press.
Marilyn spends few days in Detroit at the very beginning of the month of July, but then, she is in Chicago and Milwaukee (circa between the 08 and 15 of July). Does she come back to attend the film's premiere in Detroit ? Instead, it seems that she returns to New York to spend the last week of July (posing for the photographers Weegee and Andre De Dienes).
- Dans la presse -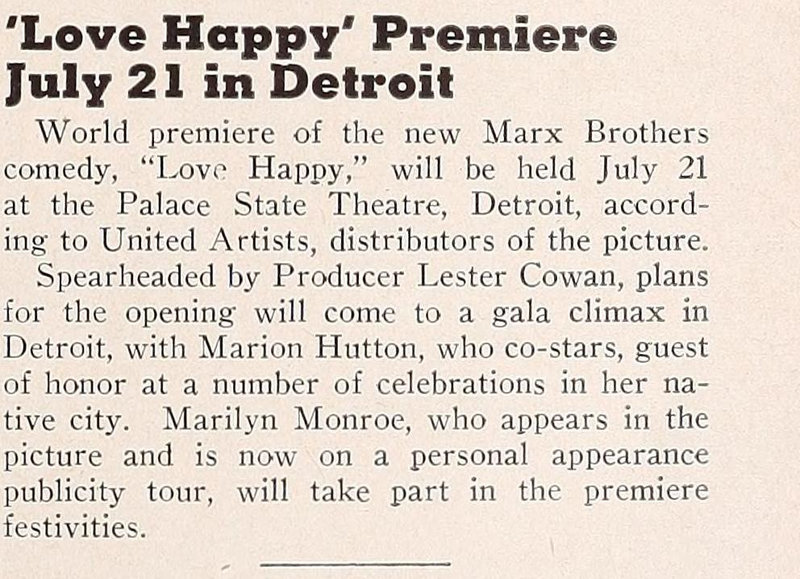 ---
© All images are copyright and protected by their respective owners, assignees or others.
copyright text by GinieLand.
02 juin 2010
L'automne 1944, Norma Jeane part en voyage pour rendre visite à ses proches; elle se rend d'abord dans le Tennessee à Huntington pour revoir Bebe Goddard, puis dans le Michigan à Détroit pour rencontrer sa demie-soeur Berniece Miracle: mariée à Paris Miracle, ils ont une fille, Mona Rae; Niobe, la soeur de Paris, vivent avec eux.
In the fall of 1944, Norma Jeane goes on a trip to visit her relatives; she goes first to Tennessee in Huntington to see Bebe Goddard, then in Michigan to Detroit to meet her half-sister Berniece Miracle: married in Paris Miracle, they have a daughter, Mona Rae; Niobe, Paris's sister, lives with them.
---
Tout commence par la venue de Grace Mc Kee et de son mari Doc Goddard à Détroit courant l'année 1944. Berniece Miracle et son mari Paris Miracle rencontrent Grace et son mari pour un dîner au Cadillac Hotel. C'est la première fois qu'elles se voient, après avoir échangées des lettres pendant plusieurs années. Grace lui révèle l'enfance de Norma Jeane et lui parle beaucoup de leur mère Gladys.
Suite à cette recontre qui a fait une forte impression auprès des deux femmes, Grace décide que le temps est venu pour Norma Jeane de rencontrer sa soeur: elle écrit donc à Berniece que Norma Jeane peut venir à Détroit. Comme la venue de Norma Jeane se ferait sur une période indéterminée et que Berniece et Paris hébergeaient déjà Niobe (la soeur de Paris) sur le canapé, ils achètent un lit de l'armée pour coucher Norma Jeane.
Puis Berniece et Norma Jeane s'écrivent à leur tour pour convenir du rendez-vous de rencontre: la date, l'heure, et la tenue qu'elle portera pour qu'ils la reconnaissent (un ensemble tailleur en laine de couleur bleu cobalt et un chapeau en forme de coeur sur le rebord).
C'est à l'automne 1944 - (fin septembre / début octobre, il n'y a pas de dates précises sur sa venue ni sur la durée de son séjour; elle restera jusqu'à fin octobre, passant les derniers jours du mois d'octobre à Chicago avec Grace Goddard) - que Norma Jeane Dougherty arrive à Détroit: Berniece, son mari Paris Miracle et la soeur de celui-ci Niobe, ainsi que leur petite Mona Rae, âgée de 5 ans, attendent sur le quai de la gare et reconnaissent immédiatement Norma Jeane, tel le racontera Berniece:
"Je me souviens d'avoir attendu à la gare de Detroit que Marilyn apparaisse pour la première fois - bien sûr, elle était alors toujours Norma Jeane. Nous nous étions écrit au fil des années et avions échangé des photos, mais nous ne nous étions jamais rencontrées face à face. Elle m'avait dit qu'elle porterait un costume bleu cobalt et un chapeau avec un bord en forme de cœur, mais j'avais peur de ne pas la reconnaître lorsqu'elle descendrait du train."
"Eh bien, il n'y avait aucune chance de la manquer ! Elle s'est démarquée immédiatement de tous les autres passagers, si grande et jolie et fraîche, une fille magnifique. Nous étions ravies de nous rencontrer enfin, et nous ne pouvions pas arrêter de nous regarder. Nous avions les mêmes cheveux blonds foncés avec une pointe de veuve (nb: pointe en forme de V de la ligne des cheveux au front), la même bouche, mais nos yeux étaient différents - les miens sont bruns et ceux de Norma Jeane étaient bleus comme ceux de notre mère. J'étais si heureuse d'avoir une sœur. Et si fière."
La petite Mona Rae, âgée de 5 ans, se souvient que Norma Jeane "sentait bon", lui faisant "pleins de câlins".
Elles s'embrassent, pleurent et rient. Pour Berniece, les photos que Norma Jeane lui avaient envoyées d'elle sont loin de la réalité: sa beauté est naturelle, d'une fraîcheur éclatante. Elle rougit légèrement, son sourire est spontané, ses cheveux sont ondulés et entourent un visage de porcelaine aux traits fins et réguliers; elle est mince et non voluptueuse (telle est la sensation décrite par Berniece quand elle s'est remémorée leur rencontre).
Ils font la route de la gare à leur appartement 3 pièces - situé dans le quartier Polonais de Detroit - dans la Pontiac bleue de Paris: Berniece, Mona Rae et Norma Jeane assises à l'arrière, se serrant dans les bras et s'observant.
Norma Jeane s'accomode de l'hébergement, expliquant même à Berniece que quand elle était bébé, leur mère la couchait dans un tiroir.
Puis elles passent la soirée à s'observer physiquement, comparant même leurs pieds identiques (Berniece, Norma Jeane et même Mona Rae ont cette particularité d'avoir le 2ème orteil le plus grand du pied).
Berniece fait découvrir à Norma Jeane une photographie de leur mère Gladys quand elle était jeune (avant la vingtaine) et Berniece de demander à Norma Jeane comment est leur mère à ce jour; Norma Jeane répond qu'elle est toujours jolie, mais ne sourit jamais. Elle lui a rendu visite à l'institution avec Grace, mais ne la reconnait plus; elle explique à Berniece qu'elle ne considère pas Gladys comme sa mère, mais plutôt Grace et même Tante Ana, comme des mères pour elle.

Berniece, Paris et Niobe continuent à travailler pendant le séjour de Norma Jeane chez eux; ils n'ont que quelques journées de libres.
Norma Jeane propose d'emblée d'aider à tenir le foyer en faisant la cuisine (notamment sa spécialité des petits pois carottes car elle adore le mélange des couleurs des deux).

Parmi les sujets de discussion entre les deux soeurs:
-Elles discutent de leur mère, du père de Berniece, de leur frère Jack (Robert Kermit, décédé d'une tuberculose osseuse à 14 ans), de leur enfance; Norma Jeane parlera même du piano blanc que Gladys possédait et racheté ensuite par Tante Ana.
-Elles se trouvent des points communs (le chant et la danse).
-Norma Jeane tente à plusieurs reprises de convaincre Paris de s'engager dans la Marine marchande, comme son mari Jim Dougherty, dans le but que Berniece et Paris viennent la rapprocher et s'installer en Californie. Elle suggère même l'idée à Paris que Jim peut le pistonner pour intégrer l'usine de Lockheed Aircraft, où Jim était superviseur avant de s'engager dans la Marine.
---
It all starts when Grace McKee and her husband Doc Goddard comes to Detroit in 1944. Berniece & her husband Paris Miracle meet Grace and her husband for a dinner at the Cadillac Hotel. This is the first time they have seen each other, after having exchanged letters for several years. Grace reveals Norma Jeane's childhood to her and talks her a lot about their mother Gladys.
Following this meeting which made a strong impression on the two women, Grace decides that the time has come for Norma Jeane to meet her sister: she therefore writes to Berniece that Norma Jeane can come to Detroit. As Norma Jeane's coming would be for an indefinite period and Berniece and Paris were already hosting Niobe (Paris's sister) on the couch, they buy an army bed to sleep Norma Jeane.

Then Berniece and Norma Jeane write to each other to agree on the meeting: the date, the time, and the outfit she will wear so that they recognize her (a cobalt blue wool suit and a hat with a heart shaped dip in the brim).
It is in the fall of 1944 - (late September / early October,there are no specific dates on her arrival or the duration of her stay; she will stay until the end of October, spending the last days of October in Chicago with Grace Goddard) - that Norma Jeane Dougherty arrive in Detroit: Berniece, her husband Paris Miracle and his sister Niobe, as well as their little daughter of 5-year-old Mona Rae, are waiting on the station platform and immediately recognize Norma Jeane, as will tell Berniece:
"I remember waiting at the train station in Detroit for Marilyn to appear that first time - of course, then she was still Norma Jeane. We had been writing to each other over the years and had exchanged pictures, but we had never met face to face. She'd told me she'd be wearing a cobalt blue suit and a hat with a heart shaped brim, but I worried that I wouldn't recognize her when she stepped off the train."
"Well, there was no chance to missing her ! She stood out immediately from all the rest of the passengers, so tall and pretty and fresh, a gorgeous girl. We were excited to finally meet, and we couldn't stop staring to each other. We hed the same dark blond hair with a widow's peak, the same mouth, but our eyes were different - mine are brown and Norma Jeane's were blue like our mother's. I was so happy to have a sister. And so proud."
Five-year-old Mona Rae remembers Norma Jeane "smelling good", giving her "lots of hugs".
They kiss, cry and laugh. For Berniece, the photos that Norma Jeane had sent her of her are far from reality: her beauty is natural, radiantly fresh. She blushes slightly, her smile is spontaneous, her hair is wavy and surrounds a porcelain face with fine and regular features; she is thin and not voluptuous (such is the sensation written by Berniece when she recalled their meeting).
They drive from the station to their 3-room apartment - located in the Polish district of Detroit - in the blue Pontiac of Paris: Berniece, Mona Rae and Norma Jeane sitting in the back, hugging and observing each other.
Norma Jeane makes do with the accommodation, even explaining to Berniece that when she was a baby, their mother slept her in a drawer.
Then they spend the evening observing each other physically, even comparing their identical feet (Berniece, Norma Jeane and even Mona Rae have the particularity of having the 2nd largest toe of the foot).
Berniece shows to Norma Jeane a photography of their mother Gladys when she was young (before her twenties) and Berniece to ask Norma Jeane how their mother is to this day; Norma Jeane replies that she is always pretty, but never smiles. She visited her at the institution with Grace, but no longer recognizes her; she explains to Berniece that she doesn't consider Gladys as her mother, but rather Grace and even Aunt Ana, as mothers to her.

Berniece, Paris, and Niobe continue to go to work during Norma Jeane's stay with them; they only have a few free days. Norma Jeane immediately offers to help keep the household by cooking (especially her specialty of peas and carrots because she loves the mix of colors of the two).
Among the topics of discussion between the two sisters:
- They discuss on their mother, on Berniece's father, on their brother Jack (Robert Kermit, who died of bone tuberculosis at 14), their childhood; Norma Jeane will even talk about the white piano that Gladys owned and later bought by Aunt Ana.
- They find common points (singing and dancing).
-Norma Jeane tries several times to convince Paris to join the Merchant Marine, like her husband Jim Dougherty, with the aim that Berniece and Paris come to bring her closer and settle in California. She even suggests the idea to Paris that Jim can boost him to join the Lockheed Aircraft factory, where Jim was a supervisor before joining the Marine.
---
- DETROIT -
---
Pendant son séjour, Norma Jeane découvre la ville de Détroit (le centre-ville, les immeubles, les parcs).
During her stay, Norma Jeane discovers the city of Detroit (the city center, the buildings, the parks).
- Norma Jeane, Berniece, Mona Rae Miracle -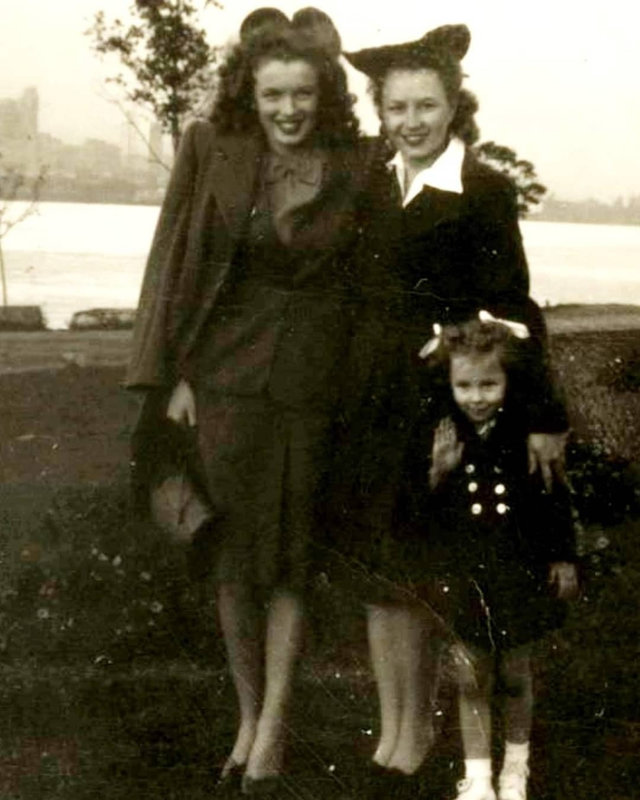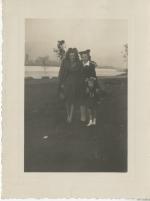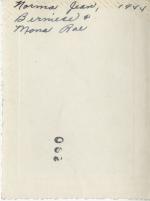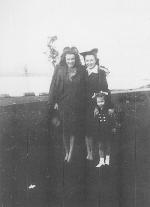 - Norma Jeane, Paris Miracle, Berniece -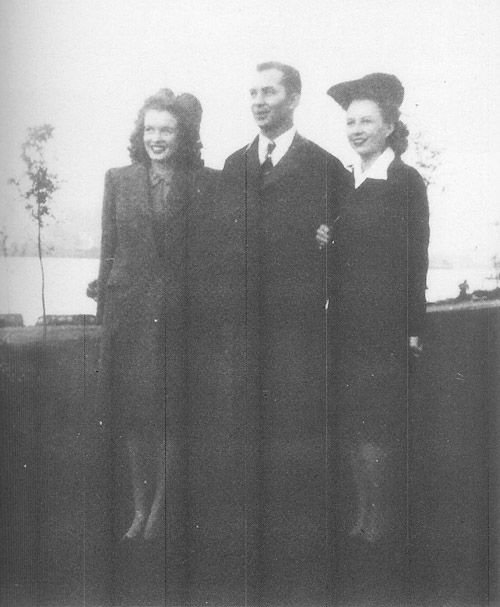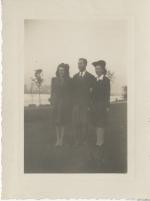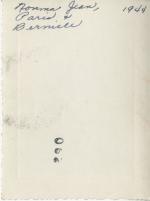 ---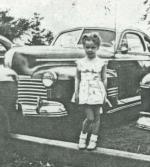 Norma Jeane donne des conseils de pose à Mona Rae pour être photographiée:
"Ne te tiens pas droite. Incline la tête sur le côté, fais un sourire idiot. Plie un genou pour avoir l'air un peu courbée... voilà, chérie, c'est mignon".
Norma Jeane gives Mona Rae posing advices to be photographied:
"Don't stand straight. Tilt your head to the side, make a silly smile. Bend one knee so you look a little curvy... there you go honey – that's cute."
---
- CANADA -
---
Il vont aussi au Canada, situé juste en face de la rivière (c'est Paris, le mari de Berniece, qui avait planifié toutes les ballades touristiques).
They're going also to Canada, located just across the river (it is Paris, Berniece's husband, who has planned all the tourist ballads).
- Berniece, Norma Jeane & Niobe -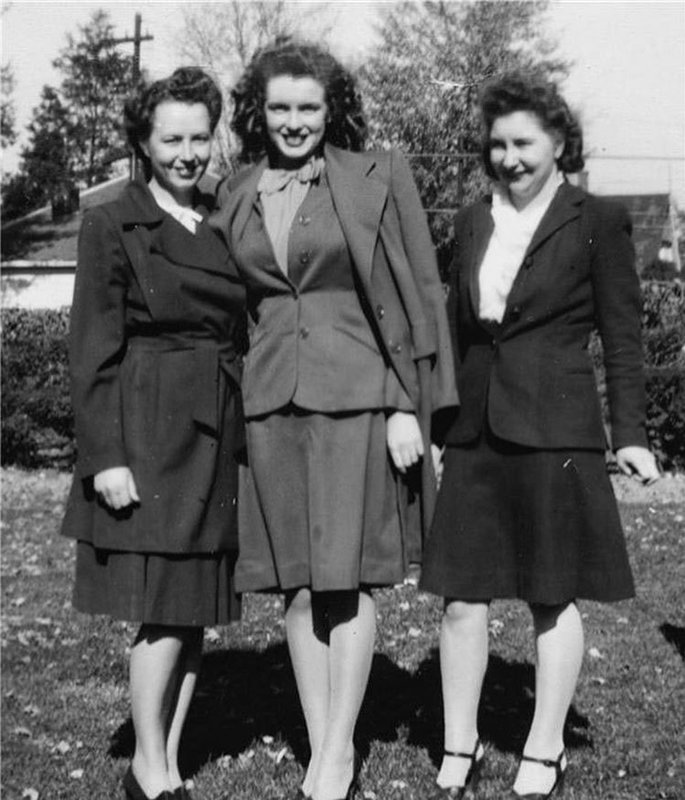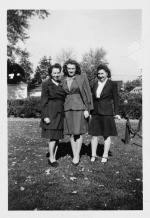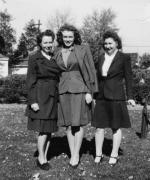 Ils visitent le parc d'oiseaux (Miner's Bird Sanctuary) à Kingsville, dans l'Ontario, au Canada. Norma Jeane est très excitée par ce lieu très coloré (avec des plantes de toutes les couleurs) et le fait d'être avec sa soeur: "Pouvons-nous prendre des photos ici ? Pouvez-vous le croire - c'est la première fois que je quitte les États-Unis ! Prenons une photo de nous pendant que nous sommes au Canada !"
They visit the Miner's Bird Sanctuary in Kingsville, Ontario, Canada. Norma Jeane is very excited by this very colorful place (with plants of all colors) and being with her sister: "Can we take pictures here? Can you believe it - this is my first time out of the United States! Let's take a picture of us while we're in Canada!"
- Norma Jeane, Berniece & Niobe -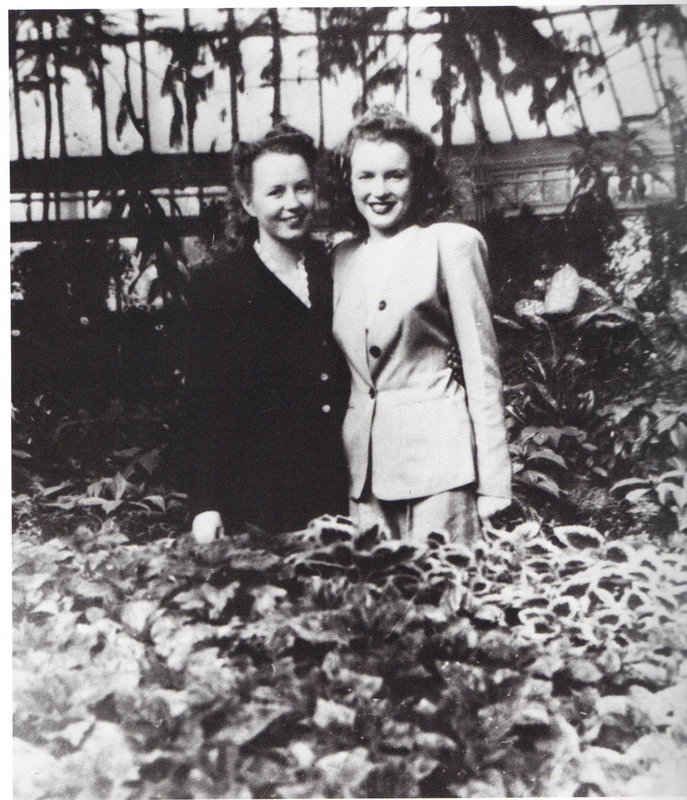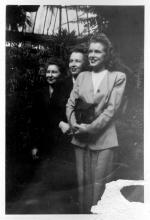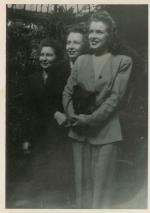 ---
source
Livre de Berniece & Mona Rae Miracle My Sister Marilyn
Article "My auntie Marilyn Monroe" sur Mirror
---
© All images are copyright and protected by their respective owners, assignees or others.
copyright text by GinieLand.