24 octobre 2018
Le Milliardaire
Sur le tournage
---
Pendant la scène
During the shooting scene
---
- photographies: John Bryson -
Yves Montand, Marilyn Monroe, George Cukor
---
Sur le plateau
On the set
Marilyn Monroe & George Cukor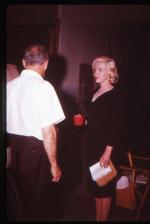 Marilyn Monroe & Arthur Miller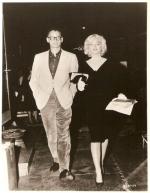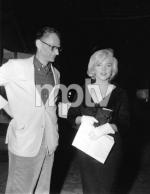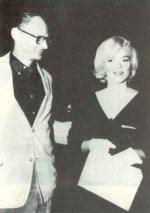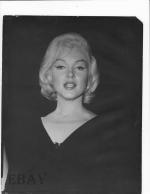 Marilyn Monroe et le journaliste Donald Zec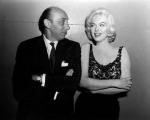 ---
> 12/05/1960 - anniversaire de Wilfrid Hyde-White
1960, May, 12 - Birthday of Wilfrid Hyde-White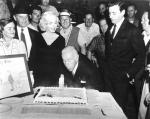 > 15/05/1960 - jour de tournage de Gene Kelly
1960, May, 15 - Day of shooting of Gene Kelly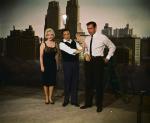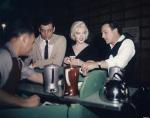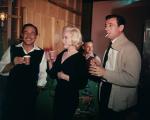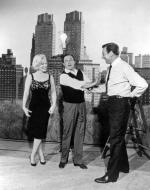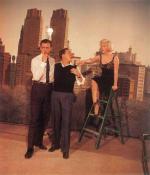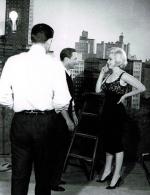 ---
© All images are copyright and protected by their respective owners, assignees or others.
copyright text by GinieLand.
15 octobre 2012
Le 13 juillet 1956, Marilyn Monroe et Arthur Miller partent de New York pour se rendre en Angleterre où Marilyn doit tourner "The Prince and the Showgirl" (Le prince et la danseuse). Une foule de personnes s'est regroupée à l'aéroport new-yorkais pour apercevoir le couple qui prend l'avion, accompagné par les parents d'Arthur. De nombreux journalistes de la presse écrite et aussi des caméras, sont sur les lieux. La presse va rapporter que le couple voyage avec 27 valises.
> de la collection de James Collins, un fan des Monroe Six
-from the personal collection of James Collins, one of the 'Monroe Six'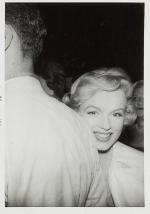 ---
Le couple arrive à Londres le 14 juillet. La nouvelle de l'arrivée de Marilyn avait fait la Une des journaux, allant jusqu'à éclipser un très important discours du Premier Ministre Anthony Eden sur la catastrophe économique en Angleterre. Marilyn et Arthur sont assaillis dès leur descente d'avion à Idlewild Airport: près de 70 policiers sont présents pour assurer la sécurité car plus de 200 journalistes et photographes sont agglutinés sur le tarmac et dans l'aéroport.
---
Dans le hall de l'aéroport, c'est la cohue entre journalistes et photographes. Laurence Olivier et sa femme Vivien Leigh viennent à la rencontre de Marilyn et Arthur.
---
Une conférence de presse est organisée dans le petit salon de l'aéroport et au bar du petit hôtel. Les journalistes posent des questions idiotes à Marilyn, la considérant comme une petite blonde stupide; ils lui demandent notamment ses habitudes de sommeil, ce à quoi elle réplique:
-"Maintenant que je suis en Angleterre, disons que avant de dormir, j'aime me parfumer avec de la lavande de Yardley's".
Les journalistes -quasiment tous masculins- vont être finalement totalement séduits par la star et sont surpris par ses réparties délicieuses. Le journal 'The London Evening News' va écrire dans ses colonnes: "Elle marche. Elle parle. Elle est aussi savoureuse que des fraises à la crème."
---
> photographies de Milton H Greene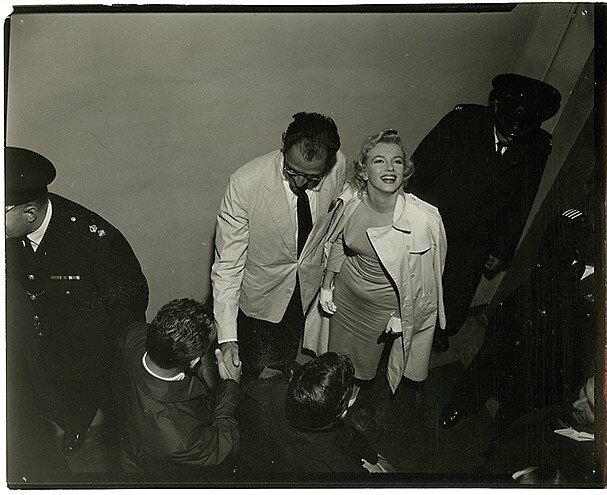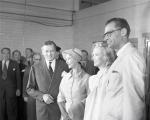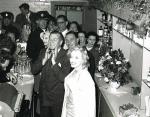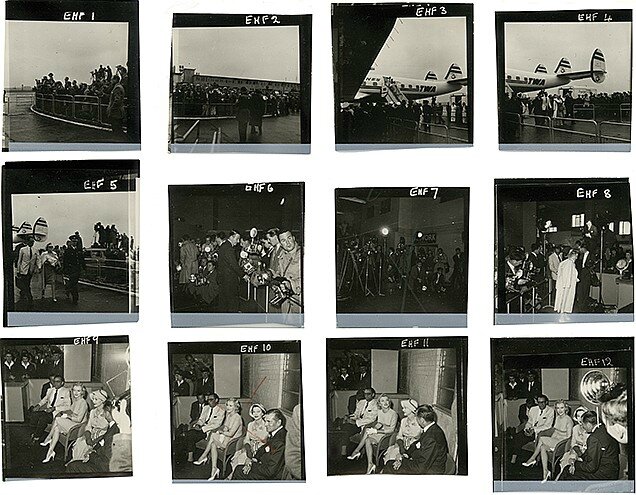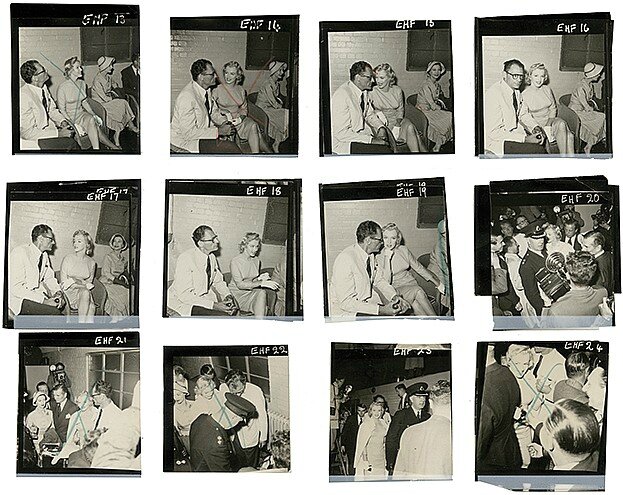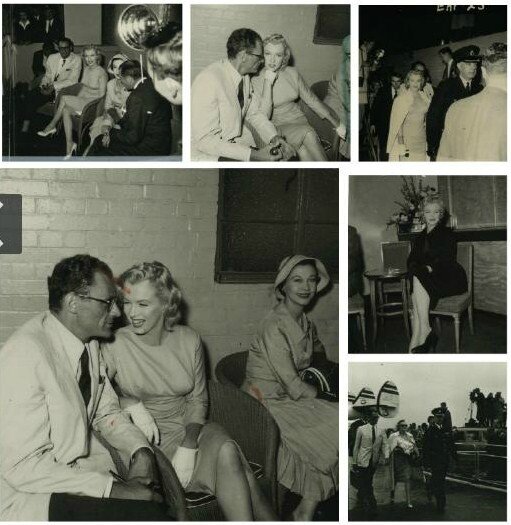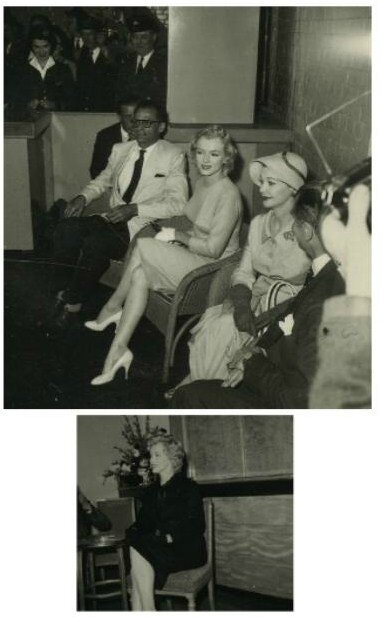 ---
Marilyn et Arthur sont escortés jusqu'à une limousine (une Austin Princess) qui les amènent à Parkside House, une propriété située à Englefield Green à Egham, à moins d'une heure en voiture de Londres. Le photographe Milton Greene et l'attaché de presse de Marilyn, Arthur Jacobs, s'y rendent aussi; ils sont escortés par quatre policiers en motos. Le couple Olivier les suivent dans une Bentley.

---
Puis Marilyn, Arthur, Laurence Olivier et Vivien Leigh se retrouvent à Parkside House, où Marilyn et Arthur vont loger. Ils la louent à Lord Moore, directeur du Financial Times, et à sa femme, la pianiste Joan Moore. Donald Zec, journaliste au 'Mirror' est présent pour accueillir le couple. D'ailleurs Marilyn permit aux photographes d'accéder à la propriété pour prendre des photos.
---
> video 1


> video 2


> video 3


> video 4


> video "Marilyn and Miller go to England" sur youtube

> video "MM arrives in England" sur youtube

> video 'British Movietone News'


---
---
On July 13, 1956, Marilyn Monroe and Arthur Miller leave New York, going to London where Marilyn should shoot 'The Prince and the Showgirl'. They travel with 27 pieces of luggage.
They arrive in London the July 14 where they meet Laurence Olivier and Vivien Leigh. More than 200 journalists and photographs are here and 70 policemen make the security service. A press conference is organised in the airport's hall.
They go after to Parkside House.

---
sources:
> Les vies secrètes de Marilyn Monroe, d'Anthony Summers.
> Marilyn Monroe et les caméras.
> Marilyn Monroe, de Barbara Leaming.
> Marilyn Monroe Les inédits, de Marie Clayton.

12 août 2012
Le 16 juillet 1956, Marilyn Monroe et Laurence Olivier, son partenaire et metteur en scène dans "The Prince and the Showgirl" ("Le Prince et la danseuse"), donnent une conférence de presse au Savoy Hotel de Londres. Marilyn donne notamment une interview à Donal Zec, journaliste au Mirror. Arthur Miller raccompagne ensuite son épouse.
> Photographies de Milton H Greene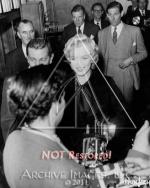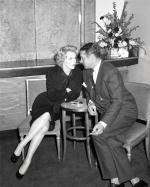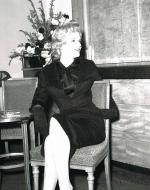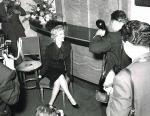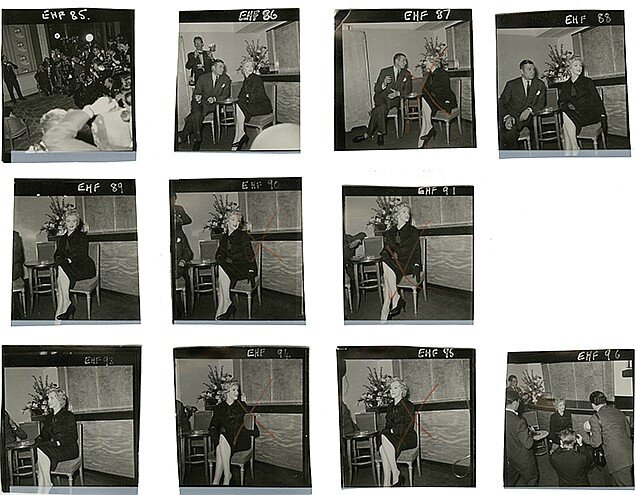 ---
> Marilyn et Arthur Miller

---
On July 16, 1956, Marilyn Monroe and Laurence Olivier -her actor partner and director of "The Prince and the Showgirl"- give a press conference to the Savoy Hotel, in London. Marilyn gives an interview to Donald Zec, the Mirror's writer. After, Arthur Miller and Marilyn leave the hotel.
11 mai 2011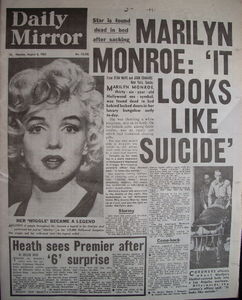 Marilyn Monroe en une du Daily Mirror du 6 août 1962, le lendemain de l'annonce de son décès. Le journal titre "It looks like a suicide" et publie une rapide biographie avec les souvenirs du journaliste Donal Zec, qui avait rencontré Marilyn lors de son séjour Londonien en 1956. Marilyn est décrite ici comme une personnage fragile.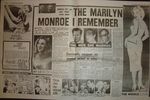 14 juin 2010
Marilyn Monroe téléphone au journaliste britannique Donald Zec, qui travaille pour le quotidien anglais Daily Mirror; l'une des photos sera publiée dans un article du Daily Mirror du 03 février 1958, indiquant que Marilyn porte un ensemble rose pâle (chemisier et pantalon de style toreador) et qu'elle se trouve dans son appartement new-yorkais - cette série de photos a été probablement prise fin janvier 1958. Photographies créditées "MirrorPix" (dans l'article, Zec explique que Marilyn a demandé à son photographe personnel, sans le nommer, de la photographier, expliquant peut être que ces photos sont parfois créditées par Milton Greene).
Marilyn Monroe on telephone with the British journalist Donald Zec, who works for the English Daily Mirror; one of the photos will be published in a Daily Mirror article of February 03, 1958, indicating that Marilyn is wearing a pale pink outfit (toreador-style pants and a shirt) and that she is in her New York apartment - this series of photos was probably taken at the end of January 1958. Photographs credited "MirrorPix" (in the article, Zec explains that Marilyn asked her private cameraman, without naming him, to photograph her, perhaps explaining that these photos are sometimes credited by Milton Greene).
---
Article du Daily Mirror du 03 février 1958
"The Lady has certainly changed - Only the frame the same !"
par Donald Zec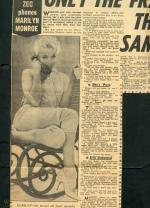 On y apprend que Marilyn s'est beaucoup enrichie intellectuellement auprès d'Arthur Miller, qu'elle surnomme "Popsie" - Arthur la surnomme "Puss" ("minette" en français) - Ils passent leur week-end dans leur grande maison du Connecticut où Marilyn fait de longues ballades dans les bois. Le reste du temps, ils sont dans leur appartement à New York, dans lequel Marilyn a fait installer une statue de femme de couleur en marbre qu'elle a offerte à Arthur. Quand Zec lui demande si elle est heureuse, elle répond avec franchise "Le bonheur est une chose qui m'angoisse d'en parler. Je suis superstitieuse et c'est la raison pour laquelle je n'aime pas annoncer tous les quelques mois si j'attends un bébé ou non." Indiquant ensuite qu'elle n'est pas enceinte, bien qu'ils ne font "qu'éspérer". Donald Zec annonce que son prochain film dont le tournage est prévu pour l'été prochain serait le remake de "L'Ange Bleu" d'avec Marlene Dietrich.
We learn that Marilyn has enriched herself a lot intellectually with Arthur Miller, whom she nicknames "Popsie" - Arthur nicknamed her "Puss" - They spend their weekend in their big home in Connecticut where Marilyn takes long walks in the woods. The rest of the time, they are in their apartment in New York, in which Marilyn had installed a statue of a colored woman in marble which she offered to Arthur. When Zec asks her if she's happy, she candidly replies, "Happiness is something I'm sort of scary to talk about. I'm superstitious about it and that's why I don't like to announce every few months whether I'm expecting a baby or not." Then indicating that she is not pregnant, although they "just hope and hope". Donald Zec announces that her next movie, which is scheduled to be shot next summer, will be the remake of "The Blue Angel" with Marlene Dietrich.
---
© All images are copyright and protected by their respective owners, assignees or others.
copyright text by GinieLand.