02 avril 2021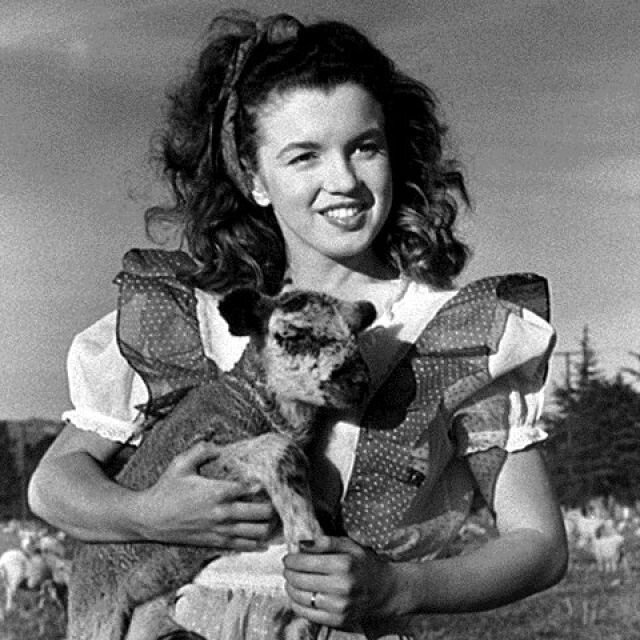 Norma Jeane et l'agneau en 1945
Norma Jeane and the lamb in 1945
(photo: André De Dienes)
---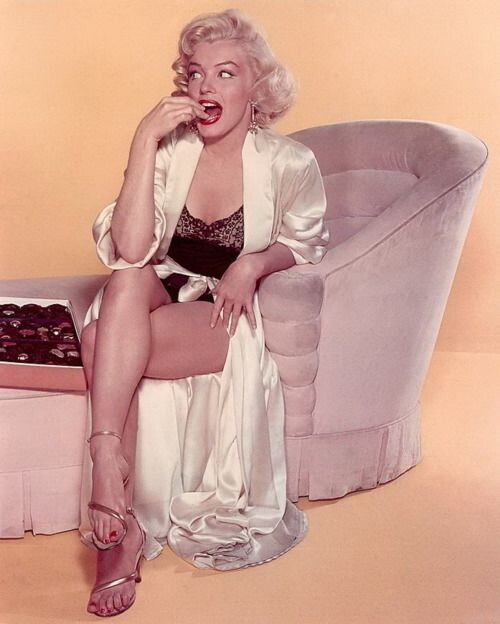 Marilyn déguste du chocolat en 1953
Marilyn tastes chocolate in 1953
(photo: John Florea)
---
C'est le week-end de Pâques, fête chrétienne et familiale, emplie de symboles: les oeufs, les cloches, les lapins, le chocolat, l'agneau... Voici un petit florilège de photographies de "Marilyn Girls" prenant la pose pour célébrer Pâques.
It's Easter weekend, a Christian and family celebration, filled with symbols: eggs, bells, rabbits, chocolate, lamb ... Here is a small collection of photographs of "Marilyn Girls" taking the pose to celebrate Easter.
---
Jean Harlow
La première blonde platine, l'idole de Marilyn
The first platinum blonde, the Marilyn idol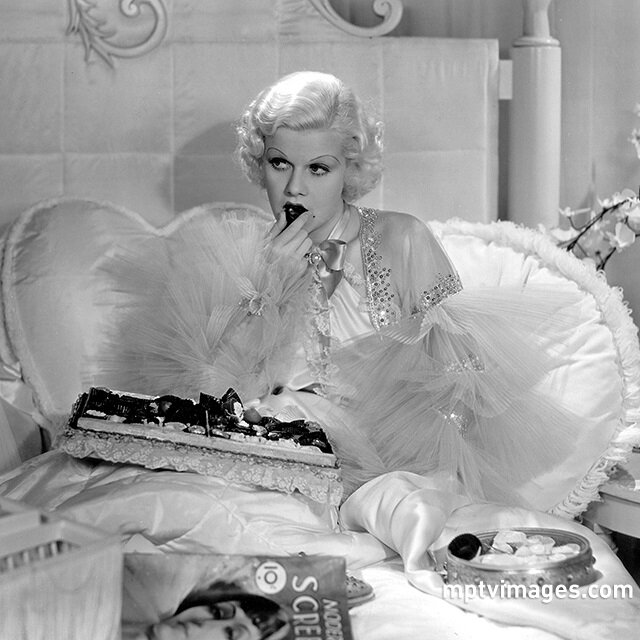 ---
Lana Turner
La blonde fatale de la MGM des années 1940s
The fatal blonde of MGM of the 1940's

---
Doris Day
La "Marilyn sage" des années 1950s
The "Sober Marilyn" of the 1950's

---
Jayne Mansfield
La "Marilyn du petit peuple" des années 1950s
The "Working's Man Marilyn" of the 1950's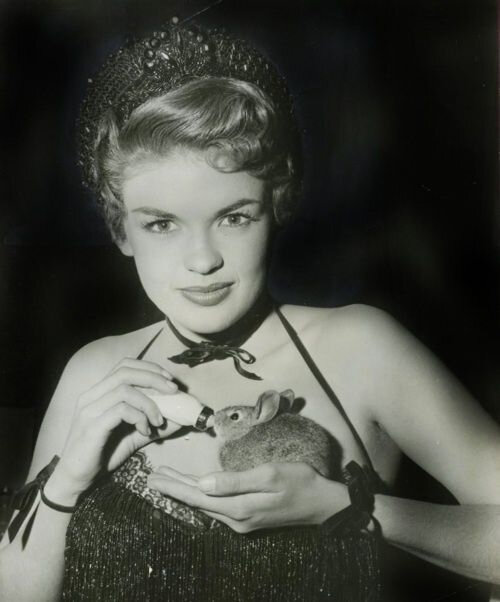 ---
Cleo Moore
La concurrente de Marilyn de la Columbia
The competitor of Marilyn from Columbia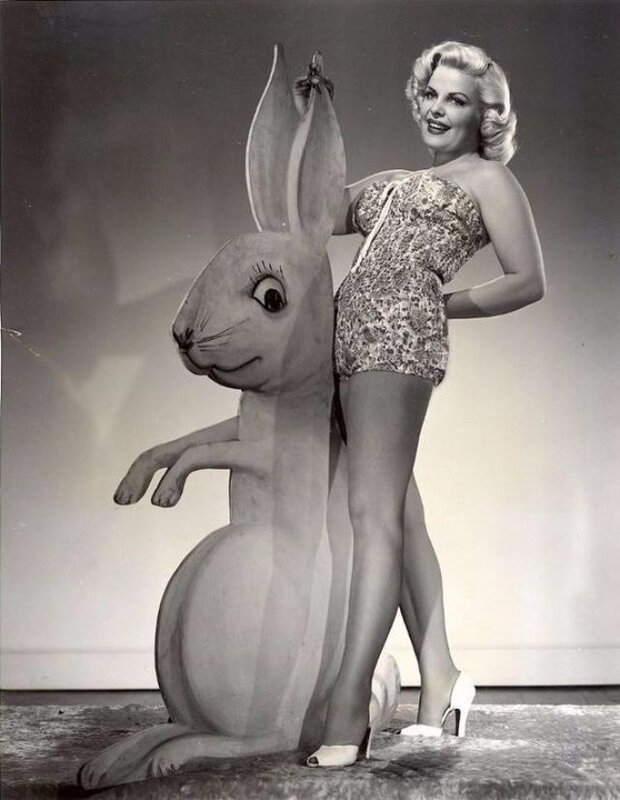 ---
Mamie Van Doren
La concurrente de Marilyn des studios Universal
The competitor of Marilyn from Universal studios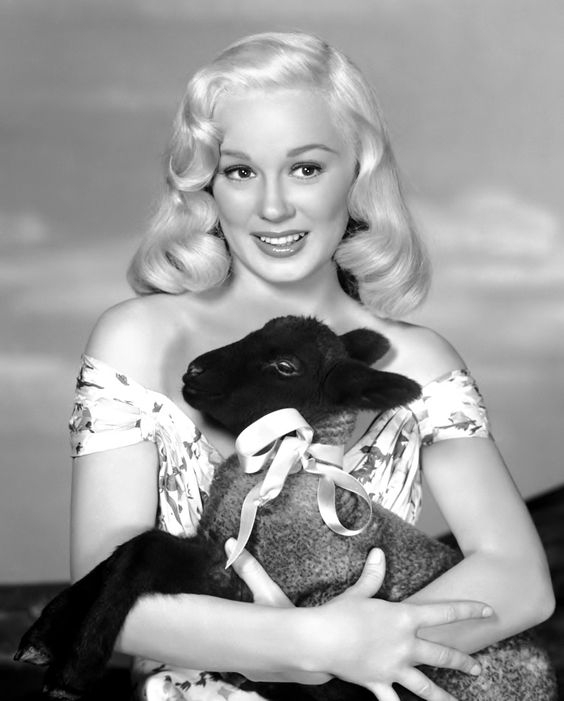 ---
Diana Dors
La "Marilyn anglaise" des années 1950s
The "English Marilyn" of the 1950's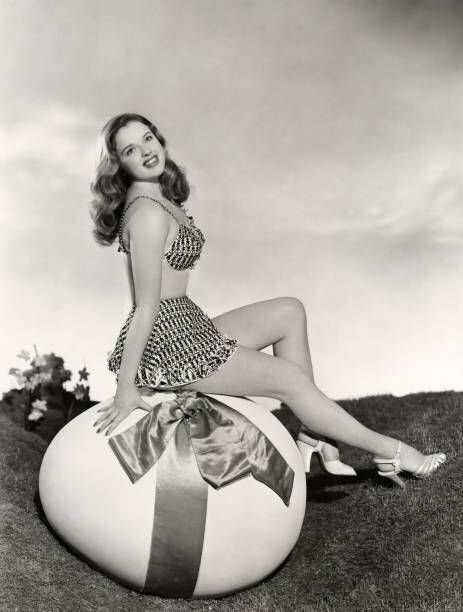 ---
Anna Nicole Smith
La "Marilyn trash" des années 1990s
The "Trash Marilyn" of the 1990's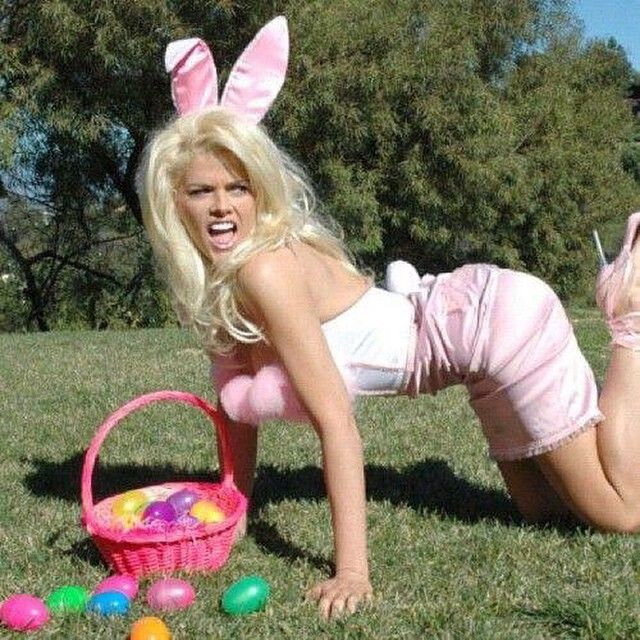 ---
Courtney Stodden
La "Marilyn bimbo" des années 2010s
The "Bimbo Marilyn" of the 2010's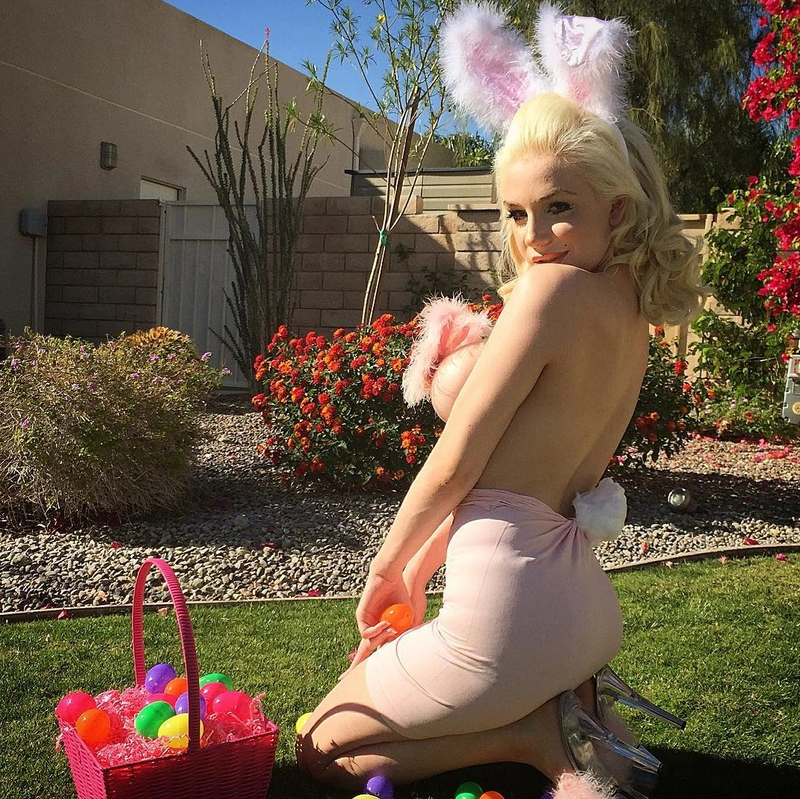 ---
© All images are copyright and protected by their respective owners, assignees or others.
copyright text by GinieLand.
07 août 2019
Séance du siège en osier
Sitting of the Wicker Chair
---
La séance "en osier" de Marilyn Monroe photographiée par Milton Greene à New York en septembre 1954 la représente assise sur un siège en osier.
The "Wicker" sitting of Marilyn Monroe photographed by Milton Greene in New York in September 1954 depicts her sitting on a wicker chair, called peacock chair.
Milton Greene la photographie le 10 septembre 1954 pour la désormais célèbre séance en tutu de ballerine, où Marilyn prend appui, puis s'asseoit sur un siège en osier.
Milton Greene photographs her on September 10, 1954 for the now famous ballerina session, where Marilyn leans and sits down on a wicker seat.
---
Marilyn reprendra la pose dans un siège en osier blanc, sous l'objectif de Cecil Beaton et de son assistant Hans Knopf le 22 février 1956 à l'hôtel Ambassador de New York.
Marilyn will strike a similar pose in a white wicker chair, photographed by Cecil Beaton and his assistant Hans Knopf on February 22, 1956 at the Ambassador Hotel in New York.
---
Il s'agit de fauteuils d'origine Tahitienne, appelés fauteuils Pomare. Avec son allure de "trône", qu'il tient de ses origines car était l'assise des rois de Tahiti (la dynastie des Pomare, d'où il tient son nom), il fait son apparition à la fin du XIXème siècle, quand le prince Hinoï, neveu de Pomare V (le dernier roi de la dynastie des Pomare), meurt dans l'un de ces fauteuils.
Mi-élégant, mi-décontracté, son dossier est plus ou moins haut et évasé, l'osier est travaillé et ajouré par des lignes entrelacées formant des jeux géométriques, figuratifs ou non.
These are chairs of Tahitian origin, called Pomare armchairs. With its appearance of "throne", which it holds from its origins because it was the seat of the kings of Tahiti (the Pomare dynasty, from which it takes its name), he made its appearance at the end of the XIX century, when Prince Hinoï, nephew of Pomare V (the last king of the Pomare dynasty), dies in one of these armchairs.
Mid-elegant, half-relaxed, with its backrest is more or less high and flared, the wicker is worked and perforated by intertwined lines forming geometric shapes, figuratives or not.
---
Hollywood et le cinéma européen, autant que les photographes, vont se l'approprier; déjà au début du XXème siècle (dès les années 1920s), des femmes sont photographiées assises dans un grand siège en osier.
Hollywood and european cinema, as much as photographers, will appropriate it; already in the early twentieth century (years 1920s), women are photographed sitting in a big wicker seat.
- Katharine Hepburn, 1935 -

- Mary Astor, 1937 -

---
Peu d'hommes sont photographiés assis dans une chaise en osier; ce petit fauteuil reste principalement "féminin" dans l'iconographie.
Few men are photographed sitting in a wicker chair; this little chair remains mainly "feminine" in the iconography.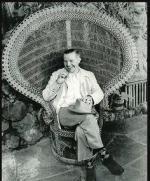 ---
L'assise du fauteuil en rotin va devenir un accessoire très utilisé dans la photographie mettant en scène les plus belles femmes du monde entier: actrices, chanteuses et mannequins.
The seat of the rattan chair will become a widely used accessory in the photography featuring the most beautiful women in the world: actresses, singers and models.
- Natalie Wood, 1960s -

- Virna Lisi, 1960s -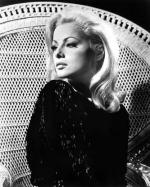 - Carolyn Jones, "The Addams Family", 1965s -

- Jean Shrimpton & Cecil Beaton, 1965 -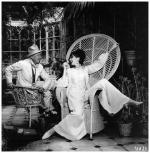 - Claudia Cardinale - 1960s -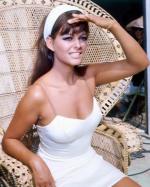 - Audrey Hepburn, septembre 1966, William Klein -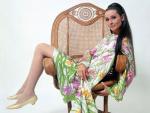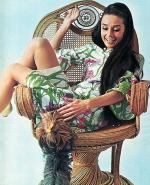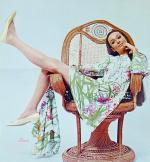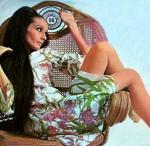 - Hailey Mills, 1967 -

- Sharon Tate, 1967s -

- Marlène Jobert, 1968 -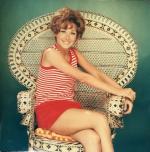 - Marianne Faithfull, fin 1960s -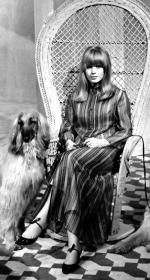 ---
L'actrice Sylvia Kristel va érotiser le fauteuil en rotin: elle y est représentée dénudée sur l'affiche du film érotique français Emmanuelle en 1974 (film qui va connaître un succès mondial). A partir de cette photographie iconique qui va devenir culte, le fauteuil en rotin devient alors indissociable de la féminité et la sensualité et l'incarnation des moeurs libérées et de la vie de bohème des années 1970s; et il est désormais nommé et connu sous le nom du "fauteuil d'Emmanuelle" !
The actress Sylvia Kristel will eroticize the rattan armchair: she is represented naked on the poster of the French erotic film Emmanuelle in 1974 (a film that will be a worldwide success). From this iconic photograph that will become cult, the rattan armchair becomes inseparable from femininity and sensuality and incarnation of liberated mores and bohemian life of the 1970s; and it's now named and known as the "Emmanuelle's chair" !
- Sylvia Kristel, "Emmanuelle", 1974 -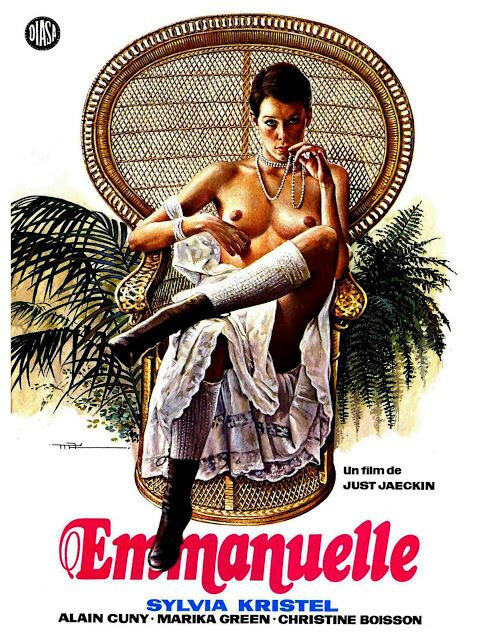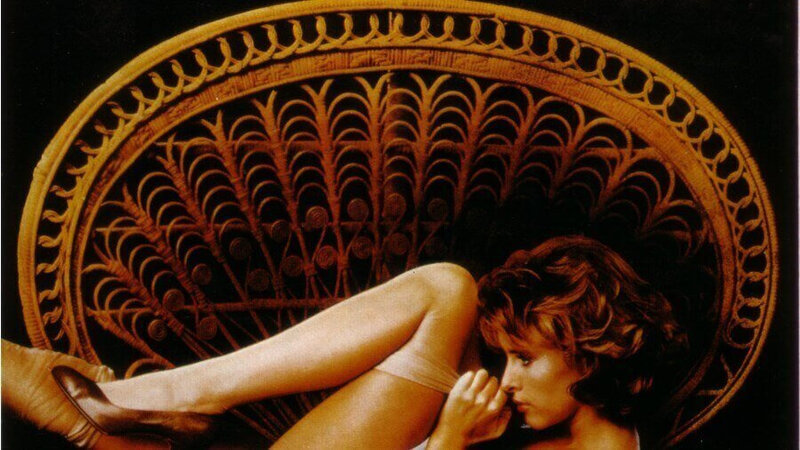 ---
- Dolly Parton, 1970s -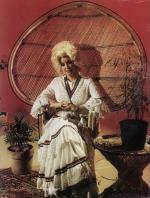 - Françoise Hardy, 1970s -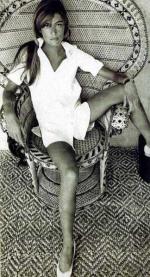 - Suzanne Somers, 1970s -

- Juliet Prowse, danseuse et actrice, 1970s -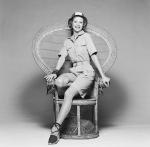 - Al Green, 1972, illustration de son album -

- Romy Schneider en famille 1979 -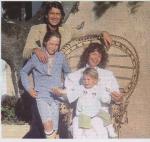 - Michelle Obama, 1980s -

- Ornella Mutti, 1980s -

- David Bowie, 1980s -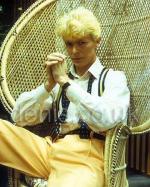 - Kate Bush, 1980s -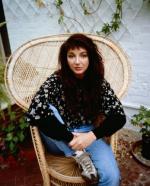 - Marc Bolan, 1983, illustration de son album -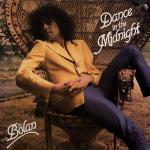 ---
Dans les années 2000s et 2010s, des mannequins sont représentées assises dans un siège en rotin pour souvent illustrer une mode à tendance hippie ou folk. Le fauteuil reste indémodable dans les intérieurs à tendance déco, qu'il soit placé dans une chambre ou dans un salon, ou à l'extérieur sur une terrasse ou dans une véranda, et comporte des connotations bohèmiennes d'authenticité, par son aspect vintage et de sensualité par l'imagerie d'Emmanuelle.
In the years 2000s and 2010s, models are represented sitting in a rattan seat to often illustrate a trend with hippie or folk tendency. The armchair is timeless in deco-style interiors, whether in a bedroom or in a living room, or outside on a terrace or veranda, and has Bohemian connotations of authenticity, with its vintage look and sensuality through Emmanuelle's imagery.
- Madonna, 2000s -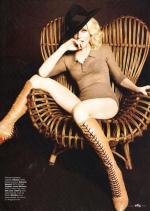 ---
All photos are copyright and protected by their respective owners.
copyright text by GinieLand.
02 février 2008
Le remake de Something's Got to Give
En 1940, Leo McCarey devait tourner "My Favorite Wife" ("Mon épouse favorite" en français) avec Cary Grant, Irene Dunne et Gail Patrick. Malade, le réalisateur dut laisser la direction à Garson Kanin. Sur le même scénario, plus de vingt ans plus tard, George Cukor commence en 1962 le tournage de "Something got to give" avec Marilyn Monroe, Dean Martin et Cyd Charisse. Le tournage est interrompu en raison de l'état psychologique de Marilyn, qui, en accord avec la Fox, devait reprendre le tournage avec un autre réalisateur et le scénario remanié. Marilyn meurt le 5 août 1962, la Fox prévoit de refaire tourner les scènes de Marilyn avec Lee Remick, mais Dean Martin s'y oppose et le film est abandonné. Le projet aboutira finalement l'année suivante, en 1963, avec Doris Day, James Garner et Polly Bergen sous la direction de Michael Gordon. C'est "Move Over, Darling" ("Pousse-toi chérie" en français). L'histoire de ce scénario se révèle aussi mouvementée que celle de la lune de miel qu'il raconte !

MOVE OVER , DARLING !
Pousse-toi Chérie !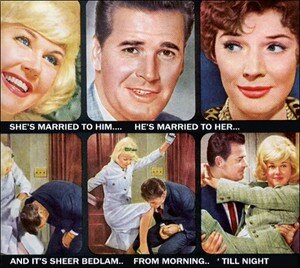 Fiche technique
Réalisateur: Michael Gordon
Producteurs: Martin Melcher, Aaron Rosenberg
Production: 20th Century Fox
Scénaristes: Bella Spewack, Sam Spewack, Leo McCarey, Hal Kanter et Jack Sher
Année: 1963
Genre: Comédie
Pays: Etats-Unis
Durée: 1h43min
Format: couleur
Distribution (créditée)
Doris Day: Ellen Wagstaff Arden
James Garner: Nicholas Arden
Polly Bergen: Bianca Steele
Thelma Ritter: Grace Arden
Fred Clark: Mr. Codd (hotel manager)
Don Knotts: Shoe clerk
Elliott Reid: Dr. Herman Schlick
Edgar Buchanan: Judge Bryson
John Astin: Clyde Prokey
Pat Harrington Jr.: District Attorney
Eddie Quillan: Bellboy
Max Showalter: Hotel desk clerk
Alvy Moore: Room service waiter
Pami Lee: Jenny Arden
Leslie Farrell: Didi Arden
Synopsis
Nick Arden, veuf depuis cinq ans, se remarie. A peine vient-il de partir en lune de miel que sa mère reçoit la visite inattendue de sa première femme, Ellen. Celle-ci avait été considérée comme morte après la disparition de l'avion dans lequel elle voyageait. En réalité, elle a passé les cinq dernières années coincée sur une île en plein Pacifique. Quand elle apprend que son mari est en voyage de noces, elle fonce rejoindre le couple.
Bande Annonce

---
>> Sur le web:
- tout sur le film sur imdb (en anglais)
- le film sur le wikipedia anglais
- fiche film sur allocine (en français)
- infos film sur le site dorisday (en anglais)
- des photos sur premiere.fr (en français)
---
! Mon Avis !
Pousse-toi Chérie est la copie conforme des scènes tournées de Something's Got To Give. Le générique de début (un dessin-animé) est identique; de même que les scènes tournées par Marilyn Monroe, dont le rôle est repris par Doris Day. N'ayant malheureusement pas vu le début du film, je ne sais pas si il y a la fameuse scène de la piscine avec Doris Day ?! Cependant, concernant le jeu des acteurs, Marilyn est plus éblouissante et surtout, propose un jeu beaucoup plus basé sur l'émotion que Doris Day (notamment si on compare les scènes avec les enfants.) Néanmoins, Doris nous offre un personnage très drôle, en faisant pas mal de mimiques, parfois même dans l'exagération, ce qui était propre au jeu d'acteur dans les comédies hollywoodiennes des années 1950. Une petite différence à noter concerne les deux enfants: dans Something's got to give, ce sont un garçon et une fille; tandis que dans Pousse toi Chéri, ce sont deux filles. A noter aussi, un nouveau personnage: la mère de Nicolas Arden, incarné par Thelma Ritter, qui joua d'ailleurs avec Marilyn dans The Misfits. Dans l'ensemble je dirai qu'il s'agit d'une petite comédie à l'américaine, qui se regarde facilement, bien qu'il y ait quelques faiblesses dans le scénario (la scène du tribunal à la fin est d'un grand gignolesque !), mais certaines scènes demeurent très drôles (du style du vaudeville théâtrale, notamment la scène à l'hôtel avec les allers et retours de Nicolas dans les deux suites côtes à côtes; ainsi que la rencontre entre le mari et le vendeur engagé par Ellen). Ayant évidemment vu le montage de Something's got to give, je préfère la version avec Marilyn même si elle demeure incomplète; car comparer les deux versions est aussi un bon moyen de se rendre compte que Marilyn offre une interprétation beaucoup plus humaine de son personnage et moins grandguignolesque... en bref, Marilyn était une sacré actrice, toujours juste que ce soit dans des situations comiques (comme la scène de la rencontre entre Wally Cox et Dean Martin) que dramatiques (quand elle retrouve ses enfants) et qui illuminait l'écran en toutes circonstances.