25 juillet 2011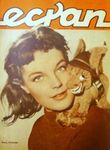 Le magazine chilien Ecran de 1961, rédigé en espagnol, avec Romy Schneider en couverture, proposait un article en publiant des photographies de Brigitte Bardot, Marilyn Monroe et Sophia Loren.
24 août 2010
Le 26 novembre 1954, Marilyn Monroe et Robert Wagner sont interviewés au Beverly Hills Hotel par la journaliste Maria Romero, qui travaille pour le magazine de cinéma chilien "ecran".
Photographies de David Cicero.

On November, 26, 1954, Marilyn Monroe and Robert Wagner are interviewed at the Beverly Hills Hotel by journalist Maria Romero, who works for the Chilean cinema magazine "ecran".
Photographs by David Cicero.
---
Marilyn signe un autographe à Ronald Seifert, un fan de 13 ans
Marilyn signs an autograph tor Ronald Seifert, a 13-year-old fan
---
Pour l'occasion, Marilyn se fait lire les lignes de la main par le médium Hassan: il lui dit qu'elle est une personne passionnée, lui prédit qu'elle aura deux enfants, et qu'elle est une excellente navigatrice, ce à quoi Marilyn lui rétorque que la simple vue de l'eau lui donne le mal de mer.
For the occasion, Marilyn has the lines read in her hand by the fortune teller Hassan: he tells her that she is a passionate person, predicts that she will have two children, and that she is an excellent sailor on which Marilyn answers that she is ill just looking water.
- article de presse -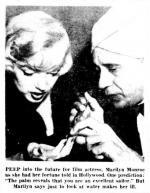 - publicité du médium Hassan -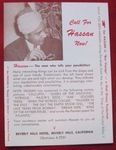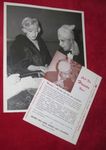 ---
© All images are copyright and protected by their respective owners, assignees or others.
copyright text by GinieLand.