21 février 2014
Journée du dimanche 5 août 1962, au lendemain du décès de Marilyn Monroe.
Day of Sunday, August, 5, 1962, the day after the death of Marilyn Monroe.
---
> à 4h25: Le Dr Hyman Engelberg (docteur généraliste de Marilyn) téléphone à la police (the West Los Angeles Police Station) pour dire que "Marilyn Monroe est morte. Elle s'est suicidée. Je suis chez elle."
at 4.25 am: Dr. Hyman Engelberg (Marilyn's doctor) calls the police (the West Los Angeles Police Station) to say "Marilyn Monroe died. She committed suicide. I'm at her home."
---
> à 4h30: les employés de l'agence de publicité d'Arthur Jacobs sont prévenus de la mort de Marilyn et décident de se retrouver à sa maison au Fifth Helena Drive. Michael Selsman se souvient: "C'était la panique, bien sûr. Les événements étaient déjà hors de contrôle, et là, elle était morte, la presse n'était pas contrainte de cacher ce qu'ils savaient, sauf, bien sûr, pour les choses sur Kennedy, qui sont apparues plus tard. Je repoussais les médias en disant que nous ne savions pas quelle était la cause de la mort, parce que nous ne le savions pas."
at 4.30 am: the employees of the advertising agency of Arthur Jacobs are notified of the death of Marilyn and decided to go to her home at Fifith Helena Drive. Michael Selsman remembers: "It was panic of course. Events were already out of control, and now she was dead the press didn't fell constrained to hide what they knew -except, of course, for the Kennedy stuff, which came later. I fended off the media by saying we didn't know what the cause of death was, because we didn't."
---
> à 4h40: Le sergent Jack Clemmons est le premier policier à arriver au domicile de Marilyn; il découvre Eunice Murray (la gouvernante) en train de faire le ménage, nettoyant la maison et mettant une lessive dans la machine à laver, avec d'autres linges propres pliés à côté, et les Dr Greenson et Engelberg dans la chambre avec le corps de Marilyn gisant dans son lit à plat ventre sous les draps: "Son corps avait été bougé. Marilyn était allongée sur le ventre dans ce que j'appelle la 'position du soldat'. Son visage était appuyé contre un oreiller, ses bras étaient sur les côtés, le bras droit légèrement plié, et ses jambes étaient parfaitement alignées, comme si elle prenait la pose pour des photos. J'avais l'impression d'arriver sur une scène de crime. J'étais déjà intervenu sur des scènes de suicides par barbituriques, et avant de mourir, les victimes font des convulsions, vomissent et leurs corps sont en distorsions. (...) Les boîtes de pillules posés sur la tablette avaient été clairement disposées en bon ordre et le corps délibérément repositionné. Tout semblait trop rangé."
at 4.40 am: Sergeant Jack Clemmons was the first police officer to arrive at the Marilyn' home, he discovers Eunice Murray (the housekeeper) doing housework, cleaning the house and putting a laundry in the washing machine, with other clean cloths folded side, and Dr. Greenson and Engelberg in the bedroom with Marilyn's body lying in bed face down under the sheets, "Her body seemed to have been moved. Marilyn was lying face down in what I call the soldier's position. Her face was in a pillow, her arms were by her side, her right arm was slightly bent, and her legs were stretched out perfectly straight, as if she were posing for pictures. It was the most obviously staged death scene I have ever seen. I had already seen scenes of suicides by barbiturates, and before dying, victims suffer convulsions and vomiting in a somewhat contorted position.. (...) The pill bottles on her bedside table had been arranged in neat order and the body deliberately positioned. It all looked too tidy".
> Chambre de Marilyn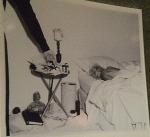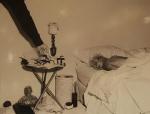 photographies de Dan Tompkins >>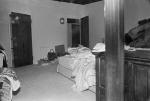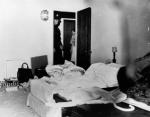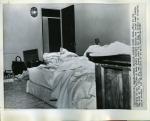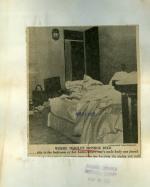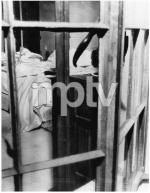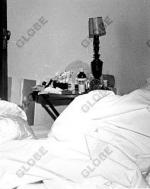 > Les boîtes de pillules sur la table de nuit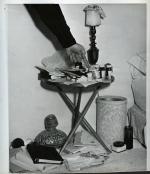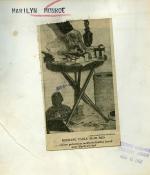 - photographies de Barry Feinstein >>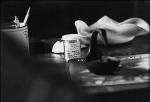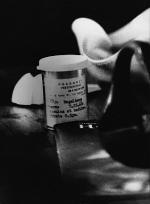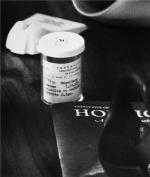 > Le fil du téléphone passant sour la porte de la chambre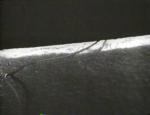 ---
Arrivée de l'inspecteur Robert E. Byron, qui recueille les déclarations du Dr Greenson, du Dr Engelberg et de Eunice Murray. Il consigne dans son rapport officiel: "L'opinion de l'officier de police est que Mrs Murray était aussi vague et évasive que possible dans ses réponses aux questions concernant les activités de Miss Monroe avant sa mort."
Arrival of Inspector Robert E. Byron, whoh collects reports of Dr. Greenson, Dr. Engelberg and Eunice Murray. He writes in his official report: "The opinion of the police officer is that Mrs. Murray was vague and evasive as possible in her answers to questions about the activities of Miss Monroe before her death."
---
> Vers 5 h, le journaliste Joe Ramirez (qui travaillait pour la petite agence "City News") reçoit un appel lui annoncant le décès de Marilyn; mais l'information arrive trop tard pour paraître dans les journaux du jour.
> William "Bill" Woodfield (photographe) et Joe Hyams (correspondant au "New York Herald Tribune") se rendent ensemble chez Marilyn sitôt qu'ils apprennent la nouvelle.
Tout comme James Bacon (chroniqueur d'"Associated Press") qui racontera: "Je recourus à une vieille ruse; je me suis présenté devant un flic en prétendant que le bureau du coroner m'avait dépêché sur place. Je suis entré dans la maison mais ne suis pas resté longtemps, juste le temps pour la voir gisant sur son lit. Je remarquai que ses ongles étaient négligés."
Around 5 am, the journalist Joe Ramirez (who worked for the small agency "City News") receives a call announcing the death of Marilyn, but the information comes too late to appear in daily newspapers.
> William "Bill" Woodfield (photographer) and Joe Hyams (corresponding to the "New York Herald Tribune") go together at Marilyns soon as they hear the news.
Just as James Bacon (columnist of "Associated Press") that will tells: "I resorted to an old trick, I introduced myself to a cop claiming that the coroner's office had sent me there. I went into the home but did not stay long, just long enough to see lying her on bed. I noticed that his nails were overlooked."
Au Fifth Helena Drive, chez Marilyn, une foule de personnes se constitue peu à peu, s'agglutinant aux abords de la maison: des journalistes reporters de la télévision, de la radio, de la presse, des paparazzis, des camions et voitures obstruent la rue.
De nombreuses photographies sont prises autour de la maison: devant le patio, la chambre à travers la fenêtre, mais aussi le jardin, où l'on y voit deux animaux en peluche dans l'herbe devant la piscine; Marilyn avait reçu la veille (le 4 août), par colis, un tigre en peluche, dont on ne connait pas le destinataire.
At Fifth Helena Drive, at Marilyn's home, a crowd of people is gradually agglutinating near the house: journalists, reporters from television, radio, press, paparazzi, trucks and cars clog the street.
Many photographs are taken around the house: front patio, the bedroom through the window, but also the garden, where we see two stuffed animals in the grass in front of the pool; Marilyn had received the day before (August 4) per package, a stuffed tiger, which we don't know the recipient.
> Devant le portail de la maison de Marilyn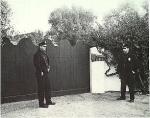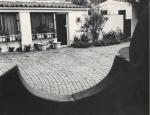 > Devant la maison


- photographies de Lawrence Schiller >>

> Dans le jardin, la piscine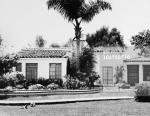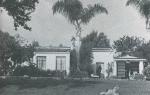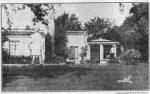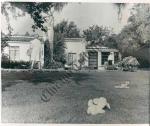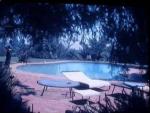 - photographie de Dan Tompkins >>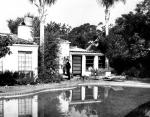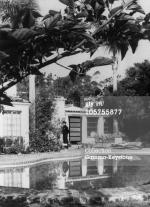 - photographie de Barry Feinstein >>

> La fenêtre de la chambre de Marilyn
dont le carreau a été cassé par le Dr. Engelberg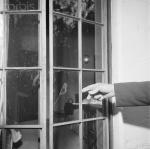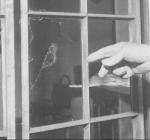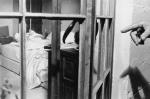 - photographies de Gene Anthony >>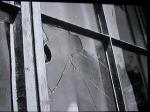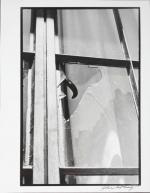 ---
> Vers 5h10: Jack Clemmons est remplacé par un officier de police d'un grade supérieur (le chef de la police William Parker) pour mener l'enquête et ainsi, soumettre au silence Clemmons qui avait relevé plusieurs faits incohérents (Murray lui avait informé qu'elle avait découvert le corps à minuit, alors qu'elle affirmera par la suite avoir découvert le corps à 3h; d'après Clemmons, le décès devait remontait à environ 8 heures). Clemmons va ensuite appeler son collègue Jim Dougherty, le premier mari de Marilyn, pour l'informer du décès de celle-ci.
Around 5.10 am: Jack Clemmons is replaced by a police officer of higher rank (the Chief policer William Parker) to investigate and thus submit to silence Clemmons who had identified several inconsistent facts (Murray had informed him she had discovered the body at midnight, while she will affirm after to have discovered the body at 3 am; for Clemmons, the death had occurred some 8 hours before). Clemmons will then call his colleague Jim Dougherty, the first husband of Marilyn, informing him of the Marilyn's death.
Arrivée de l'officier Don Marshall qui fouille la maison à la recherche d'un message attestant le suicide. Il interroge les plus proches voisins de Marilyn, Mr et Mrs Abe Landeau, qui déclarèrent n'avoir rien entendu de suspect pendant la nuit.
Arrival of the officer Don Marshall who search in the house a message stating suicide. He asks the nearest neighbors of Marilyn, Mr. and Mrs. Abe Landeau, who declared to have heard nothing suspicious during the night.
---
> L'envoyé du coroner, Guy Hockett constate que le décès "remonte à plusieurs heures. Elle était raide et il fallut près de 5 minutes pour la redresser. (...) Elle gisait, assez droite, dans une position semi-foetale. Ses cheveux, desséchés, étaient en très mauvais état à cause de tous ces traitements. Elle n'était pas très belle à voir, au point qu'on avait du mal à croire que c'était bien elle. On aurait dit une pauvre femme ordinaire qui venait de mourir. Pas de maquillage, les cheveux négligés sans mise en plis, un corps fatigué. Nous eûmes tous la même impression, à des degrés divers."
The representative of the coroner Guy Hocknett notes that the death "goes back several hours. She was stiff and it tooks about 5 minutes to recover her. (...) She lays quite right in a semi-fetal position. Her hair, dried, were in very poor condition because of all these treatments. She was not very nice to see, to the point that it was hard to believe it was really her. She seemed as a poor ordinary woman who had just died. No makeup, hair styling neglected, a tired body. We had all the same impression, to varying degrees."
---
> Vers 5h30: Patricia Newcomb arrive à la maison de Marilyn (elle racontera avoir été prévenue par téléphone à 4 h par Milton Rudin, l'avocat de Marilyn), provoquant une scène, en hurlant aux photographes: "Allez-y, mitraillez, vautours ! ... Espèces de buveurs de sang ! Vampires ! Ne pouvez-vous même pas la laisser mourir en paix ?"; Eunice Murray raconte que lorsque Pat Newcomb est arrivée, "il y avait tant de gens que personne ne l'a remarquée." Pat Newcomb se souvient que "il y avait plus de cinq personnes dans la maison" quand elle y est entrée; elle dit aussi ne pas avoir vu le corps de Marilyn. Elle restera quasiment tout le temps au téléphone, traitant des appels téléphoniques des médias du monde entier; elle racontera: "J'ai parlé à plus de 600 journalistes ce dimanche là. C'était mon travail de faire ce que je pouvais pour Marilyn."
Pat Newcomb était "hystérique" comme le dira Eunice Murray: "Même après que la police décida de fermer la maison, elle refusait toujours de partir. Il a fallu qu'on la fasse sortir."
Around 5.30 am: Patricia Newcomb arrives at Marilyn's home (she will tell to have been prevented by phone at 4 am by Milton Rudin, the Marilyn's lawyer), screaming to photographers: "Go ahead, shoot pictures, vultures ! ... Bloodthirsty Vampires ! Can't you even let her die in peace ?" Eunice Murray says that when Pat Newcomb arrived, "there were so many people that nobody noticed her." Pat Newcomb remembers that "there was more than five people in the house" when she comes in, she also says to don't have seen the Marilyn's body. She will stays almost the time on the phone, dealing with telephone calls from media around the world; she will tell later: "I spoke to over 600 journalists that Sunday. It was my job to do what I could for Marilyn."
Pat Newcomb was "hysterical" as Eunice Murray will tell: "Even after the police decided to close the house, she still refused to go. We had to make exit her. "
---
> Quand Allan Whitey Snyder, le maquilleur de Marilyn qui, dès qu'il apprend la triste nouvelle, se précipite chez Marilyn, il se fait renvoyer par un policier qui lui refuse l'accès à la maison. Il racontera "qu'il fallait que je voie de mes yeux ce qui était vraiment arrivé." Quand il remonte dans sa voiture et entend à la radio que "Marilyn est morte d'une overdose de barbituriques qu'elle s'est administrée", Snyder ne parvient pas à croire au suicide.
When Allan Whitey Snyder, Marilyn's makeup artist, who, when he learns the sad news, rushed to Marilyn's home, he gets fired by a policeman who refuses him the access to the house. He will tell "that I had set my eyes what really happened." When he goes back to his car and heard on the radio that "Marilyn died of an overdose of barbiturates that she administered herself" Snyder can not believe in suicide.
> Joe DiMaggio, qui est à San Francisco, apprend la nouvelle très tôt le matin. Il se rend immédiatement à Los Angeles, contacte son fils Joe Jr. qui se trouve au camp Pendleton, et se réfugie avec deux de ses amis dans la suite 1035 du Miramar Hotel. Il refuse de faire la moindre déclaration à la presse et reste enfermé dans sa chambre d'hôtel. Son ami Harry Hall racontera que Joe pleurait sans consulter les nombreux télégrammes reçus: "Il considérait Bobby Kennedy comme responsable de sa mort."
Personne ne réclame le corps de Marilyn et le coroner ne peut délivrer le corps qu'avec l'autorisation d'un membre de la famille: sa mère en est incapable, et sa demie-soeur Berniece, contactée par télégramme, donne sa permission à Joe DiMaggio de s'occuper des funérailles.
Joe DiMaggio, who is in San Francisco, heards the news early in the morning. He immediately goes to Los Angeles, contacts his son Joe Jr. who is at Camp Pendleton, and stays with two of his friends in the suite 1035 of the Miramar Hotel. He refuses to make any statement to the press and remains locked in his hotel room. His friend Harry Hall tells that Joe was crying without consulting the many telegrams he received: "He considered Bobby Kennedy as responsible for her death."
Nobody claims the body of Marilyn and the coroner may not issue a body with the authority of a member of the family: her mother is unable to act, and her half-sister Berniece, contacted by telegram, gives permission to Joe DiMaggio to arrange the funeral.
> Peter Lawford est chez lui à L.A. Il est en état de choc, hagard, en larmes, terrassé, répétant sans cesse qu'il était la dernière personne à avoir parlé à Marilyn (au téléphone). Sa mère, Lady May, surnommée "Lady L." le contacte par téléphone quand elle apprend la nouvelle, et elle reproche à son fils de ne pas être allé chez Marilyn, quand cette dernière appela Peter. Puis quand Rupert Allan téléphone à Lawford, il a au bout du fil un homme hors de lui, furieux, aux propos incompréhensibles, entrecoupés de sanglots.
Peter Lawford is at his home L.A. He is in shock, distraught, in tears, overwhelmed, constantly repeating that he was the last person to have spoken to Marilyn (on the phone). His mother, Lady May, named "Lady L." calls him when she heards the news, and she blames her son to don't have gone to Marilyn's home, when she called Peter. Then, when Rupert Allan phone Lawford, he has on the phone a man out of him, furious, with incomprehensible words, interspersed with sobs.

> Dans la propriété des Kennedy sur la côte Est où la famille est réunie autour de la piscine, la nouvelle de la mort de Marilyn passe à la radio: ce fut le silence total. Pat Kennedy Lawford s'effondre en larmes.
In the property of the Kennedys on the East Coast where the family gathered around the pool, the news of the death of Marilyn is broadcoast on the radio: it was a full silence. Pat Kennedy Lawford collapses in tears.

> A peine à 6 km de chez Marilyn, Jayne Mansfield apprend la nouvelle chez elle dans sa maison du Pink Palace; elle devient hystérique et pleure beaucoup, serrant son assistant Ray Strait: "Je suis peut être la prochaine sur la liste." (Jayne était aussi la maîtresse des frères Kennedy).
At Just 6 km from Marilyn's home, Jayne Mansfield heards the news at her Pink Palace home; she becomes hysterical and crying a lot, shaking his assistant Ray Strait: "I may be next on the list." (Jayne was also the mistress of the Kennedy brothers).
---
> à 7h30: Les hommes du coroner, accompagnés de Guy Hockett (propriétaire du Westwood Memorial Park Cemetery), emportent le corps de Marilyn, dissimulé sous une couverture bleue ordinaire, sur un chariot, et le chargent à bord d'un vieux break, qu'ils conduisent au dépôt mortuaire de Westwood Village, où sa dépouille reste quelques heures dans un réduit encombré de brosses et de bocaux où le photographe Bud Gray du "Herald Examiner" fait un cliché de sa dépouille enveloppée.
At 7.30 am: Coroner's men, accompanied by Guy Hockett (owner of Westwood Memorial Park Cemetery) outweigh Marilyn's body, hidden under an ordinary blue blanket on a cart, and charge her on an old break that they drive to the mortuary Westwood Village, where she remains few hours in a small room crowded by brushes and jars.
> Départ du corps de Marilyn de sa maison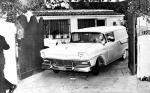 > Arrivée du corps de Marilyn à Westwood Village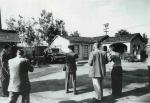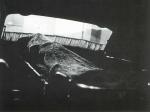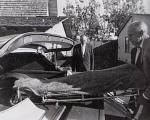 - photographies de Lawrence Schiller >>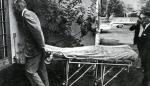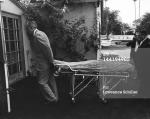 > Au cimetière de Westwood, tombe de Grace Goddard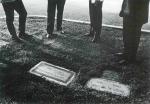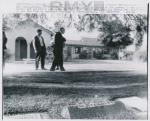 ---
> Marilyn est ensuite transportée dans la case 33 de la County Morgue, au palais de justice de Los Angeles. Son numéro de dossier du coroner est le 81128.
Un photographe parvient à s'introduire dans la morgue: Leigh Wiener, qui enverra ses photographies au magazine Life, parvient à prendre de nombreux clichés en échange de bouteilles de whisky offertes aux employés: un employé ouvre la porte en acier inoxydable et tire l'étagère coulissante où repose la dépouille de Marilyn. Wiener la mitraille, couverte et découverte (il aurait pris 6 clichés de Marilyn morte).
Marilyn is then transported in box 33 of the County Morgue of Los Angeles. Her coroner file number is 81128.
Two photographers manage to get into the mortuary: Bud Gray of "Herald Examiner" takes a snapshot of his body wrapped; and Leigh Wiener, who will send his photographs to "Life" magazine, manages to take many pictures in exchange for whiskey bottles offered to employees: an employee opens the stainless steel door and pulls the sliding shelf where the body of Marilyn remains. Wiener shoots pictures of Marilyn with covered and uncovered (he would take 6 shots of Marilyn dead).
> Départ du corps de Marilyn de Westwood Village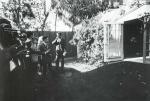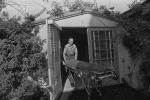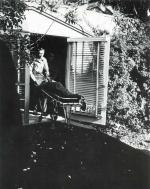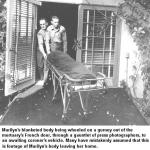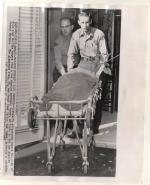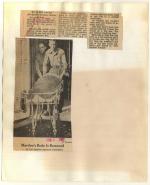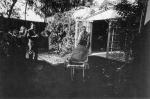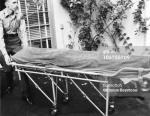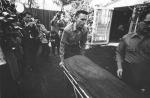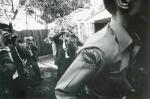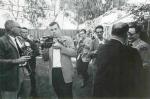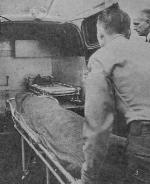 > County Morgue de L.A., le casier 33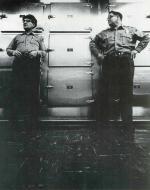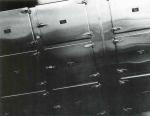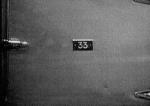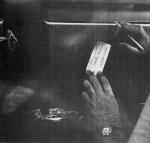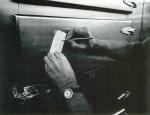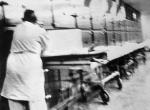 - photographies de Leigh Wiener >>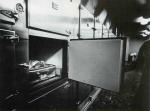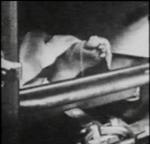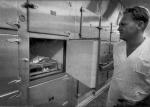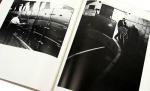 ---
> à 10h30: Début de l'autopsie, dans une salle sans fenêtres des sous-sols du palais de justice de L.A., sur la table 1, équipée d'un système d'arrivée d'eau et d'évacuation, et d'une balance. Le médecin légiste est Thomas Noguchi, assisté de Eddy Day, en présence de John Miner, observateur du District Attorney.
At 10.30 am: Beginning of the autopsy, in a windowless room of the County Morgue of L.A., on the table 1, equipped with a water inlet and exhausted system, and a balance. The medical examiner is Thomas Noguchi, assisted by Eddy Day, in the presence of John Miner, observer of District Attorney.
(> Lire le rapport d'autopsie < read the autopsy report)
> Avant l'autopsie: Photo post-mortem 1
(Avertissement: image choquante de Marilyn morte)
La photographie post-mortem du dossier de police montre Marilyn avec un visage flasque, enflé, les cheveux plats et raides mais précisons que les muscles de son visage ont été sectionnés pendant l'ablation du cerveau et qu'après l'autopsie, sa dépouille a été lavée à grandes eaux.
The post-mortem photograph of the police report shows Marilyn with a flange face, swollen, flat and straight hair but let's specify that the muscles of her face were severed during removal of the brain and after the autopsy, her body was washed with plenty of water.
> Après l'autopsie: Photo post-mortem 2
(Avertissement: image choquante de Marilyn morte)
> Retour du corps à Westwood Village après l'autopsie

- photographies de Bud Gray >>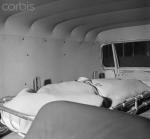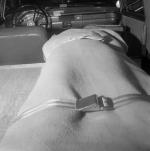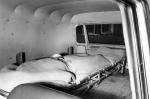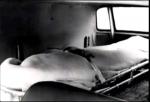 - Guy Hockett conduit la voiture >>

---
> Vers 11h: premier rapport de police établi (complété ensuite le lendemain).
Around 11 am: the first police report is established (then completed the next day).
(> Lire le rapport de police < read the police report)
---
> à 11h, Ralph Greenson et Milton Rudin font monter Pat Newcomb dans la voiture d'Eunice Murray; les reporters se précipitent devant la voiture dans la petite impasse et un journaliste de NBC News demande à Pat comment elle se sent, ce à quoi, elle lui répond, en larmes: "Si votre meilleur ami venait de se tuer, qu'éprouveriez-vous ? que feriez-vous ?".
A ce moment là, la maison était remplie de monde: les policiers, Arthur Jacobs, trois gardes du service de sécurité de la Fox envoyés par Peter Levathes, le technicien du General Telephone (qui coupera les lignes le jour même), les journalistes James Bacon et James A. Hudson de United Press International, mais aussi quatre hommes en noir (dont certains pensent qu'il pourrait s'agir d'agents du FBI ou de la CIA).
At 11 am, Ralph Greenson and Milton Rudin drive up Pat Newcomb in Eunice Murray's car; reporters rushed to the car and an NBC News reporter asks to Pat how she feels, and she replied in tears: "If your best friend just came to kill, how would you feel ? What would you do ?".
At that time, the house was full of people: policemen, Arthur Jacobs, three guards of the security service of the Fox sent by Peter Levathes, the General Telephone technician (who cut the lines the same day), journalists as James Bacon and James A. Hudson of United Press International, but also four men in black (some people think it might be men from FBI or CIA).
> On emmène Maf, le chien de Marilyn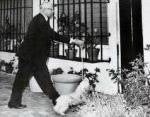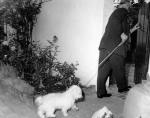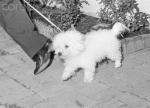 - photographie de Dan Tompkins >>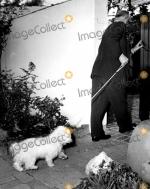 - Milton Rudin (à gauche) >>

> Eunice Murray et son gendre Norman Jefferies
- photographies de Dan Tompkins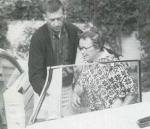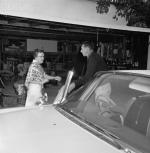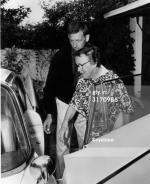 > Départ de Patricia Newcomb
- photographies de Dan Tompkins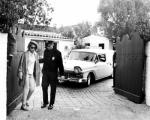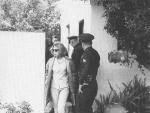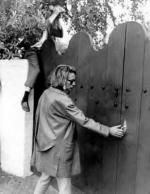 - Pat avec Norman Jefferies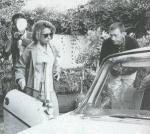 - Un journaliste interpelle Pat

---
> peu avant 12h00: Hazel Washington (femme de chambre de Marilyn) et son mari Rocky (policier de Los Angeles) arrivent à la maison pour récupérer des tables et chaises prêtées à Marilyn en février, car la maison serait ensuite fermée. Mrs Washington va remarquer un des hommes en noir brûler des documents dans la cheminée: des blocs-notes de Marilyn, des papiers de la Fox, des pages d'agenda, des bandes de magnétophones. Les serrures de classeur avait été forcées et les tiroirs vidés.
Avant de partir, Mrs Washington remarque que les gardes du studio de la Fox avaient investi toute la maison et de voir Frank Neill et trois autres attachés à la publicité de s'emparer de tous les documents relatifs à la Fox (notamment le nouveau contrat de négociation et de réintégration de Marilyn à la Fox avec la reprise du tournage de Something's got to give ont disparu).
Les hommes en noir ont même vérifié le contenu de la voiture de Hazel et Rocky avant leur départ.
Cependant, ces allégations affirmant que des papiers ont été détruits ont été formellement démenties par les officiers de police présents sur les lieux toute la journée. Néanmoins, il est indiscutable que des personnes sont parvenues à emporter des documents, tel que le confirme l'auteur Donald Spoto qui consultera des papiers acquis lors de la succession d'Inez Melson.
shortly before 12.00 am: Hazel Washington (Marilyn's maid) and husband Rocky (Los Angeles' policeman) arrive at Marilyn's home to retrieve tables and chairs lent to Marilyn in February, as the house would then be closed. Mrs. Washington notices one of the men in black burn papers in the fireplace: Marilyn's notebooks, Twentieth Century Fox 'papers, calendar pages, strips of tapes. The locks of workbooks had been forced and the drawers were emptied.
Before leaving, Mrs. Washington notes that guards from Fox Studios had invested the house and she sees Frank Neill and three others guy from publicity department to take all documents relating to the Fox (including the new contract with negotiation and reintegration of Marilyn to the Fox Studios with the resumption of filming 'Something's got to Give' which have disappeared ) .
Men in black have even checked the content of the car of Hazel and Rocky before they leave.
However, these allegations stating that the papers were destroyed, have been formally denied by the police officers who were present all the day. Nevertheless, it is indisputable that some people were able to take documents, as confirmed by the author Donald Spoto who will consult papers acquired in succession of Inez Melson.
---
> La police met la maison de Fifth Helena Drive sous scellés.
Police put the house of Fifth Helena Drive sealed.
> La police pose les scellés sur la porte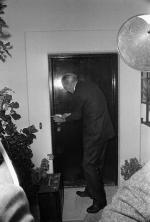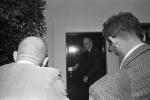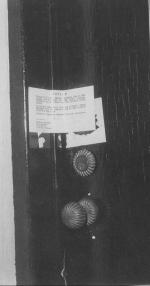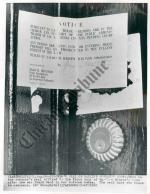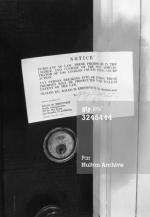 - photographie de Dan Tompkins >>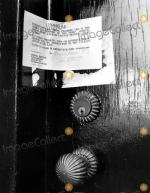 ---
Des gens se réunissent devant le Grauman's Chinese Theatre de Los Angeles et déposent des fleurs devant la plaque où Marilyn Monroe avait laissé ses empreintes (le 26 juin 1953).
People meet in front of the Grauman's Chinese Theatre in Los Angeles and lay flowers in front of the foot and hans prints left by Marilyn Monroe (in June, 26, 1953).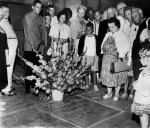 - photographie de Gene Anthony >>

---
L'information de la mort de Marilyn Monroe défile sur les panneaux lumineux du New York Times sur Times Square à Manhattan, New York.
The news of the Marilyn Monroe's death scrolls on the light panels on the New York Times building in Times Square in Manhattan, New York City.
---
VIDEOS
> News USA

> Divers extraits

> Eunice Murray, Norman Jefferies, Pat Newcomb et Maf

---
> Original du certificat de décès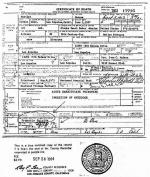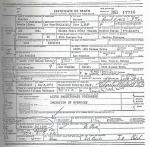 ---
Les réactions des proches de Marilyn recueillies par les journalistes:
James Dougherty

: "Je suis atterré". Quand son collègue Jack Clemmons lui apprend la nouvelle, Dougherty se tourne vers sa femme et lui dit: "Fais une prière pour Norma Jeane. Elle est morte."

Arthur Miller

, à Paris avec sa nouvelle femme Inge Morath, refuse de s'exprimer publiquement, sans doute étant trop bouleversé. A l'un de ses proches, il aurait dit: "Il fallait bien que ça arrive. Je ne savais ni quand, ni comment, mais c'était inévitable."
Isadore Miller (père d'Arthur): "Elle était comme ma propre fille. Elle était une fille gentille et bonne. Je suis tellement désolé, je n'étais pas là pour être avec elle. Elle a du se sentir vraiment seule et effrayée."

Billy Wilder

, interviewé à sa descente d'avion par des journalistes qui ne le tiennent pas au courant, ne dit que des banalités sur Marilyn. Il apprendra la nouvelle dans le taxi qui l'amenait à l'hôtel.

Joshua Logan

: "Marilyn était l'une des personnes les plus sous-estimées de la terre !"
Paula Strasberg: "Marilyn était une actrice comme il n'en existe aucune autre."

Milton et Amy Greene

sont à Paris et apprennent la nouvelle par téléphone à leur hôtel. Ils sont bouleversés (avant leur départ, après un mauvais pressentiment, Amy avait incité Milton à contacter Marilyn, qui semblait heureuse et leur avait assurer que tout allait bien).
Frank Sinatra se dit "profondément affligé

(...)

Elle va beaucoup me manquer."

George Jacobs

, son domestique, racontera que "Il demeura dans une sorte d'état de choc pendant des semaines après la mort de Marilyn, profondément angoissé."
Kay Gable (veuve de Clark Gable) apprend la nouvelle au flash d'information à 7 heures: "Je suis allée à la messe, j'ai prié pour elle."
La famille

Greenson

se dit "accablée de chagrin". Le Dr. Greenson rencontre DiMaggio et les deux hommes se serrent dans les bras, se consolant l'un et l'autre.

Peter Lawford

: "Pat et moi l'aimions profondément. C'est probablement l'un des êtres humains les plus merveilleux et les plus chaleureux que j'ai connus. Tout ce que je pourrais dire d'autre serait superflu."
L'Osservatore Romano du Vatican: "Elle a été la victime d'une mentalité et d'un mode de vie dont on l'a forcée à être le symbole. Sa mort transcende les limites d'une tragédie personnelle pour atteindre un retentissement universel."
---
sources:
Marilyn Monroe, encyclopédie d'Adam Victor
Les vies secrètes de Marilyn Monroe, d'Anthony Summers
Marilyn Monroe, biographie de Barbara Leaming
Marilyn Monroe, Private and Undisclosed, de Michelle Morgan
Marilyn, Histoire d'un assassinat, de Brown et Barham
---
© All images are copyright and protected by their respective owners, assignees or others.
copyright text by GinieLand.
Enregistrer
20 février 2014
Rapport de police
Le rapport de police sur la mort de Marilyn Monroe a été établi le 5 août 1962 et liste les faits relatifs à la dernière journée et les dernières heures de vie de Marilyn Monroe.
Le sergent Jack Clemmons, le premier agent de police à arriver sur les lieux, fut immédiatement remplacé (environ 30 minutes après son arrivée) par un supérieur, le chef de la police William H. Parker. Jack Clemmons va, des années durant, soutenir la thèse du complot de l'assassinat car il avait relevé des anomalies: concernant Eunice Murray, elle était en train de faire le ménage; elle va aussi lui affirmer qu'elle avait découvert le corps de Marilyn à minuit, alors qu'elle dira ensuite aux autres enquêteurs avoir découvert le corps à 3h; d'après Clemmons, le décès devait remontait à environ 8 heures; il constate aussi que le corps n'est pas dans une position naturelle.
Certains pensent que William H.Parker fut désigné pour mener l'enquête afin de dissimuler certains éléments et ainsi, corroborer la thèse du suicide: il aurait confisqué les enregistrements des conversations téléphoniques de Marilyn effectuées la nuit précédent le drame (sans doute pour protéger Robert Kennedy), gardé secrète une déposition faite à la police par Robert Kennedy, mais il aurait aussi fait disparaître le dossier de l'enquête sur la mort de Marilyn.
Certains biographes ont aussi souligné la manière dont l'enquête de la police de Los Angeles sur le décès de Marilyn fut menée: le domicile de Marilyn ne fut pas isolé notamment des journalistes et d'autres personnes (des studios de la Fox, de l'entourage de Marilyn) ont ainsi pu aller et venir dans la maison le 5 août; peu d'investigations ont été menées et donc, peu de témoignages recueillis aussi bien de l'entourage proche de la star, que du voisinage.
---
Composition de l'équipe de police ayant participé à l'enquête:
William H. Parker: chef de la police
James Hamilton: officier de renseignements en charge du dossier
Thad Brown: inspecteur
R.E. Byron: procès verbal
Jack Clemmons: premier officier de police sur les lieux
---
Rapport de police sur la mort de Marilyn Monroe. (le 5/08/1962)

"Le décès a été prononcé le 05/08/1962 à 3h45.
Possible mort accidentelle s'étant produite entre le 04/08 et le 05/08/1962 à 3h35, à son domicile sis 12305 5th Helena Drive, Brentwood, Rptg.Dist.814.
Rapport n° 62-509-463.
Le 4 août 1962, Marilyn Monroe se retira dans sa chambre vers 20h; Mrs Eunice Murray, habitant 933 Ocean Avenue, Santa Monica, Californie, 395-7752, CR 61890, remarqua une lumière dans la chambre de Miss Monroe. Mrs Murray ne put réveiller Miss Monroe quand elle alla à sa porte, et lorsqu'elle essaya de nouveau d'ouvrir la porte à 3h30, après avoir remarqué que la lumière était toujours allumée, elle la trouva fermée à clé. Ensuite, Mrs Murray alla observer Miss Monroe de la fenêtre de sa chambre et la vit à plat ventre sur le lit; elle n'avait pas l'air normal. Mrs Murray appela alors le psychiatre de Miss Monroe, le Dr Ralph Greenson, 436 North Roxbury Drive, Beverly Hills, Californie, CR 14050. En entrant, après avoir brisé la fenêtre de sa chambre, il y trouva Miss Monroe, peut-être morte.
Il téléphona ensuite au Dr Hyman Engelberg, 9730 Wilshire Boulevard, Beverly Hills également, CR 54366, qui se déplaça et déclara que Miss Monroe était morte à 3h35.
Le Dr Greenson avait vu Miss Monroe le 4 août 1962 à 17h15, à la demande de cette dernière, qui n'arrivait pas à dormir. Cela faisait un an environ qu'il la traitait. Quand le Dr Greenson la trouva morte, elle était nue, à plat ventre, le combiné du téléphone dans une main. On appela la police, et quand elle arriva, elle trouva Miss Monroe dans la position décrite ci-dessus, à l'exception du téléphone, que le Dr Greenson avait enlevé. On trouva sur sa table de nuit 15 flacons de médicaments, dont certains sur ordonnance. Un flacon de gélules dosées à 0.0975 gr de Nembutal, prescription n° 20853 du Dr Engelberg. Quant à ce flacon en particulier, le Dr Engelberg déclara qu'il en avait prescrit un nouveau environ deux jours auparavant, et il précisa même que le pharmacien avait dû y mettre 50 capsules environ en le remplissant.
Description de la défunte : femme de race blanche, 36 ans, taille 1m63, poids 57,5 Kg, cheveux blonds, yeux bleus, de constitution moyenne à mince.
Profession : actrice.
Cause probable du décès : overdose de nembutal.
Corps découvert le 05/08/1962 à 3h25.
Emmené à la morgue du comté, et, de là, à la morgue de Westwood.
Procès verbal dressé par le brigadier R.E.Byron, 2730, W.L.A. Division de la police judiciaire.
Parent le plus proche : Gladys Baker (mère).
Bureau du coroner prévenu.
Le corps a été enlevé des locaux de la morgue de Westwood Village.
(05/08/1962 11h00, W.L.A. hf - J.R.Brukles 5829).
> Le rapport original du 5/08/1962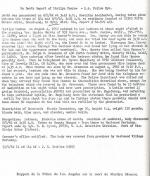 ---
Complément d'enquête (le 6/08/1962)

"Après avoir réinterrogé le Dr Ralph Greenson (témoin n°1) et le Dr Hyman Engelberg (témoin n°2), tous deux s'accordent sur la chronologie des faits suivants.

Le 05/08/1962, à 3h30, le Dr Greenson reçut un appel téléphonique de Mrs Murray (personne ayant donné l'alerte), déclarant qu'elle ne pouvait pas pénétrer dans la chambre de Miss Monroe et que la lumière était allumée. Il lui dit de donner de grands coups à la porte, de regarder par la fenêtre et de le rappeler.

A 3h35, Mrs Murray le rappela et déclara que Miss Monroe était couchée sur son lit, le téléphone dans une main et qu'elle avait un air étrange. Le Dr Greenson, qui entre-temps s'était habillé, se mit en route pour le domicile de la défunte, à un kilomètre et demi de là environ. Il demanda aussi à Mrs Murray d'appeler le Dr Hyman Engelberg.

Le Dr Greenson arriva au domicile de la défunte vers 3h40. Il cassa la vitre de la fenêtre pour entrer et lui ôta le téléphone de la main.

La rigidité cadavérique s'était installée. A 3h50, le Dr Engelberg arriva et prononça la mort de Miss Monroe. Les deux médecins parlèrent un moment. Tous deux pensent qu'il était environ 4h00 lorsque le Dr Engelberg appela la police.

Après contrôle auprès de l'inspection générale des services et du bureau de West Los Angeles, l'appel a été passé à 4h25. Les appels passés avec le téléphone GR 61890 de Miss Monroe ont été examinés; il n'y a eut aucune communication longue distance pendant les heures de l'événement. Le numéro de téléphone 472-4830 est en cours de vérification.

R.E.Byron 2730, 06/08/1962."
> Le rapport original du 6/08/1962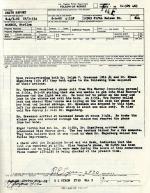 ---
Les comptes-rendus du 10 août 1962 établissent les interrogatoires de Milton Rudin, Eunice Murray, Joe DiMaggio et Joe DiMaggio Jr, pour évaluer l'heure des appels téléphoniques reçus chez Marilyn; cependant, Peter Lawford, ayant quitté Los Angeles, n'a pu être interrogé.
> Comptes-rendus du 10/08/1962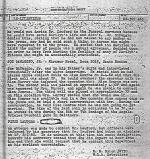 ---
source:
Marilyn Monroe, encyclopédie d'Adam Victor

© All images are copyright and protected by their respective owners, assignees or others.
copyright text by GinieLand.

15 février 2014
Marilyn: The Last Months
Authors: Eunice Murray, Rose Shade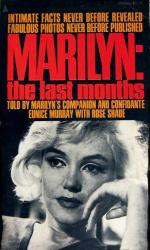 Publication Date: 1975
Nombre de pages 157 pages
Language English
Editeur: Pyramid Books
Prix éditeur: d'occasion dans les 70 Euros
ASIN: B004NFR0EW
Ou le commander ? sur amazon.com
Description: Livre écrit par Eunice Murray, la gouvernante de Marilyn, qui fut présente le soir de sa mort.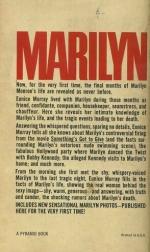 ---
Vous avez le livre ? Do you have the book ?
Apportez votre critique, votre avis ou votre note
09 février 2014
Le matin du lundi 6 août 1962, Berniece Miracle (la demie-soeur de Marilyn) arrive de Gainesville, au Texas, où elle vit, à l'aéroport de Los Angeles. C'est Inez Melson (la conseillère financière de Marilyn) qui vient la chercher à l'aéroport.
On Monday morning, August 6, 1962, Berniece Miracle (Marilyn's half-sister) arrives from Gainesville, Texas, where she lives, at Los Angeles. This is Inez Melson (Marilyn's financial advisor) who joins her at the L.A. airport.

> Berniece Miracle avec Inez Melson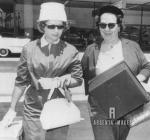 Elles se rendent au cimetière de Westwood Village pour finaliser l'organisation des funérailles de Marilyn avec Joe DiMaggio.
They go to the Westwood Village Mortuary to make final arrangments for the funeral services with Joe DiMaggio.
> Berniece Miracle avec Inez Melson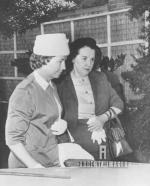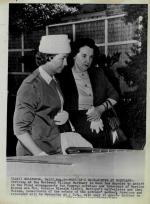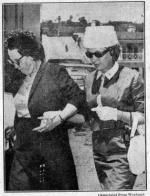 Joe DiMaggio se rend au cimetière de Westwood Village Memorial Park pour organiser les funérailles de Marilyn Monroe (qui se tiendront le 8 août), en compagnie de Milton Rudin (l'avocat de Marilyn).
Joe DiMaggio goes to Westwood Village Memorial Park to make arrangments for the funeral of Marilyn Monroe (which will be held in August, 8) with Milton Rudin (the Marilyn's lawyer).
> Joe DiMaggio (photo de Lawrence Schiller)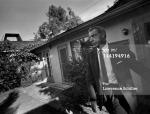 > Joe DiMaggio et Milton Rudin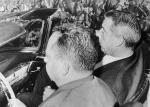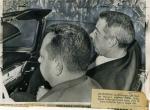 ---
Inez Melson et son mari se rendent à la maison de Marilyn, au Fifth Helene Drive, pour trier les effets personnels de la star. Melson se souvient que la table de nuit était encore encombrée de divers flacons: "Nous en trouvions sans cesse: des somnifères, du nembutal et du seconal". Soucieuse de la réputation de Marilyn, Mrs Melson détruit alors les pillules, en les jetant dans les toilettes et en emportant le reste pour les mettre à la poubelle. Elle a par la suite beaucoup regretté son geste.
Inez Melson and her husband go to Marilyn's house at Fifth Helena Drive, to sort the belongings of the celebrity. Melson remembers that the night table was still cluttered with various bottles: "We found it constantly: sleeping pills, nembutal and seconal." Concerning about the reputation of Marilyn, Mrs. Melson then destroyed pills, throwing them in the toilet and taking the rest to put in the trash. She has later deeply regretted her actions.
---
Eunice Murray est interviewée par des journalistes: "Je n'ai jamais vu Marilyn Monroe pleurer" et elle ajoute: "Marilyn n'a jamais parlé de la mort".
Eunice Murray talks to press: "I never saw Marilyn Monroe cry." She also says "Marilyn never mentioned death."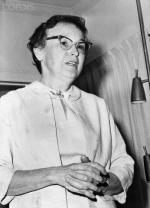 ---
En début d'après-midi, à 14 heures, le corps de Marilyn Monroe est transféré de la morgue au cimetière de Westwood, où auront lieu les funérailles.
At 2 pm, the body of Marilyn Monroe is wheeled from the Los Angeles County morgue and taken to Westwood Village Mortuary, Los Angeles, where funeral services will be held.
---
© All images are copyright and protected by their respective owners, assignees or others.
copyright text by GinieLand.
Le mardi 7 août 1962, la police de Los Angeles et celle de New York font l'inventaire des fourrures et des bijoux de Marilyn Monroe. Ils sont stockés temporairement aux postes de police pour être conservés en sécurité.
On Tuesday, August 7, 1962, Los Angeles Police and New York Police made an inventory of Marilyn Monroe's furs and jewelry . They are temporarily stored at police stations to be kept safe.
> Los Angeles

---
Au Grauman's Chinese Theatre de Los Angeles, des petites filles mettent leurs mains dans les empreintes laissées par Marilyn (le 26 juin 1953).
At Grauman's Chinese Theatre in Los Angeles, little girls put their hands in the handprints left by Marilyn (in June, 26, 1953).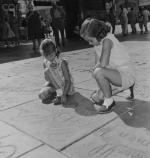 ---
Joe Jr., le fils de Joe DiMaggio, arrive à Santa Monica avec son costume pour assister le lendemain aux funérailles de Marilyn.
Joe Jr., the son of Joe DiMaggio, arrived in Santa Monica with his costume to attend the day after the funeral of Marilyn.
---
Dans la journée, Eunice Murray (la gouvernante de Marilyn), Inez Melson (la conseillère financière de Marilyn) et Berniece Miracle (demie-soeur de Marilyn) se retrouvent à la maison de Marilyn, au Fifth Helena Drive dans le quartier de Brentwood de Los Angeles, pour choisir la tenue que Marilyn portera pour ses funérailles. Quand Berniece demande où se trouvent les robes bleues de Marilyn, Eunice Murray lui explique que Marilyn ne portait plus de bleu depuis longtemps. Eunice choisit une robe vert pâle de Pucci suspendue dans la penderie, qui était la robe préférée de Marilyn.
In the afternoon, Eunice Murray (Marilyn's housekeeper), Inez Melson (financial advisor of Marilyn) and Berniece Miracle (half-sister of Marilyn) are meeting in Marilyn's house at Fifth Helena Drive at Brentwood, in Los Angeles to choose the outfit that will wear Marilyn for her funeral. When Berniece asks where are the Marilyn's blue dresses, Eunice Murray explains that Marilyn was not wearing color blue since a long time. Eunice chooses a Pucci pale green dress hanging in the closet, which was the favorite dress of Marilyn.
> Eunice Murray au 5 Helena Drive
-photographies de Gene Anthony-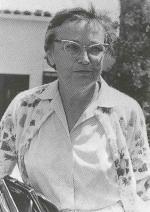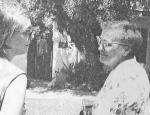 > Eunice Murray accueille Berniece Miracle et Inez Melson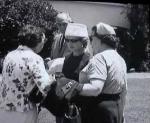 > Berniece Miracle ressort avec les affaires vérifiées par la police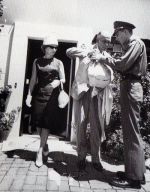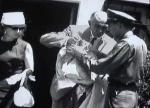 > Berniece Miracle avec Inez Melson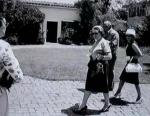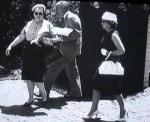 Après qu'elles soient sorties de la maison, la police pose à nouveau les scellés sur la porte.
After they have gone out the house, the police once again raises the seals on the main door.

La robe verte de chez Pucci choisie pour l'inhumation de Marilyn était la robe qu'elle avait portée le 22 février 1962 à la conférence de presse au Hilton de Mexico:
The green dress from Pucci which has been chosen for the burial of Marilyn was the dress that she wore in February, 22, 1962 at the press conference at the Hilton in Mexico City:
---
Puis Berniece se rend au cimetière Westwood Village Mortuary, où elle s'entretient avec le révérend Floyd Darling.
Berniece then goes to the Westwood Village Mortuary Cemetery , where she speaks with the Rev. Floyd Darling.
Joe DiMaggio reste 4 à 5 heures seul dans la pièce avec le corps de Marilyn.
Joe DiMaggio stays 4 to 5 hours alone in the room with the body of Marilyn.
---
On prépare la chapelle du cimetière de Westwood où aura lieu la cérémonie des funérailles.
The chapel of the Westwood cimetery where the ceremony will be held is prepared.
---
L'emplacement où reposera Marilyn Monroe est décidé: elle sera inhumée dans la crypte au marbre rose du "corridor of Memories" n°24 du cimetière de Wetswood Village Memorial Park.
The place where Marilyn Monroe will be rested is decided: she will be intered in a pink marble crypt at Corridor of Memories, #24, at the Wetswood Village Memorial Park Cimetery.
---
Le cercueil dans lequel elle reposera a été fabriqué par la société de cercueil Belmont à Shadyside, dans l'Ohio. C'est un cercueil que l'on a appelé la "Cadillac des cercueils" - en argent antique de gros calibre, de fermeture hermétique, en bronze doublé à l'intérieur d'un tossi de satin de couleur champagne-soie.
The casket in which she will rest was manufactured by the Belmont casket company in Shadyside, Ohio. It's a casket known at that time as the "Cadillac of caskets" – a hermetically sealing antique-silver-finished 48-ounce (heavy gauge) solid bronze "masterpiece" casket lined with champagne-colored satin-silk.
---
© All images are copyright and protected by their respective owners, assignees or others.
copyright text by GinieLand.
16 août 2012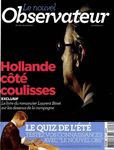 Le magazine français Le Nouvel Observateur n°2493, paru le 16 août 2012 consacre un article de 5 pages à Marilyn Monroe (chapitre 6, par François Forestier).
prix: 3,50 €
---
Chapitre 6 et fin : Marilyn dans la nuit
Par François Forestier
en ligne sur CinéObs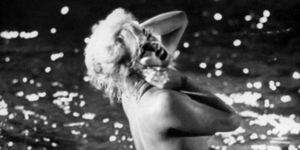 Elle convoque un photographe, se déshabille sur le plateau et, nue, se baigne, sourit, prend la pose. Elle sait fort bien que les clichés vont faire le tour du monde.© DR
C'est avec « Something's Got to Give », film inachevé de George Cukor (1962), que s'achève la vie de Marilyn Monroe.
Dans sa cellule capitonnée, Marilyn est nue. Elle a beau hurler, cogner, rien n'y fait. Les infirmiers passent devant le hublot de sécurité, se poussent du coude, « T'as vu, c'est Marilyn ! », et vont avoir quelque chose à raconter, le soir, au bistrot. Elle est revenue du Mexique en compagnie d'un bellâtre latino, Jose Bolanos, devenu son amant. En fait, c'est un indic du FBI, qui renseigne J. Edgar Hoover directement. Sur les instructions de sa psy le docteur Kris, Marilyn a été vêtue d'une camisole de force, transportée par quatre forts des Halles, face au sol, et jetée dans son cachot. Elle va y rester trois nuits, avant que Joe DiMaggio ne vienne la délivrer, manu militari. A partir de ce moment, elle flotte sur un océan de Dom Pérignon.
Le 16 octobre, enfin, la 20th Century Fox lui fait parvenir un scénario : celui de « Something's Got to Give », remake d'une pétillante comédie de 1939, « Mon épouse favorite », de Garson Kanin. C'est l'histoire d'un veuf charmant (joué par Cary Grant dans la première version, par Dean Martin dans la seconde) dont l'épouse a disparu en mer, sept ans auparavant. Quand elle revient, le mari est en train de se remarier avec une belle emmerderesse…
Le truc, c'est que le réalisateur de cette resucée est George Cukor. Cinéaste exigeant, entouré d'une cour de mignons, celui-ci vient de diriger Marilyn dans « le Milliardaire ». Il a frôlé la dépression nerveuse. A chacun de ses retards, soumis à un régime alimentaire draconien, il se mettait à manger les pages du scénario. Quand la star arrivait, elle était étonnée de rencontrer un homme aux gencives crayeuses de papier mâché. Marilyn, trois ans plus tard, est persuadée que Cukor la déteste. C'est le cas. La Fox est consciente du « problème Marilyn », et commet le bon docteur Greenson à sa surveillance - et à sa remise en état. Or la méthode thérapeutique de ce dernier, c'est d'abord d'enregistrer ses clients (à la grande satisfaction de Hoover), puis de boire du champagne avec Marilyn, chez lui. Bref, il fait tout ce qu'un psy ne doit pas faire.
De plus, Marilyn est en pleine love story avec JFK. Le 19 novembre 1961, elle le rejoint chez Peter Lawford dans sa maison de Santa Monica, sur la plage, juste avant que le président ne rencontre le chancelier Adenauer. Un autre rendez-vous est fixé pour le 5 décembre, à New York. En ce qui concerne le film, en revanche, elle traîne les pieds. Elle ne se présente pas aux essayages. Ni aux tests de maquillage. Elle refuse le scénario tel quel. Elle bloque la campagne de publicité. Elle préfère filer à Palm Springs, où JFK l'attend au bord de la piscine de Bing Crosby. Puis elle se bourre de Librium, de Demerol, de pilules magiques. Elle apprend que Cukor parle d'elle en termes qui feraient rougir un charretier. Finalement, menacée par les juristes du studio, elle se soumet.
Le 30 avril 1962, elle arrive à 6h30 du matin, prête. Miracle ! Elle tourne. Le lendemain, elle est absente. Trois semaines passent. Elle a travaillé un seul jour. Chez elle, Marilyn se concentre sur l'événement majeur : la fête d'anniversaire de JFK, au Madison Square Garden. La Fox lui interdit de s'absenter ? So what ? Elle saute dans un hélicoptère prêté par Howard Hughes et, dès son arrivée, essaie la robe, la fameuse robe couleur chair créée par le couturier Jean-Louis. Vingt couches de soie sur les seins et l'entrejambe, six mille pierres du Rhin, et l'impression d'une totale nudité… La robe est cousue à même le corps.
Le grand soir, enfin, Marilyn, très en retard, monte sur scène - après Ella Fitzgerald, Maria Callas, Harry Belafonte. Elle marche à petits pas. Elle titube. En coulisse, Peter Lawford, maître de cérémonie, voit la robe se déchirer dans le dos. Tout le monde, derrière, peut apercevoir le cul de Marilyn. Elle est emportée par des machinos, comme une statue, pour qu'on recouse la robe. Un comique, Jack Benny, fait la soudure sur scène. Marilyn revient. JFK, les pieds posés sur la rambarde, un mégot de cigare aux lèvres, s'extasie. Et quarante millions de téléspectateurs écoutent Marilyn chanter « Happy Birthday » d'une voix… d'une voix…
« C'est comme si elle lui faisait l'amour », s'écrie une chroniqueuse. Exactement. Le moment est kitsch, magique, invraisemblable. L'image s'inscrit instantanément dans la saga de l'époque. Jackie Kennedy, elle, est restée à la campagne. Plus tard, la soirée continue chez le trésorier du Parti démocrate, Arthur Krim. Au petit matin, Marilyn rejoint JFK dans son hôtel. C'est leur dernière nuit ensemble. Lui le sait. Elle, non. Ils ne se reverront jamais.
De retour à Hollywood, elle est licenciée par le studio. Elle contre-attaque avec sa seule arme : l'érotisme. Elle convoque un photographe, se déshabille sur le plateau et, nue, se baigne, sourit, prend la pose. Elle sait fort bien que les clichés vont faire le tour du monde. Marilyn est une manipulatrice chevronnée. Et, en effet, alors que les patrons de la Fox sont en danger à cause des coûts hallucinants du tournage de « Cléopâtre », ils ne peuvent se permettre de passer « Something's Got to Give » par pertes et profits.
Cukor reprend le tournage, avec Dean Martin, Cyd Charisse et Lee Remick. Marilyn arrive, ne connaît pas son texte, hésite, réussit quelques prises, mais n'arrive pas à être longtemps concentrée. Chaque jour de retard coûte une fortune. Cukor est outré. Il ne supporte pas la présence de Paula Strasberg, la répétitrice de Marilyn, et il décrit aux journalistes une star capricieuse, pénible, mesquine. Il est vrai que Marilyn se comporte étrangement : tous les jours, elle appelle la Maison-Blanche, et, régulièrement, on lui répond que le président est occupé. Finalement, Peter Lawford, le beau-frère de JFK, met les choses au point : « Marilyn, pour lui, tu n'as été qu'un coup ! » Elle s'imaginait déjà en première dame… La chute est terrible. Elle s'abandonne.
Sa carrière est terminée. La Fox lui promet qu'elle ne tournera plus : elle vient de coûter deux millions de dollars au studio, inutilement. Mais elle n'en a cure. Elle se sent rejetée, sale, indésirable. Sale, elle l'est : chez elle, Marilyn ne se lave plus, traîne en vieux peignoir, sent mauvais. Sa gouvernante, Eunice Murray, qui est une espionne placée là par Greenson, observe ce naufrage. De temps en temps, Marilyn menace de faire une conférence de presse pour révéler sa liaison avec « The Prez » - le président. Peter Lawford, dépêché par les Kennedy Brothers, décide de lui offrir un week-end.
Le 27 juillet, il l'emmène au Cal-Neva, l'hôtel au bord du Lake Tahoe. On la loge dans le bungalow 52, une bonbonnière rose. Marilyn s'allonge, prend des pilules, décroche le téléphone et papote. Sans doute s'endort-elle. La ligne reste occupée pendant des heures. Un groom alerte le patron, Skinny D'Amato, un truand notoire, qui avertit son boss, Sam Giancana. Le parrain de Chicago est là, dans une autre aile, avec son porte-fingue, Jimmy « Blue Eyes » Alo (que Coppola nommera Jimmy Ola dans « le Parrain 2 »). Giancana, qui a financé secrètement la campagne de Kennedy, a la haine : Bobby Kennedy, le ministre de la Justice, a entrepris une guerre sans merci contre la Mafia.
Quand les deux hommes voient Marilyn inconsciente, ils réalisent qu'une mort soudaine serait une mauvaise publicité pour un établissement fréquenté par les voyous. Ils font boire du café à l'épave blonde. Puis, considérant Marilyn comme un déchet humain, Giancana décide de la faire violer par ses gorilles. Et demande que la scène soit photographiée, pour se venger des Kennedy. Puis il s'en vante au téléphone, auprès de son vieux copain Johnny Rosselli, qui finira découpé en morceaux dans un fût à Miami. L'agent Bill Roemer enregistre la conversation pour le FBI. Rosselli : « Tu prends ton pied, hein, à te taper la nana des Kennedy ? » Giancana : « Ouais. » Les photos parviennent à Frank Sinatra. Celui-ci, incrédule, regarde : sur l'un des clichés, Marilyn, à quatre pattes, est violée par Giancana pendant qu'elle vomit sur la moquette rose. Dégoûté, Sinatra brûle les photos.
En trois mois, Marilyn a fait quoi ? Cinq, sept, dix overdoses ? A chaque fois, un lavage d'estomac l'a sauvée. A chaque fois, un homme l'a reprise en main : Joe DiMaggio, désespérément amoureux de son ex-femme. D'ailleurs, il décide, en cette fin juillet 1962, de demander sa main à nouveau. Par ailleurs, les photos nues de Marilyn ont eu l'effet escompté. La Fox revient sur ses menaces, ravale ses injonctions, et propose un nouveau contrat plus avantageux à la star.
Mais Marilyn est déjà ailleurs, dans un demi-coma provoqué par les barbituriques. Ses dernières scènes filmées avec Wally Cox, un acteur qui est l'ami intime de Marlon Brando et qui mourra drogué, ont été excellentes. La Marilyn Monroe d'autrefois revient, par bribes, à la surface. Il faudrait continuer, sauver ce satané film. Elle réapparaît sur le plateau pour fêter son anniversaire, elle a 36 ans. Mais c'est un vendredi soir, les techniciens sont pressés de rentrer, le coeur n'y est pas. Le gâteau coule lentement sur la table, le champagne est servi dans des gobelets en papier, et l'ambiance est plombée. Vingt minutes après le pot, Marilyn reste seule, sur un plateau désert, avec Wally Cox, petit bonhomme à lunettes, drôle et terriblement dépressif.
Rentrée chez elle, Marilyn se sent écartelée entre ses deux gourous : Paula Strasberg, la coach parasite, et Ralph Greenson, que certains soupçonnent d'avoir des relations sexuelles avec sa cliente. Or la première est à New York, le second est en Suisse. Marilyn accorde une interview à un journaliste, pose de nouveau nue pour Bert Stern, discute avec Pat Newcomb, son attachée de presse, qui a été placée là par Bobby Kennedy, pour contrôler la situation.
Le 1er août 1962, un nouveau metteur en scène, Jean Negulesco, est choisi en remplacement de George Cukor. Negulesco est drôle, et il a déjà dirigé Marilyn dans « Comment épouser un millionnaire ». On reprendra donc le tournage en octobre, c'est décidé. Marilyn est-elle satisfaite ? Elle va s'acheter une table de nuit chez un antiquaire, rentre chez elle, décroche le téléphone, avale une poignée de pilules sans compter, bavarde, dodeline, s'endort. Nous sommes le 3 août.
L'interview paraît dans « Life », ce jour-là. Elle dit : « Vous ne savez pas ce que c'est, d'avoir tout ce que j'ai et de vivre sans amour, sans bonheur. » Le 4 août 1962, au petit matin, Marilyn est morte.■
---
Marilyn et la France
le 19/08/2012
Par Bernard Comment
en ligne sur cinema.nouvelobs.com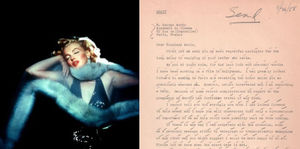 Chaque semaine, l'éditeur des écrits et dessins de la star - mandaté par la famille Strasberg - nous offre un document rare. Aujourd'hui, une lettre à Georges Auric, président de l'Académie du Cinéma.
Marilyn Monroe n'est jamais venue en France, du moins n'existe-t-il aucune trace d'un voyage. Mais elle avait une vraie tendance francophile, un goût pour la littérature (Camus, Proust), la peinture (Bonnard, Van Gogh) et les produits fins (champagne, foie gras) de l'Hexagone. Surtout, l'occasion s'en présenta très concrètement en 1958, quand l'Académie du Cinéma présidée par Georges Auric décida, lors de sa séance du 2 avril, de lui décerner son Grand Prix de la meilleure interprétation étrangère pour son rôle dans « Le Prince et la Danseuse », sorti quelques mois auparavant sur les écrans européens (et l'on peut imaginer le goût savoureux d'une telle récompense, par l'Académie d'une cinématographie prestigieuse, quand on sait le mépris avec lequel l'avait parfois traitée Laurence Olivier sur le tournage du film à Londres pendant l'été 1956). Si les oscars n'ont jamais couronné Marilyn (quelque chose en elle dérangeait l'establishment hollywoodien, peut-être le culot d'avoir fondé sa propre société de production, ou sa volonté d'échapper à l'icône de la blonde sexy), elle reçut de nombreux prix à l'étranger ou par la presse étrangère. Une invitation est donc lancée à Marilyn, qui semble ne pas recevoir la lettre. Quelques semaines plus tard, le 12 mai, l'Académie du Cinéma, croyant savoir que la star a prévu un voyage prochainement en Europe, tente une relance par l'intermédiaire de Paula Strasberg, et, le 22 mai, Marilyn accuse réception de ce courrier, se dit très honorée et déclare envisager sa venue avec son mari, mais pas avant l'automne. Le 5 septembre, elle précise que cela ne pourra pas être avant le 1er novembre, une fois que le tournage de « Certains l'aiment chaud » aura pris fin. En fait, le film de Billy Wilder, démarré le 4 août 1958, ne se terminera que le 6 novembre, avec vingt-neuf jours de retard imputables pour l'essentiel à Marilyn, qui accumulait les absences et les retards, tétanisée par une incertitude ontologique et craintive à l'idée des scènes parfois comiques de son rôle.
Vers la mi-septembre, Marilyn est rejointe sur le tournage par Arthur Miller et, quelques jours après, elle apprend qu'elle est enceinte. C'est le bonheur tant attendu. Mais le 7 novembre, elle est hospitalisée au Cedars of Lebanon Hospital de Los Angeles pour des difficultés liées à sa grossesse. Fausse alerte. Elle regagne New York, avec injonction des médecins de se reposer et de renoncer aux barbituriques et à l'alcool. De son côté, l'Académie du Cinéma relance, on propose de déplacer la cérémonie au mardi 25 novembre, puis au samedi 13 décembre. Chacun a ses urgences. Marilyn finit par envoyer un long télégramme le 26 novembre, dans lequel elle annonce qu'elle ne pourra malheureusement pas venir, pour la belle raison qu'elle est enceinte. On est déçu à Paris, mais on la félicite pour la bonne nouvelle. Marilyn propose de coopérer, sous la forme d'un message personnel, ou d'un télégramme, ou d'une conversation téléphonique. Cette dernière hypothèse sera finalement abandonnée en raison des complications techniques. On se contentera d'un message, envoyé l'avant-veille au directeur par télégramme : « Mes cordiales salutations à vous et à tous les membres de l'Académie. Je regrette sincèrement l'impossibilité d'être parmi vous à cette occasion et j'espère vous remercier tous prochainement pour le précieux prix que vous me remettez. J'espère avoir le plaisir de vous rencontrer dans un futur pas trop éloigné. Avec mes meilleurs voeux, Marilyn Monroe-Miller. »
Mais le 16 décembre, c'est le drame. Une fausse couche, l'hospitalisation dans une clinique de Manhattan, la déprime, des semaines noires que les fêtes de fin d'année ne parviennent pas à égayer. L'enfant tant désiré ne viendra jamais. L'étoile de cristal sera remise à Marilyn le 26 février 1959, à New York, par Georges Auric, en voyage aux Etats-Unis. On ne sait si la cérémonie eut lieu à l'Institut du Film français ou dans les luxueux locaux des services culturels de l'ambassade de France, en haut de la V Avenue près du Metropolitan Museum. Il se dit qu'une robe de soirée de Marilyn serait conservée dans cette représentation française, bien cachée, et dévoilée en de rares et précieuses occasions, comme l'incantation d'un fantôme… dont le rayonnement continue de nous parvenir et de nous toucher, tout particulièrement ici où l'on a su, depuis longtemps, voir en elle autre chose qu'une blonde écervelée, à savoir une femme curieuse, exigeante, désireuse de se perfectionner et de se cultiver. Une enfant radieuse, pour reprendre la belle expression de Truman Capote.
La lettre de Marilyn à Georges Auric :
Tout d'abord laissez-moi vous adresser mes plus plates excuses pour le long retard pris à répondre à votre lettre et à votre télégramme.
Comme vous le savez sans doute, j'ai travaillé sur un film à Hollywood durant les quatre derniers mois et demi. J'avais vraiment espéré venir à Paris pour y recevoir la récompense dont vous m'avez si gentiment gratifiée. Cependant, la nature est intervenue et j'attends un enfant. En raison de récentes complications concernant la grossesse, mon médecin m'a interdit toute espèce de voyage.
Je ne peux pas vous dire assez fort combien j'ai attendu cet événement et j'espère que vous comprendrez que seule une circonstance aussi importante à mes yeux pouvait m'empêcher de venir.
S'il y a une façon pour moi de coopérer à cet événement, à travers un message personnel ou un télégramme ou une conversation téléphonique transatlantique ou tout autre moyen dont vous auriez l'idée, je serai très heureuse de le faire. Faites-moi s'il vous plaît savoir quand la date exacte sera fixée. Avec mes voeux les plus sincères pour tous les membres de l'Académie et à nouveau mes plus chaleureux remerciements pour ce grand honneur qui m'est fait, Marilyn Monroe Miller■

25 juillet 2012
lot n°46001: A Marilyn Monroe Signed Black and White Photograph, Circa 1956
A Marilyn Monroe Signed Black and White Photograph, Circa 1956. An original print with a matte finish, depicting the star in one of her legendary glamour poses, her blue fountain pen ink inscription on the right side reads "To Roy, / Love & Kisses and - / thanks for keeping me / out of the clink! / Marilyn Monroe." (Please note there are slight creases in all four corners, especially the lower left one, plus a few minor chips to the surface, but the overall image and signature are not affected.) 14" x 11"
PROVENANCE: The "Roy" noted above was Beverly Hills police officer, Roy Garrett, who joined the force in 1946, and who had a habit of asking movie stars to send him an autographed photograph (which most did - see various lots throughout this auction). He evidently let Marilyn go without a ticket as he received this from her in the mail a few days later.
Sold: $31,250.00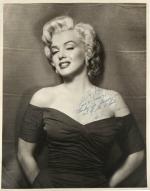 ---
Lot 46002: A Marilyn Monroe Signed Black and White Photograph, Circa 1955
A Marilyn Monroe Signed Black and White Photograph, Circa 1955. An original print with a matte finish, depicting the star in her most famous headshot, her white fountain pen ink inscription in the lower right corner reading "To Vern / It was a pleasure / to work with you / Love and Kisses / Marilyn Monroe;" "Vern" being Vernon Rickard, a bit player and "gofer" in the early days of Hollywood. (Please note there are many creases and wrinkles on lower margin that somewhat affect the autograph and there is a slight dent in the upper right corner.) 10" x 8"
Sold: $11,250.00

---
Lot 46003: A Marilyn Monroe Likely Final Signed Check, August 4, 1962
A Marilyn Monroe Likely Final Signed Check, August 4, 1962. From the star's personal checking account at City National Bank of Beverly Hills, check 281, penned in blue ballpoint ink (in another hand, possibly Eunice Murray's, MM's caretaker) reading "Aug 4 62 / Pilgrim / $228.80 / Two hundred twenty-eight and 80," signed in same ink in Marilyn's own hand "Marilyn Monroe," a red stamp on front reads "Paid / Aug 6 1962 / 901-1606," further stamps on back read in part "For Deposit Only / Pilgrim Modern Furniture" and "Santa Monica Bank.../ Aug 6 62;" included is a photocopy (not the original) of an invoice that Pilgrim's Furniture gave to MM (see below footnote). 3" x 6"
Coincidentally, two years ago, Heritage Auctions sold the original invoice that was given to Marilyn by this company [Pilgrim's Furniture then at 12217 Wilshire Boulevard in West Los Angeles] in Sale 7018, Lot 50225. That invoice was also dated August 4, 1962, so it appears that Pilgrim's made a delivery to MM's house and that she paid for her "Chest Roman white" on the spot with the above check from her personal checkbook. Interestingly, on that invoice, the evident delivery man wrote "Rec'd Check #281 in amount $228.80 / Payment in full / Earl Shero." At this point in time, this seems to be the last check Marilyn ever signed as she died that night, August 4, 1962. This check can be used to argue the point that Marilyn did not commit suicide -- would one be concerned with new furniture on the last day of one's life? Probably not!
Sold: $15,000.00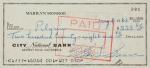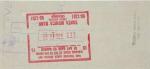 ---
Lot 46005: A Marilyn Monroe Signed Note, 1952
A Marilyn Monroe Signed Note, 1952. Typed on one page, dated "October 27th, 1952," to the "Wm. Morris Agency, Inc.," reading in part "...you are no longer authorized to represent me," signed in blue fountain pen ink on the lower right side "Marilyn Monroe;" two-hole punch marks on top margin. 11" x 8 1/2"
Sold: $5,312.50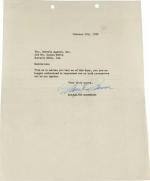 ---
Lot 46006: A Marilyn Monroe Signed Menu, 1953
A Marilyn Monroe Signed Menu, 1953. From the famous Cocoanut Grove nightclub inside the Ambassador Hotel in Los Angeles (infamous for being the place where RFK got assassinated in June, 1968), menu is dated "Sat., June 27, 1953," signed in blue ballpoint ink on the inside left side "Marilyn Monroe." 13 1/2" x 11"
Sold: $2,375.00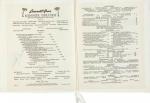 ---
Lot 46007: A Marilyn Monroe Group of Mostly Never-Before-Seen Black and White Negatives, 1950.
A Marilyn Monroe Group of Mostly Never-Before-Seen Black and White Negatives, 1950. Thirty-three total, all originals, each depicting Marilyn at age 24 posing in a fancy backyard during one photo session; 14 show MM wearing a black turtleneck, white shorts, and black strappy sandals as she sits on a chaise lounge chair; 18 show MM wearing a light-colored bikini and same sandals as she poses by a swimming pool; and one shows MM wearing a dark-colored bikini by the same pool; two depict other people in the shot with MM, evidently the photographer's assistants. (Please note some of these negatives are somewhat dirtied and scratched, but they still print up beautifully and MM is quite clear and vibrant-looking in all the shots.)
Each Negative: 2 1/2" x 2 1/2"
These photographs of Monroe were taken on October 10, 1950 by Bob Beerman, a staff photographer at 'Modern Screen' magazine. A few of the images did appear in a 1951 issue of the magazine, though not all of them. Additionally, the current owner published seven of them online, but the majority of these photographs have never before been seen.
Sold: $11,875.00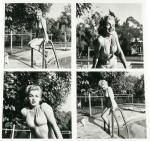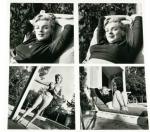 ---
Lot 46008: A Marilyn Monroe Pucci Blouse, Circa 1962
A Marilyn Monroe Pucci Blouse, Circa 1962. Made of hot pink silk jersey, boatneck, long sleeves, inside labels read "Emilio Pucci / Florence, Italy / 12" (though seeming to be a modern-day Size 6) and "Made in Italy Exclusively for / Saks Fifth Avenue;" included with a typed signed letter reading in part "This blouse by the Italian designer... / was given to me by Marilyn Monroe. It had become too / large for her. / Joan Greenson Aebi," "Joan" being the daughter of Dr. Ralph Greenson, MM's longtime psychiatrist. (Please note there are sweat marks and other minor staining evident due to age, but overall condition is still good.)
Sold: $12,500.00
---
Lot 46009: A Marilyn Monroe Pair of Jax Pants, Circa 1962
A Marilyn Monroe Pair of Jax Pants, Circa 1962. Made of black silk, in the cigarette style, inside label reads "Designed by Jax," no size evident but seeming to be a modern-day size 4; included with a typed signed letter reading in part "These black pants were given to me by / Marilyn Monroe. They had become too / large for her... / Joan Greenson Aebi," "Joan" being the daughter of Dr. Ralph Greenson, MM's longtime psychiatrist.
Sold: $6,875.00
---
Lot 46010: A Marilyn Monroe-Received Letter from an Associate, Circa 1960
A Marilyn Monroe-Received Letter from an Associate, Circa 1960. Two pages, handwritten in blue ballpoint ink on 'American Airlines' in flight stationery, a general newsy letter with some highlights reading in part "darling Marilyn / ...I read Lillian Hellman's / new play and I saw Clifford's [Odets] / movie. I was shattered by the play... / I think Ralph Roberts would be of / great help to you. He is at Beverly / Wilshire.../ I do wish I had a script of 'Misfits;' interestingly, MM took the advice of this friend and ended up hiring Roberts to be her personal masseur. 10" x 7"
Sold: $750.00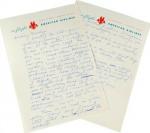 ---
Lot 46011: A Marilyn Monroe-Received Letter from Eunice Murray, 1962
A Marilyn Monroe-Received Letter from Eunice Murray, 1962. One page of lined notebook paper, handwritten on both sides in green ballpoint ink, dated "Monday nite / Feb. 5," outlining various ideas for home renovations that Murray was evidently researching for the star such as a "wardrobe dressing / room on the front of the house - using the front / window of (MM's) bedroom as the doorway," among others, Murray ends the note with "I would suggest / concentrating on the interior in the way we originally planned...E.M," additionally, two business cards of contractors are stapled to the front of note. 11" x 8 1/2"
Sold: $1,750.00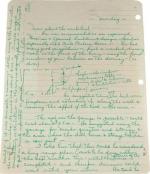 ---
Lot 46012: A Marilyn Monroe-Received Note from William Inge, 1959
A Marilyn Monroe-Received Note from William Inge, 1959. One page, typed on personalized notepaper, dated "April 6, 1959," from the famous playwright [who wrote "Bus Stop"] who was evidently a big Marilyn Monroe fan, signed in black fountain pen ink in the lower right corner "Bill Inge." 8" x 6"
Sold: $391.25
---
Lot 46013: A Marilyn Monroe-Received Group of Business Letters, 1950s-1960s
A Marilyn Monroe-Received Group of Business Letters, 1950s-1960s. Five total, all sent to the star by various professional associates including ones from: 1) Harry McIntyre, on Twentieth Century-Fox letterhead, dated "December 22, 1958," regarding rights to a novel the studio bought from MM; 2) Hugh French, on Hugh French Agency letterhead, dated "11 January 1961," regarding a television show he wanted MM to star in; 3) Matthew Fox, on his personal letterhead, dated "June 23, 1961," regarding a production he thought would be good for MM and Elizabeth Taylor (!); 4) Milton A. Rudin [MM's lawyer], on Gang, Type, Rudin & Brown letterhead, dated "December 19, 1961," regarding a special screening of the Bette Davis film, "Of Human Bondage;" and 5) Richard S. Meryman, Jr., on Life letterhead, dated "February 10, 1962," regarding an interview for the magazine and how MM would be able to "destroy negatives" (of photos she didn't like); months later, Meryman finally did get his interview, but sadly, it would be Marilyn's last one. 11" x 8 1/2"
Sold: $937.50

---
Lot 46014: A Marilyn Monroe Group of Documents, 1962
A Marilyn Monroe Group of Documents, 1962. Including: 1) six typed letters between Cherie Redmond [MM's Los Angeles secretary] and a travel agent, dated from February to April 1962, regarding an ongoing issue about a refund MM needed for unused airline tickets; 2) a pale yellow 'Inter-Office Correspondence' memo to MM from Redmond, dated "7/25/62," regarding funds in the star's various banking accounts; and 3) a similar memo, dated "8/1/62," regarding overdraft protection MM needed in order to pay August's bills. 11" x 8 1/2" and smaller
Sold: $1,062.50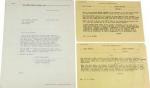 ---
Lot 46015: A Marilyn Monroe Group of Documents, 1950s
A Marilyn Monroe Group of Documents, 1950s. Three items including: 1) a receipt from the 76 Union gas station at 14478 Ventura Boulevard in Sherman Oaks, dated "5/1/54," in the amount of "$7.07," signed off by a "Vic Masi for Mrs. M. DiMaggio;" 2) a single page typed with Monroe's dictations for a telegram to Inez Melson [her business manager], dated "June 10, 1959," regarding "Clyde," a pet bird; and 3) a newspaper clipping of a short article about MM's fashion sense (likely from The Los Angeles Times, April 29, 1958). 11" x 8 1/2" and smaller
Sold: $437.50
---
Lot 46016: A Marilyn Monroe Legal Form, 1953
A Marilyn Monroe Legal Form, 1953. A pale yellow quadruplicate copy titled "Notice of Attachment," reading in part "Matter of Shaeffer [sic?] Plaintiff / Marilyn Monroe Defendant / on Monday, 2-2-53 12:01 PM;" two hole punch marks on top margin. 9" x 4"
This is an odd document, possibly relating to MM's voice and musical coach, Hal Schaeffer, though the last name is spelled differently on this form. Schaeffer, who was having an affair with MM as she was divorcing Joe DiMaggio, unwittingly became part of the infamous 'Wrong Door Raid,' but this piece pre-dates that event by almost two years -- perhaps it relates to a different person altogether.
Sold: $212.50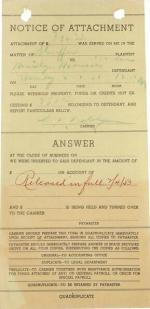 ---
Lot 46017: Two Marilyn Monroe-Received Fan Letters, 1950s-1960s
Two Marilyn Monroe-Received Fan Letters, 1950s-1960s. The first typed on a single page, dated "May 5, 1959," reading in part "I am a clergyman who is enthusiastic about all / your performances... / and would / like very much to have an autographed photograph...;" a penciled annotation (not in MM's hand) on the lower margin reads "Mae - I sent him one - But I / thought Marilyn would get / a kick out of the idea;" the second typed on a single page, dated "Janury [sic] 18, 1962," reading in part "I have written a novel which I think would make a / very good movie for you to star in;" a red penciled annotation (not in MM's hand) on the lower margin reads in part "To Cherie / Just reply not..." 11" x 8 1/2" and smaller
Sold: $375.00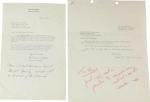 ---
Lot 46018: A Marilyn Monroe Group of Never-Before-Seen Black and White Snapshots from Korea, 1954
A Marilyn Monroe Group of Never-Before-Seen Black and White Snapshots from Korea, 1954. Nine total, all vintage prints with a glossy finish; three depicting the star wearing military coveralls (though just the top of her blonde head can be seen in one); three depicting her posing for soldiers before she goes onstage; and three depicting her onstage at the microphone; consigned directly by the soldier who shot these photographs 58 years ago when Marilyn famously entertained the troops while she was on her ill-fated honeymoon with Joe DiMaggio. (Please note the snapshots are in poor condition now with tape residue, bends, slight tears, and fold marks, but one can still see MM in each image.) 5" x 4"
Sold: $1,875.00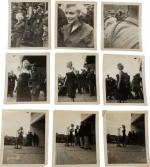 ---
Lot 46019: A Marilyn Monroe Never-Before-Seen Black and White Snapshot, 1955
A Marilyn Monroe Never-Before-Seen Black and White Snapshot, 1955. An original print, depicting the star standing next to a woman (likely Amy Greene) at the premiere of "East of Eden" which took place on March 9, 1955 at the Astor Theatre in New York City. (Please note there are a few light creases but overall image is not affected.) 3 3/4" x 2 3/4"
Sold: $375.00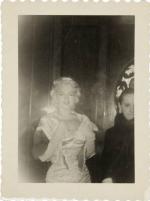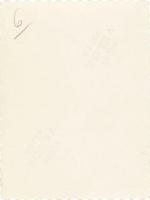 ---
Lot 46020: Two Marilyn Monroe Black and White Publicity Photographs, Circa 1953
Two Marilyn Monroe Black and White Publicity Photographs, Circa 1953. Both original prints with a glossy finish, each depicting the star in classic cheesecake poses taken at the height of her career. 10" x 8"
Sold: $312.50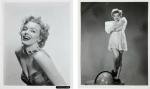 ---
Lot 46021: A Marilyn Monroe Acetate Record of 'My Heart Belongs to Daddy' from "Let's Make Love."
A Marilyn Monroe Acetate Record of 'My Heart Belongs to Daddy' from "Let's Make Love." 20th Century Fox, 1960. With a 20th Century Fox Film Corp. label typed with "F13 - Let's Make Love / 'My Heart Belongs to Daddy' / DS 25 / Monroe-Group-Orch. / 33 1/3;" Marilyn's version of the Cole Porter classic, this one being slightly different than the one she sings as "Amanda Dell" in the film co-starring Yves Montand and Tony Randall; condition is very good. Diameter: 12"
Sold: $3,125.00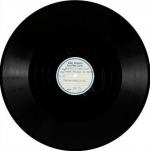 ---
Lot 46022: A Marilyn Monroe-Related Vintage Lapel Button, 1956
A Marilyn Monroe-Related Vintage Lapel Button, 1956. Made of tin, featuring an image of the star surrounded by text reading "Gentlemen Prefer Marilyn Monroe," copyright information on bottom reads "MMNM 1956." (Please note there is some discoloration due to age.) Diameter: 1 3/8"
Sold: $325.00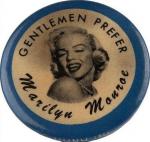 28 novembre 2011
lot n°694: 18-year-old Marilyn Monroe amazing autograph letter signed
18-year-old Marilyn Monroe amazing autograph letter signed - MONROE, MARILYN. Amazing Autograph Letter Signed "Norma Jeane", Four pages, blue-lined Octavo sheets, dated June 15, 1944. Penned at the top, and stricken-through, is the address "14668 Parthenia St, Van Nuys" (curiously, she never lived at that address). Written to Grace Goddard, Norma Jeane's legal guardian and 'mother' figure during the tumultuous years of her youth. Norma Jeane — just 18 years of age — pens (in full):

"Dearest Grace,
I was so happy to hear from you. I was so thrilled to read your letter and learn of all that you have been doing lately. [Grace had recently moved to West Virginia]
I will send you your picture very s[h]ortly now, I'm going down Saturday to find out more about it. Also will send you lots of snapshoots at the same time I send you the picture. I found out that a 10² x 12² (that was the size you wanted wasn't it?) cost exactly $5.00.
Jimmie has been gone for seven weeks and the first word I received from him was the day before my birthday. He sent a cable night letter by Western Union saying 'Darling, on you birthday, I send you a whole world of love'. I was simply thrilled to death to hear from him.
I have never really written and told you of Jimmies and my married life together. Of course I know that if it hadn't been for you we might not have ever been married and I know I owe you a lot for that fact alone, besides countless others. That is why I feel that I should let you know about us. I love Jimmie just more than anyone (in a differn't way I suppose than anyone) and I know I shall never be happy with anyone else as long as I live, and I know he feels the same towards me. So you see we are really very happy together that is of course, when we can be together. We both miss each other terribly. We will be married two years June 19th. And we really have had quite a happy life together.
I am working 10 hrs. a day at Radioplane Co., at Metropolitain Airport. I am saving almost everything I earn (to help pay for our future home after the war.) The work isn't easy at all for I am on my feet all day and walking quite a bit.
I was all set to get a Civil Service job with the Army, all my papers filled out and everything set to go, and then I found out I would be working with all Army fellows. I was over there one day, there are just too many wolves to be working with, there are enough of those at Radioplane Co. with out a whole army full of them. The Personal [Personnel] Officer said that he would hire me but that he wouldn't advice it for my own sake, so I am back at Radioplane Co. & pretty contented.
Well I guess that is about all for now.
With much love,
Norma Jeane"

Summer of 1944 was a fateful time for young Norma Jeane Dougherty. Circa 1943-44, she landed her first job at Radioplane Co. (a defense contractor in Burbank, California), through the influence of her mother-in-law, Ethel. Her husband, Jim, had recently joined the U.S. Merchant Marine and shipped off to war just "seven weeks" previously.
Although she here thanks Grace for the instrumental role she played in organizing and consenting to her marriage, it is known that she later harbored feelings of resentment towards Grace for taking off to West Virginia (in effect, abandoning Norma Jeane), and believed that her "surrogate mother" had arranged the marriage as a convenient way to get rid of her. Despite Norma Jeane gushing over her love for her husband, her marriage was soon to unravel. Just a few months later, Norma Jeane met a man who would vault her to stardom: Army photographer David Conover. Conover had been tasked by his commanding officer (who was, interestingly enough, actor and future President Ronald Reagan) to photograph women factory workers who were helping with the war effort. Making the rounds at Radioplane he was naturally drawn to Norma Jeane, who, along with her stunning beauty and bubbly personality, seemed to have a certain "aura" around the camera.
She soon appeared on the cover of Yank magazine, and the die was cast. Heeding the advice of Conover and Grace, she obtained a divorce from Dougherty (September 13, 1946), and began one of the most famous careers in Hollywood.
A wonderful letter, showing how Norma Jeane viewed her world and her future with Jim Dougherty just two years into their marriage — though her life would soon change forever. Numerous corrections throughout, and page one exhibits original ink-blot. Overall, in excellent condition.
Estimate: $40 000 - $60 000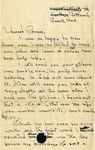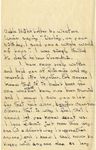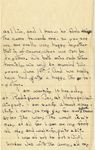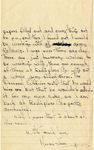 ---
lot n°719: Marilyn Monroe's personal annotated
working promptbook-script for The Sleeping Prince
(aka The Prince and the Showgirl) - (Warner Bros., 1957) Clasp-bound in crimson paper covers, and intentionally printed in half-size (5" x 8") for ease of use on set, especially considering the elaborate costumes required for this drawing-room comedy starring, and co-produced by, Marilyn Monroe and Laurence Olivier. This example is identified on the specially-printed titled front cover as "PERSONAL COPY OF MISS MONROE". Many pages inside exhibit not only scene and dialogue notes attributed to Monroe's own hand, but many personal thoughts and observations by her as well, namely "What am I doing here with this man/I can't believe my eyes, ears/ watch him/'oh no'/this idiot/ Chanel #5/ I just think it's a joke/ don't take anyone else's tone/ affective memory/ heart breaking" plus at least one slightly naughty joke, "like a music box: a tinkle", among other 'notes to self'. Accounts from the time agree that Marilyn had more trouble working with Olivier than with any other male lead in her career. At least (31) of this small, character-dialogue promptbook-script's (68) pages exhibit anywhere from one to numerous notations by Miss Monroe, making this one of the most intensely personal artifacts extant from her professional career. Covers are significantly tattered all around the margins, and front cover, together with first (2) pages, are torn 2/3 down from top near spine, else intact and complete as originally issued.
Estimate: $30 000 - $50 000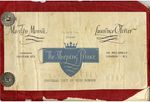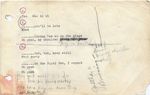 ---
lot n°723: Marilyn Monroe signed check to her housekeeper, Eunice Murray
Personal check signed, 3 in. x 8 ¼ in., dated July 10, 1962 and drawn from Marilyn Monroe's account paying her housekeeper Eunice Murray $100.00. Signed "Marilyn Monroe" in blue ink. Cancellation stamps on recto and verso and bearing Murray's endorsement signature on the verso. Murray was Monroe's housekeeper during the last years of her life and accompanied Monroe during her trip to Mexico in February, 1962. Eunice Murray was staying with Monroe the night of the star's death and reportedly called Monroe's psychiatrist, Dr. Ralph Greenson, upon discovering the body the night of August 5, 1962. This check was signed just three weeks prior to Monroe's death and amazingly stamped "PAID" on August 7, two days after she died. A wonderful association.
Estimate: $1 500 - $2 500

---
lot n°724: Joe DiMaggio autograph postcard signed to Marilyn Monroe
Autograph Postcard Signed, "Joe," to "Dearest Marilyn" from Copenhagen, Denmark and postmarked May 20, 1962. DiMaggio pens, "Dearest Marilyn, Have a short stop over here at Copenhagen enroute for the 'long underwear country.' Should be there in about three hours. Spent nine days here in 1958. Wonderful country. The famous Tivoli park was one of my favorite places. Love, Joe." Addressed in DiMaggio's hand to "Miss Marilyn Monroe, 12305 Fifth Helena Dr., Los Angeles 49, California, USA." In February, 1961, Monroe was admitted to the Payne Whitney Psychiatric Clinic where she contacted DiMaggio. He secured her release and she spent some time with him in Florida where the couple reconciled. Accompanied by a printed photograph of the couple on their wedding day
Estimate: $4 000 - $6 000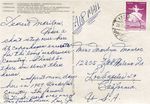 ---
lot n°737: Marilyn Monroe invitation to JFK birthday celebration with call sheet from her personal property
From the Christie's 1999 sale of the personal property of Marilyn Monroe, three items for one event which document one of the most significant personal moments for her. In chronological sequence, the first is the personal invitation from "New York's Birthday Salute to the President" requesting her presence at Madison Square Garden on May 19, 1962 to celebrate President John F. Kennedy's birthday gala party; the second is a 2pp mimeo call-sheet for the evening's order of events, detailing Marilyn's appearance at #35, "Marilyn Monroe and Stars", which an unknown hand has doodled what might be a stage, and written in red grease pencil, with corrections in graphite, "Who do you have to be to ask- Who do you have to be to be disappointment-" ; the last is the official illustrated program for the birthday event with iconic portrait of Kennedy on cover, with red, white and blue patriotic design. All three items were the personal examples in Marilyn Monroe's possession during the time of this historic event, for which she performed an extraordinarily sexy, breathy rendition of "Happy Birthday"to the President (even calling in sick to work at Fox in order to do so), and each shows extra folds and slight handling by her, presumably to secure inside a purse that night. Kennedy remarked on stage that he could retire from politics after such a performance; Peter Lawford introduced her as "the late Marilyn Monroe", and sadly she would be gone to a mysterious death in just over two months.
Provenance: Christie's Personal Property of Marilyn Monroe, Lot 54, October 27-28, 1999 and sold for $129,000.
Estimate: $40 000 - $60 000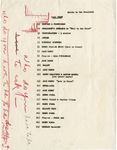 12 mai 2011
Le vendredi 2 mars 1962, Marilyn Monroe est de retour à Los Angeles, après avoir passé une dizaine de jours au Mexique. Pat Newcomb, Eunice Murray et Jose Bolanos l'accompagnent.
Photographies de George Fry.
On Friday, March 2, 1962, Marilyn Monroe is back in Los Angeles after having spent ten days in Mexico City. Pat Newcomb, Eunice Murray and Jose Bolanos are with her.
Photographs by George Fry.
> Sur le tarmac de l'aéroport international de Los Angeles (LAX)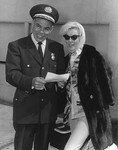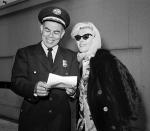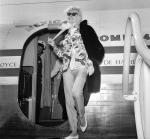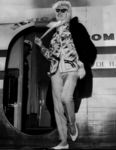 ---
Articles de presse du 3 Mars 1961
Voice of Broadway by Dorothy Kilgallen.
Robert Goulet says he's been asked to play the lead opposite Marilyn Monroe in her next film, " Something's Got to Give'' — but something will have to give before he can say "yes." He's tied to "Camelot" until October. Meanwhile Marilyn has slimmed down to the point where her chassis never looked better, and anyone who thinks she is unhappy about Arthur Miller's recent wedding just doesn't know her. She was alerted well in advance of the nuptials, and couldn't care less.
La Voix de Broadway par Dorothy Kilgallen.
Robert Goulet raconte qu'il a été invité à jouer le rôle principal face à Marilyn Monroe dans son prochain film "Quelque chose va craquer" - mais quelque chose devra donner avant qu'il puisse dire «oui». Il est lié à "Camelot" jusqu'à octobre. Pendant ce temps, Marilyn a maigri au point où son corps n'a jamais été aussi mieux, et quiconque pense qu'elle est malheureuse au sujet du récent (re)mariage d'Arthur Miller, ne la connait pas. Elle a été bien averti bien à l'avance des noces, et ne pouvait pas s'en soucier.
MM Returns to Hollywood - HOLLYWOOD (AP)
Actress Marilyn Monroe is back in Hollywood. She arrived at International airport Friday in typical Monroe fashion—late. Her plane from Mexico was an hour behind schedule.
Marilyn retourne à Hollywood.
L'actrice Marilyn Monroe est de retour à Hollywood. Elle est arrivée à l'aéroport international vendredi à la mode typique de Monroe -en retard. Son avion en provenance du Mexique avait une heure de retard.

Marilyn Ends Mexico Vacation -HOLLYWOOD (AP)
Marilyn Monroe ended a Mexico City vacation yesterday returning to Hollywood in dark glasses, mink coat, tan slacks and a gaily coloured blouse. The movie queen wore little or no makeup when she stepped from the plane at Los Angeles International Airport. It wasn't established immediately how long she'll remain in the film capital or whether she'll be working. She told newsmen she may make a movie, "Something's Got to Give," but she wasn't sure. "It's supposed to be a comedy," she added. Asked about boy friends, she was especially vague.
She said she didn't know whether ex-husband Joe Dimaggio planned to visit her. She denied knowledge, in fact, of the baseball celebrity's whereabouts.
Fin des vacances de Marilyn au Mexique.
Marilyn Monroe a terminé ses vacances dans la ville de Mexico hier, revenant à Hollywood en lunettes noires, manteau de vison, un pantalon beige et un chemisier gaiement coloré. La reine du cinéma portait peu ou pas de maquillage quand elle sortit de l'avion à l'aéroport international de Los Angeles. Il n'a pas été établi immédiatement combien de temps elle va rester dans la capitale du cinéma ou si elle va travailler. Elle a dit à des journalistes qu'elle allait peut être faire un film "Quelque chose va craquer", mais elle n'en était pas sûre. "C'est censé être une comédie, a-t-elle ajouté. Interrogée sur ses petits amis, elle était particulièrement vague.
Elle a dit qu'elle ne savait pas si son ex-mari Joe DiMaggio avait prévu de lui rendre visite. Elle a nié avoir connaissance, en fait, de la localisation de la star de baseball.
Los Angeles Times.
Marilyn Monroe arrives in Los Angeles after jet trip from vacation in Mexico, and refuses to comment on rumors that she will be rewed to first husband Joe DiMaggio.
Marilyn Monroe arrive à Los Angeles après après un voyage éclair de repos Mexique, et refuse de commenter les rumeurs qu'elle aurait renoué avec son premier mari Joe DiMaggio.
---
---
> Video

---
© All images are copyright and protected by their respective owners, assignees or others.
copyright text by GinieLand.
Enregistrer
10 décembre 2010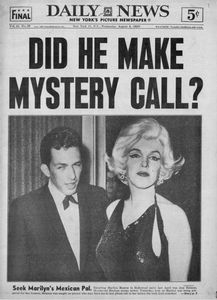 Le journal américain de New-York Daily News du mercredi 8 août 1962, titre en Une "Did he make mystery call?'" en publiant une photographie de Marilyn Monroe en compagnie de José Bolanos, prise trois mois auparavant (en avril) à la soirée des Golden Globes. Alors que les préparatifs des funérailles se préparent, on apprend que Bolanos pourrait bien être la dernière personne à avoir parlé au téléphone à Marilyn.

C'est Joe DiMaggio, le second mari de Marilyn, qui s'occupa des funérailles. Seulement 15 personnes triées sur le volet, des "amis très proches" de Marilyn, participeront à la mise en place des services à 13h dans la Chapelle du cimetière de Westwood, parmi lesquelles son agent Pat Newcomb, Paula et Lee Strasberg de l'Actors Studio. Le journal publie des photographies des proches de Marilyn arrivant à Los Angeles pour se rendre aux funérailles de l'actrice: l'avocat new-yorkais Aaron R Frosch accompagné de la coach d'art dramatique Paula Strasberg, l'avocate Inez Melson, la demie-soeur de Marilyn Berniece Miracle. Mais ni son premier mari, James Dougherty, ni son dernier mari, Arthur Miller, ne seront présents, ni même sa mère, Gladys Baker, internée en institut psychiatrique, mais néanmoins reprénsentée par sa tutrice, Inez Melson. Son second époux, Joe DiMaggio et le fils de celui-ci, Joe Jr, suivront le cortège funéraire. Le poète Carl Sandburg a rédigé une éloge envoyée par télégraphe. La famille demanda ne pas apporter de fleurs mais de faire plutôt un don à une institution. La présentation du corps de la défunte a été préparée par son maquilleur et sa coiffeuse habituelle, envoyés, d'après l'article, par la 20th Century Fox. Des centaines de fans se regroupèrent autour du cimetière, dans lequel Marilyn sera inhumé et où reposent sa grand-mère et sa tante Grace Goddard. On ne sait pas encore si sa mort, par l'absorption de barbituriques, est un accident ou un suicide.

La police recherche le scénariste mexicain Jose Bolanos qui pourrait bien être la dernière personne à avoir discuté avec Marilyn par téléphone. Cet appel aurait fait suite à celui de Joe Dimaggio Jr., le fils de Joe DiMaggio âgé de 21 ans et incorporé dans la Marine, et qui raconta à Marilyn sa rupture sentimentale d'avec sa petite amie Pamela Ries. Selon sa gouvernante, Eunice Murray, Marilyn était alors toute enjouée.
José Bolanos était le dernier ami connu en date de Marilyn, qu'elle rencontra lors de son séjour à Mexico en février de la même année, et qu'elle fréquenta les dernières semaines précedent sa mort, à Hollywood. Mais Pat Newcomb, l'agent de Marilyn, ajouta qu' "ils s'amusaient et aimaient passer juste du temps ensemble."
Eunice Murray rapporta à la police que Marilyn s'agita après avoir reçu ce deuxième appel tard dans la soirée de samedi, mais qu'elle n'avait aucune idée de l'identité de cet interlocuteur, ni de l'heure précise. Mrs Murray raconta que vers 3h30 du matin, elle pressentie que quelque chose n'allait pas, remarquant que la lumière de la chambre de Marilyn, fermée à clé, était toujours allumée. Elle appela le docteur qui força la porte et trouva Marilyn morte. "Connaissant Marilyn comme je la connais, je pense que si cet appel l'a réveillé, elle a dû reprendre des pillules pour dormir", déclara Mrs Murray. ce qui montre que sa mort serait bien accidentelle, thèse que réfute Ben Hecht, qui interviewa Marilyn en 1954, informant qu'elle tenta de se suicider deux fois quand elle était jeune, affirmant que c'est "Hollywood qui la sauva".

On apprend aussi l'attirance de Marilyn pour la ville de Mexico: elle y rencontra Jose Bolanos avec qui elle aurait prévu de coproduire un film. il l'accompagna dans la ville faire du shopping pour la décoration de sa maison de Los Angeles. Elle resta à Mexico jusqu'au 2 mars et Bolanos la rejoignit ensuite à Los Angeles. Marilyn retourna ensuite à Mexico, notamment le 15 septembre, journée de l'indépendance du pays. Elle fit aussi un don de 1 000 Dollars à un orphelinat du Mexique, ce qui porte à croire qu'elle aurait éventuellement prévu d'adopter un enfant mexicain, bien qu'aucun ami proche de Marilyn n'ait entendu parlé de tel projet.

Le journal rapporte aussi les déclarations d'amour pour Marilyn, de trois actrices : Rosalind Rusell, Lisa Kirk et Carroll Baker, toutes trois choquées par l'annonce de la mort de la star, elles donnent leur avis sur sa tragique disparition.

>> Source scans sur emulsioncompulsion.com