10 septembre 2012
La beauté de Marilyn Monroe, vue par les égéries...
publié le 22 mai 2012
en ligne sur get-the-look.fr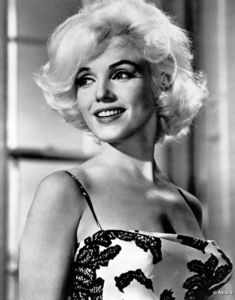 La star omniprésente de ce Festival de Cannes, c'est elle. Marilyn Monroe, captivante sur l'affiche de cette 65e édition-anniversaire, est dans toutes les têtes. L'occasion pour les ambassadrices de beauté L'Oréal Paris, de passage sur la Croisette, de se souvenir de l'actrice blondissime !

Quel est votre film préféré de Marilyn Monroe ?

Eva Longoria : "Les hommes préfèrent les blondes. Elle était juste captivante. Et la garde-robe sur ce film... époustouflante ! C'est amusant de voir comment la mode se répète. Sur ce film, elle était déjà très Victoria Beckham, très chic".

Freida Pinto : "Sept ans de réflexion. Car il contient toutes les images que l'on a de Marilyn."

Jane Fonda : "Certains l'aiment chaud. Et je l'ai vue sur le shooting de ce film car c'était une amie à moi. Elle était superbe".

Paz Vega et Heike Makatsch : "Certains l'aiment chaud".

Selon vous, pourquoi est-elle encore une icône de beauté ?

Eva Longoria : "Marilyn est classique. Tout ce qu'elle faisait se retrouve aujourd'hui. Les lèvres rouges, les superbes robes, le make-up parfait. Personne ne savait jamais ce qu'elle allait faire, où elle allait être, et avec qui !"

Freida Pinto : "Elle était sensible. Elle était naturellement captivante. Elle a été si unique et l''une des premières à déclencher la fièvre des paparazzi et du monde. Tout le monde était fou d'elle. Elle est la première des icônes de beauté, celle que tout le monde suivait, dont tout le monde rêvait, que tout le monde voulait être."

Paz Vega : "Elle était authentique. Elle avait une énergie incroyable. Elle était tourmentée et cela la rendait encore plus intéressante. Elle a toujours gardé son image, elle n'a jamais changé de look. Elle avait confiance en elle".

Inès de la Fressange : "Elle est intemporelle. Elle avait le charme, la féminité, la fragilité et la sensualité. Elle n'était pas liée à la mode, bien qu'elle était quelqu'un des années 50. Je crois qu'on a toutes quelque chose de Marilyn Monroe".

Heike Makatsch : "Marilyn était tellement charmante, profonde et mélancolique. Elle a emprisonné le temps. Elle avait l'innocence et la sensualité en même temps. Tout le monde voulait la protéger."
*actrice, dans une interview donnée en juin 2012, elle a déclaré:

Marilyn Monroe had that certain something. She never changed her look, and even after her death that blonde hair with the red lips is still glamorous and beautiful. But it's also what she exuded - she was electrifying and you couldn't wait to see what she did next and who she was with. She just had this essence about her that was beautiful.

Marilyn Monroe avait ce petit quelque chose. Elle n'a jamais changé de style et même après sa mort, sa chevelure blonde et ses lèvres rouges sont restées glamour et beaux. Mais c'est aussi ce qu'elle sécrétait -elle était électrifiante et vous ne pouviez pas savoir ce qu'elle allait faire et avec qui. Elle avait juste ça en elle et c'était beau.