30 juillet 2023
Maillot de bain deux pièces
bicolore Aubergine - Jaune
de la marque Catalina
Two-piece swimsuit
two-tone Eggplant - Yellow
of brand Catalina

Maillot de bain deux pièces bicolore (aubergine et jaune), avec une forme de losange sur le haut du maillot et sur la culotte shorty. On ne sait si ce maillot de bain faisait parti de la garde robe personnelle de Marilyn Monroe, qui ne l'a porté qu'à une seule séance photos.
C'est un maillot de la marque américaine Catalina.
Two-tone two-piece swimsuit (aubergine and yellow), with a diamond shape on the top of the swimsuit and on the shorty panties. We don't know if this swimsuit was part of the personal wardrobe of Marilyn Monroe, who only wore it to one photo shoot.
It is a swimsuit from the American brand Catalina.
---
La jeune Marilyn Monroe porte le maillot de bain en février / mars 1947 pour une séance de photos promotionnelles pour les studios de la 20th Century Fox (pas de nom de photographe crédité), sur une plage en Californie. Elle a du vernis rouge aux ongles de pieds.
(voir l'article Février / Mars 1947, Séances en maillot de bain pour la FOX ).
Young Marilyn Monroe wears the swimsuit in February/March 1947 for a promotional photo shoot for 20th Century Fox Studios (no photographer name credited), on a beach in California. She has red nail polish on her toenails.

Il existe trois mises en scène lors de cette séance:
There are three stagings during this session:
- Devant un grand parasol -
Avec son chien Ruffles, elle porte des sandales compensées rouge,
et un foulard rouge noué dans ses cheveux
- In front of a large parasol -
With her dog Ruffles, she wears red wedge sandals,
and a red scarf tied in her hair

- A la plage, sur le sable -
Elle s'amuse à diverses activités avec son chien
- At the beach, on the sand -
She enjoys various activities with her dog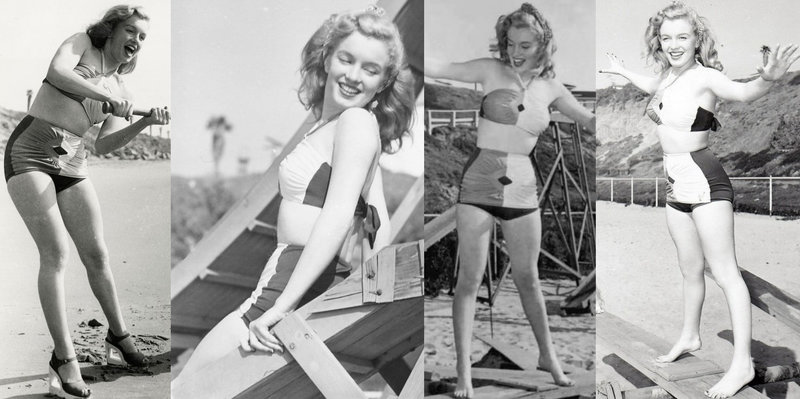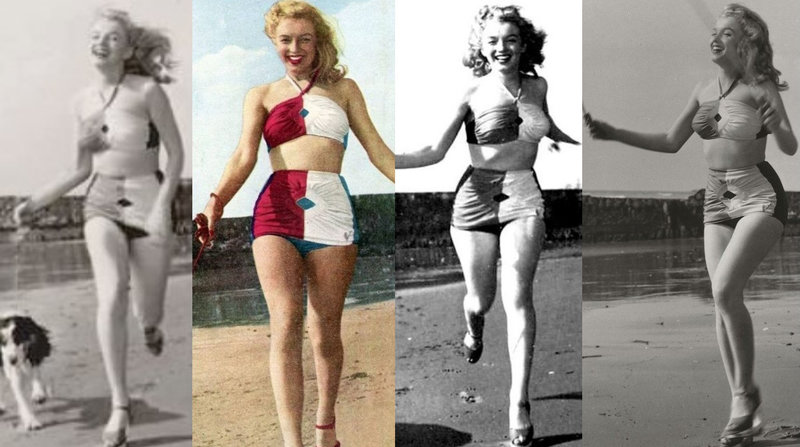 - Dans une dune de sable -
Elle fait du ski sur une pente
- In a sand dune -
She is skiing on a slope


---
Maillot Catalina
Catalina swimsuit

Il s'agit d'un maillot de bain de la marque Catalina, car on y distingue le logo de la marque (de couleur bleu) sur la culotte shorty. Les maillots Catalina n'ont pas toujours de logo imprimé sur le tissu.

It is a swimsuit from America Catalina, because the brand logo (in blue) can be seen on the shorty panties. Catalina suits don't always have a logo printed on the fabric.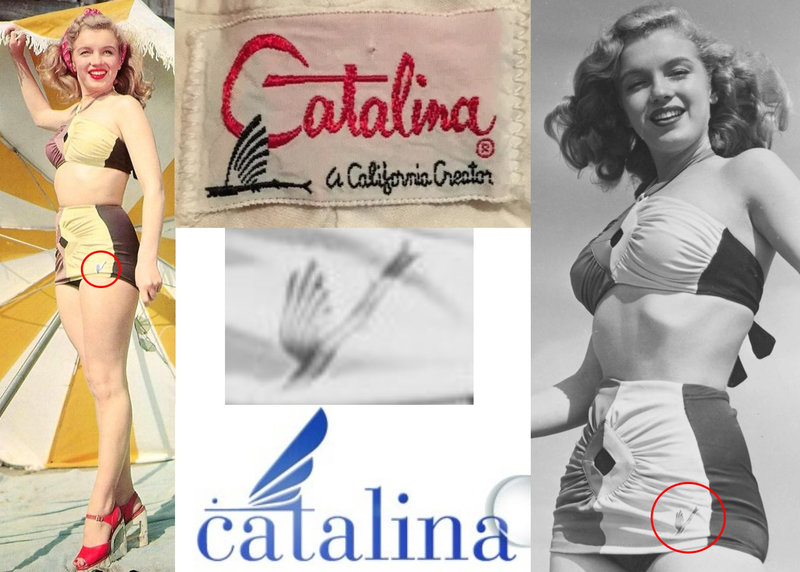 ---
Le maillot porté par d'autres
The Swimsuit worn by others

---
- Marion Marshall - 1940's -

- Marilyn Mercer - 1947 -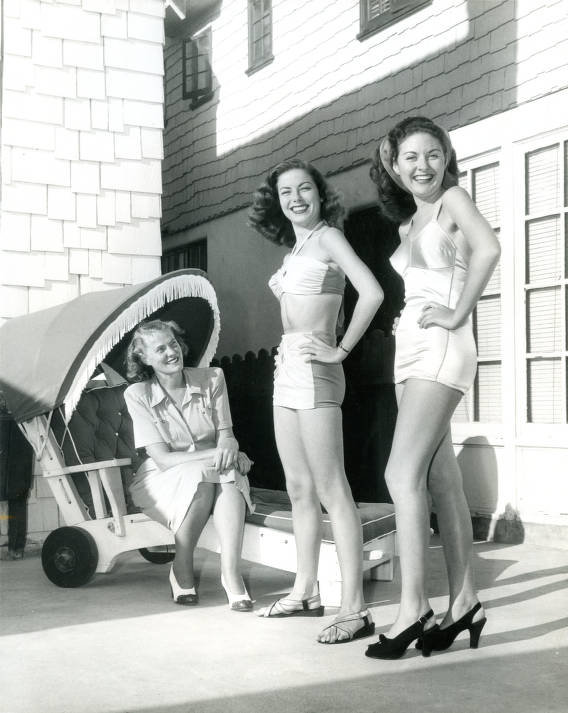 - Sue Laurie - magazine Action, 04/1947 -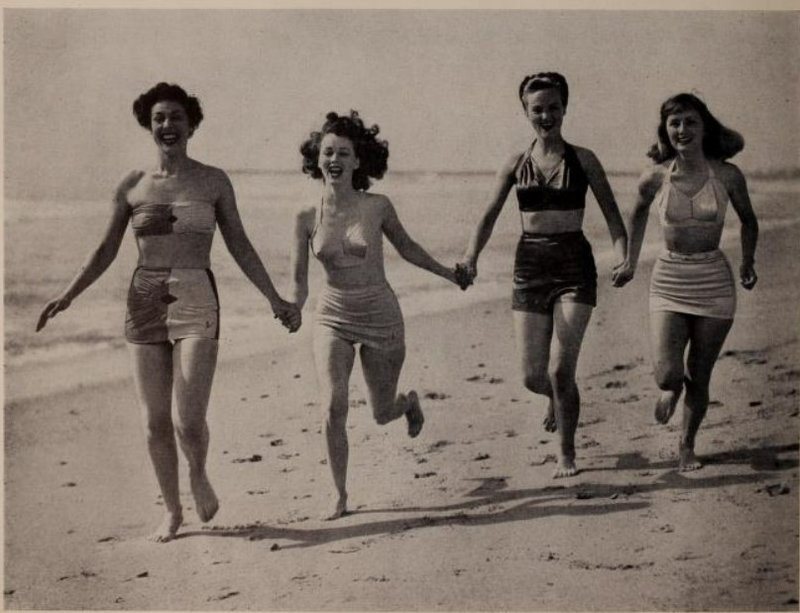 - Inconnue, 1940's -

---
Inspirations
D'autres maillots de bain deux pièces du même style
Other two-piece swimsuits of the same style

- Yvonne De Carlo, 1945 -

- Gene Tierney, 1940's -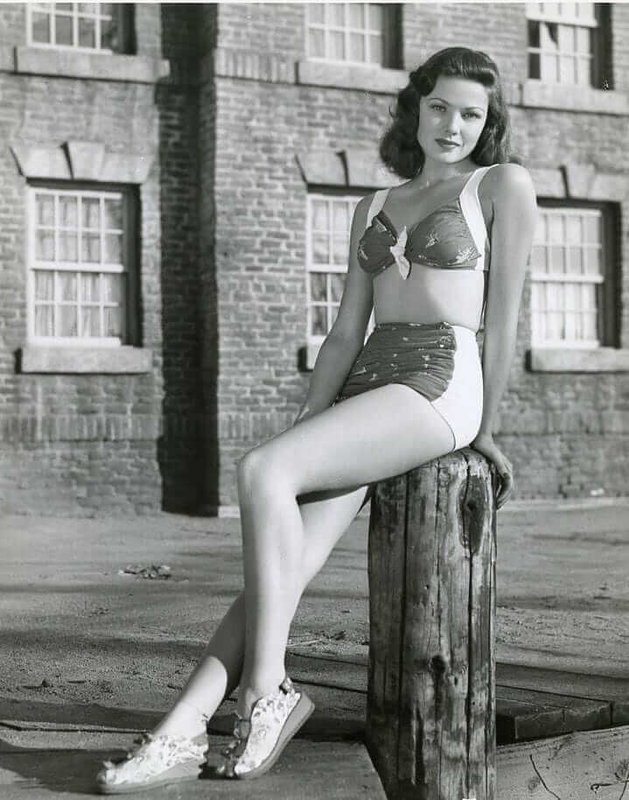 - Joan Leslie, 1944 -
- June Haver, 1947 -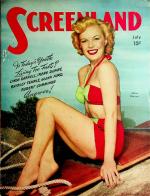 ---
Autre maillot multicolore
Other multicolored swimsuit

Marilyn Monroe porte un maillot de bain deux pièces "multicolore" - trois couleurs: bleu, rouge et jaune - lors d'une séance photo sur une plage de Catalina (en Californie) le 26 mars 1946, posant pour le photographe Richard C Miller.
Le maillot contient des lacets: au niveau du décolleté et sur la culotte shorty, permettant de resserrer les liens et accentuer le "froncé" du tissu. Marilyn a rentré les lacets dans le maillot, pour ne pas qu'ils soient visibles.
La marque du maillot de bain est inconnue, mais reste dans le style de ce maillot à bandes colorées, proposés par Catalina ou encore Jantzen.
(voir l'article 26/03/1946 - Norma Jeane à la plage par Richard C Miller )

Marilyn Monroe wears a "multicolored" two-piece swimsuit - three colors: blue, red and yellow - during a photo shoot on a beach in Catalina (California) on March 26, 1946, posing for photographer Richard C Miller.
The swimsuit contains laces: at the neckline and on the shorty panties, allowing to tighten the ties and accentuate the "gathering" of the fabric. Marilyn has put the laces into the swimsuit, so they won't be visible.
The brand of the swimsuit is unknown, but remains in the style of this swimsuit with colored stripes, proposed by Catalina or Jantzen.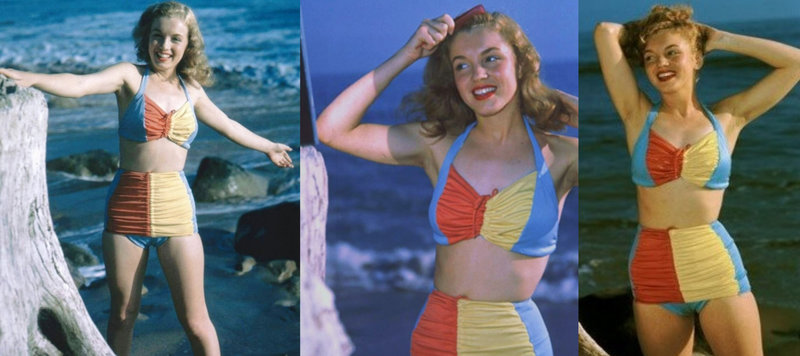 ---
Inspirations
D'autres maillots de bain multicolores du même style
Other multicolored swimsuits of the same style
- Myrna Dell, 1947 -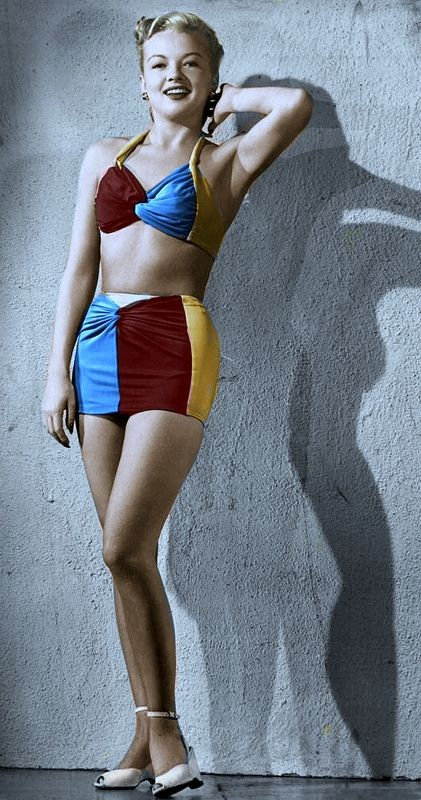 - Gene Tierney, 1940's -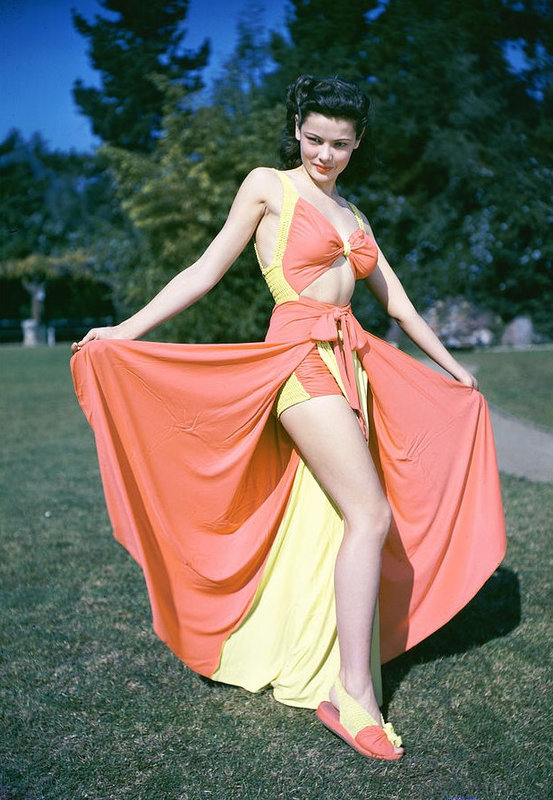 - Modèle de maillot bleu turquoise / jaune, 1947 -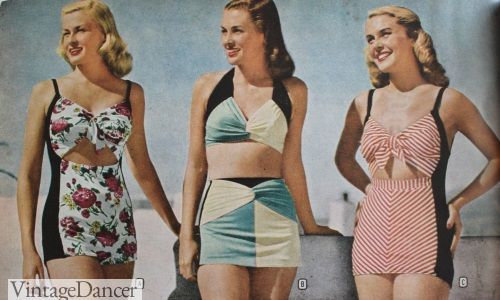 ... modèle porté par des starlettes et actrices: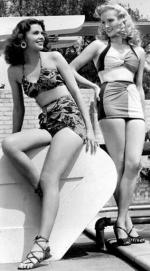 - Par une actrice du film "When a girl's beautiful", 1947 -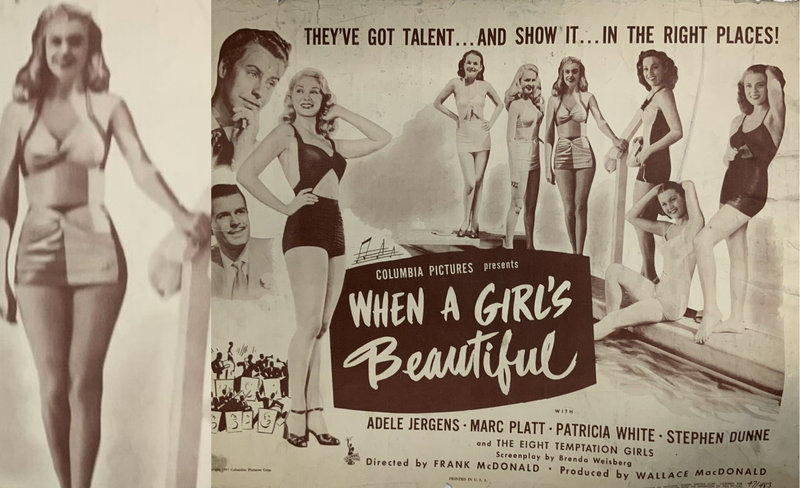 - Par Cyd Charisse, 1940's -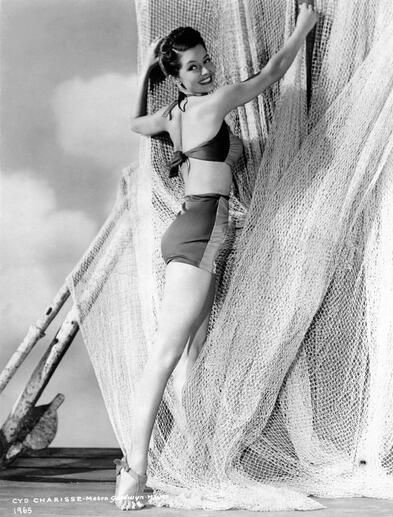 - Cyd Charisse (avec Ava Gardner & Gloria DeHaven), 1940s -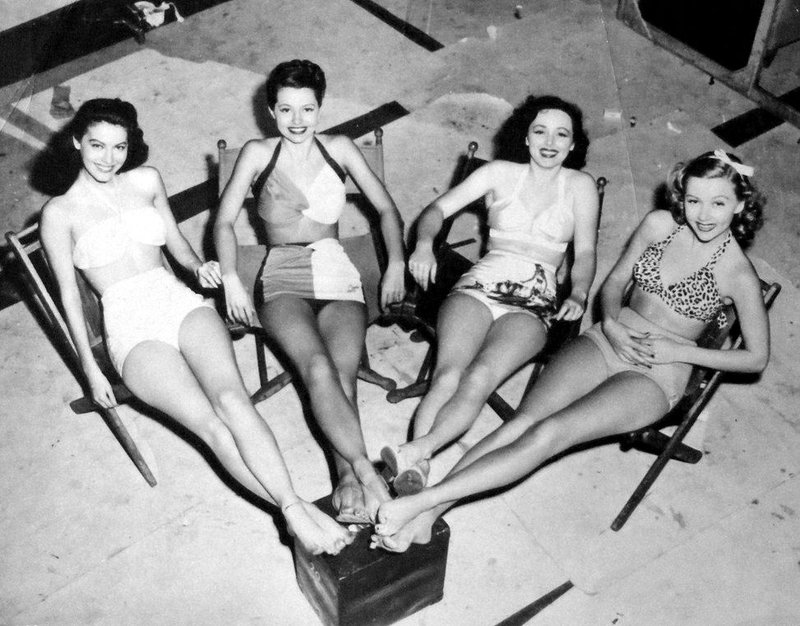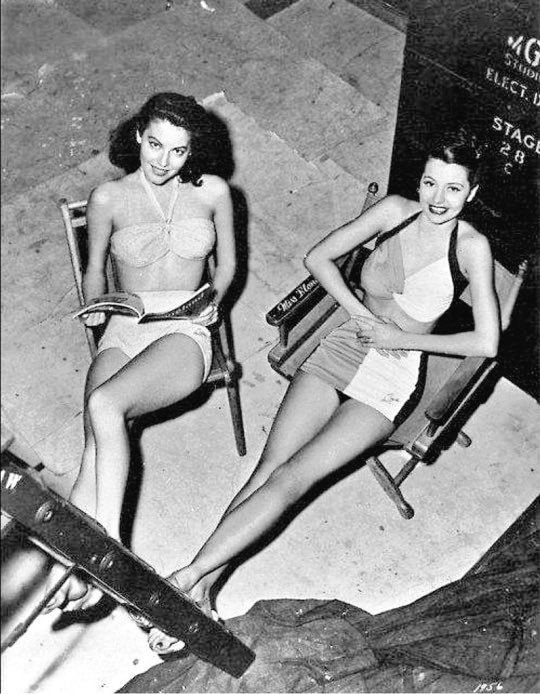 - Cyd Charisse & Gloria Graham -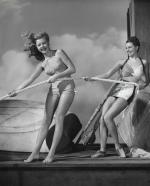 - Publicités Catalina, 1940's -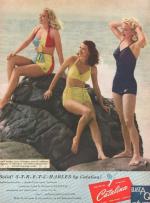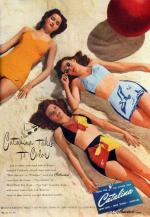 - Betty Grable porte un maillot une pièce, 1940's -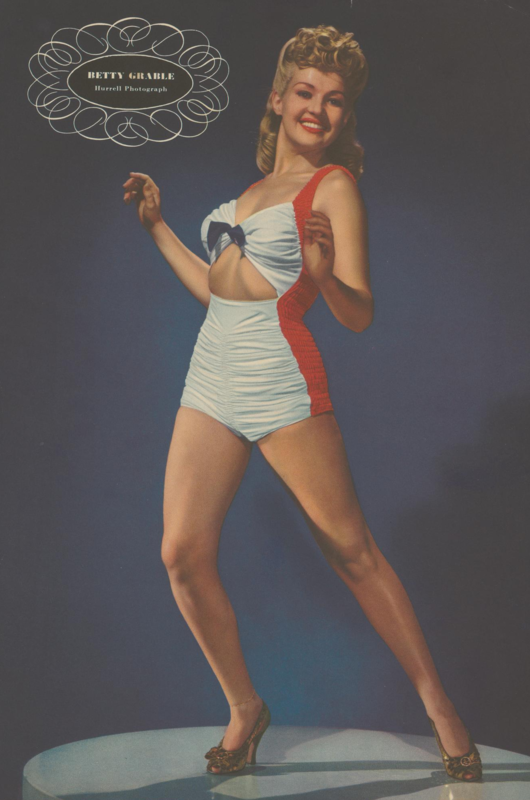 - La mannequin Christie Brinkley porte un maillot une pièce, 1980's -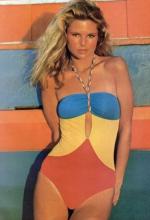 ---
Même style
Maillot deux pièces blanc, mais aux bretelles de soutien gorge
et deux gros noeuds au shorty de couleur bleu et rouge
Modèle "Double Dare" de Jantzen en 1947

White two-piece swimsuit, but with bra straps
and two big knots on shorty in blue and red
Model "Double Dare" by Jantzen in 1947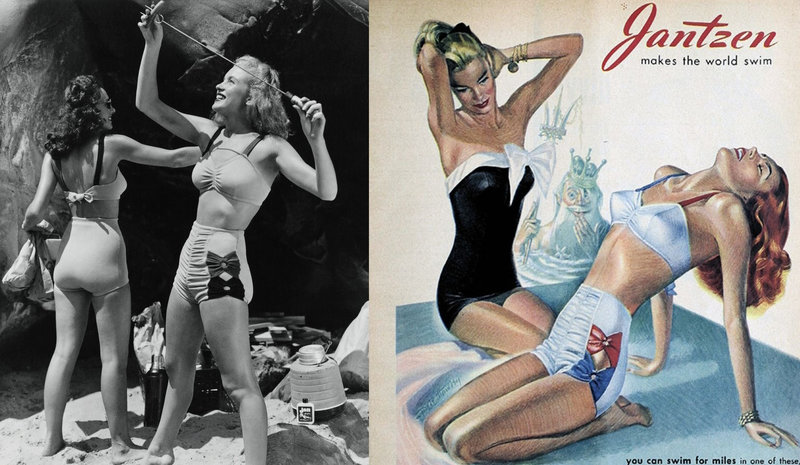 ---
© All images are copyright and protected by their respective owners, assignees or others.
copyright text by GinieLand.
01 octobre 2012
Robe sweat à rayures noires et blanches sans manches
Sleeveless black and white striped sweatshirt dress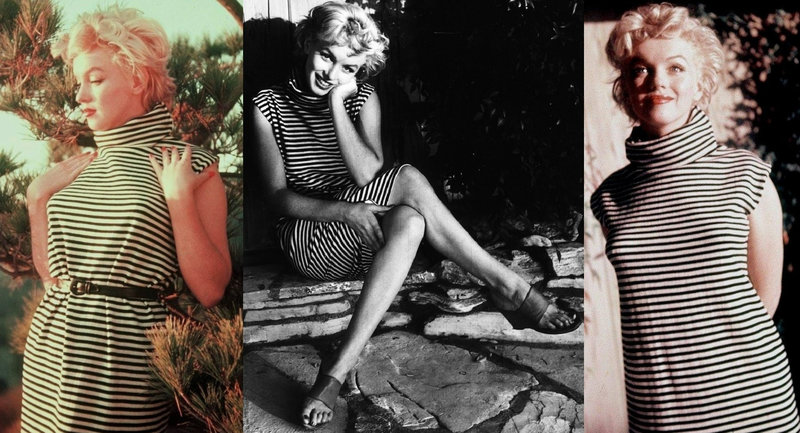 On ne connait qu'une seule séance photos où Marilyn Monroe porte cette robe, qui est une création du couturier Walter Bass: pendant l'été 1954 où Marilyn pose dans une villa de Palm Springs sous l'objectif du photographe Ted Baron.
Cette robe ample, au col roulé et aux rayures noires et blanches, est à la fois moderne et classique. C'est une robe sportswear que Marilyn portait quand elle voulait être décontractée. Elle la porte tantôt avec une petite ceinture noire, tantôt sans.
- Robe avec la ceinture -
- Dress with belt -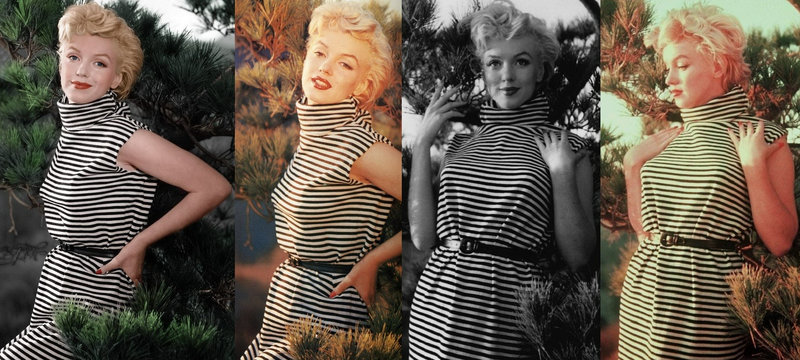 Only one photo shoot where Marilyn Monroe wore this dress is known, which was created by fashion designer Walter Bass: during the summer of 1954 when Marilyn posed in a villa in Palm Springs by photographer Ted Baron.
This loose dress, with a turtleneck and black and white stripes, is both modern and classic. It's a sportswear dress that Marilyn wore when she wanted to be relaxed. She wears it sometimes with a small black belt, sometimes without.
- Robe sans la ceinture -
- Dress without the belt -


---
La Robe portée par d'autres
The Dress worn by others
---
On retrouve la robe portée par une concurrente copie de Marilyn: l'actrice Jayne Mansfield, qui a porté la robe à de nombreuses reprises, toujours avec une ceinture pour marquer sa taille.
The dress is found worn by a competing copy of Marilyn: the actress Jayne Mansfield, who has worn the dress many times, always with a belt to mark her waist.
- Publicité pour le maquillage Westmore -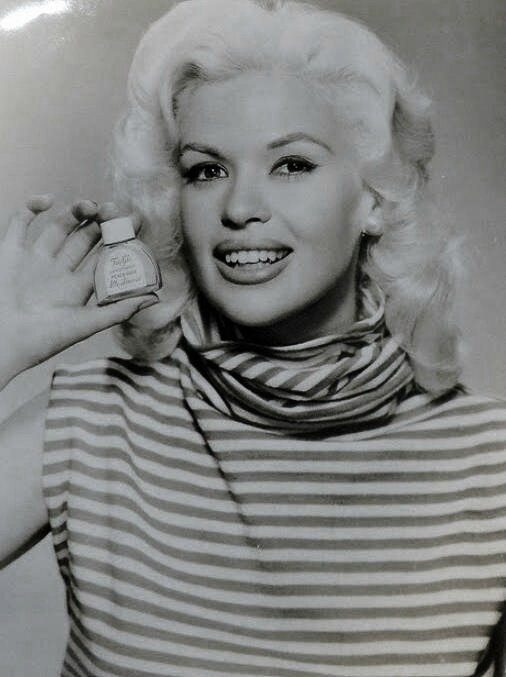 - En 1957, en visite sur le tournage du film "The True Story of Jesse James" -
Jayne avec le réalisateur Nicholas Ray et l'acteur Robert Wagner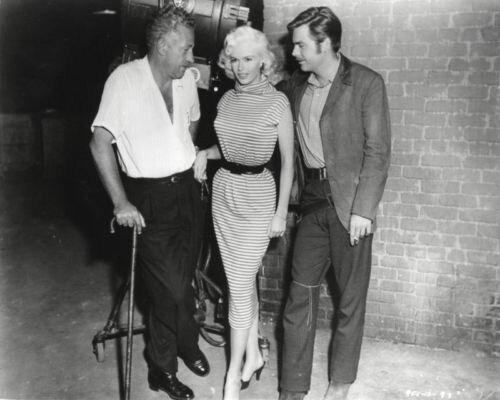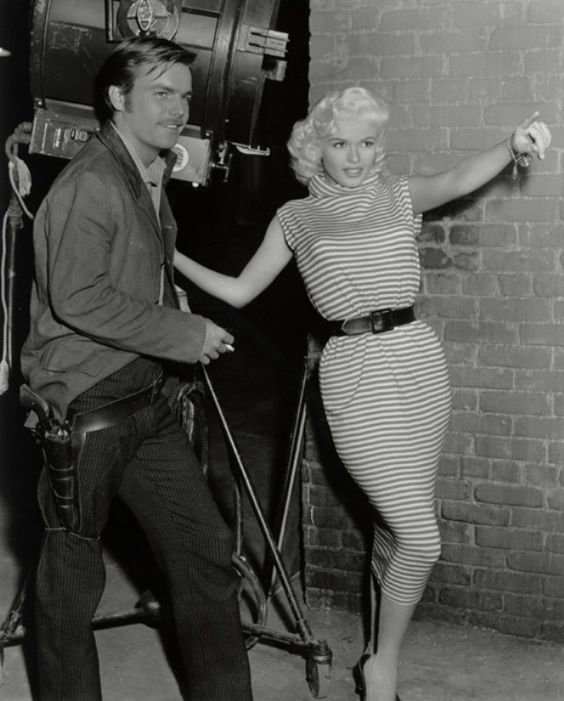 - En hiver 1957, le "USO Tour" de Noël au Japon -
Jayne participe à une tournée avec l'humoriste et comédien Bob Hope pour remonter le moral des troupes US postés sur place. D'ailleurs, un peu comme l'avait aussi fait Marilyn en se produisant sur scène en Corée en février 1954.
- In winter 1957, the Christmas "USO Tour" in Japan -
Jayne takes part in a tour with comedian Bob Hope to boost the morale of the US troops stationed there.
Moreover, a bit like Marilyn had also done when performing on stage in Korea in February 1954.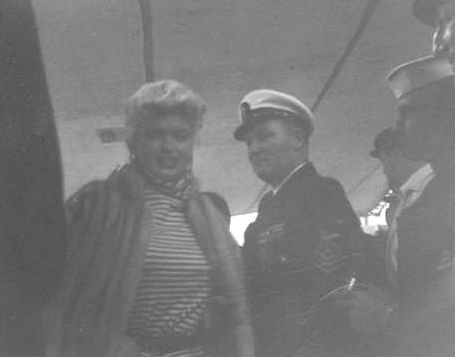 ---
La robe est aussi portée par une 'copine' de Marilyn: l'actrice Jane Russell (sa partenaire du film "Les Hommes préfèrent les blondes"), à sa descente d'avion de Mexico le 06 avril 1955 avec les acteurs Clark Gable et Robert Ryan pour y tourner le film "Les Implacables".
The dress is also worn by a 'friend' of Marilyn: the actress Jane Russell (her partner in the movie "Gentlemen Prefer Blondes"), when she got off the plane from Mexico City on April 06, 1955 with the actors Clark Gable and Robert Ryan to shoot the movie "The Tall Men" there.
---
Inspirations
Robes et Sweats à rayures
Dresses and Sweatshirts with stripes
- Betty Grable -
col montant, version tee-shirt rayé à longues manches
portraits pour le film "Three for the Show" de la Columbia en 1953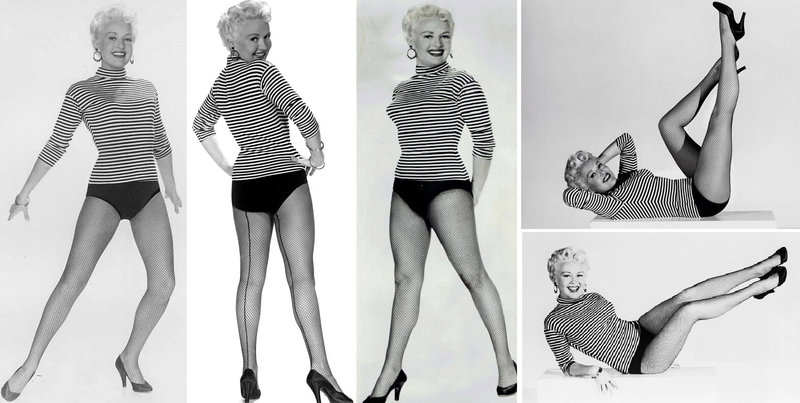 - Mamie Van Doren -
- Cleo Moore - en 1957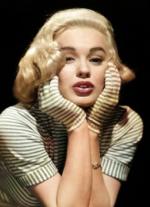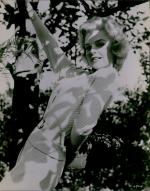 - Diana Dors -
comme Marilyn, elle est photographiée ci-dessous par Ted Baron
like Marilyn, she is photographed below by Ted Baron

- Venetia Stevenson -
photographie de Don Ornitz en 1956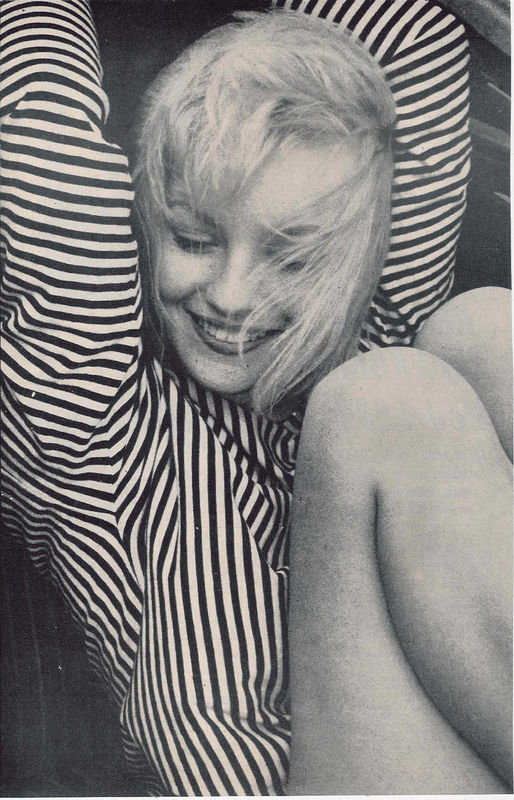 - Claudia Cardinale - 1964
- Yvonne Craig - dans "Ski Party", 1965
Christiane Maybach - 1967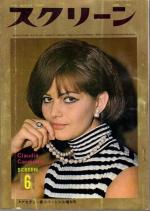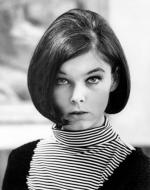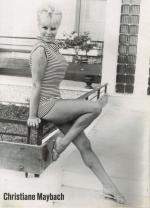 ---
Certains sites webs proposent à la vente des copies de la robe (sites comme etsy par exemple)
Some websites offer copies of the dress for sale (sites like etsy for example)
---
Même style
Same style

La robe de style sac de John Moore que Marilyn porte en 1958
Robe ample avec un col montant
John Moore's sack-style dress that Marilyn wears in 1958
Loose dress with a stand-up collar

La robe orange que Marilyn porte en 1954
Robe ample sans manches portée avec une ceinture pour marquer la taille
- Robe orange striée en laine -
The orange dress that Marilyn wears in 1954
Loose sleeveless dress worn with a belt to mark the waist

---
All photos are copyright and protected by their respective owners.
Copyright text by GinieLand.
Enregistrer