31 août 2008
Le 29 mars 1951, se tient la cérémonie des Oscars (The Academy Awards) au Pantages Theatre, sur Hollywood Boulevard. Bien que Marilyn ne reçut jamais ce prix tant convoité, elle approcha de très près la fameuse statuette, où elle apparaît à la cérémonie pour la première et la dernière fois de sa vie. Marilyn Monroe était en effet chargée de remettre l'Oscar de "La meilleur prise de son" ("The Best Achievement in Sound"); le prix alla à Thomas Moulton pour le film "All About Eve" dans lequel Marilyn joua! D'ailleurs, "All about Eve" était nominé dans 14 catégories et remporta 6 Oscars. (>> pour plus d'infos, voir le film All About Eve ).
Fred Astaire est le maître de cérémonie. Peu avant son entrée en scène, Marilyn découvrit que la robe était déchirée. Prise d'une crise d'angoisse et de panique, les actrices Jane Greer, Debra Paget et Gloria DeHaven consolent Marilyn, pendant qu'une couturière répara précipitemment la déchirure.
On March 29, 1951, the Oscars Ceremony (The Academy Awards) holds at the Pantages Theatre on Hollywood Boulevard. Although Marilyn never received this coveted prize, she approached very near the famous statue, where she appears to the ceremony for the first and last time in her life. Marilyn Monroe was indeed responsible for handing the Oscar for "The Best Achievement in Sound"; the Price went to Thomas Moulton for the film "All About Eve" in which Marilyn played ! Besides, "All about Eve" was nominated in 14 categories and won six Oscars. (>> For more information, see the film 'All About Eve'). Fred Astaire is the master of the ceremony.
Shortly before going on stage, Marilyn discovered that her dress was torn. Taking by an anxiety attack and panic, the actresses Jane Greer, Debra Paget and Gloria DeHaven comfort Marilyn, while a dressmaker repairs rushly the tear.
---
> video

---
La séance photos
Pour cette prestigieuse soirée, Marilyn est vêtue d'une robe en mousseline décolletée, noire avec un voilage transparent bleu lavande, empruntée aux studio de cinéma; une création de Renié. (> l'article sur la robe de soirée en tulle noire) Pour Info: elle a porté cette robe pour les photos publicitaires de Love Nest (> voir les photos promotionelles de Love Nest).
Elle pose dans les escaliers d'un hôtel de Los Angeles, selon les sources: le Roosevelt Hotel ou l'hôtel Del Mar à Santa Monica.
Séance photos de John Florea pour le magazine Collier's.

For this prestigious event, Marilyn is wearing a low-cut chiffon dress, black with transparent lavender sheers, borrowed from the film studio; a creation of Renié. For information: she wore this dress for advertising photos of Love Nest.
She poses on the stairs of a hotel in Los Angeles, according to sources: the Roosevelt Hotel or the Hotel Del Mar in Santa Monica.
Photo Shoot by John Florea for Collier's magazine.
- Dans la presse -
article de Collier's, 08/09/1951 - USA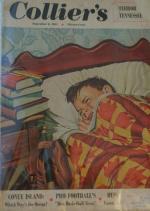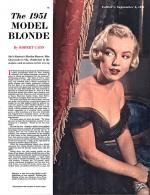 publicité pour Look du 23/10/1951 - avec article du Collier's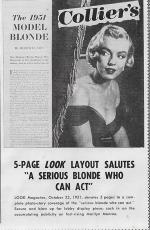 ---
© All images are copyright and protected by their respective owners, assignees or others.
copyright text by GinieLand.