14 novembre 2014
---
Documents papiers
---
Lot 708: MARILYN MONROE RECEIVED LETTER REGARDING BOND
A Marilyn Monroe received letter. The envelope is addressed to Marilyn Monroe at 1215 Lodi Place in Los Angeles from Opal M. Clark and postmarked July 22, 1948. A note to Monroe reads in full, "Here is your bond Norma – please sign the enclosed receipt + return to me. Hope all is well with you. With love – Opal." At the time, Monroe was living at the Hollywood Studio Club, a residence for women in the film industry.
4 1/4 by 9 1/2 inches
Winning bid: $384 - Estimate: $150 - $300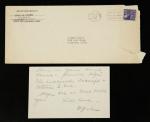 ---
Lot 709: MARILYN MONROE EMPLOYMENT RECORDS
A group of seven Marilyn Monroe employment documents from Twentieth Century-Fox Studios. The documents date from 1947 to 1949 and include two employment opening and four employment closing notices as well as one change of rate card. These cards represent Monroe's first forays into film work. Notable are the cards filled out during her work on The Dangerous Years (20th Century, 1947), indicated on the opening and closing cards as being for a "Sol Wurtzel Prod.," and a starting card dated August 27, 1949, for her role as Clara in the film A Ticket to Tomahawk (20th Century, 1950), indicating that Monroe flew to the filming location with a closing card from this film dated October 21, 1949, stating that filming was finished. One closing card indicates her first firing from Fox. Dated August 25, 1947, the card explains "Option Not Exercised" after only a year; the studio opted not to take Monroe under contract again at that time. Monroe changed her name from Norma Jeane to Marilyn Monroe when she got her contract with Fox in August 1946. Monroe's salary during this period ranged from $125 to $200 per week.
4 by 6 inches
Winning bid:$2,560 - Estimate: $2,000 - $3,000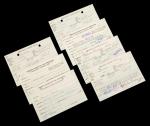 ---
Lot 718: MARILYN MONROE SIGNED CHECK
A Marilyn Monroe signed check dated September 15, 1957, check number 35, in the amount of $12.12 paid to the New York Telephone Company from a Marilyn Monroe Productions Inc. account with Colonial Trust Company. The check information is typed and signed by Monroe in blue ink. Below her signature is her title with Marilyn Monroe Productions Inc., President.
3 by 8 1/4 inches
Winning bid:$7,040 - Estimate: $2,500 - $3,000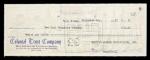 ---
Lot 720: MARILYN MONROE FILM SYNOPSIS FROM ARCHIVE
A five-page screenplay synopsis for the unproduced film "Miss Nobody" written by Garson Kanin. The typed document heading reads " Original Screenplay – 140pp." and "Henry F. Greenberg/ May 5, 1950." It is presumed Monroe was approached to participate in the production.
PROVENANCE From the lost archive of Marilyn Monroe
11 by 8 1/2 inches
Winning bid:$192 - Estimate: $200 - $400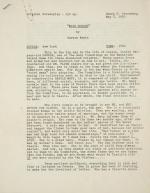 ---
Lot 722: MARILYN MONROE TELEPHONE COMPANY DOCUMENTS
A Marilyn Monroe telephone bill and other telephone company related documents. Items include an April 1951 telephone bill for $180.41 (when adjusting for inflation that is almost $1600 in the 2013 economy); a bill pay reminder; an itemized list of long-distance calls from the phone company (undated); a rate information card addressed to "M. Monroe," postmarked May 1961; and other telephone company related items.
PROVENANCE From the lost archive of Marilyn Monroe
Winning bid:$448 - Estimate: $200 - $400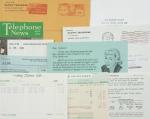 ---
Lot 725: MARILYN MONROE LETTER FROM CARY GRANT
A Cary Grant typed, signed letter to Marilyn Monroe. The undated letter, written on Grant's personal stationery, followed a recent trip by Grant and his wife to visit troops in Japan and Korea. The letter was accompanied by a gift Grant was asked by a soldier to take to Monroe. Grant also offers his assistance if Monroe should also go visit the troops in Asia. The pair worked together on the film Monkey Business (20th Century, 1952). A notation on verso is written in pencil in an unknown hand.
PROVENANCE From the lost archive of Marilyn Monroe
Winning bid:$3,840 - Estimate: $400 - $600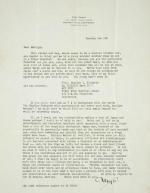 ---
Lot 728: MARILYN MONROE EMPLOYMENT RECORDS
A 22-piece collection of Marilyn Monroe's earning records from 20th Century Fox. The quarterly records span from 1946 to 1953 beginning after Monroe's first contract with Fox in August 1946. The weekly accounting of Monroe's salary illustrates the actress' rise in star power throughout her career at Fox. In 1953, 20th Century Fox released three Monroe films: How to Marry A Millionaire, Gentlemen Prefer Blondes and Niagra. The records reflect two different employee numbers for Monroe, 63015 and 661616, most likely due to the break in her contract with Fox.
Each, 5 1/2 by 11 inches
Winning bid:$6,250 - Estimate: $5,000 - $7,000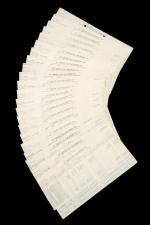 ---
Lot 739: JANE RUSSELL HANDWRITTEN LETTER TO MARILYN MONROE
A Jane Russell handwritten letter to Marilyn Monroe. The 10-page letter is written on onionskin paper. Russell starts the letter "Dear Little One" and signs it "Old Jane." In the letter, Russell addresses rumors of Monroe's divorce from Joe DiMaggio and encourages Monroe to rely on religion to help her through this rough period. She discusses Hollywood marriages, including her own, and gives her opinion on fellow actresses' marriages. In part, Russell writes, "I've never written such a letter - But I love you very dearly + I don't want you to be unhappy ever... ."
PROVENANCE From the lost archive of Marilyn Monroe
Winning bid: $3,200 - Estimate: $500 - $700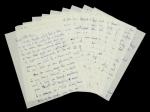 ---
Lot 747: MARILYN MONROE LETTER RECEIVED WHILE IN KOREA
A typed letter sent to Marilyn Monroe by Major General Lionel McGarr. Dated February 16, 1954, McGarr thanked Monroe for her appearance, stating that she provided relaxation and a boost for morale. Monroe entertained troops in Korea February 16-19, 1954, while on her honeymoon with Joe DiMaggio. Accompanied by the original hand-delivered transmittal envelope typed "Miss Marilyn Monroe/ 'Marilyn Monroe VIP Show'/ Korea."
PROVENANCE From the lost archive of Marilyn Monroe
11 by 8 1/2 inches
Winning bid: $768 - Estimate: $300 - $500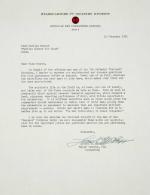 ---
Lot 748: MARILYN MONROE ENCLOSURE CARDS AND MESSAGES
A group of Marilyn Monroe received floral enclosure cards and other personal cards from friends and family members, including Freddie Fields, "all the boys at M.C.A.," Patsy & Rose D'Amore, "Judy & Jay," "Aunt Allis," "Sydney," Arthur O'Connell, Vernon Scott and others, with personal messages to Monroe. Accompanied by a note written in an unknown hand on Beverly Hills Hotel stationery regarding "M. McCarthy" and a typed message dated November 8, 1954, for Mrs. DiMaggio regarding a cousin. This note has a handwritten notation that reads "he is ??".
PROVENANCE From the lost archive of Marilyn Monroe
Largest, 6 3/4 by 5 1/4 inches
Winning bid: $576 - Estimate: $400 - $600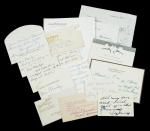 ---
Lot 749: MARILYN MONROE LETTER FROM SID ROSS
A two-page handwritten letter from Sid Ross to Marilyn Monroe. Written on American Airlines stationery, postscript on a third page. The letter expresses Ross' regret that Monroe couldn't meet with him and goes on to offer her advice, including "Don't be the baseball; be the bat." Accompanied by the original transmittal envelope postmarked May 17, 1953. Ross wrote an article about Monroe in 1952, and his brother, photographer Ben Ross, had three sittings with Monroe in the early 1950s.
PROVENANCE From the lost archive of Marilyn Monroe
10 1/4 by 7 1/4 inches
Winning bid: $640 - Estimate: $200 - $400

---
Lot 750: MARILYN MONROE LETTERS FROM LOTTE GOSLAR
A pair of letters received by Marilyn Monroe from her teacher and friend, mime Lotte Goslar. Both letters are from January 1954. One is a single-sided handwritten note. The other is handwritten on two-pages, double sided, in which Goslar congratulates Monroe on her marriage to Joe DiMaggio.
PROVENANCE From the lost archive of Marilyn Monroe
Largest, 10 1/2 by 7 1/4 inches
Winning bid: $448 - Estimate: $600 - $800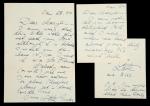 ---
Lot 752: MARILYN MONROE LETTER FROM JOE DiMAGGIO
A Joe DiMaggio three-page handwritten letter to Marilyn Monroe postmarked October 9, 1954. DiMaggio dates the letter as "Saturday - a.m." and greets Marilyn "Dear Baby." The letter came to Marilyn on the heels of her October 6th announcement to the press that she and DiMaggio were divorcing. In the letter DiMaggio discusses watching the announcement. The letter reads in part, "Don't know what you're thoughts are about me, - but I can tell you I love you sincerely, - way deep in my heart, irregardless of anything." Accompanied by original transmittal envelope addressed to the house the couple shared in Beverly Hills, California.
PROVENANCE From the lost archive of Marilyn Monroe
Winning bid:$78,125 - Estimate: $2,000 - $4,000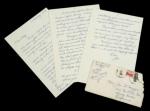 ---
Lot 753: MARILYN MONROE LETTER FROM TOM NEAL
A five-page handwritten letter to Marilyn Monroe from actor Tom Neal. Neal reminds Monroe where they had met previously and offers her support and encouragement during her divorce from Joe DiMaggio. Citing his time in the media spotlight due to his love triangle with Barbara Payton and Franchot Tone, Neal writes in part "Marriage is rough enough without taking on an added burden of marrying someone who doesn't understand the film industry." Accompanied by the original transmittal envelope postmarked October 1954.
PROVENANCE From the lost archive of Marilyn Monroe
11 by 8 1/2 inches
Winning bid:$512 - Estimate: $300 - $500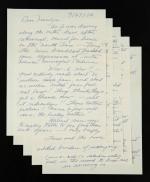 ---
Lot 754: MARILYN MONROE LETTER FROM SAM SHAW
A 16-page letter from Sam Shaw to Marilyn Monroe. Handwritten on small notebook paper. Shaw has labeled two pages "7." He discusses an art opening that he went to and Monroe's marriage to and divorce from Joe DiMaggio. Accompanied by the original transmittal envelope postmarked December 3, 1954.
PROVENANCE From the lost archive of Marilyn Monroe
7 1/4 by 4 1/4 inches
Winning bid:$1,562.50 - Estimate: $1,000 - $2,000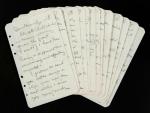 ---
Lot 755: MARILYN MONROE SEVEN YEAR ITCH TELEGRAM
A Western Union telegram sent to Marilyn Monroe by Twentieth Century-Fox Studios dated December 23, 1954. The telegram summons Monroe to meet with Lew Schreiber regarding The Seven Year Itch (20th Century, 1955) on December 28, 1954.
PROVENANCE From the lost archive of Marilyn Monroe
10 by 8 inches
Winning bid:$ 1,280 - Estimate: $400 - $600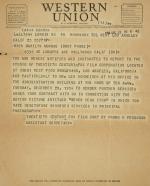 ---
Lot 758: MARILYN MONROE LETTER FROM SAM SHAW
A three-page handwritten letter from Sam Shaw to Marilyn Monroe. The letter discusses a film Shaw has just seen and a postscript that continues on to the back of the third page discussing Monroe's interest in collecting art. Below the postscript Shaw has drawn a caricature of Monroe with paintings in frames. Accompanied by original transmittal envelope postmarked December 8, 1954.
PROVENANCE From the lost archive of Marilyn Monroe
12 1/2 by 8 inches
Winning bid: $1,125 - Estimate: $800 - $1,200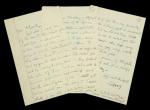 ---
Lot 759: MARILYN MONROE LETTER FROM SAM SHAW
A 12-page handwritten letter from Sam Shaw to Marilyn Monroe. In the letter, Shaw offers his advice for dealing with the press and Monroe's public image. On the back of the last page Shaw has drawn a caricature of his family with the text "We all love Marilyn/ the Shaws." Reads in part "I found a shot of you that we both liked...I think this photo puts me in Milton's class." Shaw has included a newspaper clipping of Monroe dancing with Clark Gable. Accompanied by two envelopes, the first is stamped without postmark, the second is postmarked December 9, 1954.
PROVENANCE From the lost archive of Marilyn Monroe
9 by 6 inches
Winning bid: $1,125 - Estimate: $1,000 - $2,000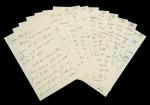 ---
Lot 760: MARILYN MONROE 1954 LETTER FROM SAM SHAW
A one-page handwritten letter from photographer, artist and producer Sam Shaw to Marilyn Monroe. Shaw chastises Monroe for sending neither a hello nor a goodbye note to him and references Shaw giving Monroe's address to Dame Edith Sitwell. With a drawing on reverse of a grave with a shovel and a tombstone that reads "Here lies his [drawing of a heart] and luve [sic] gone but no [sic] forgotten." Accompanied by original transmittal envelope postmarked December 10, 1954.
PROVENANCE From the lost archive of Marilyn Monroe
9 by 6 inches
Winning bid:$ 2,187.50 - Estimate: $800 - $1,200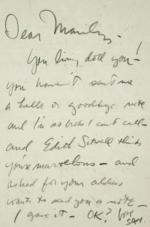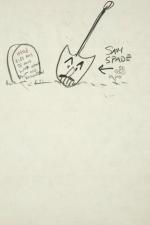 ---
Lot 761: MARILYN MONROE 1954 LETTER FROM HER LAWYER
A letter written to Marilyn Monroe from her lawyer, Lloyd Wright Jr. The two-page typed, signed letter, dated October 26, 1954, discusses contracts, endorsements, with references to ghostwriter Ben Hecht and a payment due to Alfred Hayes. Accompanied by original transmittal envelope.
PROVENANCE From the lost archive of Marilyn Monroe
11 by 8 1/2 inches
Winning bid: $500 - Estimate: $300 - $500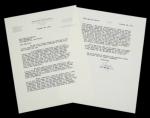 ---
Lot 763: MARILYN MONROE CARD FROM MARLON BRANDO
An enclosure card handwritten to Marilyn Monroe from Marlon Brando. The small card has an image of Asian-inspired scene of a boat in a body of water. Reads in full, "Happy birthday Marylin [sic] from Marlon."
PROVENANCE From the lost archive of Marilyn Monroe
3 by 4 inches
Winning bid: $1,920 - Estimate: $400 - $600


---
Lot 764: MARILYN MONROE LETTERS FROM HENRY ROSENFELD
A group of three letters from Henry Rosenfeld to Marilyn Monroe, undated, written on lined notepaper. One note addressed "darling" informs Monroe of a present that Rosenfeld purchased for her on the occasion of her birthday. He closes the note, "I want you to be happy above everything else in the world. Always and always, Henry." Rosenfeld, a wealthy New York dress manufacturer, met Monroe in 1955. They became close, and at some point he proposed to Monroe. The proposal came to nothing, but the pair remained friends.
PROVENANCE From the Collection of Lois Banner
and Lot 756, "Julien's Summer Sale," Julien's Auctions, Las Vegas, June 26, 2009
12 by 8 inches
Winning bid: $384 - Estimate: $200 - $400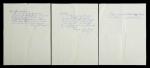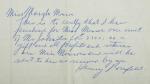 ---
Lot 767: MARILYN MONROE LETTER FROM CHERYL CRAWFORD
A letter written to Marilyn Monroe by producer/director Cheryl Crawford. The letter is typed, signed and contains a handwritten postscript. In the letter, Crawford expresses a desire to work with Monroe on future productions. Typed on Crawford's personal stationery and dated June 8, 1955. Earlier in the year, Crawford introduced Monroe to Lee Strasberg.
PROVENANCE From the lost archive of Marilyn Monroe
10 1/2 by 7 1/2 inches
Winning bid: $320 - Estimate: $400 - $600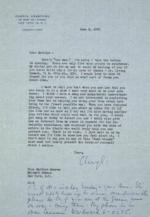 ---
Lot 768: MARILYN MONROE 20TH CENTURY FOX CONTRACT DISPUTE LETTER
A letter from Twentieth Century-Fox Executive Manager Lew Schreiber to Marilyn Monroe. The single-page typed, signed letter, dated December 16, 1954, is in regard to the disagreement between Monroe and the studio over her contract. In January 1955, Monroe formally announced the formation of Marilyn Monroe Productions Inc.
PROVENANCE From the lost archive of Marilyn Monroe
11 by 8 1/2 inches
Winning bid: $1,250 - Estimate: $800 - $1,200

---
Lot 769: MARILYN MONROE LETTER FROM HENRY GRUNWALD
A typed and signed letter to Marilyn Monroe from Henry Grunwald hand dated "Dec. 30., 1956." The letter reads in part, "It's not the story I had wanted to do on you, of course, but I think it did you justice... ." The letter was written when Grunwald was a senior editor at TIME magazine.
PROVENANCE From the lost archive of Marilyn Monroe
Winning bid: $896 - Estimate: $200 - $400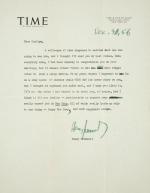 ---
Lot 770: MARILYN MONROE RECEIVED CORRESPONDENCE
A group of three notes sent to Marilyn Monroe. The first is a handwritten note regarding a shooting schedule, In an unknown hand signed simply with a heart.The note reads in part, "RELAX - rest and go over the scenes we worked on last Saturday." Written on the back of a TIME magazine memo sheet. The second is a handwritten note believed to have been written by photographer Zinn Arthur to Milton Greene and Monroe. Reads in full, "Milt Thanks for Tryin'. Marilyn - You're a damn good actress and my hat goes off to you - Zinn (Sin)." The third appears to be a typed telegram inviting Monroe to an event at the Ambassador Hotel.
PROVENANCE From the lost archive of Marilyn Monroe
4 by 8 1/2 inches
Winning bid: $320 - Estimate: $400 - $600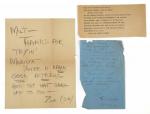 ---
Lot 771: MARILYN MONROE LETTER FROM PAT NEWCOMB
A two-page typed memo to Marilyn Monroe from Pat Newcomb. Typed on Arthur P. Jacobs Public Relations stationery and dated May 21, 1956. Newcomb wrote regarding the importance of personally reaching out to journalists who had written about Monroe. Handwritten note and sign-off from Newcomb.
PROVENANCE From the lost archive of Marilyn Monroe
11 by 8 1/2 inches
Winning bid: $384 - Estimate: $200 - $400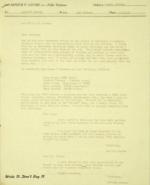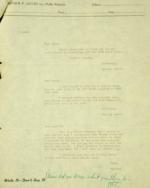 ---
Lot 773: MARILYN MONROE RIPPED CARD FROM AMY GREENE
A handwritten card from Amy Greene to Marilyn Monroe that has been ripped in half. On the front of the card is printed "Mrs. Milton Greene." Dated November 10, 1954, the card gives Greene's good wishes for Monroe's recovery and an invitation to recuperate from her surgery with the Greenes. Accompanied by a note to "Sidney" on the front of the envelope, also ripped in half, with instructions to deliver the note to Marilyn.
PROVENANCE From the lost archive of Marilyn Monroe
Original size, 3 by 4 inches
Winning bid: $125 - Estimate: $400 - $600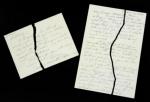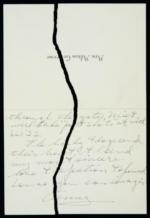 ---
Lot 774: MARILYN MONROE LETTER AND CARD FROM JAMES HASPIEL
A Marilyn Monroe received letter from superfan James Haspiel. The handwritten letter is dated June 9, 1956, and reads in part, "I hope you didn't mind that wild ride back from the airport – it was wonderful seeing you again, + I guess we all got carried away… ." Accompanied by a "Good-Bye" card from "The Monroe Six" and original transmittal envelope.
PROVENANCE From the lost archive of Marilyn Monroe
11 by 8 1/2 inches
Winning bid: $384 - Estimate: $100 - $200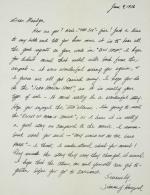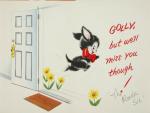 ---
Lot 775: MARILYN MONROE BIRTHDAY AND GET WELL CARDS
A group of seven greeting cards sent to Marilyn Monroe. The cards have birthday and get well messages. Birthday greetings: belated birthday card signed "Delosky" (undated); a belated birthday greeting from Dan Hanrahan, who has included his business card and a lengthy handwritten message (June 1961); and a birthday greeting from Betty Doktor (June 1961). Get well wishes from The Monroe Six (April 1956); Anne McDowell (April 1956); Mr. & Mrs. Henry Peterson (May 1961); and Frank Young (May 1961). Most accompanied by the original transmittal envelope.
PROVENANCE From the lost archive of Marilyn Monroe
Largest, 8 3/4 by 7 3/4 inches
Winning bid:$ 2,187.50 - Estimate: $200 - $400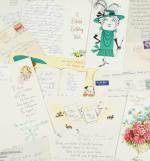 ---
Lot 776: MARILYN MONROE LETTER AND CARD FROM DELOS SMITH JR.
A double sided typed letter from Delos Smith Jr. to Marilyn Monroe. Smith wrote in reaction to a TIME magazine article and Delos own discussions with a TIME editor. Smith goes on to gossip about other Hollywood stars and praising Monroe's appearance at The Actors Studio. Smith signed the letter "Happy Mothers Day, Delos." Accompanied by a greeting card with a handwritten note from Smith. He signed the card "Bring that old Bus to a Stop and hurry home. Love Delos." With original transmittal envelope postmarked May 6, 1956.
PROVENANCE From the lost archive of Marilyn Monroe
Larger, 9 by 6 inches
Winning bid: $256 - Estimate: $200 - $400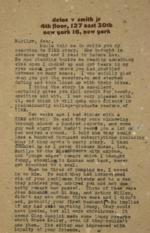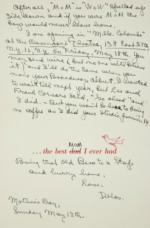 ---
Lot 777: MARILYN MONROE LETTER FROM PAT NEWCOMB
A typed, signed letter from Pat Newcomb to Marilyn Monroe; Milton Greene was cc'd. Dated April 24, 1956, the letter is in regard to an event for Nunnally Johnson. Typed on Arthur P. Jacobs Public Relations stationery, Newcomb references recent doctor's orders have clamped down on Monroe's social life in order to "complete the picture in good health." The film Newcomb refers to was Bus Stop (20th Century, 1956), Monroe's first film under new contract with 20th Century Fox and her newly formed company, Marilyn Monroe Productions.
PROVENANCE From the lost archive of Marilyn Monroe
11 by 8 1/2 inches
Winning bid: $320 - Estimate: $400 - $600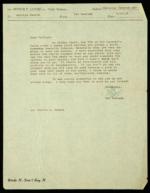 ---
Lot 778: MARILYN MONROE RECEIVED LETTERS
A group of three letters received by Marilyn Monroe. The first is a handwritten letter dated January 6, 1956, that reads in part, "I think it's wonderful that you stood your ground and got your way." Signed indistinctly. Accompanied by original transmittal envelope with a New York return address from "Rella." The second is a greeting card from June Alpino with an invitation for Monroe to join her at the circus and a gift to give Monroe from a third party. Alpino has included a small black and white photograph of herself. The third is a five-page letter from "Jeanie" handwritten on Disneyland Hotel stationery. The letter mentions Jeanie and her husband Frank going to spring training and laments the fact that she hasn't seen Monroe in more than a year. Accompanied by original transmittal envelope postmarked March 26, 1956.
PROVENANCE From the lost archive of Marilyn Monroe
Largest, 11 by 8 1/2 inches
Winning bid: $375 - Estimate: $200 - $400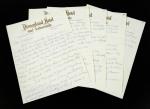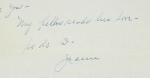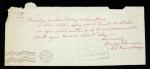 ---
Lot 779: MARILYN MONROE WESTERN COSTUME SHIPPING RECEIPTS
A pair of shipping inventory receipts from Western Costume Company. Both are dated May 28, 1956, regarding the leasing of costume items to Marilyn Monroe Productions. Each notes that the statement should be sent to "Milton Green" [sic]. These items were most likely used in Bus Stop (20th Century, 1956), which began shooting in May.
PROVENANCE From the lost archive of Marilyn Monroe
11 by 8 1/2 inches
Winning bid: $320 - Estimate: $100 - $200

---
Lot 783: MARILYN MONROE "THAT OLD BLACK MAGIC" DOCUMENTS
A pair of papers with the typed lyrics of the song "That Old Black Magic," one on Chateau Marmont stationery with handwritten corrections and two smaller half sheets with the typed lyrics stapled together. Marilyn Monroe sang "That Old Black Magic" in the film Bus Stop (20th Century, 1956). The documents are presumed to have been used to rehearse or during filming of the scene.
PROVENANCE From the lost archive of Marilyn Monroe
Largest, 10 1/2 by 7 1/4 inches
Winning bid: $768 - Estimate: $800 - $1,200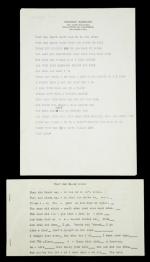 ---
Lot 784: MARILYN MONROE LETTER FROM PARADE PUBLICATIONS
A typed, signed letter to Marilyn Monroe from Bob Jennings, a staff writer at Parade Publications Inc. Dated March 6, 1956, Jennings' letter refers to an article Jennings was writing about Korea that included Monroe. Accompanied by original transmittal envelope with numerous markings on the outside, including one that reads "important take care this afternoon!"
PROVENANCE From the lost archive of Marilyn Monroe
11 by 8 1/2 inches
Winning bid:$ 1,152 - Estimate: $200 - $400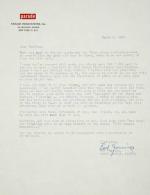 ---
Lot 785: MARILYN MONROE PRESCRIPTION FROM LEE SEIGEL
A Marilyn Monroe slip of paper with two prescriptions written by Fox studio physician Lee Seigel dated April 6, 1956. The prescriptions are for Diamox and Achenalin. Both appear to be prescribed for an eye issue.
PROVENANCE From the lost archive of Marilyn Monroe
11 by 8 1/2 inches
Winning bid:$375 - Estimate: $200 - $300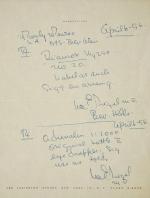 ---
Lot 786: MARILYN MONROE LETTER FROM HER ANALYST
A handwritten letter from psychotherapist Margaret Herz Hohenberg to Marilyn Monroe on Hohenberg's stationery and dated May 10, 1956. The letter concerns the accompanying account statement and a recent telephone session. Also present is the original transmittal envelope addressed to Monroe at Chateau Marmont. Monroe began to see Hohenberg in 1955 at the recommendation of Milton Greene.
PROVENANCE From the lost archive of Marilyn Monroe
Largest, 10 1/2 by 7 1/4 inches
Winning bid:$768 - Estimate: $600 - $800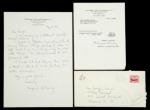 ---
Lot 790: MARILYN MONROE HANDWRITTEN NOTES
A pair of Marilyn Monroe handwritten notes. The first is pencil on lined legal paper that appears to be a Lee Strasberg quote; the page is titled "Lee S." The second is written in pencil on a blank sheet of paper and reads "My Darling, my darling, my poppy."
PROVENANCE From the lost archive of Marilyn Monroe
Largest, 12 1/2 by 8 inches
Winning bid:$ 4,687.50 - Estimate: $2,000 - $4,000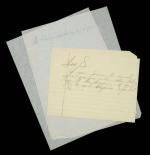 ---
Lot 791: MARILYN MONROE 1956 BIRTHDAY CARD FROM PETER LEONARDI
A belated birthday card sent to Marilyn Monroe from Peter Leonardi. The card appears to be postmarked June 2, 1956. This would make it after Monroe's break from Leonardi at a time when it was proposed Monroe had written in her journals that she was afraid of him and thought "… Peter wants to be a woman – and would like to be me – I think…" (see Fragments p. 96 and Marilyn: The Passion and the Paradox by Lois Banner (p. 289-290).
PROVENANCE From the lost archive of Marilyn Monroe
5 by 5 inches
Winning bid: $128 - Estimate: $100 - $200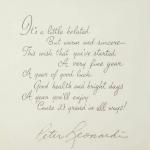 ---
Lot 793: MARILYN MONROE SAHARA HOTEL DOCUMENTS
A group of Marilyn Monroe Sahara Hotel documents. Dated 1956, the documents relate to Monroe's stay at the Sahara Hotel in Phoenix, Arizona. Items include two telegrams sent to Monroe at the hotel, three hotel message slips, and a letter to Monroe written on Sahara Hotel stationery from Dr. S. Purple, with original transmittal envelope.
PROVENANCE From the lost archive of Marilyn Monroe
Sizes vary
Winning bid: $896 - Estimate: $200 - $400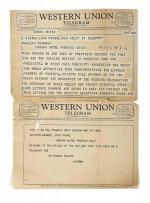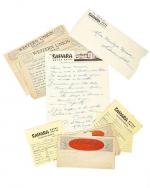 ---
Lot 794: MARILYN MONROE ARCHIVE DOCUMENTS
A group of correspondence received by or regarding Marilyn Monroe, including a 1956, letter from Inez Melson to Florence Thomas; a March 10, 1956 letter from "Olive" to "Jean"; eight hotel telephone message slips from March and May 1956; several phone messages on scraps of paper; a handwritten note left for Monroe by Ted Harper; an invitation to The Original Wine House with handwritten note on verso from proprietor Bob Purvis; empty transmittal envelopes addressed to Monroe; and two newspaper clippings about Monroe.
PROVENANCE From the lost archive of Marilyn Monroe
Largest, 4 by 10 inches
Winning bid:$1,152 - Estimate: $300 - $500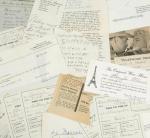 ---
Lot 795: MARILYN MONROE RECEIVED AND KEPT LETTERS
A pair of letters received by Marilyn Monroe. The first is from Fred Libby written on Pan American World Airways stationery, addressed to Mr. & Mrs. Arthur Miller, dated July 6, 1956. Libby congratulates the pair on their recent wedding, and he says he hopes to meet Mr. Miller someday. The second letter is addressed to Monroe from a chiropractor named Jacob Kaufman. Kaufman had never met Monroe, but after hearing of her frequent illnesses, he felt compelled to write her with his advice. Accompanied by original transmittal envelope postmarked March 7, 1960.
PROVENANCE From the lost archive of Marilyn Monroe
10 1/2 by 7 1/4 inches
Winning bid:$256 - Estimate: $100 - $200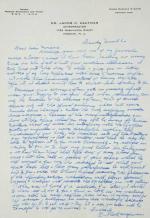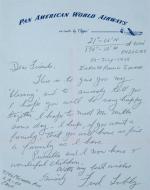 ---
Lot 796: MARILYN MONROE LOVE NOTE FROM ARTHUR MILLER
A small note handwritten by Arthur Miller to Marilyn Monroe dated "Wed., April 4 - 1:12 p.m." The note reads in part, "I am deeply happy. And agonized that you're not in reach." Signed simply "A."
PROVENANCE From the lost archive of Marilyn Monroe
3 by 5 inches
Winning bid:$2,560 - Estimate: $600 - $800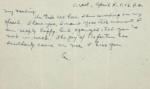 ---
Lot 798: MARILYN MONROE CARD FROM ARTHUR MILLER
An Arthur Miller handwritten card to Marilyn Monroe dated "Christmas 1955." The front of the card is a cartoon of two despondent characters. Printed text reads, "No, I'm more depressed than you are." Under the text Miller has handwritten "You're not either." The salutation on the card reads "For Marilyn." It goes on to discuss the present that accompanied the card. Also present is the original envelope that reads simply "For Noodle."
PROVENANCE From the lost archive of Marilyn Monroe
Winning bid:$1,280 - Estimate: $1,000 - $2,000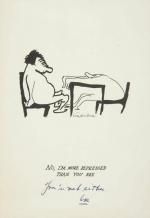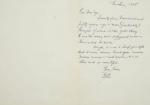 ---
Lot 799: MARILYN MONROE LOVE LETTER FROM ARTHUR MILLER
An Arthur Miller typed and handwritten love letter to Marilyn Monroe. In the letter Miller addresses Monroe as "Dearest Wife" although their wedding was a month away and his divorce not yet final. Miller has signed the letter "Art," and below his signature he has written, "Please - if I have ever made you cry, or made you one ounce sadder even for a second - forgive me. My perfect girl." Accompanied by original transmittal envelope dated April 30, 1956.
PROVENANCE From the lost archive of Marilyn Monroe
Winning bid:$6,875 - Estimate: $1,000 - $2,000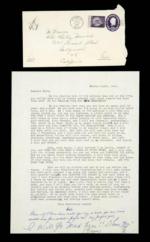 ---
Lot 800: MARILYN MONROE LOVE LETTER FROM ARTHUR MILLER
A typed, signed love letter from Arthur Miller to Marilyn Monroe dated April 26, 1956. The letter reads in part, "The publicity is beginning to break evidently. Winchell this morning says I call you long distance all the time...I just worry that Bob and Jane won't be getting any kind of shock out of all this that will make it harder when they meet you." The letter discusses other details of Miller's life at that time. Signed, "kiss you, Art." Miller enclosed a letter from friend Norman Rosten that reads in part, "What are your plans? We won't tell, but we're curious. Even Mary is curious. What's his rush for a divorce, she asked me last week? (As though this was brand new)." Rosten's letter also discusses the press and appears to refer to the pressure on Miller by the House Un-American Activities Committee. Also present is a London review of The Crucible and the original transmittal envelope to Monroe. Please note that this lot comes with a single transmittal envelope. Two were shown in the printed catalog.
PROVENANCE From the lost archive of Marilyn Monroe
Winning bid:$3,520 - Estimate: $1,000 - $2,000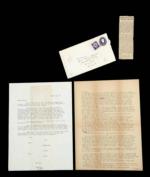 ---
Lot 801: ARTHUR MILLER LETTERS FROM HIS CHILDREN
A pair of letters from Arthur Miller's children mailed by Miller to Marilyn Monroe. The first letter is a single page typed from Robert Miller and dated April 23, 1956. The second is a double-sided handwritten letter from Miller's daughter Jane. Both state they miss their father, thank him for gifts he recently gave them, and share the events of their recent days. Both also state they are sending him their footprint (not present). Jane and Robert are Miller's children with his first wife, Mary Grace Slattery. Accompanied by the original transmittal envelope.
PROVENANCE From the lost archive of Marilyn Monroe
Winning bid:$100 - Estimate: $300 - $500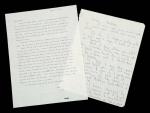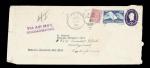 ---
Lot 802: MARILYN MONROE LOVE LETTER FROM ARTHUR MILLER
An Arthur Miller two-page typed signed love letter to Marilyn Monroe dated May 9, 1956. The letter begins "Dearest, Best Person" and reads in part, "It is your suffering in the past that I respect and even bow down to. I see i often as a kind of trial to which you were cruelly put...You were placed in the jaws of this society without the protection of a family, a name, an identity; it is quite as though you were the pure victim...I do know how desperately you want to shake loose from all the dragging horrors of the past." Miller discusses his initial attraction to Monroe, his divorce, and his love for her. Accompanied by the original transmittal envelope.
PROVENANCE From the lost archive of Marilyn Monroe
Winning bid:$5,312.50 - Estimate: $1,000 - $2,000

---
Lot 803: MARILYN MONROE LOVE LETTER FROM ARTHUR MILLER
An Arthur Miller four-page typed and handwritten love letter to Marilyn Monroe dated April 29, 1956. The letter provides insight into Miller's feelings about Monroe just before their wedding. Reads in part" "But what can I do? I love you. When I love somebody I love them, I want them to be near me, to bear my children, to be my wife. You think I am so clean, so faultless, so incapable of untruth that in comparison you are defiled? I have sinned, Marilyn; I am no better than you in any way. I can hate every man you were ever with but I can't hate you." On the third page Miller has affixed a piece of petrified wood and signed the letter "Your lover, slave, friend, father, son, and Pest, Art." The fourth page, written later that same day, is additionally signed "Art." Accompanied by original transmittal envelope.
PROVENANCE From the lost archive of Marilyn Monroe
Winning bid:$7,040 - Estimate: $1,000 - $2,000

---
Lot 804: MARILYN MONROE LOVE LETTER FROM ARTHUR MILLER
An Arthur Miller two-page typed and handwritten love letter to Marilyn Monroe dated May 9, 1956. Miller begins the letter relaying frustration with his soon to be ex-wife Mary Grace Slattery and goes on to tell Monroe that he has disclosed their relationship to his parents and his concerns about his family and children. Miller also references the film "Viva Zapata" (20th Century, 1952), a film that Monroe wanted to work on but was denied by the studio. Miller enclosed sage in the letter and writes below his signature "A little sage brush for your pillow." He additionally asks, "And where is your footprint!!!" Accompanied by the original transmittal envelope.
PROVENANCE From the lost archive of Marilyn Monroe
Winning bid:$4,160 - Estimate: $1,000 - $2,000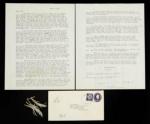 ---
Lot 806: MARILYN MONROE LOVE LETTER FROM ARTHUR MILLER
An Arthur Miller three-page typed, signed love letter to Marilyn Monroe dated May 7, 1956. Miller discusses his upcoming divorce, tension between Monroe and Milton Greene, plans for Monroe to visit him in Reno, and their plan to introduce Monroe to Miller's children. Miller also discusses a recent argument the pair had: "I was separated from you, leaving you in a world of men lusting for you. I wanted you to be reminded that I am desirable...Nevertheless, it was still more alarming to you than it should have been -- your reaction was out of proportion... ." Accompanied by the original transmittal envelope addressed to Monroe at Hotel Chateau Marmont in Hollywood.
PROVENANCE From the lost archive of Marilyn Monroe
Winning bid:$4,160 - Estimate: $1,000 - $2,000

---
Lot 807: MARILYN MONROE LOVE LETTER FROM ARTHUR MILLER
An Arthur Miller handwritten love letter dated May 11, 1956. Written on two lined pages. Salutation is to "Dearest Wife." Reads in part, "I am walking around in a daze of love...I wanted to buy a wedding ring but they don't have really nice ones here - I looked... ." Miller goes on to discuss an apartment he would like to rent, recent negative articles, and his love for her. Accompanied by original transmittal envelope.
PROVENANCE From the lost archive of Marilyn Monroe
Winning bid:$12,160 - Estimate: $1,000 - $2,000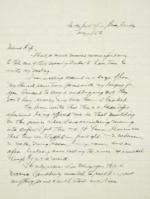 ---
Lot 808: MARILYN MONROE LOVE LETTER TO ARTHUR MILLER
A Marilyn Monroe single-page handwritten letter to Arthur Miller, presumably unsent. In the undated letter Monroe is responding to an earlier letter she received from Miller. The letter reads in part, "...there was no choice to make - the same road was always before me. So when you speak of my nobility it really wasn't so noble... ." Accompanied by two sheets of blank paper found with this letter.
PROVENANCE From the lost archive of Marilyn Monroe
Winning bid:$43,750 - Estimate: $4,000 - $6,000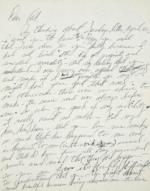 ---
Lot 810: MARILYN MONROE PUBLICITY DOCUMENTS FOR THE PRINCE AND THE SHOWGIRL
Marilyn Monroe's copies of publicity reports for the film "The Sleeping Prince," which was the working title of The Prince and the Showgirl (Warner Bros., 1957). One document is titled "Projected Logistical Report/ Publicity" and contains 45 pages of information. The second is a 14-page document titled "Publicity and Promotion Budget for U.K." Both cover pages list the people cc'd on the documents. Next to Monroe's name is a check mark, indicating that these were her personal copies.
PROVENANCE From the lost archive of Marilyn Monroe
11 by 8 1/2 inches
Winning bid:$640 - Estimate: $100 - $200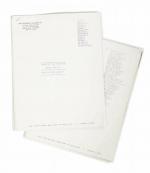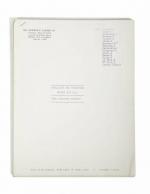 ---
Lot 811: MARILYN MONROE LETTER FROM PAT NEWCOMB
A typed letter to Marilyn Monroe from Pat Newcomb. The letter is cc'd to Milton Greene, undated, typed on Newcomb's stationery. Newcomb asks if Monroe can meet with a journalist who has flown in from London. She also mentions mailing Monroe her swimsuit and asks if she can bring her anything else.
PROVENANCE From the lost archive of Marilyn Monroe
8 1/2 by 5 1/2 inches
Winning bid:$384 - Estimate: $200 - $400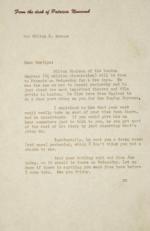 ---
Lot 813: MARILYN MONROE HANDWRITTEN NOTE TO VERA
A Marilyn Monroe handwritten note to "Vera." Written in pencil on a tablet of unlined white paper. The note was presumably never sent. The note reads in part, "...I never had a friend before this - I mean one that was a girl..."
PROVENANCE From the lost archive of Marilyn Monroe
Winning bid:$3,520 - Estimate: $1,000 - $2,000

---
Lot 817: ARTHUR MILLER LETTERS FROM HIS CHILDREN
A group of four letters, two drawings, and one postcard from two of Arthur Miller's children, Bobby and Jane, to their father and Marilyn Monroe and one letter from Jane to their pets. Most addressed "To Daddy," one to "MMM" from Bobby Miller. Those letters that are dated are from 1958 and 1959.
PROVENANCE From the Collection of Lois Banner
and Partial Lot 816, "Julien's Summer Sale," Julien's Auctions, Las Vegas, June 26, 2009
Largest, 9 by 6 inches
Winning bid:$ 128 - Estimate: $200 - $400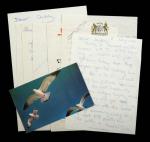 ---
Lot 818: MARILYN MONROE SENT ARTHUR MILLER MANUSCRIPT
An Arthur Miller typed manuscript sent to Marilyn Monroe. The seven-page draft of an article that Miller wrote for LIFE magazine is about his then wife and the series of photographs she took with Richard Avedon posing as five different actresses: Lillian Russell, Marlene Dietrich, Clara Bow, Jean Harlow and Theda Bara. The manuscript contains a number of handwritten corrections. The final article was rewritten and ultimately titled "My Wife Marilyn" and appeared alongside Avedon's photographs in the December 22, 1958, issue of LIFE magazine. Accompanied by original transmittal envelope.
PROVENANCE From the Collection of Lois Banner
11 by 8 1/2 inches
Winning bid:$ 6,250 - Estimate: $5,000 - $7,000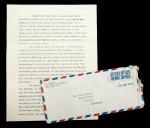 ---
Lot 819: MARILYN MONROE STATEMENT AND WARNER BROTHERS TELEGRAM
A telegram received by Marilyn Monroe from Warner Brothers, dated May 24, 1957. The two-page telegram is in regard to Monroe's former business partner, Milton Greene, receiving a credit on the film The Prince and the Showgirl (Warner Bros., 1957). Accompanied by an undated typed statement by Monroe regarding the situation with Greene, condemning his leadership of Marilyn Monroe Productions and his attempt to receive an Executive Producer credit for this film.
PROVENANCE From the Collection of Lois Banner
Winning bid: $384 - Estimate: $600 - $800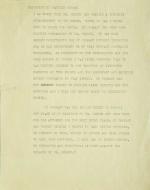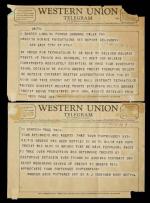 ---
Lot 820: MARILYN MONROE RECEIVED LETTERS
A pair of letters sent to Marilyn Monroe. The first is from Alex North, a neighbor in Connecticut; accompanied by transmittal envelope. The second is from Herb Martin and is written on the back of a copy of a newspaper article that mentions Martin. Both letters express a desire to see Monroe.
PROVENANCE From the lost archive of Marilyn Monroe
10 1/2 by 7 1/4 inches
Winning bid: $75 - Estimate: $100 - $200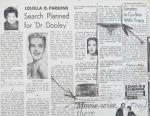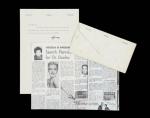 ---
Lot 825: LETTERS BY AND REGARDING MARILYN MONROE'S MOTHER
A group of letters written by and regarding Marilyn Monroe's troubled mother, Gladys Eley (previously Monroe, Baker, and Mortenson). Group includes letters written by Eley while institutionalized at Rockhaven Sanitarium in Verdugo City (Montrose), California, circa late 1950s to early 1960s. Several of the letters are stamped but not postmarked, believed to have been saved from the mail by Inez Melson, who was appointed guardian of Eley. The letters reveal insight into Eley's schizophrenia. The handwritten letters are addressed to The President of the United States, Mother Church – The First Church of Christ Scientist, and a letter that was mailed to Melson from Eley. Also present is a letter from Bernice Miracle, Marilyn's sister, to Melson. Those that are dated are from the early 1960s.
PROVENANCE From the Collection of Lois Banner
and Lot 131, "Property from the Estate of Marilyn Monroe," Julien's Auctions, Los Angeles, June 4, 2005
Sizes vary
Winning bid:$6,400 - Estimate: $3,000 - $5,000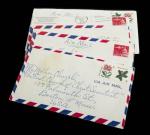 ---
Lot 826: MARILYN MONROE RECEIVED POSTCARDS
Three Marilyn Monroe received postcards. The first, with an image of the Golden Gate Bridge, was sent to Monroe in Idaho in May 1956. Possibly sent by Peter Lawford, initialed indistinctly as "PL" or "RL." The second, sent from "G," is a postcard of La Promenade des Anglais in Nice. Sent to Monroe in May 1961. The card reads in part, "Hope your 'Killer Kut' is still in good shape," indicating that "G" stands for hairstylist George Masters. The third is a card sent in 1956 from Suzanne, who writes, "I hadn't heard from you in 2 weeks so I played hookey."
PROVENANCE From the lost archive of Marilyn Monroe
Largest, 4 by 6 inches
Winning bid:$500 - Estimate: $300 - $500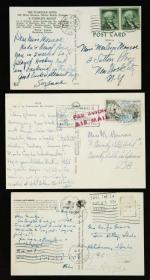 ---
Lot 827: MARILYN MONROE LETTER FROM MAY REIS
A handwritten letter from May Reis to Marilyn Monroe. The letter is written on Renvyle House Hotel stationery, dated May 10, 1961. Reis writes about her stay in Ireland and travels; signed simply "May." Reis was Monroe's personal secretary and friend. Accompanied by original transmittal envelope.
PROVENANCE From the lost archive of Marilyn Monroe
10 1/2 by 8 inches
Winning bid:$1,000 - Estimate: $300 - $500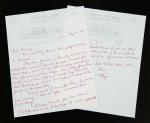 ---
Lot 828: MARILYN MONROE MEDICAL INVOICES
A group of Marilyn Monroe medical invoices that includes invoices from Dr. D. Russell Anderson, Dr. Margaret Herz Hohenberg, dentist Paul Kniss, Dr. Edward J. Simons, and one from the offices of Dr. Myron Prinzmetal and Dr. Rexford Kennamer, among others; seven items total.
PROVENANCE From the lost archive of Marilyn Monroe
11 by 8 1/2 inches
Winning bid:$ 437.50 - Estimate: $400 - $600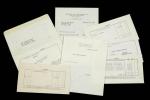 ---
Lot 829: MARILYN MONROE FAN MAIL
A group of more than 75 letters, photographs, religious tracts and postcards sent to Marilyn Monroe by her fans. The letters span from 1956 to 1961. The letters, mailed by Monroe's fans from around the world, offer advice, matchmaking, and get well wishes and make requests.
PROVENANCE From the lost archive of Marilyn Monroe
Largest, 11 by 8 1/2 inches
Winning bid:$4,062.50 - Estimate: $100 - $200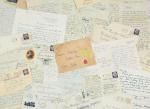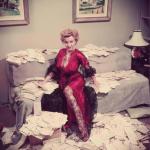 ---
Lot 830: MARILYN MONROE SCRAPBOOK FROM FAN
A scrapbook given to Marilyn Monroe by a dying fan. The 30-page book contains inspirational images and text, both handwritten and pasted in. Most of the entries are religious in nature. Accompanied by a letter from the fan.
PROVENANCE From the lost archive of Marilyn Monroe
9 by 6 inches
Winning bid:$192 - Estimate: $300 - $500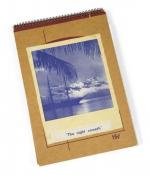 ---
Lot 831: MARILYN MONROE FAN MAIL
A group of more than 100 letters, cards and postcards sent to Marilyn Monroe by her fans. The letters, which span from 1954 to 1962, were mailed from fans around the world, including a card in a mailing tube from Lyle & Scott LTD in Scotland that was signed by approximately 900 employees of the clothing manufacturer.
PROVENANCE From the lost archive of Marilyn Monroe
Sizes vary
Winning bid:$3,200 - Estimate: $100 - $200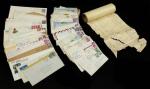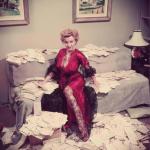 ---
Lot 832: MARILYN MONROE FAN MAIL
A group of approximately 90 letters sent to Marilyn Monroe by her fans. The majority of the letters were sent to Monroe posthumously in the second half of 1962. The letters were mailed from fans around the world.
PROVENANCE From the lost archive of Marilyn Monroe
Largest envelope, 7 by 4 inches
Winning bid:$4,375 - Estimate: $100 - $200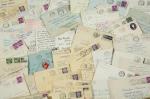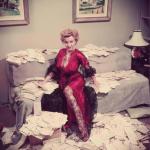 ---
Lot 833: MARILYN MONROE RECEIVED NOTE
A Marilyn Monroe received typed note signed "Norm," believed to be from Norman Rosten. The humorous undated note reads in part, "Thanks for your sweet darlin' wire: it all helped carry me through the valley of the shadow...Did you ever think that some people just gotta stay alive?" Rosten goes on to mention recent reviews.
PROVENANCE From the lost archive of Marilyn Monroe
4 by 6 inches
Winning bid:$ 512 - Estimate: $200 - $400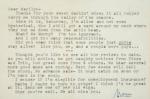 ---
Lot 834: MARILYN MONROE POSTCARD FROM NORMAN ROSTEN
A postcard to "Marilyn Miller" from Norman Rosten sent from Alaska. The image on the front of the card is of a nude Inuit woman in the snow. Signed simply "N," postmarked January 26, 1959. Stamp has been cut away. Rosten wrote Marilyn: An Untold Story in 1973.
PROVENANCE From the Collection of Lois Banner
5 1/2 by 3 1/2 inches
Winning bid:$256 - Estimate: $100 - $200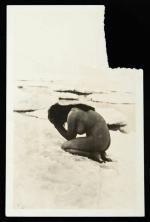 ---
Lot 835: MARILYN MONROE SIGNED CHECK TO HEDDA ROSTEN
A Marilyn Monroe signed check from a Marilyn Monroe Productions Inc. account with Colonial Trust Company in New York City. Numbered 240, dated February 5, 1960, and written to Hedda Rosten in the amount of $65.85. The typed check also details in the upper right corner taxes removed from the gross amount due Rosten of $75.00. Rosten and her husband, Norman, were friends of Monroe's, and Hedda was also employed by Monroe as a private secretary. Endorsed by Hedda Rosten on verso.
3 1/8 by 8 1/2 inches
Winning bid: $5,120 - Estimate: $2,000 - $4,000


---
Lot 941: MARILYN MONROE NEW YORK POST RELATED DOCUMENTS
A Marilyn Monroe received letter from the New York Post and a typescript copy of a New York Post article. The typed signed letter is from New York Post columnist Max Lerner, dated May 10, 1961, and written on New York Post stationery. The typescript is of an article written by New York Post gossip columnist Earl Wilson circa 1961. Titled "Marilyn's not A-Marryin' " and is typed on three pages.
PROVENANCE From the lost archive of Marilyn Monroe
11 by 8 1/2 inches
Winning bid:$192 - Estimate: $200 - $400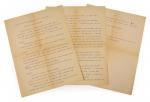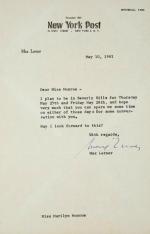 ---
Lot 950: MARILYN MONROE POSTCARDS FROM PAT NEWCOMB
A pair of postcards handwritten to Marilyn Monroe by Pat Newcomb and sent to Monroe's address, 882 North Doheny Drive in Los Angeles. Both cards were mailed in 1961, one sent from New Delhi with an image of the Taj Mahal, the other from Hong Kong with an image of the city. The addressee on both cards is "Marge Stengel."
PROVENANCE From the Collection of Lois Banner
3 1/2 by 5 1/2 inches
Winning bid:$320 - Estimate: $300 - $500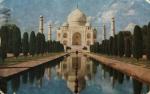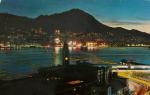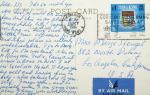 ---
Lot 951: MARILYN MONROE TELEGRAM FROM PRODUCER ANN MARLOWE
A telegram to Marilyn Monroe from producer Ann Marlowe again offering Monroe a part in the teleplay Rain . Monroe appears to have dictated a response to her secretary, who wrote in pencil, "I would only consider it if Lee Strasberg directed it." Dated June 21, 1960.
PROVENANCE From the Collection of Lois Banner
4 1/2 by 6 1/2 inches
Winning bid:$512 - Estimate: $600 - $800

---
Lot 952: MARILYN MONROE LETTERS FROM MCA MANAGEMENT
A group of three letters received by Marilyn Monroe from MCA Management Ltd. The first is dated May 17, 1955, and was sent to Monroe in New York. The second is dated May 3, 1961 and is accompanied by a confidential letter typed on 20th Century Fox stationery addressed to George Chasin regarding a role for Monroe in a film adaptation of the book Zuleika Dobson by Max Beerbohm. The third is from Chasin, dated May 2, 1961, regarding two screenplays delivered via messenger to Monroe's bungalow at the Beverly Hills Hotel, where she was recovering from sinus trouble.
PROVENANCE From the lost archive of Marilyn Monroe
9 by 6 1/4 inches
Winning bid:$192 - Estimate: $800 - $1,200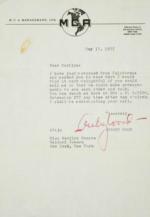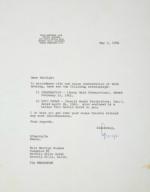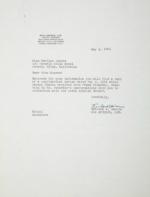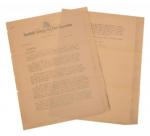 ---
Lot 953: MARILYN MONROE LETTER FROM 20TH CENTURY FOX
A typed, signed letter from 20th Century Fox to Marilyn Monroe Productions. Dated March 4, 1959, the letter directs Monroe to appear at the studio on April 14, 1959, to begin work on "Time and Tide," later re-titled Wild River (20th Century, 1960). Monroe was ultimately replaced by Lee Remick.
PROVENANCE From the Collection of Lois Banner
11 by 8 1/2 inches
Winning bid:$875 - Estimate: $400 - $600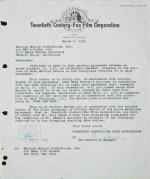 ---
Lot 954: MARILYN MONROE LETTERS REGARDING FILM ROLES
A pair of Marilyn Monroe received letters regarding potential film projects. The first is a three-page typed, signed letter from director Melvin Frank regarding Monroe starring in The Road to Hong Kong (UA, 1962). The undated letter, typed on Beverly Hills Hotel stationery, reads in part, "I wanted to thank you again for reading our script and tell you how curiously frustrated and bumbling I felt on the phone last night… ." Signed "Mel." The second is a two-page handwritten letter from producer Harold Hecht. The letter is in regard to an unproduced film, "Lucy Crown" that Hecht would like Monroe to star in. Accompanied by original envelope.
PROVENANCE From the lost archive of Marilyn Monroe
10 1/2 by 7 1/4 inches
Winning bid: $512 - Estimate: $400 - $600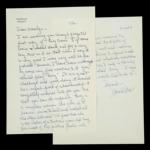 ---
Lot 955: MARILYN MONROE LETTERS FROM INDUSTRY INSIDERS
A group of four letters sent to Marilyn Monroe by members of the entertainment industry. The first is a typed, signed letter from agent Freddie Fields dated May 20, 1961. It references a script that is no longer present. The second is a typed, signed letter from agent Johnny Maschio typed on Showcase Enterprises, Inc stationery and dated April 28, 1961. Maschio asks Monroe to contact him, emphasizing "It is very important." The third letter is a typed signed solicitation from casting director Owen McLean on Twentieth Century-Fox stationery. The fourth is a typed letter, written on Twentieth Century Fox stationery, is dated May 29, 1956 that appears to be signed "Harry." It reads "Marilyn: The post art turned out fine. Thanks for your gracious help."
PROVENANCE From the lost archive of Marilyn Monroe
Largest, 11 by 8 1/2 inches
Winning bid:$640 - Estimate: $400 - $600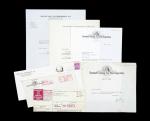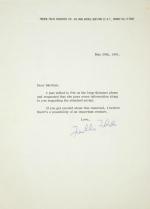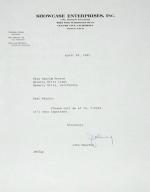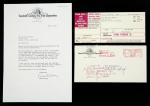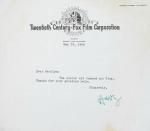 ---
Lot 956: MARILYN MONROE DOCTOR'S NOTES
A pair of handwritten doctor's notes left for Marilyn Monroe. The first is a single double-sided sheet signed indistinctly by a doctor. The message states that the doctor left two prescriptions for Monroe with Dr. Hohenberg and gives directions on how to use the medication. The second is a small single-sided note written in an unknown hand, also about medication and notes about a doctor.
PROVENANCE From the lost archive of Marilyn Monroe
9 by 6 inches
Winning bid:$384 - Estimate: $300 - $500

---
Lot 957: MARILYN MONROE NOTE WRITTEN ON L.A. INSTITUTE FOR PSYCHOANALYSIS NOTE PAPER
A Marilyn Monroe retained note written on a small piece of paper from the Los Angeles Institute for Psychoanalysis. The note refers to a Dr. Walter Greenson. Written in an unknown hand.
PROVENANCE From the lost archive of Marilyn Monroe
5 1/4 by 4 1/4 inches
Winning bid:$437.50 - Estimate: $200 - $400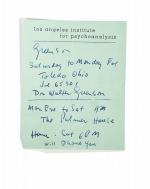 ---
Lot 958: MARILYN MONROE PRESCRIPTION CENTER RECEIPTS AND INVOICE
Marilyn Monroe carbon copy receipts from The Prescription Center in Beverly Hills, California. Both are dated April 22, 1961, but with separate amounts. The second receipt bears Monroe's signature on the carbon. One receipt is primarily for prescriptions, the other for makeup and personal care items. Accompanied by an invoice from The Prescription Center.
PROVENANCE From the lost archive of Marilyn Monroe
6 by 4 inches
Winning bid:$2,240 - Estimate: $400 - $600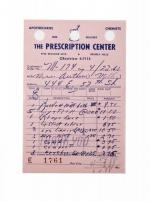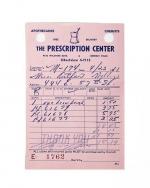 ---
Lot 960: MARILYN MONROE LIST OF MEDICATIONS
A typed sheet of instructions for Marilyn Monroe's medications. The sheet is titled "Marilyn is to take Pills as follows." It is undated and does not name, only describes the size of the medications.
PROVENANCE From the lost archive of Marilyn Monroe
11 by 8 1/2 inches
Winning bid:$768 - Estimate: $500 - $700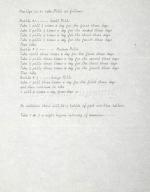 ---
Lot 961: MARILYN MONROE TELEGRAMS FROM DOCTOR AND MILTON GREENE
A pair of telegrams received by Marilyn Monroe. The first is an urgent message from Monroe's doctor to call, May 19, dated 1956. The second is from one-time business partner Milton Greene delivered to Monroe while she was a patient at Cedars of Lebanon Hospital, dated November 12, 1954. Greene writes that he cannot wait to be with Monroe and that he has great news. Accompanied by two Western Union transmittal envelopes.
PROVENANCE From the lost archive of Marilyn Monroe
5 3/4 by 8 inches
Winning bid:$1,024 - Estimate: $400 - $600

---
Lot 962: MARILYN MONROE RECEIVED TELEGRAMS
A group of three telegrams sent by friends and colleagues to Marilyn Monroe. The first is from "May," presumed to be May Reis, that offers Monroe get well wishes. The second is from Harold Mirisch. It reads "As long as we cannot talk to each other on the telephone how about you and I having dinner Monday night love = Harold Mirisch." The third is from Nedda Logan sent to Monroe at the Chateau Marmont on May 17, 1956. Logan raves about Monroe's performance in Bus Stop (20th Century, 1956) which her husband directed.
PROVENANCE From the lost archive of Marilyn Monroe
Largest, 5 3/4 by 8 inches
Winning bid:$768 - Estimate: $300 - $500

---
Lot 963: MARILYN MONROE MEDIA TELEGRAMS
A pair of telegrams regarding Marilyn Monroe. The first was sent to Monroe on November 23, 1954 from the Showmen's Trade Review regarding Monroe being named Female Money Making Star for 1954. The second is a two page telegram from The Daily Mirror in London sent to Pat Newcomb with interview questions for Monroe.
PROVENANCE From the lost archive of Marilyn Monroe
Largest, 5 3/4 by 8 inches
Winning bid:$448 - Estimate: $300 - $500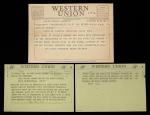 ---
Lot 965: MARILYN MONROE FINANCIAL DOCUMENTS
Marilyn Monroe financial documents relating to loans. A William Morris interoffice memo cover sheet on the first document is dated "2/13/51" with details of expenditures in 1949 and 1950. The second document concerns a $74,000 loan dated May 29, 1962, only three months before Monroe's death. Five pages total.
PROVENANCE From the Collection of Lois Banner
Largest, 11 by 8 1/2 inches
Winning bid:$256 - Estimate: $400 - $600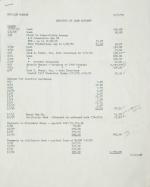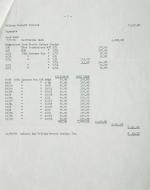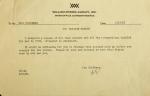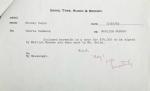 ---
Lot 966: MARILYN MONROE STATEMENT REGARDING GÉRARD PHILIPE
A Marilyn Monroe statement regarding the death of actor Gérard Philipe. Handwritten in an unknown hand on the back of a Beverly Hills Hotel notecard in blue ink. Monroe laments that she never had the opportunity to work with the French actor. Marked in pencil "Statement, Radio 1 – Europe." Philipe died in 1959 just shy of his 37th birthday.
PROVENANCE From the Collection of Lois Banner
3 1/2 by 5 1/2 inches
Winning bid:$437.50 - Estimate: $100 - $200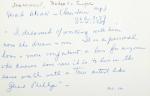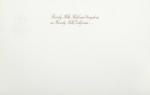 ---
Lot 967: MARILYN MONROE RECEIVED INVITATIONS
A group of three invitations sent to Marilyn Monroe. The first is a card believed to have accompanied flowers sent to Monroe at the Beverly Hills Hotel. The card invites Monroe and Pat (presumably Pat Newcomb) for a quiet evening free of "shop talk." Signed "Minerva (Nelli)." The second, written on Beverly Hills Hotel stationery, reads in part, "I just traveled 6000 miles to see you and find out how you are." It is signed "Henry." The third is written on a Beverly Hills Hotel card inviting Monroe to dine. Signed "Jack Halperin." All are accompanied by unpostmarked transmittal envelopes.
PROVENANCE From the lost archive of Marilyn Monroe
3 1/2 by 5 1/2 inches
Winning bid:$192 - Estimate: $400 - $600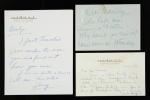 ---
Lot 968: MARILYN MONROE CHECKS, INVOICES, BILLS AND RECEIPTS
A group of Marilyn Monroe invoices, bills and two checks. The group includes a pair of checks from the Colonial Trust Company of New York, the first is blank except for the check number "21," the other is dated April 14, 1956, and has been made out to Dr. C. Russell Anderson but is unsigned, written in an unknown hand; a Jurgensen's Grocery Company invoice from April 1961 and promotional flyer, return envelope and original transmittal envelope; an invoice from Beverly Hills Music Company dated May 1961 for 28 LPs purchased by Monroe, with itemized slip, return envelopes and original transmittal envelope; an invoice from Au Petit Jean restaurant from April 1961, with original transmittal envelope; and insured postage receipts from the United States Post Office from 1956.
PROVENANCE From the lost archive of Marilyn Monroe
Largest, 5 3/4 by 11 inches
Winning bid:$768 - Estimate: $200 - $400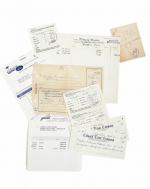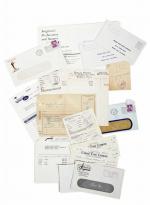 ---
Lot 969: MARILYN MONROE HOTEL TELEPHONE MESSAGES
A group of 20 hotel telephone message slips for Marilyn Monroe. Messages date from May 1 to May 6, 1961, and include messages from George Chasin, Norman Brokaw, José Ferrer, Frank Rosenberg, Henry Rosenfeld, and George Masters, among others. Accompanied by four Beverly Hills Hotel door hangers.
PROVENANCE From the lost archive of Marilyn Monroe
3 1/2 by 5 1/2 inches
Winning bid:$640 - Estimate: $400 - $600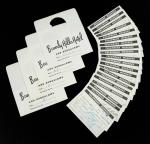 ---
Lot 970: MARILYN MONROE HOTEL TELEPHONE MESSAGES
A group of 20 hotel telephone message slips for Marilyn Monroe. Messages date from May 8 to May 15, 1961, and include messages from George Chasin, Jay Kanter, Mr. Gillerof (presumed to be Sydney Guilaroff), Henry Rosenfeld, Sidney Skolsky, and Julie [sic] Styne, among others. Accompanied by four Beverly Hills Hotel door hangers.
PROVENANCE From the lost archive of Marilyn Monroe
3 1/2 by 5 1/2 inches
Winning bid:$896 - Estimate: $400 - $600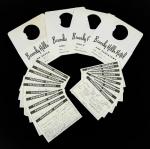 ---
Lot 971: MARILYN MONROE HOTEL TELEPHONE MESSAGES
A group of 20 hotel telephone message slips for Marilyn Monroe. Messages date from May 8 to May 15, 1961, and include messages from George Chasin, Jay Kanter, Mr. Gillerof (presumed to be Sydney Guilaroff), Henry Rosenfeld, Sidney Skolsky, and Julie [sic] Styne, among others. Accompanied by four Beverly Hills Hotel door hangers.
PROVENANCE From the lost archive of Marilyn Monroe
3 1/2 by 5 1/2 inches
Winning bid:$896 - Estimate: $400 - $600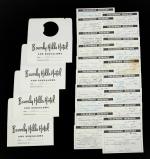 ---
Lot 972: MARILYN MONROE HOTEL TELEPHONE MESSAGES
A group of 20 hotel telephone message slips for Marilyn Monroe. Messages date from May 15 to May 20, 1961, and include messages from George Chasin, Harold Mirisch, Sidney Cassipell, Melvin Frank,and Rupert Allan among others. Accompanied by three Beverly Hills Hotel door hangers.
PROVENANCE From the lost archive of Marilyn Monroe
3 1/2 by 5 1/2 inches
Winning bid:$1,024 - Estimate: $400 - $600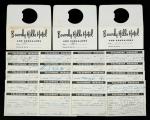 ---
Lot 973: MARILYN MONROE HOTEL TELEPHONE MESSAGES
A group of 20 hotel telephone message slips for Marilyn Monroe. Messages date from May 21 to June 1, 1961, and include messages from Agnes Flanagan, Donald Barry, Ben Gary, Minna Wallis, Ernie Kovak [sic], Ben Platt Jr. and Clifton Webb, among others. Accompanied by three Beverly Hills Hotel door hangers.
PROVENANCE From the lost archive of Marilyn Monroe
3 1/2 by 5 1/2 inches
Winning bid:$768 - Estimate: $400 - $600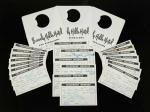 ---
Lot 974: MARILYN MONROE HOTEL TELEPHONE MESSAGES
A group of 20 hotel telephone message slips for Marilyn Monroe. Messages date from June 1 to June 12, 1961, and include messages from Ted Jordan, Dr. Krohn, Harrison Carroll, George Chasin, Clifton Webb and Mr. Guilaroff (presumed to be Sydney Guilaroff), among others. Accompanied by three Beverly Hills Hotel door hangers.
PROVENANCE From the lost archive of Marilyn Monroe
3 1/2 by 5 1/2 inches
Winning bid:$768 - Estimate: $400 - $600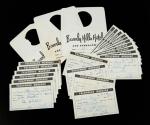 ---
Lot 975: MARILYN MONROE GROUP OF HOTEL MESSAGES
A group of 17 hotel telephone and package delivery message slips for Marilyn Monroe. Messages date from May to June 1961 and include messages from Norman Brokaw, Richard Conte, George Chasin, Bill Penzer, Miss Wallace (believed to refer to Minna Wallis), Ted Jordan and Harold Mirisch, among others. Thirteen of the messages are accompanied by or still affixed to Beverly Hills Hotel door hangers.
PROVENANCE From the lost archive of Marilyn Monroe
Winning bid: $640 - Estimate: $400 - $600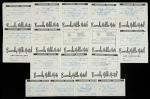 ---
Lot 976: MARILYN MONROE GROUP OF NOTES, MESSAGES AND HANDWRITTEN PROSE
A Beverly Hills Hotel note pad with a notation on the top page together with more than 30 loose pages from a similar note pad. The pages contain phone messages, including ones from George Chasin, Glenn Ford, Frank Sinatra, Josh Logan and Sandy Meisner; telephone numbers; notations; appointment reminders; and a single sheet with handwritten prose that has been crossed out but appears to be in Monroe's hand. It reads, "All day long he stayed/ with me; and one sailed in perfect calmness… ."
PROVENANCE From the lost archive of Marilyn Monroe
5 1/2 by 4 inches
Winning bid:$14,080 - Estimate: $600 - $800

---
Lot 977: MARILYN MONROE FINANCIAL DOCUMENTS
A folder of Marilyn Monroe's financial documents relating to loans from City National Bank in Beverly Hills, California. The documents date from 1961 to 1962 and include file copies of typed letters from Monroe's lawyer Milton Rudin and of letters sent from Monroe's secretary as well as deposit receipts. Correspondence discusses transfers, deposits and financial arrangements made on behalf of Monroe. Folder has a typed label that reads "MARILYN MONROE 1961-1962/ CITY NATIONAL BANK OF BEVERLY HILLS."
PROVENANCE From the Collection of Lois Banner
Largest, 11 by 8 1/2 inches
Winning bid:$1,152 - Estimate: $400 - $600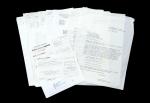 ---
Lot 978: MARILYN MONROE CHASEN'S RESTAURANT DOCUMENTS
A group of Marilyn Monroe documents relating to Chasen's restaurant. The first is an invitation dated May 3, 1961, with a handwritten note that reads "Chasin," which could refer to Monroe's agent or that it came from him. Found with: Chasen's restaurant invoice and credit form from May 1962; a Chasen's card with Monroe's typed name; and a telegram invitation for an event with French director Christian–Jacque.
PROVENANCE From the lost archive of Marilyn Monroe
Largest, 8 1/2 by 4 1/2 inches
Winning bid:$448 - Estimate: $100 - $200
---
Lot 979: MARILYN MONROE CARD FROM DELOS SMITH JR.
A handwritten card from Delos V. Smith Jr. to Marilyn Monroe. The card, with an image of a Native American man in front of a tipi, reads in full, "New Teepee?/ Enjoy Heapee!/ Little Peepee," with original transmittal envelope postmarked April 1961. Envelope has additional writing and post office notations. Together with two envelopes addressed to Monroe from Smith.
PROVENANCE From the lost archive of Marilyn Monroe
3 by 5 inches
Winning bid:$256 - Estimate: $300 - $500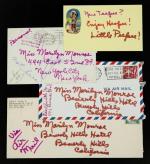 ---
Lot 984: MARILYN MONROE REAL ESTATE DOCUMENT
A Marilyn Monroe signed, typed purchase offer for Monroe's Los Angeles home on Helena Drive. This is the only home Monroe ever purchased. The document dated January 9, 1962, and contains a purchase price of $52,500. Monroe would die just eight months later.
15 by 9 1/4 inches
Winning bid:$ 17,500 - Estimate: $7,000 - $9,000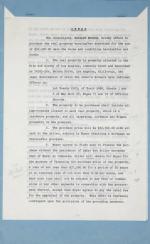 ---
Lot 986: MARILYN MONROE RECEIPTS
A pair of receipts from the Mart on Santa Monica Boulevard. One is dated July 31, 1962, for the purchase of a tapestry; the second, undated, is for the purchase of a table. Both are marked paid on August 1, 1962. Accompanied by a business card from the Mart. Monroe seems to have been actively decorating the house she had purchased only a few months earlier. Five days after visiting the Mart, Monroe passed away.
Each, 6 by 3 1/2 inches
Winning bid:$1,625 - Estimate: $1,300 - $1,600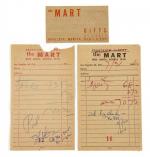 ---
Lot 987: MARILYN MONROE AUTO INSURANCE DOCUMENT
A Marilyn Monroe automobile insurance document with effective date March 23, 1962, issued by Fireman's Fund Insurance Company through Ebenstein and Company. The endorsement portion of the document states that Monroe is excluded as a driver under this policy. Five pages total.
PROVENANCE From the Collection of Lois Banner
12 1/2 by 8 1/2 inches
Winning bid: $1,600 - Estimate: $800 - $1,200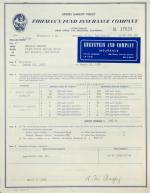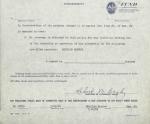 ---
Lot 989: MARILYN MONROE FUNERAL CARD
An original card from the funeral of Marilyn Monroe on Wednesday, August 8, 1962, at the Westwood Village Mortuary in Los Angeles. The front of the card bears an image of the Bok Singing Tower. The inside reads in part, "In Memory of/ Marilyn Monroe/ Born June 1st, 1926/ Passed Away/ August 5th, 1962," with the details of her funeral service. Facing page is printed with Psalm 23. Accompanied by a photocopy of an information packet about the services for Monroe that includes the eulogy given by Lee Strasberg, a list of invited guests, and a letter to those not invited to the service.
5 1/2 by 3 1/4 inches
Winning bid: $2,560 - Estimate: $1,000 - $2,000

16 mars 2008
Le 10 février 1962, Marilyn Monroe envoie sa gouvernante Eunice Murray au Mexique, afin qu'elle lui sélectionne des meubles et des décorations pour sa nouvelle maison qu'elle vient d'acquérir dans le quartier de Brentwood en Californie. C'est 10 jours après (le 20 février 1962) que Marilyn arrive dans la ville de Mexico, après avoir séjourné en Floride au côté de son ex-mari Joe Di Maggio, qui saluera le départ de sa bien aimée à l'hôtel Clipper. C'est pendant son séjour au Mexique qu'elle rencontrera le réalisateur mexicain José Bolaños, dont elle tombera amoureuse et avec lequel elle rentrera à Los Angeles le 2 mars; il l'accompagnera à la cérémonie des Golden Globe Awards.
> avec le coiffeur Georges Masters (à droite)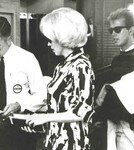 >> photographie de James Mitchell >>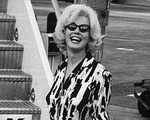 Bye Bye USA !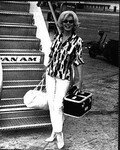 >> photographie de Bob East >>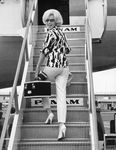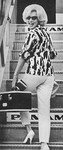 Bienvenidos a México Marilyn !
---
14 janvier 2008

Marilyn Monroe photographiée par Willy Rizzo
à Los Angeles le 10 février 1962; Marilyn est habillée en Pucci;
elle est coiffée par Julius, l'assistant de Georges Masters.
Marilyn Monroe photographed by Willy Rizzo,
Los Angeles on February, 10, 1962. Marilyn is dressed in Pucci;
she is hairdressed by Julius, Georges Masters's assistant.

Photographe envoyé par Paris Match, Willy Rizzo déclara que
"Marilyn était d'une immense tristesse lors de la séance ,
et que cette tristesse était très visible sur les clichés."
Il en garde "un souvenir à la fois émerveillé et bouleversant,
à cause de ce désenchantement au fond de ses yeux",
désenchantement qui l'émeut encore à l'heure actuelle en revoyant ces clichés.
Photographer sent by Paris Match, Willy Rizzo said that
"Marilyn was in a great sadness at the meeting,
and this sadness was very visible in the photographs. "
He keeps a "memory both amazed and deeply,
because of this disenchantment at the bottom of his eyes "
disenchantment that still moves in currently on seeing these pictures.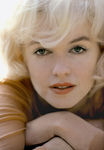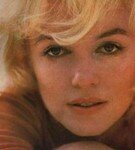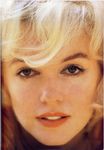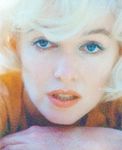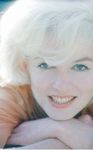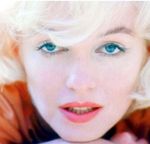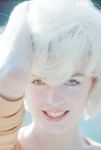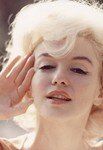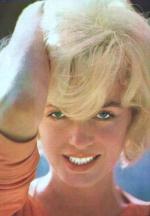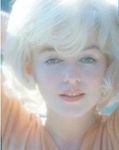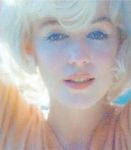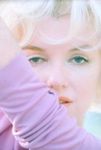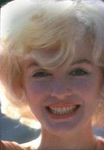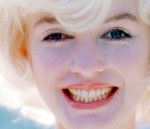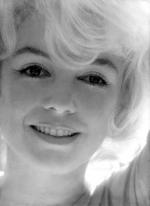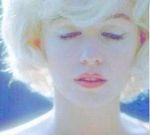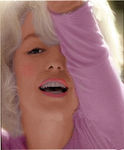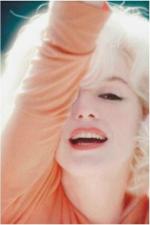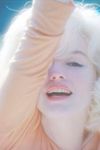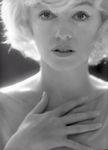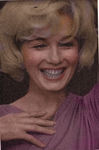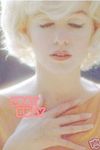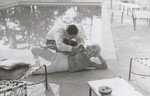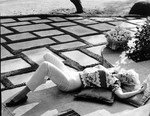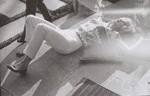 D'après le livre Mes Stars , Willy Rizzo affirme que la séance avec Marilyn eut lieu en Juillet 1962, 15 jours avant son décès, ce qui est impossible puisque "Paris Match" en fera sa couverture le samedi 23 juin 1962. En réalité, la séance eut lieu bien avant, en février.
Rizzo rêvait de rencontrer Marilyn: "Un jour, un ami metteur en scène, à qui je raconte mon histoire, ne me laisse pas finir:
-'J'ai tout compris, je connais bien l'agent de Marilyn, on va lui téléphoner tout de suite':
-'Je suis actuellement avec mon copain Willy Rizzo, du grand magazine Paris Match. Il est venu spécialement de Paris pour photographier Marilyn (faux, je faisais un reportage sur Hollywood). Est-ce que tu pourrais lui arranger quelque chose ?'
-'Impossible. Ca ne va pas, elle a des problèmes, elle refuse tout.'
-'Oui, mais elle n'a pas une très bonne presse en ce moment. Tu ne trouves pas que ça lui ferait du bien d'avoir de jolies photos dans un grand magazine?'
-'Je vais voir ce que je peux faire mais je ne promets rien'.
Willy Rizzo avait peu d'espoir, lorsque quelques jours plus tard, son agent confirme la séance: Rizzo suggère de la photographier chez elle mais l'agent refuse. Le jour même, une amie de Rizzo met sa maison à disposition. Il propose de tenir la séance le matin, moment où la lumière est la plus belle: "L'agent est stupéfait qu'on puisse imaginer que Marilyn se lèverait pour faire des photos".
Mais Marilyn va se faire désirer, avec une succession de rendez-vous annulés:
1/ Le rendez-vous est fixé le surlendemain à 15 heures. Mais le jour venu, l'agent l'appelle à 17 heures: "Elle ne peut pas venir, elle ne se sent pas bien".
2/ La séance est reportée le lendemain à la même heure. Marilyn arrive à 18 heures, alors que la lumière naturelle disparaît. Rizzo s'impatiente: "Mais quand je la vois, ma mauvaise humeur disparaît. Le corps, les cheveux, la peau, le regard, la démarche, les plus belles photos d'elle que j'ai vues sont en dessous de la réalité. Elle est magique... et elle s'excuse: -'Pardonnez-moi, je suis sincèrement désolée, je suis si fatiguée. Demain, je vous le promets, je vous le jure, je serai à l'heure'. Et elle m'embrasse! Je lui répond: 'Pour vous, je pourrai attendre une semaine'.
3/ Le lendemain, même heure, même décor. Marilyn arrive à 'son' heure: 17 heures. "Elle était aussi belle que la veille, mais avec un fond de tristresse qu'elle ne cherche même pas à cacher. Elle s'était fait maquiller avant de venir et ce n'était pas une réussite (...) Elle a été d'une douceur et d'une docilité étonnantes, à des années lumière de son image publique".
---
---
© All images are copyright and protected by their respective owners, assignees or others.
copyright text by GinieLand.