14 novembre 2014
---
Photographies
---
Lot 692: MARILYN MONROE SIGNED 1941 SCHOOL PHOTOGRAPH
A Marilyn Monroe signed vintage original 1941 panoramic photograph from Ralph Waldo Emerson Jr. High School. Monroe can be seen in the seventh row from the bottom and the 15th person from the right. Inscribed by the future Marilyn Monroe, among other classmates, on verso, "To a swell, nice & perfect girl Norma Jeane Baker" with "41" possibly written below her name. The image was originally owned by Norma Jeane's classmate, Joan Boggs, to whom the inscriptions are written.
8 by 24 3/4 inches
Winning bid:$2,560 - Estimate: $2,000 - $4,000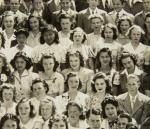 ---
Lot 693: GINGER ROGERS INSCRIBED PHOTOGRAPH TO NORMA JEANE BAKER
A vintage black and white RKO studio publicity photograph of Ginger Rogers inscribed, "To Norma Jean Baker Sincerely Ginger Rogers 1937." In 1937 the eleven-year old Norma Jean was living with Grace McGee, a friend of Monroe's mother and a film cutter at RKO. It is possible that McGee arranged for the signing of this photograph for the young Marilyn Monroe. Monroe went on to co-star with Rogers in Monkey Business (20th Century Fox, 1952) fifteen years after this photograph was signed.
10 by 8 inches
Winning bid:$1,920 - Estimate: $800 - $1,200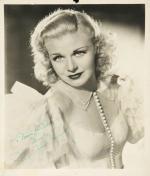 ---
Lot 694: MARILYN MONROE WEDDING IMAGE SIGNED BY JAMES DOUGHERTY
An image of Marilyn Monroe on her wedding day with first husband James Dougherty taken from a book. Inscribed and signed by Dougherty in blue ink. Attached to three other book pages of letters written by Monroe to Grace Goodard. This image can be found in the biography Marilyn: The Passion and the Paradox by Lois Banner (New York: Bloomsbury, 2012).
PROVENANCE From the Collection of Lois Banner
11 1/4 by 8 1/2 inches
Winning bid:$448 - Estimate: $200 - $300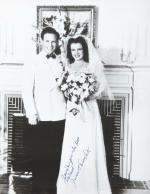 ---
Lot 710: MARILYN MONROE AND JOE KIRKWOOD PHOTOGRAPH
A black and white original vintage photograph of Marilyn Monroe with actor and golfer Joe Kirkwood Jr. marked on verso in pencil with the actress and actors' names. This image can be found in the biography Marilyn: The Passion and the Paradox by Lois Banner (New York: Bloomsbury, 2012).
PROVENANCE From the Collection of Lois Banner
4 by 5 inches
Winning bid:$375 - Estimate: $300 - $500

---
Lot 711: MARILYN MONROE ORIGINAL 1948 FOX STUDIOS PERFORMANCE PHOTOGRAPHS
A collection of five black and white original vintage photographs showing Marilyn Monroe in the Fox Studios employee stage show "Strictly for Kicks" in 1948. Accompanied by two copies of the April 1948 "Action" newsletter featuring an article on the production that includes photographs and mentions of Monroe. One of the photographs can be seen in the biography Marilyn: The Passion and the Paradox by Lois Banner (New York: Bloomsbury, 2012).
PROVENANCE From the Collection of Lois Banner
5 by 4 inches
Winning bid:$1,024 - Estimate: $500 - $700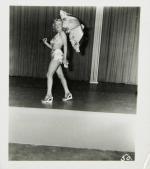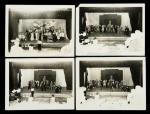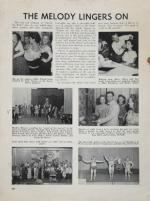 ---
Lot 713: MARILYN MONROE VINTAGE PHOTOGRAPH
A Marilyn Monroe vintage original photograph taken by Frank Powolny circa 1950.
PROVENANCE From the lost archive of Marilyn Monroe
10 by 8 inches
Winning bid:$768 - Estimate: $400 - $600

---
Lot 714: MARILYN MONROE LASZLO WILLINGER VINTAGE PHOTOGRAPH
A Marilyn Monroe vintage original black and white publicity photograph taken by Laszlo Willinger for the film All About Eve (20th Century, 1950).
PROVENANCE From the lost archive of Marilyn Monroe
10 by 8 inches
Winning bid:$4,062.50 - Estimate: $400 - $600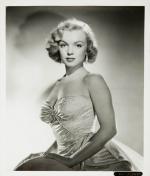 ---
Lot 716: MARILYN MONROE 1951 PHOTOGRAPH
A Marilyn Monroe vintage original photograph taken by Phil Burchman circa 1951. Believed to be taken for 20th Century Fox publicity photographs. Marked at lower right "F999-S-259."
PROVENANCE From the lost archive of Marilyn Monroe
5 by 4 inches
Winning bid:$768 - Estimate: $300 - $500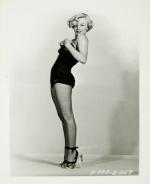 ---
Lot 717: MARILYN MONROE VINTAGE PHOTOGRAPH
A Marilyn Monroe vintage original black and white photograph circa 1950.
PROVENANCE From the lost archive of Marilyn Monroe
10 by 8 inches
Winning bid:$640 - Estimate: $400 - $600

---
Lot 719: MARILYN MONROE VINTAGE PUBLICITY IMAGE
A black and white publicity image of Marilyn Monroe taken by Frank Powolny and used to publicize the film How to Marry a Millionaire (20th Century, 1953). The image is spuriously stamped on the back as being copyrighted by Robert F. Slatzer.
9 1/2 by 8 inches
Winning bid:$1,562.50 - Estimate: $400 - $600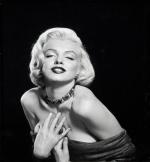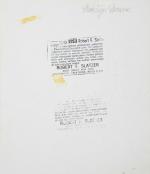 ---
Lot 721: MARILYN MONROE VINTAGE PHOTOGRAPH
A Marilyn Monroe vintage black and white photograph.
PROVENANCE From the lost archive of Marilyn Monroe
10 by 8 inches
Winning bid:$2,812.50 - Estimate: $400 - $600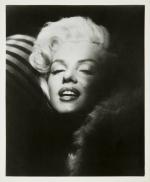 ---
Lot 724: MARILYN MONROE CAMEL COAT SITTING PHOTOGRAPHS
A pair of vintage photographs of Marilyn Monroe taken by Milton Greene in 1953. Each stamped on verso "Reproduction Forbidden."
PROVENANCE From the lost archive of Marilyn Monroe
7 by 5 inches
Winning bid:$1,875 - Estimate: $400 - $600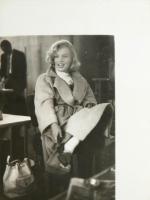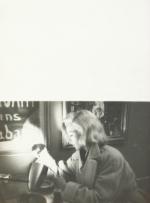 ---
Lot 726: MARILYN MONROE PUBLICITY PHOTOGRAPH
A Marilyn Monroe vintage studio publicity photograph for the film How To Marry a Millionaire (20th Century, 1953).
PROVENANCE From the lost archive of Marilyn Monroe
10 by 8 inches
Winning bid:$1,600 - Estimate: $400 - $600

---
Lot 729: MARILYN MONROE GENTLEMEN PREFER BLONDES PUBLICITY IMAGE
A Marilyn Monroe vintage black and white studio publicity photograph for the film Gentlemen Prefer Blondes (20th Century, 1953).
PROVENANCE From the lost archive of Marilyn Monroe
10 by 8 inches
Winning bid: $576 - Estimate: $200 - $400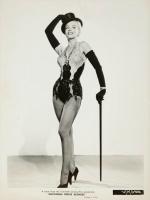 ---
Lot 730: MARILYN MONROE GENTLEMEN PREFER BLONDES PUBLICITY IMAGE
A Marilyn Monroe vintage black and white studio publicity photograph for the film Gentlemen Prefer Blondes (20th Century, 1953).
PROVENANCE From the lost archive of Marilyn Monroe
10 by 8 inches
Winning bid: $448 - Estimate: $200 - $400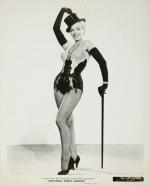 ---
Lot 740: JOE DiMAGGIO PUBLICITY PHOTOGRAPH
A vintage black and white image of Joe DiMaggio signing a baseball.
PROVENANCE From the lost archive of Marilyn Monroe
10 by 8 inches
Winning bid: $448 - Estimate: $150 - $300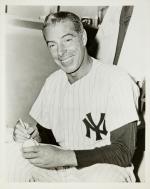 ---
Lot 741: MARILYN MONROE 1954 HONEYMOON PHOTOGRAPHS
A pair of vintage original black and white photographs of Marilyn Monroe in Japan while on her honeymoon with Joe DiMaggio in 1954. DiMaggio can be seen in partial profile in the lower left of one image.
PROVENANCE From the lost archive of Marilyn Monroe
4 1/4 by 6 inches
Winning bid: $384 - Estimate: $400 - $600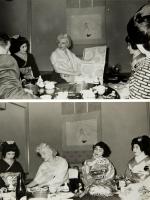 ---
Lot 742: MARILYN MONROE VINTAGE PHOTOGRAPHS
A group of three vintage original black and white photographs of Marilyn Monroe at the Honolulu International airport in Hawaii during her honeymoon with Joe DiMaggio in 1954. The photographs were taken by a photographer who was tipped off that Monroe and DiMaggio were waiting in a secluded area of the airport. He and a friend, who was stationed in Hawaii with the Navy, went to photograph the newlyweds. The photographer gave the photographs he could not use to the friend, who kept them in his photo book of his time during the war and later sold the photographs at auction. Presumably, these photographs were never released for print. Monroe's thumb is bandaged, and some have accused DiMaggio of inflicting the injury. One of the images can be found in the biography Marilyn: The Passion and the Paradox by Lois Banner (New York: Bloomsbury, 2012).
PROVENANCE From the Collection of Lois Banner
and Lot 766, "Hollywood Legends," Julien's Auctions, Las Vegas, June 26, 2010
Largest, 9 1/2 by 7 1/2 inches
Winning bid: $1,875 - Estimate: $300 - $500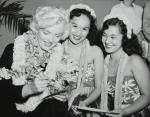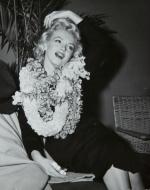 ---
Lot 744: MARILYN MONROE KOREA CONTACT SHEETS
A group of seven contact sheets and one half sheet from Marilyn Monroe's 1954 visit to Korea to entertain American troops. The black and white sheets show Monroe on stage, signing autographs, posing with servicemen, and behind a changing curtain in addition to images of the servicemen in the audience. Photographer unknown. Sheets marked on verso with numeric notations.
PROVENANCE From the lost archive of Marilyn Monroe
8 by 10 inches
Winning bid: $1,562.50 - Estimate: $600 - $800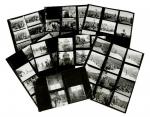 ---
Lot 745: MARILYN MONROE KOREA VISIT PHOTOGRAPHS
A group of four vintage original black and white photographs of Marilyn Monroe dining with troops in Korea in 1954. Also present is an image of a band performing on stage.
PROVENANCE From the lost archive of Marilyn Monroe
5 by 7 inches
Winning bid: $500 - Estimate: $400 - $600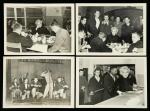 ---
Lot 746: MARILYN MONROE 1954 KOREA VISIT PHOTOGRAPHS
A group of four original vintage photographs of Marilyn Monroe visiting troops in Korea. Three show Monroe at servicemen's bedside. Each has carbon copied information snipes and credits on verso from the United States Signal Corps.
PROVENANCE From the lost archive of Marilyn Monroe
5 by 7 inches
Winning bid: $625 - Estimate: $400 - $600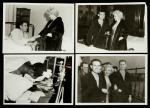 ---
Lot 751: MARILYN MONROE AND JOE DiMAGGIO PHOTOGRAPH CUT IN HALF
An original vintage photograph of Marilyn Monroe and Joe DiMaggio taken while on their honeymoon in Japan. The photograph has been cut in half directly between the couple.
PROVENANCE From the lost archive of Marilyn Monroe
Each half, 4 1/4 by 3 1/8 inches
Winning bid:$1,280 - Estimate: $600 - $800

---
Lot 756: MARILYN MONROE RIVER OF NO RETURN PHOTOGRAPHS
A pair of vintage candid images of Marilyn Monroe on the set of River of No Return (20th Century, 1954). Both images are believed to have been taken by Milton Greene; only one of the images bear his stamp on verso. Both photographs are stamped "Reproduction Forbidden."
PROVENANCE From the lost archive of Marilyn Monroe
7 by 5 inches
Winning bid:$576 - Estimate: $400 - $600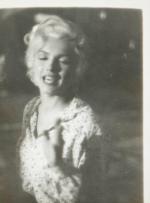 ---
Lot 762: MARILYN MONROE BEMENT CENTENNIAL RIBBON
A Marilyn Monroe beard contest judge ribbon and photograph from the 1955 Bement Centennial. The white ribbon with gold tone print reads "Bement/ Centennial/ Official/ 1855-1955." Cardstock affixed to the top of the ribbon reads "Marilyn Monroe." Accompanied by a vintage black and white photograph of Monroe at the event. Stamped on verso "News Gazette/ Photograph," with photocopies of articles about the event. Monroe attended the Centennial celebration and served as a judge in the beard contest, among other activities, after a resident assisted her in paying a hotel bill in exchange for her appearance. Originally from the estate of Peter Leonardi. The image can be found in the biography Marilyn : The Passion and the Paradox by Lois Banner (New York: Bloomsbury, 2012).
PROVENANCE From the Collection of Lois Banner
and Lot 718, "Julien's Summer Sale," Julien's Auctions, Las Vegas, June 26, 2009
Winning bid: $640 - Estimate: $600 - $800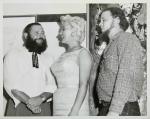 ---
Lot 765: MARILYN MONROE CECIL BEATON PHOTOGRAPH
A black and white vintage photograph of Marilyn Monroe taken by Cecil Beaton in 1956. The photograph is mounted to board.
PROVENANCE From the lost archive of Marilyn Monroe
9 by 9 inches
Winning bid: $3,840 - Estimate: $1,000 - $2,000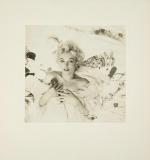 ---
Lot 766: MARILYN MONROE SECRETARIALLY SIGNED PHOTOGRAPH
A Marilyn Monroe secretarially signed photograph accompanied by transmittal envelope. It appears the photograph was mailed out from Marilyn Monroe Productions to Bogota, Columbia, and returned.
PROVENANCE From the lost archive of Marilyn Monroe
10 by 8 inches
Winning bid: $11,250 - Estimate: $200 - $400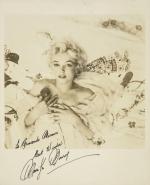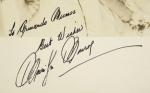 ---
Lot 772: MARILYN MONROE MILTON GREENE CONTACT SHEET
A contact sheet of 24 images of Marilyn Monroe taken by Milton Greene during a 1953 photoshoot on the Twentieth Century-Fox backlot. Monroe was shot by Greene preparing for the shoot (some images include Greene) and in a peasant costume worn by Jennifer Jones in Song of Bernadette (20th Century, 1943). Photographer's stamp and numeric note on verso.
PROVENANCE From the lost archive of Marilyn Monroe
8 by 10 inches
Winning bid: $896 - Estimate: $400 - $600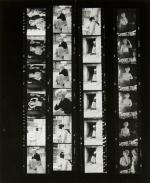 ---
Lot 780: MARILYN MONROE MILTON GREENE VINTAGE PHOTOGRAPH
An original vintage photograph of Marilyn Monroe taken by Milton Greene. Monroe is dressed as her character Chérie from the film Bus Stop (20th Century, 1956).
PROVENANCE From the lost archive of Marilyn Monroe
10 by 8 inches
Winning bid: $1,125 - Estimate: $400 - $600

---
Lot 781: MARILYN MONROE MILTON GREENE VINTAGE PHOTOGRAPH
An original vintage photograph of Marilyn Monroe taken by Milton Greene. Monroe is dressed as her character Chérie from the film Bus Stop (20th Century, 1956).
PROVENANCE From the lost archive of Marilyn Monroe
10 by 8 inches
Winning bid: $1,600 - Estimate: $400 - $600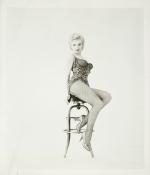 ---
Lot 782: MARILYN MONROE VINTAGE BUS STOP PHOTOGRAPH
A Marilyn Monroe vintage black and white photograph taken on the set of the film Bus Stop (20th Century, 1956).
PROVENANCE From the lost archive of Marilyn Monroe
10 by 8 inches
Winning bid: $1,024 - Estimate: $400 - $600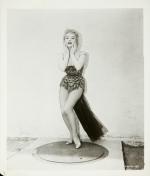 ---
Lots 787/788: MARILYN MONROE VINTAGE PHOTOGRAPH
A vintage photograph of Marilyn Monroe printed with two images of Monroe. Believed to have been taken by Sam Shaw circa 1958. The image shows Monroe in her New York apartment in front of her piano.
PROVENANCE From the lost archive of Marilyn Monroe
8 by 10 inches
Lot 787: Winning bid:$640 - Estimate: $200 - $400
Lot 788: Winning bid:$896 - Estimate: $300 - $500

---
Lot 789: MARILYN MONROE VINTAGE PHOTOGRAPHS
A pair of Marilyn Monroe vintage black and white photographs. One shows Monroe at a party. The other was taken on set and has a Milton Greene photography stamp on verso.
PROVENANCE From the lost archive of Marilyn Monroe
Largest, 8 by 10 inches
Winning bid:$896 - Estimate: $600 - $800

---
Lot 797: ARTHUR MILLER PHOTOGRAPH BY DAN WEINER
An original vintage black and white photograph of Arthur Miller taken by Dan Weiner circa 1952. Stamped by the photographer on verso with handwritten notions that have been crossed out.
9 1/2 by 13 1/2 inches
Winning bid:$128 - Estimate: $200 - $400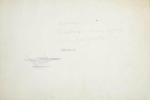 ---
Lot 805: ARTHUR MILLER VINTAGE PHOTOGRAPHS
A pair of vintage original black and white photographs of Arthur Miller. In one, Miller stands smiling next to a bicycle. Image marked on verso "Apr. 1955." The second is a professional photograph of Miller. Stamped with photographer Daniel Bernstein's stamp on verso.
PROVENANCE From the lost archive of Marilyn Monroe
7 by 5 inches
Winning bid:$128 - Estimate: $200 - $400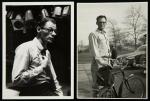 ---
Lot 812: MARILYN MONROE AND ARTHUR MILLER VINTAGE PHOTOGRAPH
A Marilyn Monroe and Arthur Miller black and white vintage original photograph. Taken by Paul Schumach at the premiere of Some Like It Hot (UA, 1959). Photographer stamp on verso.
PROVENANCE From the lost archive of Marilyn Monroe
10 by 8 inches
Winning bid:$3,125 - Estimate: $400 - $600

---
Lot 814: MARILYN MONROE MILTON GREENE CONTACT SHEETS
A collection of approximately five vintage contact prints of photographs taken by Milton Greene featuring Marilyn Monroe and Laurence Olivier at a press conference for the film The Prince and The Showgirl (Warner Bros., 1957) and Monroe with Marlon Brando at the premiere of the film The Rose Tattoo (Paramount, 1955). Also includes a contact sheet with images of an event where Sammy Davis Jr. was performing live.
Largest, 10 by 8 inches
Winning bid:$1,125 - Estimate: $1,000 - $2,000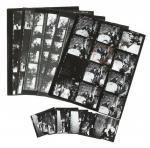 ---
Lot 815: MARILYN MONROE MILTON GREENE PHOTOGRAPHS
A vintage 8-by-10-inch gelatin silver photograph taken by Milton Greene, depicting Marilyn Monroe with Laurence Olivier at a press conference for the film The Prince and The Showgirl (Warner Bros., 1957) in which they played the starring roles. The photograph has been encapsulated and includes a letter of authenticity from PSA grading it a "Type I" original photograph. The verso of the photograph is marked with Greene's identification stamp. Accompanied by a vintage medium-format print of the same image as well as an additional vintage print of Monroe laughing.
10 by 8 inches
Winning bid:$ 5,760 - Estimate: $2,000 - $4,000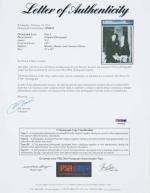 ---
Lot 816 C: MARILYN MONROE PERSONAL PHOTOGRAPHS
A collection of Marilyn Monroe's personal photographs, including a photograph of Isador Miller (Monroe's father-in-law); two photographs of a television screen showing images of Monroe on The Jack Benny Program in 1953; a black and white image of an unknown woman, stamped by Milton Greene on verso; a color photograph of a manenquin holding up a champagne glass behind a sign that reads "Marilyn Monroe" dated "Mar 58"; a pair of images of two men in Scottish kilts; two photographs of children, one with an inscription on the back from "Ilah" (one of the children may be Joshua Greene); and a photograph taken behind the scenes of a film. Accompanied by a newspaper clipping of an image of Monroe.
PROVENANCE From the lost archive of Marilyn Monroe
Largest, 7 by 5 inches
Winning bid: $896 - Estimate: $300 - $500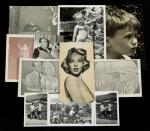 ---
Lot 821: MARILYN MONROE CECIL BEATON TRIPTYCH
A three-panel sterling silver custom-made Cartier frame, gifted to Marilyn Monroe by Nedda and Joshua Logan. The center frame houses a black and white silver gelatin print of the portrait Cecil Beaton took of Monroe in 1956. This image is purported to be Monroe's favorite image of herself. The portrait is mounted to board and signed on matte by Beaton. The center frame is engraved at the top "For Marilyn Monroe Miller" and at the bottom "Love Nedda and Joshua Logan." Joshua Logan directed Monroe in her 1956 film Bus Stop . The left and right frames house a handwritten letter from Beaton describing Monroe. It reads in part, "But the real marvel is the paradox – somehow we know that this extraordinary performance is pure charade, a little girl's caricature of Mae West. The puzzling truth is that Miss Monroe is a make-believe siren, unsophisticated as a Rhine maiden, innocent as a sleepwalker. She is an urchin pretending to be grown-up, having the time of her life in mother's moth-eaten finery, tottering about in high-heeled shoes and sipping gingerale as though it were a champagne cocktail. There is an otherworldly, a winsome naiveté about the child's eyes… ." The portrait can be seen in images of Monroe's living room, where it was housed from 1956 until the actress' death in 1962.
Please note: This item will not be available for shipment or pick-up until January 1, 2015.
PROVENANCE Lot 22 "The Personal Property of Marilyn Monroe," Christie's, New York, Sale number 9216, October 27 & 28, 1999
16 by 46 1/2 inches, framed
Winning bid: $38,400 - Estimate: $30,000 - $40,000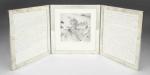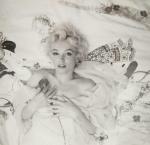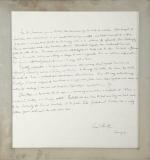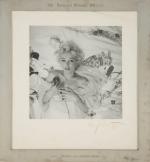 ---
Lot 822: MARILYN MONROE AFHU DINNER VINTAGE PHOTOGRAPH
A vintage candid photograph of Marilyn Monroe at the September 27, 1959, American Friends of the Hebrew University (AFHU) awards ceremony in Philadelphia. Monroe's then husband, Arthur Miller, was honored at the event. Label affixed to the bottom center of the photograph reads "Hebrew University Dinner/ Sheraton Hotel Sunday Sept. 27."
PROVENANCE From the lost archive of Marilyn Monroe
8 by 10 inches
Winning bid:$448 - Estimate: $300 - $500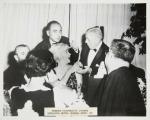 ---
Lot 823: MARILYN MONROE AFHU DINNER VINTAGE PHOTOGRAPH
A vintage candid photograph of Marilyn Monroe at the September 27, 1959, American Friends of the Hebrew University (AFHU) awards ceremony in Philadelphia. Monroe's then husband, Arthur Miller, was honored at the event. Label affixed to the bottom center of the photograph reads "Hebrew University Dinner/ Sheraton Hotel Sunday Sept. 27."
PROVENANCE From the lost archive of Marilyn Monroe
8 by 10 inches
Winning bid:$576 - Estimate: $300 - $500

---
Lot 824: MARILYN MONROE PHOTOGRAPH BY JOHN BRYSON
An original vintage black and white photograph of Marilyn Monroe and Arthur Miller taken by photojournalist John Bryson in Los Angeles in 1960. Matted and framed. Christie's lot sticker affixed to frame back.
PROVENANCE Lot 340, "The Personal Property of Marilyn Monroe," Christie's, New York, Sale number 9216, October 27 & 28, 1999
Sight, 13 by 9 1/2 inches
Winning bid:$1,920 - Estimate: $2,000 - $4,000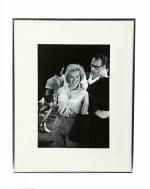 ---
Lot 943: MARILYN MONROE CANDID COLOR PHOTOGRAPH
A single Kodachrome wallet-sized candid photo print of Marilyn Monroe in her often seen disguise. The photo was taken in New York by a young fan who became acquainted with the star.
PROVENANCE From the Collection of Lois Banner
and Lot 788, "Julien's Summer Sale," Julien's Auctions, Las Vegas, June 26, 2009
3 1/2 by 2 1/2 inches
Winning bid: $640 - Estimate: $200 - $400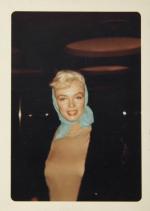 ---
Lot 985 : MARILYN MONROE PHOTOGRAPH BY GEORGE BARRIS
A photographic print of Marilyn Monroe, limited edition numbered 21/50, taken in 1962 by George Barris. Silver gelatin print, printed on double-weight fiber paper under the guidance and approval of George Barris by OneWest Publishing. Signed by the photographer and stamped by OneWest Publishing.
20 by 16 inches
unsold - Estimate: $1,000 - $2,000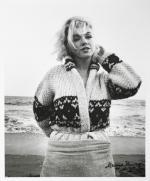 ---
Lot 994: MARILYN MONROE PHOTOGRAPH SIGNED BY ALLAN GRANT
An original vintage photograph signed by Allan Grant. This photograph was taken on July 7, 1962, in Marilyn Monroe's Brentwood home for an article in LIFE magazine that went to newsstands on August 3, 1962. Monroe died two days later, on August 5.
29 by 26 inches, framed
Winning bid:$3,750 - Estimate: $3,000 - $5,000
28 mars 2013
Marilyn Monroe à la fête organisée par les "Look Awards" au Beverly Hills Hotel le 3 juin 1952.
Marilyn porte une des robes du film Let's make it legal.
Marilyn Monroe at the Look awards party at the Beverly Hills Hotel, on June 3, 1952.
Marilyn wears one of the dress from the movie 'Let's make it legal'.
> Marilyn et James Brown
son partenaire dans "Fireball"

---
© All images are copyright and protected by their respective owners, assignees or others.
copyright text by GinieLand.
Enregistrer
Enregistrer
13 juin 2011
Gold lamé dress
robe lamée or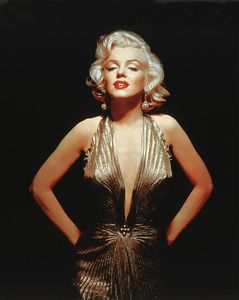 Il s'agit de l'une des tenues symboliques dans laquelle est représentée Marilyn Monroe: une robe lamée or échancrée jusqu'au nombril et au dos nu. Qui ne connaît donc pas cette photographie de Marilyn Monroe, dans un studio de fond noir, les mains derrière les hanches, yeux mi-clos et bouche entrouverte, portant cette robe lamée or ?
Cette robe en lamé or a été conçue par le créateur et couturier de la 20th Century Fox,

William "Billy" Travilla

pour le film

Gentlemen prefer blondes

(Les hommes préfèrent les blondes) tourné en

1952

. On raconte que la robe fut littéralement cousue sur le corps de Marilyn, car elle ne possède ni boutons, ni fermeture éclair. Dans le film,

la

scène

dans laquelle Marilyn porte cette robe est très courte

, et on ne l'aperçoit que de dos, derrière une vitre! La scène fut sans doute écourtée car la tenue semblait bien trop suggestive et provocante et l'image représentant la star dans cette tenue sur grand écran, fut loin de plaire aux censeurs. Néanmoins, Marilyn porta cette robe pour plusieurs

photographies

en studio en 1953, servant de supports publicitaires au film.
Après le tournage, au cours de l'année 1953,

Marilyn Monroe porte la robe pour la remise du prix

de "Miss Press Club", organisé par le

Los Angeles Press Club

. Après la cérémonie officielle, où Marilyn portait une robe noire, une remise du prix est organisée de manière officieuse en studio, où le journaliste

Walter Winchell

pose aux côtés de Marilyn dans un studio; la star portant cette fois-ci la robe lamée. Sans doute cette série de photographies furent-elles prises dans les studios de la Fox et peut être, pendant le tournage de Gentlemen prefer blondes ?! Bien que la coiffure de Marilyn soit différente, car dans la scène du film, ses cheveux sont au carré lissé. Mais le décoletté de la robe descend encore jusqu'au nombril.

Le 17 février 1953,

Marilyn Monroe

emprunte à nouveau à la maison de production cette remarquable robe pour la porter lors de la cérémonie organisée par le magazine

Photoplay

de "Rapid Rise to Stardom in 1952" ("L'accès le plus rapide à la célébrité pour l'année 1952") où elle reçoit le prix "The New Star Award" ("Le prix de la nouvelle star") au Beverly Hills Hotel.

La robe a alors été retouchée pour l'occasion: le décoletté fut quelque peu remonté, pour descendre juqu'à la poitrine et non plus jusqu'au nombril.

Lors de la cérémonie, Marilyn

va déclencher un tollé dont l'origine n'est autre que cette fameuse robe, qui scandalisa la prude actrice

Joan Crawford

, présente dans l'assistance. Le journaliste James Bacon dira que "lorsque Marilyn se tortilla devant l'assistance pour rejoindre le podium, son derrière ressemblait à deux petits chiots se bataillant sous une feuille de soie".

Elle porte à nouveau la robe

en juin 1953

pour promouvoir une action caritative qui se tiendra à Minneapolis du 9 au 12 juin 1953.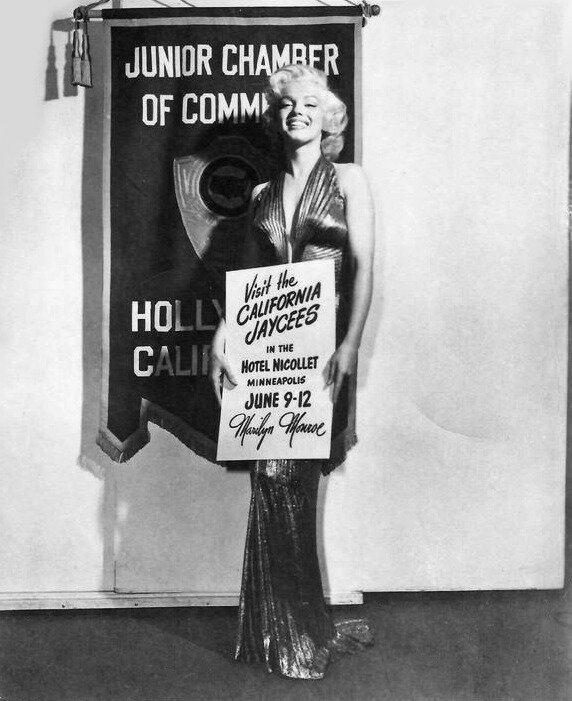 ---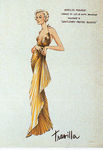 William Travilla s'inspira d'une de ses anciennes créations pour la Fox: en 1951, il était en effet chargé des costumes pour le film Dream Boat avec Ginger Rogers. Le couturier créa ainsi pour l'actrice Ginger Rogers une robe lamée à fines bretelles, plissée et agrémentée d'un pan en biais, que l'on peut même distinguer sur l'affiche. C'est pourquoi lorsque la Fox lui demande de créer un bon nombre de costumes pour Gentlemen Prefer Blondes en 1952, Travilla propose au départ l'esquisse de la robe créée auparavant pour Ginger, avant finalement de la modifier.
Mais la robe originale de Ginger Rogers sera portée aussi par d'autres actrices, notamment par Evelyn Keyes en 1955.

---
La robe de Marilyn fut ensuite rendue au département des costumes de la Fox, et d'autres actrices l'empruntèrent à leur tour, telles que Jayne Mansfield, Ginger Rogers, Betty Grable, Marilyn Maxwell:

>> Jayne Mansfield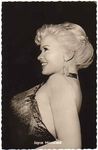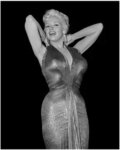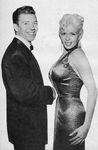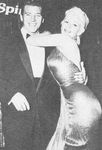 Jayne et son mari Mickey Hargitay
à la première de "Spirit of St. Louis" en 1957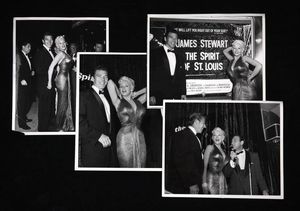 >> Marilyn Maxwell (le 23/08/1954 dans un show à Las Vegas)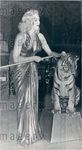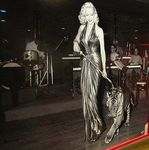 >> Betty Grable (le 30/09/1954 au show TV de CBS "Shower of Stars")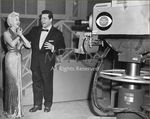 ---
Jeanne Crain porte la version argentée de la robe créée aussi par Travilla pour le film "Gentlemen marry brunettes" ("Les hommes épousent les brunes"), la suite de "Gentlemen Prefer Blondes" en 1955:
Jeanne Crain en mai 1955, avec Paul Brinkman,
à la première de "Les hommes épousent les brunes":

---
Les dernières créations du couturier William Travilla pour des actrices furent pour la série américaine Dallas, à la fin des années 1970. Et Travilla créa des versions de la célèbre robe lamée or pour les actrices Victoria Principale et Priscilla Presley.

---
La robe de Marilyn fut exposée, parmi d'autres créations de William Travilla, en octobre 2007 au Brighton Metropole Hotel, dont l'exposition s'est ensuite exportée dans l'ensemble de la Grande-Bretagne et aux Etats-Unis. Puis, Peaches Geldof, porte la robe pour une séance photos du magazine Hello en 2007. Enfin, pour promouvoir la pièce de théâtre 'Marilyn & Ella', qui s'était jouée à l'Apollo Theatre de Londres le 22 septembre 2009, la sosie la plus célèbre de Marilyn,Suzie Kennedy , a porté la robe pour une séance photos.

>> La robe / Suzie Kennedy / Peaches Geldof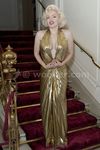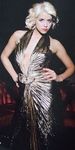 ---
La célèbre robe est désormais en possession du collectionneur de costumes John LeBold, qui de temps en temps, prête quelques pièces de sa collection, dont cette fameuse tenue, à des musées lors d'expositions: comme à Harrods (Londres, Angleterre) en juin 2010, et au Morris Museum (New Jersey, USA) d'octobre à décembre 2010. La collectionneuse espagnole Maite Minguez Ricart possède aussi une réplique d'époque de la robe.

Cependant, il existe aussi des répliques de cette robe, dont certaines ont été créées par Billy Travilla en personne, dans les années 1960, d'après les mesures exactes de l'originale, qui sont prêtées à des musées et destinées à des expositions.
---
Inspirations
L'actrice

Joan Crawford

, scandalisée par la robe de Marilyn lors de la remise des prix Photoplay, avait pourtant porté une robe bien similaire en

1934

sous l'objectif du photographe George Hurrell: le même tissu lamé or, au décolleté et dos entièrement nu:
Ou Travilla se serait-il inspiré d'un des costumes créés par

Jean-Louis

pour le film Thrill of Brazil (en

1946

) et dans lequel l'actrice

Evelyn Keyes

apparaît dans une robe lamée au jupon drapé ?!... Le tissu, le style (les longues lignes verticales) et la couleur or semblent être des éléments repris par la robe de Marilyn.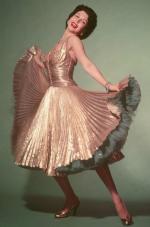 En février 1954, le magazine américain Man's Magazine met en couverture une jeune femme dont le look est fortement inspiré de Marilyn (il est d'ailleurs mentionné sur la couverture que le magazine contient un article "Frisco's Marilyn Monroe").
Au milieu des années 1950, l'actrice

Jayne Mansfield

porte une cape dont le tissu semble être le même que celui de la robe de Marilyn.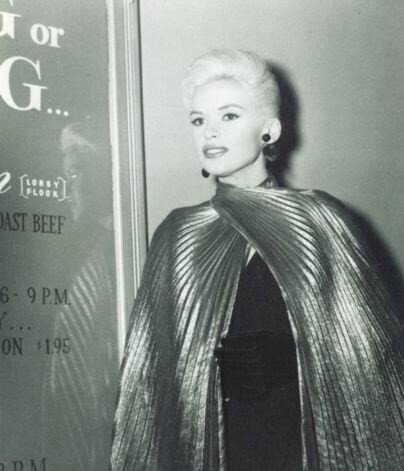 L'actrice

Joan Collins

porte une robe dorée, presque la copie conforme de celle de Marilyn, pour les photos publicitaires de la série Dynastie, dans laquelle elle a tenu le rôle de Alexis Carrington Colby de 1981 à 1989.
>> Joan Collins pour 'Dynastie'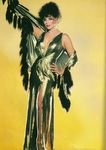 L'actrice américaine

Viola Davies

porte une robe dorée fortement inspirée de celle de Marilyn, à la cérémonie des Oscars de 2009; tout comme la chanteuse

Beyonce

à la cérémonie des Golden Globes de 2008; de même que la pin-up

Dita Von Teese

qui porte une création de Hervé L. Leroux pour une soirée en mai 2012.

>> Viola Davies / Beyonce / Dita Von Teese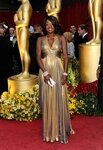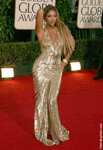 ---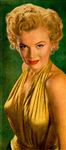 Attention, cette robe n'est pas à confondre avec une autre robe du même style que Marilyn porta. En effet, les tests costumes où Marilyn porte la fameuse robe lamée or pour le film Gentlemen prefer blondes, eurent lieu le 12 novembre 1952. Et Marilyn porta une robe étrangement identique -et pourtant aussi bien différente- au ton doré et plissée, assortie d'un fourreau sur les épaules sur certains clichés, pour une séance photos organisée en studio, prise par le photographe Bruno Bernard et qui, au vue de la coiffure de Marilyn (cheveux courts aux mèches ondulées au rouleau), daterait du début de l'année 1952.
---
>> sources:
article sur la collection de John LeBold sur capecodchronicle.com
Le site officiel Coleccion Maite Minguez
article sur l'exposition d'octobre 2010 à Morristown sur northjersey.com
l'exposition d'ocotbre-décembre 2010 sur morrismuseum.org
article de la robe lamée sur le blog soyons-suave.blogspot.fr

---
© All images are copyright and protected by their respective owners, assignees or others.
copyright text by GinieLand.
Enregistrer
Enregistrer
Enregistrer
21 février 2010
Chérie, je me sens rajeunir
Secrets de tournage ...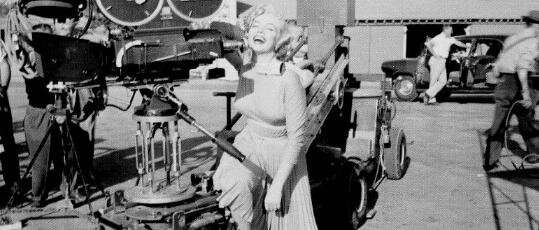 ... et anecdotes
Marilyn est Lois, secrétaire
Il s'agit du 17ème film de

Marilyn Monroe

, où elle se situe en 4ème position au générique. Elle joue le rôle de Lois, une secrétaire pas très futée ni compétente: elle ne semble par exemple pas savoir taper à la machine. Lorsque Edwina croit découvrir une sorte de liaison entre Barnaby et sa secrétaire Lois, Edwina et lui échangent ce dialogue révélateur sur le rôle de blonde bien roulé attribué comme toujours à Marilyn :
Edwina : – Oh you mean that little pin-up girl? Very cute!
Barnaby : – Sort of. But half infant.
Edwina : – Not the half that's visible!
(– Oh tu veux dire cette petite pin-up? Très jolie en effet! – Assez. Mais à moitié gamine. – Ben pas la moitié qu'on peut voir!)
Scènes de Marilyn dans le film


>>

(11ème minute du film) Barnaby doit se rendre chez le grand chef et la secrétaire de celui-ci, Lois, l'accueille et lui dénude même une de ses jambes, en fait pour lui montrer un prototype de bas sans couture qu'il a mis au point et dont elle est très satisfaite. Barnaby s'étonne qu'elle soit arrivée si tôt. « Oh yes, Mr. Oxley's been complaining about my punctuation » (Oh oui, M. Oxley s'est plaint de ma ponctuation).
>> Quelques minutes plus tard, elle entre dans le bureau du grand chef qui lui donne un document à faire taper.


>>

Lois, avec le directeur et Barnaby, se rend au laboratoire et assiste ensuite à la discussion ainsi qu'au cirque du singe rajeuni.


>>

Elle reçoit l'ordre d'Oxley de retrouver Barnaby qui a soudainement quitté le bureau.


>>

Elle le retrouve puis part en vadrouille avec lui, dans une assez longue séquence: voiture de sport et cheveux au vent, patin à roulettes, piscine et maillot de bain sexy. Cela se termine même par un bisou sur la joue de Barnaby (« I'm crazy about you, doc! »).


>>

Après avoir bu la potion magique, Edwina se rue presque sur Lois en raison des marques de rouge à lèvres découvertes là où il ne fallait pas.


>>

Au téléphone avec Oxley.


>>

À la séance du conseil d'administration où elle gifle Oxley et Barnaby.


>>

Dans les scènes finales au laboratoire lorsque Edwina arrive avec le bébé et lorsque tous observent si celui-ci, Barnaby, va regrandir...
Retrouvailles passées et futures


Marilyn Monroe retrouvera quelques acteurs du film Monkey Business, pour leur donner à nouveau la réplique dans d'autres films:


>>

Hugh Marlowe

: All about Eve (Ève) en

1950




>>

Ginger Rogers

: We're not married (Cinq mariages à l'essai) en

1952




>>

Charles Coburn

: Gentlemen prefer blonds (Les hommes préfèrent les blondes) en

1953


Marilyn retrouvera par ailleurs le réalisateur

Howard Hawks

qui la dirigera dans Gentlemen prefer blonds (Les hommes préfèrent les blondes) en

1953

; celui-ci aura aussi réalisé un des sketches de O' Henry's Full House (La Sarabande des pantins) en

1952

, mais pas celui avec Marilyn.
Solitude


Comme sur ses tournages précédents, Marilyn préfère s'isoler du reste de l'équipe, à l'exception du costumier

William Travilla

, qu'elle retrouve avec plaisir, et qui sera en charge des plus beaux costumes dans les prochains films avec Marilyn. Entre les prises, elle répète son rôle avec ferveur, même si le nombre de ses répliques dans le film reste limité. En fait, elle a une angoisse terrible de décevoir autrui, qui la poursuivra toute sa vie.
Difficultés et Bonheur


Marilyn déteste la robe à volant plissée dans laquelle on la fait jouer dans le film. Mais surtout, le tournage lui est très pénible car dès le début des prises de vues, elle souffre de douleurs abdominales, signes d'une crise d'appendicite. Mais elle décide de repousser l'opération et ne tient qu'avec une bonne dose d'antibiotiques pour ne pas retarder le tournage. L'intervention aura finalement lieu

28 avril 1952

, une fois que ses scènes auront été bouclées. C'est également pendant le tournage qu'éclate l'affaire du calendrier où elle posa nue trois ans auparavant.
Malgré tout ces déboires, Marilyn fréquente de plus en plus un certain

Joe DiMaggio

, qu'elle rencontra l'année précédente. Au studio, elle passe de longs moments au téléphone avec lui, n'hésitant pas à faire attendre tout l'équipe. Et pour le dernier jour de tournage de Marilyn, Joe vient lui rendre visite sur le plateau.

Un scénario remanié
Au début des années 1950, le code de censure en vigueur à Hollywood était tellement sévère, qu'un scénario aussi sulfureux que Monkey Business pouvait s'attirer des ennuis. D'ailleurs, une injonction visant à en supprimer les réparties les plus suggestives, poussa les scénaristes à retravailler les dialogues. C'est donc un script nettement édulcoré que le réalisateur Howard Hawks commence à tourner le 5 mars 1952 dans les studios de la Fox.

Ava Gardner versus Ginger Rogers


Le film réunit un casting de rêve:

Cary Grant

et

Ginger Rogers

, considérés comme les deux grandes stars de l'époque, et la prometteuse

Marilyn Monroe

. Mais le réalisateur

Howard Hawks

voit rouge car s'il est ravi de retravailler pour la cinquième fois avec son acteur fétiche Cary Grant, il n'en va pas de même pour celle qui interprète sa femme dans le film, Ginger Rogers. Le réalisateur souhaitait en en effet confier le rôle d'Edwina à une jeune actrice, idéalement le brune et somptueuse Ava Gardner. Mais, en partie parce que Cary Grant refuse d'être marié à l'écran avec une femme beaucoup plus jeune que lui, les studios imposent Ginger Rogers, âgée de 41 ans. Dépité, Hawks se vengera de cette décision en se montrant infernal avec la pauvre comédienne durant tout le tournage.
L'expression 'monkey business'
Cette expression doit se comprendre comme combines ou singeries. Dans la littérature anglophone, l'expression 'Monkey Business' est l'équivalent en français de l'expression 'Monnaie de singe' (c'est-à-dire une monnaie sans valeur).

Un film décalé
La voix off dans le générique du début est celle du réalisateur Howard Hawks. En effet, le film débute avec un Cary Grant qui veut entrer trop tôt sur le plateau de tournage et qui se fait tout de suite arrêter par le metteur en scène : « Pas encore, Gary ! » (le doublage français ayant prononcé "Gary" au lieu de "Cary"). Cela lance immédiatement le ton quelque peu décalé et humoristique du film.

Les femmes au second plan
Dans le film, selon le quiproquo important du scénario, c'est la singe femelle Esther qui incidemment invente la potion magique, mais dans la bande-annonce américaine c'est le mâle Rudolf qui est mentionné ! A croire qu'à Hollywood, on enlève tout pouvoir de création aux femmes, même animales...
20 février 2010
Chérie, je me sens rajeunir
Photos d'exploitation cinéma
Chérie, je me sens rajeunir
---
Tests Costumes
Les tests costumes de Marilyn Monroe dans le rôle de Lois Laurel
Mars 1952 - Costumier / Designer: William Travilla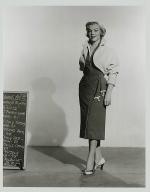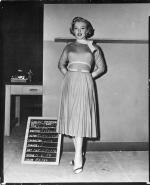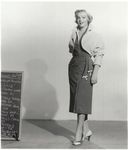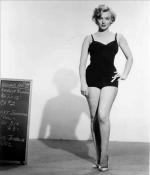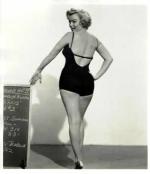 ---
---
Les tests costumes de Ginger Rogers dans le rôle de Edwina Fulton
---
© All images are copyright and protected by their respective owners, assignees or others.
copyright text by GinieLand.
Chérie, je me sens rajeunir
Photos Publicitaires

Photographies publicitaires en studio des acteurs

>> Marilyn Monroe porte le maillot de bain du film
avec les doublures servant de modèles pour
Gary Grant et Ginger Rogers, absents pour la session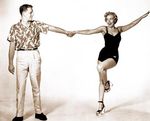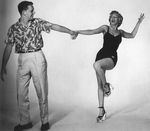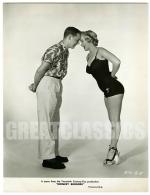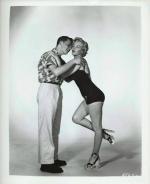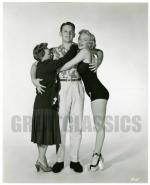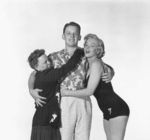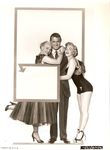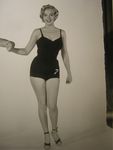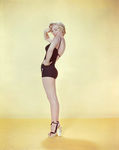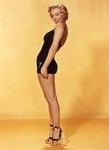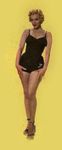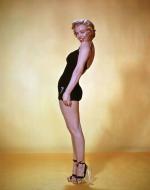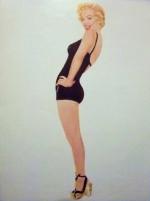 17 février 2010
Chérie, je me sens rajeunir
Photos partie 3
scènes de Marilyn Monroe (alias Lois Laurel)
avec Cary Grant, Charles Coburn et Ginger Rogers.

16 mai 2008
Vidéo (montage photos) et paroles
de la chanson A Fine Romance
(auteurs: Jerome Kern et paroles de Dorothy Fields)
interprétée par Marilyn Monroe en 1954
A fine romance, my good fellow
You take romance, and I'll take jello
You're calmer than the seals
In the Arctic Ocean
At least they flap their fins
To express emotion
A fine romance with no quarrels
With no insults and all morals
I've never mussed the crease
In your blue serge pants
I never get the chance
This is a fine romance
A fine romance, with no kisses
A fine romance, my friend this is
True love should have the thrills that a healthy crime has
We don't have the thrills that the march of time has
A fine romance, with no glitches
A fine romance, with no bitches
You're just as hard to land as the 'Isle de France'
I haven't got a chance
My heart's not made in plastic
You're the reason I'm sarcastic
Cause this is a fine
Fine romance!
---
Traduction
Un amour parfait

Un amour parfait, mon cher ami
Tu choisis l'amour, je choisirai la gelée
Tu es plus calme que les phoques de l'Atlantique
Au moins ils tapent leurs nageoires pour montrer leurs émotions

Un amour parfait, sans dispute
Sans insultes, en toute moralité
Je n'ai jamais froissé de plis sur ton pantalon bleu
Je n'en ai jamais eu l'occasion, voilà un amour parfait !

Un amour parfait, sans dispute
Un amour parfait, voilà mes amis ce que c'est
Manquer la moitié des frissons d'un crime sain
Nous ne ressentons pas la moitié des frissons de la marche du temps

Un amour parfait, sans clichés
Un amour parfait, sans pincements
Tu es aussi dur à atteindre que l'Ile de France
Je n'ai aucune chance
Mon coeur n'est pas de plastique,
tu es la raison pour laquelle je suis sarcastique,
car voilà un amour parfait !
---
Fiche Chanson avec paroles et traduction

> source fiche: blog sugarkane
---
>> Bonus Infos
La chanson fut écrite en 1936 pour le film musical Swing Time avec Fred Astaire et Ginger Rogers qui interprétent la chanson en duo.

En 1949, Ella Fitzgerald et Louis Armstrong enregistrèrent une version en duo (écoutez un extrait sur le site Version Karaoke ). La chanson fut aussi interprétée par Frank Sinatra, Billie Holiday et de nombreux jazzman (tel que Michael Feinstein)...

La chanson fut interprétée par Judi Dench pour le générique de la série britannique portant le même nom, A Fine Romance, de 1981 à 1984.
05 mai 2008
We're not married !
Cinq mariages à l'essai
Les Dates de sorties dans le monde
USA: 11 juillet 1952
France: 17 décembre 1952
Suède: 1 janvier 1953
Finlande: 9 janvier 1953
Italie: 21 janvier 1953
Hong Kong: 5 mars 1953
Autriche: 6 mars 1953
Allemagne: 18 décembre 1953
Danemark: 7 avril 1954
Le Titre du film dans le monde
USA: We're not married
France: Cinq mariages à l'essai
Allemagne/Autriche: Wir sind gar nicht verheiratet
Finlande: Laittomasti naimisissa
Italie: Matrimoni a sorpresa
Portugal: Não Estamos Casados
Espagne: No estamos casados
Suède: Vi är inte gifta!
Danemark: Vi er ikke gift
Fiche technique
Réalisateur: Edmund Goulding
Scénaristes: Nunnally Johnson (script)
et Dwight Taylor (adaptation)
d'après une histoire de Gina Kaus et Jay Dratler
Assistant réalisateur: Paul Helmick
Producteur: Nunnally Johnson
Production: 20th Century Fox
Musique originale: Cyril J. Mockridge
Orchestrateur: Bernard Mayers
Directeur musical: Lionel Newman
Image: Leo Tover
Montage: Louis R. Loeffler
Direction artistique: Leland Fuller et Lyle R. Wheeler
Décorateur plateau: Thomas Little
et Claude E. Carpenter
Costumes: Eloise Jensson
du département de Charles Le Maire
Maquillage: Ben Nye
Coiffeur: Helen Turpin
Son: W.D. Flick et Roger Heman Sr.
Effets spéciaux: Ray Kellogg
Genre: comédie romantique
Durée: 86 min
Noir et Blanc
Distribution (créditée)
Ginger Rogers: Ramona Gladwyn
Fred Allen: Steve Gladwyn
Victor Moore: Melvin Bush (juge de paix)
Marilyn Monroe: Annabel Jones Norris
David Wayne: Jeff Norris
Eve Arden: Katie Woodruff
Paul Douglas: Hector Woodruff
Eddie Bracken: Willie Fisher
Mitzi Gaynor: Patricia Reynolds Fisher alias Patsy
Louis Calhern: Freddie Melrose
Zsa Zsa Gabor: Eve Melrose
James Gleason: Duffy
Paul Stewart: l'avocat Stone
Jane Darwell: Mrs. Bush
Synopsis

Cinq couples mariés apprennent que leur union n'est pas légale car le juge Melvin Bush les ayant unis n'était pas encore en fonction.
- Le premier couple: Ramona et Steve Gladwyn animent ensemble une émission radiophonique populaire où ils forment l'image du couple américain parfait, alors qu'ils ne s'entendent plus au quotidien. Lorsqu'ils reçoivent la lettre qui annonce que leur mariage n'est pas valable, ils s'en réjouissent mais la chaîne de radio ne veut plus qu'ils continuent à animer une émission familiale s'ils ne sont plus mari et femme...
- Le deuxième couple: Annabel Norris remporte gagne le titre de Miss Mississippi des femmes mariées, ce qui ne ravie pas son mari Jeff qui doit alors s'adonner aux obligations ménagères et s'occuper de leur bébé. Il reçoit la lettre, ce qui signifie qu'elle doit être déchue de son titre car non légalement mariée, et qu'elle va devoir réintégrer le foyer...
- Le troisième couple: Katie et Hector Woodruff ont atteint la zone d'indifférence sympathique et de discussions convenues. Hector reçoit la lettre et se surprend, puisqu'il est à nouveau libre, de rêver à de nouvelles et nombreuses conquêtes...
- Le quatrième couple: Freddie Melrose, un riche hommes d'affaires, se fait piéger par sa femme Eve bien qu'il ne soit coupable d'aucun adultère. Elle réclame le divorce et au moins la moitié de sa fortune. Freddie reçoit la lettre qui l'informe qu'officiellement il n'a pas convolé...
- Le cinquième couple est séparé pour cause d'engagement militaire. Sur le quai de la gare, Willie Fischer apprend que Patsy est enceinte et plus tard dans le train, par une lettre, qu'ils ne sont pas mariés: il ne veut pas que son enfant naisse sans père...
>> Sur le web:
- tout sur le film sur imdb (en anglais)
- infos sur le film sur wikipedia français
- Le film sur allocine (en français)
- une critique sur dvdtimes (en anglais)