10 avril 2022
Le 25 février 1940, la famille Muir emmène Norma Jeane, Bob 'Bill' Stotts et Bette Westcott (qui s'appelait Betty Dugger), des amis de leur fils Bob Muir, à une sortie au lac de Green Valley, en Californie.
On February 25, 1940, the Muir family took Norma Jeane, Bob 'Bill' Stotts, and Bette Westcott (who named Betty Dugger), friends of their son Bob Muir, on the Green Valley Lake, California.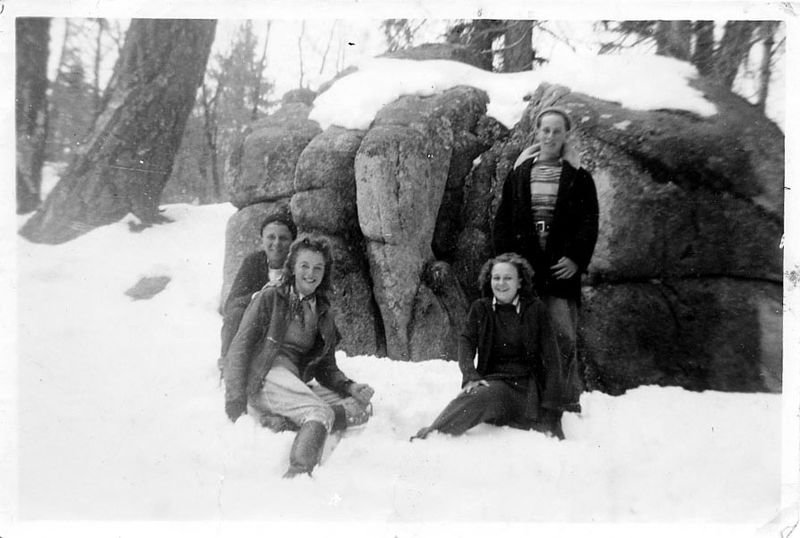 ---
- annotation au dos de la photo:
Bob Stotts and Betty Dugger
Bill Muir and Norma Jean Baker
at the snow up at Green Valley Lake
Sunday Feb 25, 1940
---
Est-ce de cette sortie dont se souviendra Mme Muir, telle que le racontera pour un article du magazine Tatler en 1973; un jour où Norma Jeane était chez eux, elle remarque la météo: "C'est moitié neige et moitié pluie, et la pluie est comme de la glace." Le mari de Mme Muir décide alors de faire une sortie. Ils partent tous en voiture, amenant les amis de leur fils Bob: les deux garçons à l'arrière avec Norma Jean entre eux, ont tiré une bâche sur leurs têtes pour se protéger de la pluie. La route est plutôt dangereuse et sinueuse, donc le père conduit lentement. Soudain, un gros rocher vient s'écraser sur le capot de la voiture et a presque heurté le pare-brise.
Mme Muir et Betty, assises à l'avant, crient. Mais Norma Jeane et les garçons à l'arrière n'ont rien vu. Norma Jeane se met même à plaisanter, disant "Ma tête est trop dure. Ce vieux rocher aurait rebondi et n'aurait pas laissé de bosses." Comme toute adolescente de son âge (elle avait 13 ans), elle était inconsciente du danger qui aurait pu la tuer.
> article 10/1973, Tatler

Is it this trip that Mrs. Muir will remember, as recounted for an article in Tatler magazine in 1973; one day when Norma Jeane is at their house, she notices the weather: "It's half snow and half rain, and the rain part is like ice". Mrs. Muir's husband then decides to go out for an excursion. They leave by car, bringing their son Bob's friends: the two boys in the back with Norma Jean between them, have pulled a tarp over their heads to protect themselves from the rain. The road is rather dangerous and winding, so the father drives slowly. Suddenly, a large rock crashes into the hood of the car and almost hits the windshield. Mrs. Muir and Betty, seated in the front, scream. But Norma Jeane and the boys in the back saw nothing. Norma Jeane even jokes, saying "My head's too hard. That old rock would have bounced right off and wouldn't have left a dent." Like any teenager of her age (she was 13), she was unaware of the danger that could have killed her.
---
© All images are copyright and protected by their respective owners, assignees or others.
copyright text by GinieLand.

13 novembre 2011
Norma Jeane dans le désert de "La Vallée de la mort",
en Californie en décembre 1945
photographiée par André De Dienes.
André De Dienes emmène Norma Jeane en voiture pour un périple de plusieurs jours, afin de prendre des photos dans des paysages naturels. Leur première destination est la "Death Valley" (« vallée de la mort »), situé dans le désert des Mojaves, dans le sud des États-Unis. Il est l'endroit le plus bas, le plus sec et le plus chaud d'Amérique du Nord. Le photographe a prévu de faire poser Norma Jeane nue dans la nature, projet qu'il finira par abandonner, par pudeur vis à vis de son modèle, mais surtout pour les sentiments profonds que le photographe ressent pour Norma Jeane. Le trajet en voiture dure des heures, et ils empreintent à pied des chemins sinueux et escarpés. Dans la soirée, ils logent dans des bungalows séparés à l'hôtel Furnace Creek Inc, au coeur de la Death Valley. Au départ, De Dienes souhaitait prendre une chambre commune, mais comme il l'explique lui-même:
"L'adorable créature me mit alors calmement les points sur les i. Elle m'appréciait beaucoup, mais elle n'était que séparée, non divorcée. Elle se sentirait nettement plus à l'aise dans sa propre chambre. En outre, elle accordait une grande importance à son sommeil...".
Le lendemain matin, quand le photographe se rend à la chambre de Norma Jeane pour la réveiller, il fut surpris de la trouver déjà prête, habillée, coiffée et maquillée. De Dienes raconte que "elle était gaie, exubérante, impatiente d'aller prendre son petit déjeuner dans la salle à manger. (...) Je n'avais jamais rencontré une fille plus gentille et plus douce." De Dienes va prendre Norma Jeane en photo au milieu de nul part, assise sur des rochers, dans ce décor lunaire du désert. Ils vont ensuite s'installer sur une couverture: De Dienes va lire un livre de citations sur le thème de la vie spirituelle et Norma Jeane va quand à elle lire des extraits de son livre de prières de l'église de la science chrétienne.

>> livre: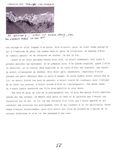 >> Montage par De Dienes: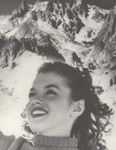 ---
*(source: coffret André De Dienes, Marilyn, publié chez Taschen en 2002)

---
- Magazines -
Parade - 16/02/1947 - USA (3 versions)
Picture Post, 12/12/1947 - Grande-Bretagne
Wereld Kroniek, 10/1948 - Hollande
---
© All images are copyright and protected by their respective owners, assignees or others.
copyright text by GinieLand.
04 septembre 2011
Norma Jeane dans la neige à Mount Hood,
dans l'Oregon en décembre 1945
photographiée par André De Dienes.
Commentaires d' André De Dienes*:
Il pleuvait sur la route de Mount Hood, dans l'Oregon. Le temps d'arriver au Timberline Lodge, la pluie s'était transformée en neige. A la réception, on m'informa qu'il ne restait plus qu'une seule chambre de libre, avec un lit matrimonial. Je ressortis le dire à Norma Jeane qui attendait dans la voiture. Elle n'était pas d'humeur à la rigolade. Elle me répondit qu'elle préférait continuer plus loin jusqu'à ce qu'on trouve des bungalows séparés quelque part en forêt. J'étais déçu parce que cet hôtel me plaisait (...) et cela aurait été une occasion extraordinaire de photographier Mount Hood, un beau volcan éteint. (...) Toutefois, j'accédai aux désirs de Norma Jeane et, malgré la neige épaisse et la tombée du soir, nous reprîmes la route étroite et sinueuse. Au croisement avec la voie principale, se trouvait un autre hôtel appelé Government Lodge. La couche de neige était devenue trop profonde. Ma voiture refusa d'aller plus loin. Là encore, il ne restait plus qu'une seule chambre de libre avec un lit matrimonial et une salle de bain au bout d'un long couloir (...) ce n'était qu'une douche miteuse et un w-c. Je ressortis prévenir Norma Jeane que nous n'avions pas le choix. Il faisait déjà sombre. Elle sourit et déclara: "OK! Prenons la chambre et à-Dieu-va!".
Nous prîmes un bon dîner (...) et enfin, nous passions une nuit ensemble dans le même lit! Nous fîmes l'amour puis Norma Jeane sanglota dans mes bras. Elle était heureuse, satisfaite (...). M'endormir aux côtés de Norma Jeane fut une sensation merveilleuse, presque iréelle.
Quand nous redescendîmes déjeuner, il neigeait toujours autant. La femme du propriétaire de l'hôtel nous prit pour de jeunes mariés en lune de miel et nous offrit leur meilleure chambre. Nous y restâmes deux jours, sans qu'il ne cesse de neiger. Notre bref séjour dans cet hôtel fut paradisiaque!
(...) Nous décidâmes de nous marier sitôt qu'elle aurait divorcé. Nous irions à Las Vegas pour qu'elle règle ses papiers avec son mari et nous nous marierions immédiatement après.
Comme il neigeait, nous restâmes toute la journée dans la chambre, à l'exception d'une petite heure pendant laquelle je la photographiais dans la neige. Elle s'était pomponnée, brossant longuement ses cheveux devant le miroir, s'enveloppant dans un drap comme dans une luxueuse robe du soir et examinant son reflet en prenant des poses glamour. Si seulement j'avais eu la présence d'esprit de la photographier dans cette chambre (...)! La future Marilyn Monroe était là, sous mes yeux. Un sex-symbol en puissance.
---
*(source: coffret André De Dienes, Marilyn, publié chez Taschen en 2002)

---
- Magazines -
Wereld Kroniek, 08/01/1949 - Hollande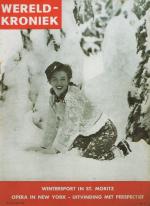 ---
© All images are copyright and protected by their respective owners, assignees or others.
copyright text by GinieLand.
20 février 2011
Portraits de Marilyn Monroe en 1951 dans une villa en Californie
Photographies de John Florea
Portraits of Marilyn Monroe in 1951 in a villa in California
Photographs by John Florea
---
Séance "Combinaison rose"
Séance surnommée "Fin de la piste de ski" par le magazine Photography
Sitting "Pink long johns"
sitting named "End of a ski trail" by Photography magazine
- Dans la presse -
- Magazines -
Photography, 07/1952 - AUSTRALIE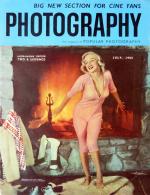 Eye, 02/1953 - USA
Picture Life, 04/1954 - USA
Picture Digest, 02/1956 - USA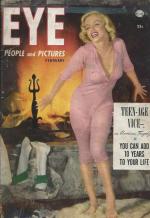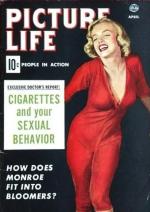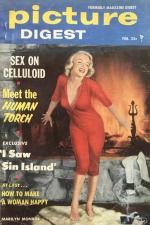 ---
Séance "Maillot une pièce"
Sitting "One-piece swimsuit"

- Dans la presse -
---
© All images are copyright and protected by their respective owners, assignees or others.
copyright text by GinieLand.
09 novembre 2007
Le 30 avril 1946, c'est sous le nom de Norma Jeane Dougherty qu'elle signe le contrat photographique autorisant le photographe Richard C. Miller à publier les clichés qu'il a pris d'elle ce jour là: des portraits en studio. Elle vit alors au 11348 Nebraska Avenue, à Sawtelle, Californie. Le témoin est Margaret Miller, l'épouse du photographe.
On April 30, 1946, it's under the name of Norma Jeane Dougherty that she signed the photographic contract authorizing photographer Richard C. Miller to publish the photos he tooks of her that day: studio portraits. She was living at 11348 Nebraska Avenue, in Sawtelle, California. The witness is Margaret Miller, the photographer's wife.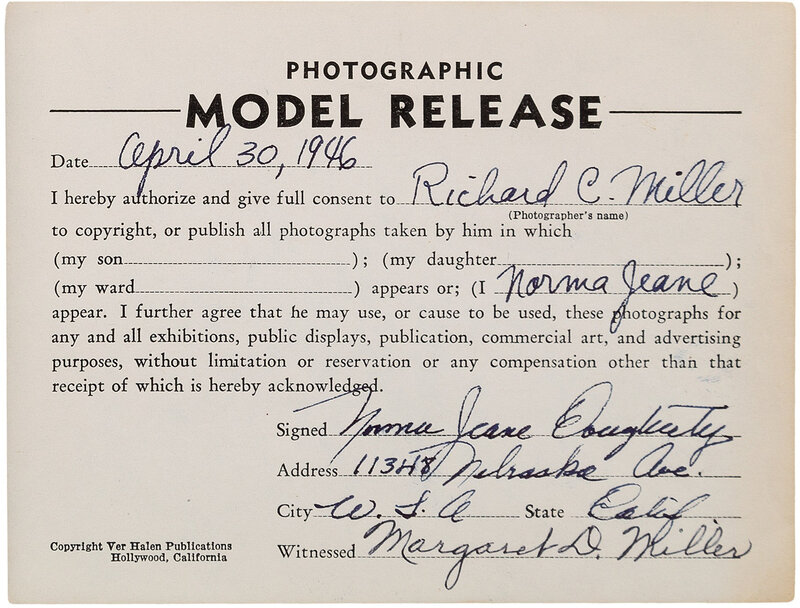 ---
- Séance Heidi -
Heidi Sitting

Photographie datée (tampon du 30/04/1946)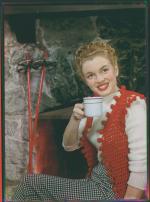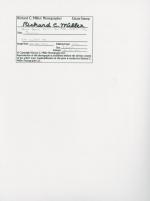 ---
- Séance Romantique -
Romantic Sitting
---
- Séance Skieuse -
Skier Sitting
---
All photos are copyright and protected by their respective owners.
copyright text by GinieLand.
13 juin 2007
La jeune recrue des studios de la Fox Norma Jeane Dougherty vient d'être renommée officiellement sous le nom de scène Marilyn Monroe le 03 décembre 1946. Pendant le mois de décembre 1946, les studios de la 20th Century Fox envoient au moins trois de leurs jeunes actrices (Marilyn Monroe, June Haver et Peggy Ann Garner) pour participer au Noël des enfants et de leur distribuer des cadeaux avec un père-noël.

The young Fox Studios recruit Norma Jeane Dougherty had just been officially renamed under the stage name Marilyn Monroe on December 3, 1946. During the month of December 1946, 20th Century Fox Studios sent at least three of their young actresses (Marilyn Monroe, June Haver and Peggy Ann Garner) to participate in children's Christmas and distribute gifts to them with a Santa Claus.
---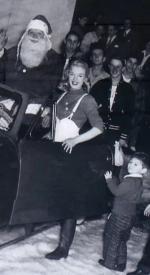 L'événement est sponsorisé par les voitures Darrin Kaiser Frazer - dont le modèle de voiture qui figure ici en image a été conçu et construit par Howard "Dutch" Darrin en 1945 et commercialisé pendant l'année 1946.
Le petit garçon se tenant à la portière de voiture à côté de Marilyn est Bob Darrin, le fils de Howard Darrin.

The event is sponsored by Darrin Kaiser Frazer Cars - whose model car pictured here was designed and built by Howard "Dutch" Darrin in 1945 and marketed through 1946.
The little boy standing at the car door next to Marilyn is Bob Darrin, Howard Darrin's son.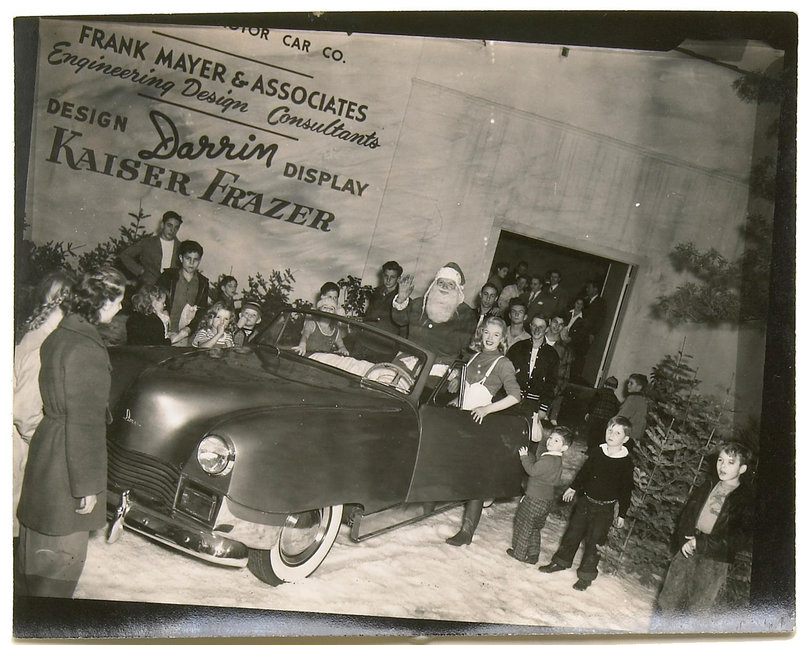 ---
Il y a de la neige au sol et les enfants lancent des boules de neige à Marilyn: ce n'est pas dans le nord des USA -notamment dans le Wisconsin, à Grafton, où se trouvait l'entreprise "Frank Mayer & Associates" dont le nom apparaît en forme publicitaire sur le mur du bâtiment en arrière-plan - que l'événement a eu lieu, mais bien à Los Angeles, où était situé l'entreprise de Darrin Kaiser Frazer. C'est Darrin qui a imaginé ce coup publicitaire en faisant amener de la fausse neige qui a beaucoup amusé les enfants.

There is snow on the ground and the children are throwing snowballs at Marilyn: it's not in the north of the USA -especially in Wisconsin, in Grafton, where the company "Frank Mayer & Associates" was located whose name appears in advertisement form on the wall of the building in the background - that the event took place, but in Los Angeles, where Darrin Kaiser Frazer's business was located. It was Darrin who came up with this publicity stunt by having fake snow brought in, which amused the children a lot.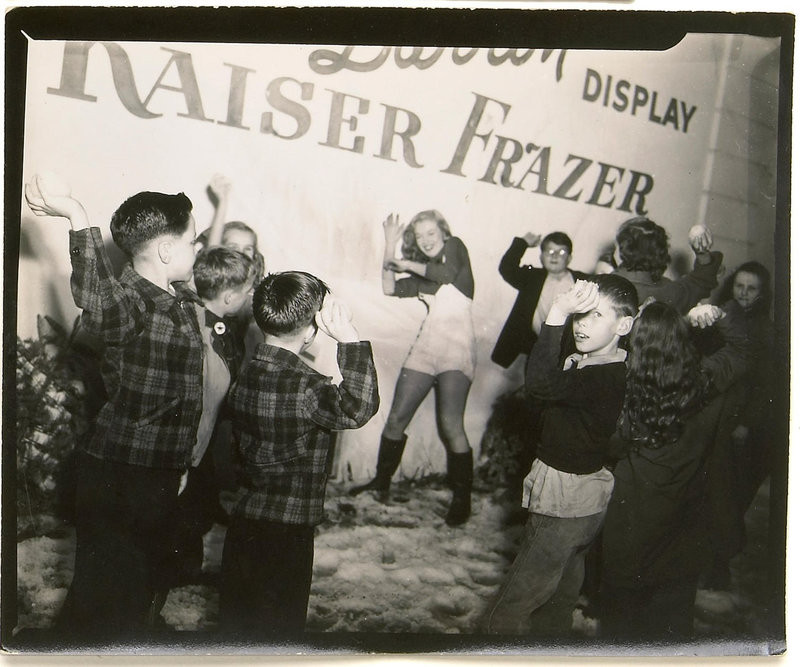 ---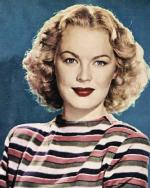 June Haver (née le 10 juin 1926, soit quelques jours après la naissance de Marilyn née le 01er juin) a signé en 1942 un contrat avec les studios de la Fox qui voulait en faire une nouvelle Betty Grable. June Haver donne d'ailleurs la réplique à Betty Grable en 1945 dans le film "Dolly Sisters".
En cette fin d'année 1946, elle a déjà 10 films à son actif, faisant d'elle une actrice confirmée et connue qui faisait la couverture des magazines. Elle tournera avec Marilyn Monroe en 1947 dans le film "Scudda Hoo ! Scudda Hay !" et en 1951 dans "Nid d'amour".
June Haver (born June 10, 1926, a few days after the birth of Marilyn born in June 01st) signed a contract in 1942 with Fox studios who wanted to make her a new Betty Grable. June Haver also gives the reply to Betty Grable in 1945 in the film "Dolly Sisters."
At the end of this year 1946, she already had 10 films to her credit, making her a confirmed and well-known actress who was on the cover of magazines. She will give the reply to Marilyn Monroe in 1947 film "Scudda Hoo! Scudda Hay!" and in 1951 in "Love Nest."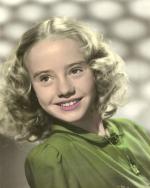 Peggy Ann Garner (née le 03 février 1932) est une enfant star qui a, dès l'âge de 5 ans, servi de modèle pour des photographies publicitaires, avant de tourner son premier film à l'âge de 7 ans. Elle a donné la réplique à la jeune Elizabeth Taylor en 1943 dans une version de "Jane Eyre".
Elle a donc 14 ans en 1946 et a déjà tourné dans une douzaine de films.
Peggy Ann Garner (born February 3, 1932) is a child star who, from the age of 5, served as a model for publicity photographs, before shooting her first film at the age of 7. She gave the reply to the young Elizabeth Taylor in 1943 in a version of "Jane Eyre".
She was 14 years old in 1946 and had already appeared in a dozen movies.
---
sources
article "It's Christmas Time For The 1946 Darrin Fiberglass Car" sur Undiscovered Classics
photos vendues aux enchères de Bonhams 07/06/2007 sur Entertainment Memorabilia including Property from the Estate of Carl Barks

---
© All images are copyright and protected by their respective owners, assignees or others.
copyright text by GinieLand.