28 novembre 2021
Maillot de bain une pièce doré
Gold one-piece Swimsuit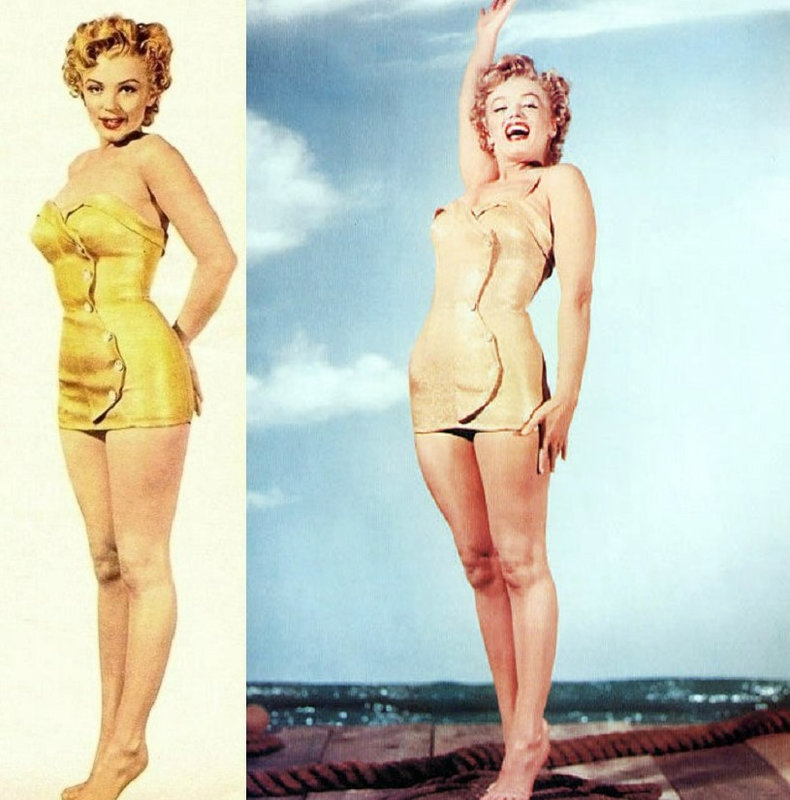 Maillot de bain une pièce doré conçu par la créatrice américaine Rose Marie Reid, qui se ferme par six gros boutons, situés sur le devant du corps, côté gauche. Le décolleté est fait d'un revers.
Gold one-piece swimsuit designed by American designer Rose Marie Reid, which closes with six large buttons, located on the front of the body, on the left side. The neckline is made with a lapel.
---
Marilyn porte le maillot lors d'une séance photos organisée en studio, en 1952, sous l'objectif du photographe Earl Theisen. Le maillot comporte des bretelles: Marilyn le porte tantôt avec, tantôt sans.
Marilyn wears the swimsuit during a photo shoot organized in a studio in 1952, under the lens of photographer Earl Theisen. The swimsuit has straps: Marilyn wears it sometimes with, sometimes without.
- Le maillot avec bretelles -
- The swimsuit with straps -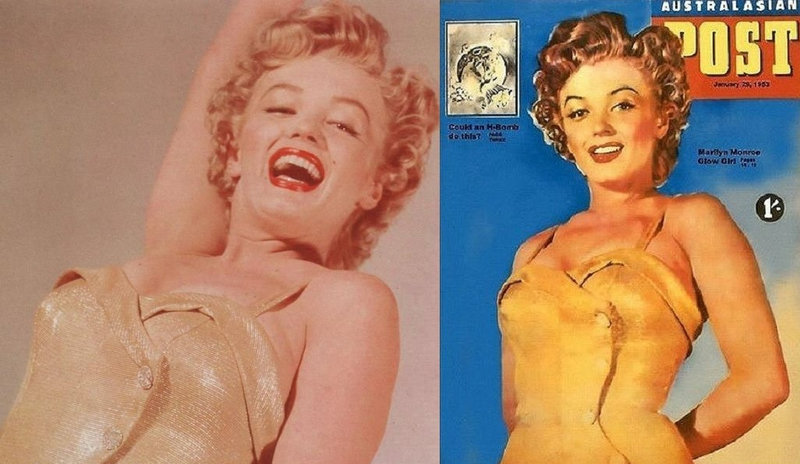 - Le maillot sans bretelles -
- The swimsuit strapless -

Existe-t-il deux versions de ce maillot: un avec bretelles et un sans - comme on peut le voir sur cette photographie de la créatrice Rose Marie Reid en compagnie d'une jeune mannequin pendant une séance d'essayage, le maillot ne comporte ici pas de bretelles. Mais peut être les bretelles sont amovibles (possibilité de les retirer par un système de boutonnage) ou tout simplement rentrées à l'intérieur du maillot pour les cacher.
Are there two versions of this swimsuit: one with straps and one without - as can be seen in this photograph of designer Rose Marie Reid with a young model during a fitting session, the swimsuit doesn't have straps here. But maybe the straps are removable (possibility of removing them by a buttoning system) or simply tucked inside the jersey to hide them.
- Rose Marie Reid et une mannequin -
- Rose Marie Reid and a model -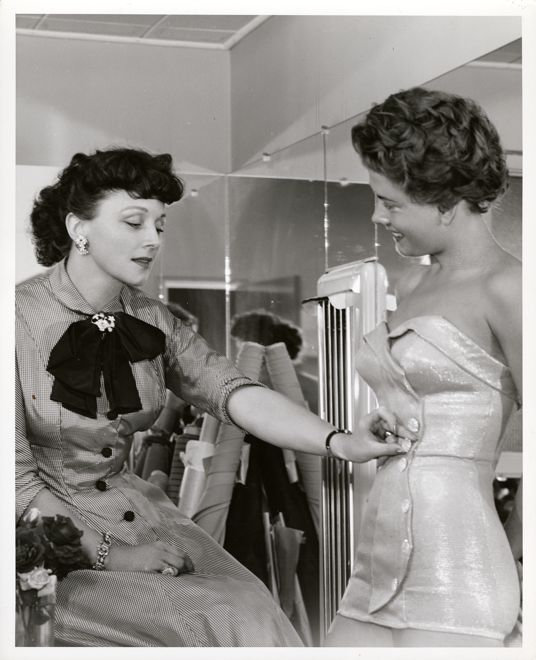 ---
Le maillot doré porté par d'autres
The Gold Swimsuit worn by others

---
L'actrice Jane Russell a porté de nombreux maillots de bain créés par Rose Marie Reid. La voici posant en style de pin-up (photographie de 1952, par John Engstead) dans le même maillot de bain que celui porté par Marilyn.
Actress Jane Russell has worn many swimsuits designed by Rose Marie Reid. Here she is posing in pin-up style (1952 photograph, by John Engstead) in the same swimsuit as the one worn by Marilyn.
---
Les versions 'alternatives' du maillot doré
The 'alternative' versions of the gold swimsuit

---
- Maillot de bain une pièce de Rose Marie Reid -
même modèle que le maillot doré mais en tissu vert
- One-piece swimsuit by Rose Marie Reid -
same model as the golden bath suit but in green fabric
- Il était vendu dans les boutiques au Royaume-Uni en 1952 -
- It was sold in shops in United-Kingdom in 1952 -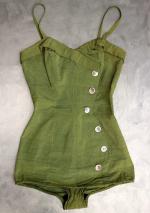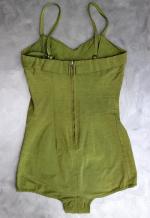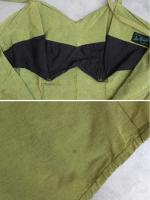 ---
Les maillots à boutons de Reid
The Reid's buttons swimsuits

- Maillot de bain une pièce de Rose Marie Reid -
une autre création antérieure, au style différent,
mais on y retrouve les gros boutons placés au milieu devant

One piece swimsuit by Rose Marie Reid -
another previous creation, with a different style,
but we find the big buttons placed in the middle in front
Jane Russell, 1948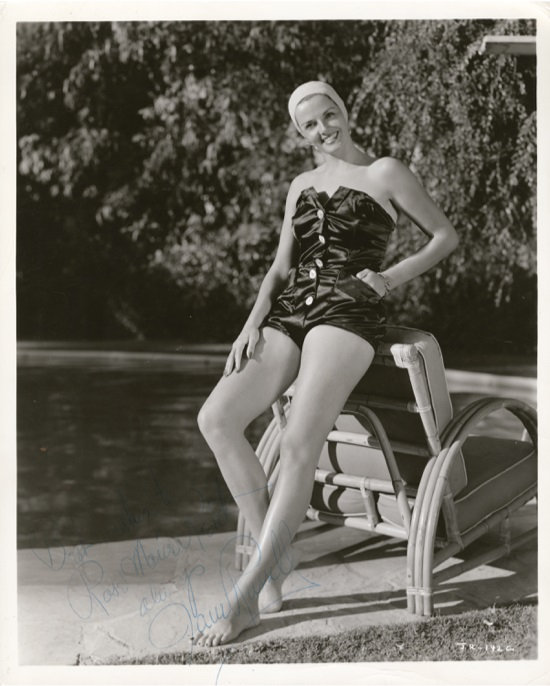 Publicité, années 1950s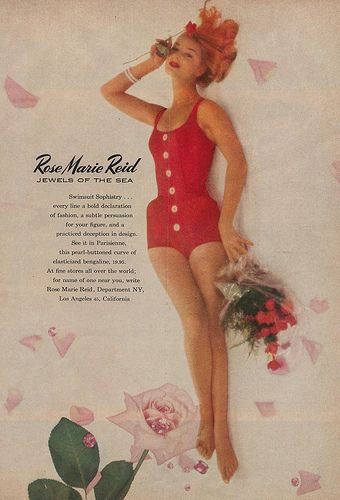 ---
Les maillots dorés de Reid
The Reid's gold swimsuits
- Maillot de bain une pièce de Rose Marie Reid -
une autre création antérieure, même modèle,
mais sans le bouttonage
en version or lamé métallique scintillant
- One piece swimsuit by Rose Marie Reid -
another previous creation, same model,
but without the buttoning
in a glittering metallic gold lame version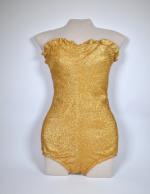 Ce maillot est porté par Rita Hayworth en 1947
pour des portraits publicitaires de Robert Coburn
pour le film "L'étoile des étoiles"
This bathing suit is worn by Rita Hayworth in 1947
for publicity portraits by Robert Coburn
for the movie "Dow to Earth"

---
© All images are copyright and protected by their respective owners, assignees or others.
copyright text by GinieLand.
23 octobre 2021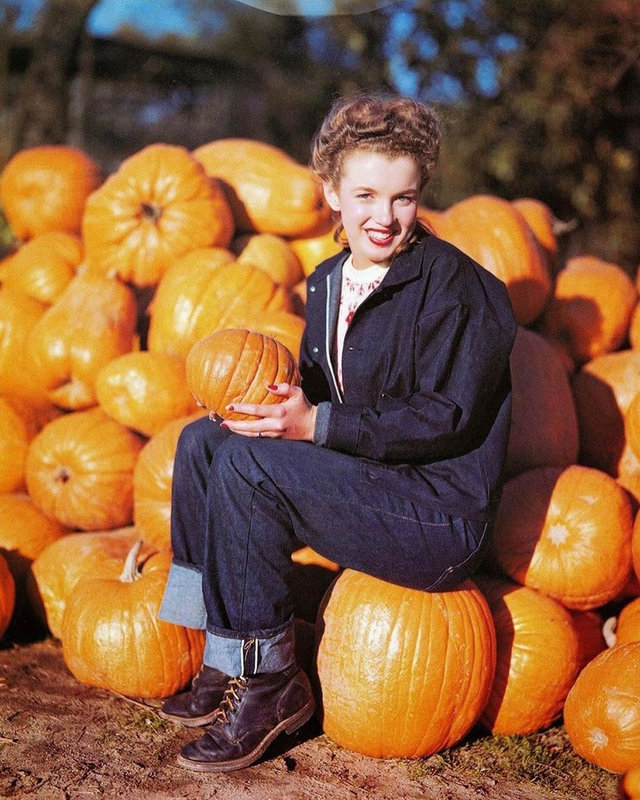 Norma Jeane Dougherty - future Marilyn Monroe - en 1945
photographie d'André De Dienes
---
Pour le prochain week-end d'Halloween 2021 le dimanche 31 octobre,
quelques photographies d'actrices qui ont données la réplique à Marilyn Monroe.
For the next weekend of Halloween 2021 Sunday October 31,
some photographs of actresses who gave the replica to Marilyn Monroe.
---
June Haver
partenaire de Marilyn dans "Scudda Hoo ! Scudda Hay !" en 1947
partner of Marilyn in "Scudda Hoo! Scudda Hay!" in 1947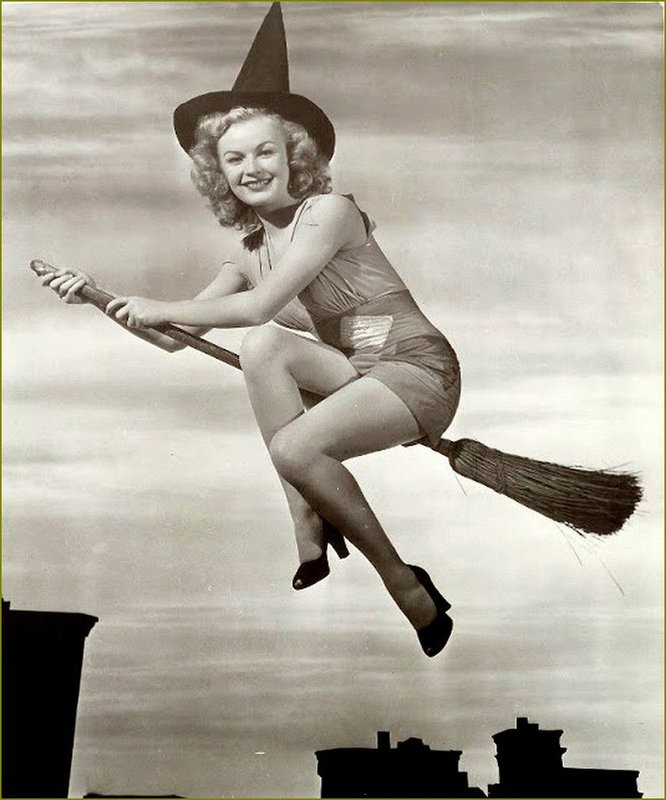 ---
Colleen Townsend
partenaire de Marilyn dans "Scudda Hoo ! Scudda Hay !" en 1947
partner of Marilyn in "Scudda Hoo! Scudda Hay!" in 1947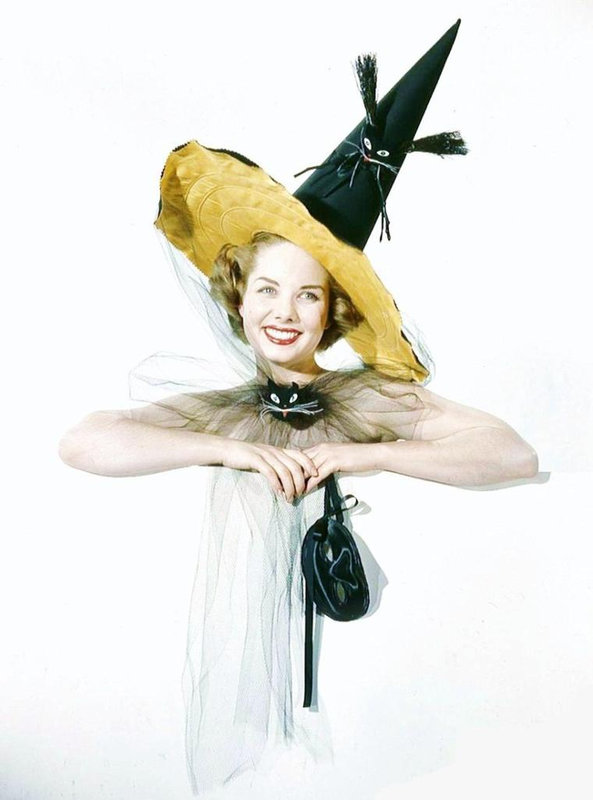 ---
Barbara Stanwyck
partenaire de Marilyn dans "Le démon s 'éveille la nuit" en 1952
partner of Marilyn in "Clash by night" in 1952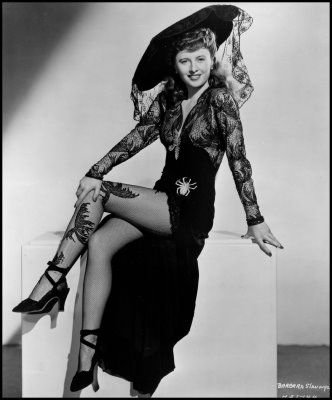 ---
Jane Russell
partenaire de Marilyn dans "Les hommes préfèrent les blondes" en 1952
partner of Marilyn in "Gentlemen prefer Blondes" in 1952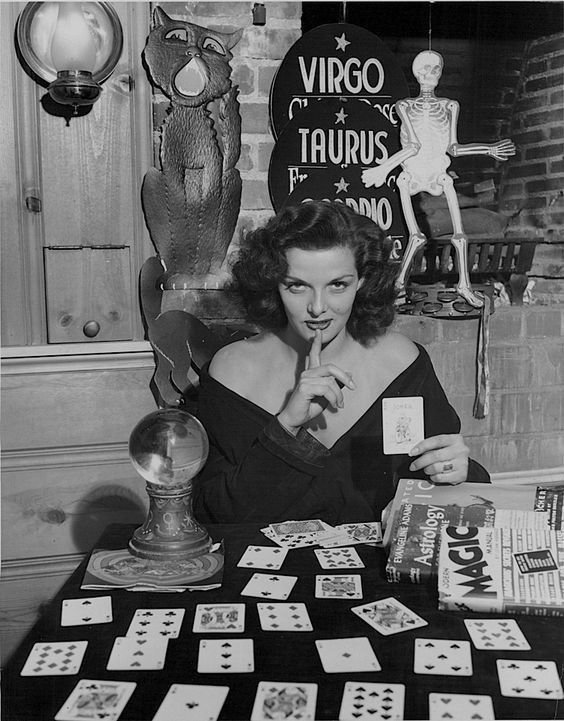 ---
Betty Grable
partenaire de Marilyn dans "Comment épouser un millionnaire" en 1953
partner of Marilyn in "How to marry a millionaire" in 1953
---
Ethel Merman
partenaire de Marilyn dans "La joyeuse parade" en 1954
partner of Marilyn in "There's no business like show business" in 1954
---
Cyd Charisse
partenaire de Marilyn dans "Quelque chose va craquer" en 1962
partner of Marilyn in "Something's got to give" in 1962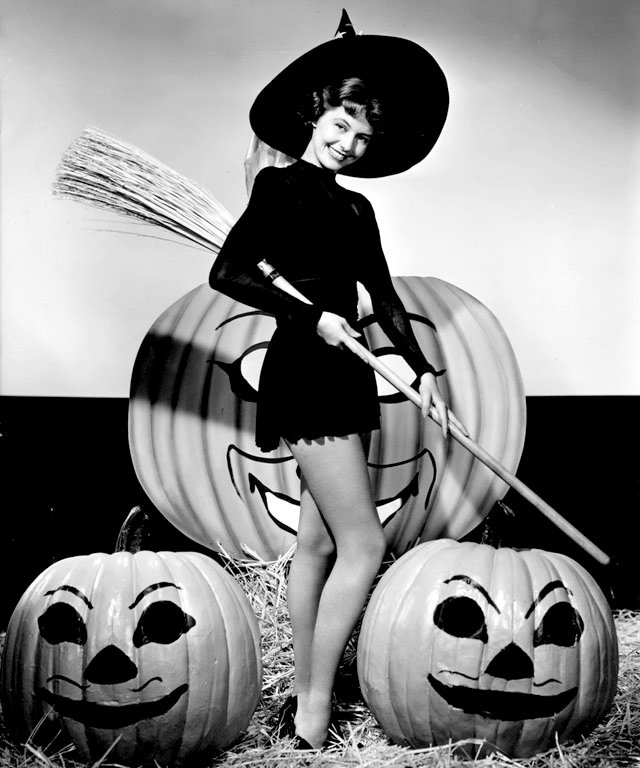 ---
© All images are copyright and protected by their respective owners, assignees or others.
copyright text by GinieLand.
22 avril 2019
Hollywood Beach Beauties:
Sea Sirens, Sun Goddesses, and Summer Style
1930-1970
Auteur: David Wills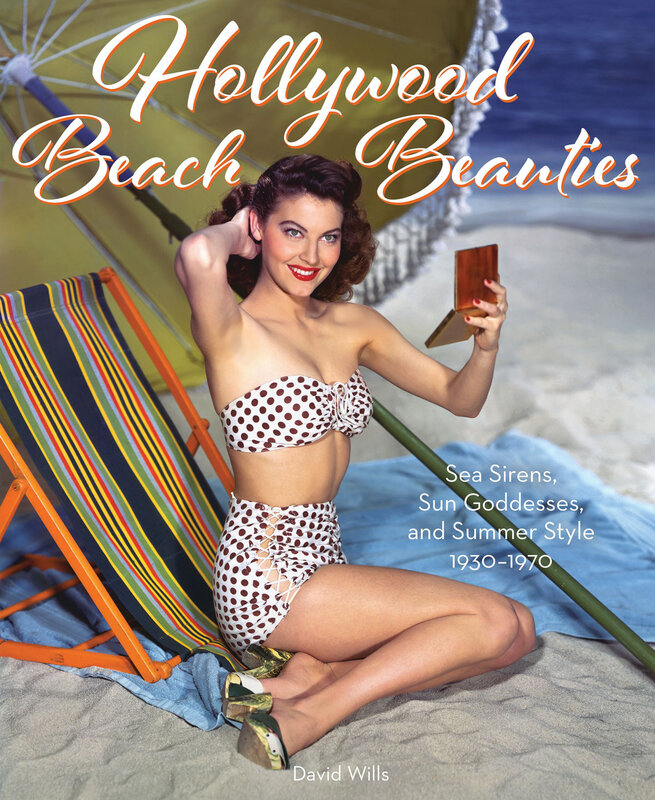 Date de sortie: mai 2018
Relié 224 pages
Dimensions: 20,3 x 2 x 24,8 cm
Langue: anglais
Éditeur: Dey Street Books
ISBN-10: 0062842854
ISBN-13: 978-0062842855
Prix éditeur: 25 Euros
Ou le commander ? sur amazon

Description : The author of the acclaimed photo compilations Vegas Gold, Hollywood in Kodachrome, Marilyn Monroe: Metamorphosis, and Audrey: The 60s, now presents a glamorous and nostalgic celebration of summer at the beach, captured in 150 stunning vintage photographs featuring beloved female celebrities, models, and starlets from the 1930s through the 1970s.
Renowned independent curator and photographic preservationist David Wills commemorates the allure and joy of the sun, the sand, the ocean, and the fashions of endless summer with this sizzling collection. Hollywood Beach Beauties includes more than one-hundred vibrant color images of some of Hollywood's most timeless stars lounging and playing at one of the most iconic settings: the beach.
Hollywood Beach Beauties highlights the sexy, carefree attitude of the summer, the elegant seaside couture, and the enchanting and alluring beauty of the female form. Included here are candid and stylish photographs featuring stars of yesterday such as Elizabeth Taylor, Rita Hayworth, Audrey Hepburn, Marilyn Monroe, Brigitte Bardot, Sharon Tate, Raquel Welch, Sophia Loren, Dorothy Dandridge, and Nancy Sinatra.
A treasure trove for classic movie mavens, vintage photography enthusiasts, and pop culture aficionados, this stunning theme-driven compendium taps into nostalgia for the joys of summer and captures the dazzling beauty of the seaside and some of the most stylish stars of the big screen in a fresh, unique, and captivating way.
(quatrième de couverture): Celebrate the allure and joy of the sun, the sand, the ocean, and the fashions of endless summers with this sizzling collection of Hollywood's most timeless stars, starlets, and models lounging and playing in one of the most iconic settings: the beach.
A treasure trove for classic-movie fans, vintage-photography enthusiasts, and pop-culture aficionados, this stunning compendium highlights the sexy, carefree attitude of the summer, the elegant seaside couture, and the enchanting beauty of the female form.
- publicité -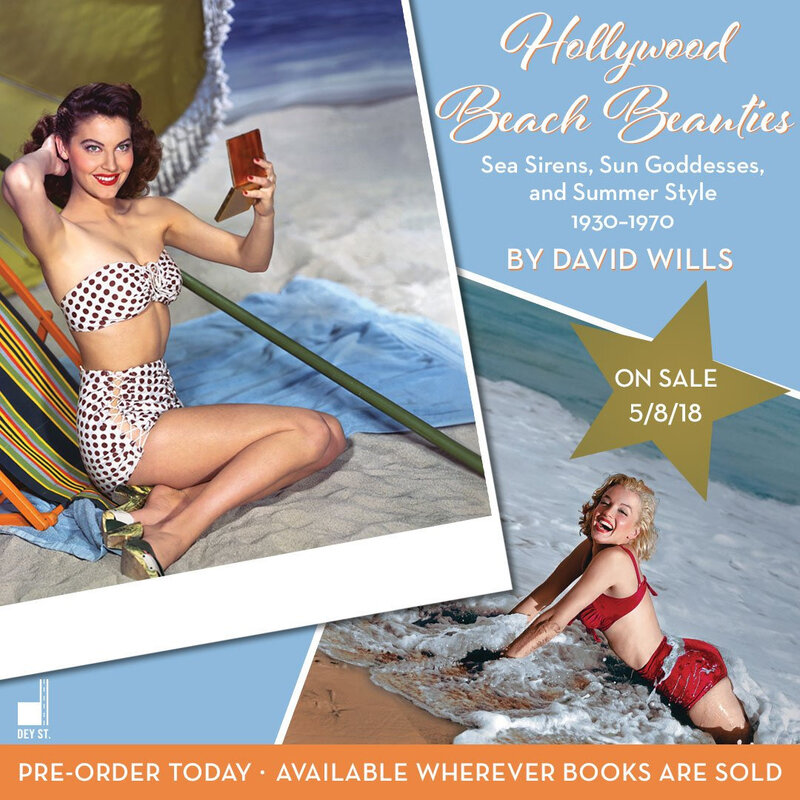 ---
Vous avez le livre ?
Apportez votre critique, votre avis ou votre note (/10)
Do you have the book ?
Gives your opinion, review or note (/10)
10 juillet 2016

45 things you didn't know about Marilyn Monroe
published on June, 1st, 2016
by Horatia Harrod - online Telegraph

Norma Jeane Mortenson - better known as Marilyn Monroe

1. Marilyn was relatively poorly paid. Jane Russell was paid around 10 times as much as Marilyn when they co-starred in Gentlemen Prefer Blondes. Her salary for her final unfinished film, Something's Got to Give, was $100,000. Compare that with Elizabeth Taylor, who was getting a million dollars for Cleopatra; or even Marilyn's co-star in the film, Dean Martin, who was on $500,000. Today, her estate makes around five million dollars a year.

2. But she died having become a million-dollar movie star. In 1962 she was fired by Twentieth-Century Fox from the production of Something's Got to Give because of her chronic lateness and no-shows (she didn't appear for the first two weeks of filming). But on August 1, four days before her death, she was rehired by Fox on a $1million, two-picture deal.

3. She found it almost impossible to learn lines, and took 60 takes to deliver the line "It's me, Sugar", in Some Like it Hot.

4. She was Playboy's first Sweetheart (later Playmate) of the Month, in 1953. Marilyn had been paid $50 to model for the picture in 1949; Hugh Hefner bought it for $500.

5. Several of the burial vaults near to Marilyn's have been put on sale. When Elsie Poncher, the widow of the man in the vault above Marilyn's, put his space up for sale on eBay, she received dozens of bids, including one for £2.8million.

6. Hugh Hefner owns the burial vault next to Marilyn at the Westwood Memorial Park in Los Angeles. He bought it in 1992 for £50,000.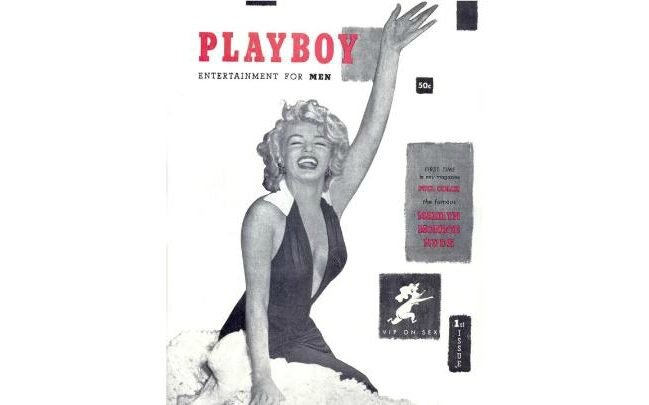 Marilyn Monroe on the cover of the first issue of 'Playboy'
7. She went by many names. On her birth certificate she is Norma Jeane Mortenson; she was baptised Norma Jeane Baker; she modelled under the names Jean Norman and Mona Monroe; her initial idea for a screen name was Jean Adair; she signed into hotels as Zelda Zonk and into a psychiatric clinic as Faye Miller. She only legally changed her name to Marilyn Monroe in March 1956, when she was already a star.

8. She was placed with 11 sets of foster parents after her mother, Gladys, was institutionalised. She also spent almost a year in the Children's Aid Society Orphanage in Los Angeles.

9. Goya was her favourite artist: "I know this man very well, we have the same dreams, I have had the same dreams since I was a child."

Marilyn Monroe poses over the updraft of a New York subway grating
during a photo session to promote the film The Seven Year Itch in September 1954
Credit: Matty Zimmerman
10. Marilyn became a Christian Scientist at the age of 18; later in her life she dabbled in alternative spiritualities, including Anthroposophy, the philosophy espoused by Rudolf Steiner. She converted to Judaism before her 1956 marriage to Arthur Miller.

11. Her weight went up and down so dramatically during the filming of The Prince and the Showgirl that the costume designer, Beatrice Dawson, had to create facsimile dresses in different sizes. "I have two ulcers from this film," she said, "and they're both monogrammed MM."
12. She was rarely without an acting coach. Her first, Natasha Lytess, worked with her for six years and 22 films, clashing with directors, whose authority she challenged, and studio heads, who paid her bills. (Marilyn also paid her a wage – and settled her £11,000 debt at the dentist.)
Later, Paula Strasberg took Lytess's role; unlike Lytess, who tried to direct Marilyn's every movement from behind the camera, Strasberg was consulted between takes. To coach Marilyn in The Prince and the Showgirl, she was paid $25,000 – as much as some of the featured actors were getting.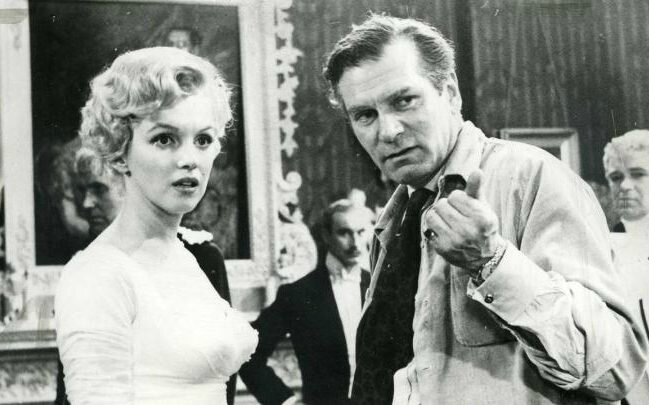 Marilyn Monroe and Laurence Olivier on the set of The Prince and the Showgirl
13. For 20 years after Marilyn's death, Joe DiMaggio arranged to have roses sent to her crypt three times a week.

14. In January 2011, Authentic Brand Groups bought the licensing rights to the Marilyn Monroe estate, for a price in the range of $30million. "On the media and entertainment side," said the company's chief executive, Jamie Salter, "I think she's got a career in front of her, just based on technology."

15. At the 1999 auction of Marilyn's effects, her white baby grand piano was bought by Mariah Carey, the singer, for $662,500. (The estimate had been $10,000-$15,000.) The piano had been bought by Marilyn's mother, and sold after she had her breakdown, but Marilyn eventually found it and bought it back, keeping it with her until her death.

16. There was an open casket at her funeral. She wore an apple green Pucci sheath dress made of nylon jersey and a platinum wig (her head had been partially shaved during the autopsy).

17. She was thought to have been planning to remarry Joe DiMaggio at the time of her death. After the failure of their marriage, DiMaggio had undergone therapy, stopped drinking alcohol and expanded his interests beyond baseball: he and Marilyn read poetry together in these later years.

Marilyn Monroe and Joe DiMaggio Credit: Reuters
18. Marilyn's beaded Jean Louis gown, worn when she sang Happy Birthday to President Kennedy, was sold in 1999 for £820,000. At the time it was the record price for a single item of clothing, until Marilyn's billowing white Seven Year Itch dress was put up for sale by Debbie Reynolds in 2011, where it made £2.8 million.

19. Marilyn owned many dogs during her life; her last was a Maltese terrier given to her by Frank Sinatra, which she named Maf (short for Mafia Honey). At the Christie's sale in 1999, two Polaroids of Maf sold for £220,000.

20. Marilyn left 75 per cent of her estate to the Strasbergs; eventually this fell to Anna Strasberg, Lee Strasberg's third wife. She vetoes the use of all images in which Marilyn wears fur, citing Marilyn's love of animals as a reason.

21. The Anna Freud Centre, a child therapy clinic in Hampstead, north London, owns the remaining 25 per cent of Marilyn Monroe's estate. The centre was left its share by Dr Marianne Kris, one of Marilyn's therapists, and the original beneficiary of her will.

22. Before her marriages to Joe DiMaggio and Arthur Miller, Marilyn was married to James Dougherty. She was 16 when they tied the knot. Dougherty, who later became a detective in the LAPD, was forbidden by his second wife from going to see any of Marilyn's films.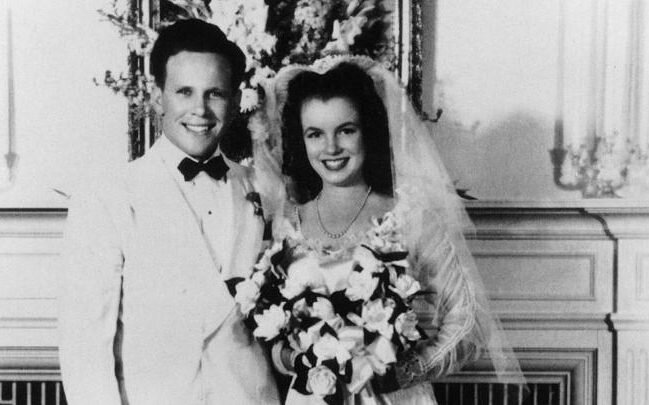 Marilyn Monroe with her first husband, James Dougherty Credit: EPA
23. Marilyn whitened her skin with hormone cream, one side effect of which was to encourage the growth of blonde down on her face; Marilyn would not remove this peach fuzz, believing that it gave her face a soft glow on camera.

24. She was never nominated for an Academy Award, but she was voted the "Oomph Girl" at Emerson Junior High in 1941; crowned Castroville's first Artichoke Queen in 1948; and was Stars and Stripes magazine's Miss Cheesecake of 1950.

25. She was named "The Most Advertised Girl in the World" by the Advertising Association of the West in 1953. Among the brands she represented were American Airlines, Kyron Way Diet Pills, Pabst Beer, Tan-Tan Suntan Lotion and Royal Triton Oil.

26. In 1950, Johnny Hyde, her agent, paid for her to have two plastic surgeries: a tip rhinoplasty (reshaping the soft cartilage at the end of her nose); and a chin implant.

27. She was an early devotee of yoga, and was taught by Indra Devi, a Swedish-Russian Bollywood film star who also taught Greta Garbo and Gloria Swanson.

28. Marilyn's intervention got Ella Fitzgerald her first major engagement at a Los Angeles nightclub. In 1955 the colour bar was still in force, but Marilyn convinced the management to let Fitzgerald play by promising to sit in the front row for a week.
29. Marilyn was only the second woman to head her own production company (Mary Pickford was the first).

30. Marilyn had a fixation on Clark Gable, her co-star in The Misfits; as a young girl, Marilyn dreamed that he was her father. When he died, she said that she cried for two days.

31. She preferred to go naked. Among female studio employees – wardrobe mistresses, hairdressers, make-up artists – she often went without clothes. She gave interviews in the nude and often went out wearing nothing under the black mink that Joe DiMaggio had given her.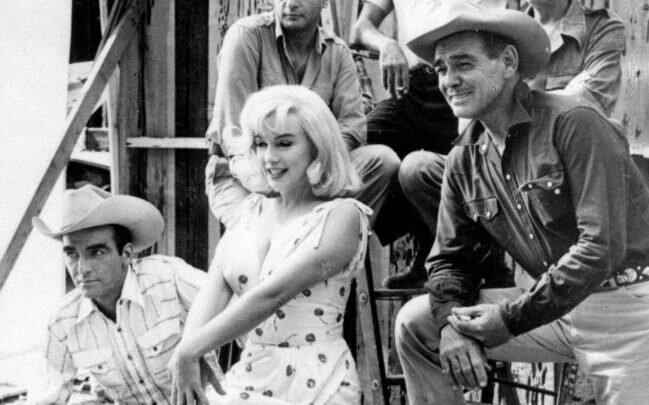 Montgomery Clift, Marilyn Monroe and Clark Gable, stars of 'The Misfits' Credit: AP
32. Writers loved her. Jean-Paul Sartre wanted her to play the role of a hysterical patient in the film Freud, for which he wrote the first draft of a screenplay; she was Truman Capote's first choice for the part of Holly Golightly in Breakfast at Tiffany's.

33. Marilyn's death was ruled a "probable suicide", but toxicology tests were only carried out on her liver. When the deputy coroner, Thomas Noguchi, tried to obtain her other organs for testing, he was told they'd been destroyed.

34. Veronica Hamel, an actress, bought Marilyn's house in 1972. She claimed that when she was renovating the house she discovered an extensive system of wire-taps.

35. Marilyn's hero was Abraham Lincoln: "I used to read everything I could find about him," she wrote in her (ghosted) autobiography, My Story. "He was the only famous American who seemed most like me, at least in his childhood."

36. The books she was reading at the time of her death were Harper Lee's To Kill a Mockingbird and Captain Newman MD, a novel by Leo Rosten based on the life of Monroe's psychiatrist, Ralph Greenson.

37. Two men claimed paternity of Marilyn on their deathbeds: C Stanley Gifford, who both Marilyn and her mother believed was her father, but who refused to meet Marilyn when she was alive; and Edward Mortensen, who was married to her mother at the time of her birth, and whose (misspelled) surname appears on her birth certificate.

38. She was athletic. As a young married woman on Catalina Island in the early Forties, she studied weightlifting with a former Olympic champion named Howard Corrington. She later went tandem surfing with a boyfriend, Tommy Zahn, balancing on his shoulders as they cut through the waves.

39. She was a talented producer. Marilyn Monroe Productions, which she formed in 1955 with Milton Greene, the photographer, only solely produced one film, The Prince and the Showgirl. Marilyn showed her nous in winning the script: she managed to wangle a meeting with the writer, Terence Rattigan, in New York, where he was stopping over en route to Hollywood to discuss the script with the director William Wyler, luring him from the airport to a downtown bar. When Wyler failed to make him a concrete offer, Rattigan went with Monroe.

40. Many of her friends believed she was murdered. Among the potential suspects: Robert Kennedy (with whom she had had an affair); John F Kennedy (ditto); mafioso Sam Giancana; the FBI; the CIA; her psychiatrist, Ralph Greenson.

41. During the filming of Let's Make Love, Marilyn's no-shows added 28 days to the shooting time and $1 million to the budget.

Allan 'Whitey' Snyder applying Marilyn Monroe's makeup
on the set of 'Let's Make Love' Credit: AP
42. Her career in front of the camera began when she was discovered working on the assembly line at Radioplane, a munitions factory, by a photographer called David Conover.

43. Arthur Miller's play After the Fall is generally thought to be a thinly veiled portrayal of his marriage to Marilyn. The writer James Baldwin walked out of the play because he thought that "Maggie", the Monroe character, was written so cruelly.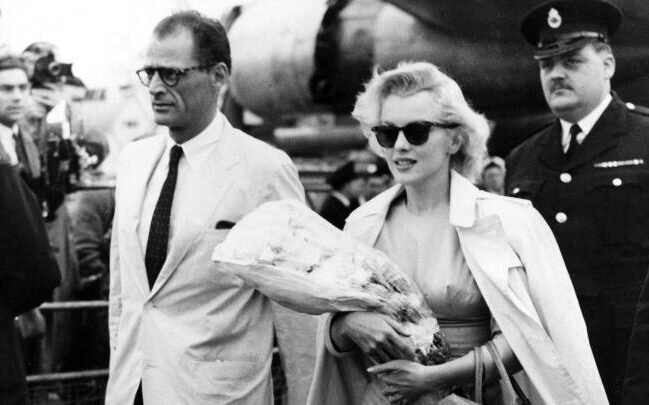 Marilyn Monroe with then-husband Arthur Miller in July 1956 Credit: AP
44. She only owned one home by herself: the house she died in at 12305 Fifth Helena Drive, Brentwood.

45. When she met Nikita Khrushchev, they discussed The Brothers Karamazov. She dreamed of playing the part of Grushenka in a film of the book.
18 janvier 2016
Le maillot vert en jersey & le pantalon violet en velours
A Green Jersey Top & Deep Purple Velvet Pants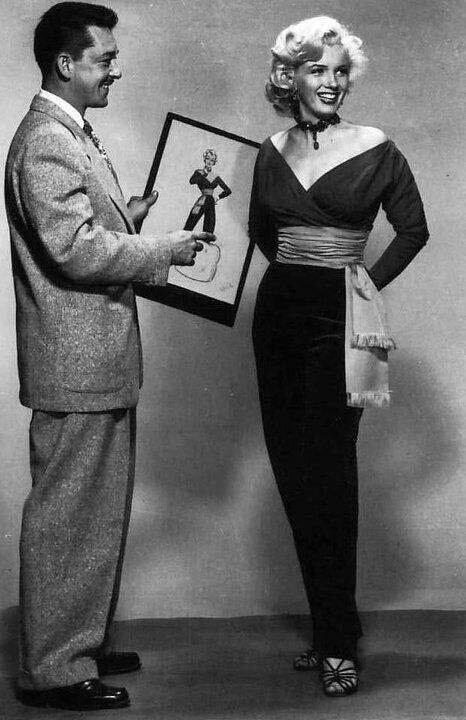 Cet ensemble est composé d'un maillot vert en jersey à longues manches et au décolleté croisé, d'un pantalon bleu/violet foncé en velours et d'une ceinture en soie de couleur lavande pâle. Il a été conçu par le créateur et couturier de la 20th Century Fox, William "Billy" Travilla pour le film Gentlemen prefer blondes (Les hommes préfèrent les blondes) tourné en 1952.
Marilyn Monroe fit deux essais de tests costumes avec cette tenue: d'abord, le 12 novembre 1952, elle pose seule devant l'ardoise indiquant les notions liées à la tenue dans le film (le rôle, la scène, le nom du couturier, la date). Elle accessoirise la tenue avec des boucles d'oreilles (de couleur vert émeraudes foncées telles qu'on les découvre dans le film), un collier et un bracelet au poignet gauche (qui sont de même couleur que les boucles d'oreilles). Elle porte des sandales noires croisées et ouvertes aux pieds.
Puis, le 17 décembre 1952, elle prend la pose à côté du couturier Travilla (qui tient dans sa main l'esquisse de la tenue) et qui réajuste le maillot. La coiffure de Marilyn est plus fluide, et elle porte les mêmes accessoires, excepté le bracelet remplacé par une bague à la main gauche.
C'est une tenue qui se veut décontractée tout en restant chic: Marilyn la porte dans une scène où son personnage, Lorelei, une chanteuse de Music Hall qui embarque sur un paquebot avec sa partenaire Dorothy (Jane Russell), se retrouve dans sa cabine en pleine discussion avec le riche (et imposteur) Piggy puis avec Dorothy. Les deux chanteuses ne sont pas en représentation et la scène les représente dans un moment de journée ordinaire (sur un paquebot certes, mais dans leur cabine). [> la scène du film sur le blog: voir les captures, les photos et sur le tournage ]. C'est pourquoi on retrouve le côté "casual" dans le top qui se veut court et malgré tout moulant, tout comme le pantalon qui retombe tout en fluidité sur les pieds; et le côté "chic" par les matières (jersey, velours) et la ceinture de soie. On retrouve les bijoux portés aux tests de costumes et il semblerait qu'il s'agisse d'une parure avec les mêmes pierres de même couleur: les boucles d'oreilles, le collier, le bracelet (au poignet gauche) et la bague (à la main droite).

Marilyn posera dans cette tenue pour une série de photographies sous l'objectif de John Florea, servant de clichés publicitaires au film; mais pour ces poses ironiques -où elle joue aux cartes avec des billets de banque- elle a changé les bijoux: elle a ôté le collier, le bracelet, la bague et porte de grandes boucles blanches pendantes aux oreilles:
---
Il semble indéniable que Travilla se soit fortement inspiré de cette tenue présentée dans le magazine américain Vogue de avril 1952 où dans les pages de mode, on voit cette mannequin portant une tenue similaire (le top est plus près du corps et moins fluide que celui de Marilyn, et le décolleté n'est pas croisé; le pantalon en velours et la ceinture semblent avoir été repris à l'identique. Tout comme l'idée des bijoux -différents que ceux portés par Marilyn, mais en nombre), le tout dans un esprit ethnique / bohème chic:
---
Jane Russell, la partenaire de Marilyn, portera le top vert dans la suite de "Gentlemen Prefer Blondes" tournée en 1955 -"Gentlemen marry brunettes" ("Les hommes épousent les brunes") réalisé par Richard Sale- la ceinture est mauve et le pantalon est un corsaire noir satiné:
L'actrice Sheree North portera aussi à son tour l'ensemble :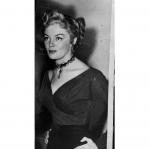 ---
© All images are copyright and protected by their respective owners, assignees or others.
copyright text by GinieLand.
Enregistrer
Enregistrer
Enregistrer
15 mars 2014
Marilyn Monroe et les caméras
Auteur: Collectif (Lothar Schirmer / Georges Belmont)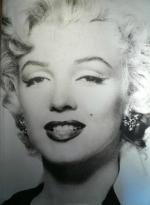 Date de sortie: 1991
Broché 248 pages
Langue: français
Éditeur: Schirmer Mosel / France-Loisirs
Prix éditeur: (en 1991: 196 francs),
d'occasion dès 15 Euros
ISBN 10: 3888145961
ISBN 13: 978-3888145964
Ou le commander ? sur amazon.fr
Description: Ce livre est dédié à la mémoire de Marilyn Monroe. Bien que l'histoire de Marilyn remonte maintenant à une trentaine d'années, le rayonnement de sa beauté et l'extravagance de son allure sont plus captivants, plus époustouflants que jamais. les illustrations de ce livre en sont la preuve même et donnent raison à postériori à Arthur Miller qui disait: "Le soleil semblait terne à côté de Marilyn" ou "elle était le reproche vivant à toute l'indifférence." Cet album contient 152 photographies réalisées par presque quarante photographes dans les années 1945 à 1962 et l"interview que Marilyn accorda à Georges Belmont en 1960.
Sommaire:
Remerciements
Préface de Jane Russell
Les photographes
Interview de Marilyn Monroe avec Georges Belmont
Planches
Biographie
Filmographie
Bibliographie
Sources iconographiques
---
Marilyn Monroe and the Camera
Author: (Georges Belmont)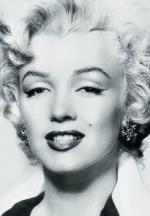 Date de sortie: 1991 (re-édité en 2001)
Relié 248 pages
Langue: anglais
Éditeur: Schirmer/Mosel Verlag GmbH
Prix éditeur: 46,55 Euros
ISBN-10: 3829603126
ISBN-13: 978-3829603126
Dimensions du produit: 33,2 x 23,9 x 2,9 cm
Ou le commander ? sur amazon.com
Description: This book contains 152 photographs of Marilyn Monroe taken during her career from 1945 to 1962; and an interview with french journalist Georges Belmont given in 1960.
---
Mon Avis en Bref... 10/10
Je possède ce livre depuis que je suis enfant (je devais avoir 10 ans et il fut mon deuxième livre sur Marilyn) et honnêtement, il reste l'un de mes préférés, et sans doute l'un des livres de Marilyn que j'ai le plus consulté ! C'est avant tout un livre de photographies, reproduites dans une excellente qualité, beaucoup sont en pleine page (une photo par page, voir même en double page) et toutes sont légendées, apportant des informations sur le contexte photographique (nom du photographe, date, lieu, événement, lien avec la carrière et/ou vie de Marilyn), et le plus important, il n'y a aucune erreur de dates ni de faits. Les photographies reproduites concernent uniquement la carrière de Marilyn: dès l'année 1945 où elle fit ses premières photos professionnelles en tant que mannequin, jusqu'en 1962, les photos de Bert Stern; vous ne trouverez donc aucun cliché de sa vie privée ni de son enfance, pas de photos intimes ni de paparazzis, mais des photos prises en studio, sur les tournages de films, en public comme lors de conférence de presse etc...
Les autres avantages de ce livre sont d'abord, la reproduction de l'interview complète de Marilyn donnée à G. Belmont où elle parle d'elle-même, de sa vision de la vie, de son enfance; c'est l'une des interviews les plus touchantes qu'elle ait donné dans sa carrière. Ensuite, la biographie en fin de livre revient sur les moments clés de la vie de Marilyn par dates et événements importants. Enfin, la préface de Jane Russell, très attendrissante envers Marilyn qu'elle a connu jeune, avant qu'elle ne devienne star.
Donc, en résumé, je conseille vivement ce livre qui reste un incontournable: d'un côté, si vous n'êtes pas fan de Marilyn mais que vous l'appréciez, vous apprendrez à la connaître davantage grâce à ce livre; et d'un autre côté, je pense que tout fan de Marilyn se doit d'avoir ce livre dans sa bibliothèque.

---
Vous avez le livre ? Do you have the book ?
Apportez votre critique, votre avis ou votre note (/10)
14 février 2014
Quel est votre chanson préférée
de Marilyn Monroe et Jane Russell ?
Elles interprètent deux chanteuses dans le film
"Gentlemen prefer Blondes" ("Les Hommes préfèrent les blondes")
Quelle est votre chanson préférée interprétée en duo ?
26 décembre 2013
---
Photographies
---
lot 47: Oversized Photograph of Marilyn Monroe in The Seven Year Itch
(TCF, 1955) Vintage original 9.75 x 12 in. gelatin silver glossy borderless photo print of Marilyn Monroe and Tom Ewell from The Seven Year Itch. The production photo exhibits some minor flaws from the negative and very minor corner bumping. In vintage very good condition.
Sold: $300

---
lot 48: Collection of (7) Photos of Marilyn Monroe
(Various studios, 1957-1961)
Gelatin-silver glossy approx. 8 x 10 in. prints (7) all featuring Marilyn Monroe in (3) films:
The Prince and the Showgirl (Warner Bros., 1957) (1), Let's Make Love (TCF, 1960) (5),
and The Misfits (United Artists, 1961) (1).
All are in very fine condition and (1) has descriptive studio snipes on verso
Sold: $350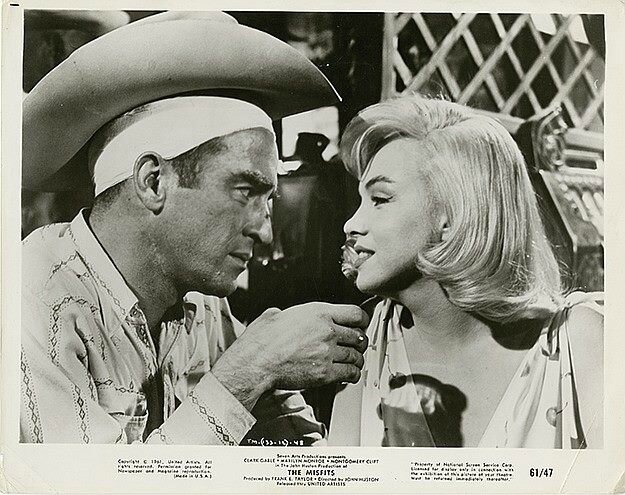 ---
lot 128: Collection of (32) contact sheet Prints of Marilyn Monroe with Milton Berle and Maurice Chevalier and Marlene Dietrich by Milton h. Greene
(32) Silver gelatin glossy 8 x 10 in. contact sheet prints from 35mm negatives of Marilyn Monroe with Marlene Dietrich at
cocktail party announcing formation of MM Productions, Milton Berle for Mike Todd Circus at Madison Sq. Garden and at Friars' Club Roast, and Maurice Chevalier for Look, dated 1/7/55, 3/15/55 and 9/30/55. Very good.
Estimate: $200 - $300
Sold: $3 250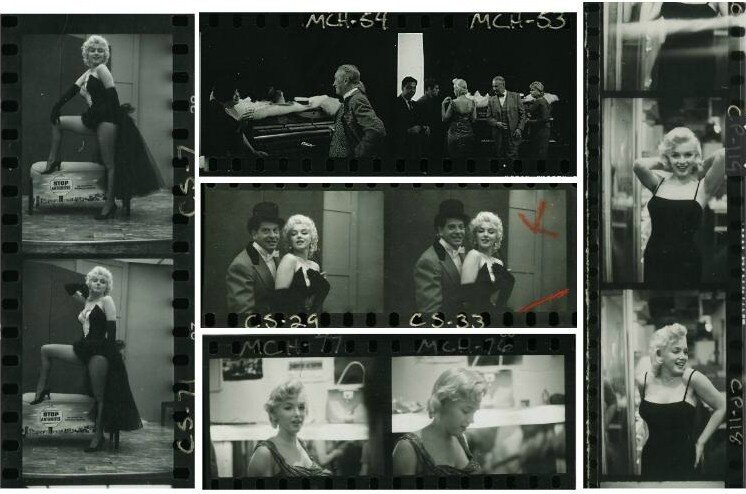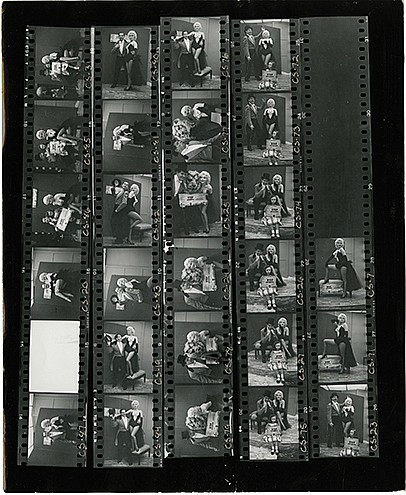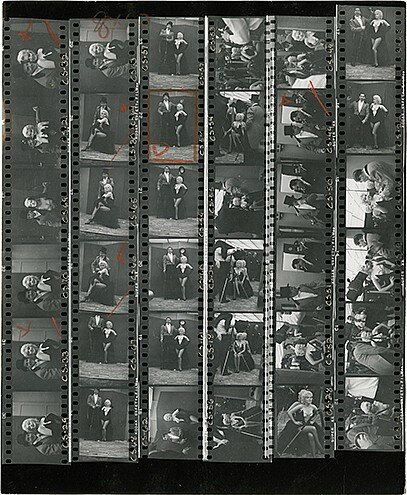 ---
lot 129: Collection of (10) contact sheet Prints of Marilyn Monroe from Seven Year Itch and other sittings by Milton H Greene.
(10) Silver gelatin glossy 8 x 10 in. contact sheet prints from 35mm negatives of Marilyn Monroe from Seven Year Itch (20th Century-Fox, 1955), "Nude," "Nightgown and Mink Stole," "White Robe" and "Gypsy" sittings by Milton H. Greene, dated 9/2/53, 10/7/53, 9/13/54, 3/8/55 and 4/15/56. Very good.
Estimate: $200 - $300
Sold: $ 1 000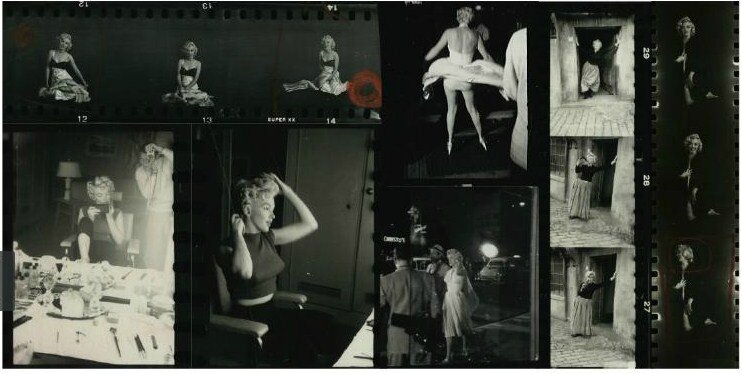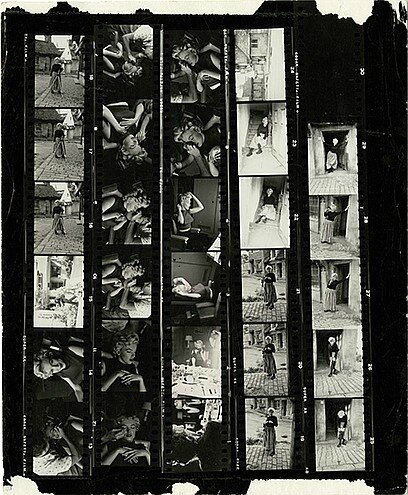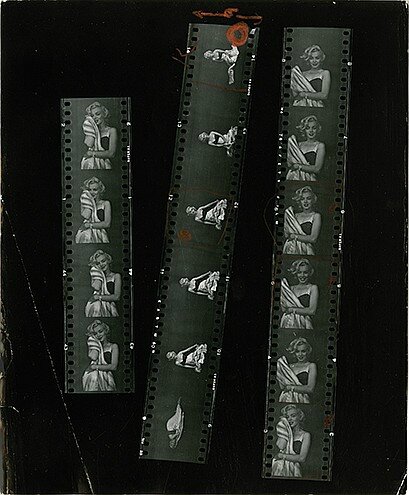 ---
lot 130: Collection of (8) contact sheet Prints of Marilyn Monroe from "balalaika" by Milton H Greene
(8) Silver gelatin glossy 8 x 10 in. contact sheet prints (2 double-weight) from 2.25
x 2.25 in. and 35mm negatives of Marilyn Monroe from "Balalaika" sitting by Milton
H. Greene, dated 9/2/53. Very good to Fine.
Estimate: $300 - $500
Sold: $ 1 200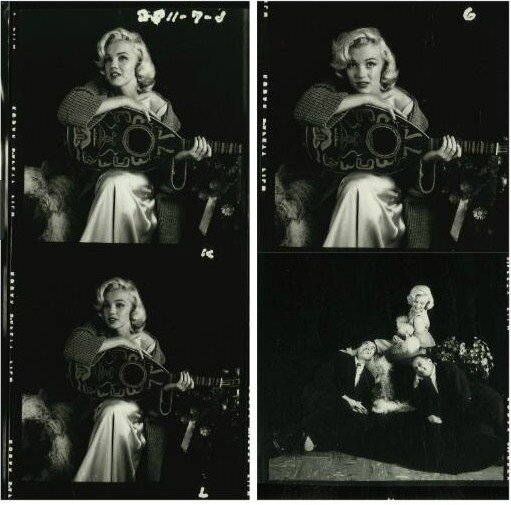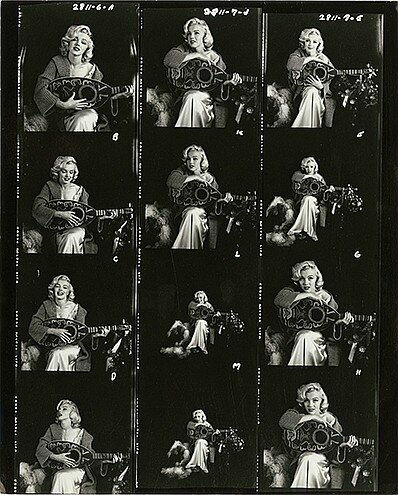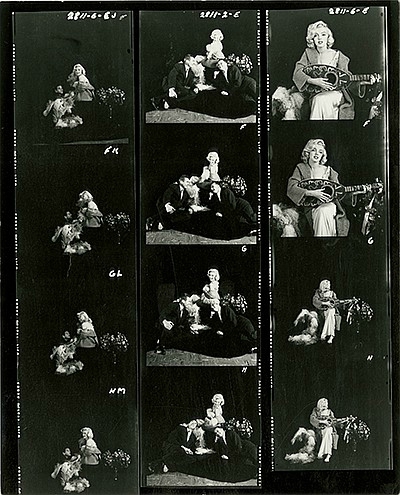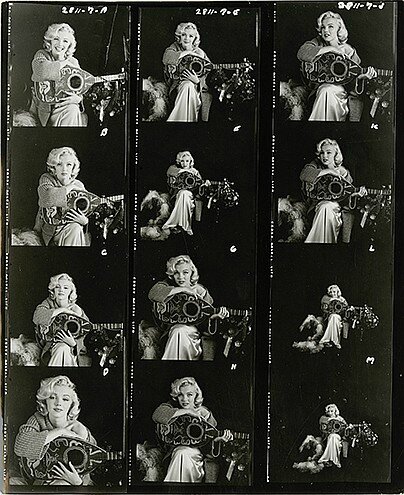 ---
lot 131: Collection of (8) contact sheet Prints of Marilyn Monroe from "ballerina" by Milton H Greene
(8) Silver gelatin glossy 8 x 10 in. contact sheet prints (1 double-weight) from 2.25 x 2.25 in. negatives of Marilyn Monroe from "Nightgown and Mink Stole" "Ballerina" and "White Robe" sittings by Milton H. Greene, dated 10/7/53, 10/6/54 and 3/8/55. Very good.
Estimate: $300 - $500
Sold: $ 1 600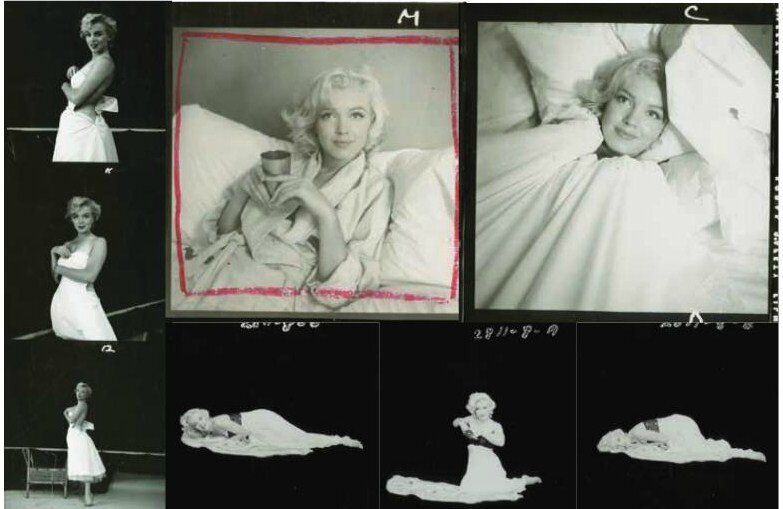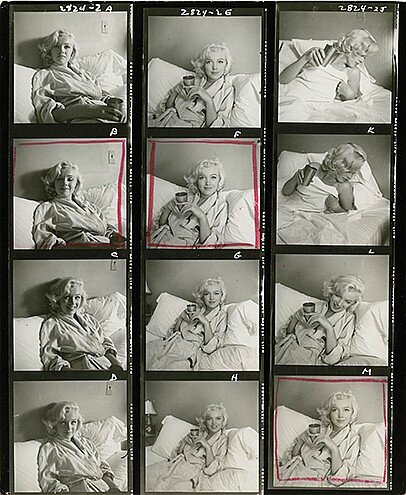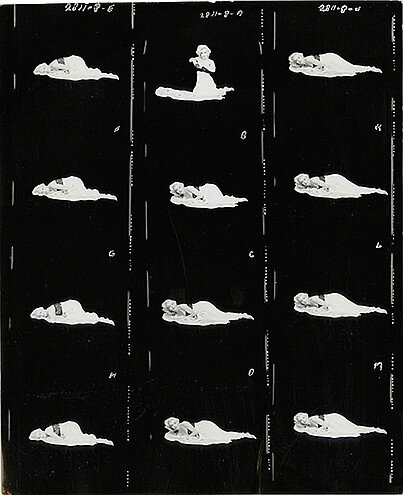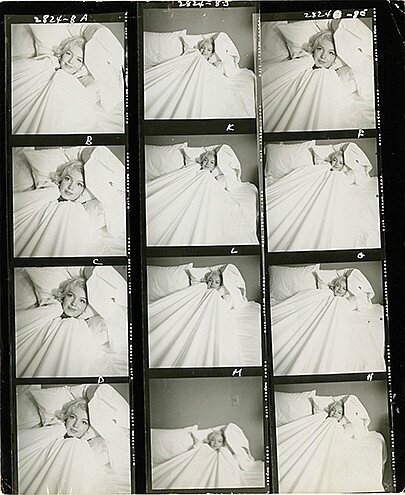 ---
lot 132: Collection of (14) contact sheet Prints of Marilyn Monroe with Marlon Brando Edward R. Murrow by Milton H Greene
(14) Silver gelatin glossy 8 x 10 in. contact sheet prints from 2.25 x 2.25 in. and 35mm negatives of Marilyn Monroe
with Marlon Brando for Actor's Studio Benefit for Muscular Dystrophy and Edward R. Murrow for Person to Person by Milton H. Greene, dated 4/1/55 and 12/12/55. Very good.
Estimate: $200 - $300
Sold: $ 1 600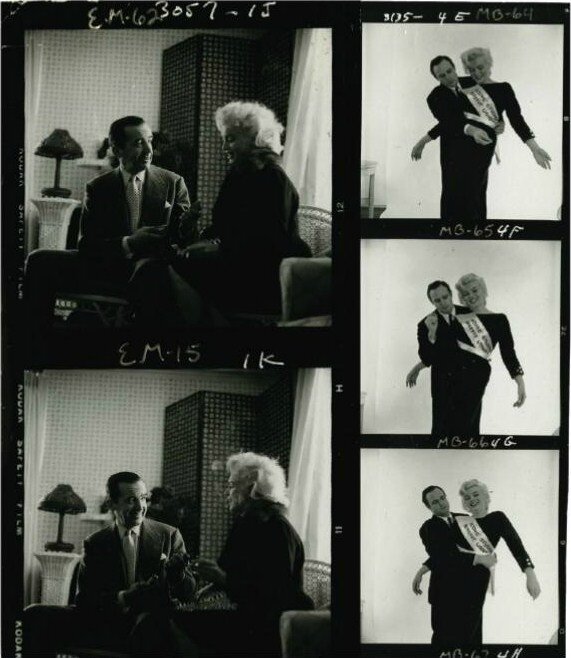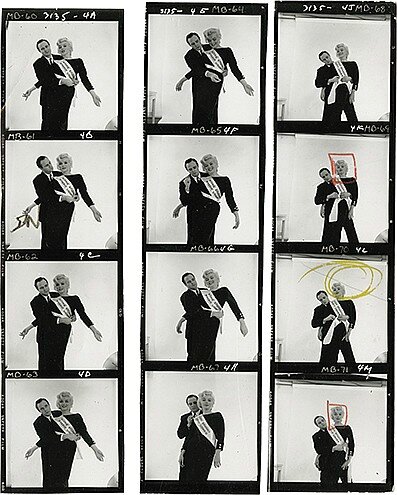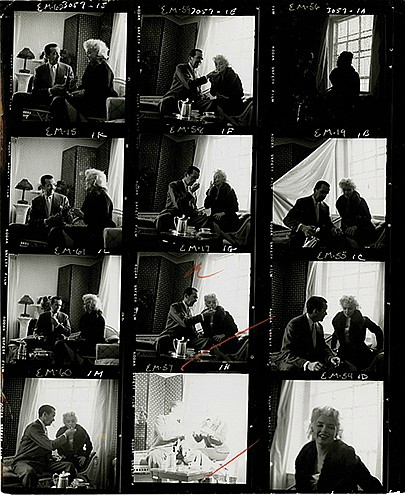 ---
lot 133: Collection of (17) Proof Prints of Marilyn Monroe from Bus Stop by Milton H. Greene (20th Century-Fox, 1956)
(17) Silver gelatin glossy 8 x 10 in. proof prints (1 double-weight) of Marilyn Monroe from Bus Stop by Milton H. Greene, dated 1/1/56. Fine.
Estimate: $200 - $30
Sold: $ 2 750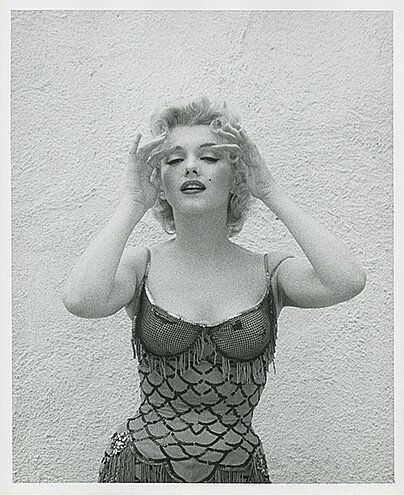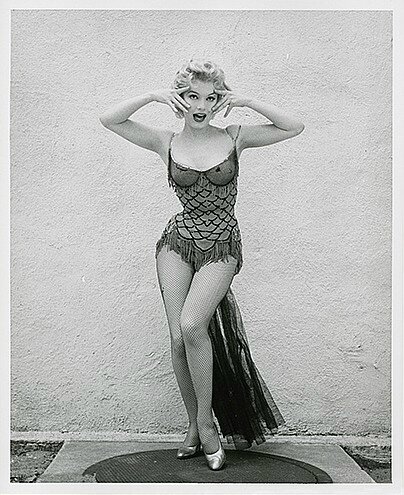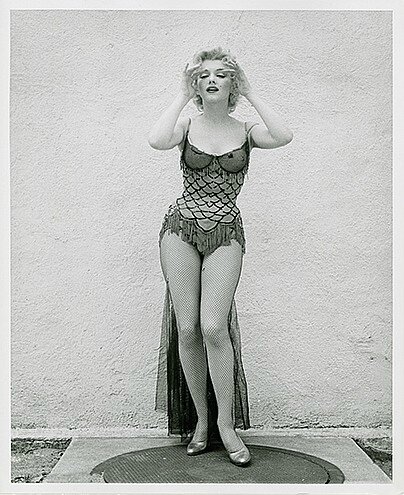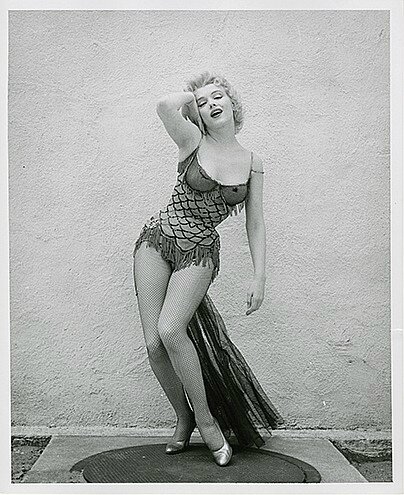 ---
lot 134: Collection of (98) Proof Prints of Marilyn Monroe from Bus Stop by Milton H. Greene (20th Century-Fox, 1956)
(98) Silver gelatin glossy 4 x 5 in. proof prints of Marilyn Monroe from Bus Stop by Milton H. Greene, dated 5/16/56. Good to Fine; with missing corners to some.
Estimate: $300 - $500
Sold: $ 1 900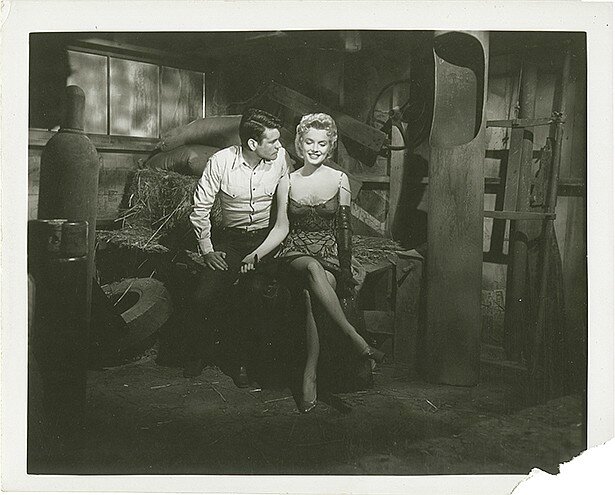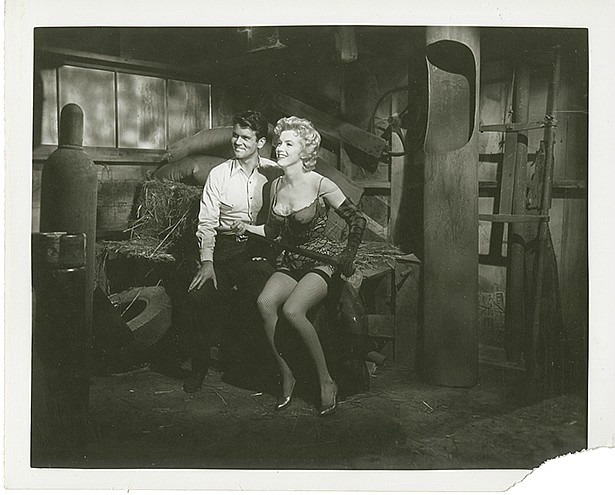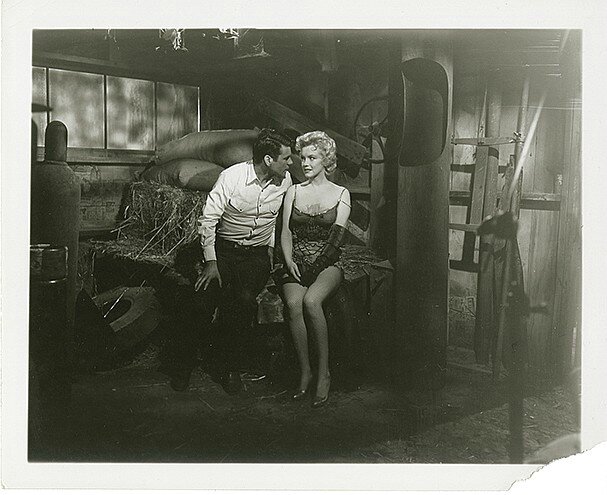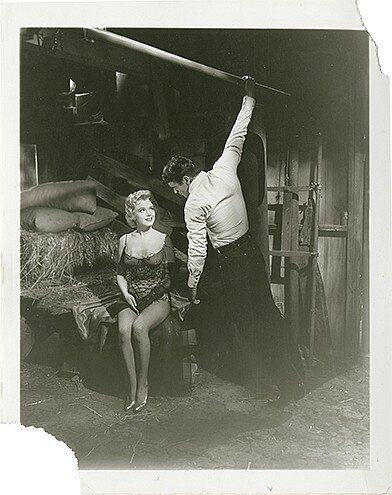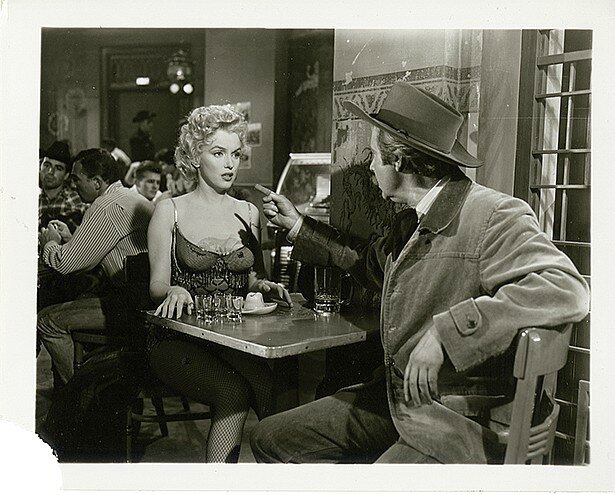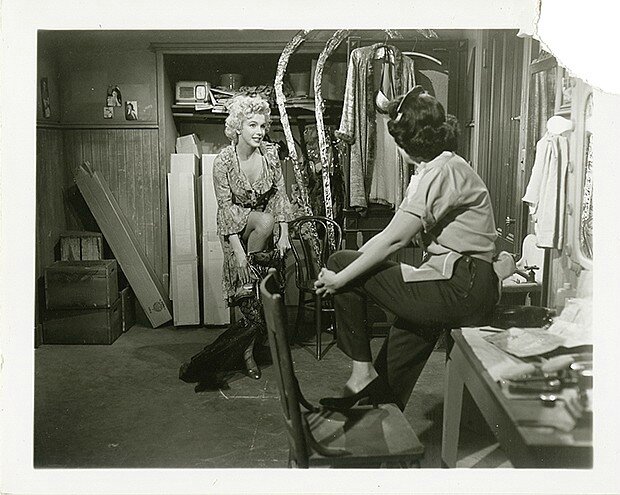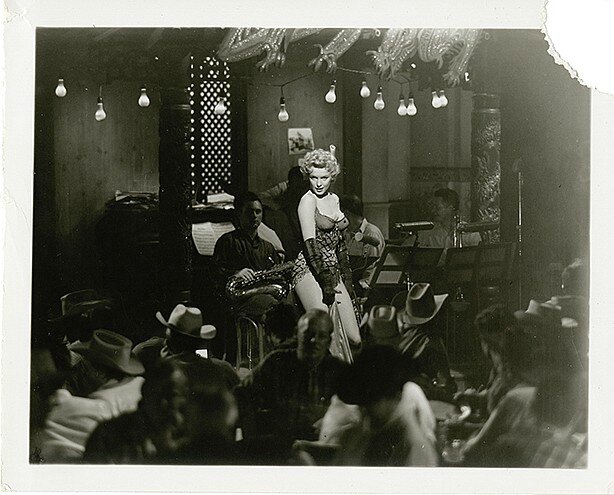 ---
lot 135: Collection of (33) Proof Prints of Marilyn Monroe from Bus Stop by Milton H. Greene (20th Century-Fox, 1956)
(33) Silver gelatin glossy 8 x 10 in. contact sheet prints from 2.25 x 2.25 in. (4) and 35mm negatives of Marilyn Monroe from Bus Stop by Milton H. Greene, dated 5/16/56. Very good.
Estimate: $200 - $300
Sold: $ 900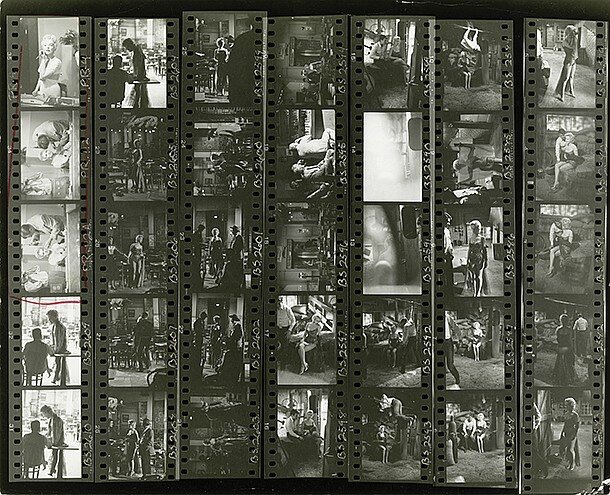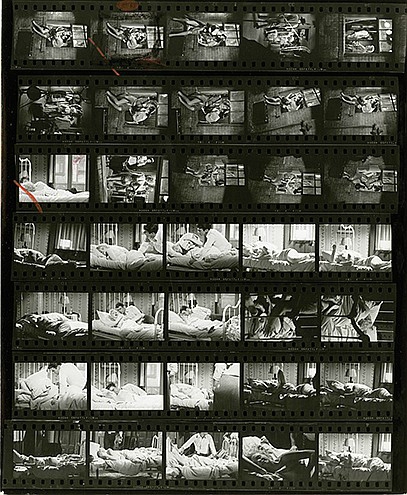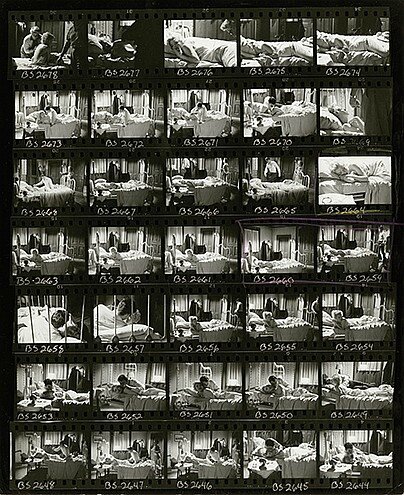 ---
lot 136: Collection of (9) contact sheet Prints of Marilyn Monroe from The Prince and the Showgirl by Milton H. Greene
(Warner Bros., 1957)
(9) Silver gelatin glossy 8 x 10 in. contact sheet prints from 2.25 x 2.25 in. negatives of Marilyn
Monroe from The Prince and the Showgirl
by Milton H. Greene, dated 6/26/56. Very good.
Estimate: $200 - $300
Sold: $ 700





---
lot 137: Collection of (33) contact sheet Prints of Marilyn Monroe with Lawrence Olivier, Vivien Leigh and Arthur Miller from the Prince and the Showgirl, by Milton H Greene (Warner Bros., 1957)
(33) Silver gelatin glossy 4 x 5 in.
contact sheet prints of Marilyn Monroe with Lawrence Olivier, Vivien Leigh and Arthur Miller at press reception at Heathrow for
The Prince and the Showgirl by Milton H. Greene, dated 7/56. Very good to Fine.
Estimate: $200 - $300
Sold: $ 1 400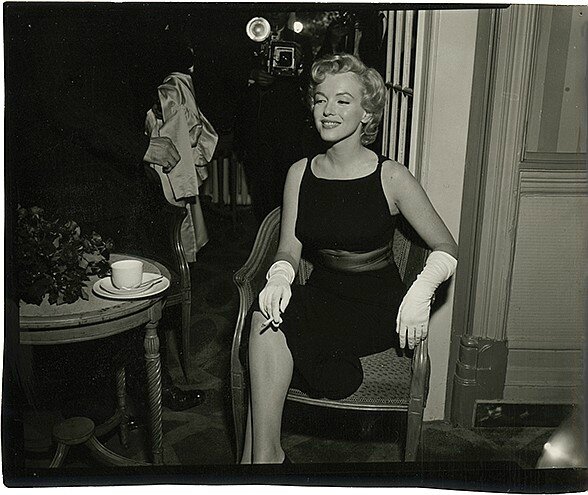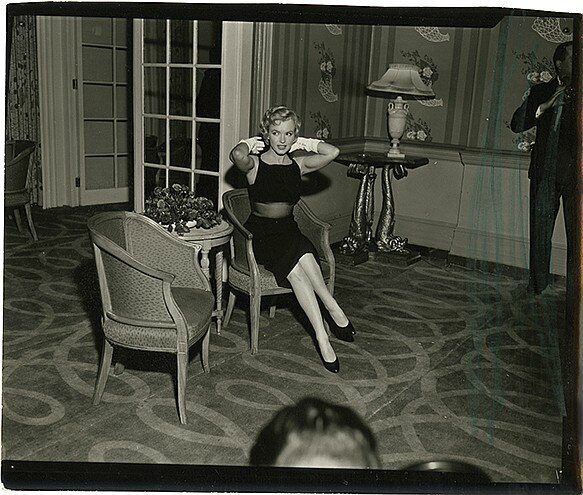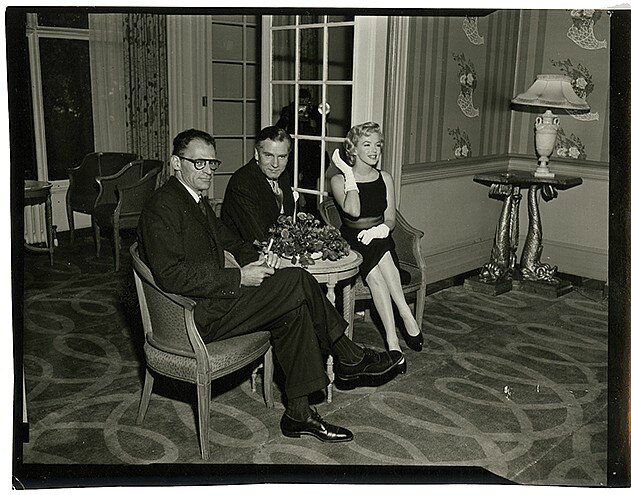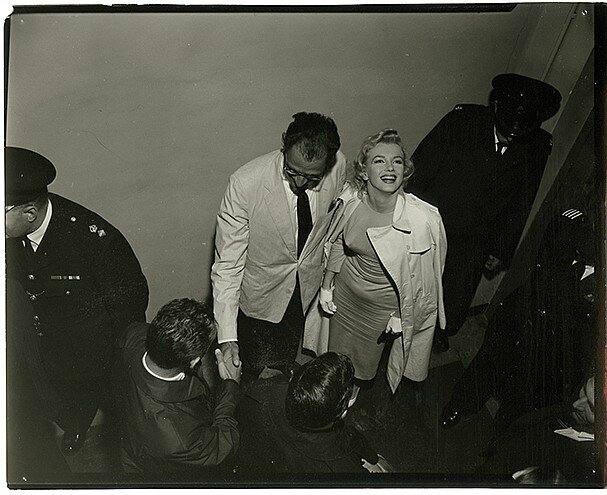 ---
lot 138: Collection of (170) contact Prints of Marilyn Monroe with Lawrence Olivier, Vivien Leigh and Arthur Miller from the Prince and the Showgirl, by Milton H Greene (Warner Bros., 1957)
(170) Silver gelatin glossy 2.25 x 2.25 in. contact prints of Marilyn Monroe with Lawrence Olivier, Vivien Leigh and
Arthur Miller at press reception at Heathrow for The Prince and the Showgirl
by Milton H. Greene, dated 7/56. Very good.
Estimate: $200 - $300
Sold: $ 1 100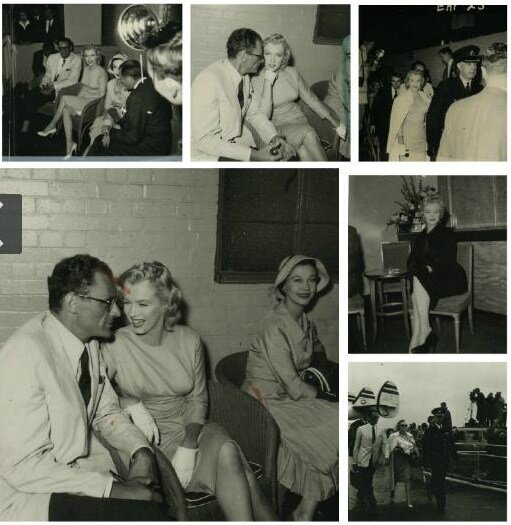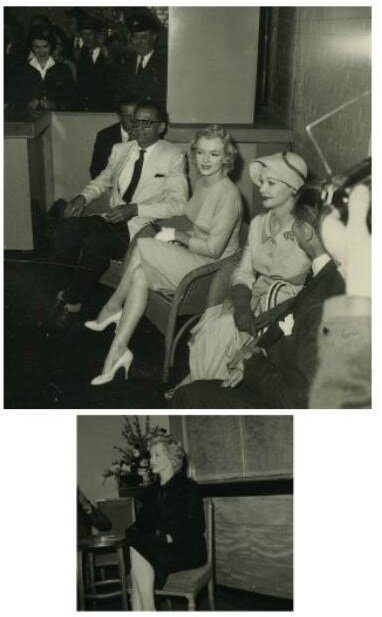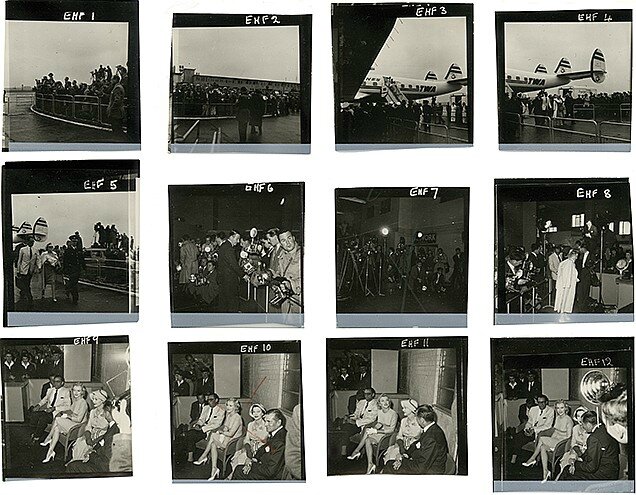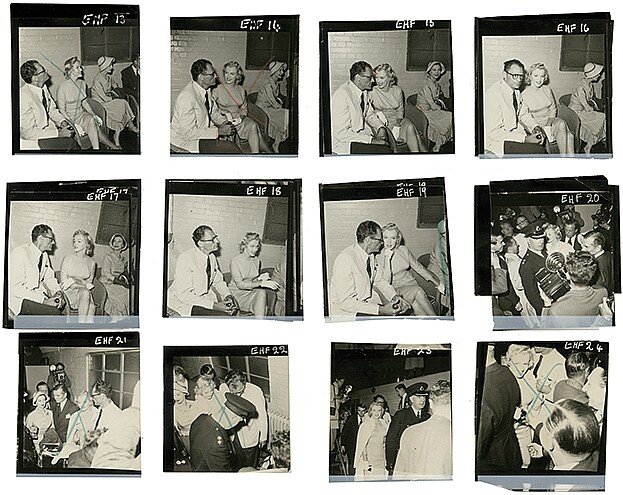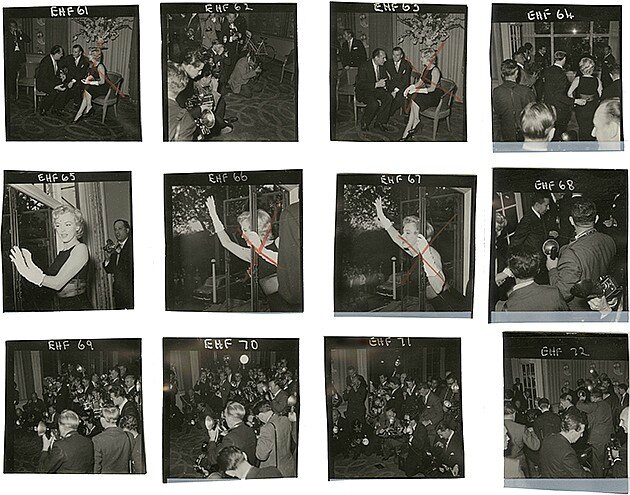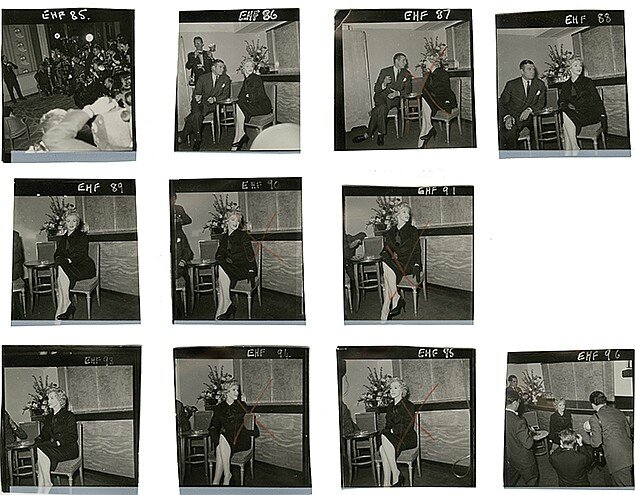 ---
lot 139: Collection of (17) contact sheet Prints of Marilyn Monroe with Lawrence Olivier from The Prince and the Showgirl by Milton H. Greene (Warner Bros., 1957)
(17) Silver gelatin glossy 8 x 10 in. proof prints (5) and contact sheet prints from 2.25 x 2.25 in. negatives of Marilyn
Monroe with Lawrence Olivier at press reception for The Prince and the Showgirl by Milton H. Greene, dated 7/56. Very
good.
Estimate: $200 - $300
Sold: $ 1 500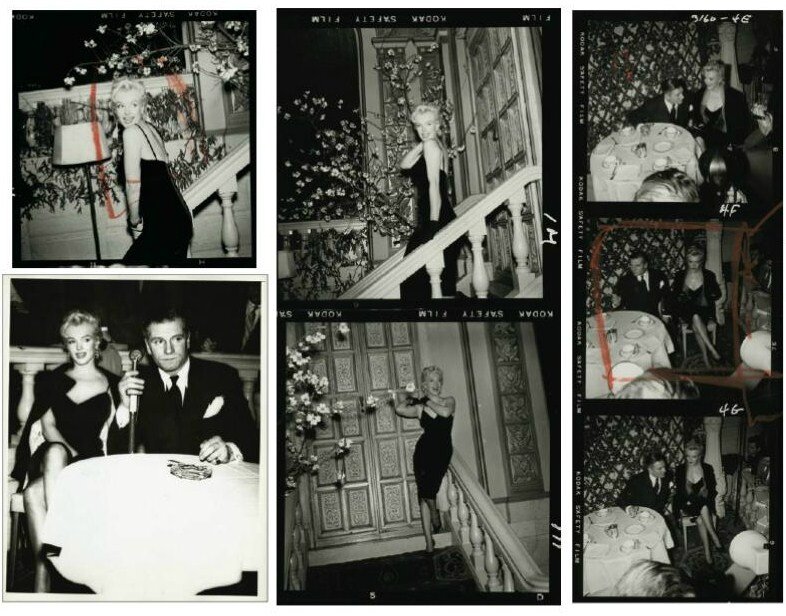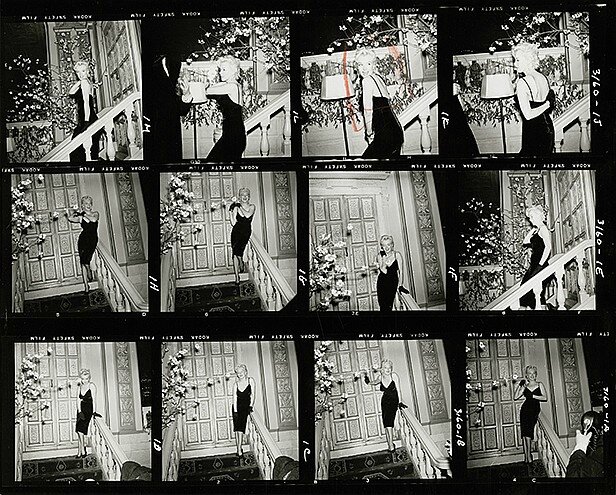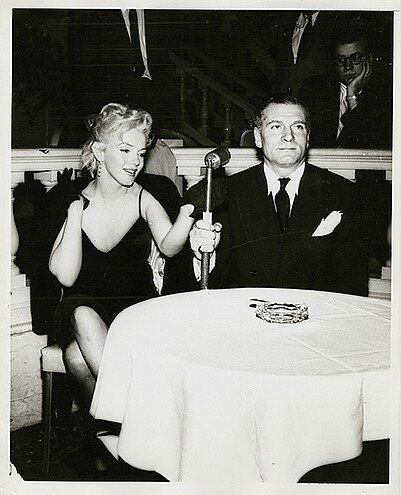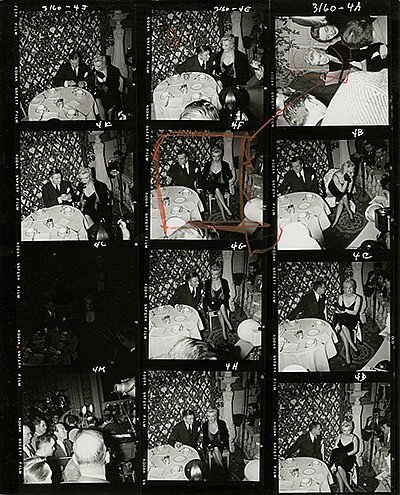 ---
Lot 140: Collection of (15) contact sheet Prints of Marilyn Monroe and Lawrence Olivier with Terence Rattigan from The Prince and the Showgirl by Milton H. Greene (Warner Bros.,1957)
(15) Silver gelatin glossy 8 x 10 in. contact sheet prints from 2.25 x 2.25 in. negatives of Marilyn Monroe and Lawrence Olivier with
Terence Rattigan in publicity sitting for The Prince and the Showgirl by Milton H. Greene, dated 7/56; with
photographer rubber stamp on verso. Very good.
Estimate: $200 - $300
Sold: $ 2 750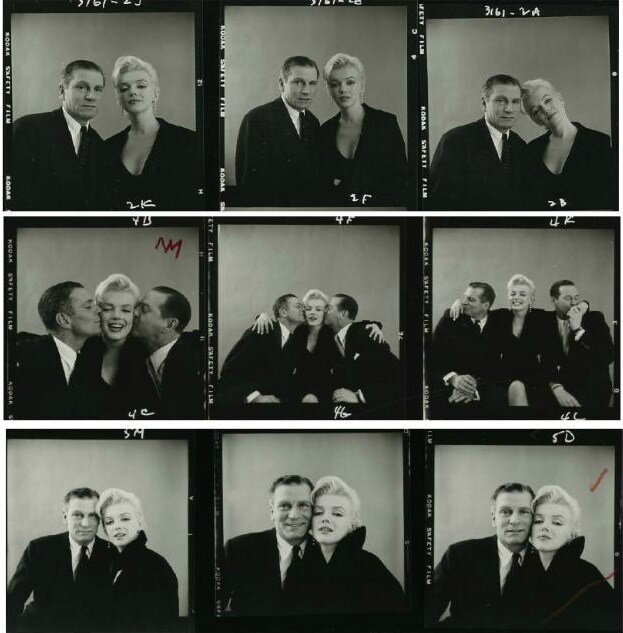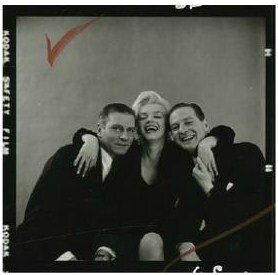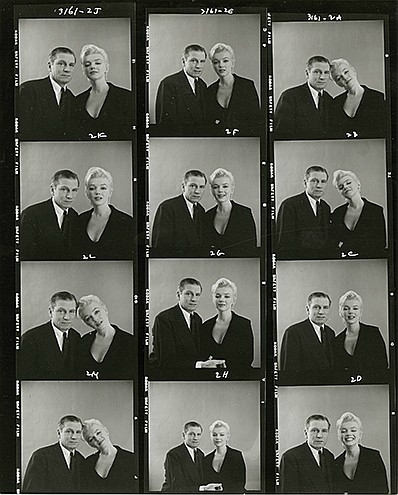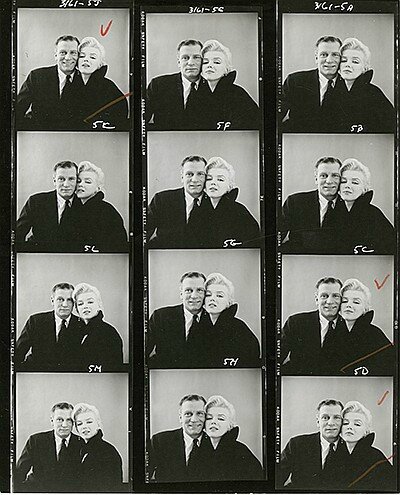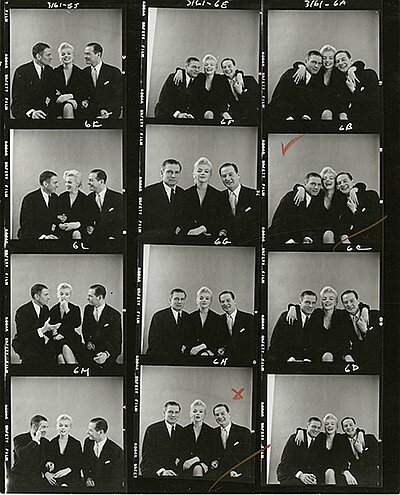 ---
Lot 141: Collection of (496) contact Prints of Marilyn Monroe from The Prince and the Showgirl by Milton H. Greene
(Warner Bros., 1957)
(496) Silver gelatin glossy contact prints including (164) 2.25 x 2.25 in. and (332) 35mm negatives of Marilyn Monroe for The Prince and the Showgirl by Milton H. Greene, dated 6/28/56; with photographer rubber stamp on verso. Very good.
Estimate: $200 - $300
Sold: $ 3 750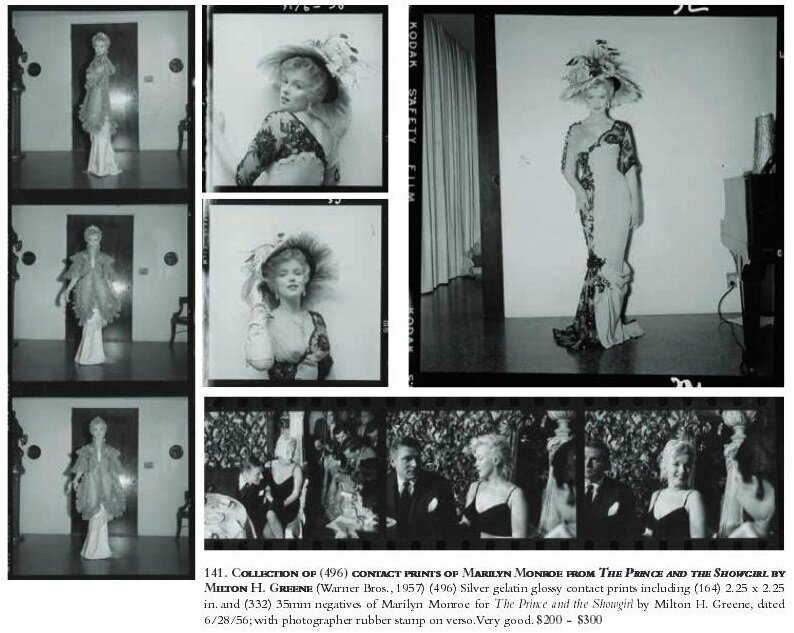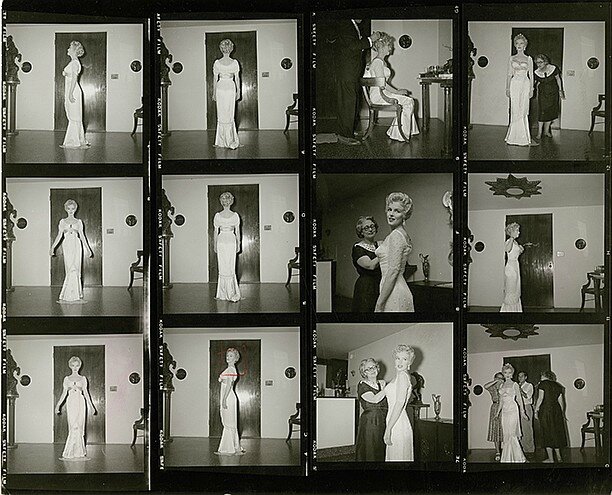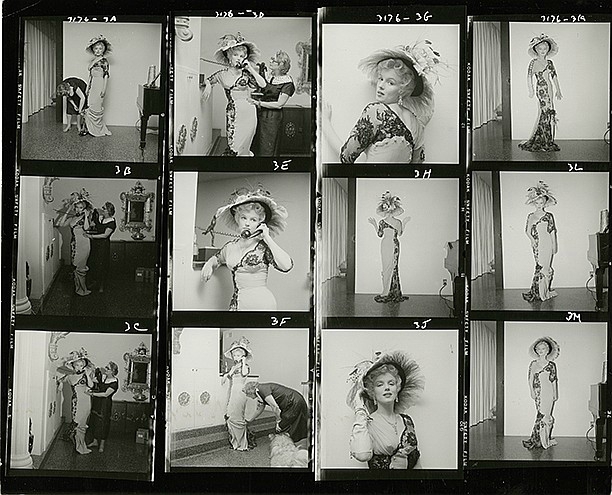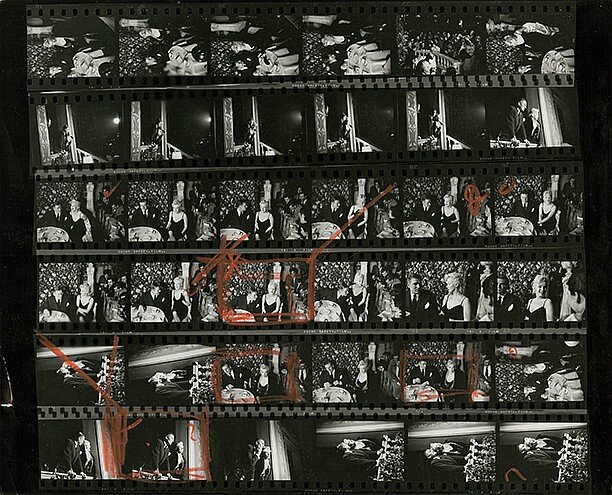 ---
Lot 142: Collection of (14) camera negatives of Marilyn Monroe from The Prince and the Showgirl by Milton H. Greene
(Warner Bros., 1957)
(14) Black-and-white 2.25 x 2.25 in. camera negatives (3 with contact print) of Marilyn Monroe from The Prince and the Showgirl
by Milton H. Greene, dated 11/29/73. Very fine.
Estimate: $200 - $300
Sold: $ 1 100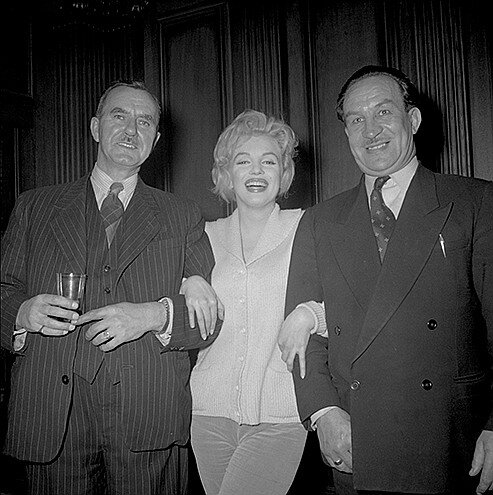 ---
Lot 161: Travilla "subway dress" costume design for The Seven Year Itch. (TCF, 1955)
In this landmark film from the mid-1950s, Tom Ewell reprises his Broadway role as a husband whose wife goes on a brief vacation with their children. He remains behind in New York on business, alone for the first time in seven years of marriage, and begins fantasizing about a model who has sublet the apartment above. Marilyn Monroe plays The Girl with her characteristic mix of innocence and sexual allure. The Seven Year Itch storyline, unlike some of Monroe's earlier films, held forth no promise as a costume showcase. It was not a period piece and she had no dance routines. Still, this was to become the vehicle for Travilla's most famous dress design. It was a deceptively simple dress, classic but sexy, and it was meant to make Monroe look cool on the hot, sticky sidewalks of New York. "I'm going to have my precious baby standing over a grate," Travilla remembered. "I wanted her to look fresh
and clean. So I wondered what could I do with this most beautiful girl that Marilyn was to play to make her look clean, talcum-powdered and adorable," Travilla mused. "What would I give her to wear that would blow in the breeze and be fun and pretty? I knew there would be a wind blowing so that would require a skirt." In his trademark painterly style, Travilla then drew his visualization of what would become the most famous garment in Hollywood history – a white crepe bias-cut dress with a halter-top and sunburst pleated skirt. Accomplished in gouache and ink on a 15 in. x 20 in. sheet of artist's illustration board, the sketch features the now-famous skirt billowing around her waist, in the scene that would electrify audiences all over the world and reportedly bring an abrupt end to Marilyn's celebrated marriage to slugger Joe Dimaggio.
Giving the actress a broad smile, Travilla positioned her left arm delicately across her body, while her hand holds up the skirt in a playful tease. The sketch is signed boldly at the lower right of the image in black ink, "Travilla", with notation at the upper right corner in dark graphite, "7 Year Itch – Wind Scene at Subway". When she stood over the subway grate and a blast of air caused her pleated skirt to swirl above her waist, Monroe made Hollywood history. Travilla's contribution was almost forgotten, although he often mused in private about the fame of The Dress. "Here's how famous it was," he said. "We were traveling in London to promote the Littlewoods catalog in the 1970s, and my copy of the dress was on display along with millions of dollars in jewelry." There was a break-in at the show, but the only item stolen was The Dress (which was later anonymously returned). This sketch perfectly embodies the many competing themes of American life during the conservative 1950s, all of which seemed to converge in this film and in this dress at the very moment Marilyn paused over the Subway grate: the responsibilities of modern life as represented by Tom Ewell's character, the growing independence of American women, and the changing attitude of the country towards
sex and desire, which would culminate in the sexual revolution of the 1960s just a few years away. The crown jewel of Travilla's Lost Collection, this sketch is not only a wonderful piece of Hollywood history, but an important snapshot of American popular culture from the apex of Marilyn Monroe's meteoric film career. Provenance: Profiles in History Auction 20, Lot 114.
Estimate: $60,000 - $80,000
Sold: $ 80 000


---
Lot 226: Marilyn Monroe hand–signed and inscribed photograph.
Vintage 8 in. x 10 in., black & white, gelatin silver photo of the sex symbol in a low-cut, clinging blouse. Inscribed in blue ink on the image, "To Lou, When you come back – come around, Marilyn Monroe". With chipped, upper right hand corner. Pinholes in corners and minor creasing not affecting image or signature. In good condition.
Estimate: $15,000 - $20,000
Sold: $19 000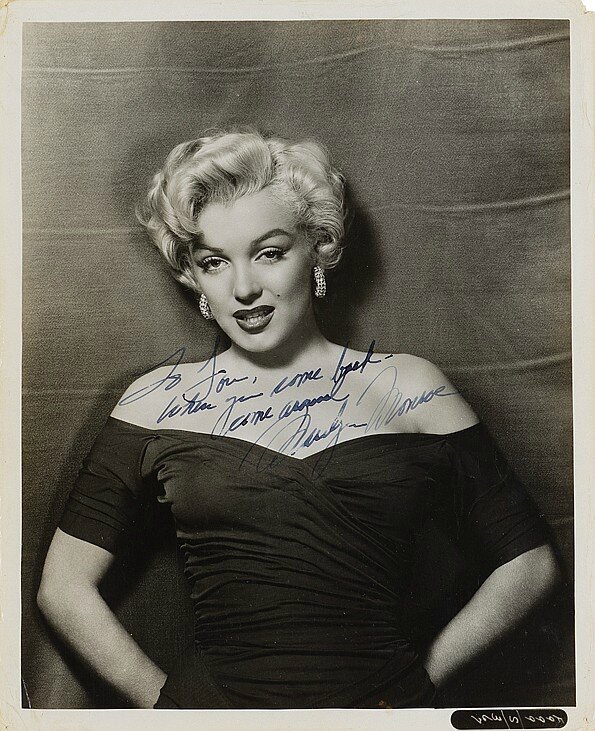 ---
Lot 227: Original Marilyn Monroe anniversary Playboy cover artwork by Victoria Fuller, signed by Hugh Hefner.
Original commemorative Marilyn Monroe Playboy magazine cover painting accomplished in oil paints and silkscreen on a 30 x 40 in. stretched canvas. A one of a kind collection of 11 paintings were created by artist Victoria Fuller in celebration of the 60th anniversary of Marilyn Monroe's appearance in the first issue of Playboy in December, 1953. The art depicts the iconic cover of the first issue of Playboy. In addition to being a fine art painter, Fuller was one of Playboy's most popular Playmates, and the most photographed 'Bunnies' in the magazine's last 50. She is also the first and only artist to ever receive a licensing contract from Playboy allowing her to use the famous trademark Rabbit Head Playboy, and Bunny Costume as subjects of her paintings and limited addition prints. The piece is hand-signed by the artist and Playboy Magazine founder and American icon Hugh Hefner. In fine condition.
Estimate: $6,000 - $8,000
Sold: $ Pass

---
Documents papiers
---
Lot 224: Marilyn Monroe contract for The Asphalt Jungle. (MGM, 1950)
1-page, printed, typed contract on approx. 21 x 8.5 paper, signed, "Marilyn Monroe" dated 29 November 1949. In John Huston's The Asphalt Jungle, an unknown actress named Marilyn Monroe in her early breakthrough roll as "Angela Finlay", a small but important roll in this film noir classic. This oversize "Screen Actors Guild Minimum Contract for Freelance Players" outlines the terms of Monroe's employment on the film. The contract states that Monroe will play the role of "Angela" in the "photoplay" The Asphalt Jungle and be paid the sum of $300 for 1 week of work beginning on November 9th, 1949. The contract lists Monroe's' current address as, "1301 N. Harper Ave. Los Angeles, California" and her phone number, "Hampstead 9943". The contract verso exhibits an additional amendment typed on 8 x 4 in. paper, tipped to the contract. Signed at the bottom of the page by MGM casting director "Fred A Datig" and below that, in black pen, "Marilyn Monroe". Retaining original folds. In very good condition.
Estimate: $2,500 - $3,500
Sold: $ 4 750


---
Lot 225: Marilyn Monroe's personal title and service agreement to her 1950 Pontiac
Marilyn Monroe Pontiac sedan paperwork consisting of (3) documents, including: (1) 8.5 x 3.75 in. Beverly Motor Company, tri-folded, printed Pontiac Service Policy. With typed "Miss Marilyn Monroe / 1301 N. Harper Ave. / Los Angeles, CA". Inside there are terms of ownership and two attached, perforated 1000 and 2000 mile service coupons also type to "Miss Marilyn Monroe" with other information filled in, dated July 1, 1950, (1) 7.25 x 3.25 in folded printed warranty for the car's Delco Battery. Type written to Miss Marilyn Monroe and with other technical information, dated July 1, 1950 and (1) State of California DMV "pink slip" certificate of ownership printed to "Monroe Marilyn / 1301 N Harper AV / Los Angeles" including vehicle engine number, make, model, total fees ($24.00) and Monroe's license number, "19B29921". All documents in fine condition.
Estimate: $1,000 - $1,500
sold: $ 1 400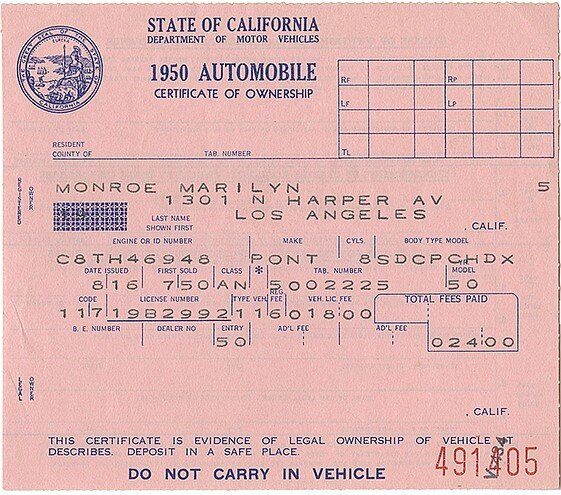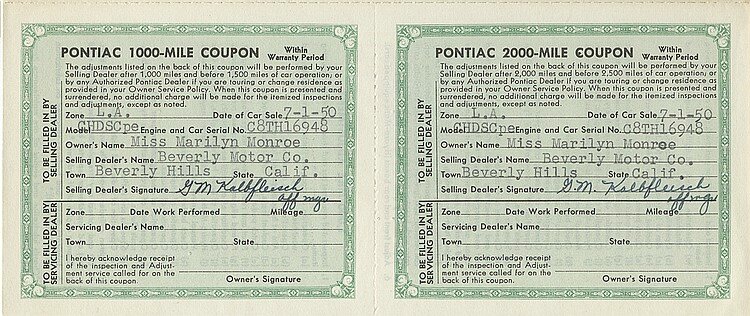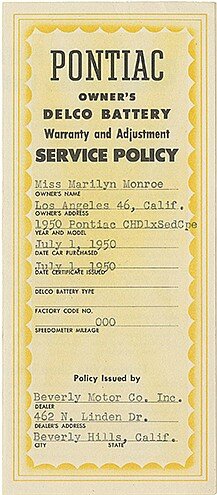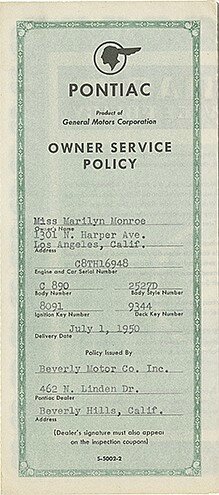 ---
Objets Divers
---
Lot 231: Warner Bros. commemorative key. (c. 1950s)
10 x 3.75 in. brass key to Warner Brothers Studios. The key's bow is shield-shaped and features the raised "WB" letters synonymous with the studio. One side of the key blade reads, in raised letters, "Welcome to Warner Bros. Studios" and the reverse side, "The Largest in the World". In vintage very fine condition.
Estimate: $1,000 - $1,500
Sold: $2 500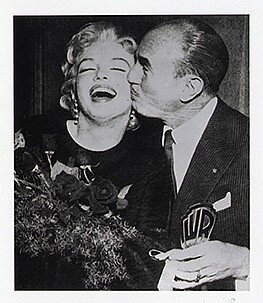 ---
Lot 764: Jane Russell extremely limited #1 of an intended run of up to 4 hand and footprint impressions from the Chinese Theatre.
The glitter and glamour of Hollywood continue to attract visitors from all over the world, and there is no monument to Hollywood that is more glamorous or iconic than TCL Chinese Theatre. The forecourt of the theatre remains a must-see spot for tourists and the star-struck to see how they fill the shoes of their favorite stars by placing their own feet in the celebrity footprints that mosaic the courtyard. This is a replica of the hand and footprint square of Jane Russell created from the original concrete impression at the Chinese Theatre when she placed her hand and footprints in the cement along with Marilyn Monroe for the west coast premiere of Gentlemen Prefer Blondes. Rumor has it that Both Jane and Marilyn wanted to make more than just hand and foot print impressions in the forecourt and that they actually wanted to imprint the physical attributes that they were both known for. Theatre management turned down this request though as it would have been considered too risqué. Measuring 37.25 x 41 in. Inscribed, "Jane Russell 6 26 53" and then "Gentleman" as the beginning of the Gentlemen Prefer Blondes title which begins on her square and ends on Monroe's. The impression is made out of a synthetic casting compound to produce the real look and feel of concrete and does include natural materials that are found in cement. However, this is sensitive to heat and like all valuable art, it should not be kept in high heat or be displayed in the exterior direct heat/sunlight. This piece is the first of an extremely limited intended run of up to four impressions. No rights to the Jane Russell name, signature or imprint are transferred to the buyer with this sale. Special shipping arrangements will apply.
Estimate: $4,000 - $6,000
Sold: $4,000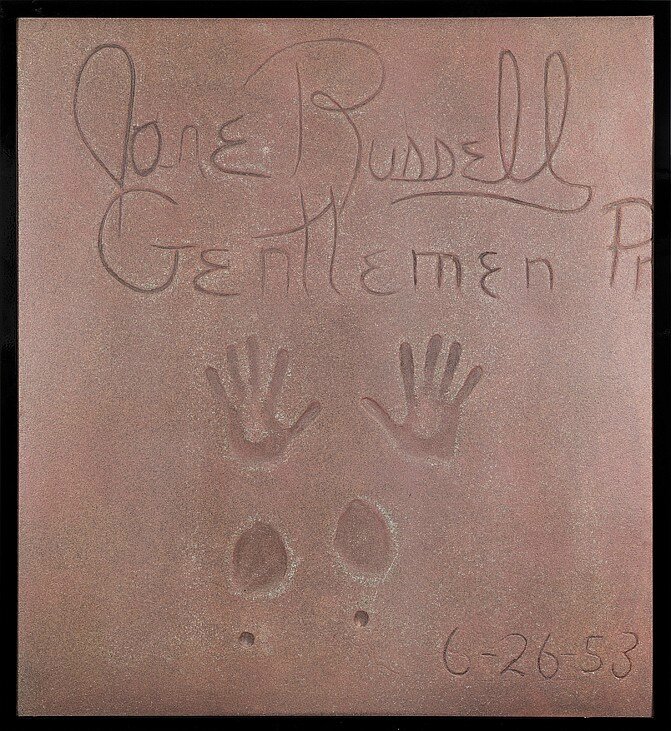 ---
Lot 765: Marilyn Monroe extremely limited #1 of an intended run of up to 4 hand and footprint impressions from the Chinese Theatre.
The glitter and glamour of Hollywood continue to attract visitors from all over the world, and there is no monument to Hollywood that is more glamorous or iconic than TCL Chinese Theatre. The forecourt of the theatre remains a must-see spot for tourists and the star-struck to see how they fill the shoes of their favorite stars by placing their own feet in the celebrity footprints that mosaic the courtyard. This is a replica of the hand and footprint square of Marilyn Monroe created from the original concrete impression at the Chinese Theatre which is, by far, the most photographed imprint square in the TCL Chinese Theatre forecourt, honored with the opening of her film Gentlemen Prefer Blondes. She originally wanted them to dot the "I" in her name with a diamond, but theatre management suggested that someone would steal the diamond and suggested an earring be placed instead. A short time later someone over night came along and attempted to steal the earring. The top broke off, but the back remains firmly implanted in the cement to this day. 42.5 x 42.25 in. Inscribed, "Marilyn Monroe" and then "Prefer Blondes" as half of the Gentlemen Prefer Blondes title started on Jane Russell's square and finished on Monroe's. Marilyn's "I" is dotted by a faux diamond imbedded in the square. The impression is made out of a synthetic casting compound to produce the real look and feel of concrete and does include natural materials that are found in cement. However, this is sensitive to heat and like all valuable art, it should not be kept in high heat or be displayed in the exterior direct heat/sunlight. This piece is the first of an extremely limited intended run of up to four impressions. No rights to the Marilyn Monroe name, signature or imprint are transferred to the buyer with this sale. Special shipping arrangements will apply.
Estimate: $4,000 - $6,000
Sold: $7 500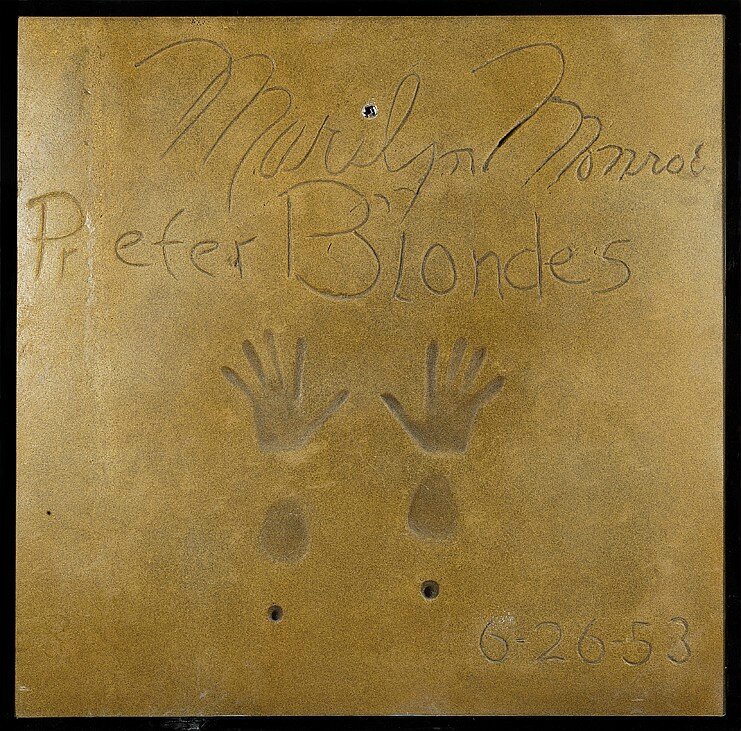 ---
Vêtements
---
lot 701: Marilyn Monroe "Pola Debevoise" black felt hat from How to Marry a Millionaire. (TCF, 1953)
Black felt hat with soft ruffle brim and simple bow. Bodies by Lee yellow stamp. Internal bias label handwritten "1-39-1-4691 A-705-54 M. MONROE". Created by Travilla for Marilyn Monroe as "Pola Debevoise" in How to Marry a Millionaire but not in the final version of the film. Lot includes a wardrobe test photo showing Monroe wearing the hat. This hat was originally created for the scene with David Wayne on the plane but was replaced with a simple beret.
Estimate: $15,000 - $20,000
Sold: $15, 000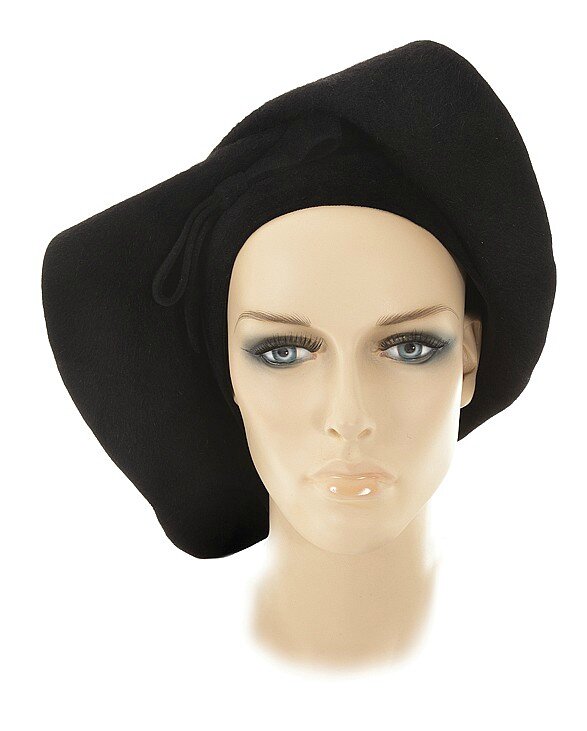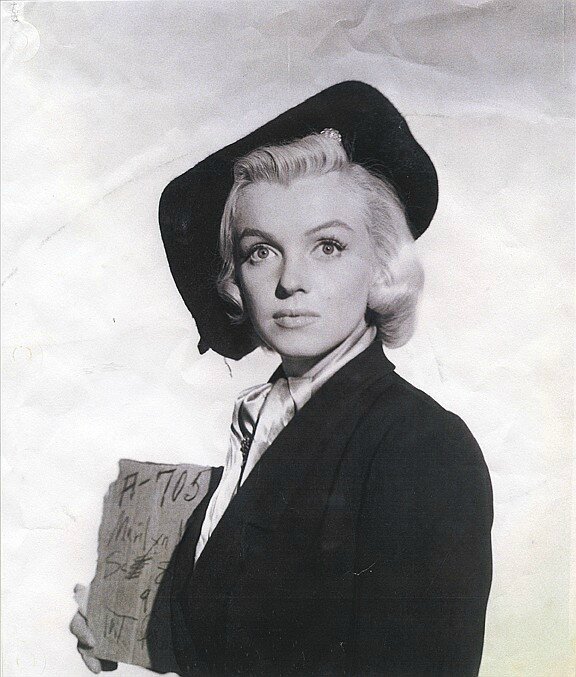 30 novembre 2012
Peinture de Bill Mack en 1978