26 septembre 2015
Black Satin Cocktail Dress
robe de cocktail en satin noir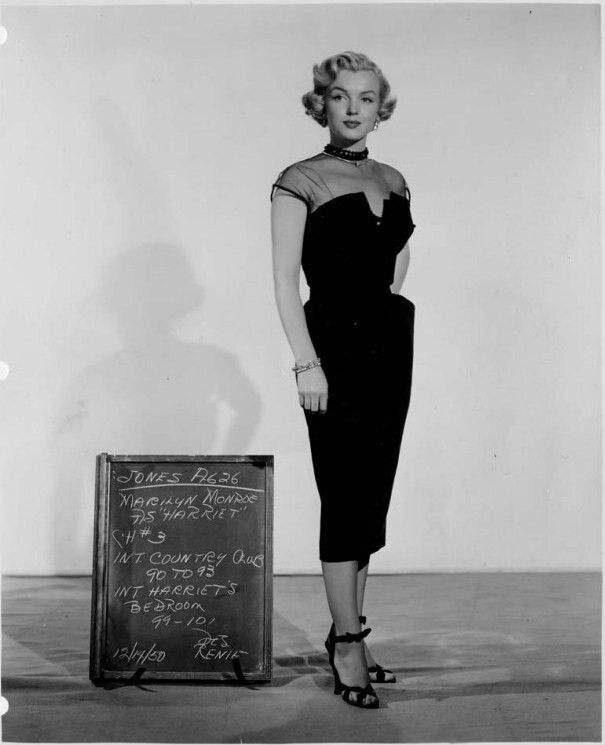 Cette robe a été conçue par la créatrice américaine Renie Conley, dîtes Renié, qui créa de nombreuses tenues pour le cinéma -pour près de 188 films- de 1937 à 1981, dont des tenues pour Elizabeth Taylor dans Cléôpatre en 1964, qui lui a valu l'Oscar de la meilleure création de costumes.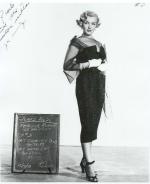 Marilyn Monroe porte cette longue robe noire satinée aux manches courtes, au décolleté transparent et à la forme de bustier fermé par une cocarde, pour le film As young as you feel (Rendez-moi ma femme) en 1951. Elle en fit les essais costumes le 14 décembre 1950 (voir photo ci-contre). C'est une robe de coupe droite simple et glamour, qui dessine les courbes du corps sans être moulante, ressérée à la taille par une fine ceinture noire, chic et classique, aux aspects intemporels qui reste encore aujourd'hui moderne. Marilyn la porte avec des sandales ouvertes noires. Dans le film, elle accessoirise la robe d'un foulard de mousseline de soie transparent et pailleté, d'un collier noir ras de cou, de deux fins bracelets au poignet droit et d'une paire de gants blancs.
---
Marilyn emprunte la robe pour la porter à des soirées en septembre 1951 au Ciro's et au Club Mocambo. Si elle accompagne la tenue du collier ras de cou, elle n'a pas repris le foulard de mousseline et semble être arrivée avec une veste ou un manteau fourré. Elle porte une paire de gants noirs.
---
On retrouve la robe portée par une autre grande actrice des années 1950s: la brune Ava Gardner, qui porte elle aussi un collier ras de cou mais serti de diamants, et trois bracelets au poignet gauche:
---
Inspirations
> L'actrice Jean Peters porte une robe semblable mais aux manches longues en 1953 dans le film "Blueprint for murder" avec Joseph Cotten:

> L'actrice Jayne Mansfield dans une robe noire de même style en 1957 (au 'Jack Benny Show' et pour des portraits en studio) qui la porte avec un collier de perles ras de cou:
> Dans les années 1970s, les longueurs se raccourcissent: l'actrice Romy Schneider dans sa robe noire dont la longueur atteint les genoux (l'une de ses préférées, portée à la première des "Choses de la vie", en séance photos en studio, dans le film "César et Rosalie" et invitée à la télévision). La robe, au décolleté très profond et transparent, est aussi accessoirisée par un collier noir ras de cou:
> Même notre présentatrice météo nationale (de TF1) Catherine Laborde arbore régulièrement sa petite robe noire au décolleté transparent: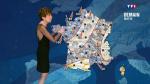 ---
© All images are copyright and protected by their respective owners, assignees or others.
copyright text by GinieLand.
Enregistrer
Enregistrer
05 mars 2012
lot n°509: MARILYN MONROE ORIGINAL NIAGARA COLOR SLIDES
A group of 11 original color transparency slides of Marilyn Monroe, taken on the set of Niagara (1953). The photographs were taken by Monroe's makeup artist, Allan "Whitey" Snyder. Together with one vintage black and white photograph of Snyder applying Monroe's makeup on set and two of him with Jean Peters on set. Rights to the slide images will be transferred to the winning bidder.
Slides, 2 by 2 inches, each
PROVENANCE From the Estate of Allan "Whitey" Snyder
Estimate: $1 000 - $2 000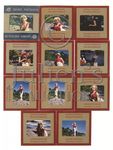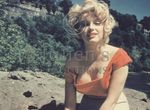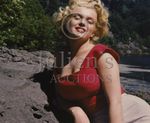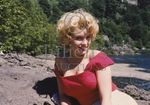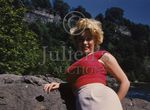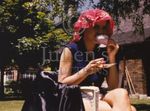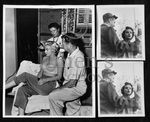 ---
lot n°510: MARILYN MONROE COLOR PHOTOGRAPHS ON CANVAS
Two color images of Marilyn Monroe outdoors, printed on canvas.
Largest, 16 by 20 inches
PROVENANCE From the Estate of Allan "Whitey" Snyder
Estimate: $300 - $500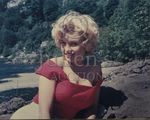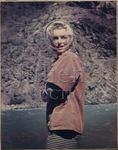 06 janvier 2012
Le 9 juillet 1949, Marilyn Monroe se rend à Chicago: elle participe au lancement d'un match de base-ball au stade Wrigley en compagnie de stars d'Hollywood comme Roddy McDowall, Jean Peters, Claudette Colbert et Virginia O'Brien. Est-ce à cette occasion qu'elle rencontra son futur mari Joe DiMaggio ?
In 1949, July, 9, Marilyn Monroe goes to Chicago: she attended a Chicago Pro-Celeb Baseball Match in the Wrigley Field with Roddy McDowall, Jean Peters, Claudette Colbert, Virginia O'Brien and other Hollywood stars in the making. Did it on this occasion that she met future husband, Joe DiMaggio ?
> Presse : 'Boston Evening American'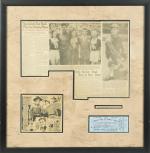 ---
Le soir, elle se rend au Rickett's NightClub avec Roddy McDowall.
The evening, she goes to the Rickett's NightClub with Roddy McDowall.

>> sources:
Photos à vendre sur marilynmonroe-photos.com
---
> dans la presse / in the press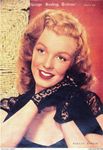 ---
© All images are copyright and protected by their respective owners, assignees or others.
copyright text by GinieLand.
Enregistrer
21 février 2011
Marilyn Monroe dans les studios de la Fox en 1952. Elle se rend au département costumes pour emprunter une robe blanche, qu'elle portera pour la séance photos de Philippe Halsman (voir la séance photos ).
Il semblerait que le photographe soit aussi Philippe Halsman.
>> Marilyn s'informe des news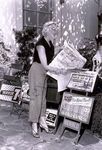 >> Maquillage et coiffure
(avec la coiffeuse Esperanza et l'actrice Jean Peters)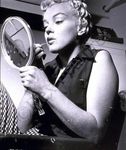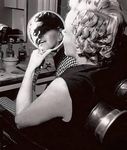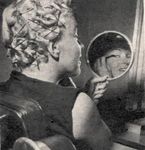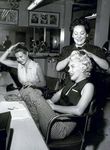 >> Marilyn part avec la robe blanche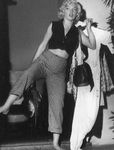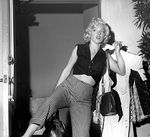 >> Marilyn s'habille avec l'aide de la costumière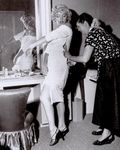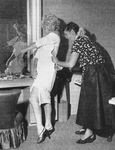 23 août 2010
Niagara
Photos scène 1
Scène où George(Joseph Cotten), après avoir erré dans les rues devant les Chutes du Niagara, rentre dans son bungalow où sa femme Rose Loomis (Marilyn Monroe) feinte de dormir. Quelques heures plus tard, les époux Cutler, Ray et Polly, (Max Showalter et Jean Peters) arrive en voiture au centre de vacances. Le concierge leur a réservé le bungalow avec la plus belle vue: celle des Chutes ! Mais le bungalow est encore occupé par le couple Loomis qui avait promis de le libérer; le concierge suivi du couple frappe à la porte et Rose leur ouvre, vêtue de son peignoir affriolant. Rose, confuse et chagrinée, leur explique que son mari est souffrant. Le concierge offre donc aux époux Cutler un autre bungalow.
---
Jean Peters et Max Showalter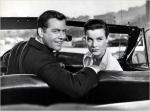 20 août 2010
Niagara
Sur le tournage - scène 5

Marilyn Monroe sur le tournage de Niagara
> Marilyn et le metteur en scène Henry Hataway
Photographies de Jock Carroll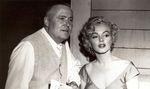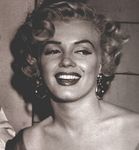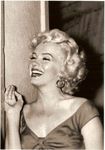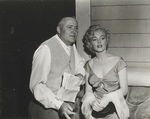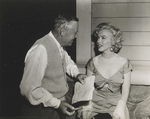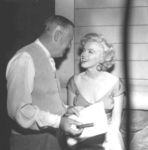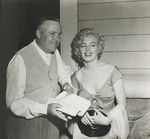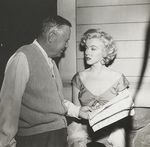 ---
© All images are copyright and protected by their respective owners, assignees or others.
copyright text by GinieLand.
Enregistrer
Enregistrer
Enregistrer
Niagara
Photos Promotionelles
Marilyn Monroe pose devant un décor
représentant les Chutes du Niagara
Photographies studios de Bruno Bernard
> presse magazines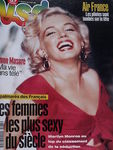 ---
Jean Peters

11 août 2010
Niagara
Sur le tournage

Marilyn Monroe se promène dans les rues de Niagara Falls,
petite ville canadienne.
Photographies de Jock Carroll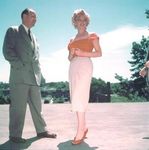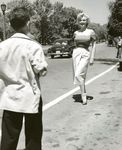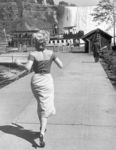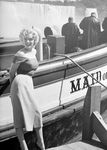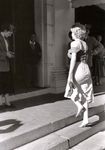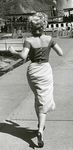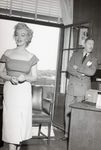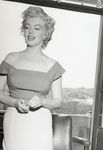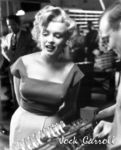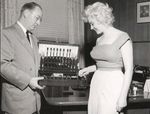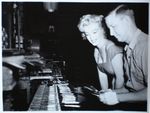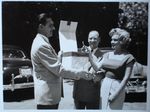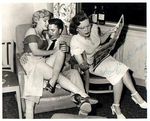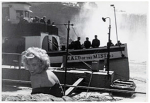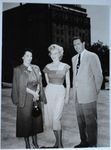 Marilyn et le metteur en scène Henry Hataway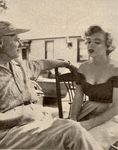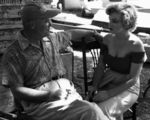 Marilyn prend la pose près des Chutes du Niagara
photographies de George Bailey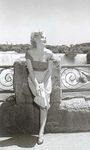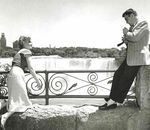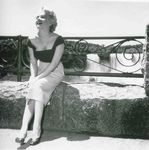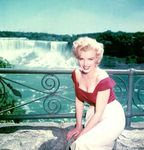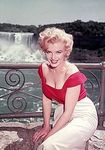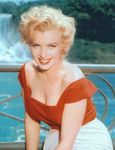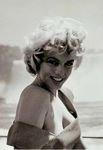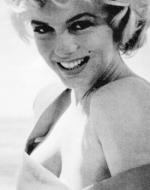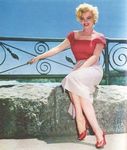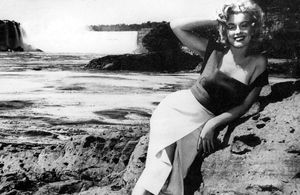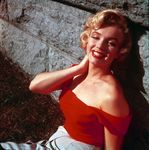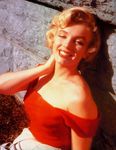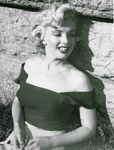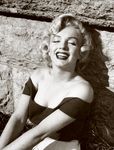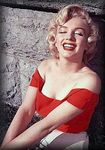 ---
> couverture de magazine: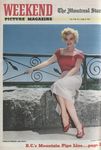 ---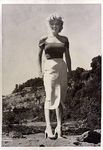 ---
> Photographies de Allan "Whitey" Snyder:
---