29 juillet 2011
Robe moulante rouge
avec une écharpe ceinturée violette
Red scarlet tight dress
with a purple sash
---
Cette robe a été conçue par le créateur et couturier Oleg Cassini, qui fut marié à l'actrice Gene Tierney (de 1941 à 1952). Il semblerait que le styliste ait aussi eu plus tard une aventure avec Marilyn Monroe.
C'est une robe de soirée longue jusqu'au pied, en jersey rouge pompier; le corsage est dans un style nervuré gracieux. Le froncement dans le dos crée un ajustement parfait sous la hanche gauche. Une ceinture de violet royal qui se noue, encercle la hanche droite sous la taille, puis retombe en cascade jusqu'aux pieds avec l'effet de jupe ample.
This dress was designed by fashion designer Oleg Cassini, who was married to actress Gene Tierney (1941-1952). It seems that the stylist also later had an affair with Marilyn Monroe.
This is a floor-length evening gown in fire-engine red jersey; the bodice is in a graceful pintuck style. Ruching down the back creates a snug fit to below the left hip. The sash of royal purple that ties in a knot encircles the right hip below the waist, cascading to the floor with an effect of full skirt.

---
La Robe portée par d'autres
The Dress worn by others
---
Cette robe fut ainsi portée initialement en 1951 par l'actrice Gene Tierney dans la dernière scène de la comédie musicale Sur la Riviera, produit par la Twentieth-Century Fox. Elle la portera à nouveau en 1952, pour des portraits en studio qui serviront de publicité pour la marque de cosmétiques Westmore.
This dress was initially worn in 1951 by actress Gene Tierney in the last scene of the musical comedy On the Riviera, produced by Twentieth-Century Fox. She wore it again in 1952, for studio portraits that served as an advertisement for the Westmore cosmetics brand.
- 1951, film "On the Riviera" -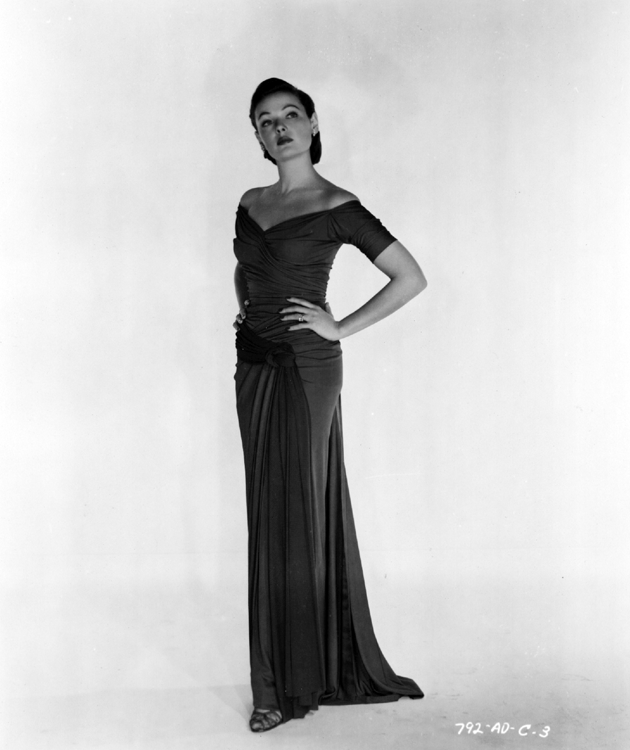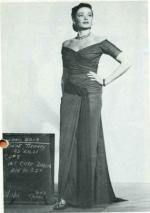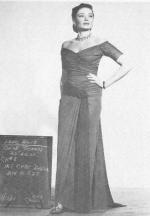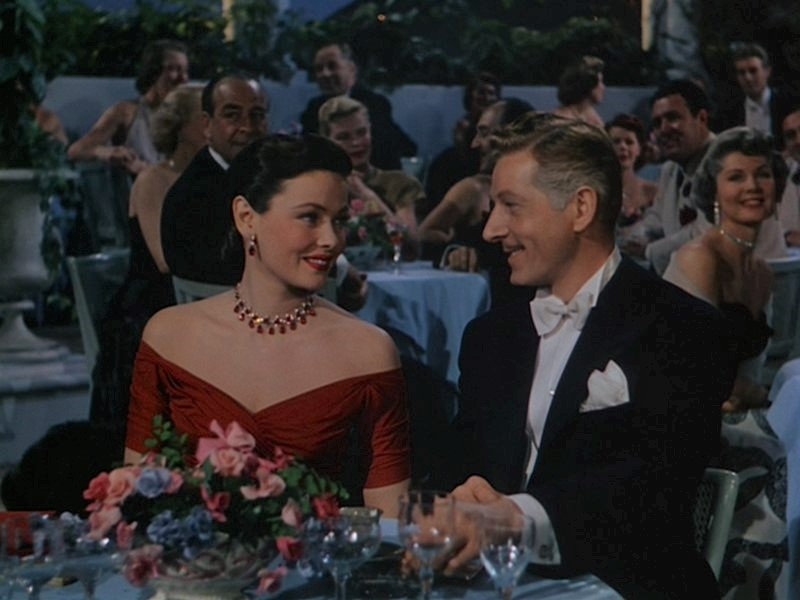 - 1952, portrait publicitaire -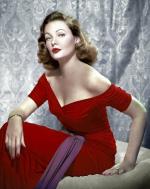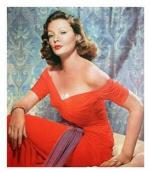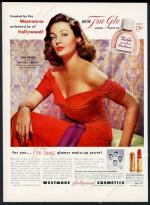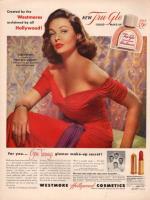 ---
Marilyn et la robe
Marilyn and the gown
---
Marilyn Monroe a certainement emprunté la robe qui avait dû être remise au département costumes des studios de la Fox, pour la porter à La première de Monkey Business (Chérie, je me sens rajeunir) le 2 septembre 1952 à Atlantic City. Ce qui était alors chose courante à l'époque: les actrices avaient l'habitude d'emprunter certaines tenues portées par d'autres dans des films, pour se rendre à des premières ou de grandes soirées.
Marilyn Monroe certainly borrowed the dress that must have been given to the costume department at Fox Studios, to wear it at The Monkey Business premiere on September 2, 1952 in Atlantic City. It was then common at the time: actresses used to borrow certain outfits worn by others in movies, to go to premieres or big parties.
---
Durant l'année 1952, Marilyn porte la robe pour deux séances photos en studio:
During 1952, Marilyn wears the dress for two photo shoots in the studio:
- Pour une séance photos par le photographe Frank Livia, qui semble être prise au même moment que la première de Monkey Business: Marilyn a la même coiffure (chevelure bouclée à l'effet natuel), et les mêmes boucles d'oreilles pendantes avec quatre pierres rouges brillantes.
- For a photoshoot by photographer Frank Livia, which seems to be taken at the same time as the premiere of Monkey Business: Marilyn has the same hairstyle (curly hair with natural effect), and the same dangling earrings with four red brilliant stones.

- Pour une séance photos par le photographe Frank Powolny, dont l'une des photos reste célèbre: celle où elle se tient contre un mur, les mains dans le dos au niveau des hanches.
- For a photoshoot by photographer Frank Powolny, one of whose photos remains famous: the one where she stands against a wall, hands behind her back at hips.

---
L'après Marilyn
After Marilyn

La robe est aujourd'hui la propriété du fan et collectionneur de Marilyn, Greg Schreiner, qui l'avait acheté aux enchères et la prête occasionnellement à des organisateurs d'expositions -
The dress is now the property of Marilyn's fan and collector, Greg Shreiner, who bought it at auction and occasionally lends it to exhibition organizers -

La robe sur le site de Greg Schreiner
The dress on Greg Schreiner's website
The Marilyn Monroe Site

La robe à diverses expositions:
The dress at various exhibitions:
Hollywood Museum - 2007,
Marilyn Remembered - 2010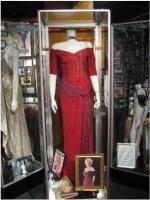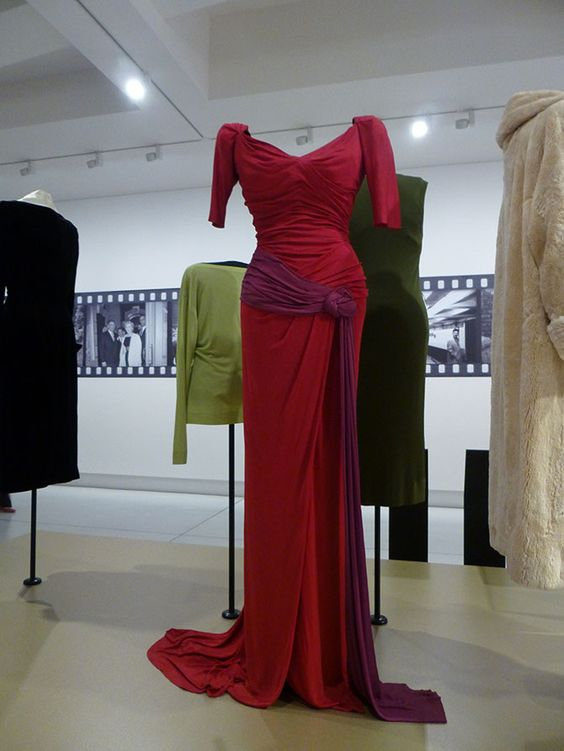 ---
Inspirations

- Julia Roberts - 1990 - film Pretty Woman
creation costume Marilyn Vance-Straker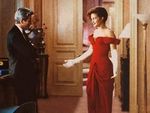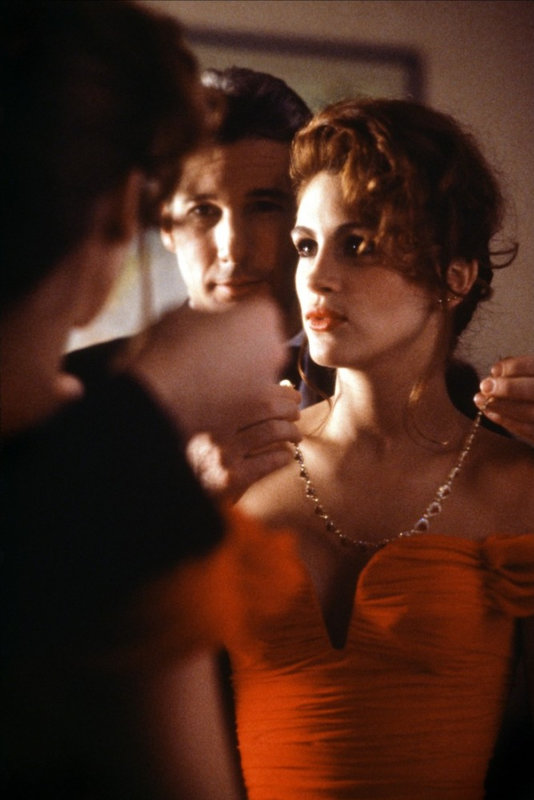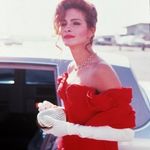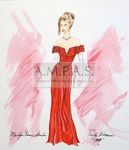 ---
Même style
Same style

Ne pas confondre avec les robes à fronces de Ceil Chapman
Not to be confused with Ceil Chapman's gathered dresses

- article Les Robes Moulantes à fronces de Ceil Chapman
---
> sources:
Le film On the Riviera sur doctormacro.com
Le livre Marilyn in Fashion

---
© All images are copyright and protected by their respective owners, assignees or others.
copyright text by GinieLand.
Enregistrer
01 mai 2011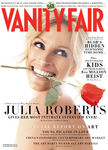 Cette séance photos de Julia Roberts -par Michael Thompson - pour le magazine Vanity Fair de décembre 2007, semble inspirée de Marilyn Monroe. Julia, au regard malicieux, y est ici blonde. Elle tient une fleur dans sa bouche (une rose, qui fait penser à Marilyn qui tenait un oeillet dans sa bouche pour la séance de cecil beaton en 1956), et est photographiée en gros plan dont l'arrière plan est un fond blanc (un peu comme la dernière séance de Marilyn par Bert Stern).
>> Sur le web:
voir le site très complet aboutjulia.com
Enregistrer