02 septembre 2017
Au fil des enchères
La robe de Marilyn Monroe
Année: 2017
Réalisation: Stephane Carrel
Pays: France
Production: Arte France et Gedeon Programmes
Durée: 27 min
Le destin de pièces exceptionnelles proposées dans des salles des ventes, qui racontent à elles seules toute une époque. Dans ce volet, nous découvrons la robe de couleur chair portée par Marilyn le 19 mai 1962 au Madison Square Garden, à New York, lorsqu'elle a chanté "Happy Birthday" au président Kennedy.
>> Diffusé en France sur arte le 27 août 2017
---
Retranscription du documentaire
Dans les salles de ventes aux enchères, il y a des passionnés, des flambeurs, des marteaux, mais surtout des objets par milliers aux destins hors du commun. "Au fil des enchères" retrace les histoires insolites de ces trésors. Et aujourd'hui, notre objet est une robe. Non, pardon, LA robe de Marilyn Monroe.
Voix off, extrait interview Marilyn: Elle se prend pour qui, Marilyn Monroe ? (rire) Si je suis une star, ce sont les gens qui ont fait de moi une star.
Tout commence à Los Angeles. La ville qui a vu naître la légende Marilyn Monroe. Là où l'on croise toujours l'icône sur les si célèbres murs peints ou bien dans la rue ou même sur un pont. Mais aussi, en ce qui nous concerne, dans la salle des ventes des stars Julien's Auction. Cette vente aux enchères consacrée à la star est la plus exeptionnelle depuis ces dix dernières années. Toute la vie de Marilyn est là. Du rouleau avec cheveu inclu, à ses chaussures, ses sacs à mains, son rouge à lèvres, son appareil photo, son journal intime, ses bas, sa vaisselle, ses tubes de crèmes usagers, ses costumes de films. Plus de 1000 objets de rêves ou de fantasmes. Marilyn est comme les diamants... éternelle.
Voix off, extrait interview Marilyn: Qui que je sois, je serais toujours La Blonde. (rire) Mais s'il vous plaît, ne me ridiculisez pas. Je veux être une artiste, une actrice.
Mais le clou de la vente, la pièce de résistance, c'est elle: un chef d'oeuvre, d'après Martin Nolan, l'expert de la maison.
Martin Nolan, expert de la vente: Cette robe est le vêtement le plus historique, le plus iconique jamais porté dans le monde. Cette robe dont je parle a été portée par Marilyn Monroe le 19 mai 1962 au Madison Square Garden à New York, quand elle a chanté "Happy Birthday" au Président des Etats-Unis John Fitzgerald Kennedy. Quelques semaines plus tard, Marilyn décédait. Et l'année suivante, le Président a été assassiné. La tragédie autour de cette robe et son lien avec l'événement historique font qu'elle est très iconique et importante. Nous en parlons aujourd'hui, 54 ans après son décès, parce que c'est une interaction entre la politique et Hollywood. C'est Monroe et les Kennedy, c'est du talent, de la mode, c'est tout simplement une oeuvre d'art.
extrait de Marilyn au Madison Square Garden chantant "Happy Birthday"
Le prix de vente de notre robe est estimé entre 2 et 3 millions de dollars. Alors ce soir, on ne lésine pas sur les moyens: champagne et ambiance glamour à mort. Tout pour honorer le mythe et surtout, s'arracher un bout de l'icone.
Dans la salle de vente: "Bonsoir Mesdames et Messieurs. Soyez tous les bienvenus à la soirée de ventes aux enchères chez Julien's pour la vente d'objets de la vie et de la carrière de Marilyn Monroe."
Alors que dans la salle, on se demande déjà qui va repartir avec gros lot, plongeons-nous à présent dans cette soie couleur chair qui épousait parfaitement les formes de la déesse et regardons comment un certain soir de 1962, notre robe est entrée dans l'histoire.
En 62, à seulement 43 ans, John Fitzgerald Kennedy est le fringuant Président des Etats-Unis. Il est jeune, il est beau, il est télégénique et le monde entier l'adore. Quant à Marilyn, elle est la plus grande star de Hollywood. La plus glamour, la blonde que tout le monde désire. JKF le premier. A tel point que les rumeurs de liaisons entre la star et le lion vont bon train. Alors, quand il s'agit pour le Président de fêter son anniversaire, ou plutôt de renflouer les caisses du Parti démocrate à l'occasion d'une grande soirée au Madison Square Garden, quel meilleur outil promotionnel que Marilyn Monroe ?
La Maison Blanche n'a pas manqué d'envoyer un courrier à la star prédisant que sa venue guarantirait un succès extraordinaire. Ce 19 mai 62, les 17 500 tickets ont tous été vendus. L'événement marque l'unique rencontre publique de ces deux symboles de l'Amérique, rencontre soulignée par l'absence de Jackie Kennedy.
Une véritable romance de cinéma qui pourrait s'écrire par Scott Fortner, l'un des plus grands spécialistes et collectionneur de la star.
Scott Fortner, spécialiste et collectionneur de Marilyn Monroe: En ce qui concerne l'histoire d'amour entre le Président Kennedy et Marilyn Monroe, personnellement et d'après mes recherches, je ne pense pas que ce fut une histoire d'amour de longue durée. Je pense que leur rencontre, en mars 1962, a été l'histoire d'un soir. De nombreuses personnes affirment que Marilyn disait qu'elle avait rencontré le Président mais que c'était juste l'histoire d'un soir et qu'une relation à long terme ne l'intéressait pas. Par contre, on pense que c'était lors de ce rendez-vous en mars, que le Président aurait demandé à Marilyn de se produire à son gala d'anniversaire en mai.
Voix off, extrait interview Marilyn: J'ai été honorée d'être invitée au Madison Square Garden. En fait, j'ai pensé: "Oh, mon Dieu ! Et si aucun son ne sortait de ma bouche ?" (rire)
Scott Fortner: Vous imaginez ? La petite Norma Jeane, qui avait grandi dans des orphelinats et des familles d'accueil, invitée à chanter pour le Président des Etats-Unis. Alors, évidemment, il lui fallait porter une robe sensationnelle pour aller à ce gala et pour lui chanter "Happy Birthday". L'histoire veut qu'elle ait réclamé une robe que seule Marilyn Monroe pourrait porter. Jean-Louis a créé cette robe pour elle.

Mais qui est ce Jean-Louis ? Jean-Louis est l'un des plus importants couturiers de l'âge d'or d'Hollywood. Il commence sa carrière dans les années 30 à Paris puis tente sa chance à New York. Son style, élégant et simple, tape tellement dans l'oeil des stars, qu'il se retrouve très vite chef costumier pour les grands studios hollywoodiens. Il habille alors toutes les grandes vedettes, dont Marilyn Monroe pour "Les désaxés" et "Quelque chose doit craquer". Et si Marilyn fait appel à lui, c'est pour une robe renversante. Une robe inoubliable, que seul Jean-Louis peut réaliser. Une de ces robes illusions, qui donne l'impression d'être totalement nue.
A cette époque, un certain Bob Mackie débute sa carrière auprès de Jean-Louis. Notre robe va changer son destin.
Bob Mackie, dessinateur de la robe: Jean-Louis m'a fait un tout petit dessin et c'était une forme très classique. Alors, j'ai fait l'esquisse de la robe. Je l'ai fait en une heure ou deux dans la matinée. Et puis, ils l'ont emportée. Je ne savais pas pour quoi c'était, j'étais le gamin le plus jeune à qui on ne dit rien. "Fais ton travail et tais-toi !" C'était mon premier job, et j'étais mort de trouille. Bien sûr, je savais que le croquis était pour Marilyn Monroe, parce qu'il faut savoir qui elle est, pour dessiner la femme aux cheveux blonds avec la belle poitrine et tout ce qui va avec. Vous savez, lorsque vous ressemblez à Marilyn Monroe, vous n'avez pas besoin d'avoir une robe extravaguante. C'était simplissime: un décolleté élégant, et puis serré tout le long, elle mettait parfaitement en valeur sa silhouette. La robe est faite d'une seule couche de tube de soie couleur chair et par-dessus, les cristaux troués au centre, sont cousus un à un. Il y a de nombreuses pinces et astuces pour l'ajuster à son corps. Des choses qu'on ne voit pas lorsqu'elle est portée. Mais la robe comporte des pinces juste au bon endroit. Elle était très échancrée derrière et mettait en valeur son beau dos, elle mettait parfaitement en valeur ses fesses. Marilyn était en excellente forme, comme elle ne l'avait pas été depuis des années. Elle avait un physique incroyable. En général, sur ces robes, on coud des cristaux plus petits en haut, on en met un peu plus en descendant et au centre, et un peu moins en allant vers les côtés. Vers le bas de la robe, de plus grands cristaux se mélangent avec les plus petits. Cela donne du poids, et en plus, c'est esthétique. C'est très efficace sous les projecteurs. C'était la robe parfaite pour Madison Square Garden. Je suis sûr que la personne au dernier rang qui devait être à plus d'un kilomètre de la scène, pouvait voir Marilyn Monroe dans le moindre détail.
Notre robe, entièrement faite main dans un esprit Haute-Couture française, a été exécutée en trois mois. Le montant de la facture délivrée à Marilyn, qui comprenait la robe (1027,36), les strass (321,89), et une paire de styletos (35,68), s'élevait à 1440 Dollars et 33 cents, environ 12 000 Euros aujourd'hui. C'est dire à quel point Marilyn voulait marquer l'événement. Alors, combien va-t-elle coûter au prochain acquéreur ? Après avoir vendu tous les objets précédents ayant appartenus à la star, c'est enfin le tour de notre robe.
Dans la salle de vente: "Et maintenant, le moment historique, la vente d'une des robes des plus importantes dans le monde. J'en parlais avec un monsieur avant la vente, ce que cette robe représente, est un moment d'histoire. Et puisqu'elle représente un moment d'histoire, nous faisons partis de l'histoire. Ce moment est historique. Vous pouvez en faire parti ce soir. C'est une opportunité rare dans ce beau pays qu'est le nôtre. Allez-y: que quelqu'un lève sa main pour 20 millions et prouvons que les robes peuvent monter aussi haut. Qu'en pensez-vous ? Est-ce que quelqu'un veut ouvrir les enchères à 20 millions ?"
Vingt millions de dollars ! Une mise à prix totalement hystérique pour une enchère qui va se dérouler à l'envers; ça ? c'est l'effet Marilyn !
En mai 62, quand Marilyn Monroe se rend à New York pour la soirée du Président, elle quitte le tournage de son dernier film "Quelque chose doit craquer". Un titre prémonitoire. En effet, la Fox, agacée par les retards et les absences répétées de la star, menace de la virer. Peu importe. Un moment historique l'attend, dans lequel notre robe va jouer un rôle essentiel. Marie Irvine, son amie maquilleuse rencontrée en 58 lors d'une séance photos de Richard Avedon, se souvient de cette journée de préparation.
Marie Irvine, maquilleuse et amie de Marilyn Monroe: Marilyn était très inquiète le jour de l'anniversaire. Elle ne comprenait pas pourquoi le studio de la Fox lui avait fait autant de problèmes, puisqu'il était stipulé dans son contrat que cette journée serait libérée pour sa participation au gala du Président. Les préparatifs ont pris toute la journée. Il y avait tant de choses à faire: la robe devait être essayée, cela n'avait pas été fait; je crois me souvenir que cela avait pris beaucoup de temps. Il y avait le maquillage à faire, elle avait une peau pratiquement parfaite. Je n'ai pas fait grand chose pour Marilyn, à part faire ressortir Marilyn elle-même. Elle devait s'entraîner à chanter "Happy Birthday": il y avait un célèbre pianiste noir qui l'avait aidé à chanter. Elle a beaucoup répété la chanson "Happy Birthday", jusqu'à... vous ne pouvez pas imaginer, c'était très important pour elle. La robe a pris beaucoup de temps. Norell est venu personnellement pour coudre la robe sur Marilyn. Alors, la robe a été cousue sur elle et ça a du prendre au moins une demie heure.
On sait que Jean-Louis, le créateur de la robe, bloqué à Los Angeles, a demandé à son couturier Norman Norell, qui connaissait lui aussi très bien Marilyn, de se rendre à l'appartement de la star pour ajuster la robe sur elle au dernier moment. Marie a tout vu.
Marie Irvine: Oui, je l'ai vue mettre la robe. Elle ne portait rien en-dessous. J'ai tout simplement pensé: "Quelle belle femme !"
Hannn... scandale ! De quoi provoquer la stupeur et décrocher la mâchoire du séduisant JFK.
Marie Irvine: J'ai adoré. Je l'ai trouvée magnifique. Tout le monde a poussé des "Oh !", des "Ah !", elle était maquillée, elle était coiffée, et nous avons tous eu le souffle coupé. C'était un régal pour les yeux. Elle est allée directement à la voiture qui l'attendait, une grande limousine évidemment, et elle est partie pour Madison Square Garden. On a réalisé qu'elle avait oublié ses boucles d'oreilles en diamants. J'ai donc été obligée de les amener à Madison Square Garden. Elle n'a pas dit grand chose, à part "merci". On s'est fait un signe de la main pour se dire au revoir et c'est la dernière fois que j'ai vu Marilyn.
extrait Peter Lawford annonce Marilyn au Madison Square Garden
Alors que dans sa loge Marilyn semble prête, quand Peter Lawford l'annonce à exactement 22 heures 32, elle ne se montre pas. Que se passe-t-il en coulisses ? Les rumeurs les plus folles ont couru. La robe aurait craqué, Marilyn aurait été ivre.
Scott Fortner: Je pense que c'était juste une blague récurrente. Je crois par contre qu'elle savait que la soirée serait historique, et donc il fallait une interprétation historique avec une robe historique. Si c'était son objectif, elle l'a atteint. Marilyn gérait intelligemment son image. Cette nuit là, c'était encore une véritable performance. Et elle restera dans les annales comme l'une des plus mémorables.

Quand enfin Marilyn se montre, que la fourrure tombe, que la robe apparaît et qu'elle commence à chanter, l'allusion sexuelle est phénoménale. Pour immortaliser ce moment, une meute de photographes est postée devant la scène. Parmi eux, Bill Ray, jeune reporter de 26 ans qui couvrait l'événement pour Life.
Bill Ray, photographe: Life magazine était un hebdomadaire. Donc, on, essayait toujours de prendre une photo différente en espérant qu'elle soit la meilleure. Je me suis dégagé de cet attroupement tout de suite. Et j'ai commencé à faire le tour vers l'arrière de la scène. J'espérais pouvoir prendre une photo de Marilyn de dos avec le Président Kennedy face à elle. Bien sûr, il y avait des projecteurs sur les artistes. Et à un moment donné, toutes les lumières se sont éteintes, comme une coupure d'électricité. On ne voyait plus rien. Et puis soudain, un projecteur très puissant a éclairé Marilyn Monroe, dans cette robe moulante, de couleur chair, avec tous ces cristaux étincelants de partout. On a entendu un grand "Ahhhh", venant du public du Madison Square Garden. Mon objectif était très lourd. Alors, j'essayais de trouver une position stable en m'appuyant sur la rembarde. Et je n'étais pas du tout sûr que la photo serait réussie ou simplement nette. La photo n'a pas été publiée cette semaine là. C'était drôle car elle n'était pas considérée comme assez bonne à l'époque. Mais quelques années plus tard, elle est devenue l'une des meilleures. Elle fait partie du mythe maintenant. Tout ce qui était réuni ce soir là était exceptionnel: Marilyn en train de chanter cette chanson avec cette robe, dans cette lumière, en cet instant précis, et dans la posture où je l'ai prise. Une photo qui vous renvoie à un moment où on a l'impression que le temps s'est arrêté, est une photo iconique.

Un autre moment historique nous attend du côté de la salle des ventes.
Dans la salle de vente, le commissaire priseur: "Est-ce que quelqu'un veut ouvrir les enchères à 20 millions ? Et à 10 ? Est-ce qu'il y a des courageux dans la salle pour 10 ? Elle les vaut. Il n'y a pas de doute qu'elle vaudra 20 ou 30 millions un jour, si ce n'est pas aujourd'hui. Qui offre 10 ? 5 millions, alors ? 5 millions de dollars ? J'ai 2 millions pour commencer. Est ce que quelqu'un offre 3 millions ?"
Nous approchons du but. Mais il reste une question: Ou était la robe pendant toutes ces années ? Comment a-t-elle ressurgi ?
On sait que le 19 mai 62, Marilyn, toujours vêtue de sa robe, quitta la soirée vers 3 heures du matin et rentra chez elle, seule. Elle s'envola à 14 heures pour Los Angeles où son dernier tournage l'attendait, sa robe chrysalide dans sa valise. A sa mort, moins de trois mois plus tard, Lee Strasberg, son professeur de théâtre, hérita de ses effets personnels qu'il entassa dans un garde meuble à New York. Tout fut exhumé en 99 lorsque sa deuxième femme Anna Strasberg orchestra leurs dispersions lors d'une vente d'anthologie à New York. A cette époque, Nancy Valentino était chargée de la vente.
Nancy Valentino, ex spécialiste chez Christie's: C'était la première fois que les cartons de Marilyn étaient ouverts depuis son décès, 35 ans après sa mort. C'est moi qui ait tout ouvert. On avait l'impression que le temps s'était arrêté. J'ai passé environ deux ans, seule, dans un entrepôt avec toutes ses affaires. Cela a été très intense. On était juste toutes les deux dans cette pièce. Vers la toute fin, j'ai remarqué une petite boîte dans un coin. Je l'ai poussée un peu avec mon pied, elle était légère et on aurait dit qu'elle était vide. J'ai presque continué mon chemin en l'ignorant et puis j'ai décidé de vérifier. J'ai ouvert la boîte, et j'ai vu du papier de soie. Et puis j'ai remarqué quelque chose de brillant et argenté. J'ai glissé ma main, et j'ai soulevé: une robe. Je l'ai regardée et je me suis dit: "Est-ce que c'est la robe Jean-Louis qu'elle a porté pour chanter Happy Birthday Mister President ?" J'étais là, toute seule, il n'y avait personne à qui j'aurais pu poser la question. Alors, c'est à ce moment là que j'ai su que j'avais trouvé la robe. Cela a été incroyable; un moment incroyable.
Et en 99, notre robe fut adjugée à plus d'un million de dollars au richissime homme d'affaires Martin Zweig.
Nancy Valentino: Nous nous trouvons dans l'appartement terrasse de l'hôtel Pierre. La robe est restée ici, entre deux fenêtres avec vue sur New York. Alors voilà, c'est ici qu'elle est restée durant ces 17 dernières années. La robe était sur un mannequin spécialement conçu pour la conservation, le même que celui du jour de la vente. Et la vitrine derrière moi a été fabriquée pour la robe, elle n'existait pas avant 1999. Et donc la robe a été conservée dans cette vitrine pendant 17 ans.
Le millionnaire est décédé en 2013, ses héritiers comme la maison de vente, espérent bien que The Robe atteindra des sommets.
Le moment tant attendu est enfin arrivé.
Dans la salle de vente, le commissaire priseur: "Un grand moment de l'histoire. Important, comme aucun autre. Une histoire à raconter aux générations futures. Est-ce que quelqu'un offre 3 millions ? Nous avons 2 millions. 3 millions: j'ai 3 millions ! J'ai une offre pour 3 millions. Est-ce qu'il y a d'autres offres ? Pour 4 millions ? Nous avons une offre pour 3 millions. 4 millions de dollars ! Nous avons une offre ! 4 millions. Maintenant, levez vos mains, levez vos paddles, tapez sur vos claviers, faites ce qu'il faut. Mesdames et Messieurs, cette robe vient de se vendre à 4 millions de dollars. 572: félicitations. Quelle soirée mémorable ! "
Edward Meyer, acheteur de la robe: J'ai essayé de l'acheter en 99, la dernière fois qu'elle a été mise en vente. A l'époque, elle m'est passée sous le nez. Alors, j'étais vraiment très motivé pour l'avoir aujourd'hui. Nous allons l'exposer dans un des musées Ripley's to Believe or Not. Nous la considérons comme La robe la plus iconique du XXième siècle. Elle symbolise la culture pop, elle la résumé parfaitement.
Une fois de plus, Marilyn a fait s'envoler les enchères. 55 ans après sa mort, l'actrice reste l'icône éternelle de l'Amérique. Elle fascine toujours autant. Marilyn est comme une obsession qui n'est pas prêt de s'éteindre.
---
© All images are copyright and protected by their respective owners, assignees or others.
Enregistrer
Enregistrer
Enregistrer
18 novembre 2016

Marilyn Monroe : la robe du «Happy Birthday» s'envole à 4,8 millions de dollars
Article publié le 18/11/2016
en ligne sur lefigaro.fr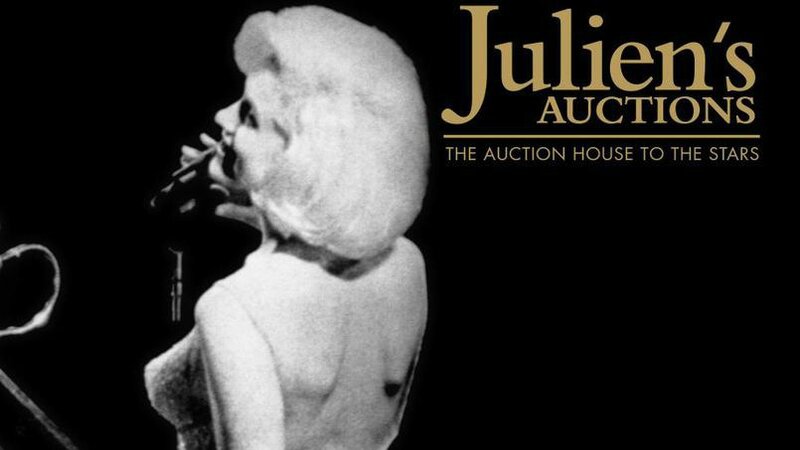 ENCHÈRES - Plus qu'un vêtement, l'étoffe incarne à elle seule toute la sensualité de la légende des années 50. Mise en vente le jeudi 17 novembre dernier à Los Angeles par la maison Julien's Auctions, elle a été acquise pour la royale somme de... 4,8 millions de dollars!
«Happy Birthday to you Mister President...» Les courbes affolantes de Marilyn Monroe n'ont pas fini de faire tourner les têtes. Le célèbre fourreau à paillettes porté par l'actrice en 1962 pour le 45e anniversaire du président Kennedy a été acquis pour la mirobolante somme de 4,8 millions d'euros. Un chiffre bien supérieur aux estimations de la maison Julien's Auctions, qui organisait la vente dans un quartier glamour de Los Angeles.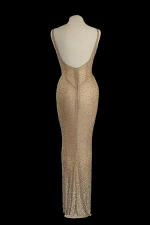 Il faut dire que l'étoffe moirée revêt désormais une dimension historique, sinon mythique. Cousue à même le corps de Marilyn, elle est indissociable du célébrissime «Happy Birthday» chanté lascivement par l'actrice en l'honneur de JFK pour son anniversaire, le 19 mai 1962. D'une couleur chair qui ne dissimulait rien de l'anatomie de l'actrice, brodée à la main de 2.500 cristaux, elle avait été estimée entre deux et trois millions de dollars par Julien's Auctions.
«C'est surtout le ton si intime et la projection sur les mots «Mr President» qui ont enflammé le public, la presse, et en ont fait un grand moment de culture populaire», souligne la maison d'enchères dans un communiqué. Susurrée, presque soupirée, elle a duré en tout «30 secondes, mais plus de cinq décennies plus tard, elle reste la plus célèbre version de «Happy birthday», relève encore Julien's Auctions.
La robe a finalement été achetée par Ripley's Believe It or Not! (Croyez-le ou pas!), un empire médiatique qui possède également une chaîne de musées, dont un à Hollywood, consacrés aux objets bizarres ou bien ayant une signification historique.
Elle avait été achetée lors d'une première vente aux enchères en 1999 par le riche homme d'affaires Martin Zweig pour la somme de 1,3 million de dollars. Le succès de cette robe est tel qu'un simple dessin de la robe par son concepteur, Bob Mackie, s'est vendu 10.000 dollars.
5,5 millions de dollars pour la robe de «Sept ans de réflexion»
Le record de vente pour une relique de Marilyn reste toutefois de 5,5 millions de dollars. Ils ont été versés il y a cinq ans par l'acheteur de la robe portée dans la scène du film Sept ans de réflexion où l'actrice, debout sur une bouche d'aération, tente avec un succès mitigé de l'empêcher de voler.
Parmi les autres objets en vente, une robe portée par l'actrice dans le film Certains l'aiment chaud, vendue 450.000 dollars, et une autre robe de soirée, pour 125.000 dollars, tandis qu'une paire de chaussures Ferragamo partait dans le même temps pour 34.000 dollars.
Le millier de pièces en vente jeudi soir provenaient de la collection de Lee Strasberg, coach en théâtre et ami de Marilyn Monroe, qui lui avait légué tous ses objets personnels. Celui-ci, qui avait également travaillé avec toute une palette d'acteurs dont James Dean, Dustin Hoffman, Jack Nicholson, Al Pacino, Jane Fonda ou Robert DeNiro, est décédé en 1982.
12 novembre 2016
Vente aux enchères 'The Marilyn Monroe Auction' par Juliens Auction les 17, 18 et 19 novembre 2016 à Los Angeles, aux Etats-Unis.

Les quatre catalogues (photo ci-contre) sont vendus ensemble -en édition limitée- dans une boîte pour la somme de 300 $ sur le site de Julien's Auction.
Il s'agit de la plus grande vente aux enchères consacrée à Marilyn Monroe, depuis celle de Christie's en 1999, et répartie sur trois jours: cette vente contient 1015 lots en consultation sur julienslive , provenant de collections de David Gainsborough-Roberts (fan et collectionneur), de Frieda Hull (fan du vivant de Marilyn, faisant parti du groupe de fans les "Monroe Six"), de Lee Strasberg, de Bob Mackie (couturier), d'Allan Rich (acteur) et d'autres collectionneurs privés. Les lots sont de natures variés: bon nombre d'effets personnels de Marilyn (vêtements, accessoires de mode, bijoux, maquillage, meubles, lettres, états des finances, scénarios), ainsi que de nombreuses photographies rares de Marilyn prise sur le vif. Le lot le plus attendu est celui de la robe créée par Jean-Louis et portée par Marilyn lors d'une de ses dernières apparitions en public à l'anniversaire de John F Kennedy.
---
> Sur le blog - les 4 catalogues:
1/ Lot 01 à 69:
Marilyn Monroe Property from the collection of David Gainsborough-Roberts
2/ Lot 70 à 84:
Happy Birthday JFK Dress and related Property
3/ Lot 85 à 604:
Property From The Estate Of Lee Strasberg
4/ Lot 605 à 1015:
Déjà Vu Property from the Life and Career of Marilyn Monroe
---
> Sur le blog - les lots:
> Lots Photos 1-Snapshots
(Instantanés en public & privé / Bobines films & matériel photographique)
> Lots Photos 2-Photographies
( Famille, Enfance & Adolescence / Photos & Snapshots en public / Joseph Jasgur /
André De Dienes / Tom Kelley & Golden Dreams / Bert Stern / George Barris /
Milton H Greene / Divers photographes)

> Lots Photos 3-Carrière
(River of no return / There's no Business ... / The Seven Year Itch / Bus Stop /
The Prince and the Showgirl / Some Like It Hot / Let's Make Love / The Misfits /
Something's Got to Give / Divers Films / Presse & Autres)
> Lots Documents papiers 1
(Vie Privée / Mode & Beauté)
> Lots Documents papiers 2
(MM Prod / Carrière / Autographes - Fans)
> Lots Documents papiers 3
(Santé / Finances, Dépenses diverses / Maison / Divers)
> Lots effets personnels 1
(Vêtements / Costumes séances photos / Costumes de films & Bijoux / Chaussures /
Accessoires / Sacs / Bijoux / Cheveux / Beauté: Maquillage et Produits de Beauté)
> Lots effets personnels 2
(Maison, Meuble, Déco / Cuisine / Livres & Magazines / Récompenses / Divers)
> Lots art
(Art par Marilyn / Marilyn dans l'Art)
Enregistrer
Enregistrer
Enregistrer
11 novembre 2016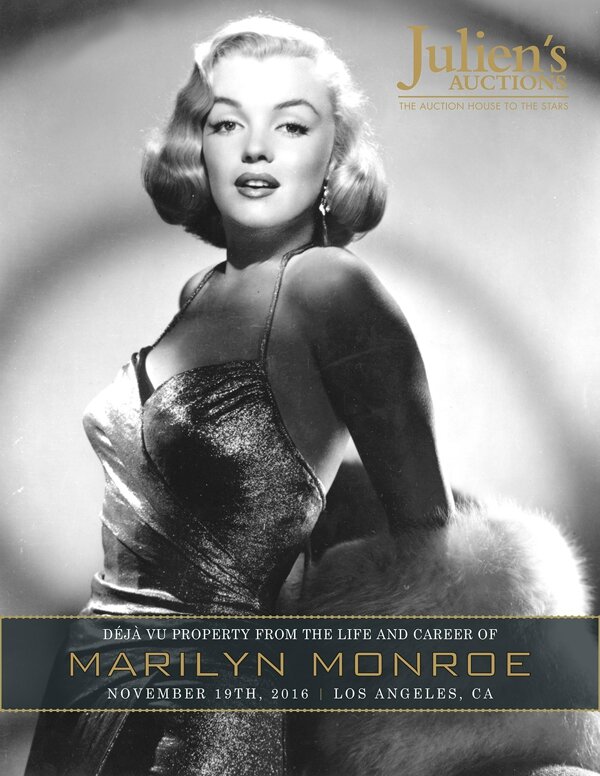 Catalogue "Déjà Vu Property from the Life and Career of Marilyn Monroe" issu de la vente aux enchères le 19 novembre 2016 par Julien's Auction à Los Angeles, aux Etats-Unis.
Le catalogue de 250 pages présente les lots (n°605 à n°1015) composés de collections de Frieda Hull (fan de Marilyn, faisant partie de la bande des "Monroe Six"), Bob Mackie (couturier de mode), Allan Rich (acteur): de nombreuses photographies prises sur le vif dans la rue ou lors de sorties en public (soirées, galas, premières), lors d'un tournage; des photographies officielles de films, de photographes (André De Dienes, Joe Jasgur, Cecil Beaton, Milton Greene, Douglas Kirkland,George Barris, Bert Stern...) des autographes et photos dédicacées; des magazines d'époque; des effets personnels (vêtements, bonnet, foulards, livres, chèques et factures, lettres, notes, tableaux, maquillage et produits de beauté ...), des esquisses de costumes de films...
> article Press Release: Frieda Hull :
Unprecedented Frieda Hull Collection and Archive Contains Never Before Seen Color and Black & White Candid Snapshots, Photographs and Slides, Movie Stills, Publicity Photos, Lobby Cards, Home Movies, and Autographs.
Frieda Hull was a member of the now famous "Monroe Six," a New York City based group of teenagers who photographed Marilyn whenever and wherever they could. As an airline employee, Hull was in the enviable position of being able to photograph Marilyn also on the West Coast. Much to Marilyn's surprise and delight, the group learned of her whereabouts from various sources, including movie magazines and her hairdresser. Many times the team simply waited for Marilyn outside of her hotel, her home, or events she was attending. Over time, Marilyn came to know each member of the group, even inviting them to the Roxbury, CT home she shared with then husband Arthur Miller for a picnic. Marilyn frequently autographed the photos the group had taken of her and also was known to give them gifts.
The extraordinary Frieda Hull Marilyn Monroe Photo Archive spans nearly the entirety of Monroe's career, from the late 1940s through to 1962. The collection includes photographs she and other members of the Monroe Six took of Marilyn, along with photographs she personally collected through the years. Rare items from the archive include unseen color photos of Marilyn as she sang "Happy Birthday" for President John F. Kennedy at Madison Square Garden on May 19, 1962, never-before-seen slides of Marilyn on location as she filmed the now famous subway skirt-blowing scene for The Seven Year Itch, a large collection of many unpublished photos of Marilyn at the 1955 premiere of East of Eden, rare photos of Monroe on the set in Phoenix while filming Bus Stop in 1956, and a photo of Marilyn with her dog Maf that is very likely a photograph never seen before.
Other rare highlights include eleven color slides which show Marilyn and Arthur Miller following the premiere of Some Like It Hot in 1959, some of which have likely never been seen. One slide in the collection shows Monroe sitting in the back of a vehicle with a bird in a cage on her lap, likely "Butch," the Millers' pet parakeet. Home movies in the archive show remarkable footage of Marilyn departing her apartment in New York on May 30, 1958. Other footage shows Marilyn attending an event at the Italian Consulate on May 13, 1959, where she received the David di Donatello Award for her work in The Prince and The Showgirl. The movie still and publicity photos in the Frieda Hull collection are unparalleled, with photographs from twenty-seven of Marilyn's thirty films, ranging in years from 1947 through 1962. The impressive Bus Stop archive includes approximately 150 movie stills, 30 publicity photographs, and 18 lobby cards.
The Frieda Hull Marilyn Monroe Photo Archive includes over 550 color and black & white candid snapshots and photographs, over 150 color slides, nearly 750 movie stills, publicity photos and lobby cards, and personal home movies.
Additional items from the Frieda Hull Marilyn Monroe Collection being offered at Julien's Auctions include autographed photos and snapshots, Frieda Hull's original ticket and program to a 1962 JFK Madison Square Garden gala, a Marilyn Monroe and Arthur Miller autographed Gladstone Hotel menu, Frieda's "Monroe Six" badge, a scarf Marilyn gifted to Frieda, a Marilyn Monroe calendar, and vintage Marilyn Monroe albums.
---
© All images are copyright and protected by their respective owners, assignees or others.
copyright text by GinieLand.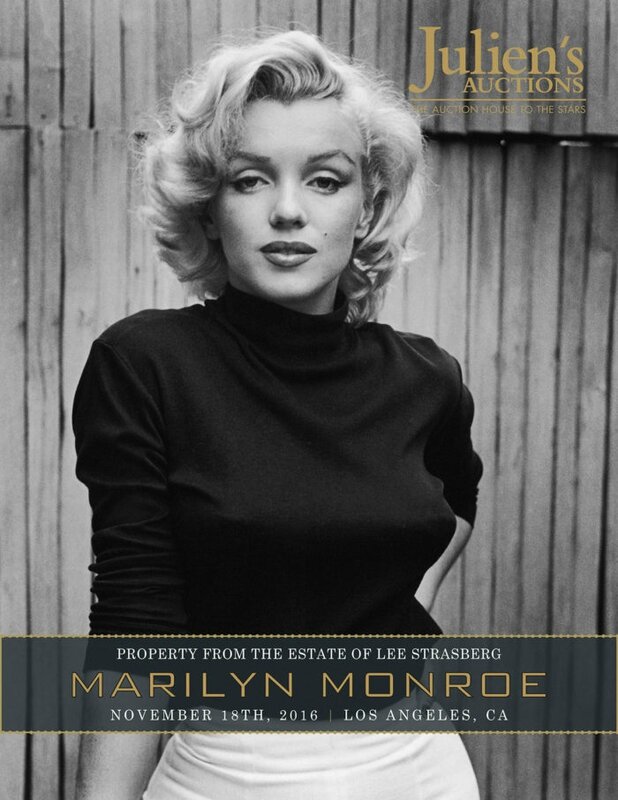 Catalogue "Property From The Estate Of Lee Strasberg" issu de la vente aux enchères le 18 novembre 2016 par Julien's Auction à Los Angeles, aux Etats-Unis.
Le catalogue de 426 pages présente les lots (n°85 à n°604) composés de nombreux effets personnels que Marilyn Monroe avait légué à Lee Strasberg: photographies de son enfance, photographies personnelles; lettres, esquisses et écrits personnels (dont certains ont été publiés dans le livre Fragments); chèques et chéquiers, reçus et factures, carnet de finances; répertoires téléphoniques; scénarios; chaussures, chapeaux, accessoires, vêtements et vestes; bijoux, montres et maquillage; valise, sacs et pochettes de soirée; livres; ustensiles de cuisine; meubles et objets de décoration; machine à écrire; appareil photo etc...
> article Press Release: Lee Strasberg :
Julien's Auctions, the world record breaking auction house to the stars, has announced on offer one of the most personal collections of Marilyn Monroe from the estate of Lee Strasberg. The auction will include a wide variety of documents and personal items once owned by Marilyn Monroe and represents the largest collection of Marilyn Monroe artifacts ever offered at auction.
Besides being an actor and director in his own right, Strasberg is considered the father of method acting in America. Strasberg revolutionized the art of acting by having a profound influence on performance in American theater and movies. A myriad of actors and directors from the United States and around the world gave Lee Strasberg credit for his influence on them, including Mike Nichols, Richard Harris, Dustin Hoffman, Jack Nicholson, Al Pacino, Jane Fonda and Robert DeNiro." Stars of Hollywood's silver screen era who trained under Strasberg include Montgomery Clift, James Dean, Jean Stapleton and of course, Marilyn Monroe. Marilyn developed a close personal relationship with Lee and his wife Paula, and she ultimately bequeathed all of her personal effects and clothing to Lee in her will.
"No one person ever really knew every facet of Marilyn Monroe, though countless books have attempted to piece together every first, second and third hand account of each encounter, often embellished through passage of time. Marilyn was a complex and beguiling figure in her lifetime, leaving generations of adoring fans to speculate, infer and debate about her life. What has resulted is a prismatic kaleidoscope image built upon both fact and fantasy." – Anna Strasberg
"This is one of the most important and historic auctions of Marilyn Monroe ever. This diverse collection gives us a most intimate glimpse of the screen legend. Never before have there been so many important artifacts from the life and career of the much loved global icon Marilyn Monroe as in our Nov 19th and 20th auction." – Martin Nolan, Executive Director of Julien's Auctions.
Perhaps the highlight of the items is one of just a few pieces of fine jewelry ever owned by Monroe: a ladies platinum and diamond cocktail watch with face reading "Blancpain, and the movement is signed Rayvill Watch Co. 17 Jewels, Unadjusted Switzerland." The sale includes other pieces of costume jewelry, compacts, cosmetics and a few pieces related to Joe DiMaggio. A DiMaggio highlight is an alligator men's accessory case with custom "JDim" initial in brass on lid with a combination lock closure set to "555" — a repetition of DiMaggio's Yankee number 5.
The sale will also include a beautiful 1950's brown alligator ladies handbag from I. Magnin & Co. with matching accessories, a grey pony handbag from Mexico still containing three one peso bills, and a number of other handbags, fur coats and stoles.
Of particular interest is a stunning ladies minaudière with the original box, featuring three compartments including one for loose powder with cotton buffer, mirror, comb, two mercury dimes, eight Phillip Morris cigarettes and a tube of used Revlon lipstick in "Bachelor's Carnation" with a date of 1947, a virtual time capsule of one of the star's nights out on the town.
The items in this collection also include documents that represent signposts containing unbiased factual information placing the star in a certain place on a certain day, the only tangible things left behind to mark simple and remarkable moments in her life and career, from a taxi receipt dated February 2, 1960 listing the trip details as simply "From: 904 To: 20th Century" to a check dated July 25, 1952 written in Monroe's hand to her mother Gladys Eley in the amount of $150.00 endorsed by her mother signed, "Mrs. Gladys P. Eley." In addition to household, food, fur, books, beauty, and clothing receipts, there are tax documents listing the star's expenditures in great detail, a collection of recipes given to her by friends, and of certain interest is her 1962 checkbook containing the filled out stubs of every check written from her account in the final year of her life as well as the checks written from her account immediately after her death.
The items provide an unprecedented look at the daily details of her life, offering yet another perspective of Monroe.
In addition to these extraordinary highlights from the screen icon's life are documents, correspondence, poems and intimate notes featured in the appropriately titled 2012 book Fragments. The book helped to piece together a more even-handed view of the icon, demonstrating her intellectual curiosity, vulnerability and humanity. The poems included in the book offer a deeply personal look into Monroe's thoughts, such as this excerpt: "Only parts of us will ever touch parts of others — one's own truth is just that really — one's own truth…" Many of the writings featured in the book are contained in notebooks that are included in the sale as well as lighter material like her now famous recipe for stuffing scrawled on a sheet of "City Title Insurance Company" notepaper.
---
© All images are copyright and protected by their respective owners, assignees or others.
copyright text by GinieLand.
Enregistrer
Enregistrer
Enregistrer
Enregistrer
Enregistrer
09 novembre 2016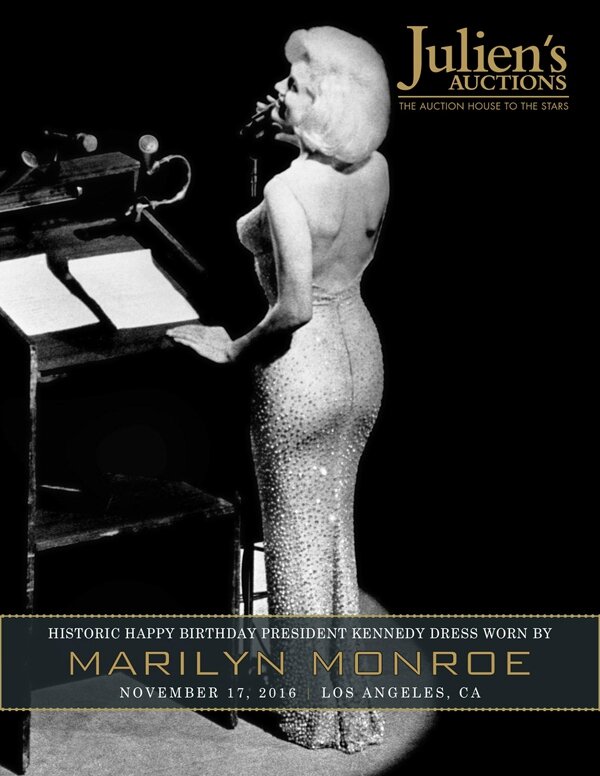 Catalogue "Happy Birthday JFK Dress and related Property" issu de la vente aux enchères le 17 novembre 2016 par Julien's Auction à Los Angeles, aux Etats-Unis.
Le catalogue de 52 pages présente les lots (n°70 à n°84) se rapportant à la soirée de gala d'anniversaire du Président John F. Kennedy: le programme, le ticket d'entrée, une bobine d'un film couleur de la soirée, des photographies, des lettres et dépenses, des esquisses de la robe, et le plus attendu des lots, la fameuse robe créée par le couturier Jean-Louis, dont la valeur est estimée entre 2 et 3 millions de dollars.
Une première fois mise en vente par Christie en 1999, la robe couleur chair et brodée à la main de 2500 cristaux a ensuite été vendue à l'homme d'affaires Martin Zweig, aujourd'hui décédé, pour près d'1,3 million de dollars. Ce sont les gestionnaires de son héritage qui la mettent aujourd'hui aux enchères.
> Extrait article Happy Birthday Mr. President :
New York, New York – (September 7, 2016) – On Saturday, May 19, 1962, at a Democratic fundraiser and early 45th birthday celebration, President John F. Kennedy took his seat in Madison Square Garden anticipating what has now become one of the most iconic moments in entertainment and political history. In front of 15,000 guests, many of them celebrities, actor Peter Lawford was about to make an introduction that would change the course of pop culture and Presidential folklore forever. Under a bright spotlight, the legendary Marilyn Monroe walked on stage and peeled away her white ermine fur coat, revealing a skintight, sheer, flesh-colored dress that sparkled with over 2,500 handstitched crystals. The custom Jean Louis creation was so tight fitting that Marilyn wore nothing underneath and had to be sewn into it last minute. Original sketch illustrated by Bob Mackie. When Marilyn appeared and the dress was finally revealed, the entire audience gasped.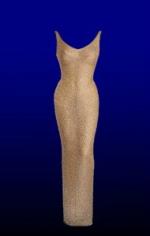 After Peter Lawford introduced her as the "LATE" Marilyn Monroe, she flicked the microphone and began to sing "Happy Birthday Mr. President" in her trademark sultry, sexy voice with original lyrics she wrote herself. However, it was her intimate tone and projection of the words "Mr. President" that would stun the audience, excite the press and become a milestone in popular culture. The song and performance were remembered for many reasons, not the least because it was one of her last public appearances before her untimely death less than three months later. Sadly, President Kennedy died a year later and that infamous night at MSG was the last known time they saw each other. The rendition by Marilyn remains one of the most famous, delivered in her halting, breathy tone. All in all, it lasted approximately 30 seconds, but more than five decades later, it remains the most famous version of "Happy Birthday" ever. The dress, the performance, Jacqueline Kennedy's absence and photographs from the evening would spark ravenous rumors of an affair between the President and Marilyn.
In fact, it was Marilyn's death in 1962 that prompted American artist Andy Warhol to create "Marilyn's Diptych" — one of the most famous art homages to her, permanently securing Marilyn's place in contemporary art history.
"Marilyn Monroe singing 'Happy Birthday Mr. President' is certainly one of the most famous impromptu performances in American history," said Darren Julien, President & CEO of Julien's Auctions. "That rendition has lived on for decades as one of the most remarkable events in her career and certainly one of the most storied tales in popular culture history — a moment in time squarely at the center of the 1960s, Hollywood and Camelot. We are incredibly privileged to have the opportunity to offer this amazing dress to collectors, fans and contemporary art enthusiasts around the world."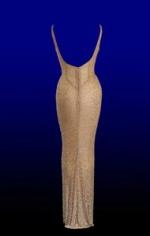 On November 17, 2016, Julien's Auctions, the world-record breaking auction house to the stars, will once again make history when it exclusively offers the Marilyn Monroe "Happy Birthday Mr. President" Jean Louis creation at auction. Julien's Auctions will give collectors and fans from around the globe one of the most awe-inspiring moments in auction history when the gavel comes down on the final bid for this remarkable object.
Prior to the auction, the "Happy Birthday Mr. President" dress will go on an exclusive world tour. The dress will exhibit at MANA Contemporary in New Jersey as part of the Exhibition "Marilyn: Character Not Image" followed by the Newbridge Silverware Museum of Style Icons (MOSI) in Kildare, Ireland before making its way back to the Julien's Auctions Gallery in Los Angeles.
"We have had remarkable opportunities to offer unique objects related to Marilyn Monroe in the past," said Martin Nolan, Executive Director of Julien's Auctions. "To be part of the continued interest and excitement around this legend is always thrilling. This dress, this story, this momentous occasion represents a defining moment in history. This auction will remind the world why Marilyn Monroe remains an icon."
The dress will be presented on the custom-made mannequin that was designed to match Marilyn Monroe's exact body measurements.
---
© All images are copyright and protected by their respective owners, assignees or others.
copyright text by GinieLand.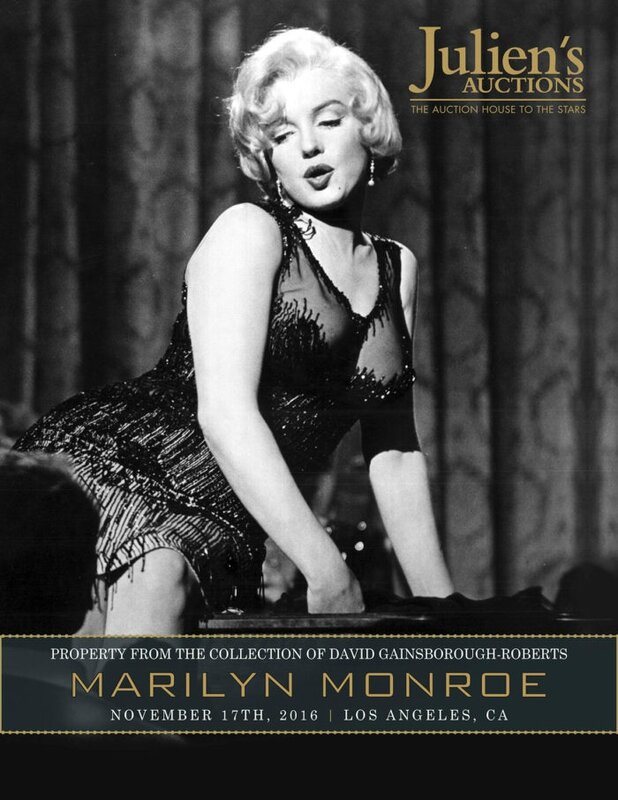 Catalogue "Marilyn Monroe Property from the collection of David Gainsborough-Roberts" issu de la vente aux enchères le 17 novembre 2016 par Julien's Auction à Los Angeles, aux Etats-Unis.
Le catalogue de 96 pages présente les lots (n°01 à n°69) du collectionneur et fan de Marilyn Monroe, David Gainsborough-Roberts: des vêtements, objets personnels, bijoux, photographies...
Présentation du site web de Julien's: Highlights from Marilyn Monroe Property From The Collection of David Gainsborough-Roberts include a sheer black beaded and sequined dress worn by Monroe in her Golden Globe winning role Sugar Kane as she crooned "I'm Through With Love" in the award winning 1959 film Some Like it Hot; an elaborate embellished stage gown worn by Monroe as she sang "After You Get What You Want You Don't Want It" in the 1953 comedy There's No Business Like Show Business which was designed by one of Marilyn's all-time favorite designers, William Travilla; a pink linen halter wiggle dress designed for Monroe by Dorothy Jenkins for the 1953 thriller Niagara; a green satin one-piece with black sequins and gold fringe worn by Monroe as she sang "That Old Black Magic" in the 1956 film Bus Stop; a lilac satin leotard worn by Monroe as Lillian Russell in the 1958 photo series by Richard Avedon and featured in Life magazine in 1958. Additional film pieces offered include costumes from Gentlemen Prefer Blondes and Let's Make Love, along with a pair of rhinestone earrings worn by Monroe in How To Marry A Millionaire and a pair of sequin embellished opera gloves from the Rachmaninoff scene of The Seven Year Itch.
Monroe's personal style is represented by a figure-hugging black cocktail dress by Ceil Chapman, a favorite of Monroe; a slender fitting bias cut crepe evening gown worn by Monroe to the 1955 premiere of The Rose Tattoo; an embellished Lanvin gown; and rhinestone jewelry. Personal items include prescription pill bottles, Victoria and Albert museum exhibited high heels, a plastic doll in the likeness of Monroe given as a souvenir at her 34th birthday party; documents and correspondences; household items; and Monroe's Detroit Free Press "New Faces Award" from 1952.
> Extrait article Collector David Gainsborough-Roberts :
Julien's Auctions, the world record breaking auction house to the stars, has announced the auction of the David Gainsborough-Roberts Marilyn Monroe Collection. Comprising film costumes, personal gowns and clothing, jewelry, and property owned by Marilyn Monroe, together with original photographs and film posters, this prolific and historic collection is undoubtedly the most important Marilyn Monroe archive of combined professional and personal property to hit the collecting market in decades. Collector David Gainsborough-Roberts is known to have amassed the world's largest collection of Marilyn Monroe memorabilia which he has carefully and lovingly curated for years.
---
© All images are copyright and protected by their respective owners, assignees or others.
copyright text by GinieLand.
---
Photographies - Instantanés en public & privé
Photographs - Public & Private Snapshots

---
Lot 197: MARILYN MONROE AND ELI WALLACH SNAPSHOTS
Three vintage black and white glossy photographs of Monroe, two with Eli Wallach, at a party in the late 1950s. Two images have creases from being folded, and one has distortion in the emulsion of the photo paper.
3 1/4 by 4 1/4 inches
Estimate: $700 - $900

---
Lot 209: MARILYN MONROE PHOTOGRAPHS OF JOE DIMAGGIO
A group of 17color snapshots likely taken by Monroe while relaxing in Canada with Joe DiMaggio during filming of River of No Return in 1953. Six images feature DiMaggio on a boat and against scenic backdrops. Four images feature an elk; six feature scenic views. Two images feature Jean Negulesco, who was uncredited for his work on the film.
3 1/2 by 3 1/2 inches
Estimate: $1,000 - $1,500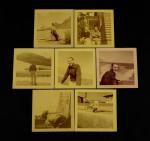 ---
Lot 267: MARILYN MONROE OWNED PHOTOGRAPHS OF ARTHUR MILLER
Five images of the famous American author and then husband of Monroe: a vintage candid photo of Miller as a young man, a photograph of Miller playing baseball, two smaller photographs of Miller by David Gahr with photographer's stamp on verso, and a snapshot of Monroe and Miller as they attended a ceremony to receive the American Friends of the Hebrew University award in Philadelphia September 27, 1959.
Largest, 8 by 10 inches
Estimate: $400 - $600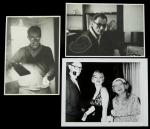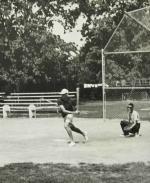 ---
Lot 315: MARILYN MONROE SNAPSHOTS
Three vintage black and white glossy photographs of Monroe playing badminton with Hedda and Norman Rosten in Amagansett, New York, 1955.
3 1/2 by 5 inches
Estimate: $600 - $800


---
Lot 317: MARILYN MONROE PARAKEET PHOTOGRAPHS
Four color snapshots of pet parakeets including Butch, a pet parakeet kept by Monroe and Arthur Miller. The images are stamped with a date of October 1958. Additional birds named Bobo, Clyde, and another illegibly named in the margin are visible in the photographs.
3 1/2 by 3 1/2 inches
Estimate: $300 - $500

---
Lot 496: PHOTOGRAPH OF MARILYN MONROE WITH MAF
A small trimmed color photograph of Monroe holding Maf, her poodle, with super fan and friend of Monroe James Haspiel taken in June 1961. The photograph was printed subsequently in December of the same year.
2 1/2 by 3 1/2 inches
Estimate: $300 - $500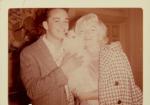 ---
Lot 498: MARILYN MONROE PHOTOGRAPHS OF MAF
Two small color snapshots of Monroe's pet Maltese Maf, short for Mafia, a gift from Frank Sinatra.
3 1/2 by 3 1/2 inches
Estimate: $400 - $600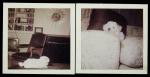 ---
Lot 572: MARILYN MONROE INCOGNITO SNAPSHOT
A small color snapshot of Monroe wearing a brunette wig and scarf around her head in disguise. A number of stories have been told regarding Monroe dressing in a brunette wig and going out to bars to see how men responded to her when she wasn't "being" Marilyn. This image documents Monroe as she appeared in a brunette disguise.
3 1/2 by 2 1/2 inches
Estimate: $800 - $1,200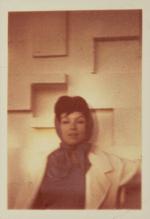 ---
Lot 587: MARILYN MONROE PHOTOGRAPHS OF FIFTH HELENA DRIVE PROPERTY
A group of four vintage black and white photographs, most likely of the kitchen and laundry room of the guest house at Monroe's Fifth Helena Drive property prior to her renovations and decorating.
8 by 10 inches
Estimate: $300 - $500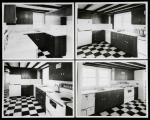 ---
Lot 627: MARILYN MONROE ORIGINAL CANDID PHOTOGRAPHS
A group of three original black and white photographs of Marilyn Monroe, circa 1953. In the photographs, Monroe wears her costume from the thriller Niagara (20th Century, 1953). One image is marked on verso "Leaving the El Capitan Theater."
Largest, 5 by 4 inches
PROVENANCE From the Estate of Frieda Hull
Estimate: $200 - $400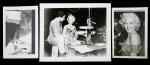 ---
Lot 633: MARILYN MONROE ORIGINAL CANDID PHOTOGRAPHS
A group of four original black and white photographs of Marilyn Monroe, circa 1953, with "La Rue Restaurant" inscribed on verso of three of the images. Some photographs from this lot are likely never before seen.
Largest, 5 by 3 1/2 inches
PROVENANCE From the Estate of Frieda Hull
Estimate: $300 - $500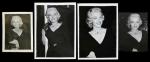 ---
Lot 635: MARILYN MONROE ORIGINAL CANDID PHOTOGRAPHS
A group of four original black and white photographs of Marilyn Monroe, circa 1953. One photograph is marked on verso "In front of the Mocambo," and two are marked "Mocambo Club." All are likely never before seen images of Monroe.
Largest, 3 1/2 by 2 1/2 inches
PROVENANCE From the Estate of Frieda Hull
Estimate: $300 - $500

---
Lot 643: MARILYN MONROE ORIGINAL CANDID PHOTOGRAPHS
A group of seven original color and black and white photographs of Marilyn Monroe taken on September 9, 1954, the same day she was interviewed by Ed Wallace at the St. Regis Hotel in New York City. This lot contains three color and four black and white photographs.
Largest, 3 1/2 by 3 1/2 inches
PROVENANCE From the Estate of Frieda Hull
Estimate: $600 - $800

---
Lot 644: MARILYN MONROE COLOR SLIDES
A group of three color slides of Marilyn Monroe from September 9, 1954, the day she was interviewed by Ed Wallace at the St. Regis Hotel in New York City.
PROVENANCE From the Estate of Frieda Hull
Estimate: $200 - $400

---
Lot 645: MARILYN MONROE ORIGINAL CANDID PHOTOGRAPH
An original black and white photograph of Marilyn Monroe taken with a young fan, likely in New York City, circa 1954.
5 1/2 by 3 1/2 inches
PROVENANCE From the Estate of Frieda Hull
Estimate: $200 - $300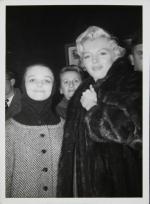 ---
Lot 650: MARILYN MONROE ORIGINAL CANDID PHOTOGRAPHS
A group of five original color and black and white photographs of Marilyn Monroe in New York City from September 12, 1954, one of which includes superfan James Haspiel. Monroe had arrived days earlier to film The Seven Year Itch (20th Century, 1955). This lot includes one color photograph and four black and white photographs, some possibly never before seen.
Largest, 5 by 7 inches
PROVENANCE From the Estate of Frieda Hull
Estimate: $400 - $600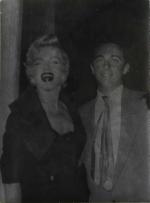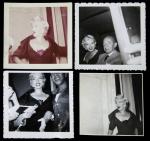 ---
Lot 656: MARILYN MONROE ORIGINAL CANDID PHOTOGRAPH
An original color photograph of Marilyn Monroe taken on November 6, 1954, at a party thrown for Monroe at Romanoff's restaurant in Beverly Hills to mark the end of shooting for The Seven Year Itch (20th Century, 1955).
3 3/4 by 2 1/4 inches
PROVENANCE From the Estate of Frieda Hull
Estimate: $100 - $200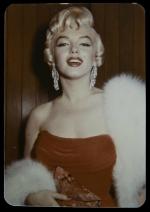 ---
Lot 658: MARILYN MONROE ORIGINAL CANDID PHOTOGRAPHS
A group of eight original black and white photographs of Marilyn Monroe taken on various occasions, circa 1955. Most images in this lot are likely never before seen.
Largest, 5 by 3 1/2 inches
PROVENANCE From the Estate of Frieda Hull
Estimate: $700 - $900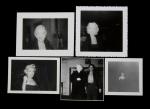 ---
Lot 659: MARILYN MONROE ORIGINAL CANDID PHOTOGRAPHS
A pair of original black and white photographs of Marilyn Monroe, circa 1955. One photograph shows Monroe leaving the Gladstone Hotel in New York City; the other shows her with husband Joe DiMaggio in the background. Both images are possibly never before seen.
Larger, 3 1/2 by 3 1/2 inches
PROVENANCE From the Estate of Frieda Hull
Estimate: $100 - $300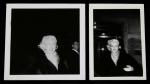 ---
Lot 660: MARILYN MONROE ORIGINAL PHOTOGRAPHS
A group of 15 original black and white photographs of Marilyn Monroe, circa 1955, taken in front of the Gladstone Hotel in New York City. Some images show her with her press agent Jay Kantor. Several images in this lot are likely never before seen.
Largest, 5 by 7 inches
PROVENANCE From the Estate of Frieda Hull
Estimate: $1,400 - $1,600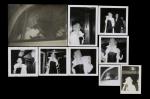 ---
Lot 661: MARILYN MONROE SIGNED SNAPSHOT
A black and white snapshot of Marilyn Monroe driving a car and posing through the driver's side window taken in the mid-1950s. The image is signed in blue ballpoint pen "Marilyn Monroe." The autograph was obtained by Frieda Hull, one of the "Monroe Six," a group of legendary fans with whom Monroe became friendly.
3 1/2 by 2 1/2 inches
PROVENANCE From the Estate of Frieda Hull
Estimate: $2,000 - $3,000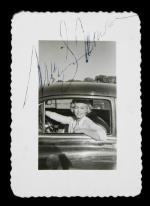 ---
Lot 662: MARILYN MONROE ORIGINAL CANDID PHOTOGRAPHS
A group of six original black and white photographs of Marilyn Monroe taken at a party she attended with friend and Hollywood reporter Sidney Skolsky. Some photographs from this lot are likely never before seen.
Largest, 5 by 3 1/2 inches
PROVENANCE From the Estate of Frieda Hull
Estimate: $500 - $700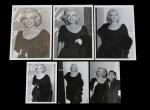 ---
Lot 666: MARILYN MONROE ORIGINAL CANDID PHOTOGRAPHS
A pair of original Marilyn Monroe color photographs that show Monroe seated in the backseat of a vehicle, circa January 1955.
3 1/2 by 3 1/2 inches
PROVENANCE From the Estate of Frieda Hull
Estimate: $200 - $400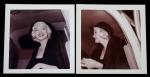 ---
Lot 668: MARILYN MONROE ORIGINAL CANDID PHOTOGRAPHS
A group of nine original black and white photographs of Marilyn Monroe; one reads "1/55" on verso, believed to have been taken on January 26, 1955, at the Gladstone Hotel.
Largest, 5 by 3 1/2 inches
PROVENANCE From the Estate of Frieda Hull
Estimate: $900 - $1,100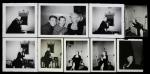 ---
Lot 671: MARILYN MONROE COLOR PHOTOGRAPH
An original color photograph of Marilyn Monroe, circa 1955, from when she attended Skin of Our Teeth at the ANTA Theatre in New York City. "Skin Of Our Teeth/Anta Theatre" is written in pencil on verso. This play, written by Thornton Wilder, opened in New York on August 17, 1955, and starred Helen Hayes, George Abbott, Mary Martin, and Florence Reed. The director was Alan Schneider.
5 by 3 1/2 inches
PROVENANCE From the Estate of Frieda Hull
Estimate: $100 - $200

---
Lot 672: MARILYN MONROE ORIGINAL CANDID PHOTOGRAPH
An original black and white photograph of Marilyn Monroe, possibly taken on September 7, 1955, when she was going to a birthday party for Elia Kazan that had been organized by the Actors Studio. This is likely a never before seen photograph of Monroe.
5 by 3 1/2 inches
PROVENANCE From the Estate of Frieda Hull
Estimate: $100 - $200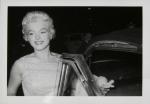 ---
Lot 673: MARILYN MONROE COLOR SLIDE
A color slide of Marilyn Monroe, circa 1955, showing her in the driver's seat of a convertible wearing sunglasses. It is a candid image of Monroe "caught in the moment."
PROVENANCE From the Estate of Frieda Hull
Estimate: $100 - $200

---
Lot 674: MARILYN MONROE COLOR SLIDES
A group of five slides of Marilyn Monroe, from various events, circa 1955.
PROVENANCE From the Estate of Frieda Hull
Estimate: $400 - $600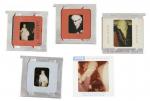 ---
Lot 675: MARILYN MONROE ORIGINAL CANDID PHOTOGRAPHS
A group of nine color original photographs of Marilyn Monroe, circa 1955. Monroe is shown smiling and laughing and signing autographs for fans. Several images in this lot are likely never before seen.
Largest, 3 1/2 by 3 1/2 inches
PROVENANCE From the Estate of Frieda Hull
Estimate: $800 - $1,000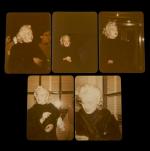 ---
Lot 677: MARILYN MONROE SIGNED PHOTOGRAPH
A black and white photograph of Marilyn Monroe in New York City circa 1955 wearing a black gown, white fur and white evening gloves. The photo is signed in blue ink "Marilyn Monroe." The autograph was obtained by Frieda Hull, one of the "Monroe Six," a group of legendary fans with whom Monroe became friendly.
7 by 5 inches
PROVENANCE From the Estate of Frieda Hull
Estimate: $2,000 - $3,000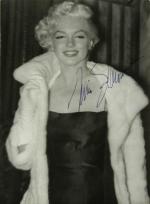 ---
Lot 678: MARILYN MONROE SIGNED PHOTOGRAPH
A black and white photograph of Marilyn Monroe in New York City circa 1955 wearing a black gown and white fur. The photo is signed in blue ink "Marilyn Monroe." The autograph was obtained by Frieda Hull, one of the "Monroe Six," a group of legendary fans with whom Monroe became friendly.
7 by 5 inches
PROVENANCE From the Estate of Frieda Hull
Estimate: $1,500 - $2,000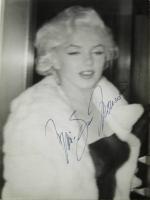 ---
Lot 679: MARILYN MONROE SIGNED PHOTOGRAPH
A black and white photograph of Marilyn Monroe in New York City circa 1955 wearing a black gown, white fur and black evening gloves, signed in blue ink "Marilyn Monroe." The autograph was obtained by Frieda Hull, one of the "Monroe Six," a group of legendary fans with whom Monroe became friendly.
7 by 5 inches
PROVENANCE From the Estate of Frieda Hull
Estimate: $2,000 - $3,000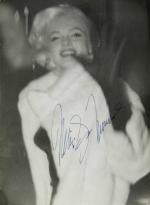 ---
Lot 680: MARILYN MONROE COLOR SLIDE
A color slide showing Marilyn Monroe in New York City, circa 1955, signing autographs for fans.
PROVENANCE From the Estate of Frieda Hull
Estimate: $100 - $200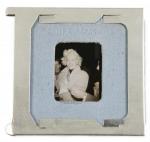 ---
Lot 681: MARILYN MONROE COLOR SLIDES
A group of five slides of Marilyn Monroe, from various events, circa 1955.
PROVENANCE From the Estate of Frieda Hull
Estimate: $400 - $600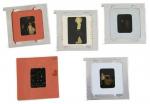 ---
Lot 682: MARILYN MONROE ORIGINAL PHOTOGRAPHS
A group of nine original color photographs of Marilyn Monroe, circa 1955, likely taken in front of the Gladstone Hotel in New York City. Some images in this lot are likely never before seen.
Largest, 3 1/2 by 2 1/2 inches
PROVENANCE From the Estate of Frieda Hull
Estimate: $800 - $1,000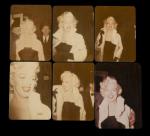 ---
Lot 683: MARILYN MONROE ORIGINAL CANDID PHOTOGRAPHS
A group of five original color and black and white photographs of Marilyn Monroe taken on February 26, 1955, when she attended Jackie Gleason's birthday party with husband Joe DiMaggio. This lot contains four black and white photographs and one color photograph. Some images in this lot are likely never before seen.
Largest, 5 by 3 1/2 inches
PROVENANCE From the Estate of Frieda Hull
Estimate: $400 - $600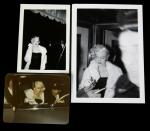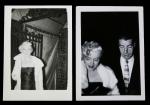 ---
Lot 684: MARILYN MONROE SIGNED PHOTOGRAPH
A black and white photograph of Marilyn Monroe taken on February 26, 1955, when she attended Jackie Gleason's birthday party with husband Joe DiMaggio. The photo is signed in blue ink "Marilyn Monroe." The autograph was obtained by Frieda Hull, one of the "Monroe Six," a group of legendary fans with whom Monroe became friendly.
7 by 5 inches
PROVENANCE From the Estate of Frieda Hull
Estimate: $2,000 - $3,000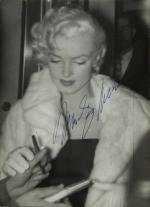 ---
Lot 685: MARILYN MONROE ORIGINAL CANDID PHOTOGRAPHS
A group of four original color photographs of Marilyn Monroe, circa 1955, from an unidentified event. One image shows Monroe with friend, photographer, and business partner Milton Greene. Some images in this lot are likely never before seen.
Largest, 5 by 3 1/2 inches
PROVENANCE From the Estate of Frieda Hull
Estimate: $500 - $600

---
Lot 690: MARILYN MONROE SIGNED PHOTOGRAPH
A black and white photograph of Marilyn Monroe in New York City circa 1955 smiling while signing an autograph for a fan. The photo is signed in ballpoint pen "To Frieda, Love & Kisses Marilyn Monroe." The image is signed to Frieda Hull, one of the "Monroe Six," a group of legendary fans with whom Monroe became friendly. The corners of the photo are trimmed, and there is a crease on the right side of the photograph.
7 by 5 inches
PROVENANCE From the Estate of Frieda Hull
Estimate: $2,000 - $3,000

---
Lot 694: MARILYN MONROE COLOR SLIDES
A group of four slides, three showing Marilyn Monroe and one showing Arthur Miller, at various events, circa 1955.
PROVENANCE From the Estate of Frieda Hull
Estimate: $300 - $500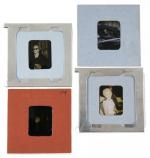 ---
Lot 695: MARILYN MONROE COLOR SLIDES
A group of four slides of Marilyn Monroe, from various events, circa 1955.
PROVENANCE From the Estate of Frieda Hull
Estimate: $300 - $500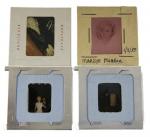 ---
Lot 698: MARILYN MONROE ORIGINAL CANDID PHOTOGRAPHS
A group of five original black and white photographs of Marilyn Monroe believed to have been taken in April 1955. A very casual Monroe is seen interacting with and signing autographs for fans.
Largest, 5 by 3 1/2 inches
PROVENANCE From the Estate of Frieda Hull
Estimate: $400 - $600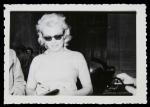 ---
Lot 699: MARILYN MONROE SIGNED PHOTOGRAPH
A black and white photograph of Marilyn Monroe in New York City circa 1955 wearing a black gown, white fur and black evening gloves, signed in blue ink "Marilyn Monroe." The autograph was obtained by Frieda Hull, one of the "Monroe Six," a group of legendary fans with whom Monroe became friendly.
7 by 5 inches
PROVENANCE From the Estate of Frieda Hull
Estimate: $2,000 - $3,000

---
Lot 700: MARILYN MONROE ORIGINAL CANDID PHOTOGRAPHS
A group of four original black and white photographs of Marilyn Monroe from June 1955, taken when she was returning home following an acting lesson with Lee Strasberg.
Largest, 3 1/2 by 3 1/2 inches
PROVENANCE From the Estate of Frieda Hull
Estimate: $300 - $500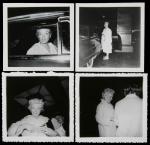 ---
Lot 701: MARILYN MONROE ORIGINAL CANDID PHOTOGRAPHS
A pair of original black and white photographs of Marilyn Monroe taken on July 27, 1955, when she was on her way to see Inherit the Wind on Broadway in New York City.
Largest, 5 by 3 1/2 inches
PROVENANCE From the Estate of Frieda Hull
Estimate: $100 - $300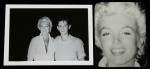 ---
Lot 702: MARILYN MONROE ORIGINAL CANDID PHOTOGRAPHS
A group of three original color photographs of Marilyn Monroe in New York City taken on June 7, 1955, when she was on her way to see Damn Yankees on Broadway. One photo includes Nathan Puckett, president of one of Monroe's fan clubs, in the background.
Largest, 2 3/4 by 1 3/4 inches
PROVENANCE From the Estate of Frieda Hull
Estimate: $200 - $400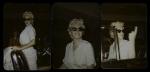 ---
Lot 705: MARILYN MONROE COLOR SLIDES
A group of nine slides of Marilyn Monroe, circa 1955. Monroe is shown smiling and laughing and signing autographs for fans. Several slides in this lot are likely never before seen.
PROVENANCE From the Estate of Frieda Hull
Estimate: $800 - $1,200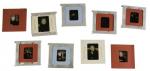 ---
Lot 707: MARILYN MONROE COLOR SLIDES
A group of 10 slides of Marilyn Monroe, circa 1955, from in front of the Gladstone Hotel in New York City. Some images show her with her press agent Jay Kantor and friend, photographer, and business partner Milton Greene. Some slides in this lot are likely never before seen.
PROVENANCE From the Estate of Frieda Hull
Estimate: $900 - $1,100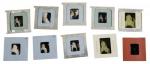 ---
Lot 709: MARILYN MONROE ORIGINAL PHOTOGRAPHS
A group of five original color and black and white photographs of Marilyn Monroe taken on various occasions, circa 1955. This lot contains one color and four black and white images. Some images in this lot are likely never before seen.
Largest, 5 by 3 1/2 inches
PROVENANCE From the Estate of Frieda Hull
Estimate: $400 - $600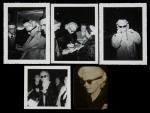 ---
Lot 710: MARILYN MONROE ORIGINAL CANDID PHOTOGRAPHS
A group of nine original color photographs of Marilyn Monroe taken on various occasions, circa 1955. Some images in this lot are likely never before seen.
Largest, 3 1/2 by 2 1/2 inches
PROVENANCE From the Estate of Frieda Hull
Estimate: $800 - $1,000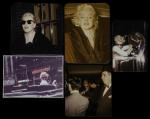 ---
Lot 715: MARILYN MONROE ORIGINAL CANDID PHOTOGRAPHS
A group of three original black and white photographs of Marilyn Monroe taken circa 1955 on a New York City street. Monroe superfan James Haspiel can be partially seen in one of the photographs.
Largest, 5 by 3 1/2 inches
PROVENANCE From the Estate of Frieda Hull
Estimate: $300 - $500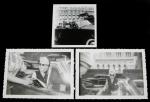 ---
Lot 716: MARILYN MONROE ORIGINAL CANDID PHOTOGRAPHS
A group of seven original black and white photographs of Marilyn Monroe taken in New York City, circa 1955. Some images show friend, photographer, and business partner Milton Greene. Some images in this lot are likely never before seen.
Largest, 5 by 3 1/2 inches
PROVENANCE From the Estate of Frieda Hull
Estimate: $600 - $800

---
Lot 717: MARILYN MONROE ORIGINAL CANDID PHOTOGRAPHS
A group of 10 original black and white photographs of Marilyn Monroe, circa 1955. Monroe is shown smiling and laughing and signing autographs for fans. Several images in this lot are likely never before seen.
Largest, 5 by 3 1/2 inches
PROVENANCE From the Estate of Frieda Hull
Estimate: $900 - $1,100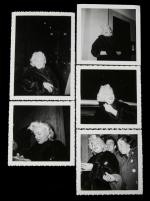 ---
Lot 725: MARILYN MONROE ORIGINAL CANDID PHOTOGRAPHS
A pair of original color photographs of Marilyn Monroe and husband Arthur Miller walking their basset hound Hugo and entering their apartment located at 444 East 57th Street in New York City. These images are likely never before seen.
Larger, 2 1/2 by 2 inches
PROVENANCE From the Estate of Frieda Hull
Estimate: $100 - $300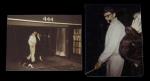 ---
Lot 733: MARILYN MONROE PHOTOGRAPHS COLLECTED BY FRIEDA HULL
A collection of 23 color and black and white photographs of Marilyn Monroe by multiple photographers (including Milton Greene and Andre de Dienes), taken at various locations and events throughout Monroe's career, including on the set of Bus Stop (20th Century, 1956) and meeting Princess Margaret in England. Many images in this lot have stamps on the reverse from various news agencies/outlets.
Largest, 8 by 10 inches
PROVENANCE From the Estate of Frieda Hull
Estimate: $1,000 - $1,500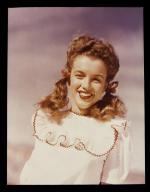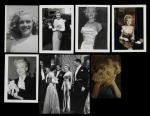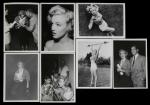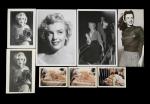 ---
Lot 770: MARILYN MONROE ORIGINAL CANDID PHOTOGRAPHS
A group of five original black and white photographs of Marilyn Monroe, taken as she exited the Actors Studio in New York City, circa 1960. Several images in this lot are likely never before seen.
Largest, 3 1/2 by 3 1/2 inches
PROVENANCE From the Estate of Frieda Hull
Estimate: $400 - $600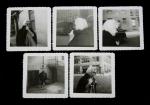 ---
Lot 771: MARILYN MONROE COLOR SLIDES
A group of six slides of Marilyn Monroe, from July 8, 1960, after she had completed costume and hair tests for The Misfits (United Artists, 1961).
PROVENANCE From the Estate of Frieda Hull
Estimate: $500 - $700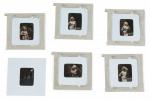 ---
Lot 772: MARILYN MONROE ORIGINAL CANDID AND CONTACT SHEET PHOTOGRAPHS
A group of 12 color and black and white photographs of Marilyn Monroe taken on July 8, 1960, when she completed costume and hair tests for The Misfits (United Artists, 1961). Five sepia-toned photographs of Monroe show her posing for the cameras following the test, and six photographs appear to be shots of the costume and makeup tests, four having been cut from actual contact sheets, two are reproduction photographs. Some images in this lot are likely never before seen.
Largest, 4 1/2 by 3 1/4 inches
PROVENANCE From the Estate of Frieda Hull
Estimate: $800 - $1,000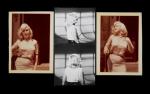 ---
Lot 776: MARILYN MONROE COLOR SLIDE
A color slide of Marilyn Monroe, from January 21, 1961, when she returned from Mexico, where she divorced third husband Arthur Miller. This slide is likely never before seen.
PROVENANCE From the Estate of Frieda Hull
Estimate: $100 - $200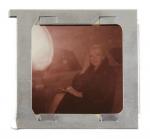 ---
Lot 777: MARILYN MONROE ORIGINAL CANDID PHOTOGRAPHS
A pair of original photographs and one copied color photograph of Marilyn Monroe taken on January 21, 1961, after returning from Mexico, where she divorced her third husband, Arthur Miller. One image is likely never before seen.
Larger, 5 by 3 1/2 inches
PROVENANCE From the Estate of Frieda Hull
Estimate: $100 - $300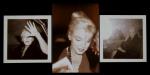 ---
Lot 778: MARILYN MONROE ORIGINAL CANDID PHOTOGRAPHS
A group of four original color photographs and one copied color photograph of Marilyn Monroe taken on January 20, 1961, when Monroe left New York City to travel to Mexico to divorce third husband Arthur Miller. Some images in this lot are likely never before seen.
Largest, 5 by 3 1/4 inches
PROVENANCE From the Estate of Frieda Hull
Estimate: $300 - $500

---
Lot 781: MARILYN MONROE JOE DIMAGGIO NEGATIVES
A set of 16 negatives of Joe DiMaggio vacationing in Florida, most likely on March 22, 1961. Five of the negatives show DiMaggio inside the hotel, and the remaining 11 show him on the beach under a sun cover; some shots are of DiMaggio with fans. Marilyn Monroe accompanied DiMaggio on this trip and was actually on the beach with him at some point this same day, though she's not pictured in these negatives.
PROVENANCE From the Estate of Frieda Hull
Estimate: $200 - $400

---
Lot 782: MARILYN MONROE COLOR SLIDES
A pair of color slides of Marilyn Monroe with her dog Maf, one with superfan James Haspiel, from June 15, 1961, upon Monroe's arrival in New York from Los Angeles. The slide of Monroe with Maf is likely never before seen.
PROVENANCE From the Estate of Frieda Hull
Estimate: $100 - $300

---
Lot 783: MARILYN MONROE ORIGINAL CANDID PHOTOGRAPHS
A pair of original color photographs of Marilyn Monroe with her dog Maf, one with superfan James Haspiel, taken on June 15, 1961, upon Monroe's arrival in New York from Los Angeles. The photo of Monroe with Maf is likely never before seen.
Larger, 3 1/2 by 2 1/2 inches
PROVENANCE From the Estate of Frieda Hull
Estimate: $300 - $400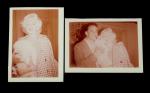 ---
Lot 788: MARILYN MONROE ORIGINAL PHOTOGRAPHS COLLECTED BY FRIEDA HULL
A group of 27 original color and black and white candid Marilyn Monroe related photographs. Monroe is shown in nearly all photograps, which were taken at various times and events throughout her career. One image shows her with superfan James Haspiel and members of the "Monroe Six," and another shows her with third husband Arthur Miller at an airport. Three photographs are on the set of Bus Stop (20th Century, 1956). Many of the candid photographs show Monroe "caught in the moment." Some images are likely never before seen. One photograph in this lot is of Miller only. One photograph shows a woman, perhaps Frieda Hull herself, standing near a cutout of Monroe from the subway grate scene in the Seven Year Itch (20th Century, 1955). One photograph shows a theater marquee displaying titles of two Monroe films, Bus Stop and Let's Make Love, possibly being screened after Monroe's death as the photograph is dated September 1962. One photograph shows a member of the "Monroe Six" with an array of cameras and equipment.
Largest, 5 by 3 1/2 inches
PROVENANCE From the Estate of Frieda Hull
Estimate: $1,000 - $1,500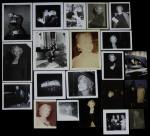 ---
Lot 902: MARILYN MONROE SIGNED AND INSCRIBED PHOTOGRAPH
A black and white photograph of Marilyn Monroe leaning against a tree. Inscribed "Dear Linda, I wish you luck with your acting. Love and kisses, Marilyn Monroe Miller." This inscription was written for child star Linda Bennett.
23 by 19 inches, overall; 10 1/2 by 8 inches, sight
Estimate: $3,000 - $5,000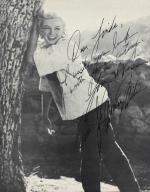 ---
Lot 941: MARILYN MONROE CANDID PHOTOGRAPHS
A group of eight vintage black and white candid photographs of Marilyn Monroe contained in a small paper album. Accompanied by a small candid color photograph of Monroe with Lois Weber. The photographs are believed to be previously unpublished.
Album, 3 3/4 by 6 inches
PROVENANCE From the Estate of Lois Weber
Estimate: $800 - $1,200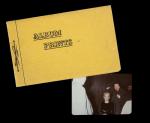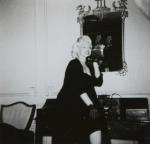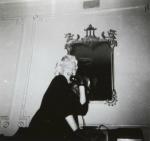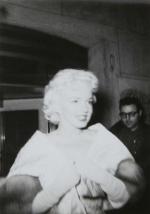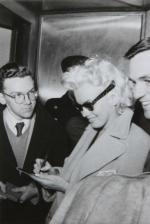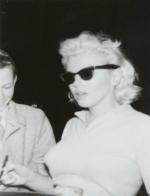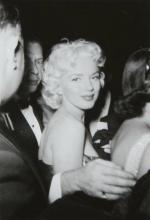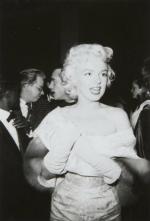 ---
Lot 942: MARILYN MONROE SMALL-FORMAT PHOTOGRAPHS
A group of 14 small vintage black and white images of Marilyn Monroe. Many of the photographs are candid and date from different points in her career.
Largest, 3 1/2 by 2 1/2 inches
PROVENANCE From the Estate of Lois Weber
Estimate: $800 - $1,200

---
Lot 943: MARILYN MONROE CANDID PHOTOGRAPHS
A group of seven vintage black and white candid photographs of Marilyn Monroe. Three were taken on the set behind the scenes of Bus Stop (20th Century, 1956).
Largest, 3 1/4 by 4 3/4 inches
PROVENANCE From the Estate of Lois Weber
Estimate: $600 - $800

---
Bobines films & Matériel photographique
Home Movies & Photographic Equipment

---
Lot 76: MARILYN MONROE JOHN F. KENNEDY 1962 BIRTHDAY CELEBRATION FILM REEL
An 8mm film reel of clips from the May 19, 1962, John F. Kennedy 45th birthday celebration held at Madison Square Garden. The eight-minute film shows clips of the venue, performers, and attendees, including John F. Kennedy; Marilyn Monroe, who appears for approximately 30 seconds; Robert Kennedy; Maria Callas; Henry Fonda; Jack Benny; Peter Lawford, who hosted the event; and Lyndon B. Johnson among others. The film was transferred from its original tin reel to a plastic reel. Accompanied by a DVD of the footage.
Reel, 5 3/4 inches
PROVENANCE Lot 41, "Entertainment Memorabilia," Christie's, New York, Sale number 1391, June 24, 2004
Estimate: $4,000 - $6,000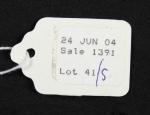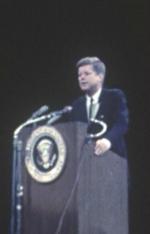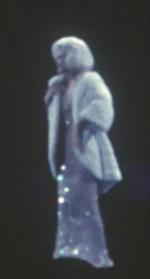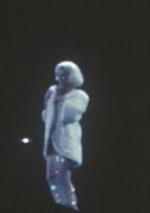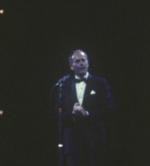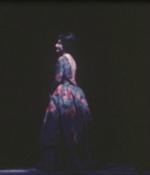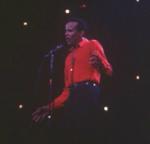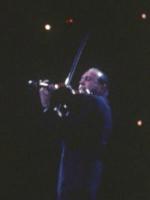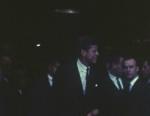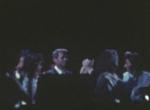 ---
Lot 248: MARILYN MONROE IN KOREA FILM
An 8mm film reel containing five minutes and 34 seconds of silent film footage, in both black and white and color, of Monroe in Korea in 1954. The first minute and a half features Monroe arriving to camp via helicopter and being escorted by various military personnel. The footage then shifts to color and shows approximately one minute of footage of some of the performers leading up to Monroe. Monroe appears for another minute of footage performing "Diamonds Are a Girl's Best Friend" and then signing autographs for the crowd. The remaining footage features atmospheric shots of the camp and soldiers. The footage has been transferred to a DVD that is included with this lot.
Estimate: $2,000 - $3,000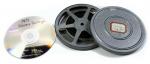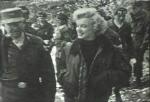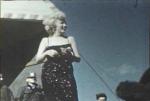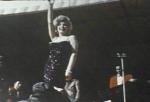 ---
Lot 696: MARILYN MONROE FRIEDA HULL'S PERSONAL SLIDE INDEX AND VIEWER
A 1950s era Fodeco photography slide index and viewer, manufactured by Technical Devices Corporation, that originally belonged to Frieda Hull.
10 1/2 by 5 1/2 by 2 1/2 inches
PROVENANCE From the Estate of Frieda Hull
Estimate: $500 - $700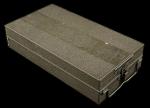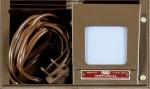 ---
Lot 697: MARILYN MONROE FRIEDA HULL 35MM CAMERA
A Mercury II, model CX, serial no. 164404, with Universal 2.7 Tricor lens and original leather case. Together with an external flash and reflector, unrelated lens hood and telephoto lens accessory. Frieda Hull can be seen using this camera in lot 726.
Largest, 4 1/4 by 6 1/4 inches
PROVENANCE From the Estate of Frieda Hull
Estimate: $200 - $300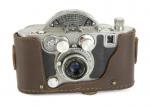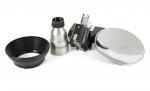 ---
Lot 727: MARILYN MONROE HOME MOVIE REEL
A vintage home movie reel featuring Marilyn Monroe at multiple locations. June 29, 1956, Monroe, soon-to-be husband Arthur Miller, and Miller's parents are seen at a press conference at Miller's farm in Roxbury, Connecticut. Monroe and Miller were married later this day. This scene from the film is approximately 23 seconds. Note that parts of this scene are repeated at the end of the film. Various footage from 1956 shows Monroe at airports traveling to and from Los Angeles to film Bus Stop (20th Century, 1956). These scenes from the film are approximately 40 seconds in length. Total length: one minute, 37 seconds.
PROVENANCE From the Estate of Frieda Hull
Estimate: $3,000 - $4,000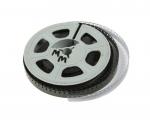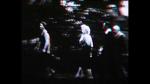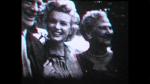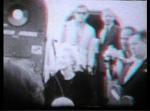 ---
Lot 769: MARILYN MONROE JAMES HASPIEL HOME MOVIE REEL
A vintage home movie reel in the original box addressed to James Haspiel, featuring Marilyn Monroe at multiple locations. May 30, 1958, Monroe is seen leaving her 444 East 57th Street apartment in New York City. She carries a large bouquet of flowers as she, husband Arthur Miller, and others pack luggage into a station wagon and then depart. Just three days prior, Monroe was photographed by Richard Avedon for Life magazine. This scene from the film is approximately one minute, two seconds and likely never before publicly seen. May 13, 1959, Monroe and Miller are seen arriving at the Italian Consulate on Park Avenue in New York City, where Monroe received the David di Donatello Award, the equivalent of the Academy Award, for her work in The Prince and the Showgirl (Warner Bros., 1957). This film includes extensive coverage of Monroe inside the Consulate and waving to fans from an upper floor window in the building. This scene from the film is approximately one minute, 22 seconds. July 8, 1961, Monroe is seen posing after having just completed hair and costume tests for The Misfits (United Artists, 1961). Haspiel appears with Monroe in part of this footage. This scene from the film is approximately 38 seconds. Total length: three minutes, three seconds.
PROVENANCE From the Estate of Frieda Hull
Estimate: $4,000 - $6,000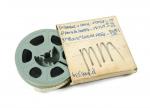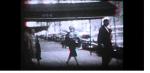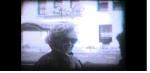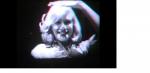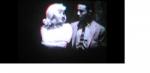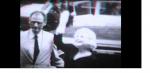 Enregistrer
Enregistrer
Enregistrer
Enregistrer
Enregistrer
Enregistrer
Enregistrer
Enregistrer
Enregistrer
Enregistrer
---
Photographies - Famille, Enfance & Adolescence
Photographs - Family, Childhood & Teens

---
Lot 18: MARILYN MONROE FAMILY PHOTOGRAPH
An original snapshot of Gladys Baker and Marion Otis Monroe, Marilyn Monroe's mother and uncle, with a handwritten note on the photo indicating they were aged 8 and 10 at the time the photo was taken.
3 3/4 by 2 3/4 inches
PROVENANCE: Partial Lot 81, "Fine Manuscripts," Christie's Los Angeles, Sale 9814, September 20, 2001
Estimate: $200 - $400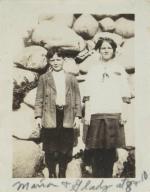 ---
Lot 19: MARILYN MONROE FAMILY PHOTOGRAPH
An original snapshot of Gladys Baker, Marilyn Monroe's mother, with a handwritten note on the photo indicating Baker was 13 at the time the photo was taken.
3 1/4 by 2 1/4 inches
PROVENANCE: Partial Lot 81, "Fine Manuscripts," Christie's Los Angeles, Sale 9814, September 20, 2001
Estimate: $200 - $400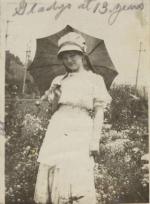 ---
Lot 85: MARILYN MONROE BABY PICTURE
A vintage black and white photograph of Monroe as an infant printed on heavy photo paper stock. Verso of image has note in the hand of Grace Goddard reading "Marilyn Monroe age 6 ms."
5 7/8 by 3 7/8 inches
Estimate: $600 - $800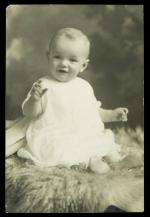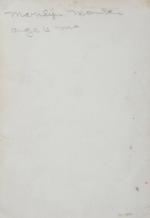 ---
Lot 86: MARILYN MONROE BABY PICTURE
A vintage black and white photograph printed as a postcard. The image features Monroe as a toddler posing with floral dress and matching bonnet. Verso has note in the hand of Grace Goddard reading "Marilyn Monroe age 2 yrs." Coffee mug ring stain to image.
5 3/8 by 3 1/2 inches
Estimate: $600 - $800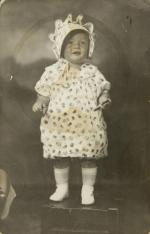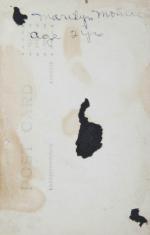 ---
Lot 87: MARILYN MONROE CHILDHOOD PHOTOGRAPH
A hand tinted vintage photograph of Monroe at the age of five. The vintage photograph has writing on the back in the hand of Grace Goddard, her legal guardian, reading "Marilyn Monroe age 5yrs." Additional writing on verso in another hand has instructions for the tinting of the photograph listing that her dress should be pink with light hair and blue eyes.
5 3/4 by 3 7/8 inches
Estimate: $1,200 - $1,800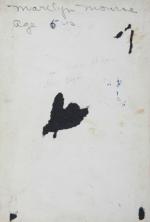 ---
Lot 88: MARILYN MONROE CHILDHOOD PHOTOGRAPH
A vintage black and white photograph of Monroe at the age of five with Lester Bolender. A note on verso in the hand of Grace Goddard reads "Marilyn Monroe age 5 yo." An earlier notation has been erased beneath that read "Norma Jeane and Lester."
4 1/2 by 2 7/8 inches
Estimate: $300 - $500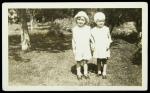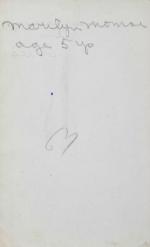 ---
Lot 89: MARILYN MONROE CHILDHOOD PHOTOGRAPHS
Two vintage black and white photographs featuring a young Monroe, one showing Monroe with Lester Bolender. Monroe's first foster home placement was with the Bolenders, and she and Lester became known as the twins. Each photograph has notes on verso in the hand of Grace Goddard reading "Marilyn Monroe age 4yrs." One of the images had previous writing reading "Lester Bolender and Norma Jeane Baker" that has been erased and written over.
4 1/2 by 2 7/8 inches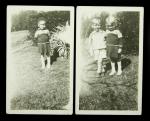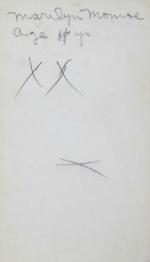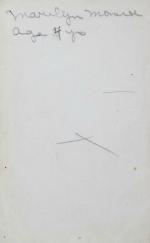 ---
Lot 92: MARILYN MONROE PHOTOGRAPHS
A small frame with Art Deco style matte containing a vintage oval portrait of a woman circa 1900 based upon hairstyle. This image could possibly be of a young Ana Lower, whom Marilyn Monroe referred to as Aunt Ana, an important mother figure in her life. Lower was born Edith Ana Atchinson in Los Angeles in 1880. Behind this image in the same frame were found two small black and white portraits of Monroe's first husband, Jim Dougherty, in his Merchant Marine uniform.
Frame, 6 1/8 by 4 1/8 inches
Estimate: $600 - $800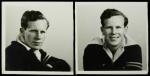 ---
Lot 790: MARILYN MONROE HIGH SCHOOL YEARBOOK
A 1942 Chieftain yearbook that includes Marilyn Monroe. Monroe's picture is on page 48 under the name Norma Baker. Monroe attended University High School in Los Angeles as a tenth grader until February, when she dropped out to marry Jim Dougherty. This yearbook belonged to Barbara Abston, also a tenth grade student. The book has numerous inscriptions to Abston.
9 by 12 inches
Estimate: $600 - $800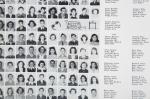 ---
Lot 791: MARILYN MONROE 1941 SCHOOL PHOTOGRAPH
A 1941 Ralph Waldo Emerson Junior High School class photograph. The original vintage panoramic photograph is inscribed by a number of students on verso. Some inscriptions read "To Norma." The front of the photograph is marked "Belongs to Norma Jeane Baker." Monroe can be seen in the photograph in the seventh row from the bottom, and the 15th person from the right. Housed in a frame with a reproduction of the photograph at top and the reverse of the photograph at bottom. The frame is double-sided with a glazed window in the back to show the front of the photograph.
24 3/4 by 32 3/4 inches, framed
Estimate: $20,000 - $30,000


---
Lot 792: MARILYN MONROE HIGH SCHOOL YEARBOOK
A Chieftain 1942 yearbook from University High School in Los Angeles. Norma Jeane Baker, soon to become Marilyn Monroe, attended University High School in Los Angeles for half of the year as a 10th grade student. Her picture appears on page 48. In February 1942, at age 16, Monroe dropped out of University High School to marry Jim Dougherty.
12 by 9 inches
Estimate: $800 - $1,200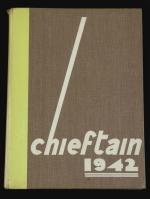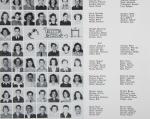 ---
Photographies & Snapshots - en public
Photographs & Snapshots - Public Appearances

---
Lot 77: MARILYN MONROE PHOTOGRAPHS SOLD WITH COPYRIGHT
A group of five color photographs of Marilyn Monroe taken on May 19, 1962, at the birthday gala for President John F. Kennedy at Madison Square Garden in New York City. Three of these images show Monroe singing "Happy Birthday" on stage and are likely the only known color photos taken of Monreo during this performance. From the collection of Frieda Hull.
This item sold with copyright but not sold with copyright documentation. It is the responsibility of the winning bidder to apply for copyright. While the seller confirms that this property is sold with copyright, Julien's can accept no liability in relation to any matters arising as a result of any imperfection in copyright given.
Largest, 5 by 3 1/2 inches
PROVENANCE From the Estate of Frieda Hull
Estimate: $5,000 - $6,000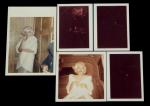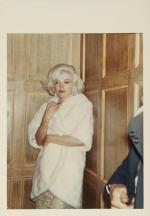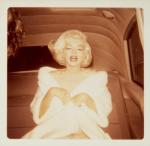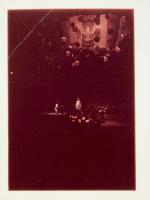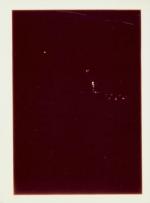 ---
Lot 299: MARILYN MONROE SNAPSHOT
A single color photograph on glossy Kodak Pavelle paper of Monroe as she appeared to kick the first ball at Ebbets Field in New York, May 12, 1957, for a match between the American Soccer League and a team from Israel.
3 1/4 by 5 inches
Estimate: $300 - $500

---
Lot 420: MARILYN MONROE FILM PREMIERE PHOTOGRAPHS
A group of four vintage black and white glossy photographs of Monroe and Arthur Miller at the New York City premiere of her film Some Like It Hot on March 28, 1959.
8 by 10 inches
Estimate: $400 - $600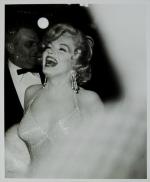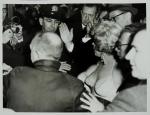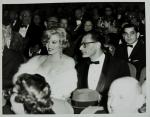 ---
Lot 531: MARILYN MONROE SNAPSHOTS
Three black and white photographs of Monroe likely taken by a fan on the streets of New York City in the late 1950s.
4 3/4 by 3 3/4 inches
Estimate: $300 - $500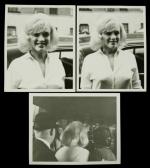 ---
Lot 607: MARILYN MONROE ORIGINAL CANDID PHOTOGRAPH
An original black and white photograph of Marilyn Monroe taken on October 25, 1951, when she attended the Hollywood Foreign Correspondents Association dinner at the Mocambo club in Los Angeles.
3 1/2 by 2 1/2 inches
PROVENANCE From the Estate of Frieda Hull
Estimate: $100 - $200

---
Lot 614: MARILYN MONROE SIGNED SNAPSHOT
A black and white snapshot of Marilyn Monroe in front of the Sherry Netherland Hotel in New York City, 1952. The image is signed in blue ballpoint pen "Marilyn Monroe." The autograph was obtained by Frieda Hull, one of the "Monroe Six," a group of legendary fans with whom Monroe became friendly.
3 1/2 by 2 1/2 inches
PROVENANCE From the Estate of Frieda Hull
Estimate: $2,000 - $3,000

---
Lot 615: MARILYN MONROE ORIGINAL CANDID PHOTOGRAPHS
A group of five original black and white photographs of Marilyn Monroe taken on April 4, 1952, as she attended a publicity event held at the Owl Drug Store in Los Angeles. The event was sponsored by Life magazine, and Monroe was there to sign copies of the magazines with her on the cover. Four of the photographs have writing on the back referencing the event, likely in Frieda Hull's own hand. Some of the photographs are never before seen.
Largest, 4 by 5 inches
PROVENANCE From the Estate of Frieda Hull
Estimate: $400 - $600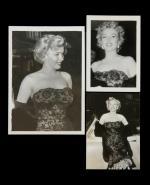 ---
Lot 616: MARILYN MONROE ORIGINAL CANDID PHOTOGRAPH
An original photo of Monroe taken on January 26, 1952, at the Henrietta Awards ceremony held at Club Del Mar in Santa Monica, CA. Marilyn won the "Henrietta Award for Best Young box Office Personality," given by the Hollywood Foreign Press Association.
3 1/2 by 2 1/2 inches
PROVENANCE From the Estate of Frieda Hull
Estimate: $100 - $200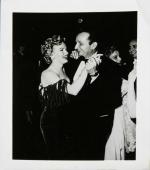 ---
Lot 617: MARILYN MONROE ORIGINAL CANDID PHOTOGRAPHS
A group of three original black and white photographs of Marilyn Monroe taken on June 3, 1952, at a Look magazine awards party held at the Beverly Hills Hotel. One image from this lot is likely never before seen.
Largest, 5 by 3 1/2 inches
PROVENANCE From the Estate of Frieda Hull
Estimate: $200 - $400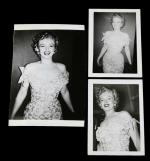 ---
Lot 618: MARILYN MONROE ORIGINAL CANDID PHOTOGRAPHS
A group of 10 original color and black and white photographs of Marilyn Monroe taken on August 3, 1952, at a party thrown in her honor at the home of big band leader Ray Anthony in Sherman Oaks, California. This lot contains eight black and white and two color images, some likely never before seen.
Largest, 5 by 3 1/2 inches
PROVENANCE From the Estate of Frieda Hull
Estimate: $900 - $1,100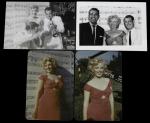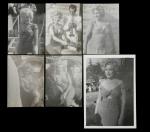 ---
Lot 619: MARILYN MONROE REPRODUCTION PHOTOGRAPHS
A group of two reproduction black and white photographs of Marilyn Monroe taken on June 26, 1952, as she appeared in court to testify as part of a lawsuit against an entity using her name and likeness to sell pornographic photographs.
Largest, 3 1/4 by 2 1/4 inches
PROVENANCE From the Estate of Frieda Hull
Estimate: $100 - $200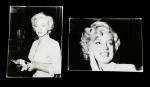 ---
Lot 620: MARILYN MONROE ORIGINAL CANDID PHOTOGRAPHS
A group of three original black and white photographs of Marilyn Monroe taken on October 3, 1952, at a party sponsored by Photoplay magazine.
Largest, 3 1/2 by 2 1/2 inches
PROVENANCE From the Estate of Frieda Hull
Estimate: $200 - $400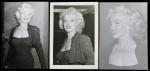 ---
Lot 629: MARILYN MONROE ORIGINAL CANDID PHOTOGRAPHS
A pair of Marilyn Monroe original black and white photographs, circa 1953, at an unknown event. Both are likely never before seen images.
Larger, 3 1/2 by 2 1/2 inches
PROVENANCE From the Estate of Frieda Hull
Estimate: $200 - $400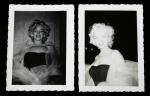 ---
Lot 630: MARILYN MONROE ORIGINAL CANDID PHOTOGRAPHS
A group of five original black and white photographs of Marilyn Monroe taken on February 9, 1953, at the Photoplay magazine awards ceremony where she received the award for Fastest Rising Star of 1953. Two of the photos have "Beverly Hills Hotel" written on verso. Some images in this lot are possibly never before seen.
Largest, 5 by 3 1/2 inches
PROVENANCE From the Estate of Frieda Hull
Estimate: $400 - $600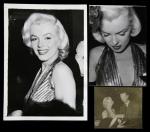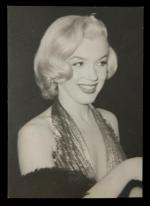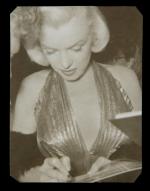 ---
Lot 631: MARILYN MONROE ORIGINAL CANDID PHOTOGRAPHS
A group of four original color and black and white photographs of Marilyn Monroe taken on May 13, 1953, when she was at a birthday party for Walter Winchell at Ciro's restaurant in Los Angeles. Two photographs show Monroe with Jane Russell, and two show her with Betty Grable. Reverse of one black and white image is stamped "Photo by Darlene Hammond/ 1416 Belfast Drive/ Hollywood 46, Calif./ CR. 10747." This lot contains two color and two black and white images.
Largest, 3 1/2 by 2 1/2 inches
PROVENANCE From the Estate of Frieda Hull
Estimate: $300 - $500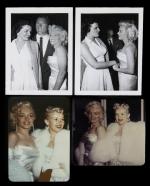 ---
Lot 632: MARILYN MONROE ORIGINAL CANDID PHOTOGRAPHS
A group of 18 original color and black and white photographs of Marilyn Monroe taken on July 10, 1953, at a gala arranged by Danny Thomas to benefit St. Jude Hospital. The fundraiser, which was held at the Hollywood Bowl, also included appearances by Jane Russell, Robert Mitchum, and Danny Kaye. Thomas, Mitchum, and Kaye are photographed with Monroe in this set of photographs. This lot includes 17 black and white images and one color image. Some photographs from this lot are likely never before seen.
Largest, 3 1/2 by 3 1/2 inches
PROVENANCE From the Estate of Frieda Hull
Estimate: $1,500 - $2,000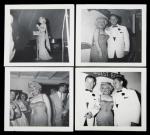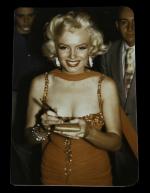 ---
Lot 634: MARILYN MONROE ORIGINAL PHOTOGRAPHS
A pair of Marilyn Monroe original color and black and white photographs, circa 1953, taken at an unknown event. Both are likely never before seen.
Larger, 3 1/2 by 2 1/2 inches
PROVENANCE From the Estate of Frieda Hull
Estimate: $200 - $400

---
Lot 636: MARILYN MONROE CANDID PHOTOGRAPHS
A group of 13 color and black and white photographs of Marilyn Monroe, some reproductions, taken on December 19, 1953, when she appeared at the Ambassador Hotel in Los Angeles to receive the Miss Press Club Award. This lot contains five color and eight black and white photographs. Some photographs from this lot are likely never before seen.
Largest, 5 by 3 1/2 inches
PROVENANCE From the Estate of Frieda Hull
Estimate: $1,000 - $1,500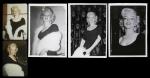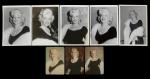 ---
Lot 638: MARILYN MONROE ORIGINAL CANDID PHOTOGRAPHS
A group of three original color and black and white photographs of Marilyn Monroe from March 9, 1954, when she appeared at the Beverly Hills Hotel to receive the Photoplay magazine award for The Most Popular Actress of 1953 due to her roles in Gentlemen Prefer Blondes (20th Century, 1953) and How To Marry A Millionaire (20th Century, 1953). This lot contains two color photographs and one black and white photograph.
Largest, 3 1/2 by 2 1/2 inches
PROVENANCE From the Estate of Frieda Hull
Estimate: $400 - $500

---
Lot 639: MARILYN MONROE ORIGINAL CANDID PHOTOGRAPHS
A group of 10 original black and white photographs of Marilyn Monroe with Jane Russell taken on June 26, 1953, at Grauman's Chinese Theatre as Monroe and Russell memorialized their autographs, shoe prints, and handprints in wet cement. Nine photographs are stamped on verso "Photo by Darlene Hammond/ 1416 Belfast Drive/ Hollywood 46, Calif./ CR. 10747."
Largest, 3 1/2 by 2 1/2 inches
PROVENANCE From the Estate of Frieda Hull
Estimate: $900 - $1,100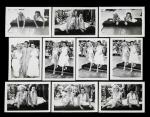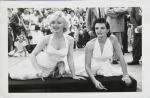 ---
Lot 640: MARILYN MONROE ORIGINAL CANDID PHOTOGRAPHS
A group of four original color photographs of Marilyn Monroe, one together with Jane Russell, taken on June 26, 1953, in conjunction with a Grauman's Chinese Theatre event where Monroe and Russell memorialized their autographs, shoe prints, and handprints in wet cement.
Largest, 3 1/2 by 2 1/2 inches
PROVENANCE From the Estate of Frieda Hull
Estimate: $300 - $500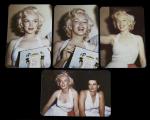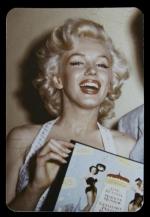 ---
Lot 647: MARILYN MONROE THERE'S NO BUSINESS LIKE SHOW BUSINESS SCREENING PHOTOGRAPH
A black and white photograph of Marilyn Monroe, Gracie Allen, Jack Benny, Joan Collins, and Bing Crosby, among many other stars, attending a special screening of There's No Business Like Show Business at 20th Century Fox studios in 1954.
11 by 14 inches
PROVENANCE From the Estate of Frieda Hull
Estimate: $200 - $300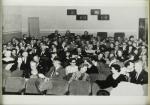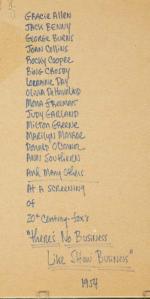 ---
Lot 657: MARILYN MONROE ORIGINAL CANDID PHOTOGRAPHS
A group of 10 original black and white photographs taken on June 1, 1955, at the premiere of The Seven Year Itch (20th Century, 1955). Seven of the photographs show Marilyn Monroe with her date for the evening, husband Joe DiMaggio. Two photographs show the theater marquee with large cutout images of Monroe in the now famous skirt- blowing scene from the film. Some images in this lot are likely never before seen.
Largest, 5 by 7 inches
PROVENANCE From the Estate of Frieda Hull
Estimate: $900 - $1,100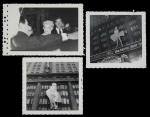 ---
Lot 667: MARILYN MONROE ORIGINAL CANDID PHOTOGRAPHS
A group of 10 original color and black and white photographs of Marilyn Monroe alone and with guests, taken on January 7, 1955, at an event announcing the launch of Marilyn Monroe Productions, a joint venture with friend and photographer Milton Greene. This lot contains three color and seven black and white photographs. Some images in this lot are likely never before seen.
Largest, 5 by 3 1/2 inches
PROVENANCE From the Estate of Frieda Hull
Estimate: $900 - $1,100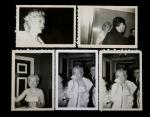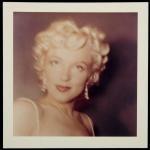 ---
Lot 669: MARILYN MONROE COLOR SLIDES
A pair of color slides of Marilyn Monroe from March 11, 1955, at the Friars Club Testimonial Dinner.
PROVENANCE From the Estate of Frieda Hull
Estimate: $100 - $300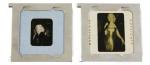 ---
Lot 670: MARILYN MONROE ORIGINAL CANDID PHOTOGRAPHS
A group of 24 original color and black and white photographs of Marilyn Monroe taken on March 11, 1955, at the Friars Club Testimonial Dinner. Monroe is pictured surrounded by fans signing autographs and talking to James Haspiel. Several photographs show her with friend, photographer, and business partner Milton Greene. This lot contains 22 black and white photographs and two color photographs. Some images in this lot are likely never before seen.
Largest, 5 by 3 1/2 inches
PROVENANCE From the Estate of Frieda Hull
Estimate: $1,500 - $2,000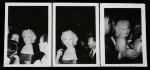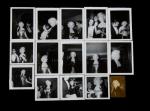 ---
Lot 676: MARILYN MONROE ORIGINAL CANDID PHOTOGRAPHS
A group of eight original black and white photographs of Marilyn Monroe taken on March 24, 1955, when she attended the play Cat on a Hot Tin Roof with Milton and Amy Greene. Some images in this lot are likely never before seen.
Largest, 4 1/2 by 3 1/4 inches
PROVENANCE From the Estate of Frieda Hull
Estimate: $700 - $900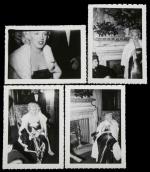 ---
Lot 686: MARILYN MONROE ORIGINAL CANDID PHOTOGRAPHS
A group of 19 original black and white photographs of Marilyn Monroe taken at the East of Eden premiere on March 9, 1955, at the Astor Theatre in New York City. Monroe was an official usherette at the event. Some images show friend, photographer, and business partner Milton Greene and his wife, Amy Greene. Some images are never before seen.
Largest, 5 by 3 1/2 inches
PROVENANCE From the Estate of Frieda Hull
Estimate: $1,500 - $2,000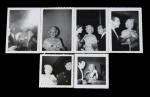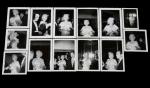 ---
Lot 687: MARILYN MONROE SIGNED PHOTOGRAPH
A black and white photograph of Marilyn Monroe wearing a white brocade gown with matching jacket and white evening gloves as she attended the New York City premiere of East of Eden starring James Dean on March 9, 1955. The photograph is signed in blue ballpoint pen "Marilyn Monroe." The autograph was obtained by Frieda Hull, one of the "Monroe Six," a group of legendary fans with whom Monroe became friendly.
7 by 5 inches
PROVENANCE From the Estate of Frieda Hull
Estimate: $2,000 - $3,000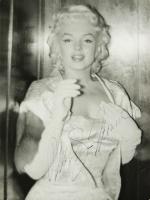 ---
Lot 691: MARILYN MONROE ORIGINAL CANDID PHOTOGRAPHS
A group of three original black and white photographs of Marilyn Monroe in costume taken on March 30, 1955, for her appearance on opening night at the Ringling Bros. Circus at Madison Square Garden, which was a benefit produced by Mike Todd for the Arthritis and Rheumatism Foundation.
Largest, 7 by 5 inches
PROVENANCE From the Estate of Frieda Hull
Estimate: $200 - $400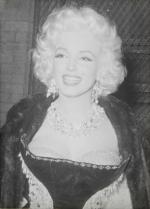 ---
Lot 692: MARILYN MONROE ORIGINAL PRESS AND PUBLICITY PHOTOGRAPHS
An archive of nine vintage press and publicity photographs featuring Marilyn Monroe.
PROVENANCE From the Estate of Frieda Hull
Estimate: $500 - $700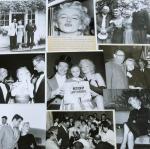 ---
Lot 693: MARILYN MONROE VINTAGE PHOTOGRAPH
A large, glossy black and white photograph of Marilyn Monroe during her famous appearance on March 31, 1955, when she rode a Barnum & Bailey elephant painted pink as part of the Mike Todd memorial event to benefit victims of arthritis.
14 by 11 1/4 inches
PROVENANCE From the Estate of Frieda Hull
Estimate: $800 - $1,200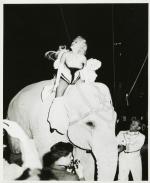 ---
Lot 703: MARILYN MONROE COLOR SLIDES
A group of 20 slides of Marilyn Monroe, from the collection of Frieda Hull. Some are never before seen images, from August 6, 1955, as she was at the airport in New York City preparing to fly to Bement, Illinois. Together with an original "Automatic Slide Changer" storage box, owned by Hull.
PROVENANCE From the Estate of Frieda Hull
Estimate: $1,000 - $1,500

---
Lot 704: MARILYN MONROE ORIGINAL CANDID PHOTOGRAPHS
A group of 11 original color and black and white photographs of Marilyn Monroe taken on August 6, 1955, when she was at the airport in New York City preparing to fly to Bement, Illinois. One of the photographs is an original press photograph from the United Press Association. This lot contains six black and white and five color photographs. Some images in this lot are likely never before seen.
Largest, 9 by 6 1/2 inches
PROVENANCE From the Estate of Frieda Hull
Estimate: $1,000 - $1,200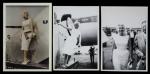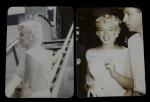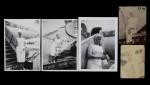 ---
Lot 706: MARILYN MONROE SIGNED PHOTOGRAPH
A black and white photograph of Marilyn Monroe wearing a white brocade gown with matching jacket and white evening gloves as she attended the New York City premiere of East of Eden starring James Dean on March 9, 1955. The photograph is signed in blue ink "Marilyn Monroe." The autograph was obtained by Frieda Hull, one of the "Monroe Six," a group of legendary fans with whom Monroe became friendly.
7 by 5 inches
PROVENANCE From the Estate of Frieda Hull
Estimate: $2,000 - $3,000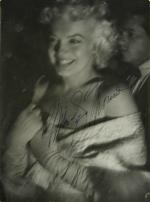 ---
Lot 711: MARILYN MONROE SIGNED SNAPSHOT
A color snapshot of Marilyn Monroe posing in the backseat of a car circa early 1950s. The image is signed in blue ink "Marilyn Monroe." The autograph was obtained by Frieda Hull, one of the "Monroe Six, a group of legendary fans with whom Monroe became friendly.
3 by 2 1/4 inches
PROVENANCE From the Estate of Frieda Hull
Estimate: $2,000 - $3,000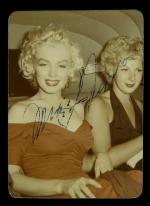 ---
Lot 712: MARILYN MONROE ORIGINAL CANDID PHOTOGRAPHS
A group of five original color and black and white photographs of Marilyn Monroe taken the evening of December 12, 1955, when she attended the premiere of The Rose Tattoo. This lot contains two color and three black and white photographs.
Largest, 4 1/2 by 3 1/4 inches
PROVENANCE From the Estate of Frieda Hull
Estimate: $400 - $600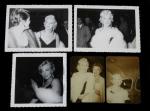 ---
Lot 713: MARILYN MONROE COLOR SLIDES
A group of three slides of Marilyn Monroe from evening of December 12, 1955, when she attended the premiere of The Rose Tattoo.
PROVENANCE From the Estate of Frieda Hull
Estimate: $200 - $400


---
Lot 714: MARILYN MONROE ORIGINAL CANDID PHOTOGRAPHS
A group of three original black and white photographs of Marilyn Monroe taken on December 18, 1955, at the Waldorf Astoria Hotel following her attendance at the premiere of Baby Doll. Two of the images show Monroe with husband Arthur Miller. Research indicates that this may be the only documented occasion where Monroe parted her hair on the right. Her regular part was always on the left.
Largest, 3 1/2 by 3 1/2 inches
PROVENANCE From the Estate of Frieda Hull
Estimate: $600 - $800

---
Lot 718: MARILYN MONROE SIGNED PHOTOGRAPH
A black and white photograph of Marilyn Monroe in New York City circa 1955 wearing a white gown and white fur, signed in blue ink "Marilyn Monroe." The autograph was obtained by Frieda Hull, one of the "Monroe Six," a group of legendary fans with whom Monroe became friendly.
7 by 5 inches
PROVENANCE From the Estate of Frieda Hull
Estimate: $2,000 - $3,000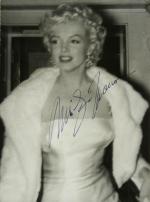 ---
Lot 719: MARILYN MONROE ORIGINAL CANDID PHOTOGRAPHS
A group of eight original color and black and white photographs of Marilyn Monroe taken on February 8, 1956, when she attended the premiere of Middle of the Night in New York City. This lot contains seven black and white photographs and one color photograph. Some images in this lot are likely never before seen.
Largest, 5 by 3 1/2 inches
PROVENANCE From the Estate of Frieda Hull
Estimate: $900 - $1,100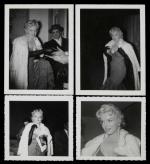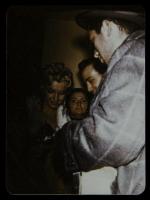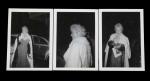 ---
Lot 720: MARILYN MONROE ORIGINAL CANDID PHOTOGRAPHS
A pair of original black and white photographs of Marilyn Monroe and soon-to-be husband Arthur Miller, taken on June 11, 1956. Monroe and Miller were outside her Sutton Place apartment. Miller's divorce from Mary Slattery had just been granted.
Larger, 5 by 3 1/2 inches
PROVENANCE From the Estate of Frieda Hull
Estimate: $100 - $300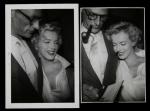 ---
Lot 721: MARILYN MONROE ORIGINAL CANDID PHOTOGRAPHS
A group of four original black and white photographs of Marilyn Monroe and soon-to-be husband Arthur Miller, taken at a press conference in front of Monroe's Sutton Place apartment on June 22, 1956. Miller was in the throes of defending himself against accusations of communist activities. Monroe transitioned the focus of the press conference away from Miller toward their impending marriage, their plans to travel to England for their honeymoon, and the filming of The Prince and the Showgirl (Warner Bros., 1957).
Largest, 5 by 3 1/2 inches
PROVENANCE From the Estate of Frieda Hull
Estimate: $300 - $500

---
Lot 722: MARILYN MONROE ORIGINAL CANDID PHOTOGRAPHS
A group of 14 original black and white photographs of Marilyn Monroe and soon-to-be husband Arthur Miller, taken on June 29, 1956. Monroe and Miller were married in a civil ceremony later that day. The photographs also show Milton Greene and Miller's parents, Isidore and Augusta. Some images in this lot are likely never before seen.
Largest, 4 1/2 by 3 1/2 inches
PROVENANCE From the Estate of Frieda Hull
Estimate: $1,000 - $1,500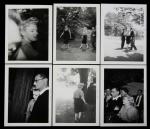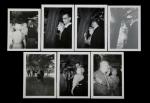 ---
Lot 724: MARILYN MONROE ORIGINAL CANDID PHOTOGRAPH
An original candid color photograph of Marilyn Monroe and husband Arthur Miller, taken on January 7, 1957, following their return from their honeymoon in Jamaica.
3 1/2 by 3 1/2 inches
PROVENANCE From the Estate of Frieda Hull
Estimate: $100 - $200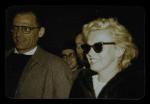 ---
Lot 726: MARILYN MONROE SIGNED PHOTOGRAPH
A black and white photograph of Marilyn Monroe as she boarded a plane for Hollywood at Idlewild Airport in New York on February 25, 1956. The image is signed in blue ballpoint pen over a photographer's arm, "To Frieda Love & Kisses," and below along the line of the white railing, "Marilyn Monroe." In the photograph Frieda Hull is pictured with her camera, which is lot 697 in this auction.
8 by 10 inches
PROVENANCE From the Estate of Frieda Hull
Estimate: $4,000 - $6,000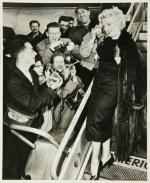 ---
Lot 728: MARILYN MONROE ORIGINAL CANDID PHOTOGRAPHS
A group of 20 original color and black and white photographs of Marilyn Monroe that document her 1956 travels to and from Los Angeles to film Bus Stop (20th Century, 1956). Several of the photographs show Monroe walking across the tarmac to a plane among a sea of fans and photographers, then posing for photographs at the top of the stairs leading to the plane. One photograph shows the crowd on hand at the airport to see Monroe. This lot includes eight color and 11 black and white photographs, many that have never been seen.
Largest, 5 by 3 1/2 inches
PROVENANCE From the Estate of Frieda Hull
Estimate: $1,500 - $2,000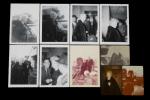 ---
Lot 729: MARILYN MONROE COLOR SLIDES
A group of 18 slides of Marilyn Monroe from the collection of Frieda Hull, documenting Monroe's travels to and from Los Angeles to film Bus Stop (20th Century, 1956) in 1956. Several slides show Monroe posing for photographs at the top of the stairs leading to the plane. Together with an original "Automatic Slide Changer" storage box, owned by Frieda Hull. Many of the slides have never been seen.
PROVENANCE From the Estate of Frieda Hull
Estimate: $1,000 - $1,500

---
Lot 730: MARILYN MONROE ORIGINAL CANDID PHOTOGRAPHS
A group of 19 original color and black and white photographs of Marilyn Monroe taken on February 25, 1956, when she held a press conference at Los Angeles Airport. Monroe had flown to Los Angeles to work on Bus Stop (20th Century, 1956). Some images in this lot are likely never before seen.
Largest, 5 by 3 1/2 inches
PROVENANCE From the Estate of Frieda Hull
Estimate: $1,500 - $2,000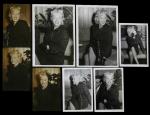 ---
Lot 737: MARILYN MONROE VINTAGE PHOTOGRAPH
A large matte black and white photograph of Marilyn Monroe at the Plaza Hotel in New York City during a 1956 press conference for The Prince and the Showgirl (Warner Bros., 1957).
14 by 11 1/4 inches
PROVENANCE From the Estate of Frieda Hull
Estimate: $800 - $1,200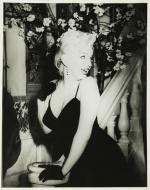 ---
Lot 738: MARILYN MONROE COLOR SLIDE
A color slide of Marilyn Monroe signing autographs for fans on February 8, 1956, when she attended the premiere of Middle of the Night in New York City.
PROVENANCE From the Estate of Frieda Hull
Estimate: $100 - $200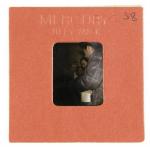 ---
Lot 739: MARILYN MONROE COLOR SLIDE
A color slide of Marilyn Monroe, from July 13, 1956, as she and husband Arthur Miller departed New York City for England to film The Prince and the Showgirl (Warner Bros., 1957).
PROVENANCE From the Estate of Frieda Hull
Estimate: $100 - $200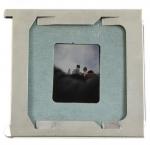 ---
Lot 740: MARILYN MONROE ORIGINAL CANDID PHOTOGRAPH
An original candid black and white photograph of Marilyn Monroe taken on July 13, 1956, as she and husband Arthur Miller departed New York City for England to film The Prince and the Showgirl (Warner Bros., 1957).
3 1/2 by 5 inches
PROVENANCE From the Estate of Frieda Hull
Estimate: $100 - $200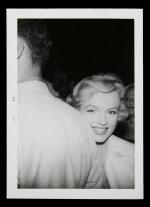 ---
Lot 742: MARILYN MONROE COLOR SLIDES
A group of 11 slides of Marilyn Monroe and husband Arthur Miller, from May 13, 1959, at the Italian Consulate on Park Avenue in New York City, where she attended a ceremony to receive the David di Donatello Award, the equivalent of the Academy Award, for her work in The Prince and the Showgirl (Warner Bros., 1957).
PROVENANCE From the Estate of Frieda Hull
Estimate: $1,000 - $1,200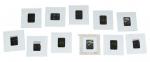 ---
Lot 743: MARILYN MONROE VINTAGE PUBLICITY IMAGE ARCHIVE
An archive of approximately 30 vintage black and white publicity images related to Marilyn Monroe and The Prince and the Showgirl (Warner Bros., 1957). The photographs show Monroe at various press conferences, publicity events, and the premiere of the film.
PROVENANCE From the Estate of Frieda Hull
Estimate: $200 - $300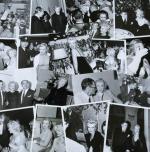 ---
Lot 746: MARILYN MONROE ORIGINAL CANDID PHOTOGRAPHS
A group of three original color photographs of Marilyn Monroe and husband Arthur Miller taken on May 13, 1959, as she arrived at the Italian Consulate on Park Avenue in New York City to receive the David di Donatello Award, the equivalent of the Academy Award, for her work in The Prince and the Showgirl (Warner Bros., 1957).
Largest, 3 1/2 by 2 1/2 inches
PROVENANCE From the Estate of Frieda Hull
Estimate: $200 - $400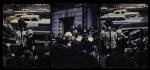 ---
Lot 747: MARILYN MONROE COLOR SLIDES
A pair of color slides of Marilyn Monroe, from February 26, 1959, as Monroe was on her way to the French Film Institute to receive the Crystal Star Award, the French equivalent of the Academy Award, for her performance in The Prince and the Showgirl (Warner Bros., 1957).
PROVENANCE From the Estate of Frieda Hull
Estimate: $100 - $300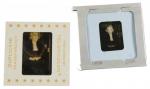 ---
Lot 748: MARILYN MONROE ORIGINAL CANDID PHOTOGRAPHS
A group of seven original color photographs of Marilyn Monroe taken on February 26, 1959, when she was on her way to the French Film Institute to receive the Crystal Star Award, the French equivalent of the Academy Award, for her performance in The Prince and the Showgirl (Warner Bros., 1957). Monroe is seen in the photographs with members of the "Monroe Six," including Frieda Hull, Eileen Collins, Gloria Milone, and Edith Pitts. Three photographs show Monroe with James Haspiel. Some images in this lot are likely never before seen.
Largest, 3 1/2 by 2 1/2 inches
PROVENANCE From the Estate of Frieda Hull
Estimate: $600 - $800

---
Lot 749: MARILYN MONROE ORIGINAL PHOTOGRAPHS SOLD WITH COPYRIGHT
A group of 15 photographs of Marilyn Monroe, circa 1957, likely taken at a New York City showing of The Prince and the Showgirl (Warner Bros., 1957). These photographs show Monroe with husband Arthur Miller at what appears to be a movie theater as a poster for the film can be seen on the theater lobby wall. Monroe is shown in the back of a cab signing autographs for fans, walking to the theater, and inside the lobby of the theater. This lot contains 12 color and three black and white photographs that are believed to be never before seen images.
This item sold with copyright but is not sold with copyright documentation. It is the responsibility of the winning bidder to apply for copyright. While the seller confirms that this property is sold with copyright, Julien's can accept no liability in relation to any matters arising as a result of any imperfection in copyright given.
Largest, 3 1/2 by 3 1/2 inches
PROVENANCE From the Estate of Frieda Hull
Estimate: $8,000 - $9,000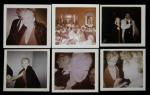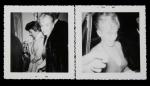 ---
Lot 750: MARILYN MONROE COLOR SLIDE
A color slide of Marilyn Monroe and husband Arthur Miller, from January 7, 1957, following their return from their honeymoon in Jamaica.
PROVENANCE From the Estate of Frieda Hull
Estimate: $100 - $200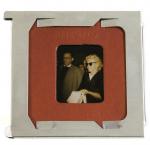 ---
Lot 751: MARILYN MONROE COLOR SLIDE
A color slide of Marilyn Monroe, from November 18, 1957, when she and husband Arthur Miller attended Conversation Piece, a play in which Miller's sister Joan Copeland appeared.
PROVENANCE From the Estate of Frieda Hull
Estimate: $100 - $200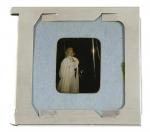 ---
Lot 752: MARILYN MONROE ORIGINAL CANDID PHOTOGRAPHS
A group of seven original color and black and white photographs of Marilyn Monroe taken on November 18, 1957, when she and husband Arthur Miller attended Conversation Piece, a play in which Miller's sister Joan Copeland appeared. James Haspiel appears in two images, "Monroe Six" member Gloria Malone in another. Some images in this lot are never before seen. This lot contains four black and white and three color photographs.
Largest, 3 1/2 by 3 1/2 inches
PROVENANCE From the Estate of Frieda Hull
Estimate: $600 - $800

---
Lot 755: MARILYN MONROE ORIGINAL CANDID PHOTOGRAPHS
A group of three original never before seen original color photographs of Marilyn Monroe taken on May 30, 1958, as she exited her apartment at 444 East 57th Street in New York City. Just three days prior, Monroe was photographed by Richard Avedon for Life magazine.
Largest, 3 1/2 by 2 1/2 inches
PROVENANCE From the Estate of Frieda Hull
Estimate: $600 - $800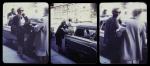 ---
Lot 756: MARILYN MONROE COLOR SLIDES
A group of four never before seen original color slides of Marilyn Monroe, from May 30, 1958, as she exited her apartment at 444 East 57th Street in New York City. Just three days prior, Monroe was photographed by Richard Avedon for Life magazine.
PROVENANCE From the Estate of Frieda Hull
Estimate: $300 - $500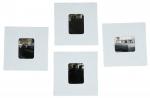 ---
Lot 753: MARILYN MONROE ORIGINAL CANDID PHOTOGRAPHS
A group of four original candid color photographs of Marilyn Monroe taken on May 12, 1957, at Ebbets Field in Brooklyn, New York. Monroe was on hand to make the ceremonial first kick at a soccer match between the USA and Israel. It's reported that she sprained two of her toes while kicking the ball, yet she stayed until the end of the match to award the trophy to Israel, the winning team by a score of 6-4.
Largest, 3 1/2 by 2 1/2 inches
PROVENANCE From the Estate of Frieda Hull
Estimate: $300 - $500


---
Lot 754: MARILYN MONROE COLOR SLIDES
A group of eight color slides of Marilyn Monroe, from May 12, 1957, at Ebbets Field in Brooklyn, New York. Monroe was on hand to make the ceremonial first kick at a soccer match between the USA and Israel. It's reported that she sprained two of her toes while kicking the ball, yet she stayed until the end of the match to award the trophy to Israel, the winning team by a score of 6-4.
PROVENANCE From the Estate of Frieda Hull
Estimate: $700 - $900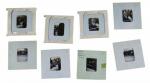 ---
Lot 757: MARILYN MONROE COLOR SLIDES
A group of four slides of Marilyn Monroe and husband Arthur Miller, from their departure from New York for Los Angeles for her to film Some Like It Hot (UA, 1959).
PROVENANCE From the Estate of Frieda Hull
Estimate: $300 - $500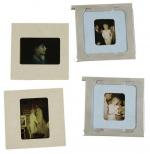 ---
Lot 758: MARILYN MONROE ORIGINAL CANDID PHOTOGRAPHS
A group of eight original color and black and white photographs of Marilyn Monroe and husband Arthur Miller as they departed New York for Los Angeles for her to film Some Like It Hot (UA, 1959). This lot contains five color and three black and white photographs, some never before seen.
Largest, 5 1/2 by 3 1/2 inches
PROVENANCE From the Estate of Frieda Hull
Estimate: $700 - $900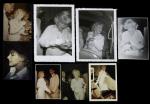 ---
Lot 759: MARILYN MONROE ORIGINAL CANDID PHOTOGRAPHS
A group of 15 original color and black and white photographs of Marilyn Monroe taken on March 29, 1959. These images are believed to have been taken following the premiere of Some Like It Hot (UA, 1959) as Monroe and husband Arthur Miller traveled from the theater to the home of Lee and Paula Strasberg for a party they were throwing for Monroe. Many images are never before seen. This lot contains eight black & white and seven color photographs.
Largest, 6 3/4 by 5 inches
PROVENANCE From the Estate of Frieda Hull
Estimate: $1,500 - $2,000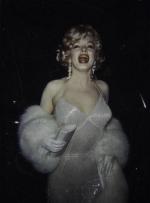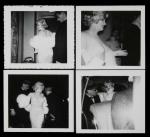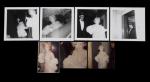 ---
Lot 760: MARILYN MONROE COLOR SLIDES
A group of 11 slides of Marilyn Monroe, from March 29, 1959. These images are believed to have been taken following the premiere of Some Like It Hot (UA, 1959) as Monroe and husband Arthur Miller traveled from the theater to the home of Lee and Paula Strasberg for a party they were throwing for Monroe. Many images are never before seen.
PROVENANCE From the Estate of Frieda Hull
Estimate: $1,000 - $1,200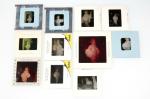 ---
Lot 761: MARILYN MONROE COLOR SLIDE
A color slide of Marilyn Monroe, from September 18, 1959, as she left her apartment at 444 East 57th Street. She was leaving to fly to Los Angeles to attend a gala in honor of Soviet Premier Nikita Khrushchev held by Twentieth Century Fox Studios.
PROVENANCE From the Estate of Frieda Hull
Estimate: $100 - $200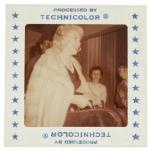 ---
Lot 762: MARILYN MONROE ORIGINAL CANDID PHOTOGRAPHS
A pair of original color photographs of Marilyn Monroe and husband Arthur Miller taken on September 18, 1959, when the couple left their apartment at 444 East 57th Street. Miller was escorting his wife to the airport, where she would fly to Los Angeles to attend a gala in honor of Soviet Premier Nikita Khrushchev held by Twentieth Century Fox Studios. Because this was an event in honor of a Communist leader, Miller didn't attend the gala as it wouldn't have been appropriate considering his appearance before the House Committee on Un-American Activities about his political leanings in June 1956.
Larger, 3 1/2 by 3 1/2 inches
PROVENANCE From the Estate of Frieda Hull
Estimate: $100 - $300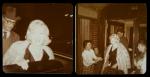 ---
Lot 763: MARILYN MONROE ORIGINAL CANDID PHOTOGRAPHS
A group of three original black and white photographs of Marilyn Monroe taken on September 27, 1959, at the Bellevue-Stratford Hotel, where Monroe and husband Arthur Miller were attending the American Friends of The Hebrew University Awards Banquet, where Miller was honored for Distinguished Achievement in the Dramatic Arts. All the photographs in this lot are likely never before seen.
Largest, 3 1/2 by 3 1/2 inches
PROVENANCE From the Estate of Frieda Hull
Estimate: $200 - $400


---
Lot 764: MARILYN MONROE PHOTOGRAPHS
A group of four color photographs of Marilyn Monroe, likely reproductions, taken on September 21, 1959, at Henry Miller's Theatre on Broadway in New York City, where Monroe was attending An Evening with Yves Montand, accompanied by friend and co-star Montgomery Clift. All four photographs reference Terri Arden on the reverse.
Largest, 6 by 4 inches
PROVENANCE From the Estate of Frieda Hull
Estimate: $100 - $200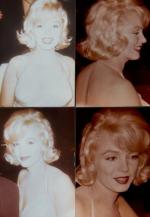 ---
Lot 765: MARILYN MONROE COLOR SLIDES
A group of three color slides of Marilyn Monroe, from November 2, 1959, when she and husband Arthur Miller departed New York City for Los Angeles to film Let's Make Love (20th Century, 1960). Of note, one slide in particular shows Monroe sitting in the back of a car holding a bird in a birdcage, likely Butch, the Millers' pet parakeet.
PROVENANCE From the Estate of Frieda Hull
Estimate: $200 - $400

---
Lot 766: MARILYN MONROE ORIGINAL CANDID PHOTOGRAPH
An original candid color photograph of Marilyn Monroe, likely taken on April 16, 1960, as she attended Josephine Baker's show at the Hollywood Hartford Theatre, accompanied by Yves Montand.
3 1/2 by 3 1/2 inches
PROVENANCE From the Estate of Frieda Hull
Estimate: $100 - $200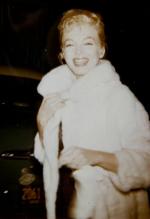 ---
Lot 767: MARILYN MONROE ORIGINAL CANDID PHOTOGRAPHS
A pair of original candid color photographs of Marilyn Monroe, likely taken on June 1, 1960, her 34th birthday. The cast and crew of Let's Make Love (20th Century, 1960) celebrated her birthday earlier that day. That evening, Monroe attended a party in her honor held by press agent Rupert Allan at his Beverly Hills home. In these photographs, Monroe wears the same clothing worn on the set earlier in the day.
Larger, 5 by 3 1/2 inches
PROVENANCE From the Estate of Frieda Hull
Estimate: $100 - $300

---
Lot 773: MARILYN MONROE ORIGINAL CANDID PHOTOGRAPHS
A pair of original Marilyn Monroe black and white photographs, one of her with Clark Gable, believed to have been taken on July 24, 1960, at an event held for the cast and crew of The Misfits (United Artists, 1961) at the Mapes Hotel in Reno, Nevada. This was Monroe's final completed film.
Larger, 3 1/2 by 3 1/2 inches
PROVENANCE From the Estate of Frieda Hull
Estimate: $100 - $300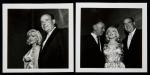 ---
Lot 779: MARILYN MONROE COLOR SLIDE
A color slide of Marilyn Monroe surrounded by fans and security, from March 14, 1961. Monroe was attending a benefit for the Lee Strasberg Actors Studio held at the Roseland Dance Hall in New York City.
PROVENANCE From the Estate of Frieda Hull
Estimate: $100 - $200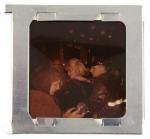 ---
Lot 780: MARILYN MONROE ORIGINAL CANDID PHOTOGRAPHS
A pair of original color photographs of Marilyn Monroe taken on March 14, 1961. Monroe was attending a benefit for the Lee Strasberg Actors Studio held at the Roseland Dance Hall in New York City.
Larger, 5 by 3 1/2 inches
PROVENANCE From the Estate of Frieda Hull
Estimate: $100 - $300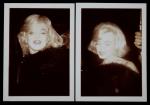 ---
Lot 835: MARILYN MONROE ORIGINAL CANDID PHOTOGRAPH
An original photograph of Marilyn Monroe, circa 1950, with the words "Bel Air Hotel for Red Book Awards Party" written on verso. Likely never before seen.
3 3/4 by 3 1/4 inches
PROVENANCE From the Estate of Frieda Hull
Estimate: $100 - $200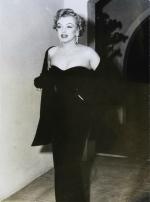 ---
Lot 838: MARILYN MONROE VINTAGE TRANSPARENCY
A vintage color transparency of Marilyn Monroe with Herman Hover, owner of Ciro's nightclub, circa 1953.
2 1/2 by 2 1/2 inches
Estimate: $500 - $700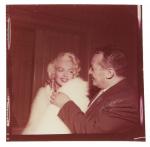 ---
Lot 846: MARILYN MONROE ORIGINAL SLIDES AND PHOTOGRAPHS WITH COPYRIGHT
A group of four color transparency slides and two color photographs of Marilyn Monroe taken by Sgt. Marvin Stamness in Korea when Monroe entertained troops there in 1954. Copyright of the images has been applied for. Once copyright is granted, it will be transferred to the winning bidder. Stamness was with the 189th Field Artillery 45th Division of the United States Army and served in the Korean War. At that time, he was from Barrett, Minnesota.
While the seller confirms that this property is sold with copyright, Julien's can accept no liability in relation to any matters arising as a result of any imperfection in copyright given.
Photographs, 2 1/8 by 3 1/8 inches; Slides, 2 by 2 inches
Estimate: $800 - $1,200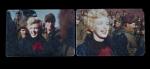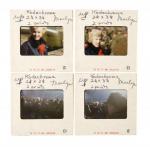 ---
Lot 861: MARILYN MONROE SEVEN YEAR ITCH PREMIERE TRANSPARENCY
A vintage color transparency of Marilyn Monroe and Joe DiMaggio at the premiere of The Seven Year Itch (20th Century, 1955).
2 1/2 by 2 1/2 inches
Estimate: $500 - $700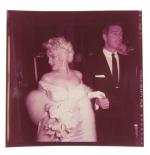 ---
Lot 894: MARILYN MONROE VINTAGE CONTACT SHEET
A vintage partial contact sheet of images of Marilyn Monroe and others. The black and white contact sheet includes nine images, six of which show Monroe taken by Milton Greene at the 1955 announcement of the formation of Marilyn Monroe Productions Inc.
5 by 10 inches
Estimate: $200 - $400

---
Lot 895: MARILYN MONROE MMP ANNOUNCEMENT CONTACT SHEET
A vintage black and white partial contact sheet of images of Marilyn Monroe taken by Milton Greene at the 1955 announcement of the formation of Marilyn Monroe Productions Inc. The sheet contains 10 frames, with numbering below each image.
3 1/2 by 10 inches
Estimate: $200 - $400


---
Lot 896: MARILYN MONROE MMP ANNOUNCEMENT CONTACT SHEET
A vintage black and white contact sheet of images taken at the 1955 announcement of the formation of Marilyn Monroe Productions Inc. Marlene Dietrich appears in many of the photographs along with Monroe and Milton Greene, among others. The sheet has 27 frames with grease pencil markings in red.
7 by 10 inches
Estimate: $600 - $800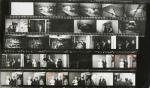 ---
Lot 901: MARILYN MONROE MILTON GREENE VINTAGE CONTACT SHEET
A vintage Milton Greene contact sheet of 34 black and white images taken at the Sheraton Astor Hotel in December 1955. Two of the images are of Marilyn Monroe.
8 by 10 inches
Estimate: $600 - $800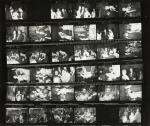 ---
Lot 903: MARILYN MONROE MEDIA PHOTOGRAPHS
A group of three vintage Marilyn Monroe media photographs. Each is stamped by a media outlet or includes a snipe. Two images are of Monroe with husband Arthur Miller. One image is of Monroe with Jack Warner and Milton Greene from a press conference announcing the production of The Prince and the Showgirl (Warner Bros., 1957). Accompanied by one contemporary print of Monroe at a party for the film Let's Make Love (20th Century, 1960).
Largest, 8 by 10 inches
Estimate: $200 - $600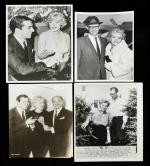 ---
Lot 917: MARILYN MONROE AND ARTHUR MILLER CANDID PHOTOGRAPHS
A group of 12 black and white photographs of Marilyn Monroe with husband Arthur Miller. Each photograph is dated in the margin "Jul 56" and marked "Pitts" on verso in an unknown hand.
5 by 3 1/2 inches
PROVENANCE From the Estate of Lois Weber
Estimate: $1,200 - $1,400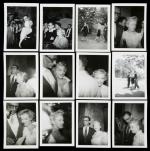 ---
Lot 934: MARILYN MONROE CANDID PHOTOGRAPHS
A group of seven vintage black and white candid photographs of Marilyn Monroe.
Largest, 5 1/4 by 3 1/2 inches
PROVENANCE From the Estate of Lois Weber
Estimate: $600 - $800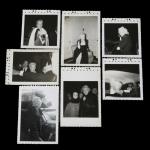 ---
Lot 935: MARILYN MONROE CANDID PHOTOGRAPHS
A group of 11 vintage black and white candid photographs of Marilyn Monroe attending various events.
Largest, 5 1/4 by 3 1/2 inches
PROVENANCE From the Estate of Lois Weber
Estimate: $1,000 - $1,500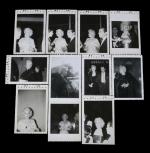 ---
Lot 936: MARILYN MONROE CANDID PHOTOGRAPHS
A group of 10 vintage black and white candid photographs of Marilyn Monroe attending various events.
5 1/4 by 3 1/2 inches
PROVENANCE From the Estate of Lois Weber
Estimate: $1,000 - $1,500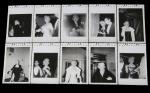 ---
Lot 937: MARILYN MONROE CANDID PHOTOGRAPHS
A group of five candid vintage black and white photographs of Marilyn Monroe at an event.
4 3/4 by 3 1/4 inches
PROVENANCE From the Estate of Lois Weber
Estimate: $600 - $800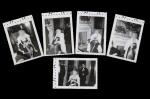 ---
Lot 938: MARILYN MONROE VINTAGE NEW YORK PHOTOGRAPH
A vintage black and white photograph of Marilyn Monroe with Lois Weber on the street in New York City taken by photographer Hans Knopf. PIX Incorporated stamp on verso. A New York Post snipe is attached with a paperclip dating the photograph to February 22, 1956, and stating the pair were leaving Monroe's apartment for lunch with Elsa Maxwell.
9 1/2 by 13 3/4 inches
PROVENANCE From the Estate of Lois Weber
Estimate: $800 - $1,200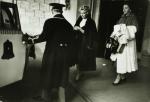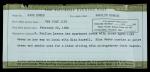 ---
Lot 939: MARILYN MONROE VINTAGE NEW YORK PHOTOGRAPH
A vintage black and white photograph of Marilyn Monroe with Lois Weber on the street in New York City taken by photographer Hans Knopf. PIX Incorporated stamp on verso. A New York Post snipe is attached with a paperclip, dating the photograph to February 22, 1956, and stating the pair were leaving the Ambassador Hotel for a cocktail party.
10 3/4 by 11 1/2 inches
PROVENANCE From the Estate of Lois Weber
Estimate: $800 - $1,200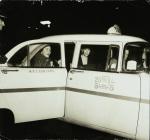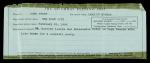 ---
Lot 940: MARILYN MONROE NEW YORK PHOTOGRAPH
A vintage black and white photograph of Marilyn Monroe with Lois Weber on the street in New York City taken by photographer Hans Knopf. PIX Incorporated stamp on verso. A New York Post snipe is attached with a paperclip dating the photograph to February 22, 1956, and stating the pair were walking to the studio of Cecil Beaton.
14 by 10 1/2 inches
PROVENANCE From the Estate of Lois Weber
Estimate: $800 - $1,200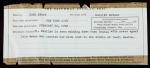 ---
Lot 944: MARILYN MONROE CONTACT SHEET
A contact sheet containing 10 vintage black and white candid images of Marilyn Monroe and one additional photograph from the set of an unknown production. The photographs were taken by Lois Weber.
10 by 8 inches
PROVENANCE From the Estate of Lois Weber
Estimate: $400 - $600

---
Lot 945: MARILYN MONROE CANDID PHOTOGRAPHS
A pair of vintage candid black and white photographs of Marilyn Monroe beside a plane.
5 1/4 by 3 1/2 inches
PROVENANCE From the Estate of Lois Weber
Estimate: $200 - $400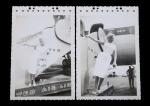 ---
Lot 946: MARILYN MONROE MANFRED KREINER PHOTOGRAPH
A vintage black and white photograph of Marilyn Monroe taken by Manfred Kreiner in 1959. The photograph shows Monroe during an interview in her hotel living room at the Ambassador East Hotel in Chicago, Illinois. Monroe was in Chicago to promote the film Some Like It Hot (UA, 1959). Photographer's and other stamps on verso.
9 1/2 by 10 inches
Estimate: $1,000 - $2,000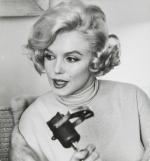 ---
Lot 947: MARILYN MONROE MANFRED KREINER PHOTOGRAPH
A vintage black and white photograph of Marilyn Monroe taken by Manfred Kreiner in 1959 while Monroe was in Chicago to promote the film Some Like It Hot (UA, 1959). Photographer's stamp on verso with additional stamp that reads "Kindler Und Schiermeyer Verlag AG Archiv."
13 1/2 by 10 1/2 inches
Estimate: $1,500 - $2,000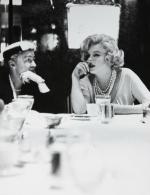 ---
Lot 948: MARILYN MONROE MANFRED KREINER PHOTOGRAPH
A vintage black and white photograph of Marilyn Monroe taken by Manfred Kreiner circa 1959. Photographer's stamp and other notations on verso.
14 by 9 1/2 inches
Estimate: $400 - $600

---
Lot 949: MARILYN MONROE AND ARTHUR MILLER PHOTOGRAPH BY MANFRED KREINER
A vintage black and white photograph of Marilyn Monroe and Arthur Miller at the New York City premiere of Some Like It Hot (UA, 1959) taken by Manfred Kreiner. Photographer's stamp on verso along with information about the photograph in an unknown hand, written with pencil in German.
10 1/2 by 13 1/2 inches
Estimate: $1,000 - $2,000

---
Lot 950: MARILYN MONROE AND ARTHUR MILLER VINTAGE PHOTOGRAPH
A Marilyn Monroe and Arthur Miller black and white vintage original photograph. Taken by Paul Schumach at the premiere of Some Like It Hot (UA, 1959). Photographer's stamp on verso.
10 by 8 inches
PROVENANCE From the Lost Archive of Marilyn Monroe
Estimate: $600 - $800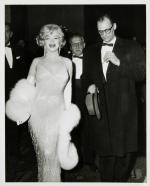 ---
Lot 971: MARILYN MONROE MONROE, MONTAND AND CUKOR SIGNED PHOTOGRAPH
A Marilyn Monroe, Yves Montand, and George Cukor signed black and white photograph. The image was taken at a party for the film Let's Make Love (20th Century ,1960) in which Monroe and Montand starred and Cukor directed. The photograph is inscribed "To Herbert Stern from his first director with every good wish George Cukor," "For Herbert Love & Kisses Marilyn Monroe," and "Pour Herbert Stern amical souvenir Y Montand 60."
8 by 10 inches
Estimate: $8,000 - $10,000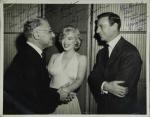 ---
Lot 976: MARILYN MONROE GOLDEN GLOBE CEREMONY PHOTOGRAPH
A vintage black and white photograph of Marilyn Monroe at the 1962 Golden Globes award ceremony taken by Gene Daniels. Monroe won the award for Female World Film Favorite. Photographer's stamp on verso with additional "Revue" stamp and notation.
9 by 13 1/2 inches
Estimate: $400 - $600

---
Lot 977: MARILYN MONROE GOLDEN GLOBE CEREMONY PHOTOGRAPH
A vintage black and white photograph of Marilyn Monroe at the 1962 Golden Globes award ceremony taken by Gene Daniels. Monroe won the award for Female World Film Favorite. Photographer's stamp on verso with additional "Revue" stamp and notation.
13 1/2 by 9 inches
Estimate: $400 - $600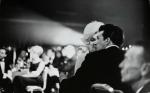 ---
Photographies - Joseph Jasgur
Photographs
---
Lot 796: MARILYN MONROE PHOTOGRAPH BY JOSEPH JASGUR
A black and white photograph of Marilyn Monroe taken by Joseph Jasgur in 1946 with infrared film. Gelatin silver print. Printed by the artist. Artist's copyright sticker on mount verso.
13 1/4 by 10 inches, mounted
Estimate: $600 - $800

---
Lot 797: MARILYN MONROE COLOR PHOTOGRAPHS
A group of six color photographs of Marilyn Monroe taken by photographer Joseph Jasgur. The images are of Monroe alone, and one image shows her with other models at Zuma Beach in 1946.
Each, 11 by 14 inches
Estimate: $600 - $800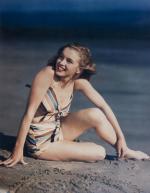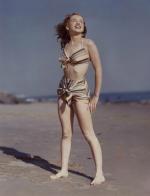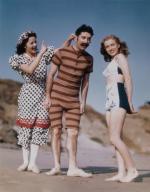 ---
Lot 798: MARILYN MONROE JOSEPH JASGUR PHOTOGRAPHS
Two black and white photographs of Marilyn Monroe taken by Joseph Jasgur in 1946 at Zuma Beach, California. Gelatin silver prints. Printed by the photographer. Each with photographer's stamp on verso.
10 by 8 inches each, mounted
PROVENANCE From the Estate of Joseph Jasgur
Estimate: $800 - $1,200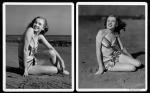 ---
Lot 799: MARILYN MONROE JOSEPH JASGUR NEGATIVE
A Joseph Jasgur black and white negative of Marilyn Monroe produced in 1946. Accompanied by a photograph of the image, printed 2000–2001. Signed in ink lower right.
Negative, 2 1/4 by 2 1/4 inches; Photograph, 14 by 11 inches
Estimate: $400 - $600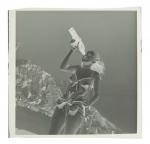 ---
Lot 800: MARILYN MONROE JOSEPH JASGUR NEGATIVES AND COPYRIGHT
Six Joseph Jasgur black and white negatives of Marilyn Monroe produced in 1946. Accompanied by a photograph of a cropping of the image, printed 2000–2001. Library of Congress number VA 308-684. The winning bidder is responsible for transfer of copyright.
One Negative, 2 1/4 by 2 1/4 inches; Five Negatives, 5 by 4 inches; Photograph, 14 by 11 inches
Estimate: $800 - $1,200

---
Lot 801: MARILYN MONROE PHOTOGRAPH BY JOSEPH JASGUR
A sepia toned photograph of Marilyn Monroe taken by Joseph Jasgur in 1946. Toned gelatin silver print. Printed by the artist.
20 by 16 inches, mounted
Estimate: $400 - $600

---
Lot 802: MARILYN MONROE PHOTOGRAPHS BY JOSEPH JASGUR
Two black and white photographs of Marilyn Monroe taken by Joseph Jasgur in 1946. One is a cropped portrait from the full image. Gelatin silver prints. Printed by the artist. Each with the artist's stamp on mount verso.
10 by 8 inches each, mounted
Estimate: $500 - $700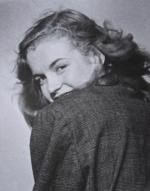 ---
Lot 803: MARILYN MONROE JOSEPH JASGUR NEGATIVE AND COPYRIGHT
A Marilyn Monroe negative of an image taken by Joseph Jasgur in 1946, accompanied by copyright. The black and white negative shows Monroe on the beach with Tom Burton.
The seller confirms that this property is sold with copyright. Application for copyright has not been completed. It is the responsibility of the winning bidder to obtain proper copyright. Julien's can accept no liability in relation to any matters arriving as a result of any imperfection in copyright given.
5 by 4 inches
PROVENANCE Partial Lot 986, "Hollywood Legends," Julien's, Beverly Hills, April 11, 2014
Estimate: $1,500 - $2,000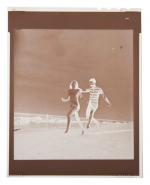 ---
Lot 804: MARILYN MONROE JOSEPH JASGUR PHOTOGRAPHS
A group of three black and white photographs of Marilyn Monroe taken by Joseph Jasgur in 1946. Gelatin silver prints. Printed by the photographer. Each with photographer's stamp on mount verso.
10 by 8 inches each, mounted
PROVENANCE From the Estate of Joseph Jasgur
Estimate: $600 - $800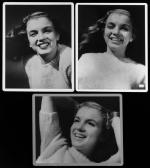 ---
Lot 805: MARILYN MONROE JOSEPH JASGUR PHOTOGRAPHS
A group of three black and white photographs of Marilyn Monroe taken by Joseph Jasgur in 1946. Gelatin silver prints. Printed by the photographer. Each with photographer's stamp on mount verso.
10 by 8 inches each, mounted
PROVENANCE From the Estate of Joseph Jasgur
Estimate: $600 - $800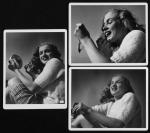 ---
Lot 806: MARILYN MONROE BLACK AND WHITE PHOTOGRAPHS
A group of nine black and white photographs of Marilyn Monroe taken by photographer Joseph Jasgur. Jasgur photographed Monroe in 1946 when she was still known as Norma Jeane Dougherty and was a model with the Blue Book Model Agency.
Largest, 11 by 14 inches
Estimate: $800 - $1,200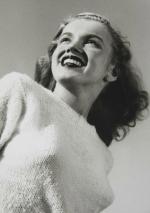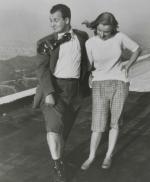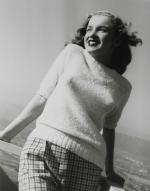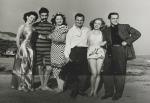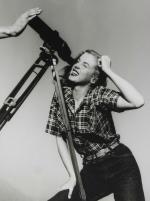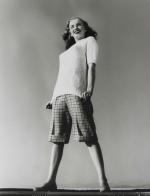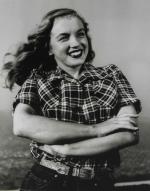 ---
Lot 807: MARILYN MONROE JOSEPH JASGUR PHOTOGRAPHS
A group of four black and white photographs of Marilyn Monroe taken by Joseph Jasgur in 1946. Gelatin silver prints. Printed by the photographer. Two with photographer's stamp on mount verso.
10 by 8 inches each
PROVENANCE From the Estate of Joseph Jasgur
Estimate: $600 - $800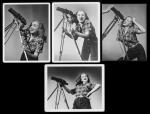 ---
Lot 808: MARILYN MONROE PHOTOGRAPHS BY JOSEPH JASGUR
Three black and white photographs of Marilyn Monroe taken by Joseph Jasgur in 1946 using infrared film. Gelatin silver prints. Printed by the photographer. Two with photographer's stamp on mount verso.
10 by 8 inches each, mounted
PROVENANCE From the Estate of Joseph Jasgur
Estimate: $400 - $600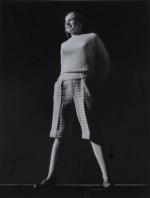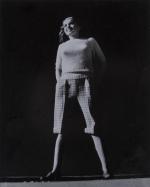 ---
Lot 809: MARILYN MONROE PHOTOGRAPH BY JOSEPH JASGUR
A black and white photograph of Marilyn Monroe taken by Joseph Jasgur in 1946. Gelatin silver print. Printed by the artist. Artist's stamp on mount verso.
10 by 8 inches, mounted
Estimate: $600 - $800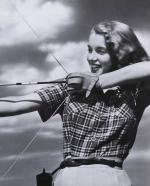 ---
Lot 810: MARILYN MONROE JOSEPH JASGUR NEGATIVES AND COPYRIGHT
A group of three Joseph Jasgur black and white negatives of Marilyn Monroe produced in 1946. Copyright to this image will be transferred to the winning bidder.
While the seller confirms that this property is sold with copyright, Julien's can accept no liability in relation to any matters arising as a result of any imperfection in copyright given.
5 by 4 inches, each
PROVENANCE From the Estate of Joseph Jasgur
Estimate: $1,000 - $2,000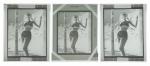 ---
Photographies - André De Dienes
Photographs
---
Lot 795: MARILYN MONROE LIMITED EDITION ANDRE DE DIENES PRINT
A Marilyn Monroe black and white photograph taken by Andre De Dienes in 1945, printed in a limited edition, gelatin print made from the original transparency, numbered 29/50. This print is stamped, signed, and hand numbered by the estate of Andre De Dienes and stamped and hand numbered by OneWest Publishing.
19 1/2 by 16 inches
Estimate: $800 - $1,200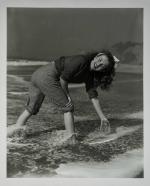 ---
Lot 813: MARILYN MONROE PHOTOGRAPH BY ANDRE de DIENES
A black and white gelatin silver print montage photograph of Marilyn Monroe. Taken in 1949 by Andre de Dienes, printed circa 1960. Hand stamped on verso.
16 by 16 inches
PROVENANCE From the Estate of Andre de Dienes
Estimate: $1,000 - $2,000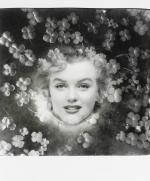 ---
Lot 814: MARILYN MONROE PHOTOGRAPH BY ANDRE de DIENES
A black and white gelatin silver print montage photograph of Marilyn Monroe by Andre de Dienes. Notations on the front of the photograph read "7/7 1949 A.D." in black ink.
24 by 20 inches
PROVENANCE From the Estate of Andre de Dienes
Estimate: $1,000 - $2,000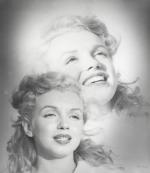 ---
Lot 850: MARILYN MONROE VINTAGE PHOTOGRAPH BY ANDRE de DIENES
A black and white silver gelatin vintage print of Marilyn Monroe taken by Andre de Dienes in 1953. The photograph is hand printed circa 1958 on double-weight paper and stamped by the photographer on verso.
19 1/2 by 16 inches
Estimate: $800 - $1,200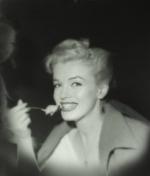 ---
Lot 851: MARILYN MONROE VINTAGE PHOTOGRAPH BY ANDRE de DIENES
A black and white silver gelatin vintage print of Marilyn Monroe taken by Andre de Dienes in 1953. The photograph is hand printed circa 1958 on double-weight paper and stamped by the photographer on verso.
20 by 16 inches
Estimate: $800 - $1,200

---
Lot 852: MARILYN MONROE VINTAGE ANDRE de DIENES PHOTOGRAPH
A photograph of Marilyn Monroe taken by Andre de Dienes in 1953. Silver gelatin print, printed circa 1955. Signed at lower right, photographer's stamp on verso.
24 by 20 inches
PROVENANCE Lot 420, "Hollywood Legends," Julien's, Beverly Hills, March 31, 2012
Estimate: $2,000 - $4,000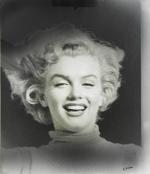 ---
Lot 853: MARILYN MONROE VINTAGE ANDRE de DIENES PHOTOGRAPH
A photograph of Marilyn Monroe taken by Andre de Dienes in 1953. Silver gelatin print, printed circa 1955. Signed at lower right, photographer's stamp on verso.
24 by 20 inches
PROVENANCE Lot 421, "Hollywood Legends," Julien's, Beverly Hills, March 31, 2012
Estimate: $2,000 - $4,000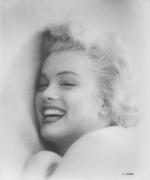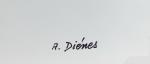 ---
Lot 865: MARILYN MONROE INSCRIBED MAGAZINE PAGE
A black and white page of an unknown magazine inscribed to child star Linda Bennett. Inscription reads "To Linda, I saw you in the Seven Little Foys - Great Marilyn Monroe."
17 1/2 by 14 inches, framed; 7 1/4 by 6 3/4 inches, sight
Estimate: $3,000 - $5,000

---
Photos Tom Kelley & Calendriers 'Golden Dreams'
Tom Kelley's Photos & Calendars 'Golden Dreams'

---
Lot 35: MARILYN MONROE UNCUT TIN TRAY
A circa 1950s uncut tin tray, illustrated with two nude photographs of Marilyn Monroe, "Golden Dreams" and "A New Wrinkle" both taken during a photo session with Tom Kelley in 1949.
Framed, 26 1/2 by 36 1/2 inches
PROVENANCE Lot 110, "Film & Entertainment," Christie's, South Kensington, Sale number 9771, December 16, 2003
Estimate: $200 - $400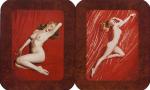 ---
Lot 817: MARILYN MONROE RED VELVET SESSION PHOTOGRAPHS
A group of four color Marilyn Monroe photographs from the Red Velvet session with Tom Kelley in 1949. The group of contemporary prints includes an interesting composite image of Monroe and other less often seen images from the session. Mackie was given the photographs by a fan who knew that he had worked on Monroe's costumes and that he was a fan of Monroe's. Printed circa 2004.
15 by 10 inches
PROVENANCE From the Collection of Bob Mackie
Estimate: $2,000 - $4,000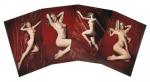 ---
Lot 818: MARILYN MONROE PHOTOGRAPH FROM THE REMASTERED RED VELVET COLLECTION
A photograph of Marilyn Monroe from the 1949 Red Velvet session with Tom Kelley. The limited edition print is part of the "Remastered Red Velvet Collection" issued by the estate of Tom Kelley in 2004. The image is numbered 2/500 and is signed by Tom Kelley Jr. in the lower right corner. The image is referred to as pose number 7.
27 3/4 by 23 1/2, framed
Estimate: $600 - $800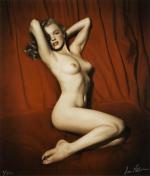 ---
Lot 819: MARILYN MONROE VINTAGE NUDE PHOTOGRAPH
A vintage Marilyn Monroe "New Wrinkle" photograph from her 1949 photo session with Tom Kelley. The black and white print is affixed to foam core board. The absence of optical brighteners in the print indicates that this print was made prior to 1953.
Photograph, 10 by 8 1/4 inches; 15 1/4 by 13 1/2 inches, overall
Estimate: $400 - $600

---
Lot 36: MARILYN MONROE CALENDAR
A U.S. calendar from 1952, featuring a color print of nude Marilyn Monroe photographed by Tom Kelley.
Matted, 30 by 21 1/2 inches
PROVENANCE Lot 64, "Film & Entertainment Memorabilia," Christie's, South Kensington, Sale number 5238, December 19, 2007
Estimate: $200 - $400

---
Lot 310: MARILYN MONROE GOLDEN DREAMS CALENDAR
A calendar from Connors Bar & Grill New York City, 1958, all months intact. Paper loss to lower edge, tape residue along top edge.
15 1/2 by 9 1/2 inches
Estimate: $600 - $800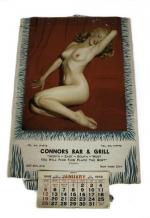 ---
Lot 626: 1955 MARILYN MONROE CALENDAR
A four-page calendar with spiral-bound top edge featuring images of Marilyn Monroe taken by Tom Kelley in the late 1940s. The calendar features a modesty cover with added lace overprint to cover Monroe and three pin-up images of Monroe in cowboy boots, all over triple month pages. Together with original envelope advertising the calendar as "The Most Talked of Calendar in the World" for 50 cents.
12 1/4 by 8 1/2 inches
PROVENANCE From the Estate of Frieda Hull
Estimate: $600 - $800

---
Lot 833: MARILYN MONROE GOLDEN DREAMS 1952 CALENDAR
A 1952 Marilyn Monroe "Golden Dreams" calendar. This is an early version of Monroe's famously posed calendar and does not have her name printed on the calendar itself. A note attached to the lower portion of the calendar does identify the model as Monroe, reading in part, "This Champion Calendar was posed by Marilyn Monroe. ...Since that time she has received much publicity in the daily newspapers and national magazines and has been [sic] starred in two movies." The calendar advertises San Fernando Valley Motor. Housed in a frame.
37 by 19 inches, framed
Estimate: $700 - $900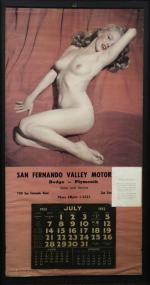 ---
Photographies - Bert Stern
Photographs
---
Lot 984: MARILYN MONROE PHOTOGRAPH BY BERT STERN
A color photograph of Marilyn Monroe lying in bed, signed by Bert Stern. The photograph is contained in an orange portfolio.
23 3/4 by 19 3/4 inches
Estimate: $1,000 - $2,000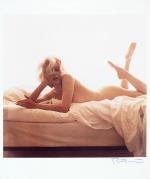 ---
Lot 985: MARILYN MONROE PHOTOGRAPH BY BERT STERN
A color photograph of a nude Marilyn Monroe holding a striped scarf, signed by Bert Stern.
23 3/4 by 19 3/4 inches
Estimate: $6,000 - $8,000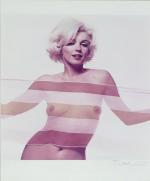 ---
Lot 986: MARILYN MONROE PHOTOGRAPH BY BERT STERN
A Marilyn Monroe color photograph taken by Bert Stern in 1962 during "The Last Sitting." Numbered 188/250 and signed by Stern in the lower right. A Martin Lawrence Galleries label attached to backing of the framed photograph is typed with the title "Last Sitting: Not Bad For 36."
27 1/2 by 26 1/4 inches, framed
Estimate: $2,000 - $3,000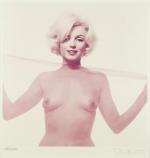 ---
Lot 1006: MARILYN MONROE BERT STERN SIGNED PHOTOGRAPH
A black and white digital print photograph of Marilyn Monroe resting her chin on her hand, inscribed and dated in black marker to the upper left "For Bill/ 3-3-08" and signed and dated in red grease pen to the lower right "Bert Stern/ 2008" with Stern's copyright stamp on the verso.
8 1/2 by 11 inches
Estimate: $200 - $400

---
Photographies - George Barris
Photographs
---
Lot 996: MARILYN MONROE GEORGE BARRIS SIGNED PHOTOGRAPH
A black and white photograph of Marilyn Monroe talking on the telephone signed in black marker to the lower right by George Barris with Weston Editions copyright stamp on the verso.
7 by 5 inches
Estimate: $200 - $400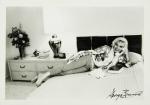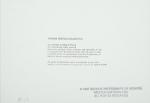 ---
Lot 997: MARILYN MONROE GEORGE BARRIS SIGNED PHOTOGRAPH
A black and white photograph of Marilyn Monroe talking on the telephone signed in black marker to the lower right by George Barris with Weston Editions copyright stamp on the verso. Includes a certificate of authenticity from OneWest Publishing signed by Chuck Murphy.
14 by 11 inches
Estimate: $800 - $1,200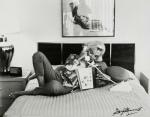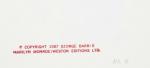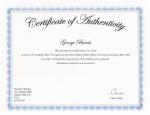 ---
Lot 998: MARILYN MONROE GEORGE BARRIS SIGNED PHOTOGRAPH
A color photograph of Marilyn Monroe dressed in orange signed in black marker to the lower right by George Barris with Weston Editions copyright stamp on the verso. Includes a certificate of authenticity from OneWest Publishing signed by Chuck Murphy.
11 by 14 inches
Estimate: $800 - $1,200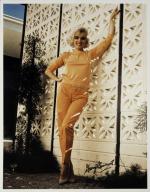 ---
Lot 999: MARILYN MONROE GEORGE BARRIS SIGNED PHOTOGRAPH
A color photograph of Marilyn Monroe leaning against a cinder block wall signed in black marker to the lower right by George Barris with Weston Editions copyright stamp on the verso. Includes a certificate of authenticity from OneWest Publishing signed by Chuck Murphy.
11 by 14 inches
Estimate: $800 - $1,200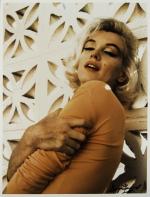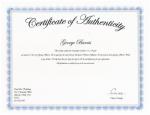 ---
Lot 1000: MARILYN MONROE GEORGE BARRIS SIGNED PHOTOGRAPH
A color photograph of Marilyn Monroe standing in the surf signed in black marker to the lower right by George Barris with Weston Editions copyright stamp on the verso. Includes a certificate of authenticity from OneWest Publishing signed by Chuck Murphy.
10 by 8 inches
Estimate: $400 - $600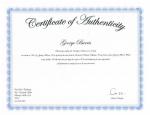 ---
Lot 1001: MARILYN MONROE GEORGE BARRIS SIGNED PHOTOGRAPH
A color photograph of Marilyn Monroe in a bikini signed in black marker to the lower right by George Barris with Weston Editions copyright stamp on the verso. Includes a certificate of authenticity from OneWest Publishing signed by Chuck Murphy.
14 by 11 inches
Estimate: $800 - $1,200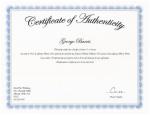 ---
Lot 1002: MARILYN MONROE GEORGE BARRIS SIGNED PHOTOGRAPH
A black and white photograph of Marilyn Monroe standing in the surf signed in black marker to the lower right by George Barris with Weston Editions copyright stamp on the verso. Includes a certificate of authenticity from OneWest Publishing signed by Chuck Murphy.
8 by 10 inches
Estimate: $400 - $600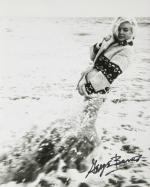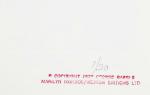 ---
Lot 1003: MARILYN MONROE PHOTOGRAPH BY GEORGE BARRIS
A photographic print of Marilyn Monroe, limited edition numbered 21/50, taken in 1962 by George Barris. Silver gelatin print, printed on double-weight fiber paper under the guidance and approval of George Barris by OneWest Publishing. Signed by the photographer and stamped by OneWest Publishing.
20 by 16 inches
Estimate: $1,000 - $2,000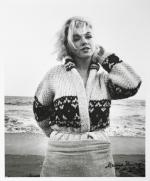 ---
Photographies - Milton H Greene
Photographs

---
Lot 257: MARILYN MONROE OUTTAKE PHOTOGRAPH
A black and white test print on archival paper of Monroe during the Mandolin Sitting with photographer Milton Greene. The image is stamped on verso "Reproduction Forbidden" with additional pencil notations documenting the exposure settings for the print.
7 by 5 inches
Estimate: $500 - $700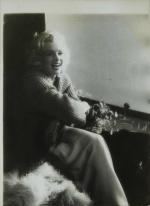 ---
Lot 890: MARILYN MONROE VINTAGE CONTACT SHEET
A vintage black and white partial contact sheet of Marilyn Monroe and Milton Greene. The sheet, which consists of two partial contact sheets stapled together, contains 17 images of Monroe.
4 1/2 by 10 inches
Estimate: $500 - $700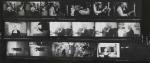 ---
Lot 891: MARILYN MONROE VINTAGE MILTON GREENE CONTACT SHEET
A vintage partial black and white contact sheet of Marilyn Monroe. The Milton Greene contact sheet includes 12 images of Monroe in a black cocktail dress.
3 by 10 inches
Estimate: $400 - $600


---
Lot 892: MARILYN MONROE VINTAGE MILTON GREENE CONTACT SHEET
A vintage partial black and white contact sheet of Marilyn Monroe. The Milton Greene contact sheet includes 10 frames with images of Monroe and others. The images were taken by Milton Greene at the 21 Club in New York in 1954. Monroe can be seen talking to the restaurant owner, Robert Kriendler.
4 by 8 inches
Estimate: $400 - $600

---
Lot 893: MARILYN MONROE VINTAGE CONTACT SHEET
A vintage black and white partial contact sheet of Marilyn Monroe and Milton Greene. The sheet includes 10 images of Monroe. Most of the images were likely taken by Greene circa 1955.
3 by 10 inches
Estimate: $400 - $600


---
Lot 909: MARILYN MONROE VINTAGE MILTON GREENE PRINTS
A group of four vintage black and white contact sheet prints of Marilyn Monroe, Laurence Olivier, Arthur Miller and others taken by Milton Greene circa 1956 during the preparation for and filming of The Prince and the Showgirl (Warner Bros., 1957).
Largest, 4 by 5 inches
Estimate: $400 - $600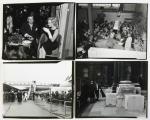 ---
Lot 910: MARILYN MONROE MONROE, OLIVIER AND RATTIGAN CONTACT SHEET IMAGES
A group of four vintage black and white contact sheet prints of Marilyn Monroe with Laurence Olivier and Terence Rattigan taken by Milton Greene. The photographs were taken during a 1956 publicity photo session for The Prince and the Showgirl (Warner Bros., 1957). Two of the images show Monroe with Olivier, who co-starred with Monroe and directed the film. One image is of Monroe and Olivier with Rattigan, author of the play on which the film was based and of the screenplay for the film, and one image is of Olivier and Rattigan. Notations on verso.
Each, 2 1/2 by 3 inches
Estimate: $400 - $600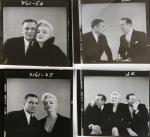 ---
Lot 911: MARILYN MONROE MONROE, OLIVIER AND RATTIGAN CONTACT SHEET IMAGES
A group of four vintage black and white contact sheet prints of Marilyn Monroe with Laurence Olivier and Terence Rattigan taken by Milton Greene. The photographs were taken during a 1956 publicity photo session for The Prince and the Showgirl (Warner Bros., 1957). Three of the images show Monroe with Olivier, who co-starred with Monroe and directed the film. One image is of Monroe and Olivier with Rattigan, author of the play on which the film was based and of the screenplay for the film. Notations on verso.
Each, 2 1/2 by 3 inches
Estimate: $400 - $600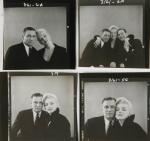 ---
Lot 913: MARILYN MONROE VINTAGE MILTON GREENE PRINTS
A group of six vintage black and white contact sheet prints of Marilyn Monroe, Laurence Olivier, Arthur Miller, Vivien Leigh and others taken by Milton Greene circa 1956 during the preparation for and filming of The Prince and the Showgirl (Warner Bros., 1957).
Largest, 4 by 5 inches
Estimate: $400 - $600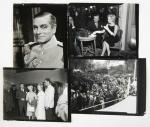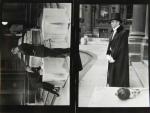 ---
Lot 921: MARILYN MONROE PHOTOGRAPH BY MILTON GREENE
A vintage black and white photograph of Marilyn Monroe and Laurence Olivier taken by Milton Greene in 1956. Photographer's stamp on verso.
11 by 14 inches
PROVENANCE From the Estate of Lois Weber
Estimate: $600 - $800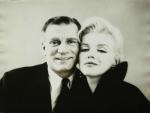 ---
Lot 922: MARILYN MONROE PHOTOGRAPH BY MILTON GREENE
A vintage black and white photograph of Marilyn Monroe, Terence Rattigan and Laurence Olivier taken by Milton Greene in 1956. Photographer's stamp on verso.
11 by 14 inches
PROVENANCE From the Estate of Lois Weber
Estimate: $600 - $800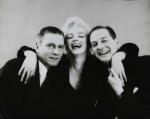 ---
Lot 1010: MARILYN MONROE PRINT BY MILTON GREENE
A large-scale silkscreen print of Marilyn Monroe removing her stockings. Marked "A/P" [Artist's Proof] to the lower left and signed to the lower right by photographer Milton H. Greene.
46 by 35 1/2 inches, framed
PROVENANCE From the Collection of Allan Rich
Estimate: $600 - $800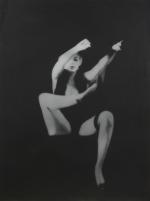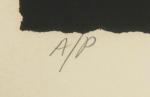 ---
Lot 1011: MARILYN MONROE MILTON GREENE SILKSCREEN PRINT
A limited edition silkscreen print of a Milton Greene photograph of Marilyn Monroe taken during the "Black Sitting" photo session in New York in 1956. Numbered 218/300 and signed by Greene at lower right.
35 by 46 inches
Estimate: $600 - $800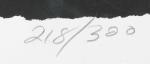 ---
Lot 1012: MARILYN MONROE MILTON GREENE SILKSCREEN PRINT
A silkscreen print of a Milton Greene photograph of Marilyn Monroe taken during the "Black Sitting" photo session in New York in 1956. Numbered 44/300 and signed by Greene in pencil at lower right.
Estimate: $600 - $800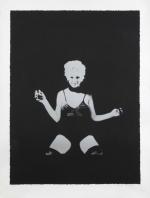 ---
Photographies - Divers photographes
Photographs - Various photographers

---
Lot 37: MARILYN MONROE AND JOHNNY HYDE PHOTOGRAPH
A black and white gelatin silver photograph featuring Marilyn Monroe dancing with talent agent Johnny Hyde, to whom she owed much of her success, presumably taken by Bruno Bernard. Numbered 9/350 in ink to the lower left.
16 by 20 inches
PROVENANCE Lot 332, "Film and Entertainment," Christie's, South Kensington, Sale Number 6343, December 17, 1993
Estimate: $400 - $600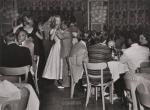 ---
Lot 94: MARILYN MONROE EARLY SNAPSHOT
A circa late 1940s black and white glossy photograph of Monroe with her Chihuahua. The photograph was taken by Richard C. Miller.
4 by 5 inches
Estimate: $300 - $500

---
Lot 100: MARILYN MONROE MODELING PHOTOGRAPH
A vintage black and white glossy photograph of photographer Richard C. Miller posing as he takes a photo of Monroe in hunting clothing holding a rifle during a 1946 photo session. The back of the photograph has pencil notation dating the photograph, "4/5/46."
3 3/4 by 4 3/4 inches
Estimate: $300 - $500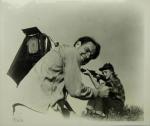 ---
Lot 434: MARILYN MONROE PHOTOGRAPH BY CECIL BEATON
A vintage copy of Monroe's favorite image of herself by Cecil Beaton. As evidenced by receipts among Monroe's documents, she ordered reprints of this photograph to sign for people. This is one of her vintage copies of the image, ordered during her lifetime.
8 by 10 inches
Estimate: $1,000 - $1,500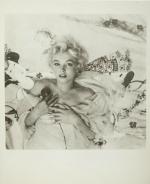 ---
Lot 663: MARILYN MONROE PHOTOGRAPH ARCHIVE
An archive of approximately 20 photographs featuring or related to Marilyn Monroe, some vintage and some reproductions, collected by Frieda Hull.
PROVENANCE From the Estate of Frieda Hull
Estimate: $100 - $200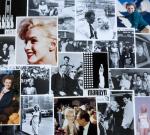 ---
Lot 664: MARILYN MONROE COLOR SLIDES
A group of four slides of Marilyn Monroe from various points in her career: a costume test shot from Something's Got To Give ; on the set of Something's Got To Give ; a double exposure from the Red Velvet session by Tom Kelley; and an early photo of Monroe by Richard C. Miller.
PROVENANCE From the Estate of Frieda Hull
Estimate: $300 - $500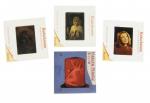 ---
Lot 665: MARILYN MONROE VINTAGE PHOTOGRAPH
A large, glossy black and white publicity photograph of Marilyn Monroe in white dress, heels and gloves.
14 by 11 1/4 inches
PROVENANCE From the Estate of Frieda Hull
Estimate: $800 - $1,200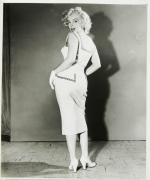 ---
Lot 793: MARILYN MONROE PHOTOGRAPH BY LASZLO WILLINGER
A large-scale Cibachrome color photograph of Marilyn Monroe taken by Laszlo Willinger. Stamp-signed on verso.
34 1/2 by 30 1/2 inches, framed
Estimate: $400 - $600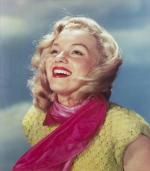 ---
Lot 794: MARILYN MONROE HURRELL STAMPED PHOTOGRAPH
A photograph of Marilyn Monroe with a George Hurrell attribution statement on verso signed by Hurrell-endorsed authenticator Allan Rich.
14 by 12 1/2 inches, framed
PROVENANCE From the Collection of Allan Rich
Estimate: $200 - $400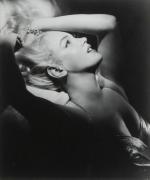 ---
Lot 811: MARILYN MONROE ORIGINAL VINTAGE PHOTOGRAPH BY BERNARD OF HOLLYWOOD
An original vintage photograph of Marilyn Monroe taken by Bruno Bernard in 1946. The photograph is titled "Mistletoe" and is part of the Discovery Series. Signed on verso "Bernard of Hollywood." The photograph is accompanied by a copy of Monroe's model release signed "Norma Jeane Dougherty" on July 24, 1946. This image was among the photographs that Bernard gave to Twentieth Century Fox.
11 by 14 inches
PROVENANCE From the Estate of Bruno Bernard
Estimate: $4,000 - $6,000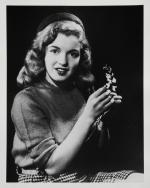 ---
Lot 812: MARILYN MONROE VINTAGE NEGATIVE
A vintage black and white negative of Marilyn Monroe. The image was taken by Ed Cronenweth while Monroe did her hair and makeup during the time of production for Ladies of the Chorus (Columbia, 1948). Accompanied by a contemporary print of the negative.
5 by 4 inches
PROVENANCE From the Collection of Ted Stampfer
Estimate: $200 - $400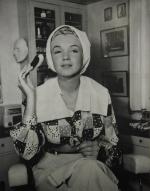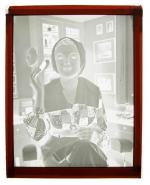 ---
Lot 821: MARILYN MONROE VINTAGE TRANSPARENCY
A Marilyn Monroe vintage color transparency of an image taken in 1951. The image shows Monroe in the gown she wore to the 23rd Academy Awards ceremony, where she presented the award for Best Sound Recording. The award went to All About Eve (20th Century, 1950).
5 by 4 inches
Estimate: $500 - $700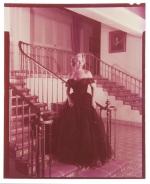 ---
Lot 822: MARILYN MONROE VINTAGE ED CLARK TRANSPARENCY
A Marilyn Monroe vintage color transparency of an image taken in 1950 by Ed Clark, a LIFE photographer.
5 by 4 inches
Estimate: $400 - $600

---
Lot 825: MARILYN MONROE PHOTOGRAPH BY BRUNO BERNARD
A color photograph of Marilyn Monroe taken by Bruno Bernard in 1952. In the photograph, Monroe is wearing the hot pink dress she wore in her role as Rose Loomis in Niagara (20th Century, 1953). The photograph is numbered 15/90 and signed "From the estate of Bernard of Hollywood."
16 by 20 inches
PROVENANCE From the Estate of Bruno Bernard
Estimate: $1,500 - $2,500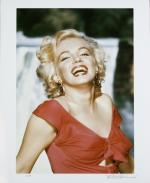 ---
Lot 826: MARILYN MONROE PHILLIPPE HALSMAN PHOTOGRAPH
A black and white image of Marilyn Monroe taken by Phillippe Halsman during a 1952 photo session for LIFE magazine. Numbered 81/250.
14 by 11 inches
Estimate: $400 - $600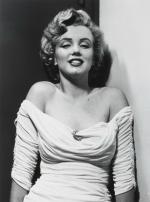 ---
Lot 827: MARILYN MONROE HAROLD LLOYD PHOTOGRAPH
A limited edition poster photograph print of Marilyn Monroe taken by Harold Lloyd in 1952. The color print is numbered 25/250 at lower right. The photograph was taken by silent screen star turned photographer Harold Lloyd during a photoshoot at Monroe's Los Angeles apartment with Philippe Halsman. Later in 1952, a photograph from Halsman's session appeared on the cover of LIFE magazine. Printed on crystal archive paper from the original 35mm Kodachrome negative in 2005. Blind stamped in the lower right corner by the Harold Lloyd Trust.
20 by 20 inches
PROVENANCE Lot 204, "Property from the Estate of Marilyn Monroe," Julien's, Los Angeles, June 4, 2005
Estimate: $2,000 - $4,000

---
Lot 828: MARILYN MONROE HAROLD LLOYD PHOTOGRAPH
A limited edition poster photograph print of Marilyn Monroe taken by Harold Lloyd in 1952. The color print is numbered 25/250 at lower right. The full-length photograph of Monroe speaking to photographer Philippe Halsman was taken by silent screen star turned photographer, Harold Lloyd, during a photo shoot at Monroe's Los Angeles apartment with Halsman. Later in 1952, a photograph from Halsman's session appeared on the cover of LIFE Magazine. Printed on crystal archive paper from the original 35mm Kodachrome negative in 2005. Blind stamped in the lower right corner by the Harold Lloyd Trust.
20 by 20 inches
PROVENANCE Lot 206, "Property from the Estate of Marilyn Monroe," Julien's, Los Angeles, June 4, 2005
Estimate: $2,000 - $4,000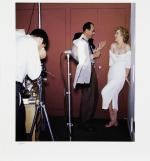 ---
Lot 831: MARILYN MONROE AND JOHN FLOREA PHOTOGRAPH NEGATIVES
A pair of vintage original negatives showing Marilyn Monroe with photographer John Florea. The first image was taken during a publicity photograph session for the film Monkey Business (20th Century, 1952). The second was taken while shooting publicity images for How To Marry a Millionaire (20th Century, 1953). The negatives were originally from the collection of John Florea.
6 by 2 1/2 inches
Estimate: $400 - $600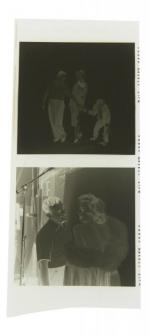 ---
Lot 839: MARILYN MONROE JOHN FLOREA SIGNED PHOTOGRAPH
A black and white photograph of Marilyn Monroe stacking thousand-dollar bills next to photographer John Florea, likely from a series of promotional photos for the Monroe film How To Marry A Millionaire (20th Century, 1953). Signed on the verso by Florea with a copyright stamp.
14 by 11 inches
Estimate: $300 - $500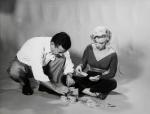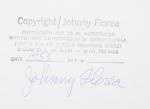 ---
Lot 840: MARILYN MONROE AND OTHERS FRANK WORTH PHOTOGRAPHS
A group of five black and white Frank Worth images, including two of Marilyn Monroe. All are blind stamped "Frank Worth Estate Limited Edition." The first is an image of Monroe wearing a dress she made famous in the film How To Marry a Millionaire (20th Century, 1953). In the second image, Monroe is wearing the same dress and leaning against a car in the background, and Sammy Davis Jr. is in mid-leap, dancing in the foreground. The remaining photographs are portraits of Frank Sinatra, Elizabeth Taylor and James Dean.
Each, 12 by 17 1/2 inches
Estimate: $500 - $700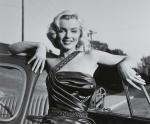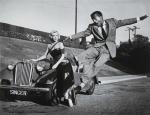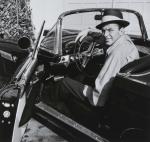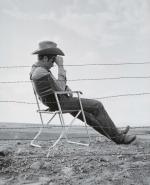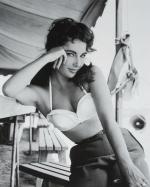 ---
Lot 857: MARILYN MONROE SIGNED AND INSCRIBED PORTRAIT
A vintage print full-length black and white studio portrait shot by Bernard of Hollywood, signed and inscribed by Marilyn Monroe as she appeared in a floral corset with lace trim, fishnet stockings and high-heel shoes in a provocative pose. Inscription reads in full, "To Carole, It's a pleasure to work with you/ Marilyn Monroe."
18 1/2 by 17 inches, overall; 9 1/2 by 7 1/2 inches, sight
PROVENANCE Lot 173, "Property from the Estate of Marilyn Monroe," Julien's Auctions, Los Angeles, California, June 4, 2005
Estimate: $3,000 - $5,000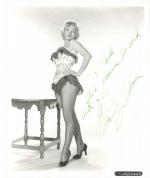 ---
Lot 866: MARILYN MONROE SIGNED PHOTOGRAPH
A vintage black and white matte photograph signed in green ink "Dear Inez, My love and deepest thanks, Marilyn."
8 by 10 inches
Estimate: $15,000 - $20,000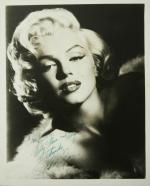 ---
Lot 867: MARILYN MONROE PHOTOGRAPH BY CECIL BEATON
A vintage black and white image of Marilyn Monroe taken by Cecil Beaton in 1956 at the Ambassador Hotel. Camera Press stamp on verso with additional typed label that reads in part, "Monroe by Beaton:/ THE ETERNAL MARILYN/ Sophisticated innocence.../ Please acknowledge: photograph by Cecil Beaton/ Camera Press London."
9 1/4 by 8 inches
Estimate: $1,000 - $2,000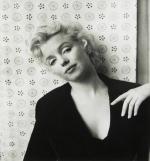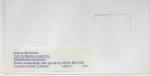 ---
Lot 872: MARILYN MONROE VINTAGE PHOTOGRAPHS
A vintage Marilyn Monroe photograph and contact sheet prints circa 1956. The black and white image, which shows Monroe having her photograph taken, is stamped with Hans Knopf photographer's stamp on verso. With nine additional vintage contact sheet photographs assumed to have been taken at the same time. The contact sheet prints were all affixed to black paper at one time.
Largest, 8 by 10 inches
Estimate: $600 - $800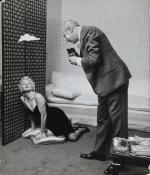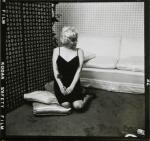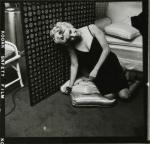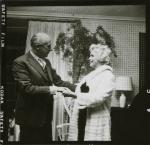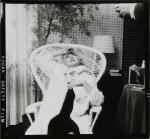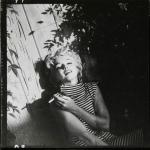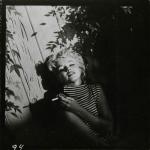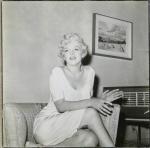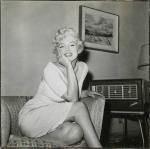 ---
Lot 873: MARILYN MONROE VINTAGE PHOTOGRAPH
A Marilyn Monroe vintage portrait publicity photograph from her personal collection.
10 by 8 inches
PROVENANCE From the Lost Archive of Marilyn Monroe
Estimate: $600 - $800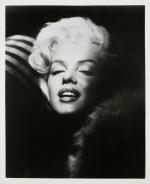 ---
Lot 874: MARILYN MONROE CECIL BEATON PHOTOGRAPH
A black and white photograph of Marilyn Monroe taken by Cecil Beaton in 1956. The photograph, from Monroe's personal archive, is mounted to board and contained in a brown folder.
Photograph, 9 by 9 1/4 inches; 16 by 14 1/2 inches, overall
PROVENANCE From the Lost Archive of Marilyn Monroe
Estimate: $1,000 - $2,000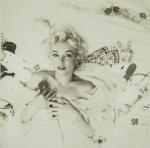 ---
Lot 878: MARILYN MONROE SIGNED AND INSCRIBED PHOTOGRAPH
A framed photograph of Marilyn Monroe signed "To David, so you're still counting my money - what money? Marilyn Monroe."
20 1/2 by 17 1/2 inches, overall; 13 by 10 1/4 inches, sight
Estimate: $4,000 - $6,000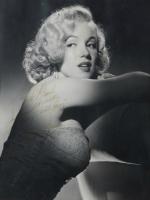 ---
Lot 919: MARILYN MONROE VINTAGE PUBLICITY PHOTOGRAPH
A vintage Marilyn Monroe black and white publicity photograph with a notation in pencil on verso in an unknown hand "500 8x10's ordered 6/16/58 deliver and bill MM."
11 by 14 inches
PROVENANCE From the Estate of Lois Weber
Estimate: $600 - $800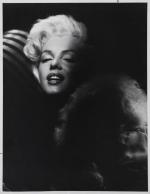 ---
Lot 972: MARILYN MONROE PORTRAIT IMAGES
A group of nine Marilyn Monroe portrait images from film studios for reference or publicity and from photoshoots, with photographers Eric Skipsey and Richard Avedon. Eight of the images are in black and white with one color image from the film Let's Make Love (20th Century, 1960).
Most, 8 by 10 inches
Estimate: $800 - $1,200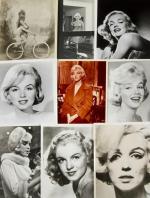 ---
Lot 1009: MARILYN MONROE DOUGLAS KIRKLAND PORTFOLIO
A limited edition portfolio of Marilyn Monroe photographs taken by Douglas Kirkland and published by the Govinda Gallery in Washington, D.C. Each of the six photographs is numbered 16/30 to the lower left and signed by Kirkland to the lower right. Housed in a blue cloth clamshell case with gilt-stamped morocco label.
19 3/4 by 16 1/2 inches, overall
PROVENANCE From the Collection of Allan Rich
Estimate: $800 - $1,200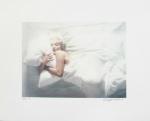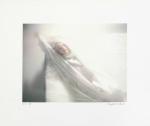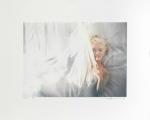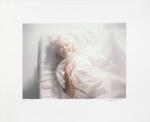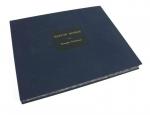 Enregistrer
Enregistrer
Enregistrer
Enregistrer
Enregistrer
Enregistrer
Enregistrer
Enregistrer
Enregistrer
Enregistrer
Enregistrer
Enregistrer
Enregistrer
---
Photographies - River of no Return
Photographs
---
Lot 207: MARILYN MONROE RIVER OF NO RETURN SNAPSHOTS
Two vintage black and white snapshots from 1953 of Monroe during the production of River of No Return, one featuring Monroe posing with her stunt double.
5 by 3 1/2 inches
Estimate: $300 - $500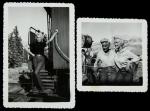 ---
Lot 208: MARILYN MONROE PROMOTIONAL PIECES
A promotional proof for the release of the song "I'm Gonna File My Claim" from the film The River of No Return, together with a mock-up of the LP label for the same release.
Largest, 11 3/4 by 5 3/4 inches
Estimate: $200 - $300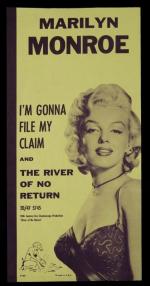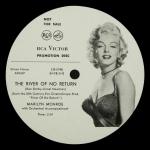 ---
Lot 648: MARILYN MONROE ORIGINAL CANDID AND CONTACT SHEET PHOTOGRAPHS
A group of nine original black and white photographs of Marilyn Monroe taken on the set of River of No Return (20th Century, 1954) in Canada, circa June 1953, appearing to have been cut from the original contact sheet, with seven of the photographs having writing consisting of "MM" together with a reference number. Monroe is shown with cast members from the film, including Robert Mitchum, going over musical numbers and on set preparing for filming. Some photographs from this lot are likely never before seen.
Largest, 2 1/2 by 2 1/2 inches
PROVENANCE From the Estate of Frieda Hull
Estimate: $500 - $700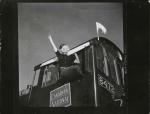 ---
Lot 649: MARILYN MONROE VINTAGE PHOTOGRAPH ARCHIVE FOR RIVER OF NO RETURN
A vintage archive of approximately 60 photos related to River of No Return (20th Century, 1954), including 45 movie stills and 15 publicity photographs.
PROVENANCE From the Estate of Frieda Hull
Estimate: $100 - $200

---
Lot 855: MARILYN MONROE RIVER OF NO RETURN BEHIND-THE-SCENES PHOTOGRAPH
A vintage Marilyn Monroe snapshot taken in Jasper National Park in Canada. The photograph, taken in 1953, shows Monroe with an unknown crew member on the set of River of No Return (20th Century, 1954). Notation in pencil on verso reads "Jasper National Park/ Jan -1956." 1956 may refer to the year the photograph was developed.
3 1/2 by 4 inches
PROVENANCE Lot 168, "Property from the Estate of Marilyn Monroe," Julien's, Los Angeles, June 4, 2005
Estimate: $2,000 - $4,000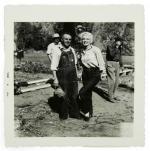 ---
Photographies - There's no Business
Photographs
---
Lot 51: THERE'S NO BUSINESS LIKE SHOW BUSINESS POSTER
A rare original 1954 British quad poster for the Marilyn Monroe film There's No Business Like Show Business (20th Century, 1954).
Framed, 33 1/2 by 43 1/2 inches
PROVENANCE Lot 190, "Vintage Film Posters," Christie's, London, Sale number 9689, September 19, 2003
Estimate: $200 - $400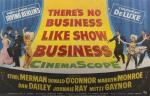 ---
Lot 646: MARILYN MONROE VINTAGE PHOTOGRAPH ARCHIVE FOR THERE'S NO BUSINESS LIKE SHOW BUSINESS
A vintage archive of approximately 50 photographs related to There's No Business Like Show Business (20th Century, 1954), including approximately 45 movie stills and five publicity photographs.
PROVENANCE From the Estate of Frieda Hull
Estimate: $100 - $200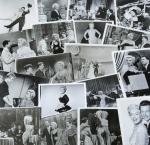 ---
Lot 859: MARILYN MONROE THERE'S NO BUSINESS LIKE SHOW BUSINESS 3D SLIDES
A pair of stereo viewer slides showing Marilyn Monroe in her role as Vicky Parker in the film There's No Business Like Show Business (20th Century, 1954). The stereo three-dimensional slides come from the collection of Ad Schaumer of Ad Schaumer, an Assistant Director active in Hollywood between 1928 and 1966. Each slide contains two pieces of film in a single mount.
Each, 1 5/8 by 4 inches
PROVENANCE From the Estate of Ad Schaumer
Estimate: $400 - $600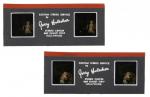 ---
Lot 860: MARILYN MONROE HOLLYWOOD RELATED STEREO 3D SLIDES
A collection of nine boxes of Stereo 3D slides from the collection of Ad Schaumer, an assistant director active in Hollywood between 1928 and 1966. The boxes are labeled in an unknown hand: "Dean Martin/ Monty Clift/ Brando/ Young Lions" from the production The Young Lions (20th Century, 1958); "France/ * Might be the young lions"; "Young Lions" and "Young Lions/ Desert Scenes"; "Voyage To The Bottom of the Sea," Schaumer worked on both the 1961 film and the television series; "Lost World" presumably from the The Lost World (20th Century, 1960); "Mantz" and "Show Biz" from the film There's No Business Like Show Business; "3 weeks/ in Balloon/ Lion - Monkey/ Sherwood/ Forest" referencing the production of Five Weeks in a Balloon (20th Century, 1962); "'3 Weeks in A Balloon'/ Irwin Allen Prod."; "5 Weeks In Balloon"; "Japan - S.F." that appears to contain one slide of Marlon Brando in the film Sayonara (Warner Bros., 1957); "Japan/ Inland Sea"; and one box labeled "Miscellaneous." Not all of the slides have been viewed. Each box contains up to 28 slides. Each slide has two pieces of film in a single mount. Accompanied by seven boxes of additional slides that appear to be personal and travel related.
Slides, 1 5/8 by 4 inches
PROVENANCE From the Estate of Ad Schaumer
Estimate: $400 - $600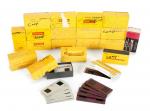 ---
Photographies - The Seven Year Itch
Photographs
---
Lot 651: MARILYN MONROE VINTAGE THE SEVEN YEAR ITCH PHOTOGRAPH ARCHIVE
An archive of approximately 110 vintage photographs related to The Seven Year Itch (20th Century, 1955), including 40 publicity photos, 60 movie stills, and 10 sheets of photo reproductions of various photographs taken on the set of the film, collected by Frieda Hull.
PROVENANCE From the Estate of Frieda Hull
Estimate: $400 - $600

---
Lot 652: MARILYN MONROE ORIGINAL CANDID PHOTOGRAPH
An original color photograph of Marilyn Monroe and co-star Tom Ewell on the set for The Seven Year Itch (20th Century, 1955), filming the now famous skirt-blowing subway scene from the film, shot on September 15, 1954. Fans and photographers can also be seen in this photo. This photograph is likely never before seen.
4 3/4 by 3 1/2 inches
PROVENANCE From the Estate of Frieda Hull
Estimate: $400 - $600

---
Lot 653: MARILYN MONROE ORIGINAL CANDID PHOTOGRAPHS
A pair of Marilyn Monroe original color and black and white photographs, likely at the St. Regis Hotel in New York City on September 15, 1954, the same day she filmed the now famous subway skirt-blowing subway scene from The Seven Year Itch (20th Century, 1955). Monroe wears the iconic white halter dress costume from the film, together with what is likely the mink coat gifted to her by husband Joe DiMaggio. She holds the film's script in her left hand. This lot includes one color and one black and white photograph; the color photograph is likely never been seen.
Larger, 3 1/2 by 3 1/2 inches
PROVENANCE From the Estate of Frieda Hull
Estimate: $400 - $600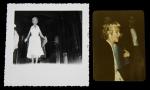 ---
Lot 654: MARILYN MONROE VINTAGE PHOTOGRAPH
A large, glossy black and white photograph of Marilyn Monroe during the subway grate scene for The Seven Year Itch in New York City, 1955.
14 by 11 1/4 inches
PROVENANCE From the Estate of Frieda Hull
Estimate: $800 - $1,200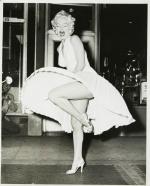 ---
Lot 655: MARILYN MONROE COLOR SLIDES
A group of 10, possibly never before seen, color slides of Marilyn Monroe, some with co-star Tom Ewell, on the set of The Seven Year Itch (20th Century, 1955) from the September 15, 1954, filming of the now famous skirt-blowing subway scene. Fans and photographers can also be seen in these images.
PROVENANCE From the Estate of Frieda Hull
Estimate: $800 - $1,200

---
Lot 862: MARILYN MONROE BERNARD OF HOLLYWOOD SEVEN YEAR ITCH PHOTOGRAPH
A limited edition candid color photograph of Marilyn Monroe taken by Bruno Bernard in 1954. The photograph was taken on the set of The Seven Year Itch (20th Century, 1955). Monroe seen is pictured standing with co-star Tom Ewell. The photograph is numbered 3/50 and signed by the estate of Bernard of Hollywood. This is the first time the photograph has been made available for sale.
20 by 24 inches
PROVENANCE From the Estate of Bruno Bernard
Estimate: $2,000 - $4,000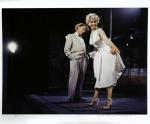 ---
Lot 863: MARILYN MONROE CONTACT SHEETS
A pair of vintage Marilyn Monroe contact sheets. The first is a black and white contact sheet from the set of The Seven Year Itch (20th Century, 1955) with 25 frames showing Monroe and one frame of her co-star Tom Ewell. The second black and white contact sheet contains 15 frames, marked on verso "Credit Sam Shaw." Most of the images appear to have been taken at a 1957 photoshoot of Monroe with photographer Richard Avedon.
Each, 8 by 10 inches
Estimate: $400 - $600

---
Photographies & Film - Bus Stop
Photographs & Film

---
Lot 52: MARILYN MONROE BUS STOP POSTER
An original 1956 U.S. insert poster for the Marilyn Monroe film Bus Stop (20th Century, 1956) with a Dutch film censor stamp to the upper right corner.
39 by 17 inches, framed
PROVENANCE Lot 192, "Vintage Film Posters," Christie's, London, Sale number 9689, September 19, 2003
Estimate: $150 - $300


---
Lot 53: MARILYN MONROE BUS STOP POSTER
An original 1956 British double-crown poster for the Marilyn Monroe film Bus Stop (20th Century, 1956), illustrated by Tom William Chantrell.
31 by 21 inches, framed
PROVENANCE Lot 88, "Vintage Film Posters," Christie's, South Kensington, Sale Number 5424, September 17, 2008
Estimate: $800 - $1,200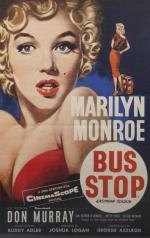 ---
Lot 262: MARILYN MONROE BUS STOP SNAPSHOTS
Four vintage color photographs on Pavelle color print paper. The images feature Monroe in costume posing with Don Murray, her co-star in the film Bus Stop. Together with two 35mm contact prints cut from a larger contact sheet with red wax pencil X's, featuring images of Monroe from the film.
2 3/4 by 1 7/8 inches
Estimate: $300 - $500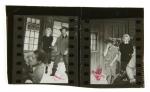 ---
Lot 731: MARILYN MONROE COLOR SLIDES
A group of 39 slides, from the original preview/trailer for Marilyn Monroe's film Bus Stop (20th Century, 1956), together with the original "Mercury Jiffy Mask" box.
PROVENANCE From the Estate of Frieda Hull
Estimate: $300 - $500

---
Lot 732: MARILYN MONROE ORIGINAL CANDID PHOTOGRAPHS SOLD WITH COPYRIGHT
A group of seven black and white original photographs of Marilyn Monroe on the set in Phoenix, Arizona, during the filming of Bus Stop (20th Century, 1956). Six of the images have handwritten annotations on verso, "MM sitting in stands waiting for filming to start"; "MM walking to stands to start working. Reminds me of her walk in 'Niagara'"; "MM with rodeo official"; "MM talking to director Josh Logan"; "Boy shaking hands with MM. He was also at the airport when she arrived. She picked him up and held him. When she saw him again, she remembered him from the airport"; and "Filming finished, MM and Milton H. Greene walk to her car. That evening she left Phoenix for Calif." All images are likely never before seen.
This item sold with copyright but is not sold with copyright documentation. It is the responsibility of the winning bidder to apply for copyright. While the seller confirms that this property is sold with copyright, Julien's can accept no liability in relation to any matters arising as a result of any imperfection in copyright given.
Largest, 4 1/2 by 3 1/4 inches
PROVENANCE From the Estate of Frieda Hull
Estimate: $5,000 - $6,000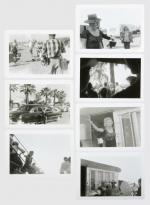 ---
Lot 734: MARILYN MONROE FILM TRAILER
A reel of 35mm color film containing the film trailer for Marilyn Monroe's 1956 film Bus Stop (20th Century, 1956). The reel is in a cardboard box with Frieda Hull's address and telephone number written on the outside in green marker.
4 1/2 by 4 1/2 by 1 3/4 inches
PROVENANCE From the Estate of Frieda Hull
Estimate: $50 - $75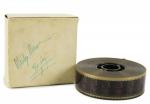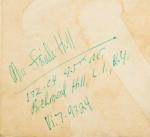 ---
Lot 735: MARILYN MONROE VINTAGE BUS STOP PHOTOGRAPH ARCHIVE
A vintage archive of approximately 180 photographs related to Bus Stop (20th Century, 1956), including approximately 150 movie stills and roughly 30 publicity photographs. Note: Several duplicate photographs are contained in this lot.
PROVENANCE From the Estate of Frieda Hull
Estimate: $400 - $600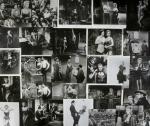 ---
Lot 736: MARILYN MONROE BUS STOP LOBBY CARD ARCHIVE
A collection of 18 lobby cards for Bus Stop (20th Century, 1956), one of which is signed by Eileen Heckart, Monroe's co-star in the film.
PROVENANCE From the Estate of Frieda Hull
Estimate: $300 - $500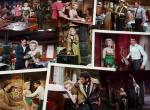 ---
Lot 876: MARILYN MONROE BUS STOP NEGATIVES AND COPYRIGHT
A group of five vintage negatives produced by Milton Greene while on the set of Bus Stop (20th Century, 1956). The black and white images show Marilyn Monroe and others on set during filming. Accompanied by the copyright to the images.
The seller confirms that this property is sold with copyright. Application for copyright has not been completed. It is the responsibility of the winning bidder to obtain proper copyright. Julien's can accept no liability in relation to any matters arising as a result of any imperfection in copyright given.
Largest, 1 1/2 by 4 1/2 inches
Estimate: $1,000 - $2,000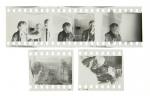 ---
Lot 877: MARILYN MONROE BUS STOP PHOTOGRAPHS AND SIGNATURE
A group of three small photo books containing 26 vintage black and white photographs taken on the set of Bus Stop (20th Century, 1956). Marilyn Monroe appears in eight of the photographs and has signed the back of one image. The photographs come from an extra who worked on the film during the scenes shot at the Arizona State Fairgrounds. These photographs are believed to be unpublished.
Photographs, 3 1/2 by 3 1/2 inches
Estimate: $4,000 - $6,000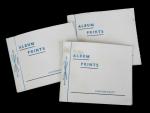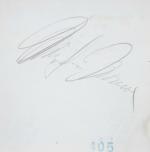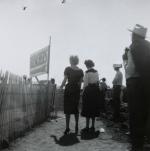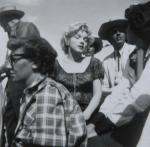 ---
Lot 879: MARILYN MONROE BUS STOP NEGATIVES AND COPYRIGHT
A group of four vintage Marilyn Monroe negatives produced by Milton Greene while on the set of Bus Stop (20th Century, 1956). The black and white images show Monroe in a robe on set during filming. Accompanied by the copyrights to the images.
The seller confirms that this property is sold with copyright. Application for copyright has not been completed. It is the responsibility of the winning bidder to obtain proper copyright. Julien's can accept no liability in relation to any matters arising as a result of any imperfection in copyright given.
1 1/2 by 6 inches
Estimate: $1,500 - $2,000


---
Lot 880: MARILYN MONROE BUS STOP NEGATIVES AND COPYRIGHT
A group of four vintage Marilyn Monroe negatives produced by Milton Greene while on the set of Bus Stop (20th Century, 1956). The black and white images show Monroe, Don Murray, and others on set during filming. Accompanied by the copyright to the images.
The seller confirms that this property is sold with copyright. Application for copyright has not been completed. It is the responsibility of the winning bidder to obtain proper copyright. Julien's can accept no liability in relation to any matters arising as a result of any imperfection in copyright given.
Largest, 1 1/2 by 3 inches
Estimate: $1,000 - $1,500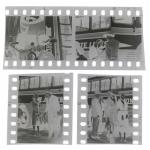 ---
Lot 881: MARILYN MONROE BUS STOP NEGATIVES AND COPYRIGHT
A group of three vintage Marilyn Monroe negatives produced by Milton Greene while on the set of Bus Stop (20th Century, 1956). The black and white images show Monroe and others, including co-star Eileen Heckart, on set during filming. Accompanied by the copyright to the images.
The seller confirms that this property is sold with copyright. Application for copyright has not been completed. It is the responsibility of the winning bidder to obtain proper copyright. Julien's can accept no liability in relation to any matters arising as a result of any imperfection in copyright given.
Each, 1 1/2 by 1 1/2 inches
Estimate: $1,000 - $1,500


---
Lot 882: MARILYN MONROE BUS STOP STUDIO IMAGES
A group of seven vintage studio images of Marilyn Monroe from the film Bus Stop (20th Century, 1956). Includes three color publicity photographs stamped "Theatre Poster Exchange" on verso and four black and white studio images from the film, including one taken by Milton Greene.
Most, 8 by 10 inches
Estimate: $600 - $800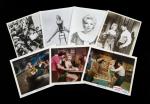 ---
Lot 883: MARILYN MONROE BUS STOP NEGATIVES AND COPYRIGHT
A group of three vintage Marilyn Monroe negatives produced by Milton Greene while on the set of Bus Stop (20th Century, 1956). The black and white images show Monroe and co-star Don Murray on set during filming in a bedroom. Murray has been quoted as saying that Monroe was nude under the sheets because she felt that was what her character would do. Accompanied by the copyright to the images.
The seller confirms that this property is sold with copyright. Application for copyright has not been completed. It is the responsibility of the winning bidder to obtain proper copyright. Julien's can accept no liability in relation to any matters arising as a result of any imperfection in copyright given.
Largest, 1 1/2 by 3 inches
Estimate: $1,500 - $2,500


---
Lot 884: MARILYN BUS STOP NEGATIVES AND COPYRIGHT
A group of five vintage Marilyn Monroe negatives produced by Milton Greene while on the set of Bus Stop (20th Century, 1956). The black and white images show Monroe and co-star Don Murray on set during filming in a bedroom. Murray has been quoted as saying that Monroe was nude under the sheets because she felt that was what her character would do. Accompanied by the copyright to the images.
The seller confirms that this property is sold with copyright. Application for copyright has not been completed. It is the responsibility of the winning bidder to obtain proper copyright. Julien's can accept no liability in relation to any matters arriving as a result of any imperfection in copyright given.
Each, 1 1/2 by 1 1/2 inches
Estimate: $1,500 - $2,500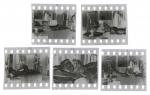 ---
Lot 885: MARILYN MONROE BUS STOP NEGATIVES AND COPYRIGHT
A group of five vintage Marilyn Monroe negatives produced by Milton Greene while on the set of Bus Stop (20th Century, 1956). The black and white images show Monroe and others on set during filming. Accompanied by the copyright to the images.
The seller confirms that this property is sold with copyright. Application for copyright has not been completed. It is the responsibility of the winning bidder to obtain proper copyright. Julien's can accept no liability in relation to any matters arising as a result of any imperfection in copyright given.
1 1/2 by 7 1/2 inches
Estimate: $800 - $1,200


---
Lot 886: MARILYN MONROE MILTON GREENE NEGATIVE AND COPYRIGHT
A vintage Marilyn Monroe negative produced by Milton Greene while on the set of Bus Stop (20th Century, 1956). The black and white images show Monroe in costume as her character Chérie posing with the children of her co-star, Eileen Heckart. Accompanied by the copyright to the image.
The seller confirms that this property is sold with copyright. Application for copyright has not been completed. It is the responsibility of the winning bidder to obtain proper copyright. Julien's can accept no liability in relation to any matters arising as a result of any imperfection in copyright given.
2 1/2 by 2 1/2 inches
Estimate: $1,000 - $1,500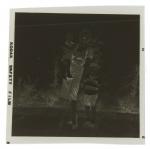 ---
Lot 887: MARILYN MONROE BUS STOP NEGATIVES AND COPYRIGHT
A group of five vintage Marilyn Monroe negatives produced by Milton Greene while on the set of Bus Stop (20th Century, 1956). The black and white images show Monroe and others on set during filming. Accompanied by the copyright to the images.
The seller confirms that this property is sold with copyright. Application for copyright has not been completed. It is the responsibility of the winning bidder to obtain proper copyright. Julien's can accept no liability in relation to any matters arising as a result of any imperfection in copyright given.
Largest, 1 1/2 by 4 1/2 inches
Estimate: $1,000 - $1,500

---
Lot 888: MARILYN MONROE BUS STOP NEGATIVES AND COPYRIGHT
A group of four vintage Marilyn Monroe negatives produced by Milton Greene while on the set of Bus Stop (20th Century, 1956). The black and white images show Monroe and others on set during filming. Accompanied by the copyright to the images.
The seller confirms that this property is sold with copyright. Application for copyright has not been completed. It is the responsibility of the winning bidder to obtain proper copyright. Julien's can accept no liability in relation to any matters arisiing as a result of any imperfection in copyright given.
Largest, 1 1/2 by 3 inches
Estimate: $1,000 - $1,500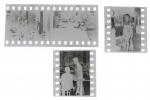 ---
Photographies - The Prince and the Showgirl
Photographs
---
Lot 372: MARILYN MONROE PROGRAM FROM THE PRINCE AND THE SHOWGIRL PREMIERE
A program from the June 13, 1957, premiere of The Prince and the Showgirl at Radio City Music Hall with a benefit and gala champagne supper-dance held at the Waldorf Astoria afterwards. The gala benefited of the Free Milk Fund for Babies Inc.
12 by 9 inches
Estimate: $700 - $900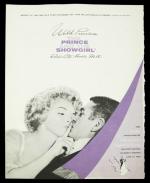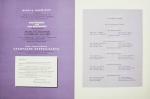 ---
Lot 741: MARILYN MONROE PHOTOGRAPHS SIGNED BY LAURENCE OLIVIER
A group of four vintage glossy black and white photographs of Marilyn Monroe and Laurence Olivier from the film The Prince and the Showgirl (Warner Bros., 1957) as well as from press events for the film. Each of the images is signed in red wax pencil "Laurence Olivier."
8 by 10 inches
PROVENANCE From the Estate of Frieda Hull
Estimate: $600 - $800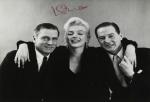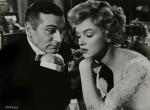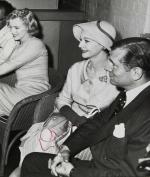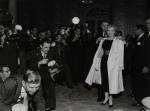 ---
Lot 744: MARILYN MONROE VINTAGE THE PRINCE AND THE SHOWGIRL PHOTOGRAPH ARCHIVE
A vintage archive of 73 photographs related to The Prince and the Showgirl (Warner Bros., 1957), including 50 movie stills, 20 publicity photographs, and three original lobby cards, collected by Frieda Hull.
PROVENANCE From the Estate of Frieda Hull
Estimate: $300 - $500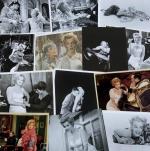 ---
Lot 745: MARILYN MONROE THE PRINCE AND THE SHOWGIRL LOBBY CARD ARCHIVE
A nearly complete lobby card collection for The Prince and the Showgirl (Warner Bros., 1957). The series is missing card No. 9.
PROVENANCE From the Estate of Frieda Hull
Estimate: $300 - $500

---
Lot 920: MARILYN MONROE NEGATIVES FROM THE PRINCE AND THE SHOWGIRL
A group of 12 negatives relating to Marilyn Monroe and The Prince and the Showgirl (Warner Bros., 1957) including four images taken by Milton Greene, images taken at publicity events for the film, and images taken on set.
Largest, 10 by 8 inches
PROVENANCE From the Estate of Lois Weber
Estimate: $1,000 - $2,000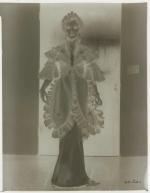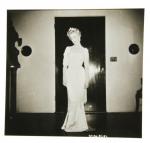 ---
Lot 923: MARILYN MONROE FILM PHOTOGRAPHS AND NEGATIVES
A group of 9 vintage photographs and four negatives of Marilyn Monroe produced while on the set of The Prince and the Showgirl (Warner Bros., 1957) housed in glassine envelopes with markings. Some of the markings indicate areas on Monroe's person that should be retouched. The images were formerly housed in a folder marked on the cover "Kill" and on the interior "Not retouched to be app. by MM."
10 by 8 inches
PROVENANCE From the Estate of Lois Weber
Estimate: $1,000 - $2,000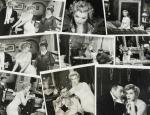 ---
Lot 924: MARILYN MONROE FILM PHOTOGRAPHS AND NEGATIVES
A group of ten vintage photographs and six negatives of Marilyn Monroe produced while on the set of The Prince and the Showgirl (Warner Bros., 1957) housed in glassine envelopes with markings. Some of the markings indicate areas on Monroe's person that should be retouched. The images were formerly housed in a folder marked on the cover "Kill" and on the interior "Not retouched to be app. by MM."
10 by 8 inches
PROVENANCE From the Estate of Lois Weber
Estimate: $1,000 - $2,000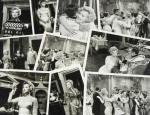 ---
Lot 925: MARILYN MONROE FILM PHOTOGRAPHS AND NEGATIVES
A group of 10 vintage photographs and negatives of Marilyn Monroe produced while on the set of The Prince and the Showgirl (Warner Bros., 1957) housed in glassine envelopes with markings. Some of the markings indicate areas on Monroe's person that should be retouched. The images were formerly housed in a folder marked "Kill" and are believed to have been rejected by Monroe. Note that not all photographs and negatives match.
10 by 8 inches
PROVENANCE From the Estate of Lois Weber
Estimate: $1,000 - $2,000

---
Lot 926: MARILYN MONROE FILM PHOTOGRAPHS AND NEGATIVES
A group of 10 vintage photographs produced while on the set of The Prince and the Showgirl (Warner Bros., 1957) housed in glassine envelopes with markings. Some of the markings indicate areas on Monroe's person that should be retouched. The images were formerly housed in a folder marked "Kill" and are believed to have been rejected by Monroe. Note that not all photographs and negatives match.
10 by 8 inches
PROVENANCE From the Estate of Lois Weber
Estimate: $1,000 - $2,000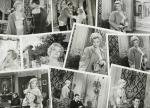 ---
Lot 927: MARILYN MONROE FILM PHOTOGRAPHS AND NEGATIVES
A group of 9 vintage photographs and negatives of Marilyn Monroe produced while on the set of The Prince and the Showgirl (Warner Bros., 1957) housed in glassine envelopes with markings. Some of the markings indicate areas on Monroe's person that should be retouched. The images were formerly housed in a folder marked "Kill" and are believed to have been rejected by Monroe. Note that not all photographs and negatives match.
10 by 8 inches
PROVENANCE From the Estate of Lois Weber
Estimate: $1,000 - $2,000

---
Lot 928: MARILYN MONROE FILM PHOTOGRAPHS AND NEGATIVES
A group of 9 vintage photographs and negatives of Marilyn Monroe produced while on the set of The Prince and the Showgirl (Warner Bros., 1957) housed in glassine envelopes with markings. Some of the markings indicate areas on Monroe's person that should be retouched. The images were formerly housed in a folder marked "Kill" and are believed to have been rejected by Monroe. Note that photographs and negatives may not match.
10 by 8 inches
PROVENANCE From the Estate of Lois Weber
Estimate: $1,000 - $2,000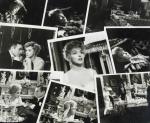 ---
Lot 929: MARILYN MONROE COLOR TRANSPARENCIES
A group of approximately 40 color transparencies taken on the set of The Prince and the Showgirl (Warner Bros., 1957). Most of the images are of Marilyn Monroe and are in plastic sleeves. Some of the sleeves have been marked with red grease pencil. These transparencies were housed in an envelope that read "MM Color Rejects" and "Bad."
2 1/2 by 2 1/2 inches
PROVENANCE From the Estate of Lois Weber
Estimate: $1,000 - $2,000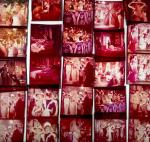 ---
Lot 930: MARILYN MONROE COLOR TRANSPARENCIES
A group of approximately 30 color transparencies taken on the set of The Prince and the Showgirl (Warner Bros., 1957). Most of the images are of Marilyn Monroe and are in plastic sleeves. Some of the sleeves have been marked with red grease pencil. These transparencies were housed in an envelope that read "MM Color Rejects" and "Bad."
2 1/2 by 2 1/2 inches
PROVENANCE From the Estate of Lois Weber
Estimate: $1,000 - $2,000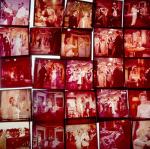 ---
Lot 931: MARILYN MONROE COLOR TRANSPARENCIES
A group of approximately 35 color transparencies taken on the set of The Prince and the Showgirl (Warner Bros., 1957). Most of the images are of Marilyn Monroe and are in plastic sleeves. Some of the sleeves have been marked with black or red grease pencil. These transparencies were housed in an envelope that read "MM Color Rejects" and "Bad."
2 1/2 by 2 1/2 inches
PROVENANCE From the Estate of Lois Weber
Estimate: $1,000 - $2,000

---
Lot 932: MARILYN MONROE COLOR TRANSPARENCIES
A group of approximately 30 color transparencies taken on the set of The Prince and the Showgirl (Warner Bros., 1957). Most of the images are of Marilyn Monroe and are in plastic sleeves. Some of the sleeves have been marked with black or red grease pencil. These transparencies were housed in an envelope that read "MM Color Rejects" and "Bad."
5 by 4 inches
PROVENANCE From the Estate of Lois Weber
Estimate: $1,000 - $2,000

---
Lot 933: MARILYN MONROE COLOR TRANSPARENCIES
A group of 27 color transparencies taken on the set of The Prince and the Showgirl (Warner Bros., 1957). Most of the images are of Marilyn Monroe and are in plastic sleeves. Some of the sleeves have been marked with red grease pencil. Contained in an envelope that reads "MM Color Rejects" and "Bad."
2 1/2 by 2 1/2 inches
PROVENANCE From the Estate of Lois Weber
Estimate: $1,000 - $2,000

---
Photographies - Some Like It Hot
Photographs
---
Lot 66: MARILYN MONROE SOME LIKE IT HOT POSTER
An original 1959 U.S. half-sheet style B poster for the Marilyn Monroe film Some Like It Hot (20th Century, 1956).
28 1/2 by 36 1/2 inches, framed
PROVENANCE Lot 90, "Vintage Film Posters," Christie's, South Kensington, Sale number 5424, September 17, 2008
Estimate: $800 - $1,200

---
Lot 421: MARILYN MONROE SOME LIKE IT HOT ADVERTISEMENTS
Three trade advertisement pieces promoting the film Some like It Hot saying "Hot Hit Ahead … Book it now for Easter!!" The ads also present some of the critical praise received during advance screenings of the film and present Monroe together with her co-stars Jack Lemmon and Tony Curtis throughout.
12 3/8 by 18 5/8 inches
Estimate: $400 - $600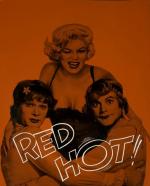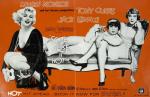 ---
Lot 422: MARILYN MONROE SOME LIKE IT HOT COVER PROOF
A printer's proof of the front and back cover artwork for the paperback version of Some Like It Hot by Billy Wilder and I.A.L. Diamond published by the New American Library.
7 1/2 by 9 1/4 inches
Estimate: $300 - $500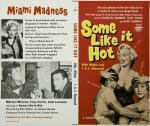 ---
Lot 423: MARILYN MONROE SOME LIKE IT HOT POSTER
An in-store promotional poster for the original motion picture soundtrack of Some Like It Hot from United Artists, featuring an image of Monroe with co-stars Jack Lemmon and Tony Curtis.
13 1/4 by 13 inches
Estimate: $500 - $700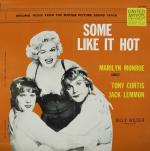 ---
Lot 424: MARILYN MONROE SOME LIKE IT HOT POSTER
An in-store promotional poster for the original motion picture soundtrack of Some Like It Hot from United Artists, featuring an image of Monroe's character playing the ukulele.
13 1/4 by 13 inches
Estimate: $500 - $700

---
Lot 425: MARILYN MONROE SOME LIKE IT HOT CALENDAR
A promotional poster created to promote the March 18, 1959, release date for Some Like It Hot. The calendar features four pages inside the staple-bound covers each featuring an image of Monroe from the film, one declaring March 18 as M-Day and the inside back cover featuring the poster artwork for the film.
11 by 8 1/2 inches
Estimate: $500 - $700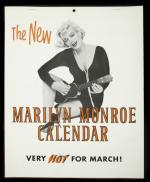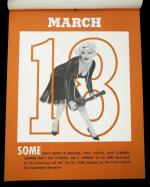 ---
Photographies - Let's Make Love
Photographs
---
Lot 444: MARILYN MONROE LET'S MAKE LOVE PHOTOGRAPHS
Five vintage black and white photographs of Monroe on the set of Let's Make Love . Three feature Monroe celebrating her birthday with director George Cukor and co-star Yves Montand, one features Monroe receiving a card from the cast and crew, and the last is a glossy print of Monroe's hair and makeup for the film.
8 by 10 inches
Estimate: $500 - $700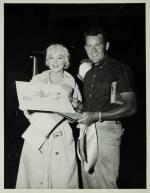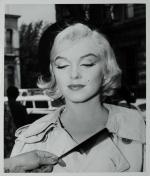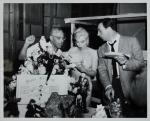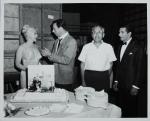 ---
Lot 448: MARILYN MONROE PHOTOGRAPHS
Three black and white photographs of Monroe with a young man on the set of Let's Make Love, 1960. The vintage matte finish prints are unmarked, but feature Monroe in one of her show-stopping gowns from the film.
8 by 10 inches
Estimate: $800 - $1,200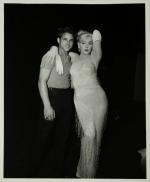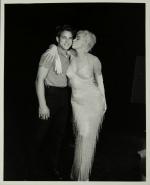 ---
Lot 449: MARILYN MONROE PROMOTIONAL POSTCARD
A vintage promotional postcard for Monroe's film Let's Make Love, with facsimile message from Monroe on verso reading "Dear Friend - you will be seeing more of me soon in - 'Let's Make Love' Marilyn."
8 1/4 by 5 1/2 inches
Estimate: $100 - $150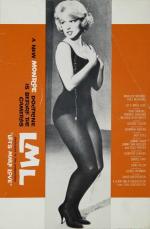 ---
Lot 450: MARILYN MONROE TRADE ADS
Two stapled magazine ads, each slightly different four-page ads, as they ran in the August 23, 1960, issue of The Hollywood Reporter and the August 24, 1960 issue of Variety .
12 1/4 by 9 1/4 inches
Estimate: $300 - $500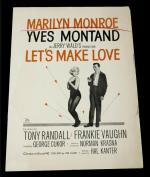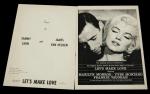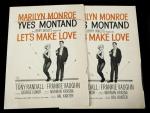 ---
Lot 768: MARILYN MONROE LET'S MAKE LOVE
20th Century Fox, 1960 half-sheet film poster with heavy crease lines.
22 by 28 inches
PROVENANCE From the Estate of Frieda Hull
Estimate: $100 - $150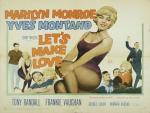 ---
Lot 973: MARILYN MONROE LET'S MAKE LOVE PHOTOGRAPHS
A pair of vintage black and white images of Marilyn Monroe on the set of Let's Make Love (20th Century, 1960). Stamped on verso "Kindler Und Schiermeyer Verlag AG Archiv."
Each, 9 1/2 by 12 inches
Estimate: $400 - $600

---
Photographies - The Misfits
Photographs
---
Lot 67: MARILYN MONROE EVE ARNOLD SIGNED PHOTOGRAPH
A framed black and white portrait of Marilyn Monroe on the set of The Misfits (United Artists, 1961) taken by Eve Arnold. Printed at a later date and signed by the photographer.
Framed, 14 by 17 inches
Estimate: $1,000 - $2,000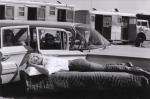 ---
Lot 509: MARILYN MONROE CONTACT SHEETS FROM THE MISFITS
22 frames of Monroe posing for wardrobe test photos for The Misfits, 1961.
8 by 10 inches
Estimate: $600 - $800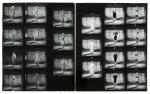 ---
Lot 510: MARILYN MONROE CONTACT SHEETS FROM THE MISFITS
Three vintage black and white contact sheets featuring 26 frames of Monroe sitting for hair and makeup test photos for The Misfits, 1961. One frame captures famed Hollywood hairstylist Sydney Guilaroff and an assistant fixing Monroe's hair.
8 by 10 inches
Estimate: $800 - $1,200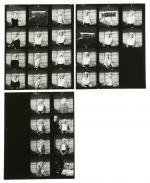 ---
Photographies - Something's Got to Give
Photographs

---
Lot 579: MARILYN MONROE HAIR TEST PHOTOGRAPHS
A group of five color snapshots of Monroe taken during preparation for the unfinished film Something's Got To Give, 1962.
4 1/2 by 3 3/4 inches
Estimate: $300 - $500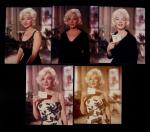 ---
Lot 784: MARILYN MONROE PHOTOGRAPHS COLLECTED BY FRIEDA HULL
A group of four reproduction color photographs of Marilyn Monroe taken on the set of her final film Something's Got To Give on or around May 7, 1962.
Largest, 4 3/4 by 3 1/2 inches
PROVENANCE From the Estate of Frieda Hull
Estimate: $100 - $200


---
Lot 983: MARILYN MONROE VINTAGE SOMETHING'S GOT TO GIVE PHOTOGRAPHS
A pair of Marilyn Monroe vintage black and white photographs taken by Lawrence Schiller on the set of Something's Got To Give in 1962. The images show Monroe seated at the side of a pool wearing only a nude bikini bottom. Both are stamped on verso "Times" and "Copyright Camera Press LTD." with additional handwritten notations. Accompanied by a snipe providing information about the photographs and additionally crediting photographer William Read Woodfield.
Larger, 12 by 9 1/2 inches
Estimate: $800 - $1,200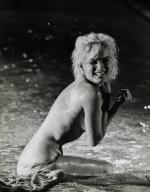 ---
Photographies - Divers Films
Photographs - Various Movies

---
Lot 43: MARILYN MONROE NIAGARA POSTER
An original 1953 U.S. linen-backed one-sheet poster for the Marilyn Monroe film Niagara (20th Century, 1953).
47 by 33 1/2 inches, framed
PROVENANCE Lot 84, "Vintage Film Posters," Christie's, South Kensington, Sale number 5424, September 17, 2008
Estimate: $600 - $800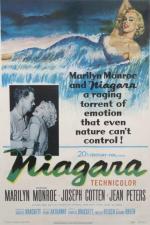 ---
Lot 45: MARILYN MONROE INSCRIBED PHOTOGRAPH
A photograph of Marilyn Monroe with her arm around a man on a film set of Gentlemen Prefer Blondes (20th Century, 1953) inscribed "To Paul/ I love you/ friend/ Marilyn Monroe."
10 by 8 inches
PROVENANCE Lot 57, "Rock & Roll and Entertainment Memorabilia," Christie's, New York, Sale number 1438, December 17, 2004
Estimate: $4,000 - $6,000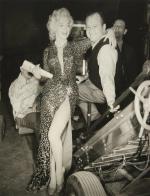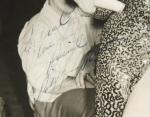 ---
Lot 605: MARILYN MONROE VINTAGE PHOTOGRAPH ARCHIVE FOR EARLY FILMS, 1947-1952
An archive of 168 movie stills and publicity photographs related to the early films in Monroe's career from 1947 to 1952, including Dangerous Years (two photographs), Ladies of the Chorus (17 photographs), Scudda Hoo! Scudda Hay! (one photograph), Love Happy (four photographs), A Ticket to Tomahawk (14 photographs), All About Eve (six photographs), Right Cross (one photograph), The Asphalt Jungle (20 photographs), Love Nest (three photographs), Let's Make It Legal (10 photographs), Home Town Story (four photographs), As Young As You Feel (13 photographs), O. Henry's Full House (two photographs), Clash by Night (15 photographs), Monkey Business (30 photographs), and We're Not Married (26 photographs).
PROVENANCE From the Estate of Frieda Hull
Estimate: $400 - $600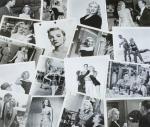 ---
Lot 608: MARILYN MONROE PRESS BOOKS
A group of five exhibitor's campaign books for Monroe's films including As Young As You Feel, 1951; Let's Make It Legal, 1951; Niagara, 1953; Gentlemen Prefer Blondes, 1953; and The Misfits, 1961.
Largest, 18 by 14 inches
PROVENANCE From the Estate of Frieda Hull
Estimate: $200 - $300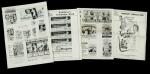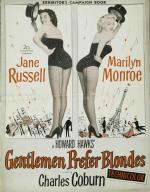 ---
Lot 610: MARILYN MONROE SIGNED PUBLICITY PHOTOGRAPH
A black and white publicity headshot of Marilyn Monroe taken for her film Clash By Night (RKO,1952). Signed in blue ink in lower right "Marilyn Monroe." Some creases and minor tears to edges.
8 by 10 inches
PROVENANCE From the Estate of Frieda Hull
Estimate: $4,000 - $6,000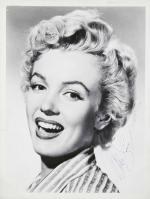 ---
Lot 611: MARILYN MONROE VINTAGE PUBLICITY IMAGE ARCHIVE
An archive of approximately 50 vintage black and white publicity images and publicity stills featuring Marilyn Monroe.
PROVENANCE From the Estate of Frieda Hull
Estimate: $200 - $300

---
Lot 612: MARILYN MONROE VINTAGE PUBLICITY IMAGE ARCHIVE
An archive of approximately 50 vintage black and white publicity images and publicity stills featuring Marilyn Monroe.
PROVENANCE From the Estate of Frieda Hull
Estimate: $200 - $300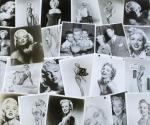 ---
Lot 621: MARILYN MONROE VINTAGE PHOTOGRAPH ARCHIVE FOR DON'T BOTHER TO KNOCK
A vintage archive of approximately 45 photographs related to Don't Bother to Knock (20th Century, 1952), including 45 movie stills and five publicity photographs.
PROVENANCE From the Estate of Frieda Hull
Estimate: $100 - $200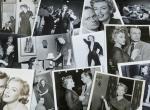 ---
Lot 628: MARILYN MONROE VINTAGE PHOTOGRAPH ARCHIVE FOR NIAGARA
A vintage archive of approximately 20 photographs related to Niagara (20th Century, 1953), including movie stills and publicity photographs.
PROVENANCE From the Estate of Frieda Hull
Estimate: $50 - $100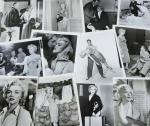 ---
Lot 637: MARILYN MONROE VINTAGE PHOTOGRAPH ARCHIVE FOR GENTLEMEN PREFER BLONDES
A vintage archive of approximately 60 photographs related to Gentlemen Prefer Blondes (20th Century, 1953), including approximately 45 movie stills and roughly 15 publicity photographs. Note: Several duplicate photographs are contained in this lot.
PROVENANCE From the Estate of Frieda Hull
Estimate: $100 - $200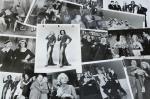 ---
Lot 641: MARILYN MONROE RELATED PROGRAMS
A nine-page color souvenir program from the Marilyn Monroe 1953 film How To Marry a Millionaire (20th Century, 1953), together with a program from the American Newspaper Publishers Association convention held at the Waldorf Astoria on April 26, 1955. The program features the menu for the evening as well as the entertainers slated to appear, including Monroe.
12 by 8 1/2 inches
PROVENANCE From the Estate of Frieda Hull
Estimate: $100 - $150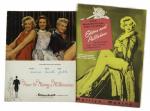 ---
Lot 642: MARILYN MONROE VINTAGE PHOTOGRAPH ARCHIVE FOR HOW TO MARRY A MILLIONAIRE
A vintage archive of approximately 80 movie stills from How to Marry a Millionaire (20th Century, 1953).
PROVENANCE From the Estate of Frieda Hull
Estimate: $100 - $200

---
Lot 723: MARILYN MONROE VINTAGE PHOTOGRAPH ARCHIVE FOR LATER FILMS, 1959-1961
An archive of 14 movie stills and publicity photographs related to the later films in Marilyn Monroe's career from 1959 to 1961, including Some Like It Hot (four photographs), Let's Make Love (eight photographs), and The Misfits (two photographs).
PROVENANCE From the Estate of Frieda Hull
Estimate: $200 - $300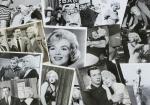 ---
Lot 815: MARILYN MONROE STUDIO PUBLICITY PHOTOGRAPHS
A group of nine Marilyn Monroe studio photographs. The black and white images include a publicity photograph from Some Like It Hot (UA, 1959); Monroe's famous subway grate photograph taken on the set of The Seven Year Itch (20th Century, 1955) by Sam Shaw; an image of Monroe and Jane Russell from Gentlemen Prefer Blondes (20th Century, 1953); an image of Monroe from River of No Return (20th Century, 1954); an image of Monroe from We're Not Married (20th Century, 1952); and an image from There's No Business Like Show Business (20th Century, 1954) along with three other studio publicity images.
Each, 8 by 10 inches
Estimate: $800 - $1,200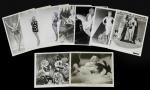 ---
Lot 982: MARILYN MONROE PUBLICITY AND PRESS PHOTOGRAPHS
A group of eight Marilyn Monroe photographs from The Misfits (Seven Arts, 1961) and Something's Got To Give ( 20th Century). Five of the images are studio publicity photographs. The three remaining images are from the pool scene Monroe shot for Something's Got To Give. One of these images is stamped "Approved by the Advertising Code Administration of New York." Another is stamped by United Press International Photo.
Most, 8 by 10 inches
Estimate: $800 - $1,200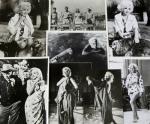 ---
Lot 1005: MARILYN MONROE MARILYN PUBLICITY STILLS
A group of three Marilyn Monroe studio publicity photographs from the documentary Marilyn (20th Century, 1963). The documentary was a compilation of clips from Monroe's career. The images are from three of Monroe's films.
Each, 8 by 10 inches
Estimate: $400 - $600


---
Presse & Autres
Press & Others

---
Lot 42: MARILYN MONROE COLLECTION OF VINTAGE MAGAZINES
A collection of approximately 20 vintage magazines dating from 1952 to 1964, all featuring Marilyn Monroe on the cover. Some titles: Reg, Life, Cine Monde, Look, Jours De France, and Photoplay.
Estimate: $800 - $1,200

---
Lot 73: MARILYN MONROE MAGAZINES
A January 16, 1962, special issue of Look magazine featuring content about "The Next 25 Years" with predictions by John F. Kennedy, Dr. Martin Luther King and others. Together with a March 1961 issue of Esquire magazine featuring an eight-page cover article on Marilyn Monroe, Arthur Miller, John Huston and the film The Misfits. A full-page ad for this issue of Esquire, as it appeared in the February 24, 1961, copy of the New York Times, is also present, tucked inside the magazine. The ad used a quotation from the feature article that criticized Monroe for being too high maintenance and out of control.
Largest, 13 1/4 by 10 1/2 inches
PROVENANCE From the Estate of Lee Strasberg
Estimate: $500 - $700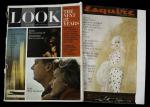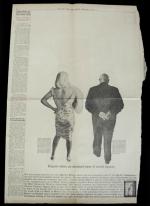 ---
Lot 102: MARILYN MONROE PIN-UPS MAGAZINE
A copy of the 1953 special magazine printed by the Maco Magazine Corporation. The special edition cost 35 cents and featured fifteen pages of color and black and white images of Monroe, some rare images. Each image is accompanied by "facts" about Monroe, many of which are incorrect but they fit the studio's narrative of their star at this time, including the fact that she does not drink. The booklet also carries a three page spread of black and white images showing Monroe exercising and tells how she stays in shape.
11 by 8 1/2 inches
PROVENANCE From the Estate of Frieda Hull
Estimate: $1,000 - $1,500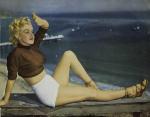 ---
Lot 247: MARILYN MONROE CUSTOM-BOUND ESQUIRE MAGAZINE
A copy of the July 1953 issue of Esquire magazine, custom-bound in gilt green boards with Monroe's name on the lower right corner of cover. The issue featured a four-page article titled "The 'altogether girl" by Bennett Cerf featuring a number of images.
13 1/2 by 10 1/2 inches
Estimate: $800 - $1,200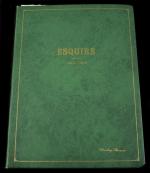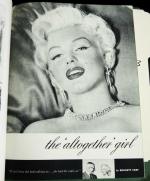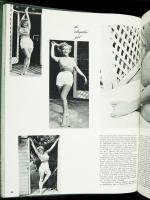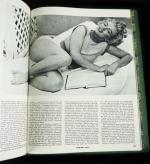 ---
Lot 419: MARILYN MONROE'S COLLECTION OF SOME LIKE IT HOT PRESS CLIPPINGS
Original 1959 newspaper clippings from various newspapers across the country with reviews of Some Like It Hot and of Monroe's performance, contained in the original file, labeled "Clippings/Some Like It Hot," from Monroe's filing cabinets. Some reviews outlined in red wax pencil.
Estimate: $800 - $1,000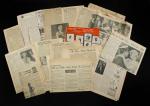 ---
Lot 606: MARILYN MONROE SCRAPBOOK COLLECTION
A group of seven three-ring binders, each containing approximately 100 pages of newspaper and magazine clippings as well as photographs and some ephemera items like the original booklet that held Frieda Hull's tickets to Marilyn Monroe's famous appearance astride a pink elephant at the circus in New York City on March 30, 1955. The books are an extraordinary archive of Monroe's public persona and career. The books appear to run through 1955.
11 1/2 by 9 3/4 inches
PROVENANCE From the Estate of Frieda Hull
Estimate: $1,500 - $2,500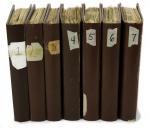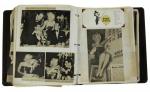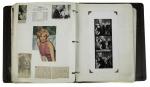 ---
Lot 609: MARILYN MONROE RECORDS
A group of 13 LPs and 45s, all featuring songs from Marilyn Monroe including: Some Like It Hot soundtrack LP and 45 rpm records; Gentlemen Prefer Blondes original cast album; two copies of Let's Make Love original soundtrack recording, one still sealed; Italian River of No Return 45 rpm record; 20th Century Fox Records 45 rpm River of No Return record; Gems from the archive of 20th Century Fox compilation album with "ready to frame" picture of Monroe; motion picture compilation soundtrack album; and four later compilation albums remembering Marilyn.
12 by 12 inches
PROVENANCE From the Estate of Frieda Hull
Estimate: $500 - $700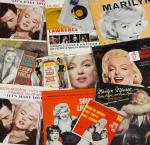 ---
Lot 622: 1950s MAGAZINES FEATURING MARILYN MONROE
A group of 10 vintage magazines featuring Marilyn Monroe, including a special 1954 Marilyn magazine written by Sidney Skolsky, Movie World, Photoplay, Screen Stories, Rave, Hollywood Stars, Movie Mirror, Filmland and Screen Stars. Most date to 1956, together with one magazine from 1953.
8 1/2 by 11 inches
PROVENANCE From the Estate of Frieda Hull
Estimate: $400 - $600

---
Lot 623: MARILYN MONROE POSTCARD
A vintage oversize postcard printed by Tichnor Bros. Inc. of Boston featuring an early 1950s pin-up image of Marilyn Monroe in a yellow bikini.
6 by 9 inches
PROVENANCE From the Estate of Frieda Hull
Estimate: $80 - $120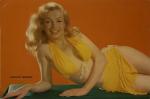 ---
Lot 624: MARILYN MONROE VINTAGE PIN-UP POSTER
A life-size poster issued by Pin-ups of Boston, Massachusetts. The posters were advertised in the August 1953 issue of Popular Science magazine, where customers could order Marilyn Monroe in a red and white striped bikini or in a blue and white striped bikini for the bargain price of $2.00 per poster. This lot features Monroe in a red and white striped bikini. A small two-inch vertical tear is along the lower edge of this poster that is otherwise in excellent condition.
64 by 22 inches
PROVENANCE From the Estate of Frieda Hull
Estimate: $1,000 - $1,500


---
Lot 625: MARILYN MONROE POCKET MAGAZINES AND PIN-UPS
A copy of That Girl Marilyn! by Jane Russell featuring 60 candid photographs and published by Affiliated Magazines Inc. and a copy of The Marilyn Monroe Story # 3 - A Candid Profile, 1955, from Screen Publications Inc. Together with 11 loose 1950s magazine covers torn from their respective magazines and two loose pin-up pages featuring Monroe.
Largest, 13 1/4 by 10 1/2 inches
PROVENANCE From the Estate of Frieda Hull
Estimate: $200 - $300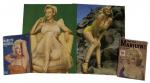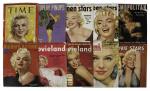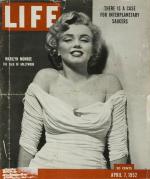 ---
Lot 785: 1960s AND 1970s MAGAZINES FEATURING MARILYN MONROE
A group of 17 magazines: two from 1960, six from 1961, two from early 1962, and seven from the 1970s. Titles include Movie Mirror , TV Radio Album , Screen Stories , Hollywood Tattler , Modern Screen , Photoplay and other gossip magazines.
8 1/2 by 11 inches
PROVENANCE From the Estate of Frieda Hull
Estimate: $400 - $600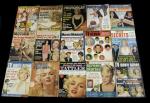 ---
Lot 786: MAGAZINES FEATURING MARILYN MONROE FROM 1962
A group of six vintage magazines, among them TV and Movie Screen , Hush - Hush , Movie Mirror , and others, including a special French souvenir album put out by Cine magazine on August 8, 1962. The magazines date from between August and December 1962, paying tribute and speculating about the circumstances surrounding Marilyn Monroe's death.
Largest, 13 3/4 by 10 1/4 inches
PROVENANCE From the Estate of Frieda Hull
Estimate: $300 - $500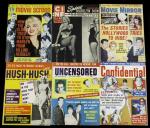 ---
Lot 787: MARILYN MONROE FOREIGN LANGUAGE MAGAZINES
A group of thirteen magazines and newspapers featuring Marilyn Monroe on the cover including nine Italian titles, one Spanish, two French newspapers, and a Danish magazine all dating to August 1962 in reaction to Monroe's tragic death.
Largest, 23 3/4 by 17 inches
PROVENANCE From the Estate of Frieda Hull
Estimate: $500 - $700

---
Lot 842: MARILYN MONROE ITEMS
A group of assorted Marilyn Monroe items: a limited edition Playboy anniversary poster signed by Hugh Hefner and numbered 136/200; a hardcover copy of the Christie's Personal Property of Marilyn Monroe auction catalog from 1999; a giclée print of Monroe entertaining the troops, signed by Victoria Fuller and numbered 273/350; a "Golden Dreams" wall calendar from 1955; four prints of Monroe in a portfolio published by Special Editions Limited; a framed series of 10 magazine cover reproductions featuring Monroe; a 1992 Monroe calendar; five framed inkjet photographs of Monroe posing nude; a 1974 Playboy Marilyn Monroe date book; and a 1974 Playboy Marilyn Monroe calendar.
36 by 24 inches, largest
Estimate: $300 - $500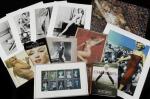 ---
Lot 843: MARILYN MONROE PLAYBOY FIRST ISSUES SIGNED
A collection of the first 14 issues of Playboy magazine, all cased and graded, including the first two issues of Playboy , volume 1 number 1 with Marilyn Monroe, and volume 2 number 2, both signed on the cover by Hugh Hefner. Also includes the Summer 1982 issue of Playboy's VIP magazine, cased and graded.
9 1/2 by 13 7/8 by 9 5/8 inches, overall
Estimate: $5,000 - $7,000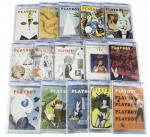 ---
Lot 844: MARILYN MONROE PREMIERE ISSUE OF PLAYBOY MAGAZINE
A copy of the first issue of Playboy magazine that features Marilyn Monroe on the cover. Monroe also appears on the interior of the premiere issue in an article on pages 17 and 18 titled "What Makes Marilyn" and a color pin-up of Monroe taken by Tom Kelley during the 1949 Red Velvet session on page 19. Monroe is called "Sweetheart of the Month," which evolved into Playmate of the Month. No date appears on the cover because Hugh Hefner has stated that he didn't know if there would be a second issue. The magazine hit newsstands in December 1953 and sold for 50 cents. Accompanied by a copy of a magazine titled Marilyn Monroe Pin - Ups released by Maco Magazine Corporation in 1953.
11 by 8 1/2 inches, each
Estimate: $3,000 - $5,000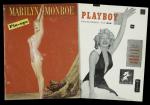 Enregistrer
Enregistrer
Enregistrer
Enregistrer
Enregistrer
Enregistrer
Enregistrer
Enregistrer
Enregistrer
Enregistrer
Enregistrer
Enregistrer
Enregistrer