14 janvier 2014
> Bande Annonce

Room to rent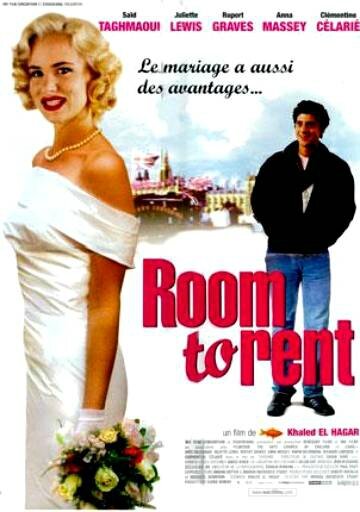 Fiche Technique
Réalisateur: Khaled El Hagar
Scénaristes

: Khaled El Hagar, Amanda McKenzie Stuart
Pays

: Royaume-Uni, France
Genre

: Comédie
Dates de sorties

: sortie nationale en France le 22 août 2001
Durée

: 95 minutes
Film en couleurs
Les Affiches
Distribution (créditée)
Flaminia Cinque: Margreta
Saïd Taghmaoui: Ali
Karim Belkhadra: Ahmed
Maureen O'Farrell: Belly Dancer
Rupert Graves: Mark
Clémentine Célarié: Vivienne
Nayef Rashed: Naief
Badia Obaid: Ali's Mother
Nahar Ramadan: Ali's Sister
Adam El Hagar: Ali's Brother
Sahar Gadel-Kareem : Ali's Younger Sister
Louis Hammond: Pedro
Anna Massey: Sarah Stevenson
Shobu Kapoor: Home Office Official
Chris Langham: Mr. Paul
Juliette Lewis: Linda
Christopher Simon: Dick
Kevin Wainwright: Sean
Felix Dexter: Policeman 1
Simon Macallum: Policeman 2
Robert Lang: Mark's father
Les Photos

Synopsis
Ali, un jeune scénariste égyptien, a choisi de vivre à Londres. Sans argent, il se fait expulser de son logement, et son visa est sur le point d'expirer.
De sous-locations en appartements partagés, Ali va recontrer des personnages pour le moins excentriques. Entre son ami Ahmed, qui lui conseille d'organiser au plus vite un mariage blanc, Vivienne, sa maîtresse, Mark, un photographe au style inimitable, et Linda, la petite mannequin qui pose en Marilyn, il va découvrir le vrai visage de la vie londonienne.
Présentation de Juliette Lewis

Juliette Lewis est une actrice et musicienne américaine, née le 21 juin 1973 à Los Angeles. Elle est l'une des dix enfants de l'acteur Geoffrey Lewis et de Glenis Batley. Ses parent divorcent quand elle a deux ans. Dès son plus jeune âge, elle souhaite devenir chanteuse et actrice, bien que son père tente de l'en dissuader. À l'âge de quatorze ans, sans avoir pris aucun cours de comédie, elle décroche un rôle dans une sitcom comique, "I married Dora", et quitte le lycée au bout de trois semaines pour se consacrer à sa carrière de comédienne.
En 1988, elle joue dans "J'ai épousé une extra-terrestre" aux côtés de Kim Basinger et Dan Aykroyd, avant d'être propulsée, trois ans plus tard, sur le devant de la scène grâce au film de Martin Scorsese, "Les Nerfs à vif": elle donne la réplique à Robert De Niro, et décroche une nomination aux Golden Globes et aux Oscars dans la catégorie Meilleure actrice dans un second rôle.
Les années 1990 sont celles de la consécration pour la comédienne, qui montre qu'elle sait prendre des risques en interprétant des personnages périlleux: elle interprète une jeune femme préférant les hommes plus mûrs dans "Maris et Femmes" de Woody Allen en 1992, et incarne l'année suivante une fille déjantée et séductrice dans le thriller "Kalifornia" avec Brad Pitt, en 1993. Elle vivra d'ailleurs une romance avec Brad Pitt. Puis, elle donne la réplique à Leonardo DiCaprio et Johnny Depp dans "Gilbert Grape" et à Ralph Fiennes dans "Strange Days" en 1995 où elle y joue le rôle d'une chanteuse de rock interprétant une chanson de PJ Harvey, dans la même veine que la musique qu'elle fera plus tard avec son groupe Juliette and The Licks.
Mais c'est grâce au film violent et controversé "Tueurs nés" d'Oliver Stone, avec Woody Harrelson, en 1994, qu'elle devient célèbre. Après "Une nuit en enfer" en 1996, la comédienne tourne moins, étant plus rigoureuse sur le choix de ses rôles. On la retrouve face à Ryan Phillippe et Benicio del Toro dans le film policier "Way of the gun" en 2000, puis face à Gina Gershon dans "Picture Claire" l'année suivante. Elle est la meilleure amie de Jennifer Lopez dans le thriller de Michael Apted "Plus jamais" et joue aux côtés de Vincent Cassel dans l'adaptation de la bande dessinée "Blueberry, l'expérience secrète" en 2002.
Depuis 2003, elle s'est parallèlement lancée dans une carrière musicale en tant que chanteuse et leader du groupe rock Juliette and the Licks, qui a aujourd'hui plusieurs albums à son actif.

>> Sur le web:
- bio et filmo sur wikipedia français
- site de fan juliette-lewis.com

>> Sur le web:
- tout sur le film sur imdb (en anglais)
- infos sur le film sur allocine
---
© All images are copyright and protected by their respective owners, assignees or others.
copyright text by GinieLand.