08 juillet 2015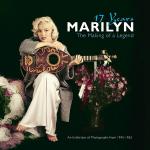 17 Years | Marilyn | The Making of a Legend
> plus d'infos sur Photo Iconix et sur Andrew Weiss Gallery
> le catalogue (ci-contre) à $45.00 en vente sur andrewweissgallery.com
Cette exposition internationale de photographies organisée par Andrew Weiss en 2014 a exposé sur trois continents le travail de sept photographes montrant la carrière de Marilyn de sa première à sa dernière séance photo. L'expo comprend aussi tous les types de photographes, de ceux de la presse, aux artistes professionnels, et aux simples amateurs. C'est une collection étonnante de photographies prises de 1945 jusqu'en 1962.
This international exhibition of photographs curated by Andrew Weiss in 2014 showcases on three continents the work of seven photographers spanning Marilyn's career from her first to her last professional sittings. The exhibition also includes every type of photographer, from journeyman press shooters, to acclaimed international artists, to a rank amateur. It's a stunning collection of photography from 1945 through 1962.
> Les photographes:
Milton Greene

> photographies sur le blog Photo Iconix
10 septembre 2011
Lundi 1er février 1954
Monday, February 1st, 1954
A l'aéroport de Tokyo, des centaines de fans attendent l'arrivée de Marilyn Monroe. Elle descend d'avion accompagnée de Joe Di Maggio et de Lefty O'Doul. Marilyn salue la foule en descendant de l'avion, mais la foule est si hystérique, qu'on demande à Marilyn, à Joe et à Lefty de remonter dans l'avion, le temps de mettre en place le service de sécurité. Des hordes de policiers sont présents, et ils vont escorter Marilyn et Joe jusqu'à l'Imperial Hotel, où les attendent là aussi, une foule toute aussi excitée.
> Première tentative de sortie:Marilyn, Joe et Lefty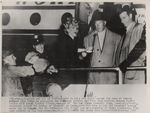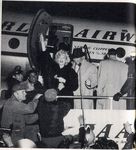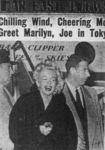 > Deuxième tentative de sortie: Marilyn sort de l'avion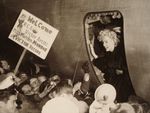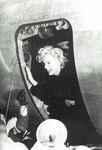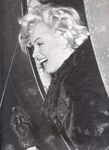 > L'arrivée à l'Imperial Hotel dans la cohue!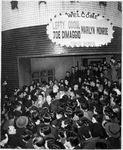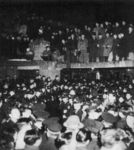 ---
Ces photos ont été prises à leur arrivée par Kashio Aoki qui était le manager du cargo pour la compagnie Pan American Airlines, et avait été assigné pour suivre le jeune couple pour leur voyage de noces au Japon. Pendant plus d'un demi siècle, Aoki avait gardait ces photos dans son album personnel dédié à la mémoire de Marilyn. Ce n'est qu'à la fin du XXème siècle qu'Aoki céda les droits en revendant ses photos à la société Edward Weston Collection.

---
---
>> Video (NEWS USA)