20 août 2016
Les clins d'oeils à Marilyn au Cinéma
- Introducing Dorothy Dandridge -

Dans le téléfilm "Dorothy Dandridge, le destin d'une diva", biopic qui narre le destin de la première actrice star de cinéma noire à Hollywood, une courte scène montre Dorothy Dandridge (incarnée par Halle Berry), en compagnie de Ava Gardner (Jon Mack) et de Marilyn Monroe (Kerri Randles) à une fête privée dans une grande demeure à Hollywood. Cette scène semblant au premier abord incongrue, ne l'est en fait pas du tout ! Fait méconnu car peu relaté dans les biographies, Marilyn et Dorothy étaient très amies. Et Marilyn, Dorothy et Ava auraient souvent fréquenté ensemble les soirées hollywoodiennes au début de leurs carrières.
---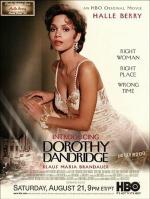 Film: Dorothy Dandridge, Le Destin d'une Diva
Année: 1999
Pays: USA
Réalisateur: Martha Coolidge
Scénario: Shonda Rhimes, Scott, Abbott, d'après le livre de Earl Mills
Genre: biopic
Distribution: Halle Berry (Dorothy Dandridge), Brent Spiner (Earl Mills), Klaus Maria Brandauer (Otto Preminger), Obba Babatundé (Harold Nicholas), Loretta Devine (Ruby Dandridge), Cynda Williams (Vivian Dandridge)....
L'histoire: C'est avec sa soeur Vivian que Dorothy Dandridge fait ses débuts au Cotton Club, dans les années 40, en qualité de chanteuse et de danseuse. Lorsque le cinéma, incarné par Otto Preminger, lui fait les yeux doux, elle ne lui résiste guère. Solidement épaulée par Earl Mills, son manager, elle touche à la consécration dans «Carmen Jones». Si «Porgy and Bess», autre film musical, entretient sa renommée, «Island in the Sun» et «Tamango» véhiculent un message résolument antiraciste...

> Sur le web: le film sur imdb
---
© All images are copyright and protected by their respective owners, assignees or others.
copyright text by GinieLand.
Enregistrer