30 avril 2016
Le regretté artiste maquilleur et photographe Kevyn Aucoin, réputé pour son professionalisme dans l'art du maquillage, avait grimé Liza Minnelli en Marilyn Monroe en 1990.
> Portrait de Liza Minnelli

---
> Photoshoot de Steven Meisel
pour Vogue, Octobre 1990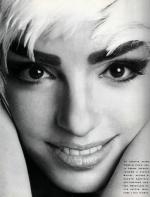 Enregistrer
26 septembre 2007
C'était en 1997, la fille unique du King Elvis Presley, l'icône star des USA du XXème siècle (sans doute l'équivalent masculin de Marilyn Monroe dans toute sa dimension mythique au niveau planétaire et temporel), Lisa Marie Presley posait en Marilyn Monroe, sous la mise en scène de Kevyn Aucoin. La séance était destiné pour la publication d'un livre d'Aucoin intitulé Making Faces.
>> Le site officiel de Lisa Marie Presley
---
Book: Making Faces
Auteur: Kevyn Aucoin
Prix éditeur: 23,24 Euros
Date de sortie: octobre 1997
Broché: 159 pages
Editeur : Little Brown & Co (T)
Langue : Anglais
ISBN-10: 0316286869
ISBN-13: 978-0316286862
Ou le trouver ? sur Amazon.fr
Description du livre: In Making Faces, Kevyn Aucoin, North Americas preeminent makeup artist, shares his secrets, explaining not only the basics of makeup application and technique but also how to use those fundamentals (sometimes in unconventional ways) to create a wide range of different looks. Making Faces features step-by-step directions, instructional full-colour sketches, and a gallery of noncelebrity transformations, as well as fabulous images of stars and supermodels as youve never seen them before.Lush and enticing, Making Faces satisfies on many levels: extraordinary photography, surprising makeup looks on A-list celebrities (Julia Roberts, Demi Moore, Courtney Love), and recipes for doing it yourself. ~ Mirabella Kevyn Aucoins new beauty bible is the Genesis, Chronicles, and Revelations of makeup. ~ Allure Kevie isnt a makeup man, hes a magician. He creates an atmosphere of beauty mixed with magic. ~ Cher Kevyns progression of work over the years has elevated makeup to an art form. ~ Tina Turner Kevyn enables each and every one of us to play the character we want to play, be the person we want to be, and most important, feel the best that we can feel about ourselves. ~ Drew Barrymore
Infos: The faces that Kevyn Aucoin has made are stellar and luminous: Cher, Tina Turner, Vanessa Williams, and Julia Roberts are but a few of the stars in Aucoin's galaxy of clientele. More than making do, making up is the art of achieving your own special look, and Aucoin insists that there are no hard and fast rules--except for the obvious ones, such as "Don't put lipstick in your eye."
The first section offers, in his own words, Aucoin's favorite ideas, tricks, and techniques for enhancing, defining, and altering facial features with makeup. You'll learn how to care for your skin, what foundation to use with your skin type, and transformational magic for that central player in the drama of beauty: eyes. Through his gallery of noncelebrity before-and-afters, Aucoin shows clearly how to use his fundamentals to achieve dozens of different looks.
The gorgeous final chapter reads like a list of exotic characters in a play--the Vamp, the Siren, the Diva.... In fact, such celebrities as Isabella Rosselini, Demi Moore, and Nicole Kidman pose as these dramatic, splendidly made-up characters. These sumptuous photographs are accompanied by full-page illustrations listing the "ingredients" required to create these looks as well as simple directions for achieving them. The introduction by the author, at once amusing and endearing ("...trying to conceal the fact that I was a gay, effeminate, hyperactive, adopted child with a serious lisp in southern Louisiana would have been like trying to hide Dolly Parton in a string bikini!"), and Aucoin's commentary throughout, makes Making Faces a unique reference book--beautiful, informative, and personal.
En bref -un avis de consommateur sur amazon-: Un beau livre. Plein de photos magnifiques en grand format. On peut donc bien observer et ensuite reproduire les techniques de maquillage. Il y a aussi des dessins explicatifs pour faciliter le tout. Beaucoup de gens célébres mais aussi des inconnus qui se pretent au jeu de la transformation (toujours spectaculaire). On prend conscience de la force du maquillage. Kevyn Aucoin nous livre tous ses secrets et on peut ensuite jouer à l artiste sur son propre visage. A vos pinceaux !
Enregistrer