02 décembre 2013
Lady Gaga et R. Kelly parodient Marilyn Monroe et JFK aux AMA 2013.
25 novembre 2013
en ligne sur consequenceofsound.net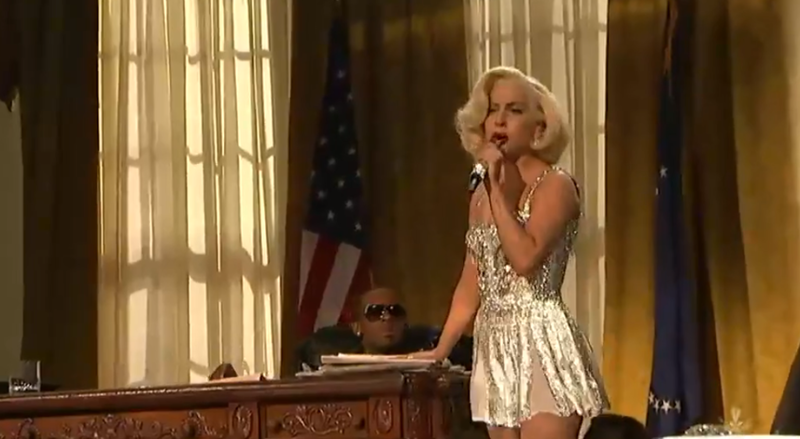 Lady Gaga et R. Kelly se sont produits en duo sur la scène des American Music Awards qui se sont déroulés le dimanche 24 novembre 2013 à Los Angeles, pour chanter " Do What U Want ". Lady Gaga jouait le rôle de Marilyn Monroe, jouant le rôle de secrétaire du Président R. Kelly, faisant ainsi une double parodie: la liaison entre le Président JFK / Marilyn et la liason entre le Président Clinton / Monica Lewinsky.
---

Yes Mr President! Lady Gaga and R Kelly give shock performance in fake Oval Office at AMAs
25 novembre 2013
en ligne sur express.co.uk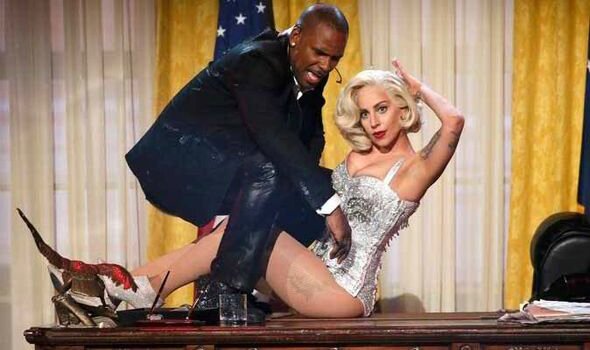 The 27-year-old superstar performed her latest song 'Do What You Want' and looked reminscent of a 1950s Marilyn Monroe.
She was joined by American singer R Kelly who had an uncanny likeness to President Barack Obama as he sat in his fake Oval Office.
The performance was the usual high-energy delivery from Gaga as she lay provocatively on the presidential desk as R Kelly crouched on top.
The popstars poked fun at social networking as R Kelly exclaimed holding up a picture of Gaga on his desk: "What's this doing on Instagram."


He later then referred back to the singer saying: "I've never seen this woman in my life."
The scenes were reminiscent of the infamous 90s affair between US President Bill Clinton and Monica Lewinsky.
The performance finished with newspaper scrolls flashing up "Lady Gaga is over."
The Poker Face singer was later seen leaving Chateau Marmont after her performance wearing a revealing glitter outfit reminiscent of the one worn by Britney Spears in the music video for 'Toxic'.
The star left little to the imagination in the sheer outfit which barely covered her modesty.
18 octobre 2011
Lady Gaga en Marilyn pour l'anniversaire de Bill Clinton
Article publié le 17 octobre 2011
en ligne sur yahoo actu Québec
Cela faisait bien longtemps que Lady Gaga voulait se grimer en Marilyn Monroe, mais elle attendait le bon moment. Moment qui s'est présenté lors du dixième anniversaire de la fondation William J. Clinton (plus connu sous le nom de Bill Clinton) et accessoirement du 65e anniversaire de celui-ci.
Lorsque Lady Gaga a averti Bill Clinton qu'elle avait bien l'intention de lui souhaiter son anniversaire grimée en Marilyn Monroe, la première réaction de l'ancien président des Etats-Unis a été de rire : "Je suis devenu nerveux quand Gaga a dit qu'elle envisageait de faire comme Marilyn et j'ai pensé 'Je vais avoir une crise cardiaque pour mon 65e anniversaire'". Car Lady Gaga a prévenu, cela faisait longtemps qu'elle voulait avoir son moment à la Marilyn.
Lors du dixième anniversaire de la fondation William J. Clinton (et accessoirement le 65e anniversaire de l'ancien président), Lady Gaga a donc fait son show avec un petit air de Marilyn : rouge à lèvres rouge, grandes lunettes et bien sûr perruque blond platine. Comme la pin-up l'avait fait pour JFK, Gaga s'est mise à chanter pour l'anniversaire de Clinton et a même eu un petit message pour lui : "Bill, j'ai mon premier vrai moment Marilyn. J'ai toujours voulu en avoir un mais j'étais en train d'espérer que cela n'allait pas causer d'accident, à cause des perles", a-t-elle plaisanté.
Pour son show, Lady Gaga a tout simplement chanté son titre Bad Romance en le transformant en Bill Romance. Si Bill Clinton semble avoir apprécié, c'est aussi le cas de sa femme Hilary et de sa fille Chelsea, qui se sont amusées à danser.