02 juin 2014

MARILYN: The Lost Photographs of a Hollywood Star
Article published on 26 May 2014
by Todd Klick
online on limitedruns
Limited Runs is pleased to announce the exclusive release MARILYN: The Lost Photographs of a Hollywood Star. The collection of fine art prints feature previously unavailable or unseen photographs of the Hollywood legend, taken by five fascinating lensmen who stepped into the icon's life at the right place, and the right time. These uncovered images are offered for the first time as fine art prints. - See more at: http://www.limitedruns.com/blog/movie/marilyn-the-lost-photographs-of-a-hollywood-star/#sthash.q6HIf8pa.dpuf
Limited Runs is pleased to announce the exclusive release MARILYN: The Lost Photographs of a Hollywood Star. The collection of fine art prints feature previously unavailable or unseen photographs of the Hollywood legend, taken by five fascinating lensmen who stepped into the icon's life at the right place, and the right time. These uncovered images are offered for the first time as fine art prints.
The photographers featured: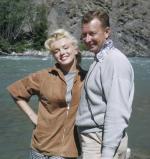 Allan "Whitey" Snyder, born in California, started his career as an assistant make-up artist on the 1948 film, The Walls of Jericho. Later, he worked as head make-up artist on Rosemary's Baby (1968), Little House on the Prairie (1981) and Highway to Heaven (1984). He was nominated twice for Primetime Emmy Awards for Outstanding Achievement in Make-Up, including one for Marilyn: The Untold Story. Assigned to do Miss Monroe's make-up for her first Twentieth Century Fox screen test in 1946, Snyder went on to develop a close working relationship with Monroe, and became best known as her personal make-up artist. Towards the end of Monroe's life, she asked Snyder to prepare her face if she were to die before him. He fulfilled that promise in 1962, and was a pallbearer at her funeral.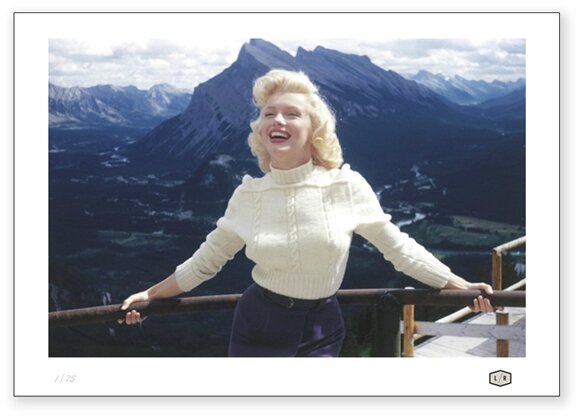 Taken by Snyder in August 1953 while on location filming River of No Return with Robert Mitchum. Look Magazine sent a photographer to this photo shoot. Milton H. Greene was assigned to shoot the cover image when he met Marilyn for the first time. Milton sent Marilyn proofs from this first sitting and Marilyn responded by sending him two dozen roses and called to say "they were the most beautiful pictures she had ever seen" and asked Milton to be her official photographer.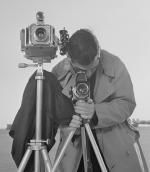 Milton H. Greene was awarded a scholarship to Pratt Institute, but decided to pursue a photography career instead. In his early twenties, he became known as the "Color Photographer's Wonder Boy." His fashion shots appeared in Harper's Bazaar and Vogue. He also photographed many high profile personalities in the '50s and '60s, including Frank Sinatra, Audrey Hepburn, Grace Kelly, Elizabeth Taylor, Judy Garland and numerous others. But it was Greene's iconic images of Marilyn Monroe, as her official photographer, that changed the course of his career.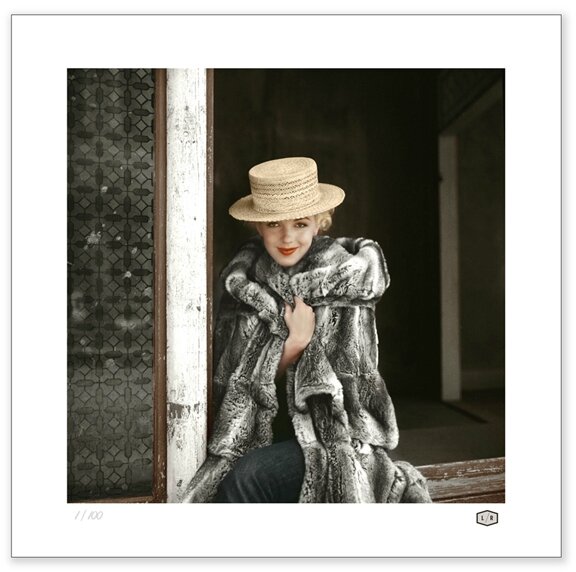 On Sunday, April 15, 1956, with a day off during filming of Bus Stop, Marilyn and Milton held a photo shoot on the 20th Century-Fox backlot, officially known as the "Grey Fur" and "Gypsy" sittings.
Employed as a sound engineer for ABC television, Caesars Casino in Las Vegas, and Capitol Records, Lani Carlson worked with Frank Sinatra, Elvis Presley, Ann Margaret, and The Beatles.
Posing as a photographer for the Chicago Tribune, Lani talked his way into press parties and Academy Award celebrations where he photographed celebrities like Cary Grant, Elizabeth Taylor, Clark Cable, Fred Astaire, and Marilyn Monroe.
In 1960, United Artists hired the Reno, Nevada-based cinematographer, Thomas "Doc" Kaminski, to document the filming of The Misfits, starring Clark Gable, Montgomery Clift and Marilyn Monroe. While Kaminski filmed the making of the movie, he also shot stills of the actors on set, which he mailed to his family. Those private, unpublished photos, which gathered dust for over 40 years, captured a natural and relaxed Monroe, as well as her serious acting side.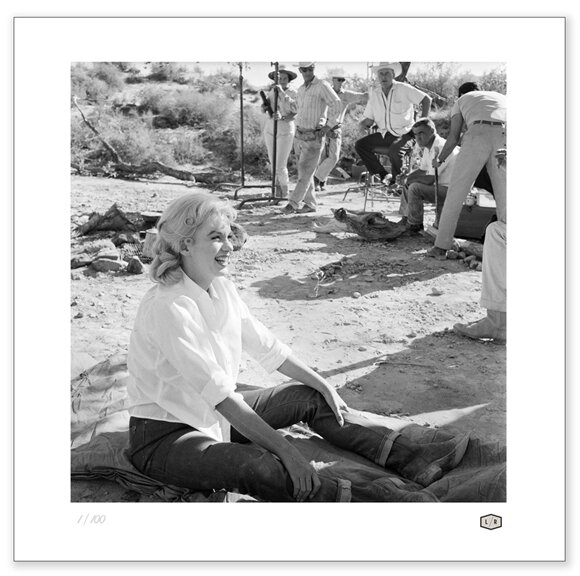 Little is known about Los Angeles photographer, Mischa Pelz. However, after a Southern California earthquake revealed one of Pelz's print boxes in the late photographer's storage room, Pelz's former assistant discovered lost photos of Marilyn Monroe that Pelz had shot one sunny afternoon in 1953—images of a burgeoning superstar the public has never seen.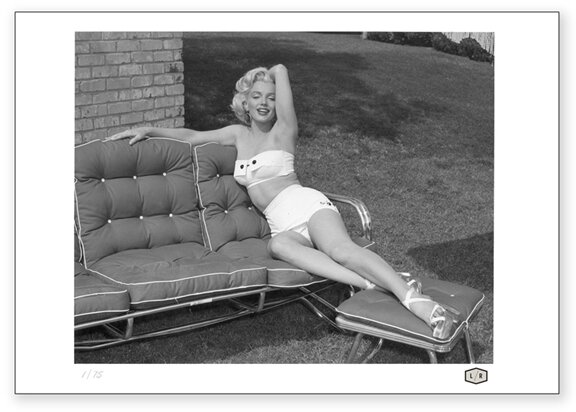 ---
> View the entire collection MARILYN: The Lost Photographs of a Hollywood Star

The collection will be available for public viewing starting in June with dates in Hollywood and San Francisco, and New York City in July with additional dates to follow in the fall.

The current dates of the exhibit are:
June 6, 2014 – Boulevard3, 6523 W. Sunset Blvd., Hollywood, CA 90028 (formerly the historic Hollywood Athletic Club)
June 19th through June 21st 2014 – Sarah Stocking Gallery, 368 Jackson Street, San Francisco, California 94111 (located in the heart of downtown San Francisco in historic Jackson Square)
July 22nd through July 26th 2014 – RASA TriBeCa Gallery, 37 Walker Street, New York, NY 10013
27 mai 2014
Some Like It Hot! Stunning rare photos of Marilyn Monroe relaxing on movie sets can be seen in new travelling exhibition
Article published on 26 May 2014
by Iona Kirby
online on dailymail.co.uk
More than 50 years after her death, fans of Marilyn Monroe can see rare and some never-before-seen photos of the actress in a new exhibition.
Taken between 1952 and 1956, the images give an intimate look at the star, capturing her vivacious nature and beautiful smile.
The photos can be viewed as part Limited Runs' collection and travelling exhibition, which launches in Los Angeles in June and will then go on to San Francisco and New York City.

True beauty:
Marilyn Monroe is seen just before Gentlemen Prefer Blondes
in a rare photo from Limited Runs' Travelling Exhinition
One of the more recognisable images shows Marilyn just before 'Gentlemen Prefer Blondes', lounging around in a cream bikini and displaying her famously voluptuous and gorgeous figure.
A photo from the following year, 1953, has not been seen before and shows the iconic actress cuddling up to a horse.
In the snapshot Marilyn is wearing a low-cut frilly top and jeans, while on the set of 'The River of No Return'.

Horsing around:
The actress cuddles up to a furry friend on set of The River Of No Return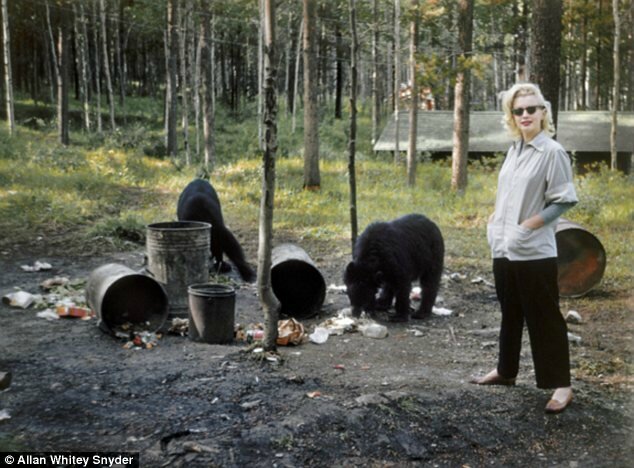 In her natural state:
One photo from the same movie set shows Marilyn
make-up free and dressed casually, which was rarely seen.

Another photo from the same film set shows the star in a very rare casual state with no make-up and her platinum locks unstyled, although she wears sunglasses over her bare face.
Marilyn is pictured alongside two black bears while dressed down in a grey jumper and baggy black trousers, but of course still looks stunning.
The 'Some Like It Hot' star relaxes against some rocks in front of a lake while wearing a grey pencil skirt, red top and matching lipstick in one of the shots, taken on set of 'Niagara' in upstate New York.

Catching some sun:
The star rests on a rock in between takes for 'Niagara' in this gorgeous image.

Vivacious:
Marilyn's famous smile and gorgeous figure
can be seen in the pictures, such as this one from 1952
The more recent of the collection of images were taken on the snowy set of Bus Stop.
Marilyn is wrapped up warm in a grey fur coat and boater hat in one photo and a black coat and green scarf in another.
The star, whose real name was Norma Jeane Mortenson, was 36 when she died of a barbiturate overdose in 1962.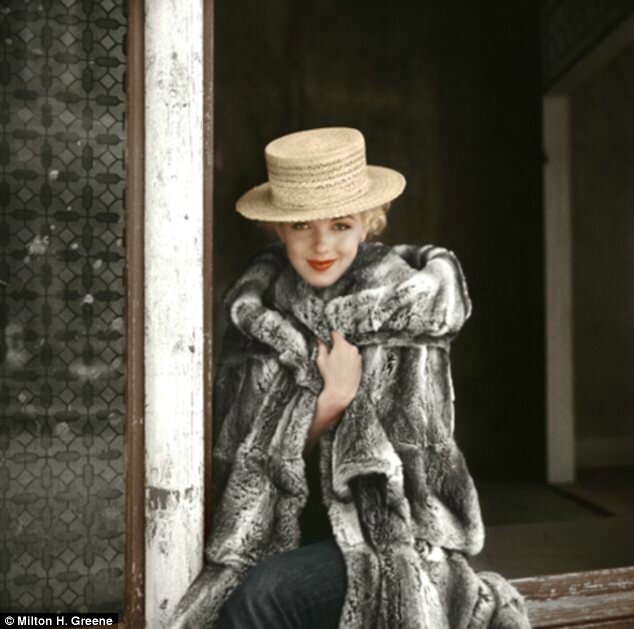 Bundled up:
Marilyn wrapped up warm
in a grey fur coat while filming scenes for 'Bus Stop' in 1956.

Lights, camera, action:
The exhibition, which will travel from Los Angeles to San Francisco and New York,
contains another photo from the set of 'Bus Stop'.
13 décembre 2011
Vente aux enchères "Entertainment Memorabilia" le 14 Décembre 2011 par Bonhams à Los Angeles en Californie, USA.
Vente de photographies, d'affiches de films, de costumes, d'autographes et autres documents de stars de cinéma, dont quelques lots concernent Marilyn, à découvrir ci-dessous (photographies et un télégramme).
---
Lot 4047: Marilyn Monroe photographs by Sam Shaw, 1950s
Candid photographs depicting Marilyn laying barefoot across a bed while speaking on the phone, the other catches the sex symbol yawning. Each signed "SShaw" in pencil on verso. The image of Marilyn yawning is matted, the condition of these photographs is fair. 10 x 13 1/2 in and 14 x 16 in (with mat)
Estimate: US$2,500 - 3,500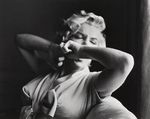 ---
Lot 4048: Marilyn Monroe photographs by Sam Shaw, 1950s
Candid photographs of Marilyn wearing a fur coat and greeting fans. Each signed "S Shaw" in pencil on verso.
Fair condition. 9 1/4 x 13 1/2 in and 13 1/2 x 9 1/4 in
Estimate: US$2,500 - 3,500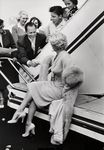 ---
Lot 4049: Marilyn Monroe photographs by Sam Shaw,
taken during the filming of The Seven Year Itch, 1954
In one, Marilyn wears a lacy slip and smiles directly at the camera while holding a hairdryer; in the other, Marilyn sits and smokes a cigarette in an apparent dressing room. One photograph signed in pencil on verso: "Sam Shaw," the other is stamped with a credit to Shaw.
Fair condition. 13 x 9 in
Estimate: US$2,500 - 3,500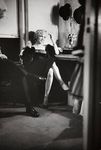 ---
Lot 4050: Candid snapshots of Marilyn Monroe taken in South Korea, 1954
9 black and white photos of Monroe while visiting soldiers in South Korea in 1954. She wears a flight jacket and combat boots and poses with a various soldiers. Together with an autograph letter signed ("Joseph D. Dominguez") by the consignor who took the photos while serving as a Private in the United States army: "It was Ferbuary 1954 ... and better yet, Marilyn Monroe came to Korea at this time to entertain the troops. I got to be one of her guards during her two day stay! I sneaked my cheapie camera into my field jacket and took several photos of her as I went about my guard duties ... I got to exchange small talk with Marilyn and found her to be genuinely warm, tender and beautiful. I wrote some of our small talk 'comments' on the back of the photos ... All photos are unpublished." Condition fair. 5 x 3 1/4 in
Estimate: US$600 - 900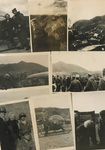 ---
Lot 4051: Marilyn Monroe snapshots, 1954
A group of 5 black and white snapshots taken on two different occasions while sitting in the rear of a car, identified in unknown hand as outside the St. Regis and the 21 Club.
Pictures taped to a single piece of paper, condition fair. 5 x 7 in (each snapshot)
Estimate: US$300 - 500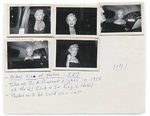 ---
Lot 4052: A contact sheet with candid images of Marilyn Monroe, 1955
A black and white contact sheet by photographer Bob Henriques, including four candid images of Mornoe wearing a lacy, white slip and blow drying her hair while looking out the window. Henriques was known for his candid images of famous people. Matted. 10 x 8 in (contact sheet only)
Estimate: US$400 - 600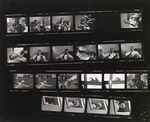 ---
Lot 4053: Marilyn Monore 3-D negatives, 1952, sold with photographer's copyright
A collection of 10 color three-dimensional negatives of Marilyn Monroe, taken by Lani Carlson in 1952 at a party thrown by bandleader Ray Anthony, celebrating the release of the song Marilyn, written by Ervin Drake and Jimmy Shirl. Carlson took these photos with a David White Stereo Realist Camera, a dual-lens camera that creates a three-dimensional effect when seen through a special viewer.
Carlson was hired as a sound engineer for the party, and had ample opportunity to take candid pictures of the actress that day. Wearing a hot pink cocktail dress that she also wore in her breakout film Niagara, Monroe arrived in a helicopter and proceeded to pose for photos with Anthony, Mickey Rooney, the helicopter pilot, a dog and alone in front of a blown-up piece of sheet music for the song.
A fantastic collection of Marilyn Monroe images.
In addition to the original negatives and the original viewer through which the 3-d effect can be experienced, this lot includes an Assignment of Copyrights document executed by Lani Carlson which states that he assigns all of his right, title and interest including worldwide copyrights in and to the photographic images to the auction buyer. For more information or to review the seller's copyright assignment document, please contact the department. Each slide 1 1/2 x 4 in
Estimate: US$70,000 - 90,000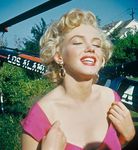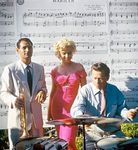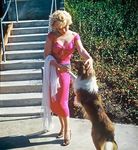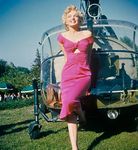 ---
Lot 4054: Limited edition printing of Marilyn Monroe photographs by Lani Carlson, 1952 (2011)
A group of 15 prints (8 color, 6 black and white) being special artist's editions printed in 2011, all signed in pencil by the artist on recto; set is all numbered 1/15; each additionally stamped on verso: "Photographed by Lani Carlson copyright 2011 reproduction forbidden all rights reserved by artist ID: LCA-MM)-01 ED# 1 of 15 Printed 10/14/11." A limited edition deluxe printing of the negatives offered in the previous lot. 20 x 16 in
Estimate: US$5,000 - 7,000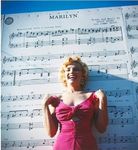 ---
Lot 4055: Marilyn Monroe telegram to director George Cukor, 1962
Western Union telegram stamped June 8, 1862: "Dear George. Please believe me it was not my doing. I had so looked forward to working with you. Warmly Marilyn."
Cukor and Monroe had worked together on the 1960 musical, Let's Make Love. Cukor admired Monroe's star quality and gift for comedy, but found her to be difficult, to say the least. Nonetheless, he signed on again two years later for what would be Monroe's final project: the never completed Something's Got To Give, a remake of the screwball comedy, My Favorite Wife. During filming of the latter, Monroe was frequently absent from the set or held up filming when she was there with her erratic work habits. She also left California in May to travel to New York and sing her infamous rendition of "Happy Birthday" to JFK. When Cukor had shot every scene not containing Monroe, and when she still did not appear on set, 20th Century Fox famously fired her on the morning of June 8, 1962. After receiving the news, Monroe sent this apologetic telegram to Cukor, but it made no difference. Less than two months later, she was found dead in her Brentwood home.
Light toning, right corner and margin torn (not affecting text). 8 1/2 x 11 1/2 in
Estimate: US$300 - 500

---
Lot 4093: A collection of movie stills, 1950s-1960s
Approximately 200, including scenes from On the Beach, The Revolt of the Slaves, Screaming Eagles, The Unholy Wife, The Story of Ruth, Stolen Hours, Penelope, The Violent People, Lock Up Your Daughters, The Scarlett Hours, The Empty Canvas and others, also including shots of Marilyn Monroe, Natalie Wood, Gregory Peck and other actors and actresses. Condition generally good. Various sizes
Estimate: US$100 - 150