17 février 2011
Norma Jeane pour l'agence Blue Book en 1946
dans les jardins de l'hôtel Ambassador
Photographies de Joseph Jasgur / Larry Kronquist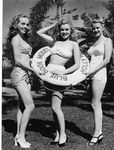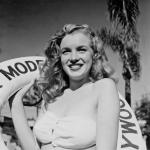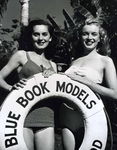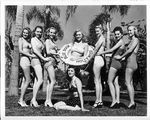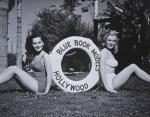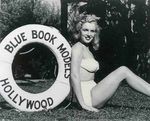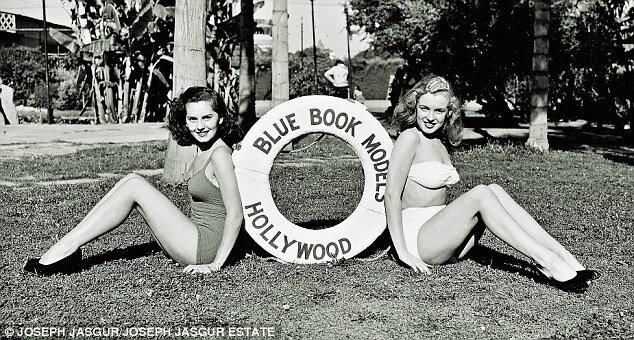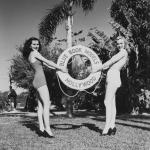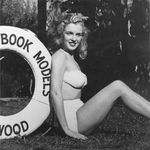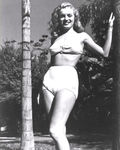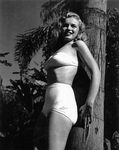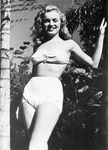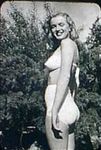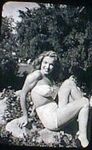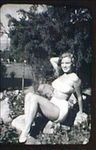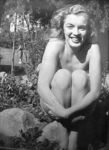 29 mai 2010
En 1946, l'agence de mannequin BlueBook organise un défilé à l'Ambassador Hotel à Hollywood: Norma Jean porte une robe longue de couleur bleu ciel pour le défilé filmé en couleur par Leo Caloia. Photographies de Larry Kronquist.

23 août 2008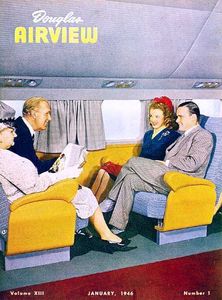 La toute première couverture de magazine de Marilyn Monroe est celle du Douglas Airview (une compagnie d'avion) datée de janvier 1946, publié par Douglas Aircraft, Volume 13, No.1. et contenant 24 pages.
Marilyn apparaît aussi à l'intérieur du magazine (où elle pose en combinaison de nuit pour promouvoir le nouvel avion DC-6 dans un article intitulé "Sky Luxury Showroom"), et d'autres clichés publicitaires seront publiés dans des numéros ultérieurs du magazine de la compagnie plus tard durant cette année là.
Les prises de vues de ces clichés eurent lieu à Santa Monica en décembre 1945 par Larry Kronquist. Contrat publicitaire par l'intermédiaire de l'agence de mannequin Blue Book.
The very first Marilyn Monroe magazine cover is that one of Douglas Airview (an aircraft company) dated in January 1946, published by Douglas Aircraft, Volume 13, No.1. and containing 24 pages.
Marilyn also appears inside the magazine (where she poses in a nightie to promote the new DC-6 aircraft in an article titled "Sky Luxury Showroom"), and other publicity shots will be published in subsequent issues of the company's magazine later during that year.
The shooting of these pictures took place in Santa Monica in December 1945 by Larry Kronquist. Advertising contract through the modeling agency Blue Book.

Certains clichés furent aussi publiés dans d'autres magazines,
comme cette page publicitaire provenant du Time Magazine du 8 avril 1946.
Et en moins d'un an, Norma Jean -future Marilyn Monroe- fera la couverture de 33 magazines nationaux américains.
Some pictures were also published in other magazines,
as this advertising page from Time Magazine in April, 8, 1946.
And in less than a year, Norma Jean - future Marilyn Monroe- will be on cover of 33 US national magazines.

D'après Clark Kidder, un collectionneur de Marilyn, qui publia le livre "Marilyn Memorabilia" - qui est une sorte de guide d'identification concernant tous les produits dérivés et autres objets de collection se rapportant à Marilyn Monroe avec leurs valeurs monétaires, publié chez Krause Publications, Iola, Wis.-:
"...le (magazine) Playboy est plutôt facile à trouver, mais le premier magazine où Marilyn en fit la couverture était le premier numéro du Douglas Airview de janvier 1946, un journal interne pour la company industrielle d'aviation Douglas. Ici, Marilyn et trois autres modèles posent par deux couples, vieux et jeune, savourant l'intérieur spacieux du nouvel avion DC-6. (...) Bien que la photo déserve le modèle (Marilyn étant vêtue d'une manière très conservatrice et à moitié cachée dans son siège à côté de son partenaire en premier plan), le magazine fut vendu à une enchère en ligne (ebay pour pas le citer) pour 2100 $."
According to Clark Kidder, a Marilyn's collector, who published the book "Marilyn Memorabilia" - which is a kind of a field guide on all derivatives and other collectibles related to Marilyn Monroe with their monetary values, published from Krause Publications, Iola, Wis.-:
"... the (magazine) Playboy is rather easy to find, but the first magazine where Marilyn was on the cover was the first number of Douglas Airview in 1946, January , an internal newspaper for the industrial company of Douglas aviation. Here, Marilyn and three other models pose by two couples, old and young, enjoying the spacious interior of the new aircraft DC-6. (...) Although the photo deserve the model (Marilyn is wearing a very conservative and half hidden in her seat next to her partner in the foreground), the magazine was sold in an online auction (ebay) for $ 2,100. "

> Douglas Airview, 1946, July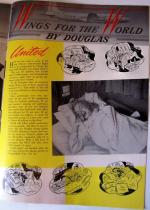 ---
>> Sources web:
article Marilyn Monroe Collectibles sur MountainStatesCollector
et article Marilyn First Cover
---
All photos are copyright and protected by their respective owners.
Copyright text by GinieLand.