19 juillet 2015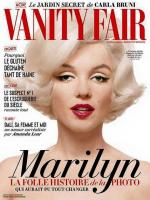 L'édition française du magazine Vanity Fair n°26, de août 2015 (sortie en kiosque le 22/07/2015) consacre Marilyn Monroe en couverture.
prix: 3,95 €
13 juillet 2015
---
Joseph Jasgur

---
Lot 865 MARILYN MONROE VINTAGE PHOTOGRAPH BY JOSEPH JASGUR
A vintage black and white image of Marilyn Monroe taken by Joseph Jasgur in 1946. The photograph is blind stamped "Joseph Jasgur/ Hollywood" in the lower right corner. A label with copyright information is affixed to verso. Accompanied by a typed signed letter from Jasgur relating the story of how he met and worked with Monroe.
Winning bid:$5,000 - Estimate: $400 - $600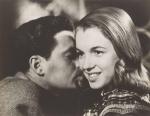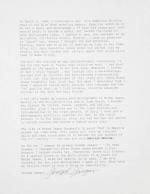 ---
Lot 866 MARILYN MONROE BLACK AND WHITE JOSEPH JASGUR PHOTOGRAPH
A black and white image of Marilyn Monroe taken by Joseph Jasgur in 1946, printed later with Jasgur's approval. Monroe is posed smiling with hand on hip beside a tripod.
Winning bid:$640 - Estimate: $200 - $400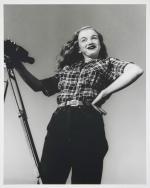 ---
Lot 867 MARILYN MONROE BLACK AND WHITE JOSEPH JASGUR PHOTOGRAPH
A black and white image of Marilyn Monroe taken by Joseph Jasgur in 1946, printed later with Jasgur's approval. Monroe is dressed in a plaid shirt and wide cuffed jeans.
Winning bid:$128 - Estimate: $200 - $400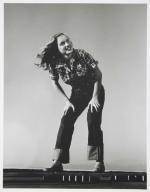 ---
Lot 868 MARILYN MONROE BLACK AND WHITE JOSEPH JASGUR PHOTOGRAPH
A black and white image of Marilyn Monroe taken by Joseph Jasgur in 1946, printed later with Jasgur's approval. The image shows Monroe in a plaid shirt smiling at the camera.
Winning bid:$192 - Estimate: $200 - $400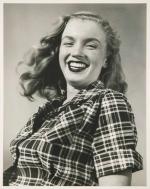 ---
Lot 869 MARILYN MONROE BLACK AND WHITE JOSEPH JASGUR PHOTOGRAPH
A black and white image of Marilyn Monroe taken by Joseph Jasgur in 1946, printed later with Jasgur's approval. The image shows Monroe standing in a plaid shirt with hands on hips.
Winning bid:$192 - Estimate: $200 - $400

---
Lot 870 MARILYN MONROE PHOTOGRAPH BY JOSEPH JASGUR
A black and white photograph of Marilyn Monroe taken by Joseph Jasgur in 1946. Gelatin silver print. Printed by the artist. Artist's stamp on mount verso.
Winning bid:$1,280 - Estimate: $600 - $800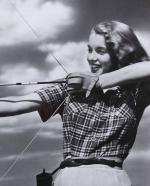 ---
Lot 871 MARILYN MONROE BLACK AND WHITE JOSEPH JASGUR PHOTOGRAPH
A black and white image of Marilyn Monroe taken by Joseph Jasgur in 1946, printed later with Jasgur's approval. The image shows Monroe standing in a plaid shirt with arms crossed.
Winning bid:$192 - Estimate: $200 - $400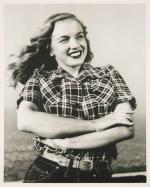 ---
Lot 872 MARILYN MONROE BLACK AND WHITE JOSEPH JASGUR PHOTOGRAPH
A black and white image of Marilyn Monroe taken by Joseph Jasgur in 1946, printed later with Jasgur's approval.
Winning bid:$128 - Estimate: $200 - $400

---
Lot 873 MARILYN MONROE BLACK AND WHITE JOSEPH JASGUR PHOTOGRAPH
A black and white image of Marilyn Monroe taken by Joseph Jasgur in 1946, printed later with Jasgur's approval. Monroe is posed smiling with a lens set on a tripod.
Winning bid:$128 - Estimate: $200 - $400

---
Lot 874 MARILYN MONROE BLACK AND WHITE JOSEPH JASGUR PHOTOGRAPH
A black and white image of Marilyn Monroe taken by Joseph Jasgur in 1946, printed later with Jasgur's approval. In the image, Monroe is holding the photographer's 4 by 5 Graflex camera.
Winning bid:$75 - Estimate: $200 - $400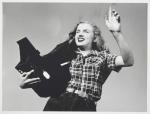 ---
Lot 875 MARILYN MONROE BLACK AND WHITE JOSEPH JASGUR PHOTOGRAPH
A black and white portrait image of Marilyn Monroe taken by Joseph Jasgur in 1946 on a Hollywood rooftop, printed later with Jasgur's approval.
Winning bid:$256 - Estimate: $200 - $400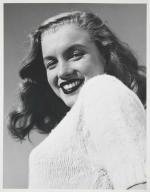 ---
Lot 876 MARILYN MONROE JOSEPH JASGUR NEGATIVE AND COPYRIGHT
A Joseph Jasgur black and white negative of Marilyn Monroe taken in 1946. Copyrights to this image will be transferred to the winning bidder. Accompanied by a photograph of the image, printed 2000–2001. Signed in ink lower right.
Winning bid:$5,625 - Estimate: $1,000 - $2,000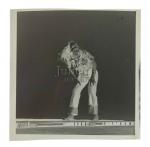 ---
Lot 877 MARILYN MONROE PHOTOGRAPHS BY JOSEPH JASGUR
Two black and white photographs of Marilyn Monroe taken by Joseph Jasgur in 1946. Gelatin silver prints. Printed by the artist. Each with artist's stamp on mount verso.
Winning bid:$384 - Estimate: $600 - $800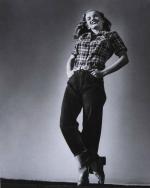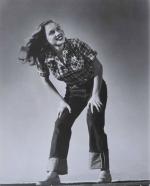 ---
Lot 878 MARILYN MONROE PHOTOGRAPH BY JOSEPH JASGUR
A black and white photograph of Marilyn Monroe taken by Joseph Jasgur in 1946 with infrared film. Gelatin silver print. Printed by the artist. Artist's copyright sticker on mount verso.
Winning bid:$896 - Estimate: $600 - $800

---
Lot 879 MARILYN MONROE BLACK AND WHITE JOSEPH JASGUR PHOTOGRAPH
A black and white image of Marilyn Monroe taken by Joseph Jasgur in 1946 on a Hollywood rooftop, printed later with Jasgur's approval.
Winning bid:$192 - Estimate: $200 - $400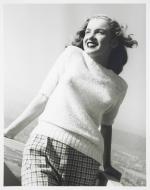 ---
Lot 880 MARILYN MONROE BLACK AND WHITE JOSEPH JASGUR PHOTOGRAPH
A black and white portrait image of Marilyn Monroe taken by Joseph Jasgur in 1946 in Hollywood, printed later with Jasgur's approval.
Winning bid:$192 - Estimate: $200 - $400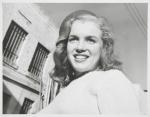 ---
Lot 881 MARILYN MONROE BLACK AND WHITE JOSEPH JASGUR PHOTOGRAPH
A black and white image of Marilyn Monroe taken by Joseph Jasgur in 1946, printed later with Jasgur's approval. Monroe was 19 when this photograph was taken.
Winning bid:$128 - Estimate: $200 - $400

---
Lot 882 MARILYN MONROE BLACK AND WHITE JOSEPH JASGUR PHOTOGRAPH
A black and white image of Marilyn Monroe taken by Joseph Jasgur in 1946, printed later with Jasgur's approval. The image shows Monroe standing on the roof of a Hollywood building.
Winning bid:$75 - Estimate: $200 - $400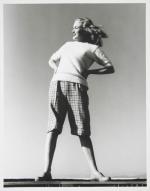 ---
Lot 883 MARILYN MONROE BLACK AND WHITE JOSEPH JASGUR PHOTOGRAPH
A black and white image of Marilyn Monroe taken by Joseph Jasgur in 1946 on a Hollywood rooftop, printed later with Jasgur's approval.
Winning bid:$192 - Estimate: $200 - $400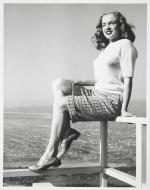 ---
Lot 884 MARILYN MONROE BLACK AND WHITE JOSEPH JASGUR PHOTOGRAPH
A black and white image of Marilyn Monroe taken by Joseph Jasgur in 1946, printed later with Jasgur's approval. In the image, Monroe is smiling to the camera after applying lipstick.
Winning bid:$192 - Estimate: $200 - $400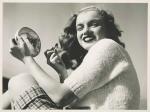 ---
Lot 885 MARILYN MONROE BLACK AND WHITE JOSEPH JASGUR PHOTOGRAPH
A black and white portrait image of Marilyn Monroe taken by Joseph Jasgur in 1946 in Hollywood, printed later with Jasgur's approval.
Winning bid:$192 - Estimate: $200 - $400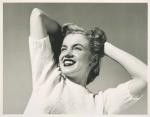 ---
Lot 886 MARILYN MONROE JOSEPH JASGUR COLOR PHOTOGRAPH
A color image of Marilyn Monroe taken by Joseph Jasgur in 1946 in Hollywood, printed later. Numbered 51/55 and printed with Jasgur's approval.
Winning bid:$320 - Estimate: $200 - $400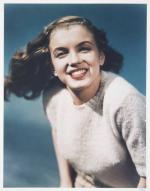 ---
Lot 887 MARILYN MONROE BLACK AND WHITE JOSEPH JASGUR PHOTOGRAPH
A black and white image of Marilyn Monroe taken by Joseph Jasgur in 1946 on a Hollywood rooftop, printed later with Jasgur's approval. In the image, a man appears to be about to push Monroe off the side of the roof.
Winning bid:$75 - Estimate: $200 - $400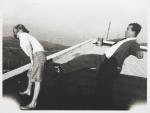 ---
Lot 888 MARILYN MONROE BLACK AND WHITE JOSEPH JASGUR PHOTOGRAPH
A black and white image of Marilyn Monroe taken by Joseph Jasgur in 1946 on a Hollywood rooftop, printed later with Jasgur's approval.
Winning bid:$75 - Estimate: $200 - $400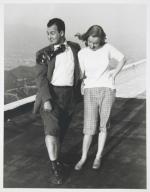 ---
Lot 889 MARILYN MONROE BLACK AND WHITE JOSEPH JASGUR PHOTOGRAPH
A black and white image of Marilyn Monroe taken by Joseph Jasgur in 1946, printed later with Jasgur's approval. In the image, Monroe is wearing a white two-piece bathing suit.
Winning bid:$320 - Estimate: $200 - $400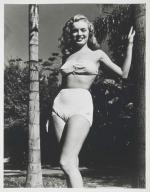 ---
Lot 890 MARILYN MONROE JOSEPH JASGUR COLOR PHOTOGRAPH
A color image of Marilyn Monroe taken by Joseph Jasgur in 1946 in Hollywood, printed later. The image shows Monroe standing on top of a building with blue sky as the background. Numbered 51/55 and printed with Jasgur's approval.
Winning bid:$128 - Estimate: $200 - $400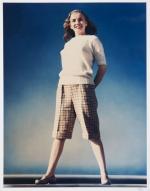 ---
Lot 891 MARILYN MONROE BLACK AND WHITE JOSEPH JASGUR PHOTOGRAPH
A black and white image of Marilyn Monroe taken by Joseph Jasgur in 1946, printed later with Jasgur's approval. The image shows Monroe standing on the roof of a Hollywood building.
Winning bid:$128 - Estimate: $200 - $400

---
Lot 892 MARILYN MONROE JOSEPH JASGUR NEGATIVE AND COPYRIGHT
A vintage black and white negative of Marilyn Monroe taken by Joseph Jasgur in 1946, accompanied by a print of the image printed in 2000-2001. Copyright to the image will be transferred to the winning bidder.
While the seller confirms that this property is sold with copyright, Julien's can accept no liability in relation to any matters arising as a result of any imperfection in copyright given.
Negative, approximately 2 1/2 by 2 3/8 inches; Photograph, 8 by 6 inches
PROVENANCE Partial Lot 539, "Icons & Idols: Hollywood," Julien's, Beverly Hills, December 1-2, 2011
Winning bid:$1,250 - Estimate: $2,000 - $3,000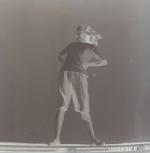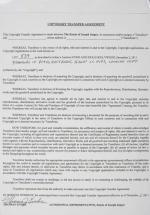 ---
Lot 893 MARILYN MONROE PHOTOGRAPHS BY JOSEPH JASGUR
Two black and white photographs of Marilyn Monroe taken by Joseph Jasgur in 1946. Gelatin silver prints, with artist's stamp on mount verso with 1987 copyright stamps.
Winning bid:$384 - Estimate: $600 - $800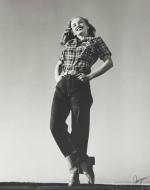 ---
Lot 894 MARILYN MONROE PHOTOGRAPHS BY JOSEPH JASGUR
Three black and white photographs of Marilyn Monroe taken by Joseph Jasgur in 1946. Prints are cropped from other images. Gelatin silver prints. Printed by the artist. The artist's blind stamp is at lower right on each print; artist's stamp on mount versos.
Winning bid:$562.50 - Estimate: $600 - $800




---
Lot 895 MARILYN MONROE BLACK AND WHITE JOSEPH JASGUR PHOTOGRAPH
A black and white image of Marilyn Monroe taken by Joseph Jasgur in 1946, printed later with Jasgur's approval. The image was taken during a session at Zuma Beach.
Winning bid:$128 - Estimate: $200 - $400

---
Lot 896 MARILYN MONROE BLACK AND WHITE JOSEPH JASGUR PHOTOGRAPH
A black and white image of Marilyn Monroe taken by Joseph Jasgur in 1946, printed later with Jasgur's approval. This photograph of Monroe comes from a session at Zuma Beach.
Winning bid:$75 - Estimate: $200 - $400

---
Lot 897 MARILYN MONROE BLACK AND WHITE JOSEPH JASGUR PHOTOGRAPH
A black and white image of Marilyn Monroe taken by Joseph Jasgur in 1946, printed later with Jasgur's approval. In the image, Monroe is sitting on the beach beside a heart she drew in the sand.
Winning bid:$192 - Estimate: $200 - $400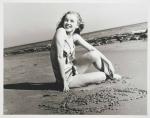 ---
Lot 898 MARILYN MONROE BLACK AND WHITE JOSEPH JASGUR PHOTOGRAPH
A black and white image of Marilyn Monroe taken by Joseph Jasgur in 1946, printed later with Jasgur's approval. The image shows Monroe at Zuma Beach in a blue and white two-piece bathing suit.
Winning bid:$256 - Estimate: $200 - $400

---
Lot 899 MARILYN MONROE JOSEPH JASGUR COLOR PHOTOGRAPH
A color image of Marilyn Monroe taken by Joseph Jasgur in 1946, printed later. The image shows Monroe at Zuma Beach with two other models. Monroe is wearing a blue and white two-piece, while her fellow models are dressed in early 20th century bathing costumes. Numbered 51/55 and printed with Jasgur's approval.
Winning bid:$192 - Estimate: $200 - $400

---
Lot 900 MARILYN MONROE BLACK AND WHITE JOSEPH JASGUR PHOTOGRAPH
A black and white photograph of Marilyn Monroe taken by Joseph Jasgur in 1946, printed later. The image shows Monroe at Zuma Beach with two other models. Monroe is wearing a two-piece bathing suit, while her fellow models are dressed in early 20th century bathing costumes.
Winning bid:$75 - Estimate: $200 - $400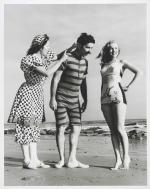 ---
Lot 901 MARILYN MONROE BLACK AND WHITE JOSEPH JASGUR PHOTOGRAPH
A black and white image of Marilyn Monroe taken by Joseph Jasgur in 1946, printed later with Jasgur's approval. This photograph shows Monroe with several other models during a session at Zuma Beach.
Winning bid:$75 - Estimate: $200 - $400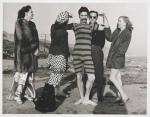 ---
Lot 902 MARILYN MONROE JOSEPH JASGUR COLOR PHOTOGRAPH
A color image of Marilyn Monroe taken by Joseph Jasgur in 1946 at Zuma Beach, printed later. The image shows Monroe standing on the beach in a striped bathing suit. Numbered 51/55 and printed with Jasgur's approval.
Winning bid:$128 - Estimate: $200 - $400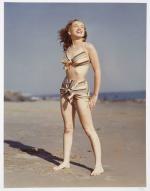 ---
Lot 903 MARILYN MONROE JOSEPH JASGUR COLOR PHOTOGRAPH
A color image of Marilyn Monroe taken by Joseph Jasgur in 1946, printed later. The image shows Monroe on a beach in a striped bathing suit. Numbered 51/55 and printed with Jasgur's approval.
Winning bid:$256 - Estimate: $200 - $400

---
Lot 904 MARILYN MONROE JOSEPH JASGUR COLOR PHOTOGRAPH
A color image of Marilyn Monroe taken by Joseph Jasgur in 1946, printed later. The image shows Monroe on a beach in a striped bathing suit. Numbered 51/55 and printed with Jasgur's approval.
Winning bid:$192 - Estimate: $200 - $400

---
Lot 905 MARILYN MONROE BLACK AND WHITE JOSEPH JASGUR PHOTOGRAPH
A black and white image of Marilyn Monroe taken by Joseph Jasgur in 1946, printed later with Jasgur's approval. In the image, Monroe is wearing a striped two-piece bathing suit and looking through a lens on the beach.
Winning bid:$128 - Estimate: $200 - $400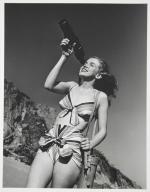 ---
Lot 906 MARILYN MONROE BLACK AND WHITE JOSEPH JASGUR PHOTOGRAPH
A black and white image of Marilyn Monroe taken by Joseph Jasgur in 1946, printed later with Jasgur's approval. In the image, Monroe is looking through a lens on the beach.
Winning bid:$128 - Estimate: $200 - $400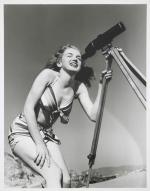 ---
Andre De Dienes

---
Lot 907 MARILYN MONROE VINTAGE PHOTOGRAPH BY ANDRE de DIENES
A black and white silver gelatin print of Marilyn Monroe taken by Andre de Dienes in 1945. Hand printed by de Dienes on double-weight paper and stamped by the photographer on verso. A handwritten notation on verso reads "16/16 Given to Clark Lewis Shirley de Dienes 11-18-86." Accompanied by a certificate of authenticity from OneWest Publishing.
Winning bid:$512 - Estimate: $600 - $800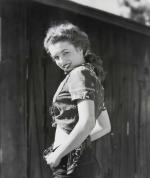 ---
Lot 908 MARILYN MONROE VINTAGE PHOTOGRAPH BY ANDRE de DIENES
A black and white silver gelatin print of Marilyn Monroe taken by Andre de Dienes in 1945. The image is of Monroe with her feet in the water. Hand printed by de Dienes on double-weight paper and stamped by the photographer on verso. Accompanied by a certificate of authenticity from OneWest Publishing.
Winning bid:$562.50 - Estimate: $600 - $800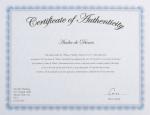 ---
Lot 909 MARILYN MONROE VINTAGE PHOTOGRAPH BY ANDRE de DIENES
A black and white silver gelatin print of Marilyn Monroe taken by Andre de Dienes in 1945. The image is of Monroe sitting at a fountain. Hand printed by de Dienes on double-weight paper and stamped by the photographer on verso. Accompanied by a certificate of authenticity from OneWest Publishing.
Winning bid:$512 - Estimate: $600 - $800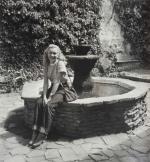 ---
Lot 910 MARILYN MONROE VINTAGE PHOTOGRAPH BY ANDRE de DIENES
A black and white silver gelatin print of Marilyn Monroe taken by Andre de Dienes in 1945. The image is of Monroe on the beach with her hair braided. Hand printed by de Dienes on double-weight paper and stamped by the photographer on verso. Accompanied by a certificate of authenticity from OneWest Publishing.
Winning bid:$1,280 - Estimate: $600 - $800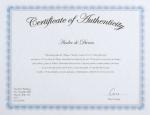 ---
Lot 911 MARILYN MONROE VINTAGE PHOTOGRAPH BY ANDRE de DIENES
A black and white silver gelatin print of Marilyn Monroe taken by Andre de Dienes in 1949. In the image, Monroe is holding her hands together as if in prayer. Hand printed by de Dienes on double-weight paper and hand stamped by the photographer on verso. Accompanied by a certificate of authenticity from OneWest Publishing.
Winning bid:$1,920 - Estimate: $800 - $1,200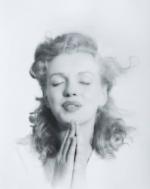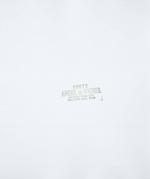 ---
Lot 912 MARILYN MONROE VINTAGE PHOTOGRAPH BY ANDRE de DIENES
A black and white silver gelatin print of Marilyn Monroe taken by Andre de Dienes in 1949. The image is of Monroe playing on the beach. Hand printed by de Dienes on double-weight paper and stamped by the photographer on verso. Accompanied by a certificate of authenticity from OneWest Publishing.
Winning bid:$384 - Estimate: $600 - $800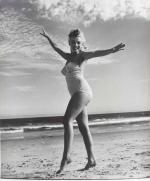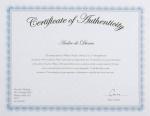 ---
Lot 913 MARILYN MONROE VINTAGE PHOTOGRAPH BY ANDRE de DIENES
A black and white silver gelatin print of Marilyn Monroe taken by Andre de Dienes in 1949. The image is of Monroe playing on the beach. Hand printed by de Dienes on double-weight paper and stamped by the photographer on verso. Accompanied by a certificate of authenticity from OneWest Publishing.
Winning bid:$2,240 - Estimate: $600 - $800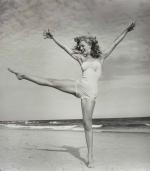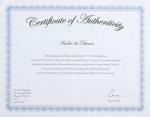 ---
Lot 914 MARILYN MONROE VINTAGE PHOTOGRAPH BY ANDRE de DIENES
A black and white silver gelatin print of Marilyn Monroe taken by Andre de Dienes in 1949. Hand printed by de Dienes on double-weight paper and stamped by the photographer on verso. Accompanied by a certificate of authenticity from OneWest Publishing.
Winning bid:$1,152 - Estimate: $600 - $800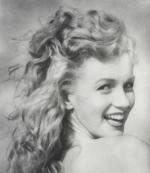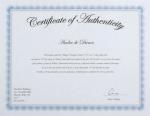 ---
Lot 915 MARILYN MONROE VINTAGE PHOTOGRAPH BY ANDRE de DIENES
A black and white silver gelatin print of Marilyn Monroe taken by Andre de Dienes in 1949. The image is of Monroe playing on the beach. Hand printed by de Dienes on double-weight paper and stamped by the photographer on verso. Accompanied by a certificate of authenticity from OneWest Publishing.
Winning bid:$1,280 - Estimate: $600 - $800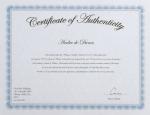 ---
Lot 916 MARILYN MONROE VINTAGE PHOTOGRAPH BY ANDRE de DIENES
A black and white silver gelatin print of Marilyn Monroe taken by Andre de Dienes in 1949. The image is of Monroe playing with an umbrella on the beach. Hand printed by de Dienes on double-weight paper and stamped by the photographer on verso. Accompanied by a certificate of authenticity from OneWest Publishing.
Winning bid:$1,024 - Estimate: $600 - $800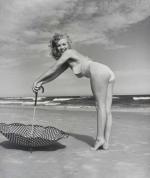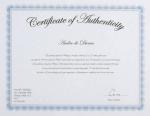 ---
Lot 917 MARILYN MONROE VINTAGE PHOTOGRAPH BY ANDRE de DIENES
A black and white silver gelatin print of Marilyn Monroe taken by Andre de Dienes in 1949. Hand printed by de Dienes on double-weight paper and stamped by the photographer on verso. A handwritten notation on verso reads "5/16 Given to Clark Lewis Shirley de Dienes 11-18-86." Accompanied by a certificate of authenticity from OneWest Publishing.
Winning bid:$1,600 - Estimate: $600 - $800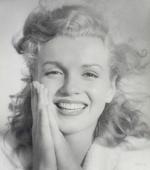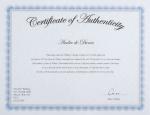 ---
Lot 918 MARILYN MONROE VINTAGE PHOTOGRAPH BY ANDRE de DIENES
A black and white silver gelatin print of Marilyn Monroe taken by Andre de Dienes in 1949, with number 2/6 printed on the bottom left and 1949 A.D. on the bottom right. Hand printed by de Dienes on double-weight paper and stamped by the photographer on verso. Accompanied by a certificate of authenticity from OneWest Publishing.
Winning bid:$1,600 - Estimate: $600 - $800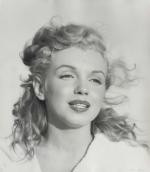 ---
Lot 919 MARILYN MONROE VINTAGE PHOTOGRAPH BY ANDRE de DIENES
A black and white silver gelatin print of Marilyn Monroe taken by Andre de Dienes in 1949. Hand printed by de Dienes on double-weight paper and stamped by the photographer on verso. Accompanied by a certificate of authenticity from OneWest Publishing.
Winning bid:$1,600 - Estimate: $600 - $800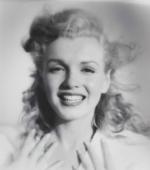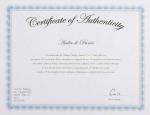 ---
Lot 920 MARILYN MONROE PHOTOGRAPHS BY ANDRE DE DIENES
Two black and white double-exposure photographs of Marilyn Monroe (circa 1946), both having photographer's stamp on verso. Approximately 11 by 14 inches each. Reference: Similar photographs from this session can be seen on pages 210-232 of de Dienes' book Marilyn (Taschen, 2002). De Dienes met 19-year-old aspiring model Norma Jeane Dougherty in 1945 after requesting a model from her agents at Blue Book Modeling for a then upcoming project. They immediately bonded and traveled together through the western states to capture Norma Jeane in various natural settings. During that trip, they became romantically involved and were briefly engaged. After their romance ended amicably, de Dienes continued to photograph Norma Jeane and well into her career as Marilyn Monroe. The chemistry between the two was undeniable; his work captured some of the finest images of the star. Many of the photographs can be seen in his book titled Andre de Dienes / Marilyn (Taschen, 2002).
Winning bid:$512 - Estimate: $1,000 - $2,000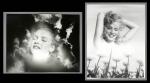 ---
Lot 921 MARILYN MONROE VINTAGE PHOTOGRAPH BY ANDRE de DIENES
A black and white silver gelatin print of Marilyn Monroe taken by Andre de Dienes in 1953. The image is of Monroe reading on an armchair. Hand printed by de Dienes on double-weight paper and stamped by the photographer on verso. Accompanied by a certificate of authenticity from OneWest Publishing.
Winning bid:$2,812.50 - Estimate: $600 - $800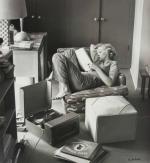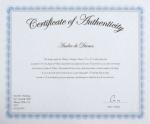 ---
Lot 922 MARILYN MONROE VINTAGE PHOTOGRAPH BY ANDRE de DIENES
A black and white silver gelatin print of Marilyn Monroe taken by Andre de Dienes in 1953. The image is of Monroe in the middle of her workout. Hand printed by de Dienes on double-weight paper and stamped by the photographer on verso. Accompanied by a certificate of authenticity from OneWest Publishing.
Winning bid:$1,024 - Estimate: $600 - $800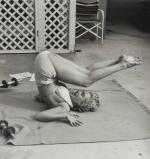 ---
Harol Lloyd

---
Lot 940 MARILYN MONROE PHOTOGRAPH BY HAROLD LLOYD (AMERICAN, 1893-1971)
A color photograph of Marilyn Monroe taken by Harold Lloyd at his estate titled "Poolside at Green Acres." Crystal archive print, number 2/25, Harold Lloyd Trust blind stamp in lower right corner. The photograph was taken circa 1952, printed in 2006 by the estate of Harold Lloyd, and is accompanied by a certificate of authenticity.
unsold - Estimate: $800 - $1,200

---
Lot 941 MARILYN MONROE PHOTOGRAPH BY HAROLD LLOYD (AMERICAN, (1893-1971)
A color photograph of Marilyn Monroe taken by Harold Lloyd titled "Love Songs." Crystal archive print, number 2/25, Harold Lloyd Trust blind stamp in lower right corner. The photograph was taken circa 1952 at Monroe's Beverly Hills apartment, printed in 2008 by the estate of Harold Lloyd, and is accompanied by a certificate of authenticity.
Winning bid:$1,000 - Estimate: $800 - $1,200

---
Lot 942 MARILYN MONROE PHOTOGRAPH BY HAROLD LLOYD (AMERICAN, 1893-1971)
A color photograph of Marilyn Monroe taken by Harold Lloyd titled "Pretty in Pink." Crystal archive print, number 4/25, Harold Lloyd Trust blind stamp in lower right corner. The photograph was taken circa 1952 at Monroe's Beverly Hills apartment, printed in 2005 by the estate of Harold Lloyd, and is accompanied by a certificate of authenticity.
Winning bid:$1,000 - Estimate: $800 - $1,200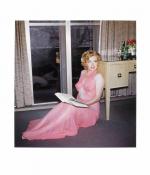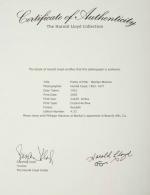 ---
Lot 943 MARILYN MONROE PHOTOGRAPH BY HAROLD LLOYD (AMERICAN, 1893-1971)
A color photograph of Marilyn Monroe taken by Harold Lloyd titled "The Set-up." Crystal archive print, number 2/25, Harold Lloyd Trust blind stamp in lower right corner. The photograph was taken circa 1952 during a photoshoot with Lloyd's friend and fellow photographer Philippe Halsman at Monroe's Beverly Hills apartment. Printed in 2005 by the estate of Harold Lloyd and accompanied by a certificate of authenticity.
Winning bid:$1,000 - Estimate: $800 - $1,200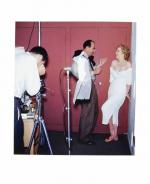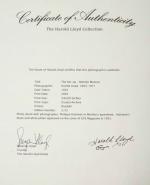 ---
Lot 944 MARILYN MONROE PHOTOGRAPH BY HAROLD LLOYD (AMERICAN, 1893-1971)
A color photograph of Marilyn Monroe taken by Harold Lloyd titled "Life Goddess." Crystal archive print, number 5/25, Harold Lloyd Trust blind stamp in lower right corner. The photograph was taken circa 1952 during a photoshoot with Lloyd's friend and fellow photographer Philippe Halsman at Monroe's Beverly Hills apartment. Halsman's similar photograph of Monroe in a similar pose appeared on the cover of LIFE magazine. Printed in 2005 by the estate of Harold Lloyd and accompanied by a certificate of authenticity.
Winning bid:$1,024 - Estimate: $800 - $1,200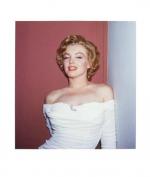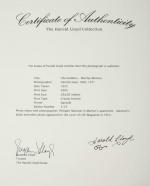 ---
Bruno Bernard

---
Lot 960: MARILYN MONROE BERNARD OF HOLLYWOOD PHOTOGRAPH
A limited edition large-format color photograph of Marilyn Monroe covering her hair with a rainbow-striped towel. Taken at the Palm Springs Racquet Club during the same trip during which Monroe met Johnny Hyde, vice president of the William Morris Agency, an encounter that led to a seven-year contract with Fox Studios. Numbered 8/90 and signed by the Estate of Bruno Bernard to the lower margin.
PROVENANCE From the Estate of Bruno Bernard
Winning bid:$3,840 - Estimate: $3,000 - $5,000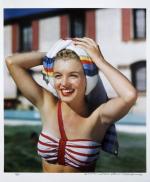 ---
Lot 961: MARILYN MONROE BERNARD OF HOLLYWOOD PHOTOGRAPH
A limited edition large-format color photograph of Marilyn Monroe kneeling poolside in a bathing suit bandaging a dog's paw. Numbered 6/90 and signed by the Estate of Bruno Bernard to the lower margin.
PROVENANCE From the Estate of Bruno Bernard
unsold - Estimate: $3,000 - $5,000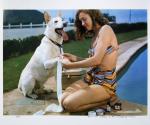 ---
Lot 962: MARILYN MONROE BERNARD OF HOLLYWOOD PHOTOGRAPH
A limited edition large format color photograph of Marilyn Monroe in a blue swimsuit lying on a diving board. Taken at the Palm Springs Racquet Club during the same trip during which Monroe met Johnny Hyde, the vice president of the William Morris Agency, an encounter which led to a seven-year contract with Fox Studios. Numbered 2/50 and signed by the Estate of Bruno Bernard to the lower margin.
PROVENANCE From the Estate of Bruno Bernard
Winning bid:$4,160 - Estimate: $3,000 - $4,500

---
Lot 963: MARILYN MONROE BERNARD OF HOLLYWOOD PHOTOGRAPH
A limited edition large-format color photograph of Marilyn Monroe in a blue swimsuit standing on a diving board. Taken at the Palm Springs Racquet Club during the same trip when Monroe met Johnny Hyde, vice president of the William Morris Agency, an encounter that led to a seven-year contract with Fox Studios. Numbered 3/50 and signed by the estate of Bruno Bernard to the lower margin.
PROVENANCE From the Estate of Bruno Bernard
unsold - Estimate: $3,000 - $4,500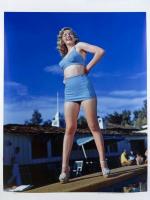 ---
Lot 964: MARILYN MONROE BERNARD OF HOLLYWOOD PHOTOGRAPH
A limited edition extra-large-format color photograph of Marilyn Monroe lounging in the screening room at 20th Century Fox while wearing her iconic white dress from the film The Seven Year Itch (Feldman Group, 1955). Numbered 5/50 and signed by the Estate of Bruno Bernard to the lower margin.
PROVENANCE From the Estate of Bruno Bernard
Winning bid:$4,160 - Estimate: $3,000 - $5,000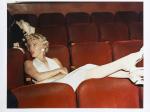 ---
Lot 965: MARILYN MONROE BERNARD OF HOLLYWOOD PHOTOGRAPH
A limited edition large-format color photograph of Marilyn Monroe receiving makeup from "Whitey" Snyder. Monroe is wearing her iconic white dress from the film The Seven Year Itch (Feldman Group, 1955). Numbered 6/90 and signed by the Estate of Bruno Bernard to the lower margin.
PROVENANCE From the Estate of Bruno Bernard
Winning bid:$4,375 - Estimate: $3,000 - $5,000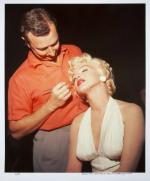 ---
Lot 966: MARILYN MONROE BERNARD OF HOLLYWOOD PHOTOGRAPH
A vintage gelatin silver photograph of Marilyn Monroe taken in 1946 around the same time that she changed her name from Norma Jeane. Signed in pencil on the verso "Bernard of Hollywood" by photographer Bruno Bernard.
PROVENANCE From the Estate of Bruno Bernard
Winning bid:$7,500 - Estimate: $6,000 - $8,000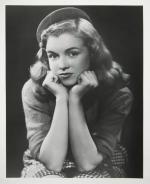 ---
Lot 967: MARILYN MONROE BERNARD OF HOLLYWOOD PHOTOGRAPH
A vintage gelatin silver photograph of Marilyn Monroe wiping her tears. Taken on the same day Monroe announced to the press that she and husband Joe DiMaggio would divorce. Signed in pencil on the verso "Bernard of Hollywood" by photographer Bruno Bernard.
PROVENANCE From the Estate of Bruno Bernard
Winning bid:$6,400 - Estimate: $5,000 - $7,000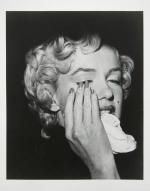 ---
Lot 968: MARILYN MONROE BERNARD OF HOLLYWOOD PHOTOGRAPH
A limited edition large-format gelatin silver photograph of Marilyn Monroe smiling while at a party thrown in her honor by bandleader Ray Anthony. Numbered 8/90 and signed from the Estate of Bruno Bernard to the lower margin.
PROVENANCE From the Estate of Bruno Bernard
Winning bid:$3,520 - Estimate: $2,000 - $4,000

---
Lot 969: MARILYN MONROE BERNARD OF HOLLYWOOD PHOTOGRAPH
A vintage gelatin silver photograph of Marilyn Monroe standing above a subway grate with her white dress billowing upward. The image, from her most iconic series of photographs, shows Monroe posed in costume for her role as "The Girl" in The Seven Year Itch (Feldman Group, 1955). Signed in pencil on the verso "Bernard of Hollywood" by photographer Bruno Bernard.
PROVENANCE From the Estate of Bruno Bernard
Winning bid:$40,625 - Estimate: $10,000 - $20,000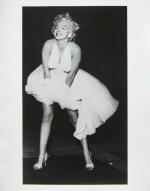 ---
Bus Stop

---
Lot 975: MARILYN MONROE BUS STOP NEGATIVES AND COPYRIGHTS
A group of four vintage Marilyn Monroe negatives taken by Milton Greene on the set of of Bus Stop (20th Century, 1956). The black and white images show Monroe and co-star Don Murray in a bedroom. Murray has been quoted as saying that Monroe was nude under the sheets because she felt that was what her character would do. Kodak Safety Film negatives, accompanied by copyrights to the images.
While the seller confirms that this property is sold with copyright, Julien's can accept no liability in relation to any matters arising as a result of any imperfection in copyright given.
Winning bid:$4,160 - Estimate: $1,500 - $2,500



---
Lot 976: MARILYN MONROE BUS STOP NEGATIVES AND COPYRIGHTS
A group of three vintage Marilyn Monroe negatives taken by Milton Greene on the set of of Bus Stop (20th Century, 1956). The black and white images show Monroe on a bus. Kodak Safety Film negatives, accompanied by copyrights to the image.
While the seller confirms that this property is sold with copyright, Julien's can accept no liability in relation to any matters arising as a result of any imperfection in copyright given.
Winning bid:$640 - Estimate: $1,000 - $2,000


---
Lot 977: MARILYN MONROE MILTON GREENE NEGATIVE AND COPYRIGHT
A vintage black and white negative of Marilyn Monroe taken by Milton Greene on the set of Bus Stop (20th Century, 1956). The image shows Monroe in costume as her character, Chérie posing with the children of her co-star, Eileen Heckart. Kodak Safety Film negative, accompanied by copyright to the image.
While the seller confirms that this property is sold with copyright, Julien's can accept no liability in relation to any matters arising as a result of any imperfection in copyright given.
Winning bid:$1,250 - Estimate: $800 - $1,200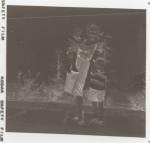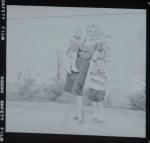 ---
Lot 978: MARILYN MONROE BUS STOP NEGATIVES AND COPYRIGHTS
A group of six vintage Marilyn Monroe negatives taken by Milton Greene on the set of Bus Stop (20th Century, 1956). The black and white images show Monroe, co-star Don Murray and others on set during filming. Accompanied by copyrights to the images.
While the seller confirms that this property is sold with copyright, Julien's can accept no liability in relation to any matters arising as a result of any imperfection in copyright given.
unsold - Estimate: $1,000 - $2,000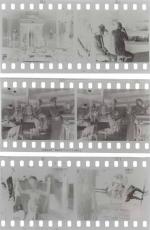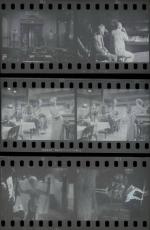 ---
Lot 979: MARILYN MONROE BUS STOP NEGATIVES AND COPYRIGHTS
A group of three vintage Marilyn Monroe negatives taken by Milton Greene on the set of Bus Stop (20th Century, 1956). The black and white images show Monroe in a scene on a bus. Kodak Safety Film negatives, accompanied by copyrights to the images.
While the seller confirms that this property is sold with copyright, Julien's can accept no liability in relation to any matters arising as a result of any imperfection in copyright given.
Winning bid:$768 - Estimate: $1,000 - $2,000



---
Lot 980: MARILYN MONROE VINTAGE BUS STOP PUBLICITY PHOTOGRAPH
A vintage black and white publicity photograph of Marilyn Monroe taken by Milton Greene. The photograph shows Monroe in her role as Chérie in the film Bus Stop (20th Century, 1956). Notations in pencil on verso and stamped "Aug 20 1956."
Winning bid:$576 - Estimate: $800 - $1,200

---
Lot 981: MARILYN MONROE VINTAGE BUS STOP PUBLICITY PHOTOGRAPH
A vintage black and white publicity photograph of Marilyn Monroe taken by Milton Greene. The photograph shows Monroe in her role as Chérie in the film Bus Stop (20th Century, 1956). Notations in pencil on verso.
Winning bid:$512 - Estimate: $800 - $1,200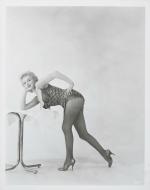 ---
The Misfits
---
Lot 1015: MARILYN MONROE PHOTOGRAPH ON THE SET OF THE MISFITS
A vintage black and white of Marilyn Monroe with Manfred Kreiner on the set of The Misfits (Seven Arts, 1961). A stamp on verso reads "Revue/ New York Office/ Freifoto" with additional notation written in pencil in an unknown hand.
Winning bid:$512 - Estimate: $600 - $800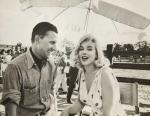 ---
Lot 1016: THE MISFITS NEGATIVES AND COPYRIGHTS
A group of five negatives taken on the set of The Misfits (Seven Arts, 1961). The Misfits , written by Marilyn Monroe's then husband, Arthur Miller, was directed by John Huston and starred Monroe, Clark Gable, and Montgomery Clift. It was the final completed film appearance for both Gable and Monroe. The photographs offered here were taken on the Nevada set of the film by Thomas Kaminski. Together with contact prints of the negatives. Rights to these images will be transferred to the winning bidder.
While the seller confirms that this property is sold with copyright, Julien's can accept no liability in relation to any matters arising as a result of any imperfection in copyright given.
Winning bid:$512 - Estimate: $800 - $1,200


---
Lot 1017: THE MISFITS NEGATIVES AND COPYRIGHTS
A group of five negatives taken on the set of The Misfits (Seven Arts, 1961). The Misfits , written by Marilyn Monroe's then husband, Arthur Miller, was directed by John Huston and starred Monroe, Clark Gable, and Montgomery Clift. It was the final completed film appearance for both Gable and Monroe. The photographs offered here were taken on the Nevada set of the film by Thomas Kaminski. Together with four contact prints of the negatives. Rights to these images will be transferred to the winning bidder.
While the seller confirms that this property is sold with copyright, Julien's can accept no liability in relation to any matters arising as a result of any imperfection in copyright given.
Winning bid:$ 512 - Estimate: $800 - $1,000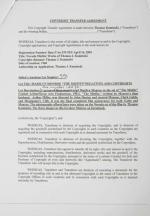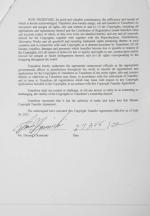 ---
Lot 1018: CLARK GABLE PHOTOGRAPH BY EVE ARNOLD
A vintage black and white photograph of Clark Gable taken on the set of The Misfits (Seven Arts, 1961) by Eve Arnold. The image has red grease pencil markings for an unknown purpose. An Eve Arnold copyright stamp is on verso with an additional archive stamp.
Winning bid:$320 - Estimate: $400 - $600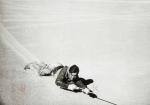 ---
Lot 1019: MARILYN MONROE AND CLARK GABLE PHOTOGRAPH BY CORNELL CAPA
A vintage black and white image of Marilyn Monroe and Clark Gable on the set of The Misfits (Seven Arts, 1961) taken by Cornell Capa. A red grease pencil line is on the image for an unknown purpose. A Cornell Capa copyright stamp is on verso with multiple handwritten notations.
Winning bid:$768 - Estimate: $400 - $800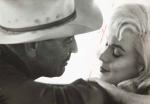 ---
Lot 1020: CLARK GABLE THE MISFITS SCRIPT & SIGNED PHOTOGRAPH
A Clark Gable photograph inscribed "To Arthur Jr./ Best of luck always/ Clark Gable." The vintage black and white image shows Gable in his final role as Gay Langland in The Misfits (Seven Arts, 1961). Together with a Misfits script. Both were given to Arthur Rosson Jr. on the last day of filming The Misfits, four days before Gable suffered a heart attack and 10 days before Gable's death, making it possible that this was the last autograph signed by Gable. Rosson met and became friends with Gable on the set of the film. Rosson's uncle and father both had worked with Gable in the film industry. Accompanied by a letter of authenticity from Rosson.
Winning bid:$2,560 - Estimate: $2,000 - $4,000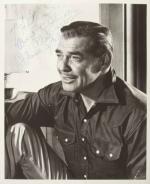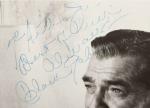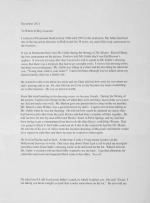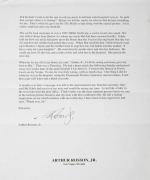 ---
Lot 1021: CLARK GABLE PHOTOGRAPH BY EVE ARNOLD
A vintage black and white photograph of Clark Gable taken on the set of The Misfits (Seven Arts, 1961) by Eve Arnold. An Eve Arnold copyright stamp is on verso with an additional archive stamp.
Winning bid:$320 - Estimate: $400 - $600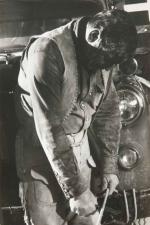 ---
Lot 1022: CLARK GABLE PHOTOGRAPH BY EVE ARNOLD
A vintage black and white photograph of Clark Gable taken on the set of The Misfits (Seven Arts, 1961) by Eve Arnold. An Eve Arnold copyright stamp is on verso with an additional archive stamp.
unsold - Estimate: $400 - $600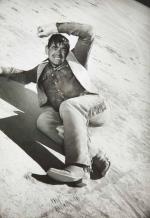 ---
Lot 1023: MARILYN MONROE AND CLARK GABLE PHOTOGRAPH BY EVE ARNOLD
A vintage black and white photograph of Marilyn Monroe and Clark Gable on the set of The Misfits (Seven Arts, 1961) taken by Eve Arnold. Two red grease pencil marks appear to indicate cropping above and below Gable on the photograph. A photographer and archive stamp are on verso with additional handwritten notations.
Winning bid:$768 - Estimate: $400 - $800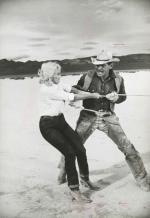 ---
Lot 1024: MARILYN MONROE AND CLARK GABLE PHOTOGRAPH
A black and white photograph of Marilyn Monroe and Clark Gable on the set of The Misfits (Seven Arts, 1961) taken by Inge Morath. The image was printed in 1972 to be included in the book Marilyn: A Biography by Norman Mailer (New York: Grosset & Dunlap, 1973). Mounted to a layout board with handwritten notations.
PROVENANCE From the Polaris Archives of Lawrence Schiller
unsold - Estimate: $5,000 - $7,000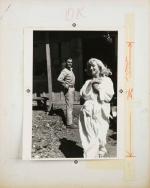 ---
Lot 1025: MARILYN MONROE'S PERSONAL COPY OF THE MISFITS BEHIND-THE-SCENES FILM
A 16mm reel of behind-the-scenes footage shot on the set of The Misfits (Seven Arts, 1961). The reel comes with the original envelope that is addressed to Marilyn Monroe from United Artists. Notes on the envelope read "16mm publicity" and "The Misfits/ film for Foreign Screening." Accompanied by a document from UA titled "The Making of 'The Misfits'/ (Narration for a 20-minute featurette)" with a personal note to Monroe affixed to the cover page.
The film begins with Monroe arriving in Reno, Nevada, with husband Arthur Miller and being received at the airport, then driving through Reno. The next scene appears to be a press conference with Monroe and co-stars Clark Gable, Montgomery Clift, Eli Wallach, Kevin McCarthy, and Thelma Ritter, director John Huston, and Miller.
The approximately 19-minute film goes on to show a variety of behind-the-scenes activities of the cast and crew beginning with the filming of Monroe and Ritter in a street scene that was cut from the final version of the film.
Other segments include Monroe at Harrah's Casino taking refreshment with Ritter, Huston, and a dog Monroe attempts to feed; the cast on location; street filming in Reno with the cast in a vehicle followed by a parade of observers; Monroe signing autographs; Monroe greeting and getting on a horse; shots of the cast being filmed riding together; aerial images of the set; a baseball game being played on set; a football being tossed on set with Miller and Huston joining in the game; and Monroe lounging with two other women on the hood of a car. The last part of the film shows the filming of a Misfits scene where Monroe is swimming and playing with a dog in the water. The very last image is of Monroe running from the water to embrace Gable. No audio. Accompanied by a DVD copy of the film.
Diameter, 8 1/4 inches
PROVENANCE From the Lost Archive of Marilyn Monroe
Winning bid:$7,500 - Estimate: $4,000 - $6,000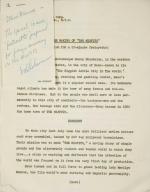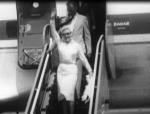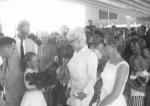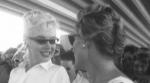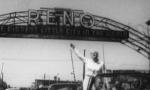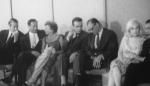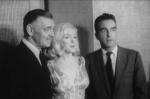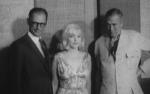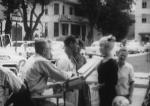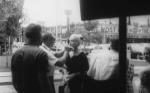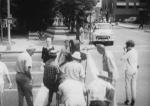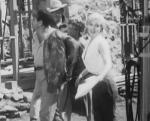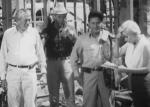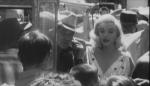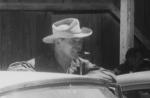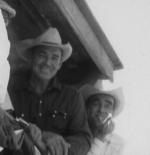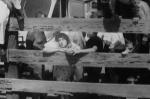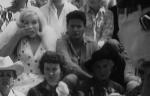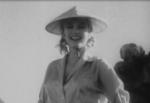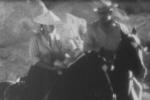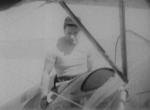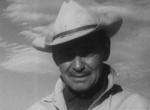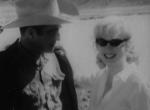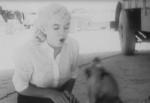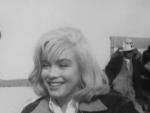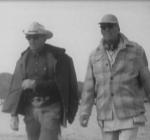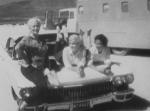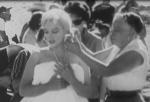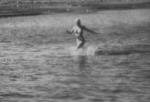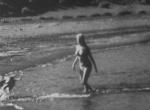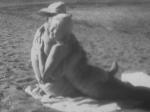 ---
Photos Diverses
---
Lot 923 MARILYN MONROE PHOTOGRAPH AS A CHILD
A black and white photographic print of Marilyn Monroe, née Norma Jean Baker. Printed on the bottom right "F999-S-492."
Winning bid:$1,250 - Estimate: $800 - $1,200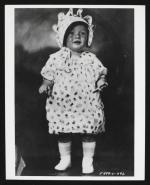 ---
Lot 924 MARILYN MONROE 1951 PHOTOGRAPH
A Marilyn Monroe vintage original photograph taken by Phil Burchman circa 1951. Believed to be taken for 20th Century Fox publicity photographs. Marked at lower right "F999-S-259."
PROVENANCE From the Lost Archive of Marilyn Monroe
Winning bid:$576 - Estimate: $300 - $500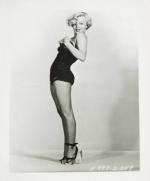 ---
Lot 929 MARILYN MONROE GENTLEMEN PREFER BLONDES PUBLICITY PHOTOGRAPH
A vintage black and white publicity photograph of Marilyn Monroe for the film Gentlemen Prefer Blondes (20th Century, 1953). Notations in pencil on verso.
Winning bid:$448 - Estimate: $800 - $1,200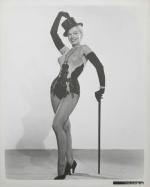 ---
Lot 931 MARILYN MONROE "A NEW WRINKLE" PHOTOGRAPH
A photograph of Marilyn Monroe signed by photographer Tom Kelley. This image is popularly titled "A New Wrinkle." Monroe sat for Kelley in 1949 for what has come to be known as "The Red Velvet Session." Kelley has signed the image in the lower right and numbered it 55/95 in the lower left. Housed in a frame; not examined outside of frame.
Winning bid:$2,187.50 - Estimate: $1,000 - $2,000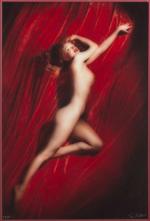 ---
Lot 950: MARILYN MONROE VINTAGE PHOTOGRAPH
A Marilyn Monroe vintage black and white photograph.
PROVENANCE From the Lost Archive of Marilyn Monroe
Winning bid:$768 - Estimate: $600 - $800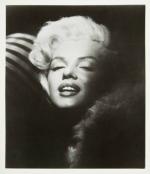 ---
Lot 951: MARILYN MONROE VINTAGE PUBLICITY PHOTOGRAPH
A vintage black and white publicity photograph of Marilyn Monroe. Photo Files stamp and notations on verso.
Winning bid:$750 - Estimate: $800 - $1,200

---
Lot 952: MARILYN MONROE PRINTS BY GEORGE BARRIS
A set of three photographic prints of Marilyn Monroe, each printed in a limited edition of 50 and signed by George Barris on the lower right. The photographs were taken on the set of Seven Year Itch (20th Century Fox, 1955). Silver gelatin prints, printed on double-weight fiber paper under the guidance and approval of Barris by One West Publishing. Each print is stamped on verso with the edition number and is accompanied by a letter of authenticity from OneWest Publishing.
Winning bid:$1,152 - Estimate: $1,500 - $3,000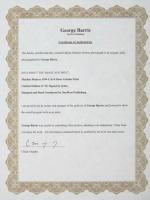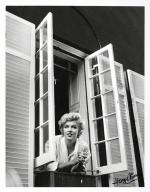 ---
Lot 953: MARILYN MONROE AND MILTON BERLE CONTACT SHEET
A vintage black and white contact sheet of images showing Marilyn Monroe and Milton Berle at a 1955 Friars Club banquet taken by Milton Greene. Of 36 total frames, several are obscured. Marked on verso "MG 329 /5" in an unknown hand.
Winning bid:$576 - Estimate: $400 - $800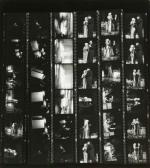 ---
Lot 954: JOE DiMAGGIO PUBLICITY PHOTOGRAPH
A vintage black and white image of Joe DiMaggio signing a baseball.
PROVENANCE From the Lost Archive of Marilyn Monroe
Winning bid:$75 - Estimate: $150 - $300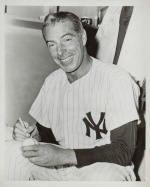 ---
Lot 956: MARILYN MONROE KOREA VISIT PHOTOGRAPHS
A pair of vintage original black and white photographs of Marilyn Monroe dining with troops in Korea in 1954. Also present is an image of a band performing on stage.
PROVENANCE From the Lost Archive of Marilyn Monroe
Winning bid:$640 - Estimate: $400 - $600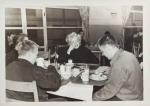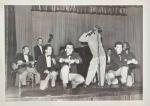 ---
Lot 957: MARILYN MONROE AND JOE DiMAGGIO PHOTOGRAPH CUT IN HALF
An original vintage photograph of Marilyn Monroe and Joe DiMaggio taken while on their honeymoon in Japan. The photograph has been cut in half directly between the couple.
PROVENANCE From the Lost Archive of Marilyn Monroe
Winning bid:$1,152 - Estimate: $1,000 - $2,000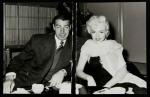 ---
Lot 970: MARILYN MONROE "THE PIANO SITTING" CONTACT SHEET
A vintage black and white contact sheet showing 24 frames of Marilyn Monroe and Maurice Chevalier from "The Piano Sitting" in 1955 by Milton Greene. One image is marked in red grease pencil; marked "A" on verso.
Winning bid:$1,600 - Estimate: $400 - $600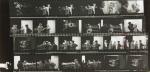 ---
Lot 971: MARILYN MONROE PARTIAL CONTACT SHEET
A vintage black and white partial contact sheet of eight frames taken by Milton Greene in 1955 of Marilyn Monroe and Maurice Chevalier from "The Piano Sitting."
Winning bid:$320 - Estimate: $200 - $400


---
Lot 972: MARILYN MONROE AND MARLON BRANDO PHOTOGRAPH BY MILTON GREENE
A black and white original photograph of Marilyn Monroe and Marlon Brando taken by Milton Greene in 1955. Brando is kneeling before Monroe draping an "Actors' Studio Benefit Usher" sash across her chest. Artist's stamp on verso, signed by Greene and dated "3-21-80."
unsold - Estimate: $600 - $800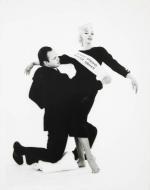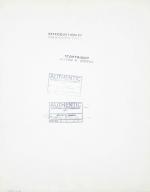 ---
Lot 973: MARILYN MONROE MMP ANNOUNCEMENT CONTACT SHEET
A vintage black and white partial contact sheet of images believed to have been taken by Milton Greene at the 1955 announcement of the formation of Marilyn Monroe Productions, Inc. The sheet has The sheet has 34 frames and a grease pencil marking in blue; numeric notation on verso.
Winning bid:$1,152 - Estimate: $500 - $700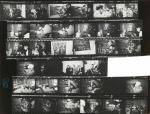 ---
Lot 982: MARILYN MONROE CECIL BEATON PHOTOGRAPH
A black and white vintage photograph of Marilyn Monroe taken by Cecil Beaton in 1956. The photograph is mounted to board.
PROVENANCE From the Lost Archive of Marilyn Monroe
Winning bid:$1,152 - Estimate: $1,000 - $2,000

---
Lot 983: MARILYN MONROE PHOTOGRAPH BY MANFRED KREINER
A vintage black and white photograph of Marilyn Monroe taken by Manfred Kreiner in 1959 while Monroe visited Chicago to promote her latest film Some Like It Hot (UA, 1959). Photographer's stamp on verso with publicity snipe affixed with tape.
Winning bid:$640 - Estimate: $1,000 - $2,000

---
Lot 984: MARILYN MONROE AND ARTHUR MILLER PHOTOGRAPH BY MANFRED KREINER
A vintage black and white photograph of Marilyn Monroe and Arthur Miller taken by Manfred Kreiner at the premiere of Some Like It Hot (UA, 1959). Photographer and archive stamp on verso.
Winning bid:$512 - Estimate: $1,000 - $2,000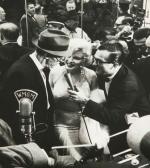 ---
Lot 985: MARILYN MONROE AND ARTHUR MILLER VINTAGE PHOTOGRAPH
A Marilyn Monroe and Arthur Miller black and white vintage original photograph. Taken by Paul Schumach at the premiere of Some Like It Hot (UA, 1959). Photographer stamp on verso.
PROVENANCE From the Lost Archive of Marilyn Monroe
Winning bid:$2,187.50 - Estimate: $600 - $800

---
Lot 988: MARILYN MONROE CONTACT SHEET
A contact sheet of images showing Marilyn Monroe with Laurence Olivier and Terence Rattigan taken by Milton Greene from a publicity photo session in 1956 for the film The Prince and the Showgirl (Warner Bros., 1957). Rattigan wrote the screenplay for the film based on his stage play The Sleeping Prince . Photographer's stamp on verso.
Winning bid:$1,280 - Estimate: $400 - $600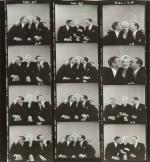 ---
Lot 991: MARILYN MONROE ORIGINAL VINTAGE PHILIPPE HALSMAN PHOTOGRAPH
An original vintage black and white photograph of Marilyn Monroe taken by Philippe Halsman. Photographers stamps and handwritten notations on verso. This photograph was used on Monroe's first LIFE magazine cover in April 1952.
PROVENANCE Gift from Philippe Halsman to Lawrence Schiller
Winning bid:$10,240 - Estimate: $5,000 - $7,000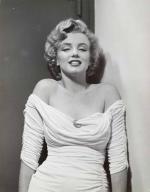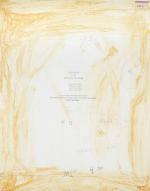 ---
Lot 992: MARILYN MONROE PHOTOGRAPH LAYOUT SHEET
A layout sheet of four Marilyn Monroe color photographs by photographers Milton Greene (two), Eve Arnold, and Lawrence Schiller. The images were used in the book Marilyn: A Biography by Norman Mailer (New York: Grosset & Dunlap, 1973). Notations and crop marks on each of the images; additional notations on verso.
PROVENANCE From the Personal Archives of Lawrence Schiller
unsold - Estimate: $5,000 - $7,000

---
Lot 993: MARILYN MONROE PHOTOGRAPHS BY JOHN BRYSON
A pair of Marilyn Monroe black and white photographs taken by John Bryson in 1960 for LIFE magazine. The photographs were printed in 1972 to be included in the book Marilyn: A Biography by Norman Mailer (New York: Grosset & Dunlap, 1973). Each photograph is mounted to a layout board with various notations.
PROVENANCE From the Polaris Archives of Lawrence Schiller
Winning bid:$9,375 - Estimate: $8,000 - $10,000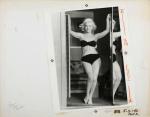 ---
Lot 994: MARILYN MONROE PHOTOGRAPHS BY SAM SHAW
A pair of photographs of Marilyn Monroe taken by Sam Shaw, marked on verso "Sam Shaw ('56)." The photographs were printed in 1972 to be included in the book Marilyn: A Biography by Norman Mailer (New York: Grosset & Dunlap, 1973). Accompanied by original mounting board with notations on the size of the images.
PROVENANCE From the Polaris Archives of Lawrence Schiller
unsold - Estimate: $8,000 - $10,000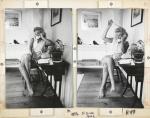 ---
Lot 997: MARILYN MONROE ORIGINAL JACK CARDIFF PHOTOGRAPHS
A group of three Marilyn Monroe original black and white photographs taken during the filming of The Prince and the Showgirl (Warner Bros., 1957) by cinematographer Jack Cardiff. All are housed in silver tone frames, and each bears an original Christie's lot sticker from the 1999 Monroe auction.
Each 20 1/4 by 16 1/4 inches, framed
PROVENANCE Lot 347, "The Personal Property of Marilyn Monroe," Christie's, New York, Sale number 9216, October 27 & 28, 1999
Winning bid:$37,500 - Estimate: $10,000 - $20,000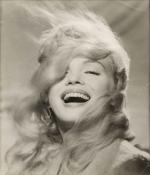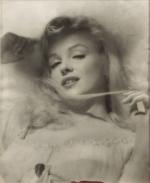 ---
Lot 1003: MARILYN MONROE BEHIND-THE-SCENES PHOTOGRAPHS
A group of six photographs of Marilyn Monroe and others on the set of Let's Make Love (20th Century, 1960). Includes images from Monroe's on-set birthday party where director George Cukor and co-star Yves Montand can also be seen.
PROVENANCE From the Lost Archive of Marilyn Monroe
Winning bid:$768 - Estimate: $400 - $600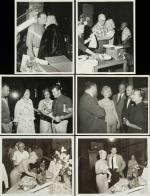 ---
Lot 1027: MARILYN MONROE LAWRENCE SCHILLER CONTACT SHEET
An original vintage contact sheet of Marilyn Monroe photographs taken by Lawrence Schiller on the set of Something's Got to Give (20th Century, 1962). The contact sheet was given by Schiller to Monroe who folded it in half before returning it to the photographer. Twelve of the images show Monroe in her role as Ellen Wagstaff Arden with actor Robert Christopher Morley, who played her son in the uncompleted film. The remaining 13 images show Monroe during the filming of the now famous pool scene. Signed by Schiller on verso.
PROVENANCE From the Personal Archives of Lawrence Schiller
unsold - Estimate: $5,000 - $7,000

---
Lot 1029: MARILYN MONROE ORIGINAL VINTAGE PHOTOGRAPH BY LAWRENCE SCHILLER
An original vintage black and white photograph of Marilyn Monroe taken by Lawrence Schiller on the set of Something's Got to Give (20th Century, 1962). The photograph is marked with cropping indicators and labeled "755." Housed in a frame, not examined outside of frame.
PROVENANCE From the Personal Archives of Lawrence Schiller
Winning bid:$13,750 - Estimate: $10,000 - $12,000

---
Lot 1030: MARILYN MONROE ORIGINAL VINTAGE PHOTOGRAPH BY LAWRENCE SCHILLER
An original vintage black and white photograph of Marilyn Monroe taken by Lawrence Schiller on the set of Something's Got to Give (20th Century, 1962). The photograph shows Monroe in profile during the filming of the pool scene. The photograph is marked with cropping indicators and labeled "636." Multiple stamps, stickers, and markings on verso.
PROVENANCE From the Personal Archives of Lawrence Schiller
Winning bid:$12,500 - Estimate: $10,000 - $12,000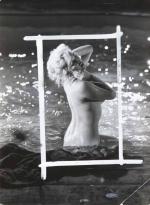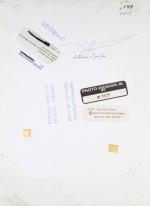 ---
Lot 1036: MARILYN MONROE GOLDEN GLOBE CEREMONY PHOTOGRAPH
A vintage black and white photograph of Marilyn Monroe at the 1962 Golden Globes award ceremony taken by Gene Daniels. At the event Monroe won the Female World Film Favorite for the year 1961. Photographer stamp on verso with additional "Revue" stamp and notation.
Winning bid: $ 320 - Estimate: $ 400 - $ 600

---
Lot 1037: MARILYN MONROE GOLDEN GLOBE CEREMONY PHOTOGRAPH
A vintage black and white photograph of Marilyn Monroe at the 1962 Golden Globes award ceremony taken by Gene Daniels. In the photograph, Monroe is talking to her escort to the event, writer and director José Balaños. Photographer's stamp on verso with additional "Revue" stamp and notation.
Winning bid: $ 256 - Estimate: $ 400 - $ 600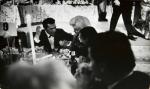 ---
Lot 1038: MARILYN MONROE GOLDEN GLOBE CEREMONY PHOTOGRAPH
A vintage black and white photograph of Marilyn Monroe at the 1962 Golden Globes award ceremony taken by Gene Daniels. The image shows Monroe seated at her table smiling and clapping. At the event Monroe won the Female World Film Favorite for the year 1961. Photographer's stamp on verso with additional "Revue" stamp and notation.
Winning bid: $ 896 - Estimate: $ 400 - $ 600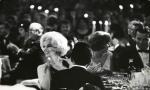 21 février 2014
Journée du dimanche 5 août 1962, au lendemain du décès de Marilyn Monroe.
Day of Sunday, August, 5, 1962, the day after the death of Marilyn Monroe.
---
> à 4h25: Le Dr Hyman Engelberg (docteur généraliste de Marilyn) téléphone à la police (the West Los Angeles Police Station) pour dire que "Marilyn Monroe est morte. Elle s'est suicidée. Je suis chez elle."
at 4.25 am: Dr. Hyman Engelberg (Marilyn's doctor) calls the police (the West Los Angeles Police Station) to say "Marilyn Monroe died. She committed suicide. I'm at her home."
---
> à 4h30: les employés de l'agence de publicité d'Arthur Jacobs sont prévenus de la mort de Marilyn et décident de se retrouver à sa maison au Fifth Helena Drive. Michael Selsman se souvient: "C'était la panique, bien sûr. Les événements étaient déjà hors de contrôle, et là, elle était morte, la presse n'était pas contrainte de cacher ce qu'ils savaient, sauf, bien sûr, pour les choses sur Kennedy, qui sont apparues plus tard. Je repoussais les médias en disant que nous ne savions pas quelle était la cause de la mort, parce que nous ne le savions pas."
at 4.30 am: the employees of the advertising agency of Arthur Jacobs are notified of the death of Marilyn and decided to go to her home at Fifith Helena Drive. Michael Selsman remembers: "It was panic of course. Events were already out of control, and now she was dead the press didn't fell constrained to hide what they knew -except, of course, for the Kennedy stuff, which came later. I fended off the media by saying we didn't know what the cause of death was, because we didn't."
---
> à 4h40: Le sergent Jack Clemmons est le premier policier à arriver au domicile de Marilyn; il découvre Eunice Murray (la gouvernante) en train de faire le ménage, nettoyant la maison et mettant une lessive dans la machine à laver, avec d'autres linges propres pliés à côté, et les Dr Greenson et Engelberg dans la chambre avec le corps de Marilyn gisant dans son lit à plat ventre sous les draps: "Son corps avait été bougé. Marilyn était allongée sur le ventre dans ce que j'appelle la 'position du soldat'. Son visage était appuyé contre un oreiller, ses bras étaient sur les côtés, le bras droit légèrement plié, et ses jambes étaient parfaitement alignées, comme si elle prenait la pose pour des photos. J'avais l'impression d'arriver sur une scène de crime. J'étais déjà intervenu sur des scènes de suicides par barbituriques, et avant de mourir, les victimes font des convulsions, vomissent et leurs corps sont en distorsions. (...) Les boîtes de pillules posés sur la tablette avaient été clairement disposées en bon ordre et le corps délibérément repositionné. Tout semblait trop rangé."
at 4.40 am: Sergeant Jack Clemmons was the first police officer to arrive at the Marilyn' home, he discovers Eunice Murray (the housekeeper) doing housework, cleaning the house and putting a laundry in the washing machine, with other clean cloths folded side, and Dr. Greenson and Engelberg in the bedroom with Marilyn's body lying in bed face down under the sheets, "Her body seemed to have been moved. Marilyn was lying face down in what I call the soldier's position. Her face was in a pillow, her arms were by her side, her right arm was slightly bent, and her legs were stretched out perfectly straight, as if she were posing for pictures. It was the most obviously staged death scene I have ever seen. I had already seen scenes of suicides by barbiturates, and before dying, victims suffer convulsions and vomiting in a somewhat contorted position.. (...) The pill bottles on her bedside table had been arranged in neat order and the body deliberately positioned. It all looked too tidy".
> Chambre de Marilyn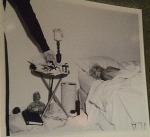 photographies de Dan Tompkins >>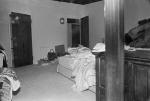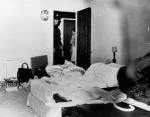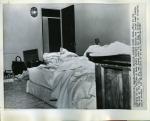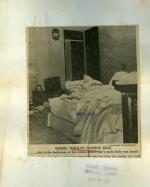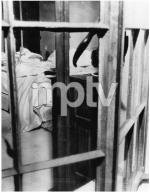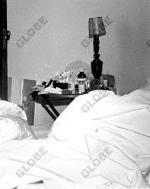 > Les boîtes de pillules sur la table de nuit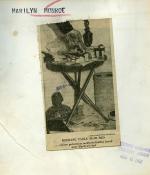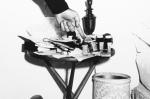 - photographies de Barry Feinstein >>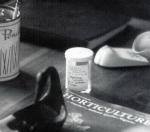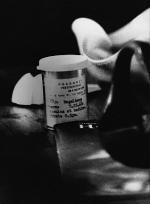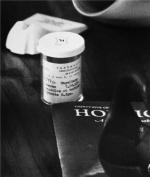 > Le fil du téléphone passant sour la porte de la chambre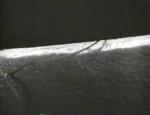 ---
Arrivée de l'inspecteur Robert E. Byron, qui recueille les déclarations du Dr Greenson, du Dr Engelberg et de Eunice Murray. Il consigne dans son rapport officiel: "L'opinion de l'officier de police est que Mrs Murray était aussi vague et évasive que possible dans ses réponses aux questions concernant les activités de Miss Monroe avant sa mort."
Arrival of Inspector Robert E. Byron, whoh collects reports of Dr. Greenson, Dr. Engelberg and Eunice Murray. He writes in his official report: "The opinion of the police officer is that Mrs. Murray was vague and evasive as possible in her answers to questions about the activities of Miss Monroe before her death."
---
> Vers 5 h, le journaliste Joe Ramirez (qui travaillait pour la petite agence "City News") reçoit un appel lui annoncant le décès de Marilyn; mais l'information arrive trop tard pour paraître dans les journaux du jour.
> William "Bill" Woodfield (photographe) et Joe Hyams (correspondant au "New York Herald Tribune") se rendent ensemble chez Marilyn sitôt qu'ils apprennent la nouvelle.
Tout comme James Bacon (chroniqueur d'"Associated Press") qui racontera: "Je recourus à une vieille ruse; je me suis présenté devant un flic en prétendant que le bureau du coroner m'avait dépêché sur place. Je suis entré dans la maison mais ne suis pas resté longtemps, juste le temps pour la voir gisant sur son lit. Je remarquai que ses ongles étaient négligés."
Around 5 am, the journalist Joe Ramirez (who worked for the small agency "City News") receives a call announcing the death of Marilyn, but the information comes too late to appear in daily newspapers.
> William "Bill" Woodfield (photographer) and Joe Hyams (corresponding to the "New York Herald Tribune") go together at Marilyns soon as they hear the news.
Just as James Bacon (columnist of "Associated Press") that will tells: "I resorted to an old trick, I introduced myself to a cop claiming that the coroner's office had sent me there. I went into the home but did not stay long, just long enough to see lying her on bed. I noticed that his nails were overlooked."
Au Fifth Helena Drive, chez Marilyn, une foule de personnes se constitue peu à peu, s'agglutinant aux abords de la maison: des journalistes reporters de la télévision, de la radio, de la presse, des paparazzis, des camions et voitures obstruent la rue.
De nombreuses photographies sont prises autour de la maison: devant le patio, la chambre à travers la fenêtre, mais aussi le jardin, où l'on y voit deux animaux en peluche dans l'herbe devant la piscine; Marilyn avait reçu la veille (le 4 août), par colis, un tigre en peluche, dont on ne connait pas le destinataire.
At Fifth Helena Drive, at Marilyn's home, a crowd of people is gradually agglutinating near the house: journalists, reporters from television, radio, press, paparazzi, trucks and cars clog the street.
Many photographs are taken around the house: front patio, the bedroom through the window, but also the garden, where we see two stuffed animals in the grass in front of the pool; Marilyn had received the day before (August 4) per package, a stuffed tiger, which we don't know the recipient.
> Devant le portail de la maison de Marilyn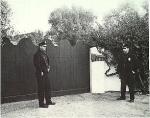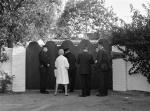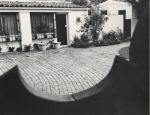 > Devant la maison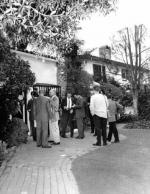 - photographies de Lawrence Schiller >>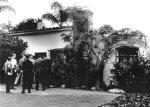 > Dans le jardin, la piscine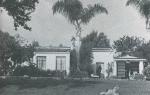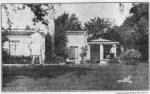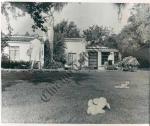 - photographie de Dan Tompkins >>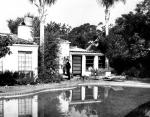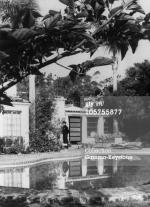 - photographie de Barry Feinstein >>

> La fenêtre de la chambre de Marilyn
dont le carreau a été cassé par le Dr. Engelberg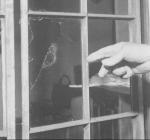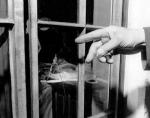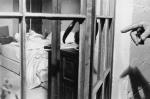 - photographies de Gene Anthony >>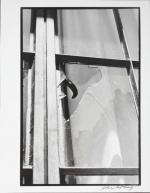 ---
> Vers 5h10: Jack Clemmons est remplacé par un officier de police d'un grade supérieur (le chef de la police William Parker) pour mener l'enquête et ainsi, soumettre au silence Clemmons qui avait relevé plusieurs faits incohérents (Murray lui avait informé qu'elle avait découvert le corps à minuit, alors qu'elle affirmera par la suite avoir découvert le corps à 3h; d'après Clemmons, le décès devait remontait à environ 8 heures). Clemmons va ensuite appeler son collègue Jim Dougherty, le premier mari de Marilyn, pour l'informer du décès de celle-ci.
Around 5.10 am: Jack Clemmons is replaced by a police officer of higher rank (the Chief policer William Parker) to investigate and thus submit to silence Clemmons who had identified several inconsistent facts (Murray had informed him she had discovered the body at midnight, while she will affirm after to have discovered the body at 3 am; for Clemmons, the death had occurred some 8 hours before). Clemmons will then call his colleague Jim Dougherty, the first husband of Marilyn, informing him of the Marilyn's death.
Arrivée de l'officier Don Marshall qui fouille la maison à la recherche d'un message attestant le suicide. Il interroge les plus proches voisins de Marilyn, Mr et Mrs Abe Landeau, qui déclarèrent n'avoir rien entendu de suspect pendant la nuit.
Arrival of the officer Don Marshall who search in the house a message stating suicide. He asks the nearest neighbors of Marilyn, Mr. and Mrs. Abe Landeau, who declared to have heard nothing suspicious during the night.
---
> L'envoyé du coroner, Guy Hockett constate que le décès "remonte à plusieurs heures. Elle était raide et il fallut près de 5 minutes pour la redresser. (...) Elle gisait, assez droite, dans une position semi-foetale. Ses cheveux, desséchés, étaient en très mauvais état à cause de tous ces traitements. Elle n'était pas très belle à voir, au point qu'on avait du mal à croire que c'était bien elle. On aurait dit une pauvre femme ordinaire qui venait de mourir. Pas de maquillage, les cheveux négligés sans mise en plis, un corps fatigué. Nous eûmes tous la même impression, à des degrés divers."
The representative of the coroner Guy Hocknett notes that the death "goes back several hours. She was stiff and it tooks about 5 minutes to recover her. (...) She lays quite right in a semi-fetal position. Her hair, dried, were in very poor condition because of all these treatments. She was not very nice to see, to the point that it was hard to believe it was really her. She seemed as a poor ordinary woman who had just died. No makeup, hair styling neglected, a tired body. We had all the same impression, to varying degrees."
---
> Vers 5h30: Patricia Newcomb arrive à la maison de Marilyn (elle racontera avoir été prévenue par téléphone à 4 h par Milton Rudin, l'avocat de Marilyn), provoquant une scène, en hurlant aux photographes: "Allez-y, mitraillez, vautours ! ... Espèces de buveurs de sang ! Vampires ! Ne pouvez-vous même pas la laisser mourir en paix ?"; Eunice Murray raconte que lorsque Pat Newcomb est arrivée, "il y avait tant de gens que personne ne l'a remarquée." Pat Newcomb se souvient que "il y avait plus de cinq personnes dans la maison" quand elle y est entrée; elle dit aussi ne pas avoir vu le corps de Marilyn. Elle restera quasiment tout le temps au téléphone, traitant des appels téléphoniques des médias du monde entier; elle racontera: "J'ai parlé à plus de 600 journalistes ce dimanche là. C'était mon travail de faire ce que je pouvais pour Marilyn."
Pat Newcomb était "hystérique" comme le dira Eunice Murray: "Même après que la police décida de fermer la maison, elle refusait toujours de partir. Il a fallu qu'on la fasse sortir."
Around 5.30 am: Patricia Newcomb arrives at Marilyn's home (she will tell to have been prevented by phone at 4 am by Milton Rudin, the Marilyn's lawyer), screaming to photographers: "Go ahead, shoot pictures, vultures ! ... Bloodthirsty Vampires ! Can't you even let her die in peace ?" Eunice Murray says that when Pat Newcomb arrived, "there were so many people that nobody noticed her." Pat Newcomb remembers that "there was more than five people in the house" when she comes in, she also says to don't have seen the Marilyn's body. She will stays almost the time on the phone, dealing with telephone calls from media around the world; she will tell later: "I spoke to over 600 journalists that Sunday. It was my job to do what I could for Marilyn."
Pat Newcomb was "hysterical" as Eunice Murray will tell: "Even after the police decided to close the house, she still refused to go. We had to make exit her. "
---
> Quand Allan Whitey Snyder, le maquilleur de Marilyn qui, dès qu'il apprend la triste nouvelle, se précipite chez Marilyn, il se fait renvoyer par un policier qui lui refuse l'accès à la maison. Il racontera "qu'il fallait que je voie de mes yeux ce qui était vraiment arrivé." Quand il remonte dans sa voiture et entend à la radio que "Marilyn est morte d'une overdose de barbituriques qu'elle s'est administrée", Snyder ne parvient pas à croire au suicide.
When Allan Whitey Snyder, Marilyn's makeup artist, who, when he learns the sad news, rushed to Marilyn's home, he gets fired by a policeman who refuses him the access to the house. He will tell "that I had set my eyes what really happened." When he goes back to his car and heard on the radio that "Marilyn died of an overdose of barbiturates that she administered herself" Snyder can not believe in suicide.
> Joe DiMaggio, qui est à San Francisco, apprend la nouvelle très tôt le matin. Il se rend immédiatement à Los Angeles, contacte son fils Joe Jr. qui se trouve au camp Pendleton, et se réfugie avec deux de ses amis dans la suite 1035 du Miramar Hotel. Il refuse de faire la moindre déclaration à la presse et reste enfermé dans sa chambre d'hôtel. Son ami Harry Hall racontera que Joe pleurait sans consulter les nombreux télégrammes reçus: "Il considérait Bobby Kennedy comme responsable de sa mort."
Personne ne réclame le corps de Marilyn et le coroner ne peut délivrer le corps qu'avec l'autorisation d'un membre de la famille: sa mère en est incapable, et sa demie-soeur Berniece, contactée par télégramme, donne sa permission à Joe DiMaggio de s'occuper des funérailles.
Joe DiMaggio, who is in San Francisco, heards the news early in the morning. He immediately goes to Los Angeles, contacts his son Joe Jr. who is at Camp Pendleton, and stays with two of his friends in the suite 1035 of the Miramar Hotel. He refuses to make any statement to the press and remains locked in his hotel room. His friend Harry Hall tells that Joe was crying without consulting the many telegrams he received: "He considered Bobby Kennedy as responsible for her death."
Nobody claims the body of Marilyn and the coroner may not issue a body with the authority of a member of the family: her mother is unable to act, and her half-sister Berniece, contacted by telegram, gives permission to Joe DiMaggio to arrange the funeral.
> Peter Lawford est chez lui à L.A. Il est en état de choc, hagard, en larmes, terrassé, répétant sans cesse qu'il était la dernière personne à avoir parlé à Marilyn (au téléphone). Sa mère, Lady May, surnommée "Lady L." le contacte par téléphone quand elle apprend la nouvelle, et elle reproche à son fils de ne pas être allé chez Marilyn, quand cette dernière appela Peter. Puis quand Rupert Allan téléphone à Lawford, il a au bout du fil un homme hors de lui, furieux, aux propos incompréhensibles, entrecoupés de sanglots.
Peter Lawford is at his home L.A. He is in shock, distraught, in tears, overwhelmed, constantly repeating that he was the last person to have spoken to Marilyn (on the phone). His mother, Lady May, named "Lady L." calls him when she heards the news, and she blames her son to don't have gone to Marilyn's home, when she called Peter. Then, when Rupert Allan phone Lawford, he has on the phone a man out of him, furious, with incomprehensible words, interspersed with sobs.

> Dans la propriété des Kennedy sur la côte Est où la famille est réunie autour de la piscine, la nouvelle de la mort de Marilyn passe à la radio: ce fut le silence total. Pat Kennedy Lawford s'effondre en larmes.
In the property of the Kennedys on the East Coast where the family gathered around the pool, the news of the death of Marilyn is broadcoast on the radio: it was a full silence. Pat Kennedy Lawford collapses in tears.

> A peine à 6 km de chez Marilyn, Jayne Mansfield apprend la nouvelle chez elle dans sa maison du Pink Palace; elle devient hystérique et pleure beaucoup, serrant son assistant Ray Strait: "Je suis peut être la prochaine sur la liste." (Jayne était aussi la maîtresse des frères Kennedy).
At Just 6 km from Marilyn's home, Jayne Mansfield heards the news at her Pink Palace home; she becomes hysterical and crying a lot, shaking his assistant Ray Strait: "I may be next on the list." (Jayne was also the mistress of the Kennedy brothers).
---
> à 7h30: Les hommes du coroner, accompagnés de Guy Hockett (propriétaire du Westwood Memorial Park Cemetery), emportent le corps de Marilyn, dissimulé sous une couverture bleue ordinaire, sur un chariot, et le chargent à bord d'un vieux break, qu'ils conduisent au dépôt mortuaire de Westwood Village, où sa dépouille reste quelques heures dans un réduit encombré de brosses et de bocaux où le photographe Bud Gray du "Herald Examiner" fait un cliché de sa dépouille enveloppée.
At 7.30 am: Coroner's men, accompanied by Guy Hockett (owner of Westwood Memorial Park Cemetery) outweigh Marilyn's body, hidden under an ordinary blue blanket on a cart, and charge her on an old break that they drive to the mortuary Westwood Village, where she remains few hours in a small room crowded by brushes and jars.
> Départ du corps de Marilyn de sa maison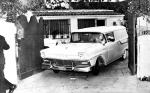 > Arrivée du corps de Marilyn à Westwood Village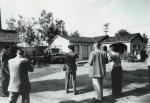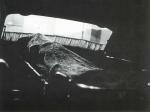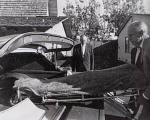 - photographies de Lawrence Schiller >>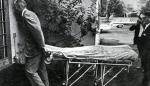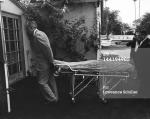 > Au cimetière de Westwood, tombe de Grace Goddard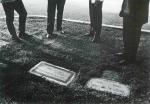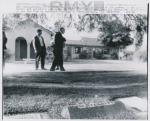 ---
> Marilyn est ensuite transportée dans la case 33 de la County Morgue, au palais de justice de Los Angeles. Son numéro de dossier du coroner est le 81128.
Un photographe parvient à s'introduire dans la morgue: Leigh Wiener, qui enverra ses photographies au magazine Life, parvient à prendre de nombreux clichés en échange de bouteilles de whisky offertes aux employés: un employé ouvre la porte en acier inoxydable et tire l'étagère coulissante où repose la dépouille de Marilyn. Wiener la mitraille, couverte et découverte (il aurait pris 6 clichés de Marilyn morte).
Marilyn is then transported in box 33 of the County Morgue of Los Angeles. Her coroner file number is 81128.
Two photographers manage to get into the mortuary: Bud Gray of "Herald Examiner" takes a snapshot of his body wrapped; and Leigh Wiener, who will send his photographs to "Life" magazine, manages to take many pictures in exchange for whiskey bottles offered to employees: an employee opens the stainless steel door and pulls the sliding shelf where the body of Marilyn remains. Wiener shoots pictures of Marilyn with covered and uncovered (he would take 6 shots of Marilyn dead).
> Départ du corps de Marilyn de Westwood Village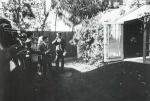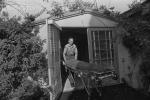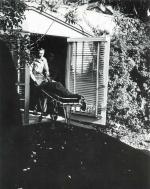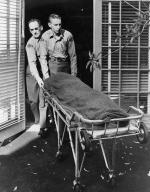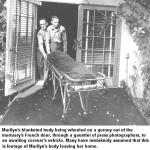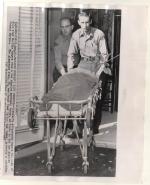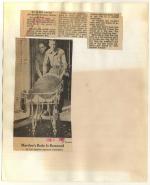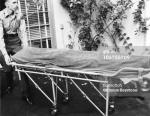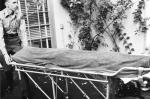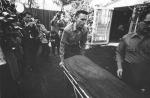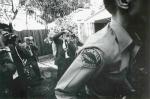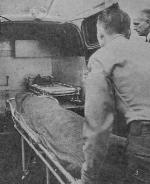 > County Morgue de L.A., le casier 33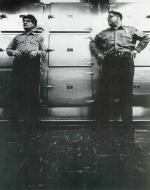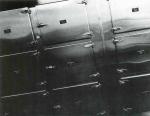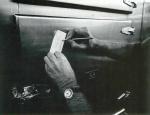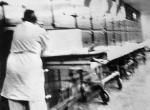 - photographies de Leigh Wiener >>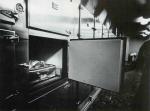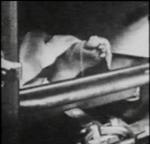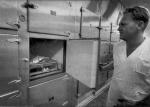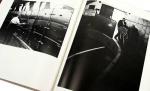 ---
> à 10h30: Début de l'autopsie, dans une salle sans fenêtres des sous-sols du palais de justice de L.A., sur la table 1, équipée d'un système d'arrivée d'eau et d'évacuation, et d'une balance. Le médecin légiste est Thomas Noguchi, assisté de Eddy Day, en présence de John Miner, observateur du District Attorney.
At 10.30 am: Beginning of the autopsy, in a windowless room of the County Morgue of L.A., on the table 1, equipped with a water inlet and exhausted system, and a balance. The medical examiner is Thomas Noguchi, assisted by Eddy Day, in the presence of John Miner, observer of District Attorney.
(> Lire le rapport d'autopsie < read the autopsy report)
> Avant l'autopsie: Photo post-mortem 1
(Avertissement: image choquante de Marilyn morte)
La photographie post-mortem du dossier de police montre Marilyn avec un visage flasque, enflé, les cheveux plats et raides mais précisons que les muscles de son visage ont été sectionnés pendant l'ablation du cerveau et qu'après l'autopsie, sa dépouille a été lavée à grandes eaux.
The post-mortem photograph of the police report shows Marilyn with a flange face, swollen, flat and straight hair but let's specify that the muscles of her face were severed during removal of the brain and after the autopsy, her body was washed with plenty of water.
> Après l'autopsie: Photo post-mortem 2
(Avertissement: image choquante de Marilyn morte)
> Retour du corps à Westwood Village après l'autopsie

- photographies de Bud Gray >>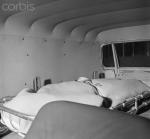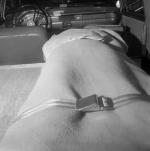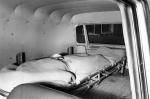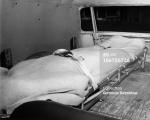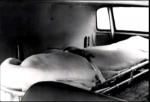 - Guy Hockett conduit la voiture >>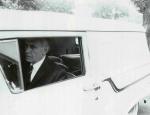 ---
> Vers 11h: premier rapport de police établi (complété ensuite le lendemain).
Around 11 am: the first police report is established (then completed the next day).
(> Lire le rapport de police < read the police report)
---
> à 11h, Ralph Greenson et Milton Rudin font monter Pat Newcomb dans la voiture d'Eunice Murray; les reporters se précipitent devant la voiture dans la petite impasse et un journaliste de NBC News demande à Pat comment elle se sent, ce à quoi, elle lui répond, en larmes: "Si votre meilleur ami venait de se tuer, qu'éprouveriez-vous ? que feriez-vous ?".
A ce moment là, la maison était remplie de monde: les policiers, Arthur Jacobs, trois gardes du service de sécurité de la Fox envoyés par Peter Levathes, le technicien du General Telephone (qui coupera les lignes le jour même), les journalistes James Bacon et James A. Hudson de United Press International, mais aussi quatre hommes en noir (dont certains pensent qu'il pourrait s'agir d'agents du FBI ou de la CIA).
At 11 am, Ralph Greenson and Milton Rudin drive up Pat Newcomb in Eunice Murray's car; reporters rushed to the car and an NBC News reporter asks to Pat how she feels, and she replied in tears: "If your best friend just came to kill, how would you feel ? What would you do ?".
At that time, the house was full of people: policemen, Arthur Jacobs, three guards of the security service of the Fox sent by Peter Levathes, the General Telephone technician (who cut the lines the same day), journalists as James Bacon and James A. Hudson of United Press International, but also four men in black (some people think it might be men from FBI or CIA).
> On emmène Maf, le chien de Marilyn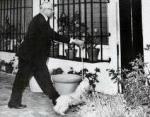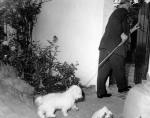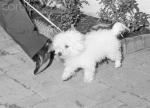 - photographie de Dan Tompkins >>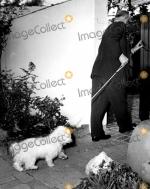 - Milton Rudin (à gauche) >>

> Eunice Murray et son gendre Norman Jefferies
- photographies de Dan Tompkins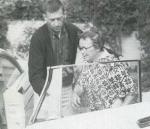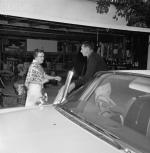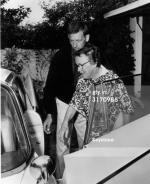 > Départ de Patricia Newcomb
- photographies de Dan Tompkins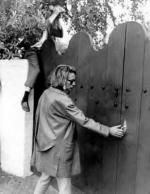 - Pat avec Norman Jefferies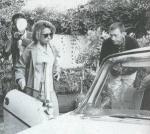 - Un journaliste interpelle Pat

---
> peu avant 12h00: Hazel Washington (femme de chambre de Marilyn) et son mari Rocky (policier de Los Angeles) arrivent à la maison pour récupérer des tables et chaises prêtées à Marilyn en février, car la maison serait ensuite fermée. Mrs Washington va remarquer un des hommes en noir brûler des documents dans la cheminée: des blocs-notes de Marilyn, des papiers de la Fox, des pages d'agenda, des bandes de magnétophones. Les serrures de classeur avait été forcées et les tiroirs vidés.
Avant de partir, Mrs Washington remarque que les gardes du studio de la Fox avaient investi toute la maison et de voir Frank Neill et trois autres attachés à la publicité de s'emparer de tous les documents relatifs à la Fox (notamment le nouveau contrat de négociation et de réintégration de Marilyn à la Fox avec la reprise du tournage de Something's got to give ont disparu).
Les hommes en noir ont même vérifié le contenu de la voiture de Hazel et Rocky avant leur départ.
Cependant, ces allégations affirmant que des papiers ont été détruits ont été formellement démenties par les officiers de police présents sur les lieux toute la journée. Néanmoins, il est indiscutable que des personnes sont parvenues à emporter des documents, tel que le confirme l'auteur Donald Spoto qui consultera des papiers acquis lors de la succession d'Inez Melson.
shortly before 12.00 am: Hazel Washington (Marilyn's maid) and husband Rocky (Los Angeles' policeman) arrive at Marilyn's home to retrieve tables and chairs lent to Marilyn in February, as the house would then be closed. Mrs. Washington notices one of the men in black burn papers in the fireplace: Marilyn's notebooks, Twentieth Century Fox 'papers, calendar pages, strips of tapes. The locks of workbooks had been forced and the drawers were emptied.
Before leaving, Mrs. Washington notes that guards from Fox Studios had invested the house and she sees Frank Neill and three others guy from publicity department to take all documents relating to the Fox (including the new contract with negotiation and reintegration of Marilyn to the Fox Studios with the resumption of filming 'Something's got to Give' which have disappeared ) .
Men in black have even checked the content of the car of Hazel and Rocky before they leave.
However, these allegations stating that the papers were destroyed, have been formally denied by the police officers who were present all the day. Nevertheless, it is indisputable that some people were able to take documents, as confirmed by the author Donald Spoto who will consult papers acquired in succession of Inez Melson.
---
> La police met la maison de Fifth Helena Drive sous scellés.
Police put the house of Fifth Helena Drive sealed.
> La police pose les scellés sur la porte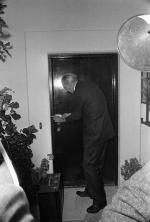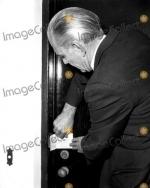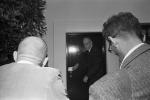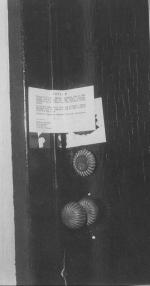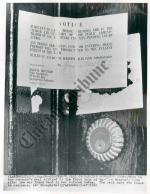 - photographie de Dan Tompkins >>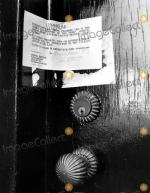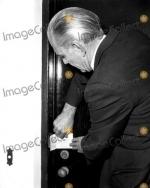 ---
Des gens se réunissent devant le Grauman's Chinese Theatre de Los Angeles et déposent des fleurs devant la plaque où Marilyn Monroe avait laissé ses empreintes (le 26 juin 1953).
People meet in front of the Grauman's Chinese Theatre in Los Angeles and lay flowers in front of the foot and hans prints left by Marilyn Monroe (in June, 26, 1953).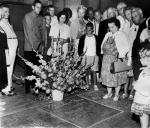 - photographie de Gene Anthony >>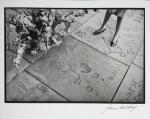 ---
L'information de la mort de Marilyn Monroe défile sur les panneaux lumineux du New York Times sur Times Square à Manhattan, New York.
The news of the Marilyn Monroe's death scrolls on the light panels on the New York Times building in Times Square in Manhattan, New York City.
---
VIDEOS
> News USA

> Divers extraits

> Eunice Murray, Norman Jefferies, Pat Newcomb et Maf

---
> Original du certificat de décès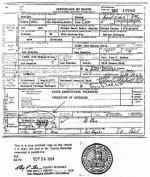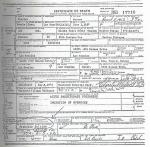 ---
Les réactions des proches de Marilyn recueillies par les journalistes:
James Dougherty

: "Je suis atterré". Quand son collègue Jack Clemmons lui apprend la nouvelle, Dougherty se tourne vers sa femme et lui dit: "Fais une prière pour Norma Jeane. Elle est morte."

Arthur Miller

, à Paris avec sa nouvelle femme Inge Morath, refuse de s'exprimer publiquement, sans doute étant trop bouleversé. A l'un de ses proches, il aurait dit: "Il fallait bien que ça arrive. Je ne savais ni quand, ni comment, mais c'était inévitable."
Isadore Miller (père d'Arthur): "Elle était comme ma propre fille. Elle était une fille gentille et bonne. Je suis tellement désolé, je n'étais pas là pour être avec elle. Elle a du se sentir vraiment seule et effrayée."

Billy Wilder

, interviewé à sa descente d'avion par des journalistes qui ne le tiennent pas au courant, ne dit que des banalités sur Marilyn. Il apprendra la nouvelle dans le taxi qui l'amenait à l'hôtel.

Joshua Logan

: "Marilyn était l'une des personnes les plus sous-estimées de la terre !"
Paula Strasberg: "Marilyn était une actrice comme il n'en existe aucune autre."

Milton et Amy Greene

sont à Paris et apprennent la nouvelle par téléphone à leur hôtel. Ils sont bouleversés (avant leur départ, après un mauvais pressentiment, Amy avait incité Milton à contacter Marilyn, qui semblait heureuse et leur avait assurer que tout allait bien).
Frank Sinatra se dit "profondément affligé

(...)

Elle va beaucoup me manquer."

George Jacobs

, son domestique, racontera que "Il demeura dans une sorte d'état de choc pendant des semaines après la mort de Marilyn, profondément angoissé."
Kay Gable (veuve de Clark Gable) apprend la nouvelle au flash d'information à 7 heures: "Je suis allée à la messe, j'ai prié pour elle."
La famille

Greenson

se dit "accablée de chagrin". Le Dr. Greenson rencontre DiMaggio et les deux hommes se serrent dans les bras, se consolant l'un et l'autre.

Peter Lawford

: "Pat et moi l'aimions profondément. C'est probablement l'un des êtres humains les plus merveilleux et les plus chaleureux que j'ai connus. Tout ce que je pourrais dire d'autre serait superflu."
L'Osservatore Romano du Vatican: "Elle a été la victime d'une mentalité et d'un mode de vie dont on l'a forcée à être le symbole. Sa mort transcende les limites d'une tragédie personnelle pour atteindre un retentissement universel."
---
sources:
Marilyn Monroe, encyclopédie d'Adam Victor
Les vies secrètes de Marilyn Monroe, d'Anthony Summers
Marilyn Monroe, biographie de Barbara Leaming
Marilyn Monroe, Private and Undisclosed, de Michelle Morgan
Marilyn, Histoire d'un assassinat, de Brown et Barham
---
© All images are copyright and protected by their respective owners, assignees or others.
copyright text by GinieLand.
Enregistrer
09 février 2014
Le matin du lundi 6 août 1962, Berniece Miracle (la demie-soeur de Marilyn) arrive de Gainesville, au Texas, où elle vit, à l'aéroport de Los Angeles. C'est Inez Melson (la conseillère financière de Marilyn) qui vient la chercher à l'aéroport.
On Monday morning, August 6, 1962, Berniece Miracle (Marilyn's half-sister) arrives from Gainesville, Texas, where she lives, at Los Angeles. This is Inez Melson (Marilyn's financial advisor) who joins her at the L.A. airport.

> Berniece Miracle avec Inez Melson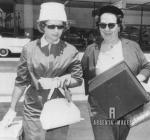 Elles se rendent au cimetière de Westwood Village pour finaliser l'organisation des funérailles de Marilyn avec Joe DiMaggio.
They go to the Westwood Village Mortuary to make final arrangments for the funeral services with Joe DiMaggio.
> Berniece Miracle avec Inez Melson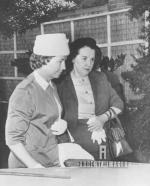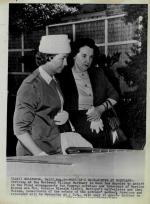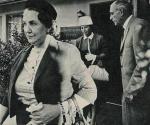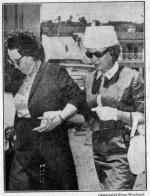 Joe DiMaggio se rend au cimetière de Westwood Village Memorial Park pour organiser les funérailles de Marilyn Monroe (qui se tiendront le 8 août), en compagnie de Milton Rudin (l'avocat de Marilyn).
Joe DiMaggio goes to Westwood Village Memorial Park to make arrangments for the funeral of Marilyn Monroe (which will be held in August, 8) with Milton Rudin (the Marilyn's lawyer).
> Joe DiMaggio (photo de Lawrence Schiller)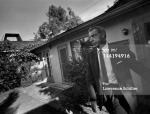 > Joe DiMaggio et Milton Rudin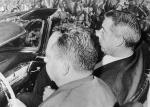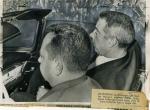 ---
Inez Melson et son mari se rendent à la maison de Marilyn, au Fifth Helene Drive, pour trier les effets personnels de la star. Melson se souvient que la table de nuit était encore encombrée de divers flacons: "Nous en trouvions sans cesse: des somnifères, du nembutal et du seconal". Soucieuse de la réputation de Marilyn, Mrs Melson détruit alors les pillules, en les jetant dans les toilettes et en emportant le reste pour les mettre à la poubelle. Elle a par la suite beaucoup regretté son geste.
Inez Melson and her husband go to Marilyn's house at Fifth Helena Drive, to sort the belongings of the celebrity. Melson remembers that the night table was still cluttered with various bottles: "We found it constantly: sleeping pills, nembutal and seconal." Concerning about the reputation of Marilyn, Mrs. Melson then destroyed pills, throwing them in the toilet and taking the rest to put in the trash. She has later deeply regretted her actions.
---
Eunice Murray est interviewée par des journalistes: "Je n'ai jamais vu Marilyn Monroe pleurer" et elle ajoute: "Marilyn n'a jamais parlé de la mort".
Eunice Murray talks to press: "I never saw Marilyn Monroe cry." She also says "Marilyn never mentioned death."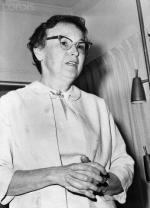 ---
En début d'après-midi, à 14 heures, le corps de Marilyn Monroe est transféré de la morgue au cimetière de Westwood, où auront lieu les funérailles.
At 2 pm, the body of Marilyn Monroe is wheeled from the Los Angeles County morgue and taken to Westwood Village Mortuary, Los Angeles, where funeral services will be held.
---
© All images are copyright and protected by their respective owners, assignees or others.
copyright text by GinieLand.
21 janvier 2014

'My Favorite Marilyn'

Article publié le 16/01/2014
By Jeff Ashworth and James Ellis
en ligne sur mag.newsweek.com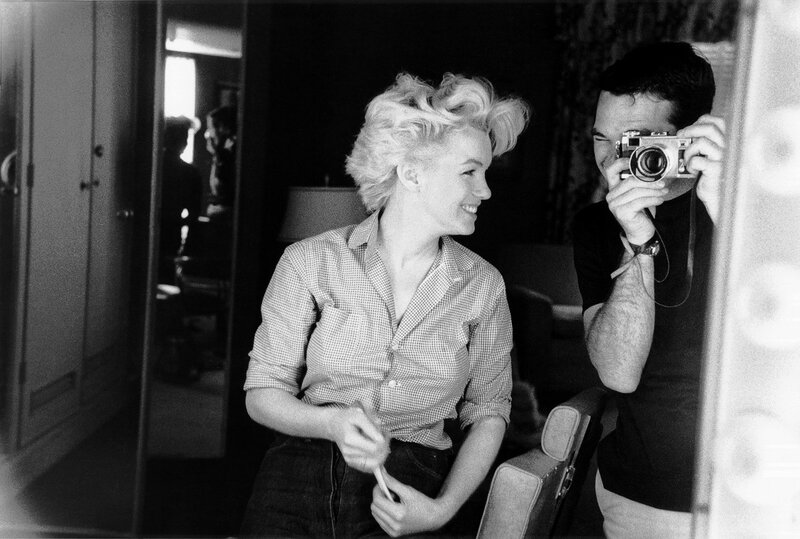 The photographer who knew her best tell the stories behind the iconic images
Milton H. Greene, Joshua Green
Marilyn Monroe's looks and allure made her a desirable subject for photographers around the world, and several photographers built their careers by documenting hers. The only thing more fascinating than the unforgettable images of Marilyn they captured are the memories many of them took home when the sessions were over. For the first time in one place, the photographers responsible for some of Marilyn's most beloved pictures pick their personal favorites.


The Black Sitting - Milton Greene
When Milton first met Marilyn, she said, "You're just a boy." He famously replied, "Well, you're just a girl." Thus began a friendship that grew into a business partnership through Marilyn Monroe Productions. Milton's son and the steward of his archives, Joshua Greene, describes the photos he believes best exhibit his father's work:

To me, the most powerful, important pictures of their collaboration are the Black Sitting. It was never done for publication; it was done completely for their own self-serving needs. Milton was one of those guys who would shoot a roll or two. He didn't overshoot. The thing about the Black Sitting that was so amazing is, it lasted four hours and he shot 28 rolls... 12 frames per roll.

Milton, Joe Eula - my father's friend who was there as a stylist - and Marilyn drank a bunch of red wine, listened to some great music and did this fantastic, amazing series of pictures using essentially a black velvet background over a daybed. The photos are very personal, and they show the sense of humor and sensibility that they shared and enjoyed together. It was just a bunch of kids playing in a playpen.

Also, you don't see any nudity. Nowhere in the photos were there ever straight naked photos. He just didn't do that. Milton did that on purpose so Marilyn wouldn't feel betrayed or inappropriate, and this is a woman who liked being naked and didn't mind shooting naked. But Milton was a classy guy, and it wasn't necessary. To him, it was more the suggestion of nudity than the nudity. And that's what makes them so sexy. This is a timeless picture of a woman looking beautiful, and that's why it holds up. -Joshua Greene
The Actor Photo - Zinn Arthur
A former big-band leader and celebrity in his own right, Arthur found a second career as a photographer to the stars and captured some of the most memorable images of Marilyn at work in Hollywood. He first photographed her on the set of 1956's Bus Stop. Arthur's friend Frank Whitney and Katherine Van Acker, curator of Arthur's archive at the Image Works, Inc., share their thoughts on his favorite photo:

As a collection, Zinn liked the Bus Stop shots because he (and Marilyn) considered it to be her best film, thanks to Joshua Logan's direction. Josh was Zinn's best friend, and Zinn was a great admirer of Josh and his talents as a director. Marilyn loved Josh and how he brought out the best in her, and because Zinn was Josh's friend, she loved Zinn by association. - Frank Whitney

When Zinn was going to show someone, he wanted to be sure it was flattering. He wasn't out to overly sensationalize them or to take an unflattering picture. Zinn genuinely liked Marilyn. He was an entertainer. He understood what it was to be an entertainer and liked shooting them at work. This is a real moment. Marilyn was talking to the director of photography, and Zinn snapped off a few pictures and captured her in a flattering, nice way. - Katherine Van Acker

The Bedsheet Photo - Douglas Kirkland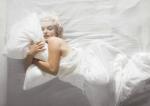 One of only a handful of living photographers to have shot Marilyn, Kirkland has worked on the sets of more than 100 motion pictures and has shot as many celebrities, from Elizabeth Taylor to Michael Jackson. He photographed Marilyn in 1961 for Look magazine.

This is my favorite photo of Marilyn because it was her favorite. When she saw this photo she said, "That girl is the kind of girl that any man would want to be in that bed with. Even a truck driver."

On the first night of the shoot, she said, "I want a bed and white silk sheet. I won't wear anything but that white silk sheet. And I want Dom Perignon champagne and Frank Sinatra records." You felt like it was the real Marilyn there. The person who was behind "Marilyn." And that was the person I found myself taking pictures with. It was very sensual.

We were flirting like crazy, that's what it really came down to. She asked that everybody leave the room because she "wanted to be alone" with me. The energy was extraordinary, and it went into those pictures. That's why the pictures have been as successful as they have been. She didn't hold back. She gave the camera everything. - Douglas Kirkland

The Misfits Photo - Elliott Erwitt
After serving as a photo assistant in the U.S. Army during the 1950s, Elliott Erwitt went on to become one of the premier photojournalists of his generation, capturing iconic images of

John F. Kennedy, Che Guevara and Marilyn Monroe, among others. He was on the set of The Misfits to take photos of Marilyn hard at work on what ended up being the actress's last film.

My favorite thing about shooting Marilyn was how friendly and cooperative she was. She didn't mind me hanging around and shooting her candidly, even in the more personal pictures I took.

This photograph is my favorite, because it was a monumental task assembling all of these incredibly busy people together for the picture. I was taking publicity stills on the set of The Misfits and wanted to gather all the principal players in one photo. Photographing Marilyn was always easy once she arrived for the shot. The trick was getting her to show up on time. She was always difficult to pin down, which only adds to my pride at gathering her with all these stars for this photo. Now it's a record of the combination of talents present at the time. There was never any secret to get a good picture of Marilyn: Just aim the camera, shoot and let Providence do the rest. - Elliott Erwitt
The Pool Photo - Lawrence Schiller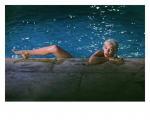 In 1962, Marilyn was in freefall. She wanted to prove her value to 20th Century Fox and keep her name in the magazines. Lawrence Schiller, a 25-year-old photojournalist whose star was on the rise, was hired by Paris Match magazine to shoot her latest film, which would turn into a stunt of Marilyn's design: In one scene from the film, while swimming, she decided to be photographed nude, and off came her bathing suit. It would be their last collaboration.

A photographer is either a witness to something or he is a collaborator at an event. In this instance, I was both. The exploitation of the pictures was the reason she decided to do the scene nude. She could have done the scene with a flesh-colored bathing suit on and it would have worked perfectly, but she went further because she needed to achieve something else.

This photo became one of my favorites of Marilyn because years later it became my 8-year-old daughter's favorite. I showed her my photos and asked, "What do you think? Which is your favorite?" She chose this one. I said, "Why?" She said, "Because that's a picture that says everything but shows nothing." - Lawrence Schiller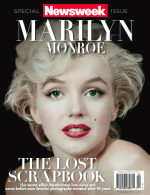 "Marilyn Monroe's Lost Scrapbook,"
a Newsweek special issue, is on sale at Walmart, Barnes & Noble
and on newsstands nationwide.
09 janvier 2014
Le magazine américain Newsweek, édite un numéro spécial consacré à Marilyn Monroe sorti le 8 janvier 2014 (et disponible jusqu'au 18 mars 2014).
Prix: ?
> information on newsweek.com
What started as an entire issue of Marilyn Monroe's favorite photographers sharing their their favorite pictures and anecdotes about the iconic actress, turned into a never-before-seen look inside Marilyn's mind. Through conversations with legendary photographer Lawrence Schiller, we discovered he had a "Lost Scrapbook" in his personal archives that has been locked away for nearly 60 years.
Written in her own hand (in crayon), and filled with her personal photos, The Scrapbook is a love note to a man she had an affair with (Sam Shaw) perhaps while married to Joe Dimaggio and Arthur Miller. It consists of photos of Marilyn that Sam Shaw took glued into a notebook, with hand-written notes on each page in crayon. There are very few never-before-seen Marilyn Monroe moments left in the world and that is what makes this Newsweek Special Issue so special.
"Marilyn Monroe's Lost Scrapbook" is on sale Thursday, January 9th in Walmart and Barnes & Noble and on newsstands nationwide Tuesday January 14th.
---
Let's Get Lost: The Missing Marilyn Scrapbook

By Jeff Ashworth / January 08 2014 6:33 PM
online on newsweek.com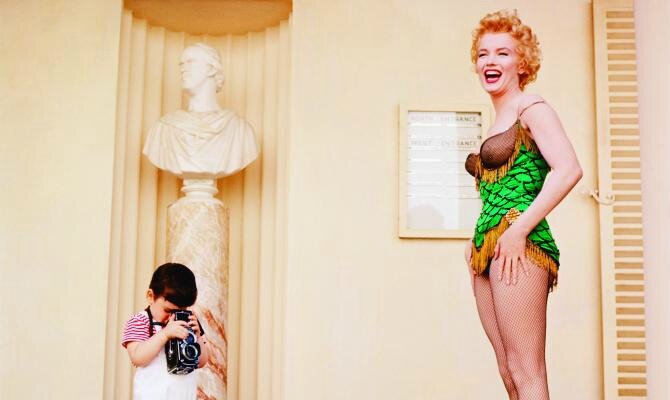 After more than 40 years a little bit of the woman no one really knew is revealed in an artifact no one's ever seen.
Photograph by Milton H. Greene ©2013 Joshua Greene/ArchiveImages.com
"My friend Sam Shaw gave me this scrapbook in 1973," says Lawrence Schiller, a photojournalist and author, whose latest book is Marilyn & Me. "I was at my office on Sunset Boulevard. Sam brought it in a tattered brown-paper bag, opened it up, then laid it out on the desk. 'Take a look at this,' he said." Marilyn had died 10 years earlier, but according to Schiller "she'd made this for Sam. She picked out all her favorite pictures, which I believe Sam had taken of her, and on each page she'd used a different colored crayon," says Schiller. "My first impression of the scrapbook was surprise. I couldn't imagine Marilyn doing something like this. A child? A teenager? Maybe. But not Marilyn."

Schiller first met Marilyn in 1960, on the set of Let's Make Love. "I'd been hired to shoot her for Look magazine," Schiller recalls. "I kept telling myself it was just another assignment, but it wasn't. I was 23 years old. She was every man's—and woman's—fantasy. The Marilyn Monroe." A few years later, Schiller's photos of her nude in the swimming pool on the set of Something's Gotta Give earned him his first Life cover. "Seven weeks later, she was gone," he says.


Photos of Marilyn Scrapbook Courtesy of the Archives of Polaris Communications
According to a Sam Shaw biography, Shaw met Marilyn on the set of 1952's Viva Zapata! Shaw was friends with the director, Elia Kazan. He didn't drive, so he needed someone to get him to the set to shoot photos. Kazan asked Marilyn to drive Shaw, and they hit it off. The iconic shot of Marilyn on the subway grate with her dress blowing up was his idea. "He was a brilliant photographer," says Schiller. "His photos speak for themselves."
"Sam and I used to go to Vincent Rao's together in New York with Norman Mailer, John Cassavetes, all of us," says Schiller. "Our relationship went on for several years, and we became good friends. He even confided in me at one point that he'd had an affair with Marilyn. I joked with him, 'You and Andre de Dienes are probably the only two who did.' He looked back at me and said, 'Well, why didn't everyone?' And I said, with a little smile, speaking only for myself, 'I can tell you that I was scared s***less because if I wasn't that good in bed I might not be photographing her the next day.'"
"I wasn't surprised when Sam told me about the affair with Marilyn," says Schiller. "But this scrapbook was a surprise. And it stayed in that brown bag for a lot of years."


Photos of Marilyn Scrapbook Courtesy of the Archives of Polaris Communication
"Marilyn Monroe's Lost Scrapbook," a special Newsweek issue, is on sale in Walmart and Barnes & Noble, and on newsstands nationwide Tuesday January 14th.
The works of Milton H. Greene consist of a collection of timeless images including some of the most memorable icons of the 20th century, and can be viewed at the Archives LLC's website, thearchivesstore.com.
01 avril 2013
lot n°794: MARILYN MONROE PHOTOGRAPH BY LAWRENCE SCHILLER
A black and white photograph of Marilyn Monroe celebrating her birthday in her dressing room, with co-stars Dean Martin and Wally Cox on the set of her last film, " Something's Got To Give " (20th Century Fox, 1962), taken by Lawrence Schiller (American, b. 1936), June 1, 1962. Gelatin silver print. Stamped on verso " The Silver Screen / 35 East 28th Street , New York , NY 10016 ."
Estimate: $400 - $600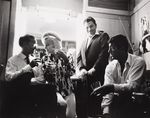 ---
lot n°795: MARILYN MONROE PHOTOGRAPH
A black and white photograph of Marilyn Monroe posing in a bikini during the filming of " Something's Got To Give " (20th Century Fox, 1962).
Estimate: $200 - $400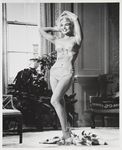 ---
lot n°796: MARILYN MONROE PHOTOGRAPH BY LAWRENCE SCHILLER
Marilyn Monroe by the pool on the set of her last film, " Something's Got To Give " (20th Century Fox, 1962), taken by Lawrence Schiller (American, b. 1936). Vintage gelatin silver print. Stamped on verso " Lawrence Schiller / Wm . Read Woodfiled ," " International Copyright , 1962 ," and " Globe Photos / 67 West 44th St ., N . Y . C . 36 , YUkon 6 - 2050 ." Inscribed in ink on verso " Page 7 / body / July 18 / Sge as Bromide / Note layout instruction ."
Estimate: $1000 - $2000

---
lot n°797: MARILYN MONROE PHOTOGRAPH BY LAWRENCE SCHILLER
Marilyn Monroe by the pool on the set of her last film, " Something's Got To Give " (20th Century Fox, 1962), taken by Lawrence Schiller (American, b. 1936). Vintage gelatin silver print. Stamped on verso " Lawrence Schiller / Wm . Read Woodfiled ," " International Copyright , 1962 ," and " Globe Photos / 67 West 44th St ., N . Y . C . 36 , YUkon 6 - 2050 ." Inscribed in ink on verso " P 13 July 11 / Please Sge as per Bromide on Texo / this must be returned unmarked ."
Estimate: $1000 - $2000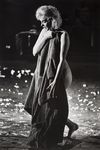 02 octobre 2012
*photographe. Sur le tournage de 'Something's Got to Give', en 1962: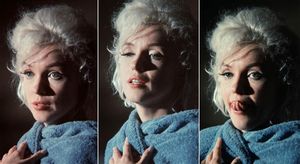 -Vous êtes déjà célèbre, maintenant, vous allez me rendre célèbre... dixit Schiller.
-"Ne soyez pas si insolent, les photographes, ça se remplace facilement, répliqua Marilyn.

*photographe. Marilyn dans la salle d'habillage de 'Let's Make Love' (Le Milliardaire), en 1960: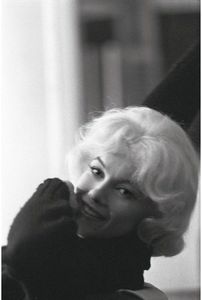 En regardant par dessus son épaule gauche, elle m'a lancé un sourire mutin qui m'a appris tous ce que je devais savoir sur Marilyn Monroe :
elle savait qui elle était,
elle savait qui j'étais,
elle savait quoi faire...

05 août 2012

Marilyn Monroe, tout est à vendre
le 2/08/2012
Par Frédéric Joignot, envoyé spécial à New York
en ligne sur lemonde.fr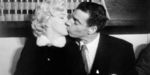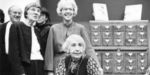 A gauche : Joe DiMaggio, le second mari de Marilyn, est absent du testament de la star.
A droite : les psychanalystes Dorothy Burlingham, Mariane Kris - qui obtient 25 % de la succession - et Anna Freud, dans les années 1970.
FREUD MUSEUM, LONDON | BETTMANN/CORBIS.
Marilyn Monroe rédige son testament le 14 janvier 1961, à 34 ans, à une période douloureuse de sa vie. Elle vient d'annoncer son divorce avec l'écrivain Arthur Miller. Le tournage des Désaxés, de John Huston, a été une épreuve : elle se disputait sans cesse avec son mari, prenait des barbituriques à haute dose. L'année précédente, Le Milliardaire, une comédie de George Cukor, avec Yves Montand, a fait un flop.

Certains journaux la disent finie. L'actrice s'est installée à New York pour suivre à nouveau les cours de théâtre de Lee Strasberg à l'Actors Studio. Le maître des lieux, qui a formé Marlon Brando, Montgomery Clift, James Dean ou Dustin Hoffman, et dont l'épouse, Paula, est devenue le coach de Marilyn, propose de la diriger dans Rain, un téléfilm pour la NBC adapté d'un roman de Somerset Maugham. Marilyn se prépare, écrit à Maugham pour approfondir son rôle. En attendant, désespérée par sa rupture avec Miller, elle consulte chaque jour sa psychanalyste, Marianne Kris.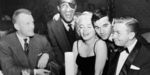 Marilyn Monroe, entourée de l'artiste Sammy Davis Jr et du photographe Milton Greene, dont elle était proche, en décembre 1954.
| BETTMANN/CORBIS
Voilà pourquoi, peut-être, elle lègue alors, après distribution de sommes en liquide à ses proches et à sa demi-soeur Berniece Miracle, 50 % de ses biens, revenus et droits à Lee Strasberg, son mentor. 25 % vont à Marianne Kris, afin qu'elle "les emploie à faire avancer le travail de tout groupe ou institution psychiatrique de son choix". Les 25 % restants ou, au choix, 40 000 dollars, reviennent à sa secrétaire, May Reis. Sinon, n'ayant pas eu d'enfant et son père l'ayant abandonnée, elle laisse 5 000 dollars par an "pour l'entretien et le soutien financier" de sa mère, Gladys Baker, internée dans un hôpital psychiatrique.

Ce testament est contesté aussitôt après sa mort. La conseillère financière de Marilyn Monroe, Inez Melson, qui ne reçoit rien, affirme, en octobre 1962, que l'actrice était "sous l'influence invalidante" des Strasberg et de son analyste. Mais elle est déboutée par le juge Samuel Di Falco, qui entérine le testament.

Aujourd'hui encore, sur le site Marilynmonroe.family.com, ses cousins parlent d'une manipulation de ses dernières volontés par ses proches, alors qu'elle était au plus mal. Plusieurs de ses biographes soutiennent qu'elle allait les modifier, au vu des événements qui ont suivi...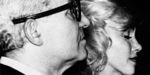 Lee Strasberg et Marilyn Monroe
PETER BASCH
En février 1961, le projet Rain avec Lee Strasberg s'écroule. Effondrée, l'actrice s'assomme aux barbituriques. Craignant qu'elle ne se suicide, Marianne Kris la fait admettre à la Payne Whitney Clinic, à Manhattan, où elle est placée en cellule de sécurité. Quand elle constate qu'elle est enfermée, Marilyn Monroe fait une crise de désespoir, casse une fenêtre, demande à sortir. Les médecins la menacent de la camisole de force. Elle fait passer un message à Lee Strasberg par une infirmière : "Le Dr Kris m'a fait enfermer sous la surveillance de deux imbéciles (...). Je suis enfermée avec les cinglés. Je suis sûre de finir comme eux si ce cauchemar se poursuit. Je vous en supplie, aidez-moi." Mais c'est l'ancien joueur de baseball Joe DiMaggio, son deuxième mari, qui, joint par Marilyn, la fait libérer. Il la place dans un centre ouvert, reste près d'elle. Selon Donald Spoto, son biographe le plus sérieux, ils envisageaient de se remarier.

Après cet épisode, l'actrice ne demandera plus jamais l'aide de Marianne Kris et, d'après plusieurs sources, elle fit savoir à son avocat, Milton Rudin, qu'elle souhaitait modifier son testament. Voilà pourquoi beaucoup s'étonnent que la psychanalyste hérite, que Joe DiMaggio, de retour dans sa vie, n'ait rien ou encore que Lee Strasberg reçoive la majeure partie de l'héritage. Selon Patricia Bosworth, du magazine Vanity Fair, Marilyn aurait confié la veille de sa mort au photographe Milton Greene, longtemps son ami et manager, qu'elle pensait que les Strasberg la manipulaient.

Marilyn Monroe décède dans la nuit du samedi 4 août 1962 d'un empoisonnement aigu aux barbituriques. Elle a 36 ans. En dehors de ses droits et royalties, ses biens sont estimés à 92 781 dollars. Ils sont distribués comme le stipule son testament. Ses effets personnels sont pieusement conservées par les Strasberg, qui pensent que ceux-ci rejoindront un jour un musée du cinéma.

Quand, en 1982, Lee Strasberg meurt, sa veuve et seconde femme, Anna, qui n'a jamais connu Marilyn, se retrouve à la tête du Lee Strasberg Theater Institute fondé par son mari, et de la majeure partie de l'héritage Monroe. Peu connue du grand public, Anna Strasberg s'érige aussitôt en stratège de l'exploitation de la marque et de l'image Marilyn Monroe. D'après Nathan Koppel, expert financier au Wall Street Journal, elle "lance son entreprise de licences et de publicité quelques mois à peine après la mort de son mari".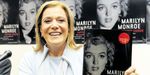 Anna Strasberg, l'héritière, qui n'a jamais connu Marilyn Monroe, fait la promotion du livre « Fragments », à Francfort, en Allemagne, en 2010. EPA/CORBIS | ULI DECK/
Il faut comprendre qu'en ces années 1980, les budgets de communication des marques explosent. Elles cherchent des égéries, des icônes, des stars avec lesquelles s'associer. Marilyn Monroe est l'une d'elles. Anna Strasberg comprend vite que les royalties de l'actrice sont peu lucratives au regard de ce que pourraient rapporter ses droits à l'image. Les artistes eux-mêmes se sont inspirés de l'icône Marilyn Monroe. En 1954, Willem De Kooning peint une Marilyn aux traits déformés. En 1965, Richard Hamilton exécute My Marilyn, un collage photos. En 1967, c'est au tour d'Andy Warhol de produire plusieurs sérigraphies qui seront vendues dans le monde entier. En 1971, Salvador Dali réalise une lithographie intitulée Mae West, Marilyn Monroe, Mao. En 1982, la photographe américaine Cindy Sherman s'autoportraitise en Marilyn à peine maquillée...

Durant les années qui suivent, de fructueux contrats pleuvent. Les grands magasins Bloomingdale's ouvrent une boutique "Marilyn Monroe" à New York, Absolut Vodka lance un spot de télévision, la société de cosmétiques Revlon récupère son image, un clip pour le parfum Chanel no5 est tourné, même la griffe Nike s'accapare Marilyn sur ses baskets. D'après le Wall Street Journal, la marque "Marilyn Monroe" rapporte 7,6 millions de dollars à Anna Strasberg entre 1983 et 1993.

QUELLE IMAGE GARDER DE MARILYN ?

Dès lors, comment continuer à faire fructifier cette manne jouant sur l'image et la légende de l'actrice ? Quels souvenirs l'actrice laisse-t-elle dans les mémoires ? Comment la présenter dans des publicités ou sur des produits commerciaux ? Quelle Marilyn Monroe est la plus vendeuse ? La blonde allumeuse de ses débuts ? La star glamour venue souhaiter, le 19 mai 1962, bon anniversaire au président John F. Kennedy, son amant ? Ou l'actrice inquiète de l'Actors Studio ?

Lawrence Schiller, 76 ans, a photographié Marilyn nue sur le bord de la piscine lors du tournage du film Something's Got to Give, abandonné en 1962. Selon lui, "le grand public aime le personnage "Marilyn", la blonde sexy et faussement ingénue que Monroe a inventée de toutes pièces. Quand elle a décidé de poser nue, je lui ai dit : "Vous êtes célèbre, vous allez me rendre célèbre." Elle m'a répondu : "Ne soyez pas insolent, les photographes se remplacent facilement." Pour chaque photo, elle devenait Marilyn, avec son sourire lumineux, sa féminité irrésistible. Ensuite, elle demandait à voir tous les tirages et en éliminait les trois quarts". Pour Schiller, Marilyn Monroe "jouait son va-tout" en posant nue. La Fox voulait la licencier, Liz Taylor était mieux payée qu'elle. "On découvre combien elle est encore belle. Pourquoi personne n'oublie-t-il Marilyn Monroe ? Elle a créé sa propre icône. Elle savait prendre la lumière comme aucune autre star."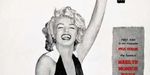 Un exemplaire du premier numéro du magazine « Playboy » (1953) - avec, en couverture, Marilyn Monroe photographiée par Milton Greene - s'est vendu 31 070 dollars en 2010. | PLAYBOY
Les photos au bord de la piscine ont consacré Marilyn comme la bombe platine à la chair nacrée qui efface Lana Turner et Jean Harlow. C'est cette Marilyn-là qu'Anna Strasberg va vendre en série dans les années 1990. En 1996, elle s'associe avec Mark Roesler, le PDG de CMG Worlwide - qui gère les droits intellectuels pour utiliser des photos de célébrités. L'homme s'est fait connaître dans les années 1980 en envoyant des détectives privés rechercher les familles des stars décédées. C'est ainsi qu'il a récupéré les droits de Bette Davis, James Dean, Ava Gardner, Robert Mitchum, Gene Tierney, Ingrid Bergman, Jane Mansfield, Jane Russell... Il a emporté le marché Marilyn Monroe en promettant à Anna Strasberg 1,1 million de dollars de gains annuels en licences.

Les années suivantes, 700 contrats industriels et publicitaires utilisant l'image de Marilyn sont signés, jouant sur son sex-appeal. La star est représentée, souvent en petite tenue, sur des centaines de milliers d'objets et gadgets de toutes sortes. Mugs, cendriers, stylos, briquets, jetons de casino, vaisselle, literie, lingerie, tee-shirts, sacs, meubles, poupées, queues de billard, stores, tablettes de chocolat, bouteilles de vin (le "Marilyn merlot", le "sauvignon Blonde"). Parfois, c'est n'importe quoi. Une ligne de vêtements roses pour animaux a pour slogan "Les diamants sont les meilleurs amis du chien", des préservatifs à l'effigie de Marilyn sont mis en vente...

Paul Morizet, de Greenlight - filiale de la banque d'images Corbis -, croit, qu'à force, Anna Strasberg a dégradé l'image de la star. Il s'est occupé du film publicitaire Dior tourné, en 2011, par Jean-Jacques Annaud au château de Versailles avec Charlize Théron. Des doubles de Grace Kelly, Marlène Dietrich et Marilyn Monroe y apparaissent quelques secondes. "Nous gérons les images de Steve Mc Queen et Maria Callas. Il est décisif de ne pas galvauder la symbolique d'une star disparue. Le problème, avec Marilyn Monroe, c'est que son image a été trop vendue dans des produits bas de gamme. Elle a beaucoup perdu en image de marque. Résultat, une star vivante vaut beaucoup plus cher qu'elle. Elle ne reprend une valeur publicitaire que depuis deux ans", dit-il.

Si l'image de l'actrice est écornée, les licences la concernant rapportent gros. Entre 1996 et 2000, selon le Wall Street Journal, Anna Strasberg reçoit 7,5 millions de dollars de la CMG. C'est l'époque, écrit le journal économique, où "Anna Strasberg pense et gère l'image de Mme Monroe dès qu'elle se réveille". Elle cherche à récupérer les droits qui lui manquent, les 25 % légués à Marianne Kris. Avant de mourir, en 1980, la psychanalyste les a transmis à l'Anna Freud Centre de Londres, une clinique psychiatrique qui se servira de cet argent pour créer une unité thérapeutique "Marilyn Monroe" pour enfants en difficulté. Anna Strasberg va tenter, en vain, de racheter ces parts.

En 1999, l'héritière arrondit son pactole en mettant aux enchères les affaires personnelles de l'actrice chez Christie's, à New York. La vente de ses effets, près de 1 000 pièces, ses livres, ses meubles, ses robes rapportent 13,4 millions de dollars, quadruplant les estimations. Cette vente aux enchères a heurté beaucoup de gens. Les héritiers des grands photographes de Marilyn, ceux qui ont popularisé son image (Milton Greene, Tom Kelley, Sam Shaw) se disent choqués, et dénoncent l'âpreté au gain d'Anna Strasberg ainsi que la dégradation de l'image de Monroe.

La robe blanche que la star portait dans « Sept ans de réflexion », de Billy Wilder, en 1955, s'est vendue 4,6 millions de dollars, à Berverly Hills, le 18 juin 2011. | REX FEATURES/SIPA
Au départ pourtant, la plupart d'entre eux apprécient les contrats de licence, en signent eux-mêmes, profitant de la manne. Selon The Wall Street Journal, Larry Shaw, fils de Sam, a amassé 100 000 dollars par an dans les années 1990 grâce aux droits de publicité sur Marilyn. De même, Tom Kelley Junior, dont le père a fait, en 1949, le premier nu de Marilyn (payé 50 dollars), a perçu 300 000 dollars. Les choses se gâtent dans les années 2000, lorsqu'Anna Strasberg s'arroge l'essentiel des dividendes. Joshua Greene, le fils de Milton, a déclaré au quotidien britannique The Telegraph : "Anna Strasberg et la CMG étaient seulement intéressés par l'argent. Au lieu de travailler avec nous, ils nous ont attaqués en tant que photographes, prenant 90 % des accords de licence. Nous avons même dû nous battre pour que les photos soient correctement créditées." Mark Roesler, de CMG, tout comme le service communication de l'entreprise, ont refusé de répondre à nos questions sur ces critiques.

Excédés, les trois héritiers des photographes Greene, Kelley et Shaw déposent, début 2007, un recours commun pour remettre en cause la propriété de l'image de l'actrice par Anna Strasberg. Pour cela, ils vont jouer sur les contradictions du droit américain. Selon leurs avocats, quand Marilyn Monroe homologue son testament, en janvier 1961, elle habite Manhattan. Or, aux Etats-Unis, les droits de publicité constituent un véritable maquis juridique. Dans l'Etat de New York, les descendants d'une célébrité n'ont pas le droit d'en hériter. Autrement dit, si la Marilyn de 1961 était jugée "résidente new-yorkaise" par une cour, ses droits de publicité après sa mort seraient nuls et non avenus. Anna Strasberg n'aurait pas le droit de les exploiter.

L'avocat adverse, Me Wegner, riposte fin 2007. A son décès, Marilyn Monroe se considérait comme californienne. Or, en Californie, la loi reconnaît la cession post mortem pour toute star décédée depuis 1938. Conclusion : Marilyn Monroe pouvait céder ses droits de publicité aux Strasberg.

En septembre 2008, la cour de district de New York a reconnu la demande des photographes lésés, qu'elle a libérés de la tutelle d'Anna Strasberg et de la CMG. Les titulaires de licence peuvent désormais traiter directement avec eux. Mark Roesler, le PDG de la CMG, qui a perdu là un marché décisif - Forbes Magazine estime à 7 millions de dollars les droits photographiques versés pour Marilyn en licences -, a parlé d'"une décision ridicule", et a fait appel. Ce procès a coûté très cher à toutes les parties. Selon The New York Times, Anna Strasberg a investi 100 000 dollars pour tenter de faire modifier la législation sur les droits de publicité à Albany, capitale de l'Etat de New York. Elle a été condamnée à 200 000 dollars d'amende dans un tribunal de Manhattan pour "manigances inacceptables".

Poussons à présent la porte du Lee Strasberg Theater Institute, un petit édifice peint de couleurs vives sur la 15e Rue, à New York. "Mme Anna Strasberg ? Non, elle n'est pas là. Mais je vais voir si la directrice, Victoria Krane, peut vous recevoir." A deux pas de la réception, on découvre un émouvant petit "Marilyn Monroe Theater" où les étudiants d'art dramatique répètent - ils aiment l'actrice de Niagara (1953) et Troublez-moi ce soir (1952), la Marilyn criminelle et malsaine qu'elle jouait si bien, aussi ! Dès qu'elle apprend que je cherche à joindre sa patronne, Victoria Krane décline tout entretien. J'insiste. Les jours suivants, je reçois deux mails secs. Tous deux m'indiquent qu'Anna Strasberg sera absente de New York jusqu'en septembre. Inutile de chercher à la rencontrer.

C'est Paul Newman qui a présenté Anna Mizrahi, 28 ans, une jolie actrice de Broadway montée à Hollywood, à Lee Strasberg, 66 ans, en 1967. Un an plus tard, ils se marient, et s'installent dans une belle maison à Brentwood, Los Angeles. Deux enfants naissent bientôt, Adam et David. L'actrice Susan Strasberg, la fille de Lee et de Paula, dans des Mémoires non publiés dont Vanity Fair a donné des extraits, parle d'une période heureuse - beaucoup d'acteurs passaient chez eux, Al Pacino était l'ami de la famille. Mais des dissensions naissent bientôt à propos de la gestion des instituts Strasberg. Le premier fils de Lee, Johnny, s'occupe de celui de New York. En 1978, il demande à toucher des dividendes de l'affaire. Son père et Anna Strasberg refusent. Elle le juge incompétent, refuse de le rencontrer. Johnny quitte l'institut. En juin 2003, il déclare à Vanity Fair : "Nous étions devenus deux familles, celle d'Anna et la nôtre."

Quand, en février 1982, Lee Strasberg meurt d'une crise cardiaque au Radio City Music Hall, l'essentiel de son héritage revient à Anna et à ses enfants. Johnny et Susan ont été déshérités. Les années qui suivent, Anna Strasberg prend la direction des instituts et récupère, après une bataille juridique, toutes les archives de l'Actors Studio. En 1988, elle viendra en aide à Susan et à sa fille Jenny, quand elles se trouveront sans argent. Susan demandera 1 % de la succession Monroe. En vain. Dans Vanity Fair, Anna Strasberg déclare : "Toute histoire a toujours deux versants."

Un écrivain et éditeur français, Bernard Comment, qui dirige la collection "Fiction & Cie" des éditions du Seuil, a rencontrée plusieurs fois Anna Strasberg. Il présente l'autre versant, parle d'une vieille femme cultivée, pleine d'humour, très élégante, attachée à préserver l'art dramatique de son mari, et relativise sa réputation de férocité en affaires. La manière dont elle l'a choisi pour publier le livre Fragments (Seuil, 2010), composé à partir des carnets intimes de Marilyn Monroe, en témoigne.

En octobre 2008, invité par le rocker Lou Reed - qu'il a publié au Seuil - à un dîner privé de collectionneurs d'art, Bernard Comment se voit aborder par un proche d'Anna Strasberg. Elle aurait découvert des textes de Marilyn qu'elle aimerait montrer à un éditeur "littéraire". Deux mois plus tard, l'écrivain arrive avec vingt minutes de retard dans un grand appartement new-yorkais. Anna Strasberg, 68 ans, moque gentiment son retard - elle le compare à Marilyn - et lui présente sept ou huit textes de l'actrice. "Je ne pouvais pas les toucher, j'ai eu à peine le temps de lire quelques extraits. Je repère qu'il y a un poème, des pleines pages, des notes... Je lui dis qu'il faudrait réaliser un livre d'auteur, signé, pas un "beau livre"..." Puis il précise aussitôt qu'il n'a pas d'argent. Enfin, très peu. Contre toute attente, Anna Strasberg se montre satisfaite. "Elle m'a dit qu'elle attendait depuis des années qu'on lui tienne un tel discours. Elle voulait avant tout mettre en valeur ce trésor. Un grand éditeur de presse américain était venu la trouver avant moi. Voyant les textes, il avait fait glisser un chèque en blanc sur la table. Elle avait décliné l'offre."

Dans les mois qui suivent, Bernard Comment revient plusieurs fois à New York pour travailler sur le futur livre. Finalement, l'ouvrage est accepté, les droits vendus. "Nous sommes loin d'une somme à six chiffres, dit-il. Ce qui est dérisoire." Il ajoute qu'Anna Strasberg lui a demandé des listes d'éditeurs littéraires dans toute l'Europe. Elle a demandé à chacun d'entre eux une lettre de motivation.

En France, selon l'éditeur, Fragments s'est vendu à 100 000 exemplaires. Autant en Allemagne, au Royaume-Uni, aux Etats-Unis. Le livre nous fait découvrir une Marilyn triste, doutant d'elle-même. Elle écrit : "Mon travail est le seul espoir fiable que j'ai", ajoutant : "Seule !!!!! Je suis seule. Je suis toujours seule quoi qu'il arrive." Plus loin encore : "Je sais que je ne serai jamais heureuse, mais je peux être gaie !" L'écrivain Antonio Tabucchi, qui préface Fragments, parle d'une "Joconde" contemporaine, précisant : "A l'intérieur de ce corps vivait l'âme d'une intellectuelle et poète dont personne n'avait le soupçon." Ces textes bouleversants retournent complètement l'image de la starlette écervelée.

Selon Bernard Comment, c'est ce que voulait Anna Strasberg. Au cours de leurs discussions, elle a laissé transparaître qu'elle avait été dépassée par cet héritage. Il lui fallait, pour conserver les affaires de Marilyn, louer des garde-meubles climatisés, prendre des assurances exorbitantes. Elle ne pouvait pas contrôler les millions d'objets qui ont déferlé sur le marché. Plusieurs fois, elle a essayé. Quand Larry Shaw, le fils du photographe, a dénoncé un téléphone gadget où la robe de Marilyn se soulevait à chaque sonnerie, elle a contacté l'industriel pour protester. On lui a dit que la statuette portait une culotte. Que faire ? Anna Strasberg devait encore maintenir en vie les écoles de New York et de Los Angeles, l'héritage de son mari, où plusieurs générations d'acteurs ont appris "la méthode" héritée de l'Actors Studio : Alec Baldwin, Laura Dern, Matt Dillon, Bridget Fonda, Ray Liotta, Robert de Niro, Mickey Rourke, Uma Thurman, Christopher Walken. Sans compter le financement des nombreuses bourses que l'institut a distribuées.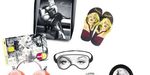 Dans les années 1990, 700 contrats de licences sont signés pour utiliser l'image de la star. | DR

En janvier 2011, à 73 ans, lasse des procès à répétitions, Anna Strasberg a rompu son contrat avec CMG Worldwide pour vendre la quasi-totalité de ses droits sur Marilyn à une nouvelle société, Authentic Brand Group (ABG). La négociation a duré six mois. La presse économique américaine a avancé deux prix : 25 et 50 millions de dollars. Un dirigeant d'ABG, James Salter, a déclaré au New York Post : "Nous voulons en finir avec les babioles et le trash." Le choix sera celui de "l'élégance, l'élégance, l'élégance", même s'il précise : "Marilyn était une femme élégante, mais elle n'était pas droite comme un crayon."

Dans les bureaux d'ABG, à New York, d'immenses photos de Marilyn habillent les murs. Le responsable du marketing, Nick Woodhouse, 35 ans, explique la nouvelle stratégie : "Nous pensons que Marilyn n'était pas à sa place. Elle était au-dessous de ses capacités comme icône glamour. Nous travaillons à lancer une joaillerie Marilyn, comme a commencé à le faire Chopard à Cannes, des parfums, de la lingerie, de la mode Marilyn... Dolce & Gabbana a développé des tee-shirts à 200 dollars ainsi qu'une ligne de cosmétiques où Scarlett Johansson pose en Marilyn."

La nouvelle Marilyn Monroe vaut-elle cher ? "C'est une marque premium". Vont-ils continuer à vendre des gadgets ? "Nous ne voulons plus de vulgarité. Mais l'extraordinaire avec Marilyn, c'est qu'elle séduit autant les camionneurs que l'élite, de Tokyo à Vancouver. Nous allons développer des campagnes haut de gamme mais aussi plus populaires. Nous venons de lancer sa page Facebook. Elle rassemble déjà plus de trois millions de fans."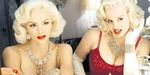 Megan Hilty et Katharine McPhee, les deux actrices aspirant au rôle de Marilyn dans la série américaine « Smash » (TF1). | DREAMWORKS TV/STORYLINE ENTERTAINMENT/UMS/THE KOBAL COLL./AFP
Pour convaincre ses futurs clients, Nick Woodhouse a rassemblé l'actualité récente consacrée à la star. C'est impressionnant... Elle souffle une bougie sur l'affiche du dernier Festival de Cannes. Elle inspire le film My Week With Marilyn, de Simon Curtis, sorti en avril. Brad Pitt confirme vouloir produire Blonde avec Naomi Watts, un film tiré du roman de Joyce Carol Oates (2000). Steven Spielberg et la chaîne NBC ont lancé le feuilleton télévisé "Smash", diffusé sur TF1 en juillet, qui raconte la création d'une comédie musicale d'après la vie de Marilyn. Angelina Jolie a été pressentie pour l'interpréter aux côtés de George Clooney dans Maf the Dog, tiré du roman d'Andrew O'Hagan's ("Maf" ou "Mafia" est le nom du chien offert par Franck Sinatra à Marilyn).
Le distributeur américain Entertainment One prépare une série d'émissions de télé-réalité sous le titre "Finding Marilyn" ("Chercher la nouvelle Marilyn").

Après avoir occupé les couvertures des magazines pour le 50e anniversaire de sa mort, Marilyn Monroe continue d'inspirer livres, films, séries et shows. Pourquoi nous séduit-elle toujours ? Nous émeut-elle encore ? Edgar Morin a magistralement analysé, dans Les Stars (Seuil, 1972), comment Marilyn Monroe est devenue "la première star au-delà du star-system", l'actrice désemparée dont les échecs artistiques, le mal-être et la mort brutale déchirent le mythe d'un Hollywood de rêve.

Aujourd'hui, des studios réfléchissent à une "virtual Marilyn" en 3D, un hologramme permettant de lui faire jouer de nouveaux rôles. Le fantôme de Marilyn Monroe n'a pas fini de nous hanter.