20 novembre 2011
lot n°763: MARILYN MONROE / NORMA JEANE SIGNED CONTRACT
A contract amendment between Marilyn Monroe and Twentieth Century Fox to extend Monroe's contract by six months. The amendment is typed on Twentieth Century Fox Film Corporation letterhead, addressed to "Miss Marilyn Monroe/(Norma Jeane Dougherty)," dated February10, 1947, and signed in the lower left "Marilyn Monroe/Norma Jeane Dougherty." The amendment states that the studio is exercising its right to extend Monroe's contract by sixth months. In August 1947, Fox opted not to renew Monroe's contract. 11 by 8 1/2 inches
Estimate: $6 000 - $8 000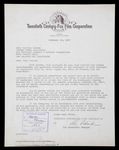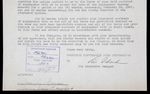 ---
lot n°765: MARILYN MONROE / NORMA JEANE HANDWRITTEN LETTER
An eight-page handwritten letter from Norma Jeane Dougherty (Marilyn Monroe) to Grace Goddard dated June 4, 1945. The letter tells how busy Norma Jeane has been and how she has not worked at the Radioplane factory since January. Norma Jeane explains that she was photographed by Army photographers and met a man named David Conover who was "awfully nice and is married and is strictly business, which is the way I like it." She tells how Conover has been photographing her and encouraging her to become a model. Of her husband Norma Jeane writes, "Jimmy seems to like the idea of me modeling so I'm glad about that." The future Marilyn Monroe ends the letter "I shall be so happy to see you again dear and to see Daddy and Bebe, because I love you all so much...With love, Norma Jeane." Accompanied by the original transmittal envelope. 7 by 4 1/4 inches
Estimate: $30 000 - $ 50 000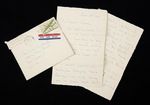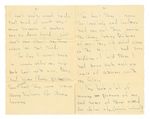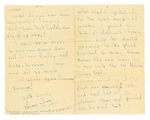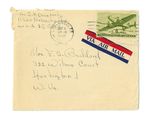 ---
lot n°783: MARILYN MONROE SCREEN ACTORS GUILD MEMBERSHIP CARD
A Marilyn Monroe 1960–1961 Screen Actors Guild Membership card together with a receipt dated May 1, 1961, indicating that she paid her $80.00 in dues. 2 1/2 by 3 1/2 inches PROVENANCE Lot 187, "Property from the Estate of Marilyn Monroe and other Collections," Julien's Auctions, Los Angeles, June 4, 2005
Estimate: $3 000 - $5 000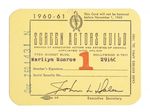 ---
lot n°793: MARILYN MONROE AND ARTHUR MILLER AIRLINE TICKETS
Three airline tickets and ticket envelope labeled Mrs. M Miller, for Marilyn Monroe Miller and Arthur Miller to fly from Reno to San Francisco to Los Angeles in 1960. The tickets are most likely from the temporary shutdown of filming The Misfits (Seven Arts, 1961). Largest, 7 1/4 by 3 3/4 inches
Estimate: $400 - $600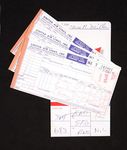 ---
lot n°807: MARILYN MONROE STATIONERY AND RECEIPT
Two sheets of Marilyn Monroe stationery and envelope accompanied by a Carey Cadillac Co. of Calif. Inc. receipt dated May 13, 1962. Monroe spent this Sunday, which happened to be Mother's Day, out shopping in Brentwood. The total cost for 8 1/4 hours of service was $58.93. Largest, 9 by 6 inches
Estimate: $400 - $600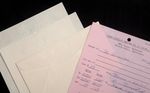 22 avril 2011
lot n°560: MARILYN MONROE, MILTON GREENE ATTORNEY LETTER 1957
A copy of a 1957 letter written on attorney Irving Stein's stationery following the dissolution of the partnership between Marilyn Monroe and Milton Greene. The letter is written to another lawyer and reads in part, "I have asked Milton Greene for a list of the items of his property which Marilyn now has...In addition, Milton reminds me that Marilyn has in her possession, many items of personal property belonging to the Corporation." Marked along left margin "COPY" in red letters. Pencil notations throughout.
Estimate: $200 - $400

---
lot n°562: MARILYN MONROE LETTER FROM WILLIAM TRAVILLA
A letter to Marilyn Monroe from designer Bill Travilla dated April 26, 1960 inviting Monroe to a collection preview. On verso in are notes in response detailing why she was unable to attend - not in Monroe's hand.
Estimate: $1,000 - $2,000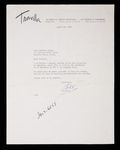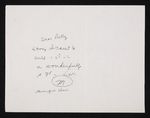 ---
lot n°563: "THE MISFITS" ORIGINAL SCRIPT
A script from The Misfits (Seven Arts Productions, 1961) originally owned by composer Aaron Copland. The script, written by Arthur Miller, is marked "Revisions - September, 1959." The script has a black cover that is slightly torn, script shows signs of age. Copland gave the script to his assistant in the mid-1980s. 11 1/8 by 8 1/2 inches
Estimate: $800 - $1,200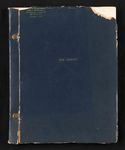 ---
lot n°565: MARILYN MONROE GOLDEN GLOBES CERTIFICATE
A 19th Annual Golden Globe Awards certificate awarded to Marilyn Monroe for the Henrietta Award "World Favorite Actress." Certificate reads "Thank you/ MARILLYN MONROE/ WORLD FAVORITE ACTRESS/ Hollywood Foreign Press Association/ 19th Annual Golden Globe Awards." Mounted to board.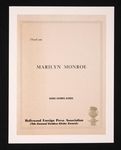 20 juin 2010
Tournée promo pour "La Pêche au Trésor"
"Love Happy" Tour Promo
Dans le cadre de la tournée promotionnelle du film La pêche au trésor, Marilyn Monroe est à Détroit (dans le Michigan) début juillet 1949; elle loge à l'hôtel Book Cadillac.

As part of the promotional tour for the movie Love Happy, Marilyn Monroe is in Detroit (in Michigan) in early July 1949; she is staying at the Book Cadillac Hotel.
---
- A l'aéroport -
At the aiport
- Dans la presse -
Detroit Free Press, 08/07/1949 - USA
"MARILYN MONROE, in Detroit for premiere of movie "Love Happy" later this month,
tries out new air taxi service from City Airport to Willow Run"
"Marilyn Monroe, à Détroit pour la première du film "Love Happy" plus tard ce mois-ci,
essaie un nouveau service de taxi aérien de l'aéroport de la ville à Willow Run"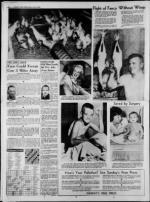 Detroit Free Press, 28/05/1967 - USA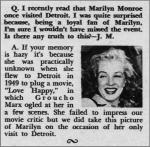 ---
- A l'hotel Book Cadillac -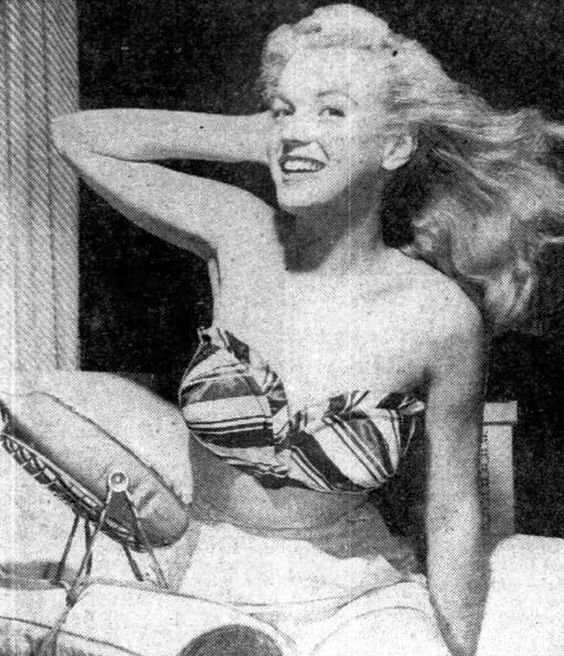 - Dans la presse -
Detroit Free Press, 02/07/1949 - USA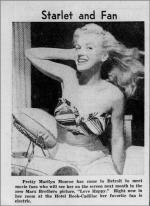 ---
- Publicité pour "E & B Premium Beer", une bière locale -
Publicity for "E & B Premium Beer", a local beer -
- Dans la presse -
Detroit Free Press, 06/08/1949 - USA

---
Lettre écrite par Joseph Schenck (patron de la Fox), datée du 11 juillet 1949 et envoyée à Marilyn Monroe à l'adresse du Book Cadillac Hotel de Détroit.
Letter written by Joseph Schenck (boss of Fox), dated July 11, 1949 and sent to Marilyn Monroe at the address of the Book Cadillac Hotel in Detroit.
Dear Marilyn,
I am sorry that you did not get a chance
to stay in New York any length of time.
I hope you have the opportunity to get
back there and see some of the good shows.
Everything is fine here and I shall be
pleased to see you when you come back.
I am addressing the letter to the
Book-Cadillac Hotel as you gave me no
other adresses, and according to your
letter, you expect to be back there
on the 21st.
Sincerely,
Joseph Schenck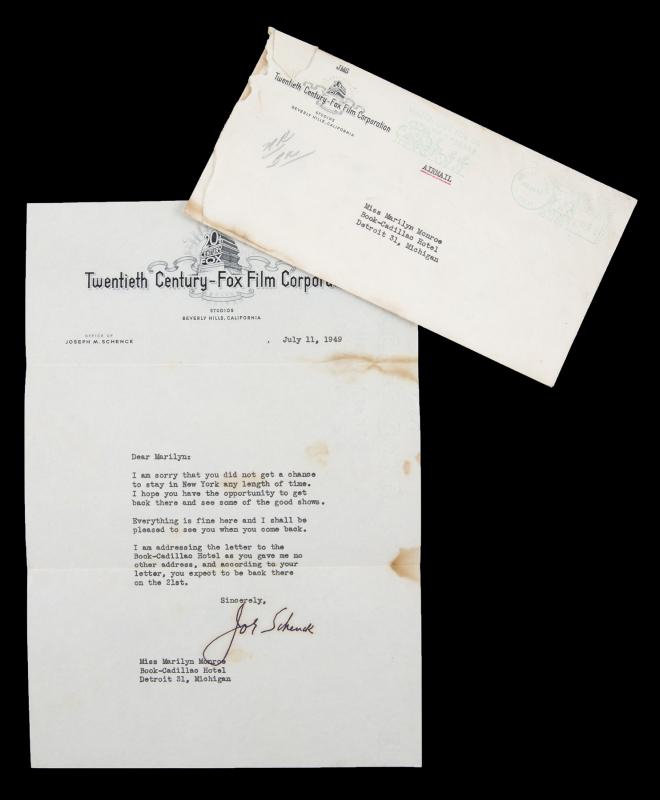 Chère Marilyn,
Je suis navré que vous n'ayez pas eu l'occasion
de rester à New York pour une durée indéterminée.
J'espère que vous aurez l'opportunité d'y retourner
et de voir quelques bons spectacles.
Tout va bien ici et j'aurai le plaisir
de vous voir à votre retour.
J'adresse la lettre
à l'hôtel Book-Cadillac car vous ne m'avez pas donné
d'autres adresses, et d'après votre lettre,
vous comptez y être de retour pour le 21.
Sincèrement,
Joseph Schenck
> Lettre vendue par Julien's en 2019: The Personal Property Of Goodman Basil Espy III
---
Le 21 juillet 1949 a lieu la première de "La pêche au trésor" à Détroit. On ne connait aucune photographie prise de cet événement, mais Marilyn souhaitait y aller et sa venue avait été annoncée dans la presse locale.
Marilyn a passé quelques jours à Détroit au tout début du mois de juillet, mais elle est ensuite à Chicago et à Milwaukee (environ entre le 08 et le 15 juillet). Est-elle revenue participer à la première du film à Détroit ? Il semblerait qu'elle soit plutôt repartie à New York pour y passer la dernière semaine de juillet (posant pour les photographes Weegee et André De Dienes).
On July 21, 1949, the premiere of "Love Happy" takes place in Detroit. We don't know any photograph taken of this event, but Marilyn wished to go there and her coming has been announced in the local press.
Marilyn spends few days in Detroit at the very beginning of the month of July, but then, she is in Chicago and Milwaukee (circa between the 08 and 15 of July). Does she come back to attend the film's premiere in Detroit ? Instead, it seems that she returns to New York to spend the last week of July (posing for the photographers Weegee and Andre De Dienes).
- Dans la presse -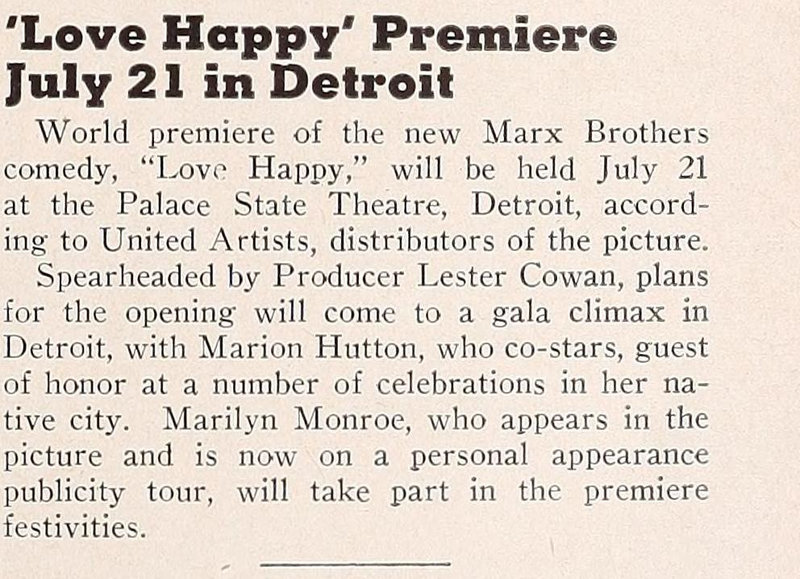 ---
© All images are copyright and protected by their respective owners, assignees or others.
copyright text by GinieLand.
03 juin 2010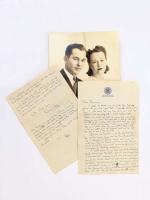 Lettre de 3 pages du 2 février 1944, écrite par Norma Jeane Dougherty (Marilyn Monroe) qui vit à Catalina Island, à sa demie-soeur Berniece Miracle (qui vit à Détroit).
Elles connaissent l'existence l'une de l'autre depuis l'année 1938 et correspondent par lettres, s'échangeant parfois des photographies - comme ici, Norma Jeane remercie Berniece pour la photo d'elle et son mari Paris Miracle envoyée dans sa précédente lettre; elles ne se sont jamais encore rencontrées (cette rencontre se fera à l'automne 1944).
On ressent une grande joie de la part de Norma Jeane d'avoir une soeur: elle a notamment exposé en évidence la photographie de Berniece et Paris dans son appartement et déclare être fière d'expliquer aux gens qu'il s'agit de sa soeur. Elle compare aussi leur ressemblance physique avec leur mère. Et elle voudrait même qu'ils viennent s'installer en Californie, tentant d'inciter Berniece à y réfléchir par l'argument que Paris pourrait intégrer la Marine marchande (comme Jim Dougherty).
Le plus touchant est aussi un souvenir dont elle se remémore de son enfance avec leur mère -Gladys- qui l'avait emmené au Casino de Catalina quand elle avait sept ans; mais aussi, à travers cette anecdote, l'irresponsabilité de Gladys qui avait alors laissé la petite Norma Jeane dans un coin du dancing pendant qu'elle s'amusait.

3-page letter dated February 2, 1944, written by Norma Jeane Dougherty who lives in Catalina Island, to her half-sister Berniece Miracle (who lives in Detroit).
They have known of each other's existence since 1938 and correspond by letter, sometimes exchanging photographs - as here, Norma Jeane thanks Berniece for the photo of her and her husband Paris Miracle sent in her previous letter; they have never yet met (this meeting will take place in the fall of 1944).
A great joy on the part of Norma Jeane to have a sister can be felt: she has notably exposed the photograph of Berniece and Paris in evidence in her apartment and declares to be proud to explain to people that it is her sister on it. She also compares their physical resemblance to their mother. And she would even like them to come and settle in California, trying to encourage Berniece to think about it by the argument that Paris could integrate the Merchant Marine (like Jim Dougherty).
The most touching is also a memory she recalls from her childhood with their mother -Gladys- who had taken her to the Catalina Casino when she was seven years old; but also, through this anecdote, the irresponsibility of Gladys who had then left little Norma Jeane in a corner of the dance hall while she was having fun.

Traduction de la lettre:
Chère Berniece,
Je te remercie beaucoup pour la photo que tu m'as envoyé de toi avec Paris que j'ai reçu à la période de Noël. Je suis incapable de dire à quel point tu ressembles tellement à notre mère. J'étais tellement surprise, sans voix.
Les yeux de notre mère ne sont pas aussi foncés que les tiens mais tout le reste est vraiment pareils. Je ne savais pas non plus que Paris était aussi beau. Tante Ana dit qu'elle pourrait voir une légère ressemblance entre toi et moi et que tu ressemblais plus à notre mère que moi.
Pour ma part, j'ai les yeux de maman, ainsi que le front et la plantation de cheveux, mais tout le reste est comme mon père.
Mon mari Jimmy est dans le service maritime. Le service maritime entraîne les hommes à intégrer la marine marchande. Il a un poste à Catalina Island et je l'ai suivi. Jimmy ne voulait pas rentrer dans l'armée donc il a rejoint ce service dans lequel il fait parti maintenant du personnel, il est instructeur d'entraînement physique.
Je ne sais pas si tu as déjà entendu parler de Catalina Island, situé à l'est, c'était (en temps de paix) une très belle station balnéaire pour les vacances d'été et c'est situé à près de 30 miles de Los Angeles .
Ma mère m'y avait emmené pour l'été quand j'avais à peu près sept ans. Je me souviens avoir été au Casino et d'avoir été au dancing avec elle. Bien sûr je n'avais pas dansé, mais elle m'avait laissé m'assoir dans un coin pour la regarder et je me souviens que c'était peu de temps après l'heure d'aller dormir.
Bref, tout ça pour dire que pour la période de Noël, le service maritime a organisé un dancing dans le même casino et moi et Jimmy, nous y sommes allés. Ce fut l'un des plus amusant sentiment que de dancer sur le même sol plus de dix ans après, je veux dire que d'être assez âgée et tout ça, c'est difficile de t'expliquer le sentiment que j'ai ressenti. A ce propos, tu ne te souviens pas du tout de notre mère ?
Nous voyageons par bateau de l'île à la terre ferme à bord du "USS Avalon" et quel bateau! A chaque fois, j'ai été malade. Ils avaient ce même bateau sur les grands lacs il y a des années de ça, il avait chaviré, donc il a été réparé et amené ici et il peut se balancer et rouler sur l'eau quand il part en mer. Bien sûr ce n'est pas aussi tranquille comme sur terre comme je l'ai dit mais je peux apparemment être très malade quand je le prends.
Je souhaite vivement que toi, Paris et Mona Rae pourraient venir passer quelques temps ici. Je sais qu'une fois que tu auras mis un pied ici, tu ne voudras plus partir, c'est tout du moins ce que la plupart des gens disent. Et j'aimerai tellement vous voir tous, et je sais que mère l'aimerait aussi. Si Paris a toujours aussi peur d'être appelé sous les drapeaux, eh bien vous pourrez tous venir vous installer en Californie et là Paris pourrait rejoindre le service maritime et de devenir un employé du personnel et toi et le bébé seraient ensemble avec lui. Bien sûr c'est juste une idée mais j'éspère que tu y réfléchiras. Tu sais, le service maritime est très différent des autres services comme ceux de l'armée, de la marine etc. Une personne peut se désincrire honorablement de sa propre initiative et peut partir pour aller faire ce dont il lui semble de plaire. Bien sûr il devra porter un uniforme. Leurs uniformes ressemblent beaucoup à ceux de la Marine et des gardes côtes mais en plus joli je trouve.
J'éspère vraiment que tu m'écriras et que tu me raconteras pleins de choses sur toi. Je sais que je n'avais pas très bien poursuivie ma correspondance par le passé, mais j'ai la ferme intention de le faire bien dans le futur donc s'il te plaît écris moi et laisse moi savoir comment tu vas.
Avec Beaucoup d'Amour,
Norma Jeane.
P.S: Merci encore pour la photo, je l'ai mise sur l'étagère de la salle de séjour et toutes les personnes qui la voient me disent: "Qui est ce joli couple?" et bien sûr j'explique fièrement que c'est ma soeur avec son mari.
Quel âge a Mona Rae maintenant ? Je n'oublierai pas d'écrire.
Avec Amour,
Norma Jeane.

Letter transcription:
Dear Berniece,
I want to thank you so much for the picture of you and Paris that I received at Christmas time. I just can't tell you how much you look like mother. I was so surprised, I could hardly speak.
Mothers eyes aren't as dark as yours but your other features are very much the same. Also, I had no idea that Paris was so nice looking. Aunt Grace said that she could see a slight resemblence between you and I and that you looked more like my mother than I did.
I have me mother eyes and forehead and hairline but the rest of me is like my dad.
Jimmie, my husband, is in the Maritime Service.
The Maritime service trains men for the Merchant Marines. He is stationed at Catalina Island and I am here with him. Jimmie didn't want to go into the army so he joined this service and is now on personal ; he is a physical training instructor.
I don't know if you have ever heard of Catalina Island, being from the East, but it was (in peace time) a very beautiful summer resort its and island out have all by itself, about 30 miles from L.A. Harbor.
My mother brought me over for the summer when I was about seven yr old. I remember going to the Casino to a dance with her, of course I didn't dance, but she let me sit on the side and watch her, and I remember it was way after my bedtime too.
But anyway, what I'm getting at is that at Christmas time, the Maritimes service held a big dance at the same Casino and Jimmie and I went. It was the funniest feeling to be dancing on that same floor ten yrs later, I mean being old enough and everything. Oh it hard to explain to you the feeling I had. By the way, do you remember Mother at all ?
We travel by boat from the Island to the mainland on the "USS Avalon" and oh what a boat ! I get sea sick every time. They had that same boat on the great lakes years ago and the darn thine capsided so they fixed it up and brought it down here and oh can she rock and roll when she gets out to sea. Of course it isn't quite as bad as I say it is I guess but I can seemingly get quite sick on it.
I do wish so that you, Paris and Mona Rae could come out here for a little while anyway. I know that once you did get out here you wouldn't want to leave, at least thats what most people say. And I do want to see you all so very much and I know mother would too. If Paris is ever afraid of being drafted well you all could move to California and then Paris could join the Maritime Service and go on Personal and then have you and the baby with him. Of course that is just an idea but I wish you would think about it. You see, the Maritime Service is very different from any other service such as the Army, Navy, etc A person can disenroll honorably on his own accord and can go about and do pretty much the way he pleases. Of course he has to wear a uniform. Theu=ir uniforms are very much like the Navy and Coast Guards only nicer, I think.
I do hope you will write to me and tell me about yourself. I know I haven't kept up my correspondance in past very well, but I intend to do so in the future so please do write me and let me know how you are.
With Much Love,
Norma Jeane
P.S. Thank you again for the Picture. I have it sitting on top of my book shelve in the living room and everyone who enters ask, "Whos that nice looking couple ?" and of course, I explain proudly that is my sister and her husband.
How old is Mona Rae now ? Don't forget to write.
Loves
NJ
---
Photographie de Berniece et Paris Miracle
dont fait référence Norma Jeane dans sa lettre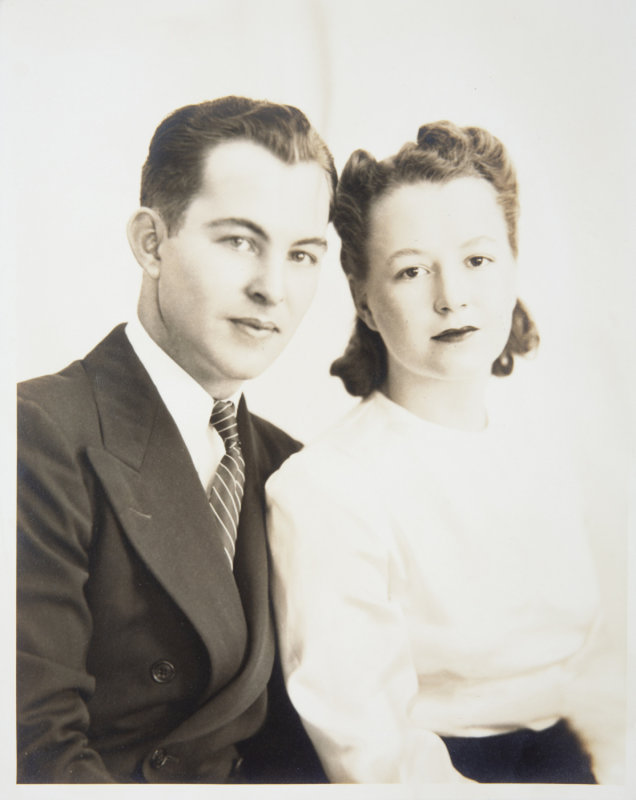 Photograph of Berniece and Paris Miracle
on which refer Norma Jeane in her letter
---
source Lettre vendue en 2019 aux enchères Julien's The Personal Property Of Goodman Basil Espy III

---
© All images are copyright and protected by their respective owners, assignees or others.
copyright text by GinieLand.
Lettre de 4 pages datée du 15 juin 1944, écrite par Norma Jeane Dougherty à son ancienne tutrice Grace McKee Goddard.
Elle évoque des portraits photographiques qu'elle a du faire chez un photographe professionnel, et qu'elle lui en enverrait plusieurs.
Elle parle aussi de son mari Jim Dougherty qui est absent: parti dans le Pacifique depuis le printemps, Norma Jeane s'est installé chez les parents Dougherty et travaille à l'usine Radioplane depuis avril (un travail pénible, 10 heures par jour debout). On apprend qu'elle a cherché néanmoins de postuler ailleurs (dans l'Armée) mais effrayée de n'être entourée que d'hommes, elle y a renoncé, préférant rester à l'usine.
Elle évoque aussi son bonheur d'être mariée à Jim Dougherty et de l'amour qu'ils se portent mutuellement.

4-page letter dated June 15, 1944, written by Norma Jeane Dougherty to her former guardian Grace McKee Goddard.
She mentions photographic portraits that she had to do with a professional photographer, and that she would send her several of them.
She also talks about her husband Jim Dougherty who is absent: having left for the Pacific since the spring, Norma Jeane has moved in with the Dougherty parents and has been working at the Radioplane factory since April (hard work, 10 hours a day standing). We learn that she nevertheless tried to apply elsewhere (in the Army) but afraid of being surrounded only by men, she gave up, preferring to stay at the factory.
She also talks about her happiness to be married to Jim Dougherty and the love they have for each other.
Traduction de la lettre:
Ma très Chère Grace,
J'ai été très contente d'avoir de tes nouvelles. J'ai été si enthousiaste de lire ta lettre et d'apprendre toutes les choses que tu as pu faire.
Je t'enverrai ta photo très prochainement maintenant, je descendrai samedi pour en savoir plus. Je t'enverrai aussi pleins d'autres photos. J'ai trouvé que 10 sur 10 (c'était le format que tu voulais, n'est-ce pas ?) coûte exactement 5 dollars.
Jimmie est partit pour sept semaines et le premier mot que j'ai reçu de lui fut la veille de mon anniversaire. C'était un message cablé de la Western Union disant "Chérie, pour ton anniversaire, je t'envoie tout l'amour du monde". J'ai été simplement folle de joie d'avoir de ses nouvelles.
Je ne t'ai jamais réellement écrit ni expliqué comment était notre vie de jeunes mariés. Bien sûr je sais très bien que sans toi je ne me serais jamais mariée et je sais que je te dois beaucoup rien que pour ça, et parmi tant d'autres choses. C'est pourquoi je ressens le fait de t'en dire plus sur nous.
J'aime Jimmie plus que quiconque (à ma façon je suppose) et je sais que je ne serai jamais heureuse avec quelqu'un d'autre, aussi longtemps que je vivrai, et je sais qu'il ressent la même chose pour moi. Donc tu vois nous sommes vraiment très heureux ensemble ce qui est valable bien sûr, quand nous sommes ensemble. Chacun manque terriblement à l'autre. Le 19 juin, cela va faire deux ans que nous sommes mariés et nous menons vraiment une vie paisible et heureuse.
Je travaille 10 heures par jour à RadioPlane Co., à l'aéroport Metropolitain. Je mets de côté presque tout ce que je gagne (pour nous acheter une maison après la guerre). Le travail n'est pas facile du tout, je reste debout toute la journée et ne peut faire que quelques pas.
J'avais tous les papiers à jour pour faire le service civil dans l'armée, tout était en règle et prêt à être envoyé, mais là j'ai réalisé que je ne me retrouverai exclusivement qu'avec des gens de l'armée. J'y suis allée une journée, mais il y avait trop de dragueurs pour pouvoir bien travailler, il y en a déjà assez à RadioPlane , sans avoir affaire à une armée entière. L'officier responsable du personnel m'a dit qu'il m'aurait employée mais qu'il ne me le conseillerait pas dans mon propre interêt. Je suis donc plutôt contente d'être de retour à RadioPlane.
Eh bien je pense que c'est tout pour le moment.
Avec beaucoup d'amour,
Norma Jeane.
Letter transcription:
Dearest Grace,
I was so happy to hear from you. I was so thrilled to read you letter and learn of all that you have been doing able.
I will send you your picture very sortly now, I'm going down saturday to find out more about it. Also will send you lots of snapshots at the same time I send you the picture. I found out that a 10'x10' (that was the size you wanted wasn't it ?) cost exactly $ 5.00.
Jimmie has been gone for seven weeks and the first word I received from him was the day before my birthday. He sent a Cable Night Letter by Western Union saying "Darling, on your birthday, I send you a whole world of love." I was simple thrilled to death to hear from him.
I have never really written and told you of Jimmies and my married life together. Of course I know that if it hadn't been for you we not have ever been married and I know I owe you a lot for that fact alone, besides countless others. That is why I feel that I should let you know about us.
I love Jimmie just more than anyone (in a -?- way I suppose than anyone) and I know I shall never be happy with anyone else as long as I live, and I know he feels the same towards me. So you see we are really very happy together that is of course, when we can be together. We both miss each other terribly, we will be married for two years June 19th. And we really have had quite a happy life together.
I am working 10 hrs a day at Radioplane Co., at Metropolitan airport. I am saving almost everything I earn (to help pay for our future home after the war). The work isn't easy at all for I am on my feet all day and walking quite a bit.
I was all -?- to get a Civil Service Job with the army, all my papers filled out and everything set to go, and then I found out I would be working with all army fellows. I was over there one day, there are just too many wolves to be working with, there are enough of those at Radioplane Co. with out a whole army full of them. The Personal Officer said that he would hire me but that he wouldn't advice it for my own sake, so I am back at Radioplane Co. pretty contented.
Will I guess that is about all for now.
With much love,
Norma Jeane

---
© All images are copyright and protected by their respective owners, assignees or others.
copyright text by GinieLand.
02 juin 2010
Carte postale écrite par Norma Jeane (Marilyn Monroe) à son amie de Los Angeles Jeanette Cox, postée le 28 octobre 1944 de Chicago, où s'est rendu Norma Jeane pour rendre visite à Grace Mc Kee.
Postcard written by Norma Jeane (Marilyn Monroe) to her Los Angeles' friend Jeanette Cox, posted on October 28, 1944 from Chicago, where Norma Jeane travels to visit Grace McKee.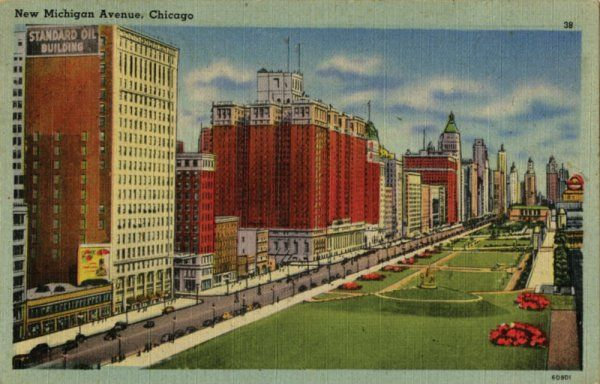 Traduction de la lettre:
Très Chère Jeanette,
Je suis désolée, je ne t'ai pas vu avant de partir, mais toutes les choses semblent se passer si vite.
Je passe quelques temps à Chicago,
Espérant te revoir vite,
Avec Amour,
Norma Jeane
Letter transcription:
Dearest Jeanette,
I'm sorry I didn't see you before I left, but everything seemed to have happened all of of sudden?
I'm having a grand time in Chicago,
Will be seeing you soon,
Love,
Norma Jeane
---
© All images are copyright and protected by their respective owners, assignees or others.
copyright text by GinieLand.

Lettre de 4 pages datée du dimanche 3 décembre 1944, écrite par Norma Jeane Dougherty (Marilyn Monroe) à son ancienne tutrice Grace McKee Goddard.
Elle remercie Grace qui lui a envoyé une robe noire qui lui appartenait. Norma Jeane se sent gênée de ce geste, car c'est une robe de qualité, d'un prix onéreux.
On apprend aussi que Norma Jeane envoie de l'argent à Grace.
Elle lui parle de son voyage de retour de Chicago en train: en octobre, Norma Jeane avait pris le train de Los Angeles pour aller en Virginie rendre visite aux Goddard (Doc qu'elle surnomme "papa", le mari de Grace, et la fille de celui-ci Bebe Goddard), puis elle alla voir pour la première fois sa demie-soeur Berniece qui vivait à Détroit, pour terminer son périple par Chicago pour aller voir Grace. Elle n'oublie pas de remercier encore Grace qui avait été l'initiatrice de ce voyage en organisant la rencontre entre les deux soeurs.
Elle parle aussi toujours de l'absence de son mari Jim Dougherty, parti dans le Pacifique, et de faire part de l'amour qu'elle lui porte.

Letter of 4 pages dated on Sunday, December 3, 1944, written by Norma Jeane Dougherty (Marilyn Monroe) to her former guardian Grace McKee Goddard.
She thanks Grace who sent her a black dress that belonged to her. Norma Jeane feels embarrassed by this gesture, because it is a quality dress, at an expensive price.
We also learn that Norma Jeane sends money to Grace.
She tells her about her return trip from Chicago by train: in October, Norma Jeane had taken the train from Los Angeles to go to Virginia to visit the Goddards (Doc whom she nicknames "daddy", Grace's husband, and the daughter of this one Bebe Goddard), then she went to see for the first time her half-sister Berniece who lived in Detroit, to end her journey by Chicago to see Grace. She does not forget to thank Grace again who had been the initiator of this trip by organizing the meeting between the two sisters.
She also always talks about the absence of her husband Jim Dougherty, gone to the Pacific, and to share the love she has for him.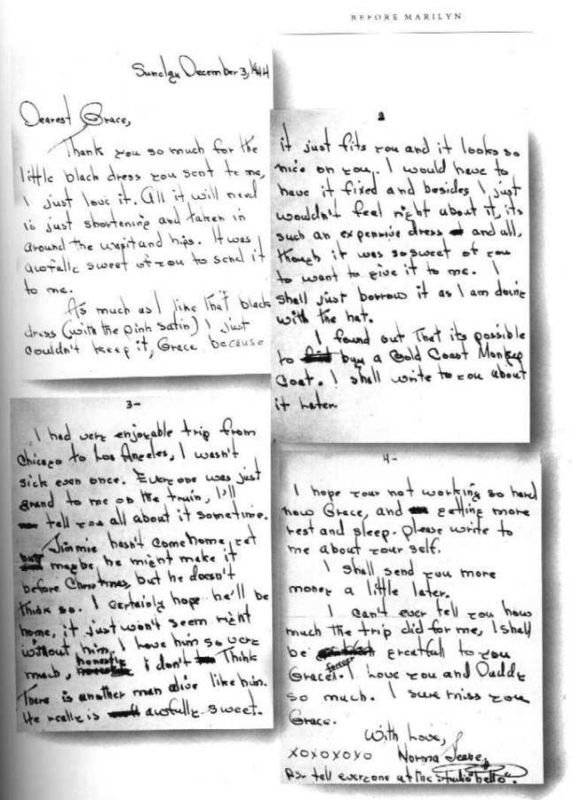 Traduction de la lettre:
Ma très Chère Grace,
Merci beaucoup pour la petite robe noire que tu m'as envoyée, je l'adore. Tout ce dont elle a besoin, c'est d'être raccourcie et réajustée aux hanches. C'est vraiment adorable de ta part de me l'avoir envoyée.
Comme j'aime cette robe noire (avec le satin rose). Je ne pourrais pas la garder Grace, elle t'allait tellement bien et tu étais jolie avec cette robe. J'aurais dû l'arranger mais c'est juste qu'au lieu de ça, je ne me sentirais pas très bien, c'est une robe qui coûte tellement chère et pourtant c'est tellement adorable de ta part de me la donner. Je te l'emprunterai juste, comme avec le chapeau.
J'ai découvert qu'il est possible d'acheter un manteau de singe à crédit. Je t'expliquerai plus tard.
J'ai fait un voyage très agréable de Chicago à Los Angeles, je n'ai pas été malade une seule fois. Tout le monde a été grandiose avec moi dans le train, je te raconterai ça la prochaine fois.
Jimmy n'est pas encore rentré à la maison, il devrait peut être revenir avant Noël, mais il n'est pas encore sûr. J'éspère vraiment qu'il rentrera, tout me semble ne pas aller bien sans lui. Je l'aime tellement, hônnetement je ne pense pas qu'il existe un autre homme comme lui. Il est vraiment terriblement adorable.
J'éspère que tu ne travailles pas trop durement Grace, et de te prendre du bon temps et du repos. S'il te plaît écris moi plus de choses sur toi.
Je t'enverrai plus d'argent un peu plus tard.
Je suis incapable de te dire à quel point ce voyage me fit du bien, je te serai reconnaissante Grace. Je t'aime tellement toi et Daddy. Tu me manques Grace.
Avec Amour,
Norma Jeane,
PS: Dis "bonjour" à tout le monde au studio.

Letter transcription:
Dearest Grace,
Thank you so much for the little black dress you sent to me, I just love it. All it will need is just shortening and taken in around the waist and hips. It was awfully sweet of you to send it to me.
As much as I like that black dress (with the pink satin). I just couldn't keep it, Grace because it just fits you and it looks so nice on you. I would have to have it fixed and besides I just wouldn't feel right about it, its such an expensive dress and all, though it was so sweet at you to want to give it to me. I shall just borrow it as I am doing with the hat.
I found out that its possible to buy a bold coast monkey coat. I shall write to you about it later.
I had very enjoyable trip from Chicago to Los Angeles, I wasn't sick even once. Everyone was just grand to me on the train, I'll tell you all about it sometime.
Jimmie hasn't come home yet, maybe he might make it before Christmas but he doesn't think so. I certainly hope he'll be home, it just won't seem right without him. I love him so very much, honestly. I don't think there is another man like him. He really is awfully sweet.
I hope you not working so hard now Grace, and getting more rest and sleep. Please write to me about yourself.
I shall send you more money a little later.
A can't ever tell you how much the trip did for me, I shall be greatfull to you Grace. I love you and Daddy so much. I sure miss you Grace.
With Love,
XoXoXoXo
Norma Jeane
PS. tell everyone at the Studio "hello".
---
La robe noire au corsage de satin rose que Grace a envoyé à Norma Jeane
Photographie de Grace portant la robe;
et photographie de Norma Jeane portant la robe le 16 mars 1945 au Coconut Grove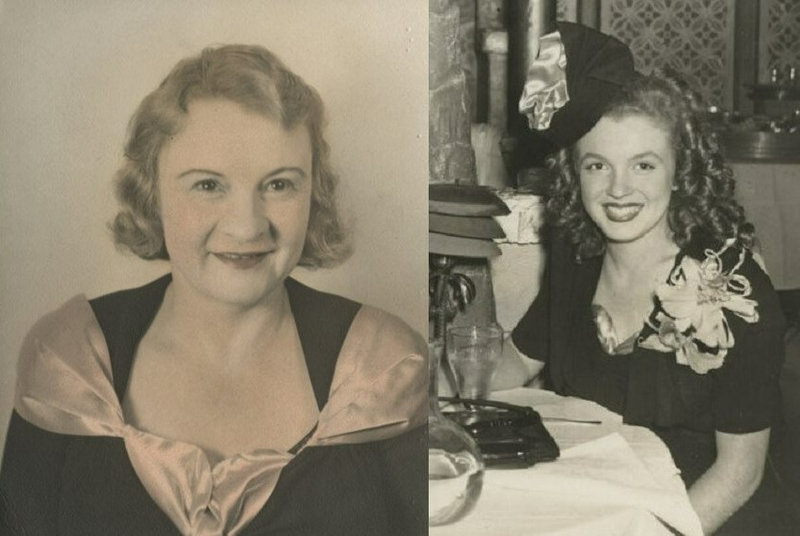 The black dress with the pink satin bodice that Grace sent to Norma Jeane
Photograph of Grace wearing the dress;
and photograph of Norma Jeane wearing the dress on March 16, 1945 at Coconut Grove
---
© All images are copyright and protected by their respective owners, assignees or others.
copyright text by GinieLand.
30 mai 2010
Le 4 juin 1945, Norma Jeane écrit à sa demie-soeur Berniece et à son ancienne tutrice Grace Goddard.

>> Lettre de Norma Jeane à Berniece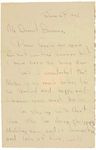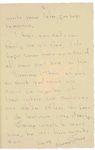 Ma très Chère Berniece,
S'il te plaît excuse-moi de ne pas t'avoir écrit plus tôt, mais j'ai été tellement occupée.
N'est-il pas merveilleux que Maman va beaucoup mieux, je suis si enthousiaste et heureuse, je pense que toi l'être aussi.
Je reste chez Tante Ana et je fais des photos de mannequinat maintenant et c'est interessant et très amusant, je t'écrirai plus de lettres, peut être dès demain.
J'éspère que toi et ta famille aillent bien, j'éspère qu'un jour vous pourrez tous venir vivre ici.
Berniece, je pense tellement à toi et je souhaite l'ont soit un jour réunie au lieu de se voir une fois de temps en temps. Ma chère, je t'aime vraiment tendrement.
Jimmy veut te rencontrer, il est parti il y a deux semaines,
Avec Amour,
Norma Jeane
>> Lettre de Norma Jeane à Grace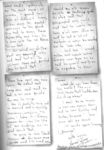 Ma très Chère Grace,
Je suis affreusement désolée de ne pas avoir écrit avant mais honnêtement, j'ai tellement été occupée par mes déplacements, pour que Jimmy soit prêt pour son départ, et juste un million de choses à faire en même temps.
Je n'ai pas travaillé à la Radio Plane Company depuis janvier. Ils m'ont demandé de revenir mais je ne veux plus vraiment faire ce genre de travail car cela me fatigue tellement, Je me fiche de tout quand j'ai cette fatigue.
Le jour où je suis revenue travailler, après le retour de mon dernier voyage avec toi, il y avait quelques photographes de l'armée et ils prenaient des photos pour l'armée.
La première chose que j'ai su est que la chef et le chef m'avaient fait sortir pour que l'armée prennent des photos de moi. Ils ont tous demandé dans quel service j'avais été cachée. Je leur ai répondu que j'étais de retour après une absence où j'étais avec les miens.
Ils ont prit beaucoup de photos de moi, et certains d'entre eux m'ont demandé des rendez-vous etc... (naturellement, j'ai refusé).
Ils étaient tous des officiers de l'armée bien sympathiques. Après avoir finit de faire les photos, un capitaine de l'armée du nom de David Conover m'a dit qu'il était très interessé d'obtenir d'autres clichés de moi en couleur. Il avait un studio sur Sunset Boulevard, dans le quartiers des night clubs. Il m'a dit qu'il s'arrangerait avec mon chef intendant si j'accepterai donc je lui ai dit OK, il m'a dit quel vêtement porter, quel fard à paupière et rouge à lèvre etc... ainsi les deux week end suivants, j'ai posé pour lui à différents moments, quand il pouvait revenir à l'usine. Il venait toujours de Culver City. Maintenant il fait partit de 1st Motion Picture Unit.
Un jour, il m'appela à l'usine tard dans la matinée, et m'a dit que toutes les photos étaient parfaites et il a dit aussi que je devrais me lancer dans le mannequinat professionnel. Il m'a aussi dit que j'étais très photogénique et qu'il veut faire encore plus de photos. Ainsi, il m'a dit qu'il avait beaucoup de contacts vers lesquels ils voulaient m'orienter.
Je lui ai répondu que je ne préférerai pas travailler quand Jimmy sera là, donc il m'a dit qu'il attendrait et ainsi je m'attendais à avoir de ses nouvelles. Il m'appela pas bien longtemps après, et m'a dit qu'il avait beaucoup de tirages pour moi.
Il est d'une gentillesse absolue, il est marrié et ne parle strictement que de travail, ce qui me convient. Jimmy semble aimer l'idée que je fasse du mannequinat, donc je suis contente pour ça.
Je vais demander à David Conover quelques tirages en plus, et je t'en enverrai quelques-uns.
Qu'as-tu entendu sur Ray Wolfy ? Penses-tu toujours que Papa peut s'arranger pour ?
Je serai tellement heureuse de te revoir ma chère, et de voir Daddy et Bebe, parce que je vous aime tous tellement.
Je t'écrirai encore demain, je te le promets !
Avec Amour,
Norma Jeane,
PS: S'il te plaît excuse-moi d'écourter la lettre mais je dois me dépêcher.
03 juin 2008
Lot n°294: Chèque signé par Marilyn Monroe
- pour un montant de $2.00 adressé à "Barney's Beanery" daté du 20 novembre 1950. En dessous de la signature de Marilyn, est indiqué son adresse "1309 N. Harper Ave. LA 46" où elle vécut en 1950-1951. On dit que Barney's Beanery, le bar légendaire d'Hollywood-Ouest, servait le plat favori de Marilyn: du chili.
Estimation : $600 to $800
---
Lot n°295: Chèque signé par Marilyn Monroe
- en encre bleue - pour un montant de $16.25 payé à "J.J. Haggarty Stores" le 23 novembre 1951.
Estimation : $600 à $800
---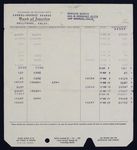 Lot n°296: Relevé de compte Marilyn Monroe de la Banque d'Amérique
- "Bank of America" sur Laurel-Sunset Branch, Hollywood, CA pour Marilyn Monroe. Le relevé comprend l'intervalle de dates du 26 octobre 1951 au 24 novembre 1951, pour un montant total de $267.62. L'adresse de Marilyn est 611 N Crescent Drive, Los Angeles, CA.
Estimation : $200 à $400
---
Lot n°307: Contrat Marilyn Monroe
- d'enregistrement pour la Twentieth Century Fox et RCA de "There's No Business Like Show Business," daté du 14 octobre 1954. Marilyn ne voulait pas faire ce film, mais accepta finalement en trouvant un compromis avec la Fox, pour tourner "Seven years Itch" sous la direction de Billy Wilder.
Estimation : $1000 to $2000
---
Lot n°308: Telegram Marilyn adressé à Leonard Lyons
- Lyons a écrit une rubrique "The Lyon's Den" pour le New York Post de 1934 à 1974. Marilyn Monroe lui envoya un télégramme: "Dear Leonard: Im sorry I won't be able to go to Harrisburg as I am still under Doctor's care. Thanks for thinking of me. Best Wishes, Marilyn Monroe". Portant le caché "Mail Room, 23 novembre 1954, 14h 39min"
Estimation : $400 à $600
---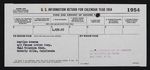 Lot n°310: salaire de Marilyn Monroe de 1954
- ("1099 Tax") adressé à Marilyn Monroe par "Radio Corporation of America" pour un montant de $1035.93 (équivaut environ à $7,000 aujourd'hui). Marilyn était en contrat avec RCA et avait enregistré en 1954 la chanson "River of No Return" qui apparut dans les hits - charts single au mois de juillet de la même année.
Estimation : $600 à $800
---
Lot n°320: Contrat signé par Marilyn Monroe avec Warner Bros Pictures Inc
- Une page du contrat signé par Marilyn et l'autre page attaché "Exhibit A" pour Warner Brothers Pictures, Inc. daté du 7 mai 1957. Marilyn donna son accord pour que son nom puisse être utilisé à l'écran pour "Greeneyes".
Estimation: $1000 à $2000
---
Lot n°322: Chèque Marilyn Monroe et Arthur Miller
- de la "First National City Bank" de New York du compte commun Marilyn Monroe et Arthur Miller. Miller et Monroe furent mariés de 1956 à 1961.
Estimation : $800 à $1200
---
Lot n°326: Facture et dépot de bilan
- Un groupe de 7 factures de "the Colonial Trust Company in New York, NY" d'environ 1958, faisant référence au dépôt de bilan de sa société "Marilyn Monroe Productions Inc."
Estimation : $600 à $800
---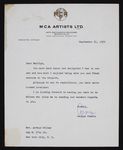 Lot n°329: Une lettre de George Chasin adressée à Marilyn Monroe
- datée du 25 septembre 1959, écrite à "MCA Artists LTD. stationary" et adressée à "Mrs. Arthur Miller." Chasin était le représentant de Marilyn jusqu'à sa mort, mais il s'occupa aussi de Clark Gable, Montgomery Clift et Gregory Peck.
Estimation : $1000 à $2000
---
Lot n°333: Script original de Lets Make Love (Le Milliardaire)
- couverture bleue, daté du 15 janvier 1960. Dans le coin en haut à droite, on peut lire: "second revised shooting FINAL". C'est Arthur Miller qui s'occupa de la réécriture du rôle tenu par Marilyn, car elle n'appréciait pas la version originale.
Estimation: $4000-$6000
---
Lot n°336: Une facture de la boutique Saks sur la 5ème Avenue
- de Beverly Hills, connue pour être l'un des magazins préférés de Marilyn. Dans la partie cliente, on peut lire l'adresse donnée: "Marilyn Monroe 444 E 57th St. New York" qui était celle de sa maison de production. Facture datée du 22 mars et fait été de 3 crayons pour un montant de $3.42. Il s'agit sans doute de crayons de maquillage car le reçu est signé par George Masters, un coiffeur et maquilleur de renommée dans le milieu artistique, qui travailla avec la star.
Estimation : $600 à $800.
---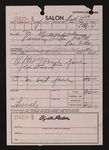 Lot n°356: Une facture d'Elizabeth Arden signée par Marilyn Monroe
- facture numéro 25627-5 du Salon d'Elizabeth Arden de Beverly Hills, du 5 mai 1961, (la veille de son anniversaire, ses 35 ans). Marilyn y a reçu un traitement spécial visage par Lucille d'un montant de $20.00. L'adresse de Marilyn donnée est "Beverly Hills Hotel, Bev Hills."
Estimation: $800 à $1200
---
Lot n°357: Une facture d'Elizabeth Arden signée par Marilyn Monroe
- facture numéro 5868-17 du Salon Elizabeth Arden de Beverly Hills, du 13 janvier 1962. Marilyn y a reçu un traitement de manucure à $6.00 et une pédicure à $9.00 effectuée par Cecile.
Estimation: $800 à $1200
---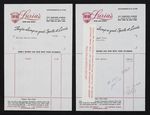 Lot n°363 : Une facture d'une boutique d'alcool
- Deux reçus provenant de "Luria's Wine and Spriits, 1217 Madison Ave., New York City". La facture liste la cliente "Marilyn Monroe Prod." à l'adresse "Marilyn Monroe Prod. 480 Lexington Ave. N.Y.C." Le montant s'élève à $129.85 et un crédit $3.08.
Estimation: $800 à $1200
---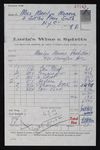 Lot n°364 : Une facture magazin de liqueurs
- venant de "Luria's Wine and Spriits, 1217 Madison Ave., New York City". La facture indique la cliente "Marilyn Monroe Prod. 480 Lexington Ave" et l'adresse de livraison "Miss Marilyn Monroe 2 Sutton place South N.Y.C. Apt. 8E" qui était la résidence new-yorkaise de Marilyn entre 1955-1956. La note relève 12 bouteilles d'alcoll, dont 5 bouteilles de Thornes Scotch, et le montant total atteint $63.40.
Estimation: $600 à $800
---
Lot n°365 : Un reçu de Liqueur
- provenant de Jurgensen's, 353 North Rodeo Drive, Beverly Hills, pour Marilyn Monroe, daté du 2 avril 1962. Le reçu liste douze bouteilles d'alcool dont 6 de son champagne préféré, le Dom Perignon. Le reçu est en 2 parties: un en papier et un autre, sa copie en carbone, où figure l'adresse de Marilyn "12305 5th Helena Dr. Brentwood". L'adresse de livraison est listée à"New York City" et le montant s'élève à $114.87.
Estimation: $800 à $1200
---

Lot n°377 : Chèque signé par Marilyn Monroe
- de la banque "City National Bank of Beverly Hills California" à l'ordre de Eunice Murray, daté du 3 août 1962, pour un montand de $124.10.
Estimation : $600 à $800
---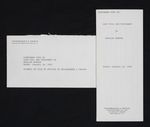 Lot n°378 : Dernières volontés et Testament de Marilyn Monroe
- Une copie conforme de trois pages du testament de Marilyn administré par Weisberger & Frosch (New York) un an avant sa mort, daté du 14 janvier 1961. Les bénéficaires de l'héritage: sa demie-soeur pour $10,000.00, sa secrétaire et amie May Reis reçut la même somme, Le couple Norman et Hedda Rosten reçurent $5,000.00 et sa mère Gladys Baker a reçu $5,000.00 par an pour qu'elle reste dans une institution digne.
Estimation : $3000 to $5000
14 février 2008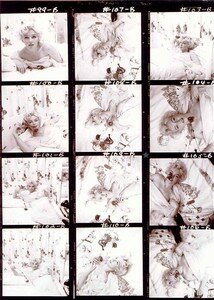 Le 22 février 1956 Marilyn Monroe pose devant l'objectif de Cecil Beaton pour le magazine Harper's Bazaar.
On February 22, 1956 Marilyn Monroe poses for the photographer Cecil Beaton, for the Harper's Bazaar magazine.

> La suite de l'Ambassador Hotel

Trois mois durant, le photographe avait tout fait pour obtenir un rendez-vous.
Ils se retrouvent dans une suite de l'hôtel Ambassador de New York.
Comme à son habitude, Marilyn arrive avec une heure et quart de retard.
During three months, the photographer had done everything to get an appointment with Marilyn.
They meet in a suite room at the Ambassador Hotel in New York.
As usual, Marilyn arrived an hour and a quarter late.
---
C'est lors de cette séance que Beaton a pris le cliché préféré de Marilyn d'elle-même: enroulée dans une étolle rose et allongée dans un lit aux draps blancs, elle tient un oeillet rouge sur sa poitrine.
Elle avait d'ailleurs encadrée cette photo -en noir et blanc- dans son appartement new-yorkais situé au 444 East 57th Street (photo ci-contre), faisant parti d'un tryptique, accompagnée d'une lettre élogieuse du photographe.
It's during this session that Beaton takes Marilyn's favorite picture of herself: wrapped in a pink stole and lying in a bed with white bed sheets, she holds a red carnation on her chest.
She had framed this photograph - in black and white - in her New York apartment located at 444 East 57th Street (photo opposite), part of a tryptic, accompanied by a letter of praise from the photographer.

---
- En backstage -
> coulisses de la séance par Ed Pfizenmaier

---
---
All photos are copyright and protected by their respective owners.
copyright text by GinieLand.
Enregistrer
Enregistrer
Enregistrer