25 juin 2017
Les clins d'oeils à Marilyn au Cinéma
- The Secret Life of Walter Mitty -

Dans le film "La Vie rêvée de Walter Mitty", le personnage principal Walter Mitty (Ben Stiller) est employé au service de négatifs du magazine Life. Sur son lieu de travail (d'ailleurs, plusieurs scènes ont été tournées dans le hall du magazine Life, qui appartient aujourd'hui au magazine Time), on découvre sur les murs plusieurs affiches grand format de couvertures "fictives" du magazine, dont une montrant Marilyn en gros plan -une photographie d'Alfred Eisenstaedt, photographe de Life.
Voici un petit florilège des diverses "fausses" couvertures qui apparaissent dans le film, utilisant de vrais photographies des archives du magazine Life:
---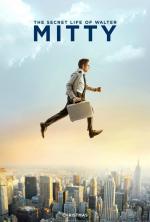 Film: La Vie rêvée de Walter Mitty
Année: 2013
Pays: USA
Réalisateur: Ben Stiller
Scénario: Steve Conrad d'après la nouvelle de James Thurber
Genre: comédie
Distribution: Ben Stiller (Walter Mitty), Kristen Wiig (Cheryl Melhoff), Shirley MacLaine (Edna Mitty), Adam Scott (Ted Hendricks), Kathryn Hahn (Odessa Mitty), Sean Penn (Sean O'Connell) ...
L'histoire: Walter Mitty travaille au service négatifs du magazine Life. Timide et rêveur, il s'imagine être le héros d'aventures imaginaires pour s'évader de sa réalité stressante. Il est attiré par Cheryl Melhoff, une collègue et il tente de l'approcher via un site de rencontre en ligne. Le jour de son anniversaire, il reçoit au journal la pellicule de Sean O'Connell, un photographe renommé. La pellicule est accompagnée d'un cadeau pour lui: un portefeuille. Sean recommande la photo du négatif n° 25 pour la couverture du magazine à venir, dernier numéro papier avant le passage au tout numérique. Étrangement, le négatif en question manque sur la pellicule. Walter décide de retrouver Sean pour savoir où est passé le négatif. Il demande l'aide de Cheryl dans sa quête et, guidé par les autres photographies de la pellicule, part pour le Groenland où il apprend que Sean est parti pour l'Islande photographier le volcan Eyjafjallajökull. Il arrive en Islande à bord d'un chalutier et perd la trace du photographe après avoir échappé à l'éruption du volcan. Rentré aux États-Unis, il est renvoyé du magazine, en partie pour avoir perdu le précieux négatif. Dépité, il retrouve néanmoins la piste de Sean, qui serait en Afghanistan. Il s'y rend, gravit le plus haut sommet du pays, le Nowshak, et retrouve Sean qui lui révèle que le négatif est dans le portefeuille qu'il lui a offert. Rentré aux États-Unis, Walter retrouve le négatif qu'il remet à ses anciens collègues, sans le regarder. Il finit par inviter Cheryl à un spectacle et découvre finalement la couverture lors de la parution du magazine: une photographie de lui-même en train d'observer des négatifs devant les locaux du magazine, accompagné du sous-titre «dernier numéro, dédié aux gens qui l'ont rendu possible».
Enregistrer
Enregistrer
Enregistrer
29 mai 2016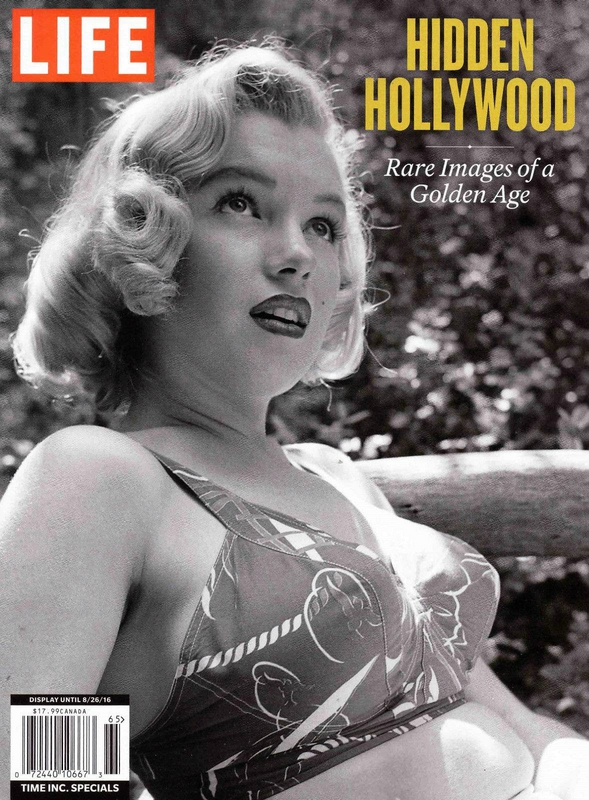 Le magazine américain Life édite en ce mois de mai 2016 un Hors Série Hidden Hollywood "Rare Images of a Golden Age" disponible dans les kiosques US / Canada jusqu'au 26 août 2016: il est entièrement consacré aux stars d'Hollywood des années 1950s [Marilyn Monroe, Sophia Loren, Marlon Brando, Natalie Wood, Jayne Mansfield, James Dean, Elizabeth Taylor, Julie Christie, Humphrey Bogart, Kim Novak, Alfred Hitchcock, Franck Sinatra, Lucille Ball et bien d'autres...); Marilyn Monroe figure en couverture.
Enregistrer
02 avril 2015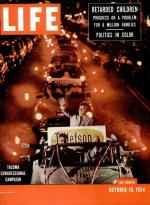 Le magazine américain Life du 18 octobre 1954 consacrait un article d'une page et demie sur l'annonce du divorce de Marilyn d'avec Joe DiMaggio, intitulé "Last scene: exit unhappily".
05 février 2014
The Loves of Marilyn
Authors: Life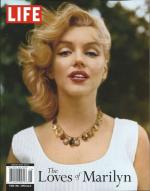 Publication Date: Septembre 2014
Relié 112 pages
Language English
Editeur: Life
Prix éditeur: 14,04 Euros
ISBN-10: 1618931253
ISBN-13: 978-1618931252
Ou le commander ? sur amazon
Description: LIFE was in its heyday in the 1950's and 60's, when Marilyn was at the peak of her fame. In ten years (between 1952 and 1962) LIFE put her on the cover six times. Had she lived, she might well have challenged Liz Taylor's supremacy and her close connection to LIFE magazine.
Central to Marilyn's mystique has always been her love life - filled with rumors, romantic entanglements and multiple marriages, all before she died prematurly at the age of 36. Within its pages, LIFE captured everything from her flirtations with co-stars to her genuine affection for her husbands to her tragic divorces. All three of her marriages (two famously to Joe DiMaggio and Arthur Miller), ended in divorce, and she was rumored to have multiple affairs, including one with JFK.
From famous pictures such as Marilyn singing "Happy Birthday Mr. President" to John F. Kennedy to lesser known shots such as those from her divorce proceedings with Joe DiMaggio, this book will feature both iconic and rare photography and provide fans of Marilyn with a definitive summary of her many romances.
---
Vous avez le livre ? Do you have the book ?
Apportez votre critique, votre avis ou votre note
/!/ Le livre ne doit sortir qu'en septembre 2014, étonnemment, on le trouve déjà sur ebay (en ce début de mois février), soyez vigilants et informez-vous sur les vendeurs !! Le livre est en précommande sur amazon.
02 février 2014
Kaleidoscope avec des couvertures du magazine 'Life'
artiste inconnu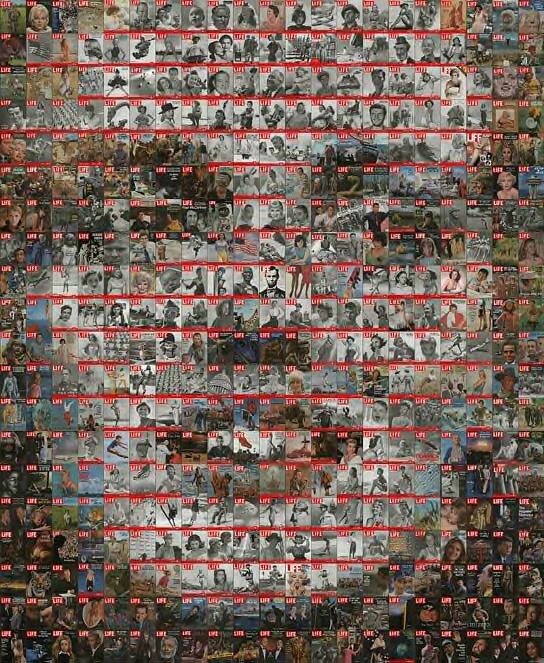 18 août 2011
Le magazine américain Life du 29 novembre 1954 consacrait un article d'une page sur la soirée donnée en l'honneur de Marilyn à Romanoffs, intitulé "Life goes to A select supper for Marilyn".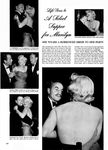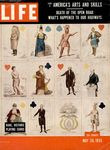 Le magazine américain Life du 30 mai 1955 consacrait un article intérieur de 2 pages au film The Seven Year Itch, avec Marilyn Monroe et Tom Ewell, intitulé "A gay witch for 'itch'".
28 juillet 2011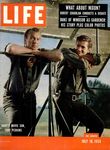 Le magazine américain Life du 16 juillet 1956 consacrait un article intérieur de 3 pages au mariage de Marilyn Monroe avec Arthur Miller, intitulé "Wedding, wine for Marilyn. She becomes Mrs Miller in simple religiouse ceremony with her husband's family".
07 mai 2011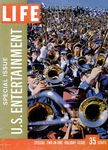 Le magazine américain Life du 22 décembre 1958 consacrait un article intérieur de 10 pages, à Marilyn Monroe, photographiée par Richard Avedon. Intitulé "Marilyn Monroe in a remarkable re-creation of Fabled Enchantresses", on y découvre Marilyn métamorphosée en Lillian Russell, Marlene Dietrich, Jean Harlow, Theda Bara et Clara Bow, suivi d'un articlé écrit par son mari Arthur Miller "My wife Marilyn".
28 avril 2011
Le magazine américain Life du 20 avril 1959 consacrait sa couverture à Marilyn Monroe "A comic Marilyn sets movie aglow" et un article intérieur de 4 pages, consacré à la sortie du film "Some like it Hot" (Certains l'aiment chaud).