22 janvier 2023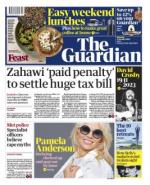 The Guardian

pays: USA
quotidien du 21 janvier 2023
En couverture: Pamela Anderson - elle se met dans la peau de Marilyn Monroe façon "Last Sitting" de Bert Stern pour une séance photos de Dylan Coulter

---
'If I'd had a therapist, do you think any of this would have happened?': Pamela Anderson on being chewed up and spat out by fame
> en ligne sur theguardian.com
extracts on Marilyn Monroe-
She went from small-town Canada to becoming the Marilyn Monroe of the 90s – bearing the brunt of that decade's cruel misogyny in the process. Finally the Baywatch star is ready to tell her own story
by Charlotte Edwardes
(...) The hair is instantly recognisable ("Scandinavian Blonde $5 box"), though a little warmer than the lightning flash of Baywatch days. The voice has the soft buoyancy of Marilyn Monroe – who she references in our photoshoot – and there's that toughness, undercut with wit and a mischievous vulnerability that reminds me somehow of Dolly Parton. The forerunners for her Baywatch look were Brigitte Bardot, Jayne Mansfield, Jean Harlow; it's the male fantasy prototype that stretches back to Botticelli's Venus, with her prodigious hair, pert boobs and oyster shell. Anderson took the cat's eyes, pencil brows and the Marie Antionette hair-stack and gave it some extra fire: something ravenous, uncut and peculiarly 1990s. Her story is about love addiction, sure, but also of living on the frontline of that era. (...)
---
"Si j'avais eu un thérapeute, pensez-vous que tout cela serait arrivé?": Pamela Anderson sur le fait d'avoir été mâchée et recrachée par la célébrité
extraits sur Marilyn Monroe -
Elle est partie d'une petite ville du Canada pour devenir la Marilyn Monroe des années 90 - portant le poids de la misogynie cruelle de cette décennie pendant son processus. Enfin, la star d'Alerte à Malibu est prête à raconter sa propre histoire
par Charlotte Edwardes
(...) Les cheveux sont immédiatement reconnaissables («Blond Scandinave 5 Dollars la boîte»), bien qu'un peu plus chauds que l'éclair des jours d'Alerte à Malibu. La voix a la douce flottabilité de Marilyn Monroe – à qui elle fait référence dans notre séance photo – et il y a cette ténacité, sapée d'esprit et une vulnérabilité espiègle qui me rappelle en quelque sorte Dolly Parton. Les précurseurs de son look Alerte à Malibu étaient Brigitte Bardot, Jayne Mansfield, Jean Harlow; c'est le prototype de la fantaisie masculine qui remonte à la Vénus de Botticelli, avec ses cheveux prodigieux, ses seins coquins et sa coquille d'huître. Anderson a pris les yeux du chat, les sourcils au crayon et la pile de cheveux de Marie Antoinette et lui a donné un peu plus de feu : quelque chose de vorace, non coupé et particuliers aux années 1990. Son histoire parle de la dépendance à l'amour, bien sûr, mais aussi de la vie en première ligne de cette époque. (...)
---
Séance photos
Photographe © Dylan Coulter.
Styling: Alison Edmond.
Hair: Sara Tintari.
Makeup: Eileen Madrid.
Dress: Maggie Marilyn.

---
© All images are copyright and protected by their respective owners, assignees or others.
copyright text The Guardian
19 novembre 2022
Marilyn Cover Girl - en français & anglais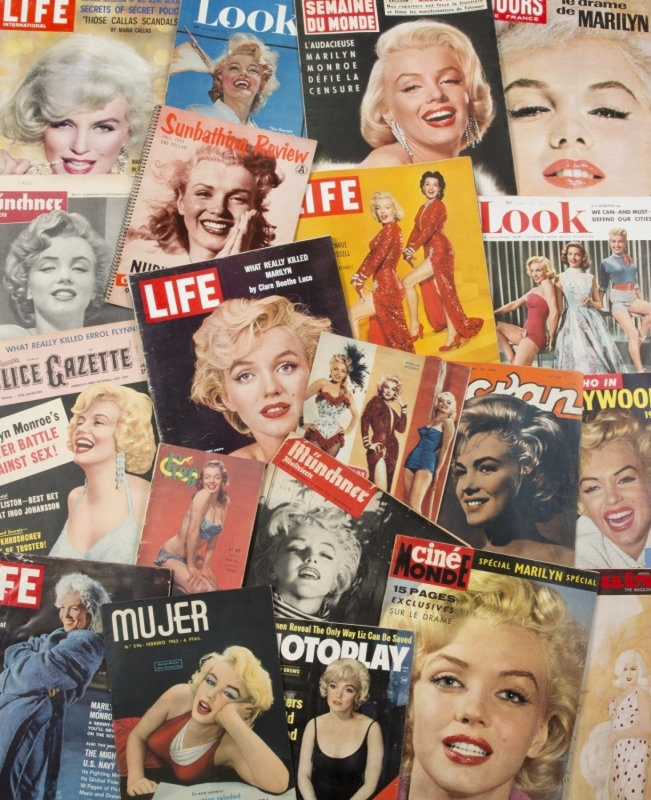 Clic sur l'image ci-dessus pour aller sur le site
Click on the image above to go to the site

Un nouveau blog apparu depuis peu sur le web qui se concentre sur les couvertures de magazines avec Marilyn Monroe. D'une navigation aisée par le classement en catégories, vous y retrouverez toutes les couvertures de magazines classées par années; ainsi que des albums photos par type de magazines et d'autres rubriques à thèmes comme le classement par photographes. Un blog ambitieux et riche en images, dont le thème de Marilyn en couverture de magazines reste inépuisable, tellement elle reste l'une des personnalités les plus mises en couvertures à travers toute la presse du monde entier.
A new blog recently appeared on the web that focuses on magazine covers with Marilyn Monroe. Of an easy navigation by the classification in categories, you will find there all the covers of magazines classified by years; as well as photo albums by type of magazines and other themed sections such as classification by photographers. An ambitious blog, rich in images, whose theme of Marilyn on magazine covers remains inexhaustible, so much does she remain one of the most covered personalities throughout the press all over the world.
---
© All images are copyright and protected by their respective owners, assignees or others.
10 septembre 2022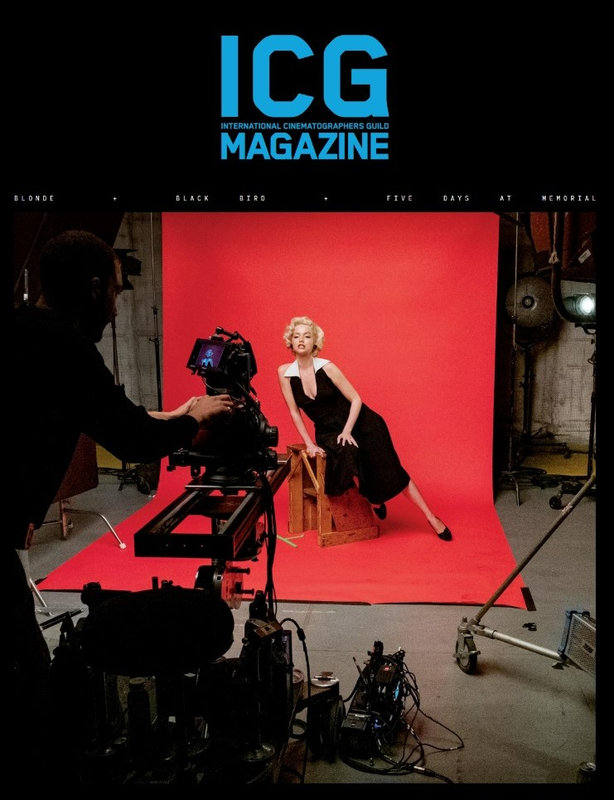 ICG Magazine
International Cinematographers Guild

pays: International
langue: anglais
numéro de septembre 2022
magine en version digitale
en consultation libre sur icgmagazine.com

Article intérieur de 16 pages sur le film "BLONDE"
- sommaire -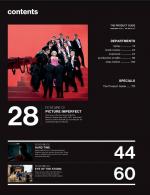 ---
© All images are copyright and protected by their respective owners, assignees or others.
01 août 2022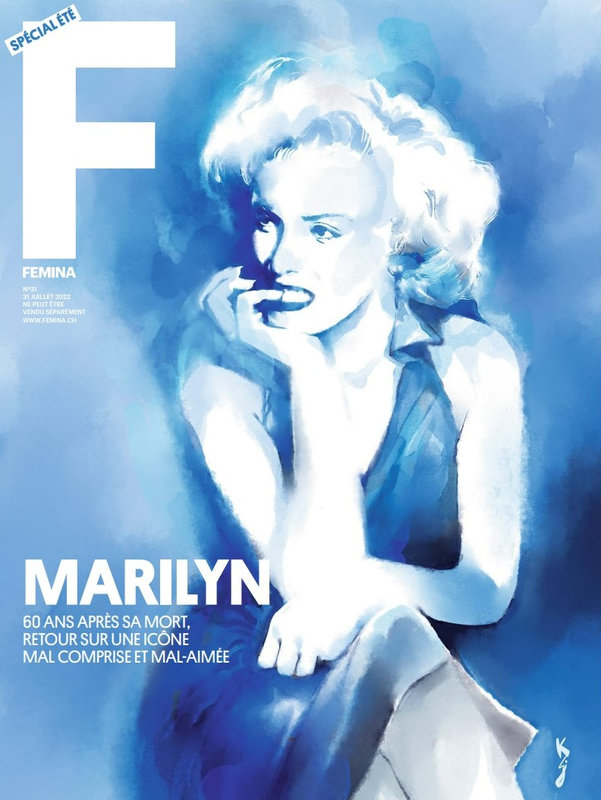 Femina
n°31

pays: Suisse
hebdomadaire du 31 juillet 2022
vendu avec le journal suisse Le Matin Dimanche
Site web Femina.ch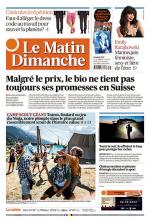 Marilyn Monroe en couverture: "Marilyn, Soixante ans après sa mort, retour sur une icône mal comprise et mal-aimée"
Article intérieur de 4 pages: "Marilyn Monroe, l'âme dans l'eau".
---
© All images are copyright and protected by their respective owners, assignees or others.
05 juillet 2022
CR Fashion Book China
n°4

Balenciaga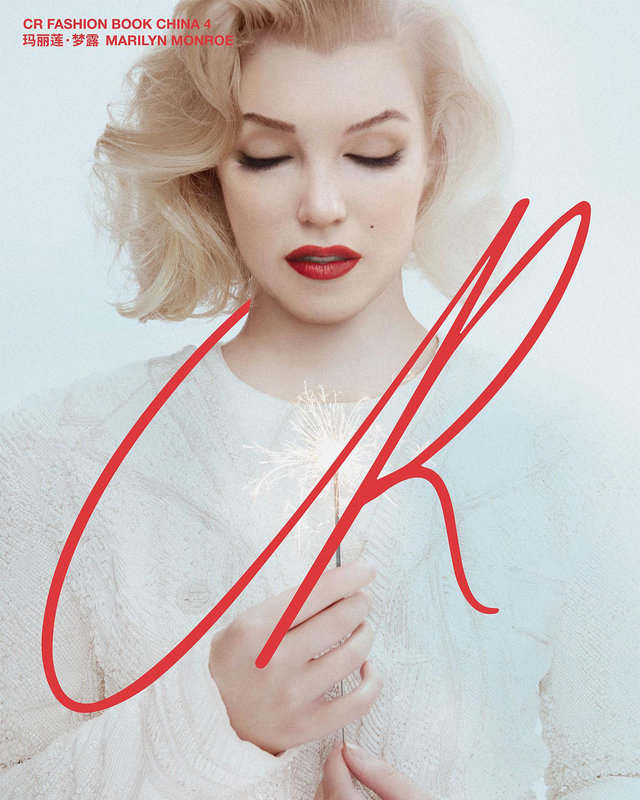 Thom Browne
pays: kiosques internationaux
parution en juin 2022
sur le web: le site crfashionbook.com

---
L'édition chinoise du magazine CR Fashion Book, n°4 paru en juin 2022, a édité 8 couvertures différentes mettant en scène une Marilyn Monroe recréée en digital, et représentée en une icône de mode moderne, habillée numériquement en Thom Browne, Balenciaga, Miu Miu, Fendi, Balmain et David Koma, ainsi que des maisons de mode numériques Auroboros et Tribute Brand.
Après leurs débuts imprimés, les huit images de couverture seront frappées en tant que NFT et mises à disposition via la plate-forme numérique d'Amethyst.
La fondatrice et directrice de la création de CR, Carine Roitfeld, déclare que "peu de personnalités culturelles ont été plus vénérées pour leur beauté et leur panache que Marilyn Monroe. C'est une star des couvertures de rêve pour tout éditeur de mode et quelqu'un que j'ai toujours admiré pour avoir été une pionnière dans la création d'une marque personnelle captivante qui s'étendait au-delà de son travail. C'est une facette clé de la plupart des célébrités aujourd'hui, mais Marilyn a été l'une des premières à le faire. J'ai relevé le défi unique d'imaginer une séance photo moderne pour une star aussi classique. Les looks que j'ai organisés avec Gaultier présentent certains de mes créateurs préférés qui travaillent aujourd'hui - puisque Marilyn a toujours été connue comme une pionnière - tout en incarnant son élégance intemporelle et son sens de l'autonomie."
Ces huit couvertures organisées numériquement par Carine imagine à quoi pourrait ressembler Marilyn Monroe si son apogée culturelle s'était produite aujourd'hui. Avec des images CGI de pointe, CR a travaillé en étroite collaboration avec la startup Web3 Amethyst et Authentic Brands Group (ABG), la société de développement, de marketing et de divertissement de la marque qui possède le domaine de Monroe, envisageant l'icône de la mode et du cinéma dans une optique moderne.
Jim Gibb, directeur de la création de Marilyn Monroe Estate, déclare que "CR était le choix évident pour styliser et lancer la Marilyn moderne. Carine Roitfeld est une première pourvoyeuse de goût, et nous savions qu'elle et son équipe seraient capables de concevoir Marilyn dans une période contemporaine sans perdre son facteur de signature."
Ces créations d'une Marilyn digitale ont suscité de nombreuses critiques sur le web et sont très controversées; notamment à travers le biais de l'exploitation de l'image et de l'héritage de Marilyn Monroe, dans l'unique but de faire de la promotion commerciale.
[ lire l'article du Daily Mail ]
---
Photographer: An Le
Creative Director: An Le, Victoria Pavon
Fashion Director, Styling: Carine Roitfeld
Art Director: Elliott Foote
Hair Stylist: Orlando Pita
Makeup Artist: Fulvia Farolfi
Manicurist: Jin Soon Choi
3D/CGI/Post-Production: now open (IG: @nowopentv)
Real Life Model: Victorious Konig (page Instagram Victorious )
---
The Chinese edition of CR Fashion Book magazine, n°4 published in June 2022, publish 8 different covers featuring a digitally recreated Marilyn Monroe, and represented as a modern fashion icon, digitally dressed as Thom Browne, Balenciaga, Miu Miu, Fendi, Balmain and David Koma, as well as digital fashion houses Auroboros and Tribute Brand.
Following their print debut, all eight cover images will be minted as NFTs and made available through Amethyst's digital platform.
The CR's Founder and Creative Director - Carine Roitfeld - says: "Few cultural figures have been more revered for their beauty and panache than Marilyn Monroe. She's a dream cover star for any fashion editor and someone I've always admired for being a trailblazer in creating a captivating personal brand that extended beyond her work. This is a key facet of most celebrities today, but Marilyn was one of the first to do it. I embraced the unique challenge of imagining a modern photoshoot for such a classic star. The looks I curated with Gaultier feature some of my favorite designers working today—since Marilyn has always been known as a trendsetter—while still embodying her timeless elegance and sense of empowerment."
These eight covers digitally curated by Carine imagine in what Marilyn Monroe might look like had her cultural heyday occurred today. With cutting-edge CGI imagery, CR worked closely with web3 startup Amethyst and Authentic Brands Group (ABG), the brand development, marketing, and entertainment company that owns Monroe's estate, envisioning the fashion and film icon within a modern lens.
Jim Gibb, the creative Director for the Marilyn Monroe Estate, says that "CR was the obvious choice to style and debut the modern Marilyn. Carine Roitfeld is a premiere purveyor of taste, and we knew she and her team would be able to conceive Marilyn in a contemporary period without losing her signature 'it' factor."
These creations of a digital Marilyn have aroused many criticisms on the web and are very controversial; in particular through the exploitation of the image and legacy of Marilyn Monroe, for the sole purpose of commercial promotion.
[ read the article from Daily Mail ]
---
> sur le web
photos HQ sur Forum The Fashion Spot
Fiche CR Fashion Book China sur models

---
© All images are copyright and protected by their respective owners, assignees or others.
copyright text CR Fashion Book

24 mai 2022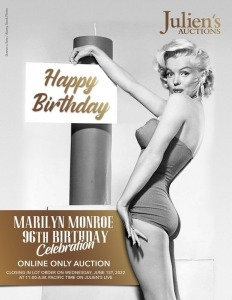 Vente aux enchères 'Marilyn Monroe 96th Birthday Celebration' jusqu'au 01er juin 2022 par JULIEN'S AUCTION uniquement en ligne sur le site de Julien's.

Auction 'Marilyn Monroe 96th Birthday Celebration' until June 01, 2022 by JULIEN'S AUCTION only online on Julien's website.

La vente aux enchères est consacrée entièrement à Marilyn Monroe, à l'occasion du 96ème anniversaire de sa naissance (au 01er juin) et présente 190 lots: essentiellement des photographies, et du merchandising (magazines, livres, sacs, disques, poupées...); les lots avec leur description sont en consultation libre sur julienslive.com
Pas de catalogue disponible - affiche de présentation ci-contre.

The auction is dedicated entirely to Marilyn Monroe, on the occasion of the 96th anniversary of her birth (June 01) and presents 190 lots: mainly photographs, and merchandising (magazines, books, bags, discs, dolls...); the lots with their description are available for free consultation on julienslive.com
No catalog available - presentation poster opposite.
---
Documents papiers

---
Lot 60: MARILYN MONROE 1955-1957 ODD SCRAPBOOK COMPILED BY HER HAIRDRESSER/ASSISTANT PETER LEONARDI
estimate: US $ 25 - 50 / starting: $25
A scrapbook filled with a handful of newspaper clippings that relate to Marilyn's onetime gofer, Peter Leonardi, who was hired by her company, Marilyn Monroe Productions, Inc., to assistant her while in NYC; the cover has a title hand-painted in white lettering which reads "Marilyn / & / Peter," and inside are about 15 articles from various publications, dated from 1955 to 1957, that Leonardi saved, outlining his short association with the star which ended on a bad note.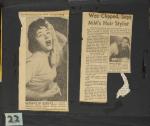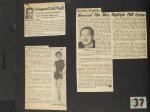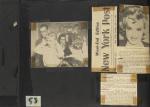 ---
Lot 62: MARILYN MONROE 1956 LIQUOR STORE RECEIPT
estimate: US $ 400 - 600 / starting: $25
A single sheet from Luria's Wine & Spirits shop on Madison Avenue in New York City, undated but circa 1956, listing the star's "2 Sutton Place South / N.Y.C. 8E" address and the booze she ordered, including some Courvoisier VSOP.

---
Photographies
---
Lots 01-09 + 11 + 49 + 50 : PHOTOS BY ANDRE DE DIENES
estimate: US $ 50 - 100 - 200 - 300 / starting: $25
Lot 01-09: Black and White photos by Andre De Dienes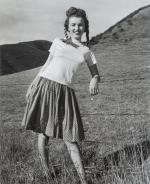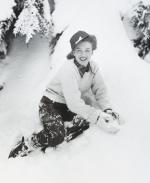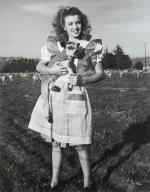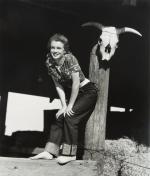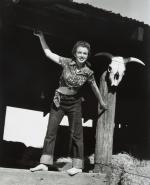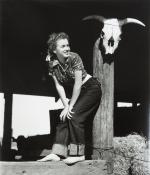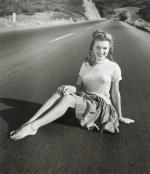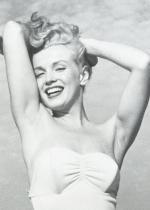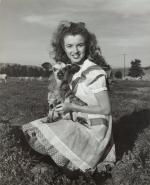 Lot 11: 1992 Print signed by Shirley De Dienes
Lot 49: 1970 Print of Marilyn in Hotel Bel-Air
Lot 50: 1970 Print depicting Marilyn in the cosmos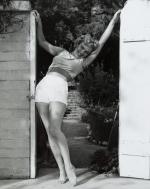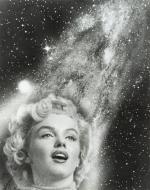 ---
Lot 10: COLOR PHOTOGRAPH SIGNED BY JOSEPH JASGUR
estimate: US $ 200 - 300 / starting: $25
1987 print photo with handwritten annotation on verso "...Jeane Dougherty (Marilyn...) / was taken by me on March 18... / Joseph Jasgur"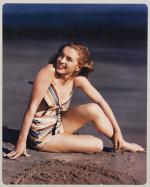 ---
Lots 43-46 + 51-53 + 61: PHOTOS BY FRANK WORTH
estimate: US $ 100 - 200 - 300 - 500 / starting: $25
Lot 43: 1952 Marilyn with Ralph Edwards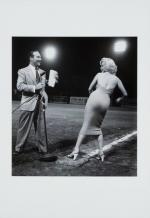 Lots 44 + 45: 1952 Cheesecake Marilyn
Lot 46: 2000s print of 1952 Ray Anthony party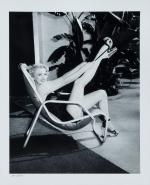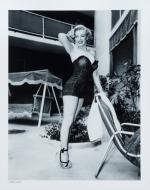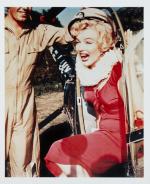 Lot 51: Limited Edition Photo 1953 by FRANK WORTH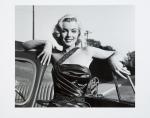 Lot 52: Limited Edition Photo 1953 by FRANK WORTH
Lot 53 : PRINT COLORIZED PHOTO BY FRANK WORTH
Lot 61: Color limited edition photo by FRANK WORTH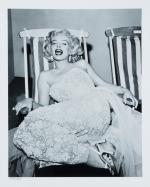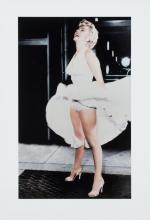 ---
Lots 65 + 66: Limited Edition Print "BLACK SITTING" by MILTON H. GREENE
estimate: US $ 400 - 600 / starting: $25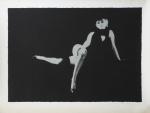 ---
Lots 80-82: MARILYN MONROE PRINT BY BERT STERN FROM "AVANT GARDE" MAGAZINE
estimate: US $ 25 - 50 / $ 100 - 200 / starting: $25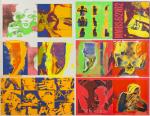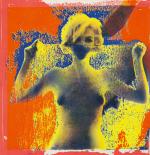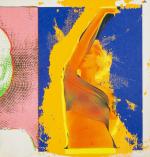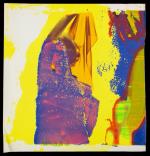 Lots 85-90: MARILYN MONROE PHOTOGRAPHS + PRINTS BY BERT STERN
estimate: US $ 100 - 200 / $ 200 - 300 / starting: $25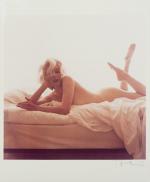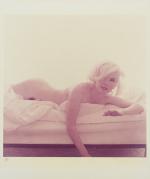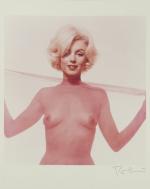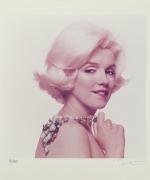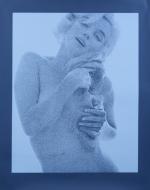 ---
Lots 91-101 + 103-105: MARILYN MONROE PHOTOGRAPHS BY GEORGE BARRIS
estimate: US $ 100 - 200 / starting: $25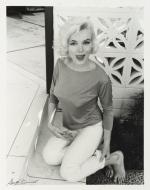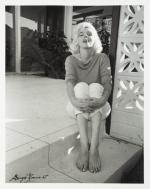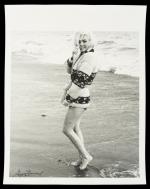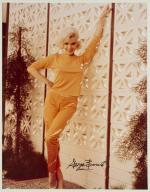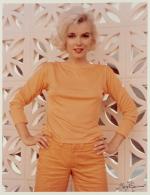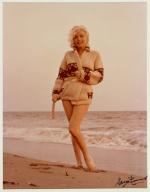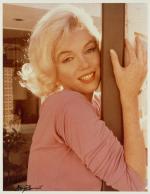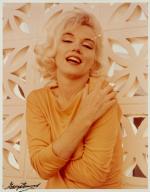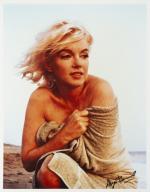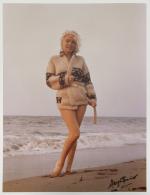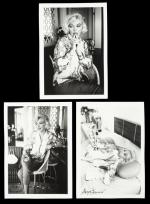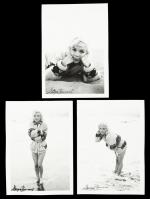 ---
Lots 69 + 111: MARILYN MONROE PHOTOGRAPHS BY CARL PERUTZ
estimate: US $ 100 - 200 / starting: $25
Lot 69: 1958 RARE BLACK AND WHITE CONTACT SHEET BY CARL PERUTZ
Lot 111: 1970S print by CARL PERUTZ
"The Hat Sitting" shot by noted Magnum photographer, Carl Perutz, in New York on June 16, 1958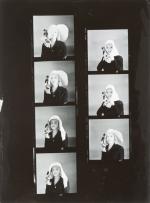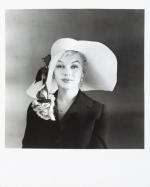 ---
Lots 40-41 + 54 + 57 + 175 : PHOTOS PUBLIC MARILYN
estimate: US $ 25 - 50 / 50 - 100 / starting: $25
Lot 40: June 26,1952, Marilyn in court
Lot 41: 1952 Ray Anthony party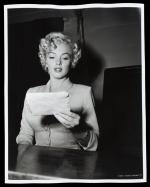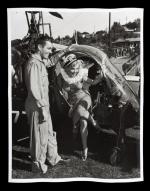 Lot 54: Korea, 1954, Fébruary
Lot 57: MM with Jerry Giesler (announce divorce from Joe DiMaggio in October, 1954)
Lot 175: A group of four 2000s era later prints with a glossy finish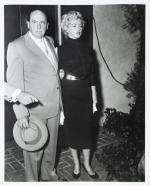 ---
Lots 14-17 + 47 + 70 + 83-84 + 190: PHOTOS MARILYN'S FILMS
estimate: US $ 100 - 200 - 300 / starting: $25
Lot 14-17: PHOTOS FROM "THE ASPHALT JUNGLE"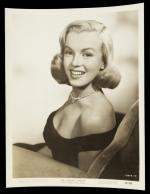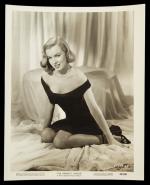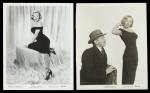 Lot 47: 1953 PUBLICITY PHOTOGRAPH FROM "GENTLEMEN PREFER BLONDES"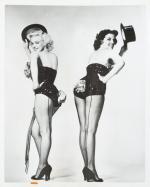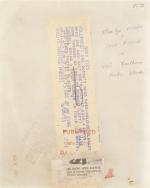 Lot 70: 1960 FILM STILL PHOTOGRAPH FROM "LET'S MAKE LOVE"


Lots 83-84: PHOTOGRAPHS "Something's Got to Give"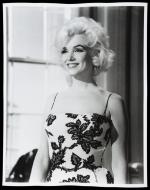 Lot 190: 1961 PHOTO OF CO-STAR CLARK GABLE FROM "THE MISFITS" BY EVE ARNOLD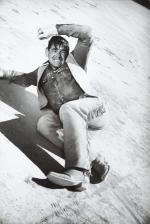 ---
Lot 56: 1954 ORIGINAL LOBBY CARD FROM "THERE'S NO BUSINESS LIKE SHOW BUSINESS"
estimate: US $ 25 - 50 / starting: $25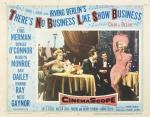 ---
Magazines
---
Lot 12: MARILYN MONROE 1940S MAGAZINE
estimate: US $ 25 - 50 / starting: $25
Lot 12: "GLAMOROUS MODELS" December 1949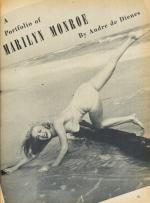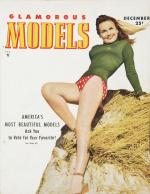 ---
Lots 18-20 + 22-23 + 37-38 + 48 + 55 + 63 + 67: MARILYN MONROE 1950S MAGAZINES
estimate: US $ 25 - 50 / starting: $25
Lot 18: 3 "FOCUS" September 1952, January 1955, and November 1955.
Lot 19: 4 MINI MAGAZINES Behind the Scene (July 1955); Picture Week (February 1955); Sensation (January 1954); and Show (March 1953).
Lot 20: 2 "PICTUREGOER" August 9, 1952 and November 17, 1956.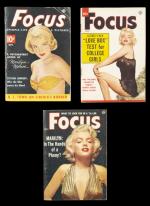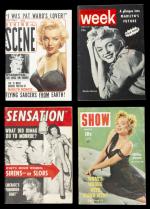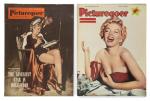 Lot 22: 2 "TEMPO" March 18, 1954 and November 1, 1955
Lot 23: 3 "VUE" August 1952, January 1955, and August 1955.
Lot 37: 1952 MAGAZINES x 5: Movie Pix (October); Movieland (July); Screen Fan (December); Screenland (August); Sir! (December).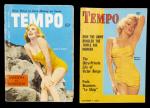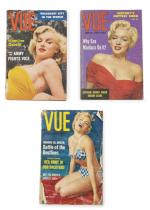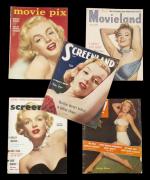 Lot 38: 1952 "PEOPLE TODAY" (June 18 and December 3)
Lot 48: 1953 MAGAZINES x8: Cheesecake (circa January); Esquire (July); Motion Picture and Television Magazine (November); Movie Stars Parade (October); Movies (Februrary); New Liberty (March); Redbook (March); See (November).
Lot 55: 1954 MAGAZINES x5: Art Photography (October); Collier's (July); Movie Time (November); Movieland (November); Movies (June).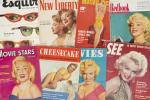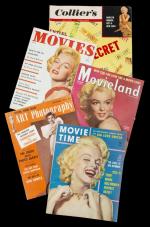 Lot 58: 1955 mini magazine 65 pages dedicated to Marilyn: "THE MARILYN MONROE STORY"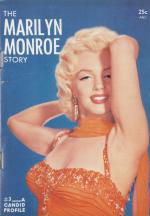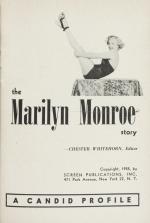 Lot 63: 4 MAGAZINES 1956: Collier's (August); Modern Man (June); Rave (August); The Saturday Evening Post (May).
Lot 67: 1957 august True Strange Incredible Weird and Factual cover + article 7 pages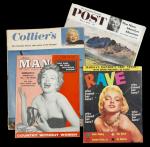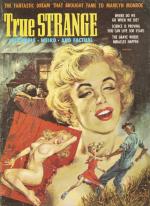 ---
Lot 24 - 32: MARILYN MONROE 1950S-1960S MAGAZINES LOTS
estimate: US $ 25 - 50 / starting: $25
Lot 24: 4 "CONFIDENTIAL" September 1955; November 1956; May 1957; November 1960.
Lot 25: 3 "COSMOPOLITIAN" May 1953, October 1956, and December 1960.
Lot 26: FOREIGN 6 MAGAZINES: Billed Bladet (May 1953, Danish); Billed Bladet (November 1952, Danish); Buenhogar (September 1969, Spanish); Ecran (1957, Spanish); Stern (December 1960, German); Vea y Lea (September 1960, Spanish).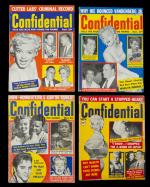 Lot 27: 4 "INSIDE STORY": October 1956; April 1958; May 1959; and July 1960.
Lot 28: 3 mags: Behind the Scene (July 1957); Behind the Scene (November 1957); Jerry Giesler's Hollywood (1962).
Lot 29: 4 mags not on cover: Cover Girls Models (March 1953); Movieland and TV Time (October 1960); Photoplay (October 1953); Photoplay (January 1955).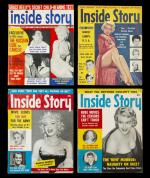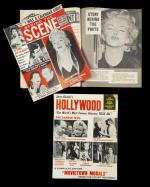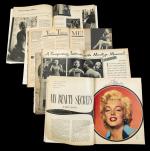 Lot 30: 4 mini magazines: Films in Review (October 1962); Ladies Home Companion (January 1965); Picture Scope (May 1955); Why (June 1953)
Lot 31 : 7 "MODERN SCREEN" : October 1953; March 1954; September 1954; October 1955; November 1956; December 1960; and November 1963
Lot 32: 6 "THE NATIONAL POLICE GAZETTE": February 1955; March 1956; November 1956; October 1960; May 1961; and October 1962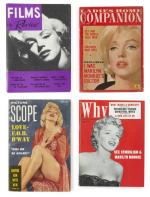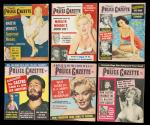 ---
Lots 79 + 109: MARILYN MONROE 1960S MAGAZINES
estimate: US $ 25 - 50 / starting: $25
Lot 79: 1962-1963 with 4 POSTHUMOUS MAGAZINES: Marilyn (1962); Marilyn's Life Story (1962); Parade (March 1963); Photoplay (June 1963).
Lot 109: "AVANT-GARDE" , n°2, 03/1968 cover + 13 pages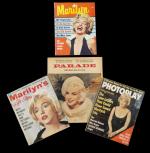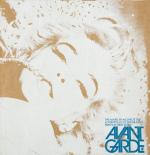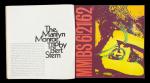 ---
Lot 112: MARILYN MONROE 1970S MAGAZINES
estimate: US $ 25 - 50 / starting: $25
Lot 112: 3 mags: Ladies Home Journal (07/1973); Photoplay (09/1975); Screen Greats Series: Marilyn (1971).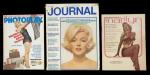 ---
Lot 107 + 116 + 117: MARILYN MONROE VARIOUS MAGAZINES LOTS
estimate: US $ 25 - 50 / starting: $25
Lot 107: "LIFE" MAGAZINES from August 7, 1964 and September 8, 1972.
Lot 116: 1970S-1990S NEWSMAGAZINES 3: 1/Time (July 1973); Newsweek (October 1972), and Newsweek (March 1999).
Lot 117: 1970s-2000s FRENCH MAGAZINES 11 titles: Elle (July 1956); Elle (April 1988); Jours de France (November 1960); Lectures d'Aujourd'hui (May 1958); Marie-Claire (January 1965); Nous Deux (July 2001); Paris Match (February 1959); Paris Match (July 1953); Paris Match (July 1956); Photo (November 1974); and Tele Programme Magazine (October 1957).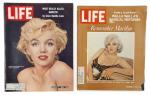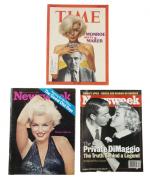 ---
Lot 125: MARILYN MONROE 1980 TAWDRY "CELEBRITY SKIN" MAGAZINE
estimate: US $ 25 - 50 / starting: $25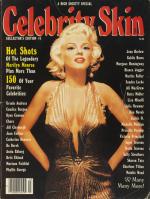 ---
Lots 186 - 189: MARILYN MONROE EARLY 1980S / 1990S MAGAZINES LOTS
each lot: estimate: US $ 25 - 50 / starting: $25
lot 186 - 12 magazines of 1980s: After Dark (September 1981); The Faces of Marilyn (Circa 1985); Marilyn: The Complete Story (Circa 1982); The Movie (1980); The Newsday Magazine (August 1982); New York Sunday News Magazine (August 1982); Nostalgia World (1983); The Photo (1982); Sunday (1982); Sunday Express Magazine (December 1983); Today's Photographer (1982); and Unsolved (1984).
lot 187 - 10 magazines of 1990s: American Movie Classics (December 1990); American Photo (March/April 1995); The Australian Magazine (November 1991); The Australian Women's Weekly (April 1993); Entertainment Weekly (August 1992); Palm Springs Life (June 1993); The Sharper Image Catalog (June 1992); Sunday Express Magazine (July 1992); Sunday News of the World Magazine (May 1991); and Woman's World (December 1991).
lot 188 - 9 magazines of 1980s: American Heritage (February 1989); Bombshells (1989); Hollywood Studio Magazine Then and Now (August 1987); Hollywood Studio Magazine Then and Now (August 1989); Idols (September 1988); Idols (April 1989); People (October 1985); Picture Week (October 1985); and You Magazine (July 1987).
lot 189 - 7 magazines of 1990s: Cineaction Performance (July 1997); Collecting (December 1997); Harpers (October 1999); People (August 1999); Saturday Night (September 1996); Worth (October 1997); and You (April 1995).

---
Lots 176 + 179 + 181: MARILYN MONROE 2000S MAGAZINES
estimate: US $ 25 - 50 / 50-100 / starting: $25
Lot 176: 2 magazines: The Sunday Times Magazine (July 2002); and Where New York (September 2000).
Lot 179: 2 issues 2001 (12-18 May) "Tv Guide"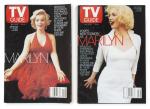 Lot 181: 2007 Limited Edition German "Fotographie" signed by "Bert Stern / 2011"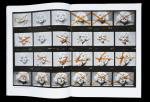 ---
Lot 34: 1950S-1990S PRESS CLIPPINGS
each lot: estimate: US $ 25 - 50 / starting: $25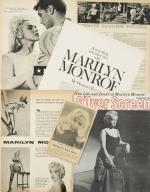 ---
Livres

---
Lots 21 + 59 + 64 : MARILYN MONROE BOOKS 1950s
each lot: estimate: US $ 25 - 50 / 50 - 100 / starting: $25
Lot 21 : 2 rare danish books: 1/"An American Success Story of Marilyn Monroe [En Amerikansk Sukces Historien Om Marilyn Monroe]," by Kai Berg Madsen, published by Illustrations Forlaget circa 1953, 32 pages; 2/ "Marilyn Monroe" by Mogens Fønss, published by Samlerens Forlag in 1958, 56 pages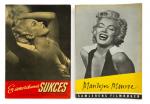 Lot 59: 1955 rare 2 books: 1/"The Seven Year Itch," published by Bantam Books in 1955, by George Axelrod; 2/ "Marilyn Monroe as The Girl," published by Ballantine Books in 1955, by Sam Shaw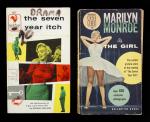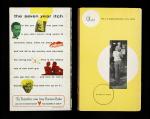 Lot 64: 1956 small book 96 pages "BUS STOP"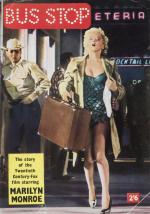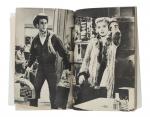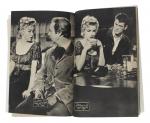 ---
Lots 75 + 77 + 78 + 106 : MARILYN MONROE BOOKS 1960s
each lot: estimate: US $ 25 - 50 / 50 - 100 / starting: $25
Lot 75: 1961 book 223 pages "THE MISFITS" BY ARTHUR MILLER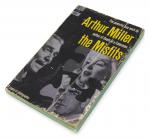 Lot 77: 1962 automn, rare book "EROS" FEATURING IMAGES BY BERT STERN"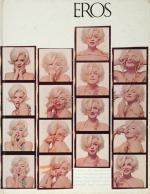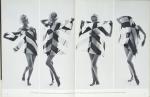 Lot 78: 1962 SORDID LITTLE BOOK "VIOLATIONS OF THE CHILD MARILYN MONROE" by "Her Psychiatrist-Friend"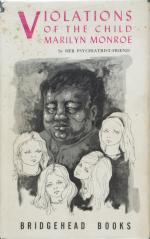 Lot 106: 1963 BOOK "THE STORY OF THE MISFITS" BY JAMES GOODE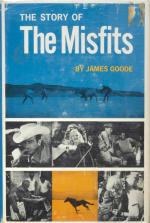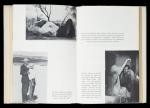 ---
Lots 71 + 72: MARILYN MONROE BOOKS 1960S-2000S
estimate: US $ 50 - 100 / starting: $25
Lot 71: 1960S-1970S 4 books: 1) "Marilyn: An Untold Story," 1973, by Norman Rosten; 2) "Marilyn: The Last Months," 1975, by Eunice Murray with Rose Shade; 3) "Who Killed Marilyn and Did the Kennedys Know?," 1976, by Tony Sciacca; and 4) "The Mysterious Death of Marilyn Monroe," 1968, by James A. Hudson
Lot 72: 1960S-1970S books 4 biographies: 1) "Conversations with Marilyn," 1976, by W.J. Weatherby; 2) "Marilyn Monroe: A Composite View," 1969, by Edward Wagenknecht; 3) "My Story," 1974, by Marilyn Monroe; and 4) "The Pictorial Tresury of Film Stars: Marilyn Monroe," 1973, by Joan Mellen.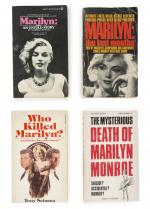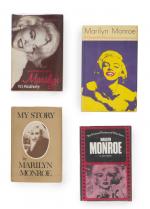 ---
Lots 73 + 74: MARILYN MONROE BOOKS 1960S-2000S
estimate: US $ 25 - 50 / 200 -300 / starting: $25
Lot 73: 38 fantasists books: 1) Africa and the Marriage of Walt Whitman and Marilyn Monroe; 2) All the Available Light: A Marilyn Monroe Reader; 3) Anyone Can See I Love You; 4) Bogart '48; 5) Collins English Library: Marilyn Monroe; 6) The Films of Marilyn Monroe; 7) Goddess; 8) The Immortal Marilyn: The Depiction of an Icon; 9) Impossibly Blonde; 10) Inside Marilyn Monroe; 11) Marilyn & Joe DiMaggio; 12) The Marilyn Conspiracy; 13) The Marilyn Diaries; 14) The Marilyn Files (signed by author/fantasist Robert F. Slatzer); 15) Marilyn Lives!; 16) Marilyn Monroe Alive in 1984?; 17) Marilyn Monroe and Other Poems; 18) Marilyn Monroe in Hollywood; 19) Marilyn Monroe: In Her Own Words; 20) Marilyn Monroe: In Her Own Words (2nd copy); 21) Marilyn Monroe: Murder by Consent; 22) Marilyn Monroe: Murder Cover-Up; 23) Marilyn Monroe: Norma Jeane's Dream; 24) Marilyn Monroe: Photographs 1945-1962; 25) Marilyn Monroe: The Biography; 26) Marilyn Monroe: The FBI Files; 27) Marilyn, Norma Jean and Me; 28) Marilyn: The Last Take; 29) The Mmm Girl; 30) Mondo Marilyn: An Anthology of Fiction and Poetry; 31) Movie Icons: Monroe; 32) The Murder of Marilyn Monroe; 33) My Sex is Ice Cream: The Marilyn Monroe Poems; 34) Pocket Biographies: Marilyn Monroe; 35) The Pocket Essential: Marilyn Monroe; 36) Skouras: King of Fox Studios; 37) Some Like It Hot: Original Movie Script; 38) UFOs and the Murder of Marilyn Monroe
Lot 74: 9 medium sized book: 1) Blonde Heat: The Sizzling Screen Career of Marilyn Monroe, 2001, by Richard Buskin; 2) The Films of Marilyn Monroe, 1964, by Michael Conway and Mark Ricci; (dust jacket missing) 3) Forever Marilyn, 1992, by Marie Cahill; 4) The Marilyn Encyclopedia, 1999, by Adam Victor; 5) Marilyn in Her Own Words, 1991, by Neil Grant; 6) Marilyn Monroe: A Never-Ending Dream, 1983, by Guus Luijters; 7) Marilyn on Location, 1989, by Bart Mills; 8) Marilyn, 1989, by Neil Sinyard; 9) The Screen Greats: Marilyn Monroe, 1982, Tom Hutchinson.

---
Lots 113 + 115 + 118 + 120 & 123-124: MARILYN MONROE BOOKS 1970s-2000s
each lot: estimate: US $ 25 - 50 / 50 - 100 / starting: $25
Lot 113: 1970S-1980S BOOKS BY HER FRIENDS: 1/"The Joy of Marilyn," 1979, by Sam Shaw; 2/ "Marilyn Among Friends," 1988, by Sam Shaw and Norman Rosten.
Lot 115: 1970S-1990S BY PEOPLE WHO PROBABLY DID NOT KNOW HER BUT CLAIMED TO HAVE KNOWN HER: 1) "Diary of a Lover of Marilyn Monroe," 1977, by Hans Jørgen Lembourn; 2) "I Remember Marilyn," 1995, by Peter Collins; 3) "Norma Jean: My Secret Life with Marilyn Monroe;" 1989, by Ted Jordan (signed by him); and 4) "The Prince, The Showgirl and Me: Six Months on the Set with Marilyn and Olivier," 1995, by Colin Clark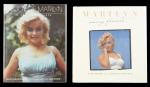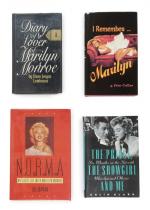 Lot 118: 1970S-2000S SMALLISH 12 BOOKS: 1) Marilyn; 2) Marilyn Monroe; 3) Marilyn Monroe; 4) Marilyn Monroe: Book of 30 Postcards; 5) Marilyn Monroe: Hometown Girl; 6) Marilyn Monroe: Quotes/Trivia; 7) Marilyn Monroe: The Sad, Tragic Story of the Sweater Girl Who Had Everything Except Happiness; 8) Marilyn: A Postcard Book; 9) Marilyn's Addresses; 10) Mysterious Deaths: Marilyn Monroe; 11) The Some Like it Hot Cookbook; and 12) They Died Too Young: Marilyn Monroe.


Lot 120: 1973 & 1990 PAPERBACK BOOKLETS: 1/"Marilyn Monroe: Her Own Story" by George Carpozi, Jr., 112 pages 1973; 2/"Marilyn Monroe: In Her Own Words" by Guus Luijters, 128 pages, 1990
Lot 121: 1973 book of 271 pages "MARILYN" BY NORMAN MAILER
Lot 123: Books by people who knew and/or met her; 1/ "Marilyn Monroe Confidential," 1979, by Lena Pepitone and Willaim Stadiem [Pepitone was MM's NYC maid]; 2/ "Legend: The Life and Death of Marilyn Monroe," 1984, by Fred Lawrence Guiles [he met her once or twice].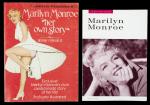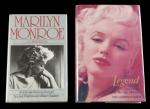 Lot 124: 1980 Book "Of Women and their elegance" by Norman Mailer and Milton H Greene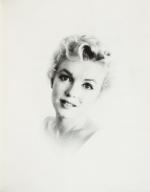 ---
Lots 33 + 129-136: MARILYN MONROE BOOKS LOTS
estimate: US $ 25 - 50 / 100 - 200 / starting: $25
Lot 33: 1950S-1961 rare 5 books: 1) "Bus Stop," published by Bantam Books in 1956, by William Inge; 2) "Marilyn Monroe: Her Own Story," published by Belmont Books in 1961, by George Carpozi, Jr.; 3) "The Prince and the Show Girl," published by Signet Books in 1957, by Terence Rattigan; 4) "Some Like It Hot," published by Signet Books in 1959, by Billy Wilder and I.A.L. Diamond; and 5) "Let's Make Love," published by Bantam Books in 1960, by Matthew Andrews.
Lot 129: 1980S OVERSIZED COLLECTIBLE 'POSTER BOOKS' 1986 and in 1989; both feature 20 "tear out posters" along with text.
Lot 130: 1980S RARE JAPANESE PAPERBACK BOOKS : 1/ book of 144 pages "Marilyn Monroe: An Appreciate" by Eve Arnold, 1987; 2/ book of 235 pages "Marilyn," unknown author circa 1985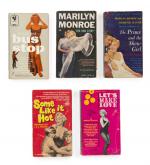 Lot 131: 1980S-1990S BOOKS BY PHOTOGRAPHERS WHO ACTUALLY KNEW HER: 1) Bernard of Hollywood's Marilyn, 1993, by Susan Bernard; 2) Falling for Marilyn: The Lost Niagara Collection, 1996, by Jock Carroll; 3) Finding Marilyn: A Romance by David Conover, the Photographer Who Discovered Marilyn Monroe, 1981, by David Conover; 4) The Last Sitting, 1982, by Bert Stern; and 5) Marilyn Monroe: An Appreciation, 1987, by Eve Arnold
Lot 132: 1980S-2000S LARGE SIZED BIOGRAPHIES/BOOKS: 1) Crypt 33: The Saga of Marilyn Monroe: The Final Word, 1993, by Adela Gregory (signed by her) and Milo Speriglio; 2) Goddess: The Secret Lives of Marilyn Monroe, 1985, by Anthony Summers; 3) The Last Days of Marilyn Monroe, 1998, by Donald H. Wolfe; 4) Marilyn Revealed, 2009, by Ted Schwarz; 5) The Marilyn Scandal, 1987, by Sandra Shevey; 6) Marilyn: The Last Take, 1992, by Peter Harry Brown and Patte B. Barham (signed by both); and 7) The Men Who Murdered Marilyn, 1996, by Matthew Smith
Lot 133: 1980S-2000S 'LARGE SIZED' BOOKS: 1) The Films of Marilyn Monroe, 1992, by Richard Buskin (signed by him); 2) Marilyn, 1993, by Kathy Rooks-Denes; 3) The Marilyn Album, 1991, by Nicki Giles; 4) Marilyn: A Hollywood Life, 1989, by Ann Lloyd; 5) Marilyn at Twentieth Century Fox, 1987, by Lawrence Crown; 6) Marilyn: Her Life & Legend, 1990, by Susan Doll; 7) Marilyn Monroe, 1983, by Janice Anderson; 8) Marilyn Monroe: A Life in Pictures, 2007, by Anne Verlhac and David Thomson; and 9) Marilyn Monroe: Photographs Selected from the Files of the United Press International/Bettmann, 1990, by Roger Baker.
Lot 134: 1980S-2000S 'MEDIUM SIZED' BIOGRAPHIES/BOOKS: 1) Fragments: Poems, Intimate Notes, Letters by Marilyn Monroe, 2010, by Stanley Buchthal and Bernard Comment; 2) Marilyn Monroe: Private and Undisclosed, 2007, by Michelle Morgan; 3) Marilyn on Marilyn, 1983, by Roger Taylor; 4) MM-Personal: From the Private Archive of Marilyn Monroe, 2011, by Lois Banner (signed by her); 5) The Secret Life of Marilyn Monroe, 2009, by J. Randy Taraborrelli; and 6) The Unabridged Marilyn: Her Life from A to Z, 1987, by Randall Riese and Neal Hitchens
Lot 135: 1980S-2000S 'NOVELS/WORKS OF FICTION' BOOKS: 1) Atomic Candy; 2) Candle in the Wind; 3) Demon; 4) Dying to Be Marilyn; 5) The Elvis and Marilyn Affair; 6) I, JFK; 7) The Immortals; 8) Lovesick; 9) Marilyn: Shades of Blonde; 10) The Marilyn Tapes; 11) Marilyn's Daughter; 12) MMII: The Return of Marilyn Monroe; 13) Moviola; 14) Queen of Desire; 15) The Secret Letters of Marilyn Monroe and Jacqueline Kennedy; 16) The Symbol; and 17) Who Killed Marilyn Monroe?
Lot 136: 1980S-2000S 'SMALL SIZED' BIOGRAPHIES/BOOKS: 1) American Monroe: The Making of a Body Politic, 1995, by S. Paige Baty (no dust jacket); 2) Joe & Marilyn: A Memory of Love, 1986, by Roger Kahn; 3) Marilyn Monroe, 1987, by Graham McCann; 4) Marilyn Monroe: A Life of the Actress, 1986, by Carl E. Rollyson, Jr.; 5) My Story: Marilyn Monroe, 2000, by Andrea Dworkin; and 6) Why Norma Jean Killed Marilyn Monroe, 1992, by Lucy Freeman.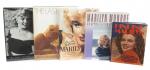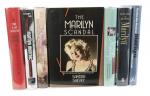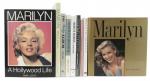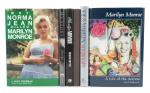 ---
Lots 137 - 149: MARILYN MONROE BOOKS 1980s-1990s
estimate: US $ 25 - 50 / 100- 200 / starting: $25
lot 137: 1982 book "MONROE: HER LIFE IN PICTURES" signed by James Spada and Douglas Kirkland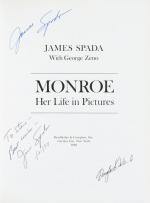 lot 138: 1982 french book 143 pages "MARILYN CHÉRIE" by Michael Del Mar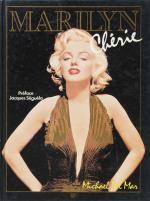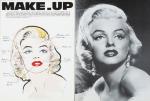 lot 139: 1984 book "MARILYN IN ART" by Roger G Taylor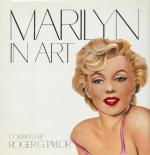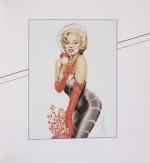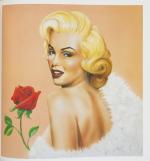 lot 140: 1984 book "MARILYN MONROE" by Janice Anderson
lots 141 + 143: 1986 book 155 pages "MARILYN MON AMOUR" by Andre De Dienes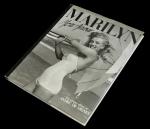 lot 142: 1986 book "MARILYN: NORMA JEANE" signed by Gloria Steinem and George Barris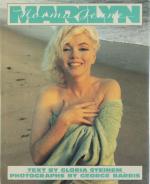 lot 144: 1989 book "MARILYN MONROE AND THE CAMERA" by Lothar Schirmer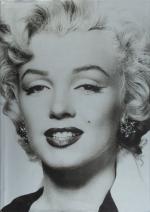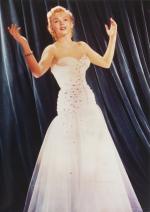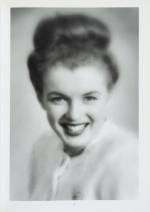 lot 145: 1991 book "MARILYN: THE ULTIMATE LOOK AT THE LEGEND" signed by James Haspiel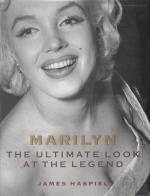 lot 146: 1991 book "THE BIRTH OF MARILYN: THE LOST PHOTOGRAPHS OF NORMA JEAN BY JOSEPH JASGUR" signed by Joseph Jasgur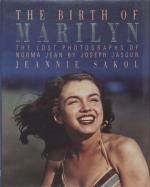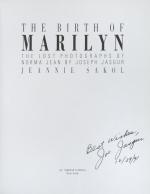 lot 147: 1991 graphic novel "SON OF CELLULOID" signed by Clive Barker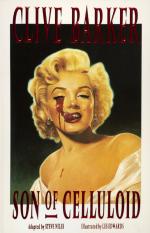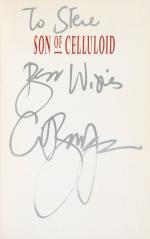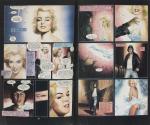 lot 148: 1992 book 282 pages "MARILYN AND ME: SISTERS, RIVALS, FRIENDS" by Susan Strasberg
lot 149: 1992 massive book "BERT STERN MARILYN MONROE: THE COMPLETE LAST SITTING 2571 PHOTOGRAPHS" signed by Bert Stern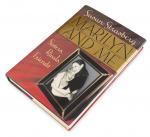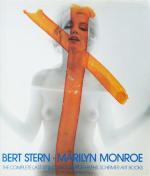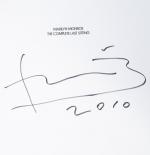 ---
Lots 151 + 154 - 156 + lot 158: MARILYN MONROE BOOKS 1990s
each lot: estimate: US $ 25 - 50 / 50 - 100 / starting: $25
Lot 151: 1993 book "MARILYN MONROE: CANDLE IN THE WIND" BY ELTON JOHN & BERNIE TAUPIN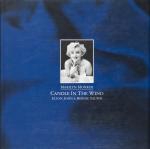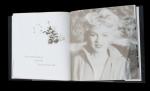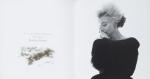 Lot 154: 1994 book 219 pages "MILTON'S MARILYN" BY JAMES KOTSILIBAS-DAVIS AND JOSHUA GREENE
lot 155: 1994 book "MY SISTER MARILYN" SIGNED BY BERNIECE BAKER MIRACLE AND MONA RAE MIRACLE signed "To Scot" by "Berniece" [MM's half-sister] and "Mona Rae" [MM's half-niece]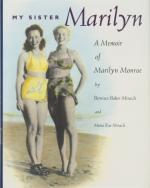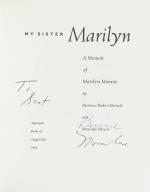 lot 156: 1995 book "MARILYN: HER LIFE IN HER OWN WORDS" signed by George Barris
lot 158: 1996 limited edition book "MARILYN BY MOONLIGHT" signed by Jack Allen and Greg Schreiner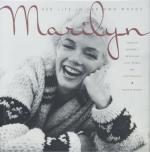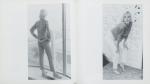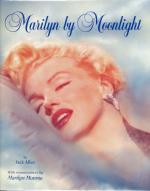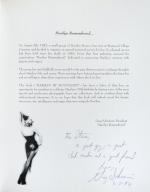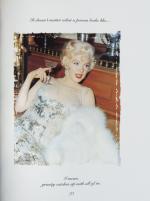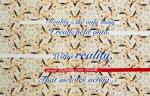 ---
Lot 160: 1997 RARE CATALOGUE/BOOK "ELVIS + MARILYN 2X IMMORTAL" BY GERI DEPAOLI AND WENDY MCDARIS
estimate: US $ 25 - 50 / starting: $25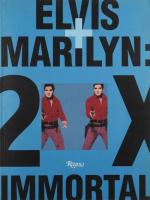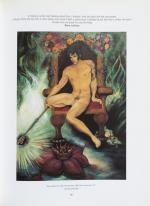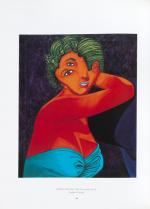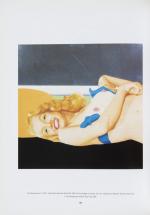 ---
Lot 165: 1998 RARE BOOKLET "MARILYN MONROE AND THE MAKING OF NIAGARA" BY GEORGE BAILEY
estimate: US $ 25 - 50 / starting: $25
34 pages of black and white photographs of the star and text written by local Canadian man George Bailey about the time when Marilyn came to Niagara Falls to make her 1953 20th Century Fox film.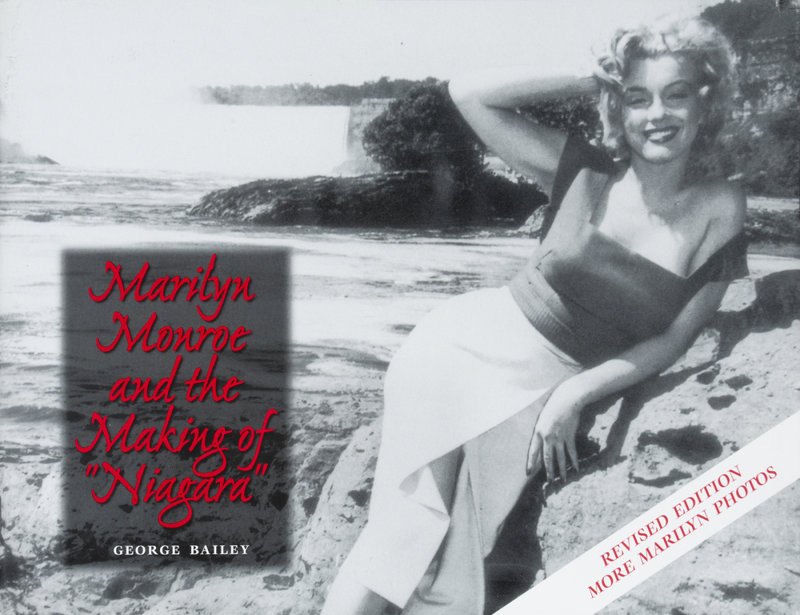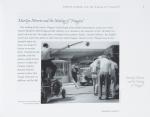 ---
Lot 173: 2000 BOOK "THE UNPUBLISHED MARILYN" BY JAMES HASPIEL
estimate: US $ 25 - 50 / starting: $25

---
Lot 180: 2005 BOOK "AN EVENING WITH MARILYN" SIGNED BY DOUGLAS KIRKLAND
estimate: US $ 50 - 100 / starting: $25
book signed in black felt-tip ink on the title page "Douglas Kirkland."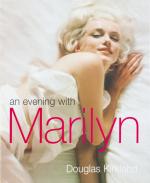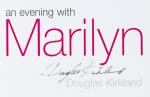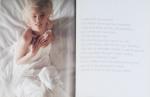 ---
Catalogues / Brochures
---
Lot 108: 1967 SUPER RARE PROGRAM FROM AN EXHIBT TITLED "HOMAGE TO MARILYN MONROE" AT THE SIDNEY JANIS GALLERY IN NYC
estimate: US $ 25 - 50 starting: $25
24 page pamphlet feat. works from a show related to the star created by artists such as Henri Cartier-Bresson, Richard Avedon, Andy Warhol, James Rosenquist, Claes Oldenburg, Salvador Dalí, Robert Indiana, Willem de Kooning... (exhibit took place from December 6-30, 1967 and benefitted The Association for Mentally Ill Children in Manhattan, Inc.)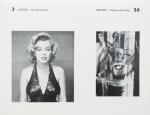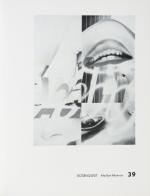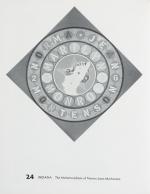 ---
Lot 110: 1969 ACADEMIC PAMPHLET AND 1988 'ZINE
estimate: US $ 25 - 50 starting: $25
2 pieces; 1/ a pamphlet "Hojas de Crítica" [Criticism Sheets], published by the Universidad de Mexico in April 1969; 2/ zine "Some Like It Hot," printed by the Marilyn Forever Worldwide Fan Club in February 1988.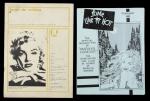 ---
Lot 122: 1973 RARE BLACK AND WHITE MARKETING BROCHURE FOR A PHOTOGRAPHY EXHIBIT TITLED "MARILYN MONROE: THE LEGEND & THE TRUTH"
estimate: US $ 25 - 50 starting: $25
18,000 units of memorabilia at one exhibit in just 6 days in 1972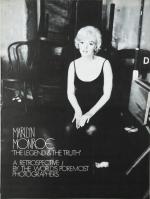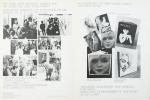 ---
Lot 127: 1980S BROCHURE TITLED "EDWARD WESTON EDITIONS FINE ART PHOTOGRAPHY"
estimate: US $ 25 - 50 starting: $25
18-page pamphlet featuring George Barris and Bert Stern photographs (Edward Weston Galleries)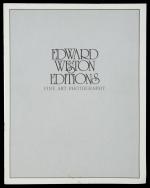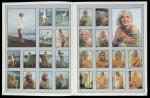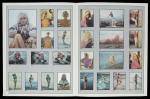 ---
Lot 150: 1992 RARE PROGRAM FROM THE 30TH ANNIVERSARY OF HER MEMORIAL
estimate: US $ 25 - 50 / starting: $25
21 page booklet from the event designed by Rick Carl of the Marilyn Remembered fan club (with b&w photos of the star + the attendees of the event like Mamie Van Doren, Tom Ewell, Maurice Zolotow, Bebe Goddard, Evelyn Moriarty, Greg Schreiner [MR president] and T.R. Fogli [renowed MM memorabilia collector])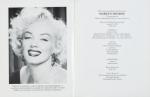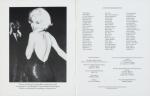 ---
Lots 166 - 172: 1999 CHRISTIE'S AUCTION "THE PERSONAL PROPERTY OF MARILYN MONROE" STUFFS
each lot: estimate: US $ 25 - 50 - 100 / starting: $25
lot 166: BIDDER PADDLE being number 606
lot 167: 12 NEVER-USED JEWELRY LOT TAGS
lot 168: CATALOGUE
lot 169: 4 TICKETS
lot 170: 4 UNUSED LOT TAGS
lot 171: COLOR TRANSPARENCY OF THE 1962 'HAPPY BIRTHDAY, MR. PRESIDENT' DRESS used for various marketing and publicity purposes
lot 172: SUPER RARE MARKETING BOOK with 7 pages of photos + text (information about "The Tour" of some lots in Las Vegas, Los Angeles, London, Paris, Buenos Aires, Singapore, and Tokyo)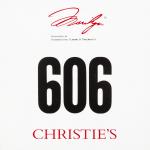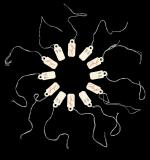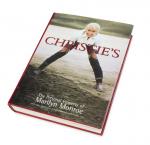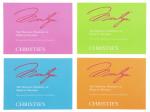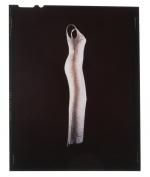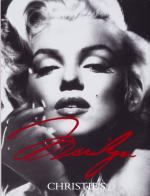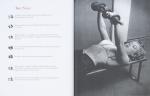 ---
Lot 178: 2001 CATALOGUE FROM A SOTHEBY'S AUCTION TITLED "MARILYN ON-LINE AUCTION"
estimate: US $ 25 - 50 / starting: $25
A small spiral-bound pamphlet depicting 15 lots that Berniece and Mona Miracle [MM's half-sister and half-niece] consigned to the venerable New York auction house for an online sale that took place from February 8th to March 1st, 2001.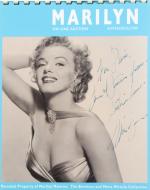 ---
Lot 182: 2017 REAL ESTATE BROCHURE FOR THE SALE OF HER LAST HOME IN BRENTWOOD, CALIFORNIA
estimate: US $ 25 - 50 / starting: $25
10 page color pamphlet showing numerous shots of the star's last home at 12305 5th Helena Drive in Brentwood, California when it was on the market in 2017; because this was Marilyn's infamous last home where she tragically died, only those who pre-qualified to buy a $6.9 million property were allowed inside to view it, including the current owner who has consigned it here.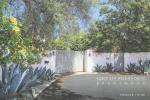 ---
Musique + Disques
---
Lot 39: 1952 SHEET MUSIC FOR THE SONG "MARILYN"
estimate: US $ 25 - 50 / starting: $25
A pamphlet of sheet music for the song written about the star by Ervin Drake and Jimmy Shirl, featuring a purplish-colored duo-tone image of the star on the cover next to band leader Ray Anthony who recorded the song, text on the left side reads in part "Inspired by / Marilyn Monroe / ...Currently Starring / ...in Niagara," copyright date noted on inside front cover reads "1952."

---
Lot 114: 1970S-1980S RECORD ALBUMS
estimate: US$ 50 - 100 / starting: $25
2 LPs: 1/"Marilyn Monroe Legends" in 1976; 2/ "L'intramontabile Mito di Marilyn" [The Timeless Myth of Marilyn] in 1983; + a 'picture disc' 45 record of "Diamonds Are a Girl's Best Friend/Lazy" in 1987.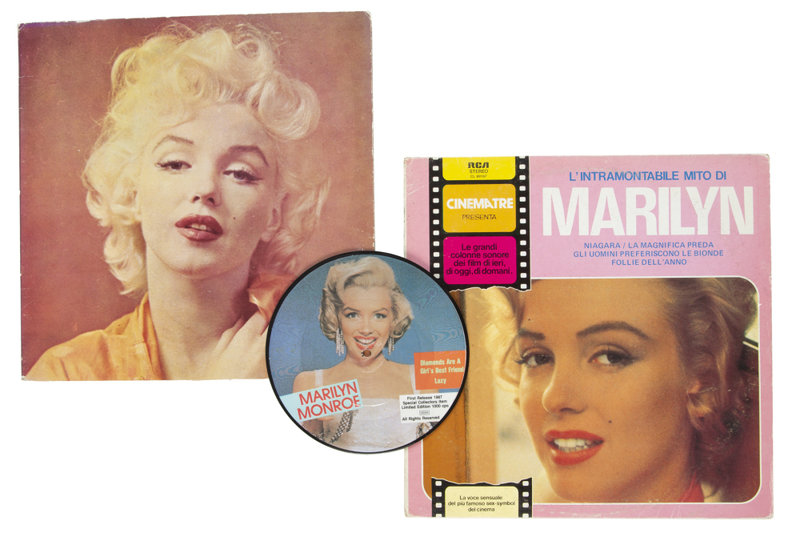 ---
Lot 119: 1972 RARE RECORD ALBUM "REMEMBERING MARILYN" made to accompany the 1973 photo exhibit "Marilyn Monroe: The Legend & The Truth" - LP with 10-page booklet
estimate: US$ 25 - 50 / starting: $25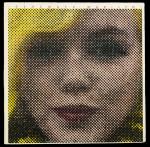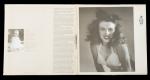 ---
Lot 183: MARILYN MONROE 2017 STILL SEALED RECORD ALBUM "THE SEVEN YEAR ITCH" - LP
estimate: US$ 25 - 50 / starting: $25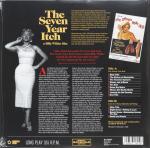 ---
Merchandising divers
---
Lot 35: 1950S-ERA COLLECTIBLE PLAYING CARDS IN THEIR ORIGINAL BOX
estimate: US $ 50 - 100 / starting: $25
A set of two decks of playing cards featuring Marilyn's famous 'nude calendar' poses, 'Golden Dreams' and 'A New Wrinkle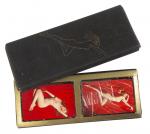 ---
Lot 36: 1950S-ERA 3 NUDE CALENDAR AND PRINTS
estimate: US $ 200 - 300 / starting: $25
1954 calendar with Marilyn in the 'Golden Dreams' pose + 2 salesman sample prints also featuring the 'Golden Dreams' pose, though one has the black lace overlay and titled "The Lure of Lace."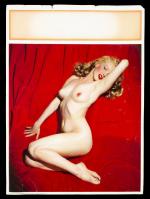 ---
Lots 13 + 76: MARILYN MONROE POSTERS
estimate: US $ 25 - 50 / starting: $25
Lot 13: 1991 'NUDE CALENDAR' COLOR POSTER BY TOM KELLEY (famous pose called 'A New Wrinkle' shot in 1949)
Lot 76: 1961-1987 MUTED COLOR POSTER BY DOUG KIRKLAND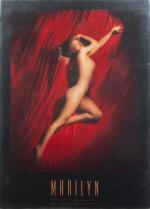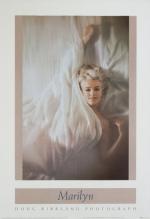 ---
Lot 128: MARILYN MONROE 1980S LIMITED EDITION PRINT - Goodwin
estimate: US $ 50 - 100 / starting: $25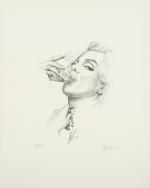 ---
Lot 152: ANITA PAGE 1993 STATUETTE
estimate: US $ 25 / starting: $25
A plaster statuette depicting the 1930s-era star painted in shades of gray and bronze; back is signed "S.L." and further stamped "S.O.L. 93;" the young Norma Jeane likely would have been aware of and/or influenced by this beautiful Hollywood blonde who looks particularly Harlowesque in this work.

---
Lot 153: MARILYN MONROE 1994 BEACH TOWEL
estimate: US $ 25 - 50 / starting: $25

---
Lot 157: MARILYN MONROE 1995 FIRST DAY OF ISSUE USPS 32-CENT STAMPS ON A SPECIAL POSTMARKED ENVELOPE
estimate: US $ 25 - 50 / starting: $25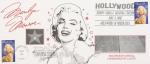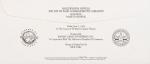 ---
Lot 159 + lots 161 - 164: MARILYN MONROE PORCELAIN STATUETTES DOLLS BY FRANKLIN MINT
each lot: estimate: US $ 25 - 50 - 100 / starting: $25
lot 159: 1997 doll in her costumes as "Vicky Parker" in the 1954 film "THERE'S NO BUSINESS LIKE SHOW BUSINESS" (label "Ms. Anna Strasberg") + photograph
lot 161: 1998 doll in her costumes as "Miss Casswell" from the 1950 film "ALL ABOUT EVE" (label "Ms. Anna Strasberg") + photograph
lot 162: 1998 doll in her costumes as "Cherie" from the 1956 film "BUS STOP" (label "Ms. Anna Strasberg") + photograph
lot 163: 1998 doll in her famous gold lam pleated evening gown which is based on photograph shot by Ed Clark
lot 164: 1998 doll in her black velvet evening gownwhich is based on photograph shot by Frank Powolny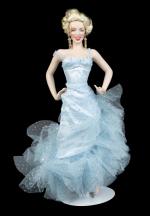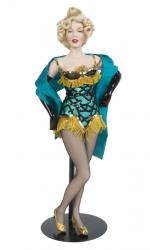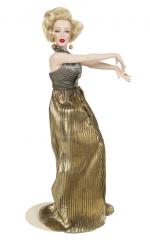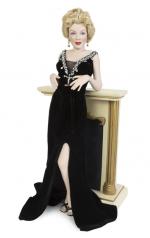 ---
Lot 174: MARILYN MONROE 2000S COLLECTIBLE HANDBAGS OWNED BY ANNA NICOLE SMITH
estimate: US $ 25 - 50 / starting: $25
2 purses owned by Ana Nicole Smith who was famously a huge Marilyn Monroe fan; both are made of fabric and pleather with added rhinestone and/or faux feather details.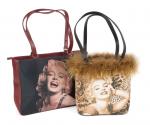 ---
Lot 177: MARILYN MONROE 2000S SATIN PILLOW CASE
estimate: US $ 25 - 50 / starting: $25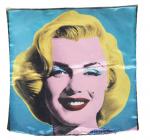 ---
© All images are copyright and protected by their respective owners, assignees or others.
copyright text by GinieLand + Julien's

22 avril 2022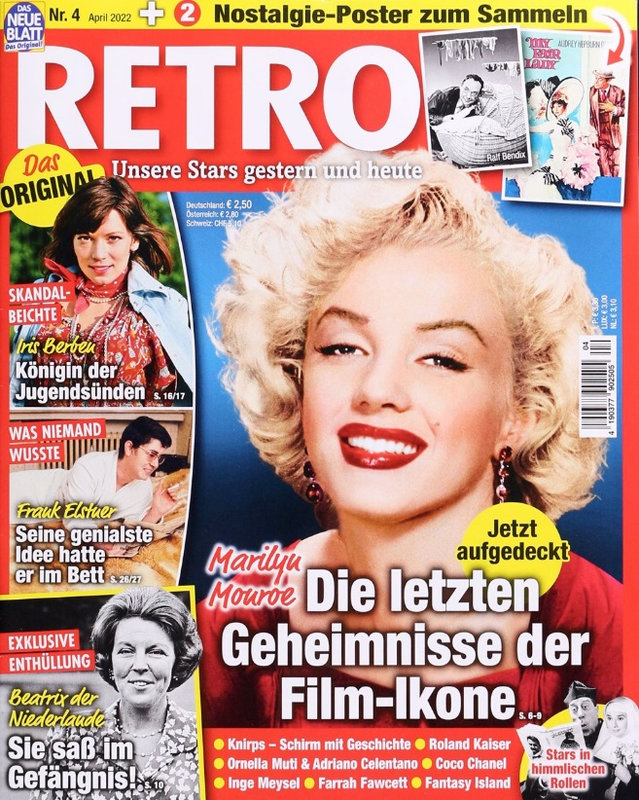 Retro
n°4

pays: Allemagne
paru le 04/2022
prix: 2,50 €
Photo de Marilyn en couverture
+ article de 4 pages
---
© All images are copyright and protected by their respective owners, assignees or others.
10 avril 2022
Tatler

country: UK
date: 1973, October
content: 1 pages 1/2 article on Marilyn Monroe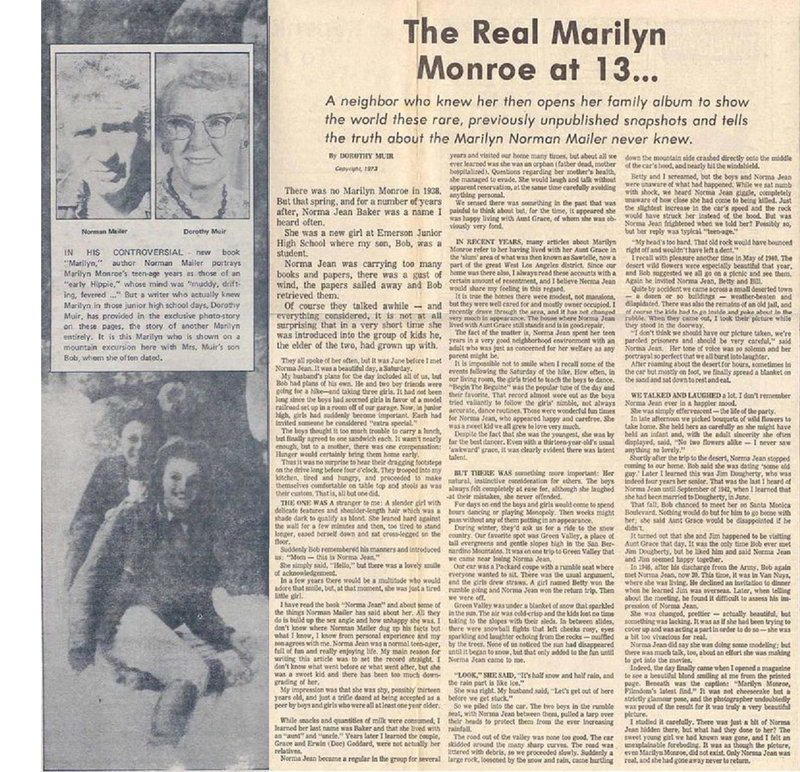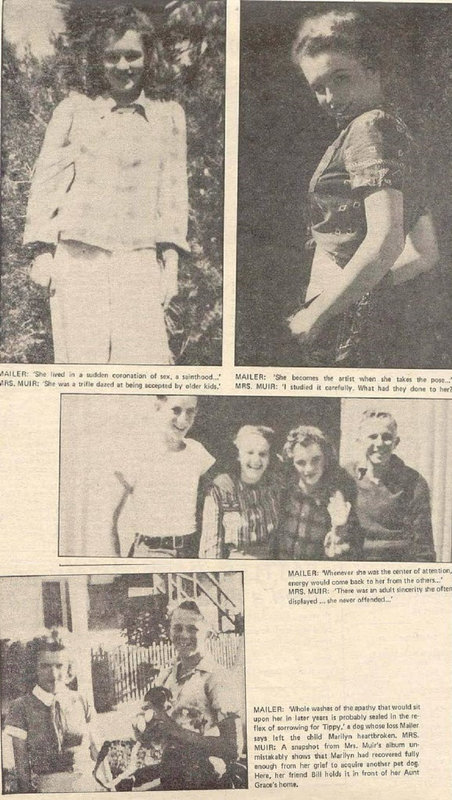 pays: Grande-Bretagne
date: october 1973
contenu: article d'1,5 page sur Marilyn Monroe
---
In his controversial new book "Marilyn", author Norman Mailer portrays Marilyn Monroe's teen-age years as those of an "early hippie", whose mind was "muddy, drifting, fevered..." But a writer who actually knew Marilyn in those junior high school days, Dorothy Muir, has provided in the exclusive photo-story on these pages, the story of another Marilyn entirely. It is this Marilyn who is shown on a mountain excursion here with Mrs. Muir's son Bob, whom she often dated.
The Real Marilyn Monroe at 13...

A neighbor who knew her opens her family album to show the world these rare, previously unpublished snapshots and tells the truth about the Marilyn Norman Mailer never knew.
by DOROTHY MUIR
Copyright, 1973
There was no Marilyn Monroe in 1938. But that spring, and for a number of years after, Norma Jean Baker was a name I heard often.
She was a new girl at Emerson Junior High School where my son, Bob, was a student.
Norma Jean was carrying too many books and papers, there was a gust of wind, the papers sailed away and Bob retrieved them.
Of course they talked awhile - and everything considered, it is not at all surprising that in a very short time she was introduced into the group of kids he, the elder of the two, had grown up with.
They all spoke of her often, but it was June before I met Norma Jean. It was a beautiful day, a Saturday.
My husband's plans for the day included all of us, but Bob had plans of his own. He and two boy friends were going for a bike - and taking three girls. It had not been long since the boys had scorned girls in favor of a model rallroad set up in a room off our garage. Now, in junior high, girls had suddenly become important. Each had invited someone be considered "extra special."
The boys thought it too much trouble to carry a lunch, but finally agreed to one sandwich each. It wasn't nearly enough, but to a mother, there was no compensation: Hunger would certainly bring them home early.
Thus it was no surprise to hear their drugging footsteps on the drive long before four o'clock. They trooped into my kitchen, tired and hungry, and proceeded to make themselves comfortable on table top and stools as was their customs. That is, all but one did.
THE ONE WAS A stranger to me: A slender girl with delicate features and shoulder-length hair which was a shade dark to qualify as blond. She leaned hard against the wall for a few minutes and then, too tired to stand longer, eased herself down and sat cross-legged on the floor.
Suddenly Bob remerbered his manners and introduced us: "Mom - this is Norma Jean."
She simply said, "Hello," but there was a lovely smile of acknowledgement.
In a few years there would be a multitude who would adore that smile, but, at that moment, she was just a tired little girl.
I have read the book "Norma Jean" and about some of the things Norman Mailer has said about her. All they do is build up the sex angle and how unhappy she was. I don't know where Norman Mailer dug up his facts but what I know, I know from personal experience and my son agrees with me. Norma Jean was a normal teen-ager, full of fun and really enjoying life. My main reason for writing this article was to set the record straight. I don't know what went before or what went after, but she was a sweet kid, and there has been too much downgrading of her.
My impression was that she was shy, possibly thirteen years old, and just a trifle dared at being accepted as a peer by boys and girls who were all at least one year older.
While snacks and quantities of milk were consumed, I learned her last name was Baker and that she lived with an "aunt" and "uncle". Years later I learned the couple, Grace and Erwin (Doc) Goddard, were not actually her relatives.
Norma Jean become a regular in the group for several years and visited our home many times, but about all we ever learned was she was an orphan (father dead, mother hospitalised). Questions regarding her mother's health, she managed to evade. She would laugh and talk without apparent reservation, at the same time carefully avolding anything personal.
We sensed there was something in the past that was painful to think about but, for the time, it appeared she was happy living with Aunt Grace, of whom she was obviously very fond.

IN RECENT YEARS, many articles about Marilyn Monroe refer to her having lived with her Aunt Grace in the 'slum' area of what was then known as Sawtelle, now a part of the great West Los Angeles district. Since our home was there also, I always read these accounts with a certain amount of resentment, and I belive Norma Jean would share my feeling in this regard.
It is true the homes were modest, not manalons, but there were well cared for and mostly owner occupied. I recently drove through the area, and it has not changed very much in appearance. The house where Norma Jean lived with Aunt Grace still stands and its in good repair.
The fact of the matter is, Norma Jean spent her teen years in a very good neighborhood environment with an adult who was just as concerned for her welfare as any parent might be.
It is impossible not to smile when I recall some of the events following the Saturday of the bike. How often, in our living room, the girls tried to teach the boys to dance. "Begin the Beguine" was the popular tune of the day and their favorite. That record almost wore out as the boys tried valiantly to fellow the girls' nimble, not always accurate, dance routines. Those were wonderful fun times for Norma Jean, who appeared happy and carefree. She was a sweet kid we all grew to love very much.
Despite the fact that she was the youngest, she was by far the best dancer. Even with a thirteen-year-old's usual 'awkward' grace, it was clearly evident there was latent talent.

BUT THERE WAS something more important: "It's half snow and half rain, and the rain part is like ice."
She was right. My husband said, "Let's get out of here before we get stuck."
So we piled into the car. The two boys in the rumble seat, with Norma Jean between them, pulled a tarp over their heads to protect then from the ever increasing rainfall.
The road out of the valley was none too good. The car skidded around the many sharp curves. The road was littlered with debris, so we proceeded slowly. Suddenly a large rock, loosened by the snow and rain, came hurtling down the mountain side crashed directly onto the middle of the car's hood, and nearly hit the windshield.
Betty and I screamed, but the boys and Norma Jean were unaware of what had happened. While we sat numb with shock, we heard Norma Jean giggle, completely unaware of how close she had come to being killed. Just the slightest increase in the car's speed and the rock would have struck her instead of the hood. But was Norma Jean frightened when we told her ? Possibly so, but her reply was typical "teen-age".

"My head's too hard. That old rock would have bounced right off and wouldn't have left a dent."
I recall with pleasure another time in May of 1940. The desert wild flowers were especially beautiful that year, and Bob suggested we all go on a picnic and see them. Again he invited Norma Jean, Betty and Bill.
Quite by accident we came across a small deserted town - a doten or so buildings - weather-beaten and dilapidated. There was also the remains of and old jail, and of course the kids had to go inside and poke about in the rubble. When they came out, I took their picture while they stood in the doorway.
"I don't think we should have our picture taken, we're parobed prisoners and should be very careful," said Norma Jean. Her tone of voice was so solemn and her portrayal so perfect that we all burst into laughter.
After roaming about the desert for hours, sometimes in the car but mostly on foot, we finally spread a blanket on the sand and sat down to rest and eat.
WE TALKED AND LAUGHED a lot. I don't remember Norma Jean ever in a happier mood.
She was simply effervescent - the life of the party.
In late afternoon we picked bouquets of wild flowers to take home. She held hers as carefully as she might have held an infant and, with the adult sincerely she often displayed, said, "No two flowers alike - I never saw anything so lovely."
Shortly after the trip to the desert, Norma Jean stopped coming to our home. Bob said she was dating 'some old guy'. Later I learned this was Jim Dougherty, who was indeed four years her senior. That was the last I heard of Norma Jean until September of 1942, when I learned that she had been married to Dougherty, in June.
That fall, Bob chanced to meet her on Santa Monica Boulevard. Nothing could do but tell him to go home with her; she said Aunt Grace would be disappointed if he didn't.
It turned out that she and Jim happened to be visiting Aunt Grace that day. It was the only time Bob ever met Jim Dougherty, but he liked him and said Norma Jean and Jim seemed happy together.
In 1946, after his discharge from the Army, Bob again met Norma Jean, now 20. This time, it was in Van Nuys, where she was living. He declined an invitation to dinner when he learned Jim was overseas. Later, when telling about the meeting, he found it difficult to assess his impression of Norma Jean.
She was changed, prettier - actually beautiful, but something was lacking. It was as if she had been trying to cover up and was acting a part in order to do so - she was a bit too vivacious for real.
Norma Jean did say she was doing some modeling; but there was much talk, too, about an effort she was making to get into the movies.
Indeed, the day finally came when I opened a magazine to see a beautiful blond smiling at me from the printed page. Beneath was the caption: "Marilyn Monroe, Filmdom's lastes find." It was not cheesecake but a strictly glamour pose, and the photographer undoubtedly was proud of the result for it was truly a very beautiful picture.
I studied it carefully. There was just a bit of Norma Jean hidden there, but what had they done to her ? The sweet young girl we had known was gone, and I felt an unexplainable foreboding. It was as though the picture, even Marilyn Monroe, did not exist. Only Norma Jean was real, and she had gone away never to return.


---
traduction
Dans son nouveau livre controversé "Marilyn", l'auteur Norman Mailer décrit les années d'adolescence de Marilyn Monroe comme celles d'une "hippie précoce", dont l'esprit était "boueux, à la dérive, fiévreux..." Mais une écrivaine qui a réellement connu Marilyn pendant ses années de collège, Dorothy Muir, fourni à travers le reportage photo exclusif sur ces pages, l'histoire entière d'une autre Marilyn. C'est cette Marilyn qui est montrée ici lors d'une excursion en montagne avec le fils de Mme Muir, Bob, avec qui elle sortait souvent.
La vraie Marilyn Monroe à 13 ans...
Une voisine qui la connaissait ouvre son album de famille pour montrer au monde ces rares clichés inédits et raconte la vérité sur la Marilyn que Norman Mailer n'a jamais connue.
par DOROTHY MUIR
Droit d'auteur, 1973
Il n'y avait pas de Marilyn Monroe en 1938. Mais ce printemps-là, et pendant plusieurs années après, Norma Jean Baker était un nom que j'ai souvent entendu.
C'était une nouvelle venue de l'école Emerson Junior High School où mon fils, Bob, était étudiant.
Norma Jean transportait trop de livres et de papiers, il y a eu une rafale de vent, les papiers se sont envolés et Bob les a récupérés.
Bien sûr, ils ont discuté un moment - et tout compte fait, il n'est pas du tout surprenant qu'en très peu de temps, elle ait été introduite dans le groupe d'enfants avec lesquels lui, l'aîné des deux, avait grandi.
Ils parlaient tous souvent d'elle, mais c'était en juin avant que je rencontre Norma Jean. C'était une belle journée, un samedi.
Les plans de mon mari pour la journée nous incluaient tous, mais Bob avait ses propres plans. Lui et deux de ses copains allaient faire du vélo - et y emmenaient trois filles. Il n'y avait pas longtemps que les garçons avaient méprisé les filles en faveur d'un modèle de chemin de fer installé dans une pièce à côté de notre garage. Maintenant, au collège, les filles étaient soudainement devenues importantes. Chacun avait invité quelqu'un à être considéré comme "extra spécial".
Les garçons pensaient que c'était trop difficile de porter un déjeuner, mais ont finalement accepté un sandwich chacun. Ce n'était pas suffisant, mais pour une mère, il n'y avait aucune compensation : la faim les ramènerait certainement à la maison plus tôt.
Ce n'était donc pas une surprise d'entendre leurs pas de drogue sur l'allée bien avant quatre heures. Ils sont entrés dans ma cuisine, fatigués et affamés, et ont commencé à s'installer confortablement sur la table et les tabourets, comme c'était leur coutume. Autrement dit, tous se sont installés sauf une personne.
CELLE-CI ÉTAIT UNE INCONNUE POUR MOI : Une fille mince aux traits délicats et aux cheveux mi-longs qui étaient d'une teinte foncée pour être qualifiée de blonde. Elle s'appuya durement contre le mur pendant quelques minutes puis, trop fatiguée pour rester debout plus longtemps, se laissa tomber et s'assit en tailleur sur le sol.
Tout à coup, Bob s'est souvenu de ses manières et nous a présenté : "Maman, c'est Norma Jean."
Elle a simplement dit "Bonjour", mais il y avait un joli sourire de reconnaissance.
Quelques temps après, il y aura une foule qui adorera ce sourire, mais, à ce moment-là, elle n'était qu'une petite fille fatiguée.
J'ai lu le livre "Norma Jean" et certaines des choses que Norman Mailer a dites à son sujet. Tout ce qu'ils font, c'est développer l'angle sexuel et à quel point elle était malheureuse. Je ne sais pas où Norman Mailer a déterré ses faits mais ce que je sais, je le sais par expérience personnelle et mon fils est d'accord avec moi. Norma Jean était une adolescente normale, pleine de joie et appréciant vraiment la vie. Ma principale raison d'écrire cet article était de remettre les pendules à l'heure. Je ne sais pas ce qui s'est passé avant ou ce qui s'est passé après, mais c'était une gentille enfant, et il y a eu trop de déclassement sur elle.
J'avais l'impression qu'elle était timide, peut-être âgée de treize ans, et qu'elle osait à peine se faire accepter comme pair par des garçons et des filles qui avaient tous au moins un an de plus.
Alors que des collations et des quantités de lait étaient consommées, j'ai appris que son nom de famille était Baker et qu'elle vivait avec une « tante » et un « oncle ». Des années plus tard, j'ai appris que le couple, Grace et Erwin (Doc) Goddard, n'était pas vraiment de sa famille.
Norma Jean est devenue une habituée du groupe pendant plusieurs années et est venue dans notre maison à plusieurs reprises, mais tout ce que nous avons appris, c'est qu'elle était orpheline (père décédé, mère hospitalisée). Les questions concernant la santé de sa mère, elle réussissait à les éluder. Elle riait et parlait sans réserve apparente, tout en évitant soigneusement tout ce qui était personnel.
Nous avons senti qu'il y avait quelque chose de son passé dont il était douloureux d'y penser mais, pour le moment, il semblait qu'elle était heureuse de vivre avec tante Grace, qu'elle aimait manifestement beaucoup.

CES DERNIÈRES ANNÉES, de nombreux articles sur Marilyn Monroe mentionnent qu'elle a vécu avec sa tante Grace dans le quartier des "bidonvilles" de ce qui était alors connu sous le nom de Sawtelle, qui fait maintenant partie du grand quartier ouest de Los Angeles. Comme notre maison était là aussi, j'ai toujours lu ces récits avec un certain ressentiment, et je pense que Norma Jean partagerait mon sentiment à cet égard.
Il est vrai que les maisons étaient modestes, mais elles étaient bien entretenues et principalement occupées par leur propriétaire. J'ai récemment traversé la région en voiture et leur apparence n'ont pas beaucoup changée. La maison où Norma Jean vivait avec tante Grace est toujours là et en bon état. Le fait est que Norma Jean a passé son adolescence dans un très bon environnement de quartier de voisinage avec une adulte qui était toute aussi soucieuse de son bien-être que n'importe quel parent.
Il est impossible de ne pas sourire en évoquant certains des événements qui ont suivi le samedi du vélo. Combien de fois, dans notre salon, les filles ont essayé d'apprendre aux garçons à danser. "Begin the Beguine" était l'air populaire du moment et leur préféré. Ce disque a failli s'épuiser alors que les garçons essayaient vaillamment d'imiter les routines de danse agiles, pas toujours précises, des filles. Ce furent de merveilleux moments de plaisir pour Norma Jean, qui semblait heureuse et insouciante. C'était une enfant adorable que nous avons tous appris à aimer beaucoup.
Malgré le fait qu'elle était la plus jeune, elle était de loin la meilleure danseuse. Même avec la grâce «maladroite» habituelle d'une adolescente de treize ans, il était clairement évident qu'il y avait un talent latent.
MAIS IL Y AVAIT quelque chose de plus important : "C'est moitié neige et moitié pluie, et la partie pluie est comme de la glace."
Elle avait raison. Mon mari a dit : "Sortons d'ici avant que nous soyons coincés."
Nous nous sommes donc entassés dans la voiture. Les deux garçons dans le siège du grondement, avec Norma Jean entre eux, ont tiré une bâche sur leurs têtes pour se protéger des pluies toujours croissantes.
La route hors de la vallée n'était pas trop bonne. La voiture a dérapé dans les nombreux virages serrés. La route était un peu couverte de débris, nous avons donc procédé lentement. Soudain, un gros rocher, desserré par la neige et la pluie, est descendu du flanc de la montagne, et s'est écrasé directement au milieu du capot de la voiture et a presque heurté le pare-brise.

Betty et moi avons crié, mais les garçons et Norma Jean ignoraient ce qui s'était passé. Alors que nous étions assis engourdis par le choc, nous avons entendu Norma Jean glousser, complètement inconsciente à quel point elle avait été sur le point d'être tuée. La moindre augmentation de la vitesse de la voiture, et le rocher l'aurait frappée à la place du capot. Mais Norma Jean a-t-elle eu peur quand on lui a dit ? C'est possible, mais sa réponse était typiquement « adolescente ».
"Ma tête est trop dure. Ce vieux rocher aurait rebondi et n'aurait pas laissé de bosses."
Je me souviens avec plaisir d'une autre fois en mai 1940. Les fleurs sauvages du désert étaient particulièrement belles cette année-là, et Bob a suggéré que nous allions tous en pique-nique et les voir. Encore une fois, il a invité Norma Jean, Betty et Bill.
Tout à fait par hasard, nous sommes tombés sur une petite ville déserte - une douzaine de bâtiments - battue par les intempéries et délabrée. Il y avait aussi les restes d'une ancienne prison, et bien sûr les enfants devaient y entrer et fouiner dans les décombres. Quand ils sont sortis, j'ai les ai pris en photo alors qu'ils se tenaient dans l'embrasure de la porte.
"Je ne pense pas que nous devrions nous faire prendre en photo, nous sommes des prisonniers parobés et nous devons être très prudents", a déclaré Norma Jean. Son ton de voix était si solennel et son portrait si parfait que nous avons tous éclaté de rire.
Après avoir erré dans le désert pendant des heures, parfois en voiture mais surtout à pied, nous avons finalement étalé une couverture sur le sable et nous nous sommes assis pour nous reposer et manger.

NOUS AVONS BEAUCOUP PARLÉ ET RI. Je ne me souviens pas que Norma Jean ait jamais été de meilleure humeur. Elle était tout simplement effervescente - la vie de la fête. En fin d'après-midi, nous avons cueilli des bouquets de fleurs sauvages à emporter à la maison. Elle tenait la sienne avec autant de soin qu'elle aurait pu tenir un bébé et, avec la sincérité d'une adulte qu'elle affichait souvent, dit : "Il n'y a pas deux fleurs pareilles - je n'ai jamais rien vu d'aussi beau."
Peu de temps après le voyage dans le désert, Norma Jean a cessé de venir chez nous. Bob a dit qu'elle sortait avec "un gars plus vieux". Plus tard, j'ai appris qu'il s'agissait de Jim Dougherty, qui était en effet de quatre ans son aîné. Ce fut la dernière fois que j'entendis parler de Norma Jean jusqu'en septembre 1942, quand j'appris qu'elle avait été mariée à Dougherty, en juin.
Cet automne-là, Bob a eu la chance de la rencontrer sur Santa Monica Boulevard. Rien d'autre à faire que de lui dire de rentrer chez elle avec elle ; elle a dit que tante Grace serait déçue s'il ne le faisait pas.
Il s'est avéré qu'elle et Jim rendaient visite à tante Grace ce jour-là. C'était la seule fois où Bob rencontrait Jim Dougherty, mais il l'aimait bien et dit que Norma Jean et Jim semblaient heureux ensemble. En 1946, après sa libération de l'armée, Bob rencontre à nouveau Norma Jean, âgée alors de 20 ans. Cette fois là, c'était à Van Nuys, où elle habitait. Il a décliné une invitation à dîner quand il a appris que Jim était à l'étranger. Plus tard, en racontant la rencontre, il eut du mal à évaluer son impression sur Norma Jean.
Elle avait changée, était plus jolie - en fait belle, mais il manquait quelque chose. C'était comme si elle avait essayé de se couvrir et jouait un rôle pour le faire - elle était un peu trop vive pour de vrai. Norma Jean a dit qu'elle faisait du mannequinat; mais on parlait aussi beaucoup d'un effort qu'elle faisait pour entrer dans le cinéma.
En effet, le jour est enfin venu où j'ai ouvert un magazine pour voir une belle blonde me sourire depuis la page imprimée. En dessous se trouvait la légende : "Marilyn Monroe, la dernière trouvaille de l'industrie du cinéma." Ce n'était pas une image de pin-up mais une pose strictement glamour, et le photographe était sans aucun doute fier du résultat car c'était vraiment une très belle photo.
Je l'ai étudié attentivement. Il y avait juste un peu de Norma Jean caché là, mais qu'est-ce qu'ils lui avaient fait ? La douce jeune fille que nous avions connue était partie, et j'ai ressenti un pressentiment inexplicable. C'était comme si l'image, même Marilyn Monroe, n'existait pas. Seule Norma Jean était réelle, et elle était partie pour ne jamais revenir.
---
© All images are copyright and protected by their respective owners, assignees or others.
10 décembre 2021
Eye
People and Pictures

country: USA
date: 1953, September
content: 7 pages article on Marilyn Monroe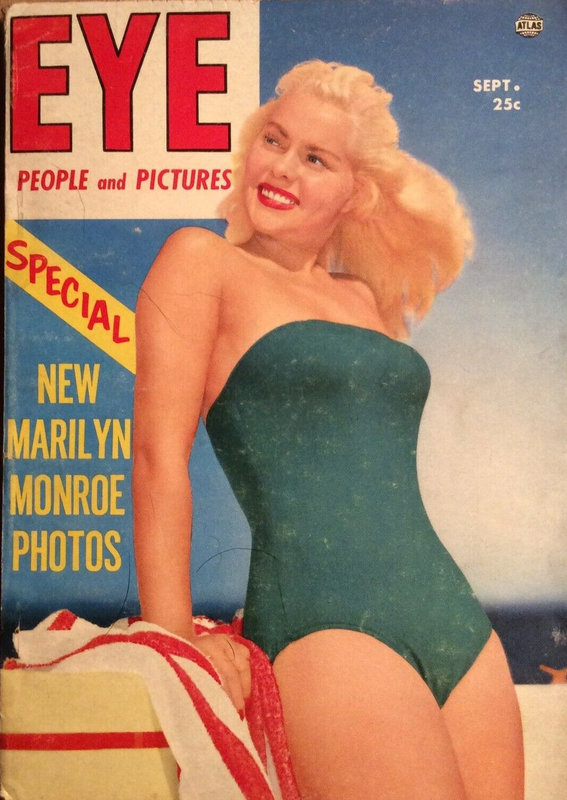 pays: USA
date: septembre 1953
contenu: article de 7 pages sur Marilyn Monroe
Les photographies sont de John Florea
---
article
MARILYN LEARNS
How to Marry a Millionaire
Marilyn's studio knew what it was doing when it cast her in Gentlemen Prefer Blondes. She's first choice on every red-blooded male's list. And in keeping with the avaricious gold-digger she played in that film, Fox is starring her in How to Marry a Millionaire. To make sure she carries on the tradition, a lucky lensman Gene Trindl was called in to teach Marilyn the art of capturing her quarry.
The assignment worked out beautifully. Tarting from the ground up (above), Trindl helped his willing scholar pick the right things to wear, and pointed out the value of mink to set off a girl's personality.
---
traduction
MARILYN APPREND
Comment épouser un millionnaire
Le studio de Marilyn savait ce qu'il faisait lorsqu'ils l'ont choisie pour Les hommes préfèrent les blondes. Elle est le premier choix sur la liste de tous les hommes virils. Et en accord avec la chercheuse d'or avare qu'elle a joué dans ce film, la Fox la fait jouer dans Comment épouser un millionnaire. Pour s'assurer qu'elle perpétue la tradition, un photographe chanceux, Gene Trindl, a été appelé pour enseigner à Marilyn l'art de capturer sa proie.
La mission s'est merveilleusement bien déroulée. En partant de zéro (ci-dessus), Trindl a aidé son érudit volontaire à choisir les bonnes choses à porter et a souligné la valeur du vison pour mettre en valeur la personnalité d'une fille.
---
Caption photos

Légende photos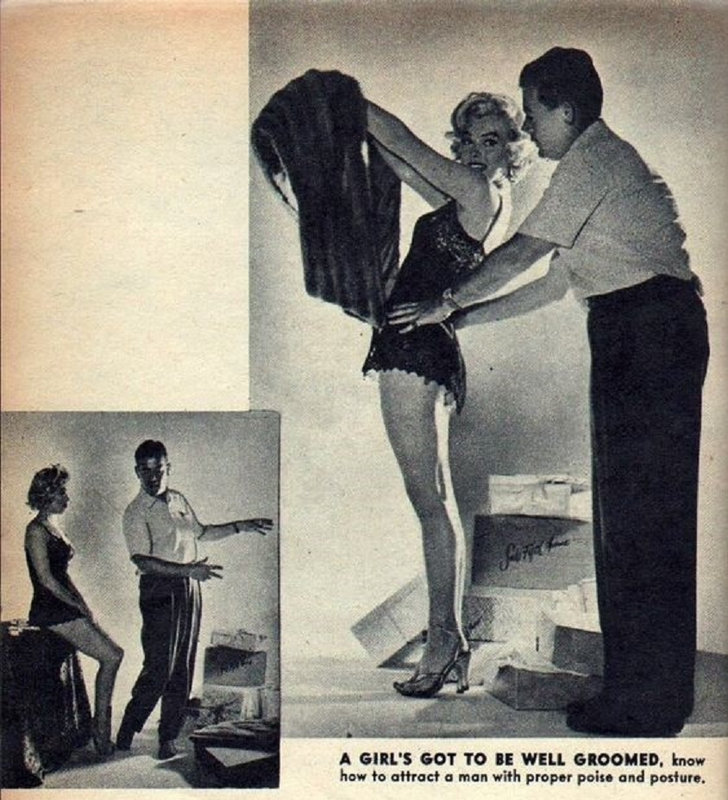 A GIRL'S GOT TO BE WELL GROOMED,
know how to attract a man with proper poise and posture.
UNE FILLE DOIT ÊTRE BIEN PRÉPARÉE,
savoir comment attirer un homme avec un équilibre et une posture appropriés.

ELIGIBILITY TEST.
Check his Dun & Bradstreet rating.
If his credit meets the requirements, the marriage campaign can get underway in earnest.
TEST D'ADMISSIBILITÉ.
Vérifiez sa cote Dun & Bradstreet.
Si son crédit répond aux exigences, la campagne de mariage peut démarrer sérieusement.
* Dun & Bradstreet est une compagnie américaine de statistiques sur les entreprises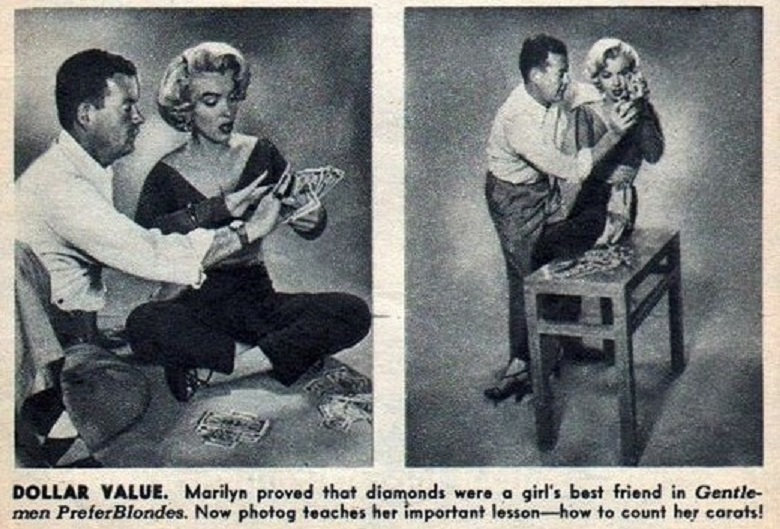 DOLLAR VALUE.
Marilyn proved that diamonds were a girl's best friend in Gentlemen Prefer Blondes.
Now photog teaches her important lesson - how to count her carats !
LA VALEUR DES DOLLARS.
Marilyn a prouvé que les diamants étaient le meilleur ami d'une fille dans Les hommes préfèrent les blondes.
Maintenant, le photographe lui donne une leçon importante : comment compter ses carats !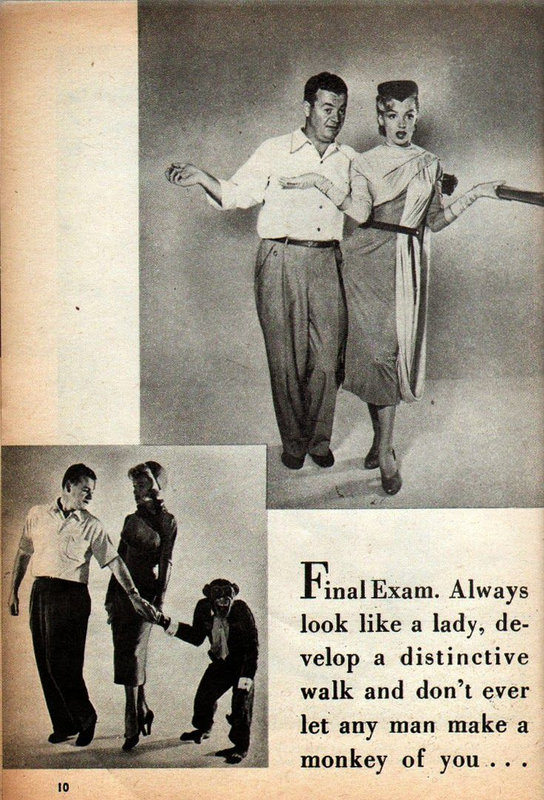 Final Exam.
Always look like a lady,
develop a distinctive walk
and don't ever let any man make a monkey of you...
Examen final.
Ressemblez toujours à une femme,
développez une démarche distinctive
et ne laissez jamais un homme faire de vous un singe...
---
© All images are copyright and protected by their respective owners, assignees or others.
09 décembre 2021
Collier's

country: USA
date: 1953, June, 27
content: 2 pages article on Marilyn Monroe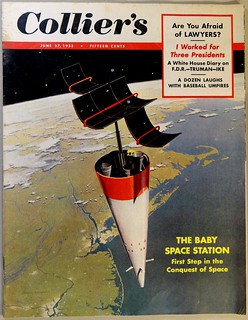 pays: USA
date: 27 juin 1953
contenu: article de 2 pages sur Marilyn Monroe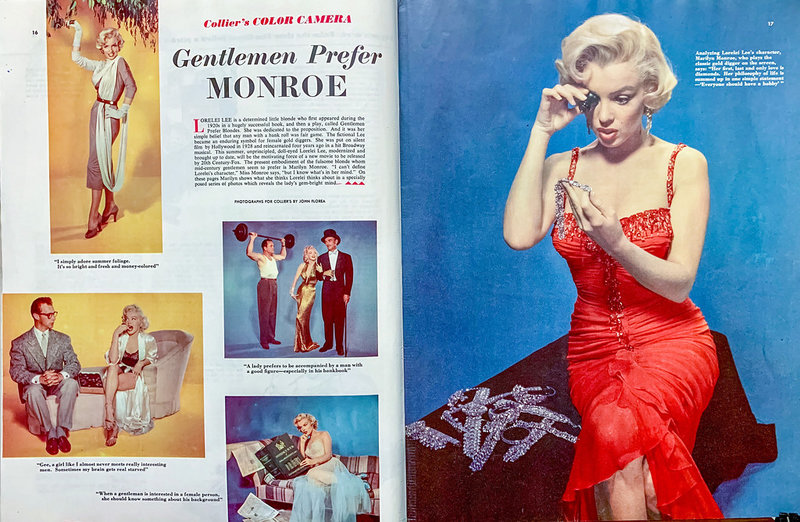 ---
article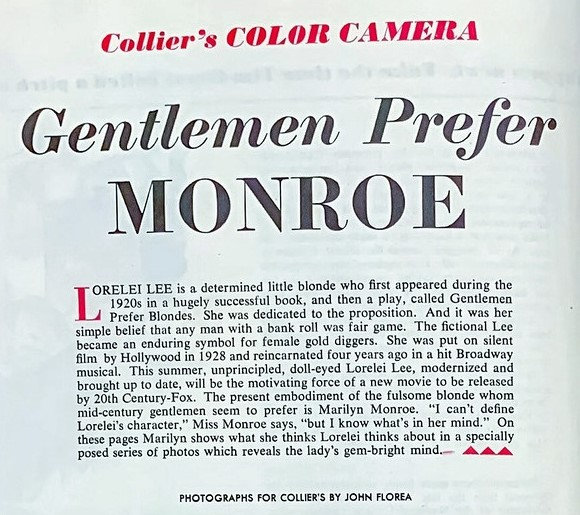 Collier's Color Camera
Gentlemen Prefer MONROE
LORELEI LEE is determined little blonde who first appeared durong the 1920s in a hugely successful book, and then a play, called Gentlemen Prefer Blondes. She was dedicated to the proposition. And it was her simple belief that any man with a bank roll was fair game. The fictional Lee became an enduring symbol for female gold diggers. She was put on silent film by Hollywood in 1928 and reincarnated four years ago in a hit Broadway musical. This summer, unprincipled, doll-eyed Lorelei Lee, modernized and brought up to date, will be the motivating force of a new movie to be released by 20th Century-Fox. The present embodiment of the fulsome blonde whom mid-century gentlemen seem to prefer is Marilyn Monroe. "I can't define Lorelei's character," Miss Monroe says, "but I know what's in her mind." On these pages Marilyn shows what she thinks Lorelei thinks about in a specially posed series of photos which reveals the lady's gem-bright mind.
PHOTOGRAPHS FOR COLLIER'S BY JOHN FLOREA
---
traduction
La caméra couleur de Collier's
Les hommes préfèrent MONROE
LORELEI LEE est une petite blonde déterminée qui est apparue pour la première fois dans les années 1920 dans un livre à grand succès, puis dans une pièce de théâtre, intitulée Les hommes préfèrent les blondes. Elle s'est consacrée à la proposition. Et c'était sa simple conviction que tout homme avec un bon compte en banque était un jeu équitable. La fictive Lee est devenu un symbole durable pour les chercheuses d'or. Elle a été mise en scène au cinéma muet par Hollywood en 1928 et s'est réincarnée il y a quatre ans dans une comédie musicale à succès à Broadway. Cet été, Lorelei Lee, sans scrupules, aux yeux de poupée, modernisée et remise au goût du jour, sera la force motrice d'un nouveau film qui sortira chez 20th Century-Fox. L'incarnation actuelle de la blonde pulpeuse que les messieurs du milieu du siècle semblent préférer est Marilyn Monroe. "Je ne peux pas définir le caractère de Lorelei", dit Mlle Monroe, "mais je sais ce qu'elle a en tête." Sur ces pages, Marilyn montre ce à quoi elle pense que Lorelei pense dans une série de photos spécialement posées qui révèlent l'esprit brillant de la dame.
PHOTOGRAPHIES POUR COLLIER'S PAR JOHN FLOREA
---
Caption photos

Légende photos

"J'adore tout simplement le feuillage d'été.
C'est si brillant et frais et la couleur de l'argent"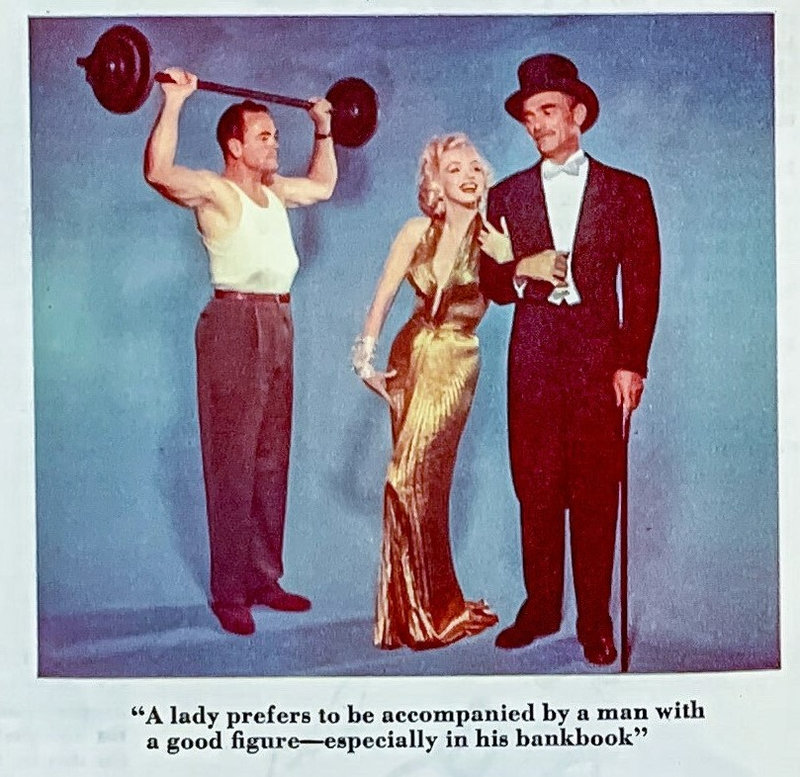 "Une dame préfère être accompagnée par un homme
avec une bonne figure - surtout dans son carnet de banque"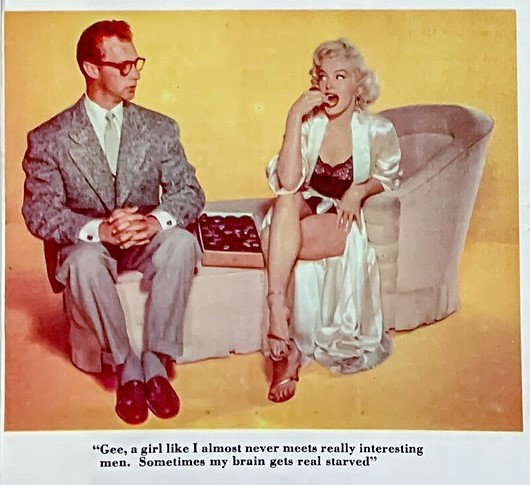 "Eh bien, une fille comme moi ne rencontre presque jamais d'hommes vraiment
intéressants. Parfois, mon cerveau est vraiment affamé"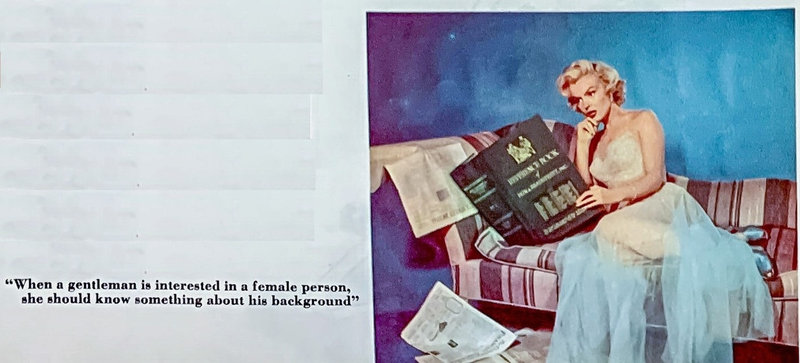 "Quand un gentleman s'intéresse à une femme,
elle devrait savoir quelque chose sur son passé"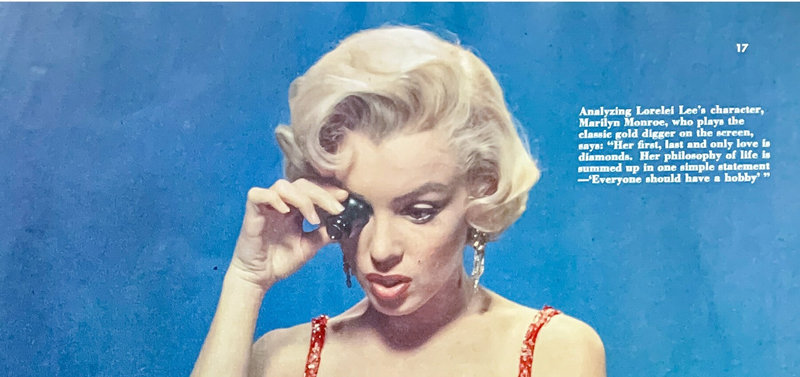 Analysant le personnage de Lorelei Lee, Marilyn Monroe,
qui joue la classique chercheuse d'or à l'écran, déclare :
"Son premier, dernier et seul amour, ce sont les diamants.
Sa philosophie de la vie se résume en une simple déclaration -
" Tout le monde devrait avoir un passe-temps" "
---
© All images are copyright and protected by their respective owners, assignees or others.