03 décembre 2011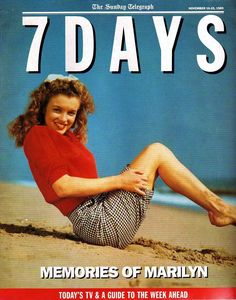 Le magazine Seven Days du The Sunday Telegraph, du 19 novembre 1989, consacrait sa couverture à Norma Jeane, intitulée "Memories of Marilyn", avec un article de 5 pages "The Magic that was Marilyn".
(scans d'Emma).
22 novembre 2011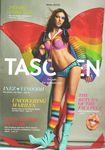 Le magazine catalogue des éditions Taschen de l' hiver 2011/2012, contient un article de dix pages pour la sortie du livre "Norman Mailer, Bert Stern: Marilyn Monroe" avec des photographies de Marilyn Monroe prises par Bert Stern.
(scans perso).
20 novembre 2011
lot n°771: PLAYBOY MAGAZINE FIRST ISSUE
A first issue of Playboy magazine (HMH Publishing, 1953) featuring Marilyn Monroe on the cover. The magazine, which launched in December 1953, sold for 50 cents a copy. 11 by 8 1/2 inches
Estimate: $1 000 - $ 1 500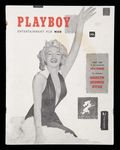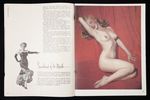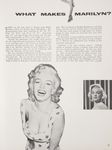 18 novembre 2011
Le magazine catalogue Taschen Trade des éditions Taschen de Automne / été 2011, contient un article de deux pages pour la promotion du livre Norman Mailer, Bert Stern: Marilyn Monroe.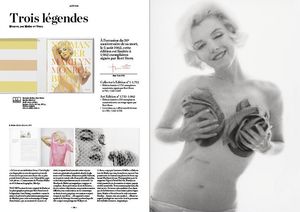 07 novembre 2011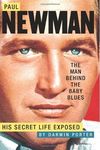 A 83 ans, le 26 septembre 2008, Paul Newman s'en est allé en laissant un vide immense dans le monde du showbizz.
L'an passé,

Darwin Porter

sortait une biographie sur Paul Newman qui a fait scandale: Paul Newman, The man behind the baby blues: his secret life exposed (des extraits du livre sur

amazon.com

). L'écrivain parlait des prétentues liaisons de la star avec des stars hollywoodiennees comme

Grace Kelly

,

Judy Garland

,

Natalie Wood

et de

Marilyn Monroe

.
L'auteur a une conversation avec Marlon Brando dans son livre dans lequel ce dernier révèle la bisexualité de Paul et de sa relation avec

James Dean

.
Cette année, on revient à la charge avec les histoires d'amour de Paul Newman avec Nathalie Wood et Marilyn Monroe et on ajoute

Jackie Kennedy

à la liste.
Paul Newman et Marilyn Monroe font la couverture du journal américain National Examiner du 7 au 14 novembre 2011.
Extrait

(en ligne sur

vanityfair.com

):
The first time I saw Paul Newman he was dancing with Marilyn Monroe. It was the summer of 1959 at a noisy Actors Studio party in New York's Greenwich Village. I had just passed my audition and was being introduced to everyone as a new member by the Broadway producer Cheryl Crawford, one of the Studio's heads.
Nobody was paying me much attention—understandably, since they were all watching a barefoot Marilyn, in a skintight black dress, undulate around the living room with Newman, lithe and sinewy in chinos and T-shirt.
They seemed to be dancing with such rapture; they both kept changing rhythms and sometimes they walk-stepped to the beat. They didn't dance for very long—maybe three minutes—but what a hot, pulsing three minutes it was! They broke apart, Marilyn gave a giggle and a curtsy, and Newman bowed and moved directly past me through the crowd to get a beer.
Merci à Daniel pour les scans du National Examiner.
05 novembre 2011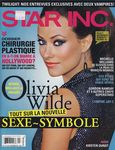 Le magazine québécois Star Inc de novembre 2011, n°9 Vol. 13, consacre un article de 2 pages sur Michelle Williams, à l'affiche du film My week with Marilyn.
/!/ merci à Daniel pour les scans du magazine.
02 novembre 2011
Le magazine You du 30 octobre 2011, consacre un article de quatre pages intitulé "My week with the ultimate Marilyn" sur le film My week with Marilyn, inspiré du livre de Colin Clark.
14 septembre 2011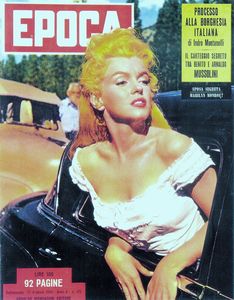 Le magazine italien Epoca du 17 janvier 1954, n°172, consacrait sa couverture à Marilyn Monroe et un article de 4 pages sur le tournage de River of no return (La rivière sans retour).
30 août 2011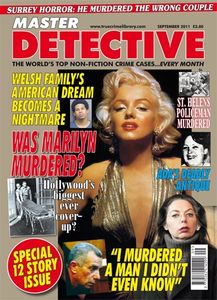 Le magazine britannique Master Detective de septembre 2011 nous offre en couverture Marilyn Monroe et développe un dossier sur sa mort: Was Marilyn Murdered ?
2,80 Livres sur truecrimelibrary.com

21 août 2011
DiMaggios & O'Doul Mobbed By Fans On Flight Line
article publié sur Itami Airport in old days
By Donald S. Ford
NEWLY-WEDS-Joe Demaggio and his bride, Marilyn Monroe, were served refreshments in the Japan Air Lines Terminal during a brief layover en route to Fukuoka, Kyushu.The famous couple signed autographs and met base officials while at Itami AB.(Itami Air Base Photo)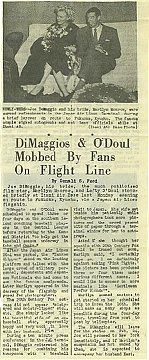 Joe DiMaggio, his bride, the much publicized film star, Marilyn Monroe, and Lefty O'Doul stopped briefly at Itami Air Base last Monday evening en route to Fukuoka, Kyushu, via a Japan Air Lines flagship. DiMaggio and O'Doul were scheduled to spend three or four days on the southern island coaching baseball players in the Central League before returning to the Kansai District "to help get the baseball season underway in Kobe and Osaka.After the Japan Air Lines DC-4 was parked, the "YankeeClipper"stood on the Loading platform and talked with the large crowd of military personnel, dependents and Japanese Nationals who had come to see the famous newly-weds. Later Marilyn appeared in the doorway of the flagship and posed for photographers.The 20th Century Fox actress did not appear "misty eyed and moisty-lipped" etc.,etc. She simply looked like the beautiful wife of an exbase-ball star, apparently happyand very much in love with her husband.During the ten minute press conference in the JAL terminal, DiMaggio reiterated his reasons for combining his honeymoon with a baseball visit to Japan. His wife sat beside him patiently while photographers took more pictures and the crowd passed bits ofpaper through a terminal window for her to autograph.
Asked if she thought her squabble with 20th Century Fox would be ironed out soon, Marilyn said, "I certainly hope so, I am definitely against making 'Pink Tights.'The picture has been produced three or four times under various different names. I would like to appear in more musicals like 'Gentlemen Prefer Blondes". Marilyn seemed anxious to get started on her scheduled trip to Korea the 16th. She will make as many stops as possible during the four-day tour, traveling from post to post by helicopter.The DiMaggios will leave for the states on Feb. 24, Joe will proceed to New York immediately, and ifMarilyn's suspension has not ended by then, she is expected to accompany her husband East.