25 septembre 2022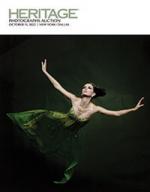 Enchères "Photographs Signature"
22 octobre 2022
- 12 lots avec Marilyn Monroe -
> 22/10/2022, HERITAGE, "Photographs Signature": Vente
---
LOT #73164: Marvin Scott (American, b. 1944)
Marilyn Monroe on an Elephant (from Marilyn's Circus), 1955
Gelatin silver print, printed later / 49 x 39 inches (124.5 x 99.1 cm) (image/sheet) / Signed and editioned 1/4 in ink in the image.
This iconic image and the ones in lot 73167 were taken in March of 1955, when "America's Sex Goddess" made a guest appearance at a charity opening of the Ringling Brothers, Barnum & Bailey Circus at Madison Square Garden in New York City. In her first public appearance since her divorce from Joe DiMaggio, Monroe donned a characteristically form-fitting costume, mounted a pink elephant, and strode into the ring to roaring applause from the thousands in attendance. These rare photographs capture the magnetic beauty of a Hollywood star who continues to capture the imagination of new generations of fans, even sixty years after her death. This captivating series was shot by Marvin Scott, then only fifteen years old, an enterprising young photographer who secured entry into the event with his high school press pass. Marvin Scott is currently an Emmy Award-winning television reporter in New York City, who will never forget that evening, or Monroe's love affair with the camera.
Estimate: $7,000 - $10,000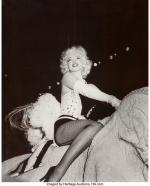 ---
LOT #73165: Sam Shaw (American, 1912-1999)
Marilyn Monroe, Improvisation in Central Park (for Look Magazine), 1957
Gelatin silver print / 13-1/2 x 9 inches (34.3 x 22.9 cm) (image)
14 x 11 inches (sheet) / Signed and titled in ink, mat recto. Signed in ink, verso.
Estimate: $1,500 - $2,500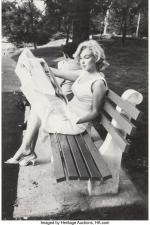 ---
LOT #73166: Sam Shaw (American, 1912-1999)
Marilyn Monroe, Amagansett, New York, 1957
Dye coupler print on Kodak paper, printed later / 10-3/4 x 13-3/4 inches (27.3 x 34.9 cm) (sight) / Signed in ink in the image.
Estimate: $1,500 - $2,500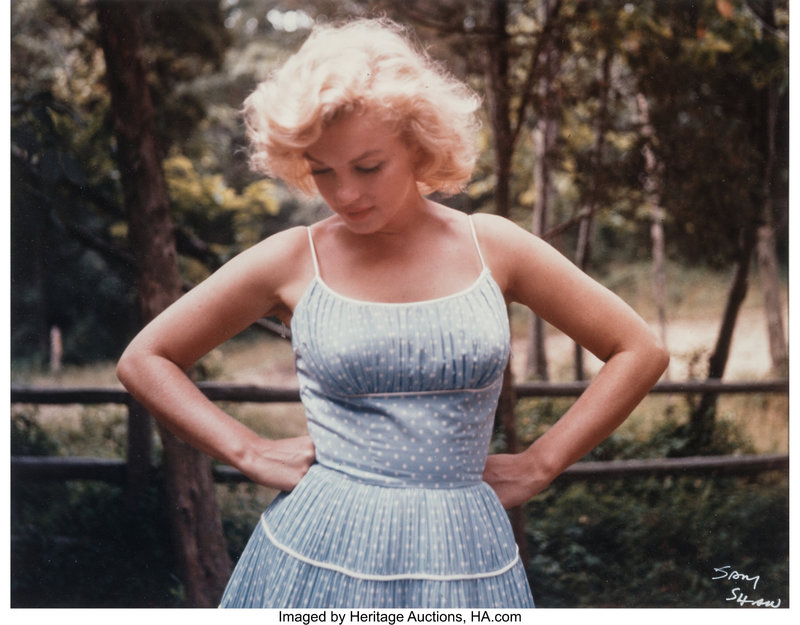 ---
LOT #73167: Marvin Scott (American, b. 1944)
Marilyn's Circus (8 works), 1955
Gelatin silver prints, printed later / 13-7/8 x 10-7/8 inches (35.2 x 27.6 cm) (images) / 14 x 11 inches (sheets) / Each signed in ink in the image and signed, titled, and dated in ink, verso.
These iconic images and the one in lot 73164 were taken in March of 1955, when "America's Sex Goddess" made a guest appearance at a charity opening of the Ringling Brothers, Barnum & Bailey Circus at Madison Square Garden in New York City. In her first public appearance since her divorce from Joe DiMaggio, Monroe donned a characteristically form-fitting costume, mounted a pink elephant, and strode into the ring to roaring applause from the thousands in attendance. These rare photographs capture the magnetic beauty of a Hollywood star who continues to capture the imagination of new generations of fans, even sixty years after her death. This captivating series was shot by Marvin Scott, then only fifteen years old, an enterprising young photographer who secured entry into the event with his high school press pass. Marvin Scott is currently an Emmy Award-winning television reporter in New York City, who will never forget that evening, or Monroe's love affair with the camera.
Estimate: $4,000 - $6,000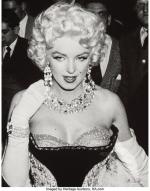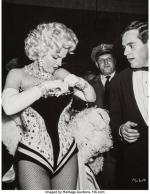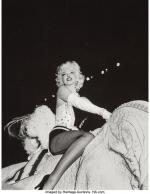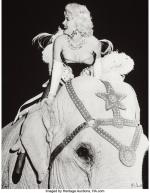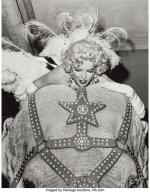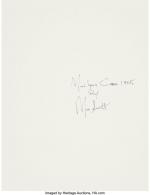 ---
LOT #73168: Bert Stern (American, 1929-2013)
Marilyn Monroe (contact sheet from the Last Sitting), 1962
Digital pigment print, printed later / 14 x 10-5/8 inches (35.6 x 27.0 cm) (image) / 15-3/4 x 11-3/4 inches (sheet) / Signed in red crayon, lower margin recto.
Estimate: $1,500 - $2,500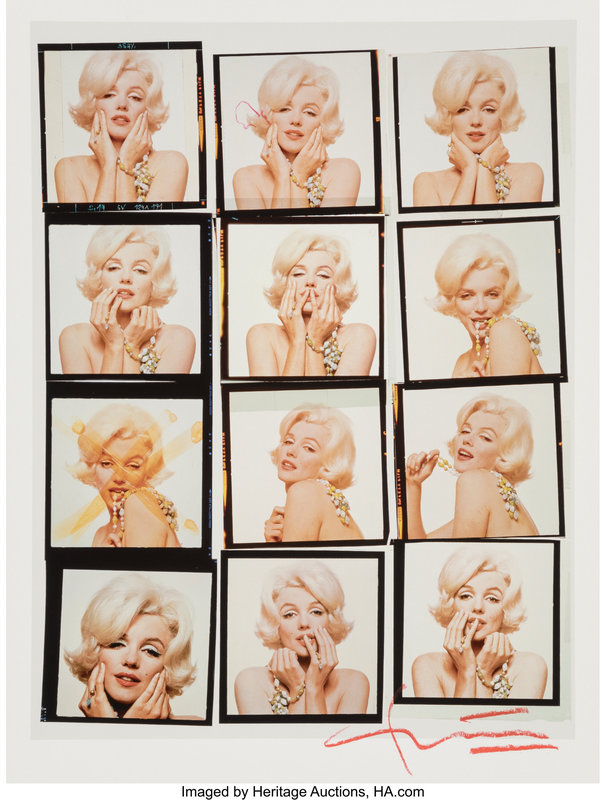 ---
LOT #73169: Philippe Halsman (American, 1906-1979)
Marilyn Monroe (cover for Life Magazine), 1952
Gelatin silver print, printed later / 12-3/4 x 9-7/8 inches (32.4 x 25.1 cm) (sight) / Editioned 107/250 in ink in photographer's estate stamp, verso.
Estimate: $2,000 - $3,000

---
LOT #73170: Bert Stern (American, 1929-2013)
Marilyn Monroe, "Marilyn Aroused" (from The Last Sitting), 1962
Dye coupler print on Kodak paper, printed later
18-3/4 x 19 inches (47.6 x 48.3 cm) (image)
24 x 20 inches (sheet)
Signed in ink, lower margin recto. Editioned 225/250 in ink in 'Edward Weston Graphics' stamp, verso.
Estimate: $1,500 - $2,500

---
LOT #73171: Bert Stern (American, 1929-2013)
Marilyn Monroe, "I Beg of You" (from The Last Sitting), 1962
Dye coupler print on Kodak paper, printed later / 19 x 19 inches (48.3 x 48.3 cm) (image) / 24 x 20 inches (sheet)
Signed in ink, lower margin recto. Editioned 225/250 in ink in 'Edward Weston Graphics' stamp, verso.
Estimate: $1,500 - $2,500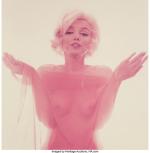 ---
LOT #73172: Sam Shaw (American, 1912-1999)
Marilyn Monroe (The Seven Year Itch), 1954
Gelatin silver print, printed later, ferrotyped / 12-1/4 x 10-1/4 inches (31.1 x 26.0 cm) (image) / 14 x 11 inches (sheet) / Signed in ink, mat recto.
Estimate: $2,000 - $3,000

---
LOT #73173: Ernst Haas (American/Austrian, 1921-1986)
Marilyn Monroe, Clark Gable, and Montgomery Clift (on the set of The Misfits), 1960
Gelatin silver print, printed later / 8-3/4 x 13 inches (22.2 x 33.0 cm) (image) / 11 x 14 inches (sheet) / Photographer's studio stamp, verso.
Property from the Collection of Susan and G. Ray Hawkins, Beverly Hills, California
Estimate: $1,500 - $2,500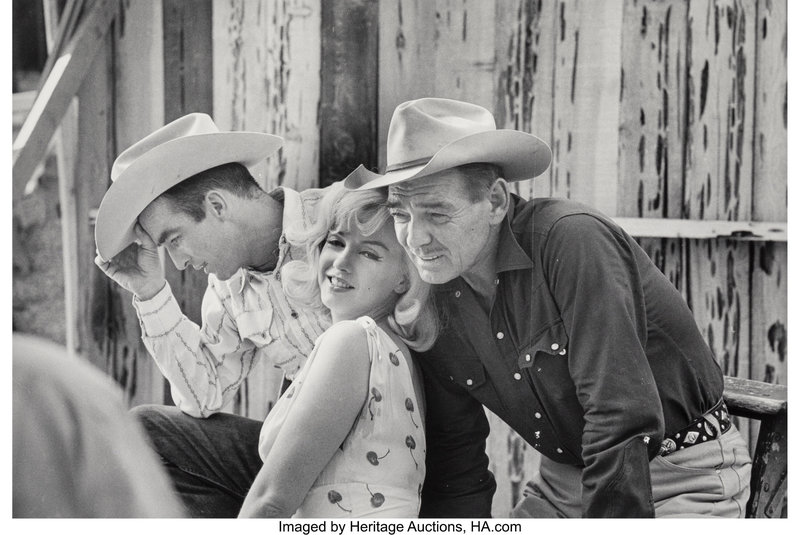 ---
LOT #73174: Eve Arnold (American, 1913-2012)
Marilyn Monroe Studio Session, Hollywood, California, 1960
Gelatin silver print / 10 x 7-1/4 inches (25.4 x 18.4 cm) (image) / 10 x 8 inches (sheet)
Signed, titled, and dated in pencil, and with photographer's 'Magnum Photo' stamp, verso.
LITERATURE: E. Arnold, Marilyn Monroe: An Appreciation, Knopf, 1987, p. 132 (variant).
Estimate: $1,500 - $2,500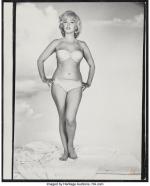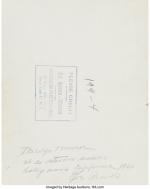 ---
LOT #73175: John Florea (American, 1916-2000)
Marilyn Monroe, circa 1953
Dye coupler print on Kodak paper, printed later / 58 x 46-1/4 inches (147.3 x 117.5 cm) (sight)
Estimate: $2,000 - $3,000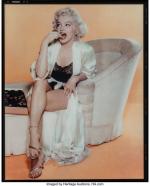 ---
LOT #73176: Sam Shaw (American, 1912-1999)
Marilyn Monroe with a Carnation, Amagansett, New York, 1957
Dye coupler print on Kodak paper, printed later / 13 x 8-3/4 inches (33.0 x 22.2 cm) (sight) / Signed in ink in the image.
Estimate: $1,500 - $2,500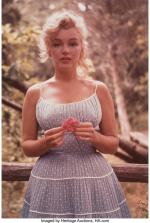 ---
© All images are copyright and protected by their respective owners, assignees or others.
16 avril 2013
Action Caritative
La soirée du 30 mars 1955: Marilyn Monroe participa à la grande cérémonie de bienfaisance organisée par Mike Todd et son cirque (Ringling Brothers Circus) dont les bénéfices étaient reversés à une fondation qui lutte contre l'arthrose et les affections rhumatismales.
C'était la première apparition en publique de Marilyn depuis son départ de Los Angeles. Le contrat de la Fox lui interdisait la participation à des spectacles rémunérés, mais les soirées de bienfaisance n'entraient pas dans cette catégorie.
Marilyn se rendit de son hôtel au Madison Square Garden en limousine avec Dick Sheperd (qui était alors agent au département cinéma de MCA à New York). Elle réussit à se faufiler dans les couloirs de l'établissement, gagna sa loge et put s'habiller dans le calme relatif.
The evening of March 30, 1955: Marilyn Monroe participated to the great charity ceremony organised by Mike Todd and his circus (Ringling Brothers Circus) to benefit the Arthritis Foundation and Rhumastismales disorders.
It was the first public appearance of Marilyn since her departure from Los Angeles. Fox's contract forbade participation in paid shows, but charity evenings did not fall into this category.
Marilyn was accompanied by Dick Shepperd for the trip from the hotel to Madison and photographed by Ed Feingersh. She managed to sneak into the corridors of the school, won his lodge and could dress in relative calm.
> Marilyn et Dick Sheperd (photos de Ed Feingersh)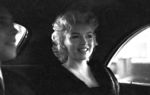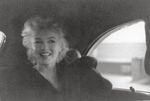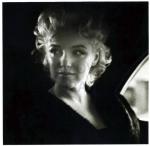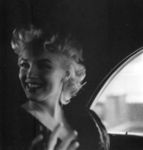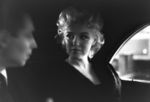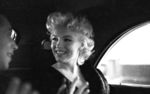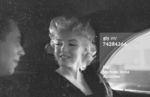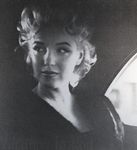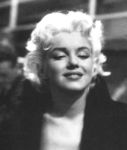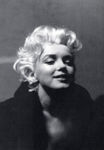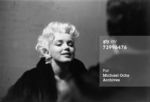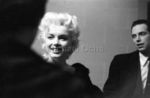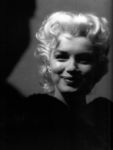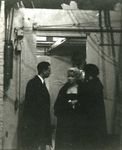 ---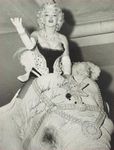 Dans les coulisses, Marilyn s'est préparée, soutenue par Milton Berle et la jeune Alice Fitzpatrick; Milton Greene et Peter Leonardi (son secrétaire et coiffeur à cette époque) sont aussi présents, dans l'ombre. Elle lui dédicacera une des photos de la soirée (voir ci-contre).
Behind the scenes, Marilyn prepared, supported by Milton Berle, the young Alice Fitzpatrick; but also Milton Greene and Peter Leonardi (his secretary and hairdresser at the time) who were also presents in the shadows. She will dedicate him one of the photos of the evening.
> Arrivée de Marilyn (avec Milton Greene)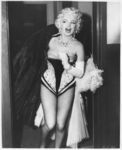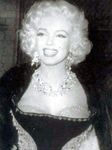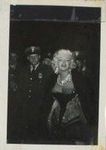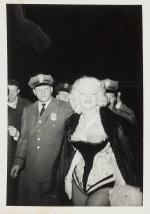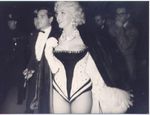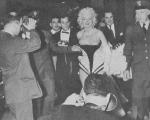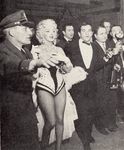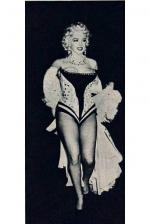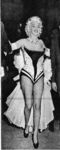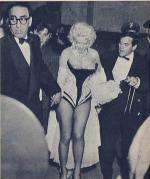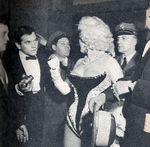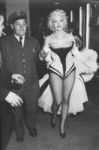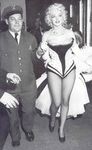 ---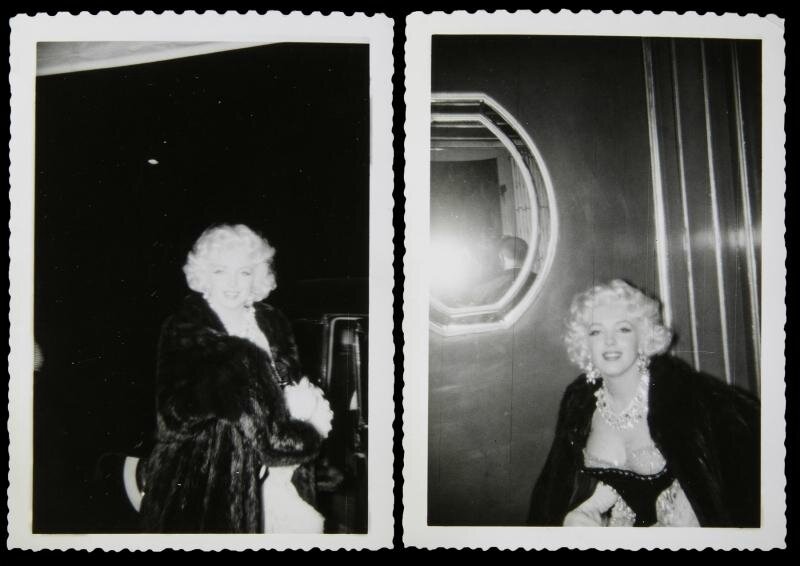 - de la collection de Frieda Hull, une fan des Monroe Six
-from the personal collection of Frieda Hull, one of the 'Monroe Six'
---
- photo de Max Peter Haas ->


- photos de Marvin Scott ->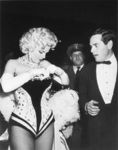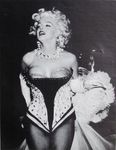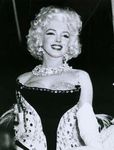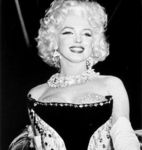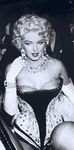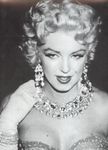 - photo de Weegee ->


- autres photos ->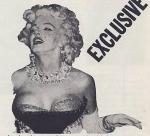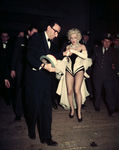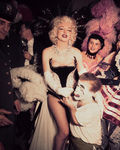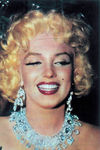 - photo de Sam Goldstein ->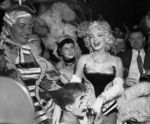 ---
Le grand show, qui se tient au Madison Square Garden à New York, était présenté par Milton Berle, qui officiait en tant que "Monsieur Loyal", le 'maître de cérémonie', et qui présente Marilyn en ces termes: "Voici la seule femme au monde à côté de qui Jane Russell ressemble à un homme!", provoquant l'hilarité dans la foule. Plus de 25 000 spectateurs étaient présents; ils avaient payer 50 dollars leurs places; dont Joe DiMaggio, l'ex-époux de Marilyn.
Dans la salle, deux cents photographes s'arrachaient les meilleures places (Ed Feingersh, Milton Greene, Marvin Scott, Walter Carone, Weegee, Sam Goldstein, Erika Stone...). Lorsqu'enfin elle entra en scène, Milton Berle dut leur demander de s'accroupir pour ne pas gêner les autres spectateurs. Marilyn Monroe fit une entrée triomphale, juchée sur le dos d'un éléphant indien peint en rose, nommé Karnaudi (ou Kinardy), appartenant au cirque Barnum & Bailey. Elle déclarera plus tard: "C'était très important pour moi, je n'étais jamais allée au cirque quand j'étais enfant."
The big show, which held at the Madison Square Garden in New York, was presented by Milton Berle, who was the "Master of the Ceremony". More than 25,000 spectators were presents, including Joe DiMaggio in the stands; and two hundred photographers snatched the best seats (Ed Feingersh, Milton Greene, Marvin Scott, Walter Carone, Weegee, Sam Goldstein, Erika Stone...). When finally she came on the stage, Milton Berle, had to ask them to squat to not to interfere with other spectators. Marilyn Monroe made a triumphal entrance, perched on the back of an indian elephant painted pink, named Karnaudi (or Kinardy) and belonging to the Barnum & Bailey circus.
Le magazine Variety écrivit: "Marilyn Monroe juchée sur un pachyderme peint en rose fut le clou de la soirée. Malheureusement, les photographes agglutinés autour de la star à demie nue l'empêchaient d'avancer. On put difficilement admirer les charmes de Miss Monroe, mais en définitive, la foule ne s'était déplacée pas pour rien." Les autres stars présentes furent toute au plus citées.
Variety Magazine said: "Marilyn Monroe perched on an elephant painted pink was the highlight of the evening. Unfortunately, photographers clustered around the half naked star prevented her from advancing. We could hardly see the charms of Miss Monroe, but ultimately, the crowd had not moved for nothing. "Other present stars have not been mentionned.
> Entrée de Marilyn qui monte sur l'éléphant
- photos de Ed Feingersh ->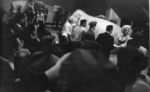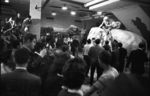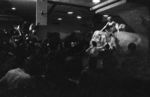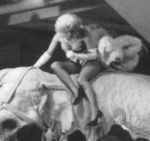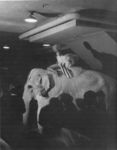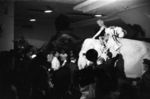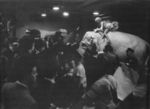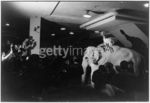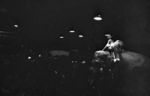 - autres photos (Marvin Scott, Weegee, Sam Goldstein...) ->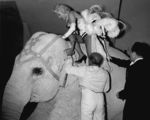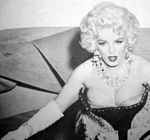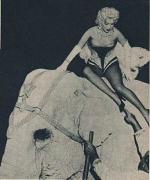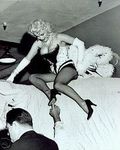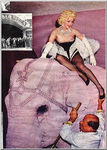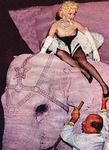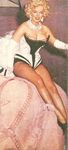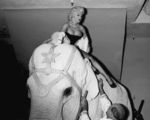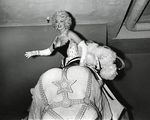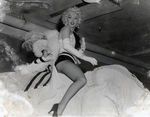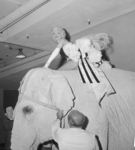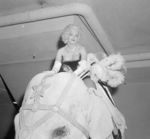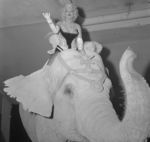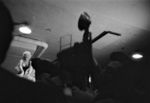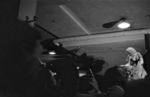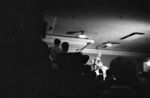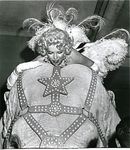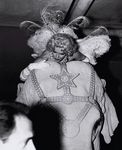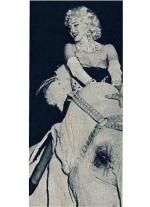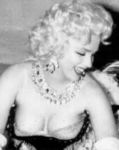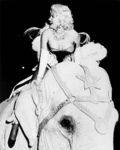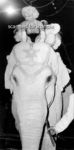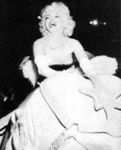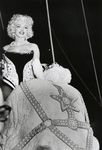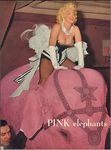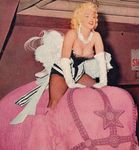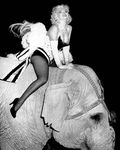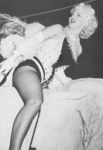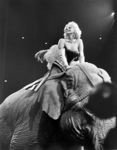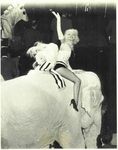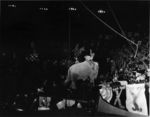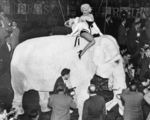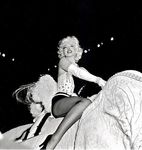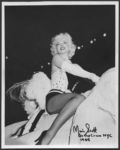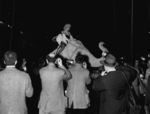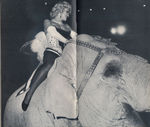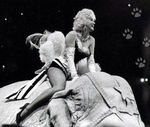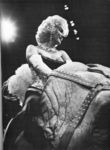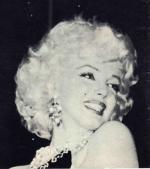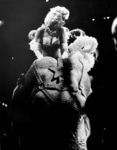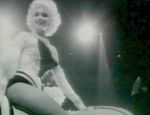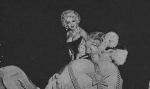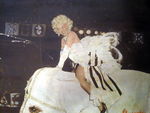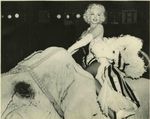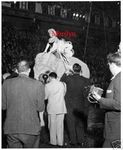 - photos de Walter Carone ->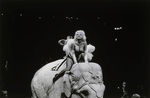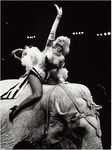 ---
- Photographies de Milton H Greene -
---
> Le public (on distingue Joe DiMaggio)


---
> videos

Marilyn Madison Square Garden 1955 par MissYria

---
---
Le soir du spectacle, Milton Greene loua la suite Cecil Beaton de l'Ambassador Hotel de New York, où lui-même, Amy Greene et Marilyn purent s'habiller et accueillir une poignée de visiteurs en provenance de la Côte Ouest. Michael Todd, toujours généreux avec ses invités, avaient fait venir les stars en avion et en première classe: Jeannette MacDonald et Gene Raymond, James Cagney, Red Buttons, Martha Raye, Terry Moore, Julius LaRosa, Sammy Davis Jr, Sonja Henie et Bess Myerson. Amy Greene avait commandé à Norman Norrel la robe se soie noire que MM devait porter jusqu'au Madison Square Garden et pendant les mondanités.
(> voir les photos de l'essayage de la robe par Ed Feingersh).
The night of the show, Greene rent a room (the 'Cecil Beaton suite') at the Ambassador Hotel in New York, where he himself, Amy and Marilyn dressed and could receive visitors from the West Coast. Michael Todd, always generous with his guests, had made come by plane and first class some movie stars like Jeanette MacDonald and Gene Raymond, James Cagney, Red Buttons, Martha Raye, Terry Moore, Julius LaRosa, Sammy Davis Jr, Sonja Henie and Bess Myerson. Amy Greene commanded the Norman Norrell black silk dress black that Marilyn was wearing at her arrival to the Madison Square Garden and for the party in the hotel.
---
sources pour l'article:
Magazines: Paris Match 9 avril 1955 / Redbook 1955, July
Livres: Marilyn édition de La Martinière, photos de Ed Feingersh /
Marilyn Monroe et les caméras .
web: article "Do you want to see her?" sur le blog / le site d'images corbis
Photos de Milton Greene: a huge thanks to Maarit !

---
All photos are copyright protected by their respective owners.

Enregistrer