30 mai 2009
Participez au sondage lancé par le site linternaute qui propose à ses visiteurs de choisir Quelle actrice pourrait interpréter Marilyn Monroe à l'écran ?

Elle est aujourd'hui encore l'actrice la plus emblématique du 7e art. Si vous deviez faire un film sur elle, quelle actrice engageriez-vous ?

Observons les réponses, proposées par les internautes, parfois d'étonnantes propositions sont données:
C'est Scarlett Johansson qui est la plus citée, suivie de Charlize Théron;
Michelle Pfeiffer et Madonna ne sont pas de mauvaises idées, mais je pense personnellement qu'elles ont passées l'âge pour se mettre dans la peau de Marilyn, qui, ne l'oublions pas, est morte à l'âge de 36 ans;
Quand aux autres noms soumis, on se demande ce qui se passe par la tête des sondés: Eva Mendes, Ophélie Winter, Dita Von Teese, Juliette Binoche et Anne Hataway ... ?!

Mon vote, j'ai proposé Scarlett Johansson avec cette justification:
Elle semble être l'actrice actuelle qui pourrait au mieux se mettre dans la peau de Marilyn: de par son physique (sa stature, sa taille, ses formes), et elle est tout de même une actrice avec beaucoup de talent, je pense qu'elle en serait capable !
Charlize Théron est une bonne proposition, mais elle est trop grande ;
Madonna et Michelle Pfeiffer sont de bonnes idées aussi, mais il est à mon avis trop 'tard'', elles sont trop âgées (Marilyn est morte à 36 ans) !
06 avril 2009
L'actrice américaine Michelle Pfeiffer posa façon Marilyn Monroe pour le Vogue américain en 1991 sous l'objectif du photographe Herb Ritts . Lors de cette session, elle posa en homme, portant un costume et une fausse moustache, puis adopta un look androgyne, avec des cheveux courts et bruns, mais arbora aussi le style de Louise Brooks, ainsi que des poses reproduisant le style des photos de mode des années 1950. (>> voir les photos sur le site PfeifferTheFace )

---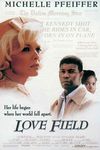 Dans le film Love Field, réalisé par Jonathan Kaplan en 1992, Michelle Pfeiffer adopte un look largement inspiré de Marilyn Monroe mais aussi de Jackie Kennedy. Sans doute parce que l'action du film se déroule en 1963, juste après l'assassinat du Président Kennedy, que le personnage interprété par Michelle (Lurene Hallett) admire. L'histoire: Se sentant très proche de Jackie Kennedy et bouleversée par l'assassinat du président, Lurène entreprend un long voyage pour assister aux funérailles, malgré l'interdiction de son mari Ray. Elle s'y rend en car, et sympathise au cours du voyage avec un homme noir, Paul Carter, en fuite avec sa petite fille Jonell, enlevée à l'orphelinat. Après avoir involontairement attiré des ennuis à Paul, elle décide de partager leur cavale...
---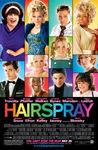 Michelle Pfeiffer nous remet ça en adoptant à nouveau un look largement inspiré de Marilyn Monroe dans le film Hairspray, réalisé par John Waters en 2007, une adaptation cinématographique de la comédie musicale du même nom. L'histoire: Malgré son physique passablement arrondi, la jeune Tracy veut absolument danser dans la célèbre émission de Corny Collins. Par chance, Link Larkin, l'un des meilleurs danseurs de l'émission, assiste à une de ses performances au lycée et lui propose de venir à une soirée dansante organisée par Corny Collins. Tracy est ainsi intégrée dans l'équipe et devient instantanément une star, s'attirant la jalousie d'Amber, la fille de la directrice de la chaîne, qui régnait jusqu'ici sur le show. Lorsque Tracy participe à une manifestation afin que les Noirs puissent danser dans l'émission de Corny Collins, rien ne va plus... Désormais en cavale, ses chances d'affronter Amber au cours de la finale et de remporter le titre de "Miss Hairspray" semblent compromises...
---
>> Source images:
le site PfeifferTheFace
le site GorgeousPfeiffer
13 novembre 2007
Les looks de Marilyn au cinéma
Marilyn's looks at the cinema

---
Dangerous Years

Costume de la serveuse Evie
Costume of the waitress Evie

Aucune indication sur le styliste ayant créé les costumes pour le film ne figure au générique. Le rôle de Marilyn est celui d'une serveuse, travallant au bar Gopher Hole, une sorte de "diner" (à prononcer avec l'accent anglais -dineure-), des brasseries très populaires aux Etats-Unis où se retrouve la jeunesse américaine dans les années 1950s et 1960s.
Les quatre scènes où apparaît Marilyn dans le film se situent dans ce bar. Et les serveuses portent toutes la même tenue: une longue jupe droite légèrement évasée qui retombe jusqu'aux genoux, un chemisier bicolore à boutons aux manches courtes, une sorte de petit chapeau coiffe bicolore sur la tête, un petit tablier noué autour de la taille, et des sandales blanches plates et ouvertes au bout des pieds.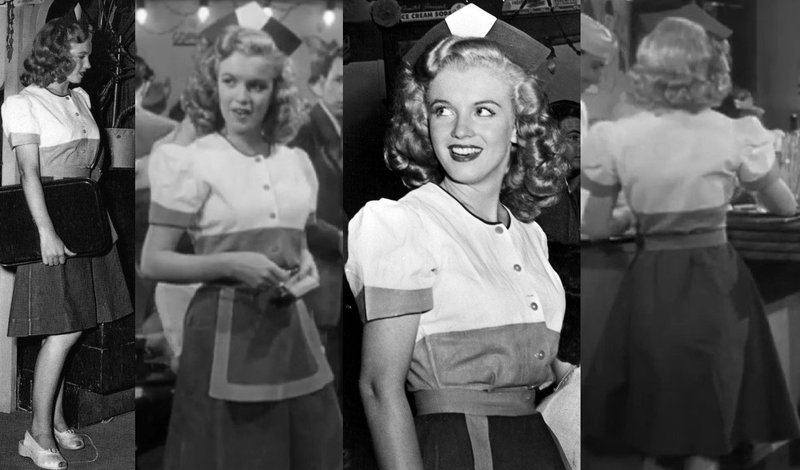 No indication of the stylist who created the costumes for the film appears in the credits. Marilyn's role is that of a waitress, working at the Gopher Hole bar, a kind of "diner", very popular brasseries in the United States where American youth meet in the 1950s and 1960s.
The four scenes where Marilyn appears in the film take place in this bar. And the waitresses all wear the same outfit: a long straight slightly flared skirt that falls to the knees, a two-tone buttoned blouse with short sleeves, a kind of small two-tone cap hat on the head, a small apron tied around the waist, and white sandals with flat feet and open toes.
---
La coiffure: les cheveux sont maintenus par le petit chapeau de forme triangulaire.
Blonde et longueur au carré, l'ondulation est crantée,
et la raie à gauche ramenant les cheveux sur le côté droit du visage.

The hairstyle: the hair is held by the small triangular hat.
Blonde and bob length, the wave is notched,
and the parting on the left bringing the hair back to the right side of the face.
---
Les uniformes des serveuses américaines
American waitress uniforms
C'est à la moitié du XIXème siècle que les serveuses ont fait leur apparition aux Etats-Unis dans les établissements de music-hall et saloons, vêtues de jupons courts pour servir la clientèle masculine et ainsi les pousser à la consommation. Avec l'interdiction de vente d'alcool et la prohibition qui s'ensuit, les serveuses ont disparu des music-hall, mais les cafés et brasseries reprennent l'idée à la fin du XIXème siècle en employant des serveuses vêtues de grandes culottes bouffantes laissant entrevoir le bas des jambes. L'émergence des drive-in et diners (ces brasseries/restaurants où l'on commande des burgers avec du coca) dans les années 1930s donnent naissance aux serveuses vêtues d'uniformes, certaines en tenue de majorette ou de cow-girl, aux jupes courtes ou mini short. L'uniforme permet de standardiser la profession, de la faire reconnaître comme un vrai métier identifiable.
It was in the middle of the 19th Century that waitresses appeared in the United States in music halls and saloons, dressed in short petticoats to serve male customers and thus encourage them to drink. With the ban on the sale of alcohol and the ensuing prohibition, waitresses disappeared from music halls, but cafes and brasseries took up the idea at the end of the 19th Century by employing waitresses dressed in big bloomers leaving see the lower legs. The emergence of drive-ins and diners (those brasseries/restaurants where you order burgers with coke) in the 1930s gave rise to waitresses dressed in uniforms, some in cheerleader or cowgirl outfits, to short skirts or mini shorts. The uniform makes it possible to standardize the profession, to have it recognized as a real identifiable profession.
Les serveuses des "diners" sont ainsi vêtues d'un uniforme typique à l'image de l'enseigne où elles travaillent (par les couleurs de leur tenue ou la présence d'un logo du nom du restaurant).


The waitresses of the diners are thus dressed in a typical uniform in the image of the sign where they work (by the colors of their outfit or the presence of a logo of the name of the restaurant).

On retrouve souvent le chemisier à boutons (avec les poignets et le col blanc) et la jupe (qui va se raccourcir avec les années et l'arrivée de la mini jupe dans les années 60s), avec le demi-tablier porté par-dessus et le petit chapeau sur la tête, certaines portent le pantalon.
The blouse with buttons can be often seen (with the cuffs and the white collar) and the skirt (which will become shorter over the years and the arrival of the mini skirt in the 60s), with the half-apron worn over and the little hat on the head, some wear the pants.

Dans les Drive-In, où les consommateurs commandent de leur voiture, les serveuses se déplacent parfois en rollers.
In the Drive-Ins, where consumers order from their car, the waitresses sometimes move around on roller skates.
La serveuse en uniforme est mise en scène dans la cuture pop américaine (utilisée dans la publicité comme Coca Cola) et dans l'art sous diverses formes, désormais connotée "vintage" en référence aux années 1940s à 1960s.
The uniformed waitress is featured in American pop culture (used in advertising like Coca Cola) and in art in various forms, now connoted "vintage" in reference to the 1940s to 1960s.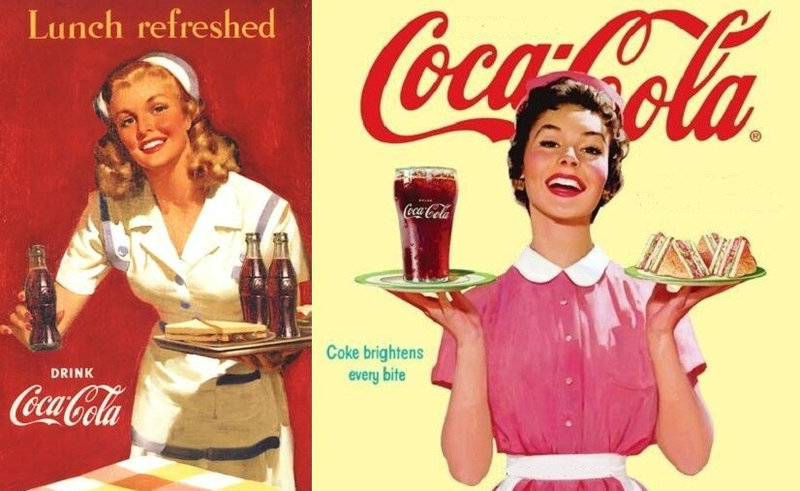 La serveuse en petite tenue courte devient un objet de désir, une pin-up dessinée et peinte par de grands artistes (comme les illustrateurs

Gil Elvgren

et

Earl Moran

) en devenant un fantasme, à l'image de l'infirmière sexy en blouse blanche.
The waitress in her short undress becomes an object of desire, a pin-up drawn and painted by great artists (such as illustrators Gil Elvgren and Earl Moran) becoming a fantasy, like the

sexy nurse in white coat.
La serveuse américaine est souvent représentée au cinéma avec son uniforme typique (robe sage ou petite jupette) à travers les époques, comme dans les films: L'amour travesti (avec

Lana Turner

en 1943), Le facteur sonne toujours deux fois (avec

Lana Turner

en 1946), Mildred Pierce (avec

Joan Crawford

en 1947), Othello / Double vie (avec

Shelley Winters

en 1947);
The American waitress is often represented in the cinema with her typical uniform (wise dress or little skirt) through the ages, as in the films: Slightly Dangerous (with Lana Turner in 1943), The Postman Always Rings Twice (with Lana Turner in 1946 ), Mildred Pierce (with Joan Crawford in 1947), A Double Life (with Shelley Winters in 1947);
Le film American Graffiti sorti en 1973 devient culte en représentant la jeunesse américaine en 1962 qui fréquente les drive-in, représente une serveuse vêtue d'un pantalon et roller dessinée façon pin-up sur son affiche; dans la comédie à succès -là encore- culte Grease sortie en 1978 qui narre l'histoire de jeunes lycéens à la fin des années 1950s, on retrouve les personnages de serveuses en uniformes dans le diner fréquenté par les jeunes; Michelle Pfeiffer joue le rôle d'une serveuse à l'allure sage dans Frankie & Johnny (1991); et Kirsten Dunst interprète une Marie-Jane dans Spider-Man (2002) qui travaille comme serveuse en robe rouge (à col) et petit tablier; enfin, Keri Russell joue une serveuse de tartes et de flans dans Waitress (2006).
The film American Graffiti released in 1973 becomes cult by representing American youth in 1962 who frequented drive-ins, represents a waitress dressed in pants and roller skates drawn in a pin-up style on its poster; in the -still- cult hit comedy Grease released in 1978 which tells the story of young high school students at the end of the 1950s, we find the characters of waitresses in uniforms in the diner frequented by the youth; Michelle Pfeiffer plays the role of a wise-looking waitress in Frankie & Johnny (1991); and Kirsten Dunst plays a Marie-Jane in Spider-Man (2002) who works as a waitress in a red (collared) dress and small apron; finally, Keri Russell plays a tart and flan waitress in Waitress (2006).

---
Sur le web:
article sur l'histoire de l'uniforme de serveuse "Dressing the female server" sur Restaurant-ing through history
---
© All images are copyright and protected by their respective owners, assignees or others.
copyright text by GinieLand.